INSIDE: Everything you need to know about Boardwalk Candy Palace Disneyland Paris
You can't visit Disneyland Paris without checking out all the best Disneyland Paris food and snacks.
One of the BEST spots to find unique Disney snacks and Mickey Mouse food is in Boardwalk Candy Palace at Disneyland Paris.
It's a Bakery & Old Time Candy Shoppe in one.
If you don't like your kids to eat sugar, AVOID IT like the plague.
But if you love sweet treats, this place is magical.
See below for all the details, including the best Disneyland Paris snacks to eat & gifts to take home too.
Disclosure: This article contains affiliate links. If you make a purchase after clicking on one of these links, we may receive a small commission at NO extra cost to you.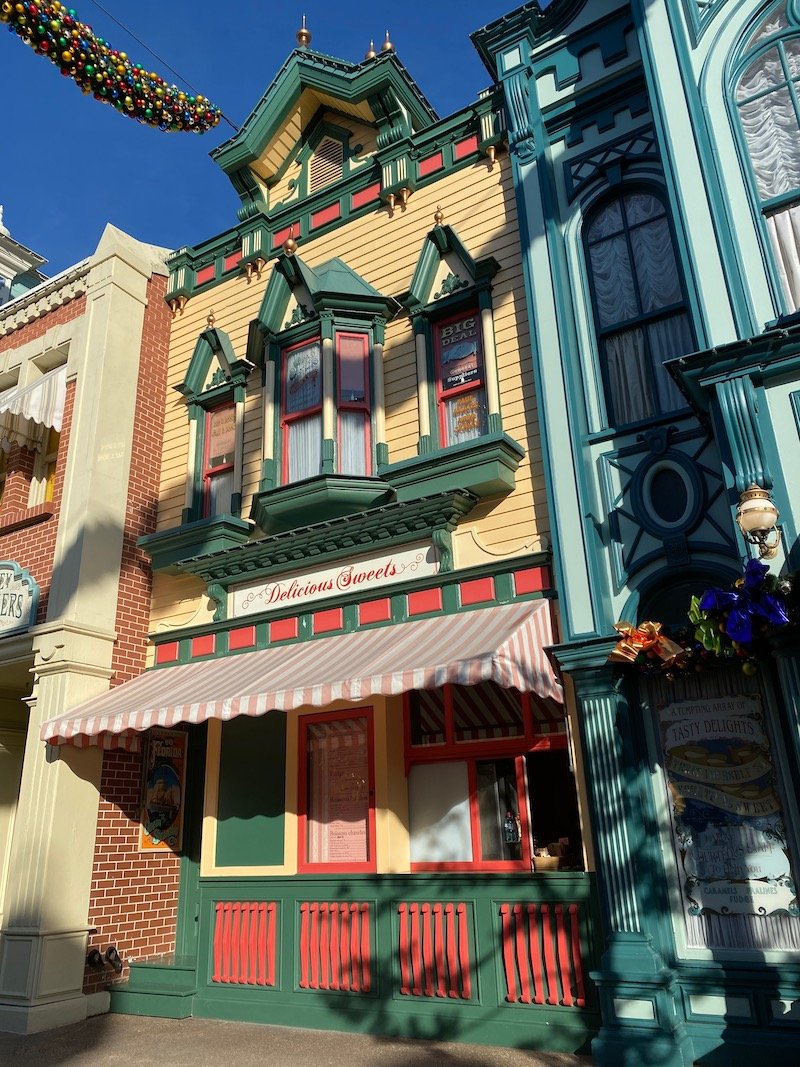 THE INSIDE SCOOP: Best Things to buy at Boardwalk Candy Palace Disneyland Paris
Correct at time of publication on Roam the Gnome. Please check with venue for updates. We apologise in advance if there have been any changes we are unaware of. All prices in euro, unless otherwise stated
Boardwalk Candy Palace shop at Disney Paris is THE home of Bonbons, Toffees and Chocolate in Disneyland Paris too!
And this Paris candy shop facade is simply gorgeous.
If you are wondering is there a food shop in Disneyland Paris, this is the closest thing to it, full of sweets.
RELATED: Big List of Best Things to do in Disneyland Paris with kids! (Update coming soon)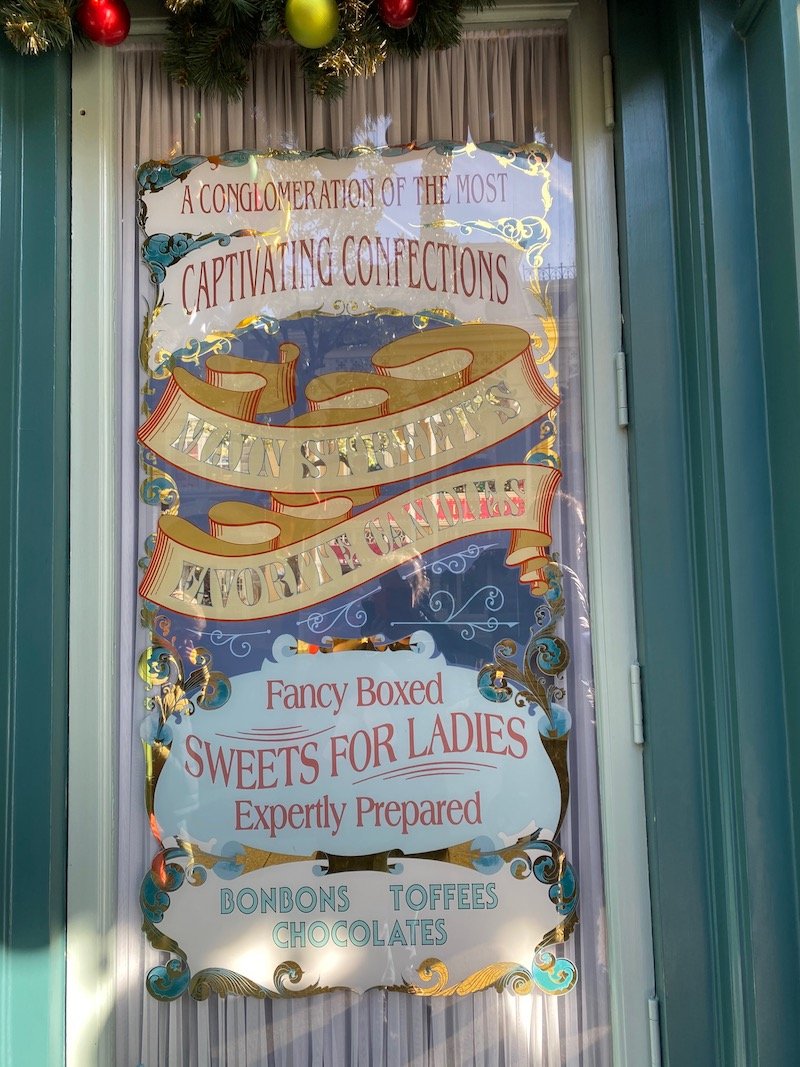 Disneyland Paris snack prices
In this Disneyland Paris food guide below, you'll find answers to questions such as:
How much are snacks at Disneyland Paris?
What is the best food to try in Disneyland Paris Boardwalk Candy Palace?
Where to buy a Mickey Mouse popcorn bucket
Best Disneyland Paris vegan snacks
Freshly baked Disneyland Paris snacks in Boardwalk Candy Palace start from around €1.50 and range up to €5.00 for cookies and biscuits.
There's plenty of cheap Disney food gifts and candy to buy for neighbours, school friends, teachers and cousins too for under €5 each, and some for as little as €1 to €2.50.
For those with a bigger budget, Disneyland Paris popcorn buckets and Disneyland Paris ceramic cookie jar filled with treats are in the €20.00 to €35.00 range.
Find more details under each entry.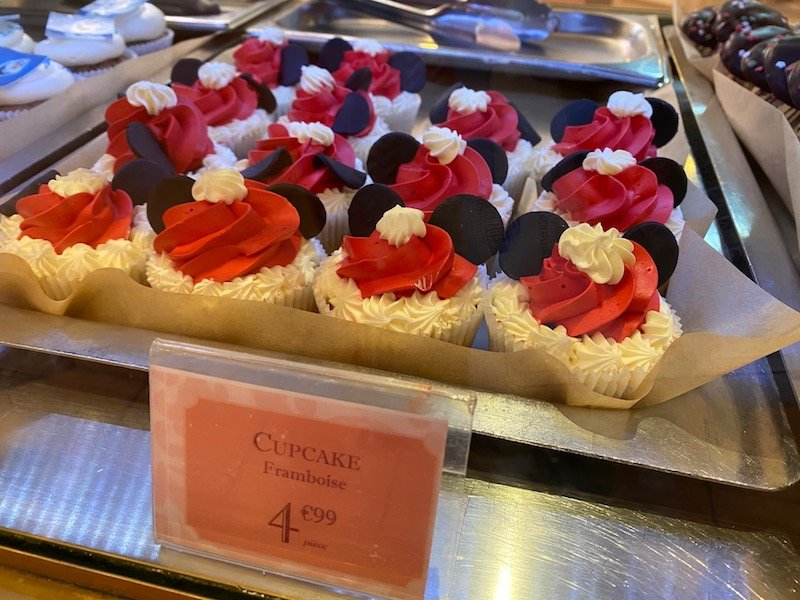 No.1: Minnie Mouse cupcakes
Want a Disney snack to eat on the go?
Try a Disney cupcake.
This Minnie Mouse cupcake costs €4.99 – the raspberry soft creme icing is worth every cent.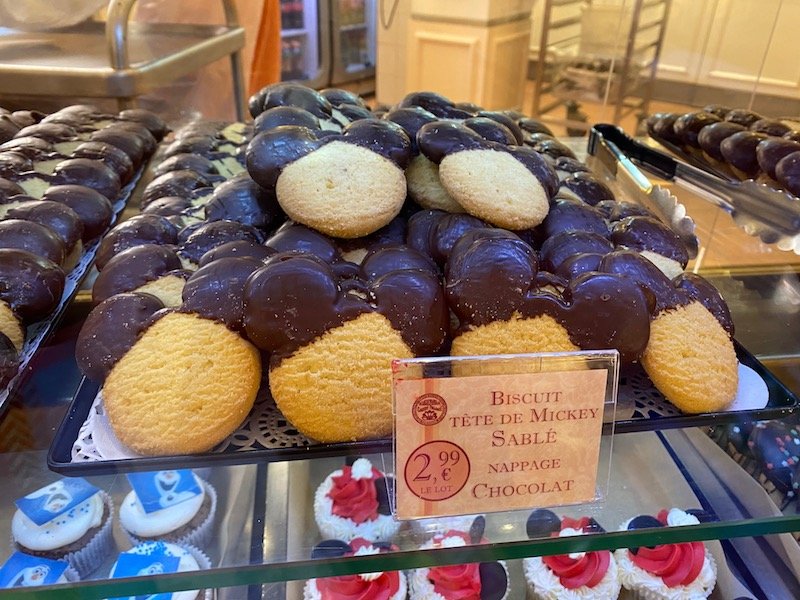 No.2: Mickey Mouse biscuits with chocolate ears
Search for Biscuit Tête de Mickey Sable nappage chocolate in the cabinet display.
At €2.99 a biscuit, this is a better Disney Snack for the budget.
No.3: Giant Mickey Mouse Chocolate Chip Cookie
There's also special Mickey Christmas biscuits for the season (pictured at top) with stars and chocolate drizzles on top.
This one is filled with delicious hazelnut creme (Nutella)
No.4: Mickey Meringues
Simple but sweet, shaped in the traditional Mickey's head shape.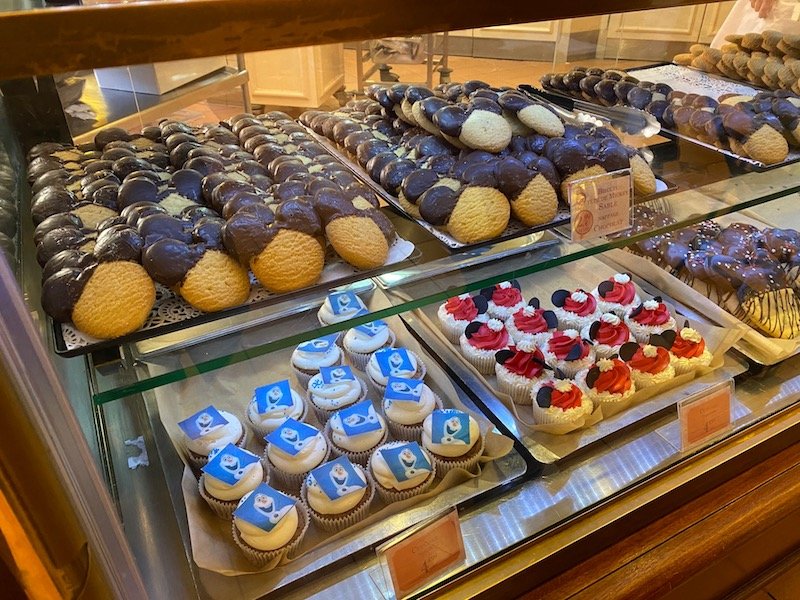 No.5: Disneyland Paris Olaf cupcakes
For those who prefer vanilla, try a Disney Paris Olaf cupcake.
€4.99 each.
Hot tip: Cookie Time Disneyland Paris
Find these cookies, fresh pastries, and MORE in Cookie Kitchen, next to Cable Car Bake Shop, further down Main Street.
No.6: Disneyland Paris fudge
For €3 a piece, order the fudge.
Head to the fudge counter directly.
Find:
Lemon Meringue
Vanilla chocolate
Triple swirl
Citron Meringue
Chocolate banana
Strawberry chocolate
Caramel
Cookies and cream
Not sure what to buy? Request a sample and try before you buy.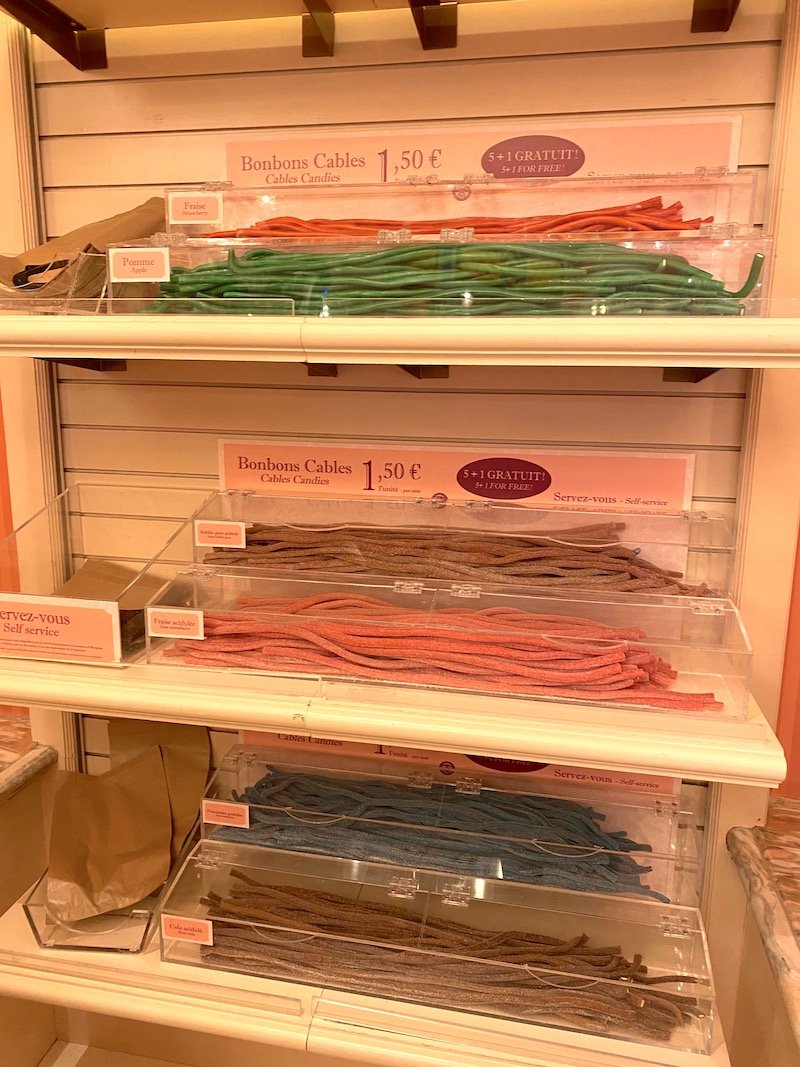 BEST DISNEYLAND PARIS SNACKS FOR KIDS
For those who aren't fans of baked goods, there's also a number of Disney candy snacks to try.
Hot tip: As always, it's wise to ration the kids intake of sugar at Disneyland. There's nothing worse than accompanying hyped up kids who have to stand in line for hours, waiting to get on a ride! That's a horror story in the making.
No.1: BonBon Cables Candies
Kids love these retro-style Cable candy but they might have trouble choosing their favorite flavors.
Luckily, it's self serve so you can take your time.
Bonbon cables cost €1.50 each.
Plus, buy 5 and you get another one FREE!
Eat one, take the rest home.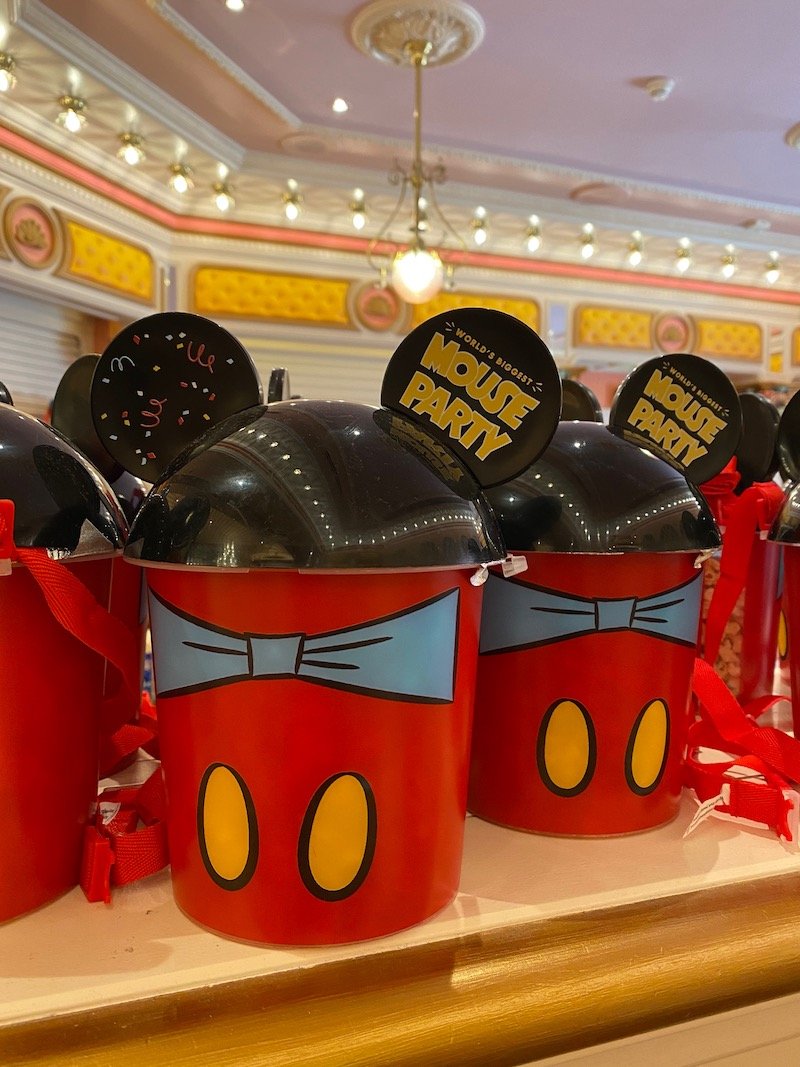 No.2: Disneyland Paris popcorn flavors
Buy a Disneyland Paris Mickey Mouse popcorn bucket to add to your Disney popcorn bucket collection, and eat this famous Disney snack on the go.
You'll find Disney popcorn stands at Disneyland Park and Walt Disney Studios Park.
Try both the sweet and savory popcorn.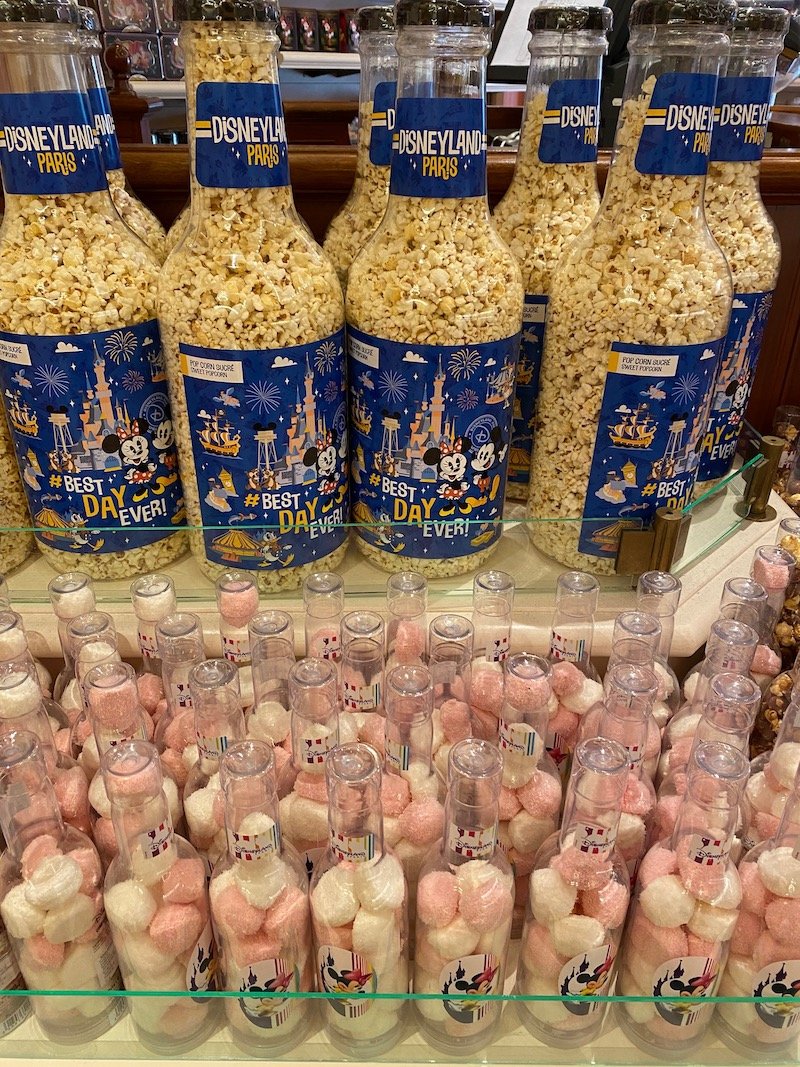 Disneyland Paris popcorn souvenir bottle
There's even a MONSTER SIZED popcorn bottle!
And Disney marshmallows in a bottle too.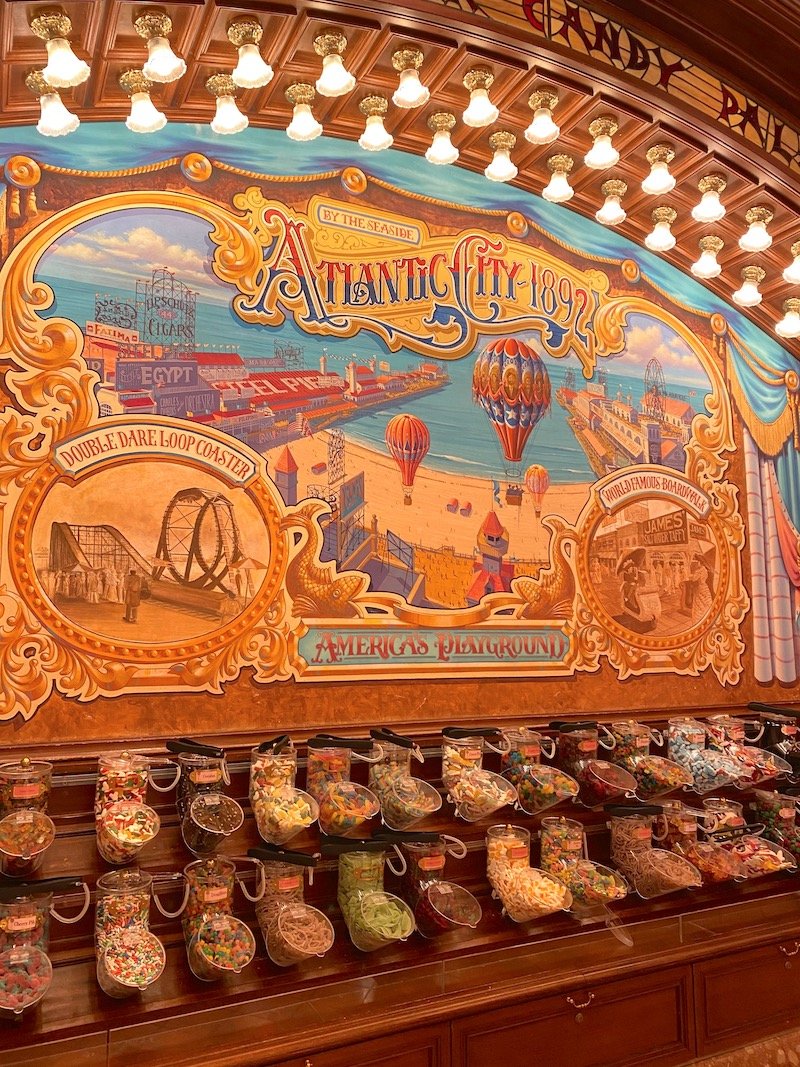 No.3: Disneyland Paris Penny Candy
Look for the Atlantic City artwork and you'll find a wall of Penny Candy.
Kids can pick and mix a bag of assorted penny candy you have trouble finding anywhere else.
Have these lollies weighed and priced at the counter.
There's plenty more options in store too.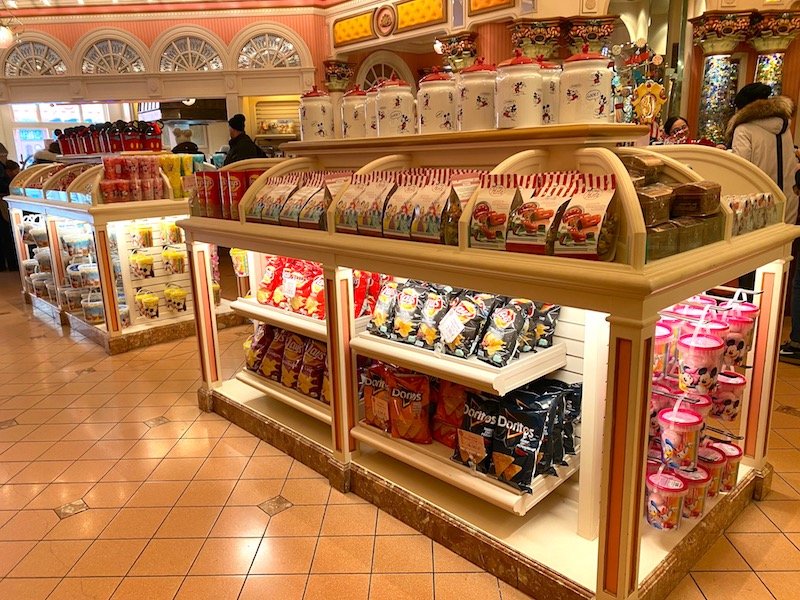 MICKEY MOUSE FOOD GIFTS FOR ADULTS
Wander around this delightful store for long enough and you're bound to find the perfect gift for a foodie friend.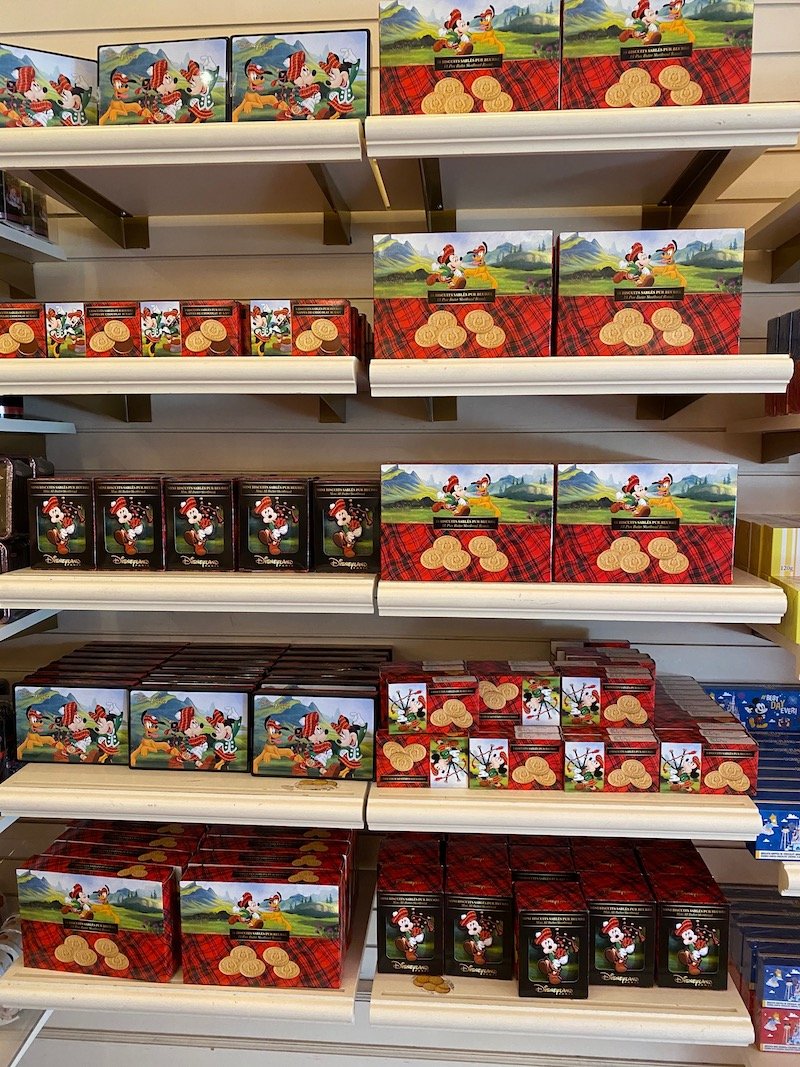 Mickey Mouse and Friends Shortbread cookies top our list of the best Mickey Mouse food gifts for mom.
Buy it in a box, or a souvenir tin.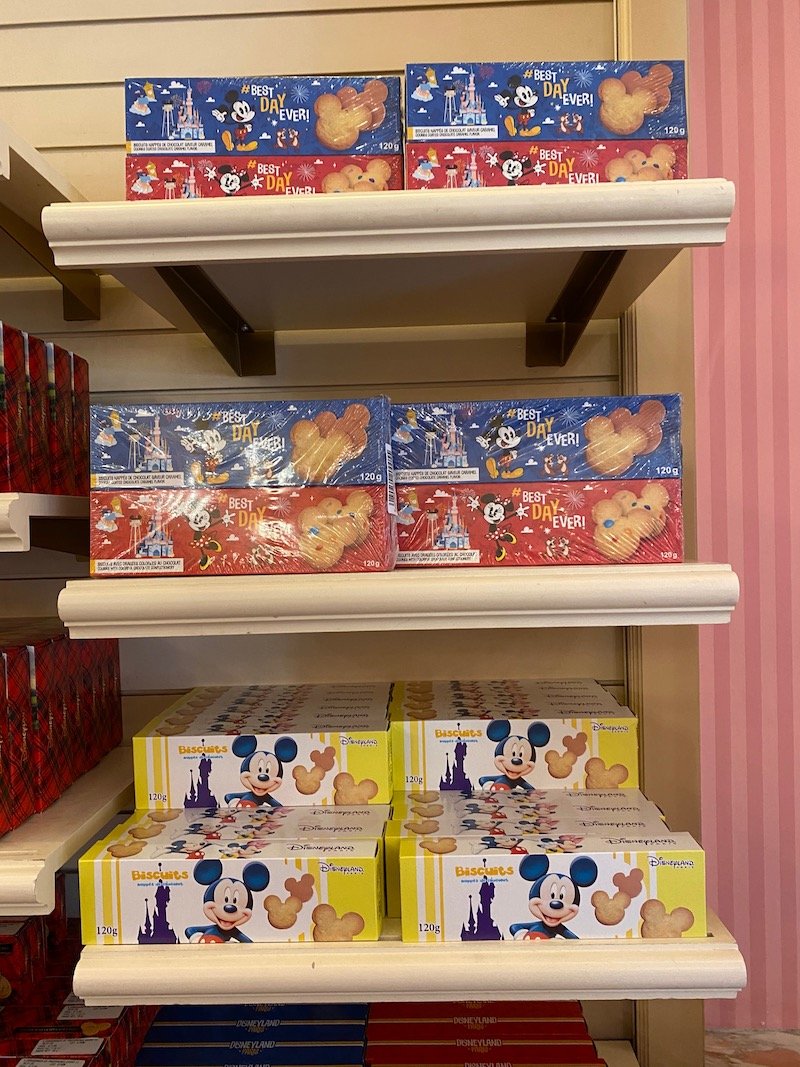 Look out for the Mickey Mouse biscuit varieties too – plain vanilla and spotty cookies too.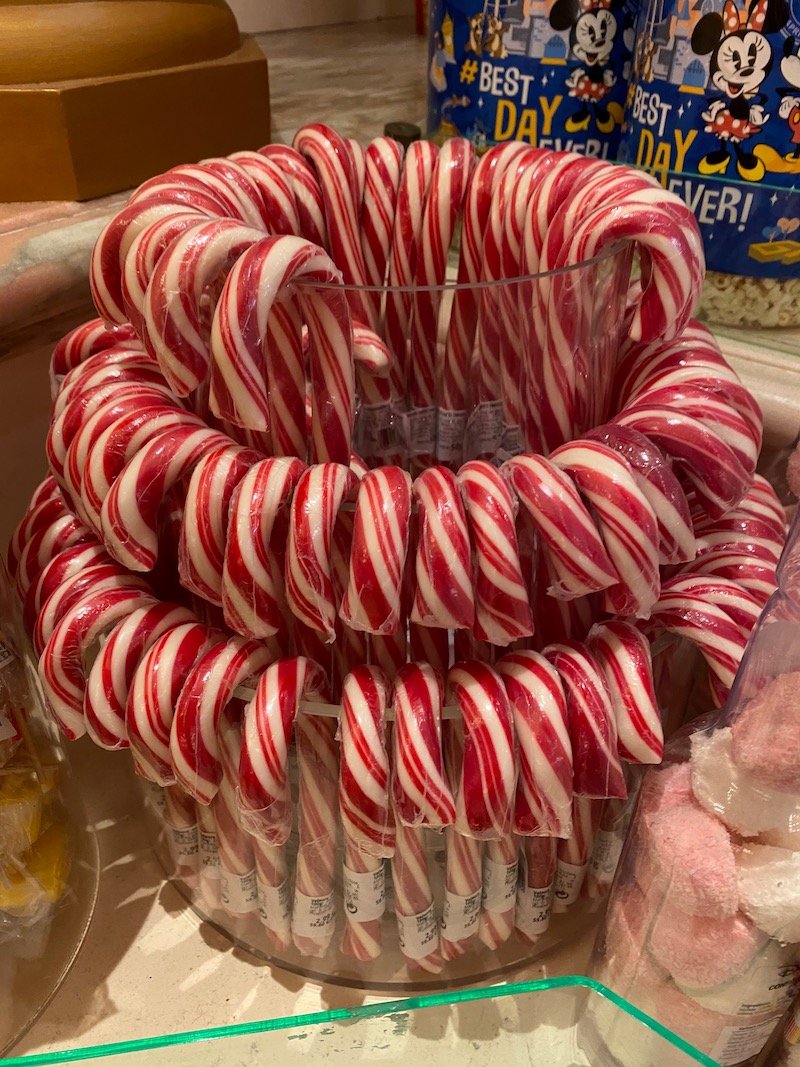 No.3: Disneyland Paris candy canes
For the nostalgia factor alone, these Disneyland candy canes are a big win.
€2.99 each.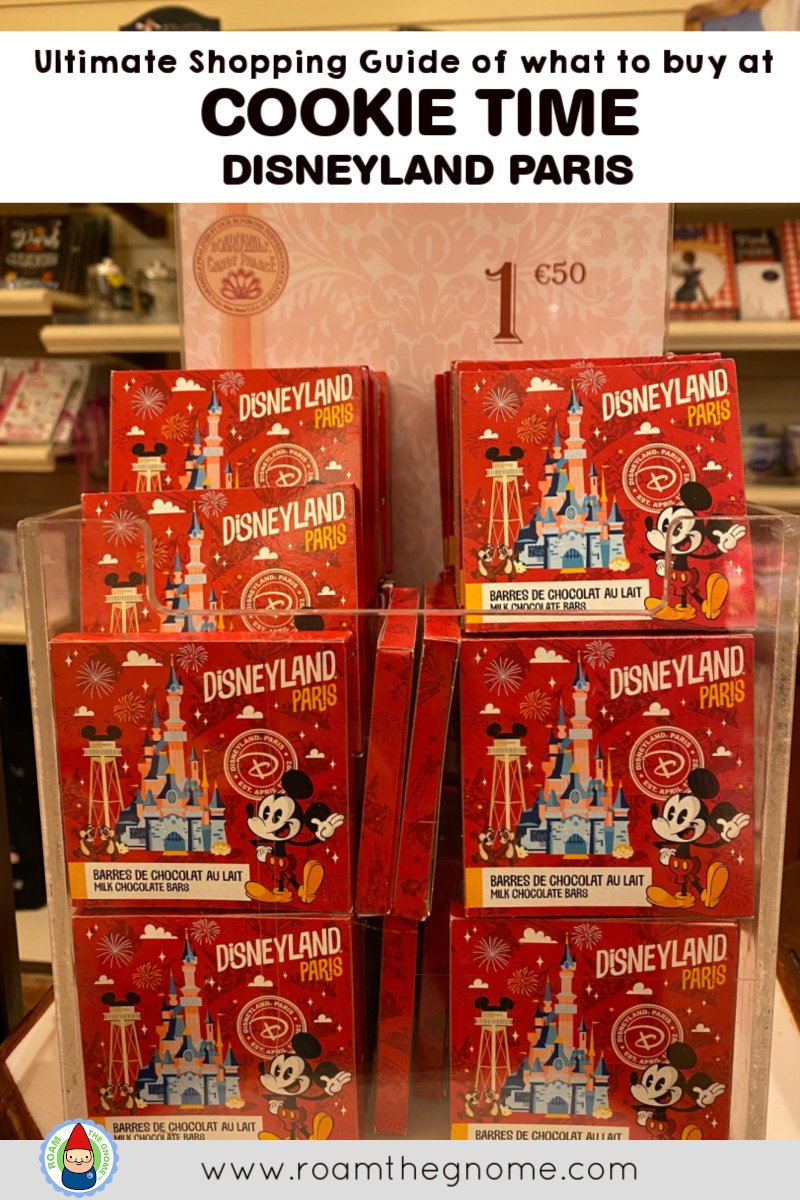 MICKEY MOUSE FOOD GIFTS FOR TODDLERS
No.1: Mickey Mouse chocolate bars
THIS is the best budget gift for chocolate lovers.
Just €1.50 per choc, all wrapped up in a souvenir Mickey Mouse box, and small enough to stash in carry on luggage too.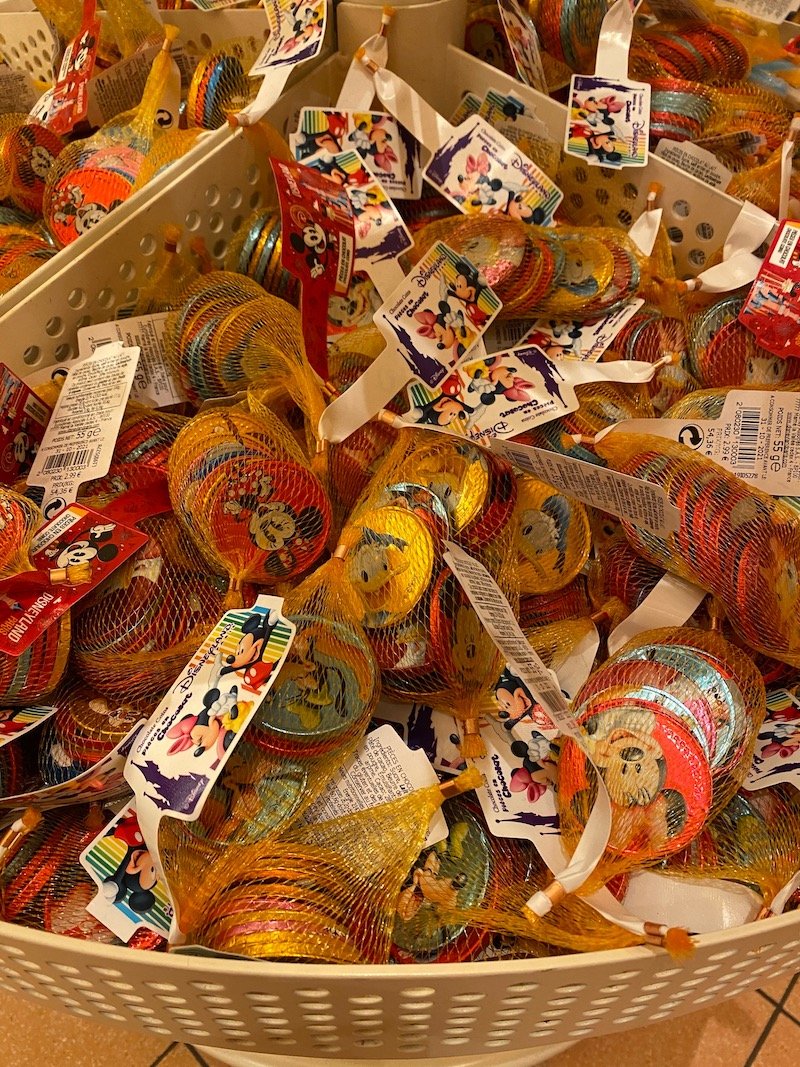 No.2: Mickey Mouse chocolate coins
The perfect stocking filler, or token gift for tiny family members or neighbourhood kids.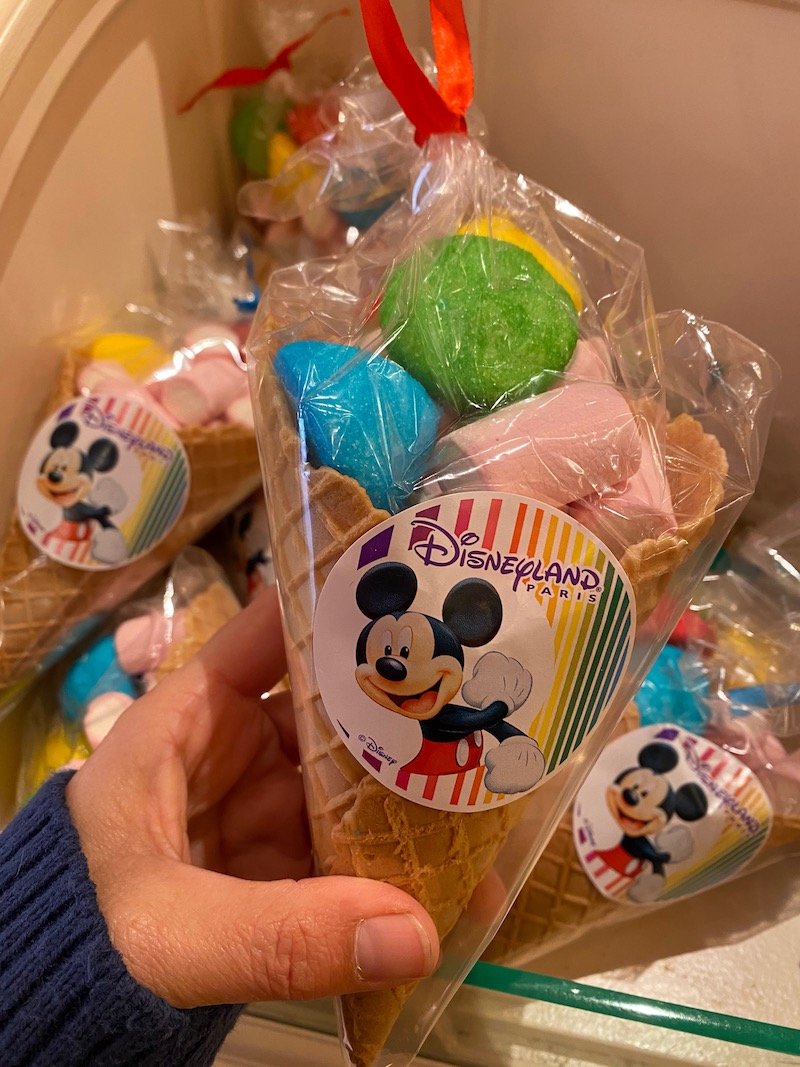 No.3: Disneyland Paris Marshmallow Cones
Marshmallows in an EDIBLE cone holder.
Now that's a fun treat.
€5.99 each.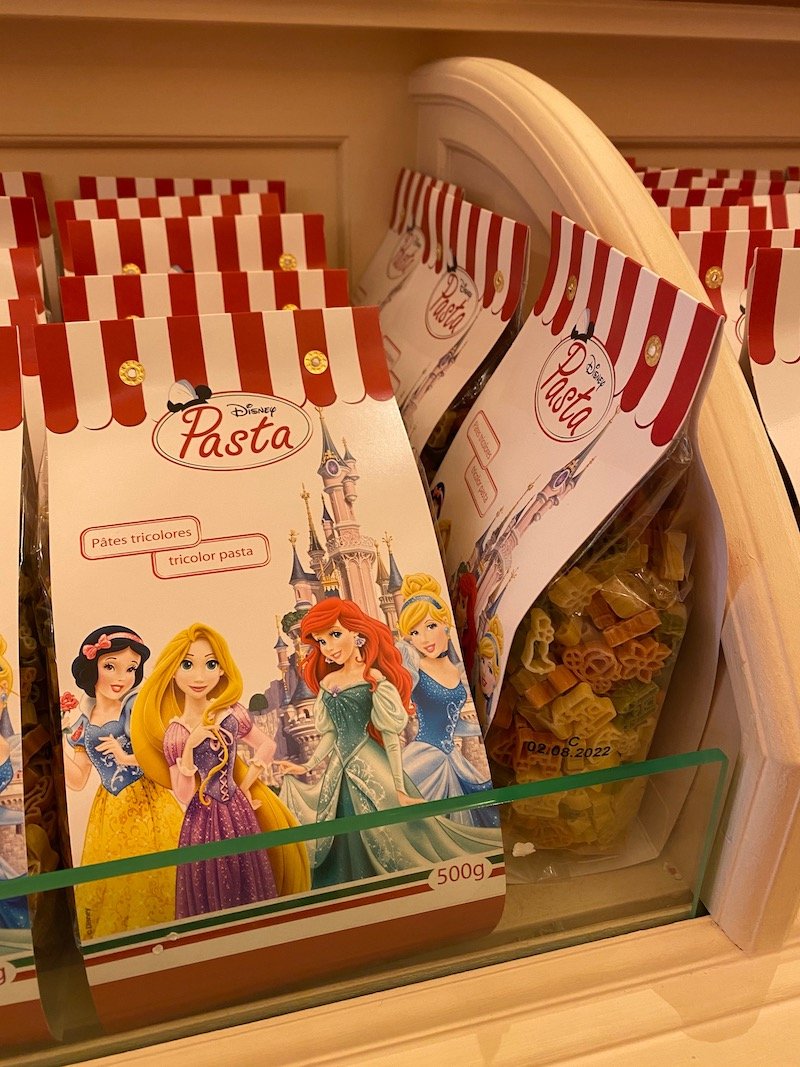 No.4: Disney Princess Pasta
Disney princess shaped pasta is a unique souvenir for Disney Princess fans.
Imagine their faces when they see this on their dinner plate.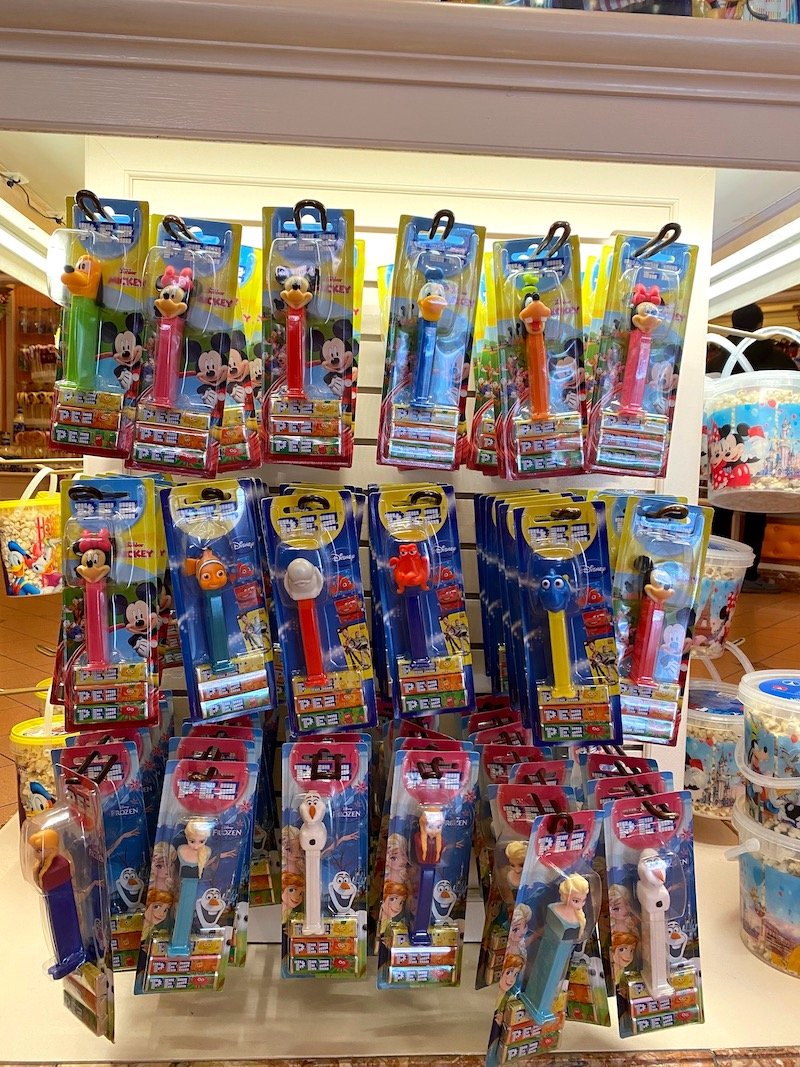 MORE UNIQUE DISNEYLAND PARIS SOUVENIRS
No.1: Disney PEZ candy
Add to your Disneyland PEZ collection.
Find:
Mickey PEZ dispenser
Minnie Mouse PEZ dispenser
Donald Duck PEZ dispenser
Goofy PEZ dispenser
Elsa PEZ dispenser
Anna PEZ dispenser
Finding NEMO PEZ dispenser
There's even a very cute Olaf PEZ dispenser too!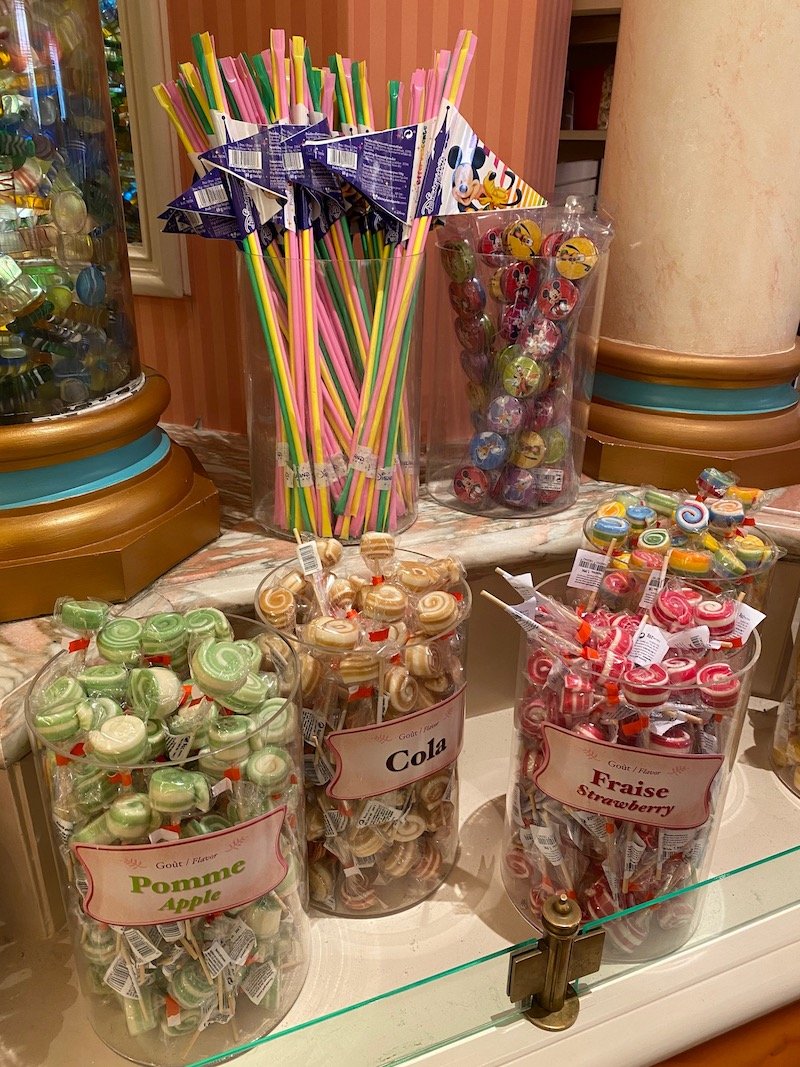 No.2: Vintage Style Lollipops and Mickey Mouse Sherbet Straws
Try apple, strawberry, cola or tutti-fruiti flavors of these twirl lollipops.
Or take home a set of sherbet straws.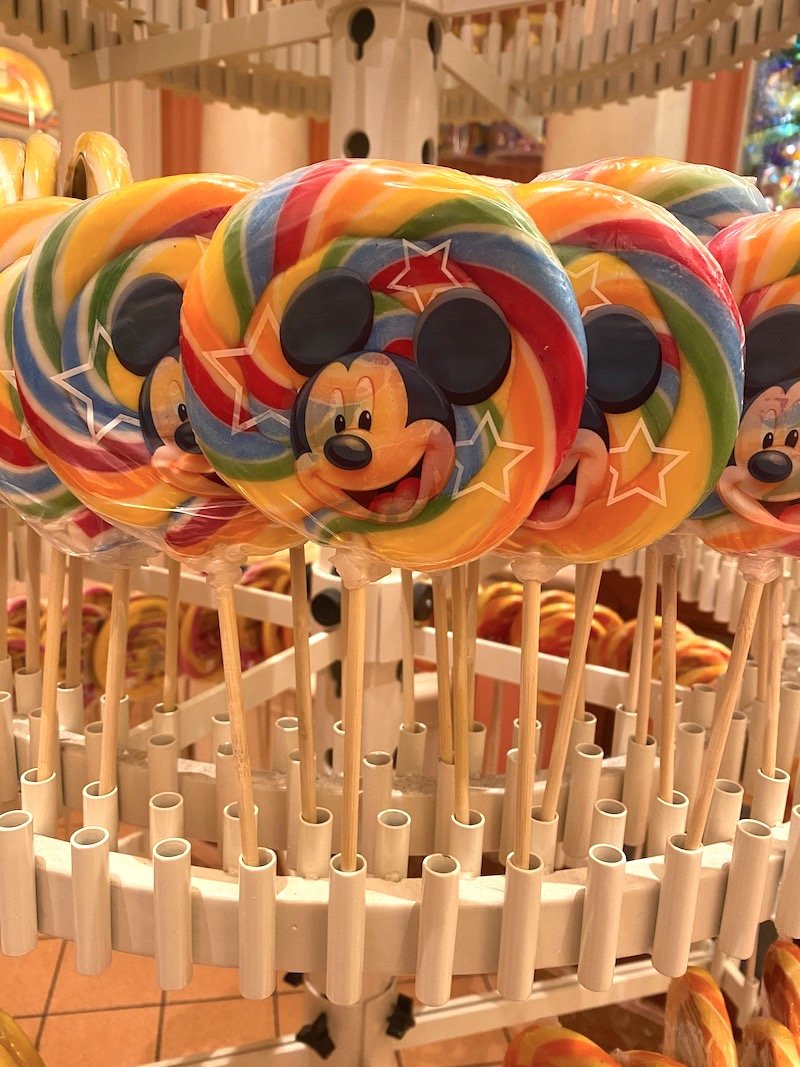 No.3: Mickey Mouse Lollipops
There's Mickey Mouse and Minnie Mouse Lollipops, at €3.99 a pop.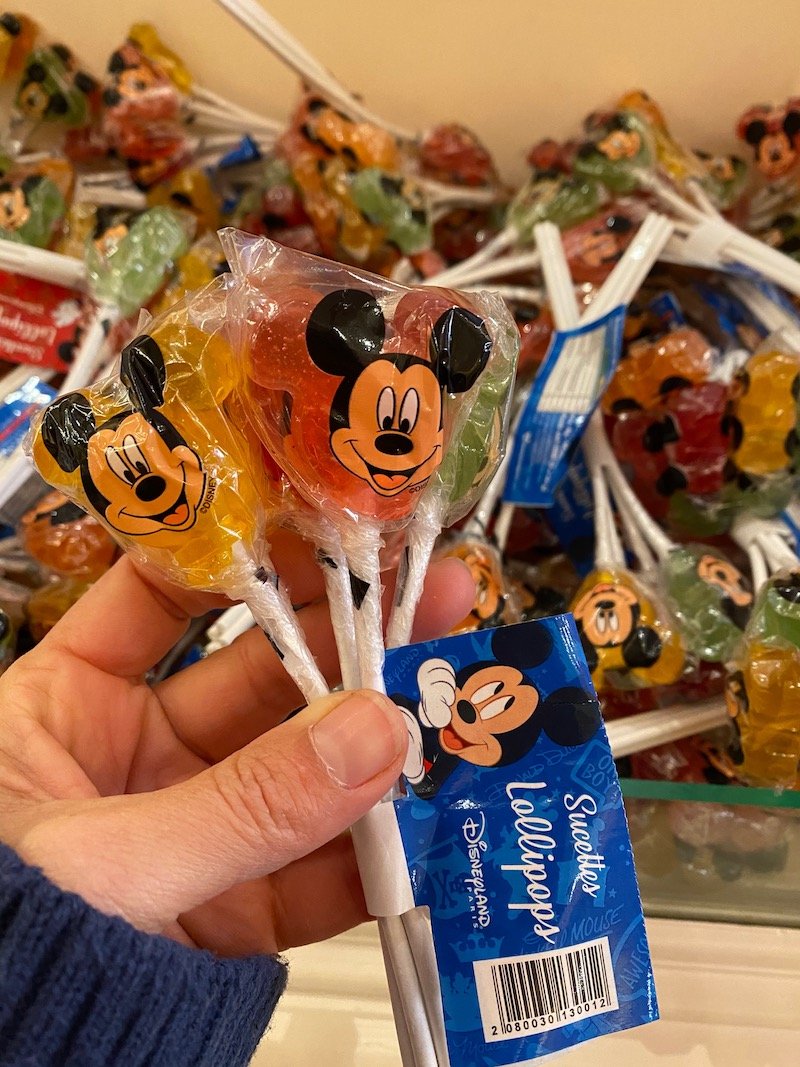 No.4: MORE Mickey Mouse pops
Or buy a pack of four Mickey Mouse ears lollipops to share.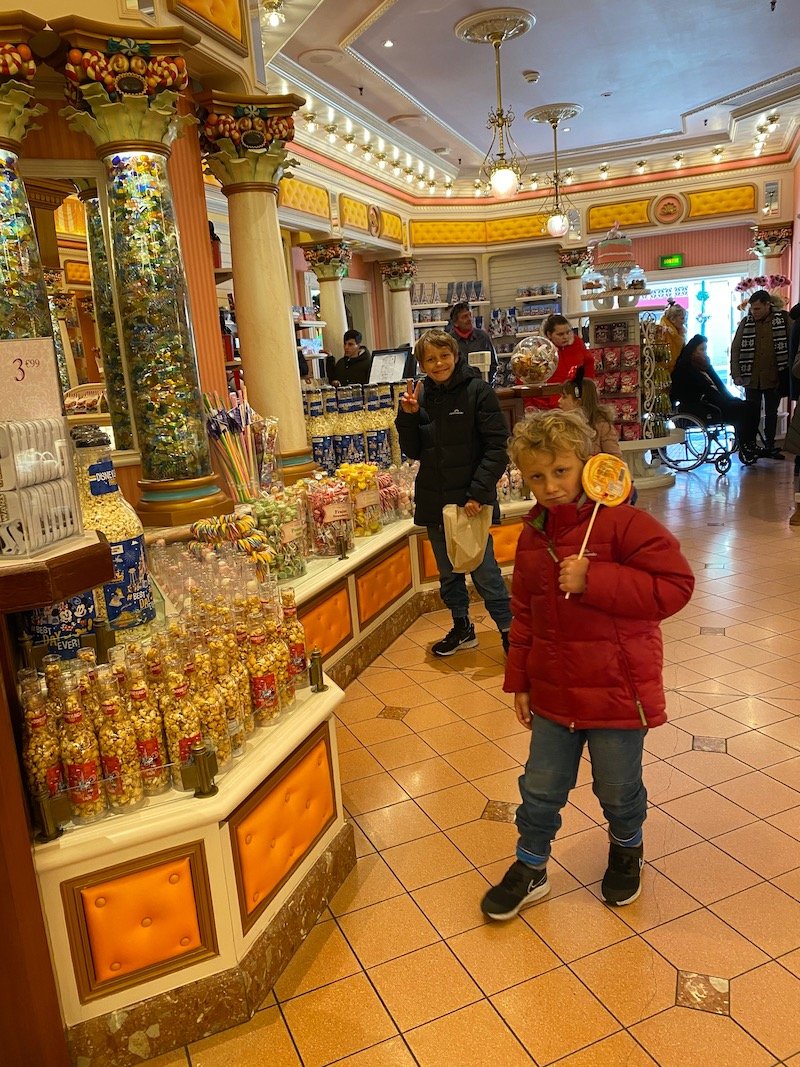 Disneyland Paris candy shopping
Set a limit and give the kids time to browse.
That's half the fun of a shop like this.
Best Disneyland Paris gifts for foodies?
Check out the range of Mickey Mouse kitchenware.
There's:
Mickey Mouse aprons
Donald Duck aprons
Mickey Mouse ladles, whisks, spatulas and more
Mickey Mouse cake pans
Mickey Mouse oven gloves
Mickey Mouse plates and mugs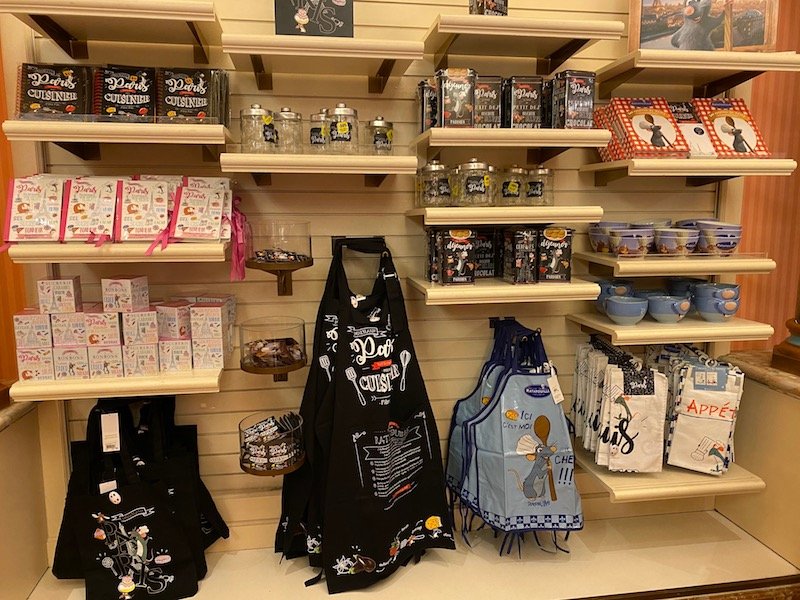 Disney Ratatouille gifts
Another option if you want to avoid a sugar overload is to find the range of Disney Ratatouille souvenirs.
There's:
Ratatouille aprons for kids and adults
Ratatouille tea towels (Ratatouille kitchen towels)
Ratatouille dishes
Glass candy jars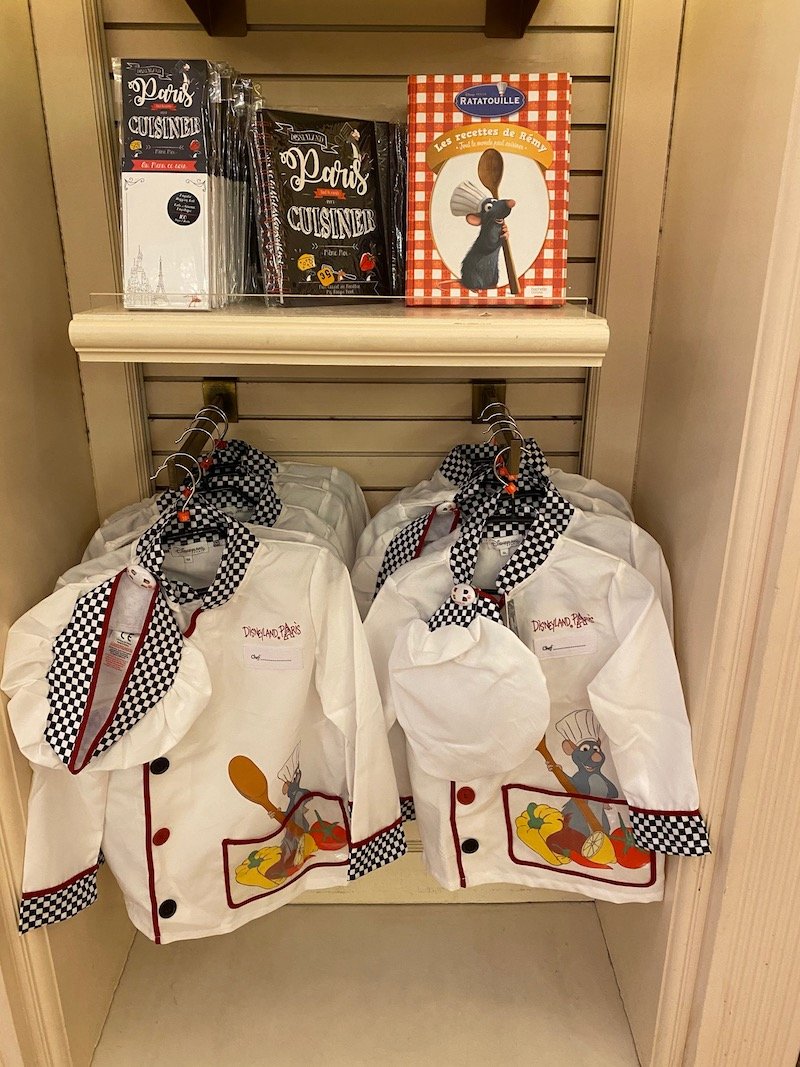 MORE Disney Ratatouille merchandise
Ratatouille cookbooks
Ratatouille recipe books too!
These are just some of the unique things to buy at Disneyland Paris.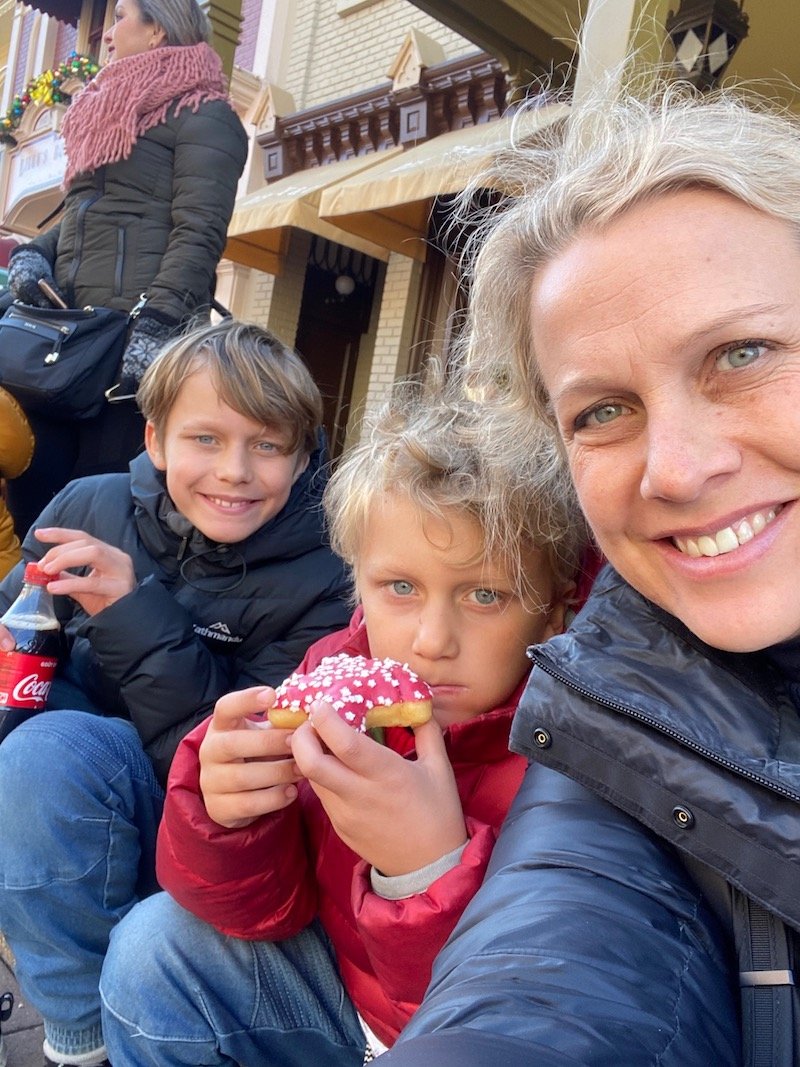 FAQ ABOUT DISNEYLAND PARIS FOOD
No.1: Where do I find Disneyland Paris Beignets?
Sadly, NOT in Boardwalk Candy Palace Disneyland candy store.
But these famous Disney donuts aren't far away.
Head to the Cable Car Bake House, on the same side of the road, just a little further down towards the castle.
That's the spot to find these unique French doughnuts made from yeast, sweetened dough and evaporated milk, and then fried in oil.
Traditionally these light and airy pastries are dusted with powdered sugar but at Christmas, you'll find them iced with snowy stars!
No.2: Where to find Disneyland Paris churros
Head to Fuente Del Oro Mexican restaurant near the Thunder Mountain ride
No.3: Can you get Dole Whip Disneyland Paris?
Sadly, no.
It's only in the USA Disney parks.
No.4: Where to find Mickey Waffles at Disneyland Paris?
Try Cafe Fantasia.
No.5: Where to find Mickey Mouse toffee apples at Disneyland Paris?
Head to Cable Car bakehouse too.
Boardwalk Candy Palace Disneyland Paris Map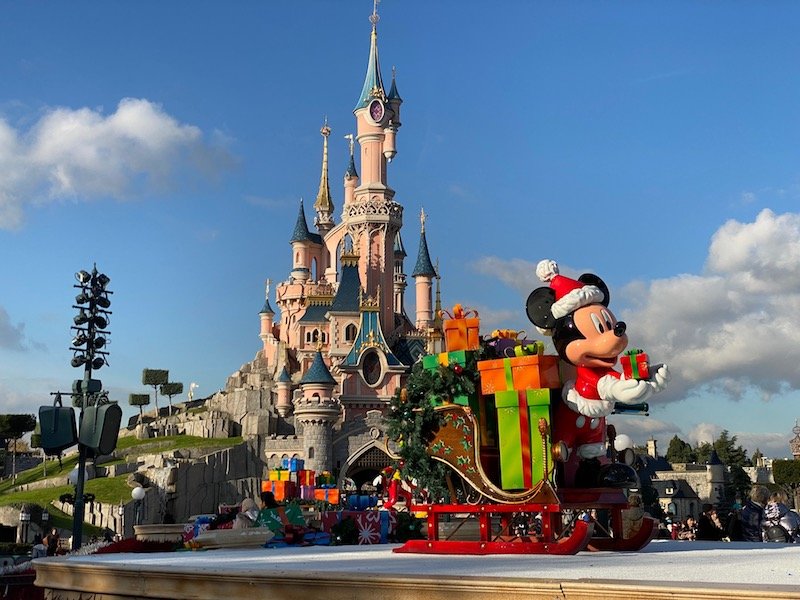 Looking for more fun things to do at Euro Disney?
Click on the blue links below for more Paris Disneyland tips
The Complete Guide to a Disneyland Paris Christmas

Guide to Walt Disney Studios Park for kids