INSIDE: Everything you need to know about Discovery Mall Bali.
When the sweat is running down the inside of my thighs, and my hair looks like it's been fried in a hot chip pan, it's time to escape the humidity and regain a sense of dignity, style and elegance (if that is even possible with kids in tow) in the air-conditioned chilliness of a Bali shopping mall.
The best shopping mall in Bali to freshen up is the Discovery Mall Bali in South Kuta – THE BEST Shopping Hotspot in town.
It's the second largest mall in Bali, after Kuta Beachwalk.
Find all the details of what you'll find there below.
Disclosure: This article contains affiliate links. If you make a purchase after clicking on one of these links, we may receive a small commission at NO extra cost to you.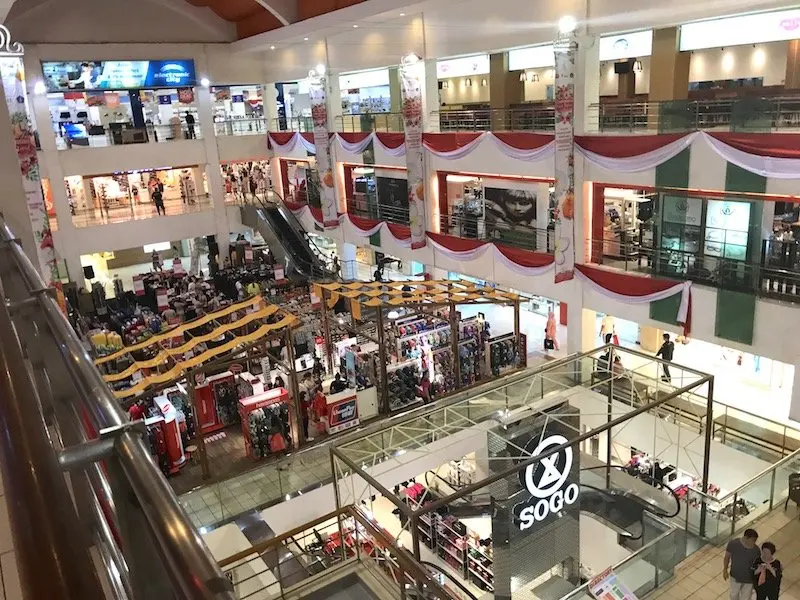 Guide to Discovery Mall Bali Stores
The Discovery Mall is also a great gauge to determine the upper limit of what you should pay at Bali markets when bargaining.
I love bargaining but sometimes cannot be bothered doing a deal, or having market stall holders try it on, or roll their eyes at me.
Shopping at Discovery Mall can be a welcome relief.
Benefits of shopping at Discovery Mall Kuta
I definitely don't begrudge the couple of extra dollars it might cost me to shop here instead of on the street.
I figure a few dollars is worth my sanity, and I consider it my contribution to the air-conditioning bill!
---
RELATED: Ultimate Guide of Best Things to do in BALI with Kids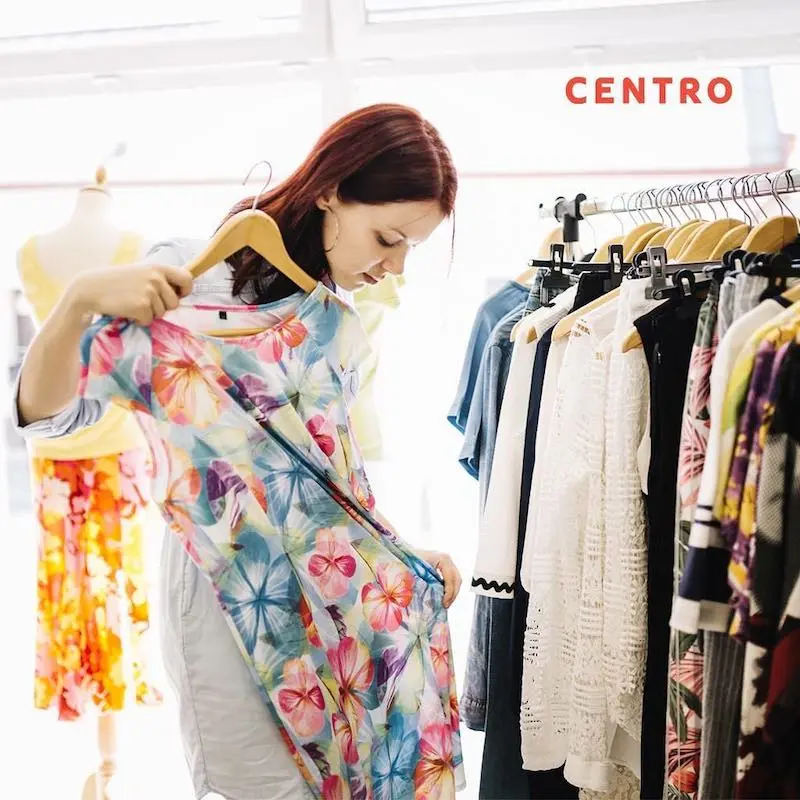 Best Discovery Mall Shops
Starbucks coffee shop is at the entrance.
No.1: Centro Discovery Mall Bali
Centro Bali is a one-stop Department Store with all your favourite brands of clothing, shoes, luggage, and toys. Find it on Level 2. Click here to read our Centro Department Store review.
No.2: Sogo Discovery Mall Bali
SOGO Department store is on the ground floor. It's one of the best places to shop in Kuta.
No.3: Mothercare Bali
Pop in to Mothercare to find a stroller to use in Bali, as well as all your baby and toddler needs, such as:
new baby clothes
nappies (diapers)
baby swimwear
swimming nappies
emergency baby bottles and teats
emergency dummies
baby toys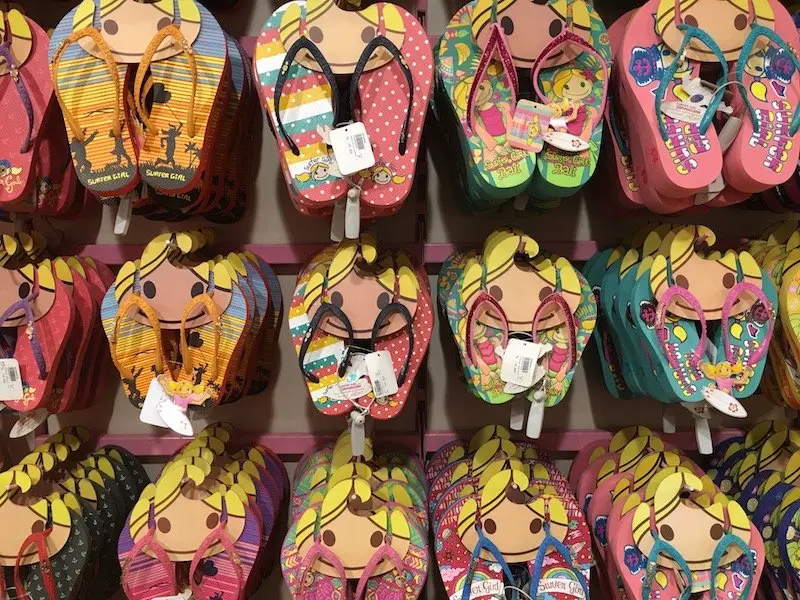 Discovery Fashion & More
Sephora – this is one of the best places in Bali for makeup and beauty supplies
Polo
Bamboo Handycraft souvenirs
Converse
Brands including Guess, Giordano and Nautica
Shoe shops include Nike, and Payless Shoesource
Hershel supply store
Havianas
Kidz Station Bali fashion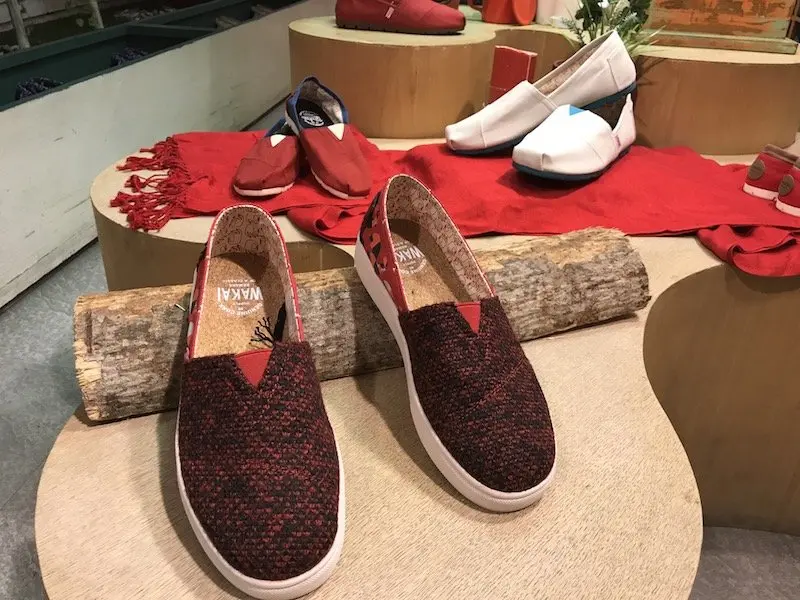 Wakai Shoes
Look out for our number one favourite travel shoe – Wakai.
Throughout the mall, you'll also find:
Bali homewares
More sportwear shops, and
Bali surf wear outlets (cheaper here than in Kuta Square)
Electronics and technology stores are on the 3rd floor in this European-designed mall.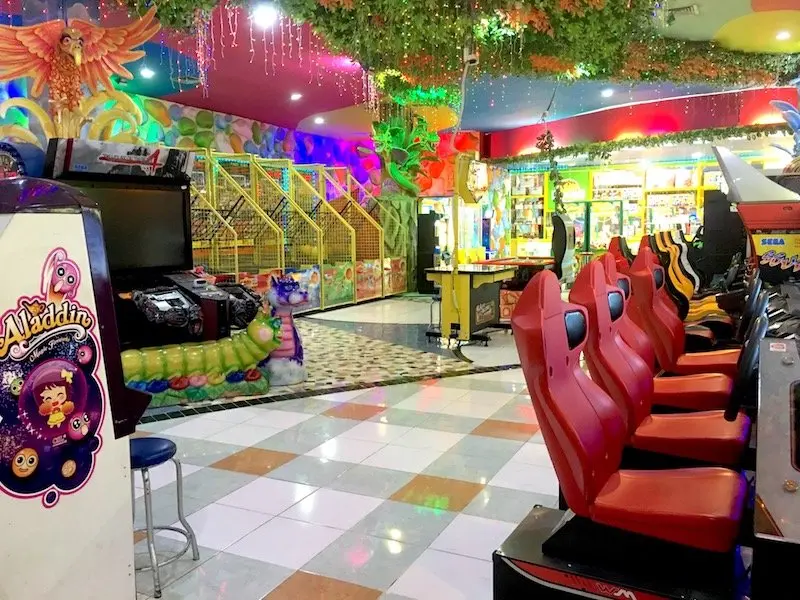 Amazone Indoor Playground Discovery Mall
Amazone Indoor Game Centre is located on the upper floor of the Discovery Shopping Centre
Play arcade ganes for hours on a budget and it has a soft indoor playground for kids under 10!
If you are looking for things to do in Bali on a rainy day with kids, head here.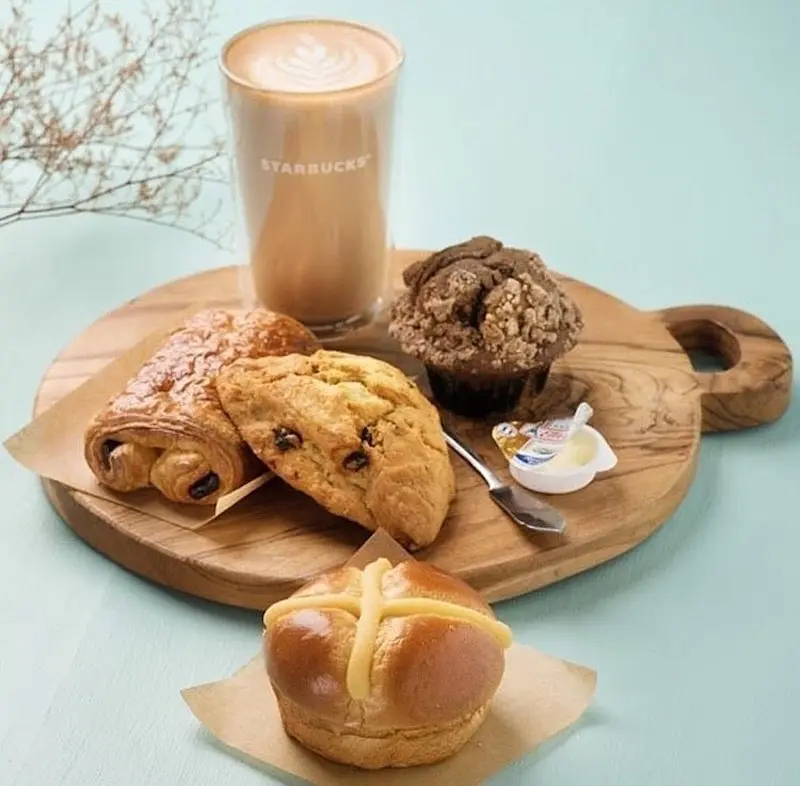 What to eat at Discovery Mall Kuta Bali
The popular fast food chains are all here:
A & W hamburgers
Baskin Robbins
Black Eyed Coffee & Roastery
Burger King
Cold Stone Creamery ice cream
KFC
Q-Talk
Starbucks coffee
Tawan
No.1: Bread Talk Bali
Don't miss Bread Talk for their yummy savoury rolls and pizzas.
But also, don't leave without trying their Banana Bread.
It's the ultimate medicinal food for post Bali Belly recovery!
No.2: Chatime Bali
Try magical Bubble Tea at Chatime.
Check out the Chatime menu before you go.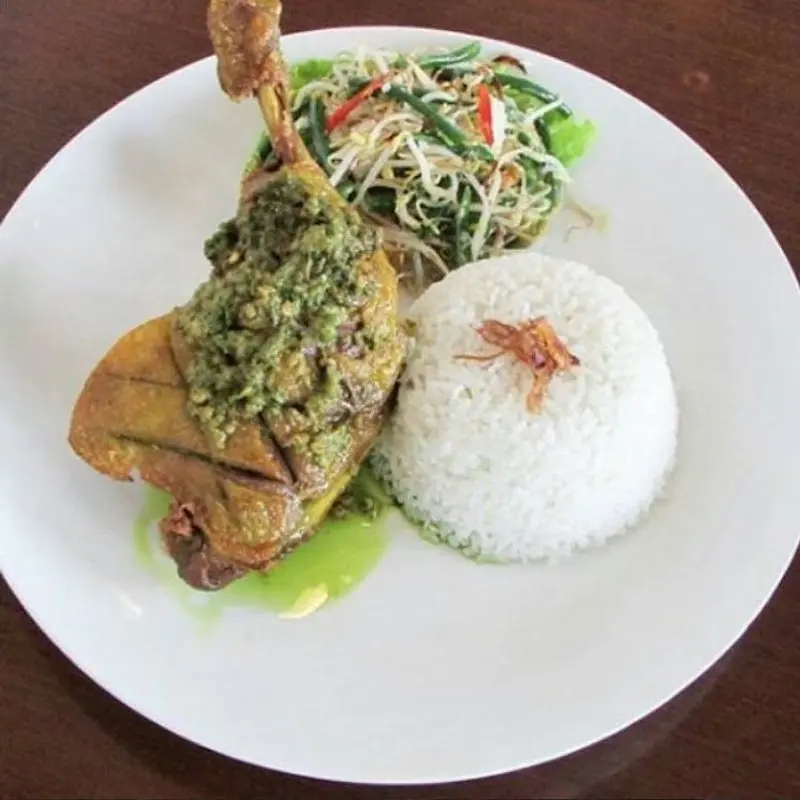 No.3: Coco Bistro Cafe
Try the Grilled Boneless Milk Fish (bandeng) with seasoned sweet soy sauce, served with chili sauce, vegetable and steamed rice.
Or, the Crispy Fried Duck with Green Chilli.
No.4: Discovery Mall Food Court
For budget eating with kids in Bali, order from one of the food stalls in the Food Court upstairs on the 3rd floor overlooking Kuta Beach.
This large dining space is AWESOME for kids!
Noise allowed.
No.5: Discovery Mall restaurants
Eat dinner at one of the restaurants at the rear of the mall that overlook south Kuta beach.
Watching a Bali sunset from here is almost obligatory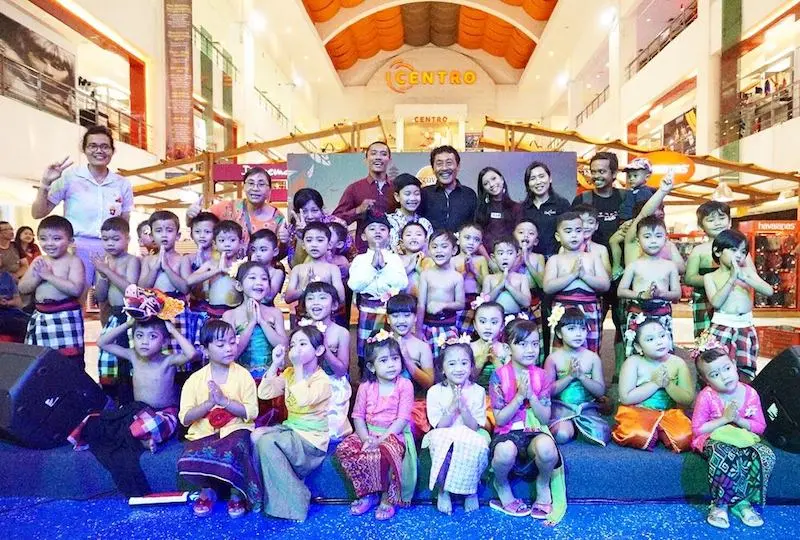 More things to do at Discovery Plaza Bali Kuta Shopping Mall
Hot tip: Check out what Discovery Mall events are scheduled for when you visit, especially on weekends.
The back entrance stairs (beachside) become the amphitheatre seating in front of a temporary stage set up on the sands of Kuta Beach.
You might find movies under the moonlight, or extravaganzas such as:
fashion and beauty festivals
car shows
Balinese Kekak dances
kids cultural demonstrations, and
kids activities
Hot tip: Waterbom Bali waterslide park is just across the road from the mall.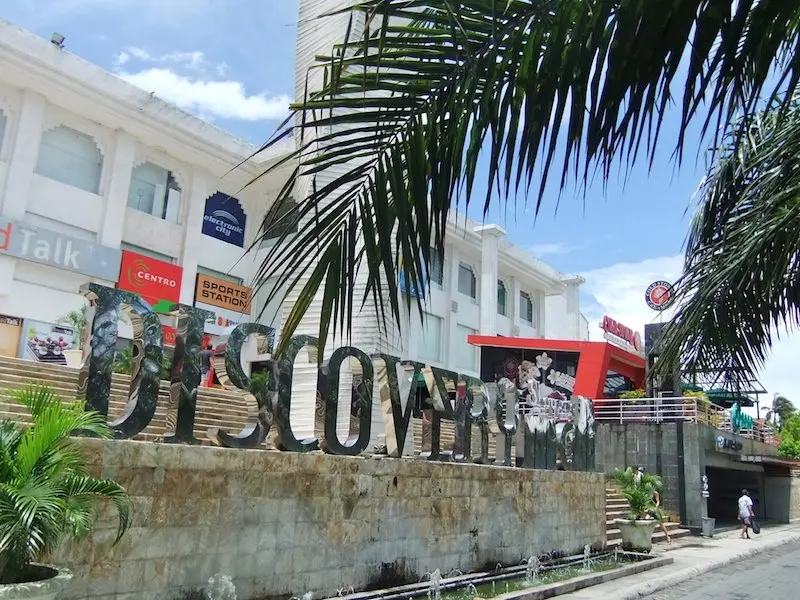 MORE Discovery Mall Events
Look out for special events at Discovery Mall in the lead up to Balinese public holidays, Chinese New Year, and popular celebrations like:
Easter
Valentine's Day
Christmas, and
Earth Hour.
Check Discovery Mall Kuta Facebook page for current events.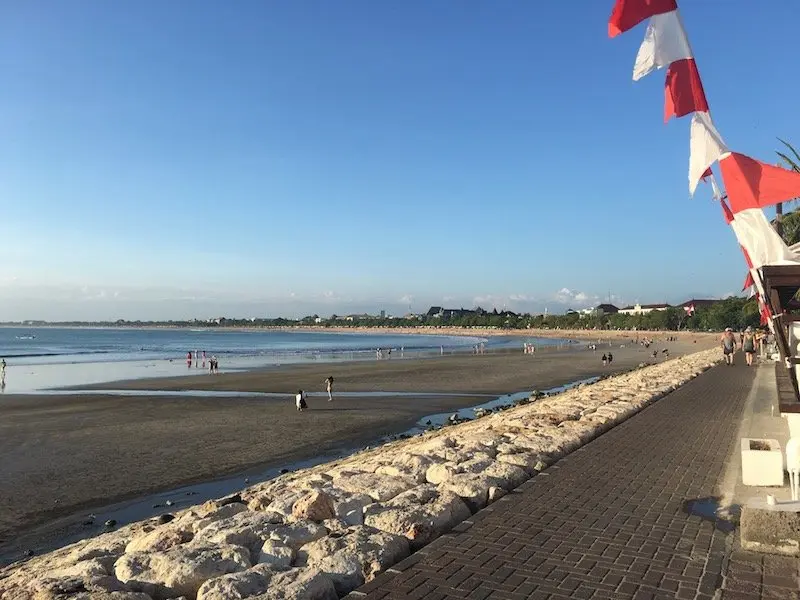 THE INSIDE SCOOP: Discovery Shopping Mall Bali
Correct at time of publication on Roam the Gnome. Please check with venue for updates. We apologise in advance if there have been any changes we are unaware of. All prices in AUD dollars, unless otherwise stated
Address: The Discovery Shopping Mall Kuta is on Jalan Kartika Plaza, Kuta
Telephone: +62 361 755522
Website: Discovery Mall Bali – coming soon!
Discovery Mall Hours
Discovery Mall is open:
10am to 10pm Sunday to Thursday, and
10am to 10.30pm on Friday and Saturday.
Entry Fees
Free entry.
Enter via Jalan Kartika Plaza, or via the beachside pathway on South Kuta beach at the back of the mall.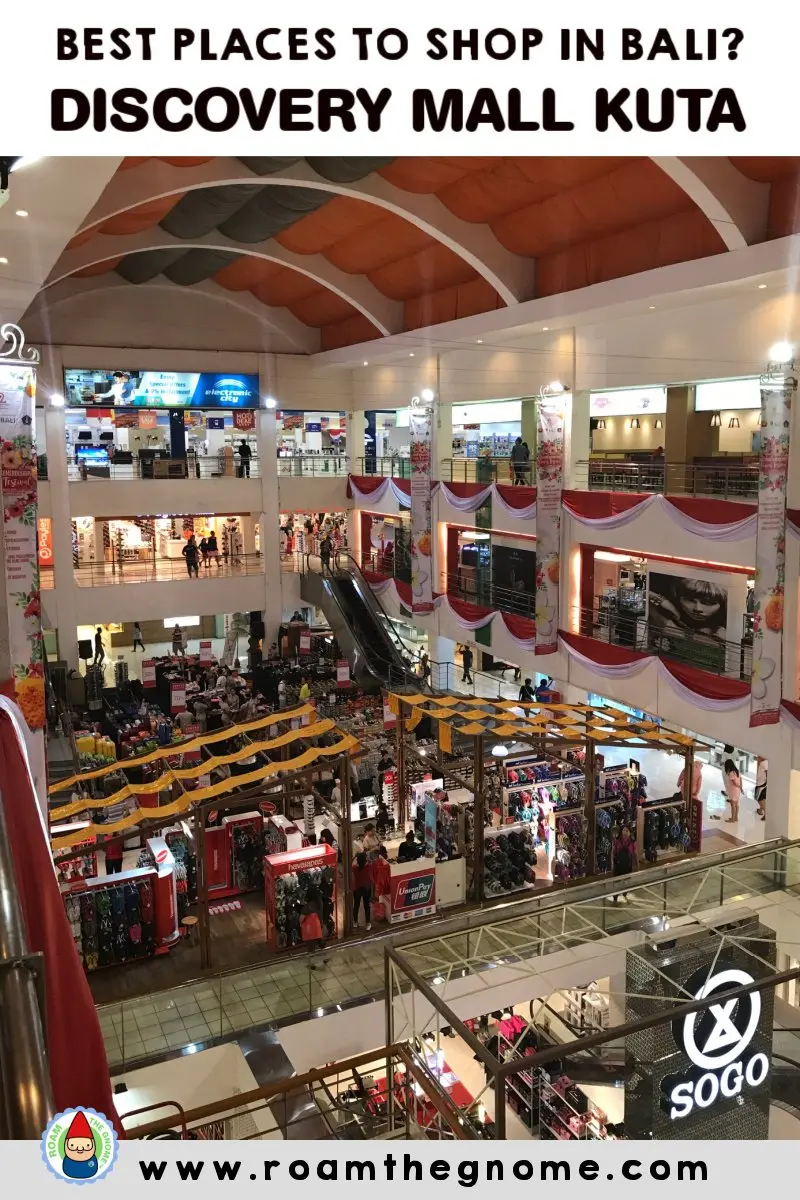 How to get to Discovery Mall in Bali
The Discovery Mall is easy to find, located on South Kuta Beach; Bali's most famed stretch of sand.
The Discovery Mall Kuta is opposite the Waterbom Bali and beside the Discovery Kartika Plaza Hotel. The mall is well known to taxi drivers and there's a taxi rank nearby.
By Bus: Catch a Kura Kura Bus
Disembark at the Waterbom stop, and the Discovery Mall is just a short walk across the road.
By Taxi: Catch a metered Bluebird taxi to Discovery Mall on Jl. Kartika Plaza.
By Private Driver: Organise a half-day trip with our favourite Bali tour guide/driver company.
On Foot: Make your way to Discovery Mall from any of the Kuta hotels
Discovery Mall parking
Yes, metered parking available in the basement carpark below Discovery Shopping Mall.
Facilities at Bali Kuta Discovery Shopping Mall
Toilets: Clean toilets can be found in the Discovery Mall. Baby change table available.
Disability access: Yes, good access
Closest ATM:
Look for the ATM corner at the front area of the mall, right next to the entrance.
You'll find Bank Artha Graha, Bank Mandiri, Bank Central Asia, Bank Rakyat Indonesia, Bank Mega, Bank Panin and CIMB Niaga. There is a Commonwealth Bank ATM located across the road.
If you need money changed in a safe place, visit Rara Money Changer and Oasis Money Changer, located near the atrium.
Enclosed: Yes, indoors.
Dogs: No
Toadstool Rating – Discovery Mall Kartika Plaza Bali
Take the family.

Looking for MORE places to go shopping in Bali
Click the links in blue for more Bali tips below.