INSIDE: Everything you need to know about Cinta Cafe Canggu
Visiting Bali and looking for the best cafe in Bali for kids?
Try this one for size.
Climbing fort playground? Check.
Swing? Check.
A cafe with a eye-popping view of rice fields and a fresh, local menu?
Yes!
But there's MORE than these three good reasons to visit Cinta Cafe in Canggu.
Read on for details, and where to find Cafe Cinta in Bali too.
Disclosure: This article contains affiliate links. If you make a purchase after clicking on one of these links, we may receive a small commission at NO extra cost to you.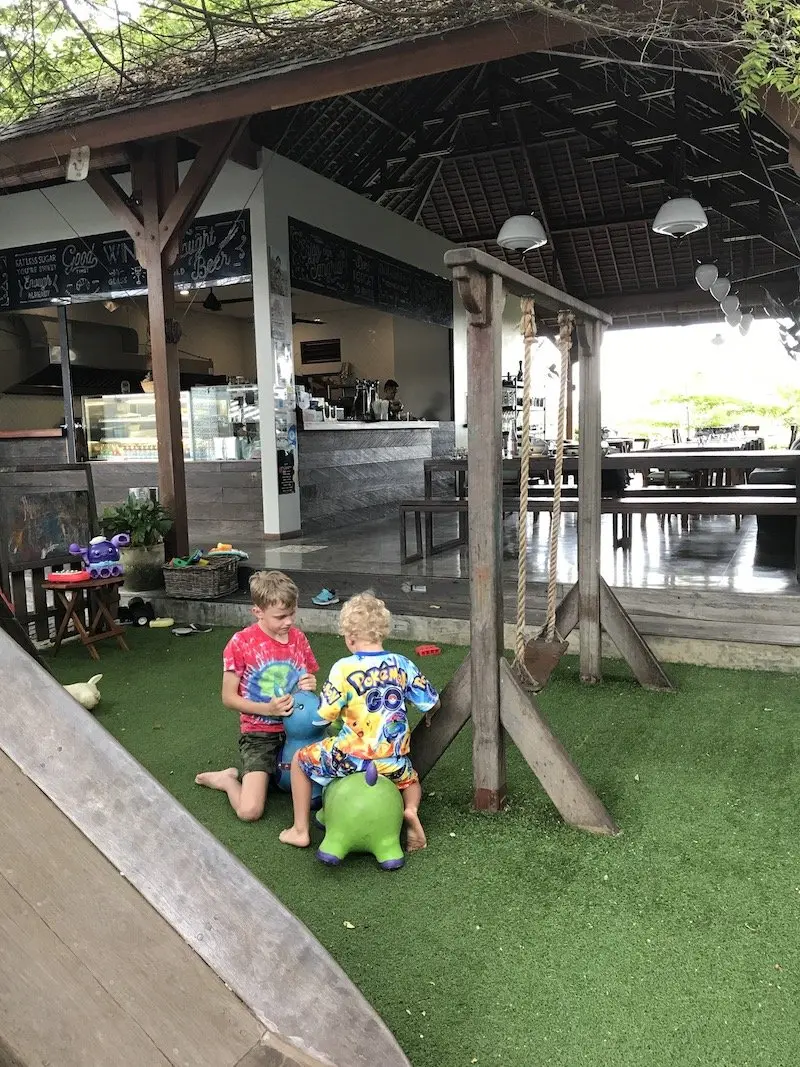 Guide to Cinta Cafe Canggu Playground
The Cinta Cafe Canggu has a very CUTE playground for kids!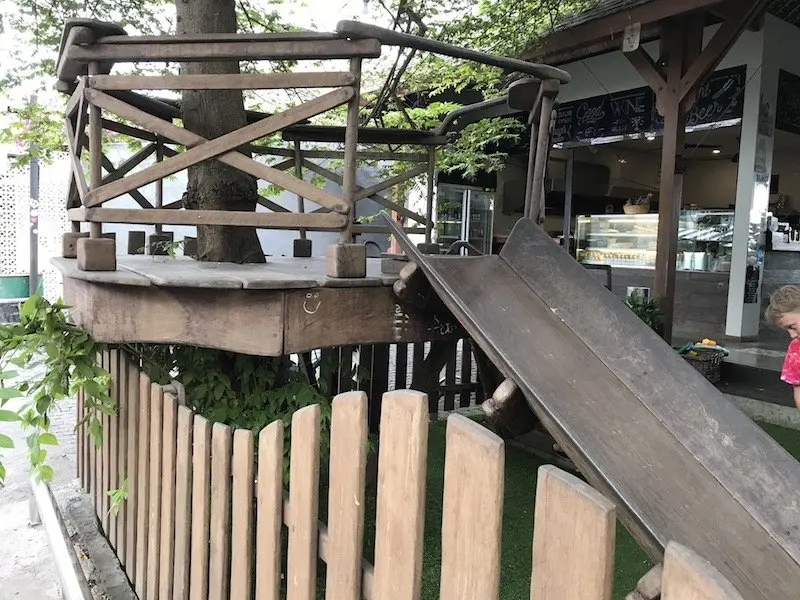 Cinta Cafe Bali playground
A real life, FENCED playground at the front of the cafe, with elevated seating next to it so you can see the kids at all times.
The fence alone is worth a visit if you are looking for kid-friendly restaurants in Bali.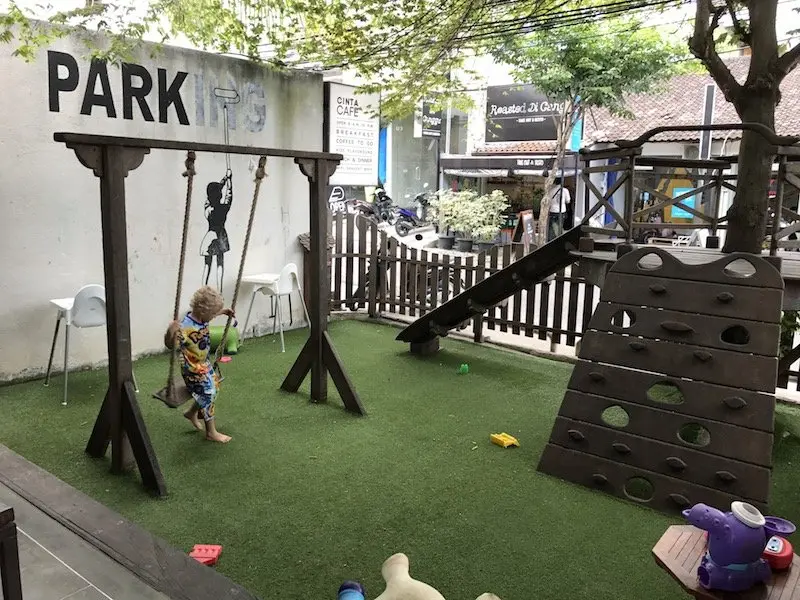 Friendly staff
But even if you don't have kids, the Cinta Cafe is one of the cutest cafe/restaurants we've ever visited in Bali or elsewhere, and the staff are adorable too.
They go out of their way to keep you happy.
It's busy, but not so outrageously busy that you wished you hadn't bothered.
We loved popping in mid-late afternoon for a pick-me-up drink and snack when dinner is just too far away.
---
RELATED: Ultimate Guide of Best Things to do in BALI with Kids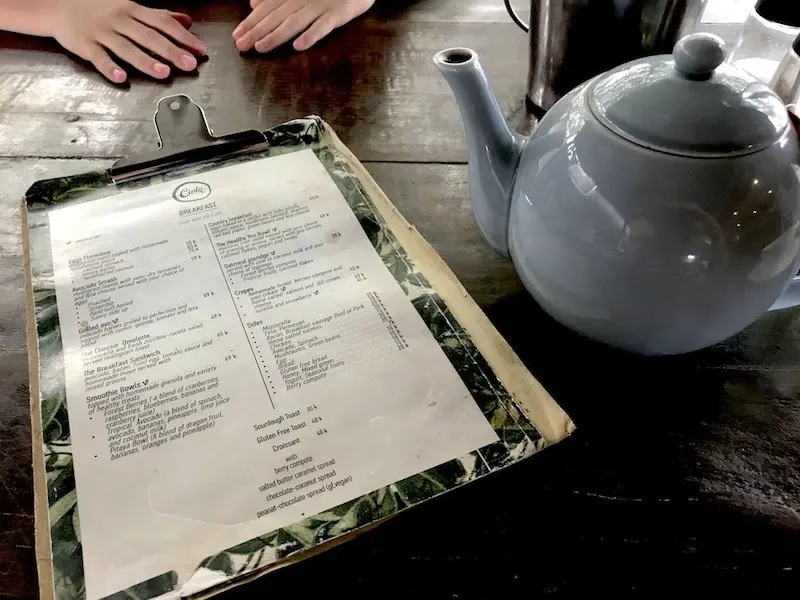 Cafe Cinta Breakfast Menu
Early morning start, and the kids need to burn off some energy?
Perfect.
Pop into Cinta Cafe for breakfast & COFFEE!
Choose from:
Eggs florentine
Fluffy pancakes
Smashed avo on toast
Cheesie omelette
A breakfast sandwich
A full western-style country breakfast
Oatmeal porridge (my fave)
Sweet or savoury crepes (the Nutella ones. Go on!)
Or the ever popular smoothie bowls in forest berry, tropical avocado or pitaya flavour
Add sourdough toast, gluten free toast or a croissant to any breakfast for RP 40,000 or less.
All breakfast options are under RP 70,000 ($7 AUD).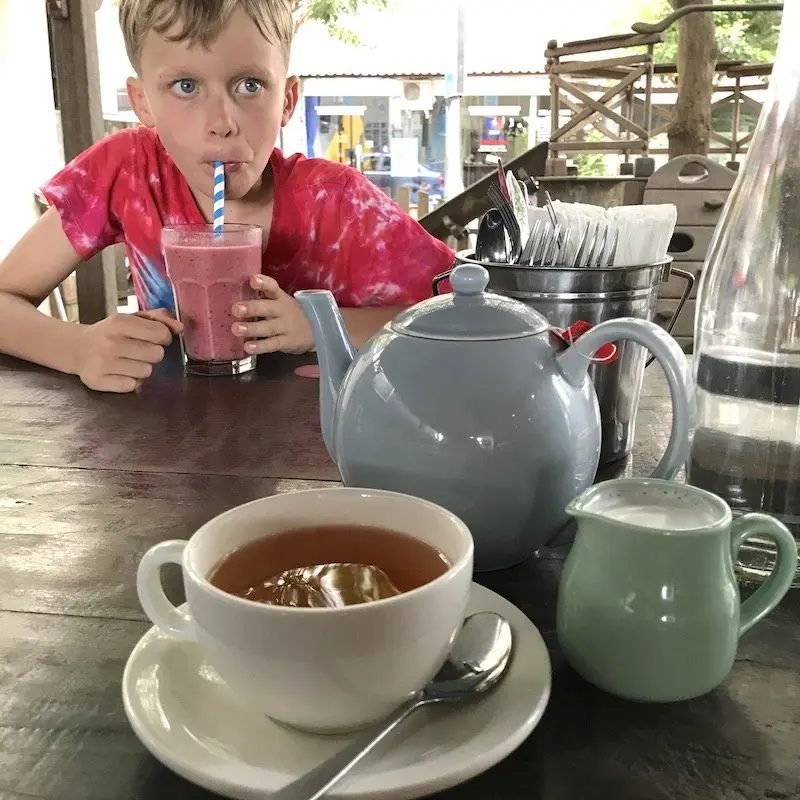 Cinta Cafe Menu for drinks
There's a full coffee menu, and you can drink in or take away.
But why would you take away?
It's Bali.
Sit down and enjoy the serenity.
There's tonnes of smoothie, soft drinks, and signature juice options too.
A bottled Kombucha is a welcome addition.
But the real deal is the fresh taste of chilled coconut water. Order up.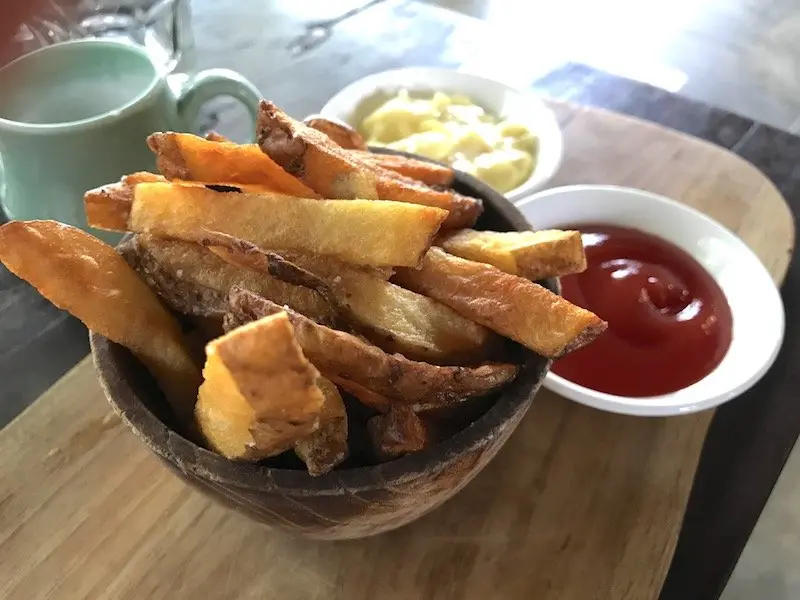 Cafe Cinta Lunch Menu
Lunch starts serving from 11am.
There's open sandwiches, salads, soups, pasta, hot chips for fussy eaters, and a few Indonesian specials.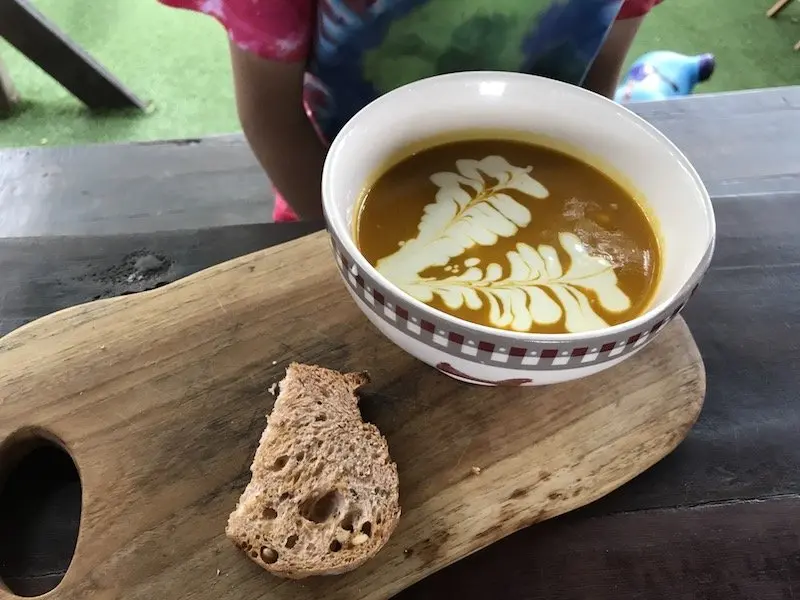 Chinta Cafe Pumpkin Soup
The Parmigiana baked eggplant with mozzarella cheese and homemade tomato sauce gets a special mention, as does the Pumpkin Soup with sourdough.
Ned vacuumed that soup into his ever-growing body.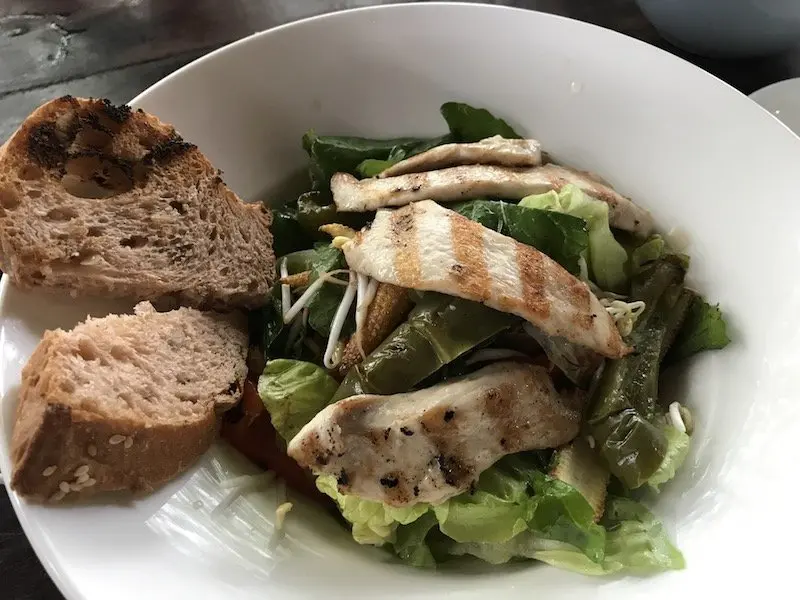 Asian Chicken Salad
But it was the Asian Chicken salad that blew my mind. I'd been wary of ordering salads because of my worry about how the greens are washed and the risk of Bali belly but couldn't resist this one.
Glad I did.
It was sensational.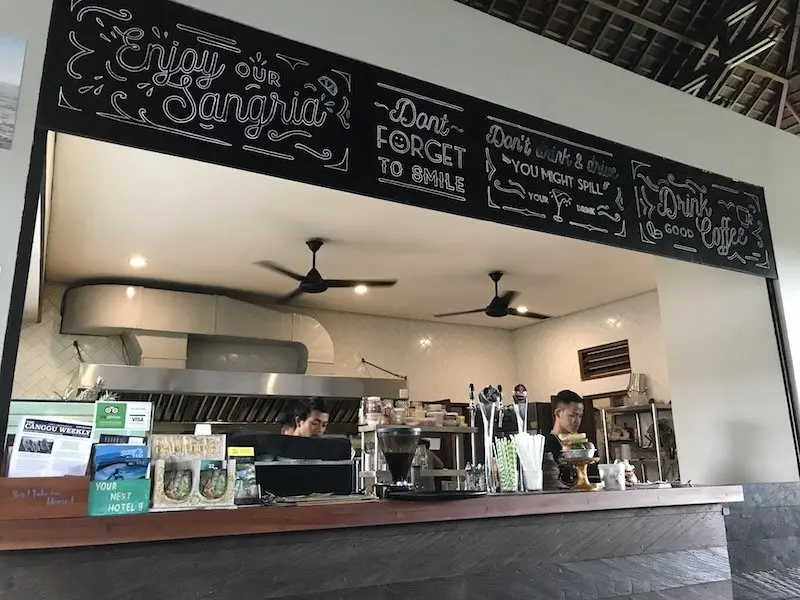 Canggu Cafe Cinta
Cafe Cinta in Canggu is open till 10pm daily.
Cinta café is a hidden gem in the heart of Canggu, just minutes by taxi from Berawa beach.
There's a new menu, and new surrounds since the reopening in April 2018.
Check it out.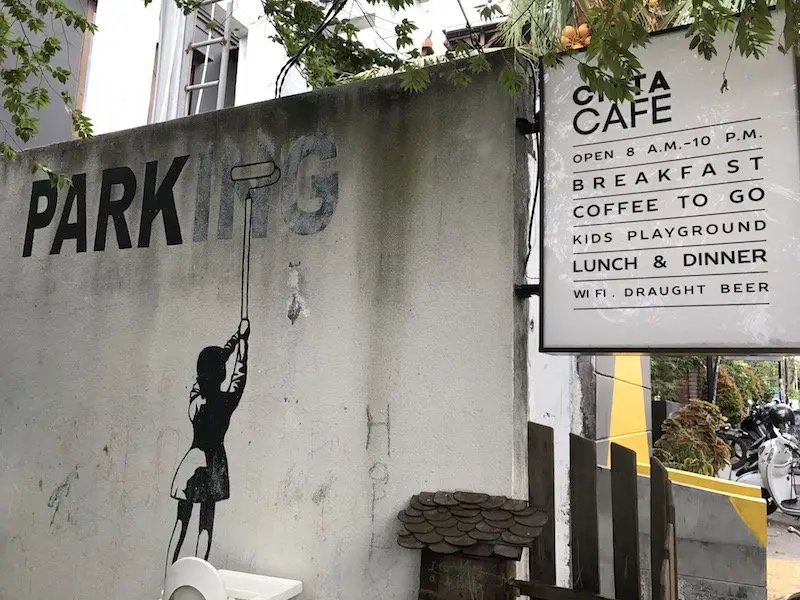 THE INSIDE SCOOP: Bali Cafe with Playground
Correct at time of publication on Roam the Gnome. Please check with venue for updates. We apologise in advance if there have been any changes we are unaware of. All prices in AUD dollars, unless otherwise stated
Address: Jl. Raya Pantai Berawa 69 80361 Badung, Bali, Indonesia
Telephone: +62 361 3705232
Website: Click here.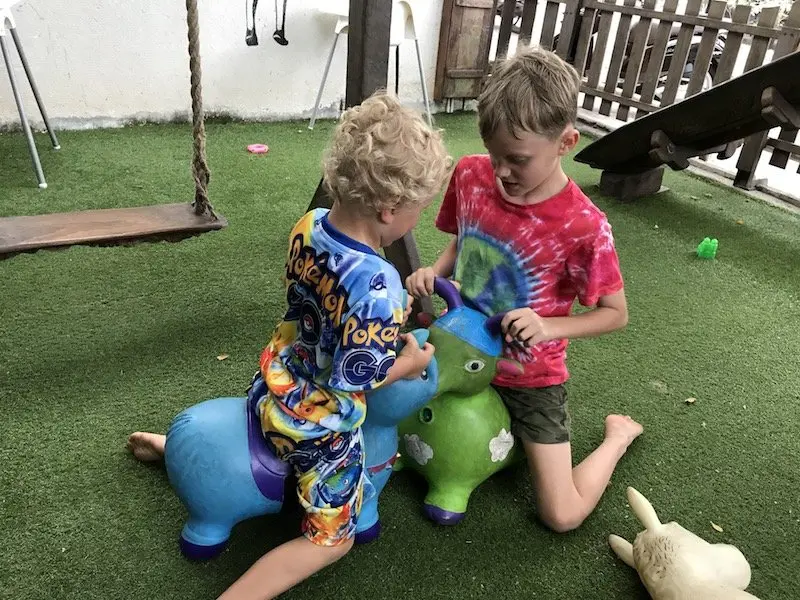 Cinta Cafe Opening Hours
8am to 10pm.
Entry Fees
The playground is FREE to all customers with the purchase of a coffee, drink or meal.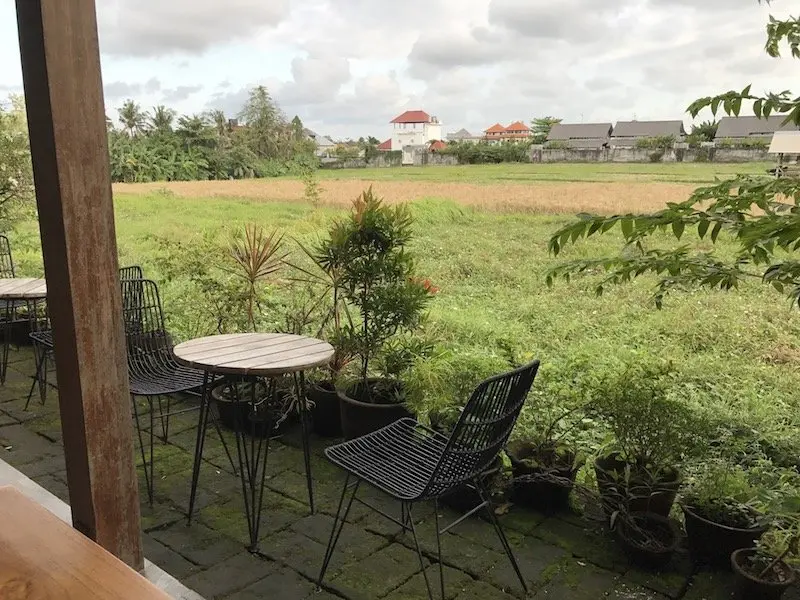 How to get to Cinta Cafe in Canggu
By Bus:Catch a super cheap Kura Kura bus from Kuta, Legian, Seminyak, Sanur, Jimbaran and Ubud to the Fave Hotel Umalas (this stop is on Line 1), then a taxi from there to Cinta.
By Taxi: Call a Bluebird taxi or an Uber
By Car: Hire a private car with driver
By Foot: Walk from local villas/hotels.
The Cafe is a 10 minute walk from Splash Bali.
Note: The pedestrian walkway from Canggu is non-existent in places. Difficult with a stroller. You will need to walk on, or very close to, the road along some parts.
Bluebird Taxi from Splash may be a safer option with kids.
Cinta Cafe Parking
Limited parking out front.
Cinta Canggu Facilities
Toilets: Yes
Disability access: Stairs at front entrance.
Dogs: No
Toadstool Rating: Cafe Cinta Canggu.

Looking for MORE SUPER DOOPER FUN places to visit and things to do in BALI with Kids?
Click the links in blue for more Bali tips below.