INSIDE: All you need to know about Berawa Kitchen Canggu Restaurants you must try, and treats you must eat!
EIGHT permanent onsite food stalls to choose from including pizza, kebabs, Balinese food, and Japanese.
LIVE music Tuesday, Thursday and Saturday.
RAINBOW WAFFLES and ICE-CREAM on offer all day long at Creperia?
There's this, AND MORE, at Berawa Kitchen in Canggu.
Read all the details of what else you'll find, and directions of how to get there, below.
Disclosure: This article contains affiliate links. If you make a purchase after clicking on one of these links, we may receive a small commission at NO extra cost to you.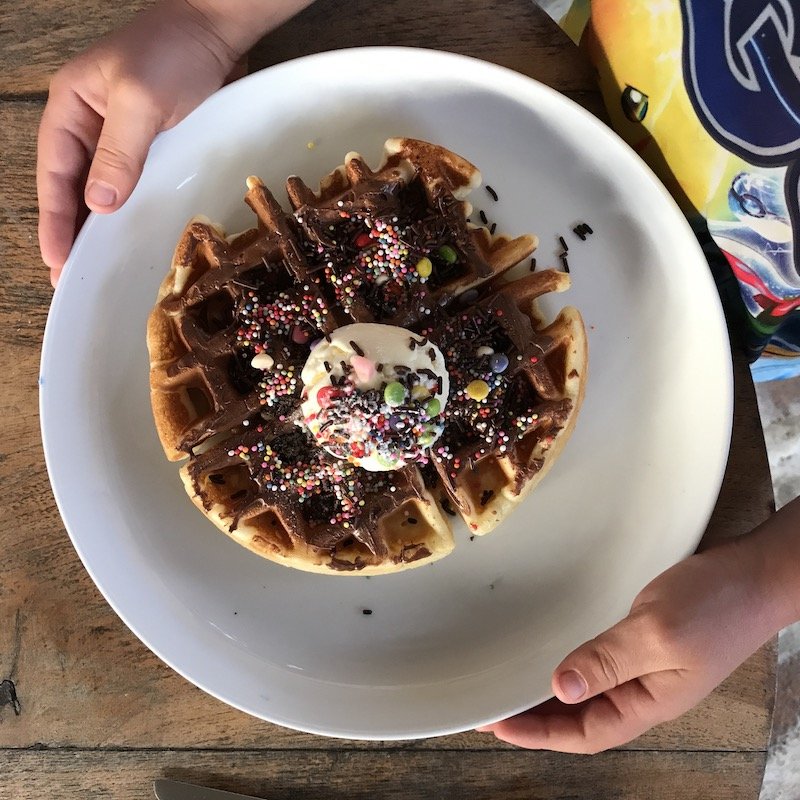 Guide to Berawa Kitchen Canggu
These are the kind of Family Friendly Canguu restaurants we put on our Must-Do list.
Berawa Kitchen is located at Berawa Canggu, just a short 10 minute walk around the corner from Cinta Cafe and The Jungle Trader homewares stores.
Outdoor food hall in Bali
Berawa Kitchen is the largest outdoor food hall in Canggu Bali, and definitely the most tasty.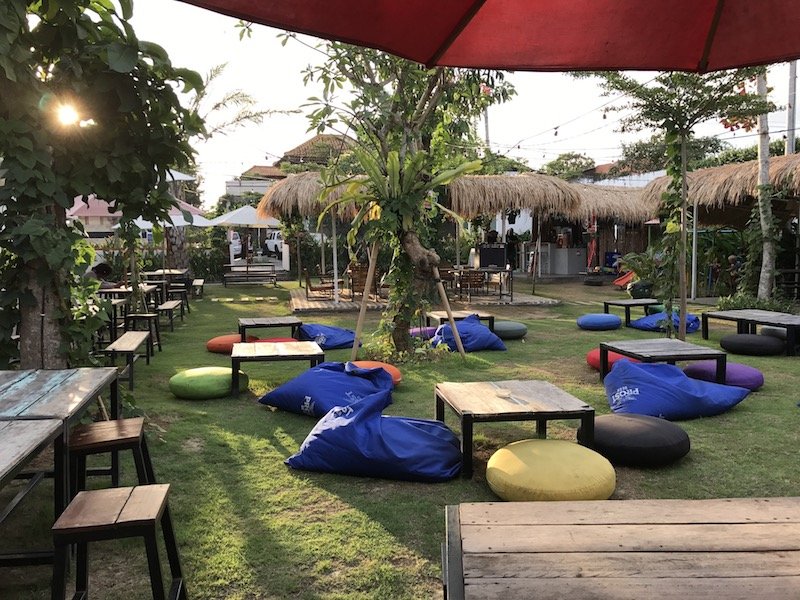 Best Canggu food trucks feast for families
The best thing about this place is the cute little playground.
(Kids playgrounds are hard to come by in Bali)
That, plus those Bali beanbag chairs, and my kids are in nirvana.
---
RELATED: Ultimate Guide of the Best Things to do in Bali with Kids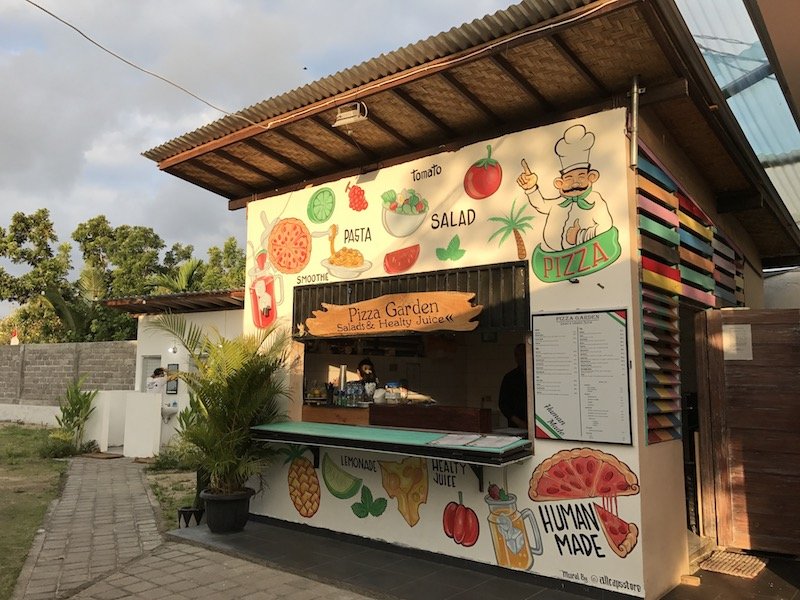 What to eat at Berawas Kitchen?
Choose from:
No.1: Pizza Garden
Pizza, pasta, salad and smoothies at the Pizza Garden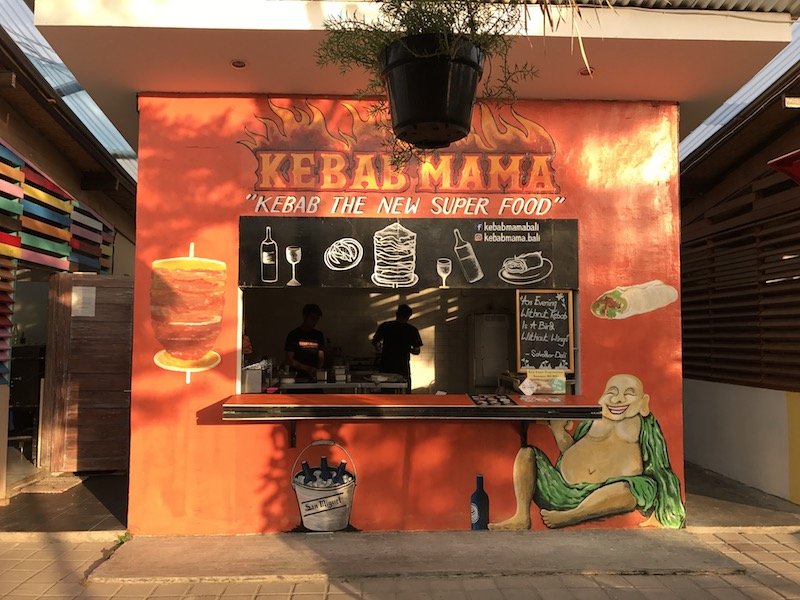 No.2: Kebabs at Kebab Mama
Delicious Turkish kebabs served to order.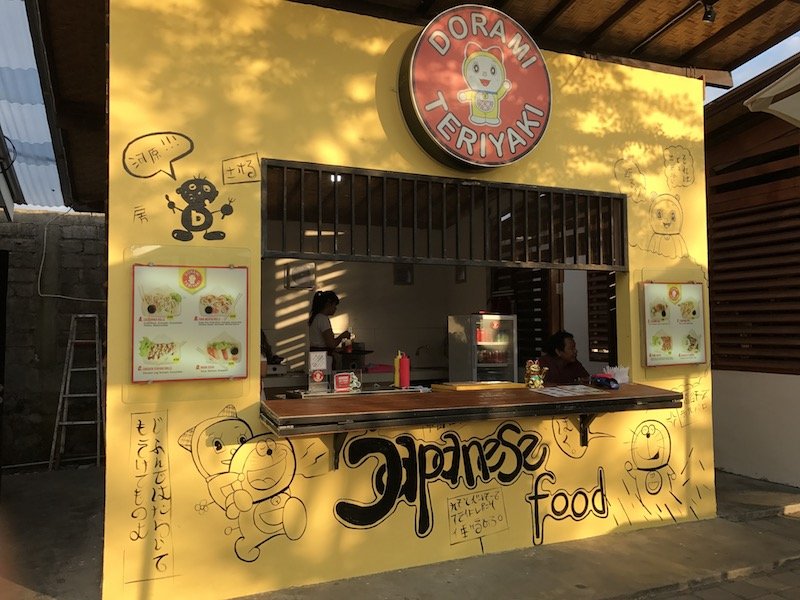 No.3: Japanese Food at Dorami Teriyaki
Sushi, Sashimi, Tempura, Pork Katsu and Chicken Teriyaki at Dorami Teriyaki.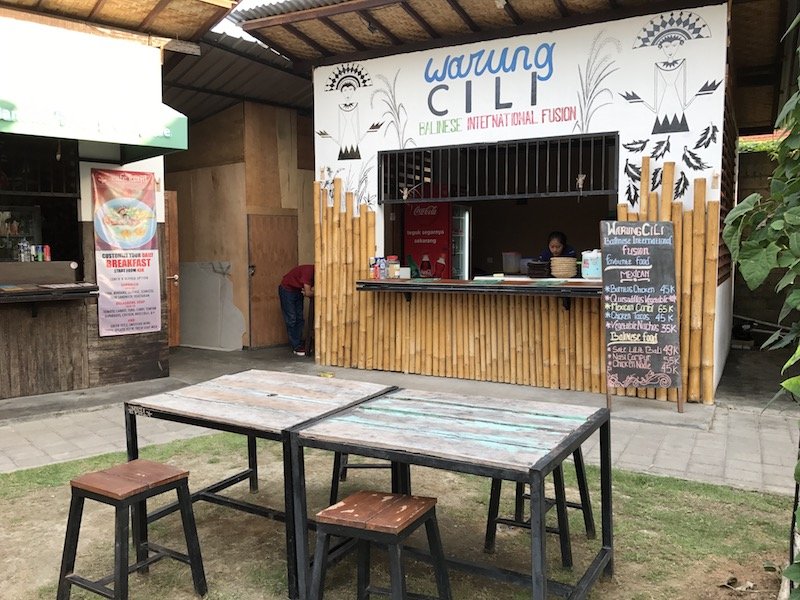 No.4: Warung Cili
Balinese international fusion food including sate sticks, chicken noodles, nasi campur, chicken tacos, veggie nachos, and burritos at Warung Cili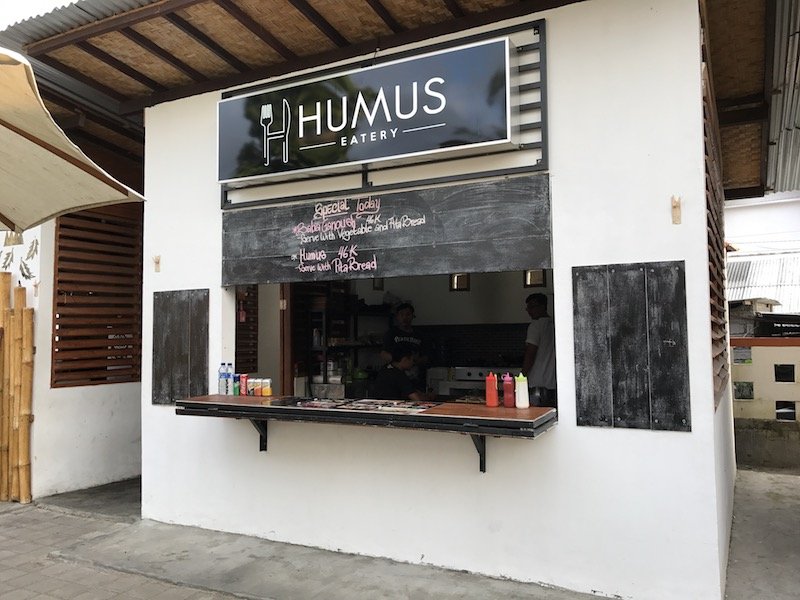 No.5: Humus Eatery
Baba Ganoush and Hommus with Pita bread at Humus Eatery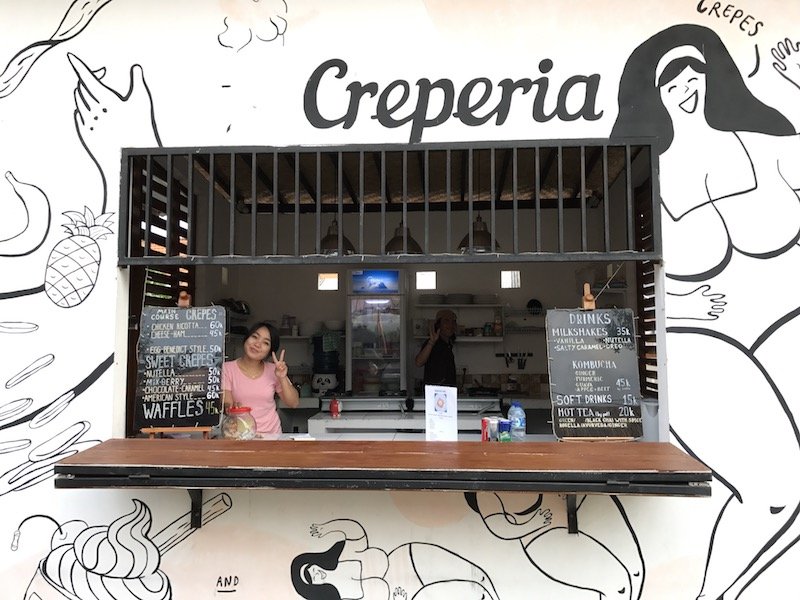 No.6: The Creperie Canggu Bali
Sweet and savoury crepes, milkshakes and kombucha at the Creperie
THOSE FABULOUS Rainbow Waffles can also be found at the Creperie!
Prices are super reasonable for all meals (and drinks) here, around RP 40,000 to RP 90,000 (AUD $4 – $9) with plenty of options under RP 60,000 ($6 AUD)
There's a bar too, with wicked margaritas.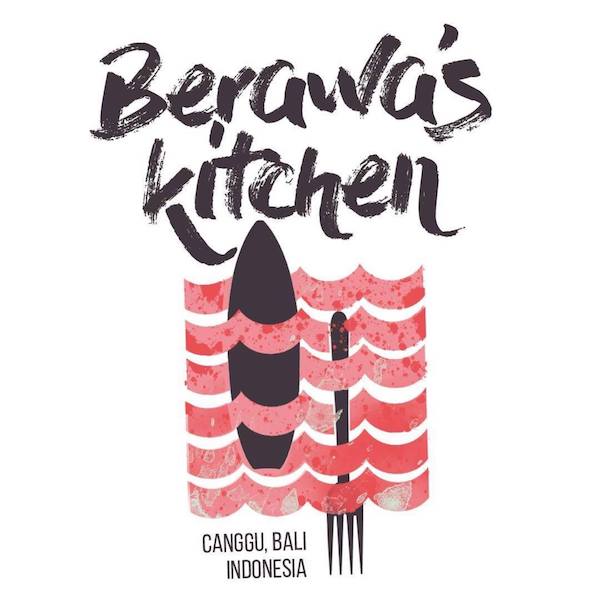 Berawa Bali – where is it?
Berawa and Berawa beach are really part of Canggu, the hipster haven that still retains the feel and vibe of old school Bali.
Canggu is our pick for where to stay in Bali with kids, as it's way less hectic and bogan than the streets of Kuta, and is a more relaxed version of Seminyak, with rice paddy field views for days.
A caveat.
It's not easy walking along these Canggu streets with kids.
There's hardly any pathways to speak of, and loads of scooter/bike/car action so be very careful.
Hold on tight to the toddler .
Put bub in the ergo.
Don't bother with a stroller around these parts.
Hot tip: If you are looking for somewhere that ticks all the boxes for you (stylish homewares shops, fabulous food, laid back restaurants, hippy sun-drenched vibe galore), your partner-in-crime, AND your little ones, book a villa here.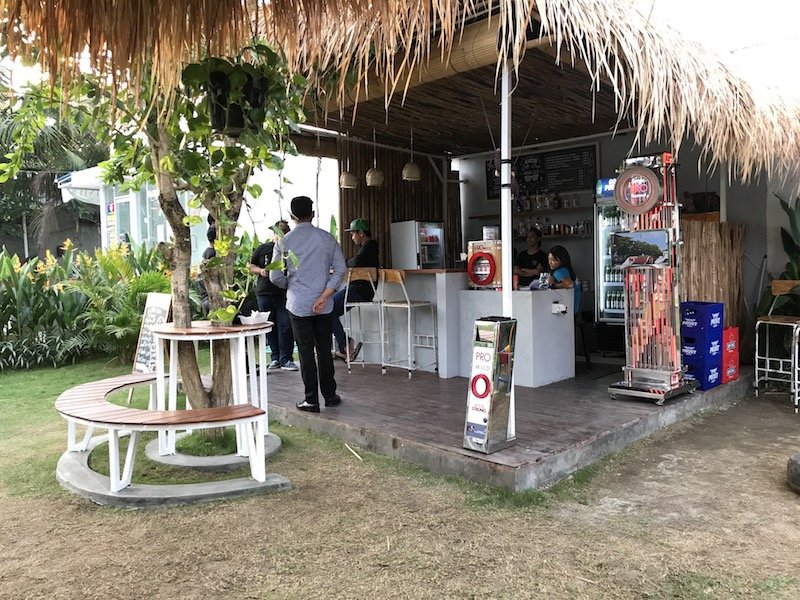 Berawa Kitchen Bar
Enjoy a drink in the sun from the bar.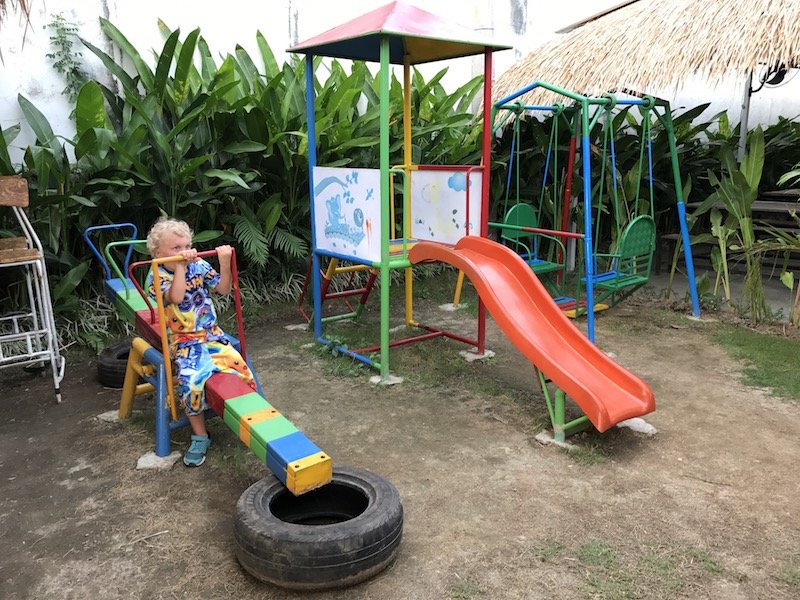 Berrawa's Kitchen playground for kids
The playground has had a few paint licks since our last visit, and it's now white!
There's now also another fort, with a tyre climbing ladder, and slide.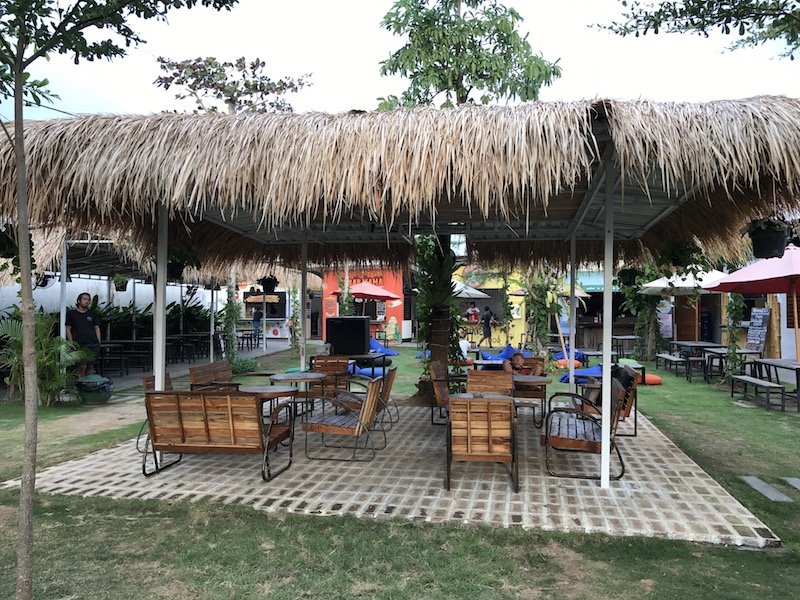 THE INSIDE SCOOP: Berawa's Kitchen Food Truck Collective
Correct at time of publication on Roam the Gnome. Please check with venue for updates. We apologise in advance if there have been any changes we are unaware of. All prices in AUD dollars, unless otherwise stated
Address: Berewa Kitchen Canggu Restaurants can be found at Jalan Raya Semat no. 8, Canggu, North Kuta, Badung Regency, Bali, Indonesia
Telephone: 0821 11876936
Facebook: Click here
Instagram: Click here
Berawa Kitchen opening hours
24 hours
Entry Fees
Always free entry to the Berawa's Kitchen garden.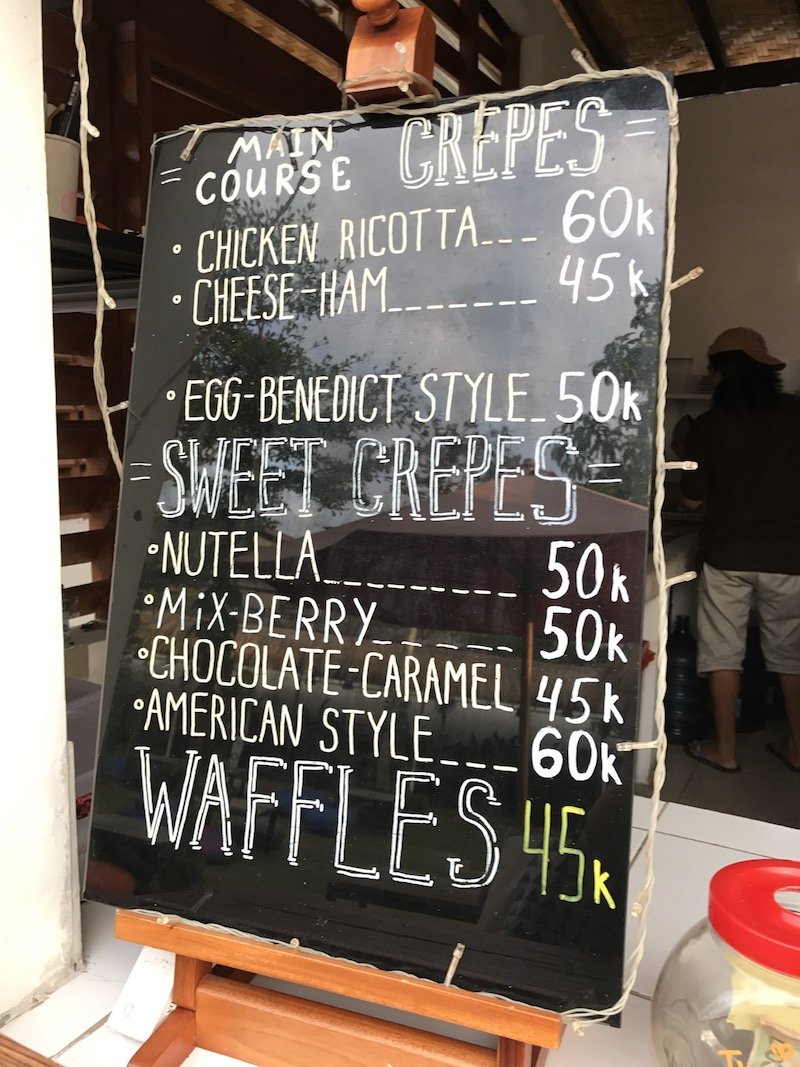 Berawa's Kitchen prices
Purchase meals individually at each food truck.
Check the price boards on the counter, or the menus.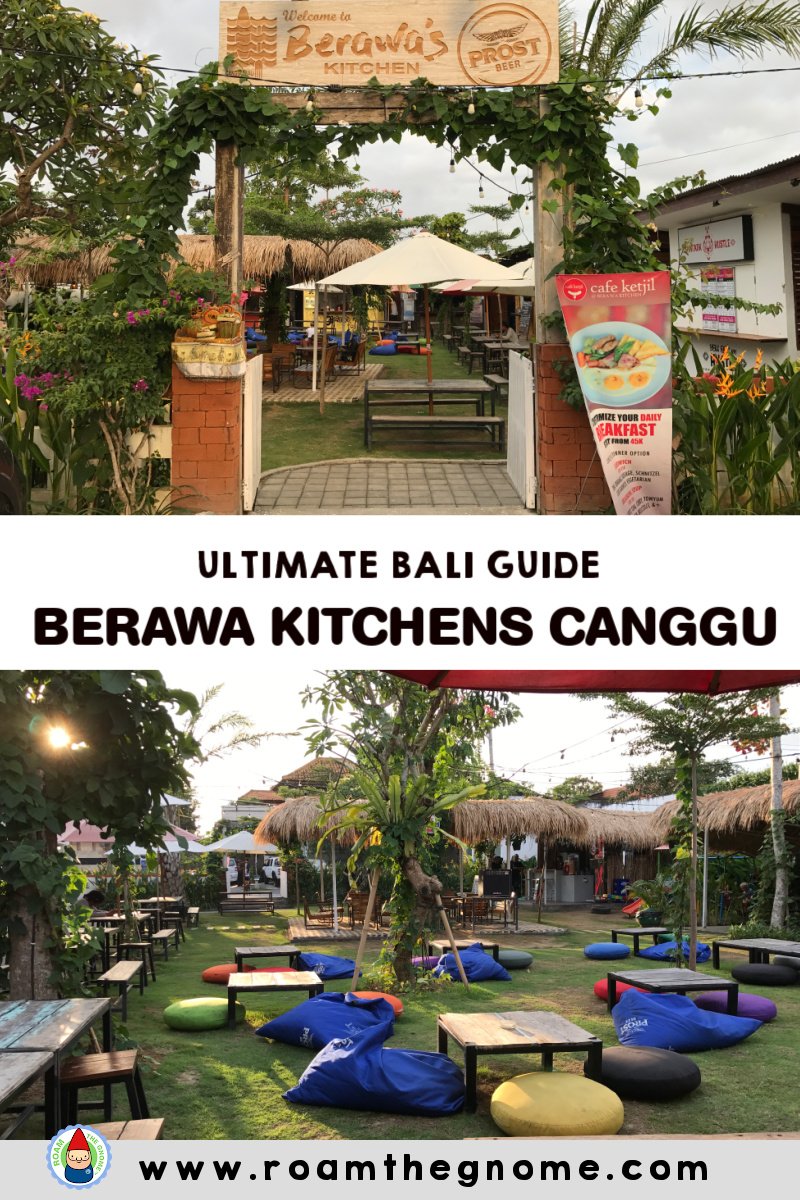 How to get to Canggu Berawa Kitchen
By private driver: Book a Bali Driver for a day. Read our review of our favourite Bali drivers here.
By taxi: Click here for details of how to book a Bluebird taxi
By foot: Walk from local Canggu villas
Click here for directions via Google Maps.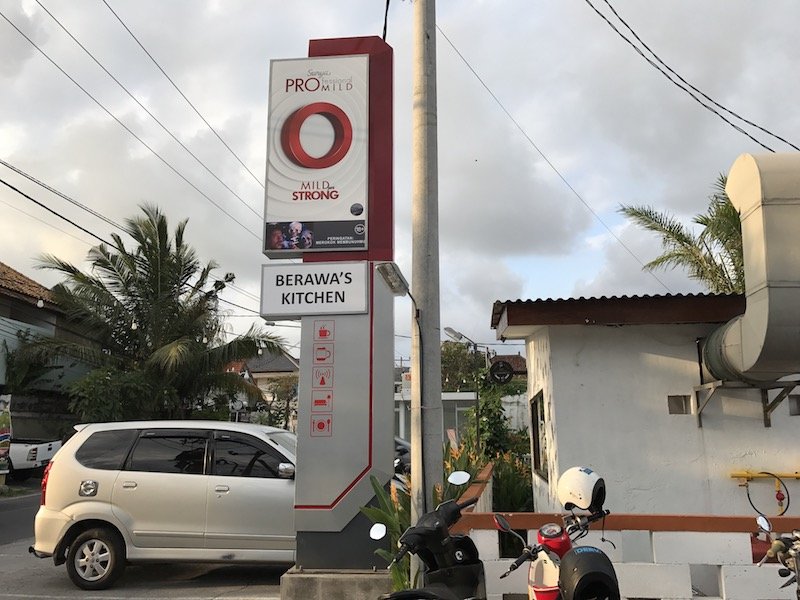 Berawa Kitchen parking
Free Parking available outside the front and back entrances
Berawa Kitchen Canggu Restaurants map
Facilities at Berawa's Kitchens Canggu
Toilets: Yes
Disability access: Accessible with normal Bali restrictions eg uneven pavements
Closest playground: Yes, there's one on site
Shade:Yes
Enclosed: There's no gates to contain children at front or back entrances, so keep a watchful eye, especially on the front entrance as the road outdoors is busy
Ground cover: Grass
Seating: Picnic tables, lounges, and beanbags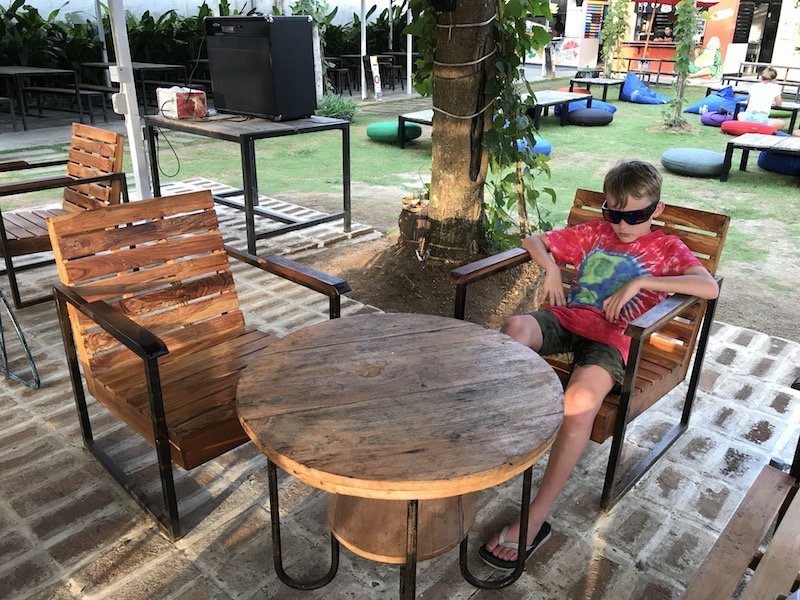 Toadstool Rating: Berawa Kitchens Food Hall Reviews
We love the outdoor tropical atmosphere.
And the choices at these Canggu popular food outlets are endless! No one will go hungry.

Looking for places to eat in Bali with kids?
Click the links in blue below for more Bali fun