INSIDE: Everything you need to know about Biku Bali High Tea before you go.
Fresh Finger Sandwiches filled with ham?
Fluffy Scones with Jam and Cream?
Cupcakes emblazoned with the cutest puppy-dog faces?
Menu sound tempting?
Is It Time to book High Tea at BIKU CAFE Bali Seminyak?
Read on for details of this fun Bali day out with kids & the whole family.
Disclosure: This article contains affiliate links. If you make a purchase after clicking on one of these links, we may receive a small commission at NO extra cost to you.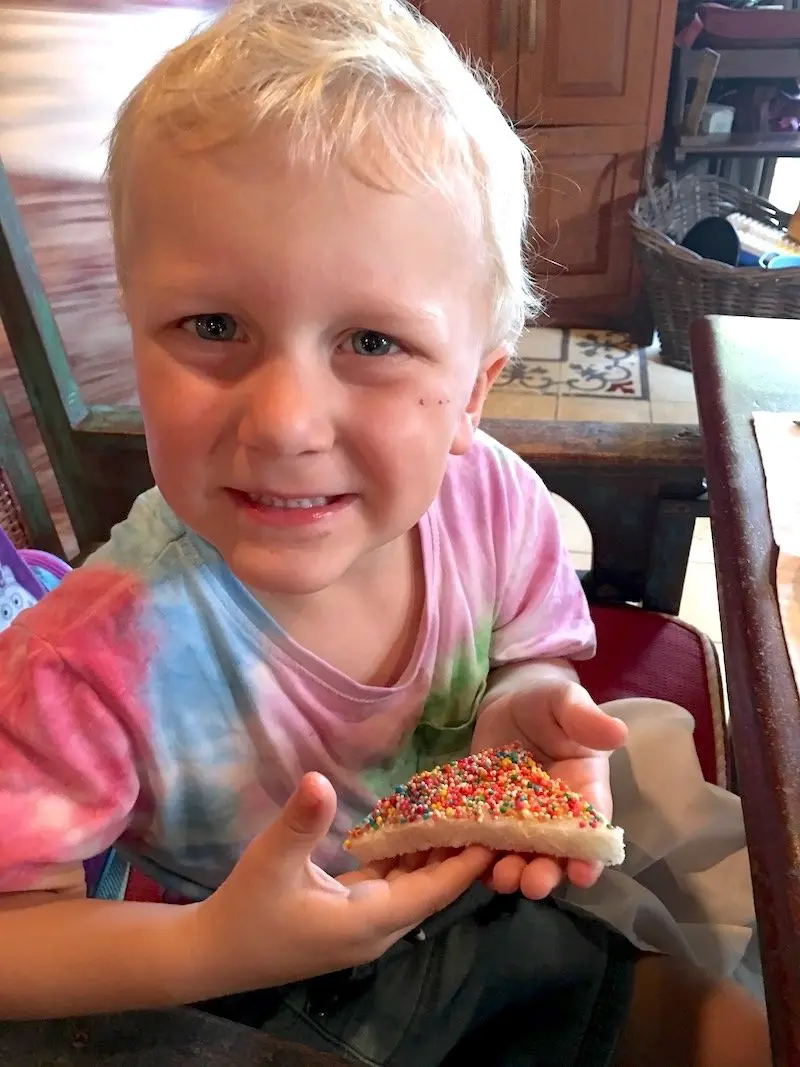 Guide to BIKU Bali Seminyak
The kids will want you to book this family friendly outing, and rightly so.
This is the CHILDREN'S menu at BIKU Cafe in Seminyak, Bali and what kid doesn't want a puppy-face cupcake put in front of them?
Right?
There's also FAIRY BREAD!
Australia's favourite sandwich – white bread smothered with butter and sprinkled with rainbow sprinkles.
Sneak a piece when they are looking the other way!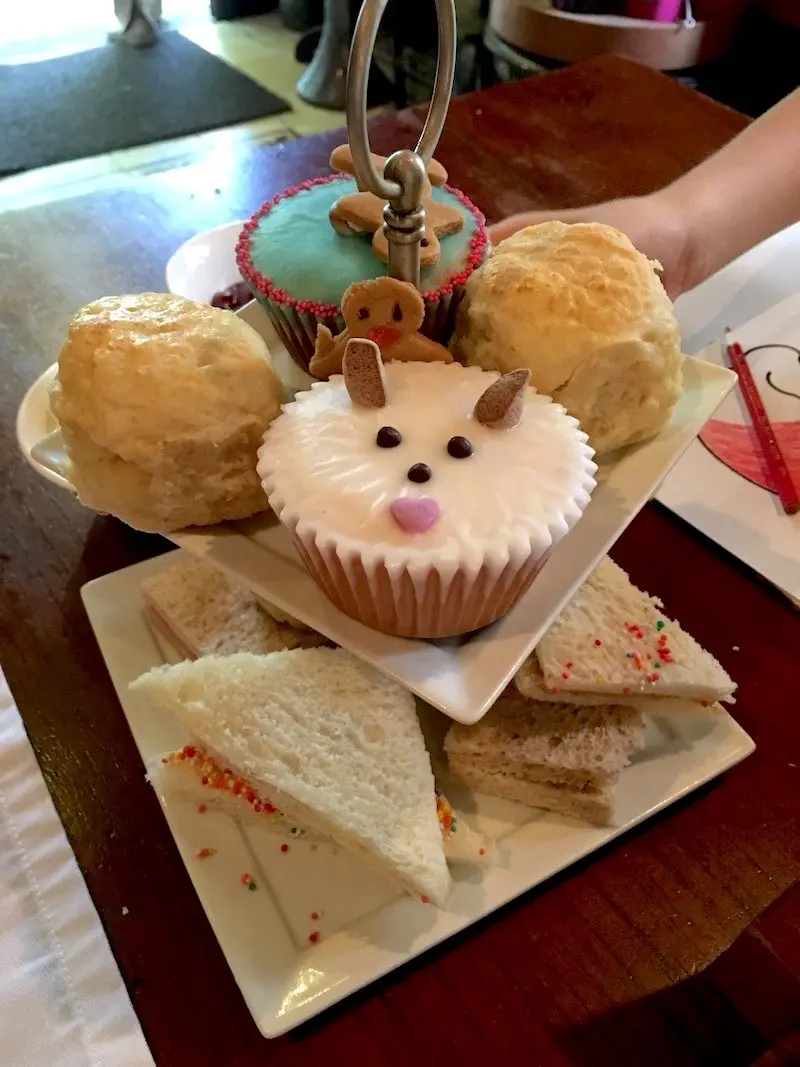 One of the Best of the Bali restaurants for kids
The Children's High Tea at BIKU CAFE is rounded out with:
one peanut butter finger sandwich
the sweetest gingerbread men you've ever seen, and
fruit tea or juice.
---
RELATED: The Big List of Best Things to do in BALI with Kids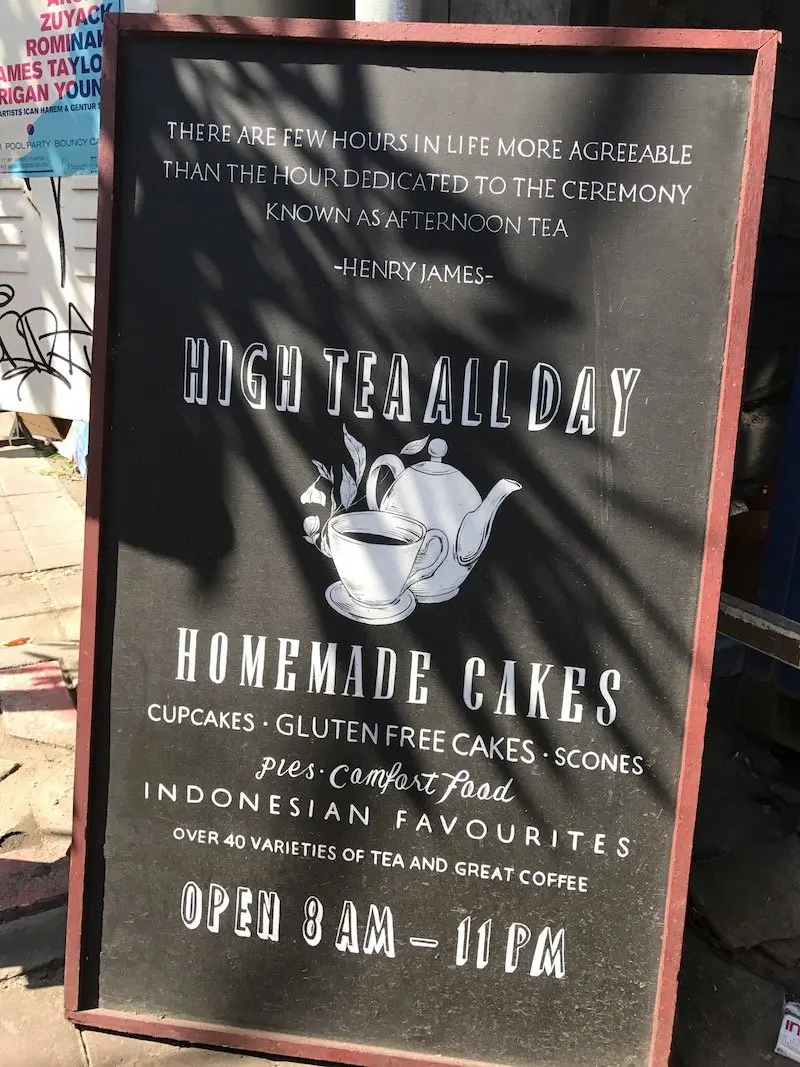 What is Biku Bali Seminyak?
BIKU is a restaurant, tea lounge, home-wares and book store in Kerobokan, Bali.
The setting of BIKU Cafe is as dreamy as the menu.
Biku is housed in the comforting surrounds of a 150-year-old teak joglo from East Java.
High tea is their speciality and you can either have a traditional high tea, or an Asian high tea.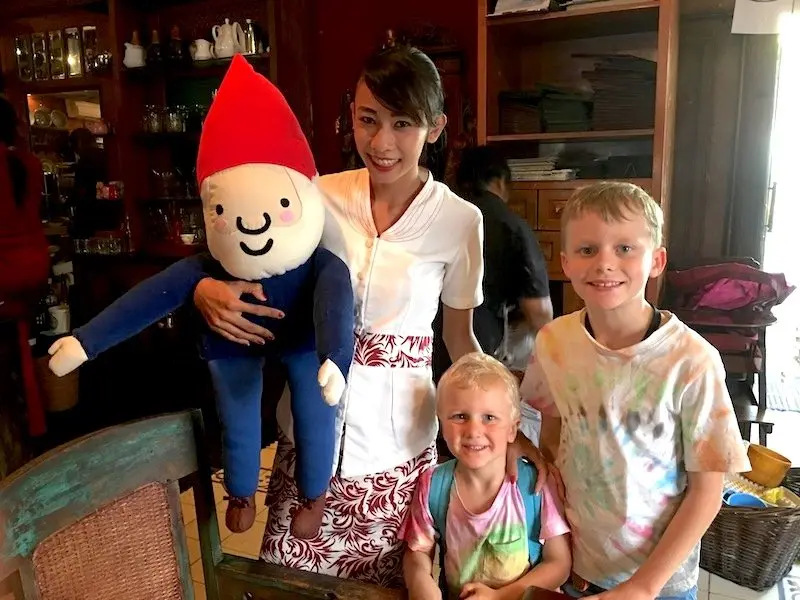 Are kids really welcome at Biku Seminyak?
Yes.
Kids are most welcome at BIKU Cafe, located on Jalan Petitenget in Seminyak.
This cafe/restaurant is very popular with large groups of women – sans children, so pick the right time.
(Just after the lunch rush, and early afternoon is my suggestion.)
Make sure the kids:
are in a good mood
not likely to throw a tantrum
not 'hangry' in case the food takes a while, and
happy to sit in a cafe for an hour or so, with fun food to eat, and colouring-in to keep them entertained.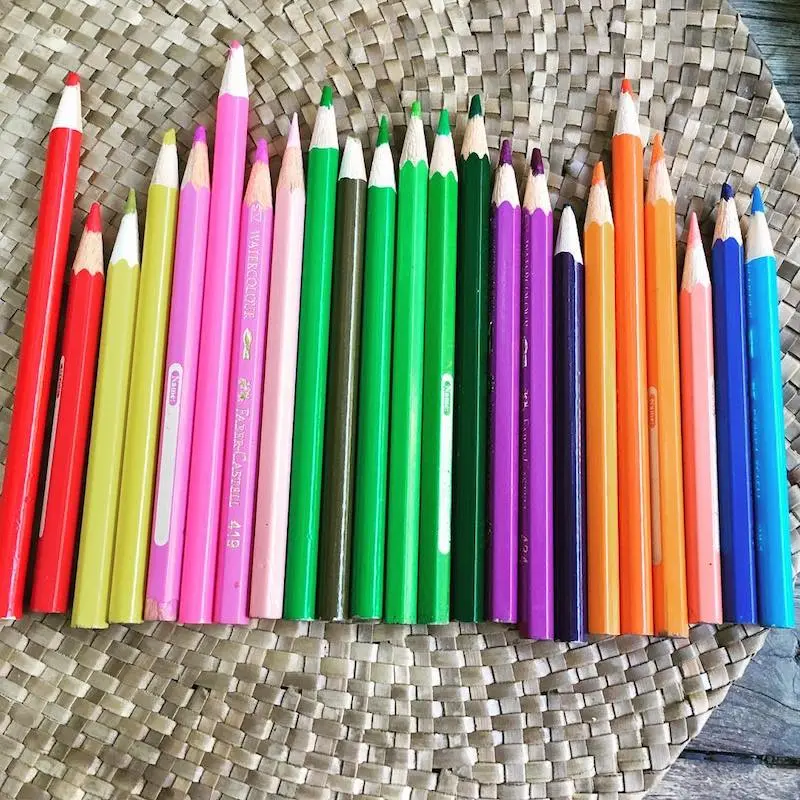 Image credit: Bali Biku
Colouring in at Biku
It's not a place where kids can run amok, although the staff are so polite, I'm sure they'd keep smiling no matter what.
For everybody's benefit, we gently suggest that this Biku High Tea experience is best for boys and girls over 5 or 6 years old.
(Unless it's an organised event, such as Afternoon Tea with Ron the Snake Man, where the whole place is full of kids. Then 4 year olds are quite welcome!)
Jack was 3 1/2 when we visited, and in all honesty, I almost didn't go in when I saw the clientele.
I wasn't sure how he'd behave, or if he could sit at a table happily for the duration.
Luckily, he proved me wrong (just) and we made it through.
Would I take a 3 1/2 year old again?
Never in a million years.
But I'd love to head back with a bunch of girlfriends.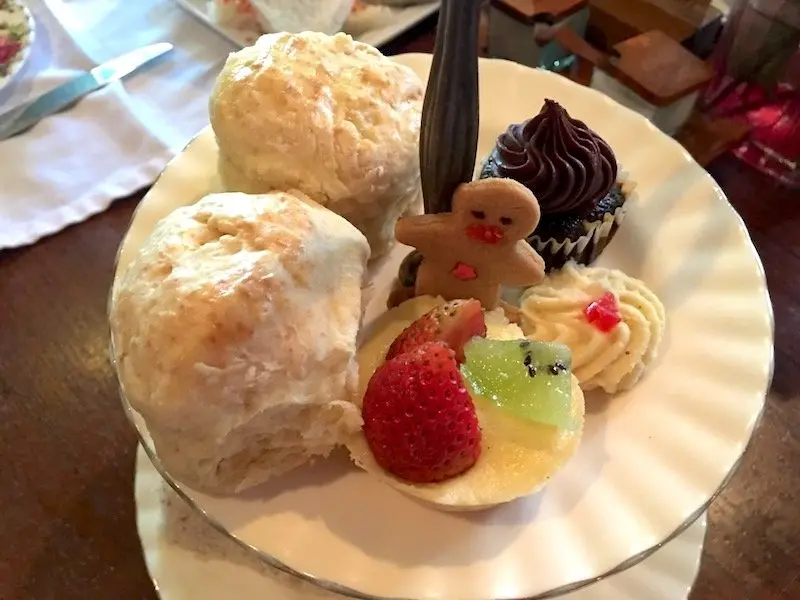 The Biku Menu at Biku Cafe
Adults have a couple of tempting High Tea Menus at Biku too.
There's an Asian take on High Tea (my mouth was watering at the sound samosas, spring rolls, and orange cake with rose tea syrup plus other treats I couldn't pronounce), but I stuck to the traditional one.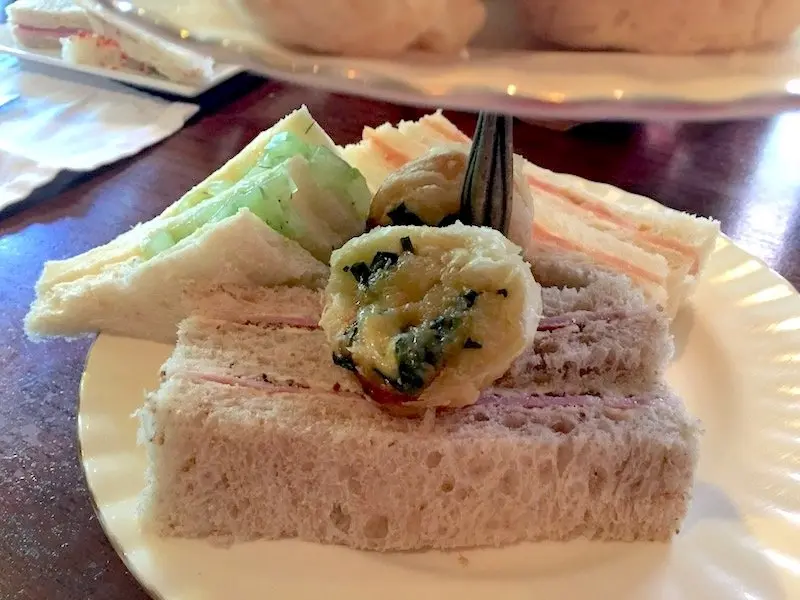 The traditional Biku Bali High Tea Menu for adults includes:
Your choice of Biku Teas
The essential requirement of fluffy scones, jam and fresh cream
Finger sandwiches – cucumber, ham and mustard, salmon and cream cheese
A mini Spinach Quiche
And a selection of Sweet Treats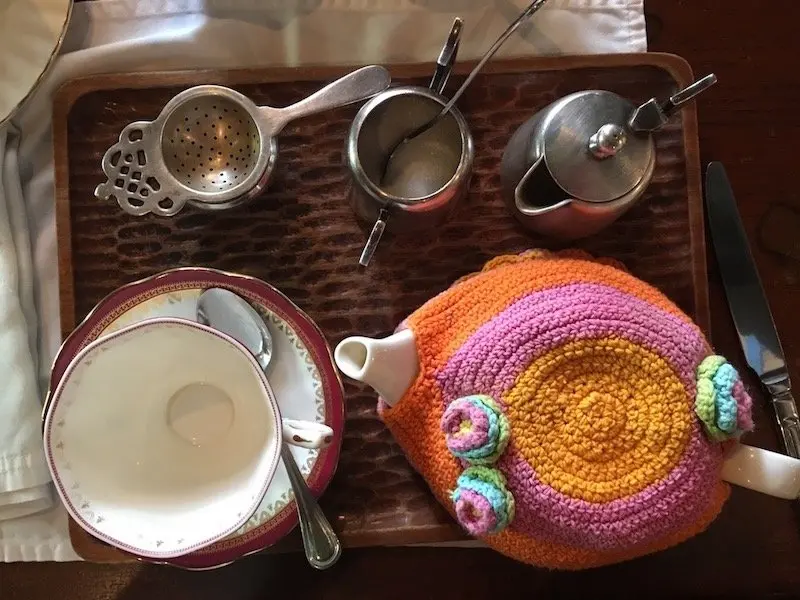 High Tea Biku Bali Menu Service
The Biku Bali menu for High tea is served on fine-bone china, and bubbles are available upon request for mamas who might like a little happy juice to keep them going for the afternoon.
For me, Roam the Gnome, and the kids, our Biku experience was a much-needed and happy respite from Indonesian food for the kids, and a little reminder of home.
White bread sandwiches have never looked or tasted so good.
Biku High Tea Prices
**Subject to change**
The Biku Bali high tea price is:
Adults High Tea is Rp. 125,000 per person
Children's High Tea at Biku costs Rp 40,000 per child
High Tea Session Times at Biku Cafe Seminyak
High Tea sessions are available from 11am to 5.45pm daily, on the quarter hour.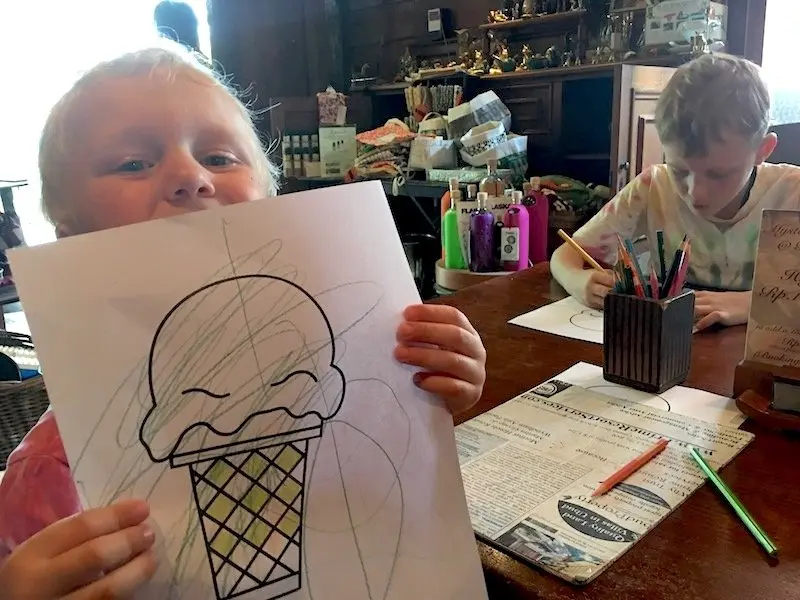 What to buy at Biku Homewares & Gift Shopping
If you have older children, or are accompanied by another adult who can supervise the kids colouring in for a moment, wander around the Bali joglo to browse the treasures on sale.
There's all kinds of gifts including:
Indonesian-accented books
Indonesian homewares,
local jewellery, and
antiques sourced from our favourite local artisans.
If you don't find what you are looking for, or want to shop more, our favourite Balinese homewares shop Carga Bali is right next door!
Bali Biku Events
From time to time, Biku hosts fun events such as Biku markets in Seminyak.
This is the time to visit!
Shop for unique Bali souvenirs and gifts, and eat as you go.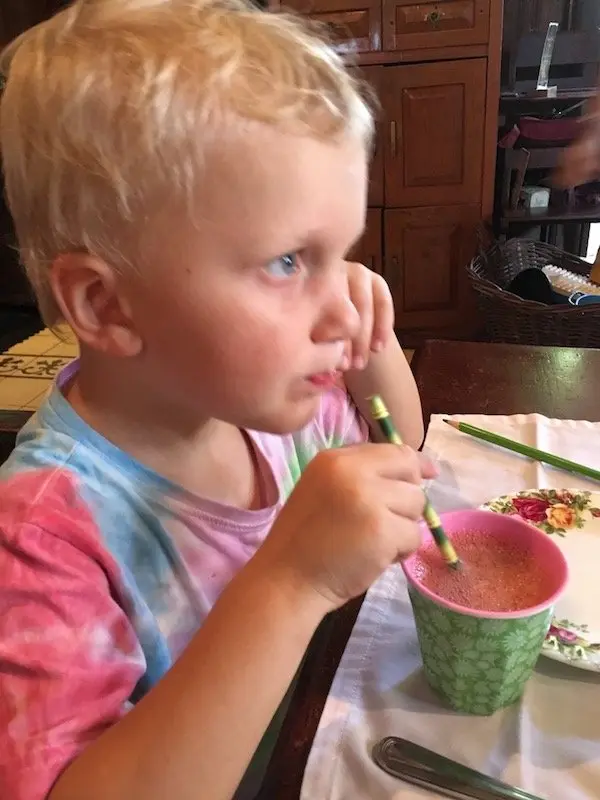 THE INSIDE SCOOP: BIKU Restaurant Bali
Correct at time of publication on Roam the Gnome. Please check with venue for updates. We apologise in advance if there have been any changes we are unaware of. All prices in AUD dollars, unless otherwise stated
Address: Biku Restaurant Cafe is located at Jl. Petitenget No.888, Kerobokan/Seminyak
Telephone: +62 851-0057-0888
Biku Bali instagram: Click here
Book your Biku High Tea Session
Opening hours for Biku High Tea sessions at the restaurant: 11am to 5.45pm
Click this link to book your Biku Bali High Tea session.
High tea at Biku is in demand, and may book out, so once you have a date in mind, secure your spot.
How to get to Biku Petitenget Restaurant Bali
By private driver: Book a Bali Driver for a day. Read our review of our favourite Bali drivers here.
By taxi: Click here for details of how to book a Bluebird taxi
Click here for directions via Google Maps.
Biku Seminyak Bali Cafe Map
Toadstool Rating: Biku Bali Review

Looking for shopping in Seminyak?
Click the links in blue below for more Bali travel tips