INSIDE: Everything you need to know about finding the best playgrounds in Brisbane
Looking for Brisbane playgrounds for kids?
Brisbane has some of the best playgrounds in the whole of Australia, plus there's a couple of water playgrounds in Brisbane you don't want to miss.
Brisbane is one of our favourite cities in Australia for kids to explore, and creative playgrounds like these are just ONE reason why.
Check out the best Brisbane playgrounds in our guide below.
Disclosure: This article contains affiliate links. If you make a purchase after clicking on one of these links, we may receive a small commission at NO extra cost to you.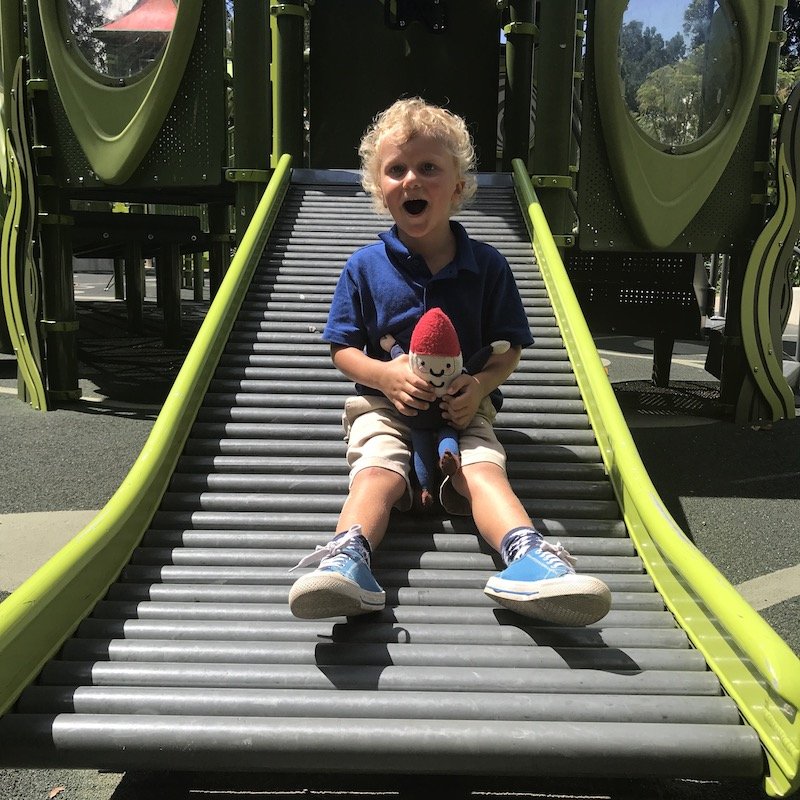 THE INSIDE SCOOP: The Best Playgrounds in Brisbane QLD
Correct at time of publication on Roam the Gnome. Please check with venue for updates. We apologise in advance if there have been any changes we are unaware of. All prices in AUD dollars, unless otherwise stated
Hot tip: Getting around Brisbane – the Essential Guide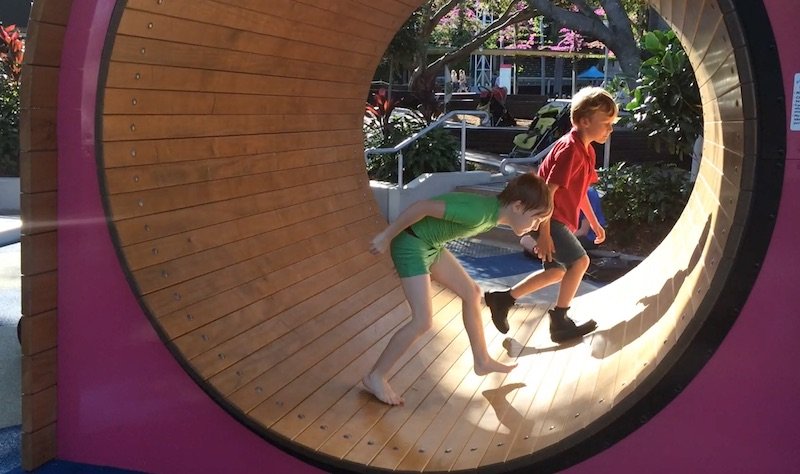 No.1: Riverside Green Playground Southbank Parklands
This Brisbane CBD playground is over the bridge at Southbank.
Go for the HAMSTER WHEEL.
Make a day of it, by:
heading to the Queensland Science Museum and GOMA Art Gallery in the morning
ride the Brisbane Wheel before lunch
head to Southbank restaurants to eat, and
finish the day with time on the playground, AND
a swim at Southbank!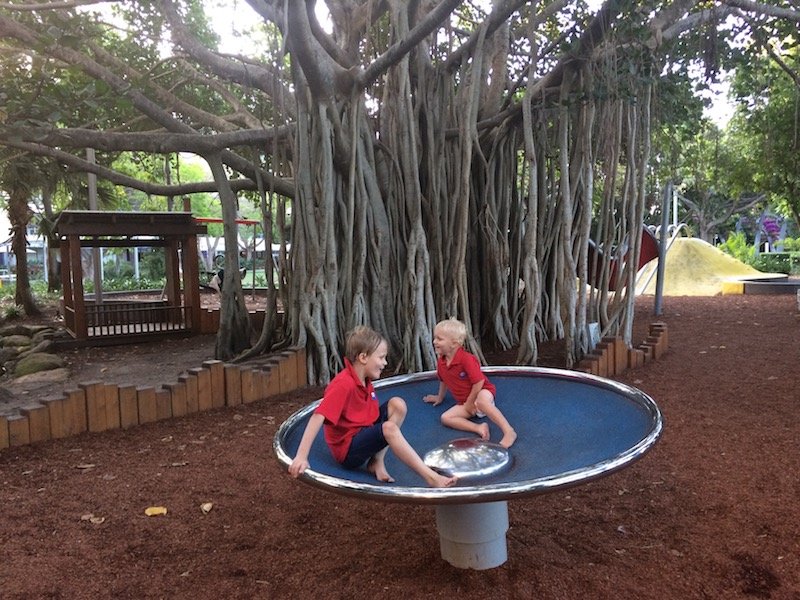 No.2: Picnic Island Green Southbank
Walk from the Riverside Green playground, past the Streets Beach at South Bank, and Aquativity!, and you'll stumble upon Picnic Island Green playground.
It's a well hidden nature play area, much quieter than the hectic chaos of Riverside Green, and a lovely spot for a picnic.
(There's picnic tables and a rotunda)
You might find a Water Dragon friend come to join your family!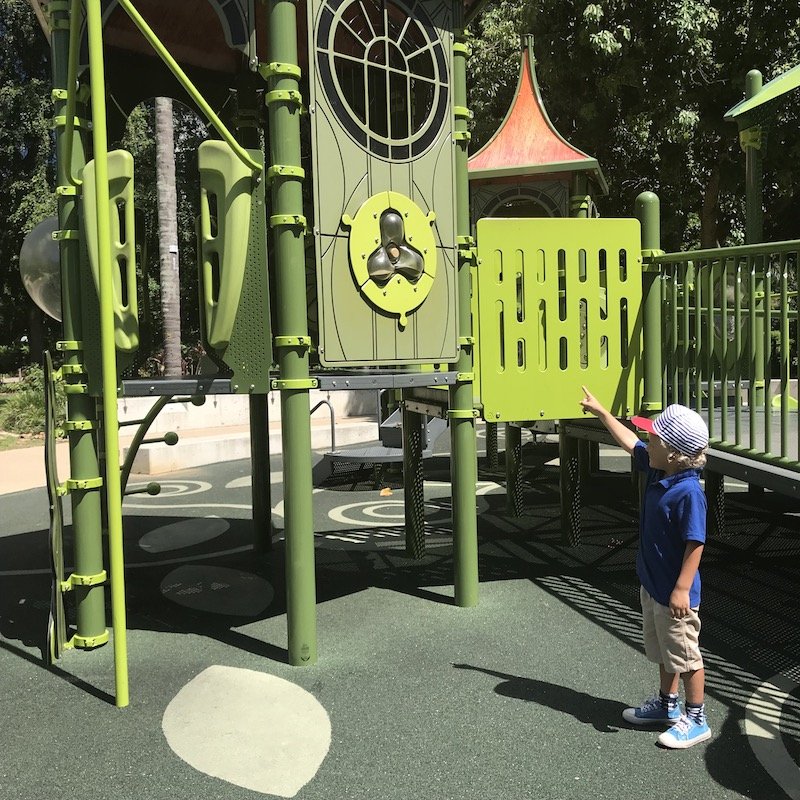 No.3: Brisbane Botanic Garden Playground
Another Brisbane CBD playground is the one in the Botanic Gardens, near QUT.
This all abilities Brisbane playground is surrounded by giant trees, so while there's not a lot of shade OVER the play area, there is plenty of shade to sit under when you eat your picnic or snacks.
We love this playground, as it's only a few minutes walk from Queen Street Mall, yet you could be in another world, with a delicious cool breeze floating over from the Brisbane River.
Read our guide to this All Abilities playground in Brisbane here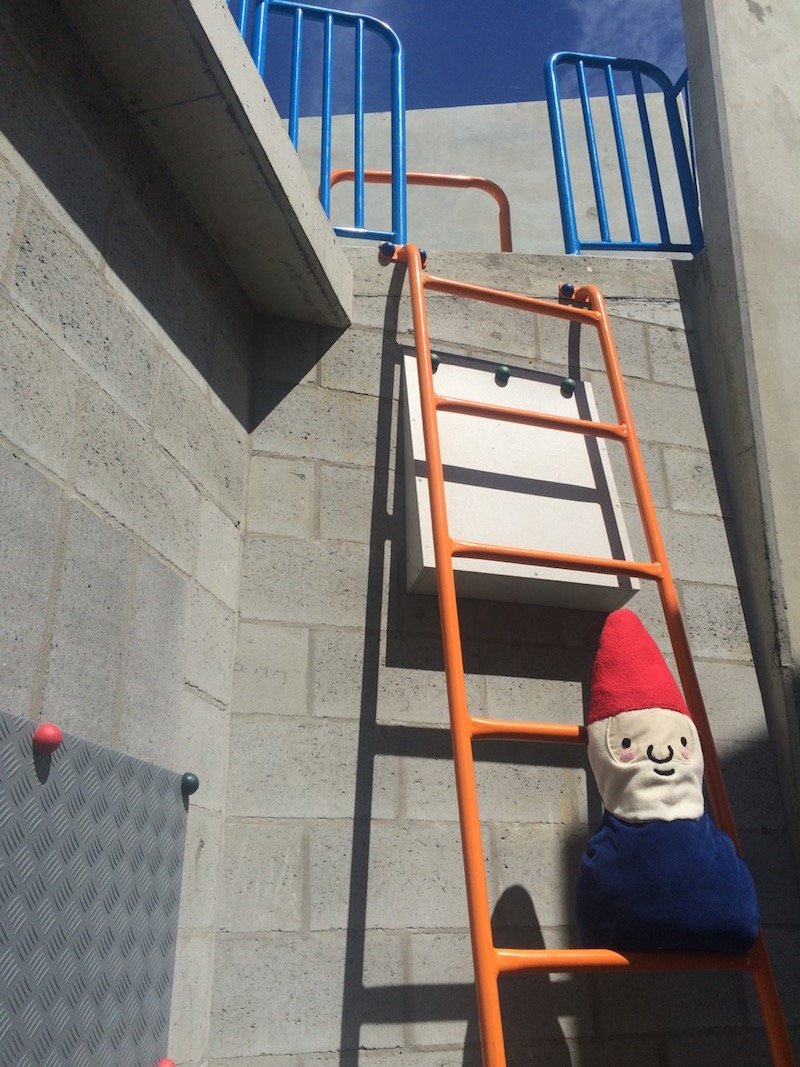 No.4: Frew Park Milton
Architecturally designed, this popular Brisbane playground is very different to the rest.
A welcome change, this concrete jungle is better suited to older kids and young teens.
But there is a section designed for toddlers and preschoolers so all is not lost.
Parkour fans will be thrilled to visit!
Not far from Brisbane city.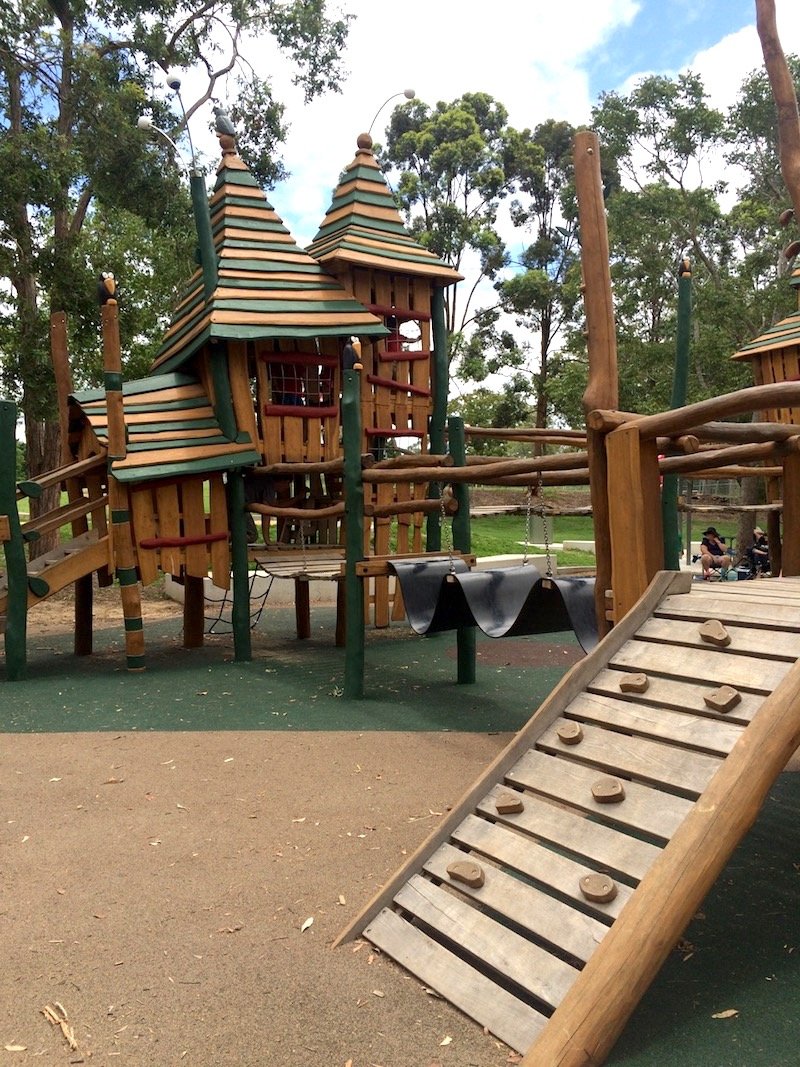 No.5: Funderwood Hollow Playground Brisbane
Our favourite Brisbane playground for kids is Funderwood Hollow.
No self respecting Gnome could argue!
THIS is as close to the perfect Gnome's Home we could ever imagine.
All we need is a few more magic toadstools to pop up around the place, and a Moonface and Silky, and it would truly be the the Enchanted Wood of Enid Blyton fame.
Read our guide to find all the features and facilities on site.
Take the kids – it's truly a magical playground with heart and soul!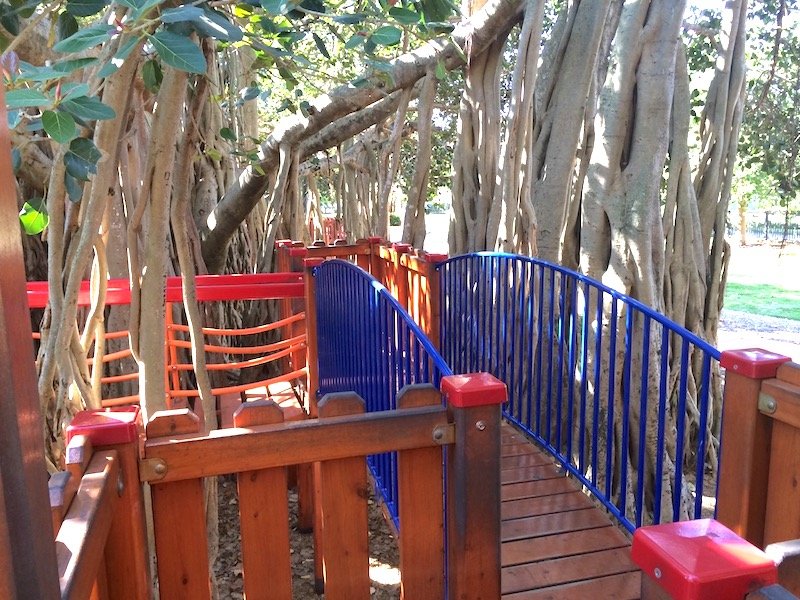 No.6: New Farm Park Brisbane
If you love magic and fairies and pixie dust as much as your kids, head to New Farm Park in Brisbane.
This gorgeous playground on Brisbane River was one of the first Ned and Jack ever visited.
It remains a strong contender in our top 10 Brisbane Playgrounds list.
The treed boulevards that rim the border of the park contribute to the fairy feel, and it's easy to believe that magical folk might love this treehouse style playground too.
Take a look inside one of the best parks in Brisbane city here
You'll find details of the best way how to get to New Farm Park too.
Hot tip: Take the Citycat Ferry from Southbank!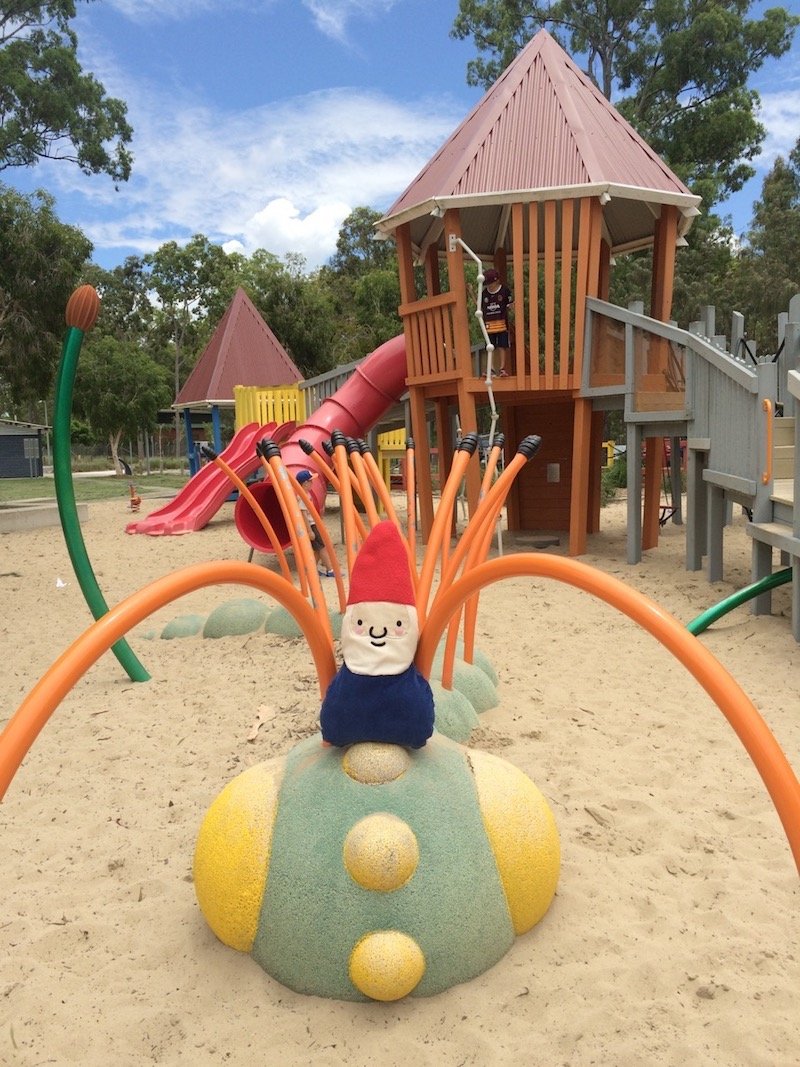 No.7: Hidden World Fitzgibbon
Brisbane families LOVE this playground for the imaginative backstory as much as the actual playground equipment.
We don't want to give it away, but if you read our guide, you can learn the secret!
Definitely one to put on your list of fun Brisbane playgrounds for kids.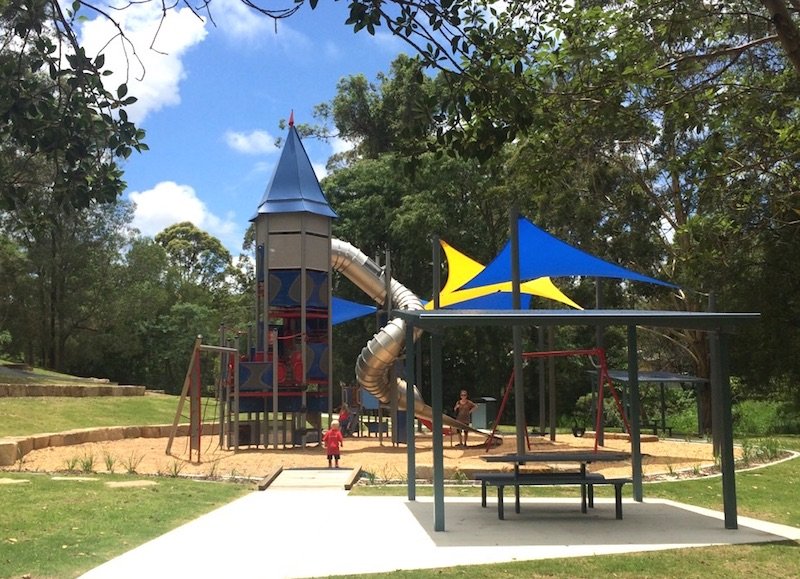 No.8: Roselea Park Brisbane Playground
Heading to IKEA Logan?
Pop this Cinderella Castle playground on your list.
(We've heard it's actually a Rocket Ship playground, but we're not budging – it's a Fairy Princess castle to us!)
It's not far from Ikea – just a 5 minute drive, and it's one of the best parks in Logan.
Bring your basketball – there's a court nearby.
Read our guide to Roselea Park playground here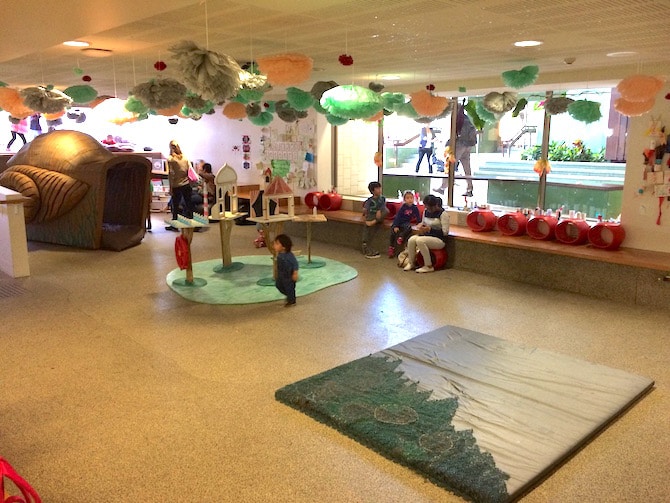 BEST INDOOR PLAYGROUNDS BRISBANE STYLE!
No.1: The Corner State Library
This is a surprise find, right at Southbank, and it's FREE!
Head into the State Library of Queensland, and look for The Corner.
It's a fun indoor play space for kids, in amongst the books.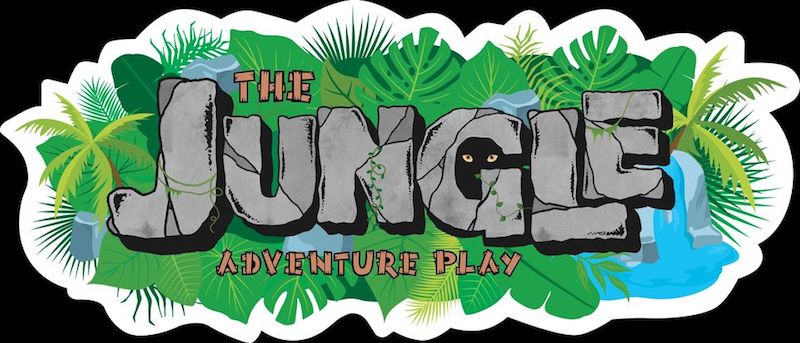 No.2: The Jungle Adventure Play Centre Brisbane
Just when you thought you'd seen the biggest indoor play centre you'd ever experienced, along comes the Jungle play centre in Brisbane.
Toddlers have their own play area.
Kids under 8 can do the Amazon Cloud climb and slide down one of the world's highest DNA slides, and fight a battle with new friends in the two-storey fun-ball battle zone.
Kids aged 4 and over can also:
do a ninja warrior course
challenge themselves on the uniquely decorated climbing walls
try the high ropes course
12 year olds or older can have a go on the Gorilla Warrior course.
There's a free fall jungle jump for anyone over 3 too!
Your kids will LOVE you forever if you take them.
You'll love the fact it's now air-conditioned too.
It's a parkour/treetop adventure/obstacle course through the trees for all ages.
Find it at 31 Proprietary St, Tingalpa QLD
Check out the website here

No.3: Chipmunks Playland and Cafe
There's a few of these brightly coloured indoor playgrounds around Brisbane including:
one at Everton Park, and
another at Lawnton.
Unlimited play for the one entry price.
No.4: Lollipop's Playland & Cafe
Find these popular indoor playgrounds in Brisbane in both Underwood and Strathpine.
Good for toddlers and preschoolers who love to explore and adventure.
Fully air conditioned, with dedicated toddler areas too.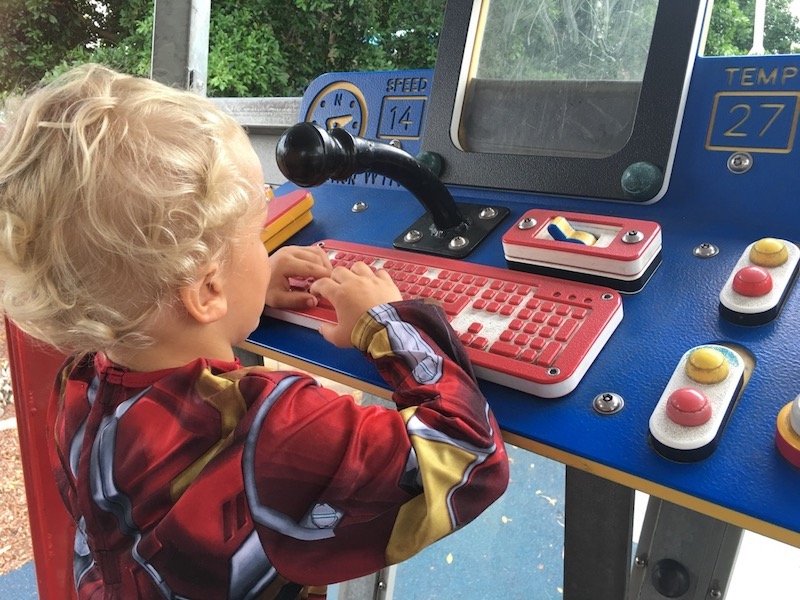 BEST PLAYGROUNDS IN IPSWICH
Ipswich is only 45 minutes from Brisbane CBD via the M5 motorway, and well worth a day trip.
Actually, make it a weekend.
There's LOTS of things to do in Ipswich with kids including:
a dedicated art gallery
market shopping, and
mysterious creatures in the Bremer River (Ipswich's own Loch Ness monster mystery!)
You may be surprised to hear that there are some AMAZING playgrounds in Ipswich, including one of the best water playgrounds in Brisbane.
They make it worth the drive there!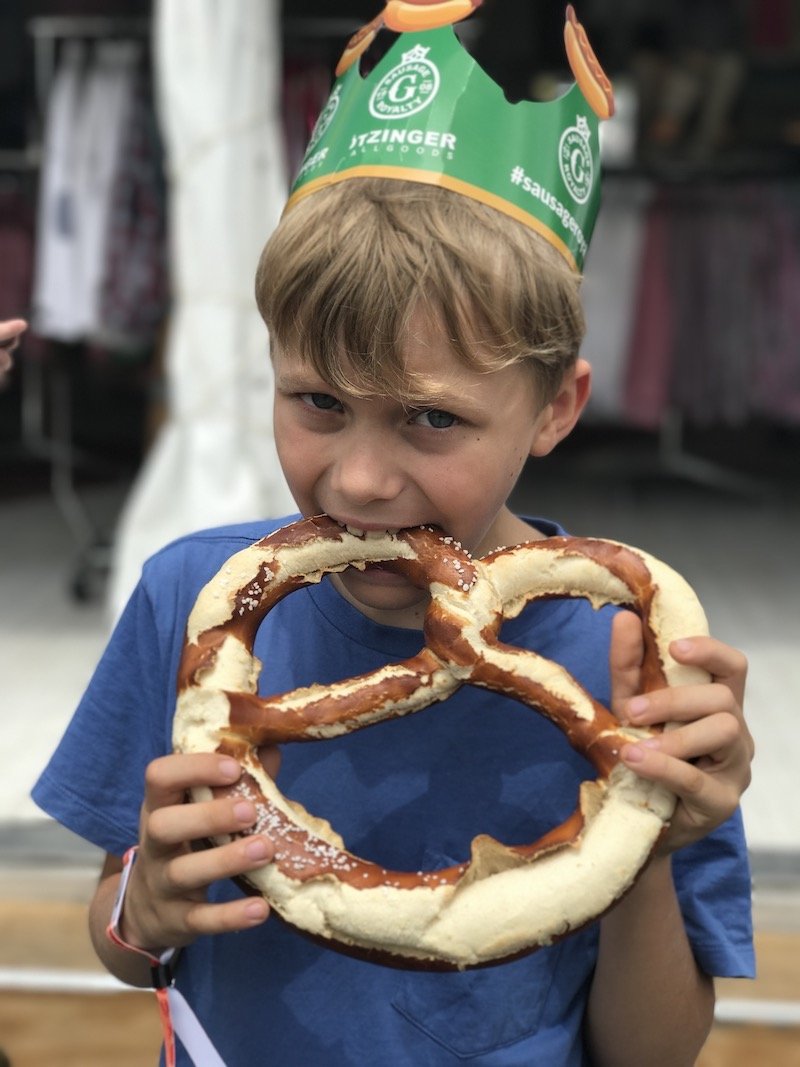 Looking for MORE things to do in Brisbane?
Click the blue links for fun Brisbane activities