INSIDE: Everything you need to know about finding the best playgrounds in Melbourne city.
What are the best Melbourne playgrounds for kids, or specifically, the best playgrounds in Melbourne for toddlers?
Melbourne has plenty, including a couple in or around the CBD, so you don't have to travel far if you are visiting the city on holidays and need a bit of time out for the kids, or are looking for the latest weekend ideas.
Check out the best Melbourne playgrounds in our guide below.
Disclosure: This article contains affiliate links. If you make a purchase after clicking on one of these links, we may receive a small commission at NO extra cost to you. Main image: Denise Jans via Unsplash CC BY 1.0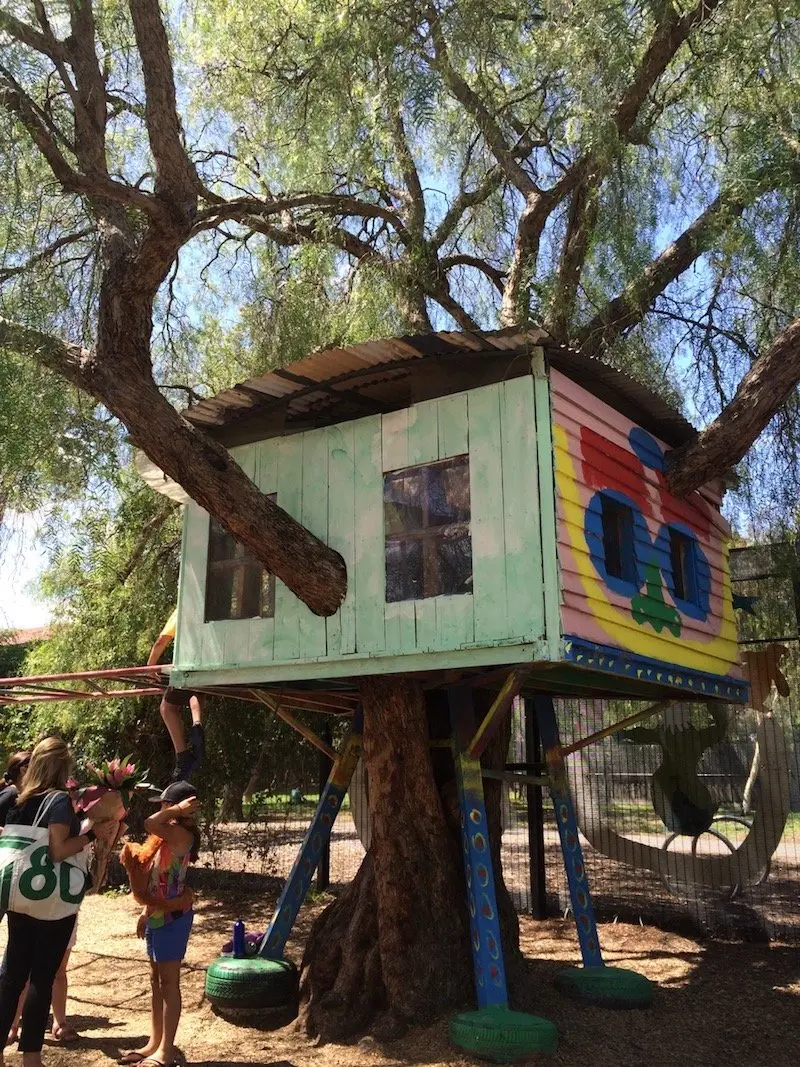 THE INSIDE SCOOP: BEST PLAYGROUNDS IN MELBOURNE FOR IMAGINATIVE PLAY
Correct at time of publication on Roam the Gnome. Please check with venue for updates. We apologise in advance if there have been any changes we are unaware of. All prices in AUD dollars, unless otherwise stated
Here is a list of the best Melbourne playgrounds with that something extra!
ie. Not boring.
It may:
be community minded
be an adventure playground
be a nature play space, and/or
have an aesthetic design
But they ALL have something a little special!
RELATED: Ultimate Guide to the Best Things to Do in Melbourne with Kids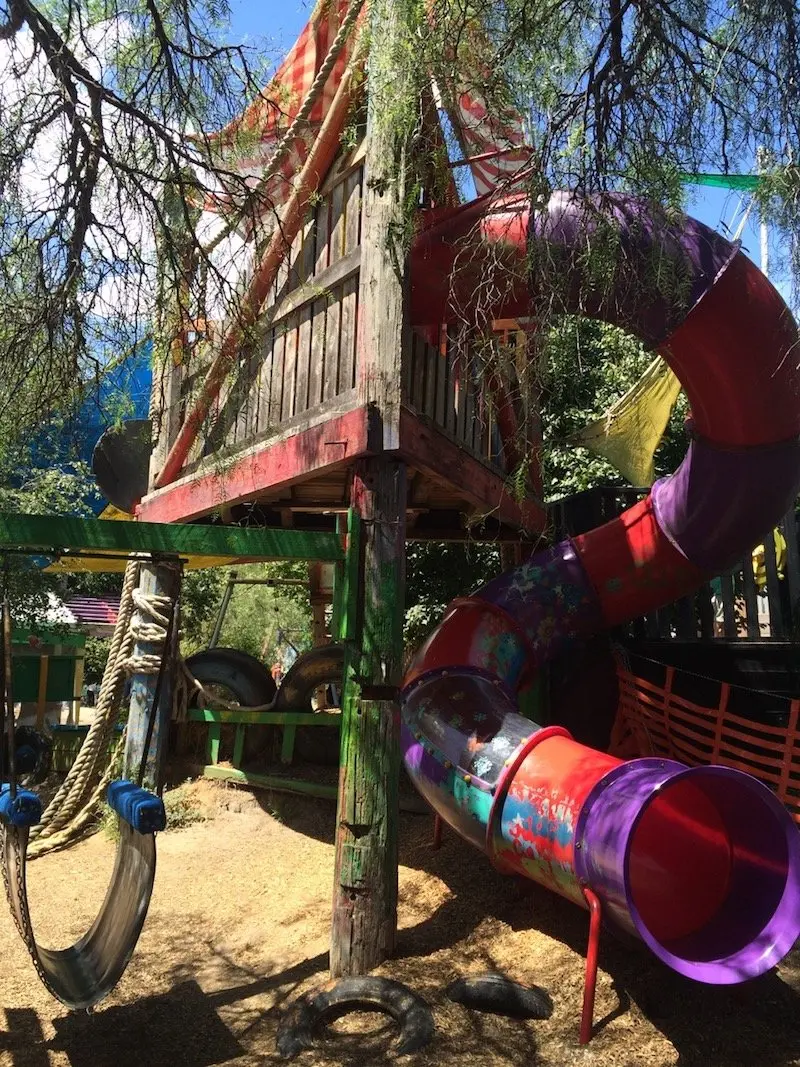 No.1: St Kilda Playground Melbourne
St Kilda Adventure playground is top of the list as it's one of the most popular Melbourne playgrounds for risky play.
That is, it's NOT perfectly safe and clinical.
St. Kilda playground has stairs to climb, and ladders, and community built cubby houses (like what you might find in your neighbour's backyard), and there's the odd splinter or two, and uneven concrete pathways.
Kids (and adults) have to watch their step and pay attention to their surroundings as they go about their play, but they are also given the freedom to:
imagine and create, and
move things around, and
stretch their own limits.
It's bloody awesome!
Helicopter parents need not apply.
But everyone is welcome!
Read our review here for all the details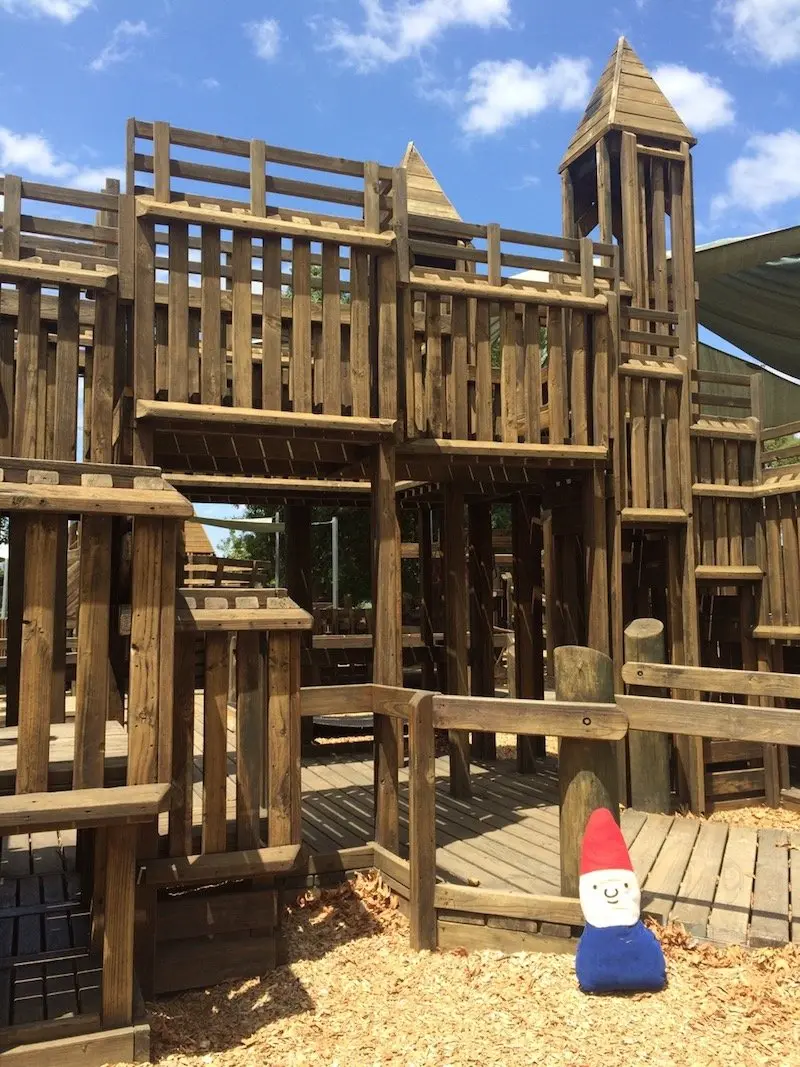 No.2: Albert Park Playground Melbourne
Here's another community playground in Melbourne.
This one was built BY the community of 3000 + locals, over 5 days, working their share of a 15 hour shift.
But look at what they made!
A magical castle fort, with:
hidden tunnels
turrets
theatre platforms, and
imaginative play equipment.
Find all the details here – how to get to Albert Park Melbourne playground, opening hours, & where to park.
Hot tip: Take the Official Neighbours Half-Day tour with special access!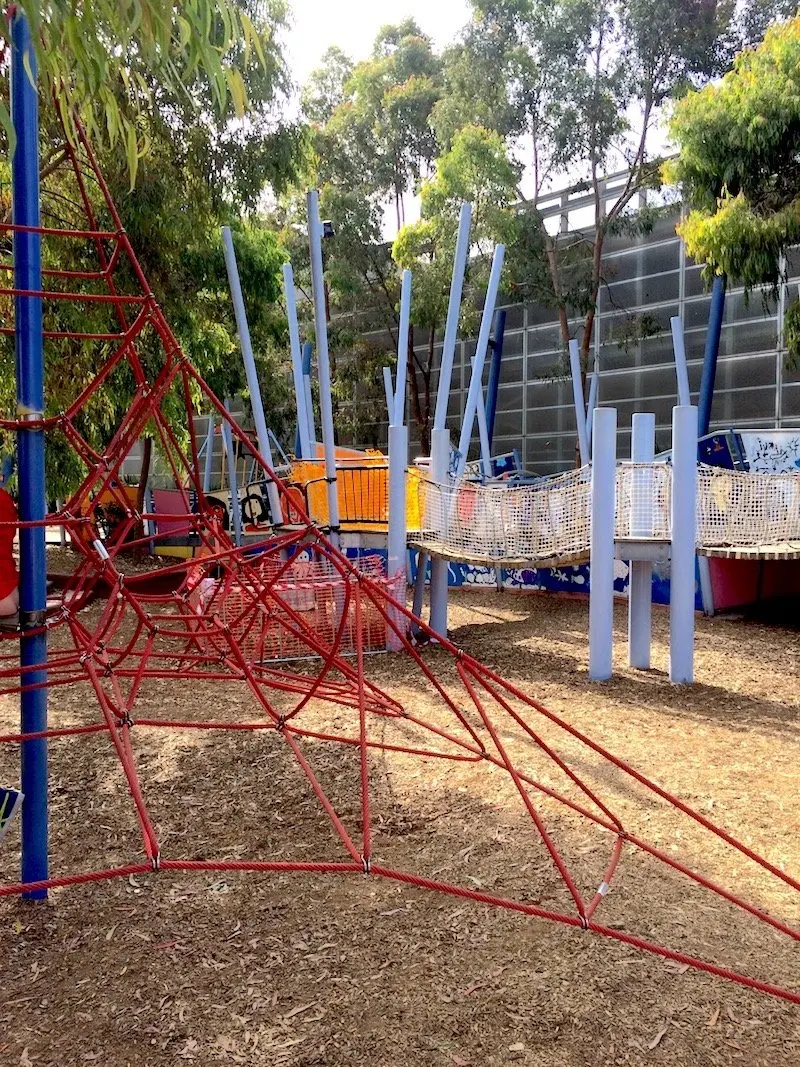 PLAYGROUNDS IN MELBOURNE CBD
No.1: Birrarung Marr Playground
Birrarung Marr is the Aboriginal word for "River of mists" and "river bank" and it's a fitting title for a playground next to the famous Yarra River that runs from Yarra Ranges National Park up in the hills near McMahons Creek and Reefton, all the way down:
past Dockside, and
the Westgate Bridge, and
Scienceworks, and
out to Port Phillip Bay.
This Melbourne CBD playground has a climbing pyramid, dual slides, and is very near the Federation Bells, so you can hear their chimes from time to time.
It's quite a soundtrack they play, and a real treat to hear!
Get all the details here (includes where to park, and how to get to Birrarung Marr playground too)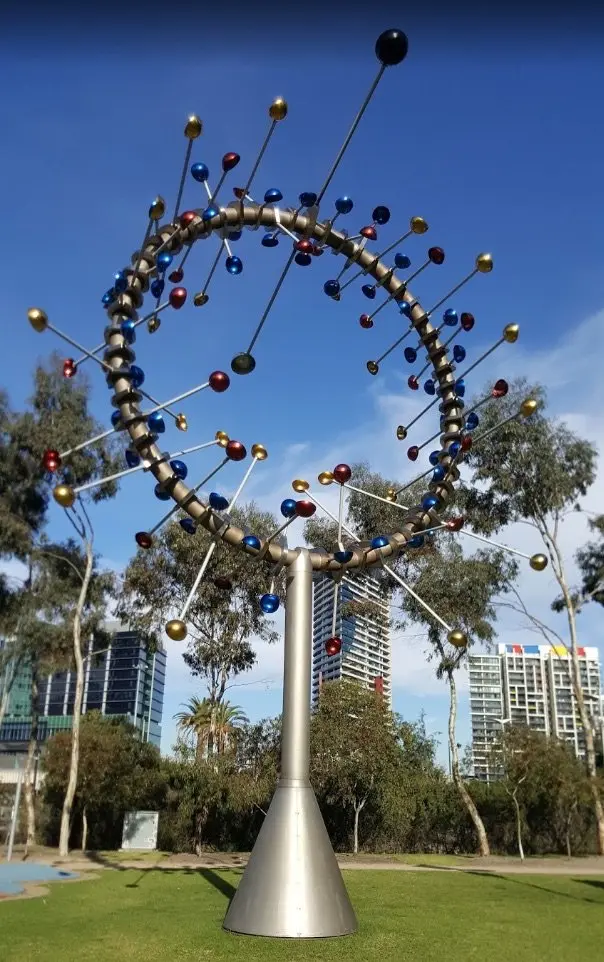 Image credit: Lui Nguyen
No.2: Docklands Playground Harbour Esplanade
Look for the unusual sculpture with gold, red and blue spokes off a giant upright wheel.
When you spot it, you know you are in the right place.
Under the shade of the trees, you'll find:
a ring of swings
a spinner pole
toadstool balancing pods to leap across
a teal coloured "mountain", with tunnels underneath, and dual slides on the mountain side
a sandpit
There's a stadium of stairs to one side too, so lots of space to sit and eat a picnic.
BYO Sandpit toys.
This park is very close to the road, so keep a close eye on runaways.
Find it at 1-47 Harbour Esplanade, Docklands (at Collins St intersection)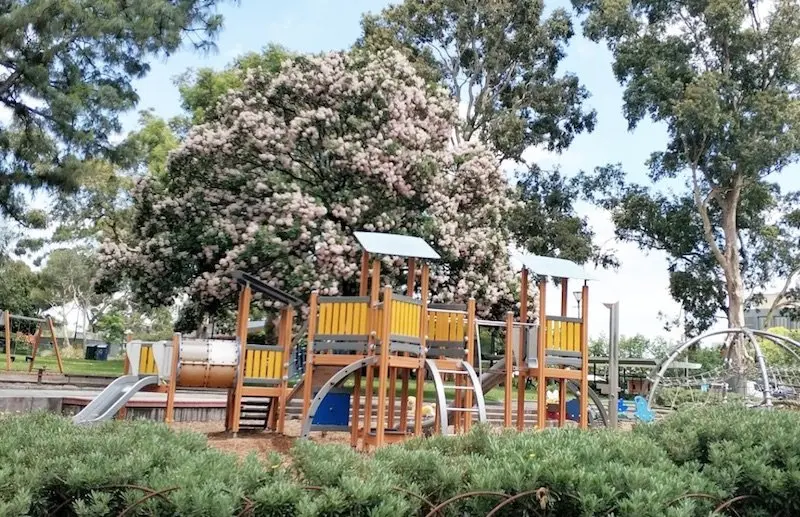 Image credit: Jessie Koh
No.3: Flagstaff Gardens Playground
Follow one of the main thoroughfares, William Street, all the way past Lonsdale Street, and La Trobe street, until you reach Flagstaff Gardens.
It's a 20 minute walk from Flinders Street railway station (1.7km) or you can catch the FREE tram.
You don't need a MYKI card – just jump on board at any one of the stops on this map.
The playground is a top find!
Kids can:
climb the fort and slide the slides
scramble over the nets
swing
dig in the sandpit
Little ones can bounce on the toddler equipment and climb the little playground playspace.
Find it at 309-311 William St, West Melbourne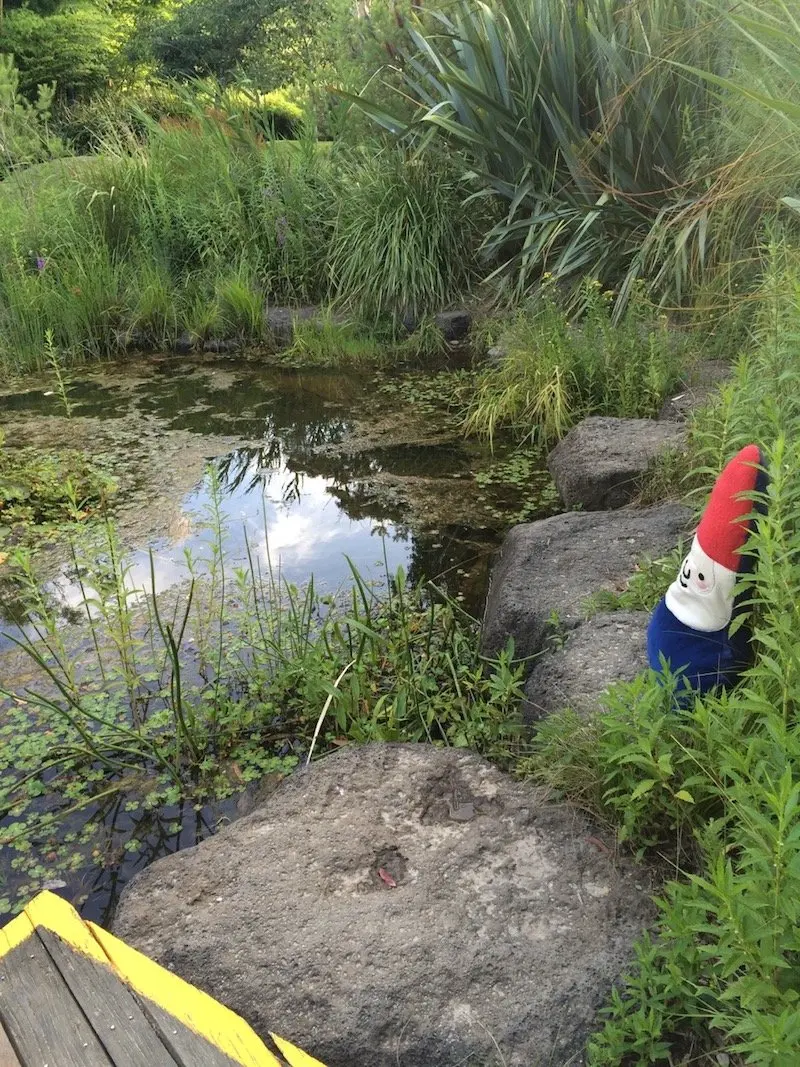 NATURAL PLAYGROUNDS IN MELBOURNE
No.1: Ian Potter Children's Garden Melbourne
Looking for a nature playground Melbourne style?
THIS is your answer.
Ian Potter Childrens Garden is a beautiful, elegant patch of landscaped Australian bushland, with nooks for children to:
hide in
daydream, and
potter about.
At one of the best nature places in Melbourne, you'll find:
a bamboo forest
a water play area with streaming jets to soak the kids, and
many a garden for silent contemplation and discovery.
Located in the Royal Botanic Gardens Melbourne, this is another of the playgrounds in Melbourne CBD.
Just 3km from the city centre:
a 30 minute walk, or
12 minutes by car.
Read our review here for details on how to get there and what to expect.
PS: The Melbourne Royal Botanic Gardens is one of the best parks in Melbourne city, and not to be missed.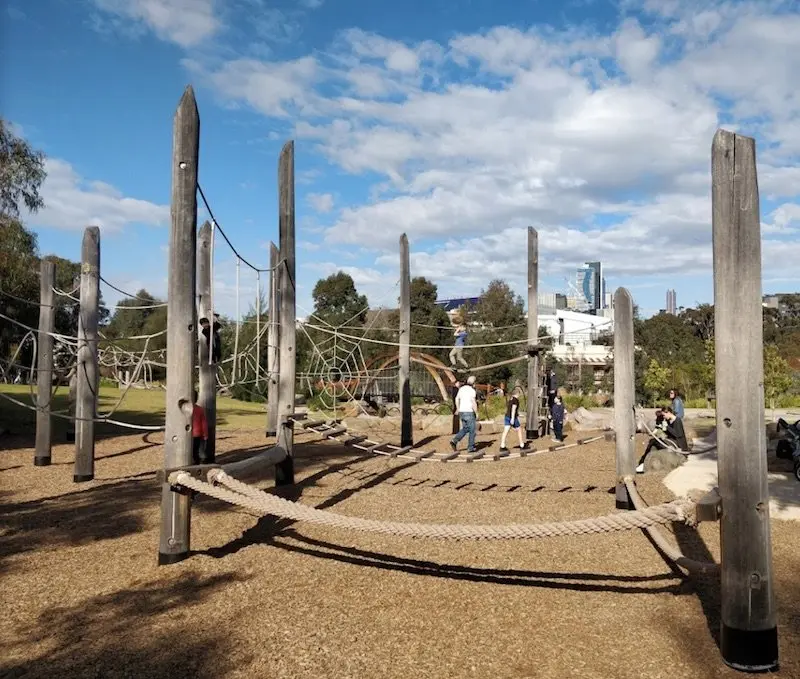 Image credit: Teemu Karjalainen
No.2: Royal Park Nature Play Playground
Nature play playgrounds are growing in popularity, and Melbourne is no exception, boasting quite a number for families to visit.
Royal Park Nature playground is another.
It's also the biggest playground in Melbourne, AND one of the best parks in Melbourne for picnic feasts (and DIY charcuterie boards – savoury and more importantly, chocolate ones!)
Set in a bushy Australian landscape, with golden hued timber play equipment and sandstone boulders, the Green and Gold is alive here.
Kids LOVE:
the rope net climbing area that challenges the best of them to stay upright
the chunky balancing rope walk
the log climb (similar to this one in London near London Eye) and
the extra long slippery dip!
(There's a second smaller slide for smaller kids who might not yet be ready for the big one)
BYO sand toys for the giant sandpit.
PS: This is home to a Melbourne water playground too, so bring your swimmers and a change of clothes, plus hats.
There's not a lot of shade around.
Find it at 28 Gatehouse St, Parkville VIC 3052
Hot tip: Visit Melbourne Zoo with kids while you are here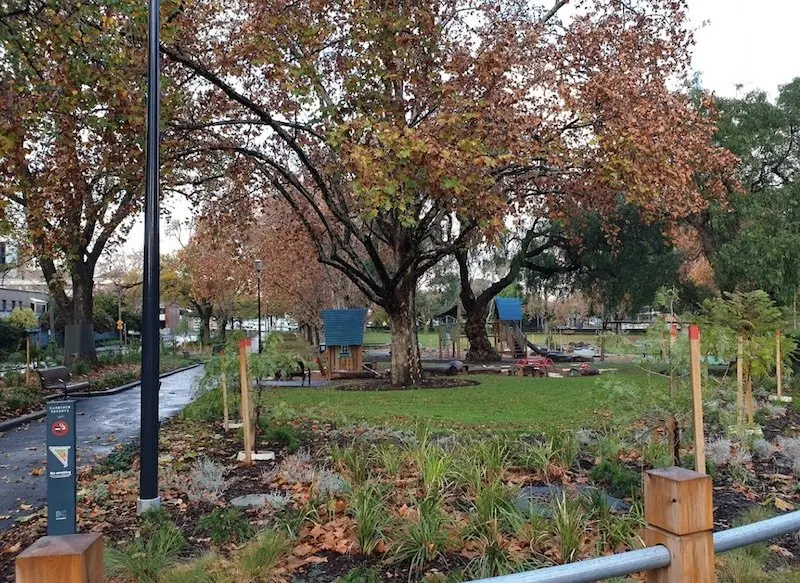 Image credit: Grace Baliviera
No.3: Gardiner Reserve Playground Melbourne
At this fun Melbourne playground in the city, you'll find:
cute timber cubby houses with blue roofs
balancing logs
stepping stones
a diagonally leaning rope challenge, and
spider web swings
This nature playground also has quirky additions to it that make it more fun than usual!
Look out for the:
Mama Spider
her baby "rope" spiders
Find it on Haines street, opposite the North Melbourne pool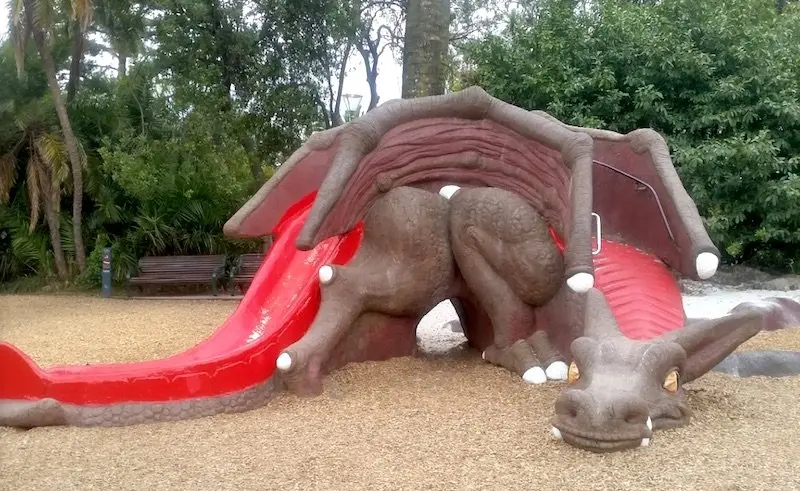 Image credit: Adam G
THE BEST ADVENTURE PLAYGROUNDS MELBOURNE
Read our guide to the best Adventure Playgrounds Melbourne has to offer kids in the city.
It includes details of:
Fitzroy Gardens dragon playground
Skinners Adventure Playground
Cubbies Fitzroy Adventure Playground
Ron Barassi Snr Park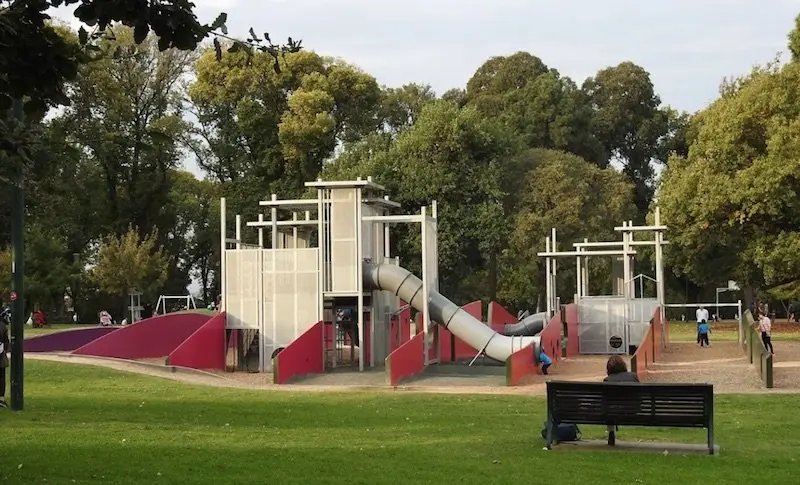 Image credit: Adam G
MORE OF THE BEST MELBOURNE PLAYGROUNDS
There's still MORE of the best kids parks Melbourne style to add to our round up!
No.1: Melbourne Museum Playground
Located in Carlton Gardens at 111 Carlton St, Carlton, next to the Melbourne Museum, this one is a concrete and steel jungle with a industrial age aesthetic!
Kids who love to play hide and seek will be thrilled with this red and green family playground.
They can:
hide in between the waves of concrete walls, and
crawl through the holes to move from row to row.
There's also a separate toddler playground with swings and a fort.
RESTAURANTS WITH PLAYGROUNDS MELBOURNE?
Try:
Zagame's Reservoir Hotel in Reservoir
Moreland Hotel pub in Brunswick
Templestowe Hotel bistro in Templestowe Lower
The Boathouse at Moonee Ponds
The Farm Cafe at Abbotsford in the Collingwood Children's Farm (the Abbotsford Convent is one of our favourite spots for a Melbourne day out – do check out the "pay what you like" Lentil as Anything for vegan eats too)
Cowderoy's Dairy cafe & milk bar in St Kilda has a playground next door for outdoor eats
Cubbyhouse Canteen Armadale is in the Union Street Gardens park, with TWO fully fenced adventure playgrounds next door
Check back soon for our round up of the restaurants with playgrounds Melbourne has to offer
Toadstool Rating: Best playgrounds Melbourne

Looking for things to do in Melbourne with kids?
Check out these Melbourne attractions for kids
Visit LEGOLAND Discovery Centre Melbourne

Check out ScienceWorks Museum Docklands