INSIDE: Roam the Gnome's Essential Guide to Getting Around Brisbane Queensland.
Brisbane is one of our favourite cities in the world.
It's teeny tiny compared to most cities, BUT the size lends itself to a really thorough exploration in just a few days.
Unlike New York, say, where a lifetime of exploration would only let you touch the surface.
Brisbane is often tagged 'BrisVegas' for reasons no-one really seems to know, but I like this one "a self-deprecating term used affectionately by Brisbanites in acknowledgement of it's slow paced, unglamorous lifestyle."
Here, we've gathered all the necessary info about Brisbane in one spot below.
There's details of how to get around Brisbane without a car, plus where to stay, things to do, and more.
Hope it's helpful.
Enjoy your stay!
Disclosure: This article contains affiliate links. If you make a purchase after clicking on one of these links, we may receive a small commission at NO extra cost to you. Main Image credit: John via Flickr CC BY-SA 2.0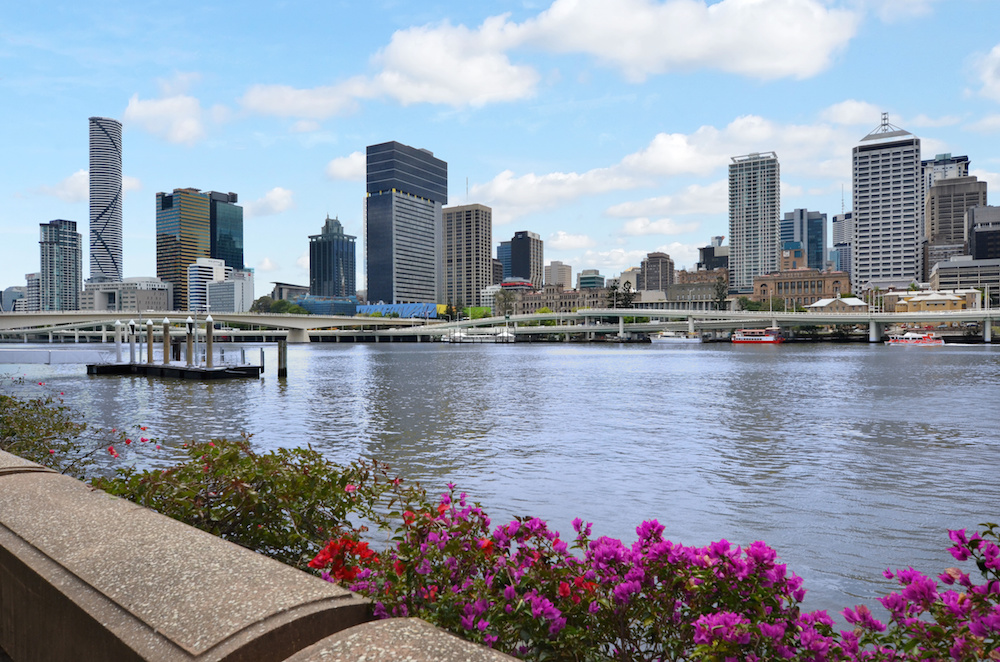 Getting around BRISBANE Australia
Correct at time of publication on Roam the Gnome. Please check with venue for updates. We apologise in advance if there have been any changes we are unaware of. All prices in AUD dollars, unless otherwise stated
First up, Brisbane is definitely NOT anything like the 24 hour hyper hub of Las Vegas, but more a very sleepy laid-back cousin.
But laid-back lazy towns and cities can be fun to visit.
They move slower, but there's beauty in rising late, wandering about, taking your time, and enjoying a feast for the senses and Brisbane does this exceptionally well.
We love the river.
It's brown and actually NOT that appealing to look at, but there is something heart-warming and compelling about this windy-bendy S-shaped body of water that snakes its' way through and around the CBD and the suburbs.
You MUST catch the CityCat at least once from the CBD to New Farm and back, at least once.
Combine a trip on the CityCat with a stop at New Farm Park and visit the Powerhouse Museum, the wide open expanses and it's quaint and elegant rotunda at the centre of the evergreen New Farm Park, and stop by the "Dragon's Lair" inspired wooden playground that cuddles the Moreton Bay Fig vines.
It's simply breathtaking and SUPER DOOPER FUN for the kids to scramble around!)
BRISBANE is on our bucket list of places to live for a year.
So much to do, so easy to do it.
---
RELATED: Big List of Best Things to do in Brisbane with Kids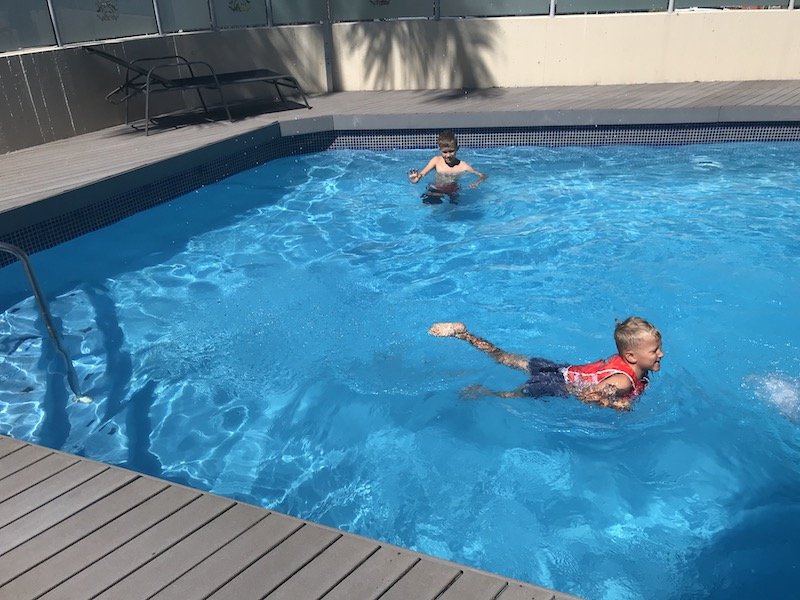 WHERE TO STAY IN BRISBANE
No.1: Brisbane CBD, Wickham Terrace, Spring Hill or Southbank
Anywhere in the Brisbane CBD or around Southbank Parklands will mean you are within walking distance of:
QPAC (Qld Performing Arts Centre)
the Queensland Museum and SPARKLAB Sciencentre
Southbank Parklands
Treasury Casino
the Queen Street Mall, and
Roma Street Parklands.
In the city, try The Park Hotel Spring Hill (the heated pool is a bonus and it's across the road from Roma Street Parklands playground), Tribeca Serviced Apartments, Quest Apartments Spring Hill, or Meriton Suites Adelaide Street.
At Southbank, try Rydges South Bank Brisbane or Mantra South Bank Brisbane. These two are on Grey Street, just behind the Southbank playgrounds.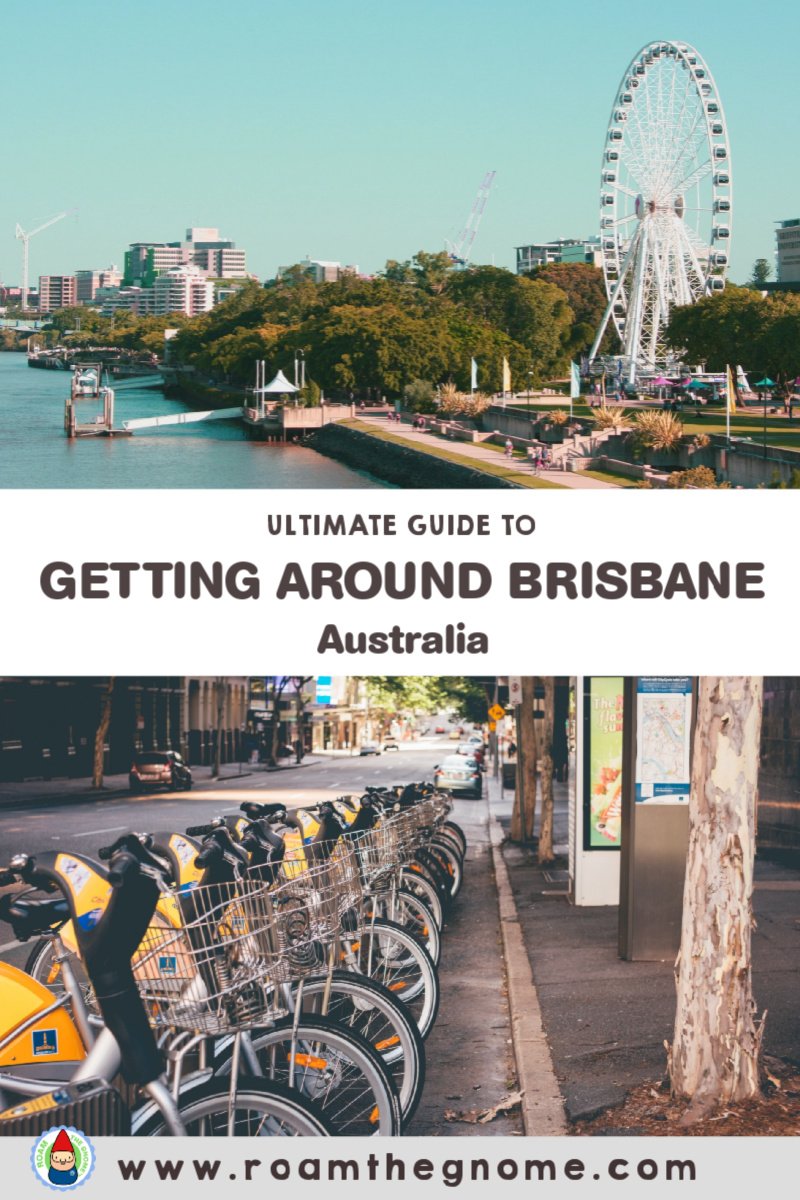 No.2: New Farm
Try Parkleigh Apartments right behind New Farm Park.
New Farm is a family friendly area not too far from the CBD, and there's plenty of AirBNB options there if you prefer a home vibe over a hotel vibe.
Hot tip: Fortitude Valley Accommodation
Avoid Fortitude Valley for accommodation when travelling with kids – it's a party zone at night and despite efforts to clean it up, still a little unsavoury after dark.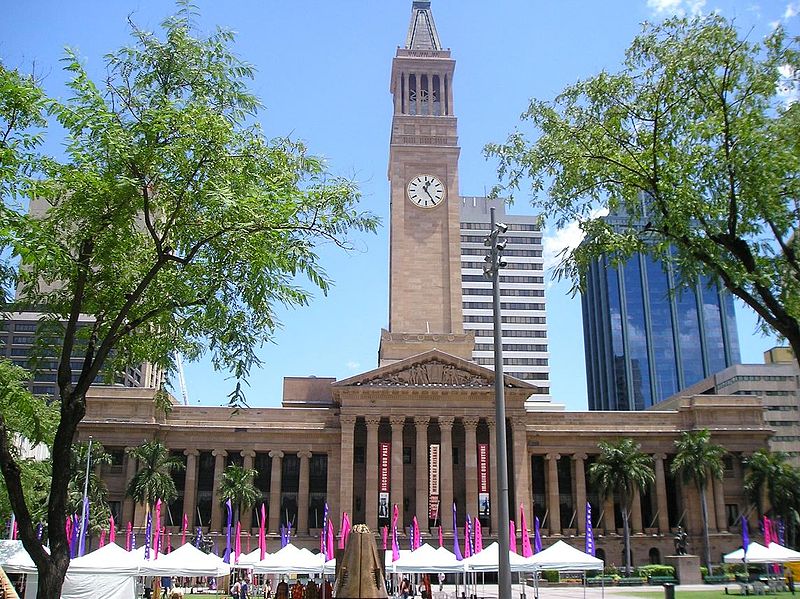 Image credit: Lacrimosus via Wikipedia CC BY- 1.0
ARRIVAL VIA BRISBANE AIRPORT
Brisbane's main airport is located approximately 15-20 minutes drive (13 km) from Brisbane CBD.
Prebooked transfer for your whole family
Travelling with kids? Simplest and best option in my opinion is to grab a pre-booked private family transfer. While it's not the cheapest option, it's definitely the sanest one!
No.1: The Pick Up Company
Personalised service.
No mucking about with big groups, or big coaches full of other holiday makers.
When you are with small kids, THAT is worth every cent.
Call these guys for a quote on 07 5450 7608, email them on [email protected]
Office hours are:Monday to Friday 8am – 5pm. Sat 8am – 1pm.
Please note, the booking office is closed on Sundays Office.
Bookings can be made by email.
No.2: Airport Transfer Solutions
Grab a quote for a Brisbane Airport to Brisbane accommodation or your preferred destination here.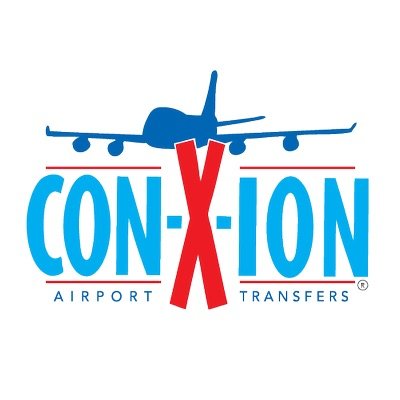 Airport to Accommodation Transfers – Door to Door
No.1: Con-X-ion Door to Door Airport Transfers from Brisbane Airport
Phone: 1300 266 946
To book or enquire about rates, visit the Con-x-ion website here.
When flying into Brisbane Airport on an international or domestic flight, locating your driver and transfer away from the airport is easy:
Proceed to the Con-X-ion desk and check in to your departing shuttle.
You'll be directed to your designated departure point.
Board and relax on the way to your Brisbane destination.
To make sure you take advantage of all the benefits offered by Con-X-ion's door-to-door Brisbane Airport transfer service, book at least 24 hours before you wish to leave for the airport.
You'll find the quickest way to do so is by logging on to their internet booking service.
Alternatively, and if booking late, please call their booking hotline (1300 266 946).
Here's their PRICE CALCULATOR to get a quick quote.
No.2: Business Class Transfers
This company offers transfers from Brisbane airport to accommodation right throughout the city.
Worth a call for a price comparison.
To book or enquire, visit the BCT website here and fill in the details for an online quote, or phone 1300 763 005.
Travelling with BCT means your friendly chauffeur will be there to meet and greet you, hold up a sign board with your name and or group name, assist with you luggage, open the car door when entering or leaving and ensure the entire experience is filled with thoughtful service.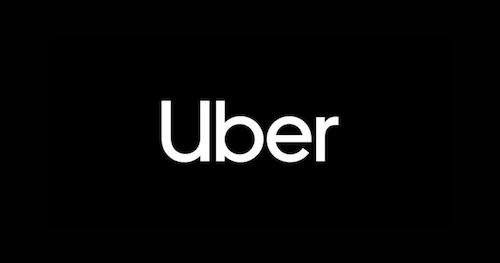 No.3: UBER
I prefer UBER over taxi's anyday.
I love the cashless transaction (it's all done via an app) and the fact I know WHO the driver is and WHEN they are coming, right down to being able to watch their approach on a google map, as the UBER app tells me.
It feels MUCH safer to me to use this service than some random driver in a taxi.
It's also cheaper!
Visit the Uber website or download the UBER app here, if you haven't already.
No.4: Taxi
Black and White Cabs – Best of the bunch evidently.
Phone:13 32 22 or download their App here: Iphone. Android.
Get a general price guide by using their fare estimator.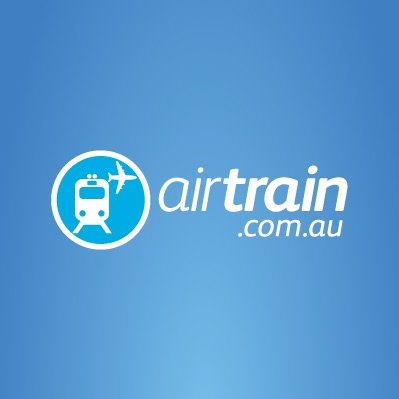 Brisbane AirTrain Transport
Airtrain is safe, reliable and comfortable and offers services between both Brisbane Domestic and Brisbane International Airports, Brisbane City and the Gold Coast.
It's the quickest way from Brisbane airport to the city.
(Don't both with a bus from Brisbane airport to Brisbane city – Airtrain is the way to go.)
It's a quick walk from the airport terminal over the airbridge to the platform.
The Brisbane airport train departs every 15 minutes during peak hours and every 30 minutes during non-peak times.
Journey takes 24 minutes to the CBD.
From there, you can grab a taxi, bus or go by foot to your hotel or accommodation.
If you are disembarking in the CBD or surrounds (Eagle Junction, Wooloowin, Albion, Bowen Hills, Fortitude Valley, Central Station, Roma Street or South Brisbane) kids aged up to and including 14 years of age travel FREE when accompanied by an adult with a paper or e-ticket between Brisbane Airport and Brisbane City.
Win!
You can also catch the train from Brisbane airport to Gold Coast direct. The journey takes about 90 minutes to Robina station.
Airtrain Brisbane cost
Book tickets for Airtrain here (Up to 15% discount when you book online. Double win!)
The Airtrain Brisbane cost changes depending on if you want one way or return tickets. The cheapest way is to book online, in advance to save a few dollars.
Take advantage of special deals that come up from time to time online too.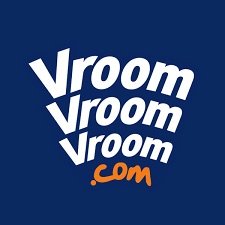 Brisbane Car Hire
For those who want to venture further than the CBD and surrounding suburbs to the Gold or Sunshine Coast perhaps?
Vroom Vroom Vroom
Compare car hire prices at Vroom Vroom Vroom.
Let them do the searching and comparing for you!
Their claim is Free To Book, Free To Cancel and Cheapest Price Guaranteed but they only compare the big 6.
Still worth a few minutes of time in investigation.
Brisbane Airport Car Hire
Brisbane Airport Car Hire is another car hire company that does the behind-the-scenes car hire price comparisons but with MORE brands and companies on their books including some car hire places we've never heard of.
You can also call 07 3503 6794 or toll free 1300 350 401
Economy Car Rentals
We've heard good things about Economy Car Rentals.
They have deals with a bunch of the major car hire companies and can supposedly get you the same deal for less, worldwide!
The Big 6 Car Rental Companies
The Big 6 are at the airport too if you prefer to just rock up and book, or have a favourite.
See contact details below.

Guide to Brisbane Toll Roads
NB: Brisbane's road traffic network is outstanding but beware of toll roads.
There are plenty.
AirportlinkM7
Operated by BrisConnections, you will hit this this toll road within around 10 minutes of leaving Brisbane Airport in your rental.
A car will cost $4.50 (US$3.72) between Bowen Hills and Kedron. Between Bowen Hills and Toombul it's $4.98 and $3.82 between Kedron and Toombul.
A day pass for all routes is $14.68 (US$12.13).
Clem Jones Tunnel (CLEM7)
Operated by Queensland Motorways, this travels under the Brisbane River between Bowen Hills to the north, near the tip of the M7, all the way down to Woolloongabba in the south.
The CLEM7 is a direct route for the likes of Chermside Shopping Centre and the RNA Exhibition grounds.
The electronic tolling system currently costs $4.78 for your rental car, then varies for shorter journeys.
Again, check with the rental provider – it will help if you have a rough idea of where you're travelling.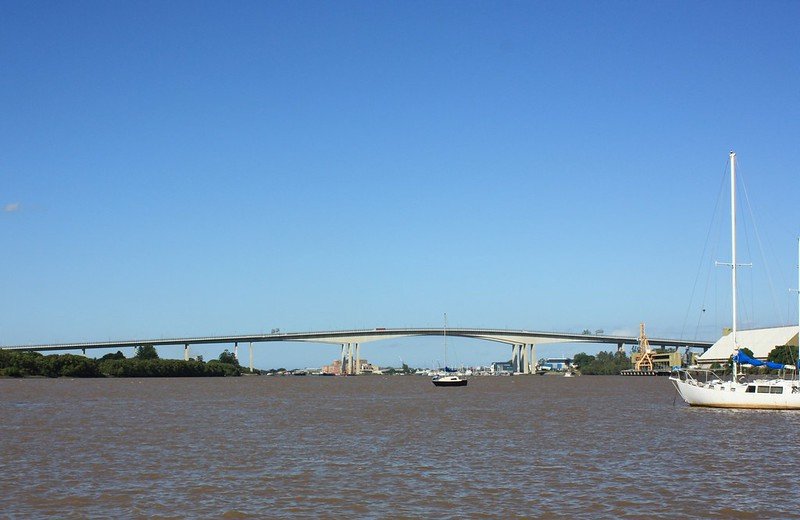 Image credit: Jan Smith via Flickr CC BY- 2.0
Gateway Motorway and Bridges
Located on the eastern side of the city, the Gateway Motorway travels via Gateway Bridges, also taking in Sir Leo Hielscher Bridges.
It's the perfect route between the Gold Coast and Sunshine Coast, so is very popular.
Running from Nudgee to the Pacific Motorway interchange at Eight Mile Planes and on to the Logan Motorway Extension, there are two toll points: Murarrie between Exits 105 and 103 (Sir Leo Hielscher Bridges) and later Kuraby.
The toll tarrif for a car at Murarrie is $4.25, at Kuraby $2.51.
Logan Motorway
There are three toll spots on Logan.
Heathwood will cost you $2.65, Loganlea $1.61 and Paradise Road $2.65.
Go Between Bridge
Four lanes wide, this route over the Brisbane River will take you to the South Bank, Gallery of Modern Art and Suncorp Stadium.
Connecting Merivale and Cordelia Streets to Hale St and the Inner City Bypass, it's fully electronic so you will not see any toll booths – but that doesn't mean you're not being charged.
Your rental car will be charged a toll of $2.98.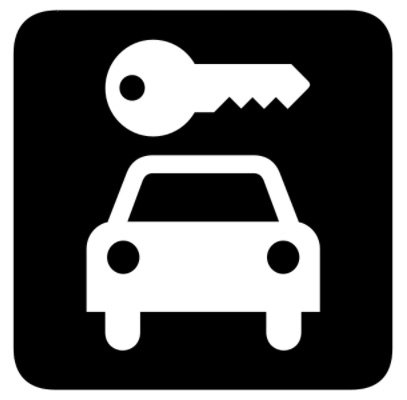 GETTING AROUND BRISBANE AUSTRALIA
If you are planning to stay in and around the city CBD, a car is an unnecessary burden.
Getting around Brisbane without a car is easy.
You simply don't need it, unless you want to get to the outer suburbs.
Even then, the public transport system of trains, buses, bikes, and Citycats will take you to most places you are likely to go.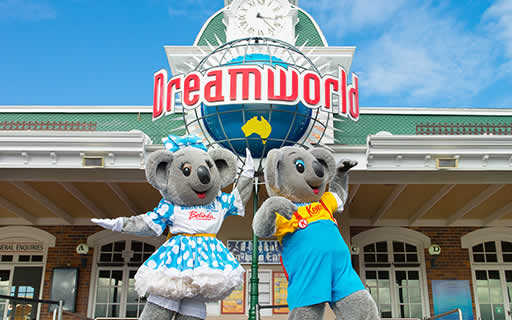 Visiting the Gold Coast Australia
Even if you are planning a Gold Coast visit, or a theme park visit, public transport will get you there, so long as you are happy to negotiate stations with prams and strollers and add travel & wait time to your day.
With little children, hiring a car or taking a direct hotel-to-theme-park Gold Coast Tourist Shuttle might be a better option.
Actually, thinking on the spot, if travelling with super little ones under 4 years old, stay away from all public options for such a big day out.
Oh my, those post-theme-park sugar-high tantrums can be deafening and embarrassing.
A cab or private transfer might save your sanity!
For all the details on getting around the Gold Coast, click here.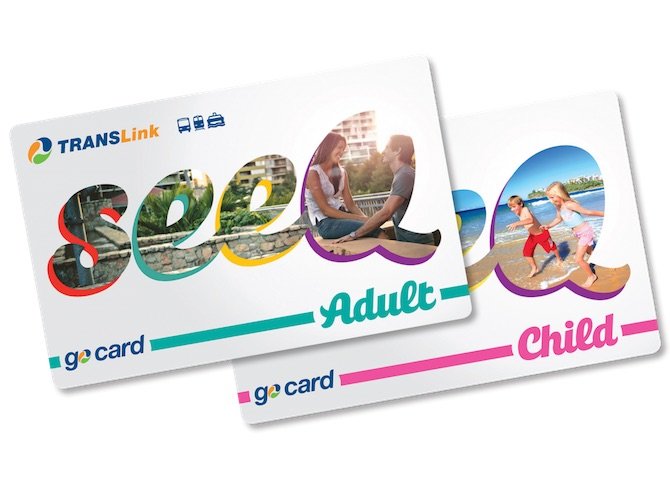 GETTING AROUND BRISBANE PUBLIC TRANSPORT TIPS
GO Card
If you do want to take trains, trams, buses or hire bikes, you'll need some kind of a Go Card to pay your Brisbane public transport fares.
No.1: SEE Q CARD (for those families who will include Brisbane in their itinerary)
In Brisbane, there's a family travel visitors option called a seeQ card, purchase either online or at selected Go Card locations throughout south east Qld.
With a seeQ card, you can travel three or five consecutive calendar days on all TransLink bus, train, ferry or tram services.
The card includes 2 journeys on Airtrain services to anywhere on the TransLink network.
Adults and children over 15 years can travel on the entire TransLink network of bus, train, ferry and tram services for 3* days for $79 or 5* days for $129.
Children's prices are $40 for 3* days or $65 for 5* days.
Children aged 5 to 14 years inclusive.
Kids under 5 are FREE!
( *consecutive calendar days)
Buy online now or find your nearest retailer
How to use seeQ card.
Always touch on and touch off.
As you board a bus or ferry, enter a train or tram station or platform you will need to touch your seeQ card flat to the card reader.
Only remove your card from the reader when you see a green or amber light and a beep is sounded.
This will signal you have used your card correctly
You will need to repeat this process as you exit the vehicle or station.
The first time you touch on your seeQ card is your first day of travel.
Your seeQ card is only valid for three or five consecutive calendar days of travel (depending on the type of card).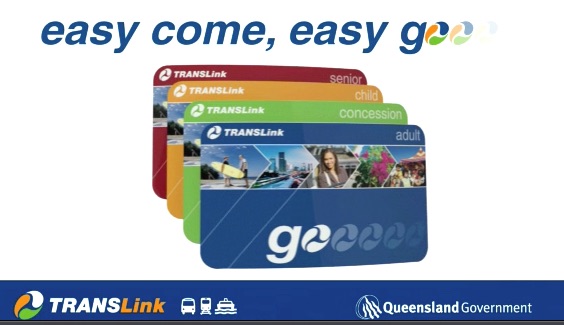 No.2: GO Card Brisbane (Regular)
If you won't be using public transport that often, then a regular Go Card is the go.
Fares on the Translink Go card are cheaper than paper tickets and much more convenient as you just fill up the card as you go, and tap on and off when you use it.
There are many ways a go card will save you money:
go card is at least 30 per cent cheaper than a single paper ticket.
Travel in off-peak and save a further 20 per cent.
Travel between 8.30am and 3.30pm, after 7pm on weekdays and all day on weekends and on public holidays to receive an additional 20 per cent saving off your go card fare.
Make 9 journeys then travel free.
Travel for free after your 9th paid journey in a 7 day period, from Monday to Sunday, regardless of the zones travelled.
Concession fares are 50% cheaper than adult fares and apply to children, students, pensioners, seniors and defence force veterans.
Children under 5 travel FREE!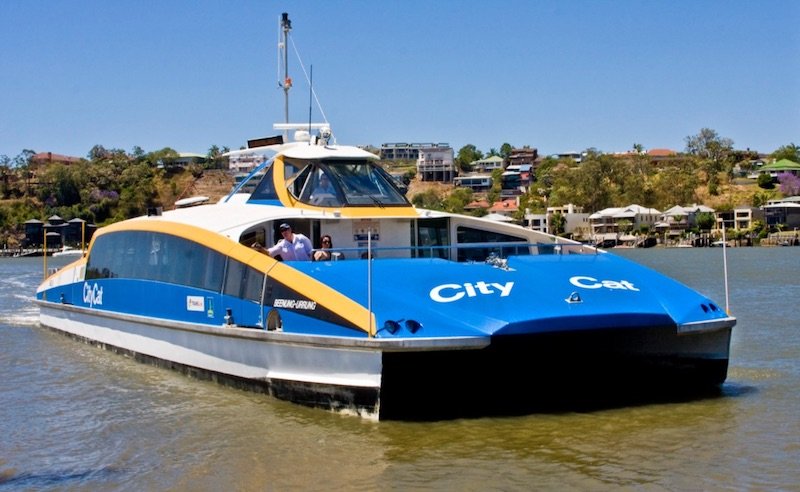 Image credit: John via Flickr CC BY-SA 2.0
MORE PUBLIC TRANSPORT IN BRISBANE CITY
No.1: City Cat Terminal Locations
The City Cat ferries are a great way to get around Brisbane to suburbs located along the river.
Click here for a map of places you can embark and disembark on the river.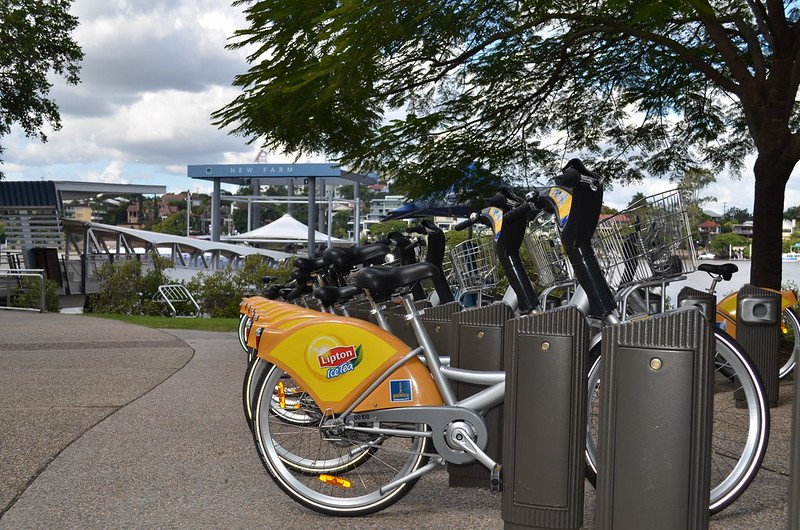 Image credit: BrisbaneEguide via Flickr CC BY- 2.0
No.2: City Cycle Bike Hire (& riding around Brisbane with kids)
CityCycle, Brisbane's public bike share scheme, is an active and sustainable type of public transport that encourages more people to cycle around the inner city.
CityCycle is part of Brisbane City Council's plan to help reduce traffic congestion and ease parking pressures in central Brisbane.
CityCycle Brisbane bike hire is a quick, affordable and easy alternative to short trips by car, public transport or walking.
---
RELATED: Everything you need to know about City Cycle Brisbane Guide
No.3: Free CityHopper Ferry Service
Get on the Brisbane City Council's CityHopper ferry for FREE.
The hop on and hop CityHopper inner city ferry service stops at eight stops along the Brisbane River between North Quay and Sydney Street, New Farm.
The service runs every 36 minutes between 6am and midnight, seven days a week.
The ferry stops at the following ferry terminals:
North Quay, Brisbane City
South Bank 3, South Brisbane
Maritime Museum, South Brisbane
Thornton Street, Kangaroo Point
Eagle Street Pier, Brisbane City Centre
Holman Street, Kangaroo Point
Dockside, Kangaroo Point
Sydney Street, New Farm.
No.4: FREE City Centre Loop Bus in Brisbane
The City Loop operates in a clockwise (route 40) and anti-clockwise (route 50) direction.
Easy to spot red buses stop at the red signposted bus stops.
Operating hours are:
route 40 – clockwise – Monday to Friday every 10 minutes between 7am and 6pm (last service departs QUT at this time)
route 50 – anti-clockwise – Monday to Friday every 10 minutes between 7.05am and 6.05pm (last service departs QUT at this time).
You can ride this bus to stops including:
QUT and the Brisbane Botanic Gardens
Queen Street Mall
City Hall
Central Station
Riverside
Eagle Street Pier.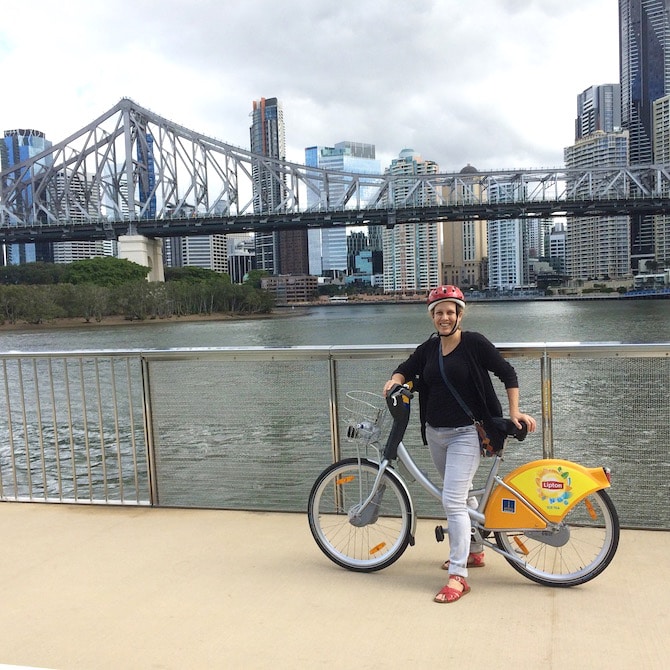 Tip: How to ride for FREE all day!
Just make sure all trips are kept under 30 minutes.
It's that easy!
CityCycle stations are located every 300 to 500 metres, with up to 2000 bikes availableacross the inner city, from University of Queensland at St Lucia to New Farm.
The network links bus, train and ferry connections and is a great way to get around the inner city and nearby suburbs.
Here's a map of the bike stations around the city.
Anyone who can ride a bike, and is over 17 years of age, can use CityCycle. Daily, weekly, quarterly and annual subscriptions are available.
Student discounts are available for six monthly and annual subscriptions. For more information, visit the CityCycle website or phone 1300 CCYCLE (1300 229 253).
It might be worth picking up a cheap bike for the kids from Kmart or Big W, or try 'Kids bike free' or 'kids bike cheap' on Gumtree if you plan on cycling from place to place for a few days.
Despite much research, I cannot find anywhere in Brisbane that hires adults bikes along with tag-along bikes or bike trailers for the little kids.
The only option I can find is to take a Brisbane by Bicycle Tour – Ross may be able to help with a tag-along so you can ride around the city.
Reviews of his tours are good so might be worth the investment for a family bike riding trip.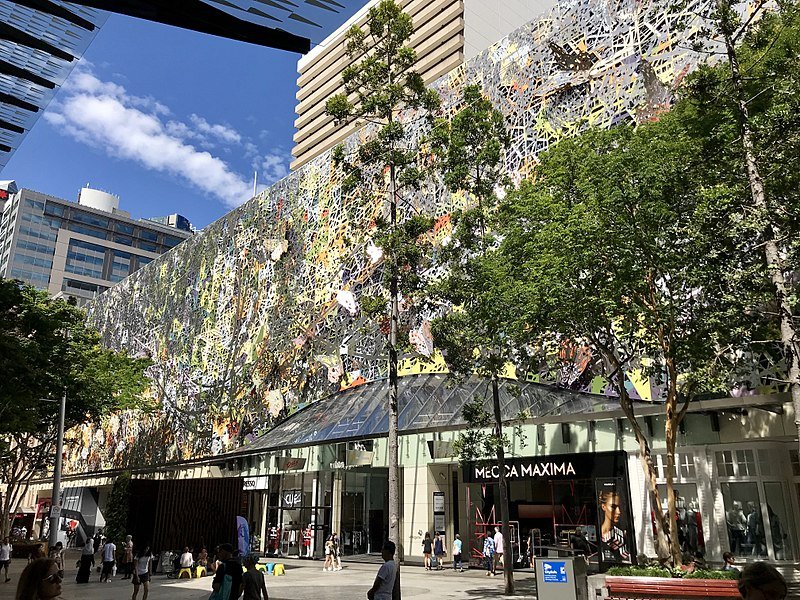 Image credit: Kgbo via Flickr CC BY- SA 4.0
LOCALS GUIDE TO THE BEST THINGS TO DO IN BRISBANE
No.1: Queen Street Mall
The shopping hub of Brisbane CBD, a mix of street fashion, department stores and high-end luxury brands, all standing side by side in the glorious tropical heat.
If you are up for a day of shopping, you'll feel right at home in this small but industrious shopping strip.
Keep an eye out for "Marilyn Monroe"!
She's often in Hungry Jacks, or so I'm told.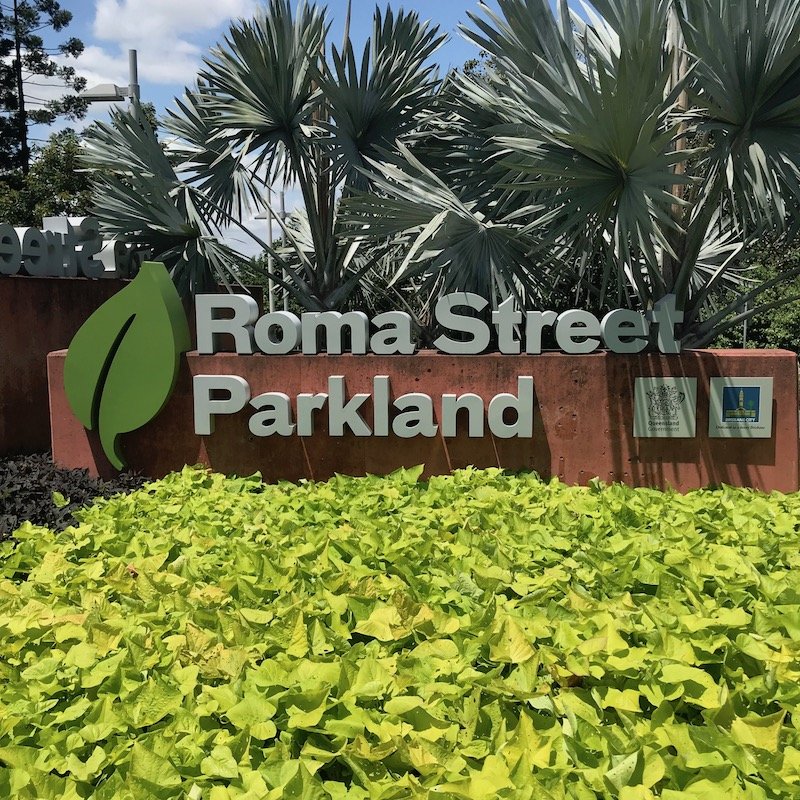 No.2: Roma Street Parklands
A green haven uphill and to the north of the CBD, Roma Street Parkland covers 16 hectares in the centre of Brisbane and borders the Brisbane Transit Centre and the Roma Street Station.
Children and parents can ride the little train that chuggs through the gardens daily.
(Hot Tip: hop on the train near the and ride up the hill then walk back down. The steep hill is hectic.)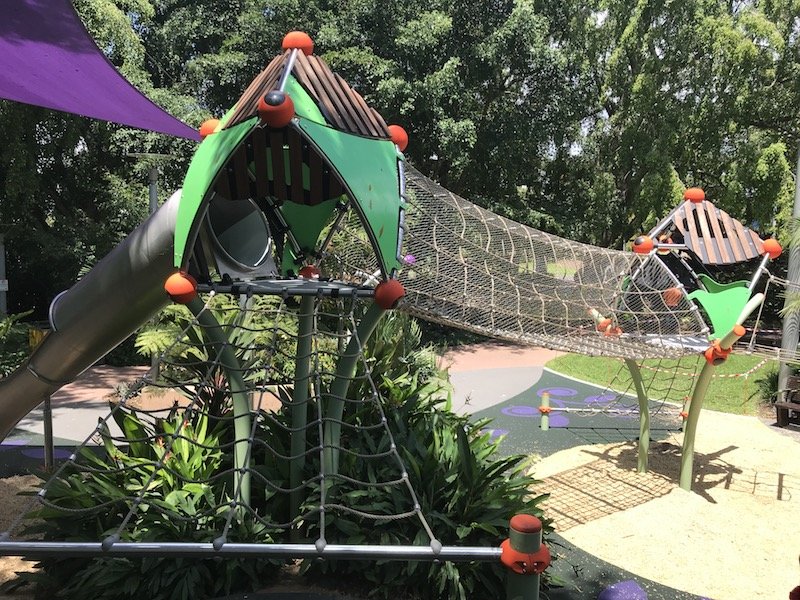 You'll find playground heaven at the top, with a number of play spaces for imaginative play. There's:
swings
bridges
ladders and
even a dedicated Children's Garden area.
It's a lovely spot for a family picnic.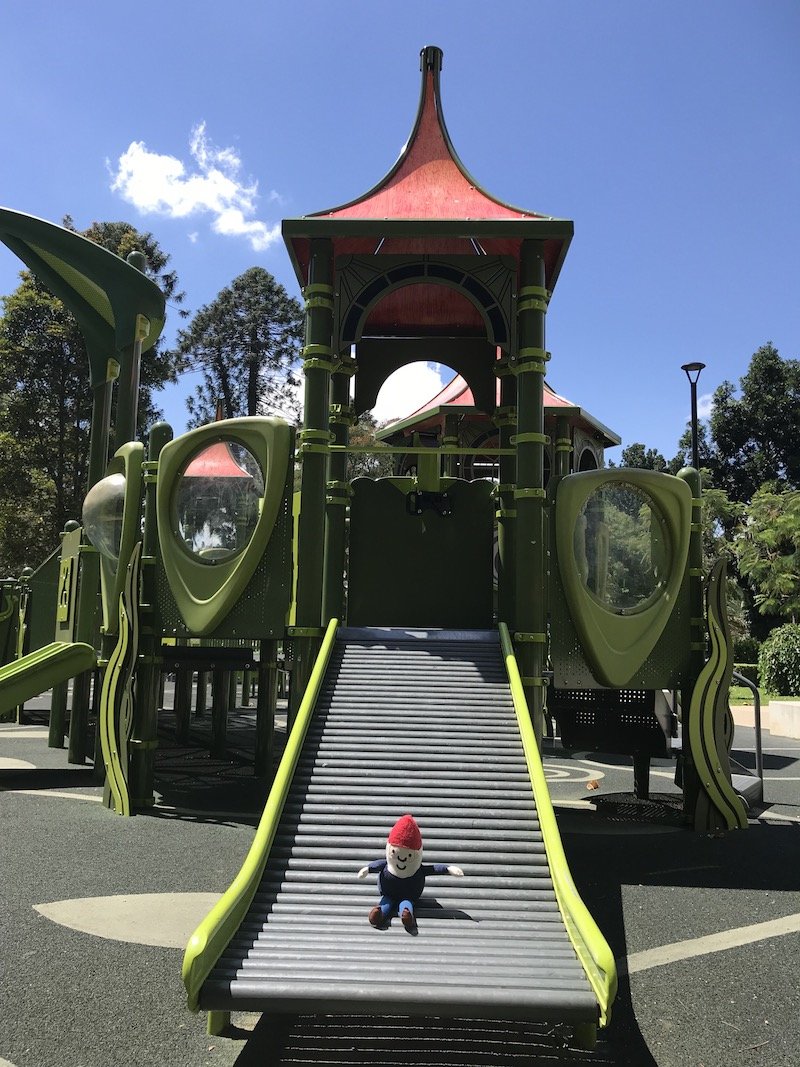 No.3: Brisbane City Botanic Gardens
We love to wander the Botanic Gardens, listening to the birds and watching the boats coming and going on the river.
It is located on Gardens Point in the Brisbane CBD and is bordered by Alice Street, George Street, Parliament House and QUT's Gardens Point campus.
If you happen to be in Bris on a Sunday, stop by at the Riverside Gardens Market and try some yummy international food.
Kids will enjoy the upgraded All-Abilities Botanic Garden playground (pictured above), complete with climbing equipment and a sandpit with 'diggers', all designed to blend in with the natural environment surrounds.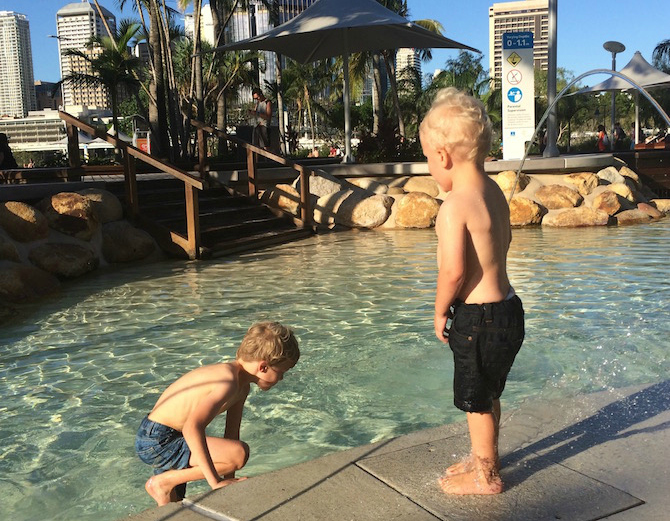 No.4: Southbank Parklands
Oh, South bank!
Do not miss this spot if you have kids.
Southbank was the original site for the 1988 Brisbane Expo and at the completion of the Expo, work began to turn this space into a community hub for Brisbane locals and visitors to the area.
It's one of our favourite places to visit in Brisbane:
take a spin on the Wheel of Brisbane
see a show at QPAC
visit the newly upgraded Riverside Green playground (this is one your kids won't want to miss!)
check out Picnic Island Green nature playground
eat at any one of the delicious restaurants or parkside eateries, and
take a swim at the Southbank manmade swimming lagoon (Street's Beach) and Aquativity (the free water park.)
Hot Tip: Watch out for cascade that falls unexpectedly from above when the Aquativity water sculpture is full!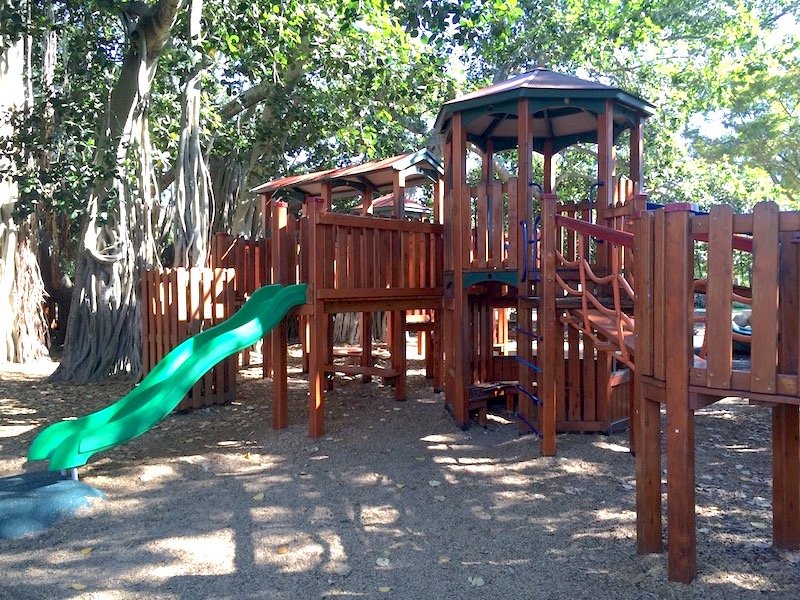 No.5: New Farm Park
Another of our faves.
The easiest way from the CBD is to catch a Citycat and head downstream to New Farm Park.
You could spend the entire day in these surrounds, checking out:
the park itself,
the most beautiful children's playground built in amongst the vines of the Moreton Bay Figs (to this day, one of our favourite parks in the WORLD)
the Powerhouse Museum, and
wander over to the shops and street scene of New Farm itself.
Image credit: BertKnot via Flickr CC BY- SA 2.0
No.6: Paddington Brisbane
For the style, elegance and antique lovers, a visit to Paddington is worth the challenge of getting here.
Think quaint working cottages, breezy Queenslander-style homes renovated with love, sidewalk restaurants, and the added enticement of plenty of treasure troves, just waiting for you to unearth your next find:
artwork
retro gorgeousness
furniture
jewellery
fashion.
It's all there. Not so much for the kids, this spot is one for parents at play!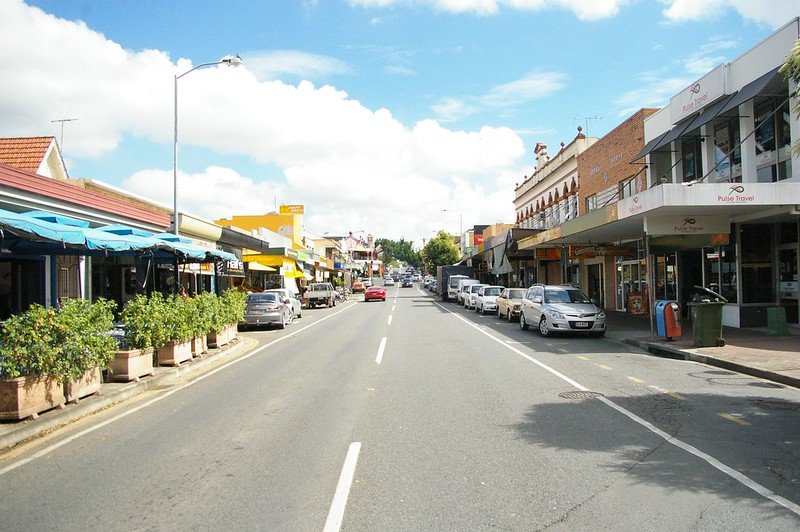 Image credit: Owen Allen via Flickr CC BY- 2.0
No.7: West End Brisbane
Cute bohemian suburb filled with a mish-mash of cultures, people, languages, styles, fashion and fun.
THE spot to people watch in Brisbane.
Southbank's Qld Museum (Sciencentre is on the basement floor too) is within walking distance, as is QAGOMA (Qld Art Gallery and Gallery of Modern Art), and the State Library is there too.
All of these places have kid-friendly activities happening much of the year.
Check in there and see what's on offer.
No.8: MORE of What to do in Brisbane and Surrounds?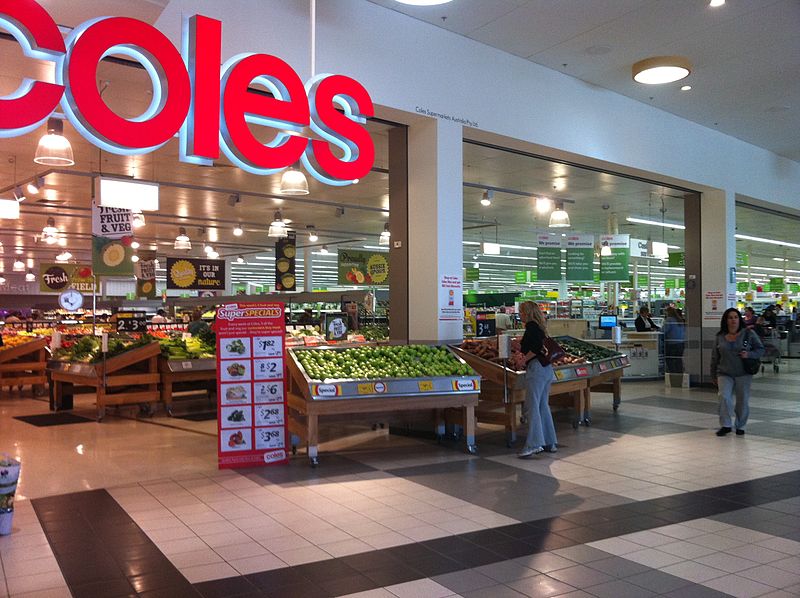 Image credit: Darren Notley via Flickr CC BY- 3.0
FOOD SHOPPING IN BRISBANE
If you want to save your pennies for fun, rather than forking out for extortionately overpriced food, stay away from all 'convenient' stores.
Convenient is another word for 'rip off'.
Instead find the big supermarkets and stock up there.
In Brisbane, the two main supermarkets are Coles and Woolworths (they are all over the place) but you'll also find IGA and Aldi, although Aldi tends to be located in the suburbs.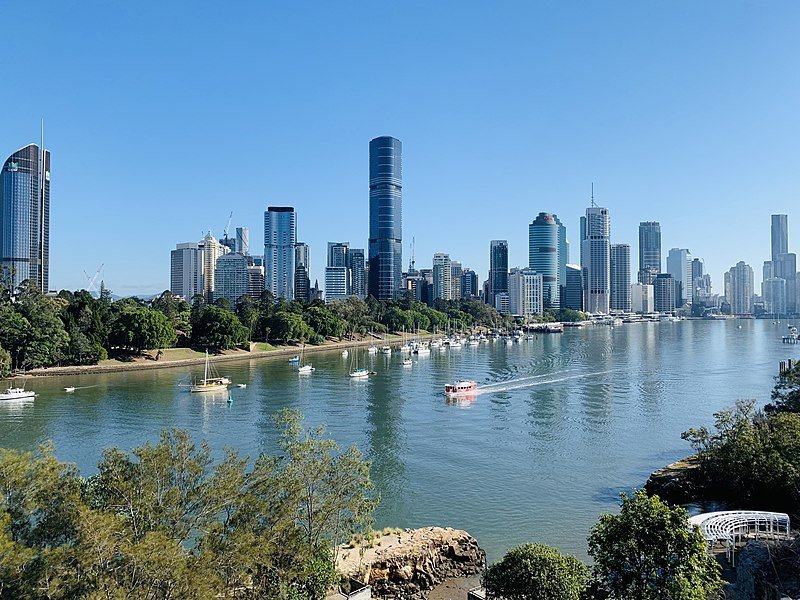 Image credit: Kgbo via Flickr CC BY- 4.0
TOP TRAVEL TIPS FOR BRISBANE
Brisbane Discounts
Discount vouchers can be found in most tourist brochures.
Pick up a copy of Families Magazine, or Brisbane's Child to find all the up-to-date information and events in Brisbane during your stay, plus discount vouchers. Look in kids bookshops, kids clothing shops, and the local libraries for your free copy.
Online, Brisbane Kids is the go-to resource for Brisbane-centric events, activities and fun.
Try Book Me for more serious discounts too – up to 75% off for real (for example, today I saw tickets for the Brisbane wheel for $4.75 each. That's 75% off the gated price. Worth a look.
Sign up to Living Social, Groupon, Spreets and Our Deal before your trip. Choose Brisbane in the search bar and see what deals come up during your stay – everything from discounted accommodation and meals to spray tans and super fun things to do! These sites will save your family BIG BUCKS. Jump on in.
Southbank Cineplex discount tickets
If the kids have had it, or it's a rainy day, the Cineplex movies at Southbank is the cheapest of them all.
Just $8.50 for adults and $4.50 for kids for shows on weekends and evenings after 6pm, and $6.50 for adults/$4.50 for kids everyday before 6pm!) .
Click here for cinema screenings and here for their facebook page.
Brisbane Map
Looking for More Things to do in Brisbane?
Click the blue links below for more Brisbane tips