INSIDE: Everything you need to know about Roselea Park Brisbane.
If your kids love Fairytales, Knights, Princesses and Castles, then this is one of the best playgrounds near Ikea Logan you'll find.
Kids love taking turns whizzing down the gigantic sliver slide and we can tell you, it's super dooper fun!
(There is also a fireman's pole from the second story of the castle if the slide is too high).
Take a sneak peek below!
Disclosure: This article contains affiliate links. If you make a purchase after clicking on one of these links, we may receive a small commission at NO extra cost to you.
Roselea Park Brisbane Playground
This modern day Disney Castle style playground looks like a throwback to the story of Rapunzel, with that tower turret so high.
But there's a difference.
At THIS playground, Rapunzel could slide her way down and out, without needing to sacrifice her golden hair as a ladder!
---
RELATED: Best Guide of Things to do in Brisbane with Kids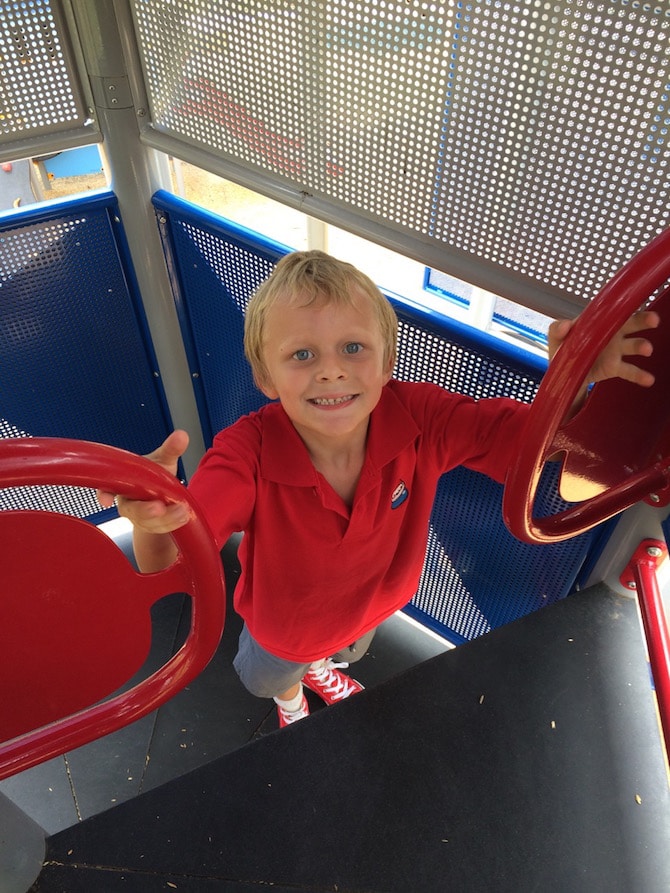 Interior Staircase
Best suited to older kids, the giant fort playground has an ascending spiral staircase that kids need to climb to get up to the top.
Toddlers can do it with support of a parent or older sibling.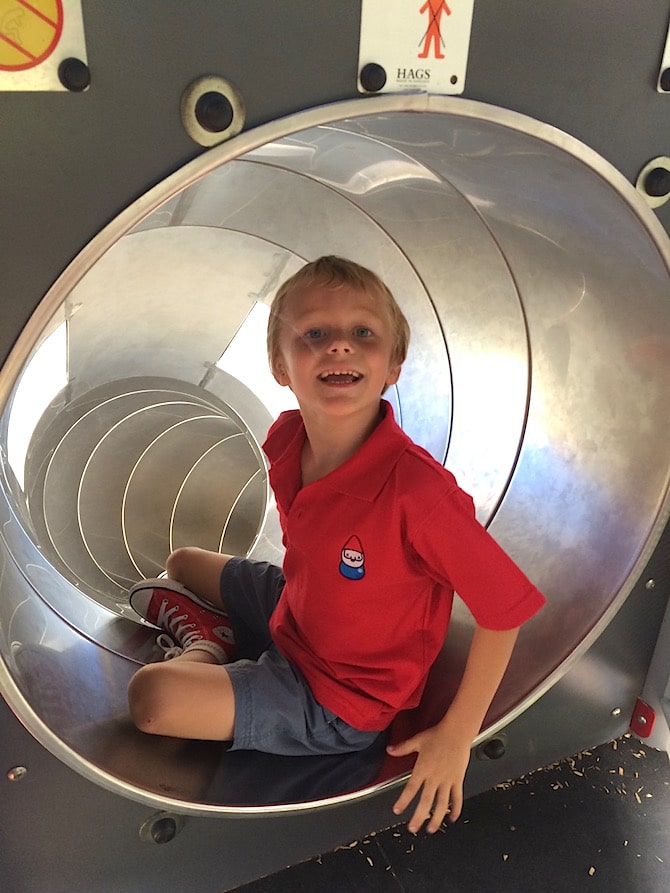 Giant slide
Isn't it incredible?
We dare YOU to slide down first!
---
READ MORE: Guide to Getting Around Brisbane City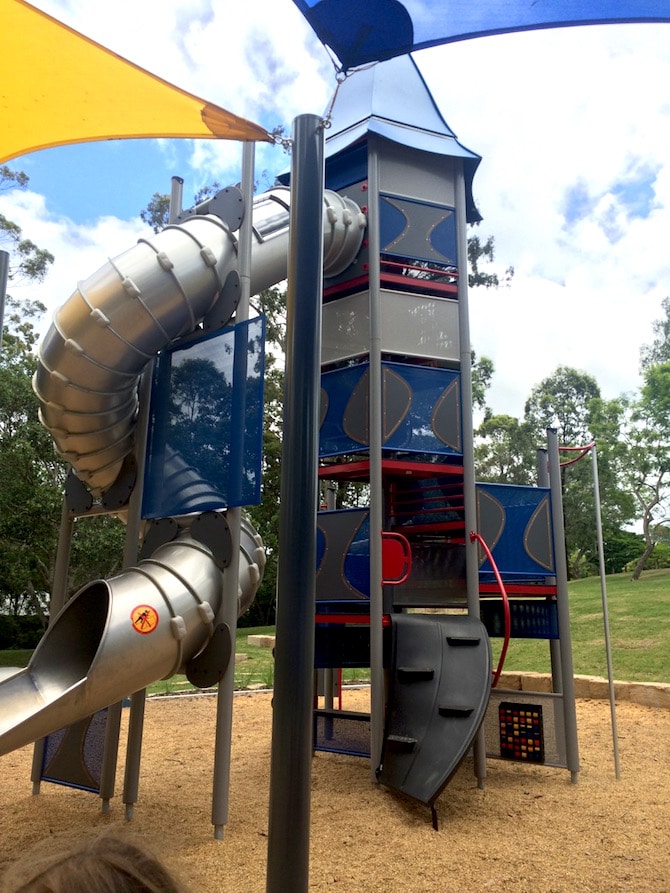 Perfect for Dress Up Parties & Imaginative Play
This playground is a favourite with local Princesses, Fairies, Superheroes, Knights, and Pirates too!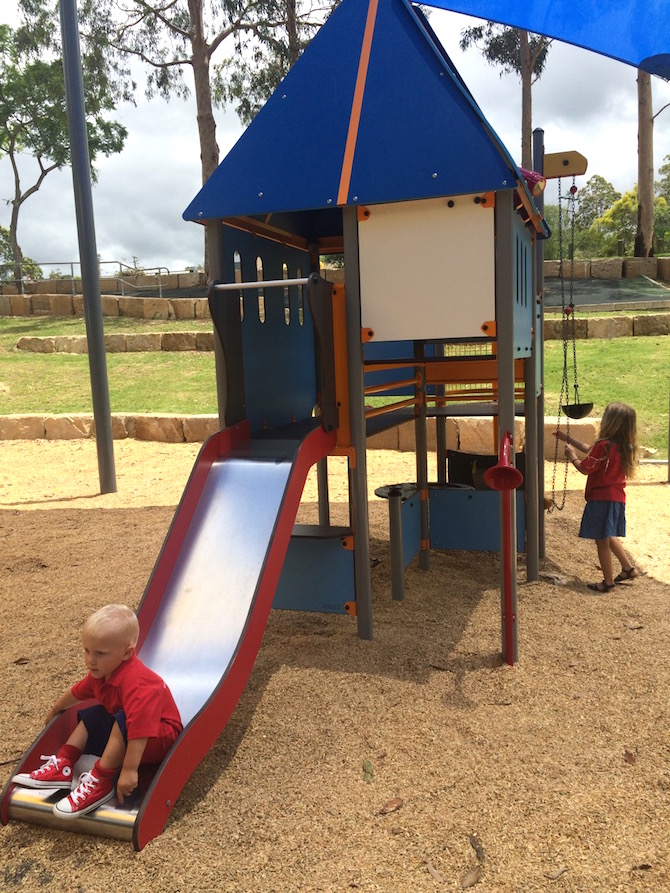 Best Playgrounds Near Ikea Logan?
This playground also has a separate toddler fort too.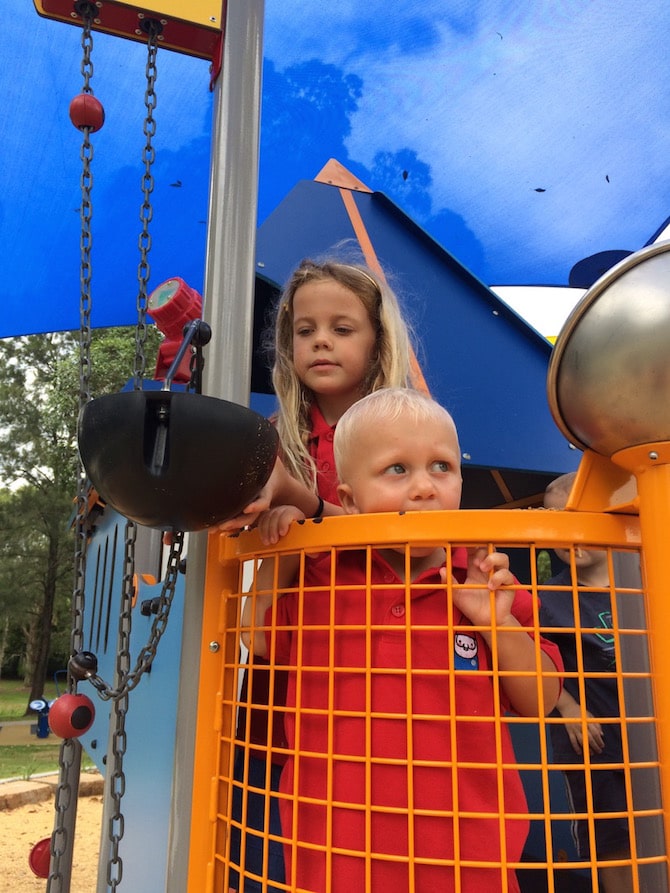 Welcome aboard the Pirate Ship Boat
For the little ones, the Pirate Ship Boat at this playground has:
its' own sand pulley
a slide
a mini-turret lookout, and
places underneath in the ship's galley to 'cook' and prepare meals for hungry pirates.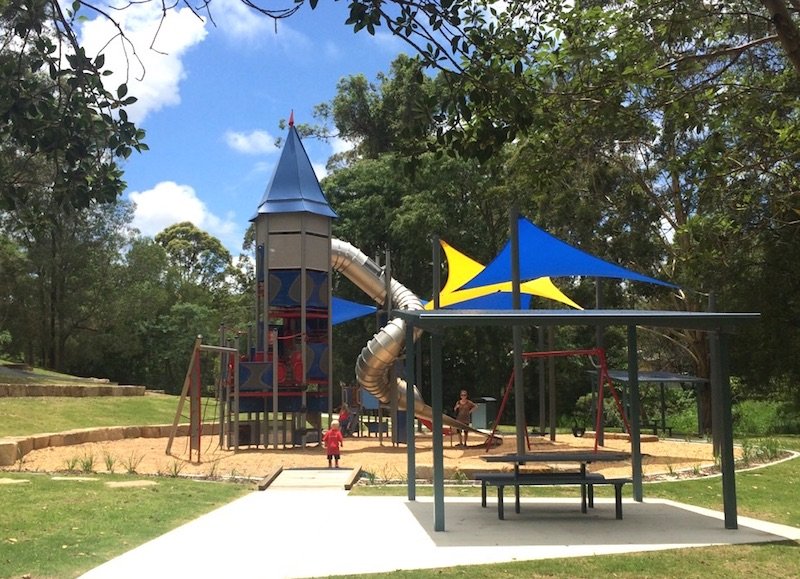 View of Playground
It's a brightly coloured haven of fun and imagination!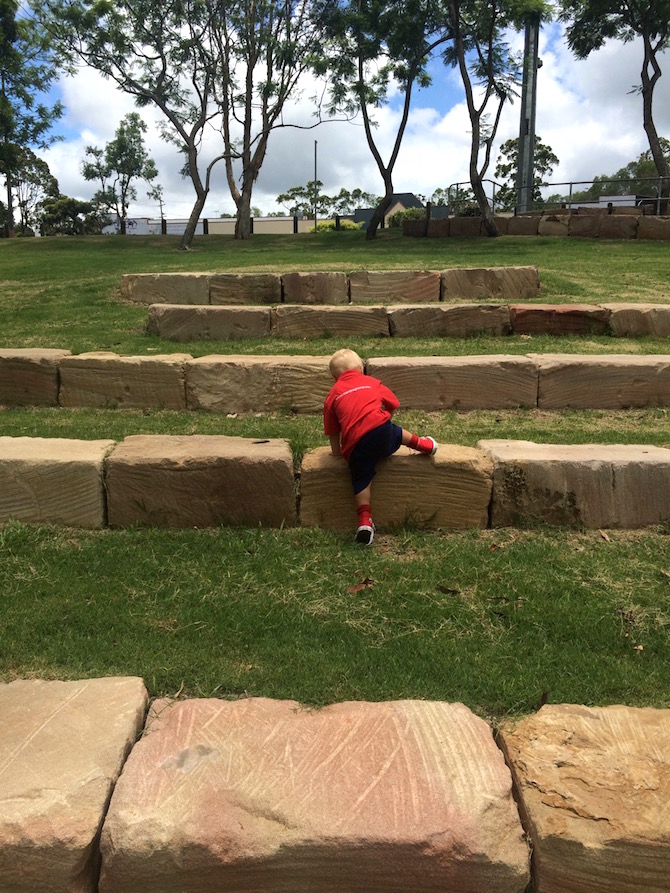 The Climbing Rock Wall at Roselea Playground
Kids also love the terraced hill area, and climbing up the big boulders.
The sun is hot though, so be sure to bring hats and sunscreen.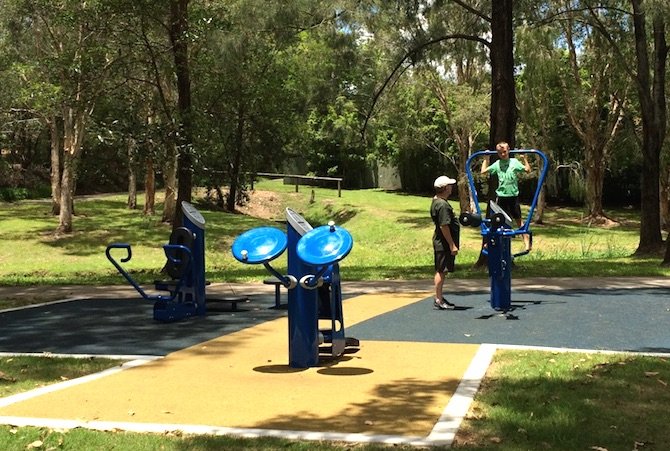 Exercise Equipment & Bike Paths
There's also:
bike paths that meander throughout the green space over a cute bridge
exercise equipment (for those who feel inclined after all that castle climbing!)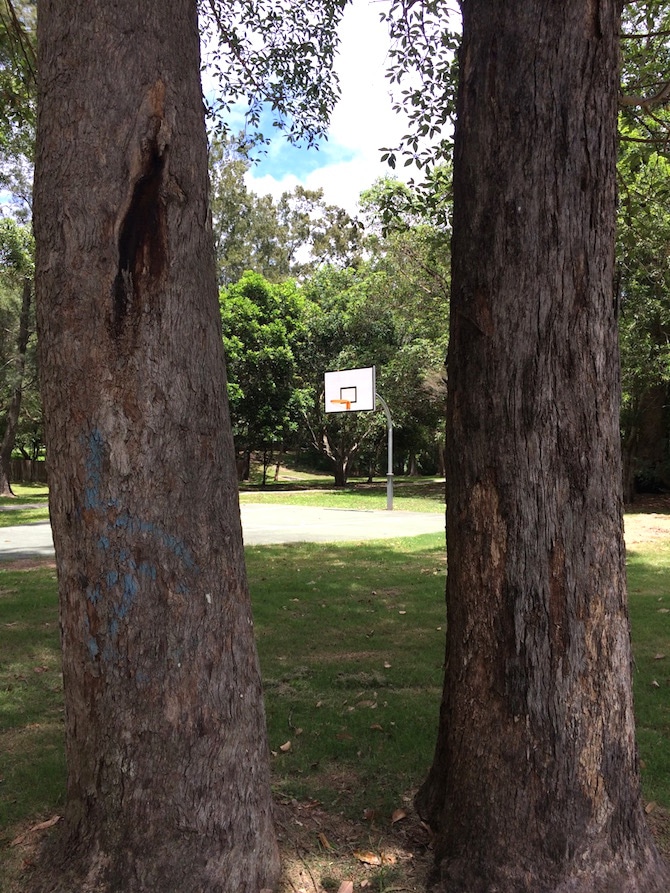 Basketball Court
There's a basketball half court, and sturdy trees for climbing too.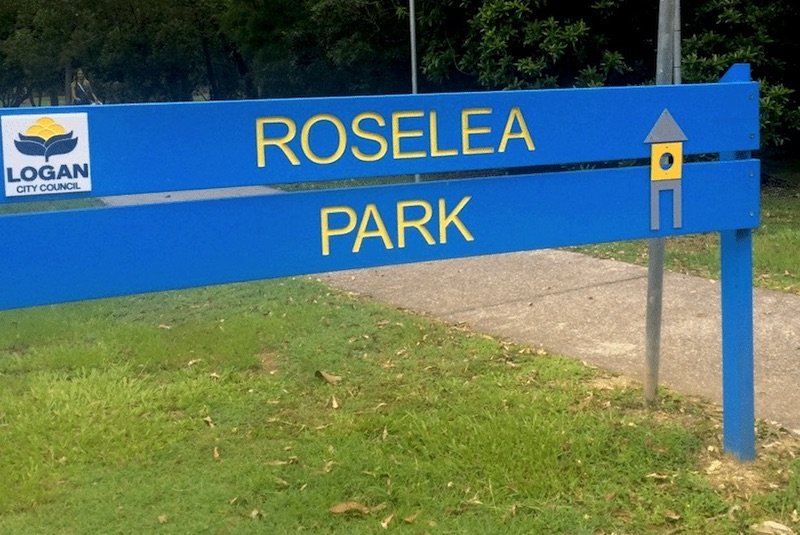 THE INSIDE SCOOP: Roselea Park Logan Playground
Correct at time of publication on Roam the Gnome. Please check with venue for updates. We apologise in advance if there have been any changes we are unaware of. All prices in AUD dollars, unless otherwise stated
Address: Roselea Park is located on Roselea Street in Shailer Park.
Opening Hours:
Open daylight hours.
FREE entry!
10 minutes drive from Ikea on the opposite side of the M1. See map above.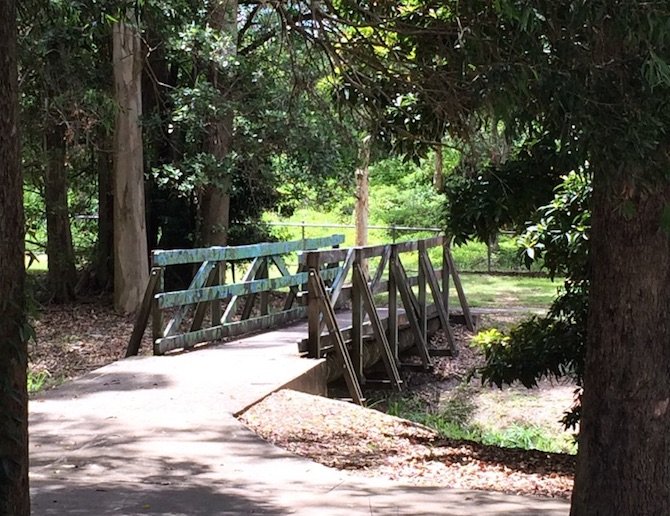 How to get to Roselea Park Playground
By Car: Click here to add your location to google maps
By Bus: Catch the 575 bus from the city to Kimberley Plaza Shopping Centre on Chatswood Road. The playground is directly behind.
Roselea Park parking
There's street parking on Roselea street (in the dip of the road. Look out for the Roselea Park sign.)
Or park in the shopping centre (entry via Chatswood st) and walk down to the park.
Roselea Park Location
Roselea Park to Ikea Logan Map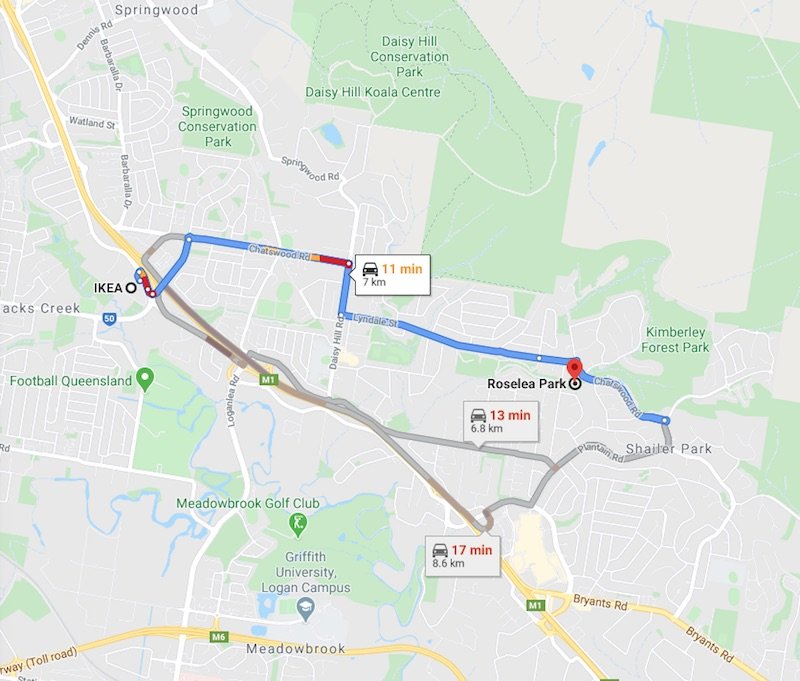 Facilities
No toilet facilities on site. The closest toilets at the shopping centre adjacent – Kimberley Plaza
Shaded picnic tables & water fountain available
BYO picnic and snack food.
No cafe on site.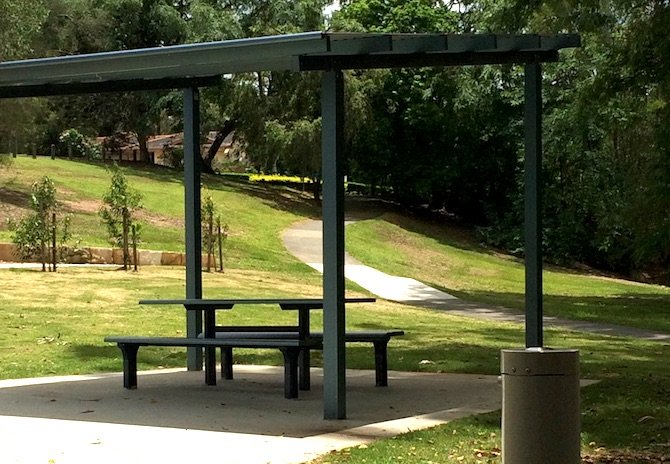 Toadstool Rating: Roselea Park Community Playground
Roselea Park is an off-the-busy-road spot in Shailer Park, perfect for dress-ups and birthday parties!

Looking for more playgrounds in Brisbane for kids?
Click the blue links below for more Brisbane tips