INSIDE: The Scoop on Picnic Island Green Southbank Playground in Brisbane QLD.
Visiting Southbank in Brisbane?
Avoid the crowded Riverside Green playground and head straight to Picnic Island Green instead.
Picnic Island Green South Bank Playground is a hidden paradise!
It's an oasis of leaf-filled trees, palms, wavy concrete architecture, timber boardwalks, and balancing beams.
For animal lovers, there's a fish-filled pond with lily pads, native fish, and water dragons, surrounded the timber decks and picnic tables.
But the best bit for kids?
The cool playground equipment! Take a look.
Disclosure: This article contains affiliate links. If you make a purchase after clicking on one of these links, we may receive a small commission at NO extra cost to you.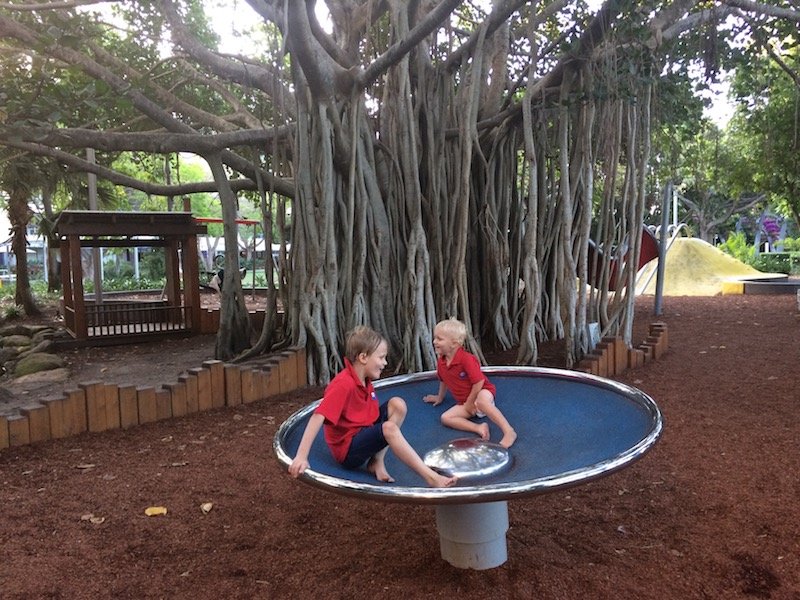 What you'll find at Picnic Island Green Southbank Parklands
At this modern playground, you'll find a spinning saucer ride, as well as undercover "cubby houses" to play house.
---
RELATED: Big Guide of Best Things to do in Brisbane with Kids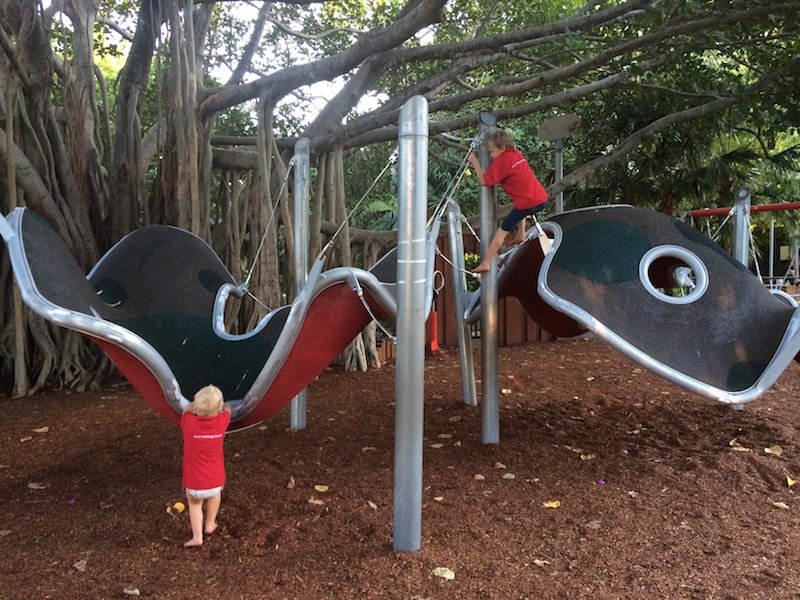 Climbing frame
But most kids are drawn to the wavy up-and-down climbing structure.
Definitely modern day playground style with a design edge!
---
RELATED: Ultimate Guide to Riverside Green Playground at Southbank Parklands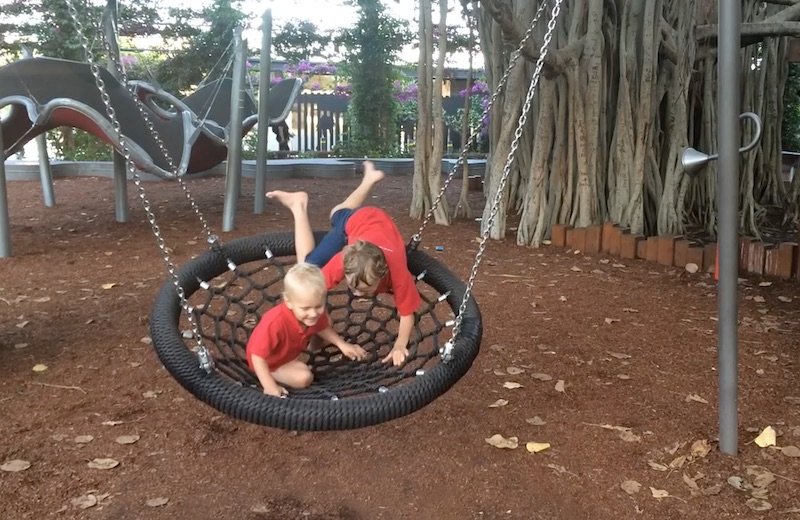 Web Swing
The spider web basket swing is another fave.
Be sure to look for the talking tubes, so kids can chat to one another across the play area.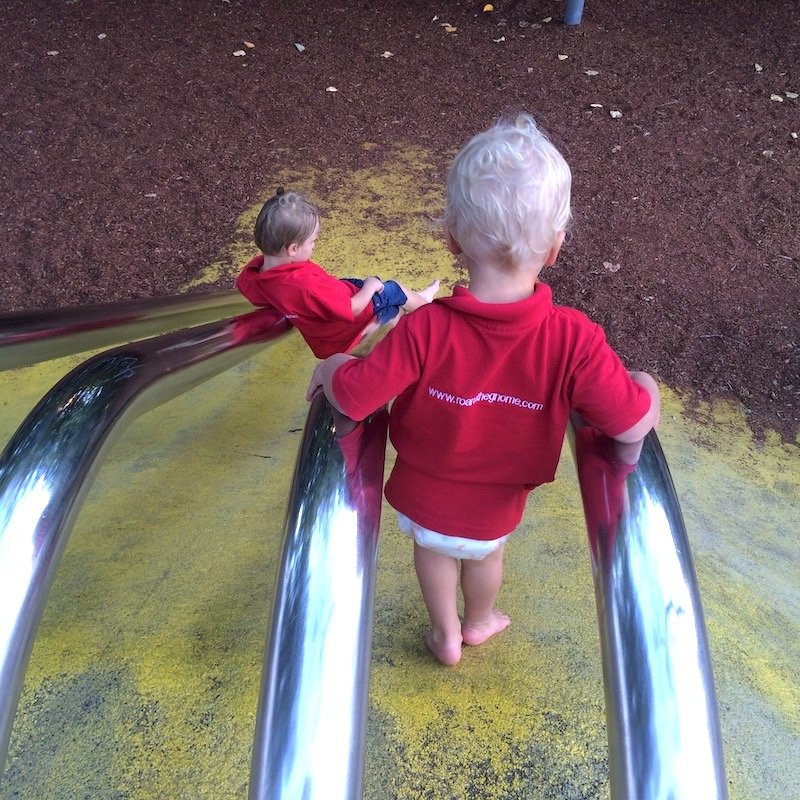 Magic Mountain
Kids love the giant yellow soft fall mounds to climb up and down.
There's silver handles to help them up, and down.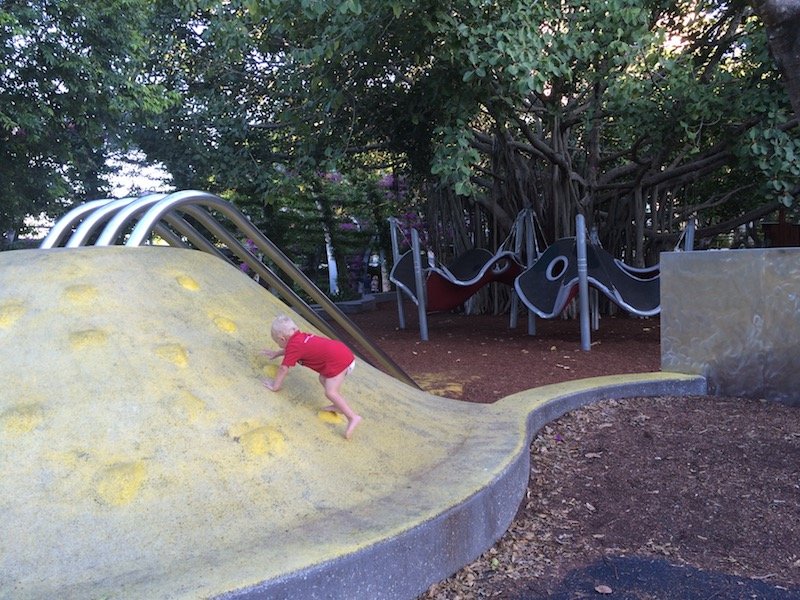 Plus rock climbing holds too.
Older kids love to practice parkour moves here.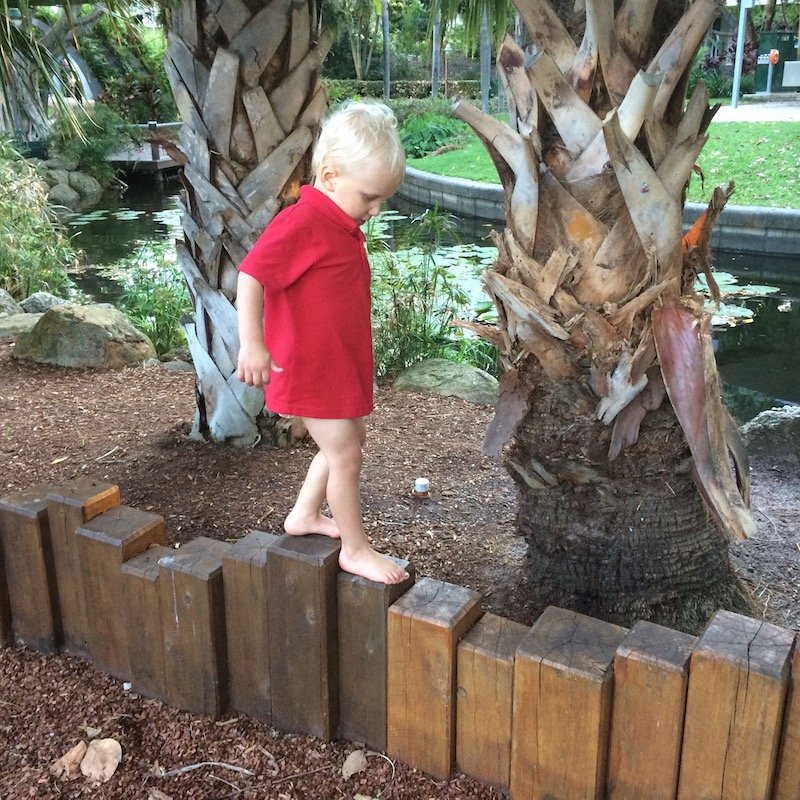 Balance beams
The short stumpy garden border is a perfect balance beam too!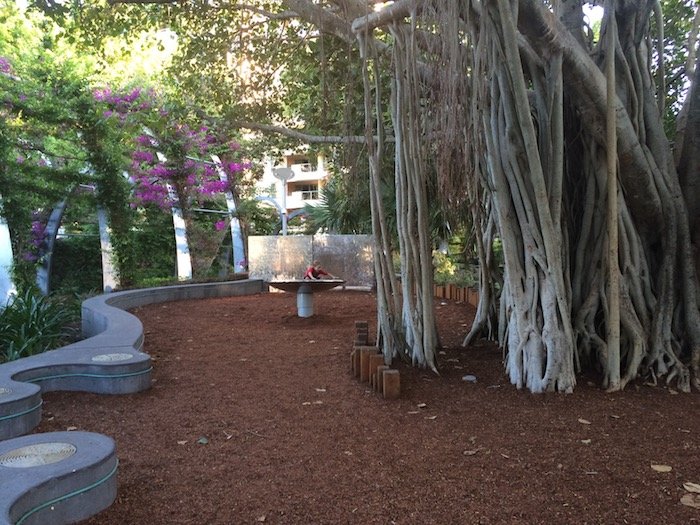 Giant Ficus Trees at Picnic Island Southbank Playground
The GIANT ficus tree roots are the unexpected highlight – it's a haven for a game of hide-and-seek with new friends!
Do yourself a favour.
Head straight there.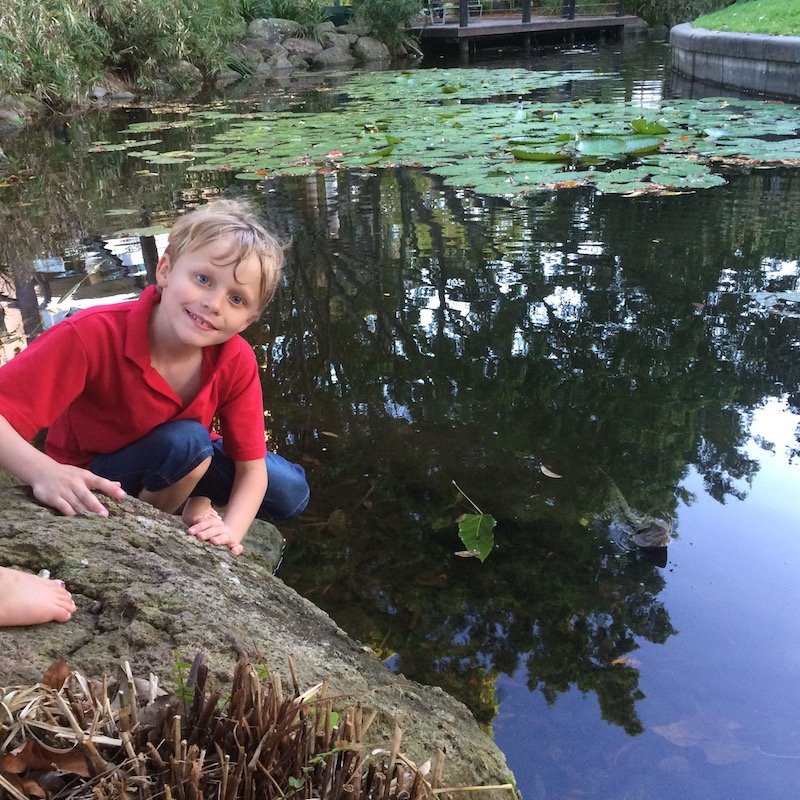 Water Dragons
The one thing to look out for at this park is the open water. You definitely need to keep an eye on the toddlers.
The water-lily covered pond is also home to a family of water dragons.
Be sure to say hi!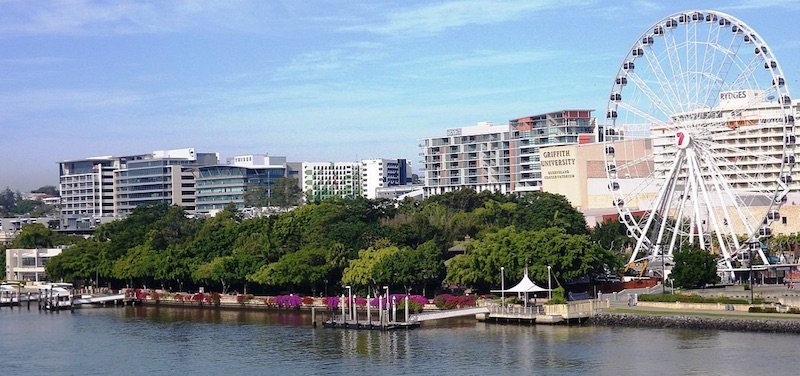 Image credit: Brisbane City Council via Wikipedia CC BY-2.0
Where to eat at Southbank Parklands
Southbank has a huge array of eateries, cafes and restaurants nearby for lunch and dinner.
The level of choice is outstanding.
Click here for the Eat Southbank Dining Guide
Hot tip: Many restaurants and Brisbane Southbank cafes offer kids lunch specials. Keep an eye out.
Or you can BYO Picnic Food.
(Take a look at our guide to healthy road trip and picnic food here)
More Things to do at Southbank Parklands Brisbane
Heading to South Bank Brisbane? Make a day of it, with these Brisbane Tourist attractions and activities:
Go treasure hunting at the Weekend Markets at Southbank
Head to the State Library of Queensland and check out their library shop for excellent book choices
Head to Cineplex Southbank to catch the latest Disney offering
Try an IMAX movie with kids
Hire a scooter or a City Cycle bike and ride the entire riverside bike path and across the bridge to QUT
Visit GOMA Gallery of Modern Art and check out the free Children's Gallery exhibition
Shop for the best Australian souvenirs at the GOMA Store
Try any one of the fabulous Brisbane Southbank restaurants for dinner
Stuff yourself silly with sweet stuff at Cowch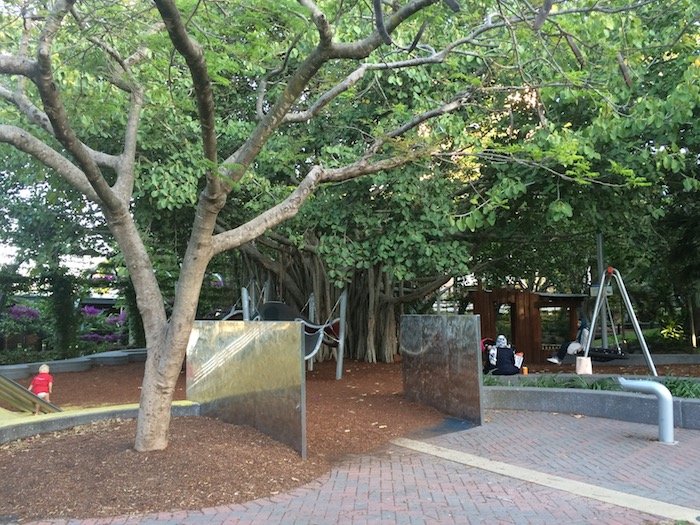 THE INSIDE SCOOP: Picnic Island Green Southbank Playground
Correct at time of publication on Roam the Gnome. Please check with venue for updates. We apologise in advance if there have been any changes we are unaware of. All prices in AUD dollars, unless otherwise stated
Address: The Picnic Island Green South Bank playground in Brisbane is located just past the Arbour View cafes on the corner of Little Stanley and Tribune Street, South Bank, Queensland
Telephone: 07 3156 6366
Email: [email protected]
Website: Click here
Opening Hours: Sunrise to sunset
Entry Fees: Free entry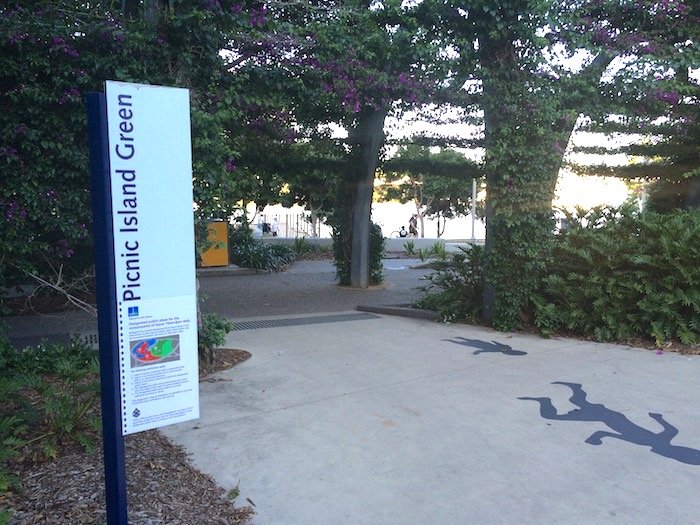 How to get to Southbank Parklands Brisbane
Click here for the Ultimate Guide of Things to do in Southbank for kids.
Find details of how to get to South Bank Brisbane too.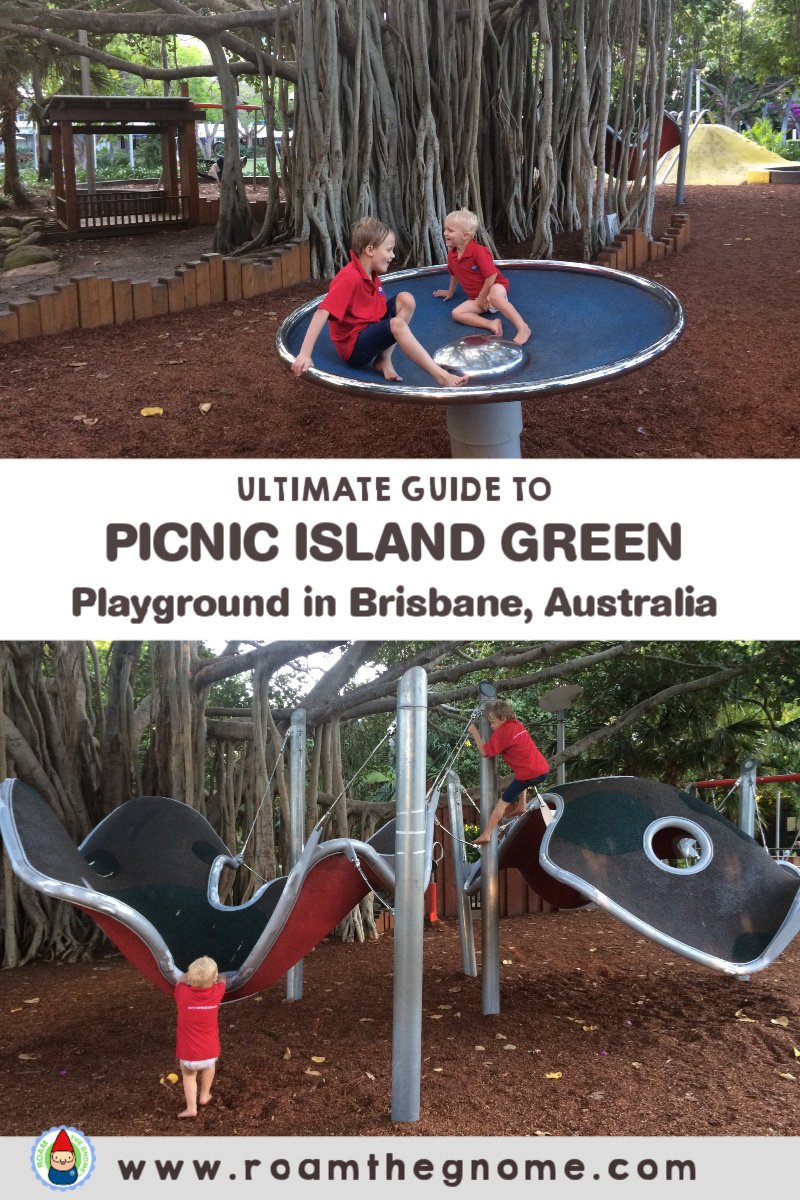 Southbank Parklands Parking
Click here for details on where to park at Southbank
Picnic Island Green Playground in Southbank Parklands Brisbane
Facilities at Picnic Island South Bank
Toilets: In Southbank precinct
Disability access: Yes
Closest ATM: Southbank. Ask at the Visitor Information Centre for directions.
Shade: Yes
Enclosed: Yes. Please take care with small children near the pond.
Ground cover: Rubber soft fall, bark, concrete.
Picnic tables: Yes
Electric BBQs: Yes
Water Bubblers/fountains: Yes
Scooters and Bikes: Yes
Dogs: No
Toadstool Rating – Picnic Island Green South Bank
One of the best Southbank children's activities. Be sure to stop by Riverside Green park too as it's close by.

Looking for MORE of the best things to do in Brisbane with kids?
Click the blue links below for more Brisbane tips