INSIDE: The Inside Scoop on New Farm Park Playground for Kids
Looking for a magical playground?
Something different from the norm?
Stop right here!
You've found it.
Visit a Real Life Enchanted Forest playground, entangled in amongst the Moreton Bay Fig Tree Vines, at New Farm Park Playground Brisbane.
Take a sneak peek below.
Disclosure: This article contains affiliate links. If you make a purchase after clicking on one of these links, we may receive a small commission at NO extra cost to you.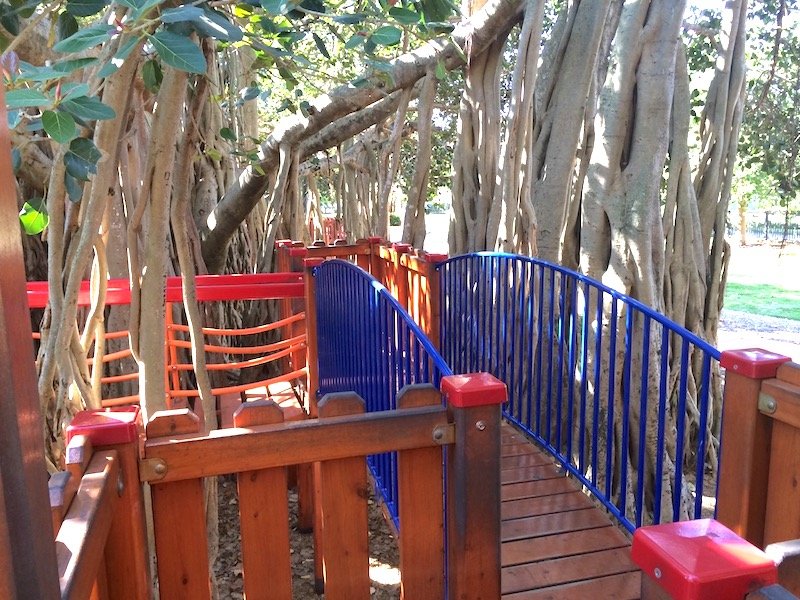 Magical Guide to New Farm Park Playground
A few minutes walk from the New Farm Park ferry terminal, past the rotunda and the Powerhouse Museum, and you come upon this majestic and spellbinding playground that is set amongst the zigzag of huge twisting and twirling vines of a Moreton Bay Fig forest.
This park is one of our favourite parks in South East Queensland.
Scratch that.
It's one of our favourite parks, full stop.
---
RELATED: Ultimate Guide to the BEST Things to do in Brisbane with Kids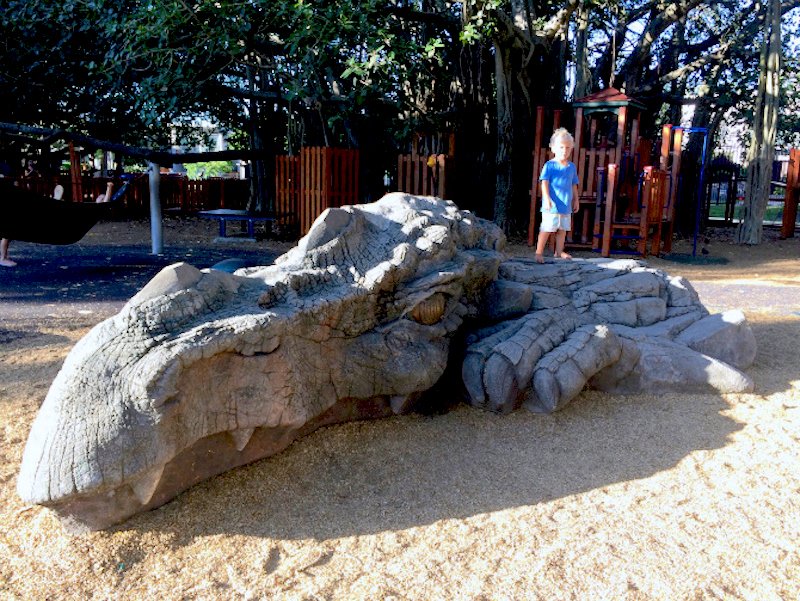 Alt: The Magic Faraway Tree Forest Playground!
Ever wanted to climb the Magic Faraway Tree from Enid Blyton's much loved children's book?
You must visit.
---
RELATED: Ultimate Guide to GOMA Museum of Modern Arts for Kids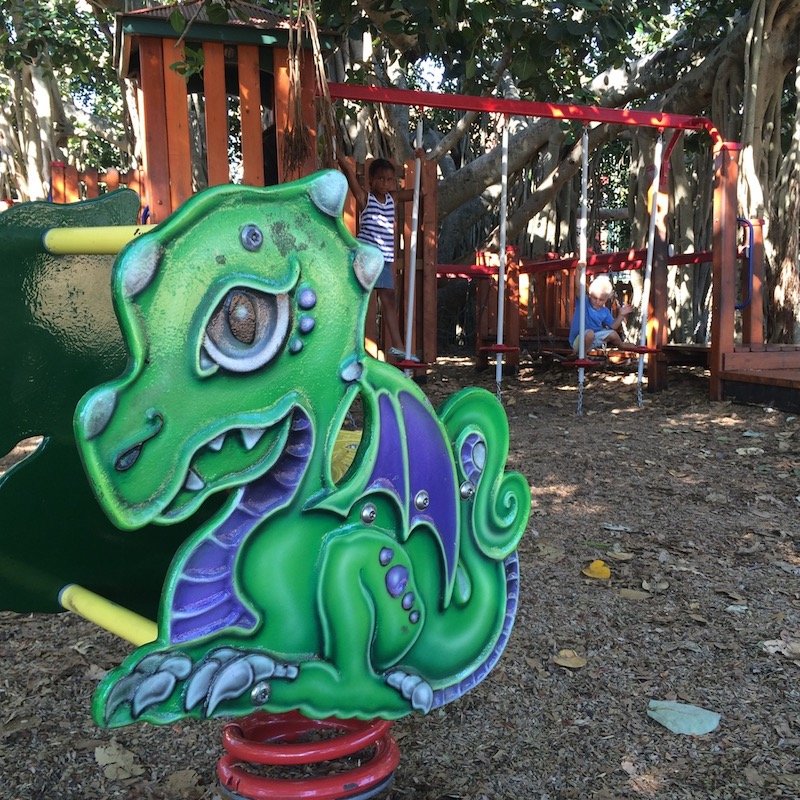 There's even DRAGONS!
AND Dragon Eggs that have cracked open.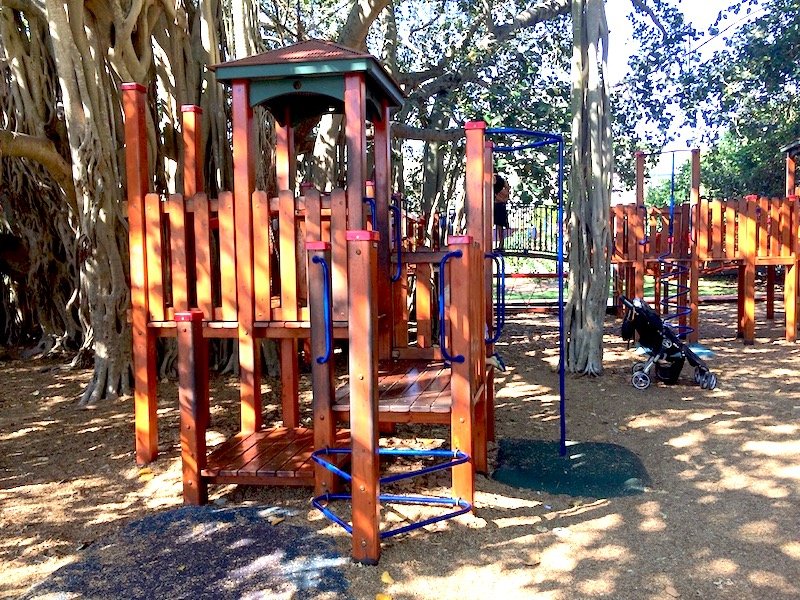 New Farm Playground Equipment
The timber playground is a sight to behold.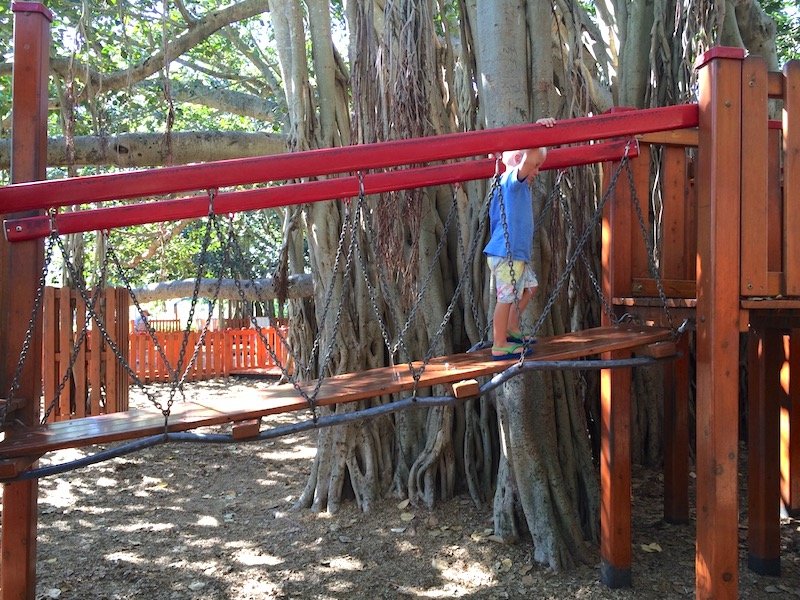 No.1: Timber Fort
New Farm playground offers hours of SUPER DOOPER FUN!
The New Farm playground fort has:
climbing walls
meandering pathways
slippery slides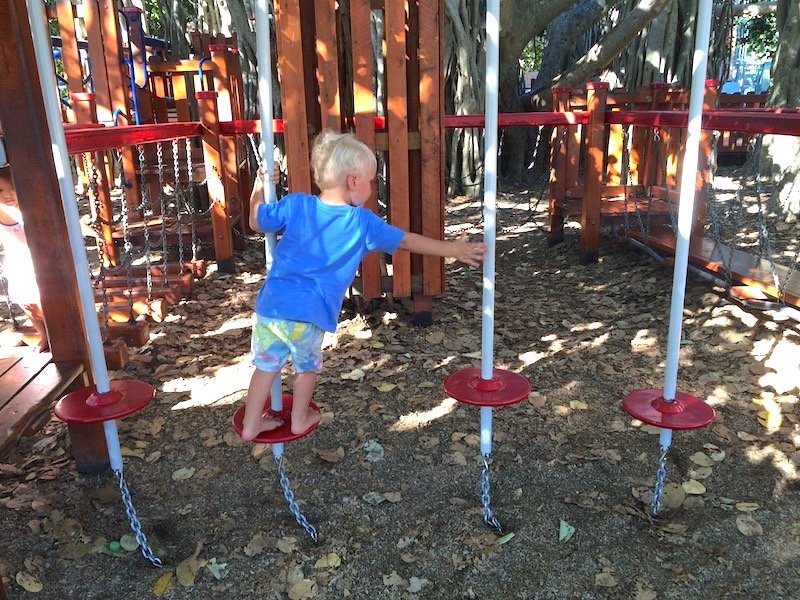 telescopes
twisty rails to traverse, and
swinging poles to navigate.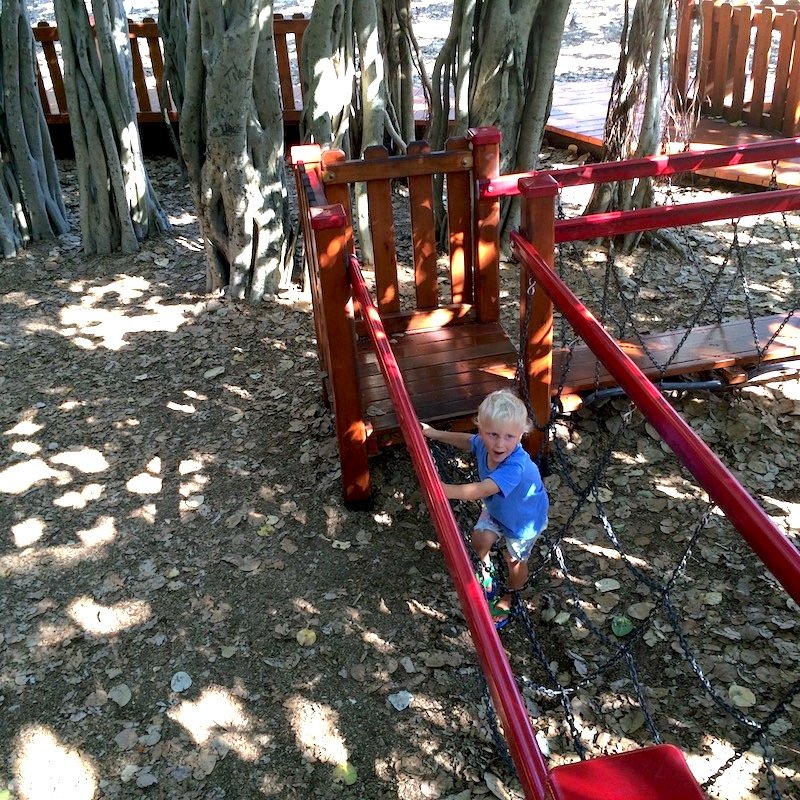 No.2: Bridges & Swinging platforms
wobbly walkways
chain link bridges
swaying poles to clamber across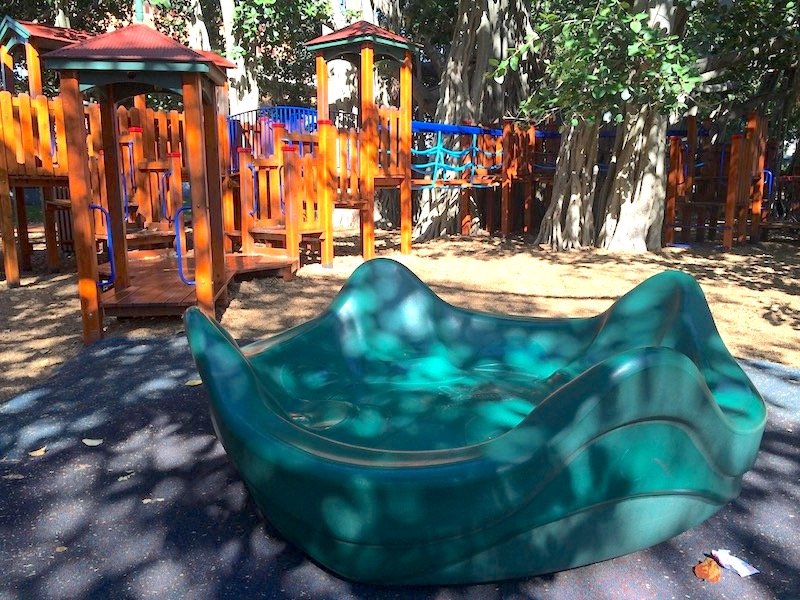 No.3: Spinning Cup ride
Kids love this modern day carousel ride that fits four new friends in one go.
It's also an instant workout for mum or dad, or anyone who has to help push.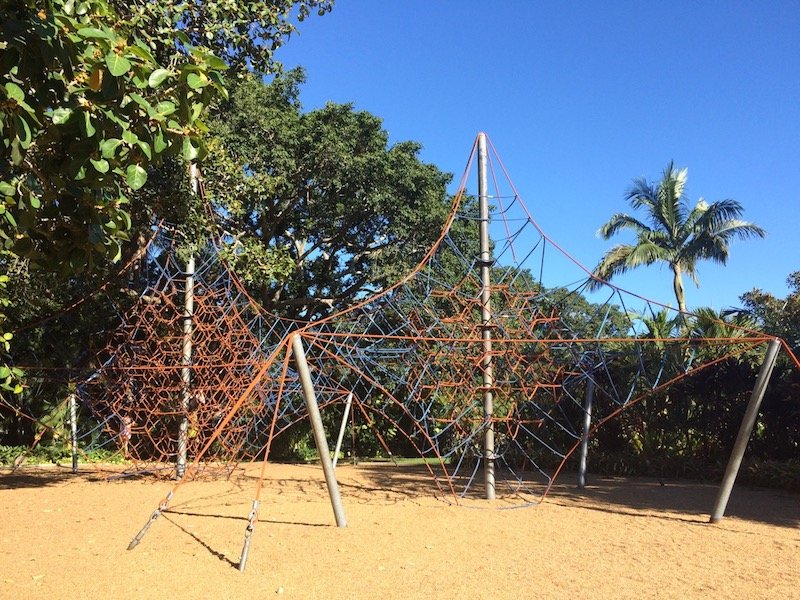 No.4: Climbing pyramid
One for the bigger kids and teens.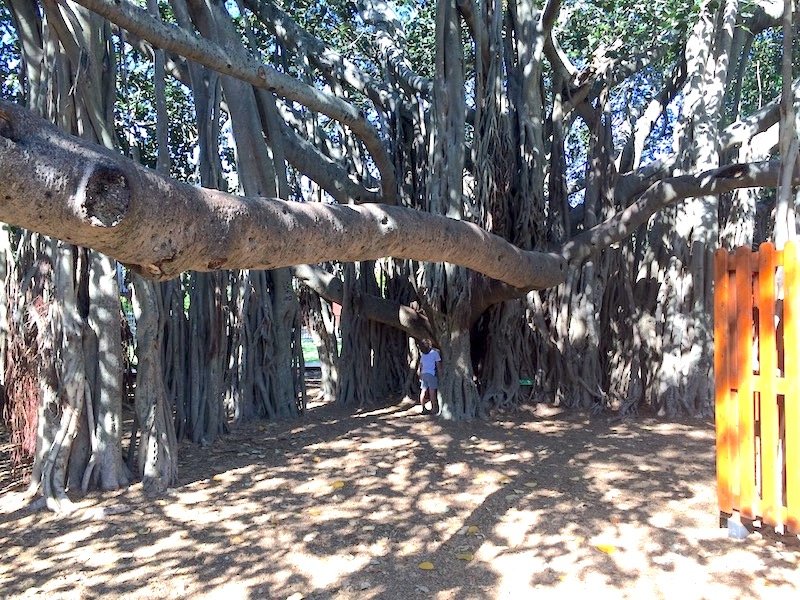 New Farm Park Trees
But, it's the Moreton Bay Fig Vines that capture the attention of wildlife nature hunters and fairy folk.
Kids love hiding in amongst these cascading vines, and climbing high up into the branches to find hideaway holes
For years now, kids have climbed into the nook of this tree, and clambered their way onto THIS horizontal tree branch, perched metres above the ground, to slide along all the way to the timber support.
Then they shimmy down.
It's the done thing for anyone of 5!
Stand close.
These trees beat any man-made structure any day.
Keep an eye out for the SECRET timber park bench.
It's hidden among the vines, a relic from the past swallowed up by the ever-growing vines!
Hot tip: Set a meeting place for your older children so when you lose sight of them, as you invariably will, you know they have somewhere to come back to after their adventurous explorations.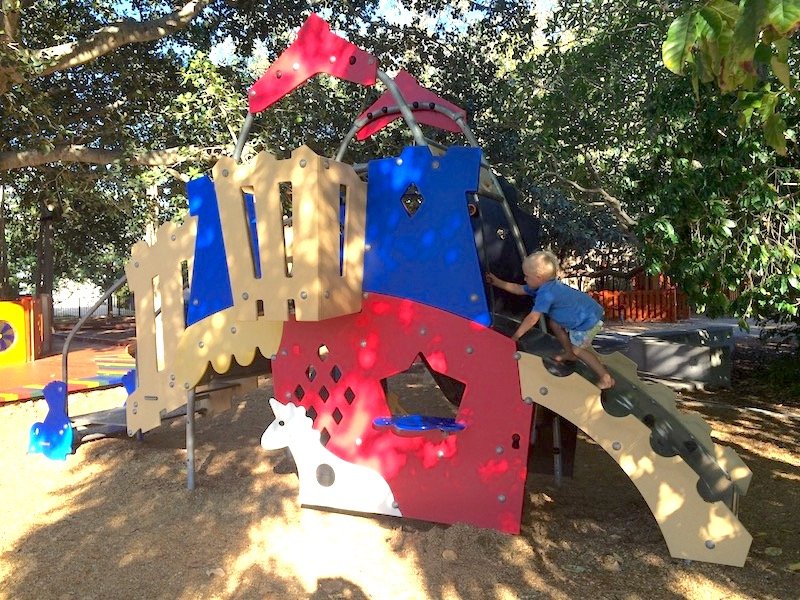 New Farm Park Playground for Toddlers & Young children
This enchanted forest fairyland has been made even better with the addition of more toddler-friendly play equipment including this fort with stairs and slide.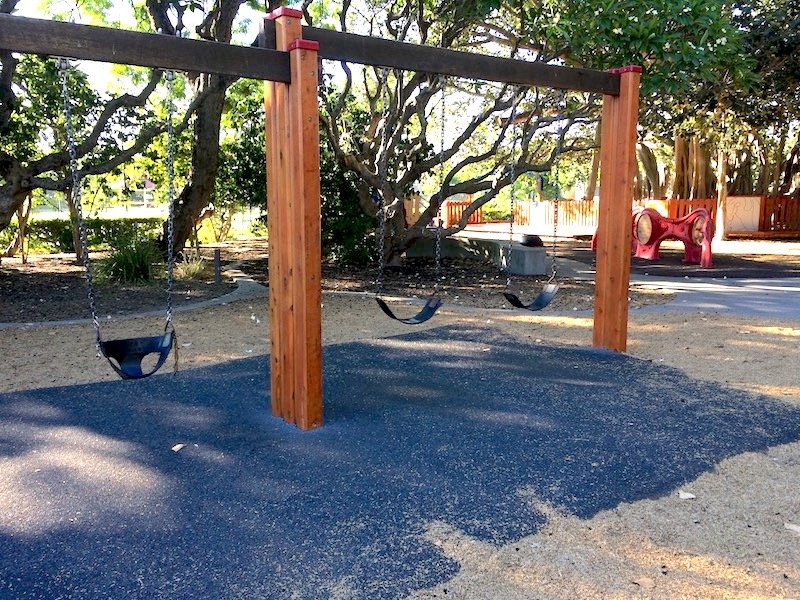 Swings at New Farm Park
There's a row of swings including accessible swings for children with special needs or disabilities.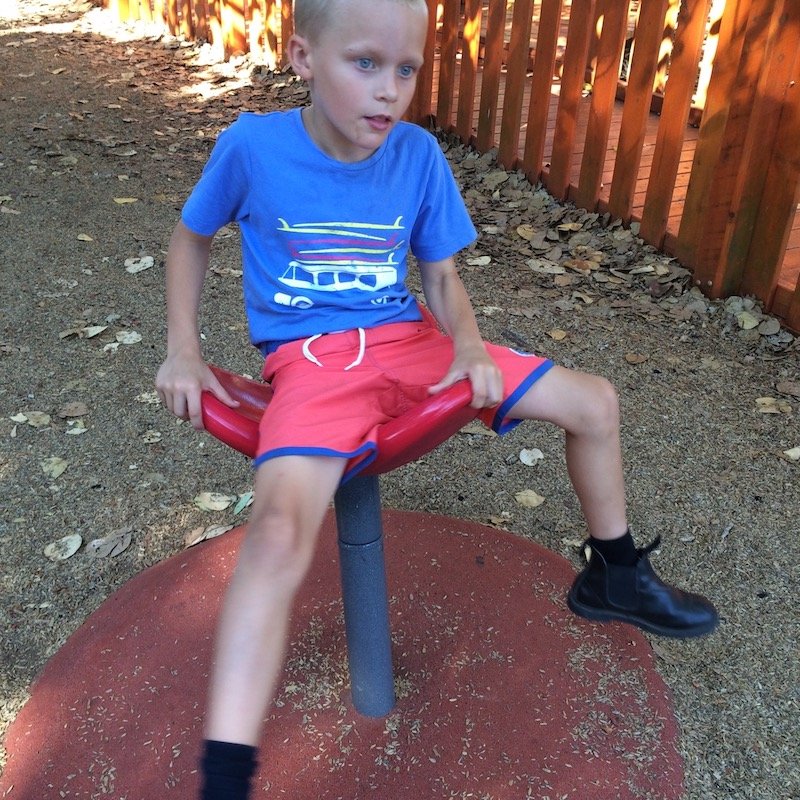 Twirly Whirly rides
A group of Spinning 'flower' seats are set to make you dizzy. (oh my, dizzy!)
There's a performance "stage" for those children who love to dress up, dance and sing too.
Toddler safety
Hot tip: You do need eyes in the back of your head here. There's no fences and the vision in the playground is completely obscured by the tree vines and the timber structures.
Stay close to your toddlers.
Wear good shoes. Chasing after them here is a marathon (but worth it!)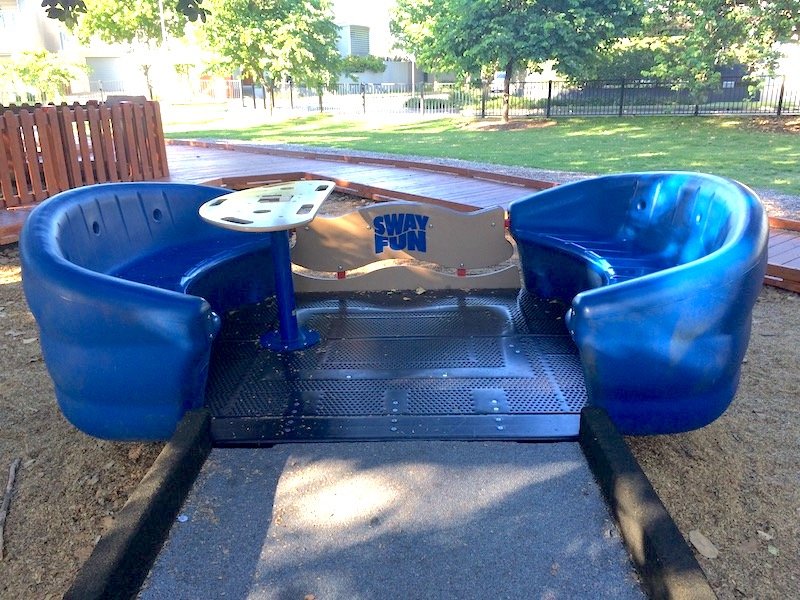 Accessible Playgrounds in Brisbane
Specialist play equipment includes:
a Sway Fun family-sized double rocking chair
swings for special needs children
standalone activity stations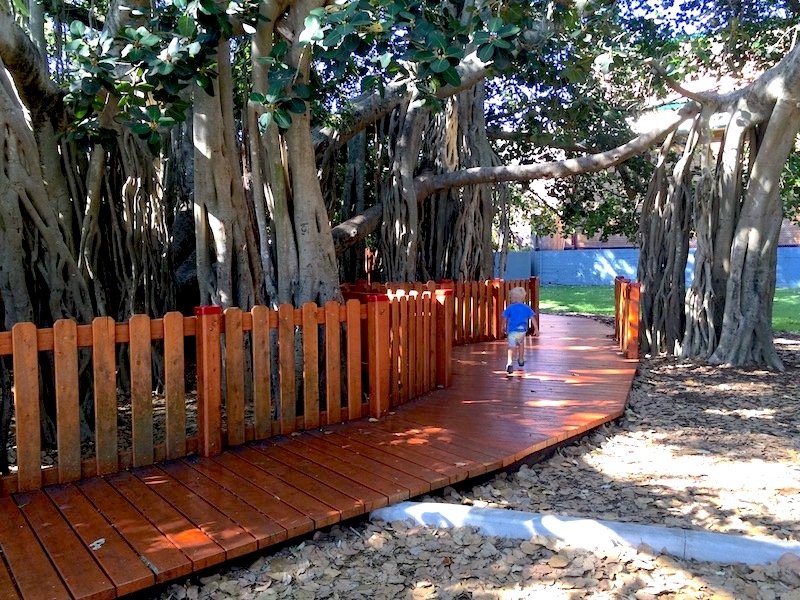 Awesome Upgrades to this Brisbane Playground
We've been coming here for years, and we love the upgrades.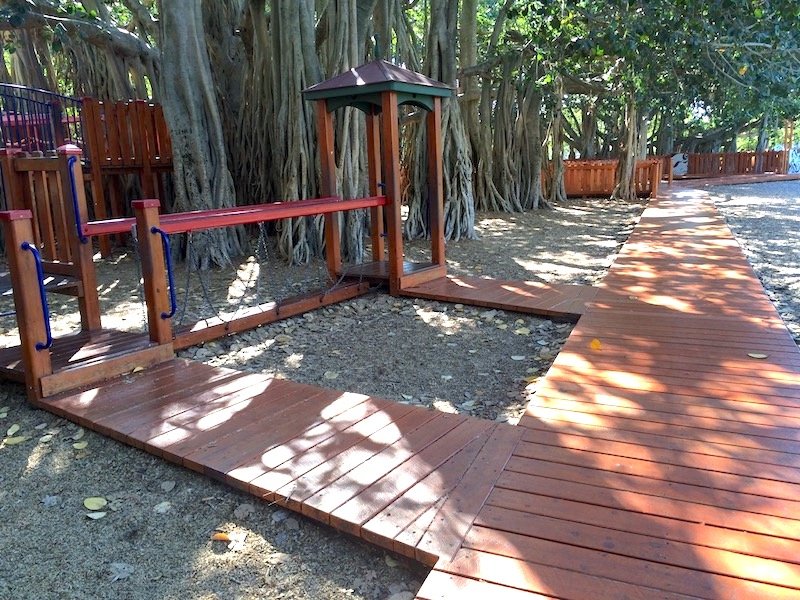 Floating walkways & More good stuff
Top marks for:
the floating walkways
the love that is being shown to the tree roots through careful consideration of the layout and protective fencing
the BBQ areas
the new shade, and
the natural light that now shines in.
Those new accessible toilets close by are heaven sent too.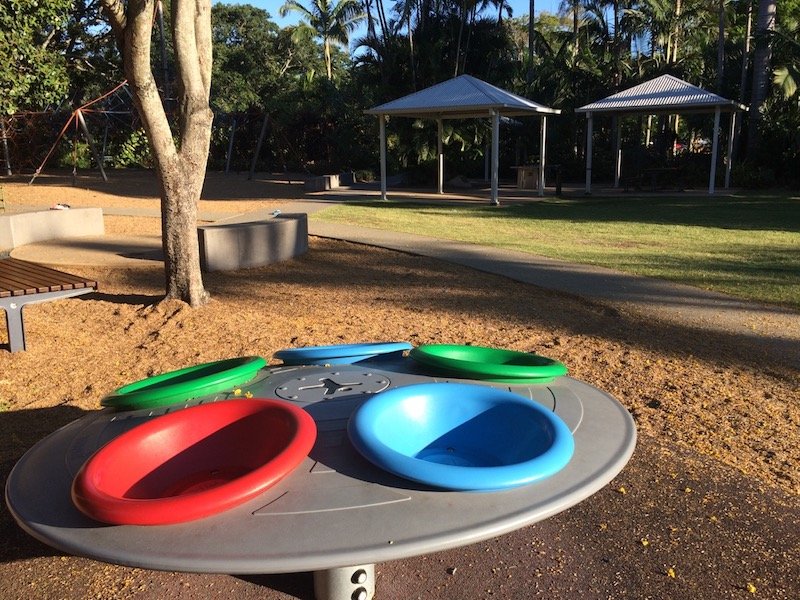 Top Tips for New Farm Park Fun
Go early and grab a table.
Bring your goodies in bird-proof bags – those ibis are clever cookies!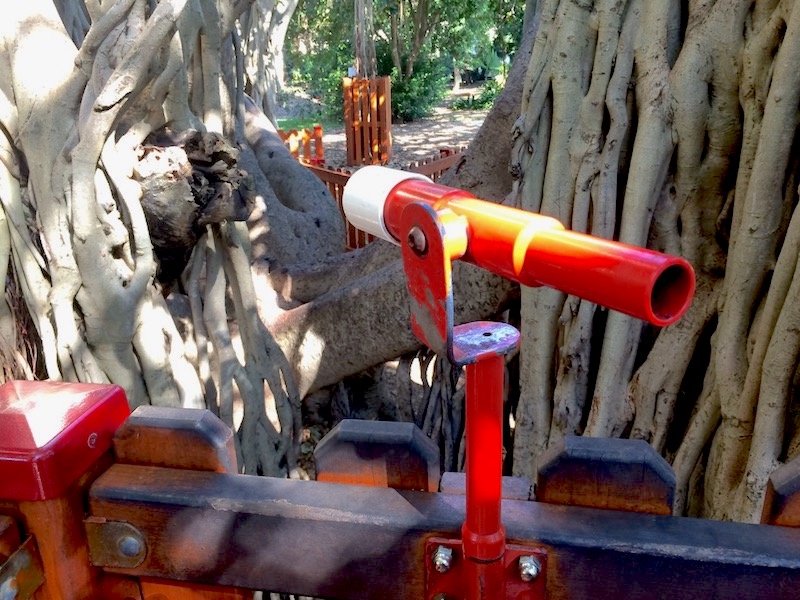 Shoes on, or off?
Some people suggest keeping the kids shoes on here.
(You know, all that after-dark dodginess that goes on in out-of-sight parks)
But we've been here plenty of times and have NEVER seen any untoward action or spotted any questionable debris lying about the place.
Not to say it doesn't happen but I'd hate to think the possibility would put people off.
This IS a real life enchanted forest after all!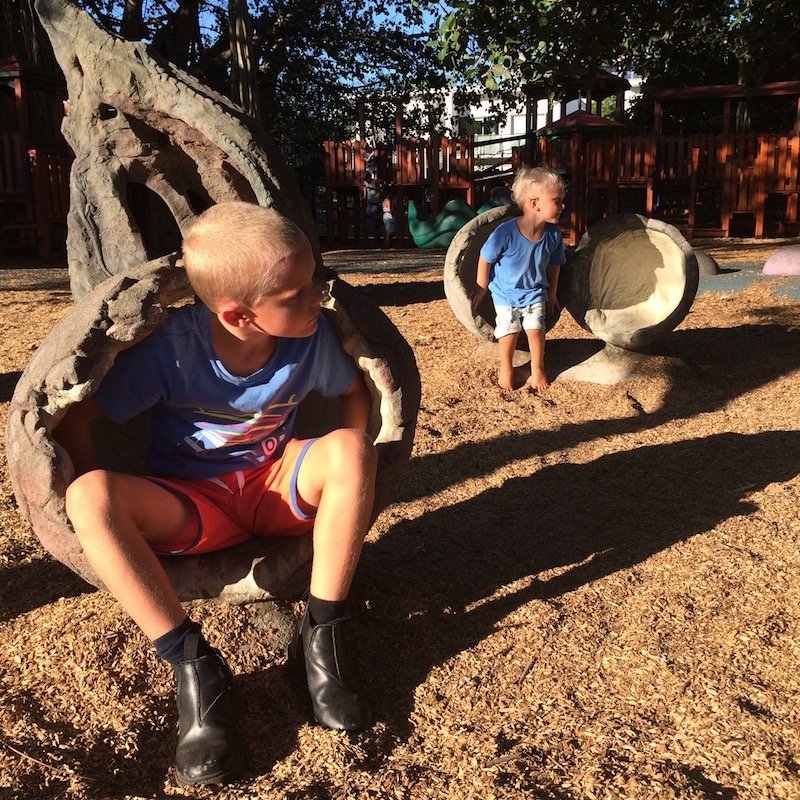 BYO Bikes and Scooters
BYO bikes, scooters, helmets, and things to ride.
Plenty of room for that here, and FLAT pathways too.
Just be mindful with young ones if you ride along the Brisbane river side.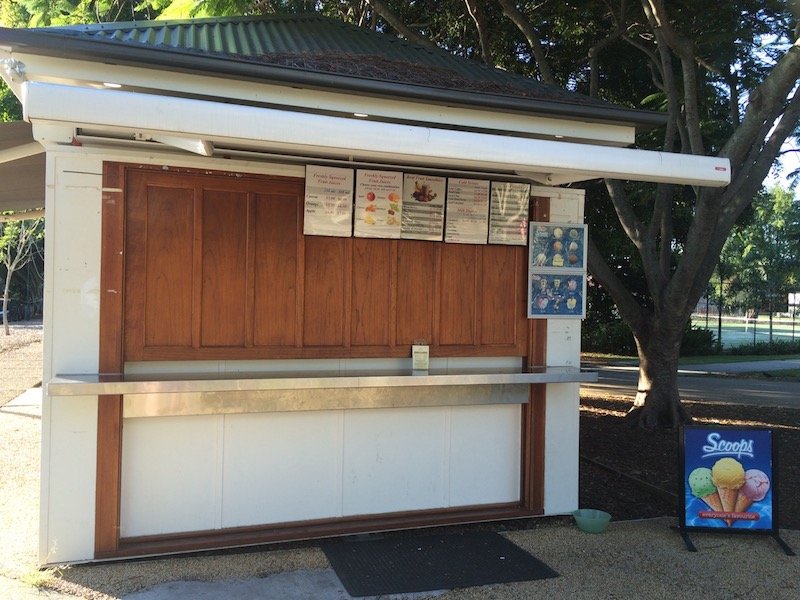 Where to eat at New Farm Park?
There's a small drink stand at the entrance to New Farm Park for all your emergency coffee, chai, smoothie and needs.
Prices are fairly reasonable.
Most large coffees (and there's a wide variety on offer!) are $4.50. Tea $3.50.
On a budget? Bring your own thermos.
Freshly squeezed juices range between $5 and $7 while large smoothies are $6.00 to $6.50.
Plan on eating scoops of ice-cream elsewhere, unless you have a million bucks in your back pocket.
The End of the Road Coffee shop is your other New Farm park cafe option.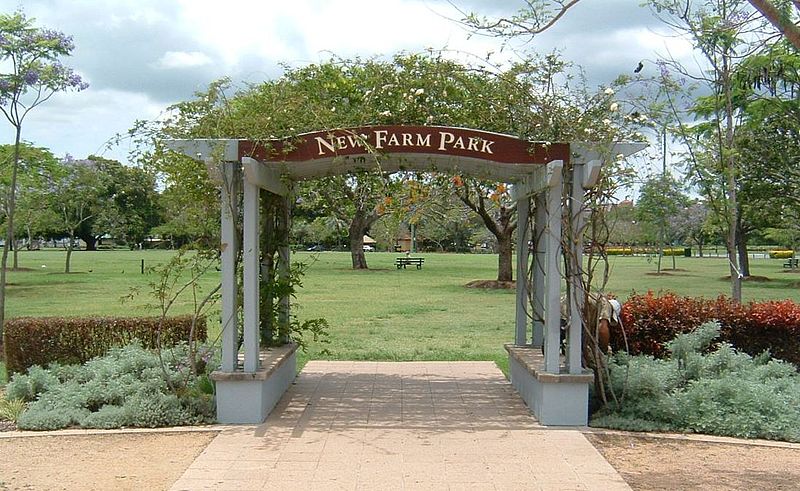 Image credit: Adz via Wikipedia CC BY 1.0
Coles Supermarket at New Farm
A short walk back up Sydney Street takes you into the hub of New Farm and a number of small shopping centres, cafes and a Coles supermarket for all your food and drink needs.
BYO Picnic
We'd be suggesting a picnic of your own making though.
It's such a pretty place to wander- we love to sit by the river and watch the boats!
But if you can't tear the kids away from the park, there's plenty of picnic tables under the shade, and a water fountain too.
Hot tip: Check our guide to healthy road trip snacks and picnic food for new ideas of what to bring for a picnic. Includes gourmet options!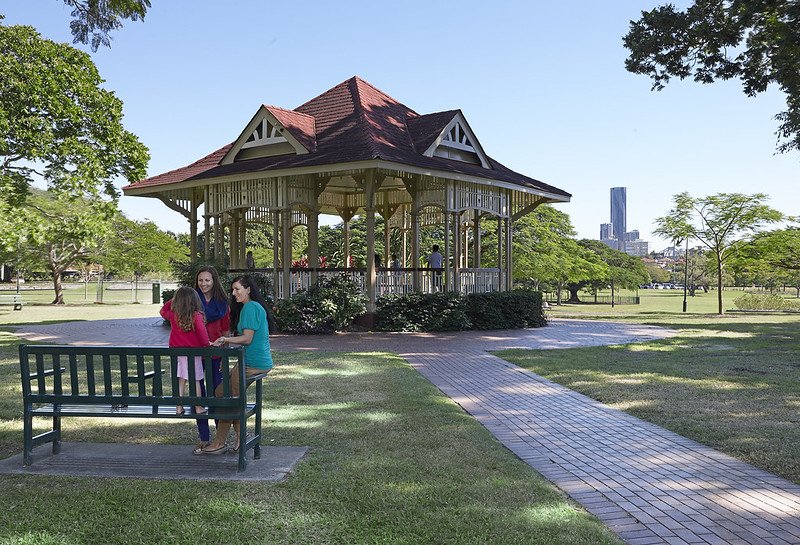 Image credit: Brisbane City Council via Flickr CC BY 2.0
MORE Things to do at New Farm Park Brisbane
The entire park covers 15 hectares (37 acres) so don't limit yourself to just the playground.
Brisbane New Farm Park events
Jan Powers Farmers markets are held at the Brisbane Powerhouse, next to the playground.
There's over 120 stalls every Saturday morning at these New Farm Park markets.
Grab a coffee and a croissant before you play.
For more events in New Farm Park, click here
New Farm Park Rotunda
We love:
the rotunda for picnics
to wander around the rose gardens
to fly a frisbee on the open plain, and
to dine on a $10 fish, chips and a drink deal from the New Farm Fish Cafe on the corner of Sydney and Brunswick Streets.
New Farm Park also has:
a croquet lawn
cricket wickets
tennis courts and
a football ground.
It's loved by Brisbanites as a place to get away from the concrete jungle.
No matter how STINKING HOT it is in Brisbane city, New Farm Park is a cool haven with breezes.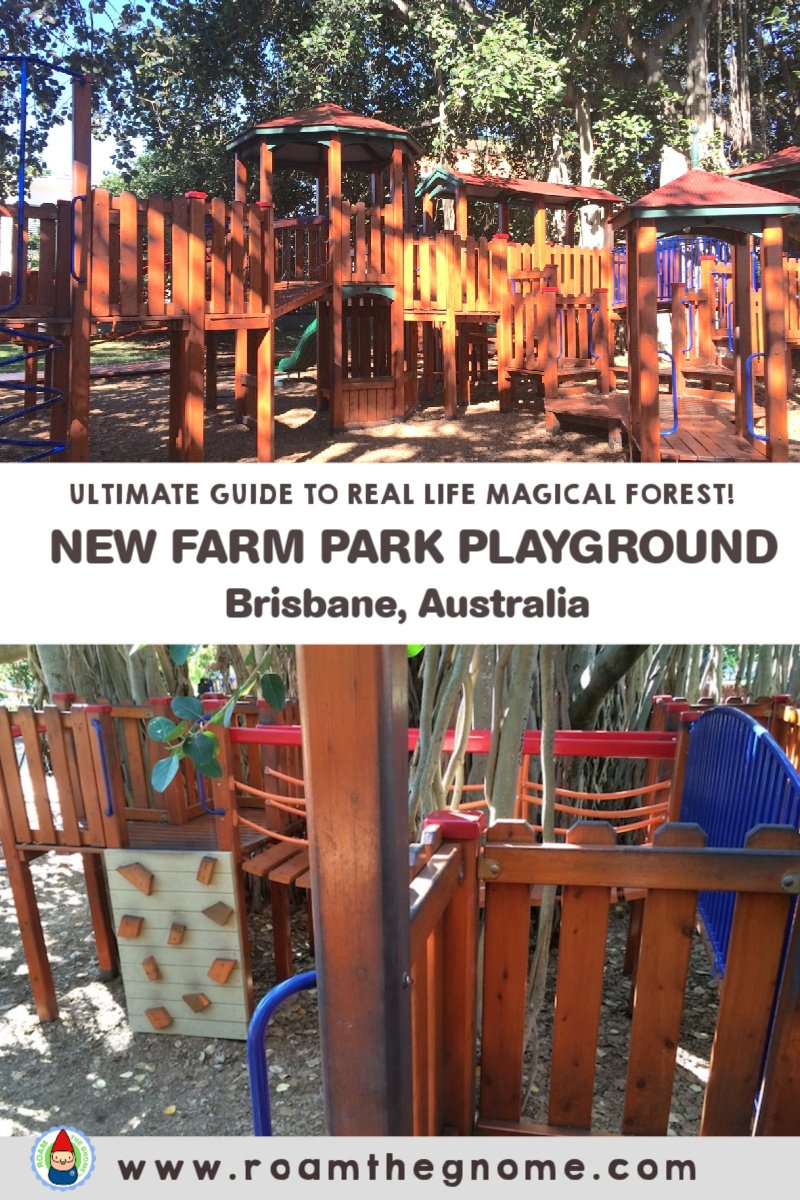 THE INSIDE SCOOP: Brisbane New Farm Park Playground
Correct at time of publication on Roam the Gnome. Please check with venue for updates. We apologise in advance if there have been any changes we are unaware of. All prices in Australian dollars, unless otherwise stated
New Farm Park Address: Enter via Brunswick St, New Farm QLD
Telephone: 0418 888 730
New Farm Park Opening Hours: The park gates officially open at 8.30am each day (sometimes earlier on weekends) and close at 11.00pm at night
Entry Fees: FREE!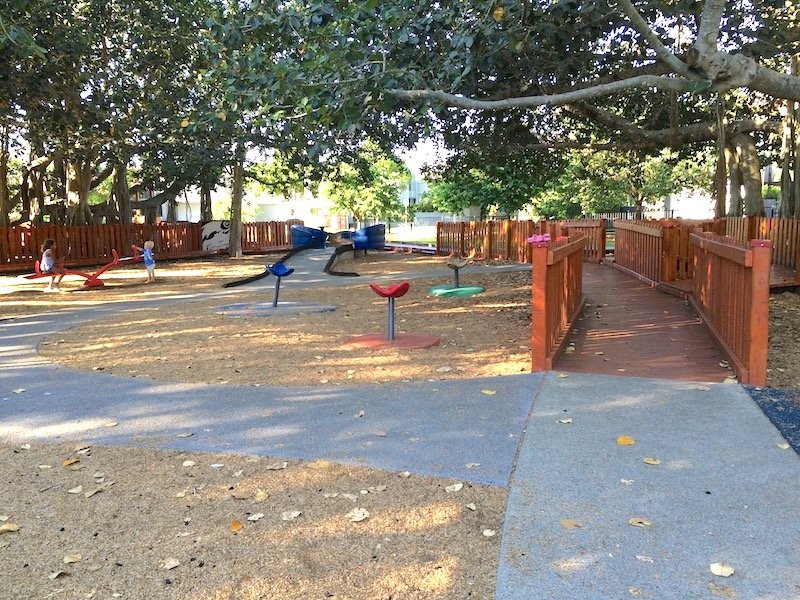 How to get to New Farm Park Brisbane
By Ferry:
Catch the CityCat Ferry from the Southbank and disembark at New Farm Park by the Powerhouse Museum.
Hop on at either Southbank 1 Ferry Terminal (Southbank side of the river) or QUT Ferry Terminal (City side of the river). You'll be heading towards North Shore, Hamilton. New Farm park is three stops from the city, approximately 15 minutes travel time.
Here's a link to the CityCat timetable.
On the return journey, make sure you catch a CityCat in the direction of UQ Saint Lucia. (It can be super confusing!)
By Bus: 10 minutes on the number 196 bus
By Car: New Farm Park is about a five minute drive from the CBD, through Fortitude Valley.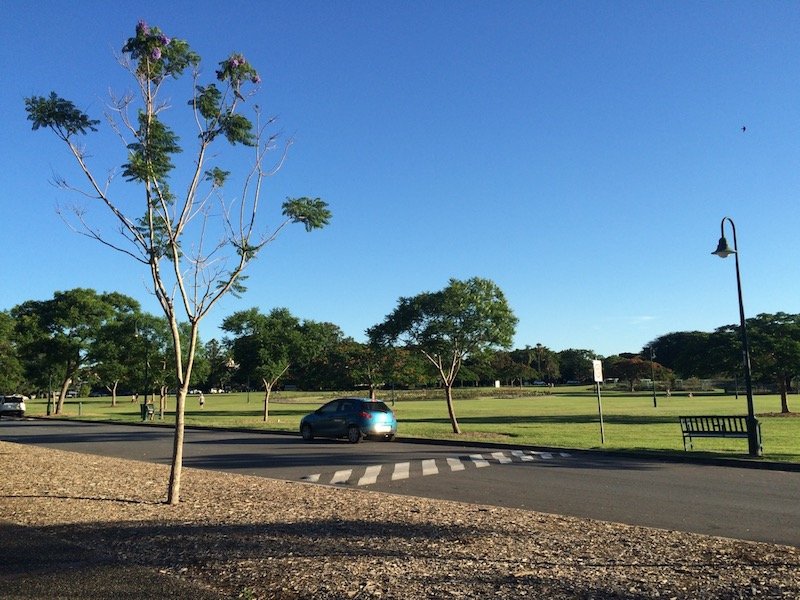 New Farm Park parking
There's plenty of parking at New Farm Park around the circular drive except maybe in peak school holiday time or weekends.
That's when a CityCat ride is definitely a better option!
New Farm Park Playground Map
Toadstool Rating:
Stop by the Powerhouse Museum in Brisbane for a quick look and see on your way home from this magnificent playground in Brisbane.
During school holidays, they often run a children's program.
You never know what you might stumble into!

Looking for more of the Best Playgrounds in Brisbane?
Click the blue links below for more Brisbane tips