INSIDE: Everything you need to know about Riverside Green Playground in Brisbane.
Towering Pink Fort Towers. Tick.
Never Ending Slides. Tick.
A Human Sized Hamster Wheel?
YES!
Riverside Green Playground has a HUMAN SIZED HAMSTER WHEEL!
This Peter Pan & Neverland-inspired Riverside Green playground is one of the best playgrounds in Brisbane, perfect for child-sized Pirates and Wendy's.
Take a look below for details of this Southbank Precinct playground.
Disclosure: This article contains affiliate links. If you make a purchase after clicking on one of these links, we may receive a small commission at NO extra cost to you.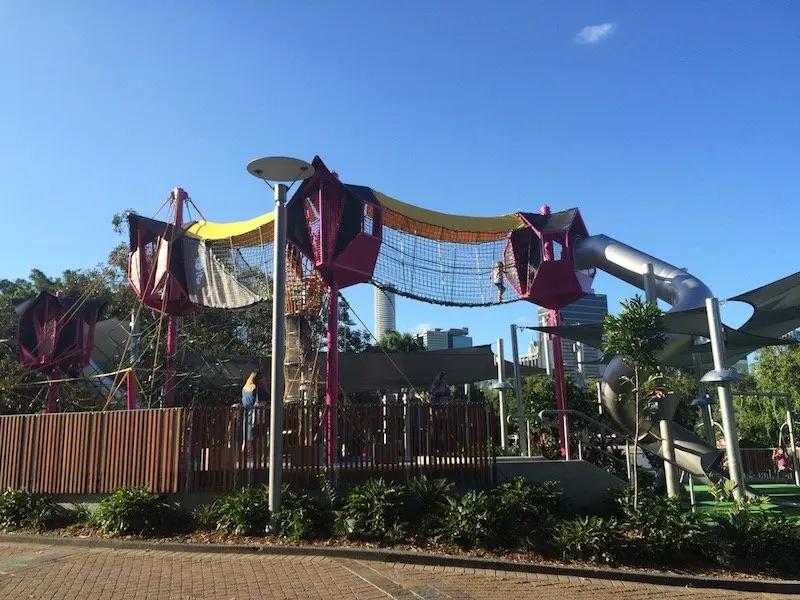 Riverside Green Playground Southbank for Big Kids
Riverside Playground is South Bank's most popular playground, bursting colour in bright neon pinks, greens and blues, inspired by Southbank's famous Bougainvillea arbour.
It's open for play from sunrise, until early evening – this epic Brisbane playground is lit at night!
---
RELATED: Ultimate Guide to Picnic Island Green playground at Southbank parklands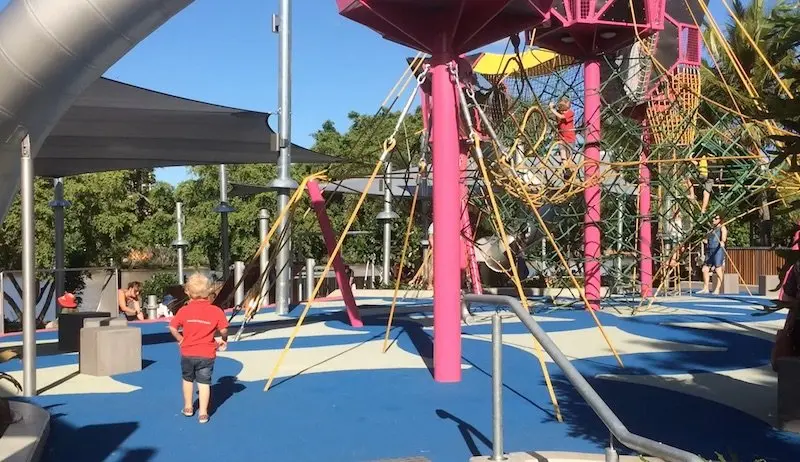 For the big kids (and enthusiastic adventurous mums and dads), there's fun over two levels:
the adventure zone up top, and
the lower level with interactive equipment.
---
RELATED: Big Guide of Fun Things to do in Brisbane with Kids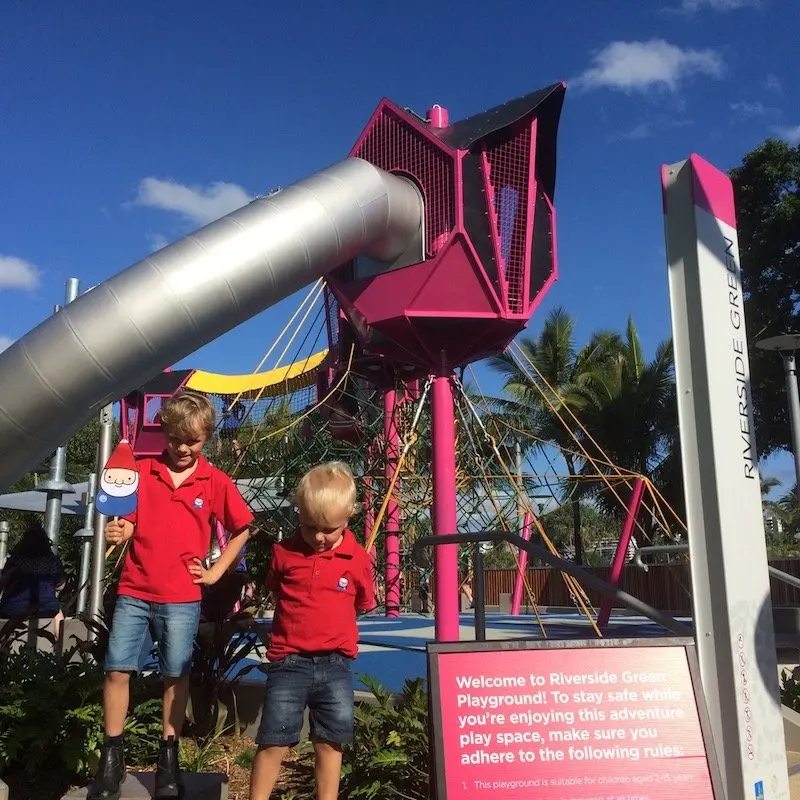 Riverside Green Southbank Skywalk
The 7.5 metre high, BRIGHT PINK structure, with sky cabin towers interconnected by a series of rope bridges and connecting slides for kids 5+ years is the centrepiece.
SKYWALK has four entry points to cater for different ages and abilities but once inside, the kids are completely enclosed by nets for safety.
(Mamas can breathe a sigh of relief!)
A giant scramble net with a swing sits below the towers.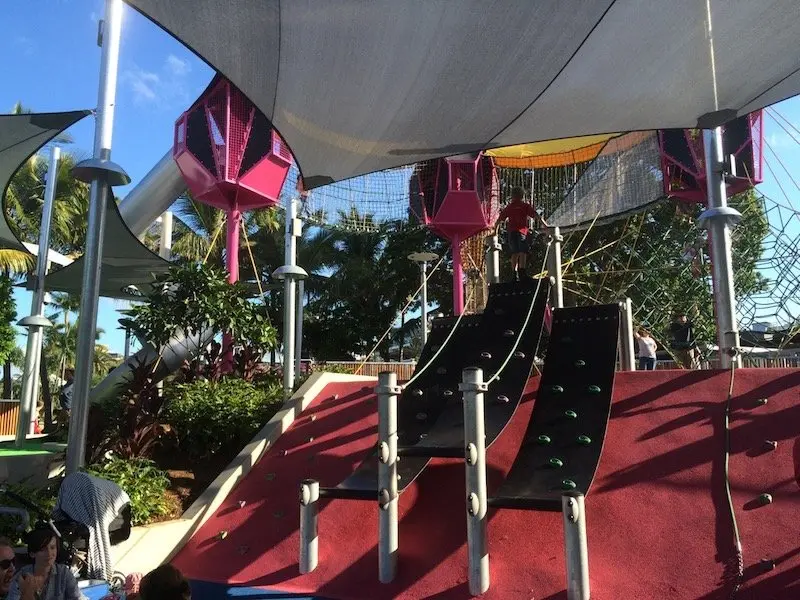 Southbank Parklands Playground Lower Level
There's also:
Rubber belt bridge and embankment zone for kids 5+ years
Giant Mouse/Hamster wheel for kids 6+ years (max 4 users at once)
Supernova spinning ring on the ground level for kids 6+ years
Climbing structure and climbing wall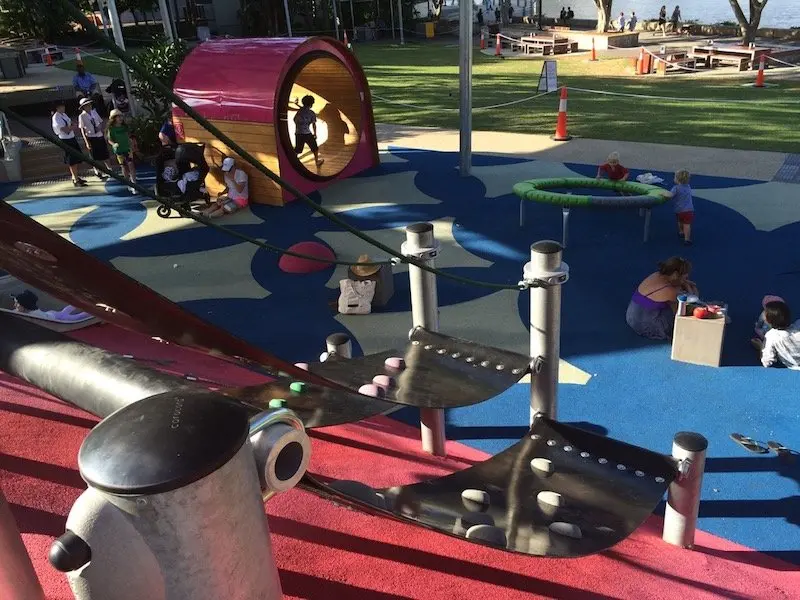 Brisbane Southbank Playground Hamster Wheel
The Hamster Wheel is by far the most popular thing.
And no wonder.
I wanted a turn too.
(Join the queue!)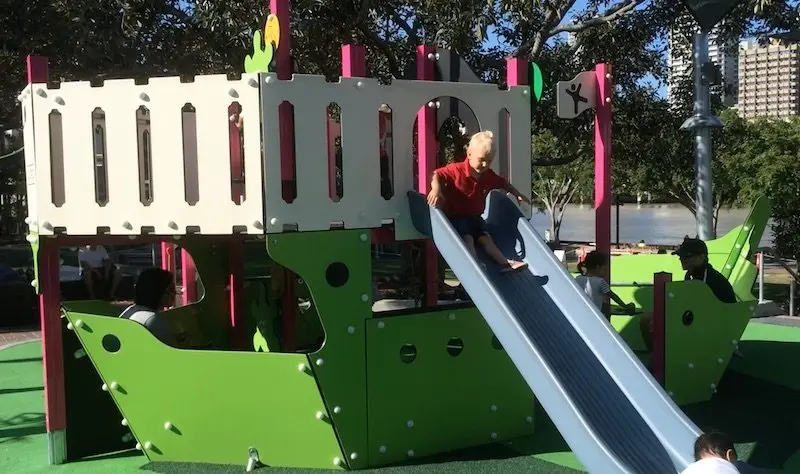 Riverside Green South Bank Playground for Toddlers
For young children aged 2-5, there's a dedicated toddler area on the upper terrace level with wheelchair access.
An all-inclusive area pirate ship themed toddler zone for kids 2-6 years, with undercover areas, grasp holes, climbing ladders and ropes, slides, compass, binoculars and interactive elements to touch and turn.
Double swing for kids 3+ years
2 metre wide multi-person slide for kids 3+ years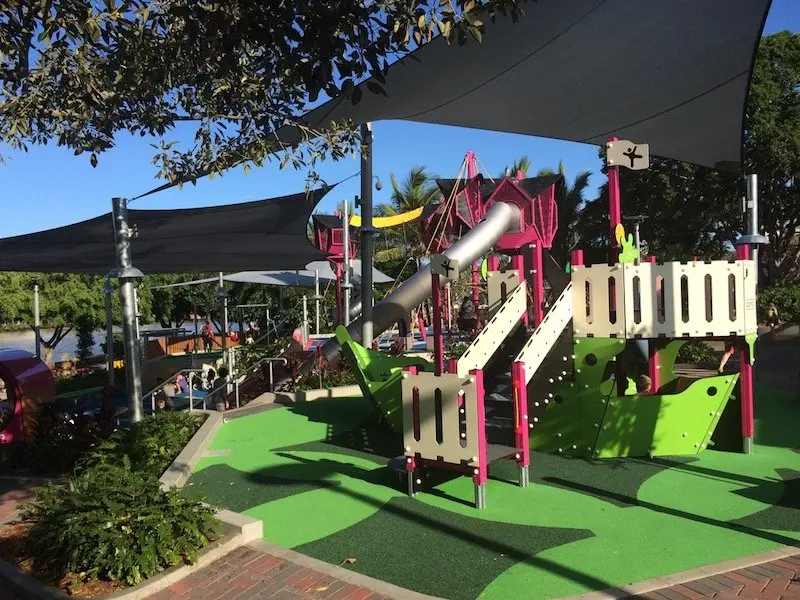 Picnic and BBQs at Riverside Green Adventure Playground
New picnic tables and barbeques were added during the redevelopment of this playground, and there's plenty of seating and grassy areas abound.
BYO snacks, food, and drinks for a picnic lunch.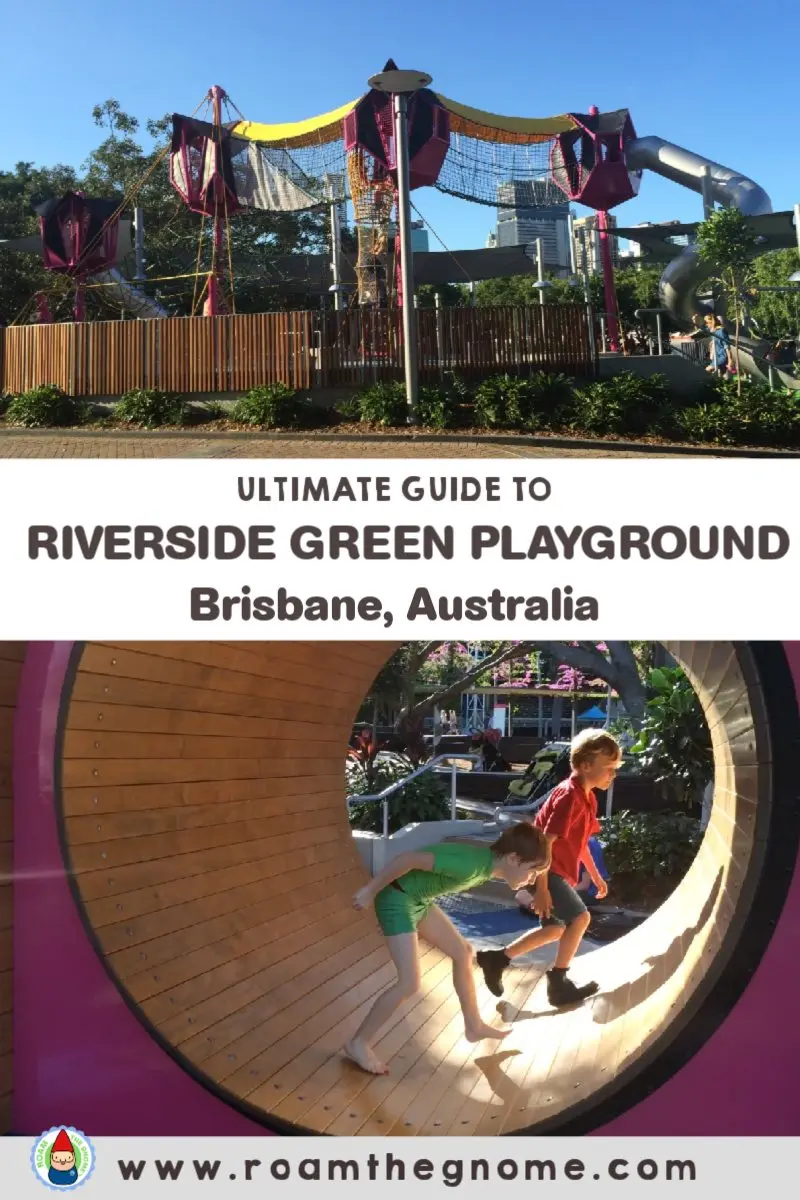 Where to eat at Southbank Parklands
Or head to one of Southbank's eateries nearby for lunch, and a Boost Juice.
Southbank has amazing variety of food options.
Click here for the Eat Southbank Dining Guide
Look out for the kids lunch specials on offer from many cafes on certain days each week.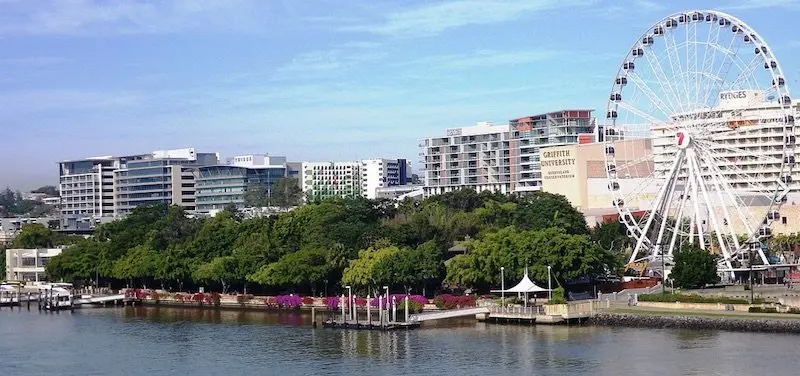 Image credit: Brisbane City Council via Wikipedia CC BY-2.0
More Things to do at Southbank Parklands Brisbane
Heading to South Bank Brisbane?
Make a day of it, with these activities:
Pick up some design friendly souvenirs at the State Library of Queensland bookshop, or the GOMA Store
Visit the Weekend Markets at Southbank
Head to Cineplex Southbank to catch a flick, or take in an IMAX movie
Hire a scooter or a City Cycle bike and ride the entire riverside bike path and across the bridge to QUT
Take the kids to GOMA Gallery of Modern Art to visit the Children's Gallery exhibition
Eat at one of the fabulous Brisbane Southbank restaurants
Enjoy dessert at Cowch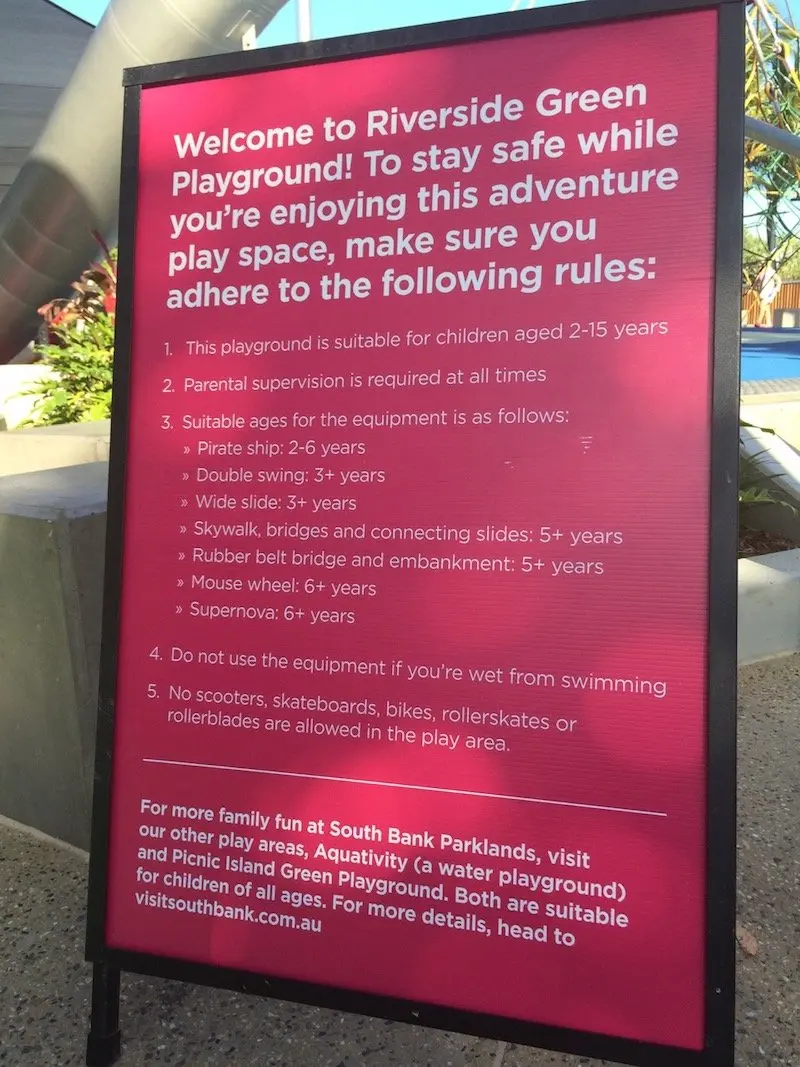 THE INSIDE SCOOP: Brisbane Kids Playground at Southbank
Correct at time of publication on Roam the Gnome. Please check with venue for updates. We apologise in advance if there have been any changes we are unaware of. All prices in AUD dollars, unless otherwise stated
Address: Riverside Green is located at South Bank Parklands near the Boat Pool and Streets Beach. It is directly behind the Courier Mail Piazza.
Telephone: 07 3156 6366
Email: [email protected]
Opening Hours: Sunrise to early evening. The Skywalk at Riverside Green playground is lit up at night for extra magic hours!
Entry Fees: Free entry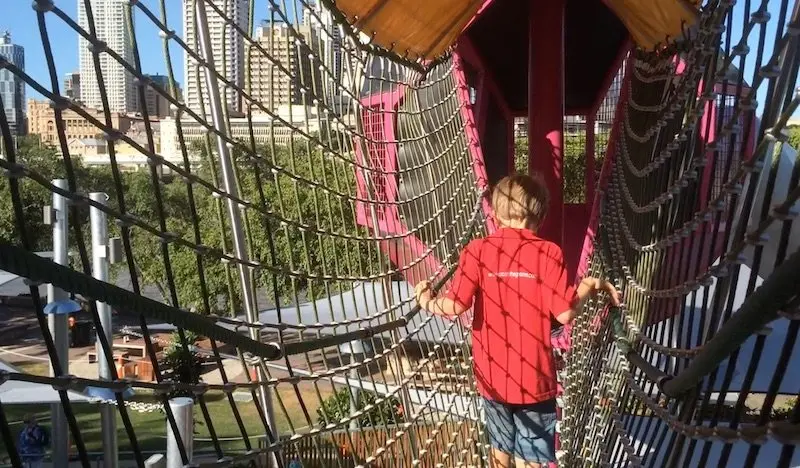 How to get to Southbank Parklands
Click here for the Ultimate Guide to Southbank Parklands, including how to get there by bus and car.
By Train/metro: Five minute walk from South Brisbane and Southbank stations.
By Ferry: It's a short walk from the Southbank City Cat terminal.
Southbank Parklands Parking
Click here for details on where to park at Southbank Parklands
Map of Riverside Green Southbank Playground
Facilities at Southbank for Children & Families
Toilets: Yes, accessible toilets are close by, including baby change table.
Disability access: Limited for big kids. All abilities access to toddler playground. Riverview Green is easily accessible, with flat paths leading from the car park. Disability parking bays are available
Closest ATM: See Southbank Visitor Centre for directions
Shade: Shade sails, shady trees
Enclosed: No. Keep a close eye on children as Streets Beach is nearby.
Ground cover: Multicoloured rubber soft fall, concrete pathways
Picnic tables: Yes
Electric BBQs: Yes
Water Bubblers/fountains: Yes. Fill your water bottle too.
Scooters and Bikes: No scooters, skateboards, bikes, rollerskates or rollerblades are allowed in the play area.
Dogs: No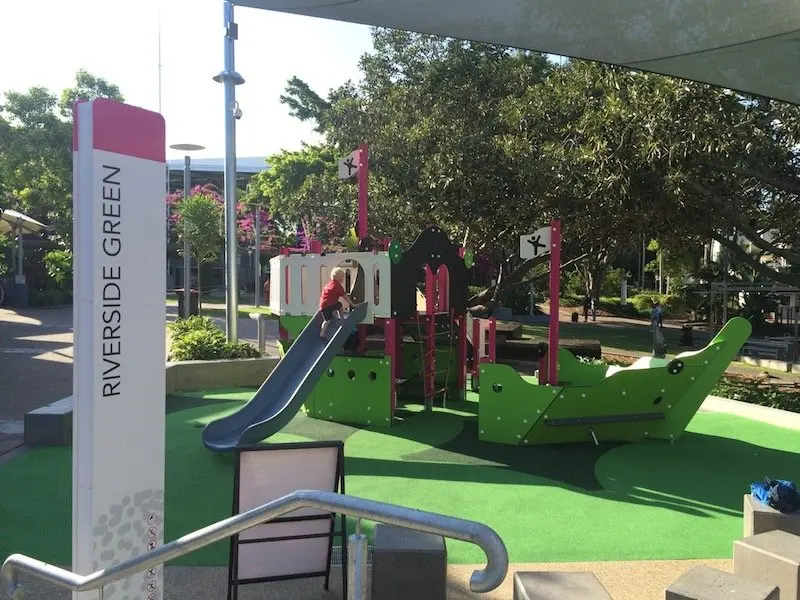 Toadstool Rating – Riverside Green Playground South Brisbane QLD

Looking for MORE SUPER DOOPER FUN things to do in Brisbane with kids?
Click the blue links below for more Brisbane tips