INSIDE: Roam the Gnome's Guide to Bicycle Rental Brisbane on City Cycle.
Looking to do something different with the family in Brisbane for a day?
Then hiring bikes from City Cycle Brisbane should top your list.
City Cycle is the home of FREE Bicycle Rental Brisbane all day with $2 Subscription Pass.
Helmets included!
Read our guide below for details.
Disclosure: This article contains affiliate links. If you make a purchase after clicking on one of these links, we may receive a small commission at NO extra cost to you.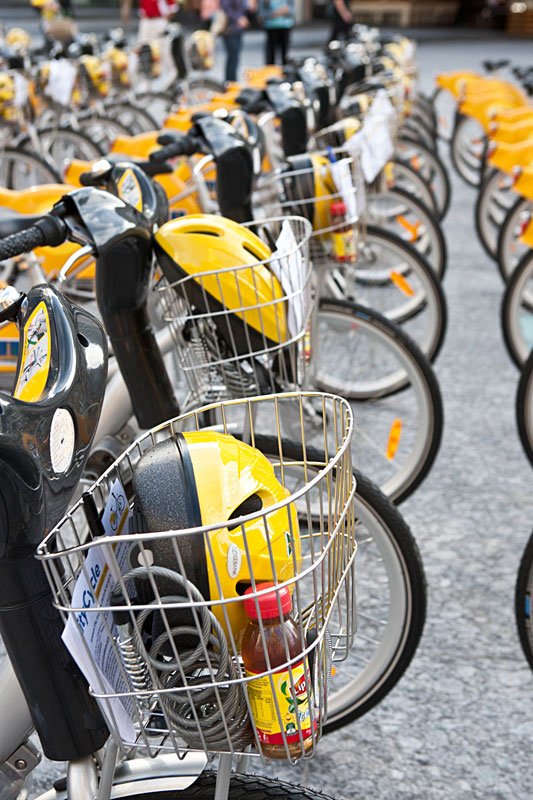 Image credit: Brisbane City Council via Flickr CC BY-2.0
FREE Bicycle Rental Brisbane Style!
Cycling your way around the river city is an unexpectedly splendid way to while away a Sunday away from the crowds, as you wind your way around the Brisbane river bike paths with all the best views in plain sight.
Brisbane City Cycle hire is definitely my new favourite way to explore the growing city of Brisbane and all the quirky, hip, and family-friendly fun places you can find here.
City Cycle bike hire is only suitable for adults and teens over 17 years though, so you'll need to BYO the kids' bikes and helmets.
---
RELATED: BIG LIST of Fun Things to Do in Brisbane with Kids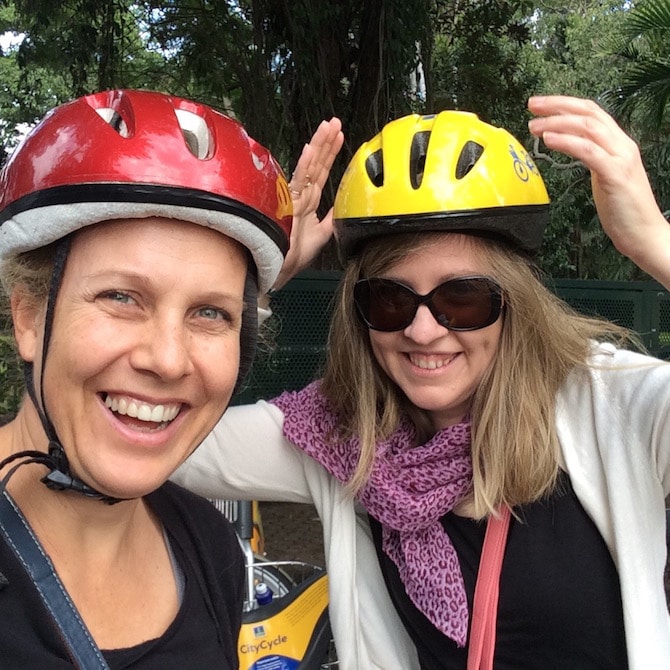 Brisbane Bicycle Paths for Kids and Adults
You can ride Brisbane city bikes from the CBD in both directions following Brisbane cycle paths.
Ride along the Brisbane bikeways along the river all the way down to the University of Queensland in St Lucia, or take Brisbane bike paths past New Farm Park, and around through Teneriffe to Newstead.
There's paved bikeways most of the way along the river, and only rarely do you need to venture on pathways that hug city or urban streets.
Another reason it's on our list of super kid friendly things to do in Brisbane with, or without, kids.
Hire a City Cycle Brisbane
My friend Tonia and I tried it out, sans kids
Tonia and I made a plan to cycle from the City Botanic Gardens to our destination in the New Farm area.
Neither of us had ridden a bike for quite some time, but we were surprised at how quickly we remembered what to do.
It's true that saying. You never forget.
We were a bit wobbly at first, but it didn't take long to rock our version of the "hipster vibe" sans beards, except for those helmets.
Let's face it.
There's nothing hipster or stylish about wearing a bike helmet, but wear it we must.
---
BOOK NOW: Brisbane River Cruise and Koala Sanctuary Visit Tour (BEST SELLER)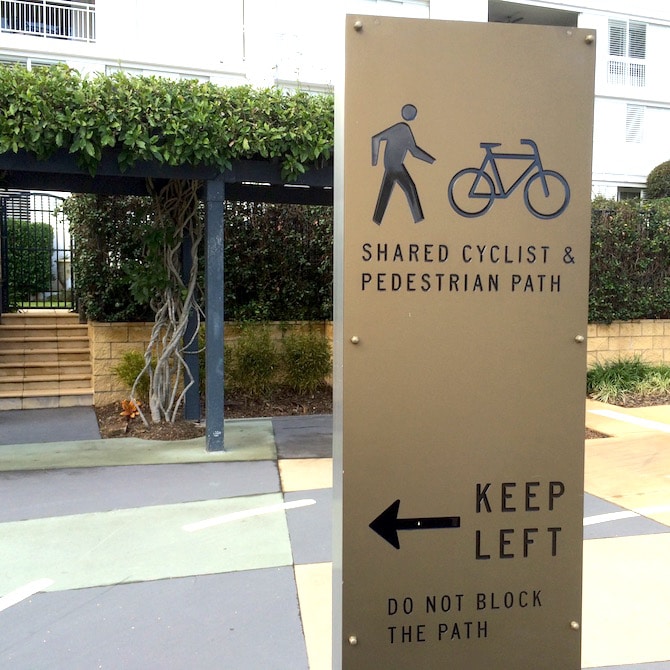 Brisbane Cycle Hire Tips for Wobbly Riders
Our only challenge en-route was navigating the people meandering the waterfront pier behind the Riverside Markets.
Here's our tips for managing the challenge.
Be prepared to go slow and steady, and ring that bell as much as you need to.
Give people warning that you are riding by, and throw your biggest SMILE to everyone you pass.
Any accidental bumps will be forgiven by awkward smiles and laughs that let them know you are new to (or renewing your passion for) this riding a bike gig!
How do you organise access to Brisbane City Bike Hire?
There's three ways to sign up for access to the Brisbane City Cycle hire network
No.1: Subscribe to the City Cycle network for $5 a month. Link your subscription to an Access Card, either your Translink Go Card or nominate to receive a Classic Card in the post.
No.2: Subscribe to the city cycle network as a student for $3 a month (as above)
No.3: Purchase a casual bike rental pass for 24 hours access for $2
Click here to take you to the City Cycle Subscription page
A security deposit of $330 will only be debited if you fail to comply with the Terms and Conditions of CityCycle or if a bike is not returned within 24 hours.
Note: All prices are in Australian dollars.
Once you are subscribed to the network in one of those ways, you are ready to go.
---
BOOK NOW: Brisbane Story Bridge Adventure Climb (BEST SELLER)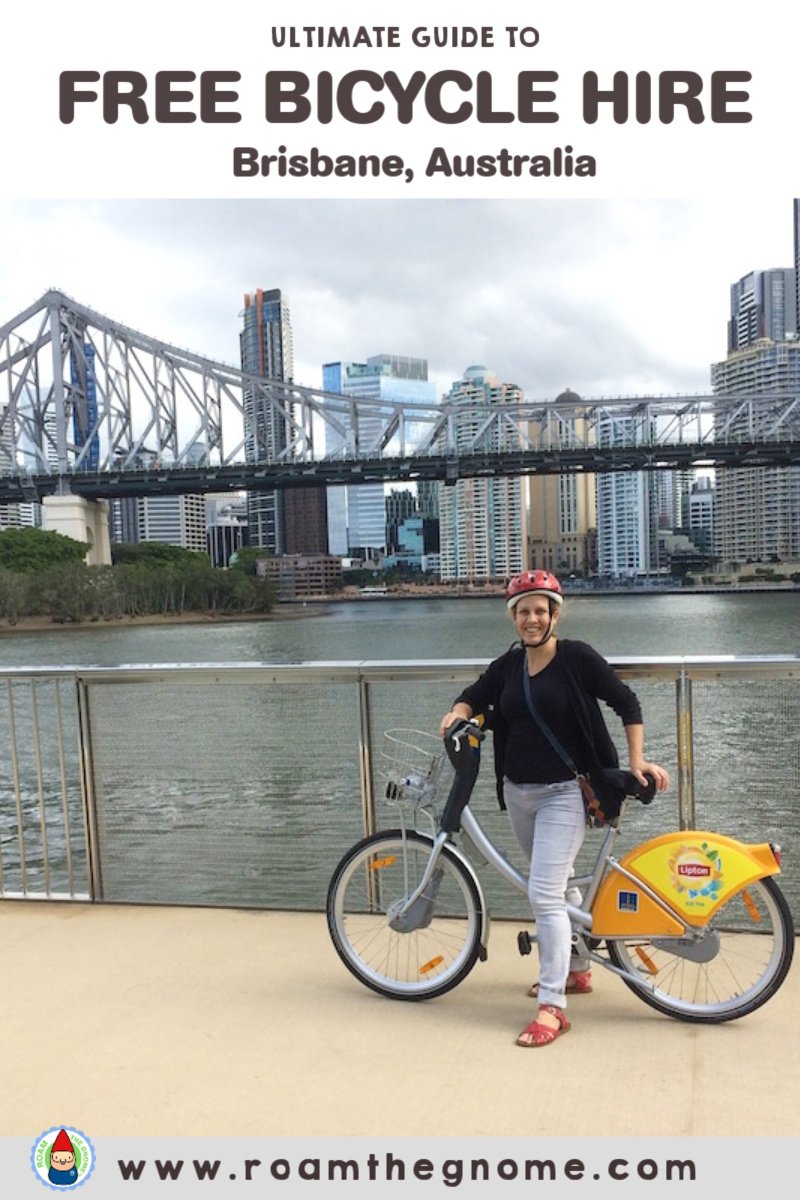 Brisbane CityCycle Cost
Once you have access to the network, it is possible to RIDE FOR FREE ALL DAY!
Just make sure that all your individual trips are kept under 30 minutes.
Plan your Brisbane Day Trip adventure to go from station to station.
That's what we did.
But if you'd prefer a little more freedom to explore without a timer, CityCycle costs just $2 for trips from 31 minutes to 60 minutes, and $5 for every 30 minutes beyond that.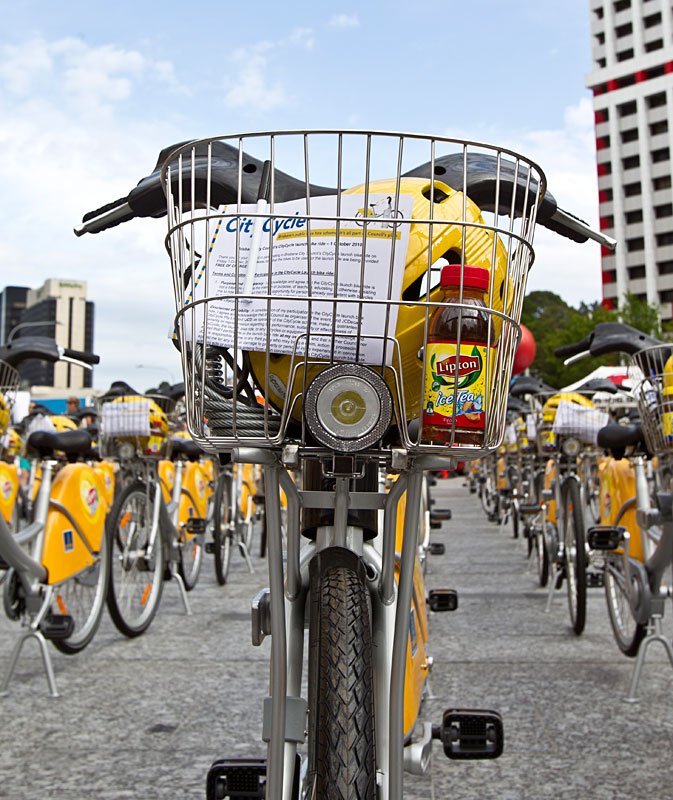 Image credit: Brisbane City Council via Flickr CC BY-2.0
Information about Brisbane City Cycle Bikes
The bikes are robust and easy to ride, with:
three gears
front and rear brakes
front and rear automatic lights
reinforced puncture proof tyres
a basket up front for all your goodies, AND
that all important ring-a-ding-ding warning bell!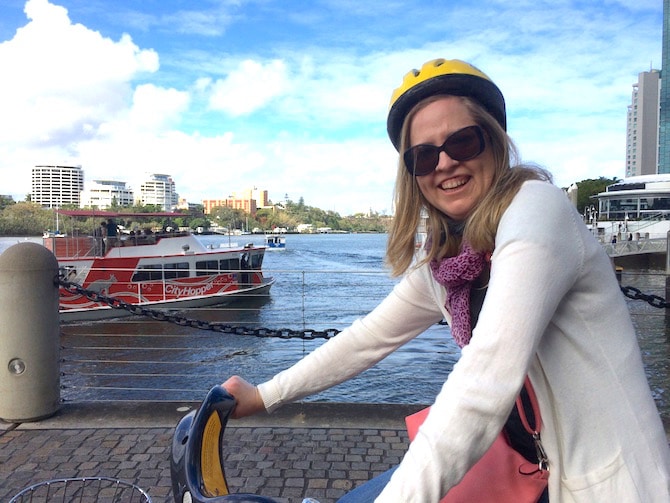 How to use City Cycle Brisbane?
To hire Brisbane City Bikes, log in at the terminal using your Access Card (this will be your Go card or a City Cycle Classic Card) or your Casual Pass number.
Enter your PIN
follow the prompts and
select a bike from the terminal screen.
You will have 60 seconds to press the unlock button on the bike rack of your chosen bike.
Once you have pressed the unlock button you have up to five seconds to remove the bike from the rack.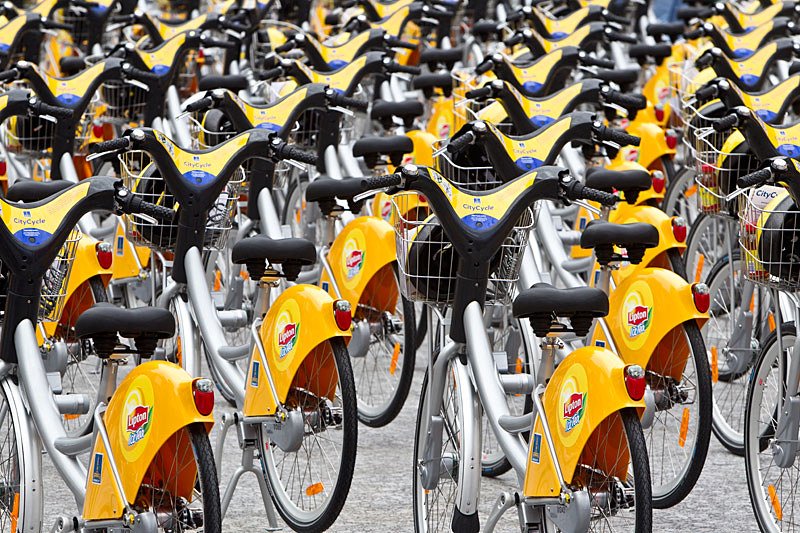 Image credit: Brisbane City Council via Flickr CC BY-2.0
Brisbane City Cycle Stations
At the end of the bicycle rental Brisbane
When you have completed your journey, simply locate the nearest CityCycle station where there is an available bike rack.
Walk the bike up to the bike rack and using the automatic locking system, secure the bike into place.
An audio signal of two beeps and a green indicator light on the bike rack will confirm that the bike has been locked correctly and your hire is finished.
Always check your bike is locked correctly.
If not, you will be held liable if it goes missing.
If you are unable to lock your bike into the bike rack, please try again at another available bike rack, or contact the call centre on 1300 CCYCLE (1300 229 253) and a CityCycle advisor will handle your request.
1 minute needs to lapse before you will be able to take a bike out again.
No Citycycle bike racks available?
If there are no available bike racks at your chosen station on the Brisbane Cycle Paths, scan your access card (or enter your casual pass number if you are a casual user) at the terminal to indicate you are trying to return your bike.
The terminal will then display nearby stations where bike racks are available.
In this instance, you will have up to 15 minutes of free hire to return your bike to one of these nearby stations.
Brisbane City Cycle Locations
Click here to find both an online and downloadable version of the CityCycle station map
Use the City Cycle Brisbane map to locate your preferred Brisbane City Cycle locations/stations to collect your first bike.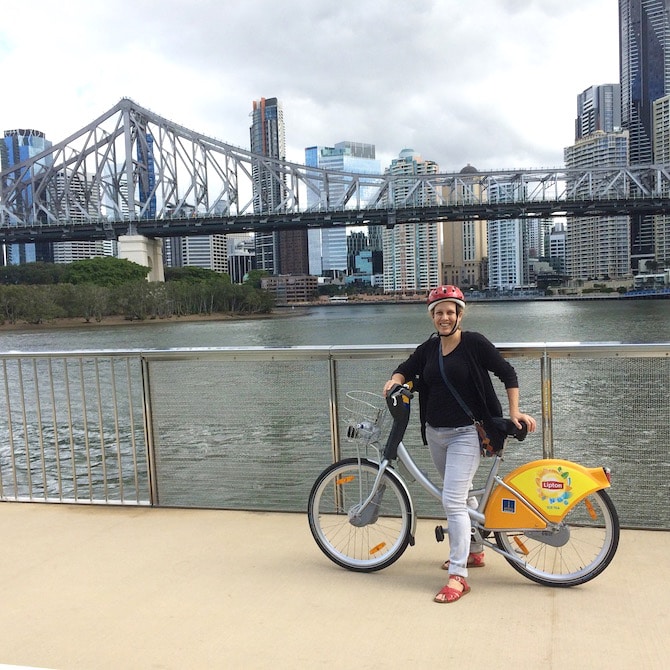 THE INSIDE SCOOP: Bicycle Rental Brisbane with City Cycle
Correct at time of publication on Roam the Gnome. Please check with venue for updates. We apologise in advance if there have been any changes we are unaware of. All prices in AUD dollars, unless otherwise stated
City Cycle Helmets
One in two bikes have helmets as courtesy accessories, these are subject to availability. We brought our own just in case.
Customers who choose a Monthly Membership can purchase a helmet during the sign up process.
Remember, by law, everyone must where a helmet when using Cityclcyle.
Citycycle riders must be at least 17 years old to ride.
City Cycle Opening Hours
Bike hiring and returning is available 24 hours a day 7 days a week.
Contact City Cycle Hire Brisbane
1300 CCYCLE (1300 229 253)
Operating hours for bicycle rental Brisbane: 7.30am to 5.30pm, 7 days a week.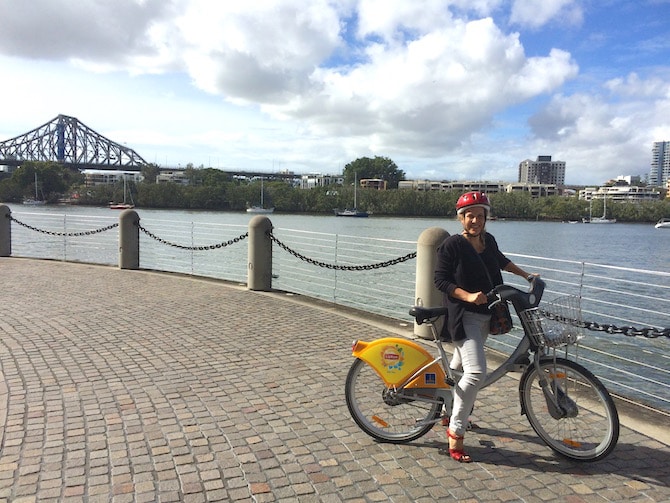 City Cycle App
Use the AllBikesNow application to AllBikesNow enables the subscriber to access information on the go, planning trips has never been easier!
The City Cycle Brisbane app is available in:
English
Spanish
Flemish
French
Japanese
Swedish.
Access the following information at the touch of a button:
Where is the nearest CityCycle station?
How many empty spaces are available at nearby stations?
Where to find a station near a given address?
Access your account directly
What is the distance to the next CityCycle terminal?
How much was your last journey?
Download the City Cycle App for Iphone
Download the Citycycle App for Android.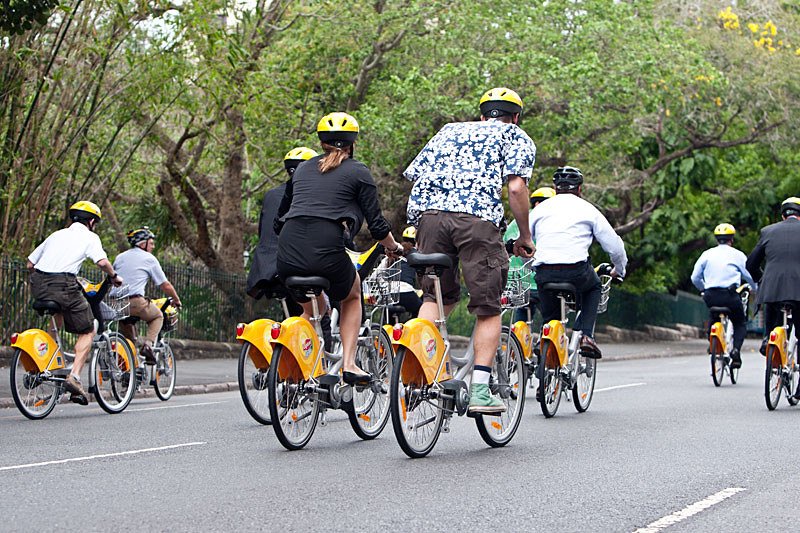 Image credit: Brisbane City Council via Flickr CC BY-2.0
Toadstool Rating: City Cycles Brisbane
The ONLY bummer is that the Brisbane City Council doesn't supply bikes in kids size, or mountain bikes, or any baby carriers available to hire to save you bringing the kids bikes yourself.
If they did, it would be a five.

Looking for more things to do in Brisbane with kids?
Click the blue links below for more Brisbane tips