INSIDE: Roam the Gnome's Guide to Frew Park Milton Playground.
Where in Brisbane can you climb through netted tunnels, play hide and seek with your mates, AND scale vertical concrete walls Parkour style?
Frew Park Milton playground is the place.
By far, it's the BEST Playground in Brisbane for teens, but younger kids love it too.
Take a sneak peek below!
Disclosure: This article contains affiliate links. If you make a purchase after clicking on one of these links, we may receive a small commission at NO extra cost to you.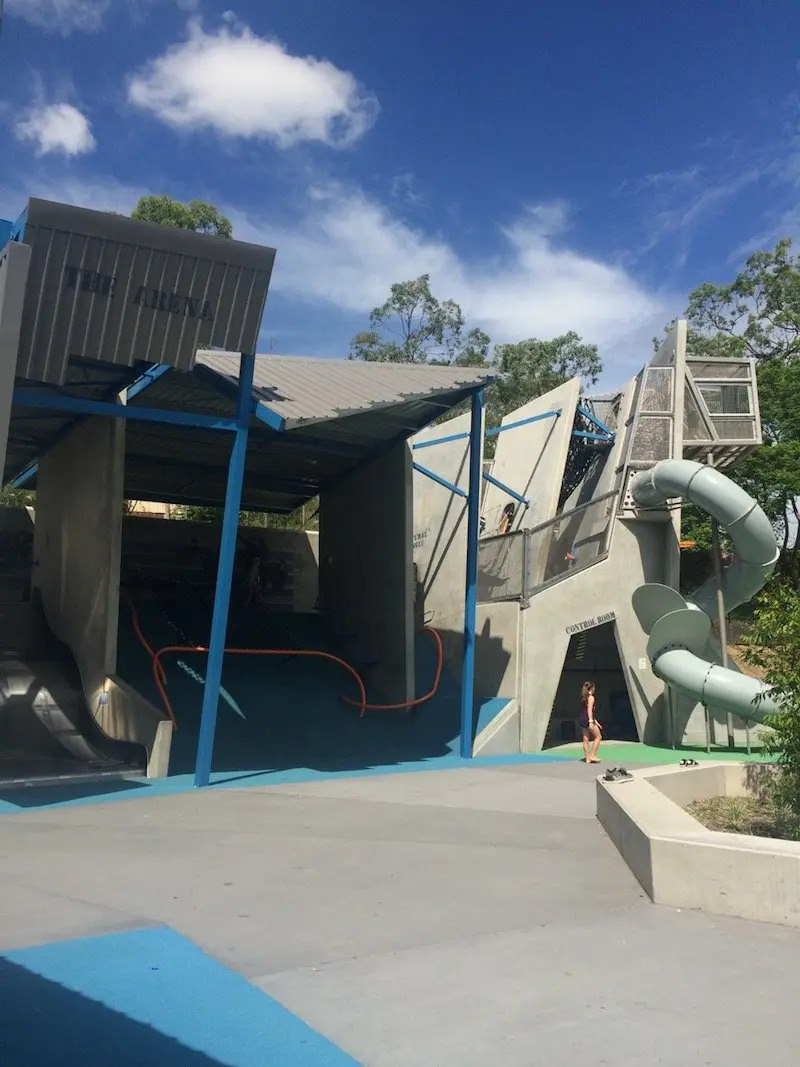 Guide to Frew Park Milton Playground
"The Arena Playground"
This award-winning concrete playground is not-your-typical playground.
The design, loosely based upon the former tennis court grandstand, is challenging, and definitely not a playground for cotton wool kids.
Frew Park playground has been architecturally designed for kids 10-15 years, but there's kids as young as four having a go!
The industrial-style play space is edgy, and unusual, with pops of street art and sculptures amongst the playground equipment to catch your eye.
---
RELATED: Monster Guide of the Best Things to do in Brisbane with Kids
What you'll find at Frew Park Playground
The main section of the Frew Park playground for older kids has cement walls, rock climbing grip holds, ledges to scale, ladders, various angled surfaces to conquer, and vertical climbing spaces to ascend in the main zone.
It's the picture-perfect playground for indoor rock-climbing and parkour enthusiasts.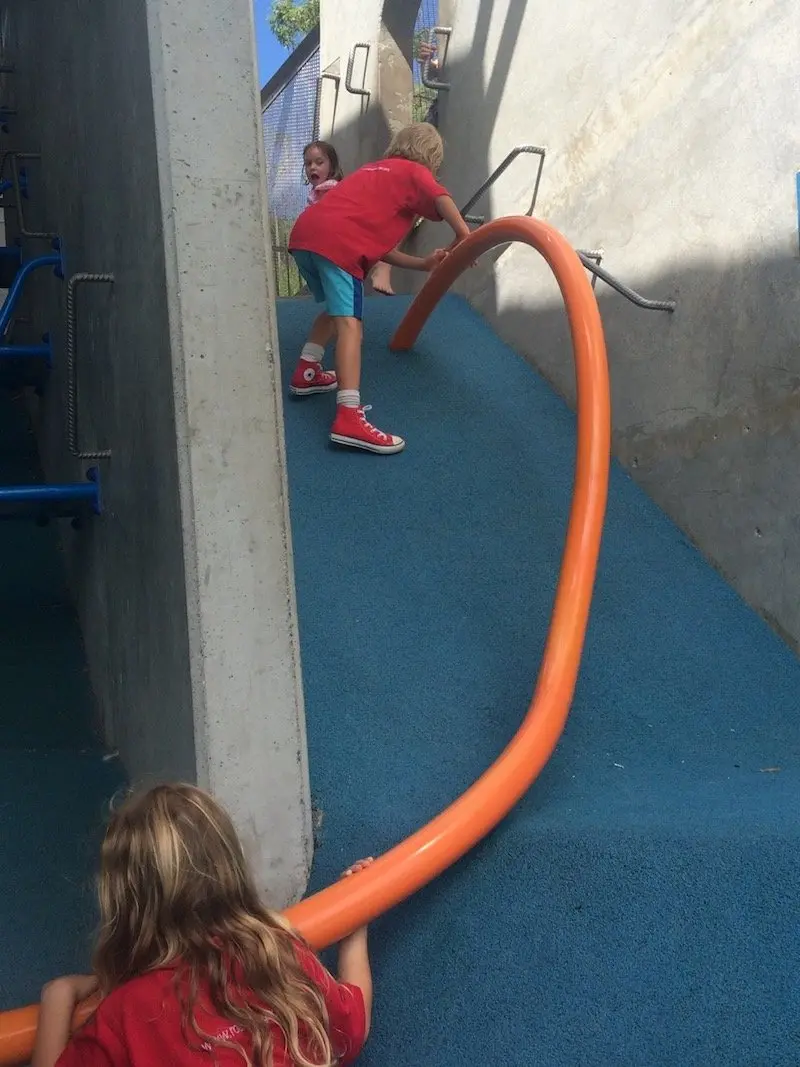 Best Parkour playground in Brisbane
For the older kids, there's also:
a giant 3-metre wide and 3-metre high slide, perfect for group races
wire mesh tunnels to climb along and through
a wire mesh 'birdcage' style cage to climb into
a fireman's pole to slide down
a monstrous 5 metre-long spiral slide
basketball hoops with street art targets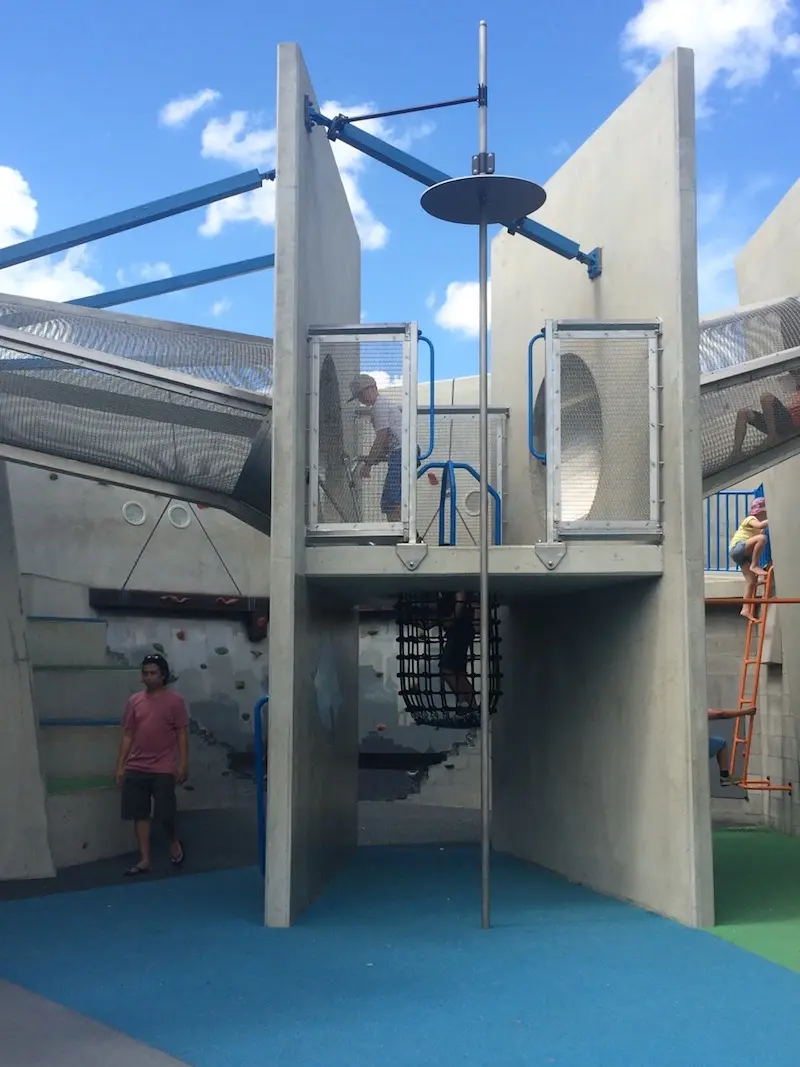 Concrete jungle
hide-out zones
poles to navigate in and out
a brightly coloured orange twirly handrail hand-hold to help you get around
climbing chains and platforms to mount
lookouts at the top!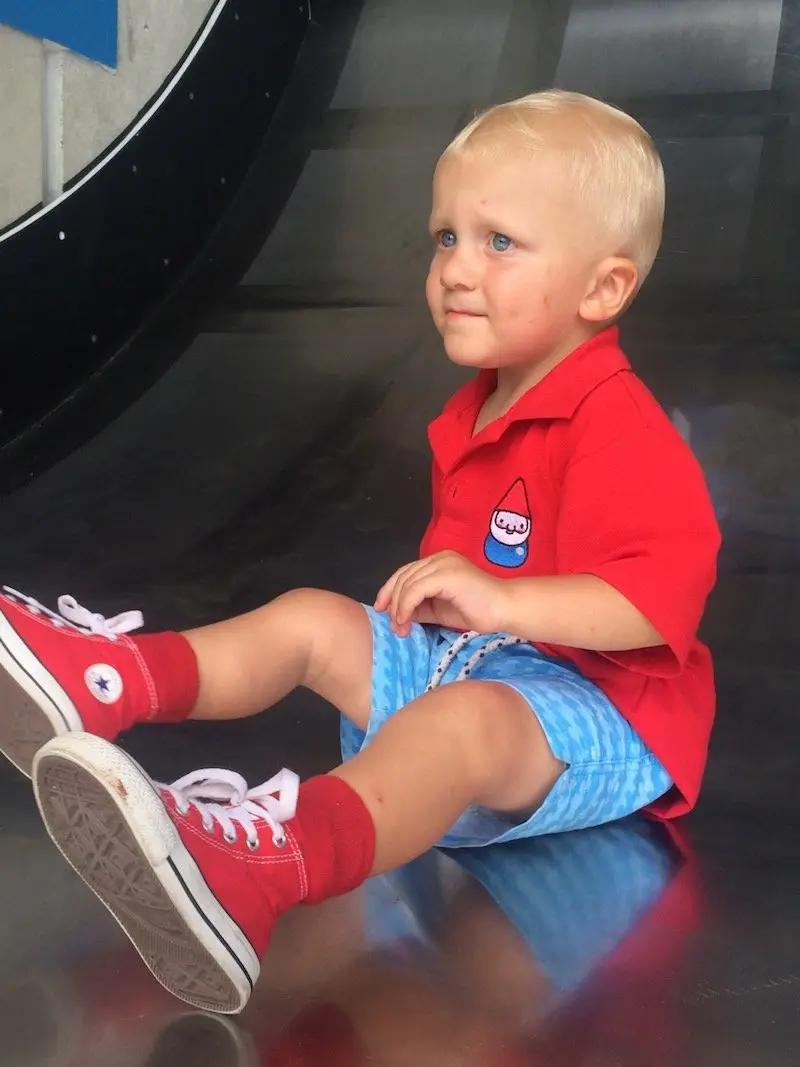 One of the best playgrounds in Brisbane!
For the little kids under 5, there's a ground level playground under shade where you'll find:
a row of swings
a smaller slide
tennis ball mounds to climb
zig-zag balance beams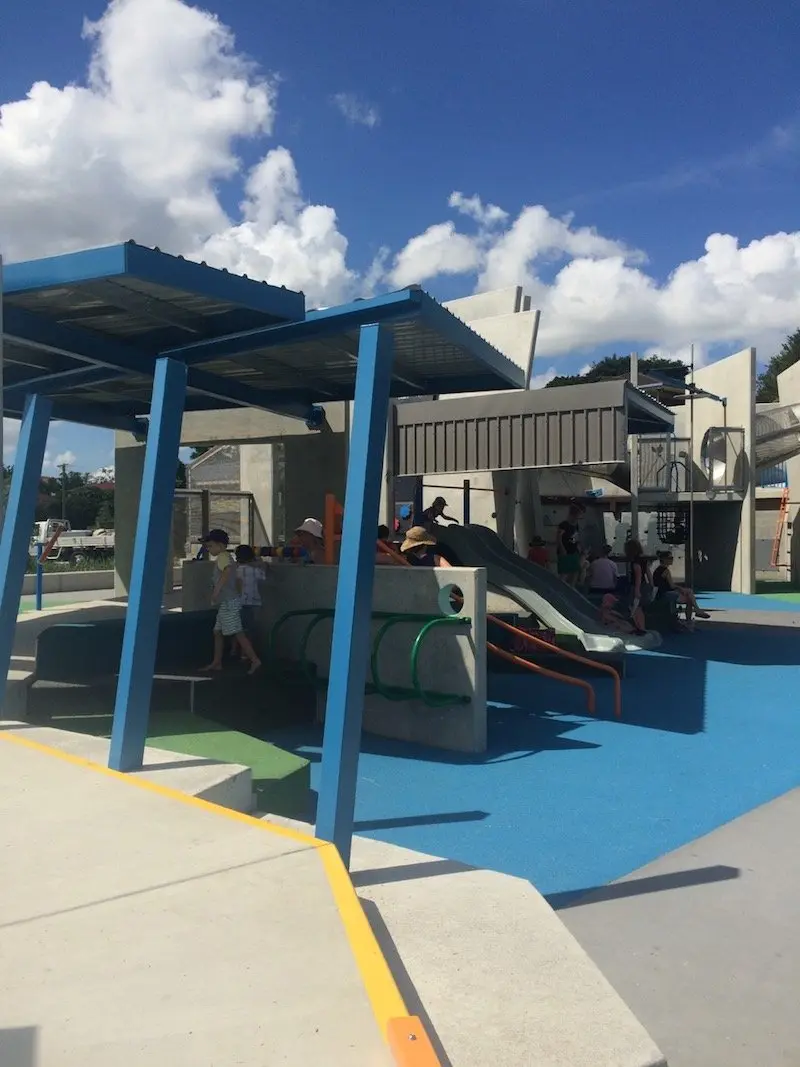 Swings, slides, and more
sensory play hands-on equipment to spin, touch, and turn
a round see-saw bouncer
concrete tunnels to climb through
concrete stairs to scale
'speaker phones' to chat through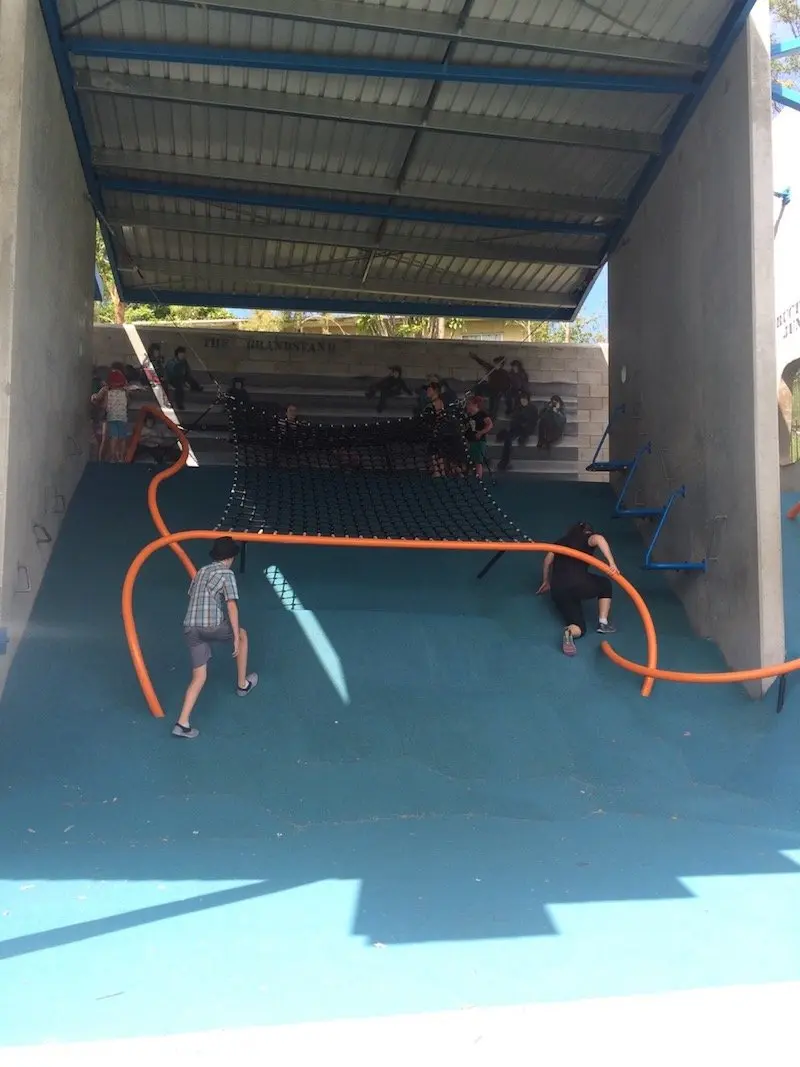 Things to do in Brisbane with Kids
Take your bats, balls, scooters, and bikes.
Frew Park Milton has lots of wide open space too.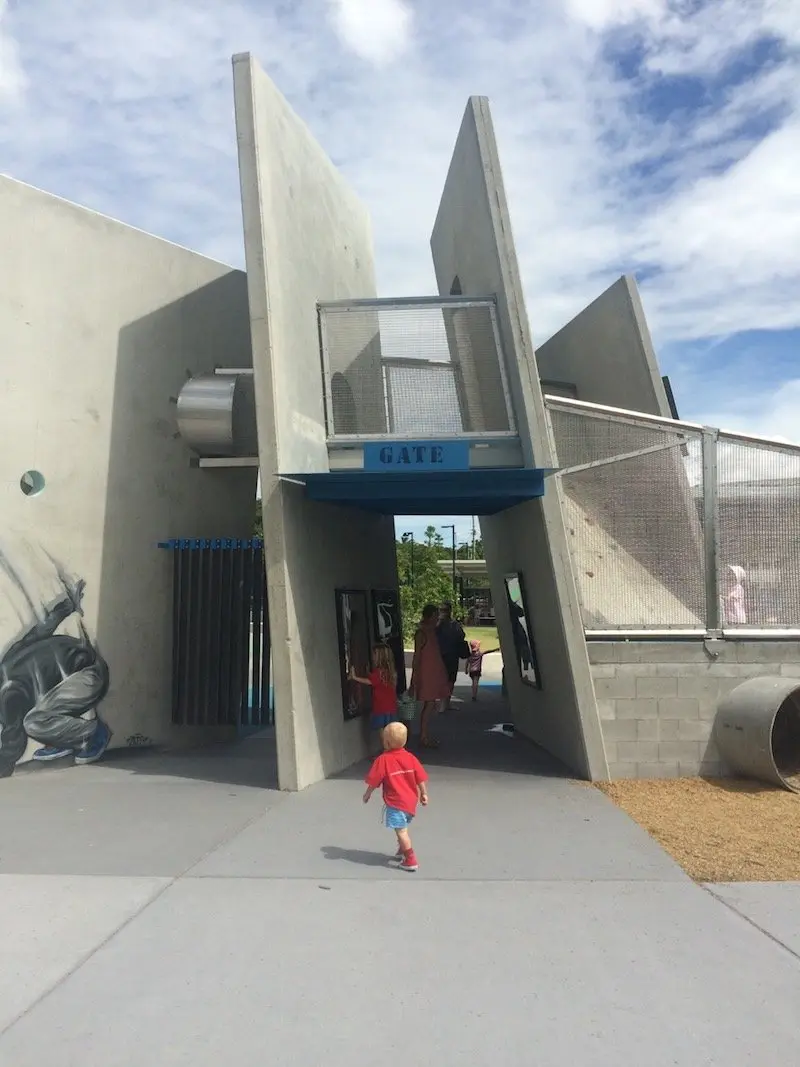 Visit the Sports Field Areas at Frew Park Milton
Families can:
play cricket, soccer and footy
fly kites
play badminton
shoot hoops
test out their parkour skills
ride bikes and scooters
break a sweat with activities on the exercise equipment
play tennis on one of six courts (phone The Roy Emerson Milton Tennis Centre on 07 3367 8585 to book tennis courts)
BYO Picnic and make a day of it at this Brisbane kids playground.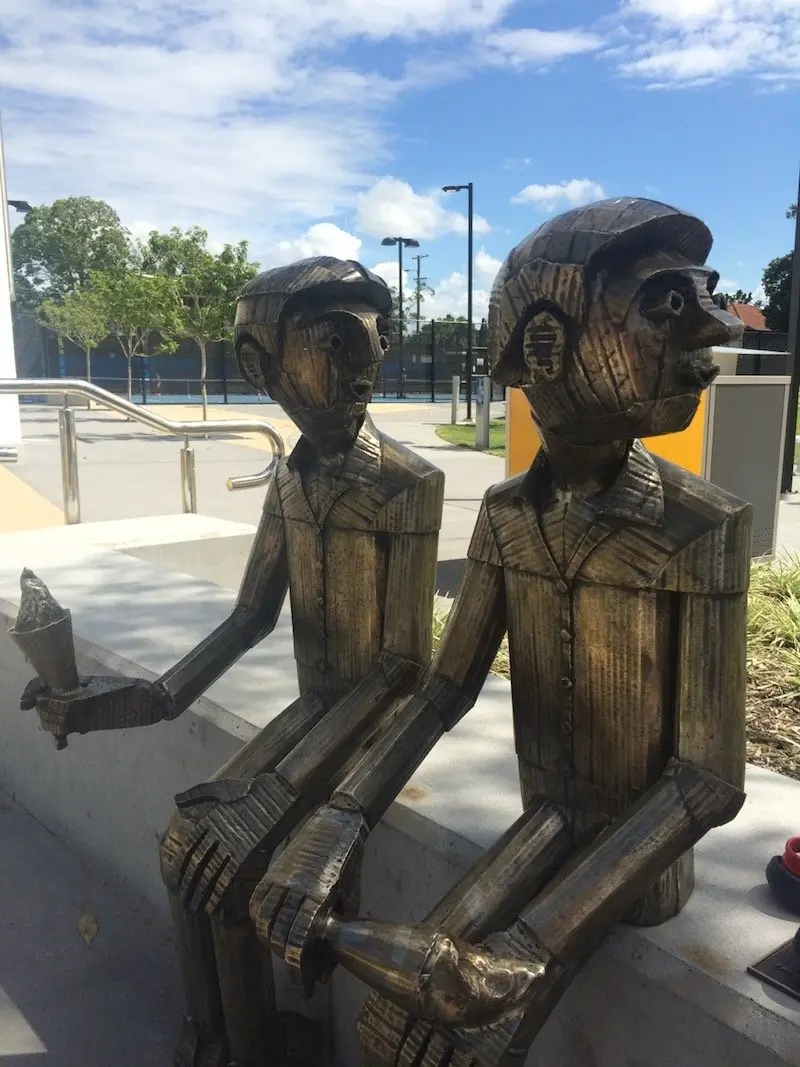 Where to eat at Frew Park Milton?
Visit the Frew Park Coffee Shop upstairs.
This local cafe serves:
tea
coffee
simple snacks
hot/cold takeaways
milkshakes
smoothies, and
slushies.
Open from 8am-6pm, 7 days a week.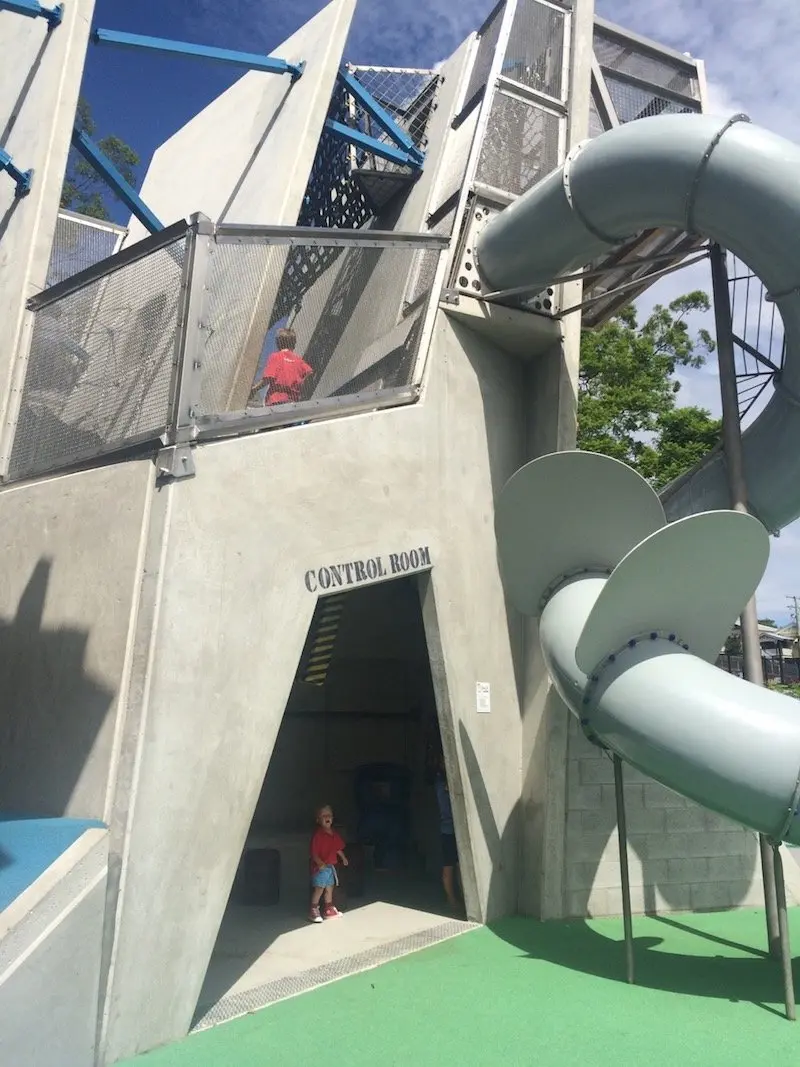 BYO Picnic
Or bring your own healthy snacks and food for lunch.
Hot tip: Check this guide to healthy road trip and picnic food for new ideas.
There's epic gourmet treats in the guide too.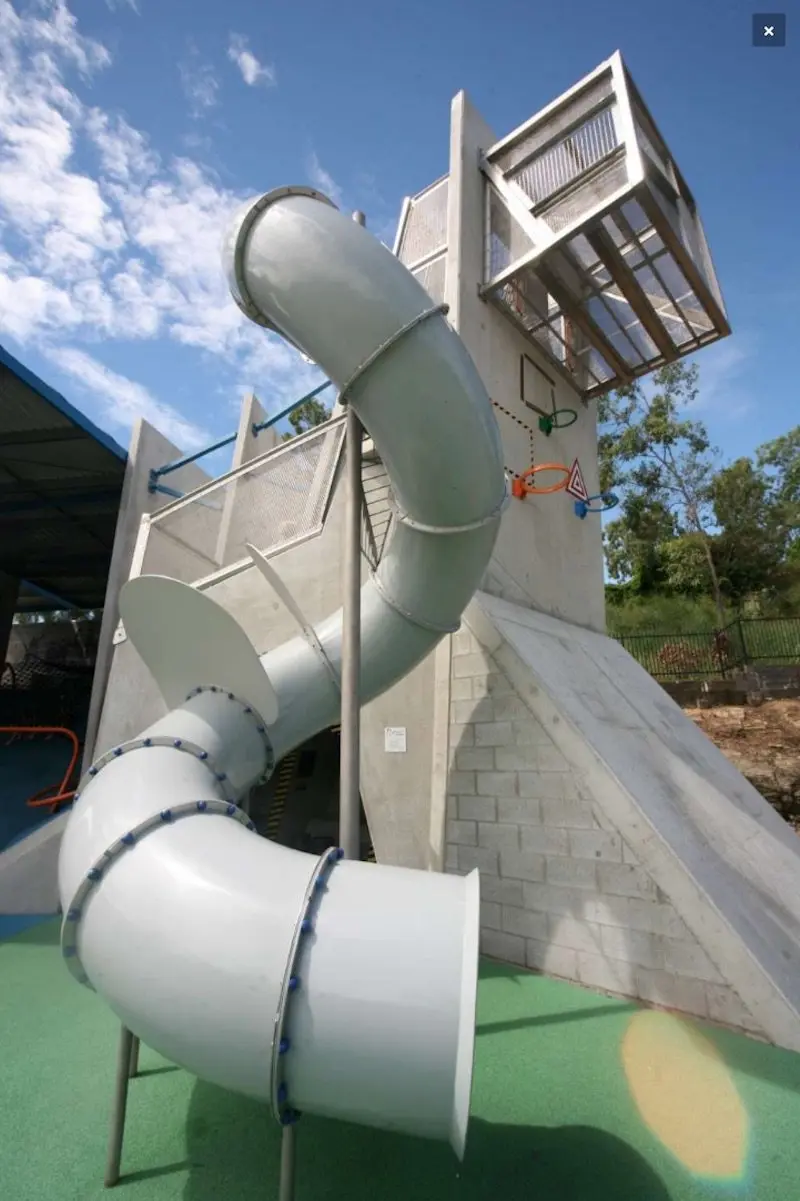 Image credit: Playworks
THE INSIDE SCOOP: Frew Park Milton Brisbane playground
Correct at time of publication on Roam the Gnome. Please check with venue for updates. We apologise in advance if there have been any changes we are unaware of. All prices in AUD dollars, unless otherwise stated
Milton Frew Park Address: 317 Milton Road Milton Brisbane QLD.
Frew Park is located between Milton Road and Frew Street at Milton.
Telephone: Council enquiries and bookings on 07 3403 8888.
Opening Hours: Dawn to dusk
Entry Fees: Free

Image credit: Playworks
How to get to Frew Park Milton
By Bus: From Brisbane CBD, catch the 425, 430, 435, 453, 454, or 460 bus to Coronation Dr at Auchenflower, stop 7; and walk 1km to Frew Park
By Ferry: Catch the citycat from Southbank to the Milton Ferry terminal and walk 1km to Frew Park
By Train: Catch the train from Roma Street station to Milton Station, then walk via Baroona Rd and Haig Rd
By Car: 10 minutes from Brisbane CBD via the M3. Click here for google map directions.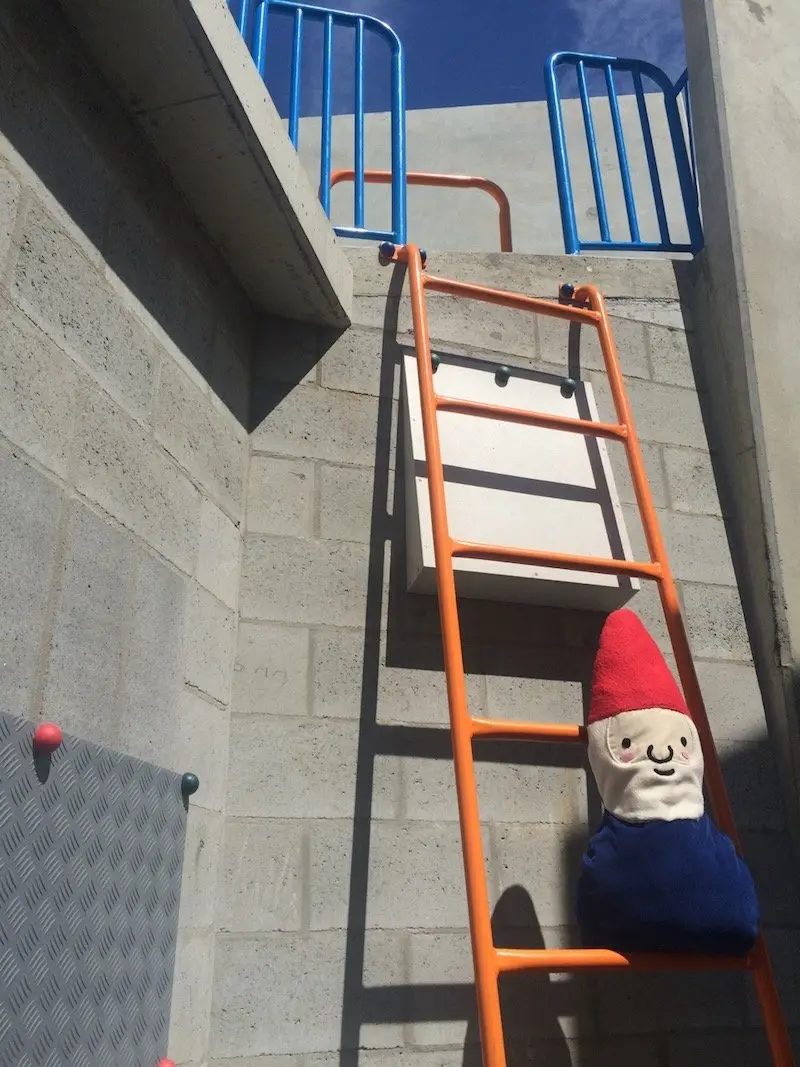 Parking at Frew Park Milton
There's a small car park right next to the playground.
Otherwise, look for street parking nearby.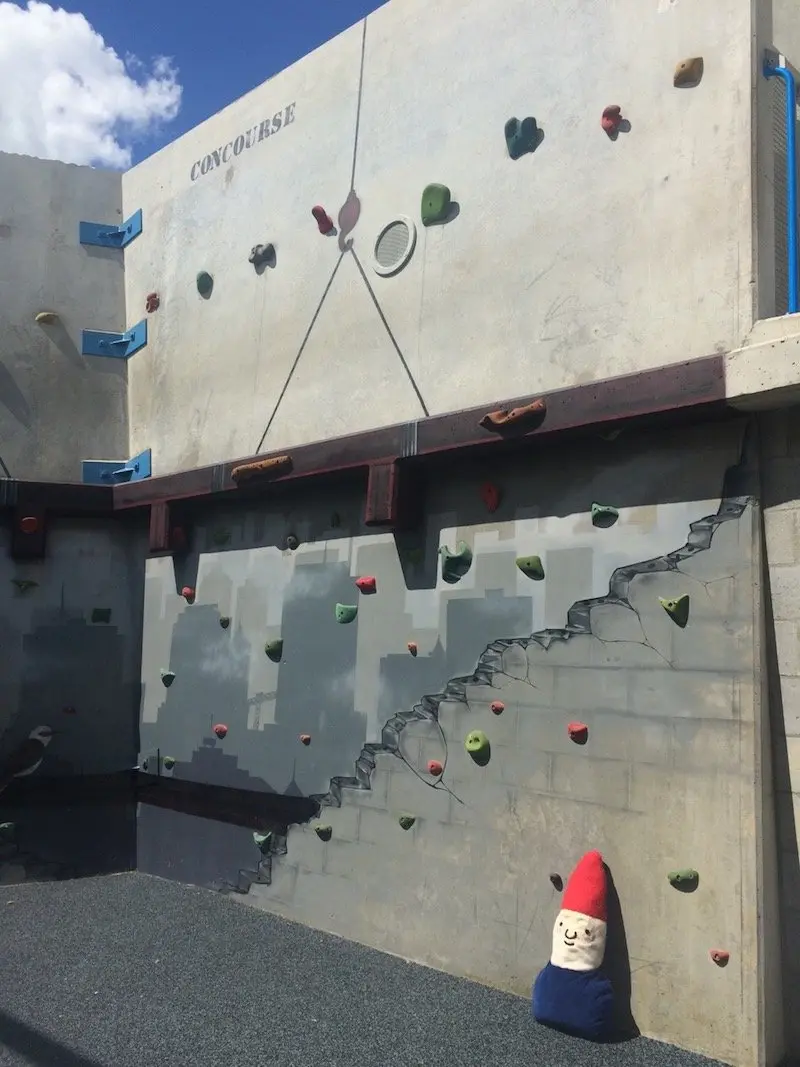 Frew Park Milton Qeensland Map
Facilities at Frew Park Brisbane Playground
Toilets: Yes. Baby change available too.
Disability access: Yes, easily. The park is flat and wheelchair friendly. Disability parking available.
Shade: Yes, over playground structures and picnic areas. Bring hats, and water bottles though. It does get hot.
Enclosed: No. But the playground is located away from traffic.
Ground cover: Concrete and Rubber underfoot in Frew park playground. Grassy fields.
Food options: Café on site. See above.
Picnic tables: Yes
Electric BBQs: Yes
Water Bubblers/fountains: Yes
Scooters and Bikes: Yes
Dogs: On leashes

Toadstool Rating: Frew Park Playground
One of Brisbane's best playgrounds and parks for older kids, near the Milton Tennis Centre in Brisbane city.


Looking for more of the Best Playgrounds in Brisbane?
Click the blue links below for more Brisbane tips