INSIDE: Uncover the secrets at Brisbane's Hidden World Playground!
Every now and then we discover a playground that's been designed with:
an extra dollop of imagination
a dash of artistry, and
a big blob of fun.
These playgrounds make the journey worth the drive.
In Brisbane, there's ONE wooden playground where the innovation, inspiration and inventiveness of the artist and creators are to be congratulated, especially if you fancy yourself as fluent in 'Mouse' language!
It's Hidden World Playground in Brisbane at Fitzgibbon.
Find all the details below.
Disclosure: This article contains affiliate links. If you make a purchase after clicking on one of these links, we may receive a small commission at NO extra cost to you.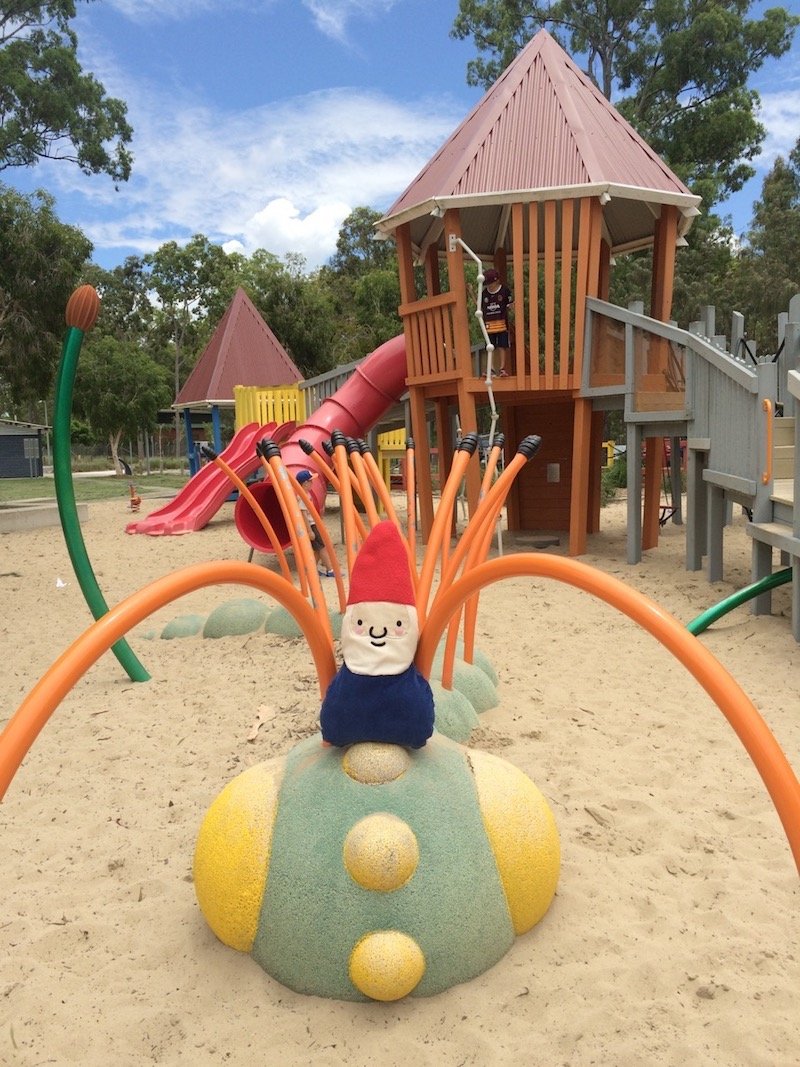 Ultimate Guide to Hidden World Playground Fitzgibbon QLD
A playground with a cool back story can't be beat.
Hidden World Playground IS hidden amongst suburbia on the north side of Brisbane.
Fittingly, it's concealed in a long-lost corner of the Bill Brown Sports Reserve at the end of Roghan Road, Fitzgibbon.
But when you get close, the Hidden World childrens playground is a kaleidoscope of bold rainbow coloured huts and play forts, centred around two remarkable giant "sandworms".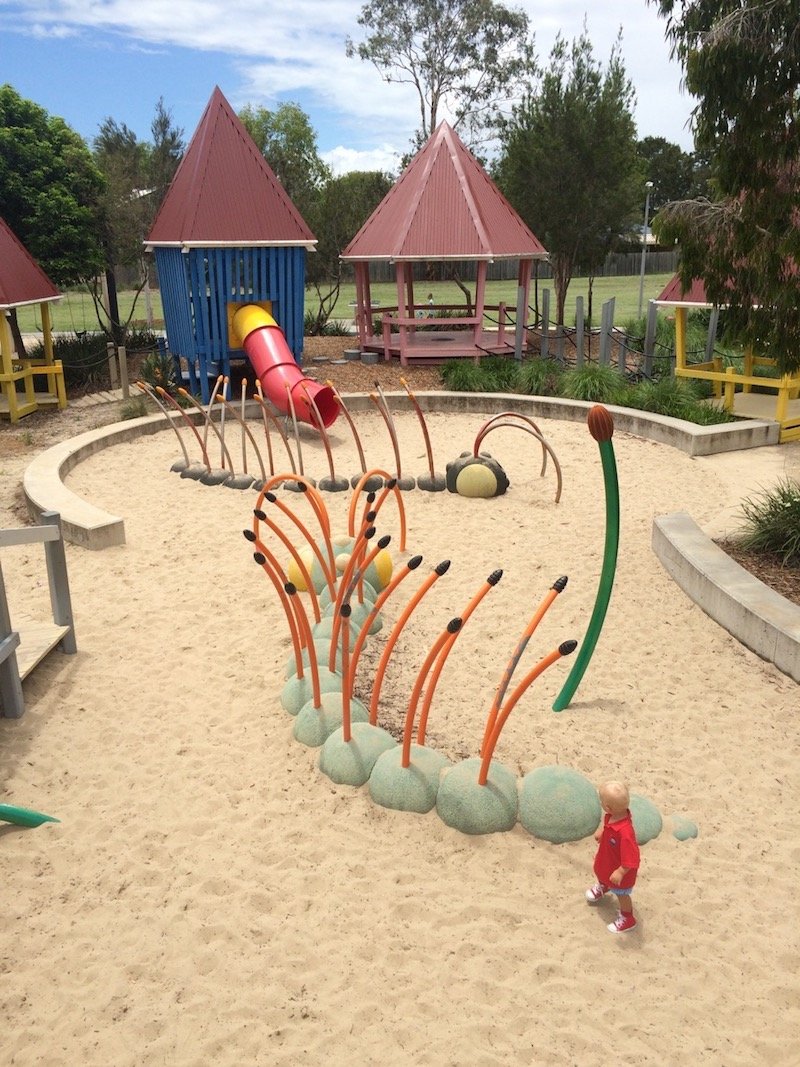 The Story of Hidden World Playground Brisbane
These sand worms are life-size replicas of the creatures "allegedly" found here in 1998 by a group of Year Nine students on a school excursion.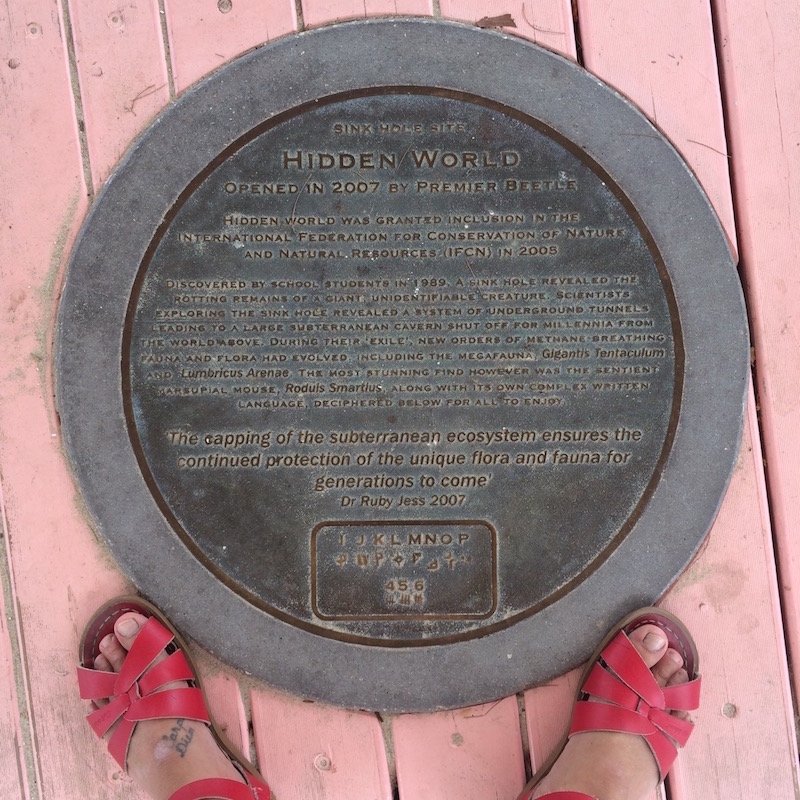 Hidden World BackStory continued…
No need to fret though… these sandworms are actually part of the make-believe backstory created by Sunshine Coast artist Russell Anderson when designing the Hidden World playground.
It's super cool.
You can read the entire back story here.
Or find the plaque on the manhole that "seals off" the sinkhole inside one of the forts.
The entire story is engraved there too.
---
RELATED: Monster Guide of Things to do in Brisbane with Kids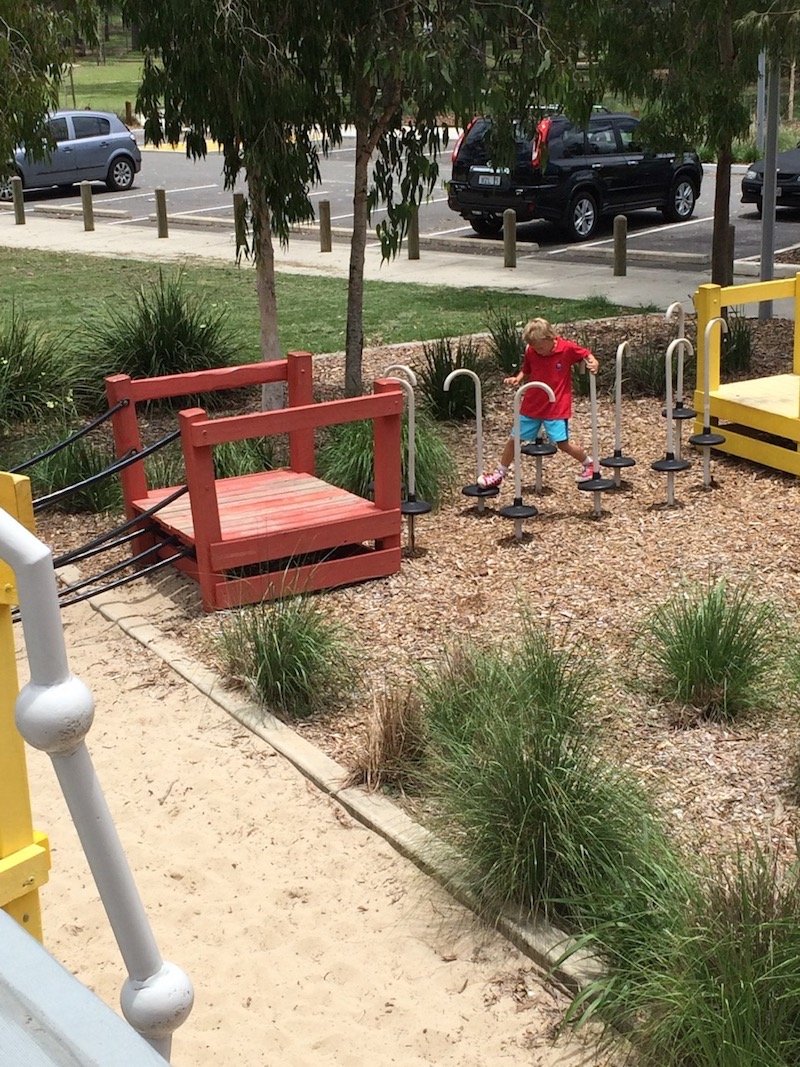 Hidden World Park Fitzgibbon is FULL of surprises!
Along with the sandworm, the sink hole was "allegedly" home to a species of super-clever mice who thrived below ground, complete with their own written language.
Look carefully around Hidden World playground for clues that help to decipher the secret 'mouse' messages found throughout the Hidden World playground.
It's these sweet touches that make the Hidden World playground one of our favourite best playgrounds in Brisbane for kids.
---
RELATED: Ultimate Guide to Roselea Park Rapunzel Playground near Ikea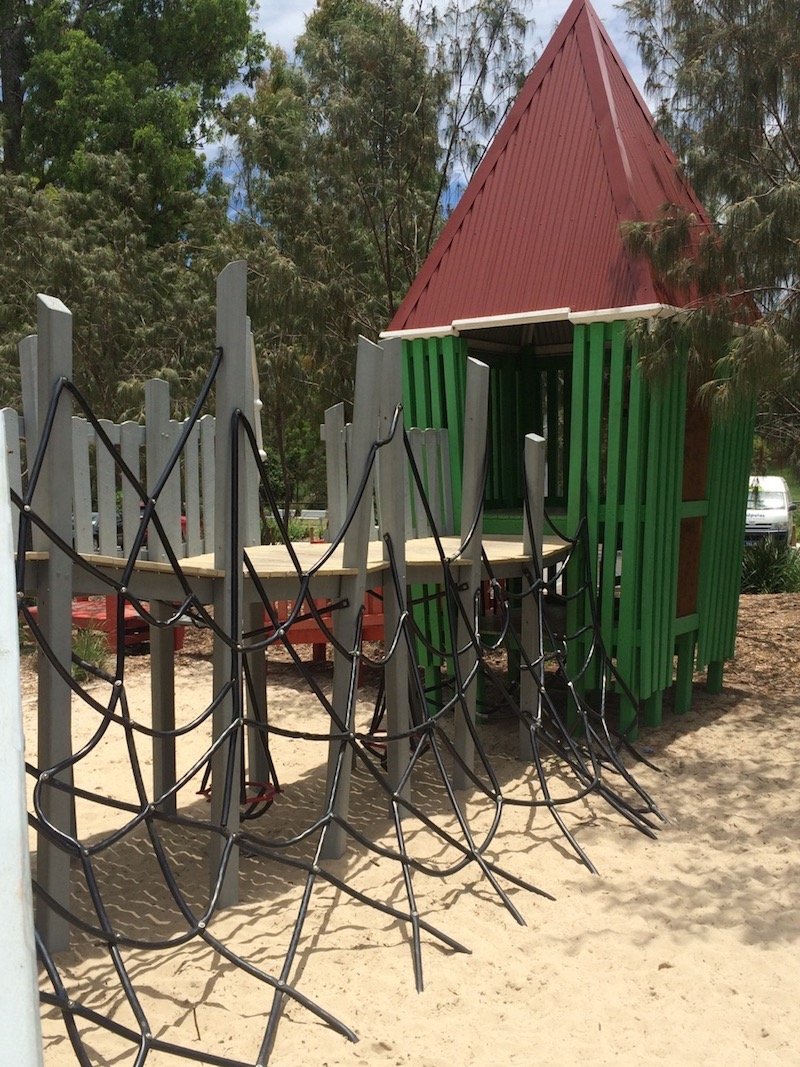 What can you find at Hidden World Fitzgibbon ?
The Hidden World park playground is full of climbing structures to clamber over and explore, and the entire playground is sat upon a giant bed of sand.
Nowhere else in Brisbane can you find such a big sandpit!
Be sure to bring your:
buckets
spades
sifters
watering cans
diggers
trucks and
matchbox cars.
Expect hours of play here with little ones.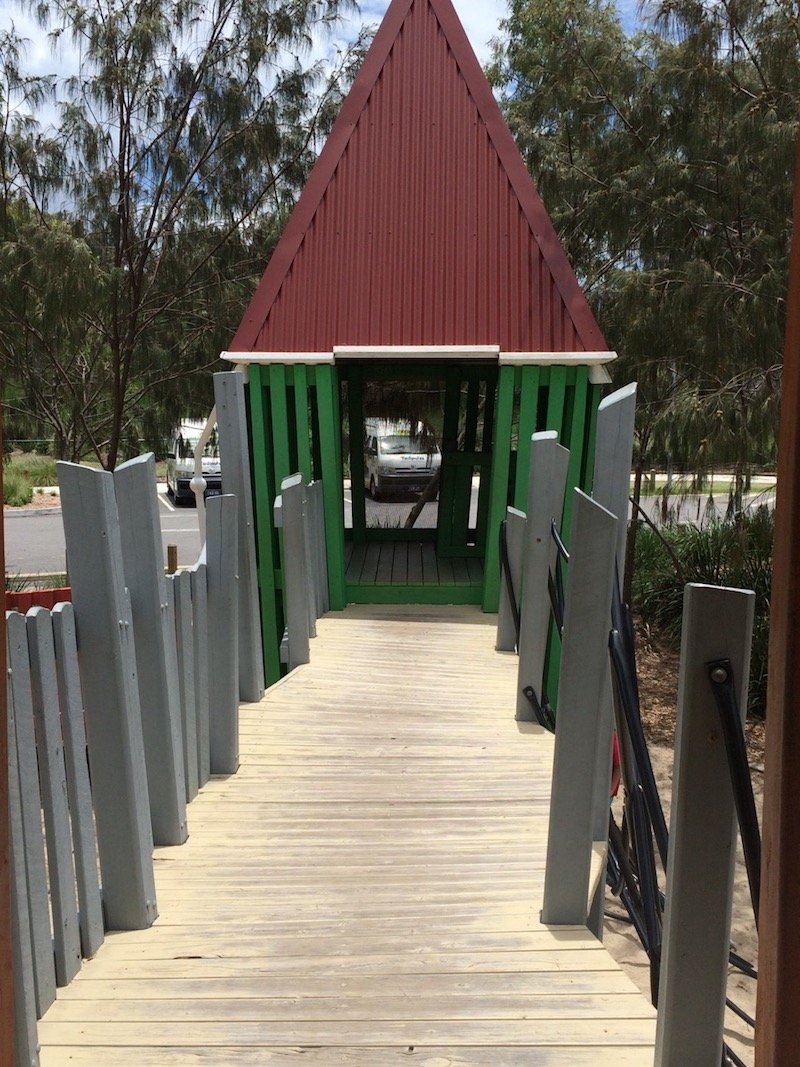 Fort Play
In between the fort hideouts, you'll also find:
the two "sandworm" creatures to scuttle through, plus an odd purple-and-green-spotted unidentifiable creature to scramble up
generously wide boardwalks, with handrails or handholds either side, to encourage multiple children to play together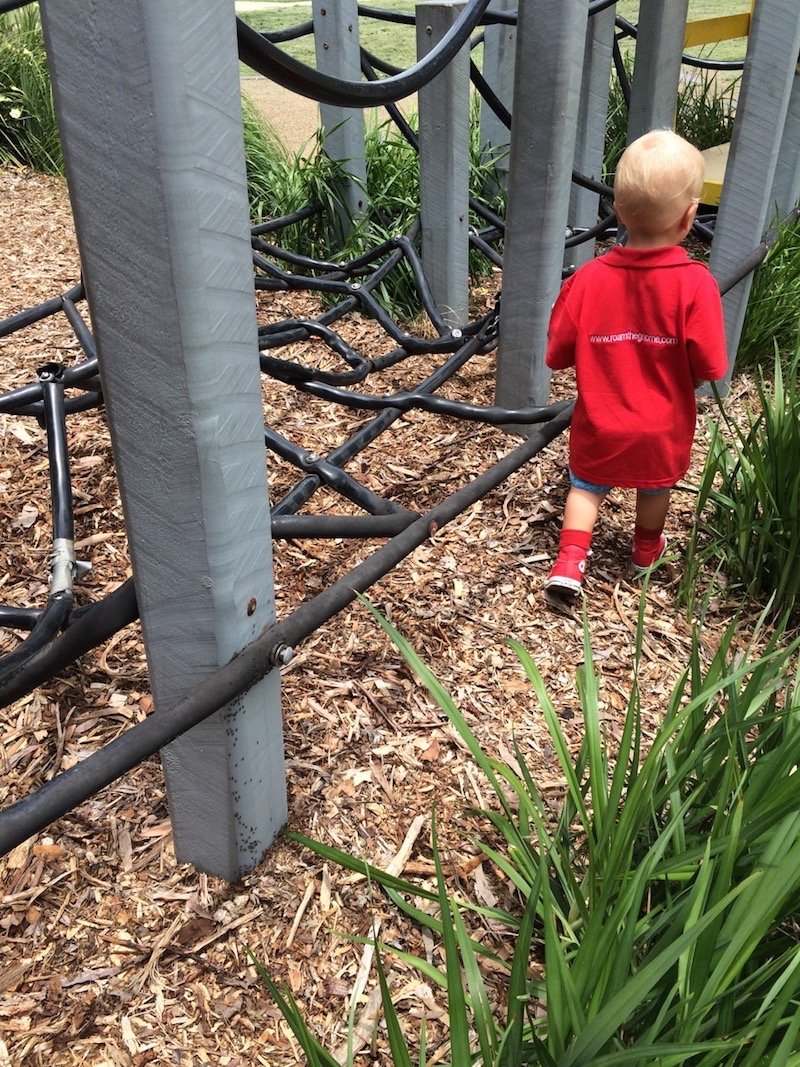 Bridges
a maze of wobbly pathways between platforms including a rubber rope walk
bridges to cross
a rock climbing wall
wall ropes to climb, and stairs to bound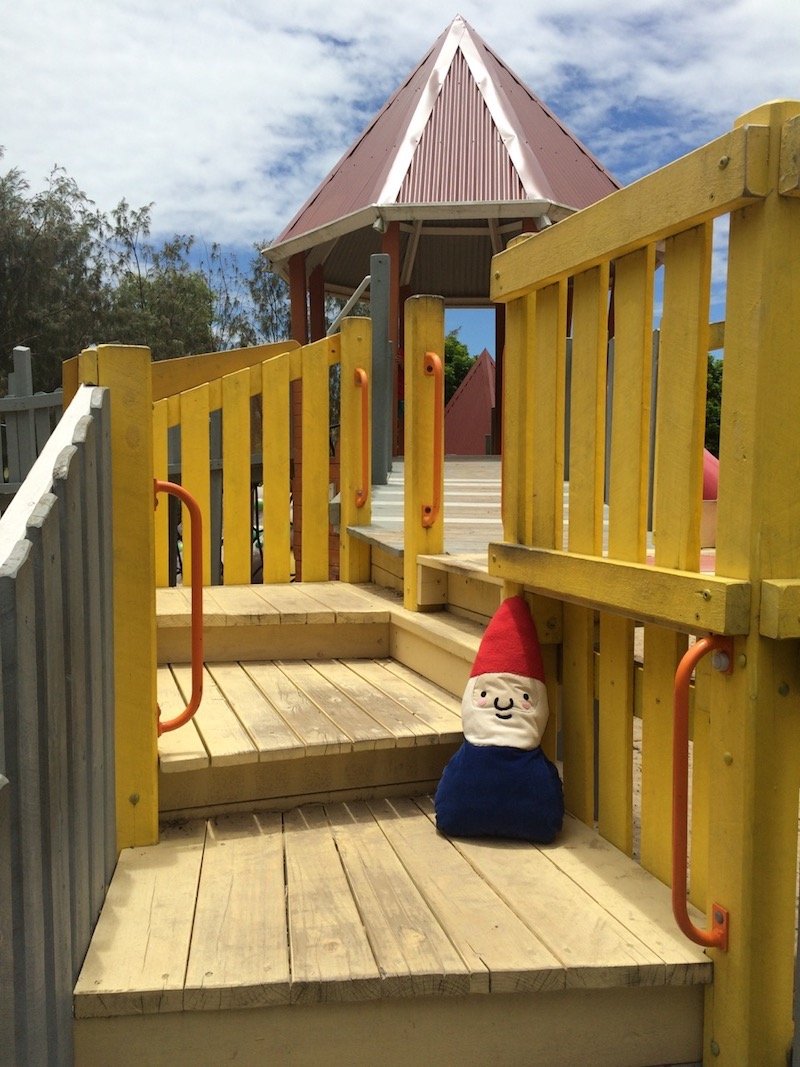 Stairs
balancing pod posts to navigate
a knobbly climbing pole into a giant fort
a duo slide combination
a twirly slide
standalone play equipment including bouncers, spinners, and a four-sided rocker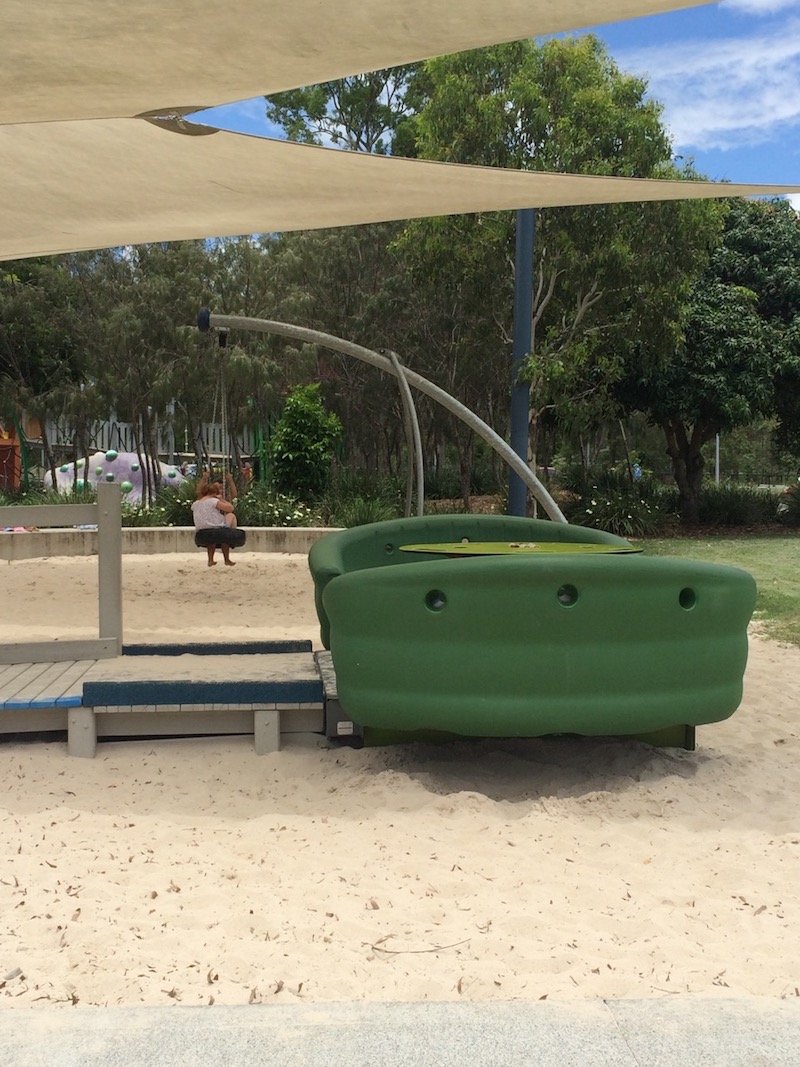 Accessible play
a wheelchair-friendly seat rocker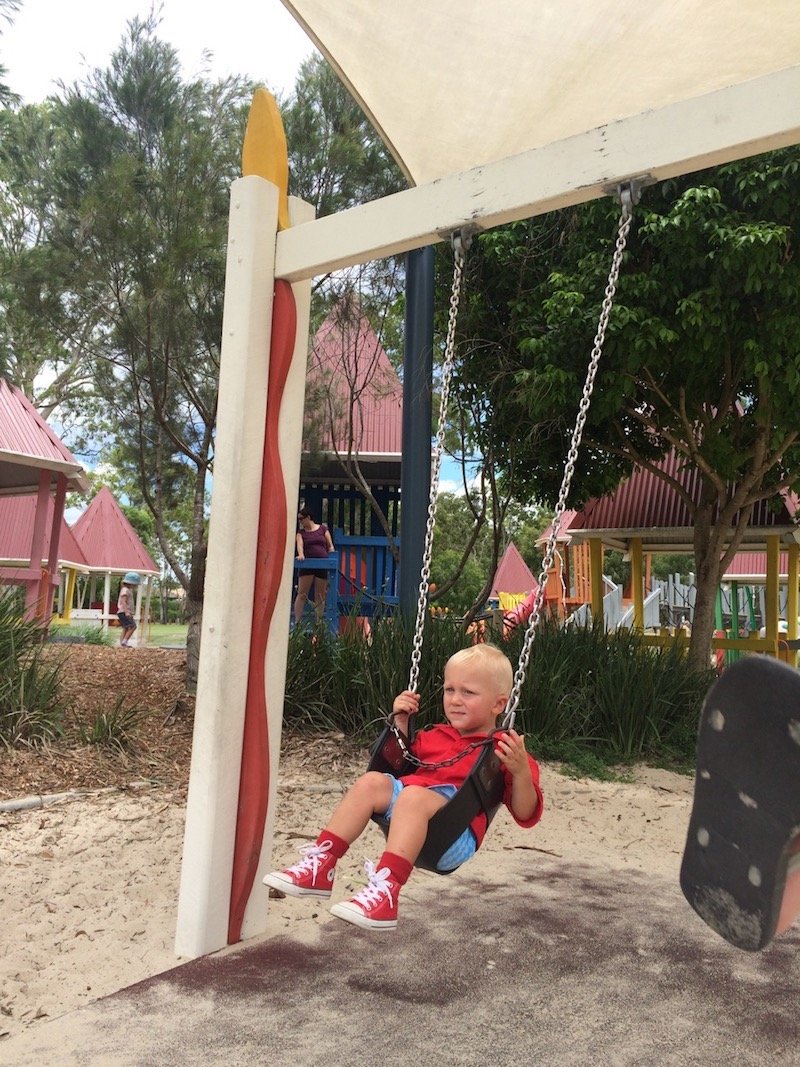 Swings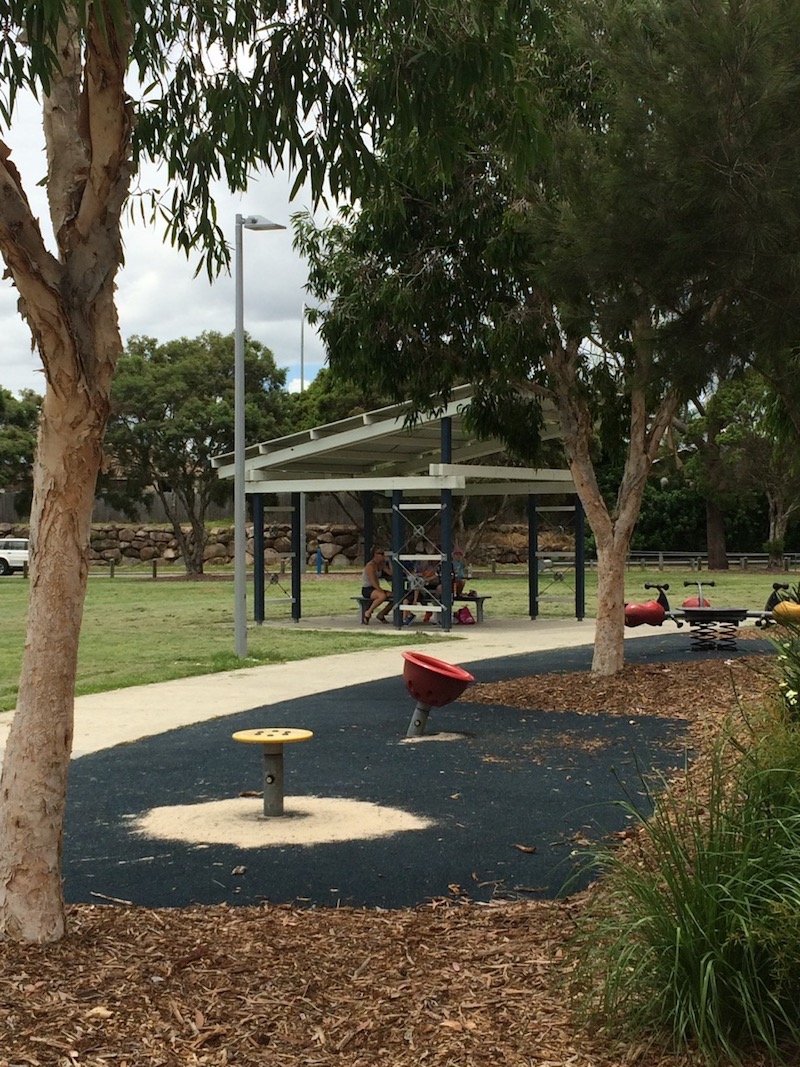 Bike Paths
Plus, there's a bike pathway for bike and scooter adventures.
Everyone – from young walkers and toddlers, to preschoolers and school-aged kids – can find something to do, and somewhere to play here.
Bring hats, sunscreen and plenty of water.
The Hidden World playground gets stinking HOT!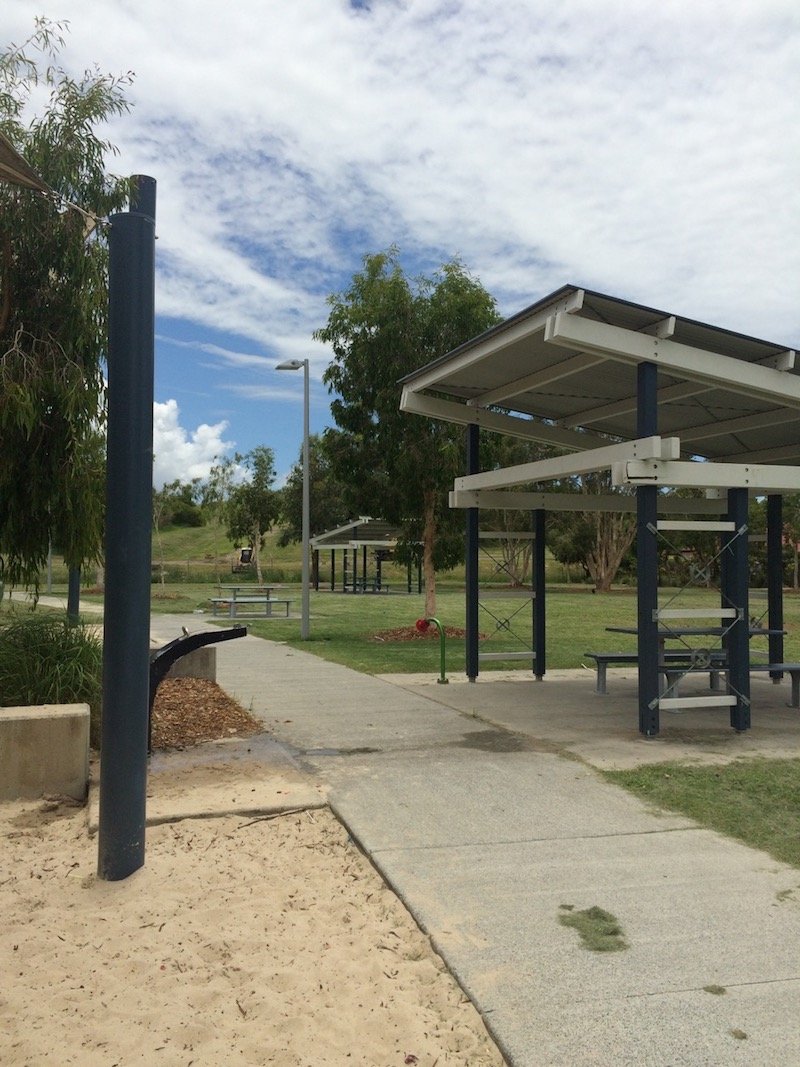 Where to eat at Hidden World in Fitzgibbon?
This park is popular and one of the best parks in Brisbane for birthday parties and family gatherings on weekends.
Do what locals do, and BYO picnic.
(Hot tip: Read our guide to healthy road trip snacks and food, including LOTS of quick and easy ideas for delicious picnic food inside.)
Be sure to pick up coffee on your way here.
There's a McDonald's on Telegraph Road at the Bracken Ridge Plaza just 5 minutes away, along with AYA Sushi, Top Wok Chinese Kitchen, and King's Curry Hut.
There's also a Coles Express just up the road.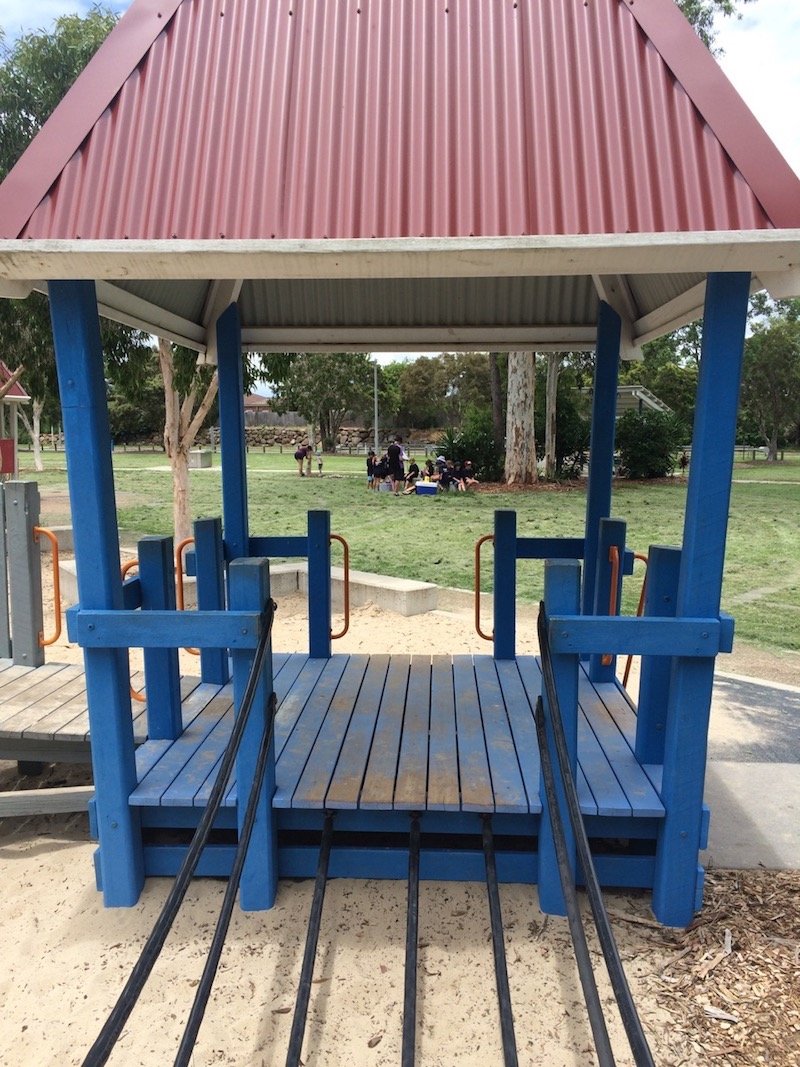 THE INSIDE SCOOP: Hidden World Park Fitzgibbon
Correct at time of publication on Roam the Gnome. Please check with venue for updates. We apologise in advance if there have been any changes we are unaware of. All prices in AUD dollars, unless otherwise stated
Hidden World Park Address: 411 Roghan Rd, Fitzgibbon QLD 4018
Telephone: Brisbane Council Contact Centre is open 24 hours a day, 7 days a week on 07 3403 8888.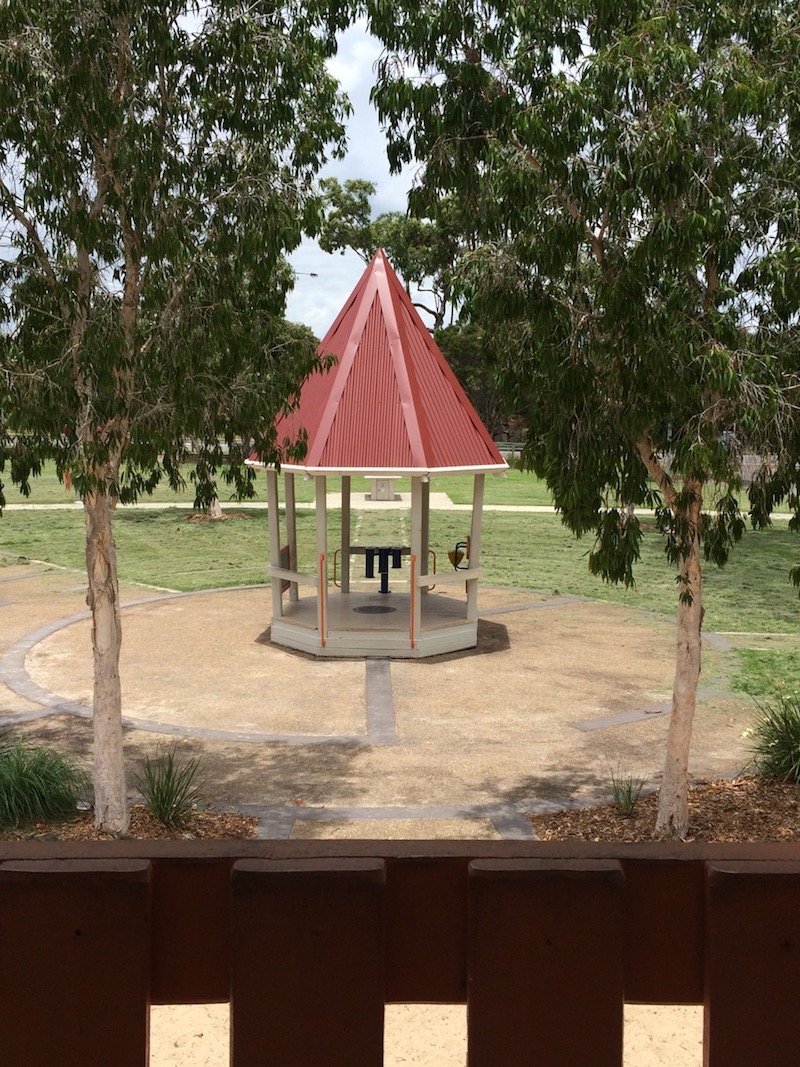 Opening Hours: Dawn till dusk
Entry Fees: Free
How to get to Hidden World Playground
This Brisbane playground is 16 km north of Brisbane CBD.
By Bus: Catch the No. 330 bus to Bracken Ridge. Exit at Handford Rd at Handford – Roghan, then a 5 minute walk.(700m)
By car:
30 minutes drive from Brisbane CBD.
Access via Gympie Rd/A3, or via Airport Link/AirportlinkM7 and Sandgate Rd/State Route 26.
Click here for directions
Hidden World Playground parking
Plenty of parking onsite in the carpark, and along the street.
Facilities at Hidden World
Toilets: Yes, including baby change table
Disability access: Limited in fort area. Some play equipment. Toilets accessible.
Shade: No shade sails over play equipment, but in general area, yes. Four shaded picnic gazebos.
Enclosed: No, but far enough from the road that it's not a big issue.
Ground cover: Sand pit beneath play equipment, concrete pathways, grassy field surrounds
Food options: BYO. The Aldi Taigum is nearby to pick up snacks, cheese and biscuits, and drinks.
Picnic tables: Yes
Electric BBQs: Yes
Water Bubblers/fountains: Yes
Scooters and Bikes: Yes
Dogs: On leashes. There is a dog off-leash area close by.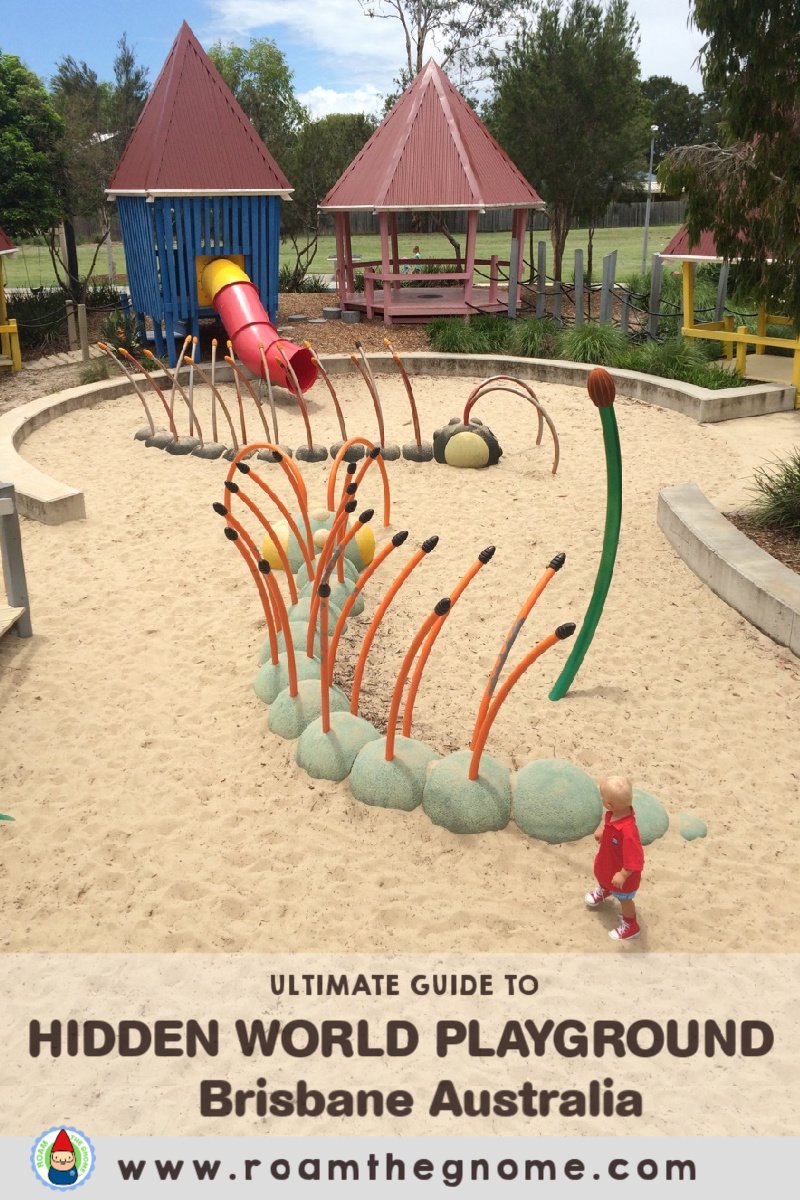 Toadstool Rating: Hidden Playground Fitzgibbon
The story makes it so.

Looking for more of the Best Playgrounds in Brisbane?
Click the blue links below for more Brisbane tips