INSIDE: Everything you need to know about the best beaches in Bali for families.
What are the best beaches in Bali Indonesia?
In no particular order, these are the best beaches in Bali for swimming when you have kids with you on a family vacation.
Some Bali beaches have white sand, others have yellow sand, and yet others have black sand.
There's such a variety.
Take a look below for the best beaches in Bali for kids!
Disclosure: This article contains affiliate links. If you make a purchase after clicking on one of these links, we may receive a small commission at NO extra cost to you.
THE INSIDE SCOOP: BEST BEACHES IN BALI FOR FAMILIES
Correct at time of publication on Roam the Gnome. Please check with venue for updates. We apologise in advance if there have been any changes we are unaware of. All prices in AUD dollars, unless otherwise stated
No.1: Nusa Dua beach
Nusa Dua beaches are the best beaches in Bali Indonesia for families looking for clean, safe beaches with facilities nearby including decent restaurants and 5 star hotels.
Our tip is to head to The Bay Bali, where you will find beachfront restaurants including:
Pirate's Bay Bali, and
Surf N Turf Bali.
No.2: Sanur beach
Quiet tame white sand beach, lovely for families, with lots of shade under the trees behind.
These are the best beaches in Bali for snorkeling.
---
RELATED: Complete Guide to the BEST Things to Do in Bali with kids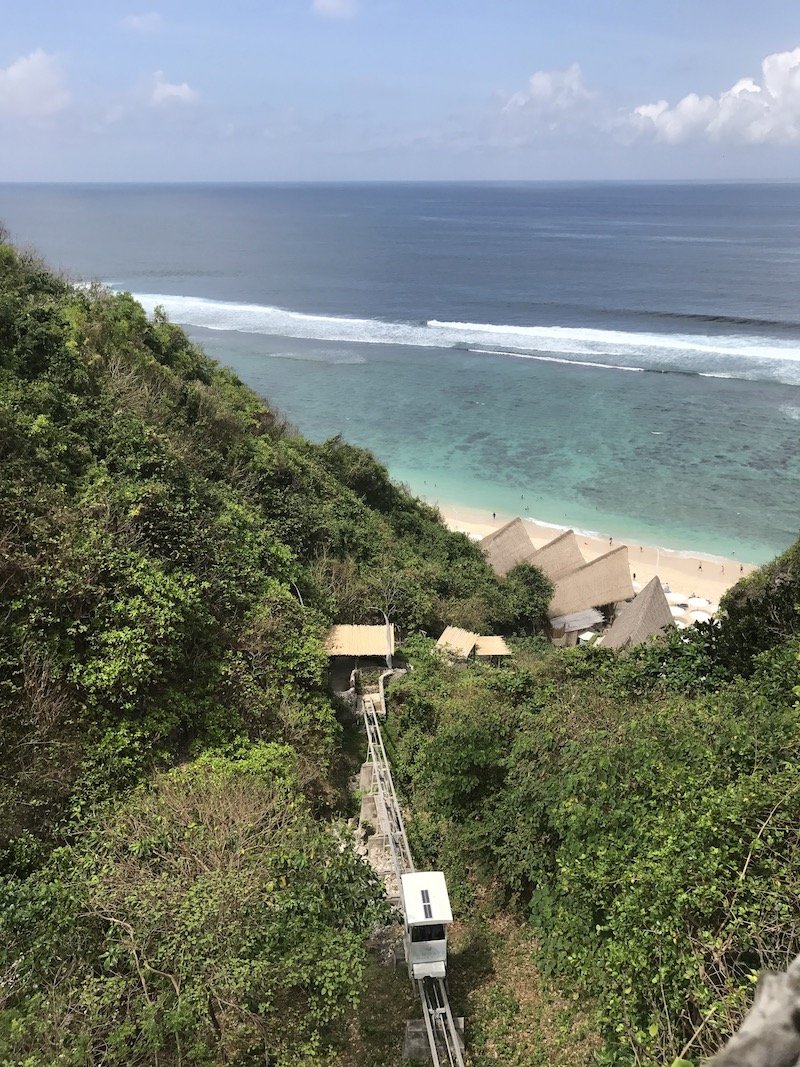 No.3: Sundays Beach Club beach
Beautiful, but a little rough and unpredictable for kids (and weak swimmers) if the winds start blowing.
You can retreat into their restaurant for lunch if the weather changes suddenly.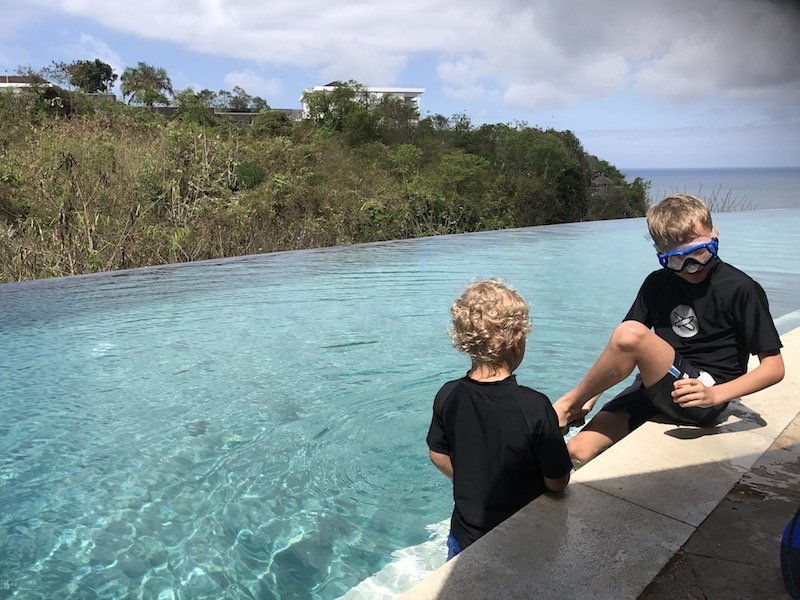 Sundays Beach Club pool
But the best thing here is there is a pool at the Sunday's Beach Club up top!
So if the conditions are too choppy, take the kids to swim in the pool instead.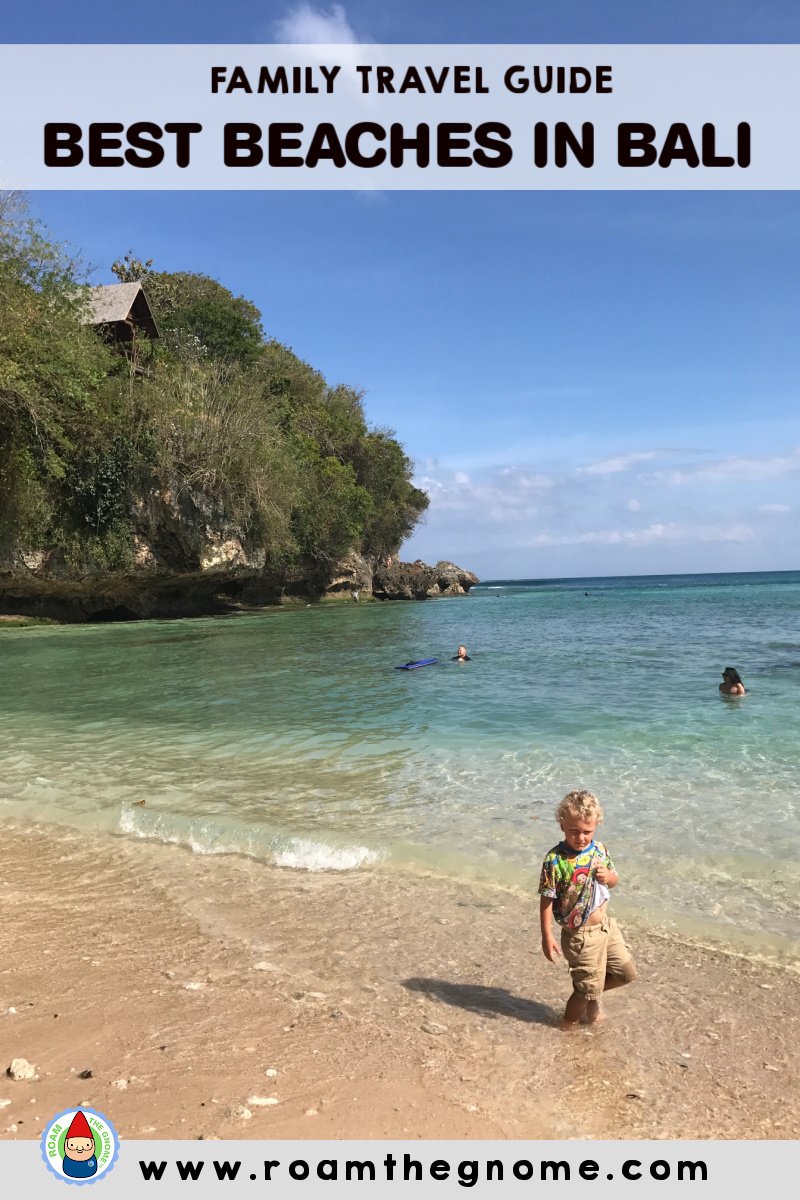 No.4: Padang Padang beach
Take the walk down to this delightful family beach near Bingin beach & Uluwatu.
It's our favourite family beach in Bali.
By far.
Sheltered by caves, and azure waters to boot, it's THE best Bali beach for families who like calm waters and gentle nature surrounds.
We'd vote it the best swimming beach in Bali for kids.
Fun Fact: This is the place where they filmed a scene from the smash hit movie, Eat Pray Love with Julia Roberts.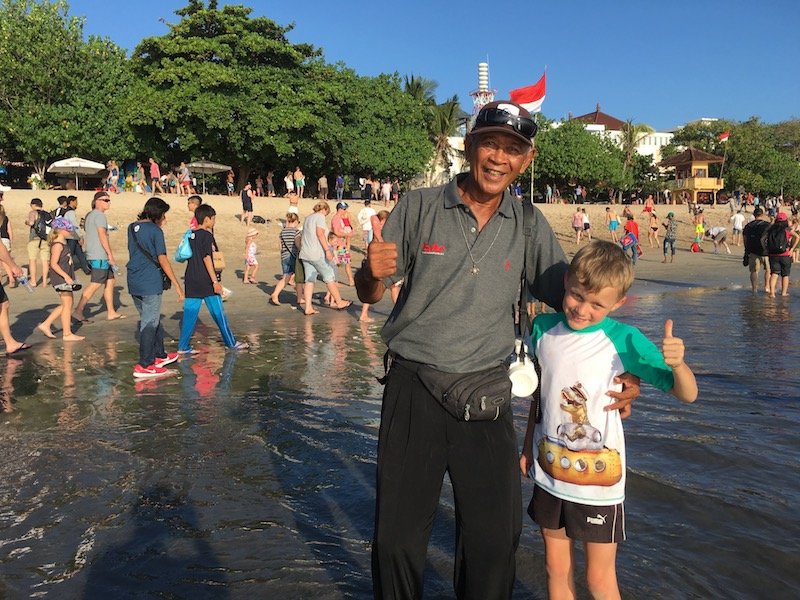 No.5: Kuta Beach
While not the prettiest beach around, it's one of the most popular and busy beaches for families.
Safety in numbers is always a good thing at any beach!
It's also the beach where they do the Bali Sea Turtle release in season.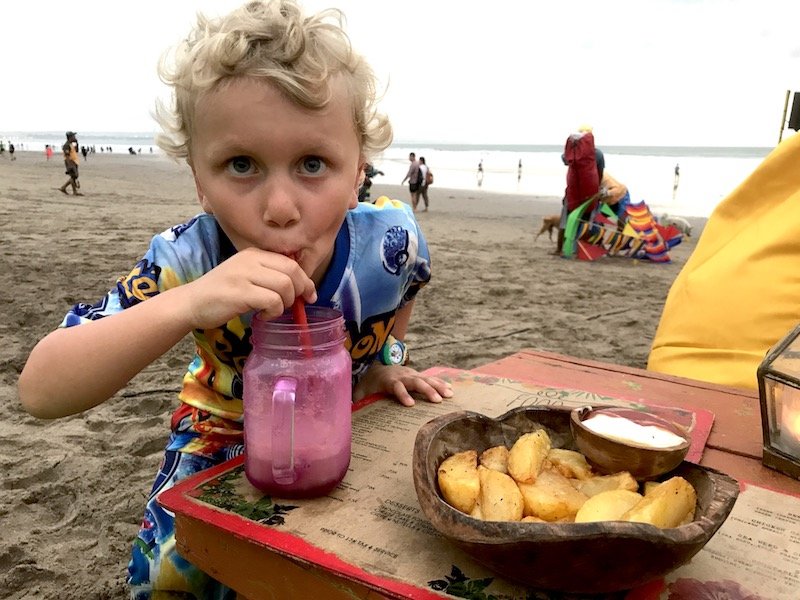 No.6: Seminyak Beach (Double Six Beach)
The views of the coloured umbrellas at the La Plancha beach restaurant (and those around it) make this beach a spectacle.
Top spot for a quick swim, and then grab a table and pull up a beanbag for some quick tapas snacks and smoothies.
No.7: Jimbaran beach resort area
Jimbaran bay is a much loved area for family holidays in Bali, with relaxed eating and dining experiences ON the beach.
Waters are calm, and relatively flat, so a good all round choice.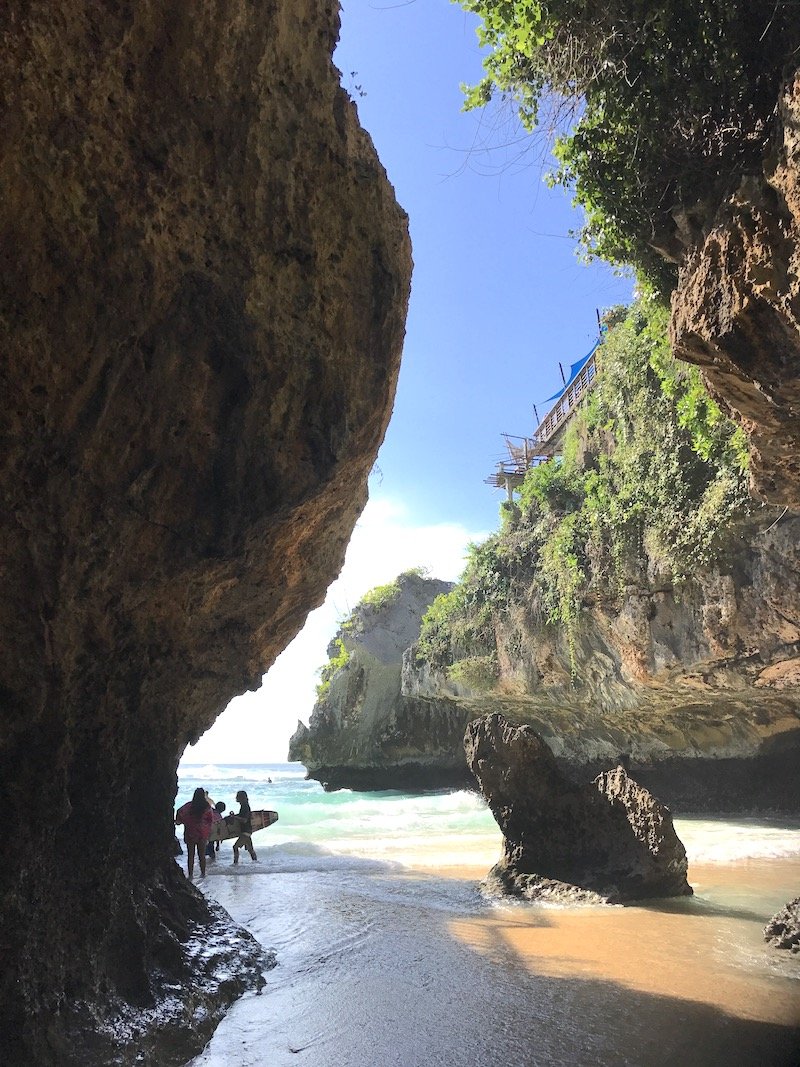 MORE of the Best Family Friendly Beaches in Bali Indonesia
No.1: Balangan Beach
Head to the Bukit Peninsula to find this low key beach.
It's one of the less developed areas of Bali, so you'll still find old school vibes, laid back crowds, lots of warungs serving local Indonesian food, and the odd beach vendor or two.
No.2: Echo Beach Canggu
One of the best black sand beaches in Bali to explore the shoreline.
Not for full on swimming, this is the best beach at Bali for paddling and playing in the sand.
No.3: Sulaban Beach Uluwatu (Alt: Blue Point Beach)
Even if you don't go swimming here, it's a super fun adventure to climb down into the caves and check out the views of Uluwatu surf beach, one of the most famous beaches in Bali for surfing.
Only recommended for swimming at low tide, on a day when the water is very calm.
Warning: watch out for the kids on the walking track down. The steps are STEEP, and the handle rails made from plumbing pipes aren't the sturdiest.
Best to take the older kids, not toddlers.
No.4: More to Explore!
Nusa Penida beach
Nusa Lembongan beach
Gili Islands beaches
Bali Beaches Map
Click here for a map of Bali Beaches!
Safety at Beaches in Bali
Check out the lifeguard situation at each beach.
They are often positioned along the popular beaches such as Kuta, Seminyak and Jimbaran.
But not always.
And don't assume that even if there is a lifeguard, that you will be safe. Indonesian lifeguards are not the same as Australian lifeguards, and may not have the same level of skill or training.
Also, look out for red flags. If you see one, don't swim.
Be careful not to venture out too far at any beach. There are dangerous rips at some of these beaches.
Best to stick to the shallows, or play on the sand.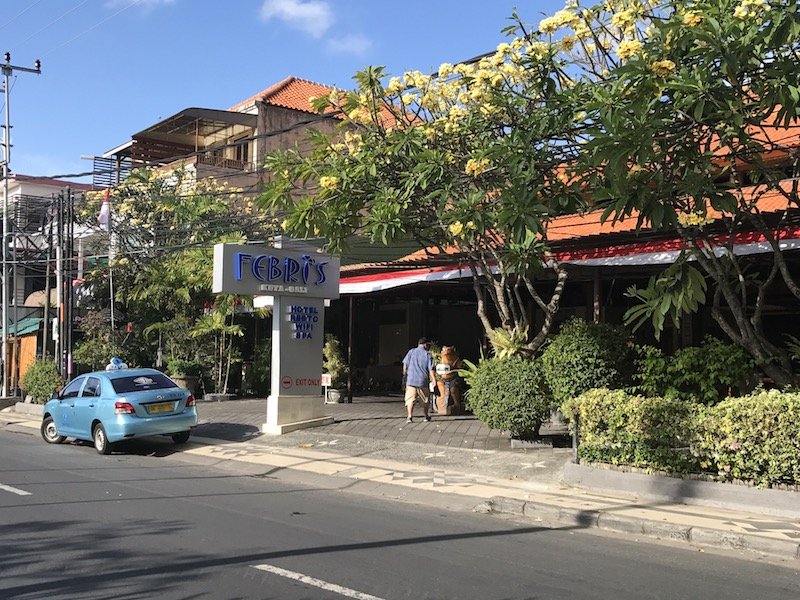 Looking for MORE Bali Travel Tips?
Click the links in blue below for more Bali ideas