INSIDE: Check out the hands-on Kids Activities at Auckland Maritime Museum NZ
If there's a Maritime Museum in town, we don't miss it.
It wasn't always this way.
We used to avoid them.
Maritime Museums sound boring, BUT they are not.
If you are looking for things to do in Auckland with kids, put the Auckland Maritime Museum on your list.
There's TONNES of hands-on fun for kids at the Maritime Museum in Auckland.
Read our guide to all the things to do at Auckland Maritime Museum below.
Disclosure: This article contains affiliate links. If you make a purchase after clicking on one of these links, we may receive a small commission at NO extra cost to you.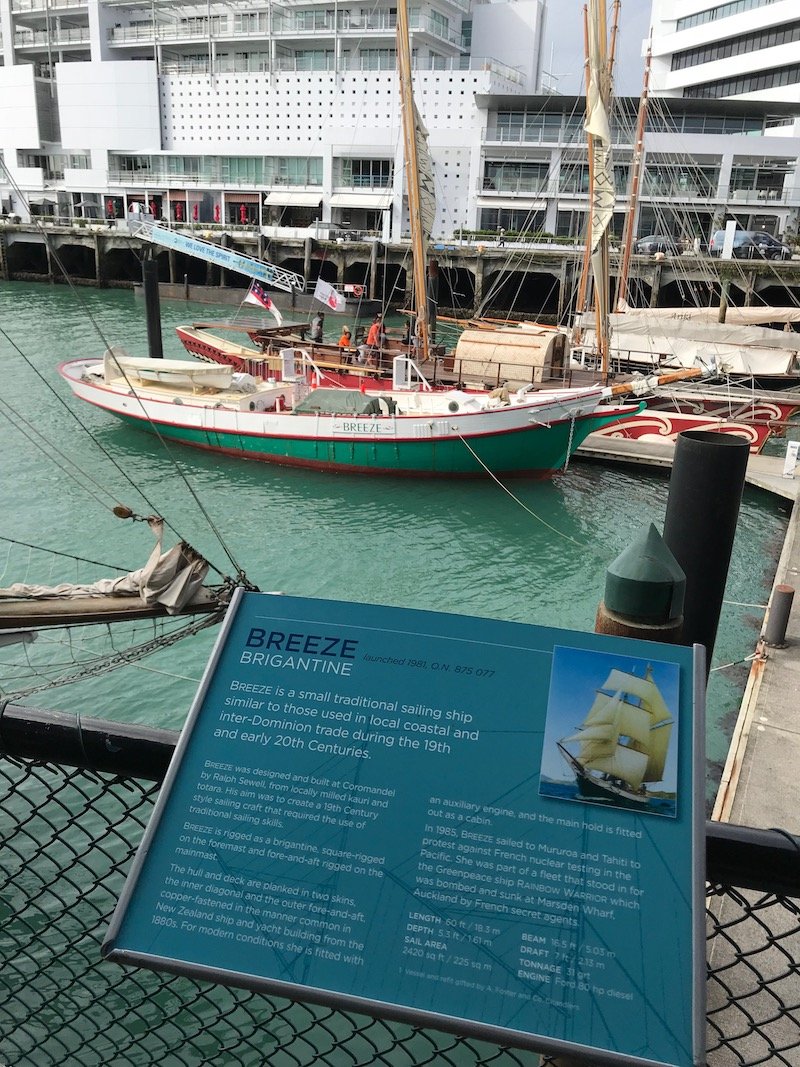 Auckland Maritime Museum for Kids
The Auckland Maritime Museum didn't let us down.
There's heaps of hands-on fun and activities for kids that will keep them occupied for hours.
It starts outside, with a look at some of the working boats docked in the harbour.
It is possible to book a short trip around the Waitemata Harbour on one of their heritage vessels but you need to check times before you go.
We just missed the last boat of the day. (Sailing trips are not included in the entry price.)
Inside the building, there's two levels.
On the ground floor:
check out the Landfalls exhibition featuring the pioneering voyages of discovery
watch a historical film in the theatre
delve into the history of New Zealand's yachting history in Blue Water Black Magic
walk through an interactive exhibition sharing stories of the early immigrants to New Zealand in New Beginnings.
On the top floor:
see the tribute to Sir Peter Blake and his lifetime of yachting adventures
walk through the Edmiston Gallery full of New Zealand's finest collection of maritime art
reminisce with a look inside a traditional Kiwi summer house (Bach), drive a ferry, and check out an old-fashioned dairy (milkbar) exhibition
take a look at model displays, and see beautiful examples of Kiwi boats from the past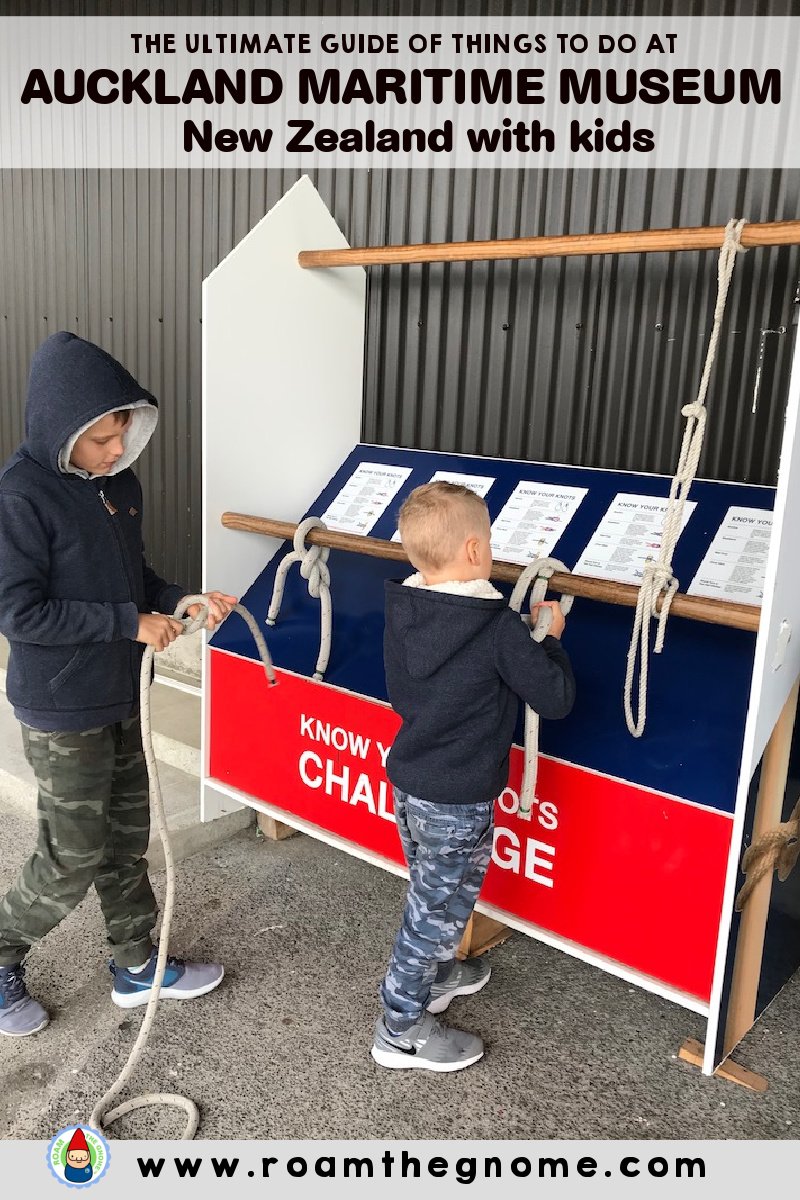 New Zealand Maritime Museum Auckland Kids Activities
Here's a sneak peek into some of the hands-on activities for kids at the New Zealand Maritime Museum in Auckland.
There's a bucketload of adventures to be had.
---
RELATED: Monster List of Things to Do in Auckland with kids!
No.1: Know your Knots Challenge
This Scout of mine had a head start, but his brother wasn't far behind in tying a fancy knot or two.
Follow the instructions on the printouts and it's easy to do.
There's something about making knots – kids can't resist!
No.2: Maritime Museum Auckland Puzzle Room
Find the table full of nautical puzzles and Maori culture puzzles.
This kept them busy for 20 minutes in a central spot while I wandered the exhibitions nearby.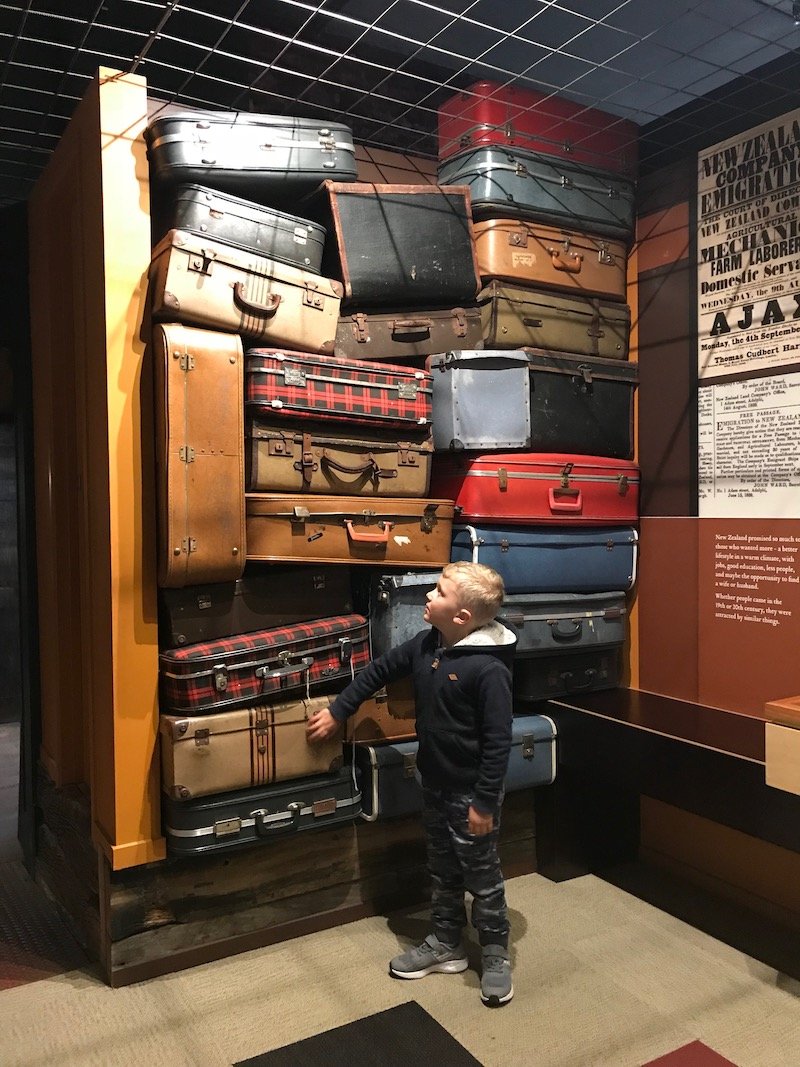 No.3: Stories from the Sea
Stories from the Sea was our favourite section.
Stepping into a recreation of the ship storage area, and sleeping quarters was magnificent.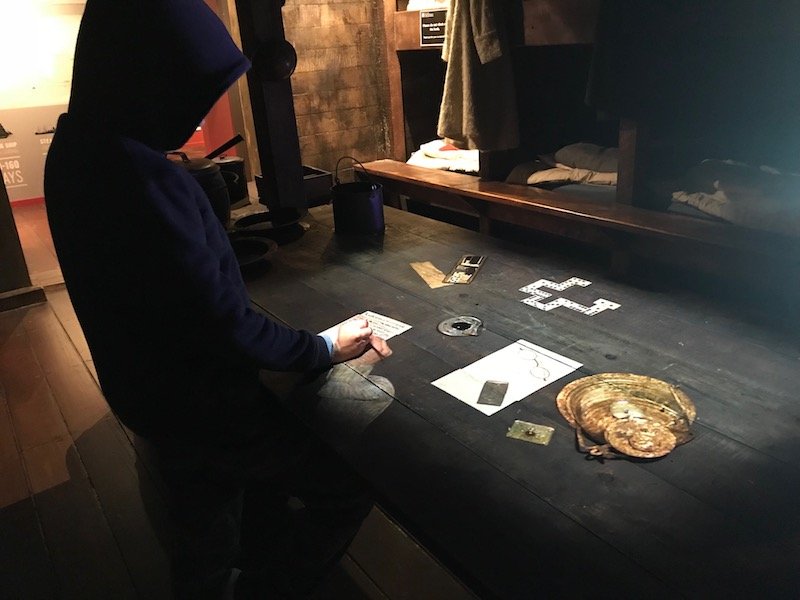 The moving ship experience, featuring interactive storytelling in the sleeping berth of the ship where passengers huddled through treacherous sea journeys, is epic!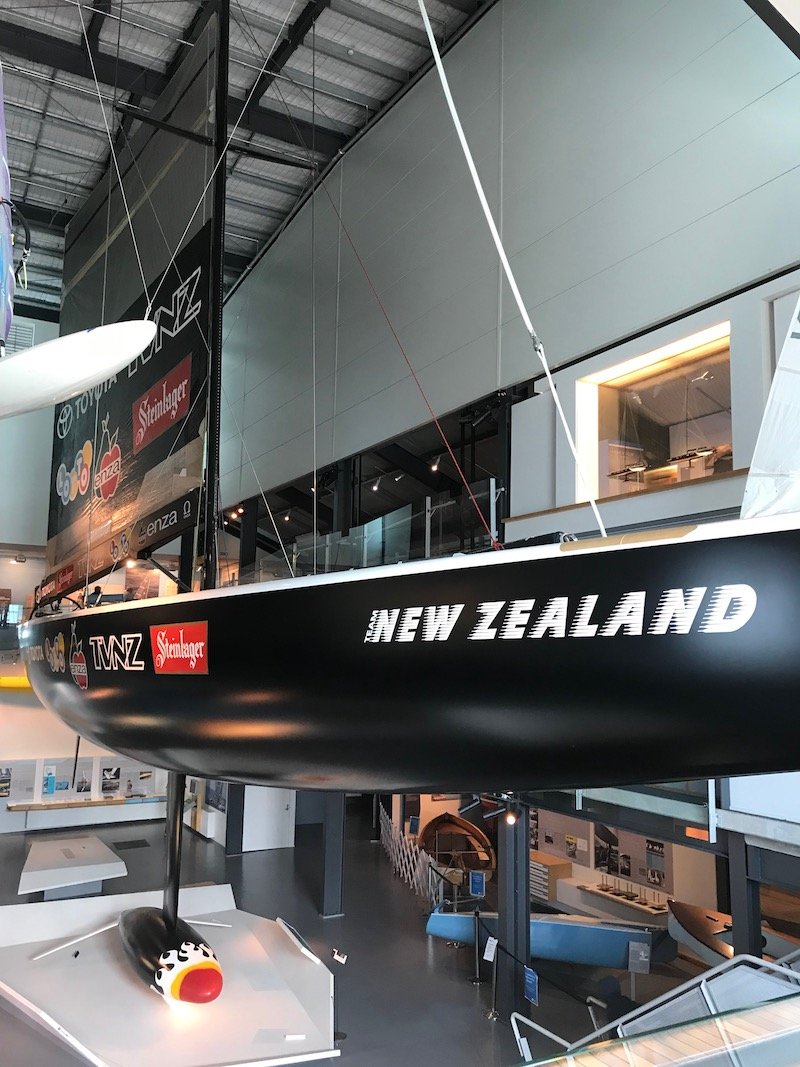 No.4: America's Cup Boat
Kids can check out the GIANT sized America's Cup challenger boat, and learn the stories of why they had to keep the keel hidden before the race too.
The boat is enormous!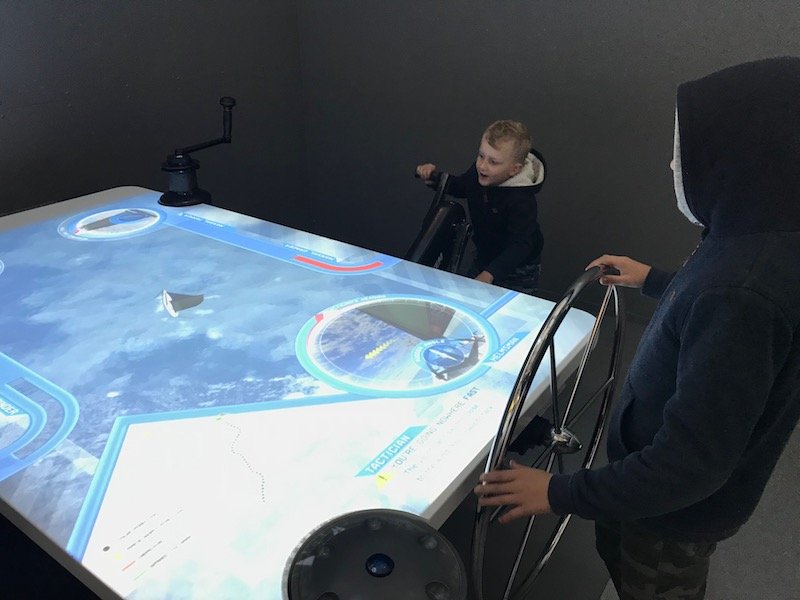 No.5: Blue Water Black Magic
In the far right corner of this exhibition, beyond the America's Cup challenger boat, is a hands-on sailing activity.
4 or 5 kids (and adults) can join in together to make this virtual ship sail in the right direction.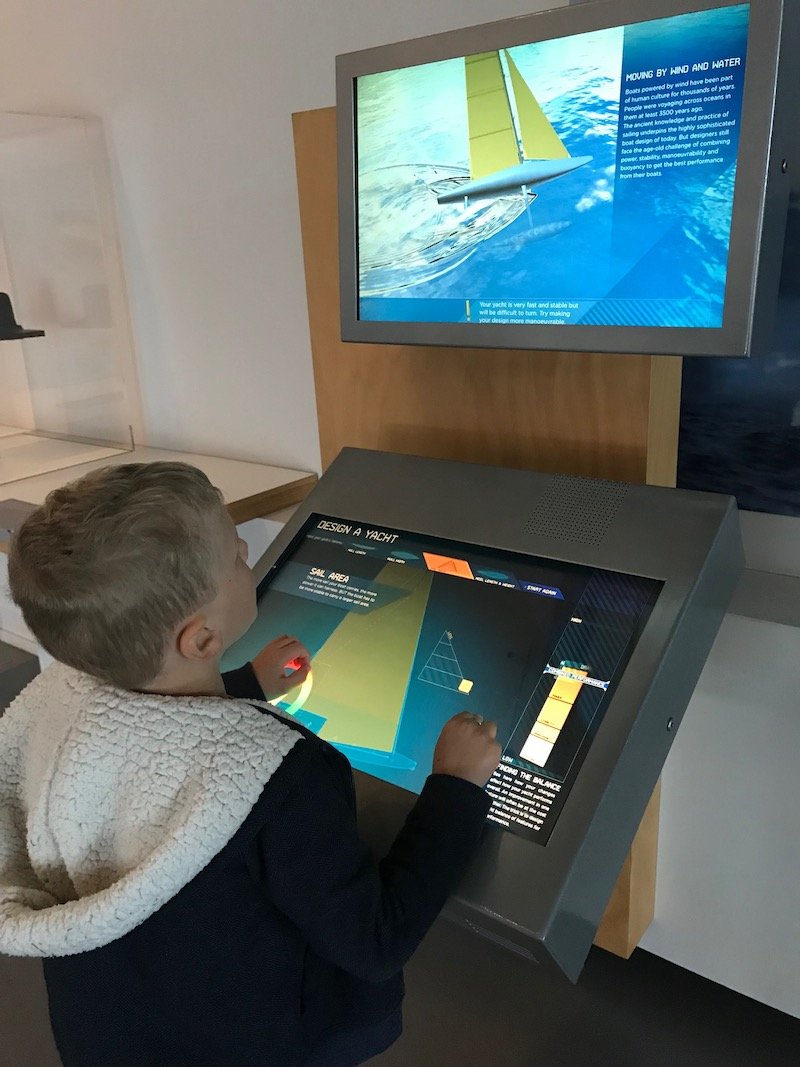 No.6: Design a Yacht
In the same exhibition, there's a Design a Yacht digital activity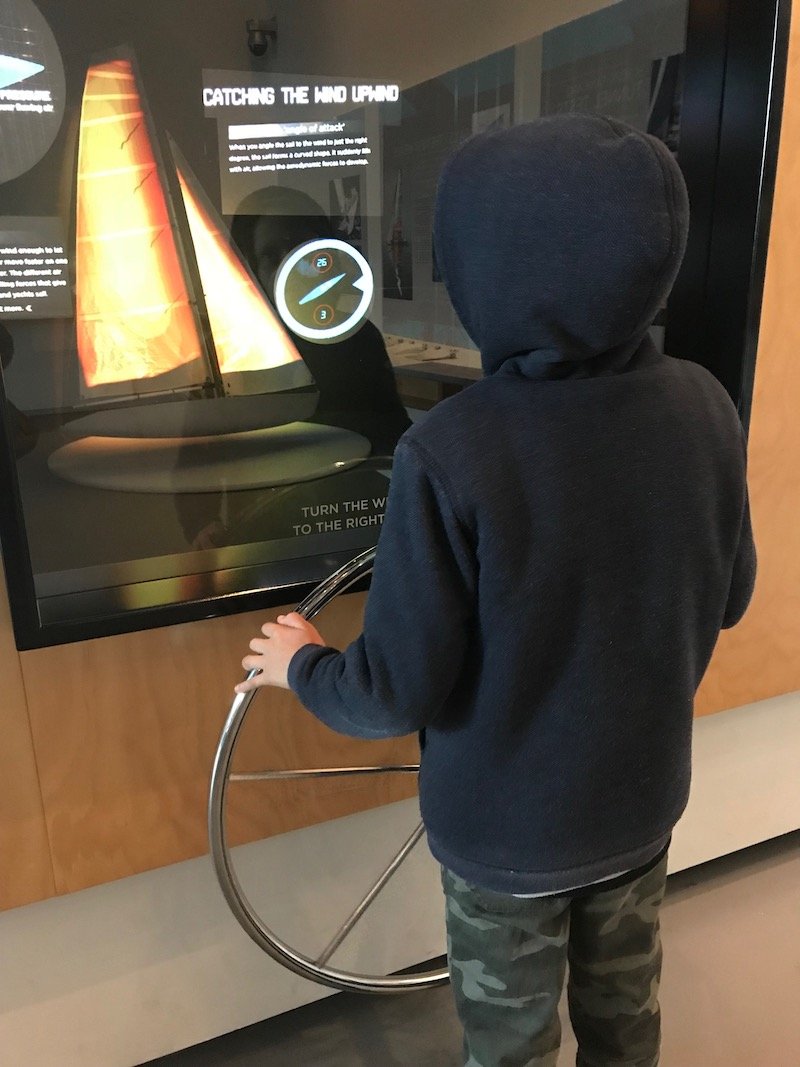 And, another where you can practice catching the wind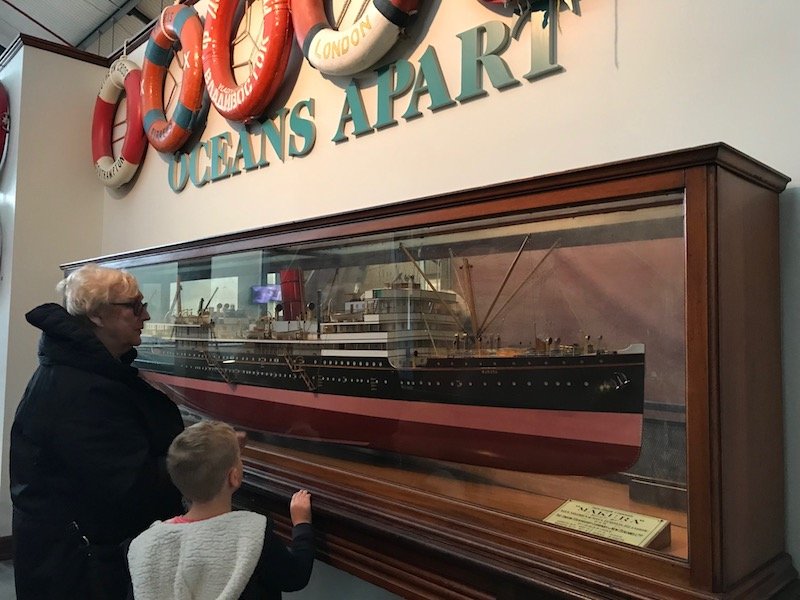 No.7: Kiwis and the Coast exhibition of model boats
Upstairs, the Kiwis and the Coast exhibition has some of the best examples of vintage boats you'll ever see, and detailed model boats to view.
Head to the Model Makers outside the main building to see model makers in action too.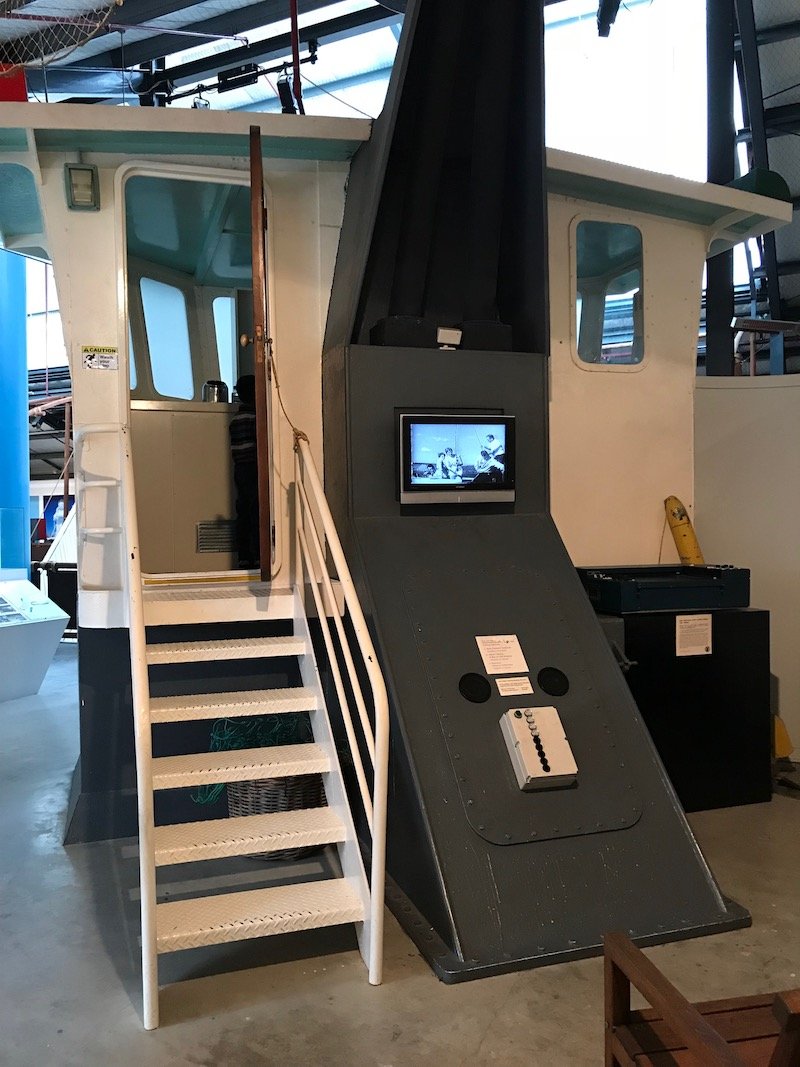 No.8: Virtual Ferry Boat
Head inside the ferry boat via the stairs.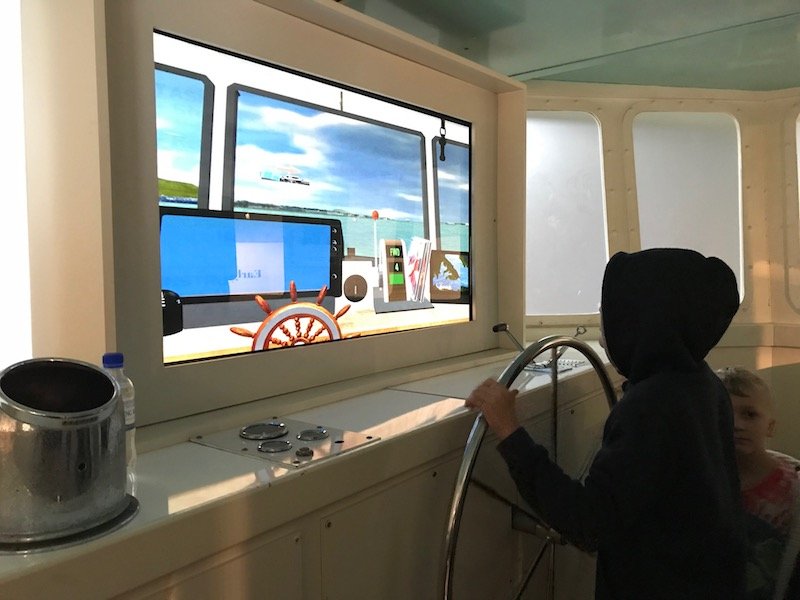 Wait your turn to drive the virtual ferry boat.
It's not as easy as it looks to avoid collisions!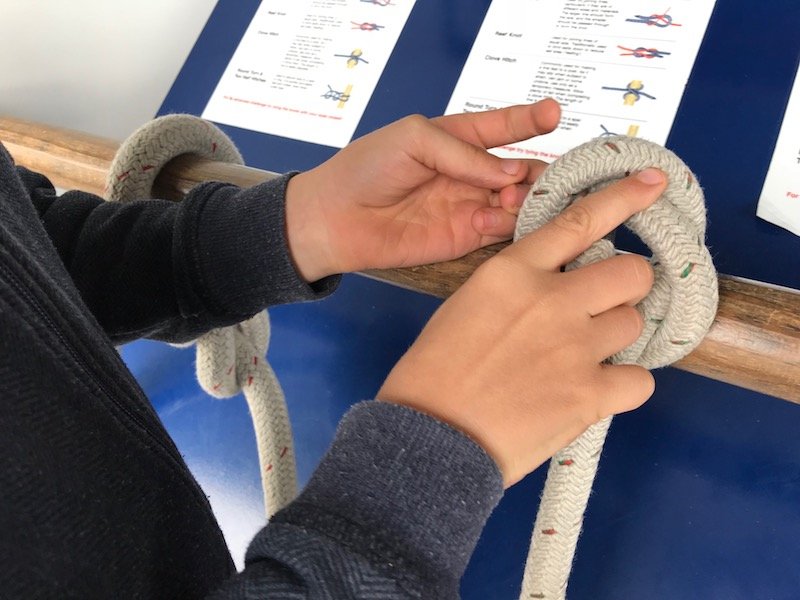 No.9: Auckland Maritime Museum Events
The museum also offers more fun activities every school holiday including the chance to dress up in costumes, and treasure hunts through the museum.
They also have a Mini Maui's club for kids.
Get to know the characters that you'll find at the Museum with their new "Meet the Mates" series of stories and coloring activities. There's model-makers, worm-wranglers, explorers and more!
Their School Holiday Activities for kids are popular so book in early.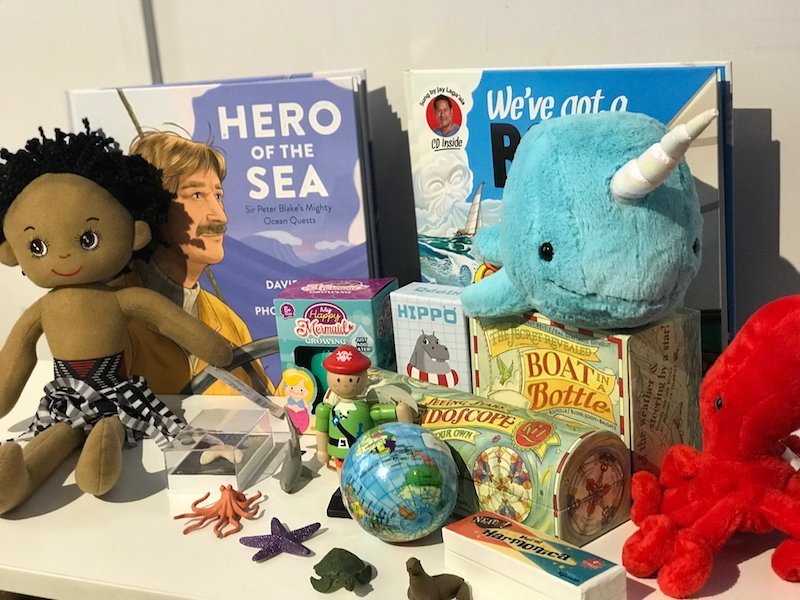 Image credit: New Zealand Maritime Museum Facebook
Auckland Maritime Museum Gift Shop
There's very cute Kiwiana souvenirs at the Museum shop, with adorable and unique gifts for family and friends at home, including:
maritime themed toys
coffee table books & books written by local authors
children's books
maritime themed homewares
Manuka honey candles
Paua shell jewellery
Huia and Tui bird cushions
a pair of Sir Peter Blake's iconic red socks
artworks, and
classic pieces of Kiwiana (get the teatowel!)
Allow 30 minutes extra to shop.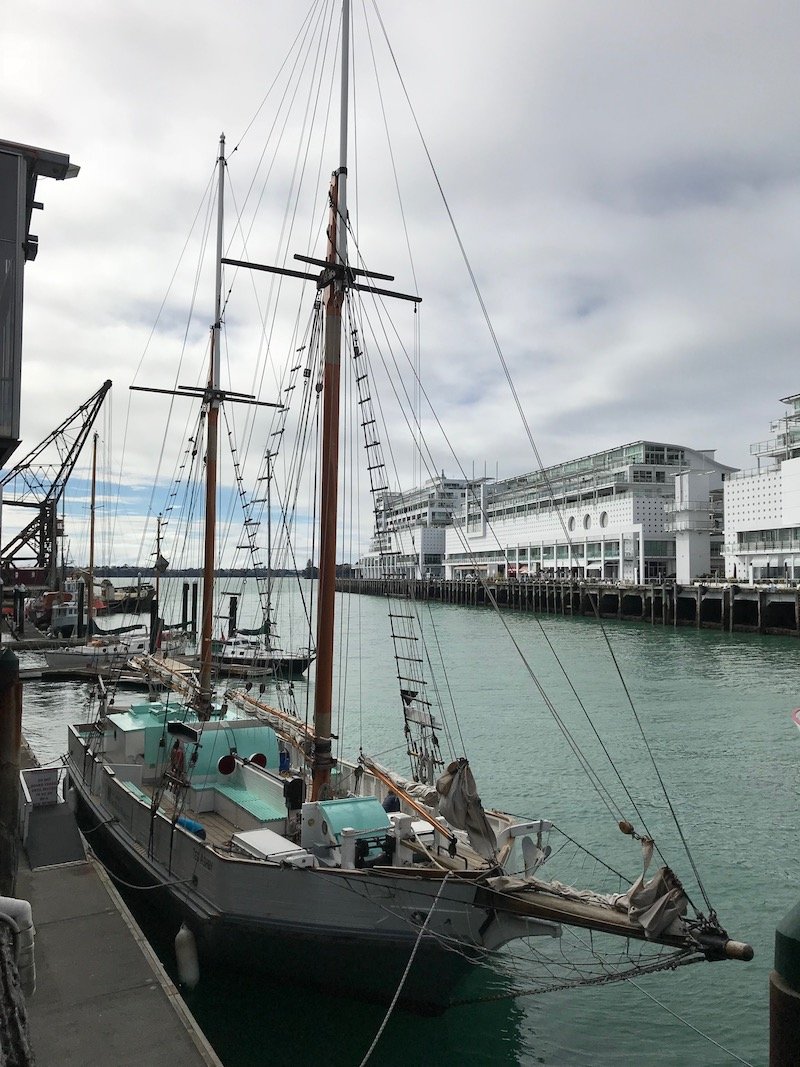 THE INSIDE SCOOP: The Maritime Museum Auckland
Correct at time of publication on Roam the Gnome. Please check with venue for updates. We apologise in advance if there have been any changes we are unaware of. All prices in NZ dollars, unless otherwise stated
Address: The Maritime Museum in Auckland is located on Corner Quay and Hobson Streets in the Viaduct Harbour in Auckland.
Telephone: + 64 9 373 0800
Website: Click here
National Maritime Museum Opening Times
10am to 5pm every day, except Christmas Day.
Final entry is at 4pm.
Allow 3-4 hours. More if joining a sailing tour.
Auckland Maritime Museum Entry Fee
Current Auckland Maritime Museum Prices are:
Adult $20 ($53 including heritage sailing experience)
Seniors $17 ($42 including heritage sailing experience)
Student $17 with valid ID ($42 including heritage sailing experience)
Child 5- 14 $10 ($27 including heritage sailing experience)
Children under four FREE
Family Pass** $40 ($125 including heritage sailing experience)
** 2 adults and 2 children, OR 1 adult and 3 children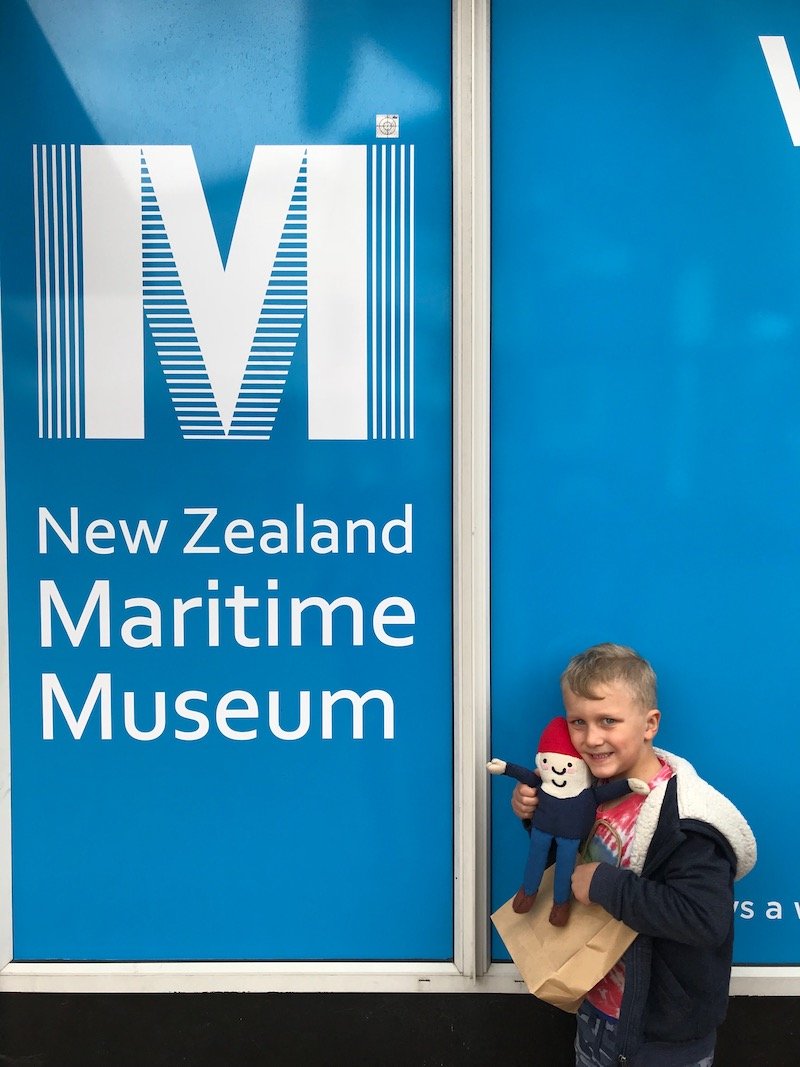 Heritage Sailing
The ticket price with a Harbour sailing includes a one hour heritage sailing trip on Ted Ashby. This boat heads out twice a day, six days a week.
There are two other sailings on offer from time to time also.
Please note: All sailings subject to weather conditions and availability.
How to get to National Maritime Museum Auckland New Zealand
By Bus: Catch a local bus to Auckland CBD and exit at the Viaduct Harbour.
On Foot: The Maritime Museum is a five minute walk from the Britomart Transport Centre, and a two-minute walk from the ferry terminal.
By Car: From Auckland airport, the New Zealand Maritime Museum is 25 minutes by car in the heart of Auckland CBD at the water end of Queen Street and turn left. Click here for google map directions from your location
Auckland Maritime Museum Parking
Car parking is available in the Downtown car park next door.
Discount vouchers are available from the Museum Shop.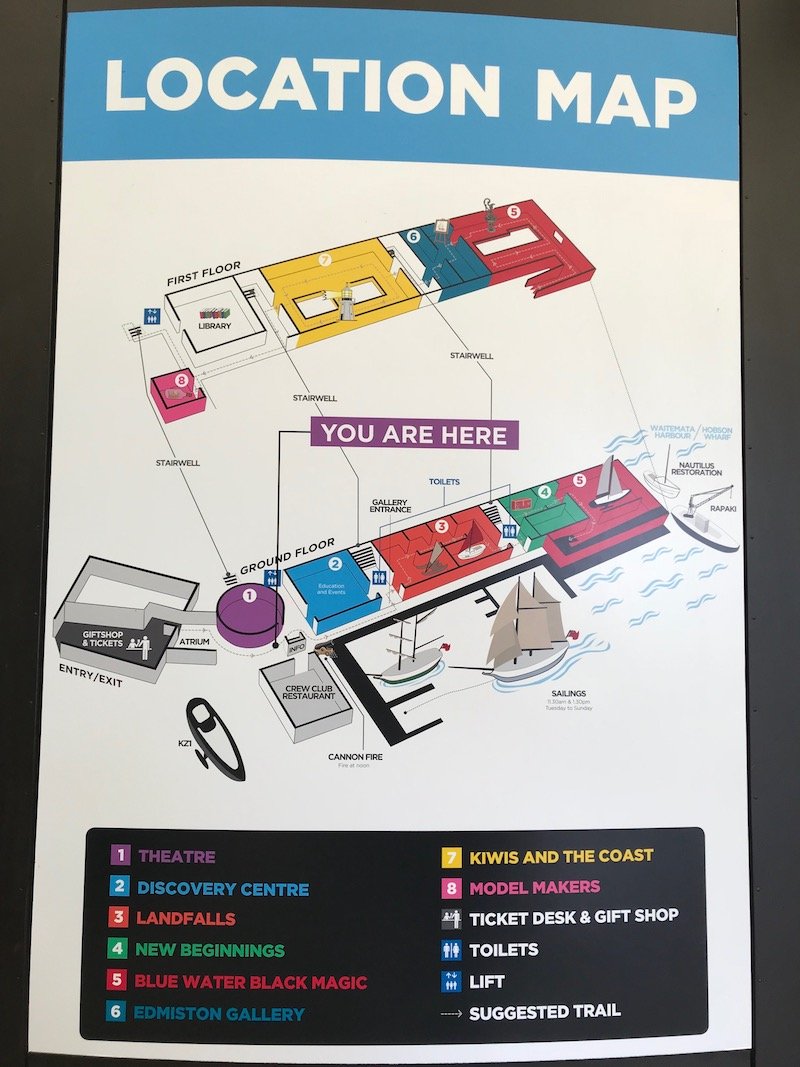 Map of Auckland Maritime Museum Location
Facilities at the Maritime Museum in Auckland
Nearest takeaway coffee and/or food options: Plenty of cafes and restaurants nearby in the Harbour, or head up Queen street for loads of quick eats options.
Toilets: Yes, multiple toilet blocks throughout museum, including baby change table
Disability access: Yes
Closest ATM: Auckland CBD
Closest playground: Myers Park playground
Notes:
There's FREE wifi throughout the museum
No touching, eating or drinking please
Toadstool Rating – Auckland Maritime Museum Reviews
Well thought out, with so many fun hands-on activities for kids.
Allow half a day to do it all.

Looking for More Things to Do in Auckland New Zealand for Kids?
Click the blue links for more Auckland activities below.