INSIDE: Everything you've ever wanted to know about the best candies from Japan to eat!
Missing Japan, and all things Japanese?
Get your fix of this spectacular culture at any moment by ordering candy from Japan.
Or, want to know what kinds of candies are popular in Japan in 2021?
Check out all the famous Japanese candies and famous Japanese sweets in this round up guide.
Grab a coffee or a cuppa.
It's a monster read of popular Japanese candy and snacks too!
Find all the details below.
Disclosure: This article contains affiliate links. If you make a purchase after clicking on one of these links, we may receive a small commission at NO extra cost to you.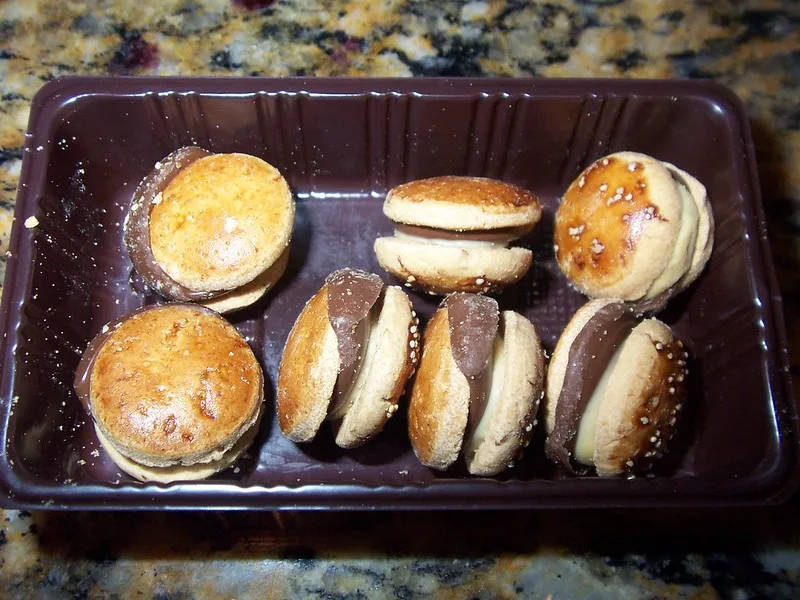 Image credit: Jessica Rossi via Flickr CC BY SA 2.0
THE INSIDE SCOOP: Round Up of the 34 Best Candies from Japan
(Pictured above, Every Burger candies without the wrapping.)
Where we can, we've added a link to the best Japanese candy on Amazon for your convenience. They are positioned beneath most of the popular Japanese candy listings.
Fun Fact: Kyandi, written in katakana, キャンディー is Japanese for candy.
RELATED: Read our epic guide on where to buy Japanese candy & snacks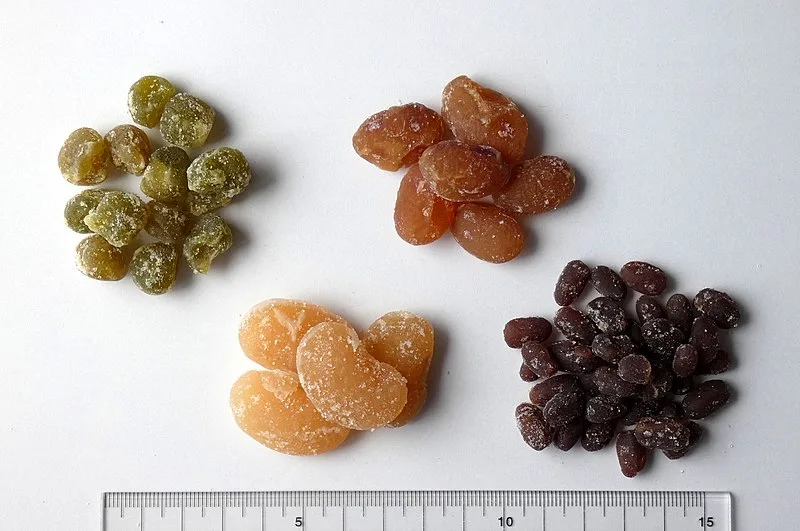 Image credit: image – 毒島みるく via CC 1.0
Best Japanese candies, from A to Z.
No.1: Amanattō
It's fitting to start our list with this traditional Japanese candy, created by simmering azuki (adzuki) beans with a sugar syrup and then sprinkling them with refined sugar once they are dry.
They are sometimes made from chestnuts, broad beans, kidney beans, peanuts, or soybeans too.
And, despite sounding like it, they are NO relation to "natto", the fermented gooey bean dish much loved by many Japanese nationals, but equally disliked by many visitors to Japan.
Buy now on Amazon: Amanatto Black Beans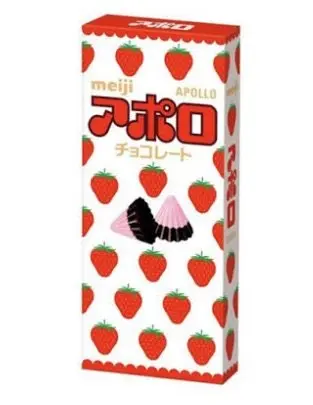 No.2: Apollo Chocolate
These chocolate snacks with a strawberry top were designed to look a NASA Apollo space craft!
The actual name Apollo was registered by the Meiji company beforehand but it was the perfect fit for this Japanese strawberry chocolate candy, the Meiji Apollo strawberry chocolate star.
Fun Fact: Kinoko no Yama biscuits are made on the same machine that produces these!
Buy now on Amazon: Meiji Apollo 10 pack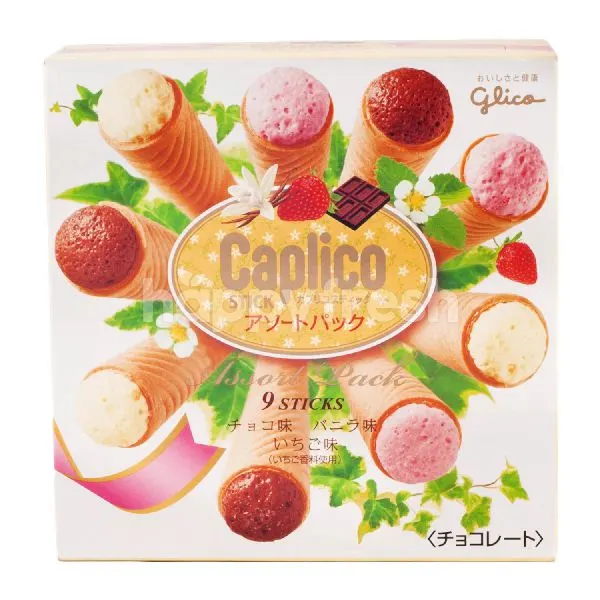 No.3: Caplico sticks
Glico makes these ice-cream style wafer cones filled with a strawberry, vanilla or chocolate cream.
This Japanese ice cream cone candy is one of those things you try once, and never forget.
Gobble this Japanese ice cream candy down!
It's arguably the best candy in Japan today.
PS: You can also buy Glico giant caplico ice cream candy. Look out for it.
Buy now on Amazon: Glico Caplico ice cream in Strawberry & Sakura flavors
No.4: Chiroru chocolate candy (Chiroru choco)
Chiroru are cute individually wrapped chocolate squares, each with a distinct design on the packaging label.
Look out for these signature bite-size chocolates in all the Japanese convenience stores Konbini.
The chocolates are often flavored themselves, and then filled with different cremes such as:
matcha green tea
mochi
custard pudding
cookies and cream
melon
nuts
jellies
sweet potato
chocolate sauce
sakura, and
caramel.
Chiroru are similar to penny candy in the way children shop for it. Children carry in their small amount of yen, and then spend a lifetime choosing which candy to buy!
Hot tip: They also come as Chiroru soft candies now!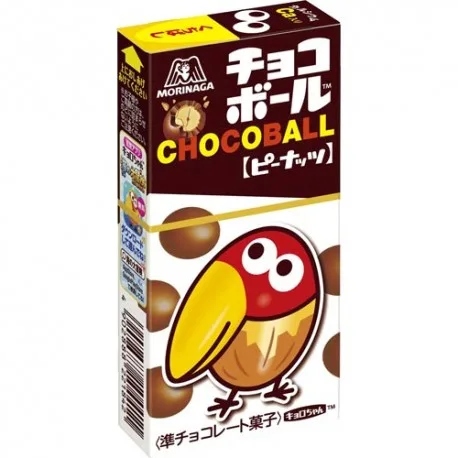 No.5: Chocoball with Kyorochan mascot
Choco Ball Japanese chocolate candies are delicious balls of choc goodness by Morinaga.
Find them in three flavors:
classic peanut Chocoball with the crispy crust and chocolate coating
smooth caramel and chocolate combo, and
delicious sweet strawberry with crunchy strawberry seeds.
Kyoro chan is the famous bird mascot in Japan.
Since 1967, Kyoro with his large beak has appeared in commercials, promotional materials and his own cartoon series.
Buy now on Amazon: Morinaga Chocoball 3 flavors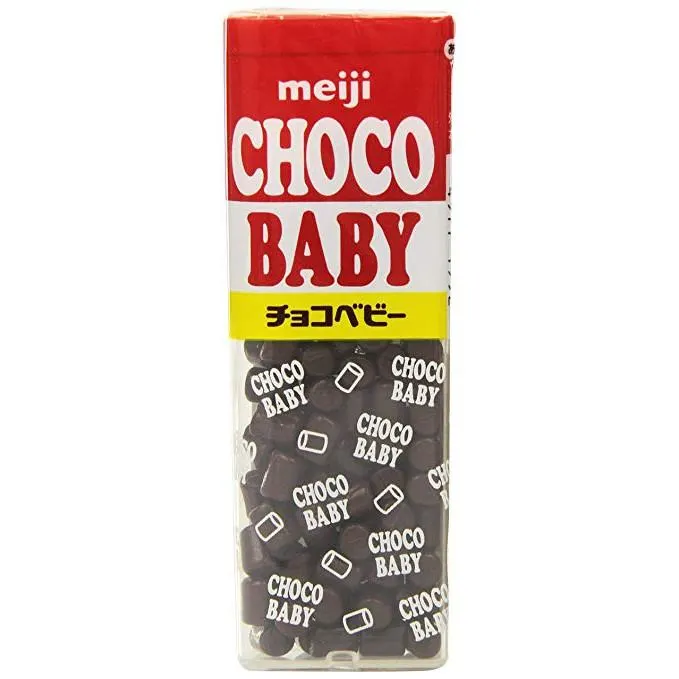 No.6: Chocobaby
This Meiji Japanese candy is kind of like a chocolate tic tac!
These Japanese chocolate candy pellets are good as a snack on the go.
Buy now on Amazon: Chocobaby 5 pack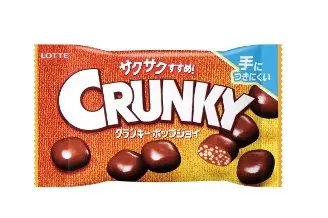 No.7: Crunky
THE BEST Japanese chocolate treat of all, filled with crunchy malt pieces.
Buy it in small pebbles, or in a chocolate bar.
(Pebbles are best!)
Buy now on Amazon: Lotte Crunky Crunch Chocolate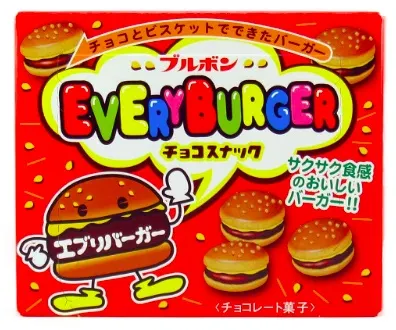 No.8: Every Burger Japanese Candy
Not quite a household name, this is a new one for many candy lovers.
Kids LOVE this chocolate snack that looks like a McDonald's burger, with a slice of white chocolate for "cheese"!
Buy now on Amazon: Every Burger Cookies 10pk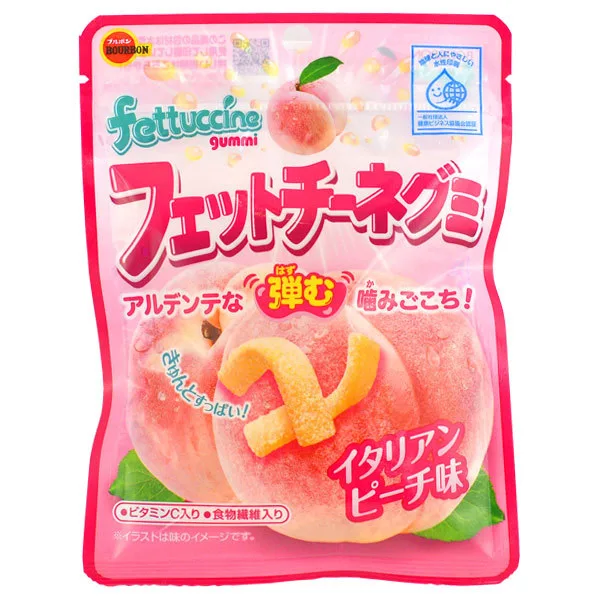 No.9: Fettuccine Gummy Candy
Bourbon Japanese Fettuccine candies come in lots of flavors available including:
cola
Amaou strawberry – a well regarded type of Japanese strawberry, often given as a gift
Italian grape
Ramune soda
peach
lemon
white soda
sour plum
pineapple
strawberry soda
melon soda
watermelon soda
mikan orange
honey lemon
lemon squash
muscat
fruit punch, AND
Christmas fruit punch
Buy now on Amazon: Try the peach fruit juice gummy flavor!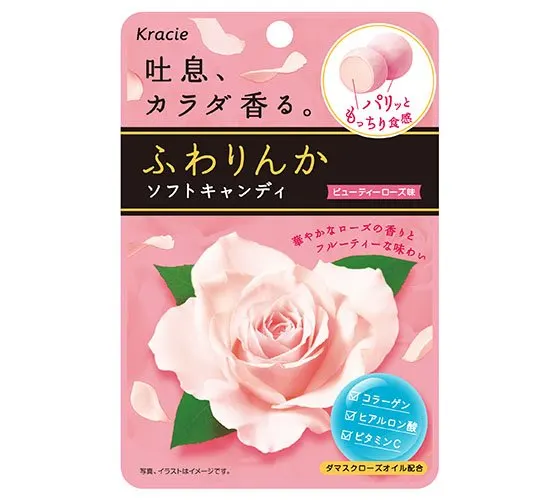 No.10: Fuwarinka Soft Candy
If you like mentos candy or skittles, you'll love Fuwarinka Japanese candies with their crispy shell.
These chewy soft Japanese candies come in a variety of fruity flavors.
These fruit flavored candy may become one of your top 3.
Buy now on Amazon: Japan Kracie Fuwarinka Beauty Rose Candy 10 pack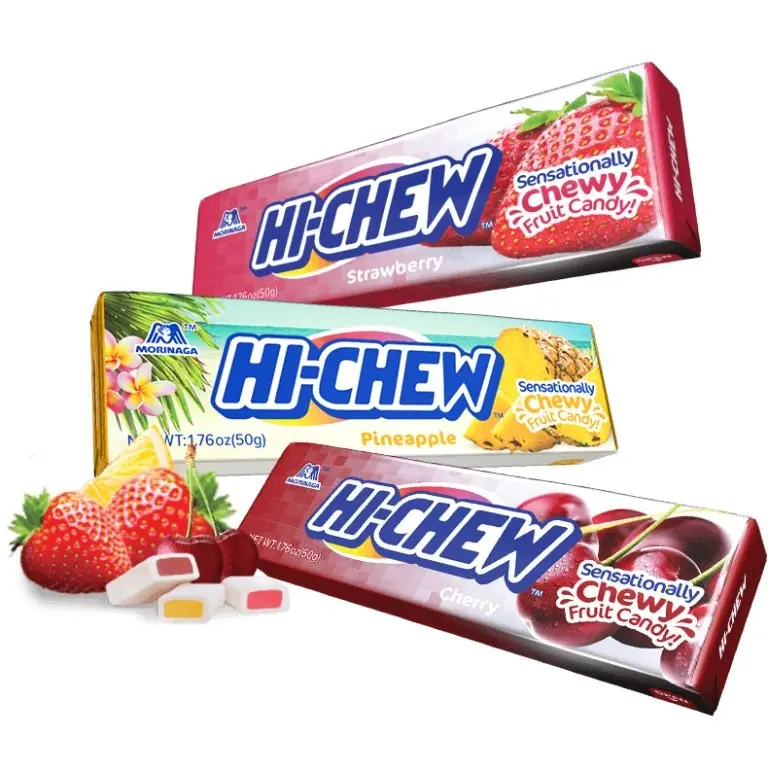 No.11: HI-CHEW Chewy Japanese candy
These are the famous chewy candy from Japan with the fruit flavors.
There's more than one reason they are Japan's number 1 selling brand!
Buy now on Amazon: Hi Chew Chewy Candy 7 Flavors variety pack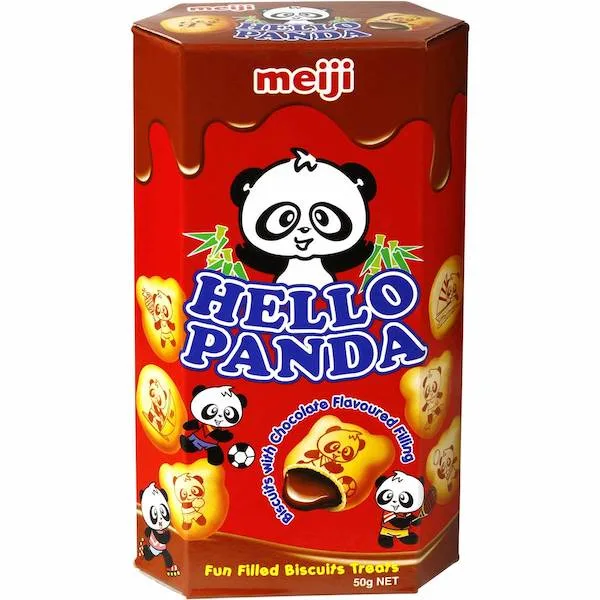 No.12: Hello Panda cookies
Hello Panda is a popular Japanese biscuit made by Meiji Seika since 1979.
Each biscuit is stamped with a panda bear doing all kinds of activities.
The Panda biscuit is filled with flavored cremes – chocolate, strawberry and vanilla.
Each biscuit consists of a small hollow shortbread layer, filled with crème of various flavours.
Buy now on Amazon: Meiji Hello Panda chocolate cookies 10 pack

Image credit: Douglas Perkins via CC 1.0
No.13: Japanese Wagashi Candy
Wagashi is the traditional Japanese candy confection, delicately made with plant-based ingredients and colors, and while you won't find them quite as easily as some of the other popular Japanese candy on the list.
But, they are worth every minute of your hunt.
Start at one of Tokyo's depachika, underground food halls in the big Japanese department stores.
One of the best ones is Tokyo Me+ in Tokyo Station.
Or try:
Food alleys, souvenir shops, and Japanese shopping streets around the famous Japanese temples and shrines (such as Nakamise shopping street Asakusa, and the Harajuku Meiji shrine souvenir shop) are another good bet.
Buy now on Amazon: Wagashi, Little Bites of Japanese Delights Book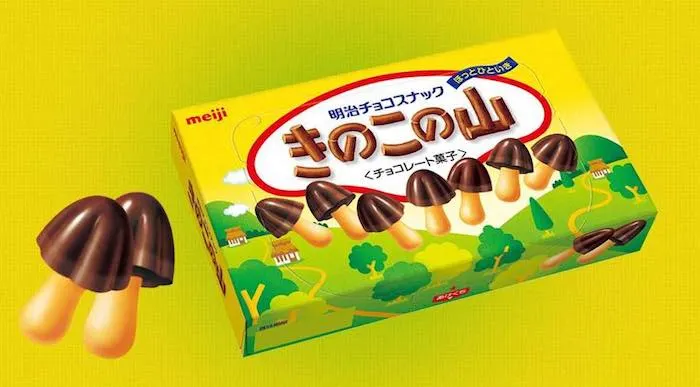 No.14: Kinako No Yama biscuits
Kinoko no Yama are a brand of biscuits shaped like chocolate topped mushrooms.
They are a best selling Japanese candy biscuit.
Kids beg their parents for these.
Buy now on Amazon: Kinoko no Yama chocolate snack 3 pack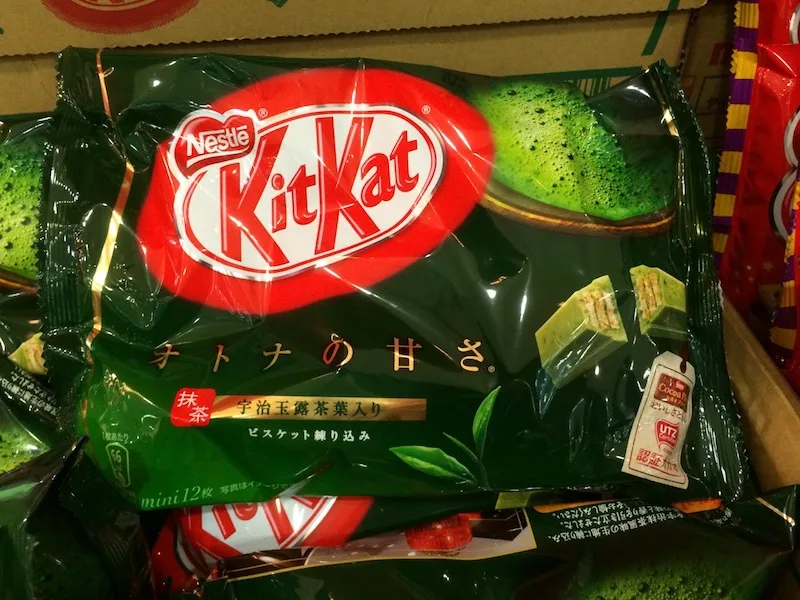 No.15: Kit Kat Japan
While Green Tea matcha kit kats are a best seller, we recommend trying some of the other Japanese kit kat varieties.
There are plenty!
Including flavors such as:
chocobanana
black tea
kinako
melon and cheese
yuzu
strawberry cheesecake
brown sugar syrup, and
BAKED POTATO!
Find a list of Japanese kit kat flavors from different regions here.
Buy now on Amazon: Kit Kat Hokkaidoazuki & Strawberry Chocolate Box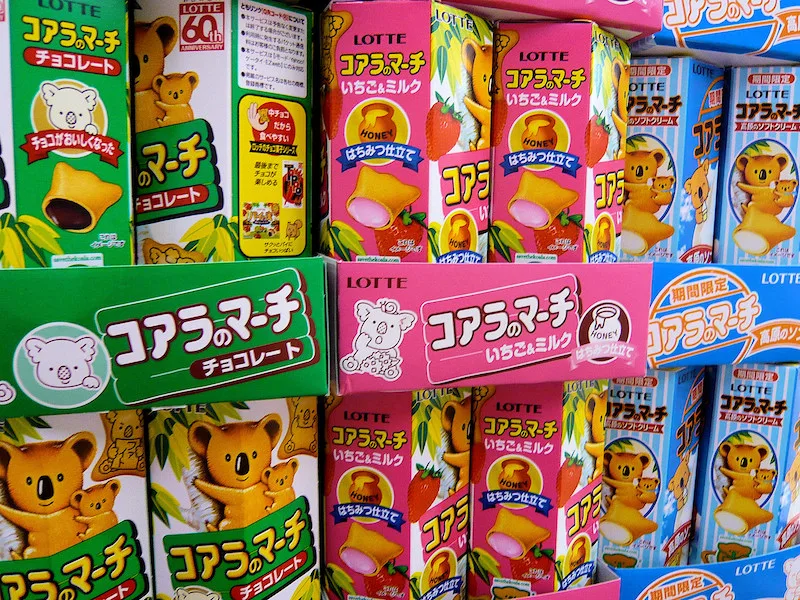 No.16: LOTTE Koala's March biscuits
Released in 1984, these delicious bite-sized biscuits have a chocolate, vanilla or strawberry filling.
But from time to time, you'll also spy special edition flavors including white chocolate, green tea matcha, cafe latte, and banana creme-filled.
Fun Fact: In Australia, sales of these biscuits support the Australian Koala Foundation!
Buy now on Amazon: Special Edition Koala no March biscuits with Choco Banana cream filling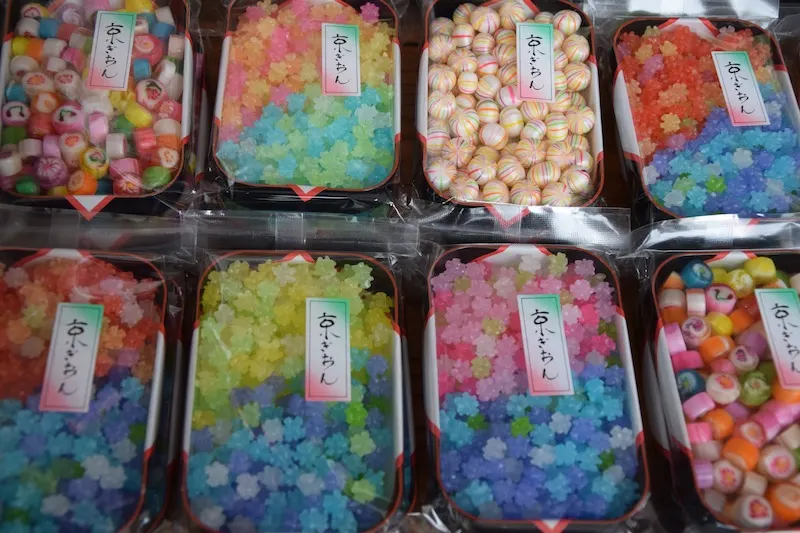 No.17: Konpeito
These are the pretty Japanese candy made from sugar.
These Japanese star candies come in a variety of colors that sparkle.
Konpeito candies are commonly served at a Japanese tea ceremony to pair with the hot matcha tea to counter the bitter taste.
You'll find Konpeito packets in all the souvenir shops at Japanese shrines & temples.
Buy now on Amazon: Daimaru Konpeito Japanese hard candy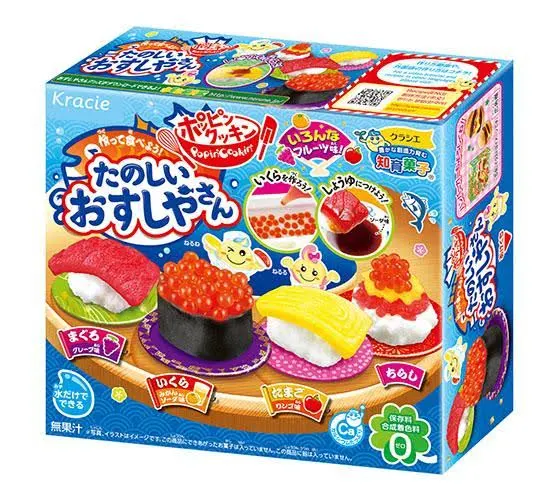 No.18: Kracie Popin' Cookin' Candy kits
Have you heard about these Japanese DIY candy kits?
All you need to do is add water to these Popin Cookin Japan candy and stir.
Follow the pictures on the step by step instructions to join the fun!
Buy now on Amazon: Popin' Cookin DIY Candy Kit (8 pack varieties)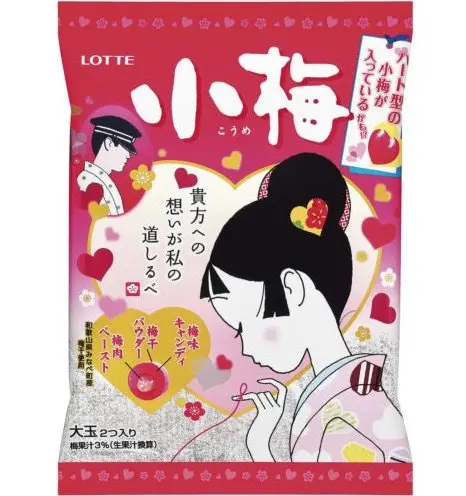 No.19: LOTTE Koume Plum Candy
Japanese sour plums (umeboshi) are one of the unique Japanese flavors you'll encounter on a visit to Tokyo and Japan.
Not everyone is a fan of sour plums but somehow in this candy, the flavor works!
Put a pack on your shopping list today.
In fact, make it two, or three. These Japanese candies grow on you.
Buy now on Amazon: Koume Sour Plum Candy 3 pack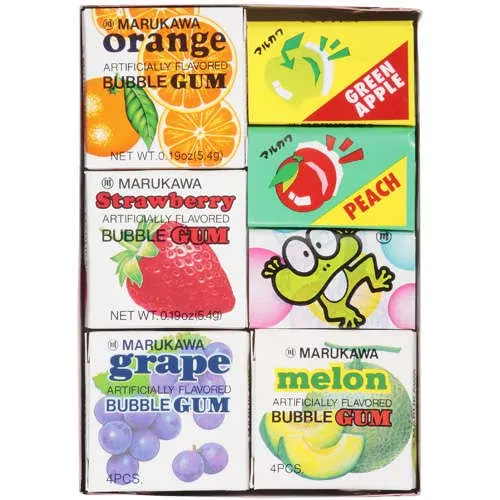 No.20: Marukawa Bubble Gum
These budget Japanese bubble gum candies have a very strong flavor that lasts and lasts, which is why they remain one of the most popular candies in Japan.
Try them in seven different flavors:
orange
strawberry
grape
apple
melon
peach, and
mixed fruits flavor.
Buy now on Amazon: Marukawa gum fruits flavor 8 pack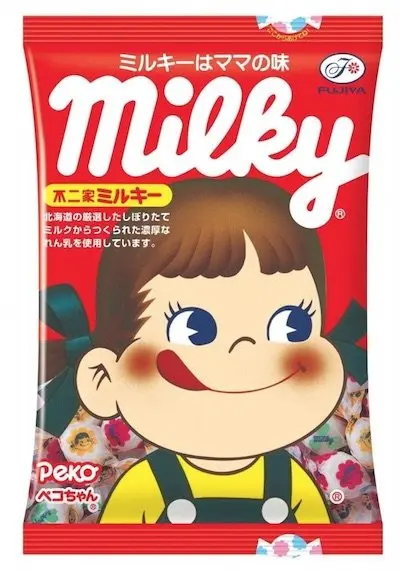 No.21: Milky Japanese Candy
Head to your nearest Family Mart to pick up a pack of Milky Japanese candy.
Look for Peko-chan, the brown haired girl licking her lips, to find this Japanese milk candy.
These milky caramels by Fujiya are soft and chewy and you can't stop at one.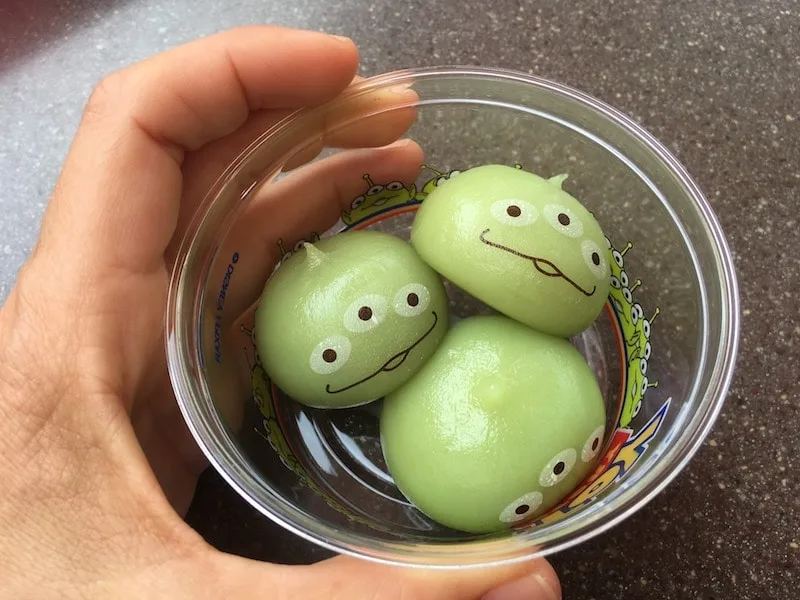 No.22: Mochi Japanese Candy
Mochi is the traditional Japanese dessert candy made from sticky short-grain japonica rice.
The texture is unlike anything we've ever tasted before – it's chewy and stretchy, a little bit like gum or a matzo ball, but better.
Mochi is normally filled with sweet red azuki bean, or rolled in sweet kinako roasted soybean powder, but in places like Tokyo Disneyland, you'll find them filled with custard!
While mochi is traditionally a seasonal food, made in community gatherings as part of the Japanese New Year celebrations , you can find mochi in Family Mart konbini all year round!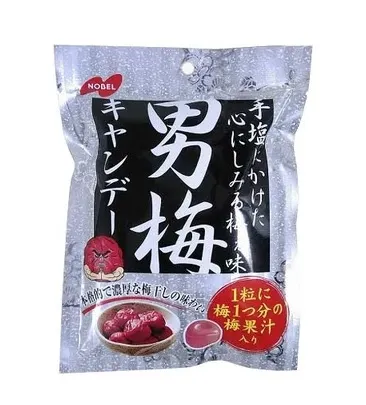 No.23: Otoko Ume Candy
Similar to the LOTTE Koume Plum Candy, this another popular Japanese lolly with a salty sour kick at the start, that mellows to a with sweet plum flavor.
Have a go!
Buy now on Amazon: Nobel Otoko Ume Candy 3 pack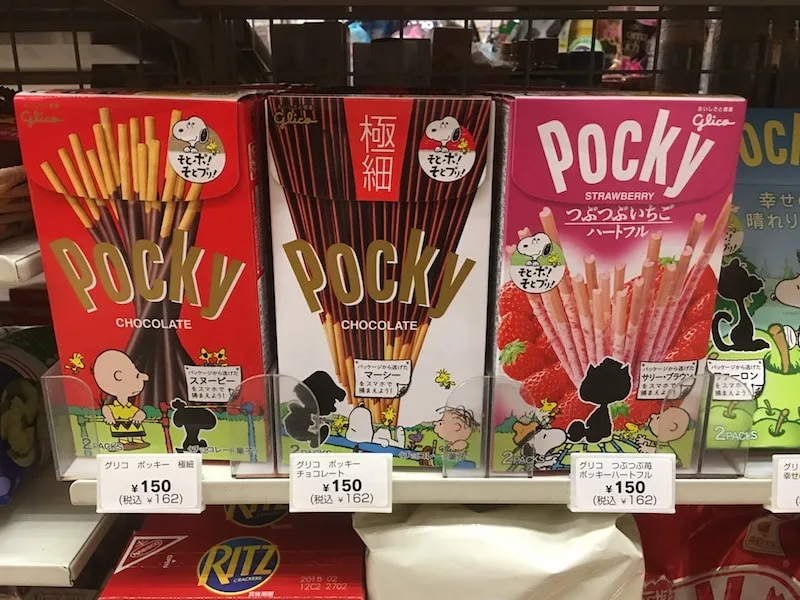 No.24: Pocky Japanese candy
Glico Pocky sticks premiered in 1966 with chocolate coated biscuit sticks.
The Almond Pocky sticks followed in 1971 and Strawberry made their appearance in 1977.
Today, there's Chocolate Banana, Cookies and Cream, Green tea Matcha Pocky biscuit sticks, and so many more flavors!
Today, they are one of Japan's greatest food successes and recently entered the Guiness Book of World Records as "the world's best-selling chocolate-coated biscuit brand."
Try one, try them all.
Fun Fact: National Pocky Day is November 11th!
Buy now on Amazon: 5 flavor variety box of Pocky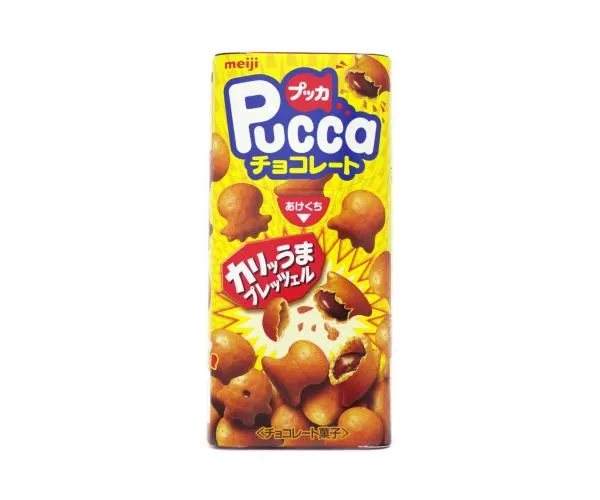 No.25: Pucca candy
Another crunchy pretzel biscuit but this time shaped like a fish!
Find them in flavors such as creamy milk chocolate, strawberry and vanilla.

No.26: Puccho soft candy chews (Puchao candy)
Puccho Gummy Candy are a standout on the shelf because of the shape of their bottle.
Look out for the resealable curvy bottle that looks like four balls stacked on top of one another!
The chewy candies inside are divine.
Try grape and yoghurt, melon soda and ramune, or cola and lemon flavors!
You can also buy Puchao sticks of candy.
Buy now on Amazon: Pack of four Puccho soft candy

No.27: Ramune Candy
The best selling Japanese candy that has all the sweetness and freshness of traditional Japanese soda.
Buy now on Amazon: Morinaga Candy Ramune Soda (20 pack)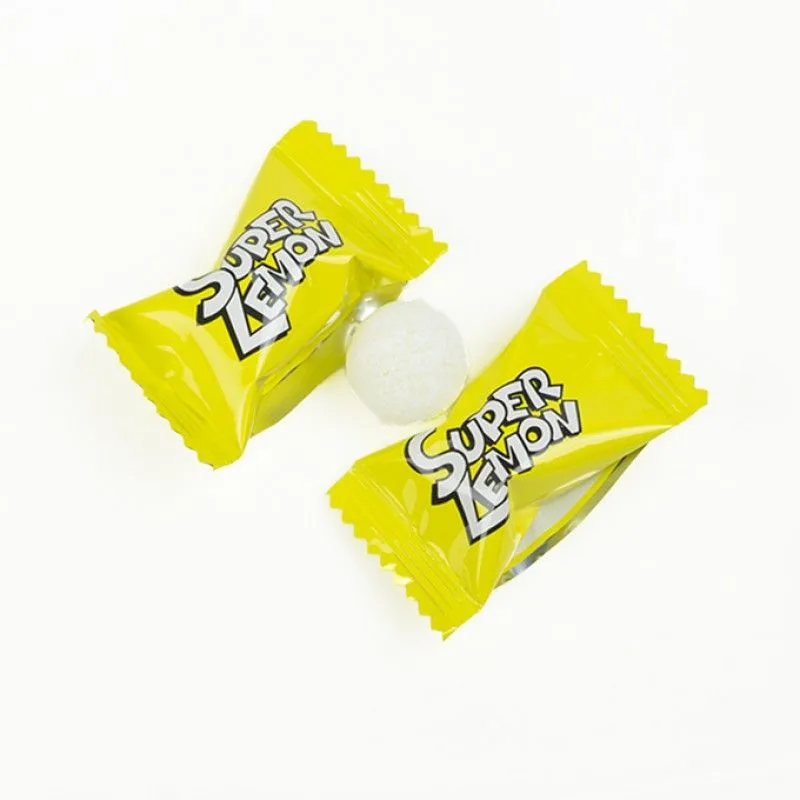 No.28: Super Lemon Candy!
These Japanese sour candies are for those with a superpower of being able to handle super sour flavors!
Just thinking about this Japanese lemon candy makes my mouth water.
Thankfully, it doesn't take long to suck off the super sour powder coating and get to the prize of the sweet lemon candy inside.
Buy now on Amazon: Nobel Super Lemon Candy 3 pack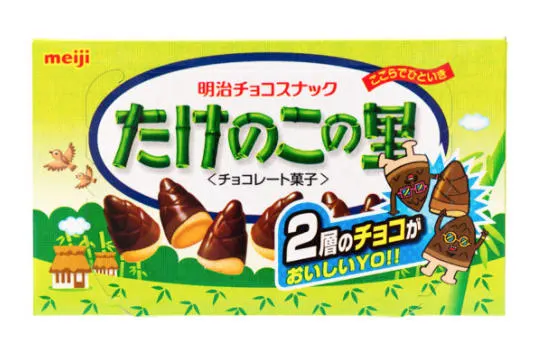 No.29: Takenoko No Sato biscuits
Another favorite of small children especially, these bamboo shoot shaped biscuits are covered with a chocolate coating.
Cute to boot!
Buy now on Amazon: Takenoko no sato choco snack 3 pack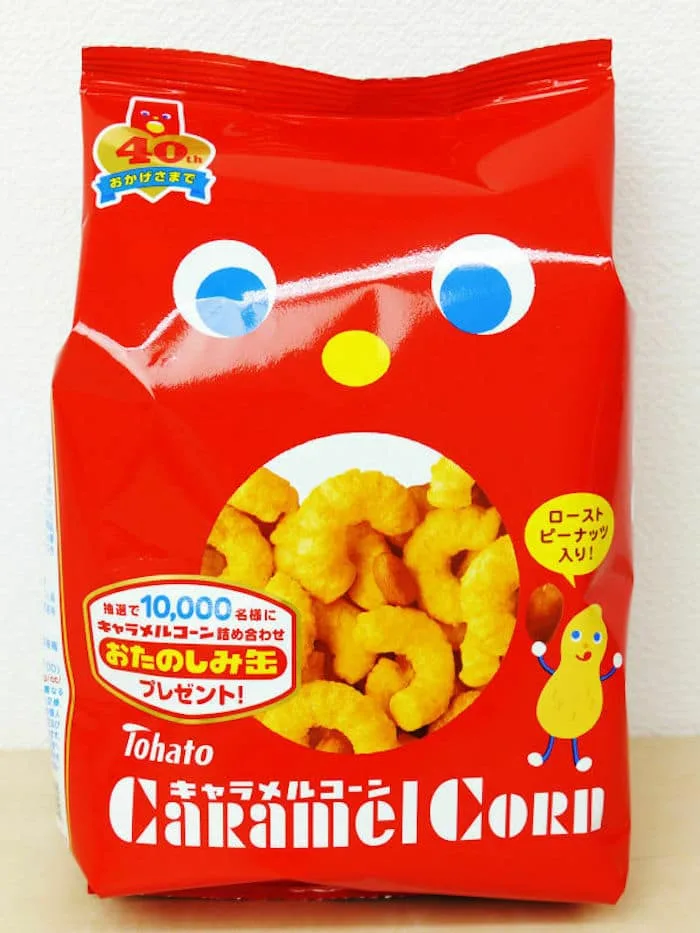 No.30: Tohato Caramel Corn
Buy a bag of these toasted caramel corn snacks with a caramel glaze combined with a roasted peanut flavor.
They are delicious!
Buy now on Amazon: Tohato Caramel Corn original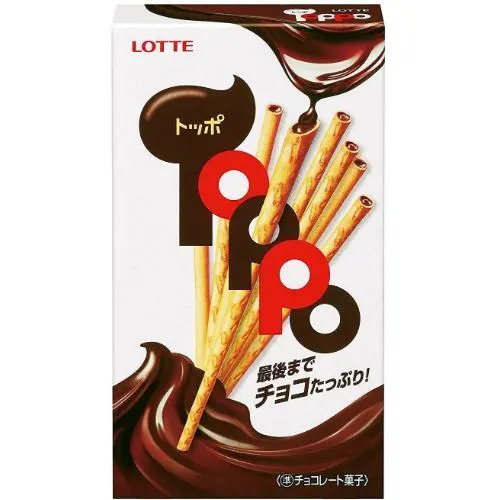 No.31: Toppo sticks
Just like an inside-out Pocky stick!
These bread stick wafers by LOTTE Ninjapo are filled with a chocolate, vanilla, or matcha creme.
Buy now on Amazon: Japanese Toppo chocolate snacks 5 pack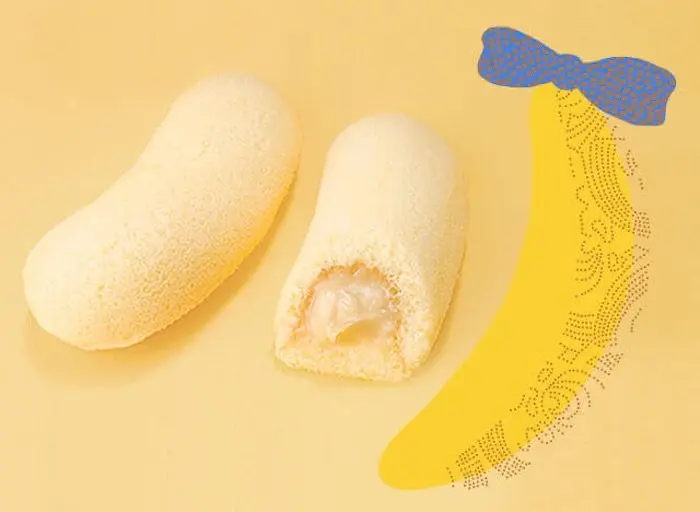 No.32: Tokyo Banana Miitsuketa
Tokyo Banana is one of Japan's most popular boxed gifts of Japanese candy to take as a gift when visiting family and friends.
This banana shaped steamed sponge cake has a cream custard filling made from banana puree.
But if you are lucky, you'll find exclusive limited edition Tokyo Banana flavors including Tokyo Choco Banana, Tokyo Banana Caramel, and ones that are stamped with unique pictures!
Buy now on Amazon: Tokyo Banana Kit Kats! (15 pack)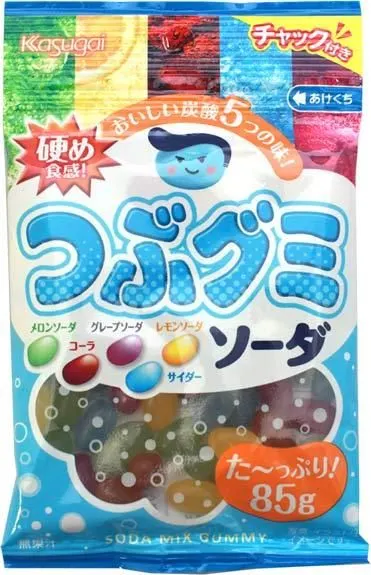 No.33: Tsubu Gummies
Tsubu Gumi jelly beans by Kasugai are for "gummiholics"
Look out for the pack of 5 soda flavors – cola, white soda, pop, grape soda, and energy drink.
These are the best of Japanese drink flavors in a candy!
Buy similar on Amazon: Kasugai Gummy Party Mix 6 flavors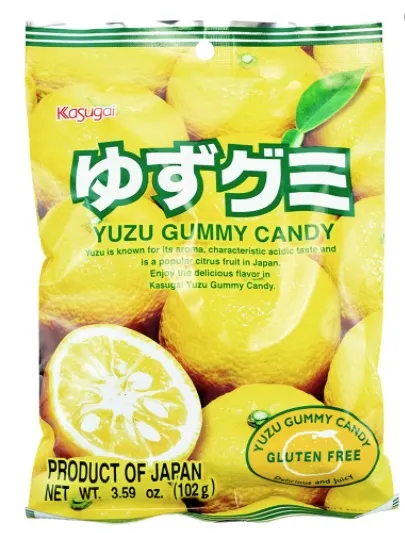 No.34: Yuzu Gummy Candy
These yuzu flavored candies taste like the citrus fruit tree they are named for – a little bit lemon, a little bit lime, a little bit mandarin.
These chewy Japanese gummy candies are individually wrapped so you don't ever have to be without one nearby.
Buy now on Amazon: Kasugai Yuzu gummy candy 3 pack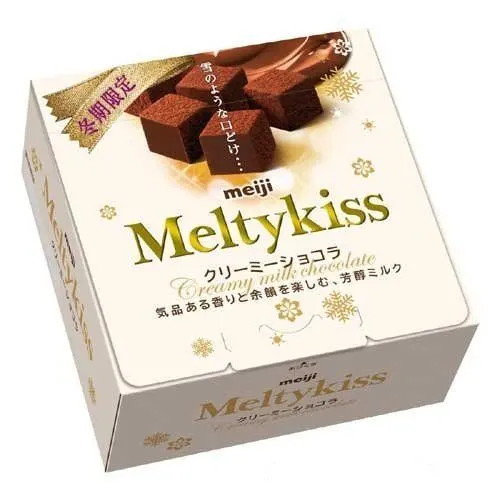 READ OUR GUIDE TO BEST JAPANESE CHOCOLATES!
Meiji chocolate bars, Dars chocolate bars, and Royce chocolates don't get a mention here.
But that's because you can read our guide to Japanese chocolate snacks.
There's so many Japanese chocolates to list, they need their own story!
Looking for more Japanese snack ideas?
Click the links in blue below for more Tokyo food shopping ideas.