INSIDE: Roam the Gnome's Ultimate List of The Best French Toy Brands
Heading to Paris sometime soon?
Researching the best French toy brands and things you can buy in Paris for souvenirs for kids?
Here's a helpful guide to design-friendly and award winning French toy brands you'll find throughout Paris and France.
Take a look.
Disclosure: This article contains affiliate links. If you make a purchase after clicking on one of these links, we may receive a small commission at NO extra cost to you.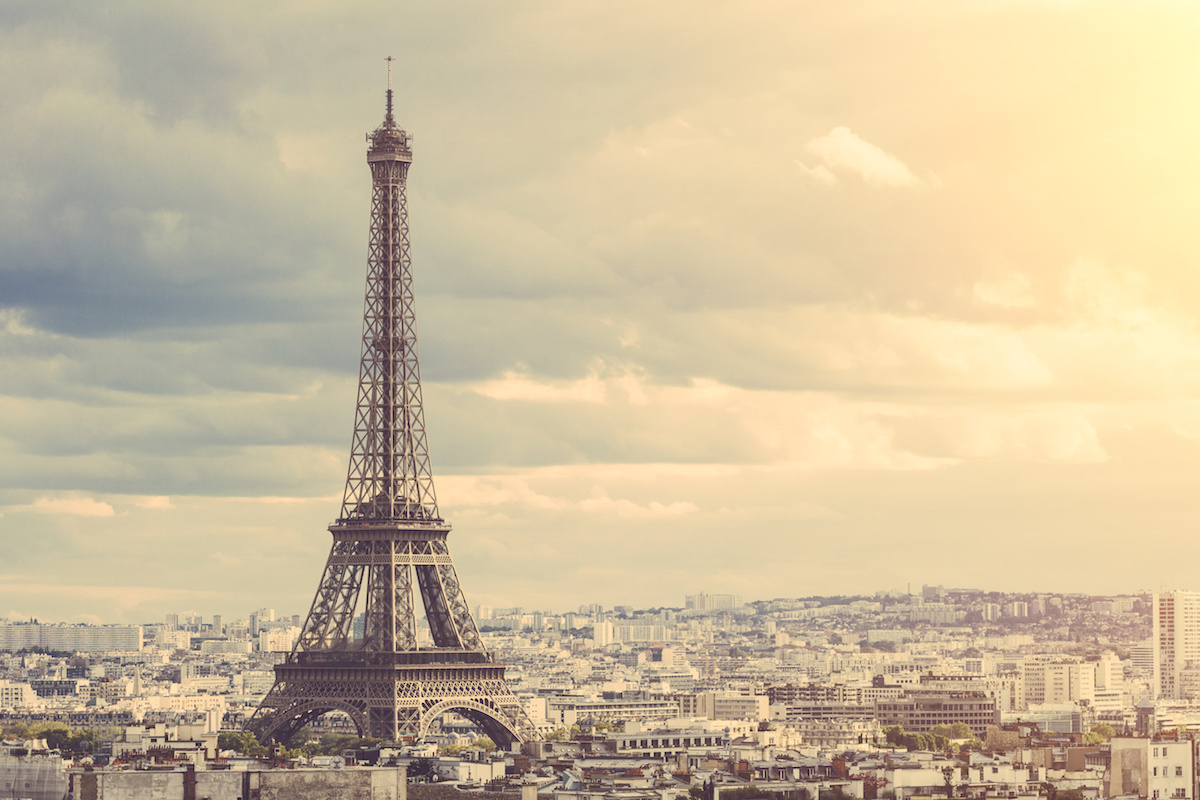 BEST FRENCH TOY BRANDS IN STOCK
Correct at time of publication on Roam the Gnome. Please check with venue for updates. We apologise in advance if there have been any changes we are unaware of. All prices in Euro, unless otherwise stated
We've listed the most popular French toy brands, in no particular order.
Plus, a list of where to buy French toys in Paris at the bottom of the post.
These European toy brands are beloved by children, parents and grandparents all over the continent.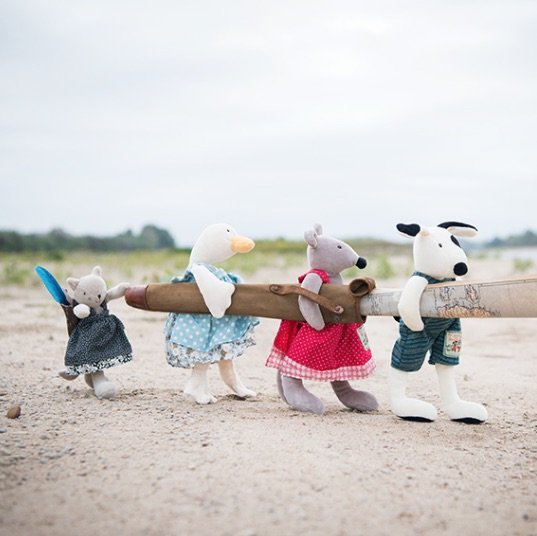 Image credit: Moulin Roty
TOP 11 FRENCH TOY BRAND OVERVIEWS
No.1: Moulin Roty Toys (French Soft Toys)
Looking for French soft toy brands?
These French baby toy brand toys are as stylish as they are cuddly.
Who can resist a Moulin Roty doll?
There's no mistaking Moulin Roty design French baby toys.
The natural hued colors take inspiration from the colors of plant dyes, and the simple but elegant designs are a standout.
Moulin Roty French toys also sell a range of wooden toys for toddlers including:
stackable puzzles
gorgeous puzzles in refined colours
shape boxes
pull-out toys (pull along toys)
teethers
wooden musical instruments
wooden fishing games
toys for the pram, and
rocking horses.
Buy now on Amazon: Moulin Roty Ballerina Mouse Valise (Trunk Set)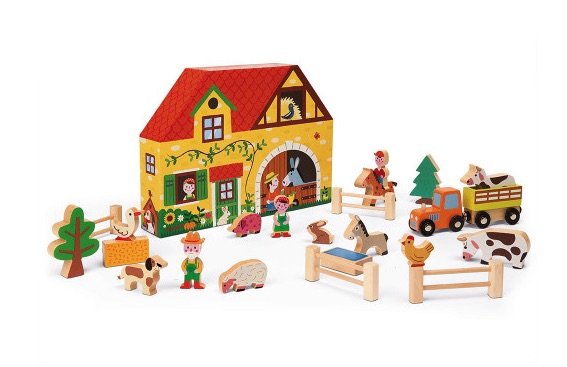 No.2: Janod toys
Janod is a French toy company specialising in the creation of traditional French toys and games from wood and cardboard for kids from one to seven years old.
Look for:
ride on toys
play kitchens
Bikloon bikes and vintage balance bikes
magnetic games
doll house set ups for little ones
shopping cart toys
musical toys
wooden puzzles, stackers
trains and vehicles
pretend play toys
"small world" play toys including Farm Set (pictured above) that allow creativity and imagination to blossom
art and craft kits including sand art, scratch art, stamping, sewing, knitting, lacing, wall stickers, jewellery and bead kits
Where are Janod toys made?
The creative team is made up of 15 people and is based in the Jura region in eastern France. The Janod toy designs are imagined and developed in France.
Despite intensive research, there is no mention of where the toys are made in France on their website.
Unfortunately, this means the toys are most likely made outside of France soil. Most modern day toy manufacturers work with factories in China or Asia to bring their toys to market.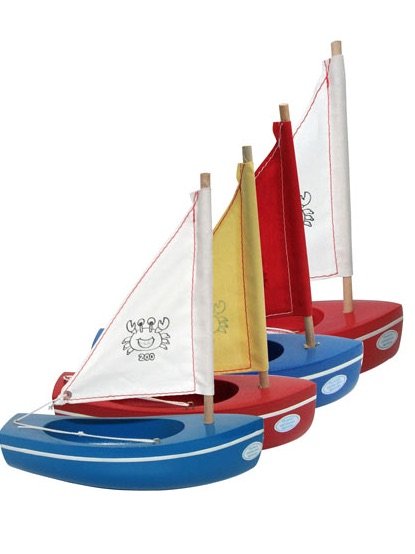 Image credit: Tirot Company
No.3: Handmade Tirot Boats from French Toy Shop in Brittany
This French company makes superb wooden sailboats that really sail for beach outings, parks, and ponds.
Approximately 13 000 boats, both dinghies and yachts, go out every year from factory to be sold.
They are stocked in both France and abroad in more than 250 stores.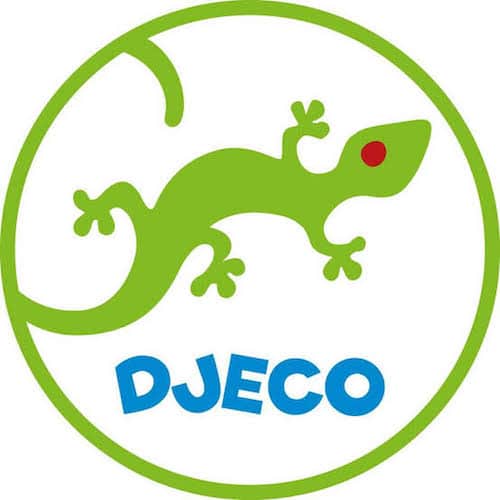 No.4: Djeco Toys
A family business, passed down from mother to son, Djeco toys was started in 1954 by Véronique Michel-Dalès, in her quest to develop educational games.
In 1989, her son, now all grown up, took the reins and reimagined the company for the modern world.
They've since added:
educational toys
wooden and cardboard jigsaws
wooden toys
board games
card games
stationery
decorative products such as umbrellas and toy tents
music boxes
height charts, and
craft kits.
Take a look at the DJECO tap tap game vehicles.
It's a fabulous indoor game on a rainy day.
Djeco toy brand products are now sold in over 60 countries around the world, and at home in Paris at the Louvre.
PS: Djeco means 'gecko', the lucky lizard, the company logo.
READ MORE: The Ultimate Guide to the LOUVRE for Kids (when to go, what to see and do)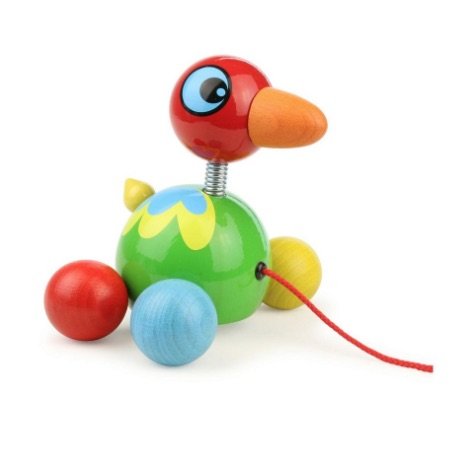 No.5: Vilac Toys
Vilac infant toys started in 1911 in the village of Moirans-en-Montagne, the French toy capital.
Creator Narcisse Villet opened a small artisanal workshop for wood turning called "Maison Villet" and it was here, that the range of turned and lacquered wooden toys were born.
French toys for babies
Find:
pull toys including Baby Island Bird (pictured above) and Baby Ladybug
early learning games
first cars
ride on toys including this Vilac Metal Car in white
rockers
push along trolleys
building blocks of natural wood
natural wood jump ropes
croquet games
Jokari game (paddleboard)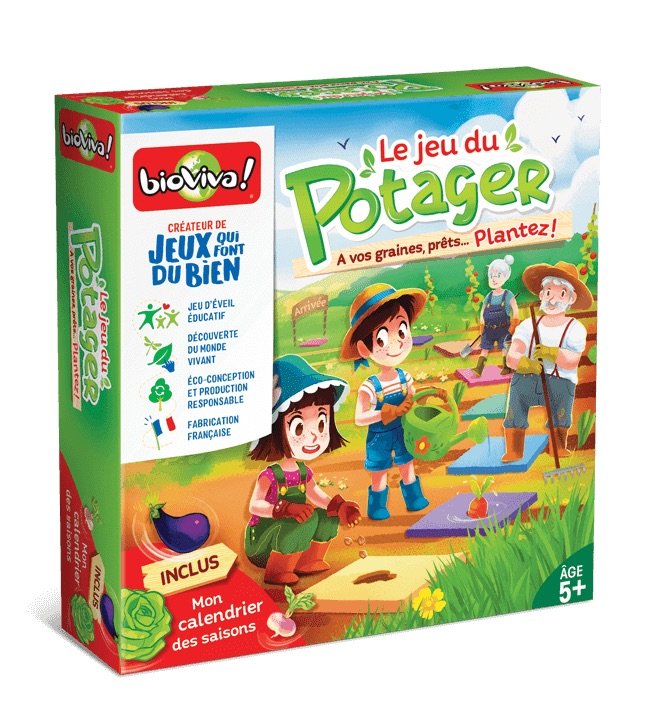 No.6: Bioviva French Toy Shop
Bioviva is a French company that has a passion for nature and the environment.
They stock:
Nature Challenges
Classic games
Cooperative games
Science games to develop thinking skills
Early learning games to help kids discover the seasons and the world
Montessori games
Games to help with social skills
Buy now on Amazon: Bioviva Board Game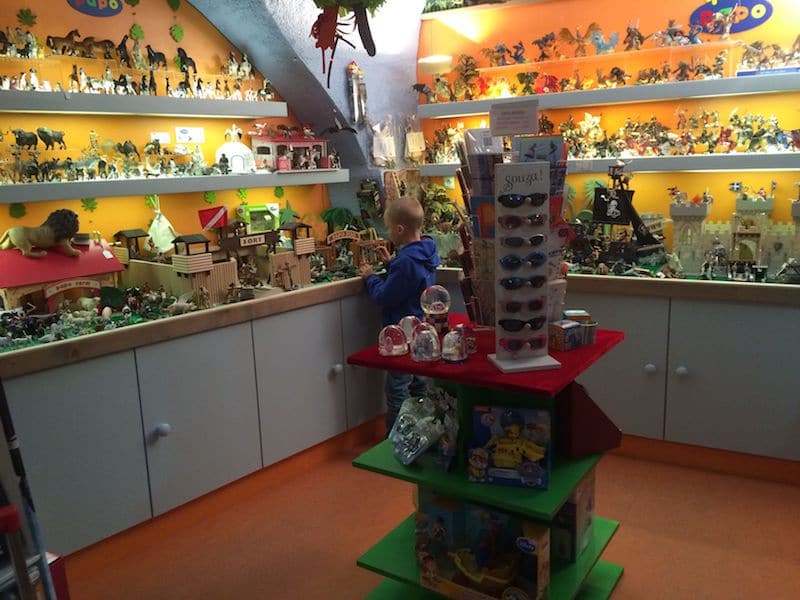 No.7: PAPO French Toys – plastic figures and accessories
PAPO toys originated 25 years, and to date, they are now the designers of over 600 items, animals or characters organized in 12 ranges.
Each Papo figurine has been designed in France, and individually hand painted to meet the expectations of PAPO collectors around the world.
You'll find a range of plastic PAPO animals and toys including:
dinosaurs
dogs and cats
fantasy world characters including the Wizard
farm yard friends
historical characters
horses, foals and ponies
marine life
Wild Animal kingdom with African animals including giraffe, zebra, hippo, elephant, rhino, tiger and cub, lions and camels
Australian, Asian and Indonesian animals, including the magnificent Komodo dragon
pirates
the Medieval era
the Enchanted World with ballerinas, fairies, unicorns, dragons, elves, deer and more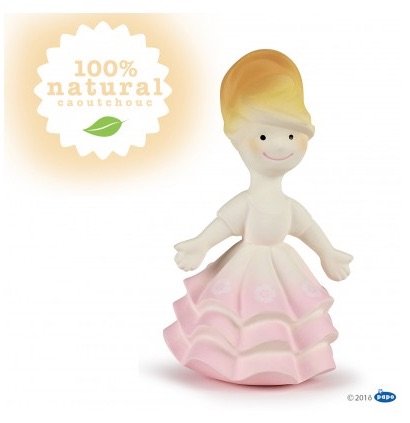 Image credit: Papo Baby
Papo Baby Toys
Papo Baby sets are 100% natural toys for the early years.
Papo toys are made from natural rubber and food-grade paint so children can play with them, AND chew on them!
Buy now on Amazon: Papo Baby Teether (as pictured above)

No.8: Petitcollin dolls
Petitcollin is a French doll factory located in Etain in Lorraine.
All their unique celluloid dolls are hand-crafted using traditional methods used since 1860.
Every Petitcollin doll bears the Petitcollin trademark, an eagles head plus a number that indicates the size of the doll.
Some of the dolls come in their own suitcase with mirror, accompanied with multiple outfits or themed accessories such as hairbrush, dryer, hair barrettes and scrunchies.
Buy now on Amazon: Petitcollin Baby Doll Delia in suitcase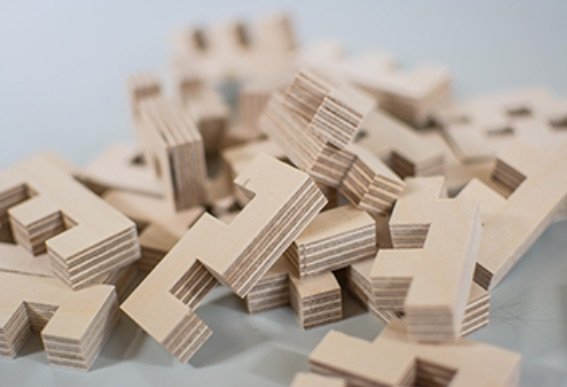 Image credit: Cloze Toys
No.9: Cloze Wooden Toys
Creators of 2D and 3D wooden construction kits that make:
Robots
Elephants
Dogs
Giraffes
Reindeer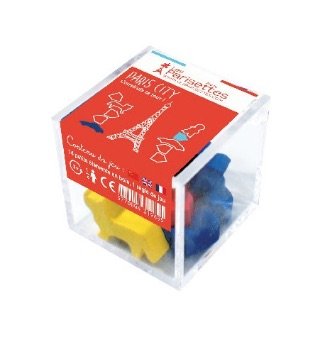 Image credit: Les Parisettes
No.10: Les Parisettes souvenirs
Les Parisettes is a French souvenir brand.
Everything is styled on the theme of Paris and particularly on the Eiffel Tower.
Designed and made by French and Parisian designers, you'll find:
homewares – pillows, linen, ornaments, works of art
kitchen accessories – linen, tableware, essentials, lunch boxes, totes, lunch bags
Parisian food gifts – biscuits, bonbons
leather goods
jewelry, scarves
mirrors
snowglobes
clothes, t-shirts
games including the Paris City game (pictured above)
phone covers
keychains
Eiffel Tower magnets
travel goods – luggage tags, umbrellas
Eiffel Tower souvenirs including scissors, toothbrushes, bottle openers
stationery – notebooks, pens, memos, office goods
Visit the store in person at 10 Rue Gramme, 75015 Paris, France.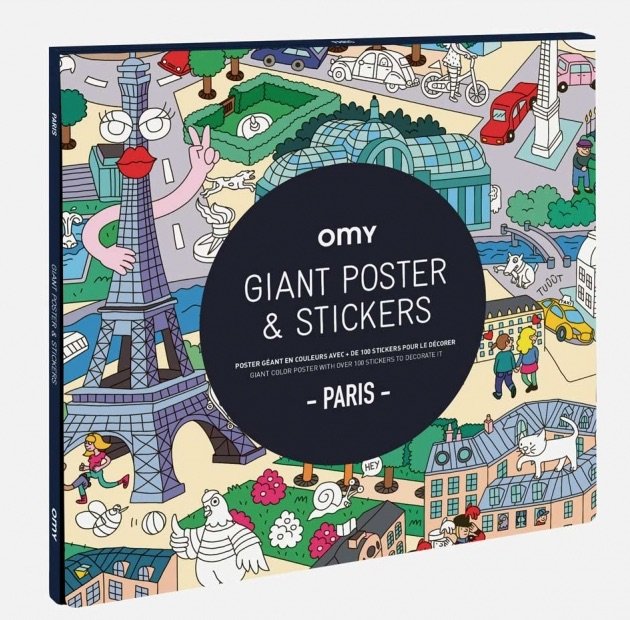 Image credit: OMY
No.11: OMY decals
OMY is a young French design brand birthed in 2012 by Parisian designers, Elvire Laurent and Marie-Cerise Lichtlé.
OMY sells a range of beautifully designed artisan products sold in more than 65 countries around the world.
You'll find French wall stickers and posters including:
glow in the dark stickers
food stickers
city stickers
fashion stickers
coloring stickers
Check out the Giant Paris poster and stickers pictured above. It's a top shelf gift for a traveller.
OMY also stocks creative activities including:
air toys
pocket coloring and pocket games
coloring placemats
bracelet making kits
scratch off posters
felt pens
gel crayons
And things for the home including placemats, posters and wallpaper.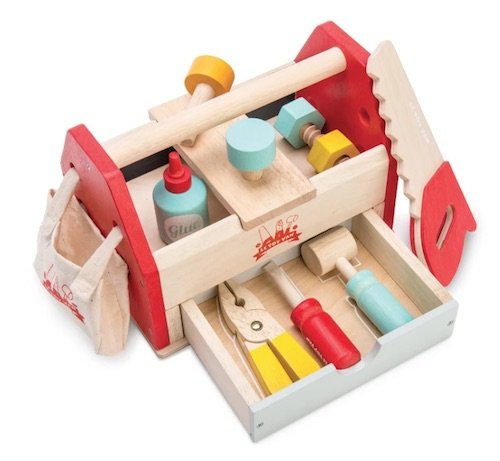 Bonus: Le Toy Van
Le Toy Van is a range of imaginative wooden toys designed in London with love and a touch of French je ne sais quoi.
In business for almost 25 years, this English brand is often mistaken for being French.
Their toys are cute, ethically made, and uniquely designed but NOT an authentic toy brand from France unfortunately.
Even though they SOUND French!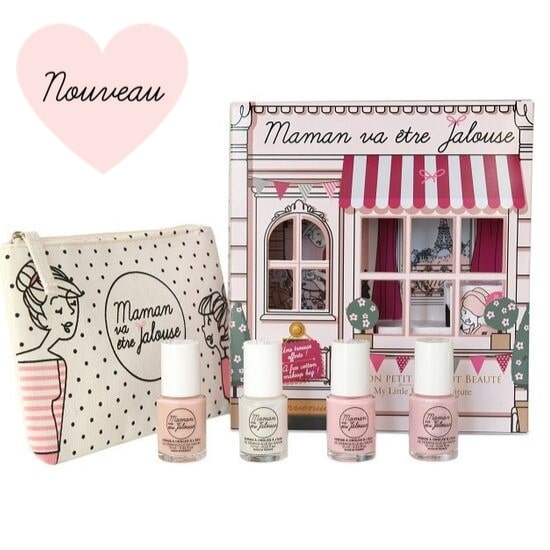 Image credit: Mamanvaetrejalouse
FRENCH COSMETIC BRANDS FOR KIDS
No.1: Maman va être Jalouse Beauty & Makeup Goods
Maman va etra Jalouse translates to "Mama will be jealous"
This French beauty company makes little girls makeup, and cologne.
Their range includes:
water based nail varnish
lip roses and lipsticks
eyeliner
beauty cases
eye shadows
eau de toilet
Check out the Peach Milk water nail polish!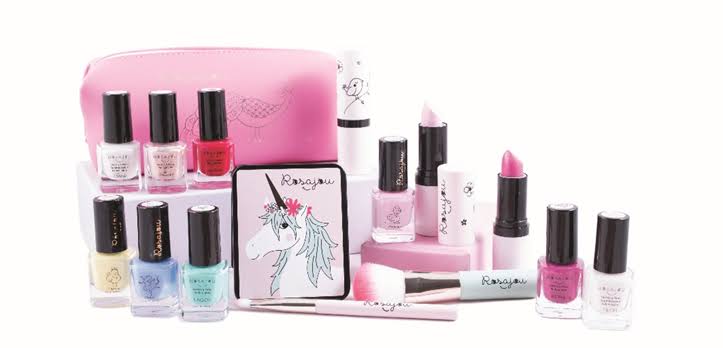 No.2: Rosajou makeup
Rosajou makeup is the first makeup brand specially dedicated for kids.
They sell a range of beauty products for the face, nails, skin, plus Rosajou gift sets and accessories.
Find:
lipsticks
makeup brushes
pocket mirrors
makeup face powder
nail polish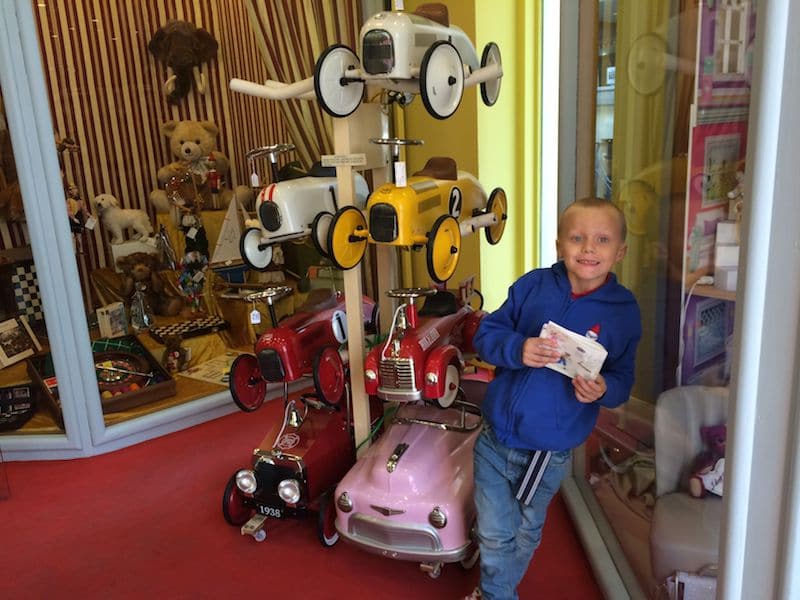 WHERE TO BUY TOYS IN PARIS?
These are the best shops in Paris to buy toys & children's goods.
Take note.
No.1: Once Upon a Time Toy Store in Paris
Once upon a Time Toy Shop in Paris takes pride in stocking a huge range of French brands of toys, including these ones above.
Hot Tip: Take a sneak peek at our Insider's Guide to Once Upon a Time Toy store in Paris for address, directions, opening hours, and more.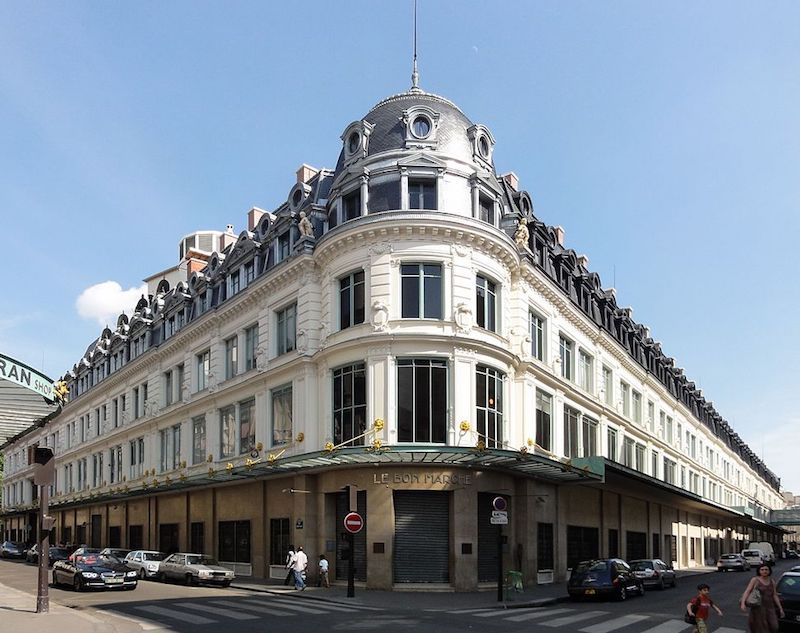 No.2: Le Bon Marche Department Store
Paris's oldest department store has a range of upmarket French toy brands in stock inside the new Children's Zone on the 3rd floor of Le Bon Marché Rive Gauche.
There's a huge range of Paris books for kids, as well as French soft toys too.
Visit for an immersion in Paris style!
Address:
24 Rue de Sèvres, 75007 Paris, France
Opening hours:
Monday to Sunday from 11 a.m. to 7 p.m.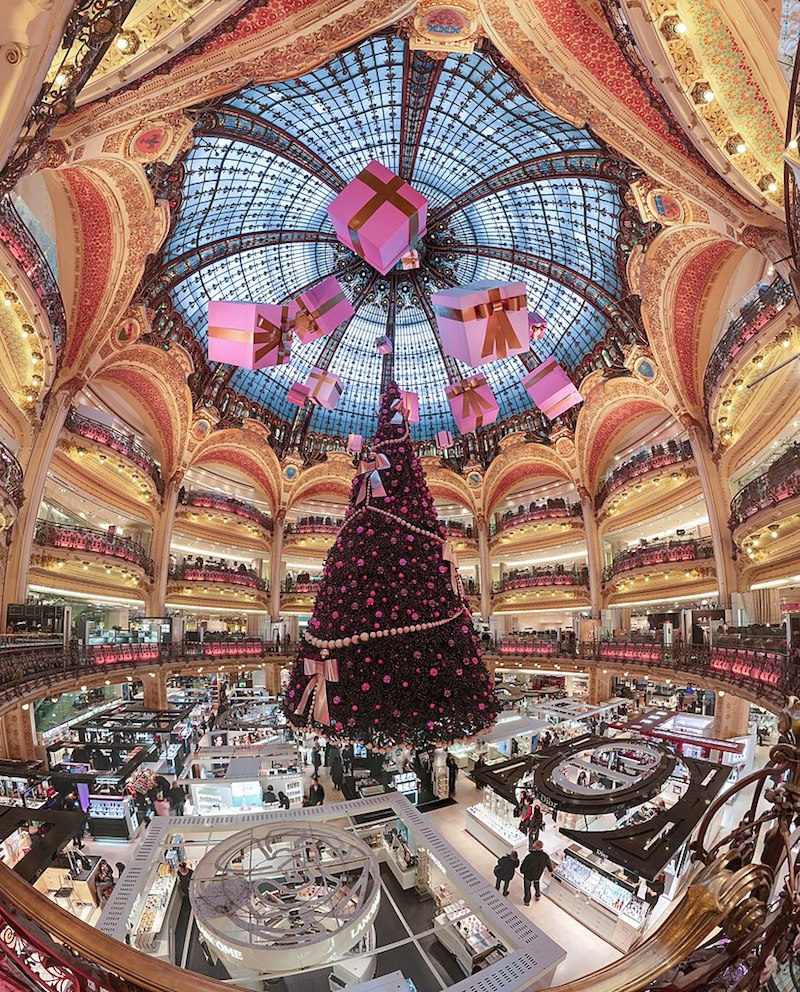 Image credit: Benh LIEU SONG via Wikimedia CC by-SA 3.o
No.3: Galeries Lafayette
This upmarket Department Store in Paris stocks:
PAPO
Vilac toys
Haba toys
Janod toys and games
Moulin Roty soft toys from France
As well as a range of toys from brands including:
LEGO
Ravensburger puzzles
Mattel
Lilliputiens
Smoby, and
Schleich.
Galeries Lafayette is another French department store for those who adore Paris styling.
Address:
Galeries Lafayette flagship store is located at 40 Boulevard Haussmann Paris France 75009
Opening hours:
Coupole, Homme and Maison stores: Monday to Sunday 11 am to 7 pm
Gourmet store: Monday to Saturday 10 am to 7 pm and Sunday 11 am to 7 pm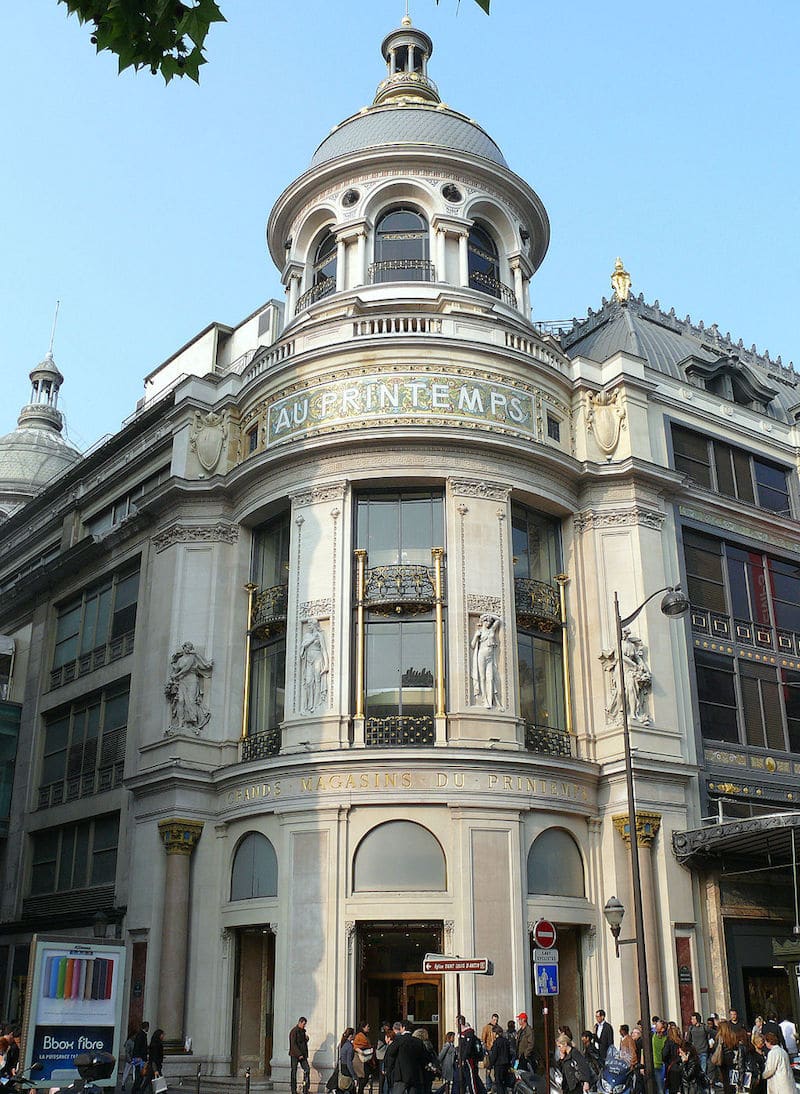 Image credit: MOSSOT by Wikimedia CC BY 3.0
No.4: Printemps in Paris
Printemps du Louvre has a new children's section with a special baby gifts area.
It's the spot to buy comfort toys and traditional gifts for babies and young ones from 10 brands including the much loved:
Moulin Roty
Histoire d'ours, and
Doudous et compagnie.
Address:
Carrousel du Louvre, 99 Rue de Rivoli, 75001 Paris, France
Opening hours:
Monday to Saturday from 9.30am to 8pm
Thursday from 9.30am until 8.45pm.
Sunday from 11am to 7pm.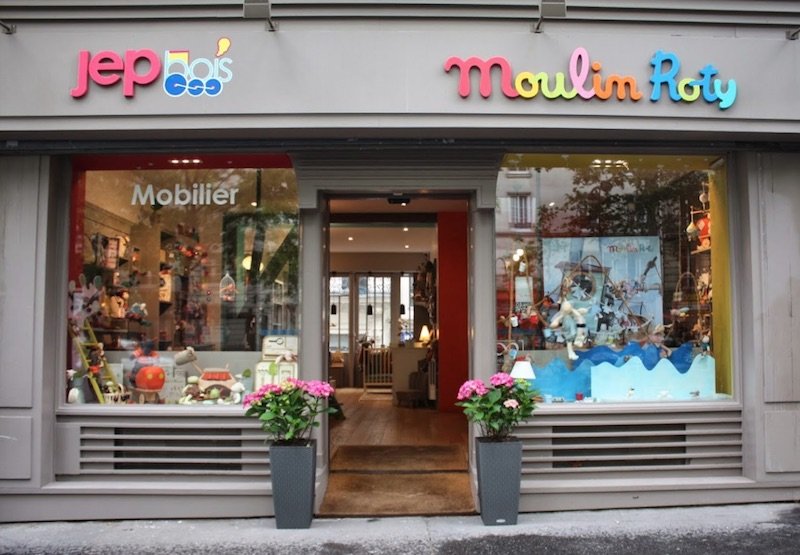 Image credit: Moulin Roty Paris
No.5: Moulin Roty Store in Paris
Head straight to the Flagship Moulin Roty toy store in Paris for the whole collection of Moulin Roty toys in one place.
Address:
Visit the two level store of Moulin Roty Paris at 22 Boulevard des Filles du Calvaire, 75011 Paris
Opening hours:
Tuesday to Saturday from 10 a.m. to 7 p.m.
Monday from 10 a.m. to 7 p.m.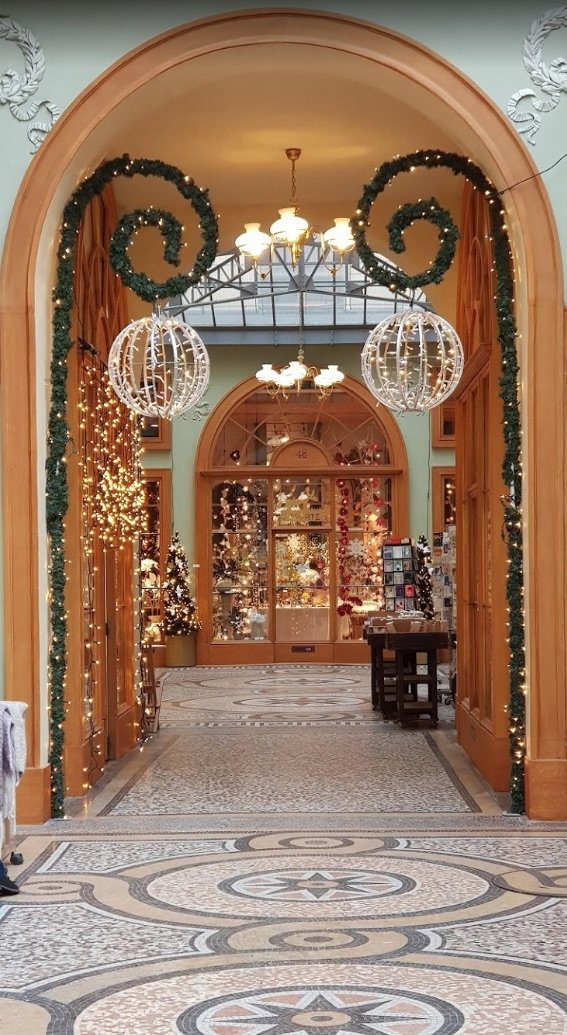 Image credit: Si Tu Veux toy store in Paris
MORE TOY STORES IN PARIS
Check out these French toy store options, and toy boutiques too.
If You Want Toy Store
If you want Toy store (alt: Si Tu Veux toy shop) is 68 Galerie Vivienne, 75002 Paris, France (pictured above)
Amuzilo Toy Shop
Amuzilo toy store at 34 Rue Dauphine, 75006 Paris, France
Tikibou Toy Shop
Tikibou toy store at 33 Boulevard Edgar Quinet, 75014 Paris, France
La Grande Recre Toy Shop
La Grande Récré at 120 Rue d'Alésia, 75014 Paris, France
Pain D'Epices toy store
Pain d'Epices toy shop at 29 Passage Jouffroy, 75009 Paris, France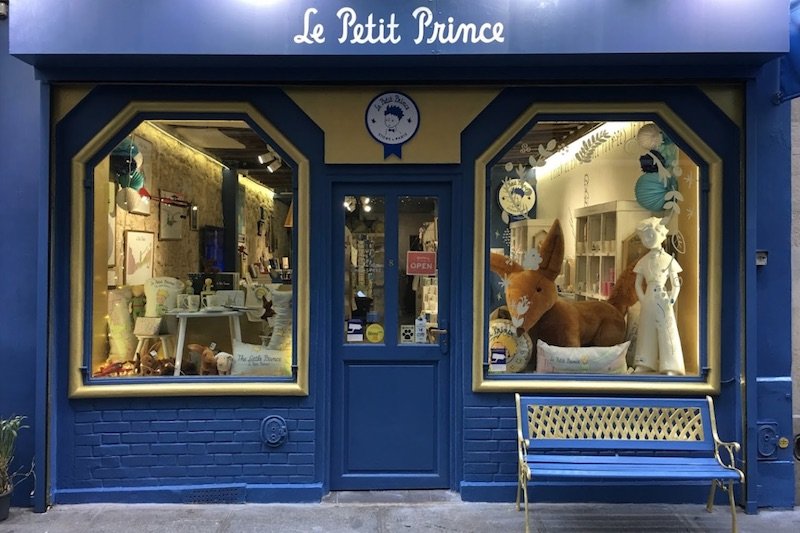 Image credit: The Little Prince Store Paris
Special Mention #1: Le Petit Prince Store in Paris
This stylish shop is a must visit for both Little Prince book fans, & everyone who appreciates French design.
Le Petit Prince shop stocks all the Little Prince themed products including:
Little Prince books
journals
bookmarks, postcards, cards, stationery
mugs, dishes, kitchenware
scarves
T-shirts
stuffed animals, toys
bags and backpacks
Little Prince figurines
Address:
8 rue Grégoire de Tours, Saint-Germain-Des-Prés
The Official Little Prince Store in Paris is open from:
Monday to Saturday, 11am to 7pm.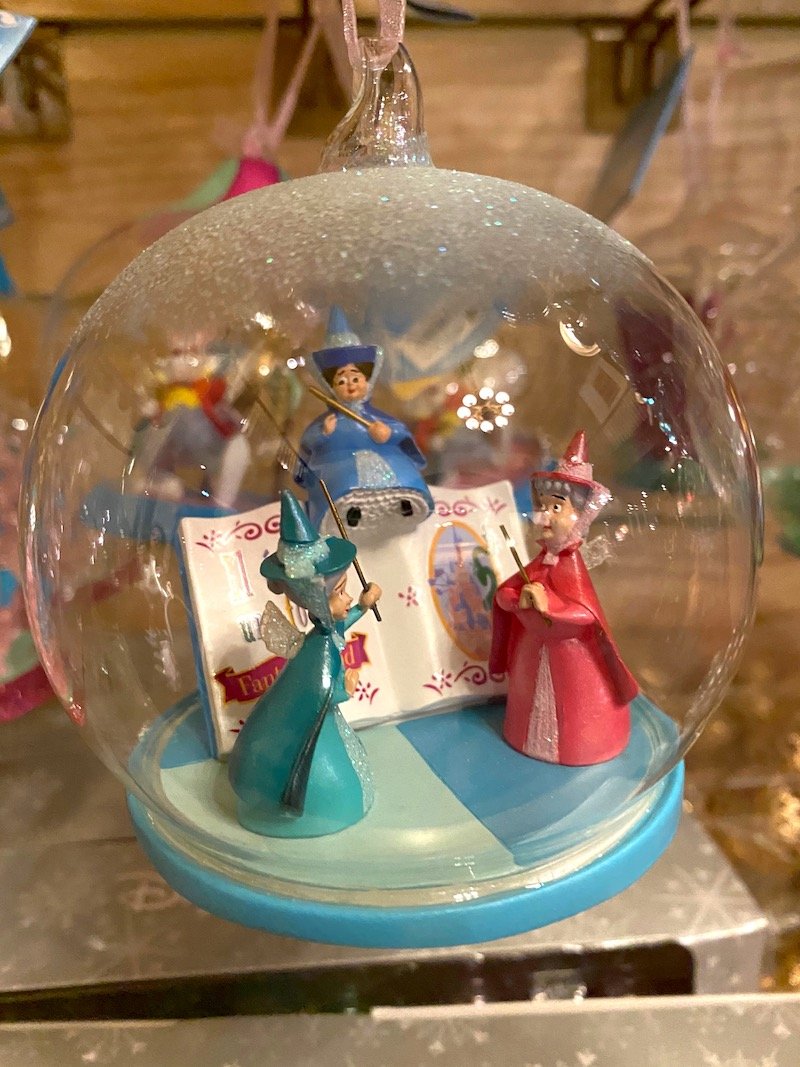 Special Mention #2: Disneyland Paris
If you are shopping in Paris, and are a Disneyland fan, then do not miss the elegant and magical stores in Disneyland Paris.
Truly!
It is THE place to buy a genuine authentic Disney Princess Tiara – not a shabby, plastic thing but the REAL DEAL.
(Hot tip: Head to Merlin L'Enchanteur for MORE of these kinds of enchanting treasures!)
There's also magnificent Disneyland Paris Christmas ornaments to purchase – inside the most beautiful DLP Christmas shop positioned inside the Sleeping Beauty castle itself!
Children will adore the La Chaumiere des sept Nains store too – it's the "Home of the Seven Dwarves", filled with all kinds of ornamental Disney Princess dress up costumes like you've never seen before.
RELATED: The Complete Guide to Disneyland Paris souvenirs & gifts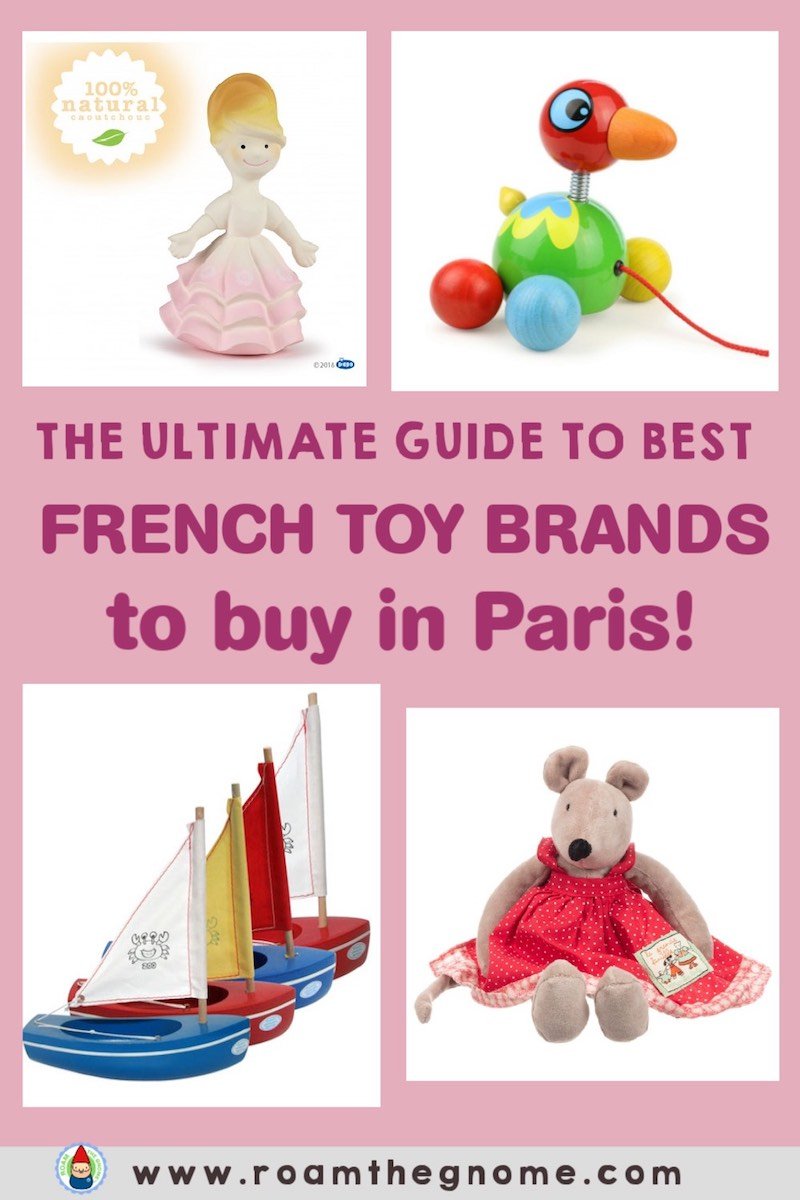 Looking for MORE SUPER DOOPER FUN things to do with Kids in Paris?
Click the links in blue below for more Paris vacation fun.