INSIDE: Everything you've ever wanted to know about the Best French Toy Brands – Updated in 2021.
Heading to Paris sometime soon?
Researching the best French toy brands and things you can buy in Paris for souvenirs for kids?
Here's a helpful guide to design-friendly, award winning and popular toys in France.
Take a look.
Disclosure: This article contains affiliate links. If you make a purchase after clicking on one of these links, we may receive a small commission at NO extra cost to you.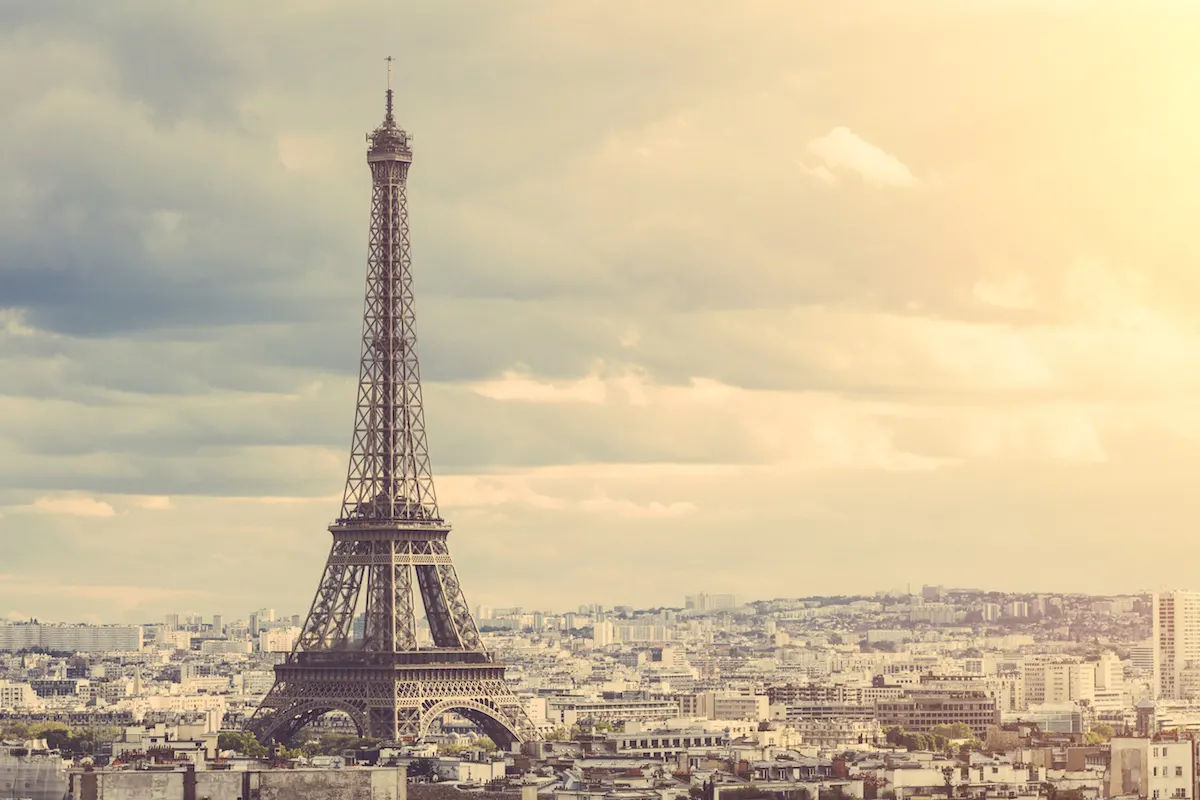 BEST FRENCH TOY BRANDS IN STOCK
Correct at time of publication on Roam the Gnome. Please check with venue for updates. We apologise in advance if there have been any changes we are unaware of. All prices in Euro, unless otherwise stated
We've listed the most popular French toy brands, in no particular order.
Plus, a list of where to buy French toys in Paris at the bottom of the post.
These European toy brands are beloved by children, parents and grandparents all over the continent.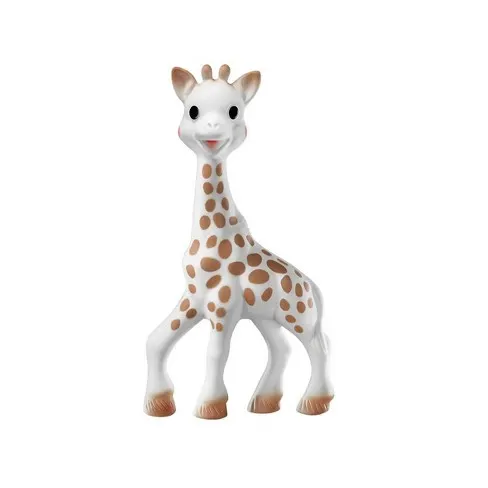 FAMOUS FRENCH TOYS
No.1: Sophie the Giraffe (Sophie la Girafe)
Sophie the Giraffe was first created in 1961, and is a French toy phenomena, often outselling the actual number of babies born in France each year.
She's now recognisable all over the world, and a popular gift for new parents, all wrapped up in a signature box, cute to boot.
Made from natural rubber from the Hevea tree, and food paint, babies love chewing her ears, horns and legs, especially when their teeth are giving them trouble. Little ones also love her squeaky tummy, a reassuringly familiar and reliable sound for babies in these busy, ever-moving lives we live.
It's now possible to buy:
Sophie Birth gift set
Sophie Christmas Gift sets
Sophie touch and music play plush toy
Sophie la girafe foldable book
Sophie la girafe comforter with pacifier holder
Sophie the Giraffe baby on board sign
Sophie the Giraffe ring teether
Sophie the Giraffe plush toys
Sophie the Giraffe hand puppets
More Sophie the Giraffe toys – baby stackers, rattles, pram rattles, bathtub toys, and bath books
There's also Sophie the Giraffe blankets, swaddles and hooded bath towels.
Vulli is arguable, number one of the French baby toys brands.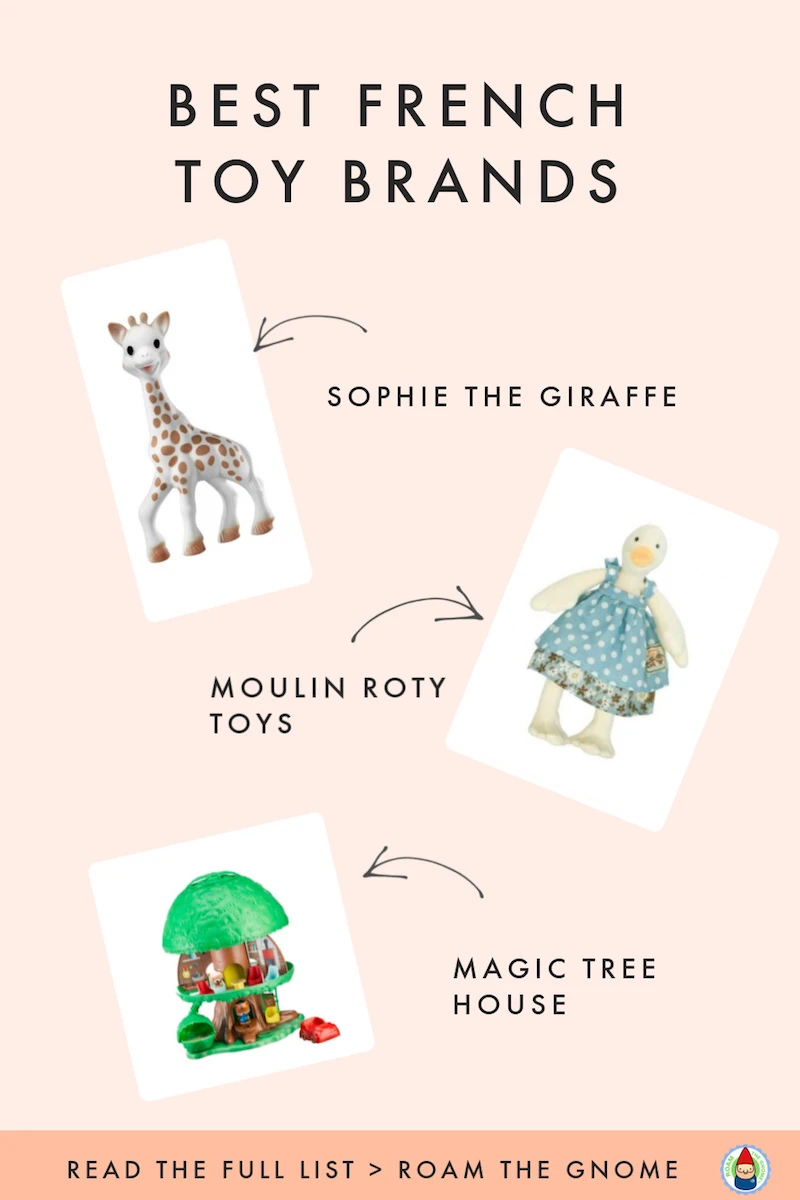 FAQ: Why is Sophie so expensive?
Because she's made in France, instead of offshore in China or Vietnam, so production costs are higher. She's also made from natural rubber, instead of cheaply produced plastic, so you're paying for quality.
FAQ: What is so special about Sophie the giraffe?
Other than the fact she's a cute French toy for babies, her word of mouth success is due to fashionable French mothers falling in love with this in vogue toy. They inadvertently becoming trendsetters, making Sophie a must-have purchase for new babies.
The word quickly spread about the Sophie the Giraffe teether toy and it wasn't long until Sophie reached cult status. Clever marketing and diversification of their product range into other baby goods has helped keep her in the public eye.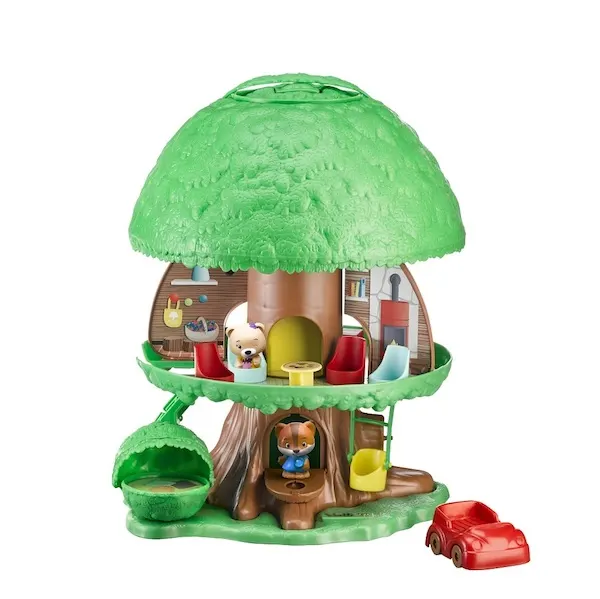 No.2: Les Klorofil Magic Tree House Toy by Vulli
Originally launched back in 1975, and a favorite toy around the world during the 1970's and 1980's, the iconic Klorofil Magic Tree House has been relaunched by French toy manufacturer Vulli. (This the company who makes Sophie la giraffe too).
The Magic Tree by Klorofil opens by pressing the roof to 'pop' it up to reveal five rooms (bedroom, a bathroom, a kitchen, a living room, and a bush cubby house) and a garage for the car.
The most fun thing to do is move the elevator up and down by the crank so the characters can get from downstairs to upstairs!
This is our pick of the best French kids toys!
Inside the Klorofil Magic Tree House Accessories
The Klorofil Magic Tree includes:
two Klorofil character toys – Eliot from the Foxy family, and Ruby from the Browny family
one red car
one swing for playing on
two beds
one table and four chairs
one bench and one armchair
When you've finished playing, store all the toys inside the tree, and carry it from place to place with the handle on top.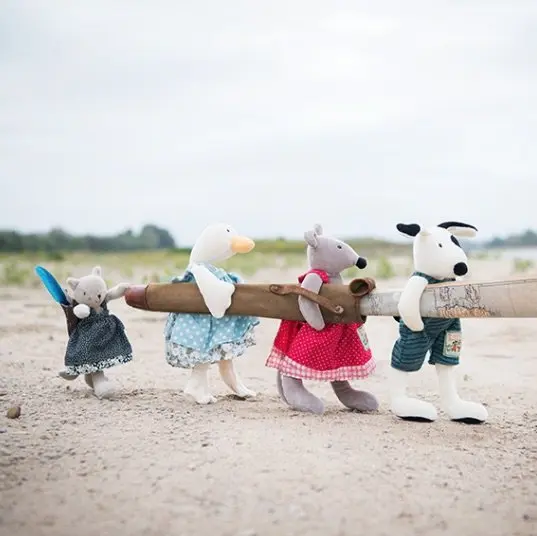 Image credit: Moulin Roty
FRENCH SOFT TOYS
No.3A: Moulin Roty Toys
Looking for French soft toy brands?
These French baby toy brand toys are as stylish as they are cuddly. This French toy maker has been selling the Moulin Roty dolls and toys for more than 40 years!
There's no mistaking Moulin Roty design French baby toys.
The natural hued colors take inspiration from the colors of plant dyes, and the simple but elegant designs are a standout.
Who can resist a Moulin Roty doll?
Buy now on Amazon: Moulin Roty Ballerina Mouse Valise (Trunk Set)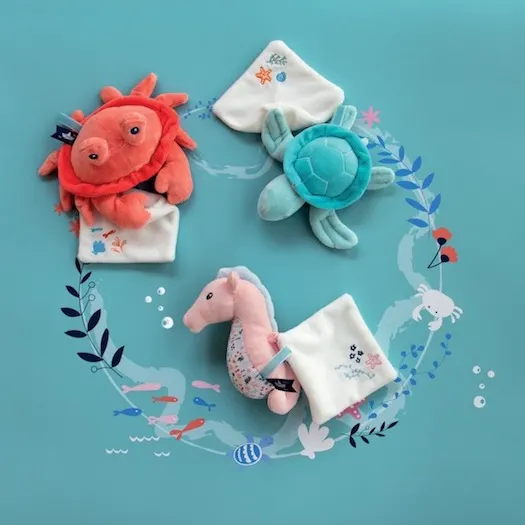 No.3B: Doudou and Company soft toys
Doudou et Compagnie soft toys are another option for beautiful French toy gifts.
They have baby comforters – cute toys that hold a soft page for the baby to tug on.
The blue whale, the Nemo fish, the seahorse, the turtle and the crab are super cute!
They also have sensory soft toys including:
Yoca the Koala
Cherry Rabbit
Cabbage bear
Panda, Unicorn, Bear and Cat dream catchers
Sugar Bunny
Lucie the Unicorn
Tropicool Croco, Hippo and Flamingo
Artikcool Lion
the Mini Zoo pink toys!
Check out the original and iconic flat comforter toys too.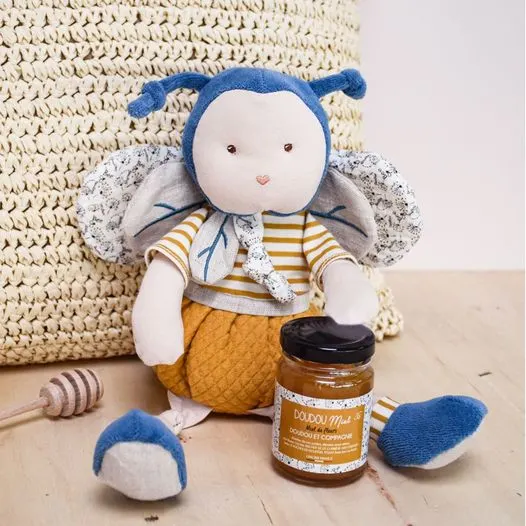 Pollen Organic Bee Soft Toy by Doudou et Compagnie
Their newest creation is this adorable bee doll!
They also have a delightful dolls collection – see below for details.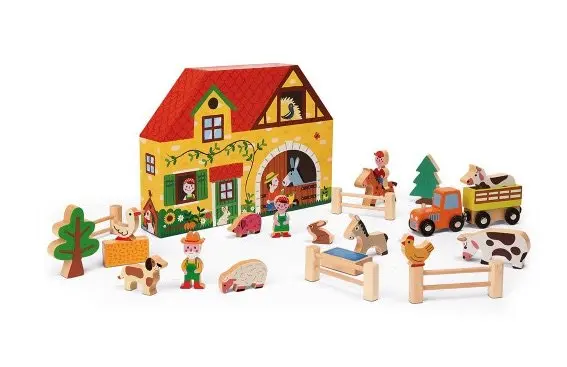 BEST FRENCH TOY COMPANIES
No.4: Janod toys
Janod is a French toy company specialising in the creation of traditional French toys and games from wood and cardboard for kids from one to seven years old.
Look for these French toys and games in their range:
ride on toys
play kitchens
Bikloon bikes and vintage balance bikes
magnetic games
doll house set ups for little ones
shopping cart toys
musical toys
wooden puzzles, stackers
trains and vehicles
pretend play toys
"small world" play toys including Farm Set (pictured above) that allow creativity and imagination to blossom
art and craft kits including sand art, scratch art, stamping, sewing, knitting, lacing, wall stickers, jewellery and bead kits
Where are Janod toys made?
The creative team is made up of 15 people and is based in the Jura region in eastern France. The Janod toy designs are imagined and developed in France.
Despite intensive research, there is no mention of where the toys are made in France on their website, so there's no guarantee these are toys made in France.
Unfortunately, this means the toys are most likely made elsewhere. Most modern day toy manufacturers work with factories in China or Asia to bring their toys to market.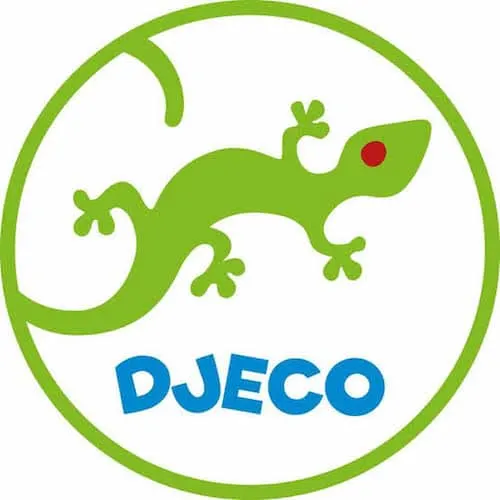 No.5: Djeco Toys
This France toys family business, passed down from mother to son, Djeco toys was started in 1954 by Véronique Michel-Dalès, in her quest to develop educational games.
In 1989, her son, now all grown up, took the reins and reimagined the company for the modern world.
They've since added:
educational toys
wooden and cardboard jigsaws
wooden toys
board games
card games
stationery
decorative products such as umbrellas and toy tents
music boxes
height charts, and
craft kits.
Take a look at the DJECO tap tap game vehicles.
It's a fabulous indoor game on a rainy day.
Djeco toy brand products are now sold in over 60 countries around the world, and at home in Paris at the Louvre.
PS: Djeco means 'gecko', the lucky lizard, the company logo.
READ MORE: The Ultimate Guide to the LOUVRE for Kids (when to go, what to see and do)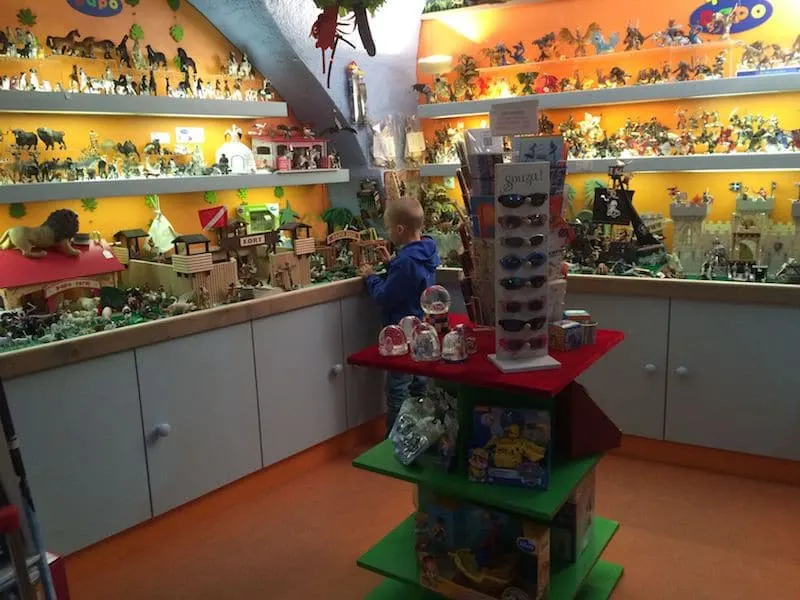 No.6: PAPO French Toys for kids
PAPO toys originated 25 years, and to date, they are now the designers of over 600 items, animals or characters organized in 12 ranges.
Each Papo figurine has been designed in France, and individually hand painted to meet the expectations of PAPO collectors around the world.
You'll find a range of plastic PAPO animals and toys including:
dinosaurs
dogs and cats
fantasy world characters including the Wizard
farm yard friends
historical characters
horses, foals and ponies
marine life
Wild Animal kingdom with African animals including giraffe, zebra, hippo, elephant, rhino, tiger and cub, lions and camels
Australian, Asian and Indonesian animals, including the magnificent Komodo dragon
pirates
the Medieval era
the Enchanted World with ballerinas, fairies, unicorns, dragons, elves, deer and more
You'll find these French childrens toys in just about every Paris home!

FRENCH DOLL BRANDS
No.7A: Petitcollin dolls
Petitcollin is a French doll factory located in Etain in Lorraine.
All their unique celluloid dolls are hand-crafted using traditional methods used since 1860.
Every Petitcollin doll bears the Petitcollin trademark, an eagles head plus a number that indicates the size of the doll.
Some of the dolls come in their own suitcase with mirror, accompanied with multiple outfits or themed accessories such as hairbrush, dryer, hair barrettes and scrunchies.
Buy now on Amazon: Petitcollin Baby Doll Delia in suitcase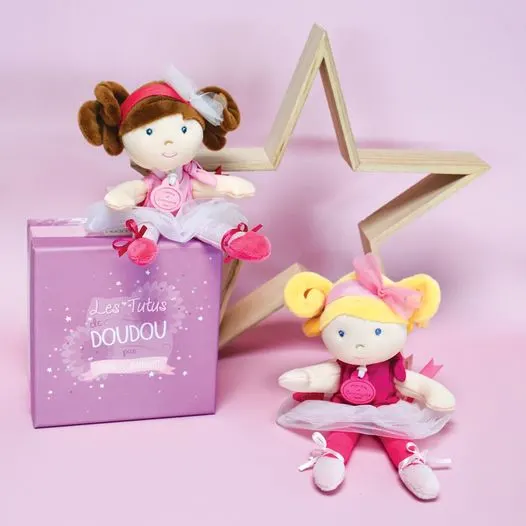 No.7B: Dou Dou et Compagnie dolls
Doudou and Company French dolls have been a much loved favourite doll in France for over 20 years.
Made from organic cotton, with pretty and petite features, children love a Doudou et compagnie doll.
The range of DouDou et Compagnie dolls includes:
Ondine and Oceane Demoiselles dolls (sailor dolls)
Swing ladies dolls – Louison, Chloé and June soft dolls that sit on a swing!
Vintage Ladies dolls – Luna, Poppy and Celeste (these dolls have fabulous hairstyles and neck warmers too!)
Lady dolls (these ones wear either a Rabbit or Bear costume!)
Mermaid Damsels dolls
Ladies Princesses dolls in pink tutus
Precious Damsels dolls with bolero and sequinned crown
Ladies Dancing dolls (pictured above)
Pretty Ladies dolls in velvet dresses
Big Ladies dolls and Little Ladies dolls (these ones have noses and big hair, and are not quite as cute as the others)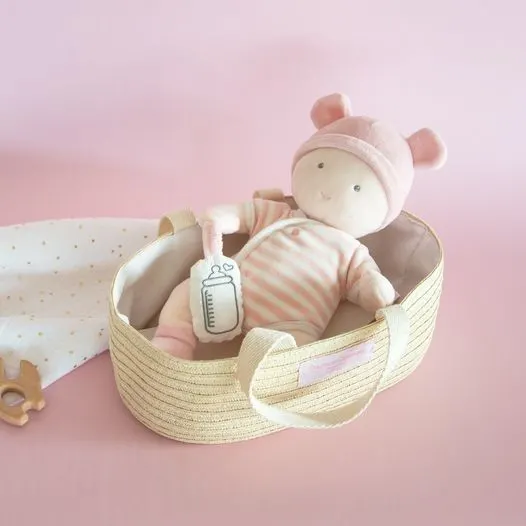 My First Baby Doll
Do check out "My First Baby doll" lying in the cocoon, complete with baby bottle and beanie cap!
Your heart will swoon!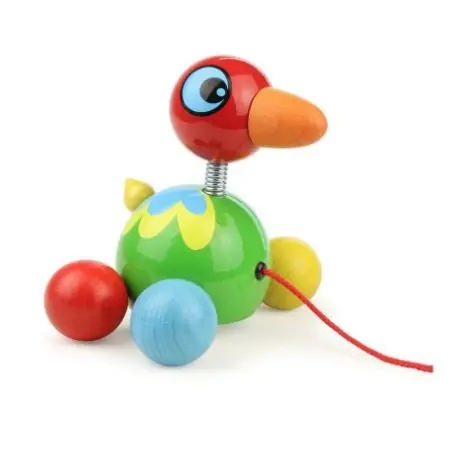 FRENCH BABY TOY BRANDS
No.9: Vilac Toys
Vilac infant toys started in 1911 in the village of Moirans-en-Montagne, the French toy capital, situated between Champagnole and Saint-Claude in France.
Creator Narcisse Villet opened a small artisanal workshop for wood turning called "Maison Villet" and it was here, that the range of turned and lacquered wooden toys were born.
Traditional French toys for babies
Find:
Vilac wooden toys for older children include building blocks of natural wood , natural wood jump ropes, croquet games and Jokari game (paddleboard)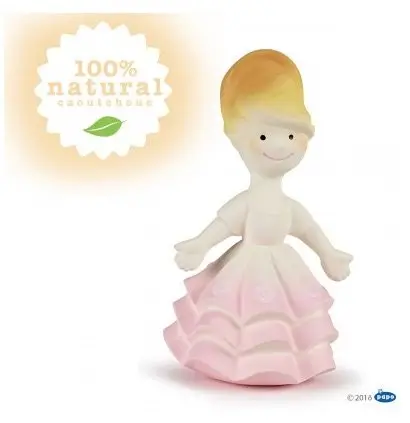 Image credit: Papo Baby
No.9: Papo Baby Toys
Papo Baby sets are 100% natural toys for the early years.
Papo toys are made from natural rubber and food-grade paint so children can play with them, AND chew on them!
Buy now on Amazon: Papo Baby Teether (as pictured above)
No.10: Moulin Roty French Baby Toys Range
The Moulin Roty French Baby Toys includes a range of wooden toys for toddlers including:
stackable puzzles
gorgeous puzzles in refined colours
shape boxes
pull-out toys (pull along toys)
teethers
wooden musical instruments
wooden fishing games
toys for the pram, and
rocking horses.
Don't miss this French brands of toys.
(Bonjour Petit is the official Moulin Roty store in the US)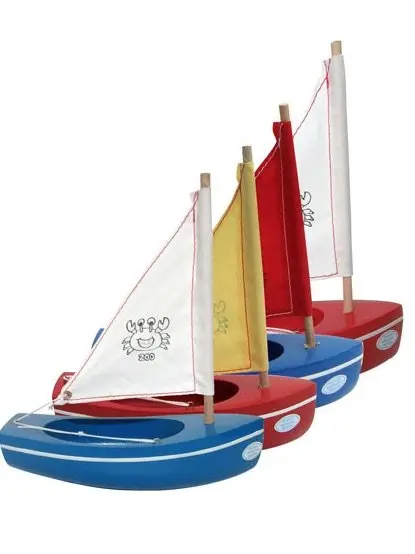 Image credit: Tirot Company
FRENCH WOODEN TOYS
No.11: Handmade Tirot Boats from French Toy Shop in Brittany
This French company makes superb wooden sailboats that really sail for beach outings, parks, and ponds.
Approximately 13 000 boats, both dinghies and yachts, go out every year from factory to be sold.
They are stocked in both France and abroad in more than 250 stores.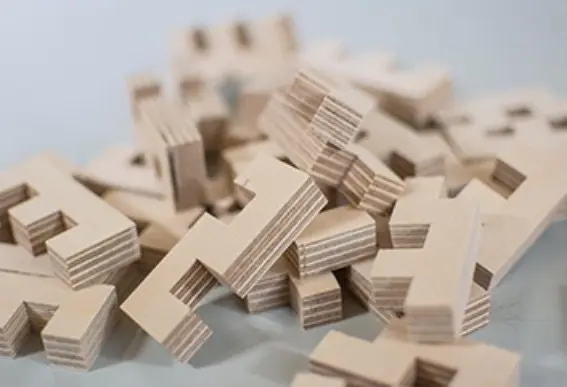 Image credit: Cloze Toys
No.12: Cloze Wooden Toys
Creators of 2D and 3D wooden construction kits that make:
Robots
Elephants
Dogs
Giraffes
Reindeer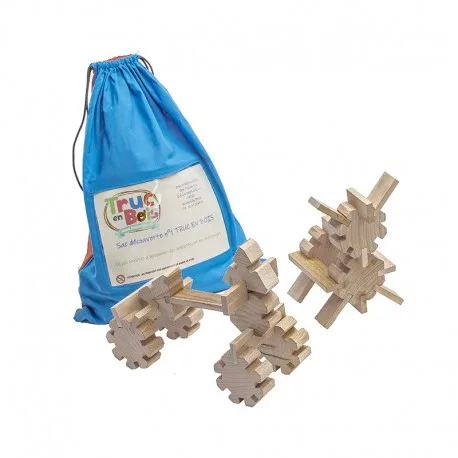 No.13: Truc en bois toys
Truc en bois is a fun and creative game that consists of assembling sticks and gears.
Made in France in St-Pierre-sur-Dives in Normandy, the logs and gears are made from untreated beech from French origin.
Truc en Bois is based on three principles:
interlocking
balance and
gravity
The idea is that families and friends who work together, concentrating with focused attention, can make all kinds of things, limited only by imagination!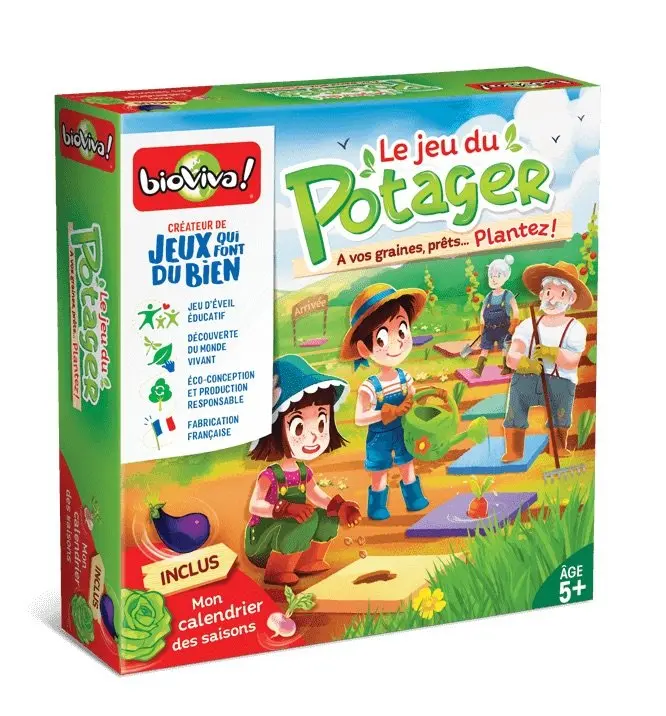 MORE FRENCH TOY BRAND OPTIONS!
No.14: Bioviva French Toy Shop
Bioviva is a French company that has a passion for nature and the environment.
They stock:
Nature Challenges
Classic games
Cooperative games
Science games to develop thinking skills
Early learning games to help kids discover the seasons and the world
Montessori games
Games to help with social skills
Buy now on Amazon: Bioviva Board Game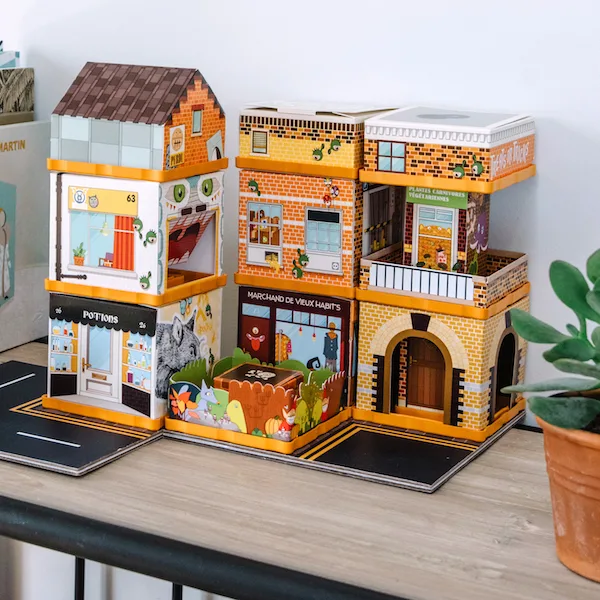 No.15: Fabulabox Toys
Fabulabox is the company that designs educational and ecological toys, with their goal to inspire curiosity in children.
Each Fabulabox is a theme that combines a story to read and the setting to assemble in which it takes place, such as this one pictured above, the Monster Lane !
These toys produced in France, come in various themes:
Skipping school
Sakura Dori Japanese streetscape
Transport Challenge
Fire Station
Animal Refuge
But the most fun thing about the Fabulabox is the puzzle element where kids have to seek and find the answers to the quizzes by looking for differences, word finds and hidden vocabulary!
Kids can make, undo and redo their mini-city day after day too.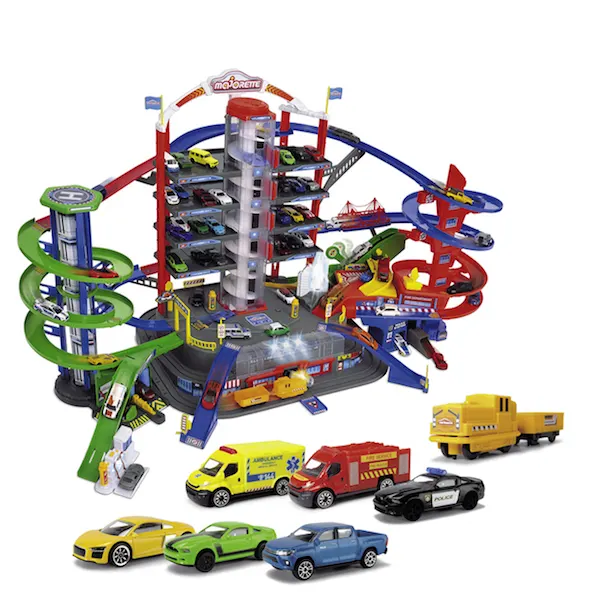 No.16: Majorette super city garage & die cast cars
Super City Garage by Majorette is made by the Majorette French toy manufacturer.
Famous for producing small die-cast cars (like Matchbox Toys), construction vehicles and military vehicles, the most popular Majorette toy of all is the Super City Garage, a parking building play world with seven floors including a car repair workshop, police station, helicopter landing pad, and train station.
It features:
35 parking spaces for cars
two motorized lifts
two spiral ramps
light and sound effect systems
six die-cast toy cars – Audi R8 Coupe, Ford Mustang Police, Ford Mustang GT, Toyota Hilux, Iveco Ambulance, Iveco Fire Brigade
a battery-powered train with trailer
The production of Majorette toys was originally located in Lyon, but according to Wikipedia, models are now made in Thailand.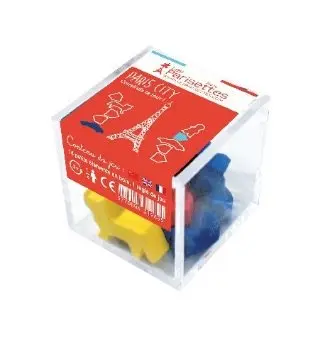 Image credit: Les Parisettes
No.17: Les Parisettes souvenirs
Les Parisettes is a French souvenir brand.
Everything is styled on the theme of Paris and particularly on the Eiffel Tower.
Designed and made by French and Parisian designers, you'll find:
homewares – pillows, linen, ornaments, works of art
kitchen accessories – linen, tableware, essentials, lunch boxes, totes, lunch bags
Parisian food gifts – biscuits, bonbons
leather goods
jewelry, scarves
mirrors
snowglobes
clothes, t-shirts
games including the Paris City game (pictured above)
phone covers
keychains
Eiffel Tower magnets
travel goods – luggage tags, umbrellas
Eiffel Tower souvenirs including scissors, toothbrushes, bottle openers
stationery – notebooks, pens, memos, office goods
Visit the store in person at 10 Rue Gramme, 75015 Paris, France.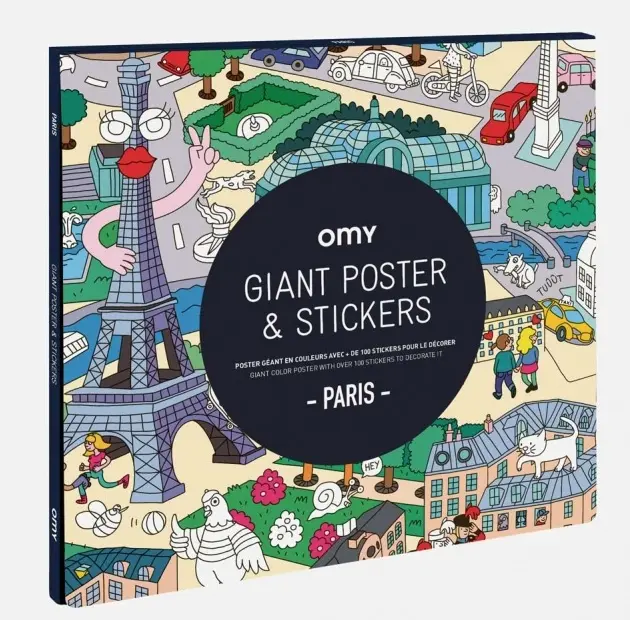 Image credit: OMY
No.18: OMY decals
OMY is a young French design brand birthed in 2012 by Parisian designers, Elvire Laurent and Marie-Cerise Lichtlé.
OMY sells a range of beautifully designed artisan products sold in more than 65 countries around the world.
You'll find French wall stickers and posters including:
glow in the dark stickers
food stickers
city stickers
fashion stickers
coloring stickers
Check out the Giant Paris poster and stickers pictured above. It's a top shelf gift for a traveller.
OMY also stocks creative activities including:
air toys
pocket coloring and pocket games
coloring placemats
bracelet making kits
scratch off posters
felt pens
gel crayons
And things for the home including placemats, posters and wallpaper.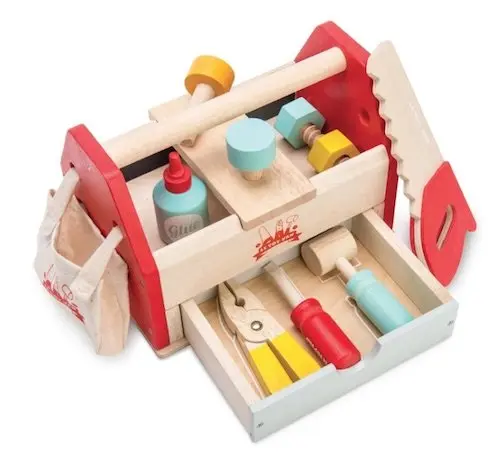 MORE TOYS DESIGNED IN FRANCE
No.19: Le Toy Van toys
Le Toy Van is a range of imaginative wooden toys designed in London with love and a touch of French je ne sais quoi.
In business for almost 25 years, this English brand is often mistaken for being French.
These French toys for girls and boys are cute, ethically made, and uniquely designed but NOT an authentic toy brand from France unfortunately.
Even though they SOUND French!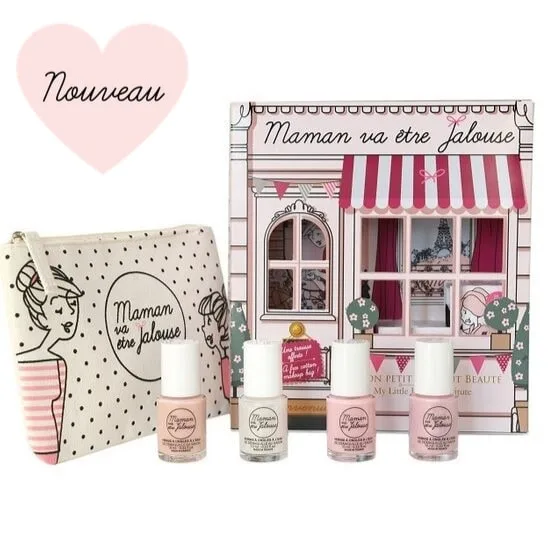 Image credit: Mamanvaetrejalouse
FRENCH COSMETIC BRANDS FOR KIDS
No.1: Maman va être Jalouse Beauty & Makeup Goods
Maman va etra Jalouse translates to "Mama will be jealous"
This French beauty company makes little girls makeup, and cologne.
Their range includes:
water based nail varnish
lip roses and lipsticks
eyeliner
beauty cases
eye shadows
eau de toilet
Check out the Peach Milk water nail polish!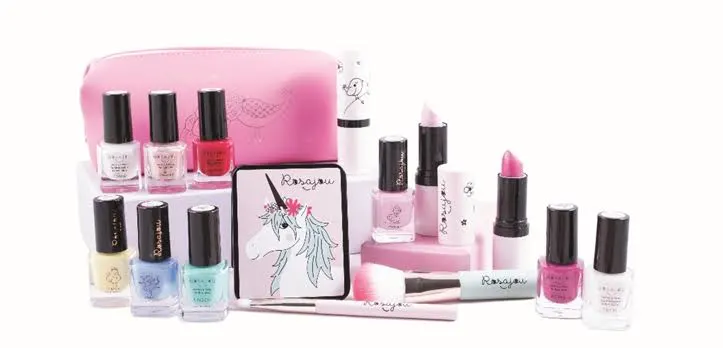 No.2: Rosajou makeup
Rosajou makeup is the first makeup brand specially dedicated for kids.
They sell a range of beauty products for the face, nails, skin, plus Rosajou gift sets and accessories.
Find:
lipsticks
makeup brushes
pocket mirrors
makeup face powder
nail polish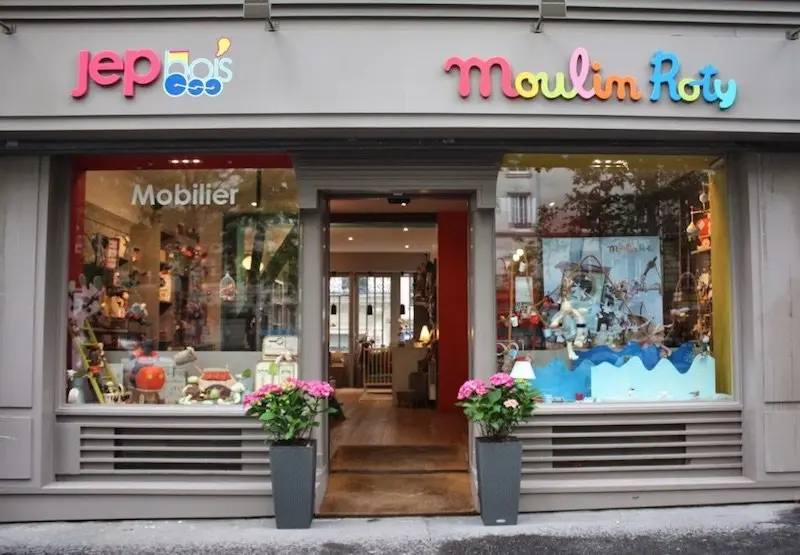 Image credit: Moulin Roty Paris
WHERE TO BUY TOYS IN PARIS?
Read our epic guide to the best shops in Paris to buy toys & children's goods including Moulin Roty toys, Sophie the Giraffe boxed gift sets, and Klorofil Magic Treehouses.
We've listed the 12 best places to buy French toy brands, including Disneyland Paris!
The guide (above) has awesome Disneyland Paris shopping tips too!
Don't make an assumption about Disney shopping until you've read all our stories to see exactly what you should be looking for!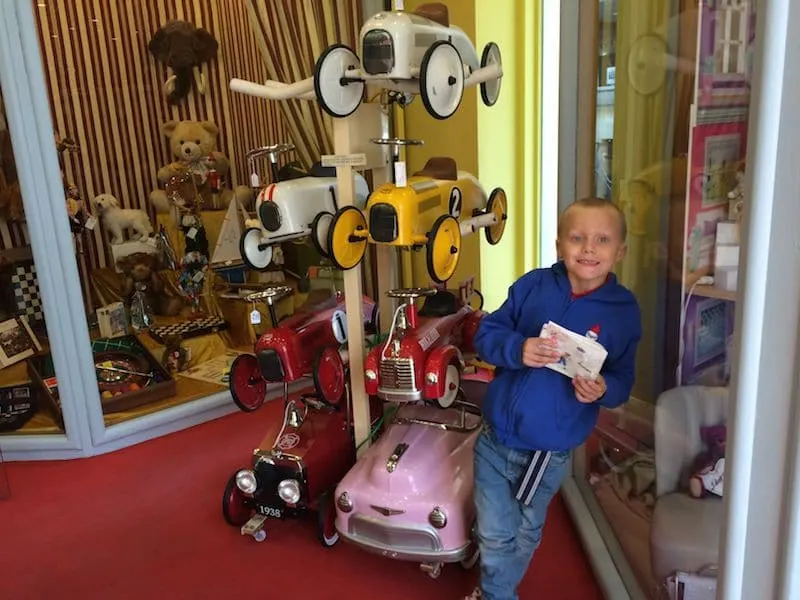 Hot tip: Take a sneak peek at our Insider's Guide to Once Upon a Time Toy store in Paris for address, directions, opening hours, and more.
Looking for MORE SUPER DOOPER FUN things to do with Kids in Paris?
Click the links in blue below for more Paris vacation fun.