INSIDE: Everything you've ever wanted to know about where to buy Japanese candy & snacks in 2021.
Wondering where to buy Japanese candy, or where to buy konpeito?
Or where to buy Japanese Kit Kats, or more specifically, where to buy Green Tea Kit Kats?
Or where to buy HI CHEW candy, or maybe where to buy Japanese candy kits?
If you are asking yourself these questions, you are in the right place.
Read our guide on where to buy Japanese candy online, as well as where to buy candy in Japan when travel is back on the agenda.
Details on where to buy candy from Japan below.
THE INSIDE SCOOP: Where to buy Japanese Candy and Snacks
Correct at time of publication on Roam the Gnome. Please check with venue for updates. We apologise in advance if there have been any changes we are unaware of. All prices in yen, unless otherwise stated
No.1: Amazon (Japanese Candy Store Online)
Hot tip: Head over to this guide to the best candies from Japan to buy in 2021.
You'll find a list of the top 34 Japanese lollies and snacks AND a link to buy them from Amazon.
It's the quickest way to shop for popular Japan candy, and have it on your doorstep in days.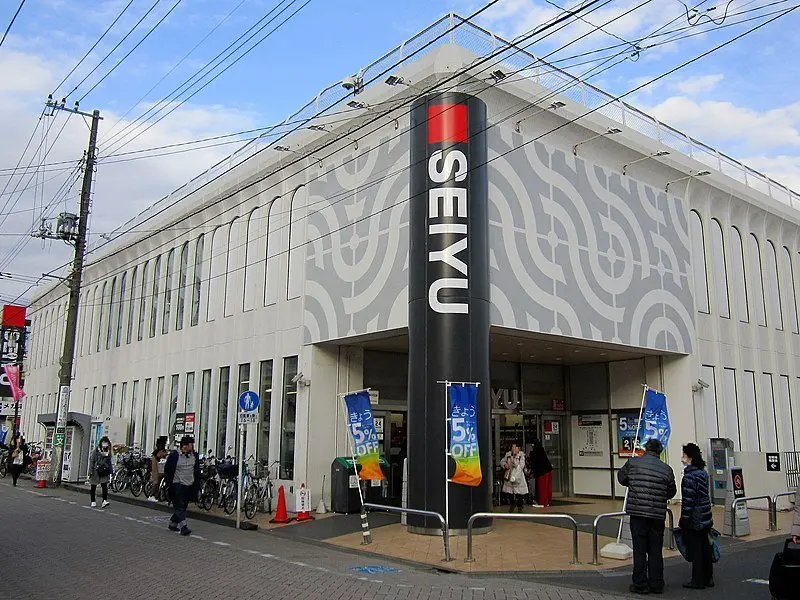 Image credit: Suikotei via Wikimedia CC BY-SA 4.0
No.2: Supermarkets in Japan
Wondering where to buy the best sweets in Tokyo?
If you want to buy Tokyo souvenir snacks, visit one the big Tokyo supermarkets.
Roam the Gnome says Japanese candy is one of the best souvenirs from Tokyo, but he may have had his arm twisted by the boys!
The Japanese supermarkets are the home of cheap Japanese candy and snacks too.
Buy in bulk and you'll be the king of the castle.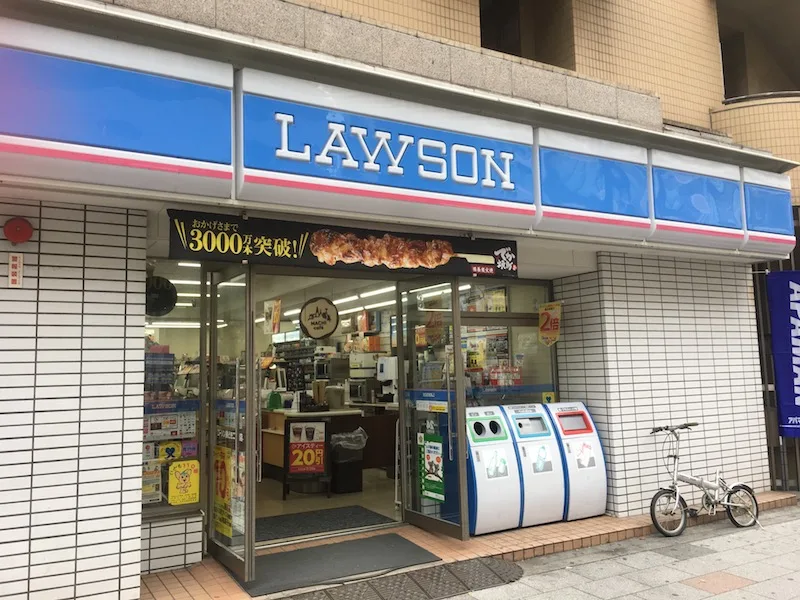 No.3: Japanese Convenience Stores
Other places to buy the these recommended Japanese souvenirs include: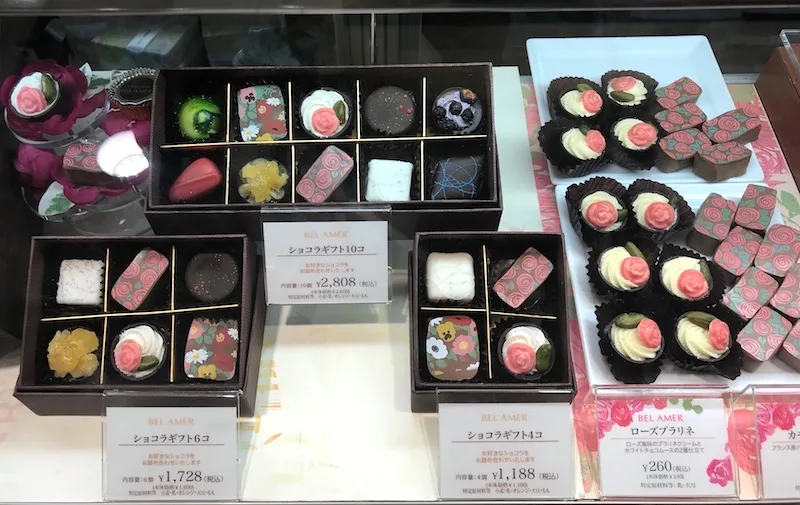 No.4: Depachika food halls
Depachika Food Halls in the basement level of most Japanese Department Stores is a must visit place for exclusive and limited edition Japanese candy, snacks, and chocolate.
As well as a huge array of boxed Japanese candy for gifts and souvenirs.
No.5: Japan Festivals & Tokyo Shopping streets
This is where you will find colorful konpeito, the Japanese star candy made from sugar, and enjoyed with a traditional Japanese tea ceremony.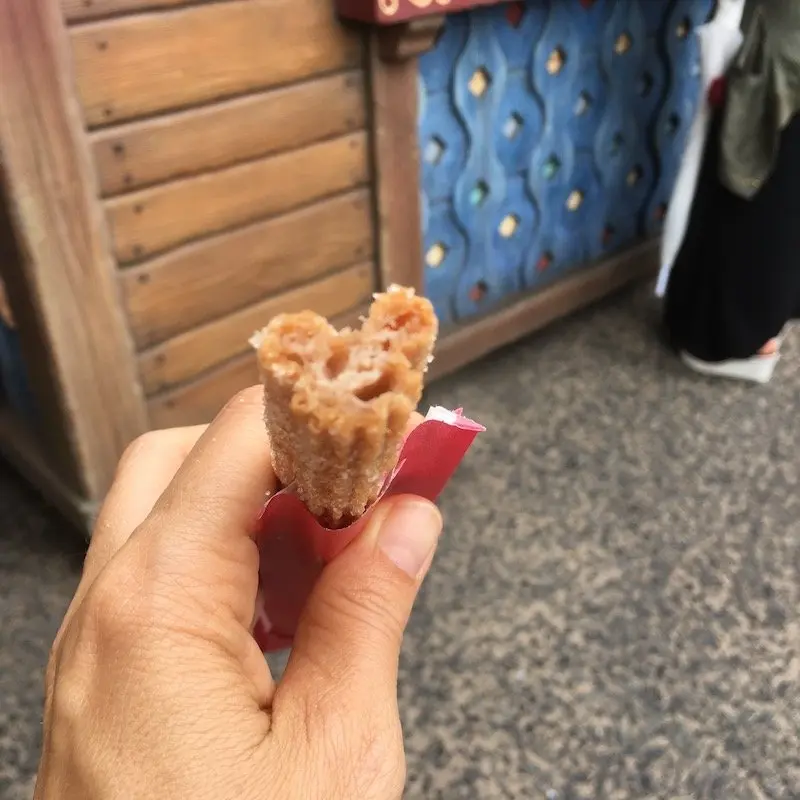 No.6: Tokyo Disney Resort
Tokyo Disneyland and Tokyo Disney Sea have a range of gorgeous Disney candy in metal tins and cardboard packaging you'll love!
Plus don't forget ALL the sweet Disney snacks to eat, including Mickey Ice and Mickey Churros!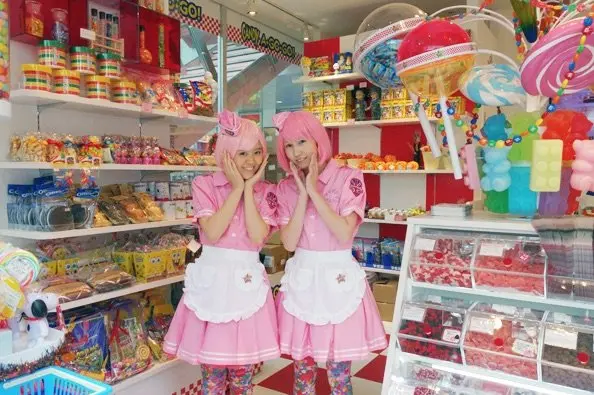 Image credit: Candy a Go Go Harajuku (link below)
No.7: Takeshita Street in Harajuku
Takeshita Street in Harajuku has an abundance of Tokyo candy shops.
Pick your favourite.
No.1: Candy a Go Go
Candy a Go Go! is the place on Takeshita street in Harajuku with the pink-haired shop assistants on hand to help you with your Japenese candy purchases.
No.2: Tokyo Candy Showtime
Tokyo Candy Showtime on Cat Street is a shop filled with rock candy of every size, shape and color.
They have very cute kawaii designs – a must buy Tokyo souvenir.
No.3: Totti Candy Factory
Visit Tokyo Totti Candy Factory on Takeshita Street.
(This is the place to try the Harajuku Rainbow Cotton Candy you've seen all over Instagram)
No.4: Daiso Tokyo Harajuku
Daiso 100 yen store in Harajuku has a HUGE selection of Japanese snacks & candy on a budget.
It's the place to buy Green Tea Kit Kats too.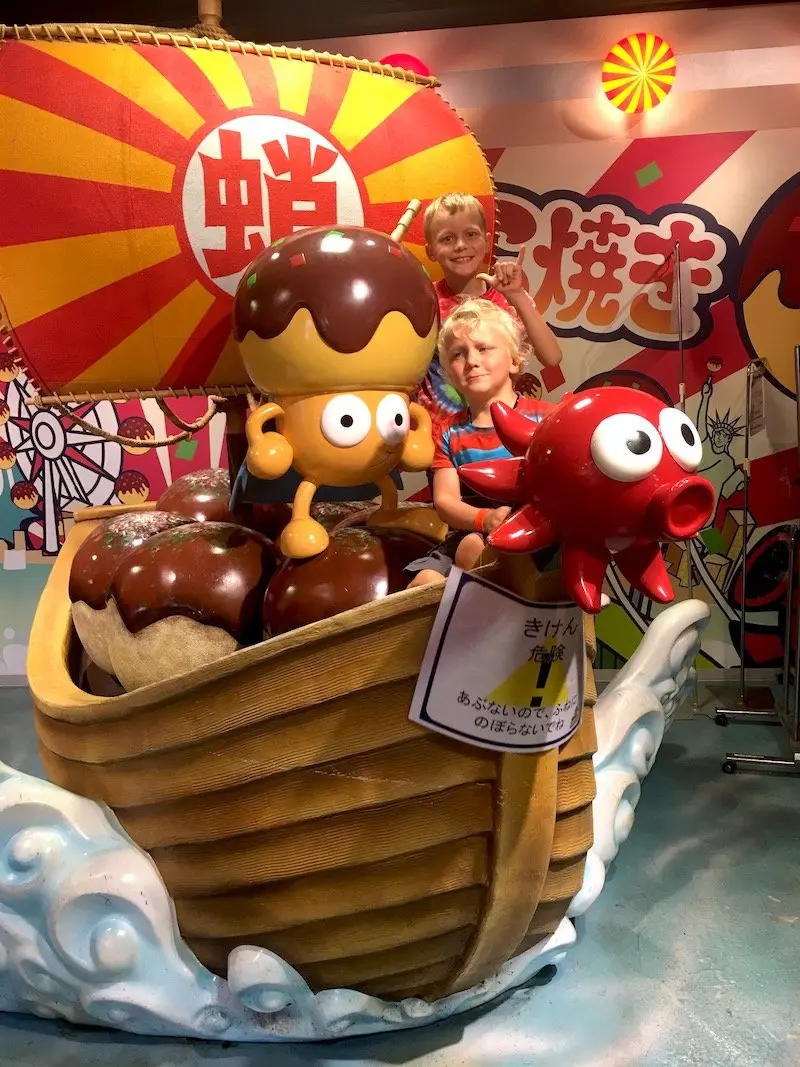 No.8: Odaiba souvenir shops
Otherwise, Odaiba souvenir shops are another good bet for unique Japanese kit kats!
Head to any of the big outlet malls there and you'll be in luck.
Read our guide of 46 fun things to do in Odaiba Tokyo (including the Takoyaki Museum)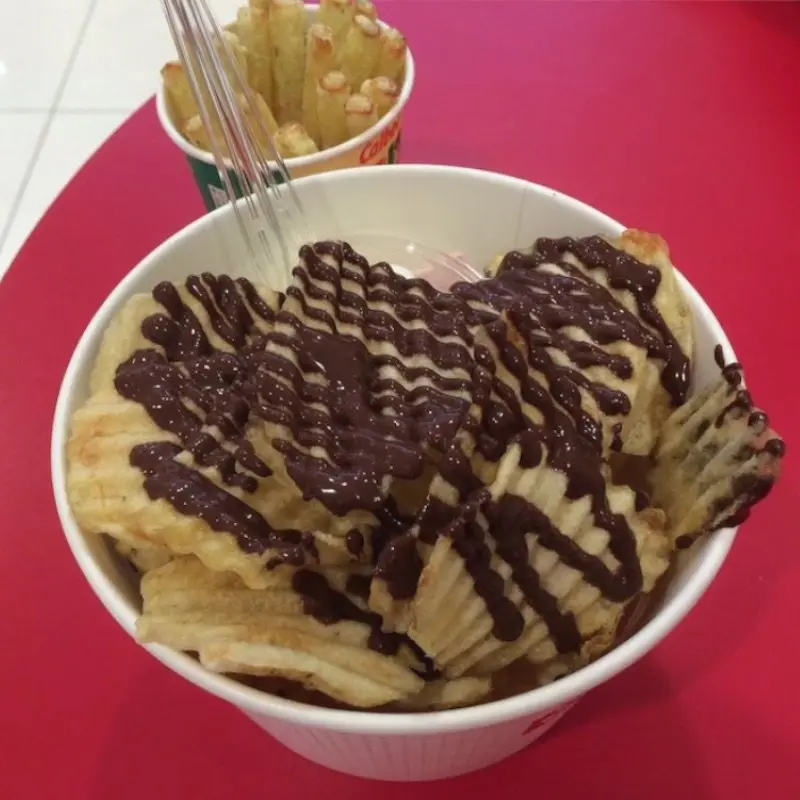 No.9: Tokyo Station Candy Snacks
Tokyo Okashi Land is a Japanese snacks shop in Tokyo Station where you can eat fresh Japanese snacks before you buy.
Do not miss it if you have kids in tow.
They have a bulk load of Japanese snacks souvenir for all ages.
They stock cheap Japanese snacks too.
The Calbee potato chips with hot chocolate sauce drizzled over (& served with soft serve ice cream too) is one of the TOP FOODS TO TRY IN TOKYO!
Only in Japan would you find this!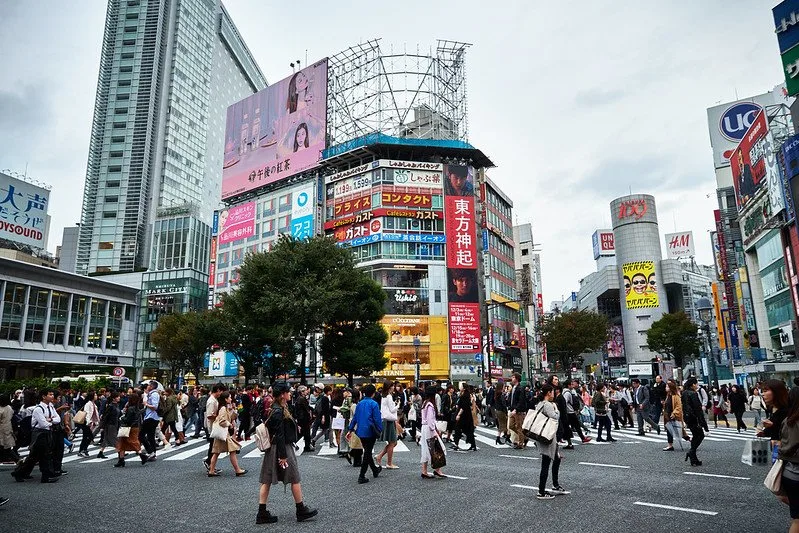 Image credit: Luca Sartoni via Flickr CC BY-SA 2.0
Looking for more things to do in Japan?
Japanese snacks and candy are so good.
We urge you to saving your money for a trip to the Land of the Rising Sun just so you too can taste all these delicious Japanese candies and Japanese chocolate snacks for yourself!