INSIDE: Take a sneak peek inside HAMLEYS Toy Shop London, the Biggest and Best Toy Store in London.
Hamleys Toy Store on Regent Street may be the Biggest Toy Store in London, but it also most certainly the finest with seven floors of toys games and activities.
Opened in 1760, Hamleys London Toy Store has been bringing the joys of toys to kids and families for over 255 years! (Can you even imagine?)
Hamleys London is on Regent Street, one of the most exclusive London addresses for shopping so take the kids to Hamleys first, then enjoy a browse of London's finest shopping district.
Disclosure: This article contains affiliate links. If you make a purchase after clicking on one of these links, we may receive a small commission at NO extra cost to you.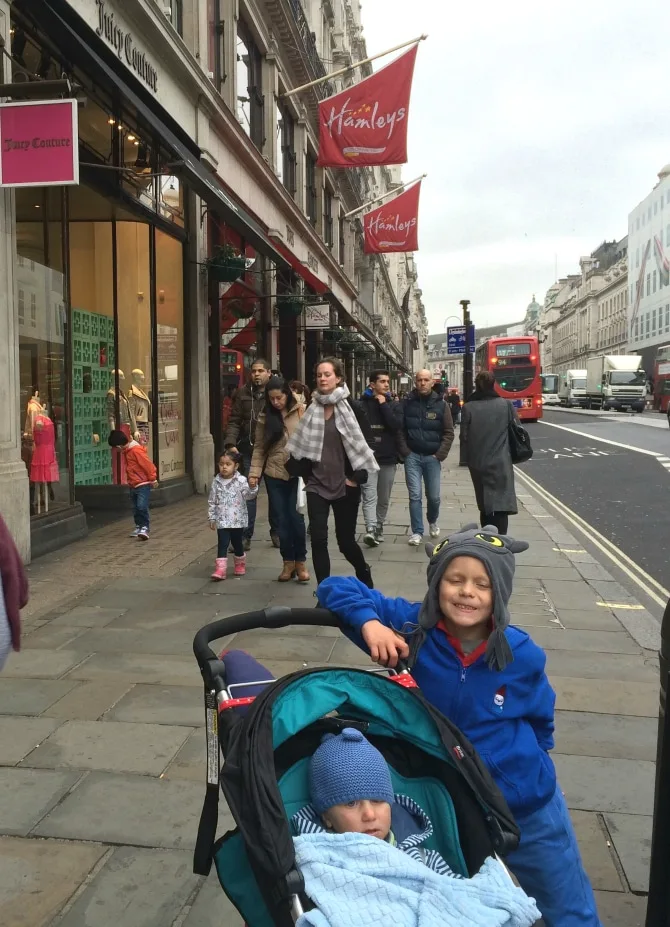 Inside Hamleys London UK, the Biggest Toy Store in London!
The number one reason to LOVE the largest toy store in London?
Super happy staff being paid to play with hands-on gadgets and involve the kids.
These toy demonstrations in Hamleys toy shop happens on EVERY level, and the kids are encouraged to have a go and play with the toys too.
---
RELATED: The Monster List of Fun London Souvenirs & Gift Ideas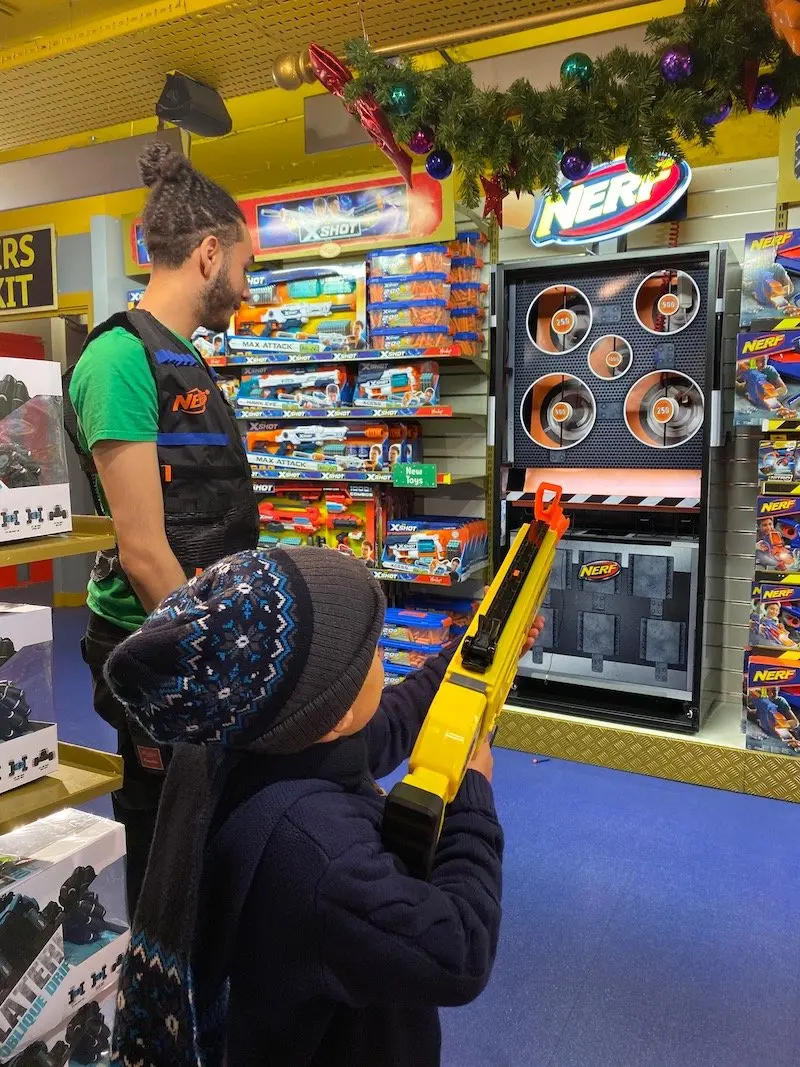 Enjoy Hamleys Toy Shop London Demos
This large toy store in London stocks:
flying toys (including the famous Hamleys Flying Cow!)
beeping toys
exciting magic tricks
make-up tutorials
Nerf gun challenges
cars that can race up the walls and cars that flip, turn, screech, ram…
yapping flipping-over dogs…
The list goes on.
Honestly, who needs a sales pitch?
The interactive opportunities for kids to play with the Hamleys toys is all the marketing they need.
Kids do the talking, convincing mums and dads everywhere that THIS toy is the one they have to have.
---
RELATED: The ULTIMATE guide to LONDON with kids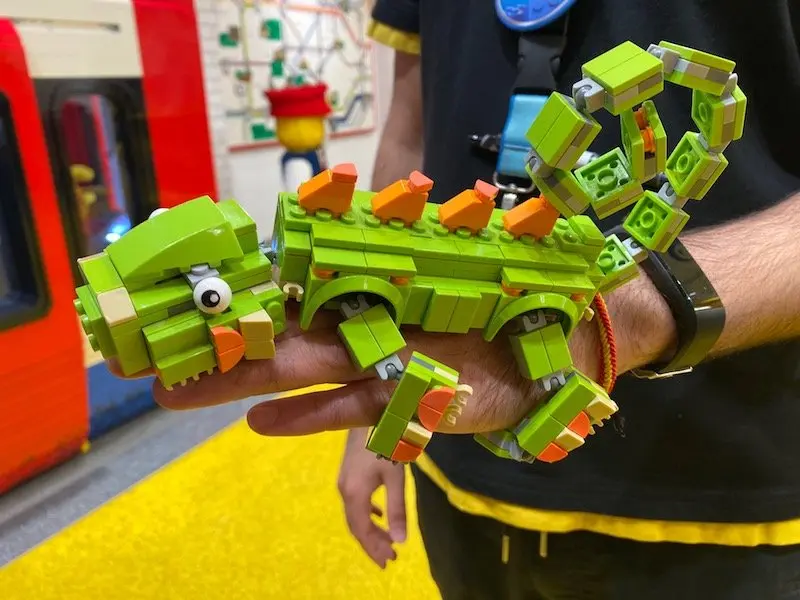 The Hamleys Toy Store London Story
How it became the biggest toy shop in London
Young William Hamley grew up dreaming of opening the best and biggest toy store in the world.
In 1760 his dream came true, and the first incarnation of Hamleys, (then known as Noah's Ark) was opened, filled with every kind of toy you can imagine.
By the time Queen Victoria came to the throne in 1837, Hamleys was already a London landmark, and the most famous London toy store.
Families made regular expeditions to William's 'Joy Emporium'.
The London Flagship Store, a mammoth seven storeys high, didn't open until 1881 but when it did, people came from all around the world to shop.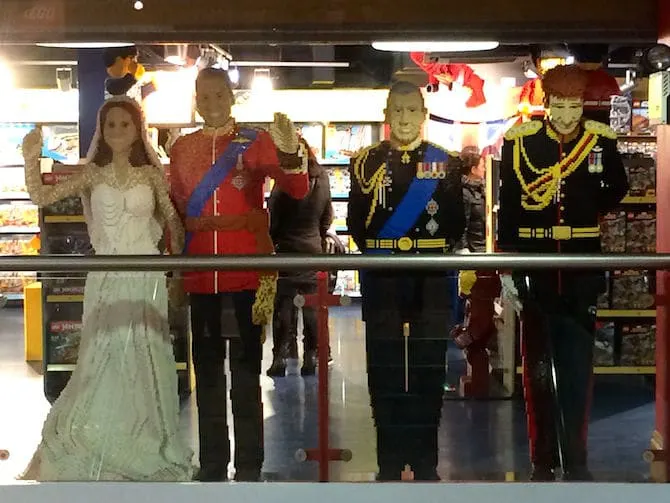 The Hamleys Royal Seal of Approval
While the store has faced hard times and short-term closures, particularly through the Depression and War years (Hamleys was bombed 5 times during WWII), in 1938, the Queen gave Walter Lines, the new owner of Hamleys, the Royal Warrant as a seal of approval verifying the quality of the business and their stock.
A second Royal Warrant was awarded to Walter Lines in 1955 as a 'Toys and Sports Merchant'.
But forget the accolades.
Hamleys London Toy Store staff are rewarded everyday.
Their biggest pat on the back comes when they see the happy children who run through the doors on their search for their new favourite toy.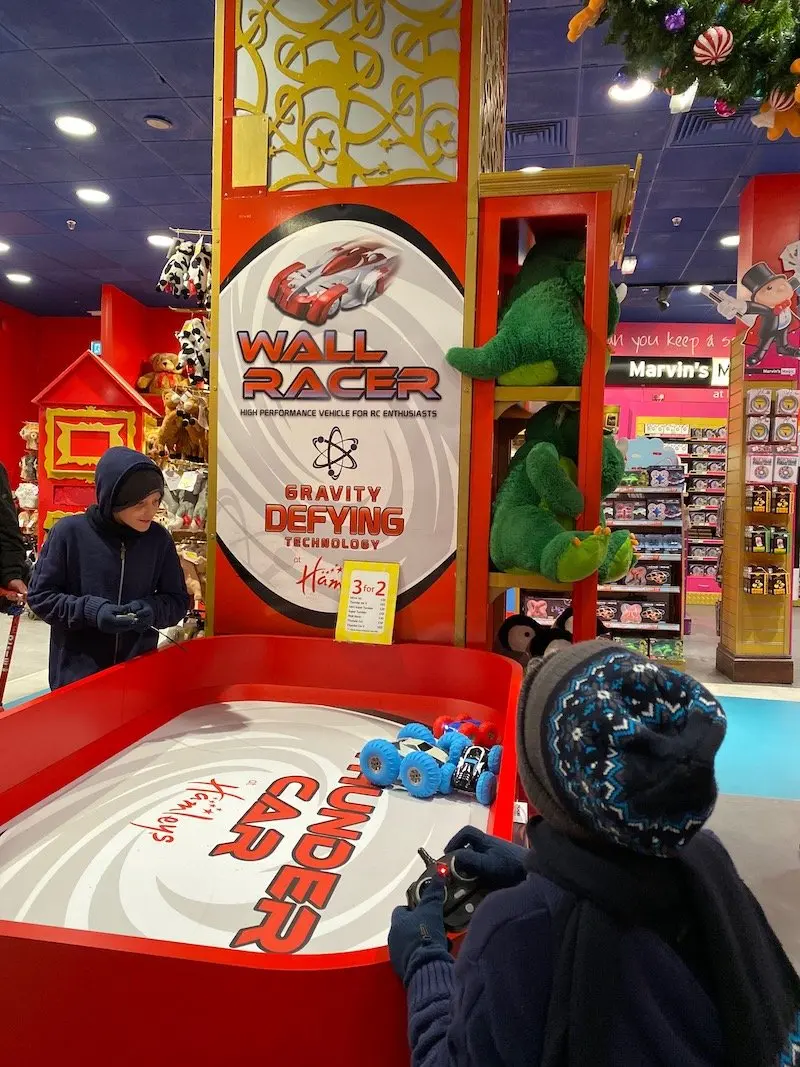 Nostalgic Childhood Memories at Hamleys Regent Street
The No.2 reason to love Hamleys toy shop in London?
Nostalgia for long-lost childhoods, and the magic this place generates.
Who cares that most toys in here are priced above the norm? If you want cheap toys in London, shop online.
But if you want to recreate the magic of childhood, visit Hamleys with your kids in tow.
(Set a spend limit before you enter though.)
Every floor has a theme
Every floor has a theme of sorts, and interspersed among the toys are also live demos of:
cool stationery to try
interesting pop-up stands where they'll make you things like a personalised necklace, or
cover you in glitter tattoos and body art.
Find:
a floor full of dolls
a floor full of action figures
a floor with stuffed animals!
While you can find lots of this stuff online these days, there is nothing kids like better than a wander through a London Toy Store.
If you can bear the noise, the pleadings, and are good at ducking your way out of the line of sight when the pleadings begin, make a special stop.
It's called making memories.
This is one you'll be glad you have.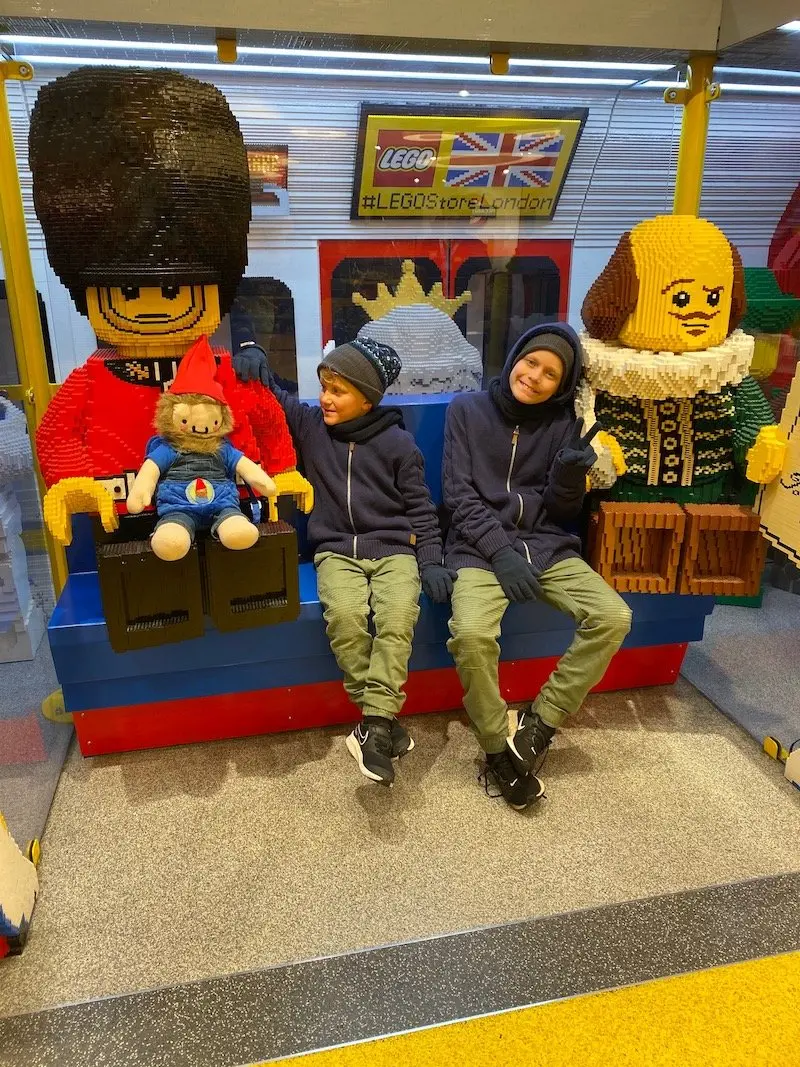 WHAT YOU'LL FIND IN STORE AT HAMLEYS LONDON, UK
Here's some of the things you'll find at Hamleys, the Biggest Toy Store in London!
The largest toy store in London stocks:
Die-cast metal toys -cars, buses, aircraft – including Corgi branded ones.
Sylvanian Families toys
Barbie toys
Harry Potter's Wands, Broom sticks, Capes and Maps in the special Harry Potter shop downstairs
Electronics
Puzzles and jigsaws
Action figures
Little Live toys
K's Kids baby toys & squeaky babies
Popco Blocs building blocks
Scruffaluv toys & KindiKids
Breyer horses and ponies
PAPO toys
LOL surprise toys
Disney toys and dolls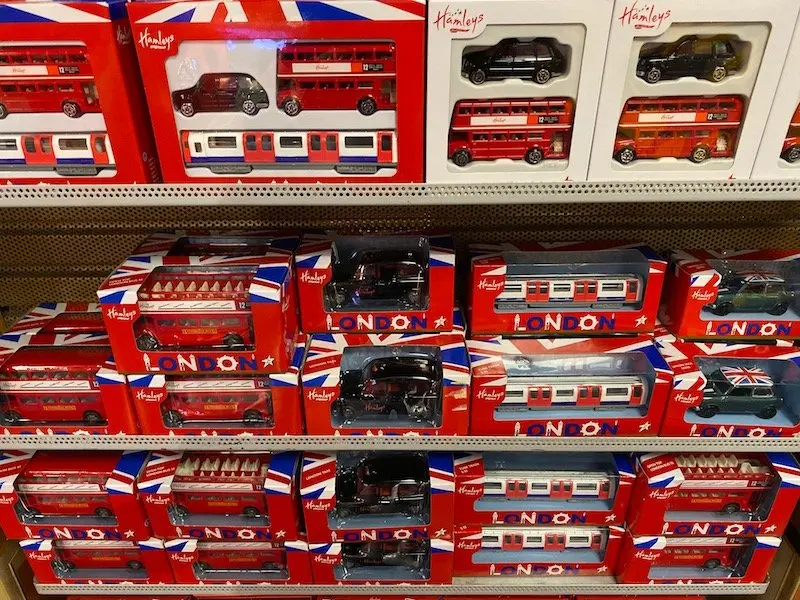 No.1: Hamleys Toy Brands
Look for Hamleys own brand of toys, stationery and souvenirs including:
Hamleys soft toys of every shape, and form
Hamleys toy cars
Hamleys doll house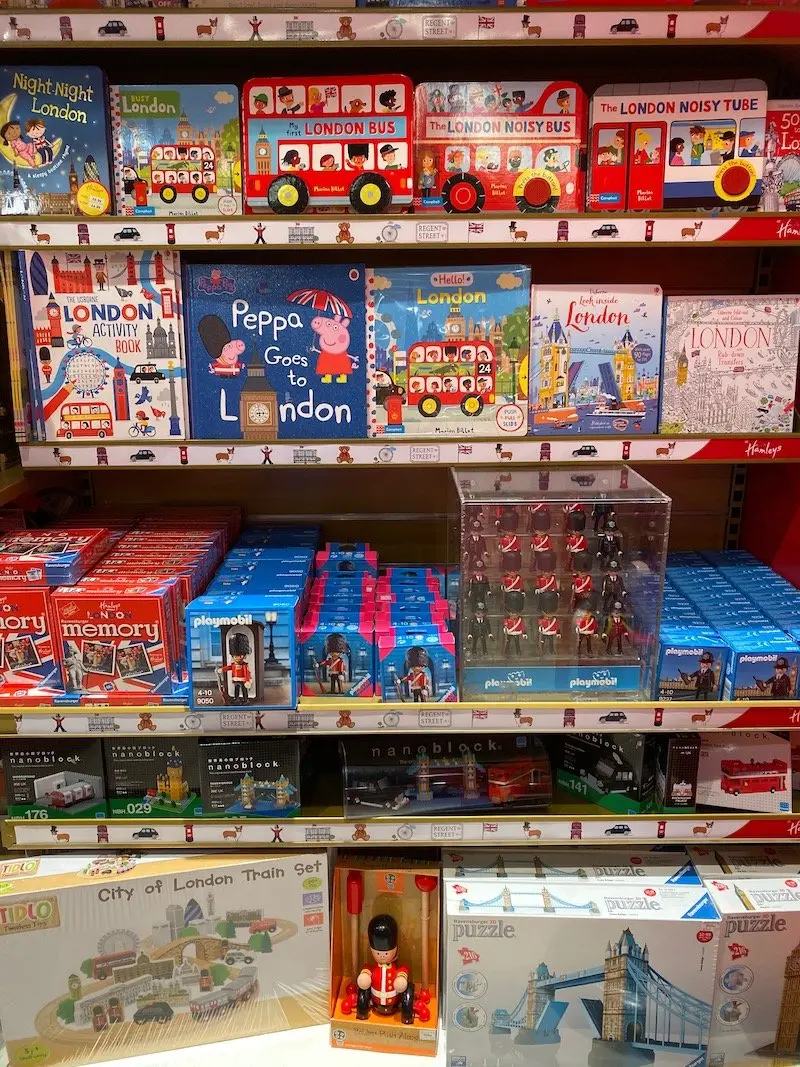 No.2: Best London Souvenirs
Look out for the wall of popular London souvenirs
City of London train set
Big Ben and Tower Bridge puzzles
Pull along toys in the shape of London Beefeaters
London books for kids
Playmobil characters in London themes – Harry Potter, and Beefeater Guards from Buckingham Palace too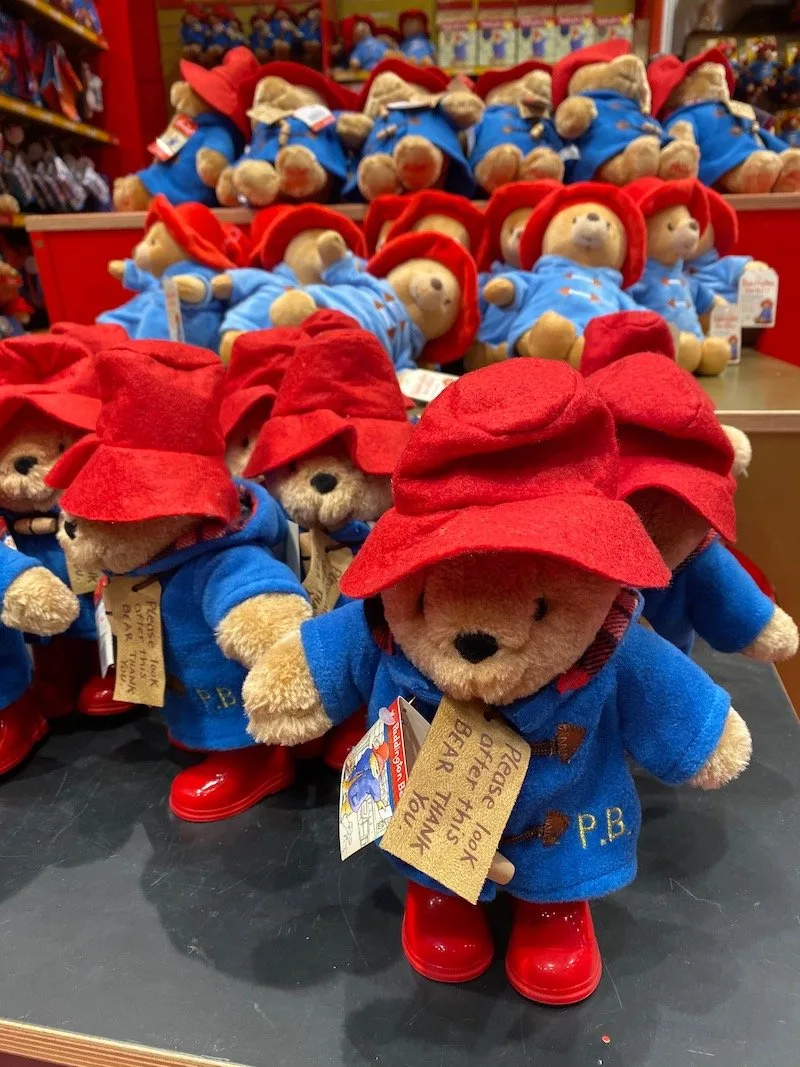 No.3: Hamleys Paddington Bear
Just inside the front doors, find hundreds and hundreds of Hamleys Paddington Bear toys.
In all the different styles – old fashioned, and modern.
With regular teddy fur, or super fluffy.
Standing or sitting, and in all sizes too.
But nearly always with his traditional blue duffel coat and red hat!
Oh, the nostalgia for this iconic fellow is high, even more so now with the release of the Paddington Bear Movies in recent times.
He is simply irresistible.
Paddington Bear is our pick of a toy from childhood, and a must buy souvenir from Hamleys for young and old.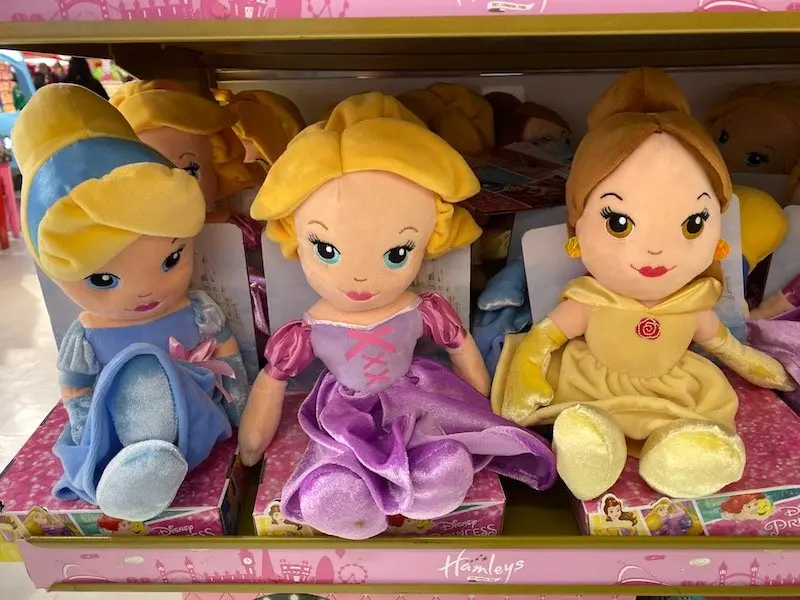 No.4: Hamleys Dolls
Dolls of all kinds – find fancy dolls, classics and collectibles, puppets, and Hamleys doll houses.
Plus all the latest releases of popular dolls to buy, including:
Disney dolls and
LOL surprise.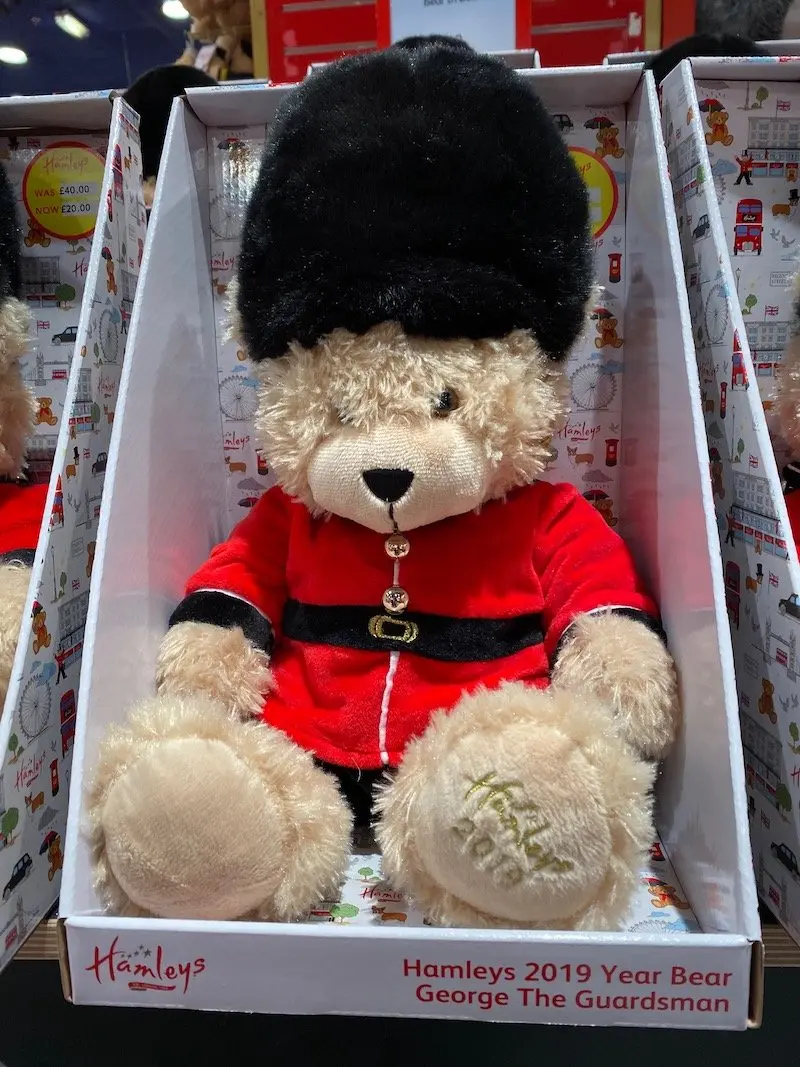 No.5: Hamleys Bear
Start a collection of the signature Hamleys teddy bear.
There's a new Hamleys annual bear every year!
Take a look at the Hamleys of London 250th Birthday Beefeater Bear
There's even Hamleys TY Beanie Baby, exclusive to Hamleys toyshop in London.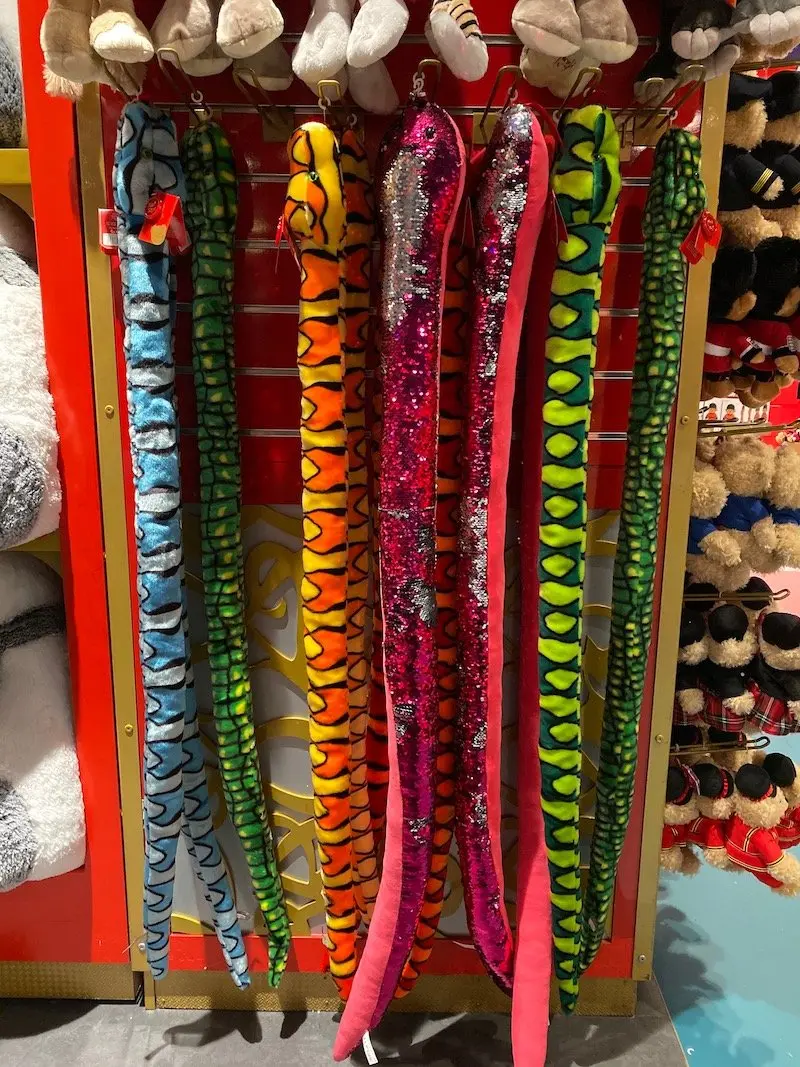 No.6: Hamleys Soft Toys
There's a giant collection of Hamleys soft toys and stuffed animals, oftentimes wearing British themed costumes or an I Heart London tee.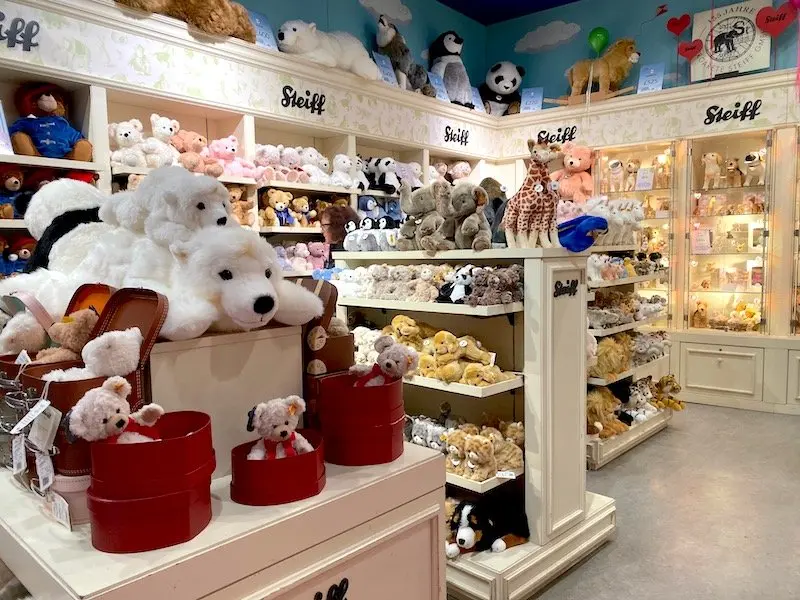 Hamleys Steiff Store
Upstairs, there's a whole Steiff shop.
Don't think you can stay on budget here. Steiff soft toys are ridiculously expensive.
---
BOOK NOW: See all the famous Harry Potter sights in London on this Harry Potter Guided Walking Tour!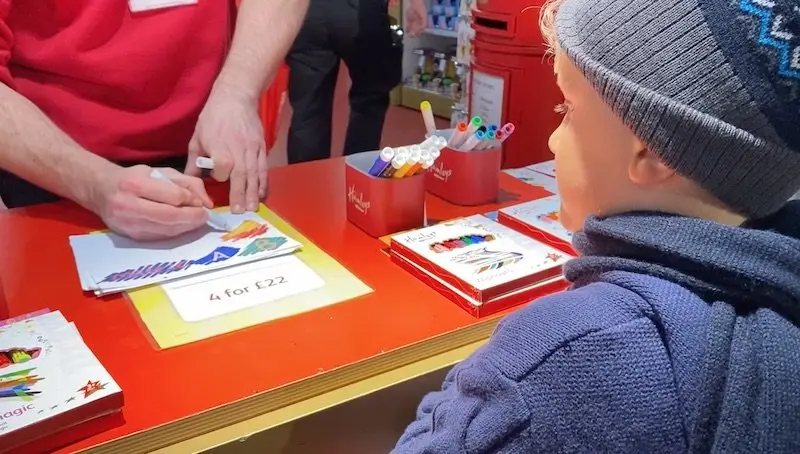 No.7: Hamleys Magic Pens and Art & Craft Kits for Kids!
Looking for children's craft kits, superhero outfits & dress up costumes?
You'll find them here, including the famous Hamleys magic pens.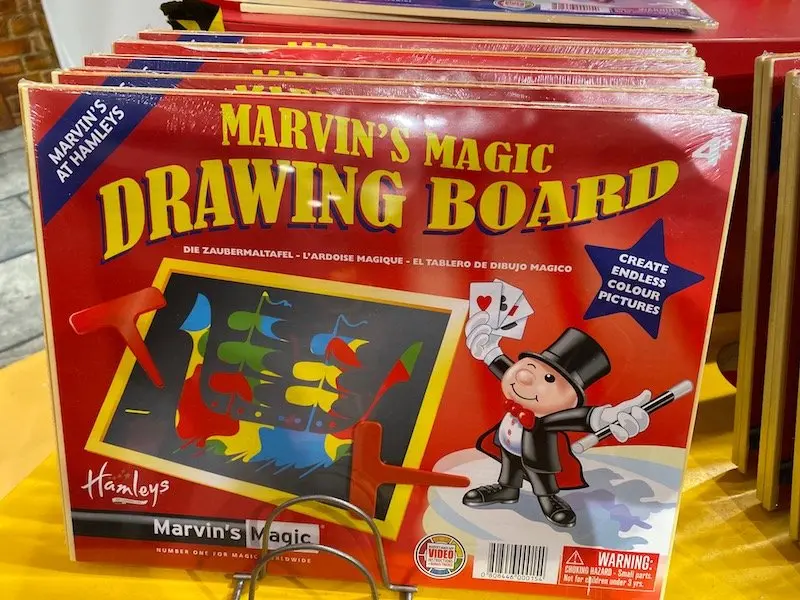 There's magic tricks, magic supplies, magic kits, crystal balls
Hamleys bubble muncher is a lot of bubble making fun.
Do take the time to watch the Hamleys team member explain how the Hamleys magic pens work.
The spiel is on point!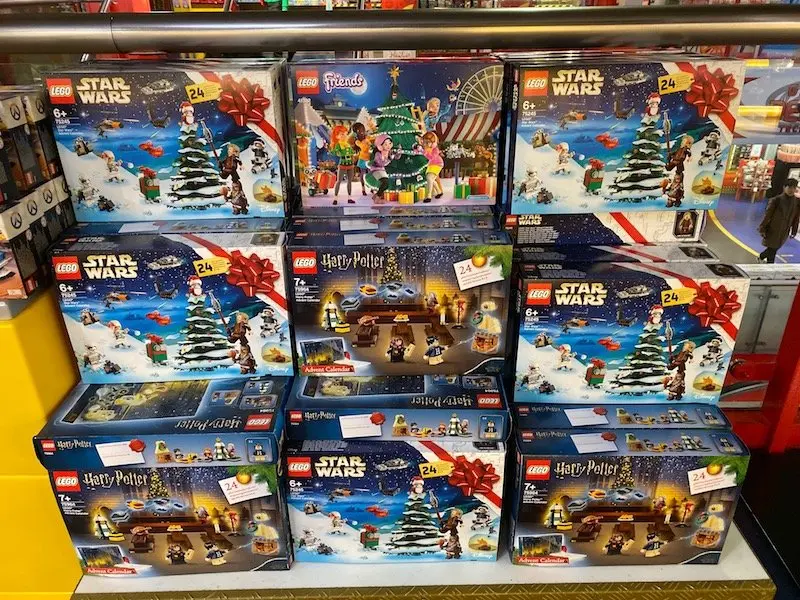 No.8: Hamleys LEGO
The biggest toy store in London also features exclusive Hamleys Lego.
Look out for the FRIENDS LEGO! (Yes, from the hit TV show)
They also have a Flintstones LEGO set we've never seen before.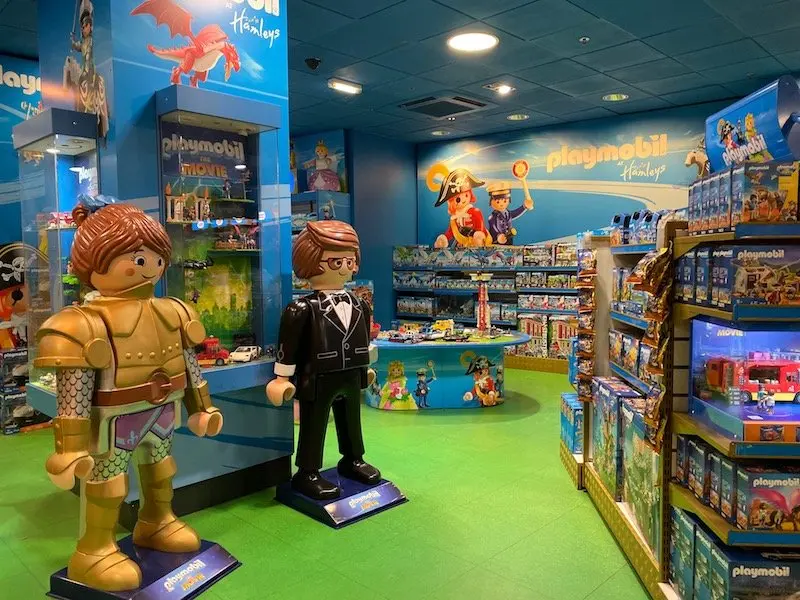 No.9: More Hamleys toys
There's educational and interactive toys including:
Playmobil toys
Building systems, trucks, tractors and cranes
Ride on toys, scooters
Play houses
Sports games and balls
throwing games and catching games
Movie merchandise
Preschool toys and board games
No.10: Art & Craft Kits at Hamleys Regent Street
Lots of British children wake up on Christmas morning having had a visit from Hamleys Father Christmas!
Hamleys nail art kits
Jewellery and Make up kits
Hamleys Sparkle & Glitter kit to add sparkle to your craft projects
Hamleys exclusives including Hamleys Magic balloons, and Hamleys glitter tattoos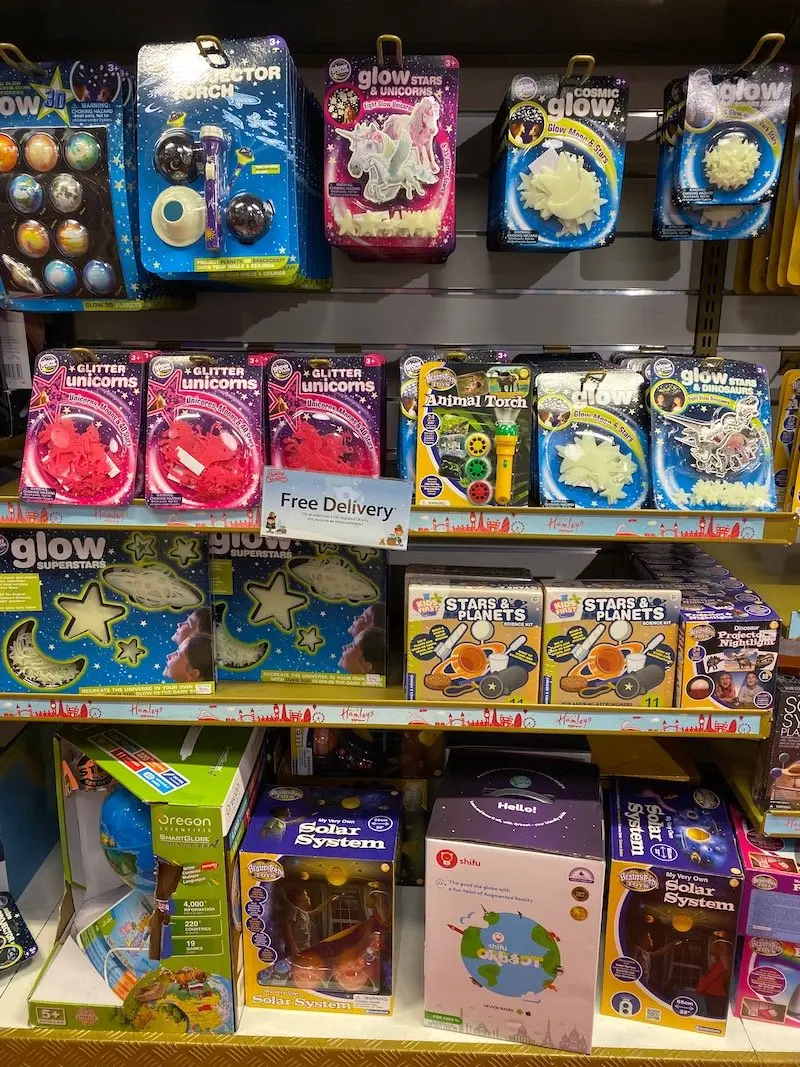 No.11: Maths & Science Toys at Best Toy Store in London (STEM toys)
Pick from stars and planets stickers, projector torches and craft kits.
Look for Helicopters, Airplanes and other amazing flying objects
Or check out the Hover Kick toy or Hamleys mini drone.
Or choose between a Soccerborg robot, a Lurking lizard robot, or a Robot companion who tells jokes!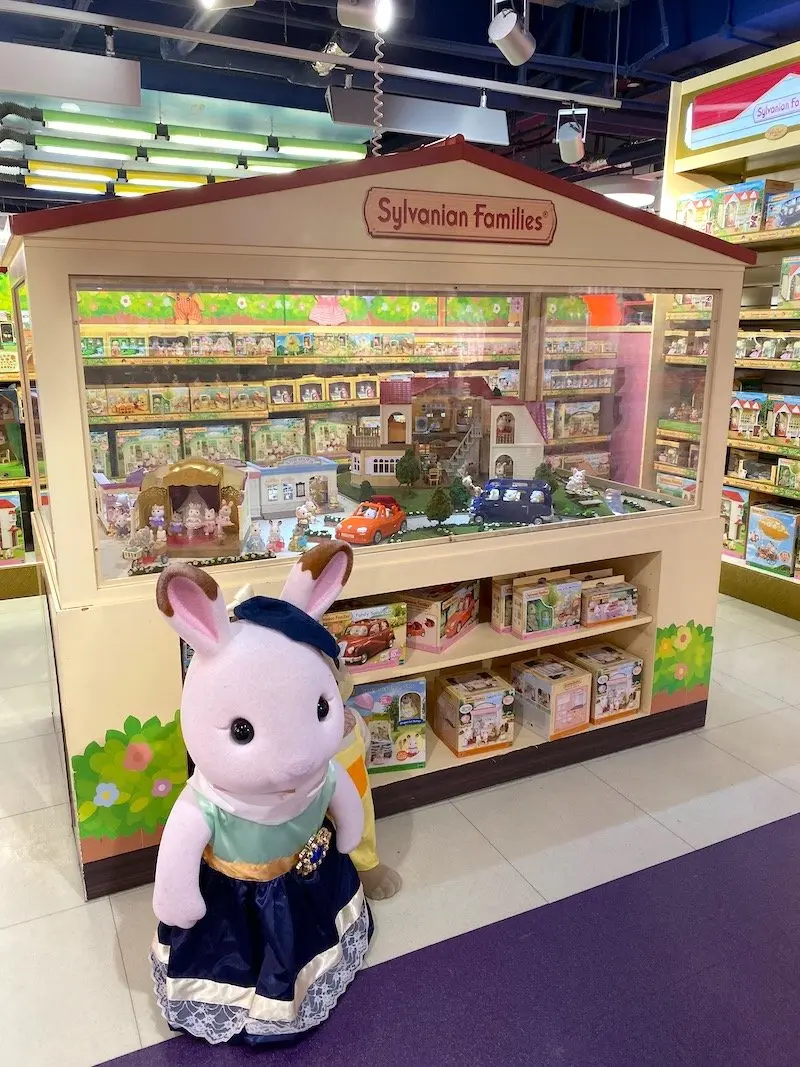 No.12: Sylvanian Families
This charming toy brand has been around since 1985, a staple among British families.
There are a huge variety of dolls, houses, shops, furniture and accessories that can be purchased for the Sylvanian Families village
They are cute to boot!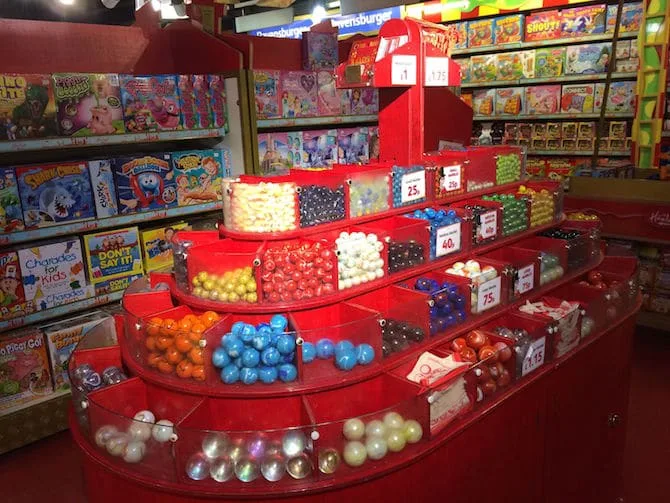 No.13: Pocket Money Toys at the Biggest Hamleys London Shop
There's LOTS of toys for under £2 each too. It's the saving grace!
If you want to avoid a big spend, why not gift each child £10, and send them off on a cheap Treasure Hunt?
You'll be amazed at what you can find.
Take each purchase home in a Hamley's bag, and they'll be chuffed with their lot.
Hamleys is the best toy shop in London on a budget for this reason.
No.14: Hamleys Clothing Souvenirs
Pick up a t shirt or sweater with signature London icons or Hamley's bear picture.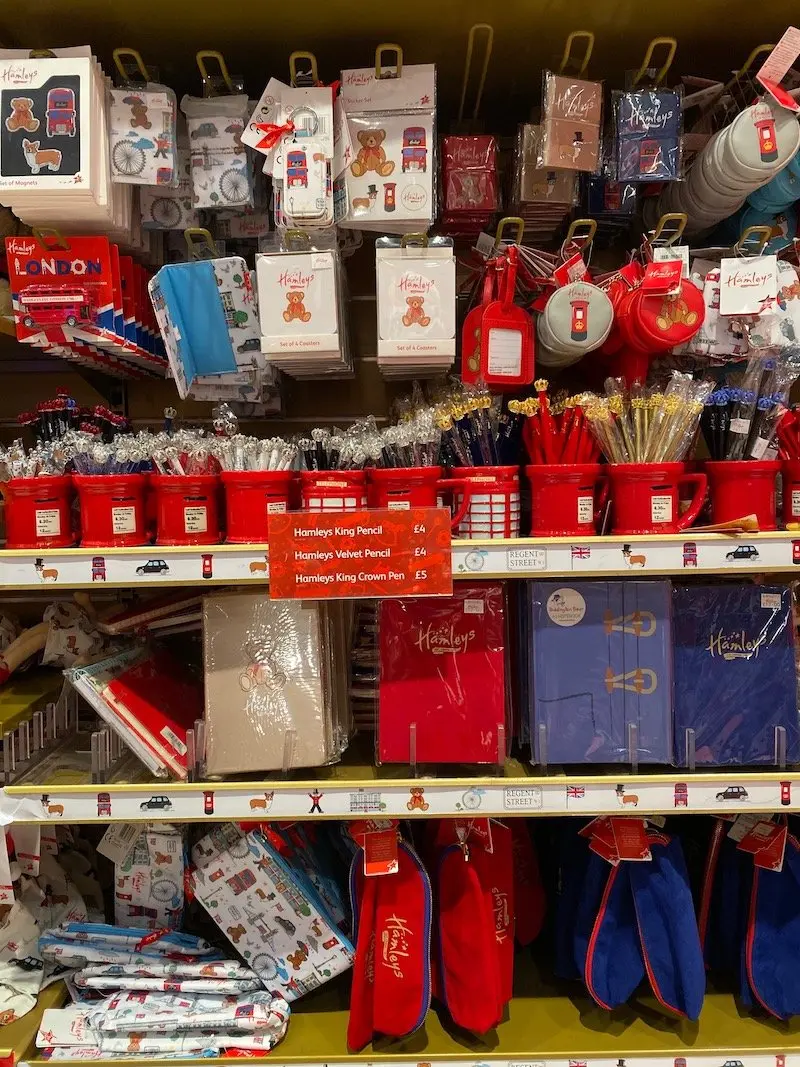 No.15: Hamleys stationery
Take some of Hamley's home with you for the office or school desk.
Find:
pencil cases
journal books
fancy pens
bus pass tags
stickers, and
coin purses.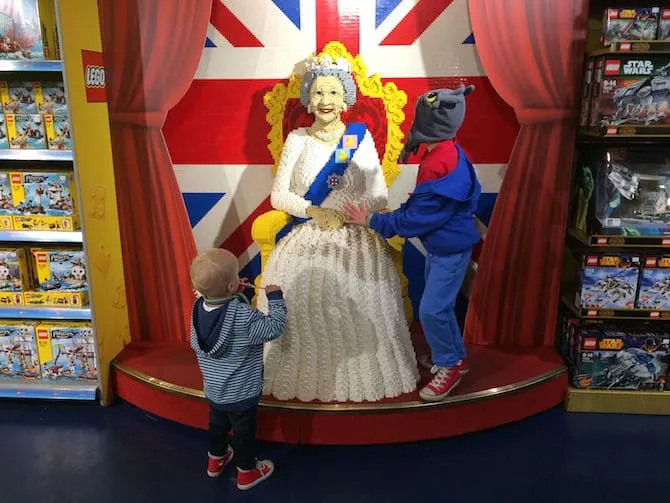 THINGS TO DO AT HAMLEYS TOYS
No.1: Meet the Royal Family
Who needs Buckingham Palace when you can have a life-size LEGO model?
My kids met the Queen!
Well, the LEGO version.
---
RELATED: Buckingham Palace Changing of the Guard is the BEST Ceremony to watch in London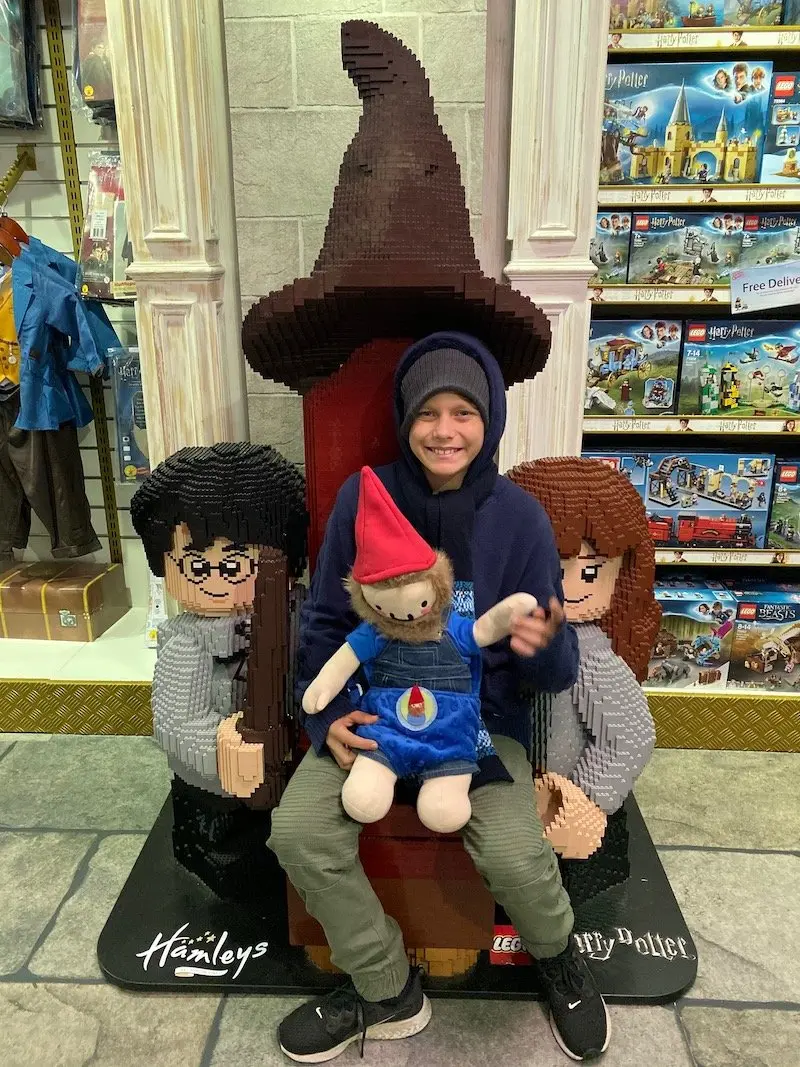 No.2: Harry Potter Shop at Hamleys Store
Head downstairs to Lower Ground floor to enter the Wizarding World of Harry Potter!
This is a MUST DO for both diehard Harry Potter fans, and others who admire the stories.
The collection of Harry Potter merchandise to buy is the best in London city.
Harry Potter Warner Bros Studio Tour tickets
HOT TIP: Book tickets to Harry Potter Warner Bros Studio Tour with transfer from London
(Don't miss out. Tickets sell out quickly and you don't want to miss this experience!)
Harry Potter Sights in London Walking Tour
It's also possible to book a Magical London Guided Walking tour of the iconic and famous sights in London from the Harry Potter movie series.
Stroll down Diagon Alley, visit the Leaky Cauldron, and see Gringotts Wizarding Bank
See iconic London sites such as Borough Market, The London Eye, and Trafalgar Square
No.3: Build a Bear Hamleys
Build a Bear Hamleys UK store is located on the third floor at the far end.
Find all the regular Build a Bear dolls and teddies, along with a range of special London outfits including:
London Bobby costume policeman outfit
London Palace Guard Beefeater Costume complete with Bear Hat!
Navy or Black London tuxedo suit
King and Queen costumes
Traditional British school uniforms
Union Jack tee and tutu set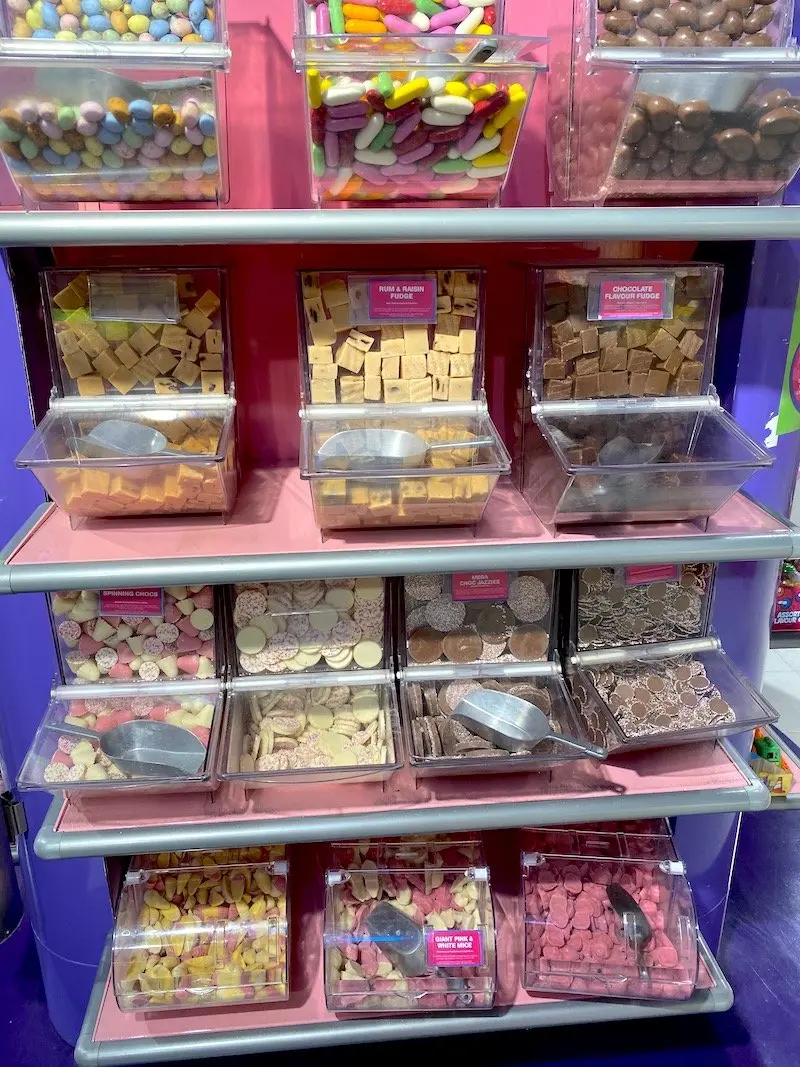 No.4: Visit Hamleys Lolly Shop
There's also a Lolly Store on one floor of the best toy store in London. Hamleys wouldn't be complete without it!
Pic n' mix sweets are on the 5th floor.
For this reason alone, my kids say Hamleys is the best toy shop in the world.
Pick up a bottle of Millions candy sweets, sherbet straws, creme filled Strawberry trunks, popping candy and marshmallows.
No.5: Eat and Drink at Hamleys UK
Take the 'secret' stairs to the top floor for lunch or a cafe break.
If you've made it this far without a snack, there's a ShakeTastic milkshake and juice bar here.
---
RELATED: M and M World London is home to the world's largest chocolate candy wall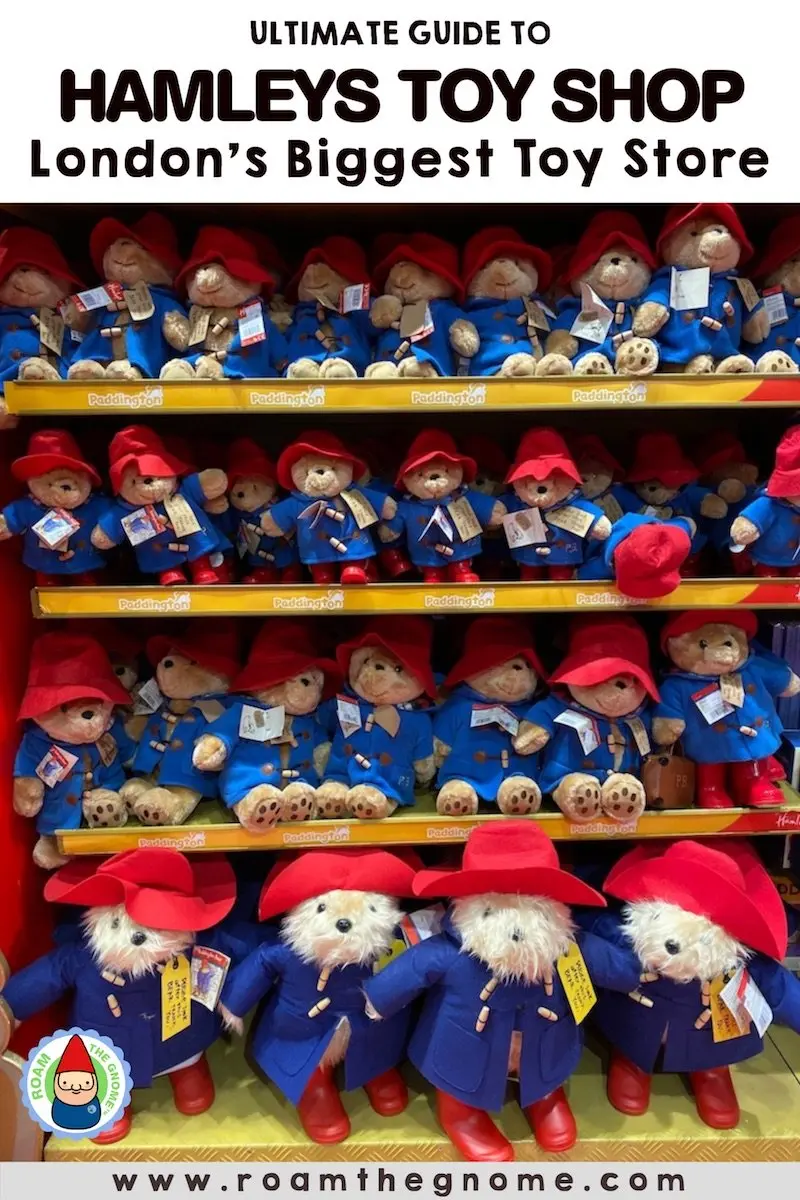 No.6: Hamleys Events
Did you know you can help Hamley and Hattie Bear open The Finest Toy Shop in the World?
Every morning, meet Hamleys loveable, huggable bears and join in the fun of the countdown to the grand opening.
To be one of the lucky children chosen to ring the Hamleys Opening Bell, make sure you arrive in plenty of time.
They also have in store activities at Hamleys throughout the summer, and all year round.
Kids can join in fun activities such as:
In-store treasure hunts
Meet the Ringmaster, Pirate, Wizard, Ragdoll and Toy Soldier for our daily summer parade and follow the leader around the store, finishing up with a super special grand finale on 4th floor!
Storytime
Puppet Shows
Movie events
Shows (such as the Sylvanian Families meet and greet)
Check out Hamleys Events page for details of current Hamleys events.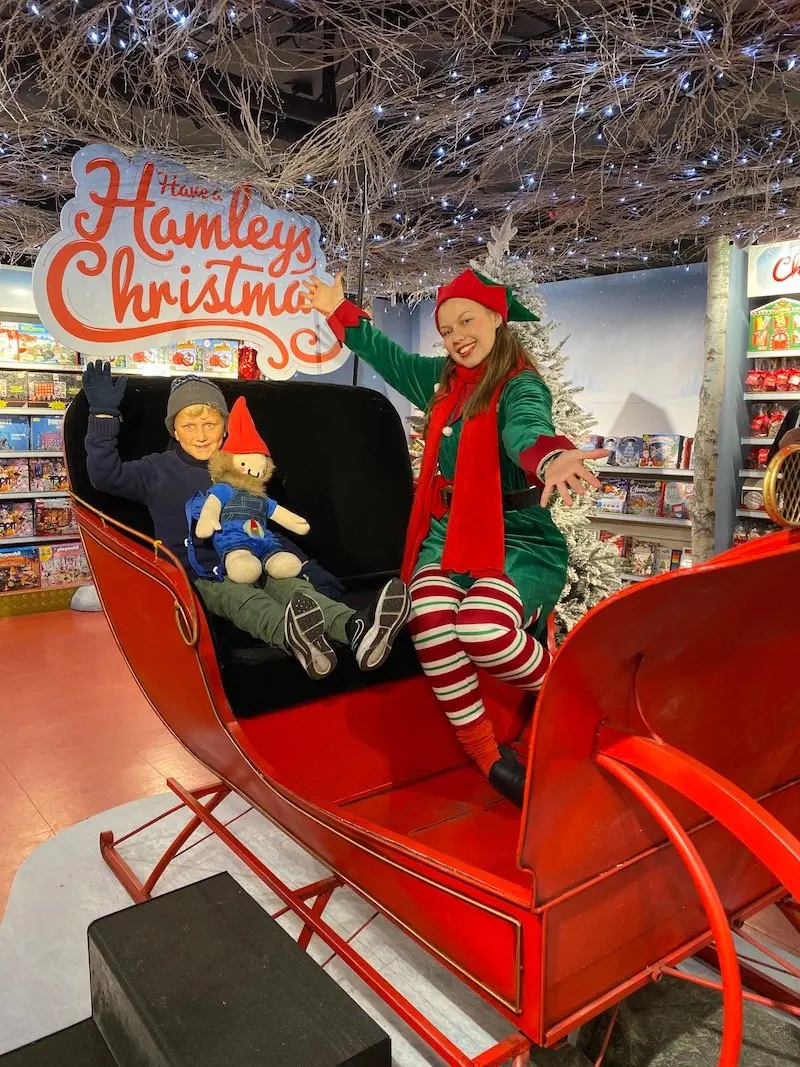 No.7: Hamleys Christmas
Hamley's Christmas Events are ever popular.
Stop in to see Hamleys Santa in December too.
You can also book a VIP shopping experience behind the scenes.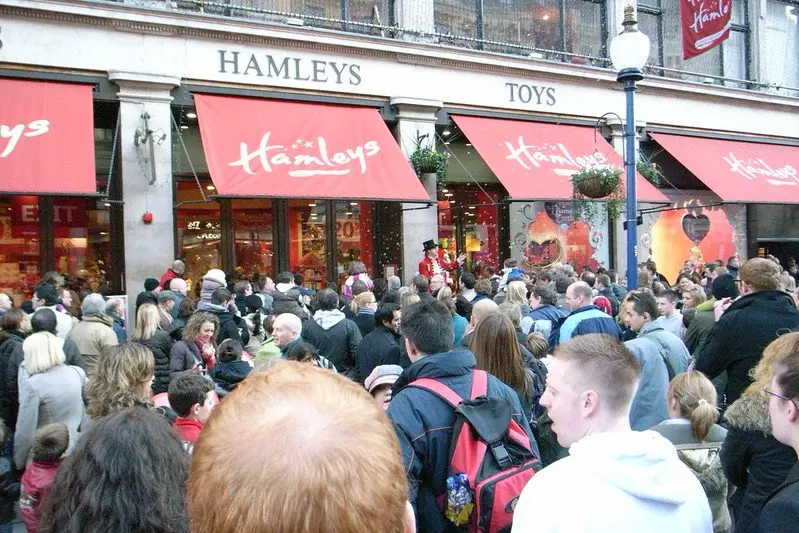 Image credit: Jaehan Lee via Flickr CC BY-ND 2.0
Crowd warning for Hamleys at Christmas
The huge toy store in London on Regent Street is in one of the busiest shopping districts on the planet.
If you visit at Christmas time, go EARLY.
Of course it will be crowded.
Getting in might be ok.
Getting out might be a different story.
Be prepared to queue to pay for your goods and let the kids suck on a lolly pop while you wait.
When you leave, recover from all that shopping stress by walking straight up Regent's Street (in the direction of Oxford Circus station) to the re-imagined Marylebone Green playground in Regents Park.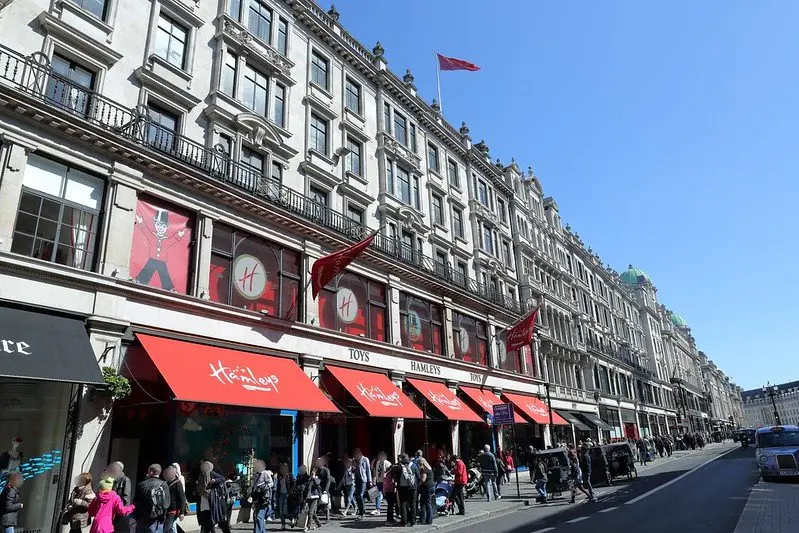 Image credit: Tomohiro Ohtake via Flickr CC BY- 2.0
FAQ about Hamleys Oxford Street, the Famous Toy Store in London
No.1: What is the biggest toy store in London?
Is Hamleys the biggest toy shop in London?
Yes it is!
They also have a smaller outlet at Hamleys London Bridge, located at Unit 73 Hamleys London Bridge Unit SU, 26 Western Ave, London SE1 3QX, UK.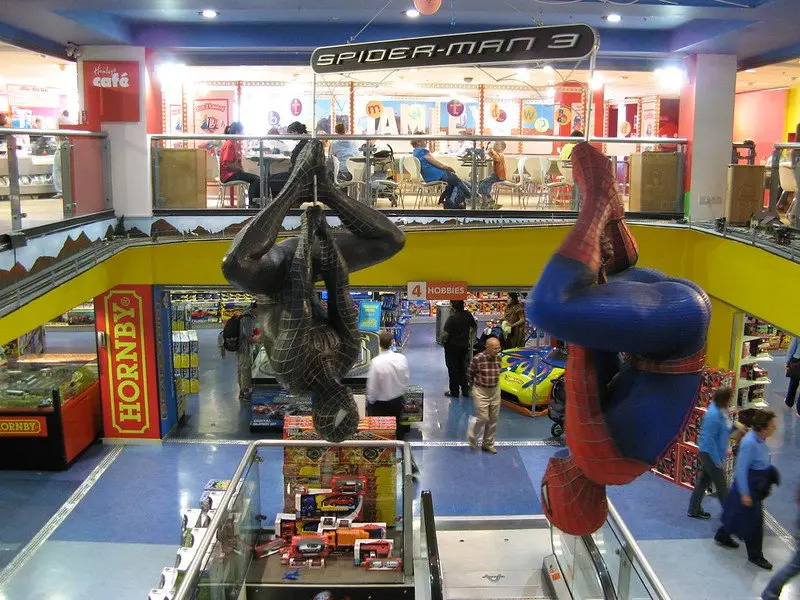 Image credit: Olivier Bruchez via Flickr CC BY-SA 2.0
No.2: Where is the biggest toy shop in London located?
The world's biggest toy shop in London is on Regent Street in London.
Kate Spade New York, Anthropologie, Zara, Coach, Burberry and Timberland are also on Regent Street.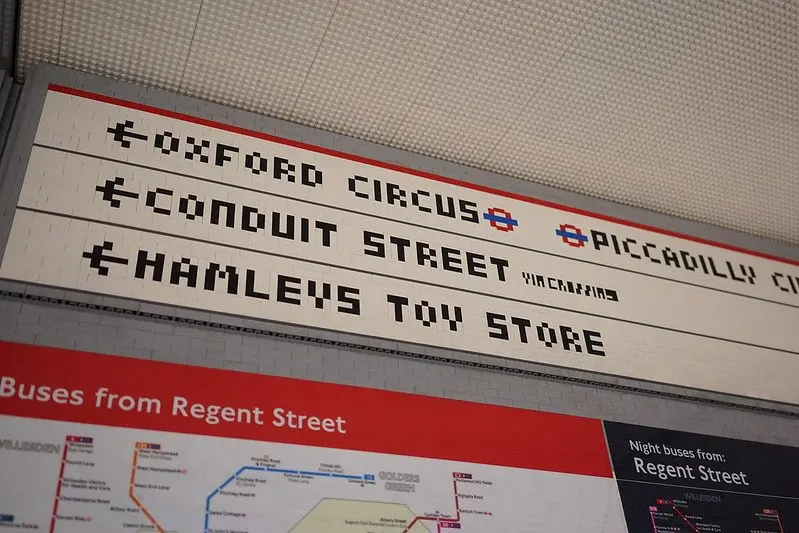 Image credit: Iain Farrell via Flickr CC BY-ND 2.0
No.3: Do they have a Hamleys Gift Card?
Yes, you can buy Hamleys Gift Vouchers at the best toy store in London, starting from £1, up to £50.
No.4: What are the most famous shops in London?
Hamleys Toy Shop London is top of the list, along with Marks and Spencer's and Liberty London Department stores.
Both are within 5 minutes walk of Hamley's London.
No.5: Where is Hamleys toy shop London?
Regent Street is your answer.
If you are asking, what is the best place to do shopping in London? head here for all the big brands.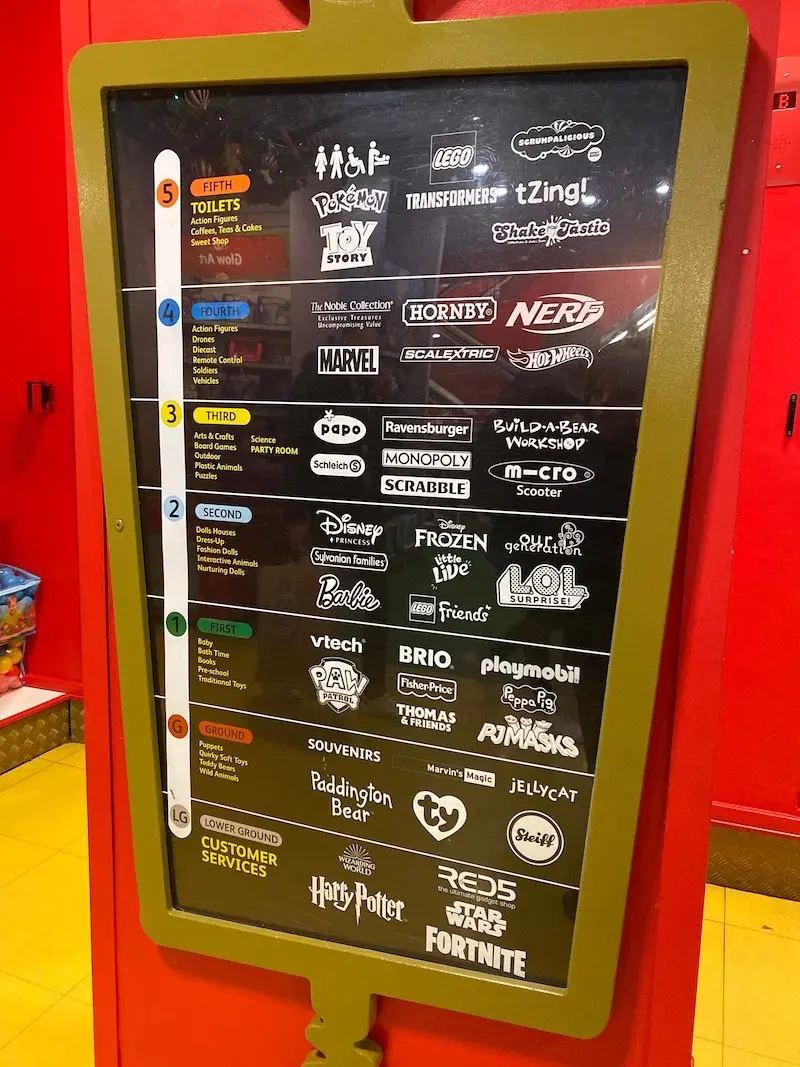 THE INSIDE SCOOP: Hamleys Biggest Toy Store in London
Correct at time of publication on Roam the Gnome. Please check with venue for updates. We apologise in advance if there have been any changes we are unaware of. All prices in pounds, unless otherwise stated
Hamleys London Address: Hamleys address is 188-196 Regent Street, London, England
Hamleys London Phone Number: +443717041977
Website: Click here
Email address: Contact the store via this link.
Facebook: Keep up with all the events in the London store by liking their Facebook Page here.
Hamleys London Opening Times
Hamleys opening times are:
10am Monday to Friday
9.30am Saturday
12pm Sunday
Hamleys Closing Time
Hamleys closing time is:
9pm Monday to Saturday, and
6pm Sunday.
Subject to change during Hamleys Toy shop London Christmas time.
Entry Fees: Free entry, but good luck getting out without some kind of "investment" in the world of Hamleys toys.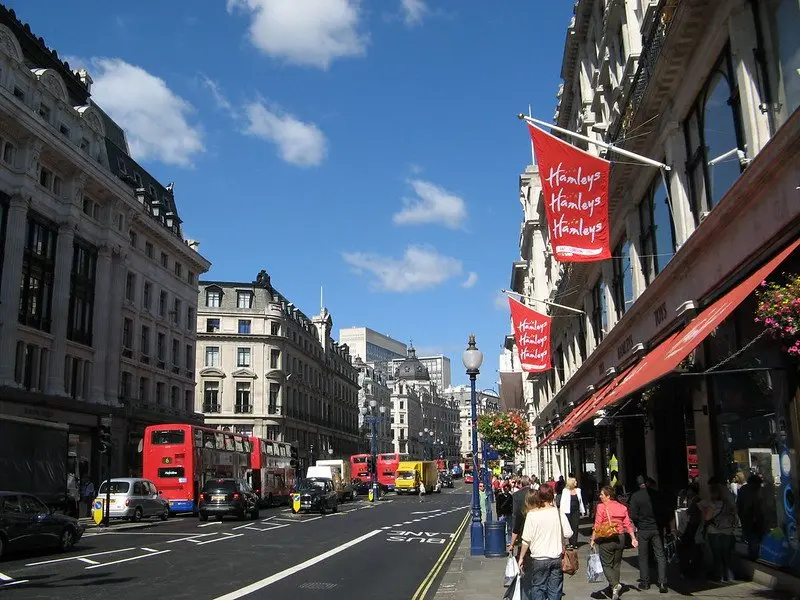 Image credit: Olivier Bruchez via Flickr CC BY-SA 2.0
How to get to Hamleys Toy Shop
By Tube
Oxford Circus – the closest tube station
Piccadilly Circus
Tottenham Court Road
By Car
Car Parking is available at the following car parks:
Brewer Street (W1F 0LA)
Grosvenor Hill (W1K 3QQ)
Sanderson House (W1T 3NG)
The best toy store in London is located in the London congestion charge zone, more information is available here.
Click here for other Hamleys Toy Stores around the world.
Oxford Circus to Hamleys
Click here for walking directions from Oxford Circus underground station to Hamleys toy shop.
London Eye to Hamleys
Click here for directions from London Eye to Hamleys on Regent Street by bus. It's approximately 15 minutes journey.
By foot, it takes 30 minutes, or just 12 minutes by car, if you can find a park.
Map of Hamleys Regent Street Toy Shop London
Our Top Tips for London Regent Street Fun!
Subscribe to these London for Kids magazines for up to date events for Kids in London: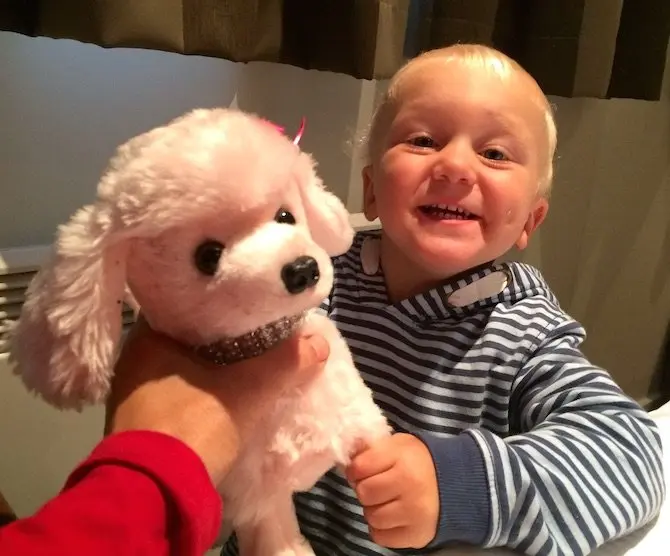 What we bought at Hamleys Toys London
On our first visit to Hamleys, we bought the silly and noisy pink yapping dog.
Jack fell in love with it, so we paid the (premium) price so we could bring him home to Australia – via the world.
Jack's still in love with Pink Puppy to this day – not the yapping or walking, he never liked that – but the pink-turning-grey dog is a much-loved member of his precious soft-toy collection that sits on his bed.
Toadstool Rating (by the kids) – "Thanks for Playing!"
The sign by the door of Hamleys as you exit this London toy store says "Thanks for playing".
No, Hamleys.
Thank YOU for the fun adventure.
We'll be back.
Double our normal 5 toadstool rating to 10 TOADSTOOLS!

Looking for More Fun Things to Do in London with Kids?
Click the blue links below for more London ideas: