INSIDE: Roam the Gnome's COMPLETE Guide to ALL the Best souvenirs from London UK.
Wondering what to buy in London or need London gift ideas for family and friends?
Want to know "what are the best things to buy in London for kids?", or find some insider information on the best London tourist shops that won't break your bank?
Check this guide to:
the best places to go shopping in London
the famous stores in London
where to buy Buckingham Palace Royal souvenirs
the posh shops in London for those who love one of a kind designer goods
the elegant and most beautiful shopping arcades in London, and
where to go Christmas shopping in London.
Take a look.
Disclosure: This article contains affiliate links. If you make a purchase after clicking on one of these links, we may receive a small commission at NO extra cost to you.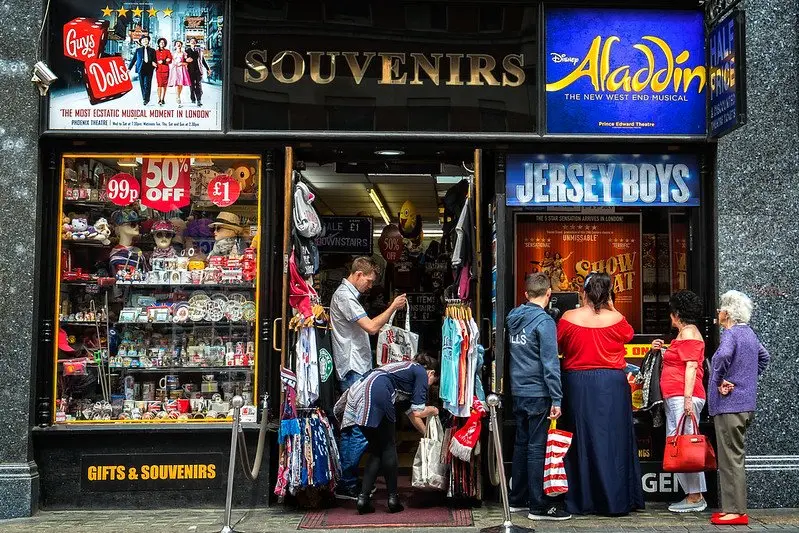 Image credit: Garry Knight via Flickr CC BY-2.0
The 101 Best London Souvenirs & Gifts for Family and Friends
Correct at time of publication on Roam the Gnome. Please check with venue for updates. We apologise in advance if there have been any changes we are unaware of. All prices in British pounds, unless otherwise stated
Here's our tips on the best London shopping destinations including our favourite shops, and markets in London.
We've organised the list of London gift shops by category. Click the headings in the contents box to go straight to a particular topic, or scroll the list from top to bottom.
First up though, a quick overview of the main shopping areas in London.
Image credit: Michiel Jelijs via Flickr CC BY-2.0
THE BEST SHOPPING IN LONDON
Click here for our guide to the BEST LONDON SHOPPING AREAS.
And then, take a look at our London Shopping map where you can see these shopping areas in London marked for you.
THE 11 MOST FAMOUS STORES IN LONDON
Do take a peek at these famous shops in London.
You'll find LOTS of the best London souvenirs, all happily curated and styled for you, right here.
A visit to any of these stores is a good start to building your pile of the best London souvenirs to take home.
No.1: Harrods London
Harrods Department Store – the must do shop in London.
No.2: Selfridges
Chain of high-end department stores in the United Kingdom
No.3: Marks and Spencer
major British retailer priding itself on quality clothes, underwear, and gourmet food
No.4: Burberry
Luxe British fashion house most famous for their trench coats, as worn by Kate Moss
No.5: Liberty London
The grand Heritage-listed building on Regent Street is home to luxe homewares and a very famous fabric collection
No.6: Fortnum and Mason
Another gorgeous British department store not to miss.
No.7: Hamleys Toy Shop London
Hamleys Toy Store is the biggest toy store in London on Regent Street
No.8: Daunt Books
Probably the most beautiful book shop in England, if not the world, with skylights and panelled oak wood furnishings
No.9: James Smith & Sons
Seller of umbrellas, parasols and walking sticks.
Come to take a look at the Victorian shop building and pick up great souvenirs.
No.10: Buckingham Palace Shop
Buckingham Palace Gift Shop is the place to buy OFFICIAL Royal gifts and souvenirs!
No.11: Boots chemist London.
I know, strange to add a chemist, but this chain of chemists is a British stalwart.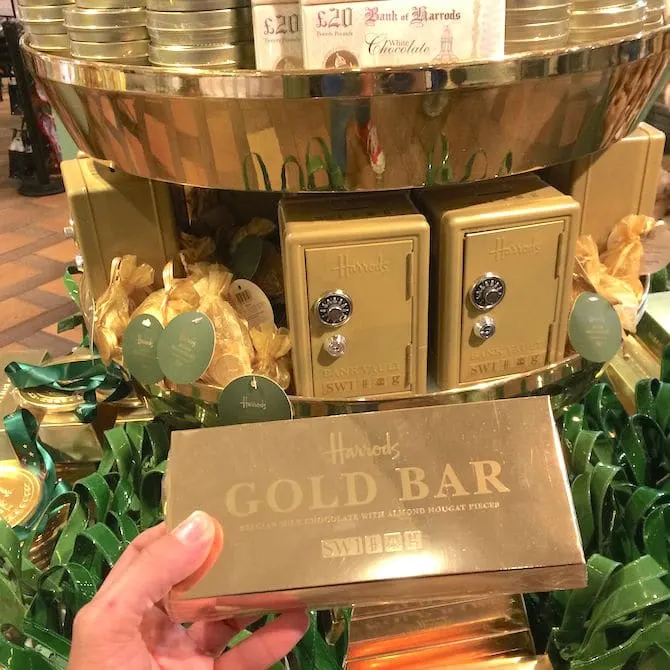 4 VERY FAMOUS THINGS TO BUY IN LONDON
No.1: Harrods souvenirs
The most Famous London souvenirs are:
Harrods Gold Bar chocolate
Harrods Signature Shopping Bags from Harrods Department Store in London
London souvenir bracelets from De Beers Jewellers in Harrods
No.2: Anything featuring these London icons
Black Cab
London Red Doubledecker Bus
Royal London post box
Classic UK red telephone boxes
Big Ben
London Eye wheel
London Royal Guardsman, and
London Bobbies (London policemen).
For example, Die-cast vehicles: a London Black Cab, a London Red Bus figurine, or a pull-back die cast London Bus toy
Or, London bus keyrings
Or, plush Teddy bears dressed up in a London Royal Guardsman costume with a bearskin hat, or British policeman uniform.
Or, London landmarks in miniature form – Big Ben, London Eye, Westminster Palace, Buckingham Palace
No.3: Fun Souvenirs London Style!
London Red Postbox ornaments or money boxes
Union Jack flags
London souvenir t-shirt with the London Underground map
Sunglasses case with London Tube Roundels on it
Homewares & fashion featuring iconic moquette designs from the London underground trains upholstery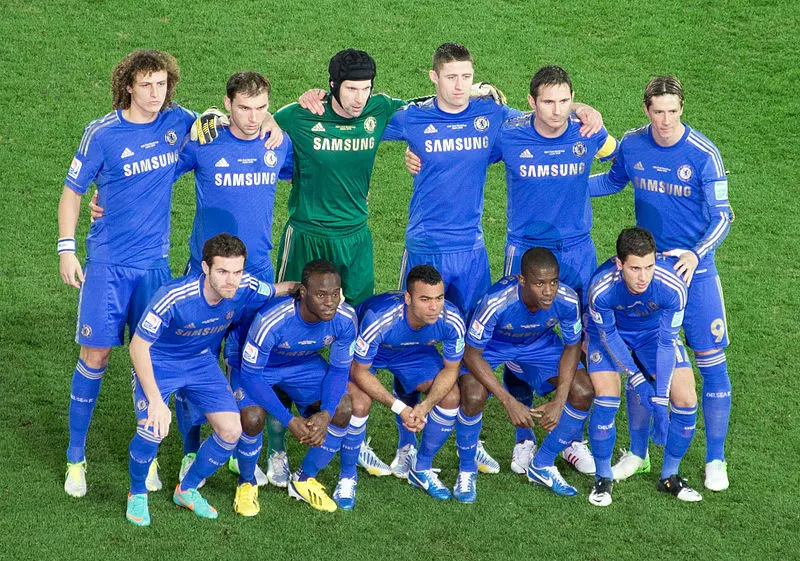 Image credit: Tomofumi Kitano
No.4: London Football Souvenirs (Soccer)
Want to know where to buy official football t-shirts for London football teams, and associated paraphernalia?
These are cool souvenirs from London UK for the boys and men in your life.
Official soccer shirts, jerseys, socks, gloves
Football mugs
Caps and beanies
Soccer balls
Water bottles
Jewellery, Sunglasses
Signed memorabilia
Stationery, , keyrings, phone accessories
Baby onesies, baby dummies, baby bottles
Limited edition Soccer Starz figurines & collectibles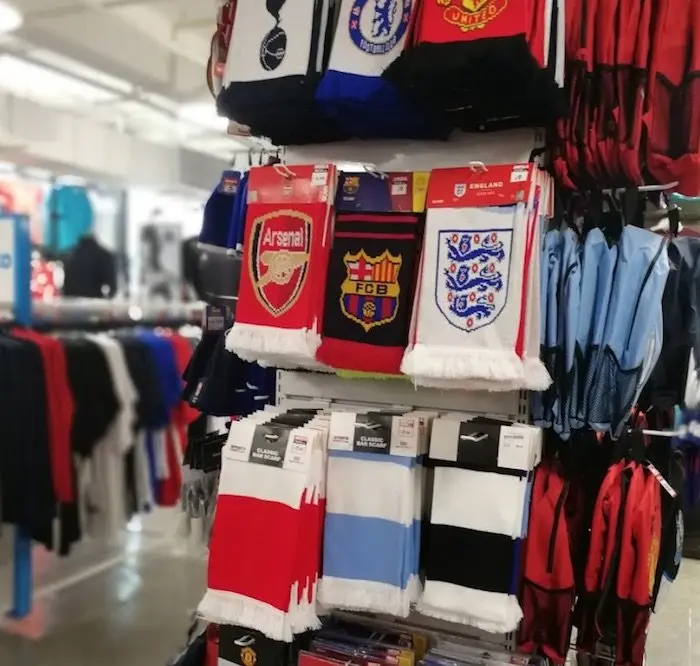 Image credit: Richard Cuint
Visit these sports shops in London
Adidas (Chelsea) or Nike (Arsenal) shops on Oxford street
Sports Direct, Oxford street or Piccadilly Circus
Soccer Scene, on Oxford Street
Sport World, near Tottenham court road end
No.1: Lillywhites store
Lillywhites has 3 floors of sports gear, and is the best on the budget.
London soccer teams include:
Manchester United
Arsenal
Chelsea
Liverpool F.C
Tottenham
Real Madrid
Tottenham Spurs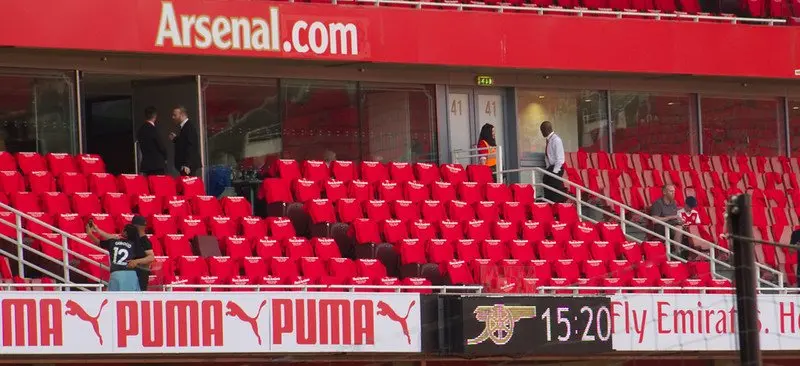 Image credit: Ronnie MacDonald via Flickr CC BY-2.0
No.2: Arsenal Football Club Shop
Club shops sell their own club shirts and all the branded souvenirs too.
The main Arsenal Football Club shop is at the Armoury, Emirates Stadium, at 75 Drayton Park, London N5 1BU.
It's open Monday to Friday, from 9am to 6pm, and Sunday 10-4pm.
No.3: Chelsea FC Megastore
The Chelsea Megastore is situated right at the heart of Stamford Bridge on Fulham Road, London and has over 12,500 square feet of space, distributed throughout two floors, dedicated to all things Chelsea.
They sell training wear, footwear, mugs, scarves and more.
The Chelsea FC megastore is open Monday to Saturday from 9am to 7pm, and 11am to 5pm Sunday.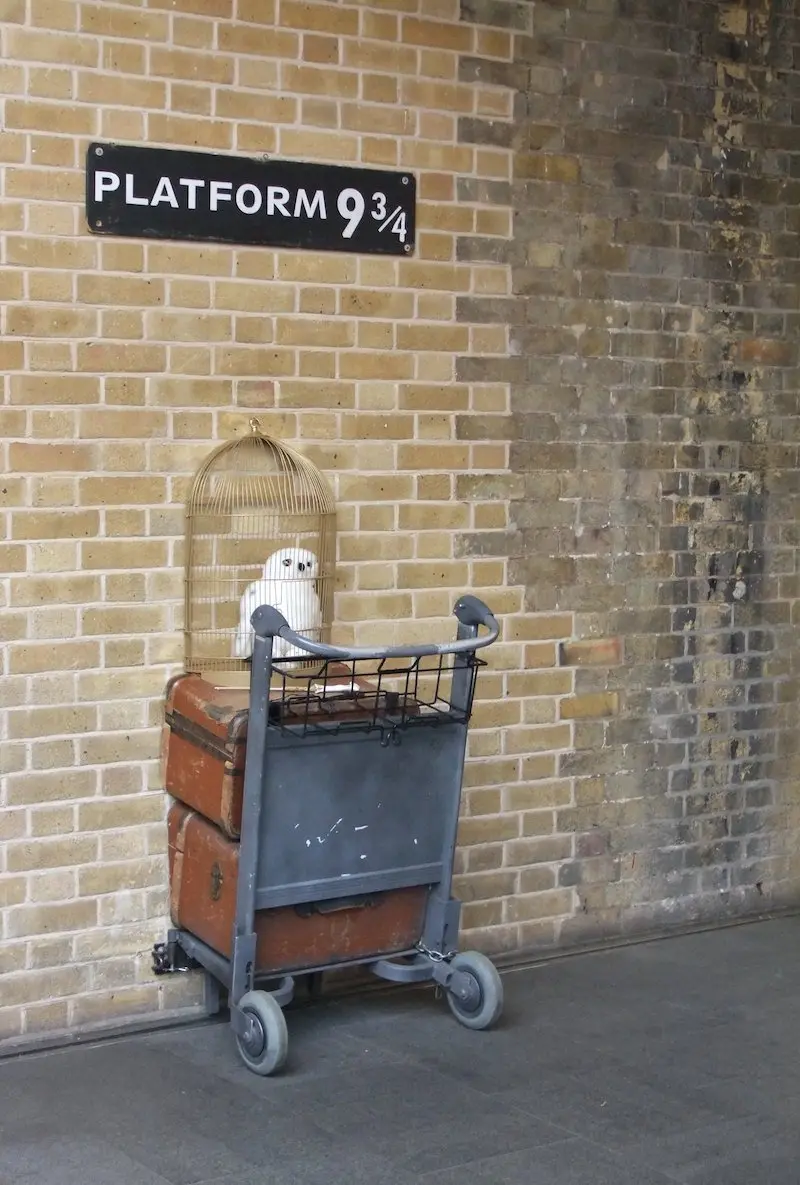 Image credit: Florian Bieser via Flickr CC BY-1.0
26 BEST HARRY POTTER SOUVENIRS
Visit The Harry Potter Shop at Platform 9 3/4 Kings Cross Station
Do not miss the only place you need to go for Harry Potter gifts and souvenirs – the Harry Potter Shop at Platform 9 3/4.
Grab that all important pic with the luggage trolley at Platform 9 3/4 at the Harry Potter Shop in London.
Professional photographers are on hand and you can purchase the photo in store.
Store and photographers hours are:
Monday – Saturday 8am – 10pm
Sunday 9am – 9pm, and
Bank holidays 9am – 10pm
Please note, the trolley photo opportunity closes 30 minutes before the rest of the store.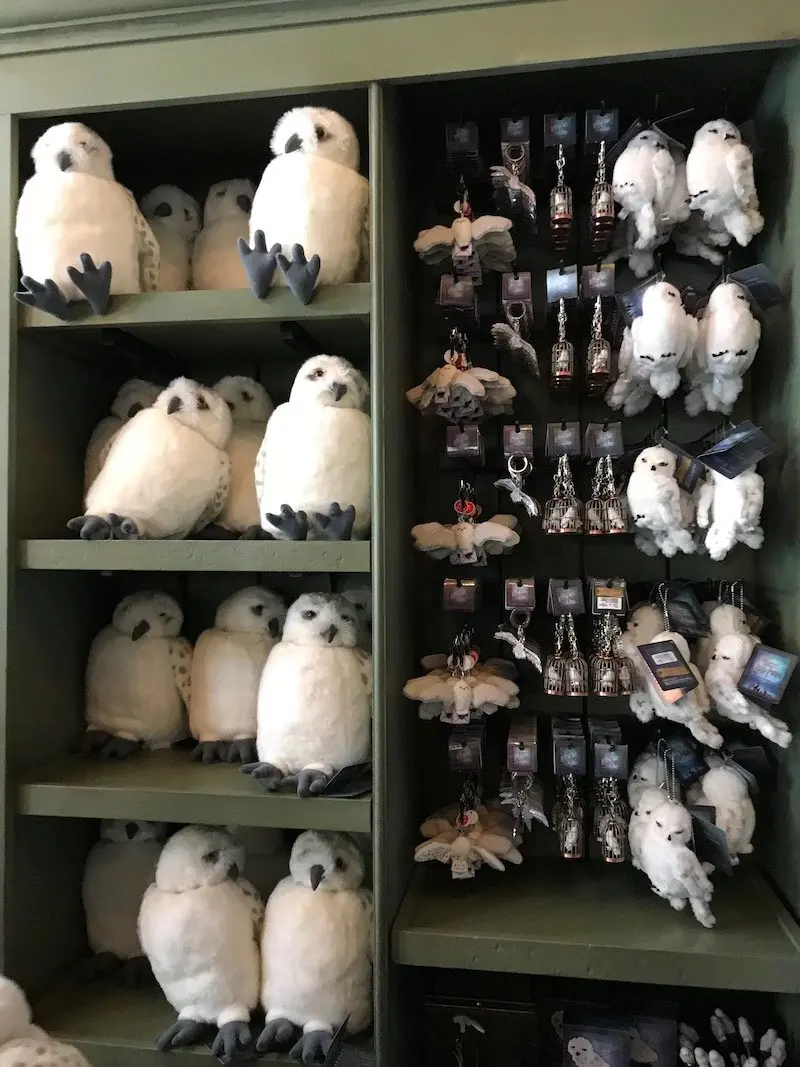 No.1: Best Harry Potter Merchandise
Head in store to pick up all your Harry Potter gifts for kids.
Here's some of the things you'll find.
Platform 9 3/4 keyring and ticket
A Harry Potter cloak
Harry Potter wands in an Ollivanders Box
Hermione Granger's wand in Ollivanders box
Harry Potter Trivial Pursuit game, Harry Potter Monopoly, Harry Potter UNO, or the World of Harry Potter Cluedo game
Hogwarts Playing cards
Golden snitch pin badge
Personalised Hogwarts Acceptance Letter
Invisibility coat
Harry Potter books
Harry Potter charms
Chocolate Frog mould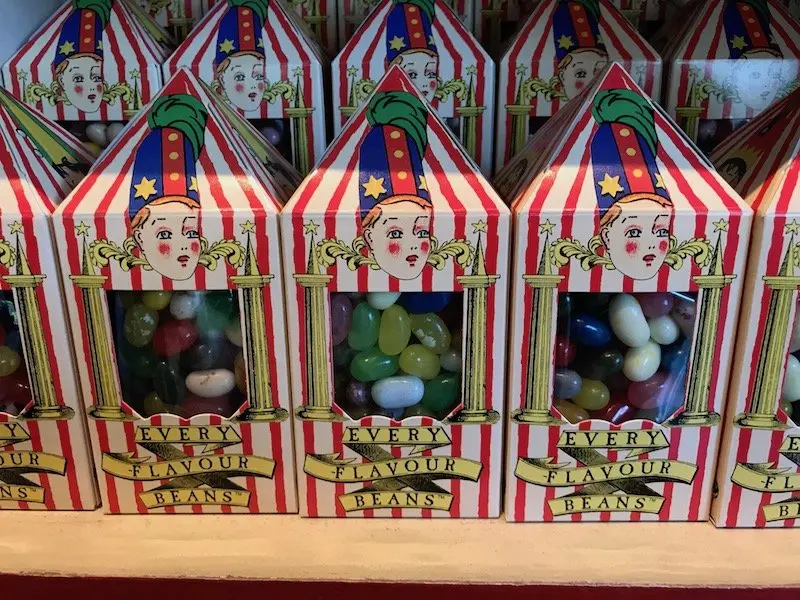 No.2: Best Souvenirs from London for Kids from Harry Potter
Harry Potter pajamas & Harry Potter bedding
Hedwig plush owl toy
Harry Potter colouring books, puzzles, and posters
Gryffindor scarf, house tie, and knitted hat, or
Gryffindor Quiddith sweater
Or choose the same combo from Slytherin, Ravenclaw, or Hufflepuff houses.
No.3: Harry Potter lollies
For those on a budget, the Harry Potter confectionery is fun.
Try:
Bertie Bott's Every Flavour Beans
a bag of Gringotts Galleons chocolate coins, or
Harry Potter jelly slugs.
Image credit: Wei-Te Wong via Flickr CC BY-SA 2.0
How to get to the Harry Potter Shop London
Address of the Harry Potter Shop at Platform 9 3/4: Kings Cross Station, Kings Cross, London N1 9AP
Directions of how to get to the Harry Potter Shop in London: Click here
There's also a Harry Potter shop outlet at:
Heathrow Terminal 5, and
Gatwick North Terminal.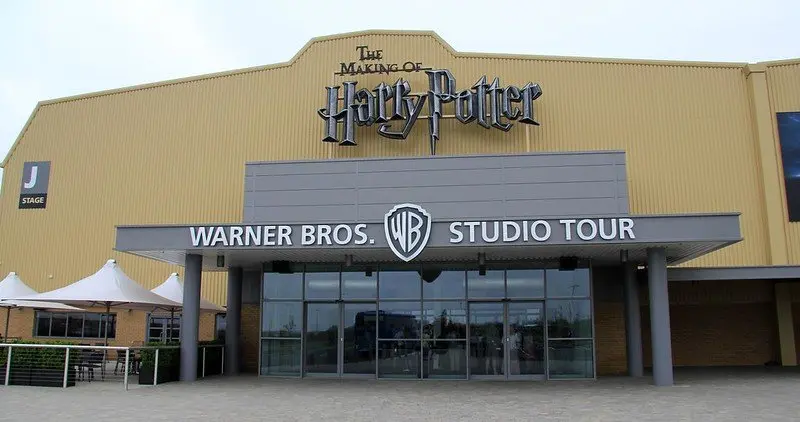 Image credit: Karen Roe via Flickr CC BY-2.0
Hot tip: Harry Potter Studio Tour
Take a trip into movie magic, with an enchanting full-day Warner Brothers Harry Potter tour of the Warner Brothers Studio, with coach transfers from London.
Go behind the scenes of the Harry Potter film sets to explore the enchanting props and costumes, and walk in the footsteps of your favorite characters.
Visit the Harry Potter studio shop for limited edition Harry Potter merchandise.
There's also:
the Forbidden Forest shop full of forest themed HP souvenirs, and
the Railway Shop where you can buy Harry Potter gifts including Harry Potter candy such as Peppermint Toads or a Chocolate Frog for your journey home.
If you have Harry Potter mad kids, don't miss it.
It's one of the most popular things to do in London with kids.
---
BOOK NOW: Click here to book Harry Potter Warner Bros Studio Tours & Transfers with Get Your Guide.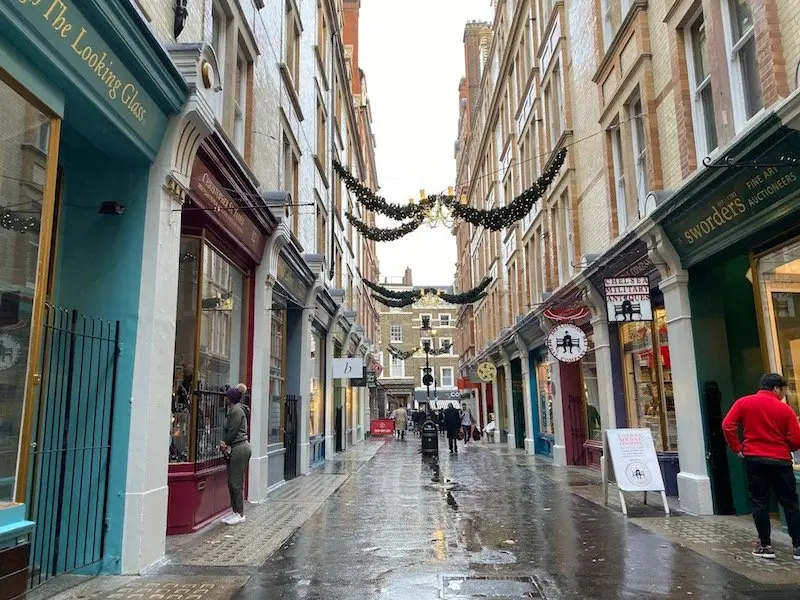 SECRET HARRY POTTER SPOTS IN LONDON
Don't miss Harry Potter Street London!
Cecil court in London has the reputation for being the inspiration for Diagon Alley in the Harry Potter book series.
Nicknamed Booksellers Lane, the street is home to vintage book sellers, model makers, and antique stores.
It's not hard to imagine.
It's a charming narrow lane with uniform street frontages, and those old fashioned signs hanging from ornate holders out the front of each shop.
Do peep in the shop windows.
You never know what you might see here!
---
BOOK NOW: Magical London Walking Tour of all the famous sights from Harry Potter movies!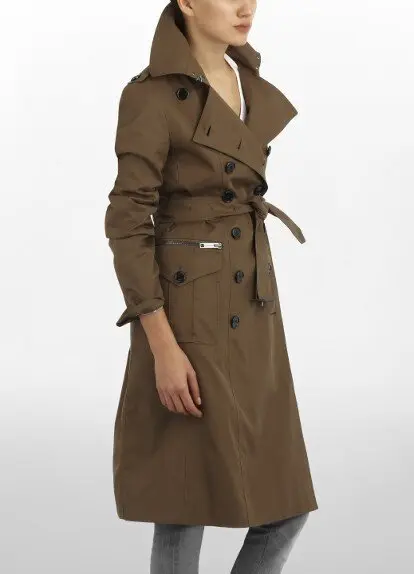 Image credit: Atomtetsuwan via Flickr CC BY-SA 2.0
WHAT TO BUY IN LONDON? LONDON GIFT IDEAS FOR EVERYONE!
The best gifts from London are things that are instantly recognisable as being from this fabulous city.
Here's a few more ideas for you.
BEST SOUVENIRS FROM LONDON ENGLAND
No.1: Best London Clothing, Fashion & Beauty goods
Here's a list of key pieces for your London wardrobe & accessories range.
Burberry trench coat – classic wool blend, belted double-breasted coat in camel
Marks and Spencer underwear
M&S denim pieces, or a dress from their Spring collection
Stella McCartney – visit the Bruton Street flagship store for ready to wear clothes, sunglasses and fragrance

Paul Smith – Britain's top designer features bold colours and designs.

Victoria Beckham fashion for a beautiful classic fitted dress, accessories or eyewear

Union Jack flag cap

Vintage classic Spice Girls t-shirt, because you must!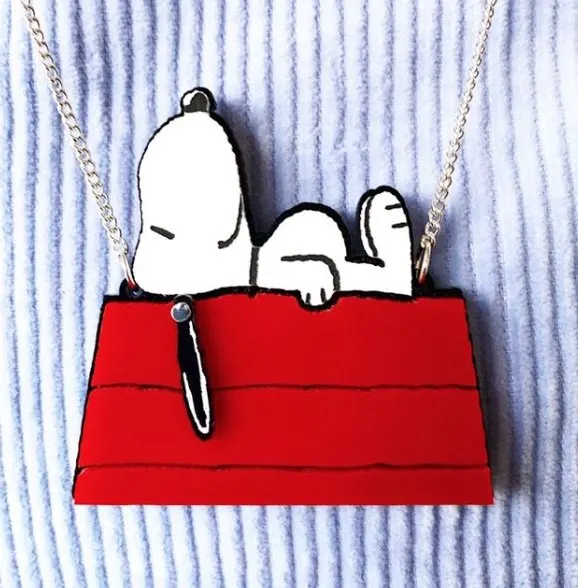 Image credit: Tatty Devine
No.2: Best London Jewellery
Liberty London has a range of elegant jewellery.
Try:
Links of London for their charm bracelets
Tatty Devine handmade jewellery, since 1999. The most fun jewellery range in London, made from perspex and brightly coloured. Their original name necklaces still rock. For the quirky girl in all of us.
Great Frog handmade jewellery, since 1972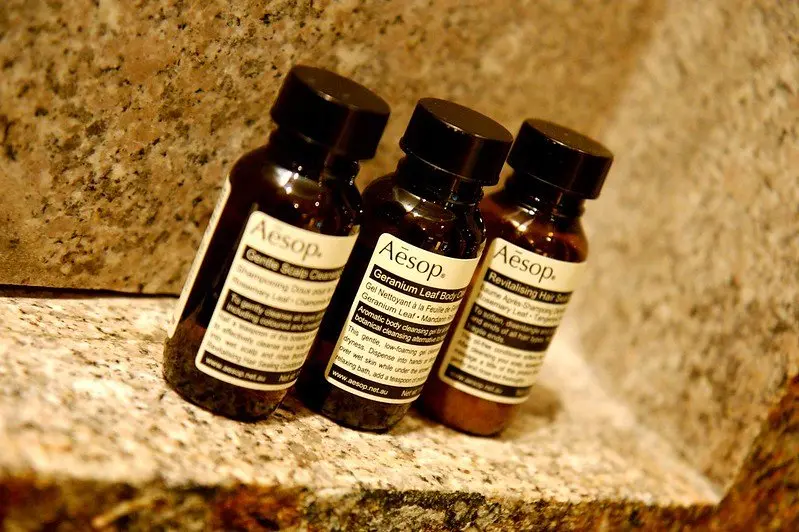 Image credit: Jay.Tong via Flickr CC BY-ND 2.0
No.3: Best London Skincare & Makeup Brands
Keep your eyes out for these four popular London skincare brands:
1. The Rose Tree
2. Angela Langford Skincare
3. Bee Good, British bee products
4. Eve of St Agnes
Where to shop for skincare in London?
Charlotte Tilbury in Covent Garden
Fresh Cosmetics store in
Liberty London
Aesop Lamb's Conduit Street or Notting Hill
Space NK Apothecary – shop for all the trending skin care and make up brands from the UK at one of their London stores
Marks and Spencer is your go-to for everyday skincare and make up brands too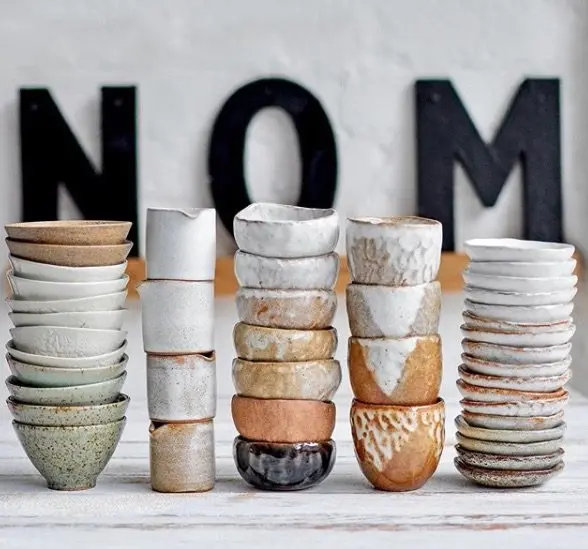 Image credit: Nom Living Instagram
No.4: Best British Home Decor & Homewares
The top London souvenirs for design afficianados are homewares and home decor gifts.
Try these London homewares shops
No.1: Zara home
Gorgeous London homewares for all over the house.
Find them at 127-131 Regent St, Mayfair, London
No.2: Aria furniture store
Find them at Barnsbury Hall, 2B Barnsbury St, Islington, London
No.3: Smug
Our pick of the home decor shops to visit for cute handmade gifts and souvenirs from London
No.4: Nom Living
Another off-the-beaten-track homewares shop in London, filled with hand crafted beauty.
Find them 102 Columbia Rd, Bethnal Green, London
No.5: India Jane
The ultimate interiors shop, with a treasure trove of home accessories and good London souvenirs for fancy peeps.
Visit at 121 King's Rd, Chelsea, London
No.6: Native & Co
Head to 116 Kensington Park Rd, Notting Hill, London, for wholesome and elegant Japanese home decor and accessories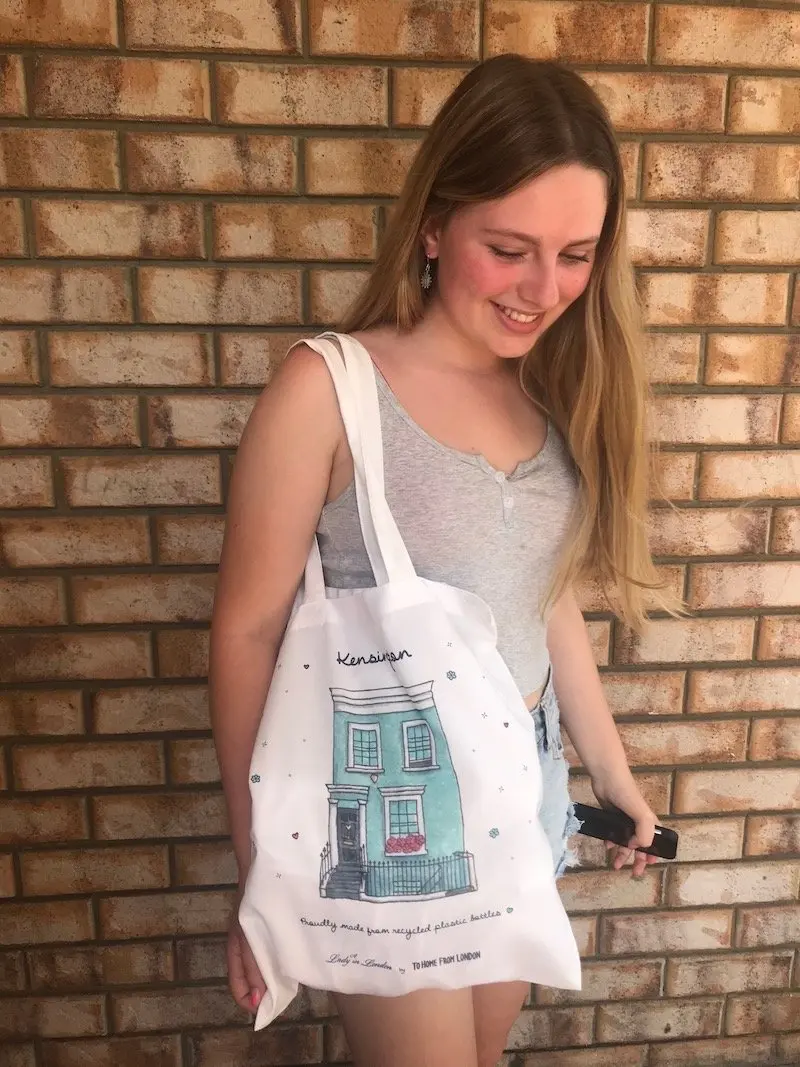 Hot tip: To Home from London Souvenirs – collaboration with A Lady in London
Our newest London souvenir find is this collaboration between the style blogger, Julie from A Lady in London, and the duo Bianca and Nacho from the Creative Studio "To Home from London"
These gorgeous London gifts feature colourful houses from the most beloved London suburbs, Kensington, Chelsea, Notting Hill and Knightsbridge, drawn in the signature watercolour-style.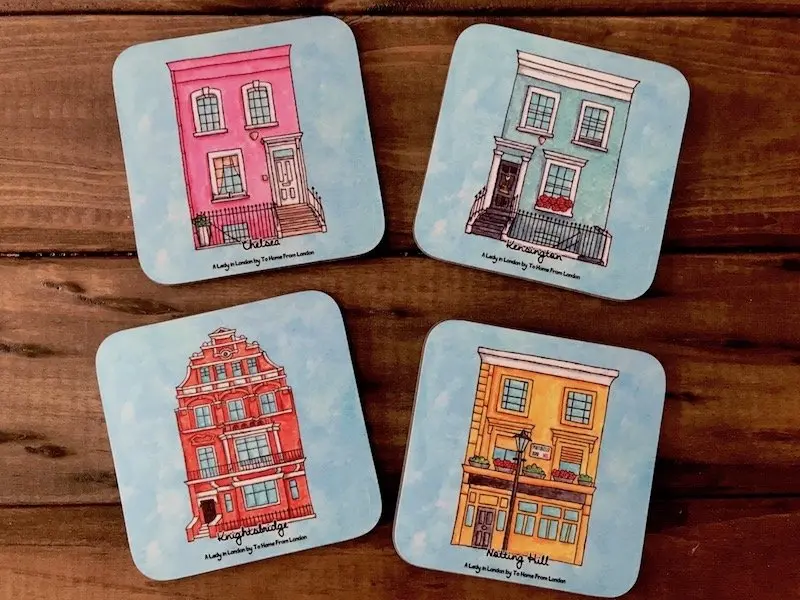 Featuring Famous London suburbs
You can purchase:
Eco bags made from recycled plastic bottles (the fabric is lightweight, and silky to touch!)
table coasters in the four designs – these have a magnetic layer on the back so you can pop them on the fridge as artwork too (and safekeeping)
gorgeous ceramic mugs (dishwasher and microwave safe )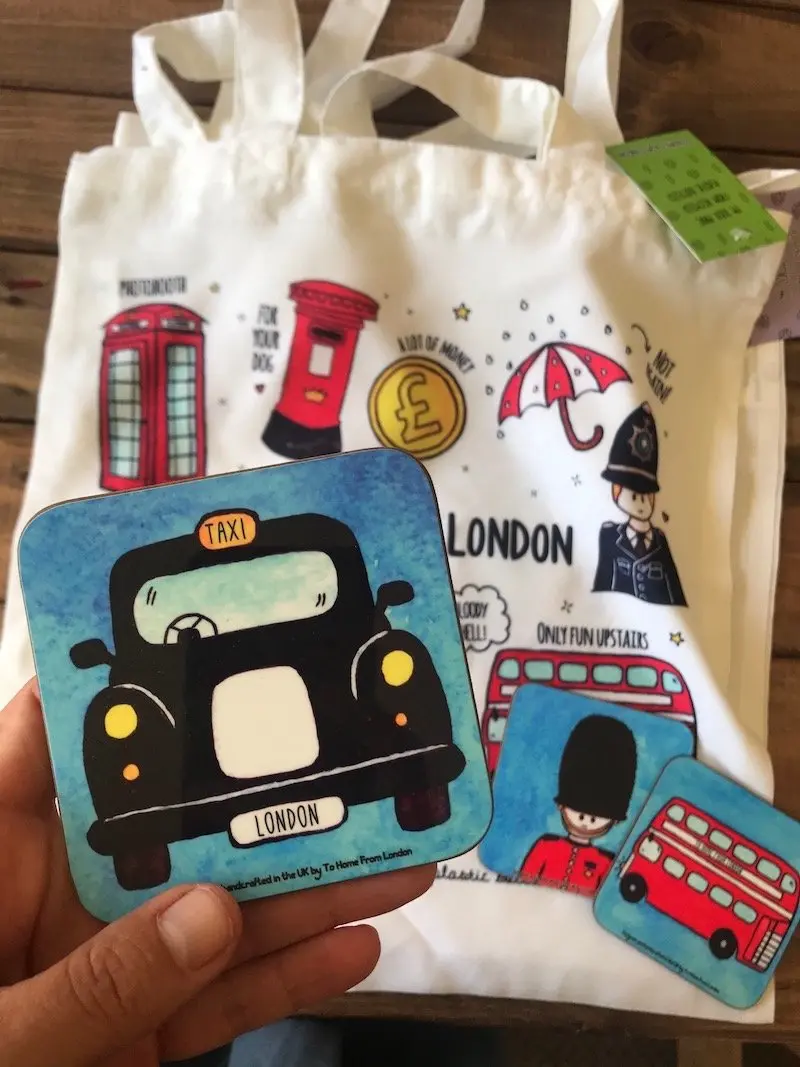 MORE To Home From London souvenirs
To Home from London have other cool London souvenirs featuring their take on:
iconic British icons
British rockers
Harry Potter
Spice Girls
the Beatles
official transport for London
British sports
British food and drinks
British slangs, and
the Royal Family.
Find:
magnetic coasters and placemats and chopping boards
mugs
tote bags
cushions and prints
stickers, greeting cards, and postcards
gift cards
patches, pins and badges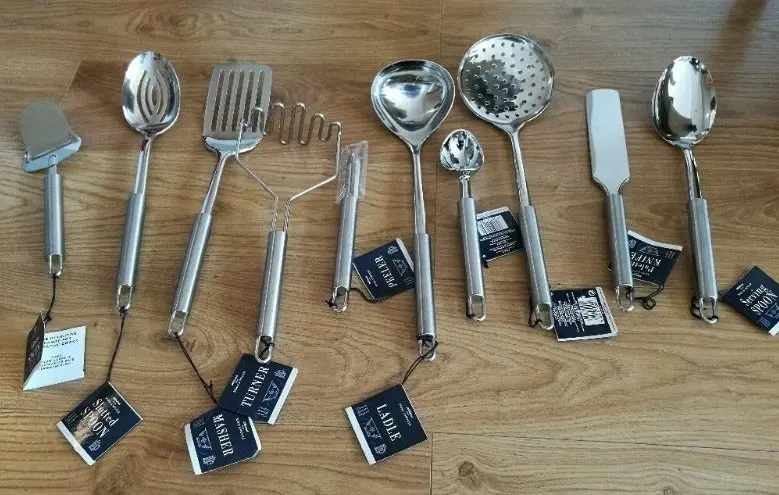 Image credit: Gumtree
No.5: Best London Kitchenware
Visit these London kitchenware stores for ALL the kitchen, baking and cooking supplies, chef's knives, and knick knacks. You'll find the best gifts for foodies in London here.
No.1: Pro Cook
Stop in at Unit 52 London Designer Outlet, Wembley Park Blvd, Wembley
No.2: Borough Kitchen Cook Shop
Find it at the awesome Borough Market, the oldest food market in London.
16 Borough High St, London
No.3: David Mellor Marylebone
For those who love good design as well as wholesome kitchenware.
14 New Cavendish St, Marylebone, London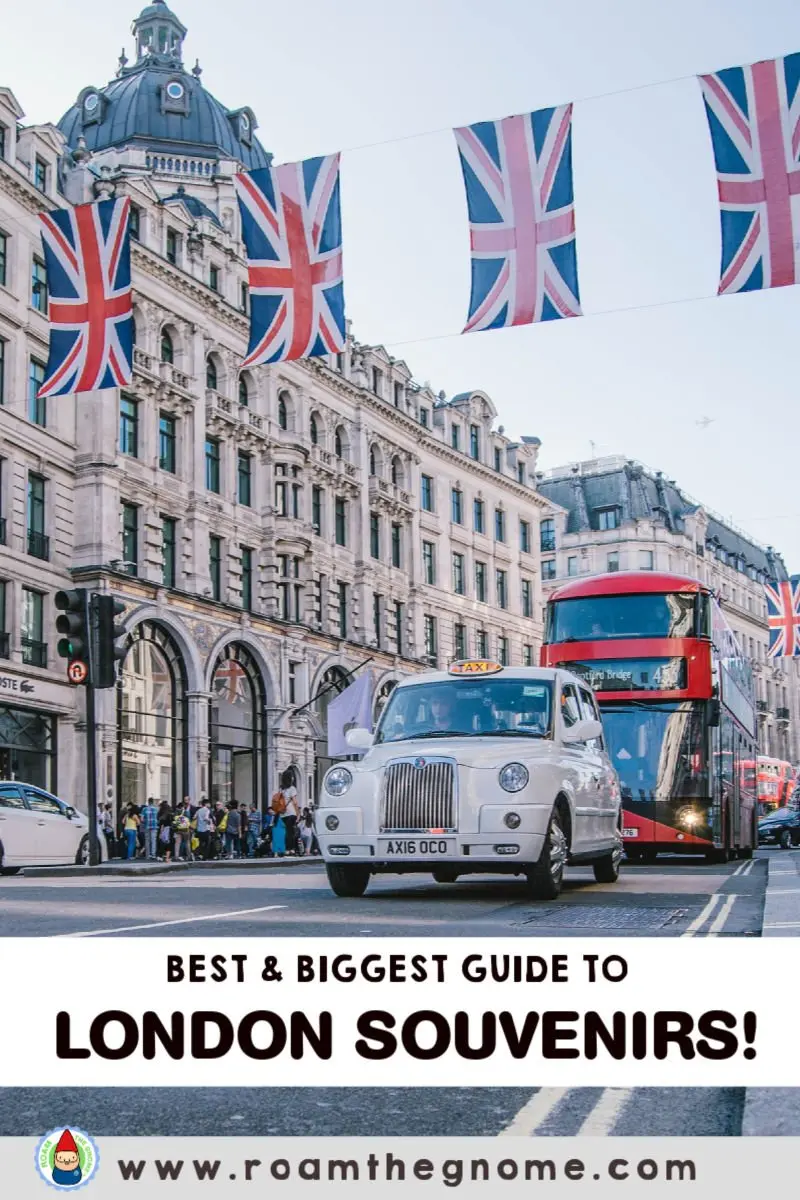 No.4: Le Creuset
Find it at 54 Ledbury Rd, Notting Hill, London.
Yes, Le Creuset is a French brand, but you can't miss this rainbow coloured collection of cups, teapots, salt and pepper shakers, dishes, and cookware.
It's so cute.
No.5: More Kitchenware in London
You can also shop for kitchenware in John Lewis, Liberty London, and Marks and Spencer for all things British.
The best kitchenware to buy in London are:
UK tea towels
chopping boards
oven gloves
aprons
cutlery
glassware
table linen
accessories
roasting pans
bakeware, and
kitchen storage.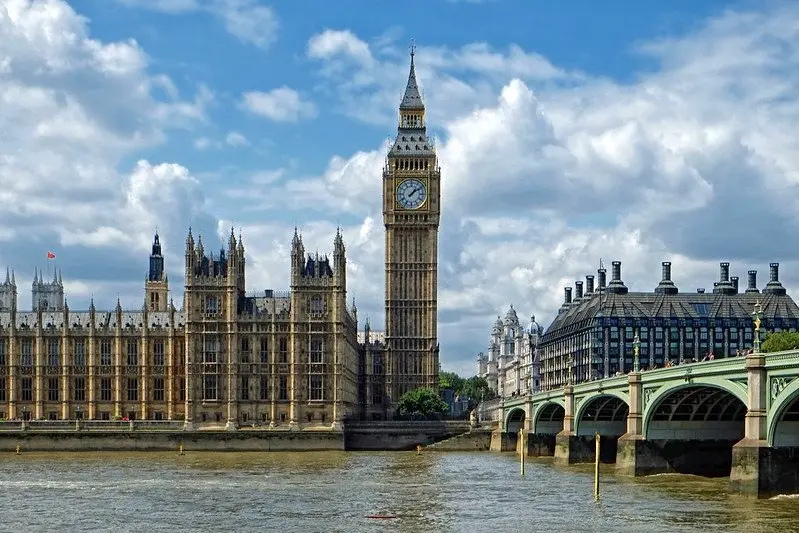 Image credit: Eric Huybrechts via Flickr CC BY-ND 2.0
No.6: Best London Ornaments & Figurines
Find these in any London souvenir shop.
Diecast model of Big Ben
Diecast model of a Royal London Post Box
Diecast model of the London Eye
Diecast vehicles – London Red Double Decker Bus, or a London Black Cab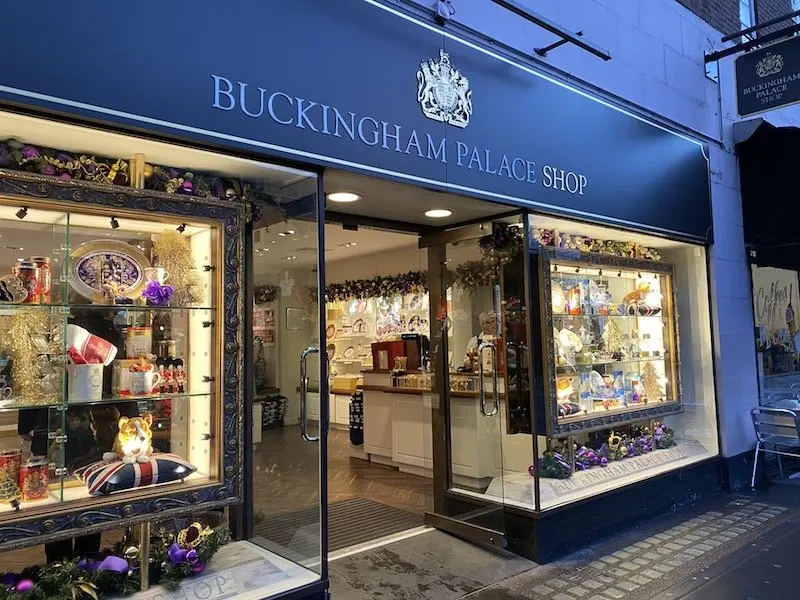 6 BEST LONDON SOUVENIR SHOPS WITH STYLE
Where to buy souvenirs in London?
The best souvenir shops in London for traditional British souvenirs and gifts are:
No.1: Fancy That of London
A lovely curated collection of British gifts & souvenirs for every budget.
48 Great Russell St, Holborn, London
No.2: Westminster Abbey Shop
Shop for a range of Abbey inspired products and gifts – all sales support their work.
You'll find spiritual gifts for the religious types, ties and cufflinks, tapestries, Westminster Abbey crystal wine glasses, silver or rose gold crown rings, elegant Royal Celebration crown tins or trays, AND curtains inspired by the designs in the abbey!
Broad Sanctuary, Westminster, London SW1P 3JS
No.3: Buckingham Palace shop.
This is a store for gifts inspired by the Queen's art collection, including homeware, clothes, books and toys.
There's even CORGI TOYS!
7 Buckingham Palace Rd, Victoria, London SW1W 0PP
Pictured above.
No.4: Cool Britannia
25-27 Buckingham Palace Rd, Westminster, London SW1W 0PP
No.5: Metlo London Souvenirs
6 New Goulston St, Spitalfields, London.
Metlo London is our pick for budget souvenir shopping in London if you are heading to Brick Lane and Spitalfields markets anytime.
Their range of souvenirs from England will surprise you!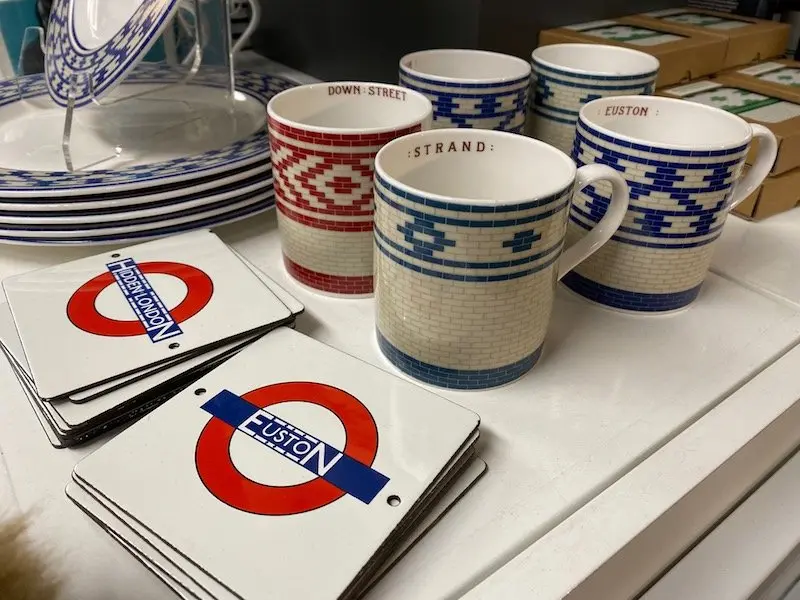 No.6: London Transport Museum Shop
Special mention!
Here's a special shop in London for cool souvenirs from London inlcluding London Underground pins, a set of four mugs, Christmas baubles from London, and Roundel tote bags.
Take a sneak peek here, but the best stuff is in store.
Their range of iconic London posters, and their souvenirs made from the Moquette style of fabric used in the underground trains.
The colours and pattern are unique to each underground line.
Grab a pair of Moquette socks or a cap at least!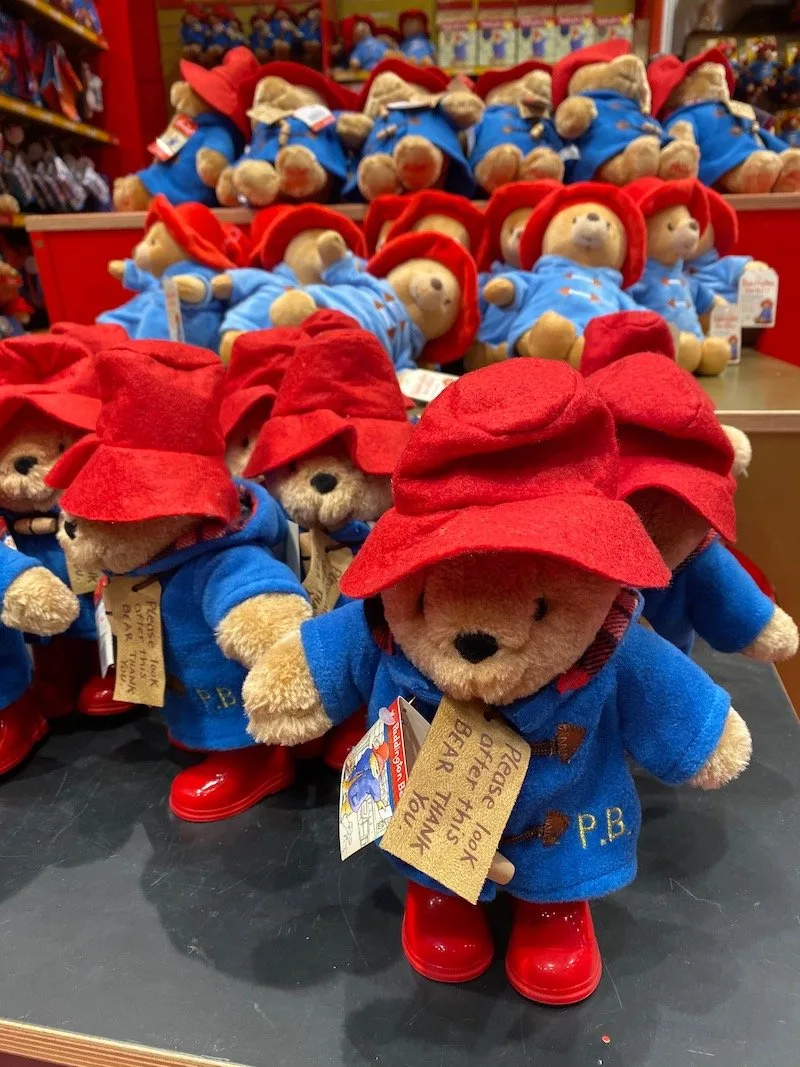 16 BEST LONDON SOUVENIRS FOR KIDS
Here's a list of cool things to buy in London for kids
Tweedledum and Tweedledee
Tiddlywinks game
Sherlock Holmes teddy bear
Harry Potter Quidditch Chess Set
Le Toy Van Harrods London Double Decker Bus
Marvin's Magic kits
LEGO London Bus
LEGO Architecture London
London Underground Edition of Monopoly
Thomas the Tank Engine Toys
Bob the Builder Toys
The Gruffalo toys
Harrods Teddy bears
Special mention: Cute Paddington Bear toys
The best souvenirs to buy in London for babies are Paddington Bear dolls.
Who doesn't love Paddington bear?
Every child needs at least one in their soft toy collection.
You can find Paddington Bear:
in Harrods, and
Hamleys Toy Shop in London.
No.1: The Paddington Bear Shop in London
But the best place is to visit the Paddington Bear Shop in Paddington Station.
(While you are there, visit the Paddington Bear Statue, a tribute to Paddington Station's appearance in the Paddington Movies)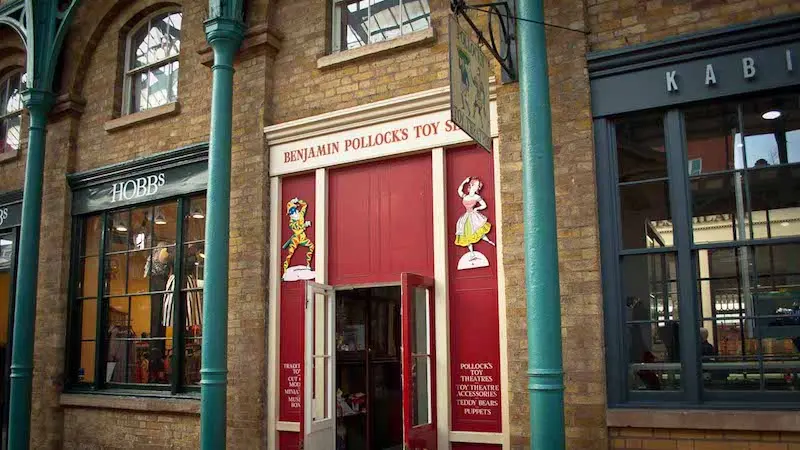 No.2: The 5 Best London Toy Shops
Visit these toy shops in London for classic British souvenirs for kids.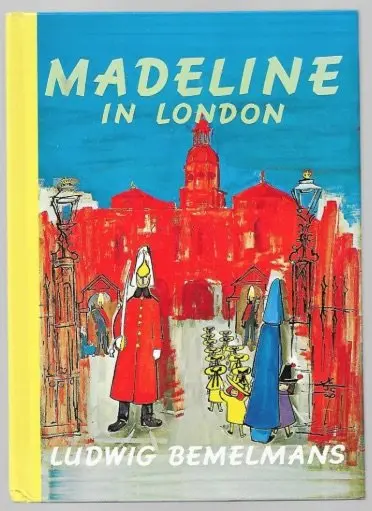 BEST LONDON KIDS BOOKS
Here's a list of London kids books that make great gifts for kids.
You can also read these books before a trip to London to help kids get a feel of where they are going, understand a little of the history of London, and preview the London sights they will see.
Katie in London by James Mayhew
All Aboard the London Bus by Patricia Toht and Sam Usher (illustrator)
Maisy goes to London by Lucy Cousins
A walk in London by Salvatore Rubbino
A Bear Called Paddington
Oliver Twist
The Story of London by Richard Brassey
The Ladybird Book of London
A Little Princess
This is London by Miroslav Sasek
The Hundred and One Dalmations
Charles Dickens, a Christmas Carol
Roald Dahl Matilda
The Queens Hat by Steve Atony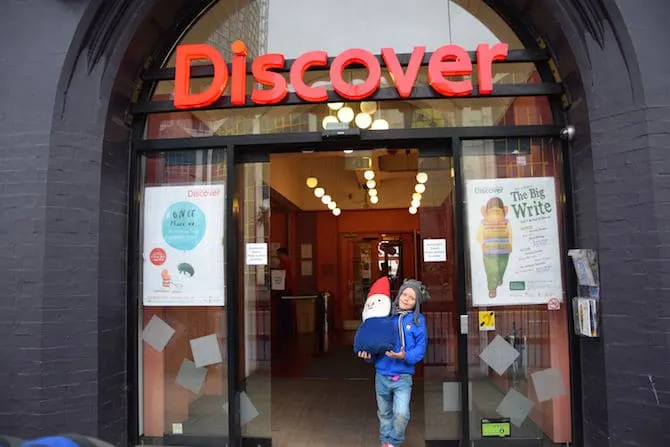 4 Best London Bookshops for Kids
The best bookshops in London to buy children's books include:
---
RELATED: The 7 BEST CHILDREN'S BOOKSHOPS IN LONDON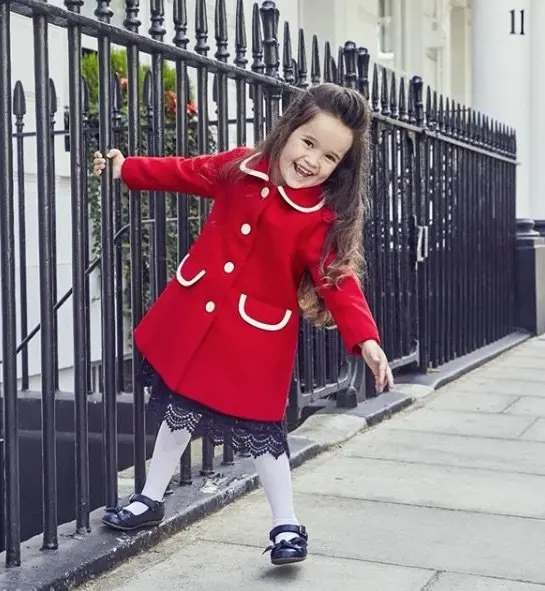 Image credit: Britannical_London
BEST LONDON CHILDREN'S CLOTHING BRANDS
The best British clothing brands for children usually been in business for years and years, and they've built up a following of fans, obsessed with their fine cuts, stylish fabrics, hand crafted appeal, and dedication to good work and longevity.
One of the best London kids brands is BRITANNICAL LONDON COATS, pictured above, drop dead gorgeous coats for wannabee royals.
Many adults covet a coat like this in adult size.
They are adorable.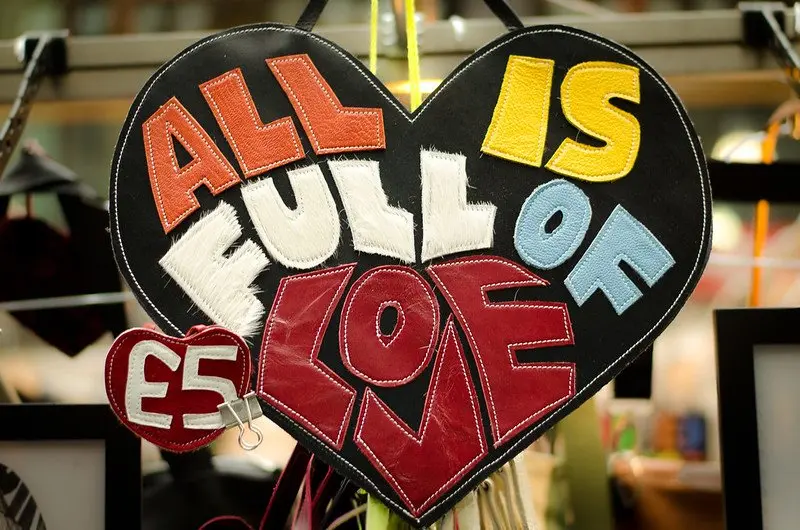 Image credit: Garry Knight via Flickr CC BY-2.0
ART, CRAFT AND HANDMADE TREASURE SHOPPING IN LONDON
If you are looking to buy London gifts and souvenirs for your friends and family who love sewing, arts and crafts, painting, good design, and handmade treasures, you have come to the right place.
We LOVE handmade.
So we wrote a BIG LIST of where to go in London to find adorable and elegant handmade souvenirs.
Take a look at this guide of what to buy in London for arty crafty people who love good design.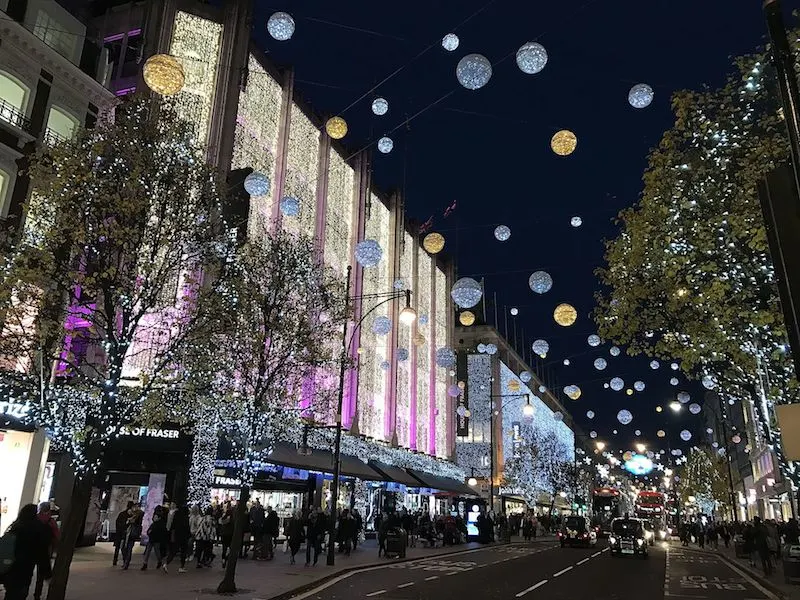 Image credit: Kyle Taylor via Flickr CC BY 2.0
LONDON HOLIDAY ORNAMENTS FOR THE CHRISTMAS TREE
Our tip is to visit the National Gallery of London to discover their range of Christmas decorations featuring iconic British sights.
The Tate Modern is another place to try.
You can also visit these Christmas shops in London:
Harrods
Liberty London
Marks and Spencer
Selfridges
Fortnum and Mason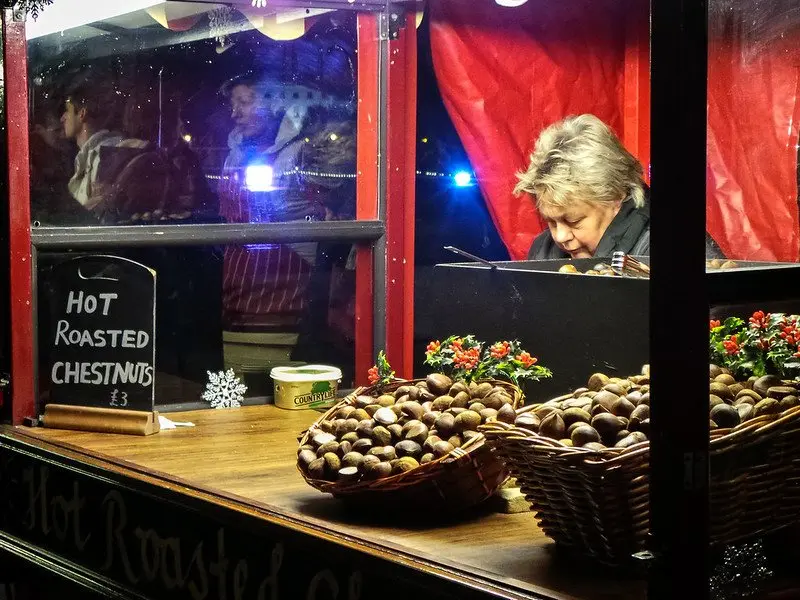 Image credit: Garry Knight via Flickr CC BY 2.0
8 Best Christmas Markets in London
You can also scour these Christmas Markets in London:
Christmas by the River festive market, at London Bridge City
Winter Wonderland at Hyde Park
Christmas in Leicester Square
Camden Market's Christmas
Southbank Centre Winter Festival and Christmas market
Greenwich Market at Christmas
Christmas at Canopy Market in Kings Cross
The Notting Hill Christmas Bazaar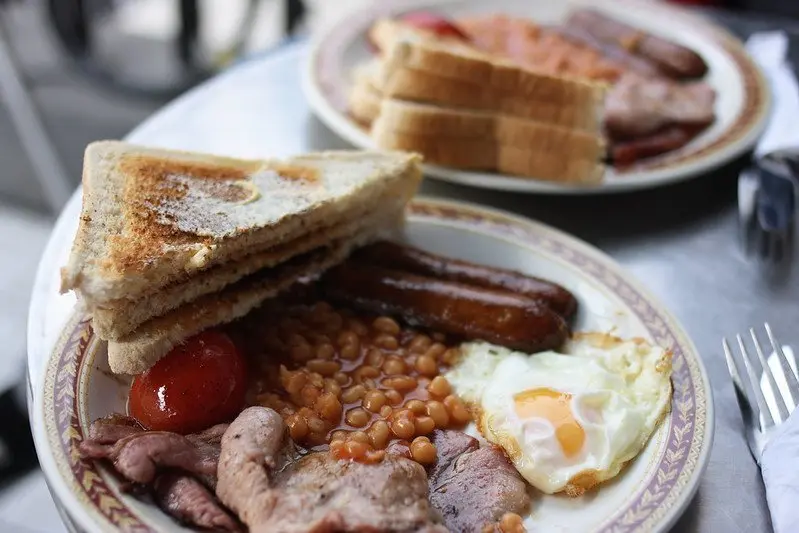 Image credit: Christian Kadluba via Flickr CC BY 2.0
BEST FOOD SOUVENIRS FROM LONDON
First up, take a look at the most popular food to eat in London. Then recreate these British feasts for family and friends at home by buying British food products as souvenirs.
No.1: Popular London breakfasts
The most common London Breakfast Foods are:
The full English Breakfast with

sausages, bacon, eggs, tomato, baked beans and toast, with brown sauce, or alternatively,
Eggs Benedict.
No.2: Popular British Lunch menu
A PLOUGHMAN'S LUNCH never fails to please a hungry Londoner at lunch either.
It's a crusty ciabatta bread and butter roll, cheese, onion, hard boiled egg, ham, pickles, and tomato or fruit chutney.
It may be served like a tapas plate on a breadboard.
A cheese and onion pasty, or a cornish pasty is not a bad choice either.
No.3: Popular British dinners
The most common British dinners are made up of meat and two veg. (or three veg if you include potato!)
Typically this is the Sunday Roast (including the delicious Yorkshire pudding bread), one of the most popular things to eat for dinner in London, both at home and down the pub.
But Chicken Tikka Masala is pretty common these days too.
You'll find these dishes on a normal weekly dinner menu too:
Fish and chips
Steak and chips
Bangers and mash (fried sausages with mashed potato)
Toad in the Hole (fried egg in the middle of a piece of bread)
Steak and Kidney pie
Shepherds pie (also called Cottage pie) – basically a sloppy, mince meat pie, with a potato crust topping
You can find ingredients to make all these meals in a London supermarket too.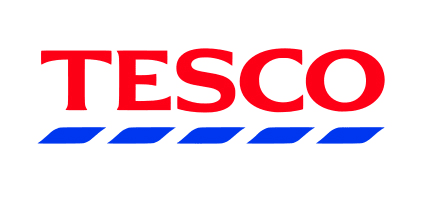 5 BEST LONDON GROCERY STORES & THE BEST ENGLISH FOOD TO BUY
Visit a London supermarket to buy London food souvenirs, and London snacks to take home too.
The best London grocery stores to buy London products and foodstuffs are:
Tesco
Costcutter Convenience Stores
Sainsburys
Waitrose
Marks & Spencer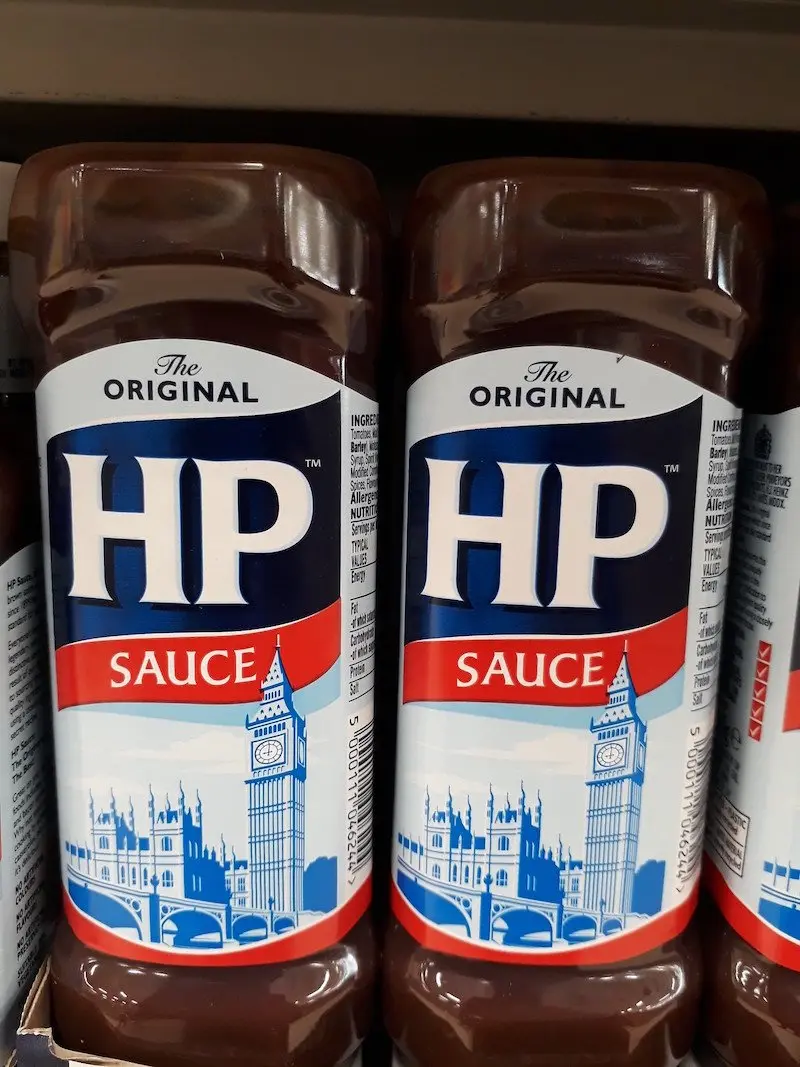 Image credit: Ian Cameron via Flickr CC BY 2.0
No.1: UK Souvenirs from London in the Supermarket
The best things to buy in London for foodies in the pantry aisles are:
HP brown sauce
Yorkshire pudding mix
Bisto gravy mix
Walkers chips
Baxters Victorian chutney
Haywards Piccadilly pickle
Branston pickle (chutney)
Tinned mushy peas
Fairy washing up liquid
Treacle in a can
Pork pies are another typically British food, but no idea how you'd get them home.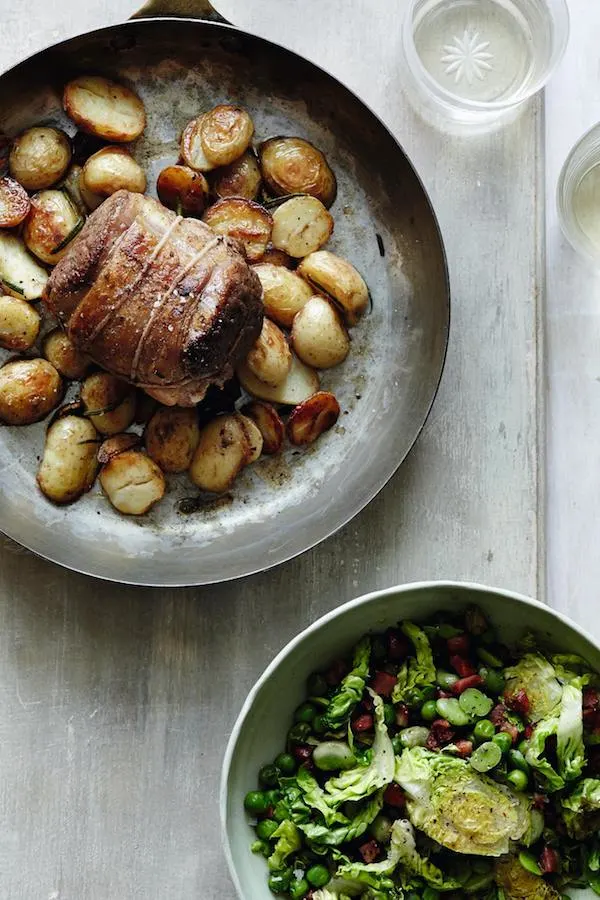 Image credit: The Really Quite Good British Cookbook
No.2: What to buy in London for foodies? London Cookbooks
Take your pick of these five London cookbooks so you can make famous London food at home.
The Really Quite Good British Cookbook by William Sitwell
Jamie's Great Britain
The National Trust Book of Scones
London Cookbook by Aleksandra Crapanzano
Traditional Pub Grub: Recipes for Classic British Food
A British cookbook is one of the best London gifts that keeps on giving.
Especially if you are invited over to feast from the banquet!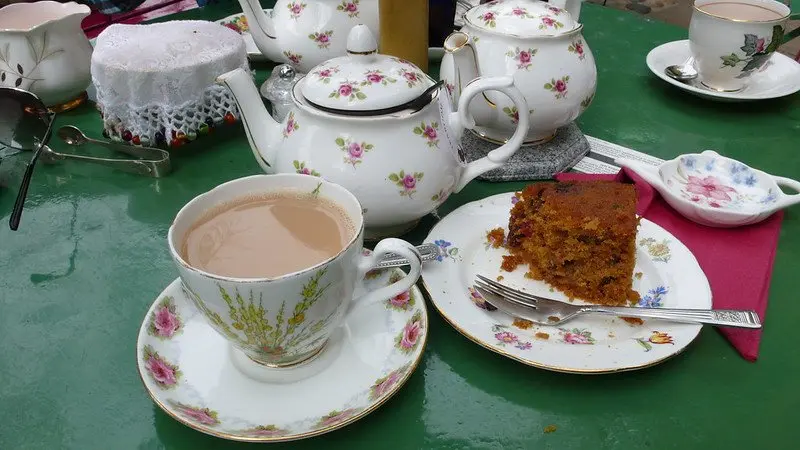 Image credit: Tim Regan via Flickr CC BY 2.0
No.3: English Tea Souvenirs
Where to buy tea in London?
Buy tea bags in London at Selfridges, Marks and Spencer, Waitrose and Tesco.
Find posh tea blends and elegant tea sets at Harrods food hall too.
Look out for:
Gift Set of Three British Tea Tins
English Tea in a novelty London bus souvenir tin
Big Ben tea caddy
Typhoo tea
Yorkshire tea bags
Any friend would love a bottle of Pimms too!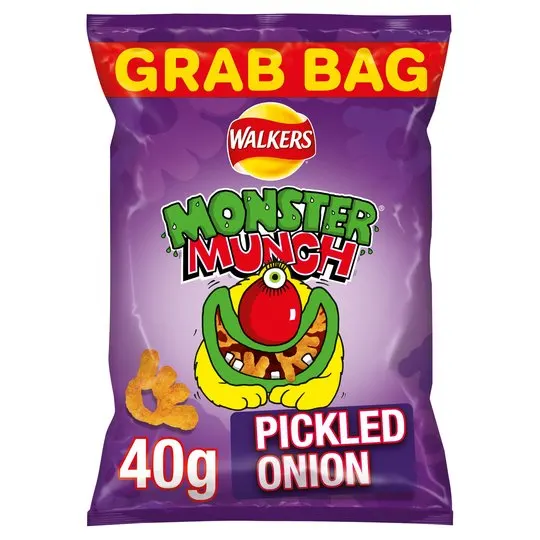 No.4: London Snack Souvenirs
Potato chips (crisps) in ALL the fabulous flavours!
NEW Marmite crisps. Could you?
Walkers Roast chicken chips, cheese and onion chips, Worcester sauce, or the staple: salt and vinegar
REAL Handcooked Ham and English mustard
Kettle Chips – BBQ, Sea salt with crushed black peppercorns,
Smiths Crispy Bacon FRAZZLES
Chipsticks by Smiths
Pom Bears
Hula Hoops original, or BBQ beef
Wotsits, really cheesy corn snack
Nik Naks nice and spicy
Onion rings
Skips Tingly Prawn Cocktail
Pipers Crisp Co in sweet chilli
MONSTER MUNCH baked corn snack in pickled onion or roast beef flavour is another VERY popular London snack.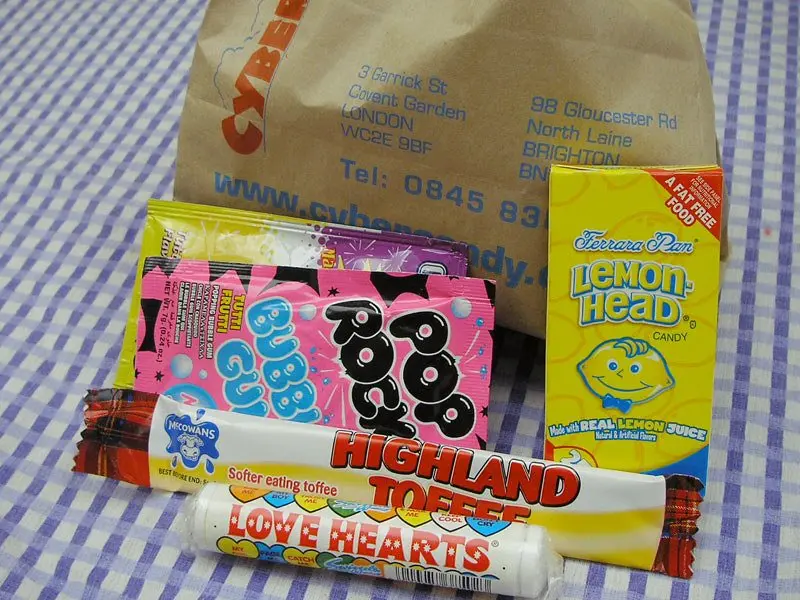 Image credit: Super Ziper via Flickr CC BY 2.0
No.5: Popular British Sweets & Lollies
These old British sweets and chocolates never lose their appeal with Londoners!
A British sherbet fountain is a wee bit special, and would be our first choice of British lollies to try!
No.1: Soft sweets
Bassetts Jelly babies
Licorice allsorts
Wine gums
Mint imperials
Sugar almonds
Black Jacks
Refreshers lollies
Jelly beans
Fried egg gummy lollies
Drumsticks lollies
Rowntrees Fruit pastilles
Fizzy cola bottles
Rowntrees tooty frooties
No.2: Hard sweets
Boiled sweets
Swizzles Candy Love hearts
Rhubard custard drops
Pear drops
Aniseed balls
Mint humbugs
Fairy Satins candy
Rosey apples
Simpkins travel sweets in a tin
Rock candy, especially if you buy it on a UK seaside holiday mini break!
No.3: Toffee sweets
Highland toffee bars
Peanut brittle
Toffee bonbons
Walkers original toffee block
No.4: Sherbet
Sherbet Fountains
Flying saucers! (filled with sherbet)
Dib Dab sherbet dip
Fizzers
Sherbet lemons
Swizzels double dip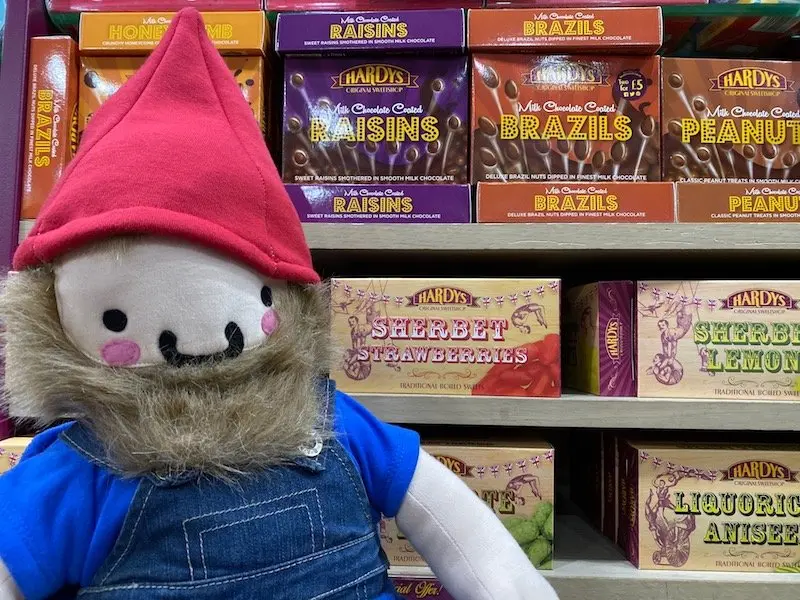 Where to find the Best Sweet Shop London Style!
Visit these candy stores in London
No.1: Hardy's Sweet Shop
Head to 52 Charing Cross Rd, Covent Garden to visit this shop full of British lolly selections.
No.2: Kingdom of Sweets
Find this lolly shop in London at 7-14 Coventry St, West End, London W1D 7DH, United Kingdom
It's very close to Picadilly Circus station.
(There's one in Oxford street, in Mayfair, Charing Cross, Soho, and more too)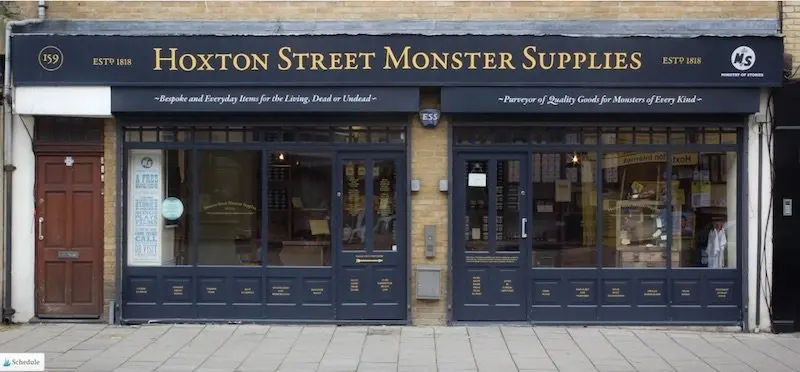 No.3: Hoxton Street Monster Supplies
Hoxton Street Monster Supplies sell gross-sounding candy edibles at 159 Hoxton St, Hackney, Greater London.
The only place in London to buy a jar of brain jam, or a box of cubed earwax treats! Open Thursday and Friday, 1pm to 5pm, and Saturday 11am to 5pm.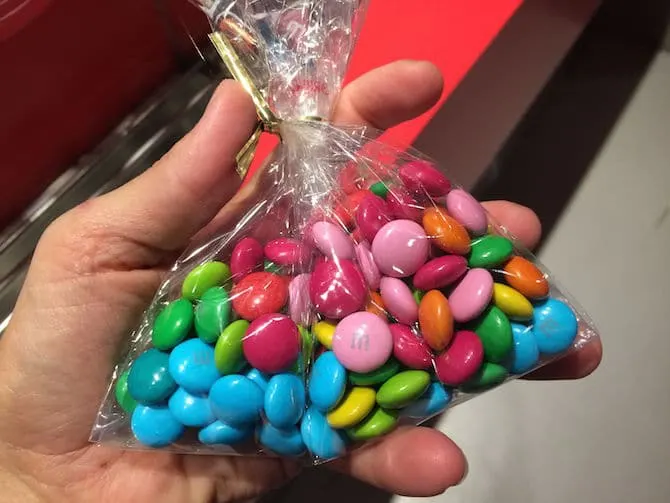 No.4: M&M's World Leicester Square
M&M's World, Leicester Square.
More candy stores in London:
Hardys Original Sweetshop at 25 New Row, Covent Garden, London. (Plus lots of other locations.) Buy all your traditional UK sweets at this traditional British sweetshop.
Sugar Sin at 1 Russell St, Covent Garden, London.
Kingdom of Sweets at 7-14 Coventry St, Piccadilly London. It's in the very heart of central London on Coventry Street, between Piccadilly Circus and Leicester Square.
No.6: Best British chocolates
Buy these popular London Chocolate Bars.
Milk Chocolate mice
Cadbury Dairy Milk
Cadbury Flake chocolate
Cadbury double decker
Terry's Chocolate Orange – a winner!
Lion Bar
Rolo bars
Turkish Delight
Fry's Chocolate cream
Fry's Peppermint cream
Wispa bar
Yorkie bar
Maltesers
Quality Street chocolates
Mint Matchmakers (chocolate sticks)
After Eight dinner mints
Dairy milk buttons
Chomp
Curly Wurly
Cadbury Wispa Gold chocolate bar
Galaxy bars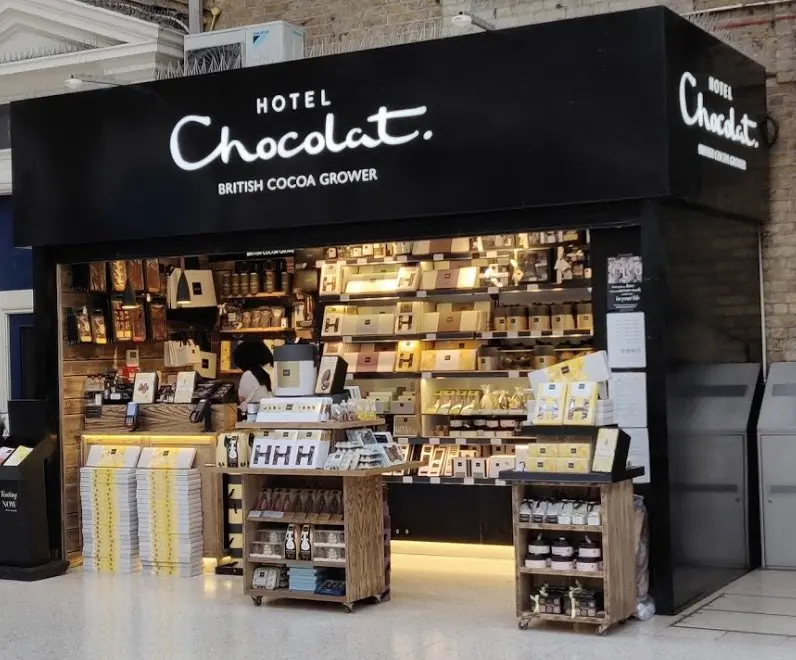 Image credit: Oliver Kidd
Where to find the Best Chocolate Shops in London?
The best chocolate shops in London are:
Artisan au chocolat at 89 Lower Sloane St (Royal Hospital Rd), Chelsea, Greater London
Rococo chocolate and candy Store at Holborn and Covent Garden
Melt Chocolate shop at 59 Ledbury Rd, Pembridge London
Hotel Chocolat at Charing Cross Station, Strand, Charing Cross, London WC2N 5HS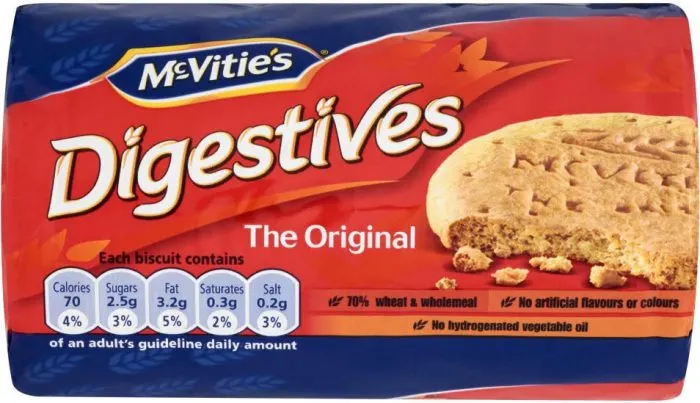 No.7: Popular London Biscuits
Look out for the McVitie's brand biscuits. Yum.
Digestive Biscuits
Flapjacks biscuits
Jaffa cakes, flat orange-flavoured biscuit cakes
Hobnobs biscuits
Jammie Dodgers
Tunnocks Caramel Wafer biscuits
Custard creams.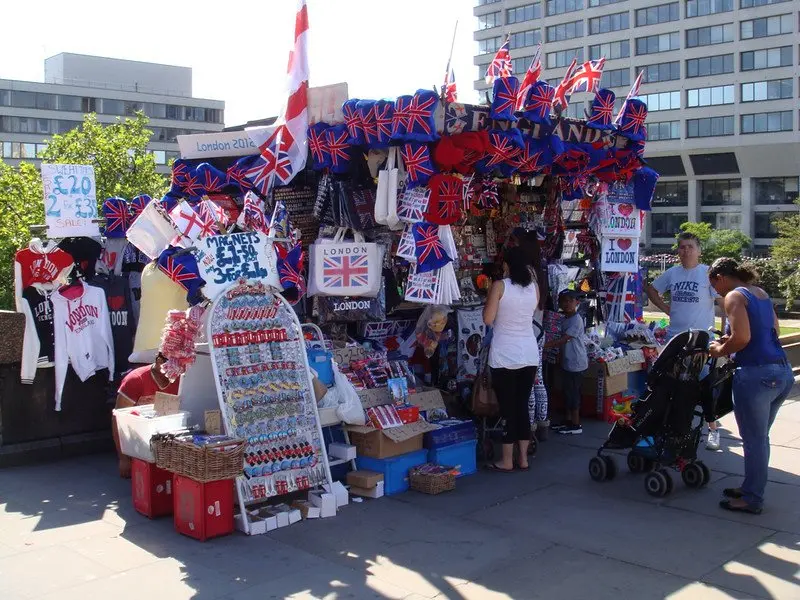 Image credit: Mike via Flickr CC BY SA 2.0
NATIONAL SOUVENIRS FROM LONDON
A British Flag can be framed, or made into a quilt.
London Maps are another fun way to remember your time in Old Blighty.
London Transport Museum has a unique range of London maps.
So does Stanfords, the 1853 bookshop with boundless selection of local and global maps plus travel writing and guidebooks. It's the world's largest map and travel retailer.
Visit at 7 Mercer Walk, Covent Garden London.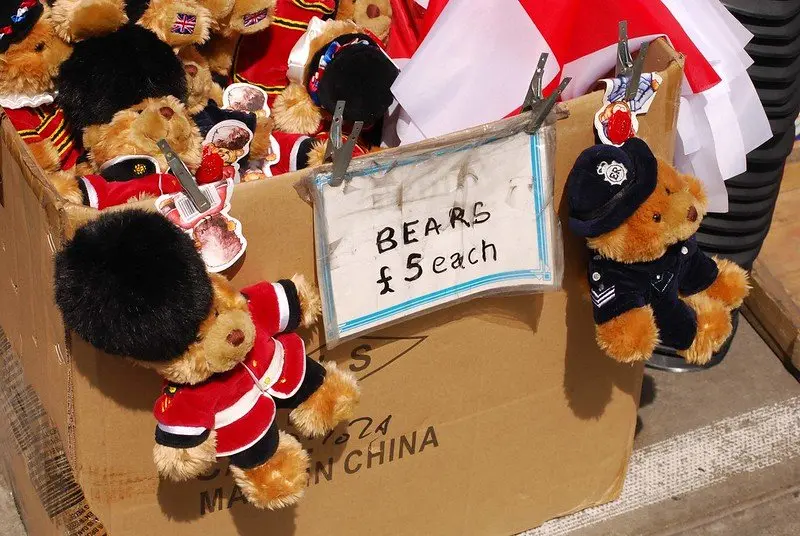 Image credit: Josh Friedman via Flickr CC BY ND 2.0
CHEAP SOUVENIRS FROM LONDON
Looking for budget souvenirs in London, or where to buy cheap souvenirs in London?
The best cheap shopping in London is at the Camden markets.
And here's a list of cheap things to buy in London for the kid's school friends, neighbourhood kids, and helpful neighbours who are looking after the indoor plants.
London souvenir coin, or pressed penny
London souvenir fridge magnets
London iron on patches, or badges
British Souvenir Union Jack umbrella
Red Telephone Box money box
London enamel pins in the shape of a Royal Guard, British postbox, UK policeman, Union Jack flag, Royal Crown jewels
Union Jack flag paper fans
I Love London tote bag
Sights of London tea towel
London snow globe
Set of Playing Cards with London images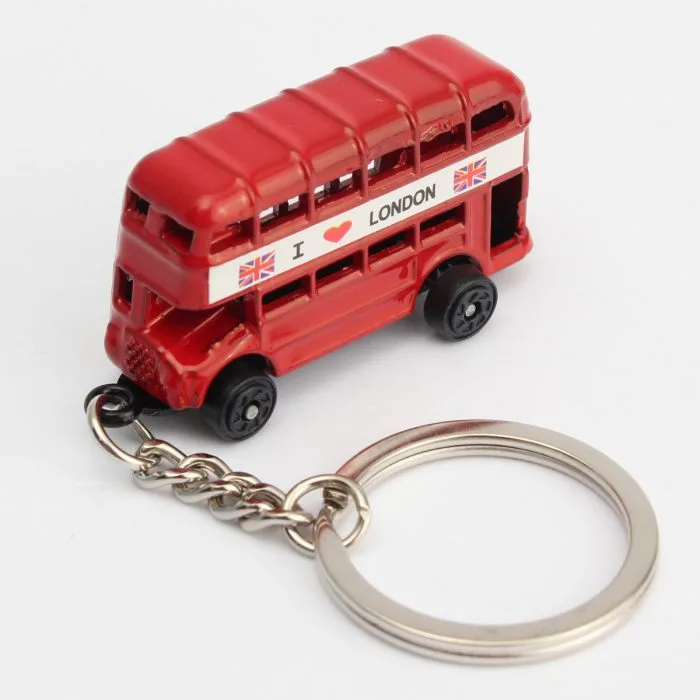 There's also the Keyrings:
London Eye keyring
Tower Bridge and Tower of London keyrings
Big Ben keyrings
London Bus or Black Cab keyrings
Royal London post box, or
Red Telephone Box keyrings
The only thing left to do is buy another suitcase.
Happy shopping!

Looking for MORE SUPER DOOPER FUN Things to Do with Kids in LONDON?
Click the links in blue below.