INSIDE: Complete guide of what to buy in London for people who love handmade heartfelt gifts for house and home.
This is a BIG LIST of all the shops in London selling handmade treasures made by local London:
makers
artists
designers
painters and
craftspeople.
We've also added all the:
best art supplies shops in London
the best craft shops in London, where to buy stationery in London, and
the shop to visit to buy elegant gifts for gardeners and home makers.
Take a look below for details!
Disclosure: This article contains affiliate links. If you make a purchase after clicking on one of these links, we may receive a small commission at NO extra cost to you. Main image credit: Eilidh Walker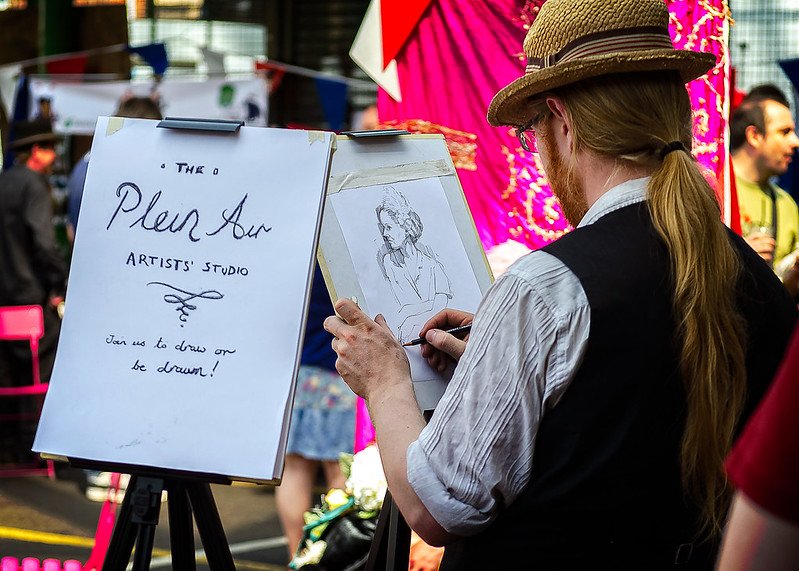 Image credit: Garry Knight via Flickr CC BY 2.0
WHAT TO BUY IN LONDON FOR A CREATIVE HOUSE AND HOME
Correct at time of publication on Roam the Gnome. Please check with venue for updates. We apologise in advance if there have been any changes we are unaware of. All prices in British pounds, unless otherwise stated
Looking for handmade gifts in London for that special friend or family member?
Or want some unique handmade London souvenirs to personalise your home?
Or maybe you are looking for things to buy in London that you won't see ANYWHERE ELSE.
Our hot tip: Find a craft market in London
Check and see if there's a Crafty Fox market on while you are in London. This is a fabulous chance to buy London souvenirs from makers, artists and designers showing off their creative flair.
Or google London events to find other London craft markets.
Otherwise, try these handmade craft collectives in London in some of the best London shopping areas around.
---
RELATED: The ULTIMATE GUIDE to ALL the BEST UNIQUE LONDON SOUVENIRS!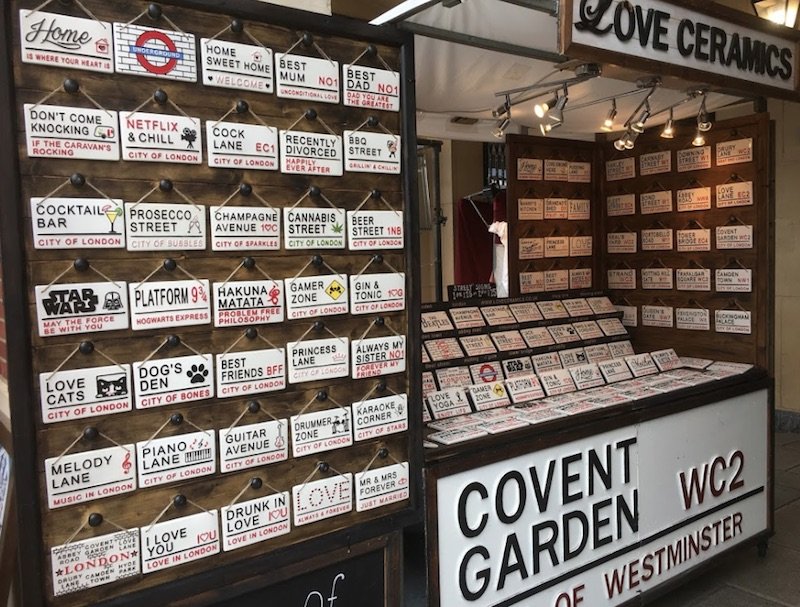 Image credit: Love Ceramics
LONDON HANDMADE GIFTS STORES FOR LOCAL ART AND CRAFT
No.1: Love Ceramics- London Street Signs
The place to buy a handmade ceramic sign to celebrate the things you LOVE about London.
Address: A stall at the famous Jubilee market, 1 Tavistock St, Covent Garden, London
Opening hours: Saturday & Sunday from 9.30-6.30.
Website: Click here

Image credit: Love Handmade
No.2: Love Handmade
Love Handmade is home to handmade furniture, and gifts produced by local Ealing artists.
Address: 1 Northfield Ave, West Ealing, London W13 9QP
Opening hours: 10am to 5.30pm daily
Website: Click here

Image credit: Mabel and Maud Instagram
No.3: Maud and Mabel London
Delightful quirky artisan store selling hand made pottery and goods from artists around the country and world.
Maud & Mabel feature a carefully curated selection of beautiful everyday objects from fabric, clay, and wood.
You will not leave empty handed.
Address: 10 Perrin's Court, Hampstead London NW3 1QS
Opening hours:
10am to 5.30pm Monday to Saturday
11am to 5.30 Sunday
Website: Click here

No.4: Nom Living London
Beautifully designed plates, bowls and mugs, in a delightful design setting.
Find products made from coconut wood, marbled pottery, rustic stoneware, bronze, laquerware and Vietnamese cinnamon tree, all with a Japanese aesthetic
Address: 102 Columbia Rd, Bethnal Green, London
Opening hours: Sundays, 9am to 4pm. (For warehouse hours, please click here.)
Nearest Tube: Hoxton (Overground), Bethnal Green (Central Line).
Website: Click here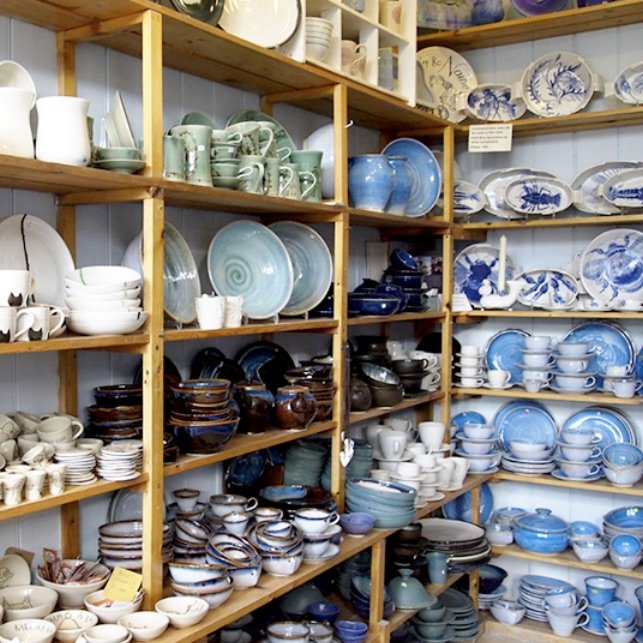 Image credit: North Street Potters
No.5: North Street Potters
The North Street Potters is a busy urban pottery set in the heart of Clapham, south London.
Founded in 1978, it is an Aladdin's Cave full of handmade pottery at affordable prices created by individual members of the group, each with their own creative style in the shared studio behind the shop.
Address: 24 North St, Clapham, London SW4 0HB
Opening hours:
Tuesday to Friday: 10.00am – 6.00pm
Saturday 10.00am – 5.00pm
Website: Click here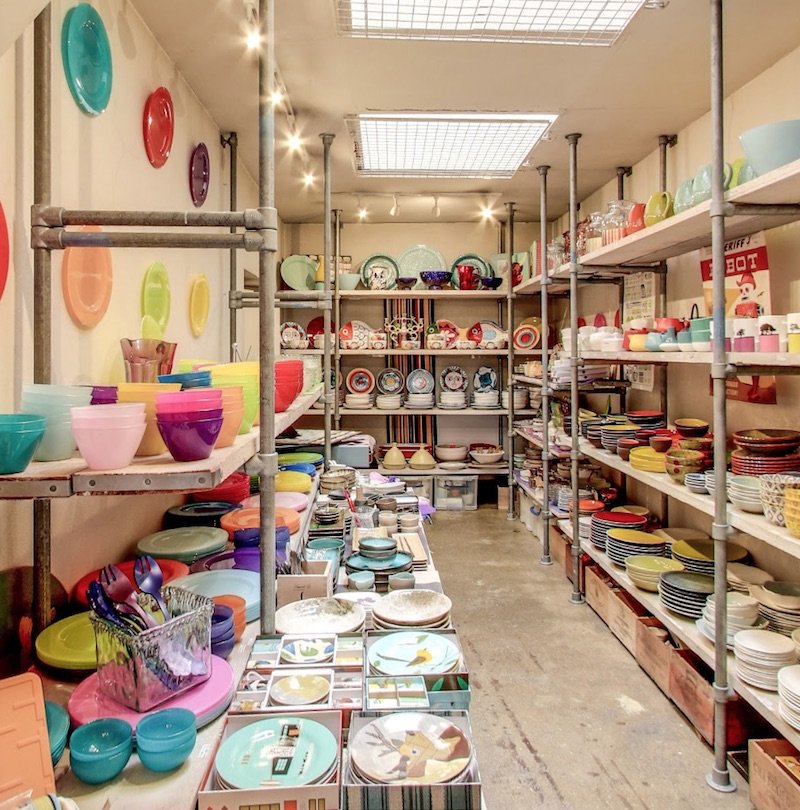 Image credit: Sasa Stojanovic
No.6: Ceramica Blue London
Who could resist a visit to this bright and colourful store in Portobello Notting Hill selling homewares in a rainbow of colours?
There's cups, plates, bowls, dishes, glassware, ceramics, bakeware, and more.
Address: 10 Blenheim Crescent, Notting Hill, London, W11 1NN
Opening Hours
Mon – Sat 10:00am – 6:30pm
Sun 11:00 – 05:00pm
Website: Click here

Image credit: James Gerlis
No.7: The Goodhood Store London
This is a cool store full of mens, womens, and lifestyle products including handmade jewellery, beauty and grooming products and more.
You never know what you'll find here!
Address: 151 Curtain Rd London EC2A 3QE
Opening hours:
Monday to Friday 10.30am-6.30pm
Saturday 10.30am-7pm
Sunday noon-6pm
Website: Click here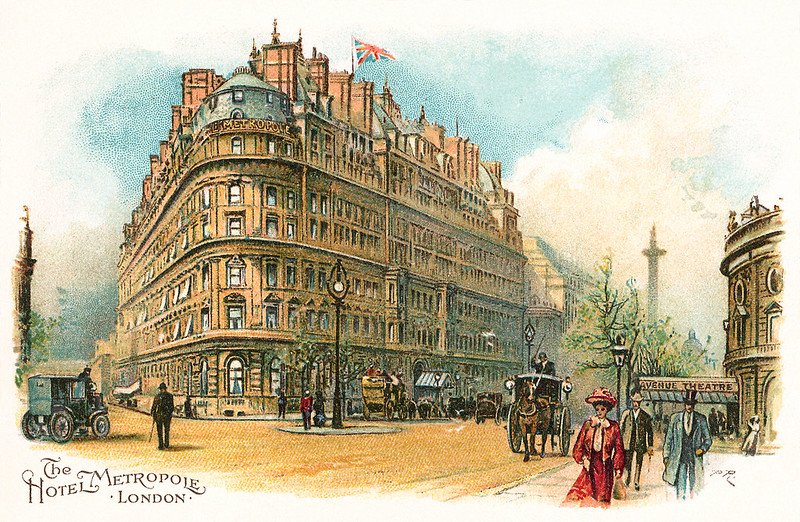 Image credit: Totally Mystified CC BY 1.0
BEST LONDON STATIONERY SHOPS & PAPER GOODS
These are the best stationery shops in London with cute goods for gifts and souvenirs.
Take my money.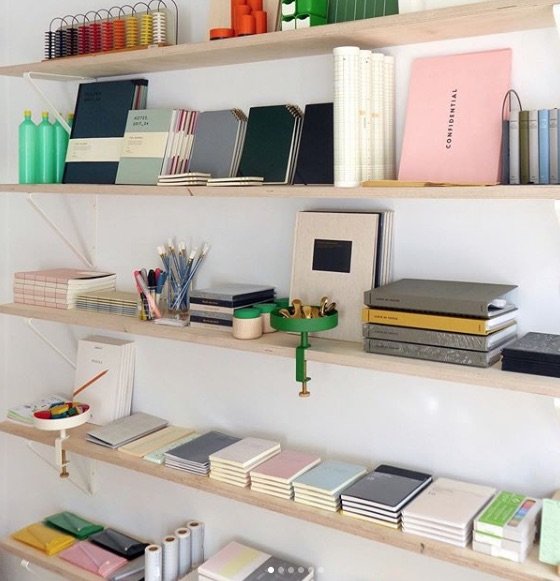 Image credit: Present and Correct
No.1: Present and Correct
Present and Correct is a colourful stationery shop focusing on good design with retro inspired products their centrepiece.
Their motto – "Sundries for the modern workspace".
Address: 23 Arlington Way, London EC1R 1UY.
Opening hours: Tuesday to Saturday from 12-6:30.
Website: Click here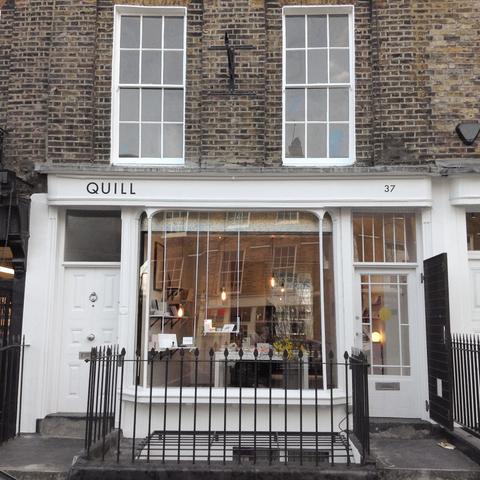 No.2: Quill London
Quill stationery store in London is home to a curated selection of stationery supplies.
Fancy a brass clipboard, a self inking copper stamp, bespoke stationery or modern calligraphy kits?
Or perhaps you'd love your own wax seal to post your handwritten letters?
Visit Quill London to find all of this.
You can even join a calligraphy workshop!
Address: 37 Amwell St, Islington, London EC1R 1UR, UK
Opening hours:
Monday – Friday: 11am – 6pm
Saturday: 12pm – 5pm
Sunday: closed for workshops
Nearest tube: Angel. Shop is also within walking distance from Kings Cross and Farringdon.
Website: Click here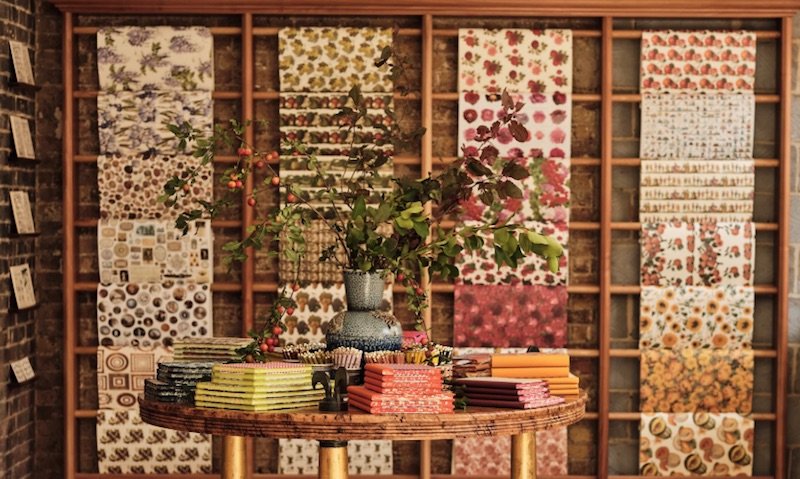 Image credit: Choosing Keeping
No.3: Choosing Keeping
An elegantly laid out stationery store in London with a selection of curated stationery goods for sale including:
Antoinette Poisson prints
Kaweco pens
wrapping paper
leather cases
notebooks
art supplies
unique one-of-a-kind gifts, and
small tools for the home office.
Address: 21 Tower St, London WC2H 9NS
Opening hours: Open 7 days a week
Monday – Saturday: 10.30am to 6.30pm
Sunday: 11am to 5pm
Closest Tube: Covent Garden or Leicester Square
Website: Click here
More stationery stores in London
You can also try the Moleskin store at 283 Regent St, Marylebone, London W1B 2HG.
They sell a range of personalised moleskin notebooks, limited edition moleskins, paper accessories, pens and pencils, books, and accessories for technology.
BEST LONDON CRAFT SHOPS & LONDON ART SUPPLIES
No.1: Where to buy Fabric in London?
Want to know where to find THAT famous London Fabric?
Head to Liberty London on Regents street in London to see Liberty fabric in all its' glory.
Or click here for ALL the fabric stores in London.
Our tip: scroll in to see the fabric shops nearby, or scroll out to see all the fabric shops in London.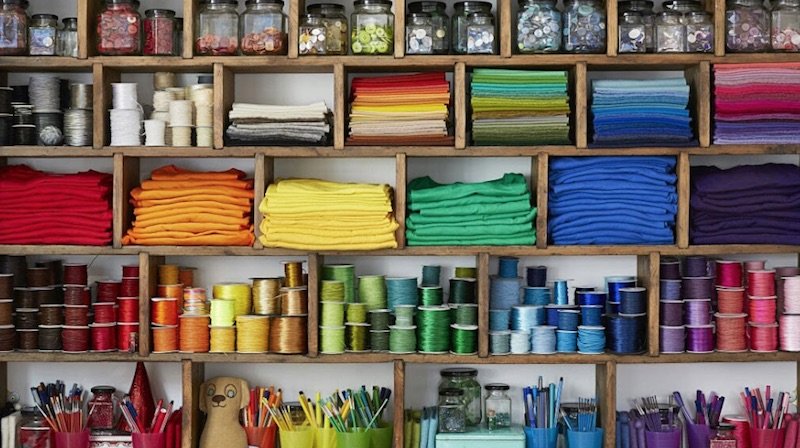 Image credit: Re-Creation
No.2: The Best Craft Shop London
Looking for things to buy in London for friends who love to knit, stitch & sew?
Visit:
The Village Haberdashery at Hardy Building, West Hampstead square, 6 Heritage Lane, London NW6 2BR
Slanchogled Arts and Crafts at 66 Chalk Farm Rd, Chalk Farm, London NW1 8AN (the perfect shop name for a fun quirky craft shop in Camden)
Ultimate Craft at 149 Stoke Newington High St, Stoke Newington, London N16 0NY
Shepherds Bookbinders for paper lovers at 30 Gillingham St, Pimlico, London SW1V 1HU
Handweavers Studio and Gallery for looms and yarns at 140 Seven Sisters Rd, London N7 7NS
Re-creation, (pictured above) the ultimate craft store for kids & parents, at 82 Redcross Way, London SE1 1HA
There's always the good old Hobbycraft stores (chain store) if you get desperate.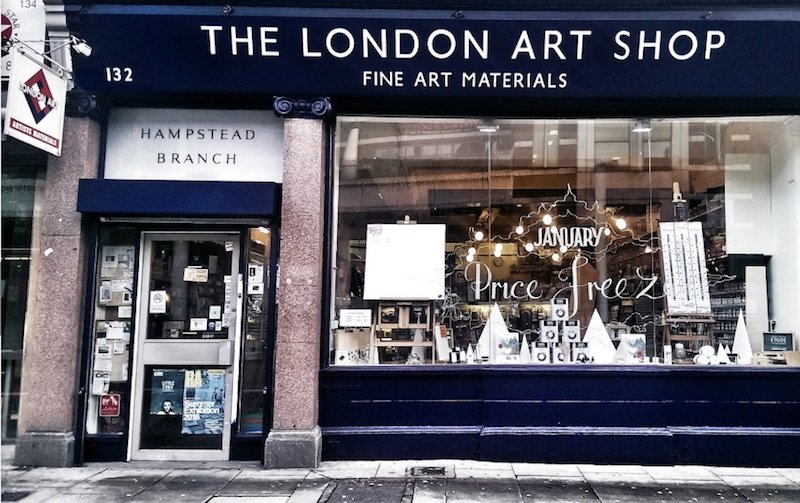 No.3: The Best Art Supplies London
The best souvenirs from London for artists are the raw materials they can't get at home.
So if you need to find Art supply shops in London, take a look.
Purchase London Art Supplies staples to add to your art cupboard at home at one of these shops:
The London Art Shop at 132 Finchley Road, London NW3 fHS (pictured above)
The Southbank Art Company at 21 London Rd, Elephant and Castle, London SE1 6JX,
London Graphic Centre, Covent Garden London
Cass Art Soho at 24 Berwick St, Soho, London W1F 8RD (There's also Cass Art shops at Kensington, Hampstead, Charing Cross, and Soho)
L. Cornelissen & Son fine art materials at 105 Great Russell St, Bloomsbury, London WC1B 3RY
Jackson's Art Supplies, Fulham at Arch 66 Station Approach, Fulham, London SW6 3UH

THE BEST GARDENERS SHOP IN LONDON
No.1: Labour and Wait London
Visit Labour and Wait, for a design friendly take on wholesome homewares and garden goods.
You'll find British seeds, toolboxes, watering cans, hand rakes, shovels, kneeling pads, nail brushes, enamelware.
Plus, pick something from their range of timeless, functional products for daily life that includes gorgeous kitchenware and cooking tools to make use of the garden's abundance.
Address: 85 Redchurch Street, Shoreditch London E2 7DJ. Closest train station is Shoreditch High Street rail.
You can also find them at Bethnal Green, Bermondsey, and Dover Street Market London.
Opening hours:
Closed Monday
Tuesday – Friday, 11.00am – 6.30pm
Weekends: 11.00am – 6.00pm
Website: Click here

Image credit: Village Haberdashery.
More places to buy handmade goods in London?
Stumble upon another gorgeous shop full of handmade goodness?
Let us know.
Email [email protected] with a photo of the exterior of the shop, and we'll add it to the list.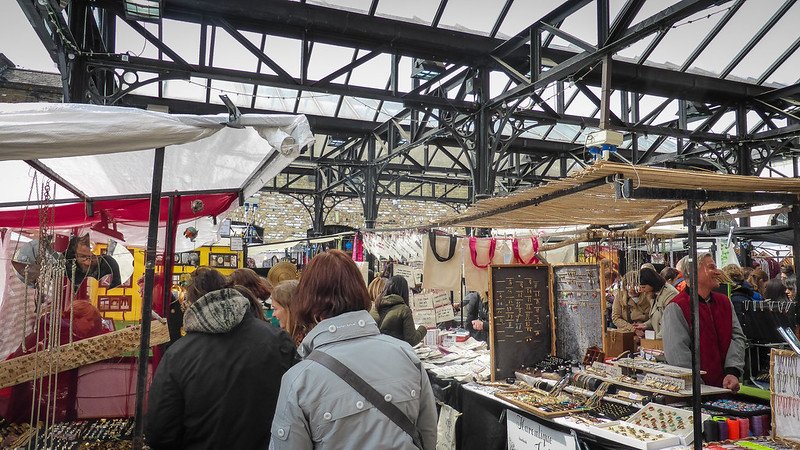 Image credit – Camden markets: JvL via Flickr CC BY 2.0
Looking for More of the BEST Places to Shop in London?
Click the blue links below for more London travel ideas