INSIDE: Directions on how to get to the Paddington Bear Statue at Paddington Station in London.
Is there a statue of Paddington Bear at Paddington Station?
YES!
Want to know WHERE is Paddington Bear in Paddington station?
We'll show you how to get to the Paddington Station statue quick smart.
Follow our directions below, straight to him!
(When you are done, head to the Official Paddington Bear shop in London. It's in the station too !)
Take a look below for details of the Paddington Bear Statue location.
Disclosure: This article contains affiliate links. If you make a purchase after clicking on one of these links, we may receive a small commission at NO extra cost to you.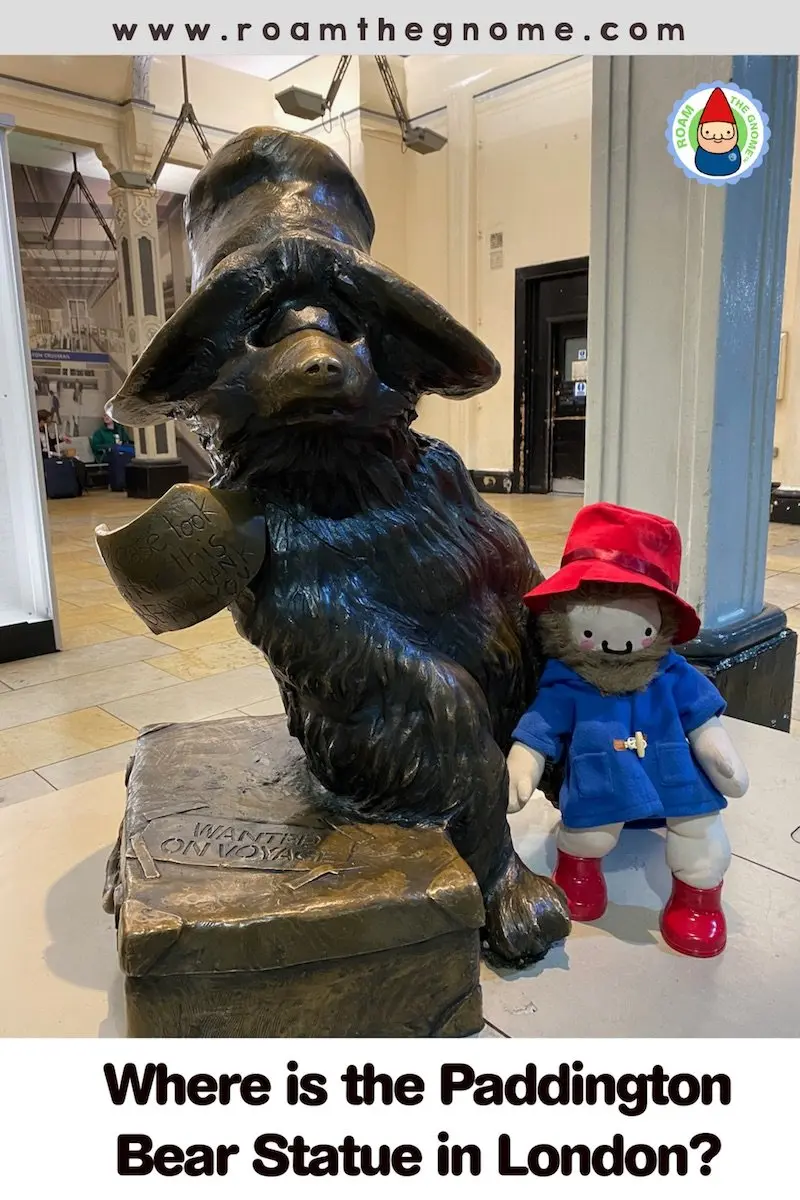 GUIDE TO PADDINGTON BEAR STATUE PADDINGTON STATION LONDON
First, make your way to Paddington Station in London.
Arriving to Paddington station by car or foot?
Enter Paddington Station by walking down the ACCESS ROAD from Praed Street.
You'll find yourself in front of platforms 9 and 10.
If you arrive by tube, go up the escalator into the main concourse.
You'll arrive opposite platforms 7-8 and near platform 12.
If you arrive by Heathrow Express, you'll arrive on platform 7.
(See the Inside Scoop below for more transport details.)
RELATED: Round up of the top 18 Best Paddington Bear Facts (& facts about Paddington Movie!)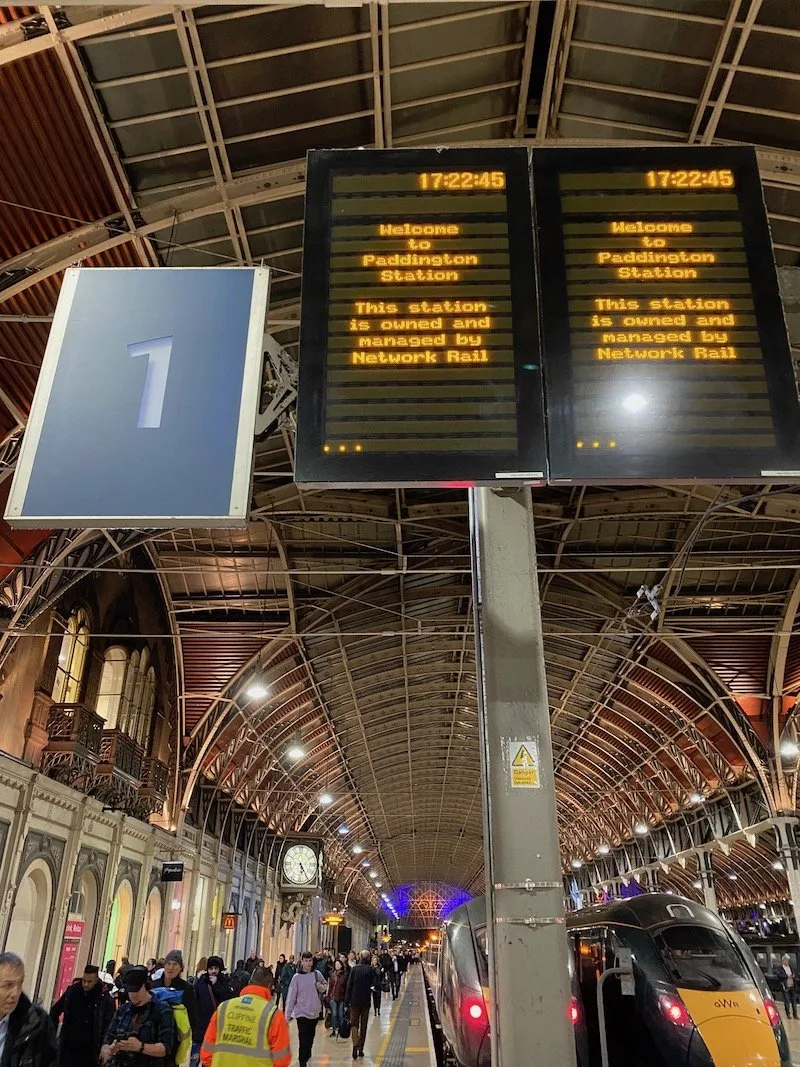 Finding Paddington Bear at Paddington Station
Once you are on the main concourse of the station, look up to see the platform numbers.
Facing the trains, the platforms run from 1 to 14, left to right.
The Bronze Paddington Statue is on Platform 1.
Turn left and walk all the way to the far end of the building, then do a sharp right at the L intersection at Platform One.
If it helps, here's a map of Paddington station and concourse.
Paddington Statue is situated on the bottom of the map, along Eastbourne Terrace.
Look for the large yellow area marked 'entrance area' with a big red X signaling that the entrance is closed.
That's the spot.
---
BOOK NOW: Take this 2.5 hour Paddington Bear Walking Tour of London & learn all the secrets! (Get your Guide tour)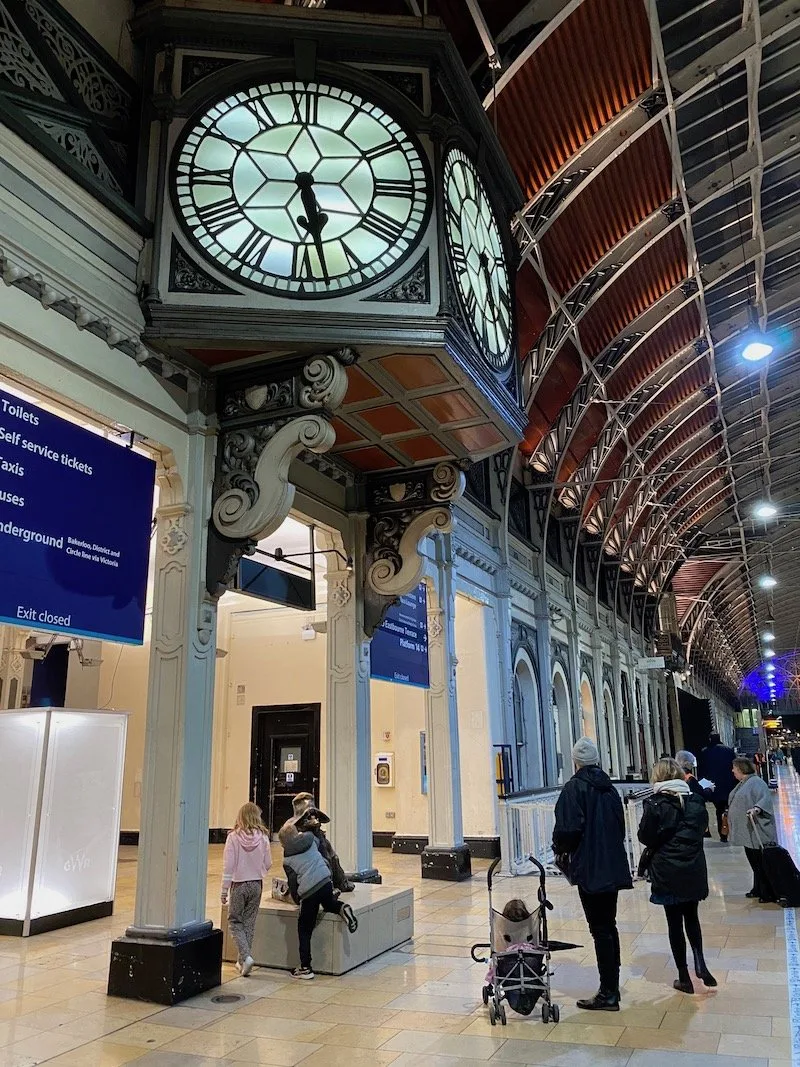 Finding the Bronze Paddington Bear Statue London
Look for the giant antique clock on the left side, about 50 metres along.
The Paddington Station bear statue is just beyond the McDonald's outlet, and in front of the open space with seating lining some of the walls.
(This is the large former entrance area that is currently closed off.)
RELATED: Where to buy Paddington Bear in London (8 shops to visit)

Bronze Statue of Paddington Bear
The adorable Paddington Bear statue at Paddington Station sits on a stone platform, with an inscription plate laid in.
There's plenty of room at the statue to take photos with this famous London bear.
But you might have to wait your turn!
Visiting with Paddington Bear is a popular exercise for traveling families, and locals too.

Paddington Bear Inscription
The inscription is an excerpt from the original story and reads:
"Mr and Mrs Brown first met Paddington on a railway platform.
In fact, that was how he came to have such an unusual name for a bear,
for Paddington was the name of the station"
From "A Bear Called Paddington" by Michael Bond.
And so began Paddington Bear's long association with this platform.

Paddington Bear Film Locations
Wondering where was Paddington filmed?
Yes, it's true.
The production team behind the live action movie of Paddington filmed scenes from the first film here at the station back in 2013.
Paddington Bear movie clip of Paddington at Paddington Station!
Want a reminder of how Paddington met the kindly Brown family for the first time?
Take a look at the clip above, and be prepared for few nostalgic tears!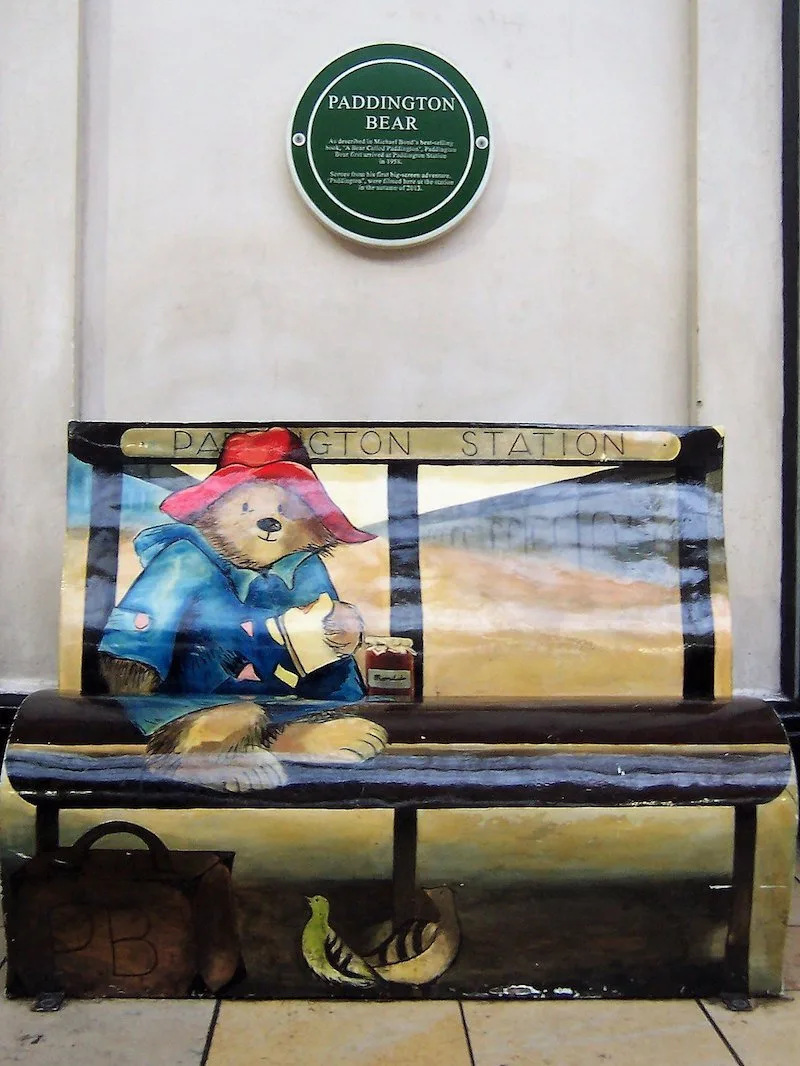 Image credit: Teameister via Flickr CC BY-2.0
Paddington Bear Statue Bench Paddington Station
Below the green insignia shown above, there is a Paddington Bear book bench.
Shaped like an open book, it's a popular spot for people to sit, and I could not manage a picture without disturbing two elderly gentlemen who were quite at home.
This Paddington Statue bench was part of the National Literacy Trust's Books About Town trail in 2014.
This exhibition featured 50 book benches scattered around London.
It's apt that this Paddington bear bench has now ended up here at the Paddington Bear train station!
Paddington Bear Statues London!
Heads up: There is a SECOND Paddington statue too.
Take a look at the Paddington Trail Statue INSIDE the Official Paddington shop at Paddington station.
This is the main one from the Paddington Trail art exhibition, that featured 50 small statues of Paddington scattered around London as part of the publicity campaign to coincide with the release of the first big screen movie of Paddington in December 2014.
Each Paddington Bear trail statue was decorated by famous artists and well known celebrities from the UK and beyond.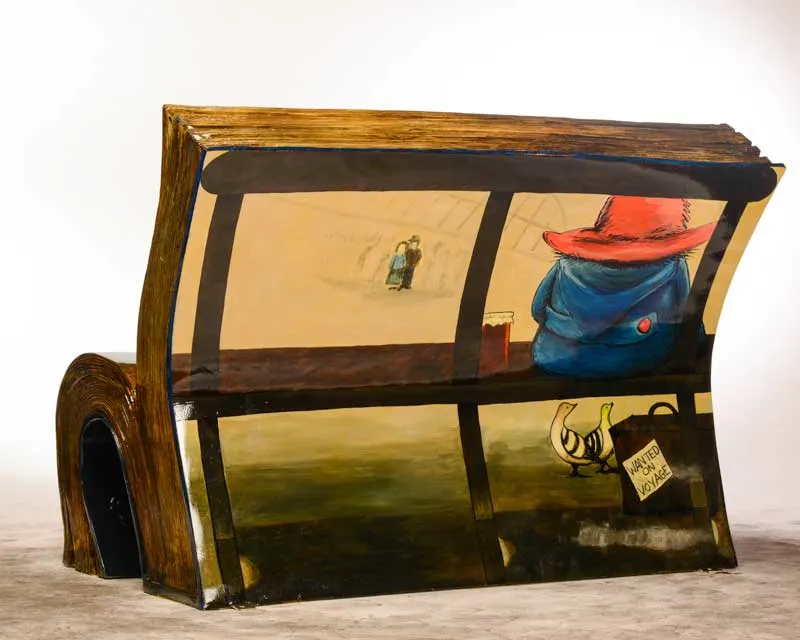 Image credit: Fundraising.co.uk This is what it looks like from the back.
THE INSIDE SCOOP: Paddington Statue
Correct at time of publication on Roam the Gnome. Please check with venue for updates. We apologise in advance if there have been any changes we are unaware of. All prices in pounds, unless otherwise stated
Paddington station address: Praed St, Paddington London UK
Telephone: 03457114141
Website: Click here
Where is the Paddington Bear Statue location? If you haven't guessed already, it's at Paddington station.
How to get to Paddington Station by Heathrow Express
From Heathrow, the quickest way is to catch the Heathrow Express train. It brings you straight here to Platform 7 between 5am and 9pm (until early 2021 at least, then the platform may change).
Hot tip: Purchase your tickets online or through the Heathrow Expres at least 90 days in advance and pay only £5.50 for a one-way ticket.
That's a MASSIVE saving of almost 75%!
Also. Children aged 15 years and under travel free in Express Class when accompanied by a paying adult
How to get to Paddington Station in London by underground
Otherwise, Paddington Underground Station is on the:
Hammersmith and City Line
the Bakerloo line, and
the District and Circle lines.
You can also arrive directly at Paddington Station from South Wales and South-west England, from towns including Cardiff, Bristol, Exeter, Plymouth and Swansea.
The entrances from the London Underground, Bakerloo, Circle and District lines is up the escalator.
Paddington Station Map
Toadstool Rating: Paddington Statue London
Combined with a visit to the Paddington Bear store in London, it's fun to take a selfie with the bear himself.
But unless you are a die hard Paddington Bear fan, we wouldn't make a special trip on it's own.

Looking for More Things to Do with Kids in LONDON?
Click the links in blue below for MORE London fun.