INSIDE: Roam the Gnome's Insider's Guide to Harrods Food Hall London.
The Food Hall at Harrods is quite possibly home to London's most exclusive, hand-crafted food offerings for those with taste.
AND the budget to afford these life luxuries.
Everyone should visit Harrods food market at least once to step into these hallowed halls of gourmet goodness.
Harrods food hall prices are mind-boggling for the everyday-person, but there are inclusive budget options at all turns.
If you've ever wanted to know what is in Harrods food hall, take a sneak peek here!
Disclosure: This article contains affiliate links. If you make a purchase after clicking on one of these links, we may receive a small commission at NO extra cost to you.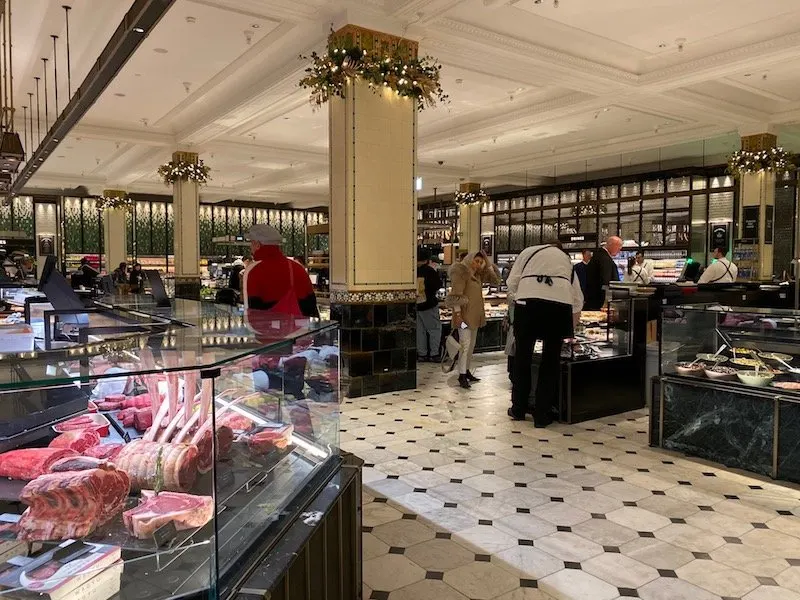 WHAT TO BUY AT HARRODS FOOD HALL LONDON
The Food Hall at Harrods in London is, somewhat strangely, located in the middle of the ground floor, surrounded by the Beauty Halls, Luxury Accessories, the Perfumery Hall, Fine Watches and Fine Jewellery.
Spending big sums on luxury lifestyle additions must make for hungry tummies!
The Harrods London Department Store fresh market food hall is home to:
Charcuterie (cold meats), Traiteur (delicatessen) and Fromagerie (all the cheeses!) Hall
Fruits, Vegetables & Juice Hall
Meat, Fish and Poultry Hall
Gourmet Chocolate, Confectionary, and Seasonal Food Hall
Roastery & Bake Hall
Start with the gourmet grocery to find the perfect London souvenirs – teas in elegant tins, biscuits in rectangle tins, & hot chocolate in tins too. Easy to carry and won't squash.
Their chocolate and quirky food souvenirs range is worth a look too.
---
RELATED: Big List of the Best Things to do in Harrods London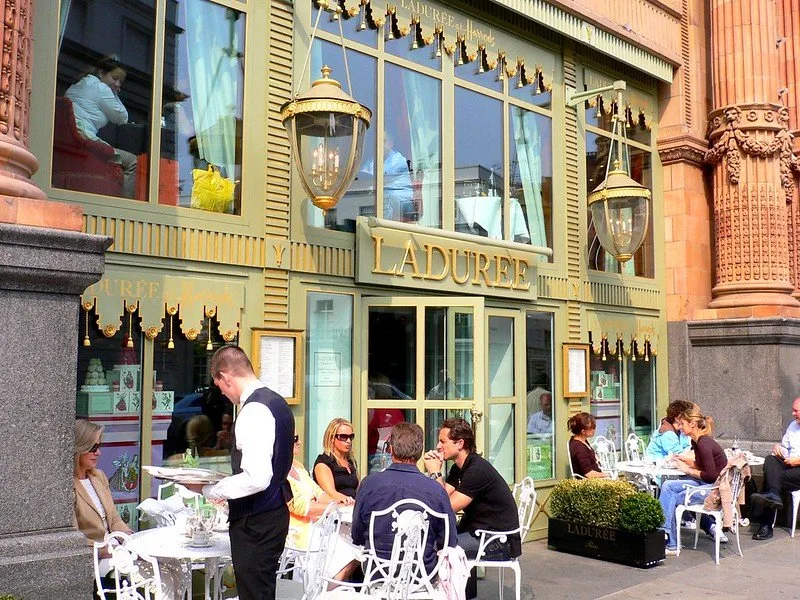 Image credit: Herry Lawford via Flickr CC BY-2.0
Hot tip: Ladurée
Behind the bakery inside the Harrods food department, you'll find the Ladurée macaron shop.
Try one of 20 different macaron flavors!
Or be tempted by a sweet or savory dish instead.
---
RELATED: The ULTIMATE List of Things to Do in LONDON with Kids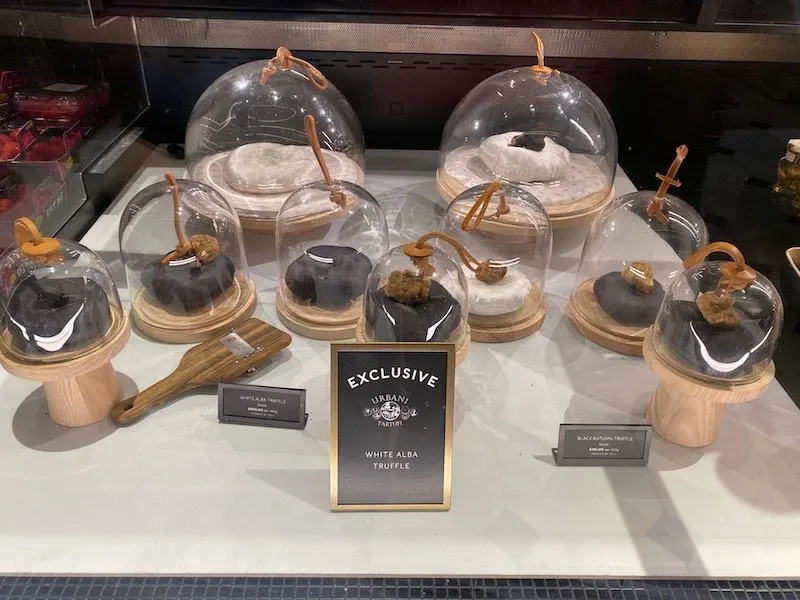 Inside the Harrods Fresh Food Market
No.1: Harrods Charcuterie, Traiteur and Fromagerie Hall
The world famous food emporium has an epic cheese, fresh pasta, and delicatessen area.
The glass-fronted serving stations showcase all the top-notch delicacies from around the world.
It's totally ok to buy in small quantities for a picnic lunch, or hotel room tasting plate.
Be prepared for your mouth to water!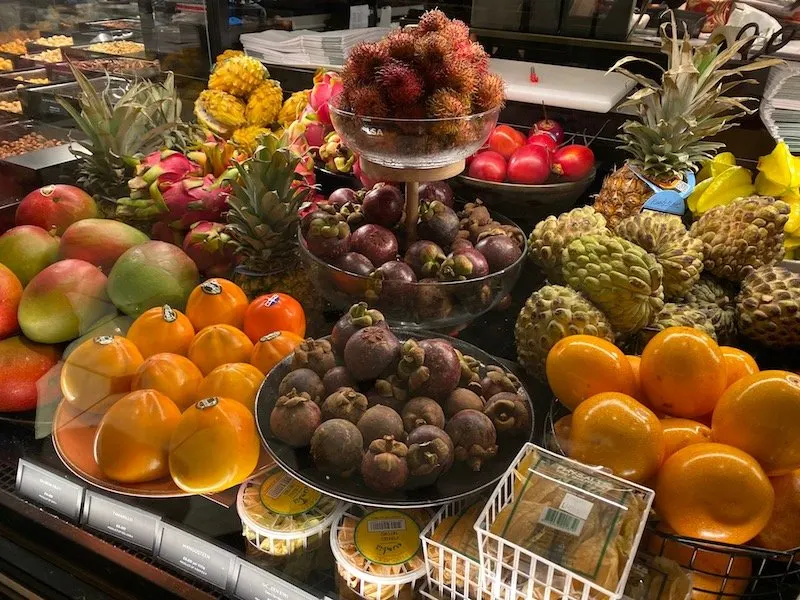 No.2: Harrods Fresh Market Hall
The Harrods Fresh food hall is filled fruits and vegetables from around the world, all beautifully displayed for the picking.
There's fruits here we've NEVER seen before, and some we can't even pronounce!
And then there's mangoes and dragonfruit, fruits that grow in abundance just a few kilometres from our home!
Find seasonal vegetables including:
green spring cabbages
eggplant
heritage carrots, and
broccoli bunches too.
The vegetable butcher (!) will even chop or spiralise them for you!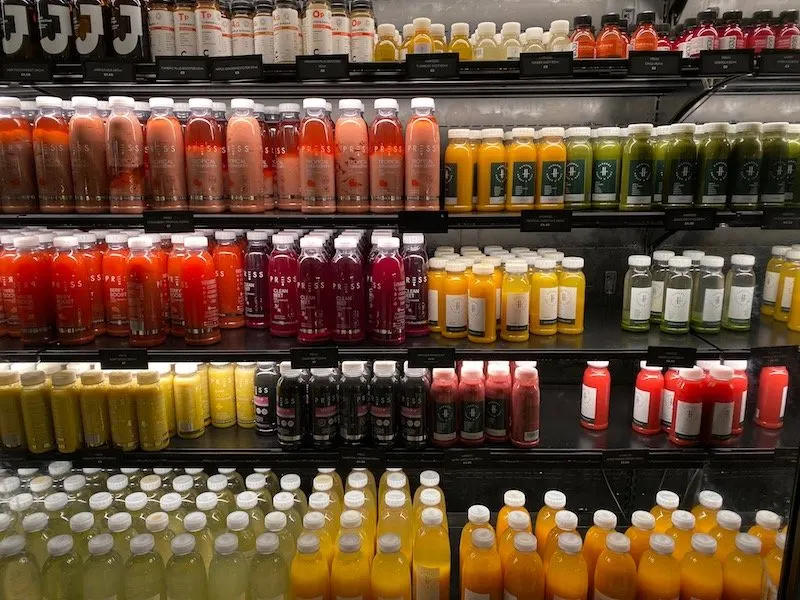 No.3: Harrods Juice Bar
The hardest thing is to choose your juice from the tonnes of different sweet healthy choices.
And the prices are not bad either.
Pop one into your basket, or if you prefer your drink fresh not bottled, order a juice or smoothie straight from the juice bar.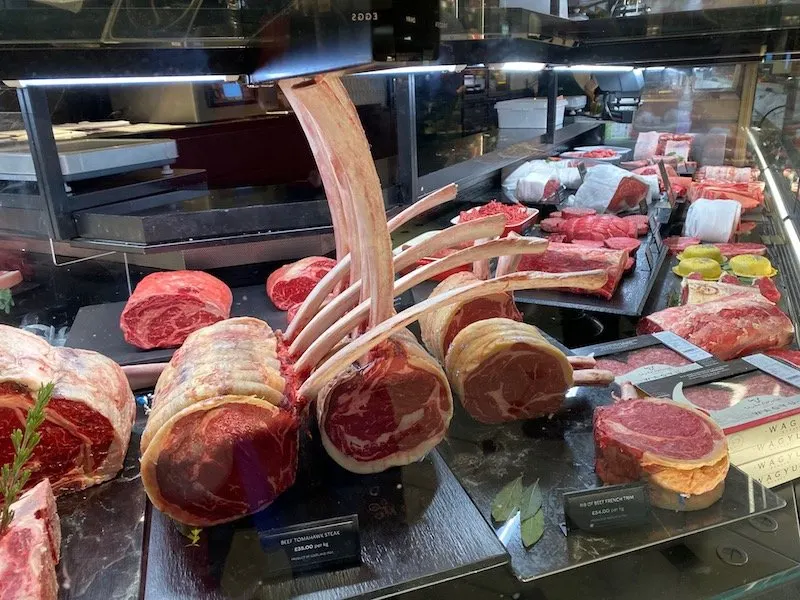 No.4: Harrods Meat, Fish and Poultry Hall
If you're a meat eater, the Meat Hall is a dream come true.
There are so many different cuts of top class meat here including:
pork belly
Australian wagyu beef steaks
Kobe beef fillets
French trim rib of beef, and
lamb sausages and bacon for a English Breakfast fry-up.
There's no need to eat the same dish twice.
The Tomahawk steaks though! Get into my belly now.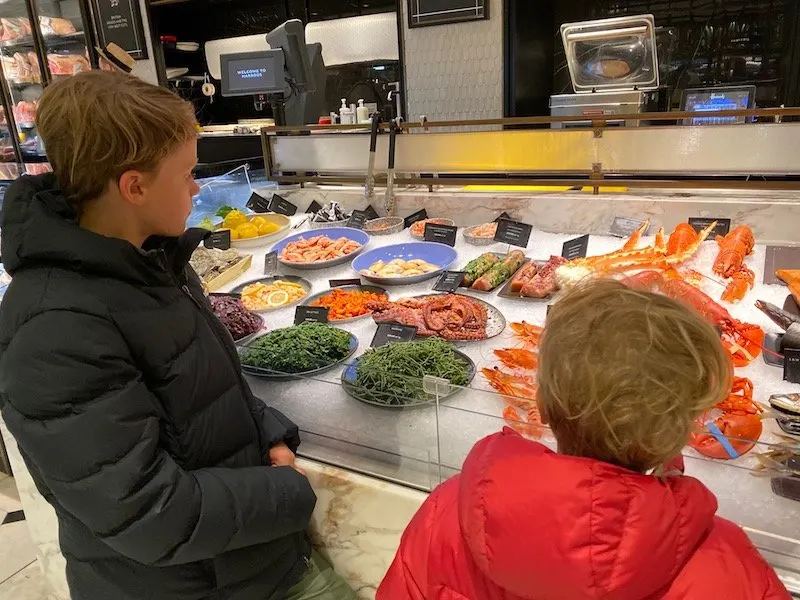 No.5: Seafood & Chicken
In the fish hall, you can buy traditional London Fish and Chips, and there's seafood, oysters and a Caviar Bar.
Check out the eggs, milk, butter and cream next to the cheese counter.
Think olive-green and blue-shelled eggs, organic Jersey cow milk, and golden churned butter from rich cream.
There's a Rotisserie, with the most succulent slow-grown tender chicken marinated for 24 hours before it's cooked. Bet it's the best you've ever tasted!
Did you know you can buy ready to eat roast potatoes and truffle mac'n'cheese too?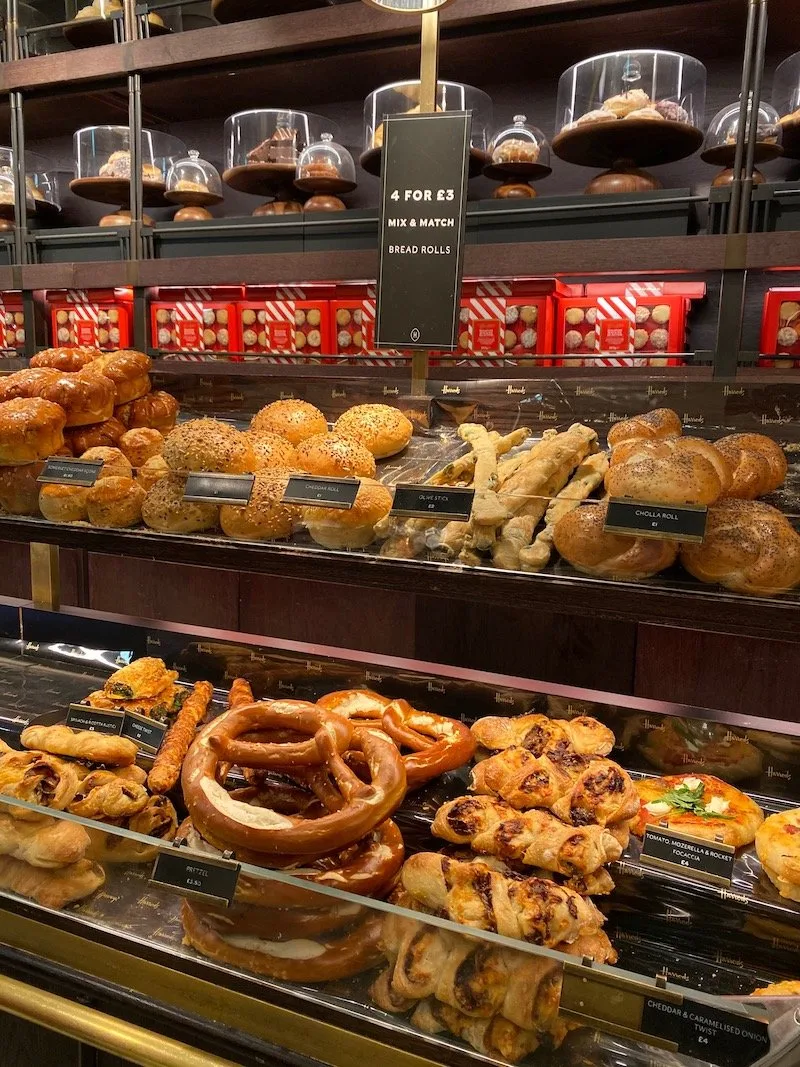 No.6: Harrods Roastery & Bake Hall
Kids love the Harrods Food Store Bakery, especially the pizza foccacia breads, the giant pretzels, all butter croissants, Nocellara olive sticks, and the Vintage Cheddar cheese sticks.
Grab a fresh sourdough loaf (or one of the other 14 types of bread) to go with your cheese board selections, and go, and tick off a budget Harrods meal from your bucket list.
But the sourdough is the pick of the bunch.
You can even have it personalised with your initials!
The Patisserie is home to cake heaven:
sweet tarts
hummingbird cake
chocolate brownies
Chocolate Bar
Mille-feuille
super cute Harrods food hall cupcakes
fresh cream eclairs
lemon meringue tarts for starters.
You can buy whole cakes, or by the slice.
FILL A BOX!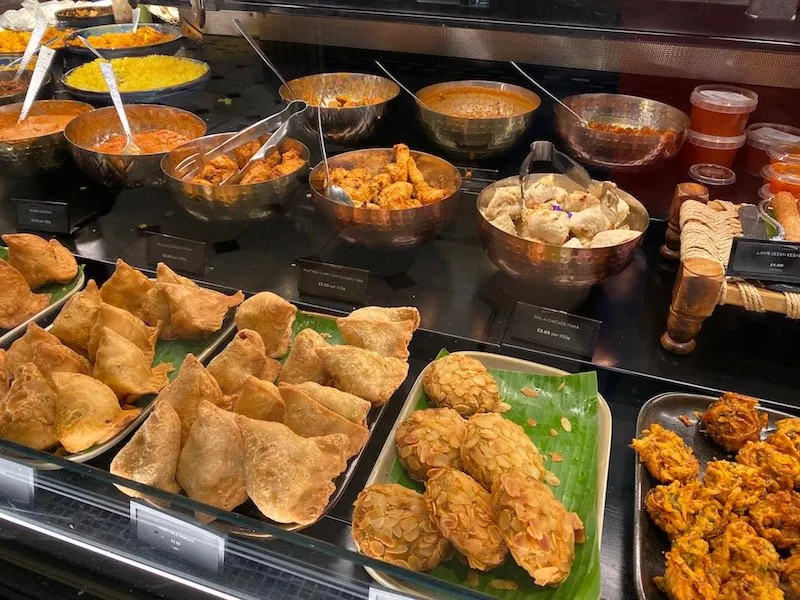 No.7: Food to Go – The Ultimate Harrods Food Hall Sandwich Selection & More
Pick up a delicious Harrods Food Hall sandwich on the go. Try the Coronation Chicken – it's a secret recipe.
Or try some of the delicious handmade Indian curries and snacks like:
Lamb Seekh kebab
Vegetable samosas or
Chicken tikka.
This is the cheapest way of eating at Harrods food hall.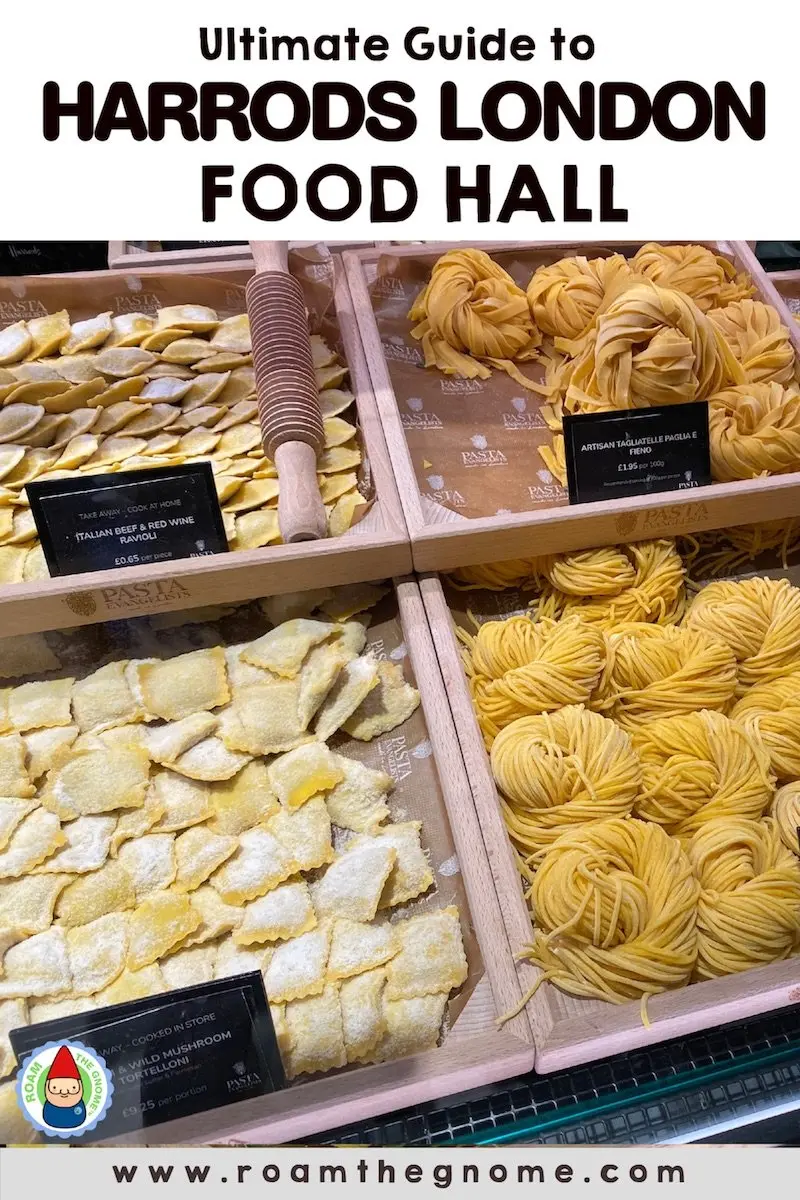 No.8: Pasta Bar at the Fresh Market Hall
The Pasta Bar by Pasta Evangelists, is where it's at.
Check out all the different types of handmade pasta, including:
artisan spaghetti
artisan tagliatelle paglia e fieno
gnocchi rustici
Italian beef and red wine ravioli
Porcini and wild mushroom tortelloni
truffle and burrata ravioloni
No.9: Harrods Coffee shop
There's a Tea and Coffee bar too.
If you fancy a little signature treat, ask the Tea Tailor to layer up a unique tea blend of your very own.
Or if you are more of a coffee connoisseur than tea lover, try one of their speciality beans blends.
Hot tip: Wait for the bell!
When you hear it, head straight to the counter to pick up the freshest bread and pastries, straight from the oven!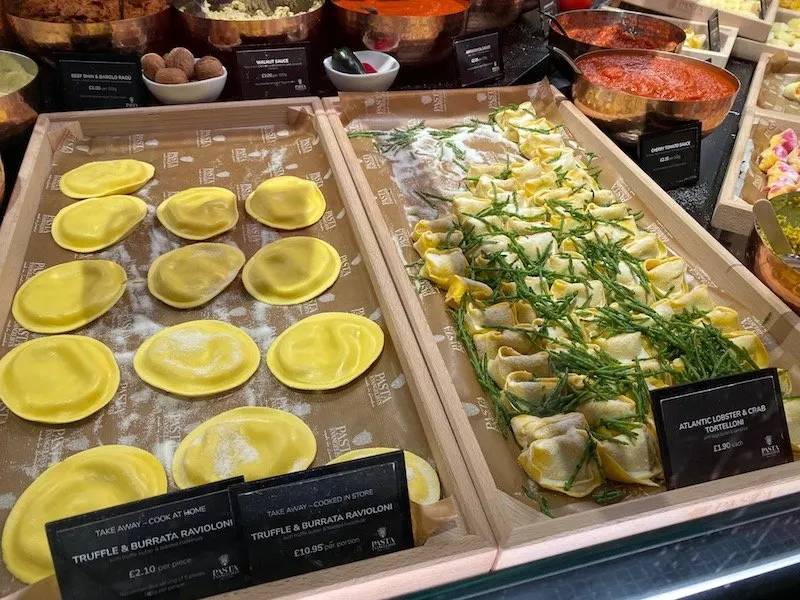 Is Harrods expensive? Sneak peek at Harrods Food Hall Prices
Here's just one little insight.
Buy 4 mix and match bread rolls for £3.
A beef tomahawk steak starts from £36 pounds per kilo.
Buy pasta per portion, per 100 grams, or per piece.
Artisan creste di gallo pasta costs £1.95 per 100 grams.
Italian beef and red wine ravioli costs £0.65 per piece.
BUT The Truffle & Burrata Ravioloni on the left above is £2.10 per single piece!
That's not a budget meal for anyone!
The White Alba truffle wins the prize for most expensive though – at £800 pounds per 100 GRAMS!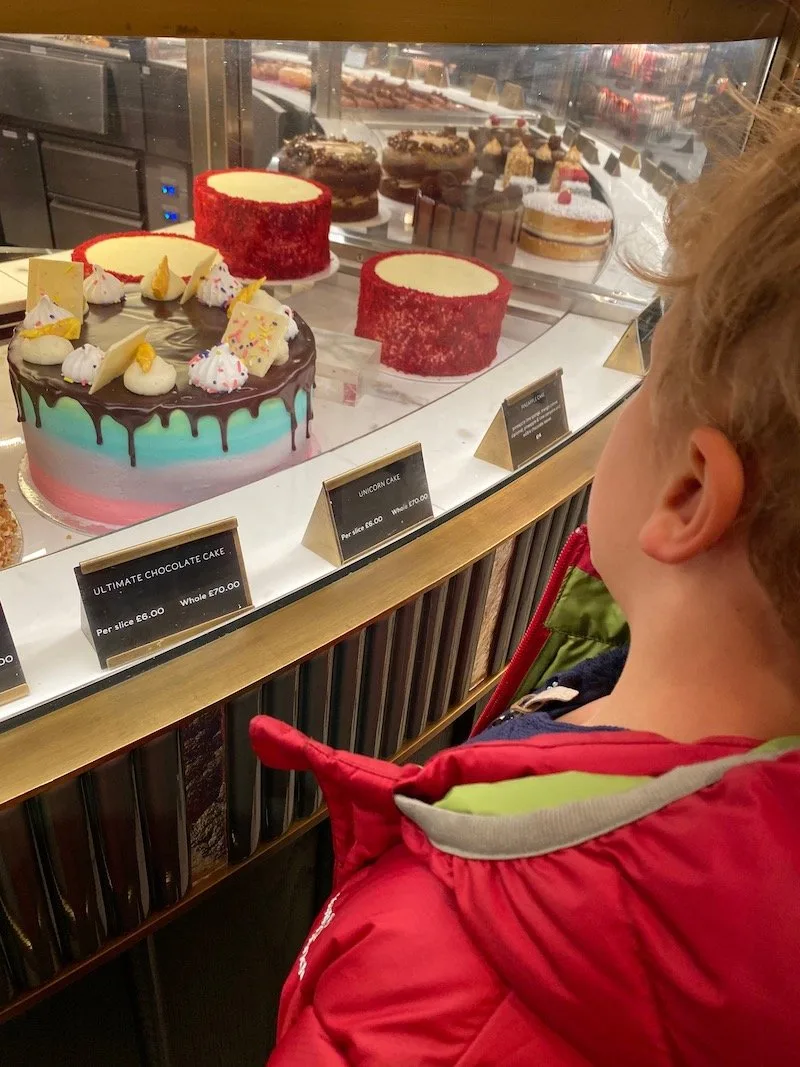 HARRODS CAKES
Harrods food hall cakes are exquisite, with spectacular style and designs, including multi-layered creations and chocolate explosions.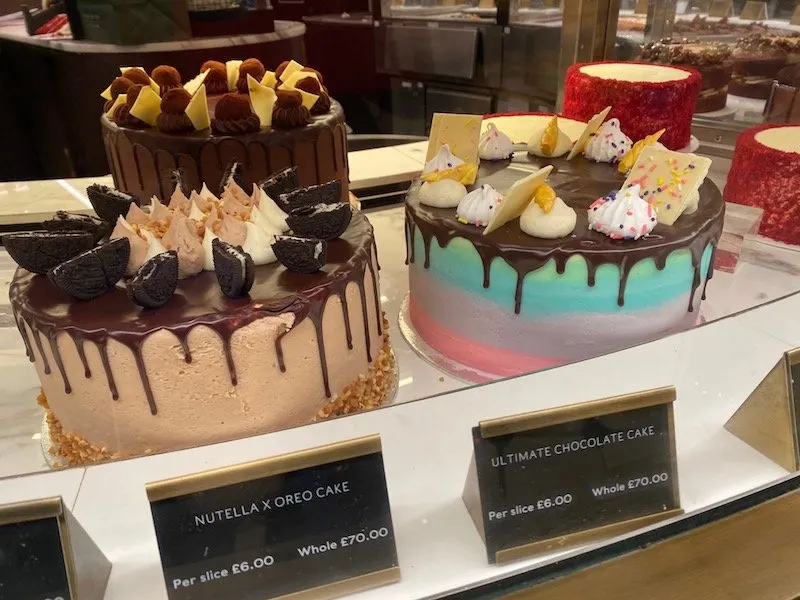 No.1: Harrods Birthday Cakes
You can buy a Harrods cake straight from the counter, or order a bespoke celebration cake for your next big event.
NB: Unfortunately the Harrods ice cream stand is no longer.
But there is a Creperie on the second floor where you can order sundaes including the:
Knickerbrocker Glory triple treat
a Banana Split
or a Chocolate and Hazelnut concoction.
Visit instore for the Harrods cake menu.
No.2: Harrods cake prices?
Whole cakes from the Harrods cake counter start from £70 but you can order individual slices from £6.
Christmas Cake (1.2kg) start from £35 pounds.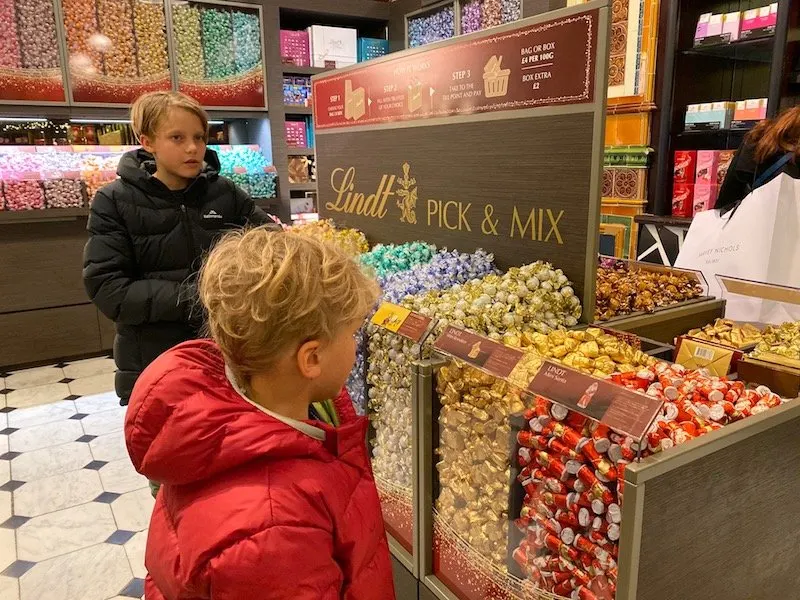 BEST HARRODS FOOD GIFTS
No.1: Gourmet Chocolate, Confectionary, and Seasonal Food Hall
Stop by the Harrods food store & Gourmet Grocery to pick up a few decadent London food souvenirs, and chocolate by the block, or the piece.
You can also order a Harrods cheese board for cheese connoisseurs.
This is the place to pick up bespoke London food brands for work colleagues, business associates, family and friends.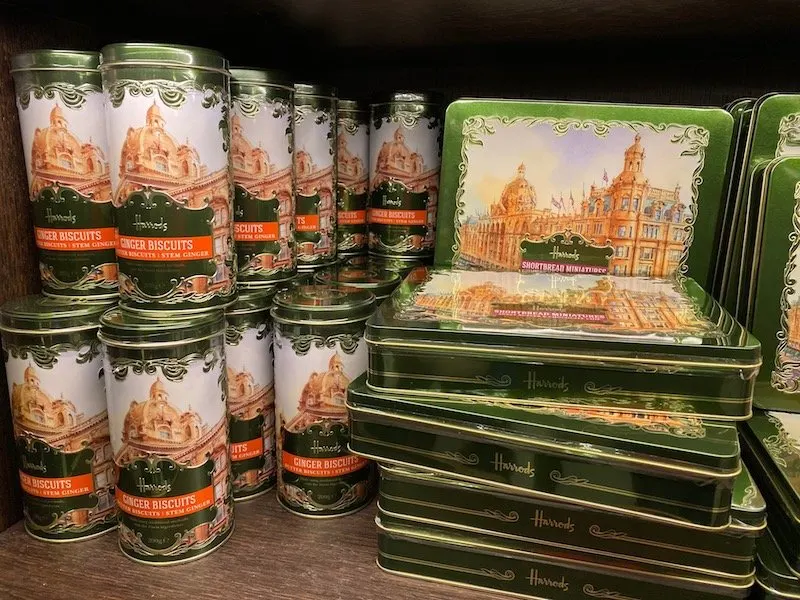 MORE HARRODS FOOD HALL GIFTS
No.1: Harrods Hampers
Harrods food hampers can be purchased year round.
Their themed hampers for family, friends, coworkers, employees, or business associates are a much loved gift.
Housed in a stylish Harrods wicker basket, they include luxury foods such as:
Harrods blackcurrant preserve
Orange, lemon & bay marmalade
Passionfruit and orange curd
All butter shortbread biscuits
Harrods english mustard
Harrods caramel and sea salt biscuits, or parmesan and poppy seed oat biscuits
Tomato and chilli pasta sauce
Kenyan Blue Mountain coffee
Green tea
Darjeeling tea bags
Harrods tea – English Breakfast tea
Hot Chocolate
Pink Marc de Champagne luxury truffles
Sweet caramels
Harrods artisan chocolate
No.2: Best Harrods Christmas Hamper?
At Christmas, a whole new range of hampers go on sale including Christmas food, Christmas treats, & Christmas chocolate.
There's also wine hampers with drinks such as Chablis, Pinot Noir, or champagne, and alcohol free hampers.
Some hampers feature gifts and accessories such as Bitter Orange hand wash, or hand lotion, or Bergamot candles.
Anyone and everyone would love an elegant Christmas hamper from Harrods.
Hot tip: Check out the Buckingham Palace Gift shop near the palace for MORE delicious foodie gifts too.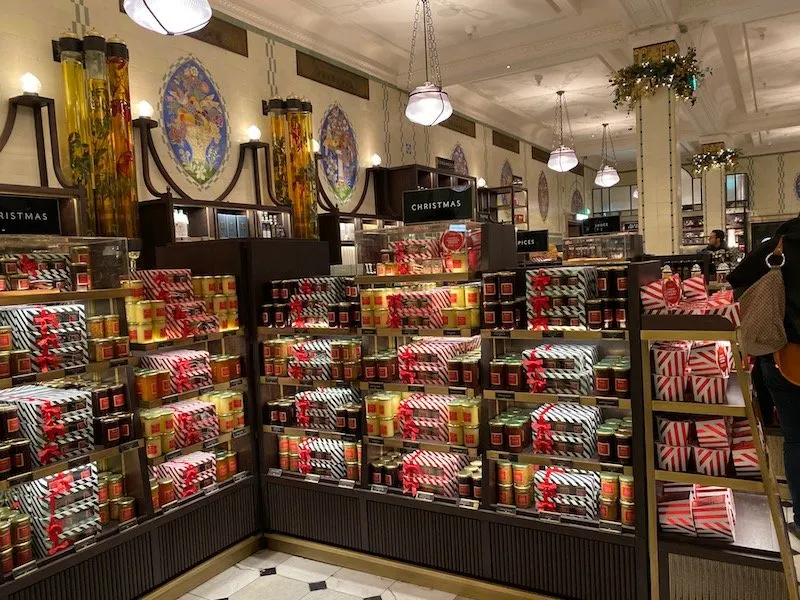 HARRODS FOOD HALL CHRISTMAS SHOP
No.1 Harrods Gift Shop
The best time to visit the food department at Harrods is when the Harrods Christmas Food is released.
Elegantly packaged, the Christmas food is a gift for the person who has everything, or the minimalist who doesn't want stuff.
Be sure to check out the Harrods Advent Calendar.
It's always super cute for kids!
If you are looking for gifts for kids, why not also consider:
Harrods lunch box or a Harrods lunch bag
Harrods kids apron
Harrods backpacks
All wrapped up in Harrods shopper bags that the adult in the house can keep!
Take a sneak peek at some of the Harrods Christmas gifts here.
HARRODS DINING HALL (Alt: Harrods Food Court)
Eating at Harrods dining hall is a bucket list adventure for many visitors to London who want to eat dinner in Knightsbridge at this famous institution, although it's not so easy to take the kids in there.
It's very posh, and full of banker and professional types.
If you have toddlers in tow, a picnic of delicious nibbles from the food hall might be a safer option!
Housed in a Grade II-listed room, the Dining Hall is a sight to see. Look up to see the handpainted tiles and roundels by William James Neatby that have been in place for almost 120 years!
There are SIX restaurants in the Dining Hall, including:
The Grill for meatlovers
The Pasta Bar
Caviar house & Prunier
The Sushi Bar
Kama by Vineet Indian restaurant
The Fish Bar
Book to secure your seating.
Harrods Food Hall Video
THE INSIDE SCOOP: FOOD HALL AT HARRODS
Correct at time of publication on Roam the Gnome. Please check with venue for updates. We apologise in advance if there have been any changes we are unaware of. All prices in pounds, unless otherwise stated
Harrods London Food Hall address: Ground Floor, Harrods 87–135 Brompton Road Knightsbridge London SW1X 7XL
Harrods of London website: Click here
Harrods Food Hall opening hours
The Harrods Food Hall hours are:
Monday: 10am – 9pm
Tuesday: 10am – 9pm
Wednesday: 10am – 9pm
Thursday: 10am – 9pm
Friday: 10am – 9am
Saturday: 10am – 9pm
Sunday: 11.30am – 6pm*
Note that the shop doesn't start selling food until 12pm lunchtime but you can browse while you wait.
Where is the Harrods food hall?
The Harrods Food Hall floor is on ground level. This is street level entrance.
London Harrods Map

FAQ
No.1: Does Harrods HAVE a food hall?
If you've read this far, the answer is obvious!
No.2: What floor is Harrods food hall?
Ground floor. Entrance level.
No.3: Is there Harrods vegan food?
Yes, you can find vegan options throughout the fresh market hall and in the gourmet groceries section.
No.4: What time does Harrods food hall open?
10am Monday through Saturday, and 11.30am Sunday.

Toadstool Rating: Harrods in London
If you LOVE London travel & adore food, a view of the Harrods food store should be in your Top 10 Things to do in London list!

Looking for MORE London shopping adventures?
Click the links in blue below for MORE London fun.