INSIDE: All you need to know about the Discover Children's Story Centre London with kids.
Every child is a storyteller at heart, and this super dooper fun place, the Discover Story Centre, has been created to ensure that the natural innate storytelling ability of children is protected, nurtured and pumped up.
Discover Story Centre is the UK's FIRST Hands-on Creative Literacy Centre for children 0 to 11 years old.
It's a bright, happy place in London for kids of all ages, and their parents, friends, teachers, and carers.
AND it has a HUGE playground for kids out back too.
And one of the best London book shops for kids.
Find all the details below, including how to get there.
Disclosure: This article contains affiliate links. If you make a purchase after clicking on one of these links, we may receive a small commission at NO extra cost to you.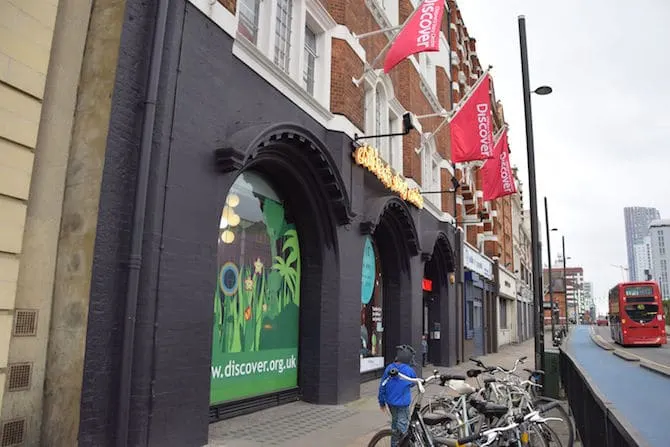 DISCOVER Children's Story Centre London
Over 60,000 people a year visit and take part in activities and fun experiences but in our eyes, it's still very much a hidden secret in London.
The Discover Children's Story Centre has just completed a major refurbishment to their building, expanding Story World and creating a new entrance and café too.
There's SO much to do, but our favourite thing about this place?
The interactive backyard!
Read on to see what we are talking about…
---
RELATED: The ULTIMATE List of Things to Do in London with Kids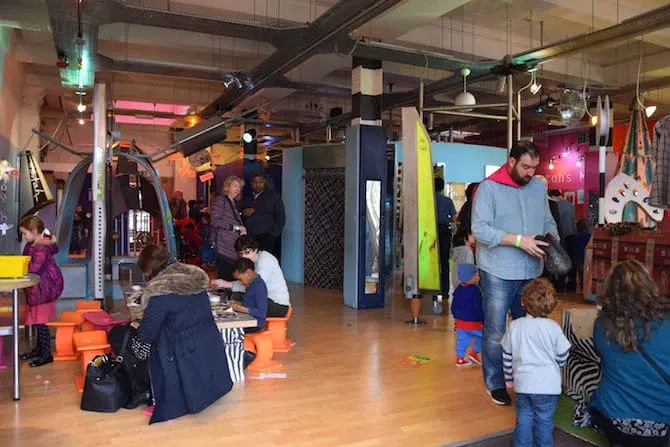 Fire Up Your Creative Spark at Discover Story Centre!
Imagination-building is the BIG GOAL here.
Every activity station, craft, play space, and interaction is designed to "spark children's imaginations, curiosity and creativity in a magical and stimulating environment" (from the noticeboard at the entrance).
Each week, there's:
storytelling sessions
craft sessions
family art activities
There is storytelling for 0-3 year olds each week. Bookings essential are these 25 minute sessions.
The Discover Story Centre also commissions artists to create multi-sensory installations and exhibitions.
Discover Children's Story Centre Events
Throughout the year, the Discover Story Centre hosts artists and writers in residence.
They also invite much-loved and up-and-coming authors, illustrators, poets, musicians, artists and storytellers to bring their talents to the children
Or take part in their annual The Big Write Children's Literature Festival.
Their aim is to help improve reading, writing, speaking and listening skills for children in fun and imaginative ways.
You'll find, or can book a spot for:
illustrator takeover days
a literature program led by children's writers and illustrators
exciting storytelling workshops
musical events
science labs
professional training opportunities on offer for teachers & educators.
Most of these events are FREE with your day pass.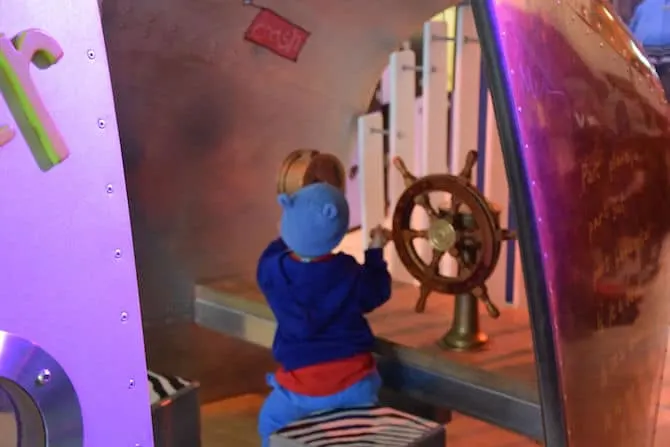 Indoor Play at Discover Stratford
The indoor areas quickly become a higgledy-piggledy muddle of mess once the children start playing and creating, (minimalists will have a heart attack in this busy, chaotic, art-is-everywhere space) but overlook that.
The heart, message and motives of the place, and the super-friendly and helpful people who run it, creates storytelling magic that is good for the soul of both young and old.
Roam the Gnome, the boys and I LOVED it.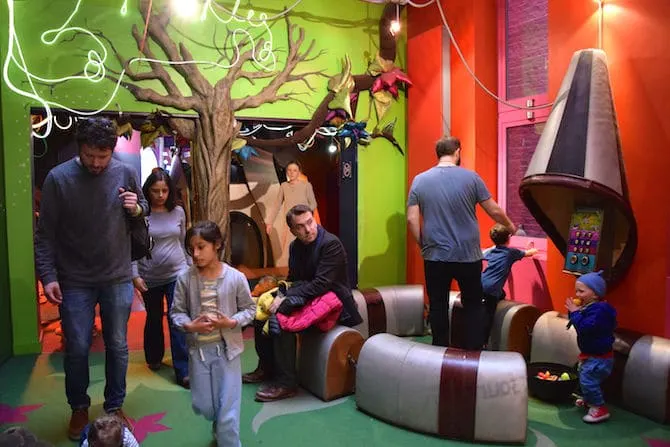 Indoor Play at the Children's Discovery Centre Stratford
The indoor space is designed as a Story Trail.
When we visited, there was a musical room where stepping on rainbow-coloured lights plays the drums.
There was a Lions Tunnel climbing tunnel and gym.
On the way there, the kids stepped over the Trip Trap Trip Trap wobbly bridge, rode on the 'pull-along' rope raft, and pranced across the letter bridge.
There were:
nooks for hiding and nooks for reading
stairs and soft climbable furniture to scale
bubble windows to peer through
an indoor slippery slide
a magical boat to steer
toys to commandeer
buttons to press, and
room to wiggle and run about.
At the revamped Discover Story Centre, kids can join Discover Story Centre's resident space alien, Hootah, on a story collecting mission.
He's come here because everyone on his planet, Squiggly Diggly, has lost their imagination, and there's no more stories being told.
Oh no!
The team of dedicated Story Builders at Discover Story Centre guide children and families through the space both indoors and out, and encourage them to create their own stories to help Hootah fuel his spaceship to return to his home on the planet Squiggly Diggly.
Story World is set over two floors.
Visit on a Friday, Saturday after 12pm, Sunday or during school holidays for access to the upper level.
(It's used for school groups and Mighty Mega Club at other times)

Story Trail Fun at the Stratford Discovery Centre.
On the Ground Floor of the Discover children's story centre, kids can:
find their way through giant trees
take a trip on a special steam ship and
watch out for the Hootahpotamuses.
On the First Floor of the Discover children's story centre, children can:
climb a crow's nest to the clouds, and
crew the control panel on Hootah's Observatron.
Crafty Activities at Discovery Centre Stratford
As a teacher and storyteller myself, I'm super excited to see cute and clever craft opportunities intermingled with storytelling.
New craft workshops appear regularly.
You might find opportunities to join in:
paper plane making with an illustrator
shadow puppet making
drawing workshops
picture book making
Most activities are FREE with your day pass.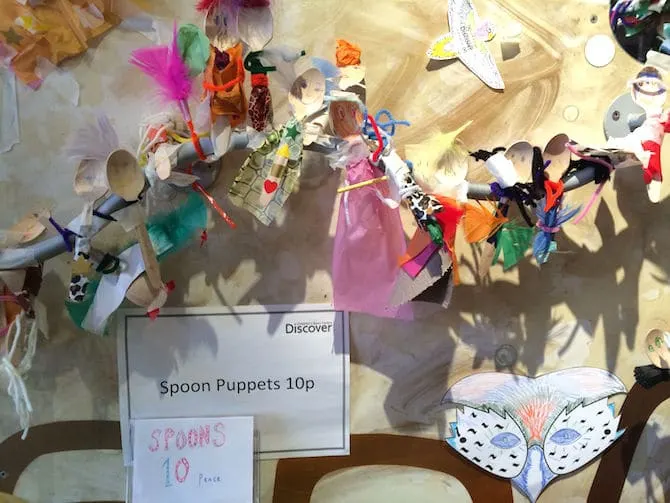 Simple storytelling with props
In my world, the best way to encourage storytelling in children is with simple props. When they can make those props themselves, they take ownership of the story too.
My boys made a spoon puppet each.
A whole family of spoon puppets were strung along one wall too, just waiting for more stories to be told.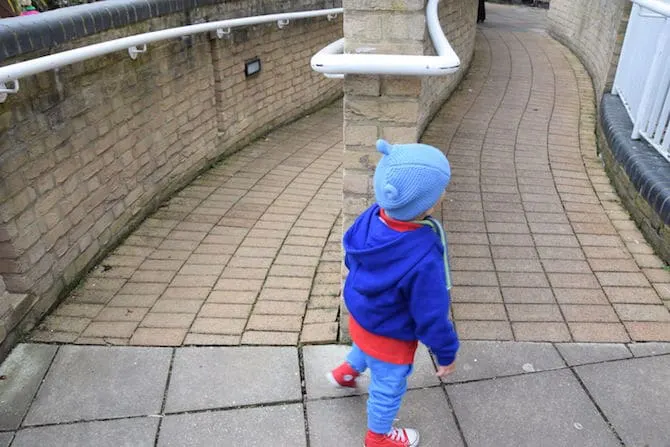 Sneak Peek at the Discover Story Centre Outdoor Playground
Just outside the back door though, is a little path leading to one of the most magical spots for children in London.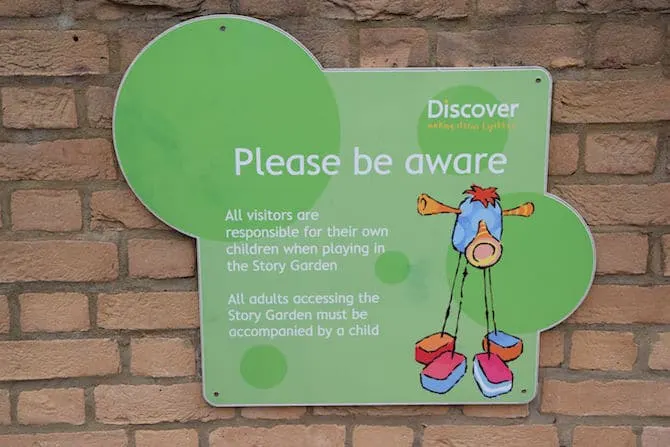 Discovery Centre playground
The Discover Story Centre Story Garden is huge, and there are so many adventures waiting to happen.
Take a look outside!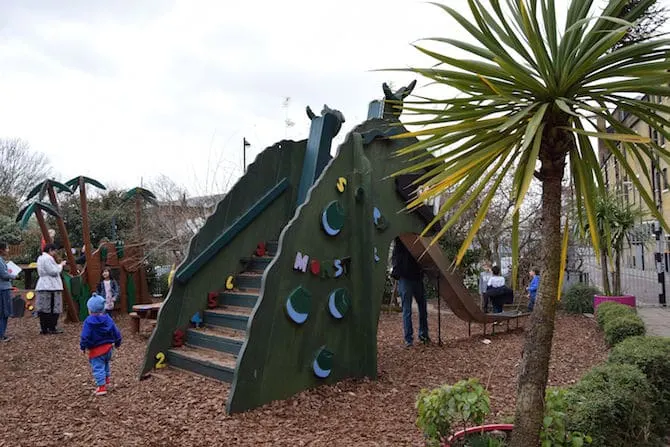 Best Things to do in the Discover Story Garden
No.1: Monster Slide
Kids can slide Down a Monster's Slide.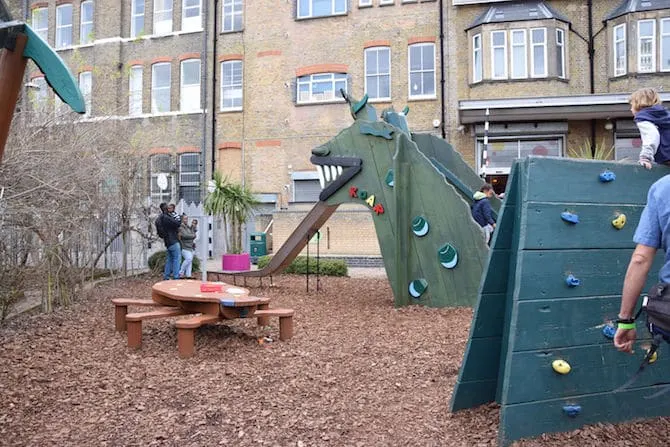 No.2 Enjoy a picnic of snacks
There's a spider-shaped picnic & activity table, and a climbing wall.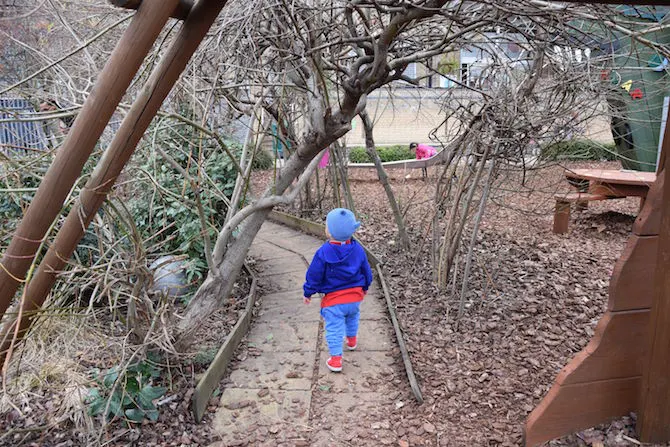 No.3: Wander through the bramble
Children can enjoy a story in the story glade and wander the bramble path.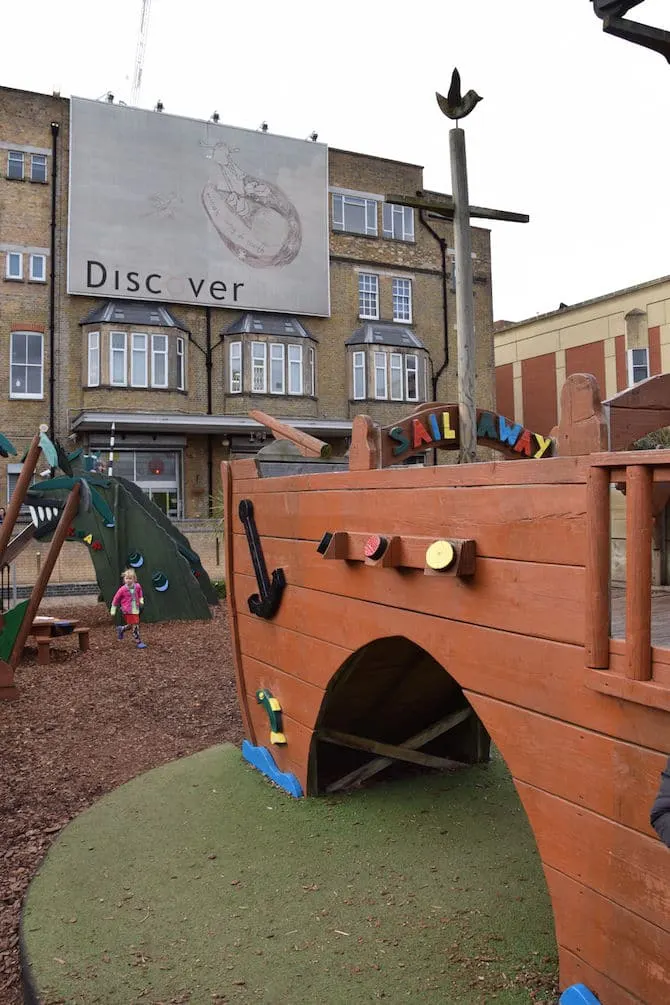 No. 4: Pirate ship playground
Or sail away in a pirate ship…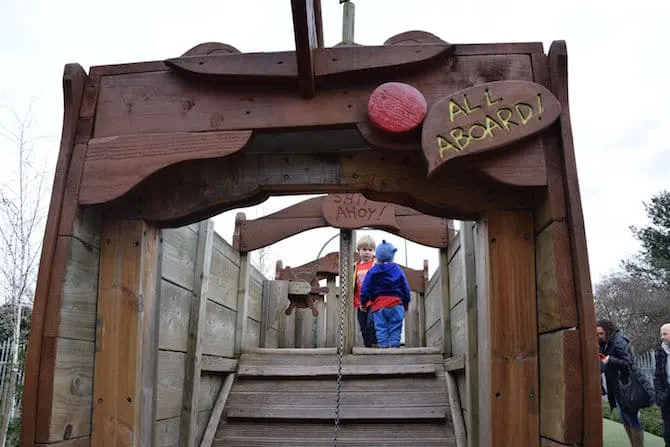 And meet new friends!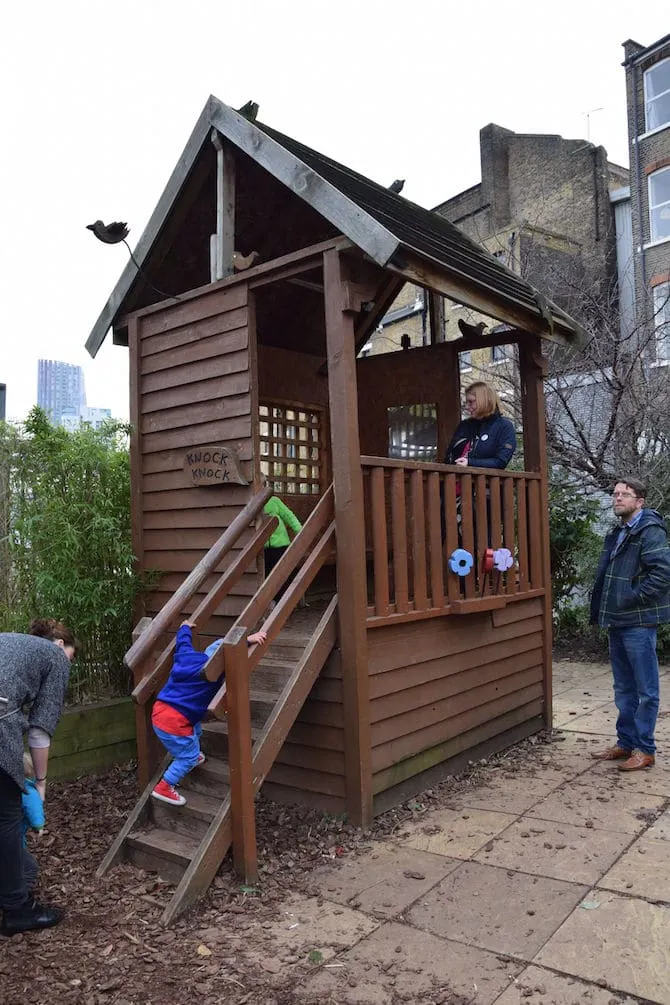 No.5: Cubby House play
Say hi, as you Knock Knock on the door of the Cubby House.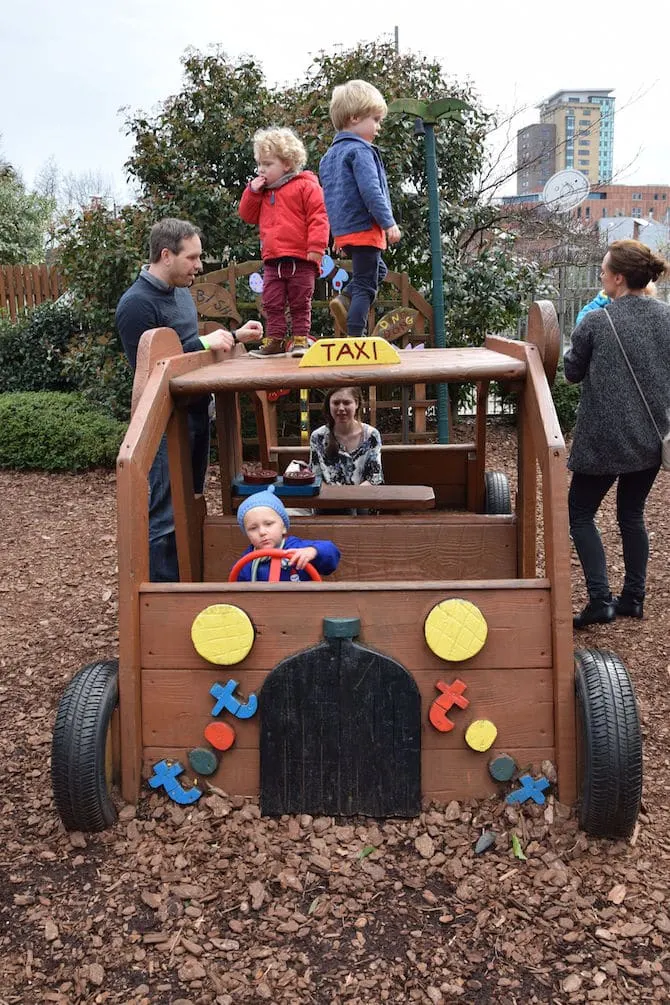 No.6: Taxi driver
Kids can drive a local taxi, all the way to…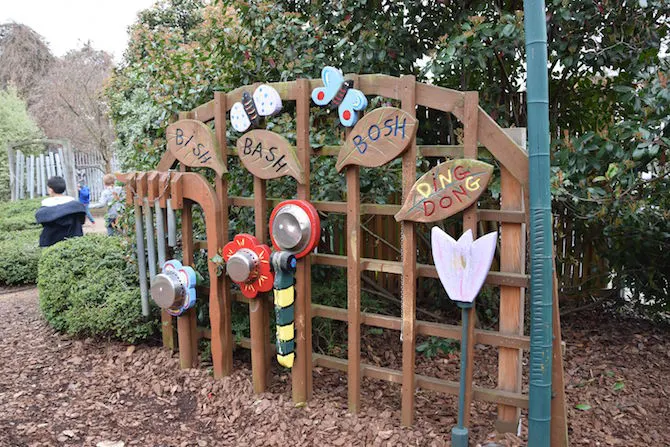 No.7: The Land of Giant Musical Instruments.
Kid's love to play all the tunes here in the musical garden.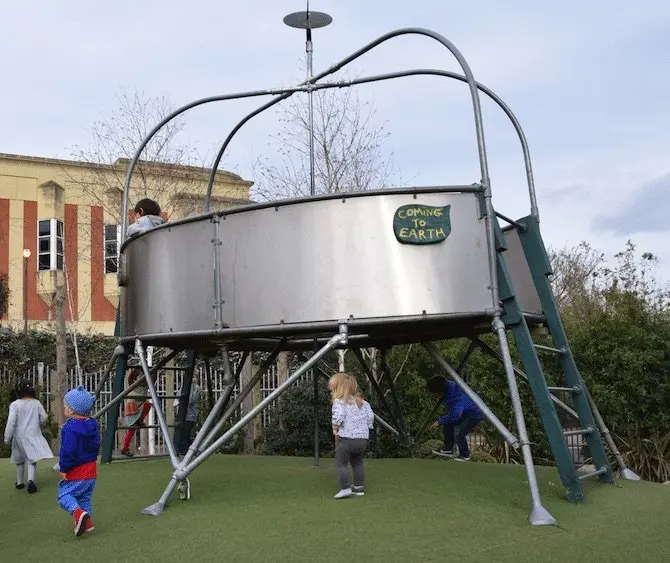 No.8: Coming to Earth
Jack spent ages here, climbing up and down into the Space Craft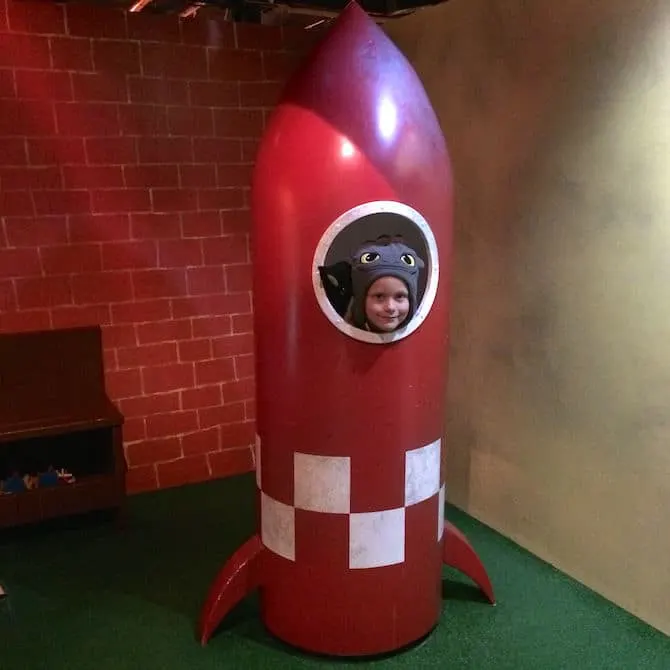 Exhibitions at Discover Centre for Stratford Kids & Visitors
Changing once every six months to a year, the Discovery Story Centre's interactive exhibitions immerse families in the world of their favourite authors, from Oliver Jeffers to Michael Rosen and Dr. Seuss.
Exhibitions are multi-sensory, inclusive, and engaging.
Children become a PART of the storytelling experience and there's plenty of audience interaction.
It's refreshing for kids (and parents/adults) to be INVOLVED, instead of being the passive audience watching the storyteller have all the fun.
Exhibitions may feature:
fabulous sets
puppetry
life-size props
treasure hunts, and more.
Their exhibitions are unlike anything we've ever seen before, and we highly recommend going for this alone.
Book early to secure your spot.

Retrospective: The Oliver Jeffers Exhibition 2015
Our favourite exhibition was "Once there was… The Wonderful World of Oliver Jeffers".
Ned, Jack, Roam the Gnome and I explored Oliver Jeffers' magical worlds in an interactive exhibit that brought his picture books to life.
Ned and Jack played in life-size recreations of some of his most iconic picture book scenes from How to Catch a Star, Up and Down, Lost and Found, and The Way Back Home.
We joined a Walking Story that took us through a series of themed story sets, led by a musical team member singing songs, and reciting Oliver Jeffers' Lost and Found to us.
The best part of this story trail was how he invited the kids to take part IN the story, and play roles with quick-change costumes, and spoken lines.
Engaging and fun, our visit to Discover Story Centre was a highlight of our last London trip.
Discovery Story Centre Cafe
There's a new cafe on site with all your favourite kid-friendly (and healthy) foods and drinks at reasonable prices.
You'll find the café on the First Floor, next to the Storytelling Space.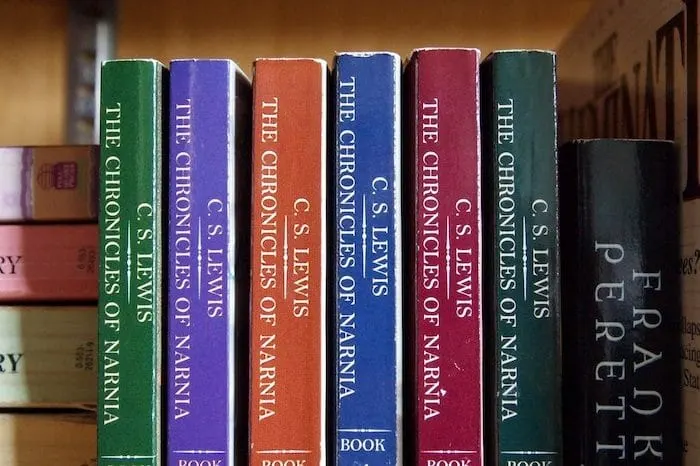 Guide to the Stratford Story Centre Shop
Check out the Discover Centre shop at the front of Discover Story Centre. There's:
books (of course!) – picture books, classics, modern favourites, and books by visiting authors
toys and games
Discover Story Centre merchandise
Time Out voted this shop in the Top 5 London Bookshops for children.
The shop is open to the public 10am-5pm every day.
---
RELATED: Guide to the 7 best bookshops in London for kids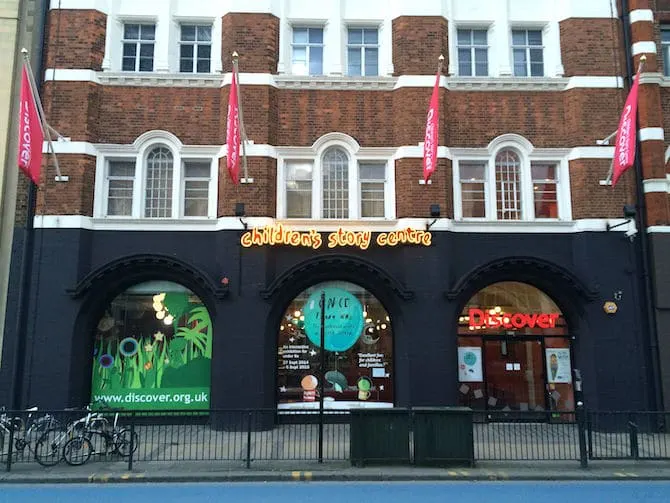 THE INSIDE SCOOP: Discovery Children's Centre Stratford
Correct at time of publication on Roam the Gnome. Please check with venue for updates. We apologise in advance if there have been any changes we are unaware of. All prices in British pounds, unless otherwise stated
Helpful note: The Discover Children's Story Centre in Stratford is sometimes accidentally called the Discovery Centre by local visitors, or The Discovery Center by guests from America.
Address: 383-387 High St, London E15 4QZ, United Kingdom
Telephone: +44 20 8536 5555
Website: Discover Story Centre Website
Email (guest relations): [email protected]
Discover Story Centre Opening Hours
Hot tip: Discover recommends that you do book in advance for your exhibition session, and any Storytelling and Events you would like to attend, as spaces are limited and they don't want visitors to be disappointed on the day.
Monday-Thursday during Term time (*As per Newham school holiday timetable.)
Ground Floor only, open 10am-5pm.
Friday ('Family Fridays'). All floors open 10am-5pm
Weekends and School Holidays
All floors open 10am-5pm.
On Saturdays, First Floor Story World opens at 11:15am.

Discover Story Centre Prices
Tickets are £6.50 for adults and children.
Children under 1 FREE!
Children aged 1-2 cost £2.00
Discover Children's Story Centre Annual Pass (2019)
The Discover Children's Story Centre annual pass Annual Pass for 1 Person costs £36
Annual Pass 2 Person: £60
Annual Pass 3 Person: £72
Annual Pass 4 Person: £84
The Family Ticket
Family ticket (4 people): £22.00 (Prices have gone DOWN since our last visit. Yay for Story World!)
Included in your Day Pass is entry to Discover's Story Trail and Story Garden, events and the current exhibition
Book online here
Or, you can book over the phone by giving Discover a call on 020 8536 5555 Monday-Sunday 10am-5pm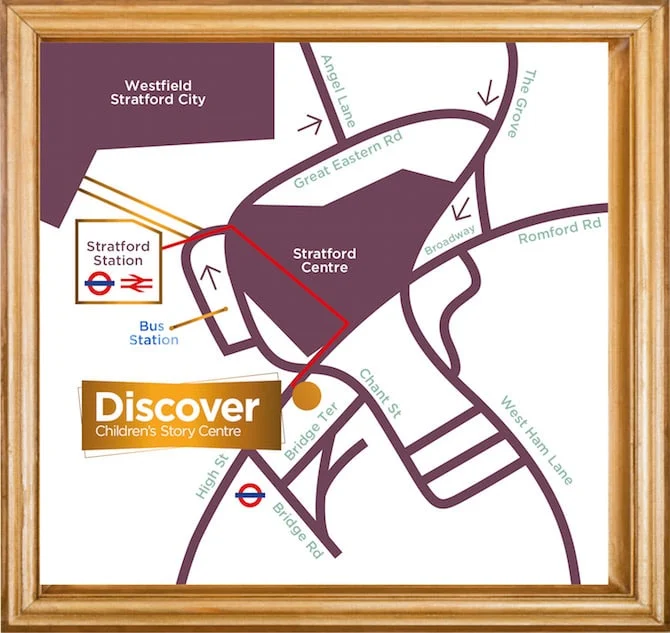 How to get to Discover in Stratford
By Train
The Discover Children's story centre nearest tube station is Stratford High Street (DLR), and Stratford which is served by the Central and Jubilee lines, as well as the DLR, Overground and main line services to and from Liverpool Street.
When coming from Stratford station
take the exit marked Town Centre (this is the opposite exit to the Westfield Shopping Centre and Queen Elizabeth Olympic Park). Travel through the Stratford Shopping Centre and then turn right onto Stratford High Street.
Discover Story Centre is approximately 150m from the shopping centre on the far side of the road, and is easy to spot with red flags on the front of the building.
When coming from Stratford High Street
turn right after exiting the station. Discover is approximately 50m away on the same side of the road, and is easy to spot with red flags on the front of the building.
By Stratford buses:
25, 86, 108, 425, D8, 257, 308, 104, 238, 241, 262, 158, 473, 276, UL1 and 69.
To help you plan your journey visit the Transport for London website.
By Car – Discover Children's Story Centre Parking
Unfortunately there is no parking available on the Discover site.
The closest parking is in the Stratford Shopping Centre (10 mins walk).
Map of Discover Stratford Story centre

More Things to Do in Stratford London
Shopping in Stratford
Visit the Westfield Stratford Shopping Centre to shop at icon London stores including Marks and Spencer, Lush, Primark, John Lewis, and H&M.
Visit the Disney Store, Flying Tiger Copenhagen, the LEGO store, and The Entertainer Toy Shop to buy cute London souvenirs and toys.
Eat at one of these kid-friendly restaurants at Westfield Stratfield
More Children's Activities Stratford London
Go Indoor Bowling at the All Star Lanes in Westfield Stratford City
Visit the Biodiversity Playground on the Lower Ground Floor at Westfield Stratford City

Queen Elizabeth Olympic Park Playgrounds
If you have time, head back over the other side of the station to the Queen Elizabeth Olympic Park.
There's TWO adventure playgrounds!
No.1: Pleasure Gardens playground
Pleasure Gardens is first (look for the giant red mounds pictured above)
Read our review for more details.
No.2: Tumbling Bay playground Olympic Park
About 10 minutes walk further on, you'll find the nature playground called Tumbling Bay playground, featuring:
rock pools
sand pits
tall treehouses
wobbly bridges
slides
swings, and
plenty of space to run about.
(Find more details in the guide above)
Toadstool Rating: Discovery Story Centre

Looking for More London Museums for Kids in London?
Click the links in blue below for more London tips