INSIDE: The Ultimate Guide to the Buckingham Palace Gift Shop London.
Visiting London to see the Queen?
Then you must visit the official Buckingham Palace shop -the Royal Collection Trust shop.
It's the place to purchase Royal Family merchandise and Queen Elizabeth memorabilia.
Plus, it's one of the most elegantly displayed stores we've ever seen, with everything just so.
Want to take a sneak peek inside?
Read on!
Disclosure: This article contains affiliate links. If you make a purchase after clicking on one of these links, we may receive a small commission at NO extra cost to you.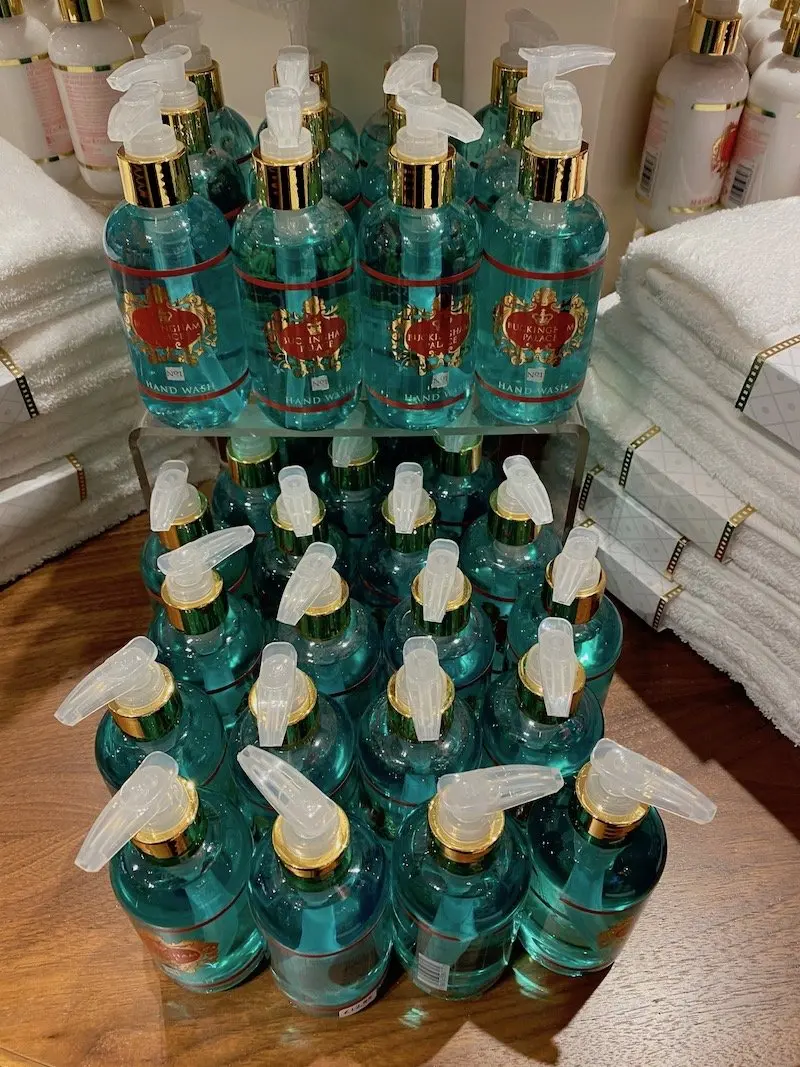 GUIDE TO BUCKINGHAM PALACE ROYAL COLLECTIONS SHOP
Firstly, take a look at the most popular Royal Collection designs.
These designs are a modern take on the centuries old patterns and motifs found inside the real Buckingham Palace on tableware and household items still in use today by the current residents, the Queen and her extended family.
Hot tip: Check out our popular guide to London Souvenirs here and our guide to best London shopping areas too.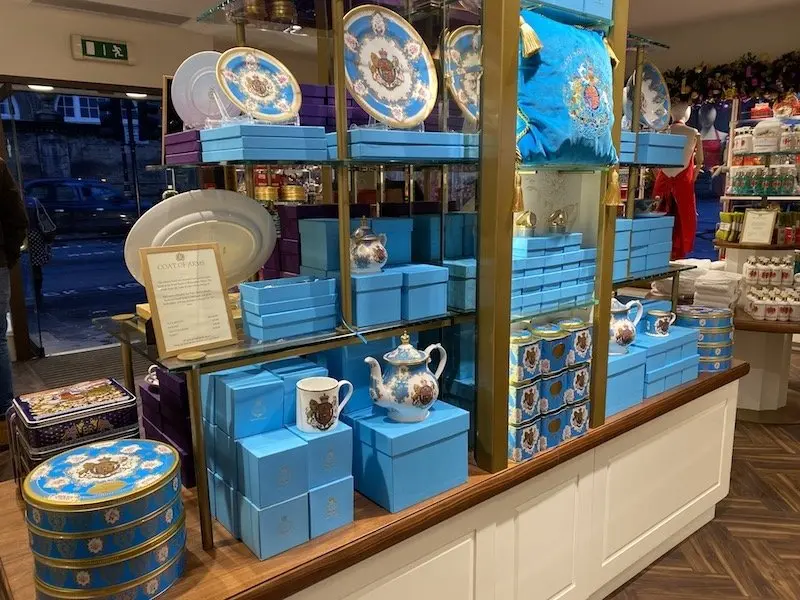 No.1: The Coat of Arms Chinaware
"The Coast of Arms Buckingham Palace tea set is based on a beautiful hand painted plate found in the Royal Pantry at Buckingham Palace.
The design shows the coat of arms of King George IV.
Each piece of English fine bone china is skilfully finished by hand using 22 carat gold, is made in Staffordshire and uses methods unchanged for 250 years."
(From the sign inside the shop)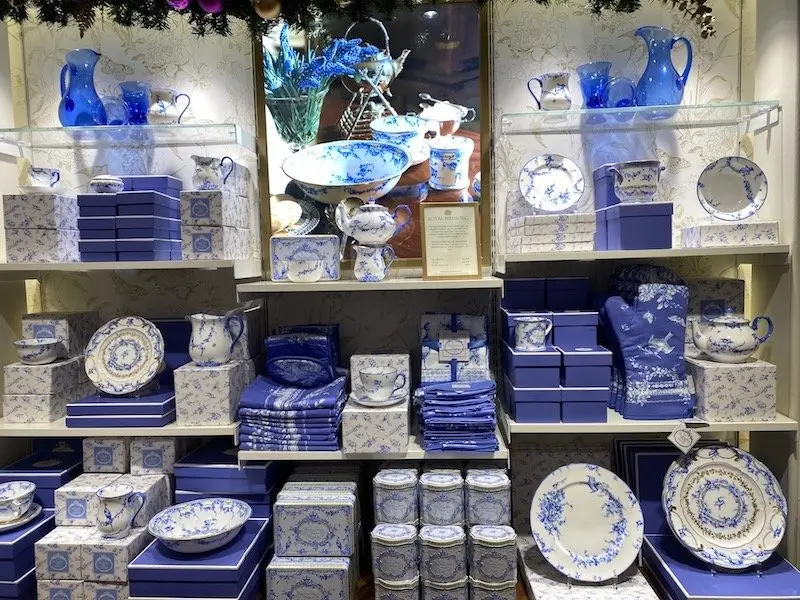 No.2: Buckingham Palace Collections Royal Birdsong
Another popular Royal Collection is the Royal Birdsong featuring flower garlands with a mix of:
carnations
English roses
cornflowers and
harebell blooms.
In amongst the flowers, peep birds of paradise, and elegant swallows flying about.
Inspired by the design of the blue and white water jug and basin found in the Royal Collection.
This original design dates back to 1771!
In the range, find:
teapots
plates
tea canisters
milk jugs
teacups and saucers
teatowels (kitchen towels)
bowls, and more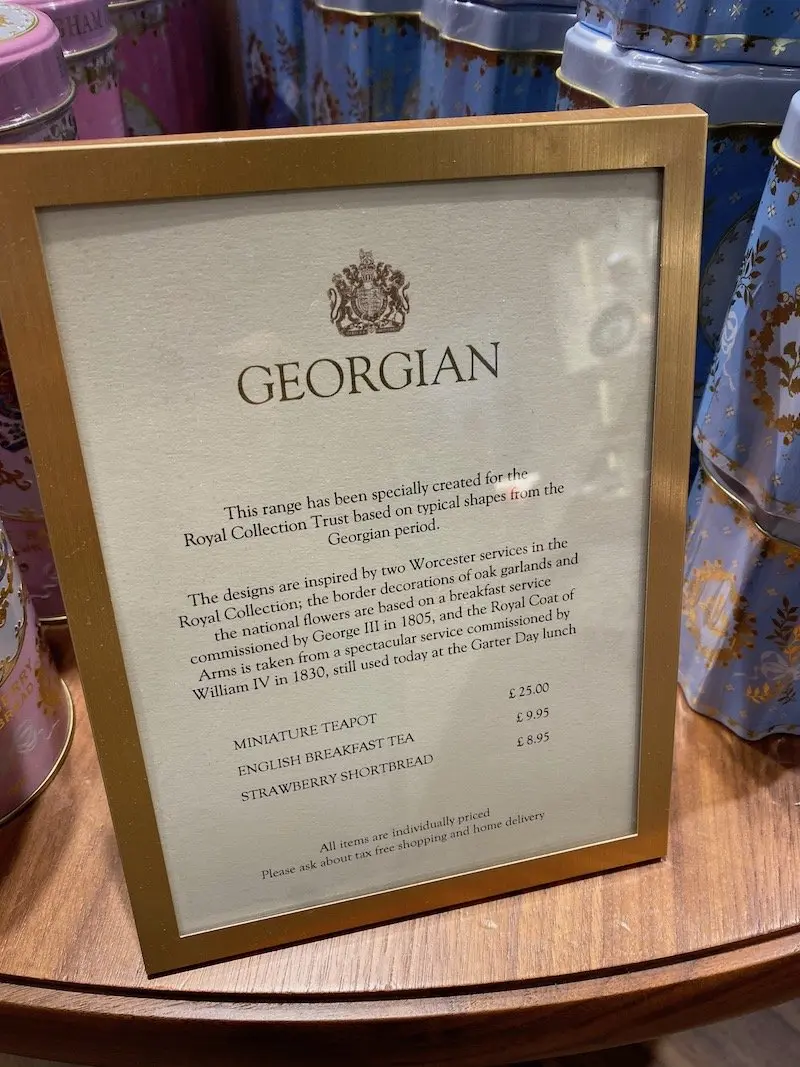 No.3: Royal Collections Trust Georgian Range
The Georgian range is yet another design found in the shop.
In this design, you can buy:
a miniature teapot
an English Breakfast tea canister, and
strawberry shortbread gift boxes.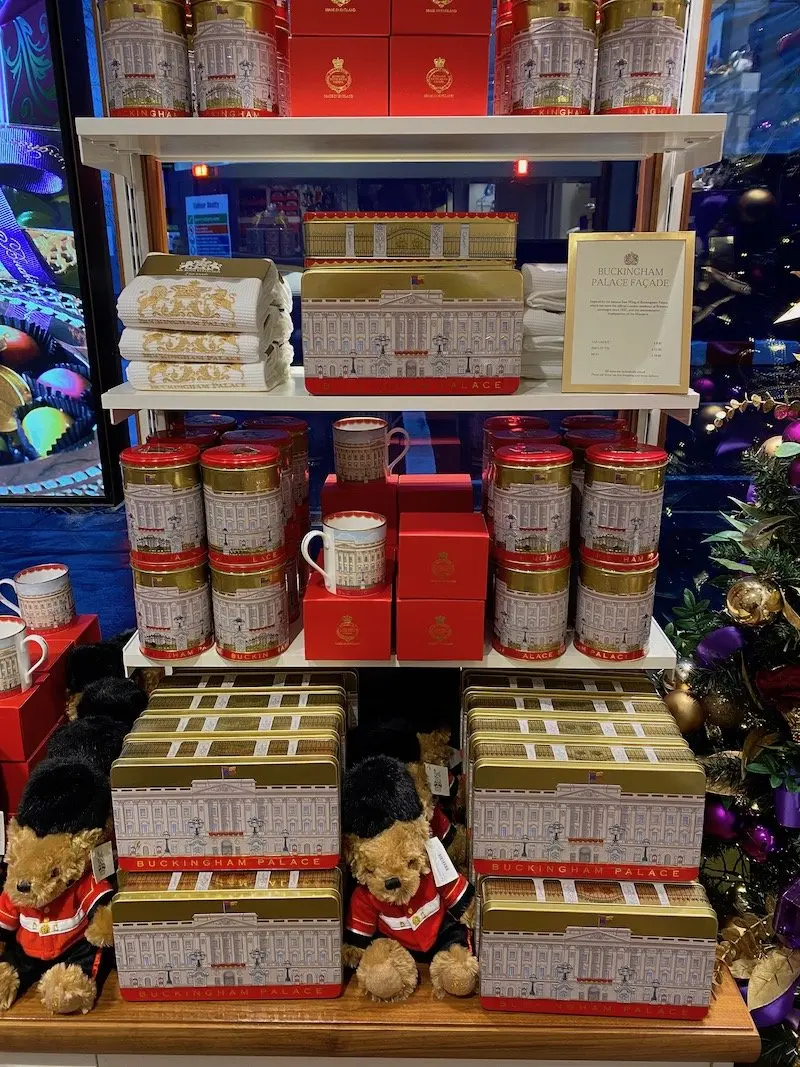 No.4: Buckingham Palace facade design
There's also a range of Buckingham Palace souvenirs that feature the Buckingham Palace frontage.
"Inspired by the famous East Wing of Buckingham Palace – the official London residence of Britains Sovereigns since 1837, and also the administrative headquarters of the Monarch"
(From sign in shop)
Here's an overview of these Buckingham Palace gift shop prices:
Tea caddies – £8.95
Biscuit tins – £12.95
Mugs – £19.95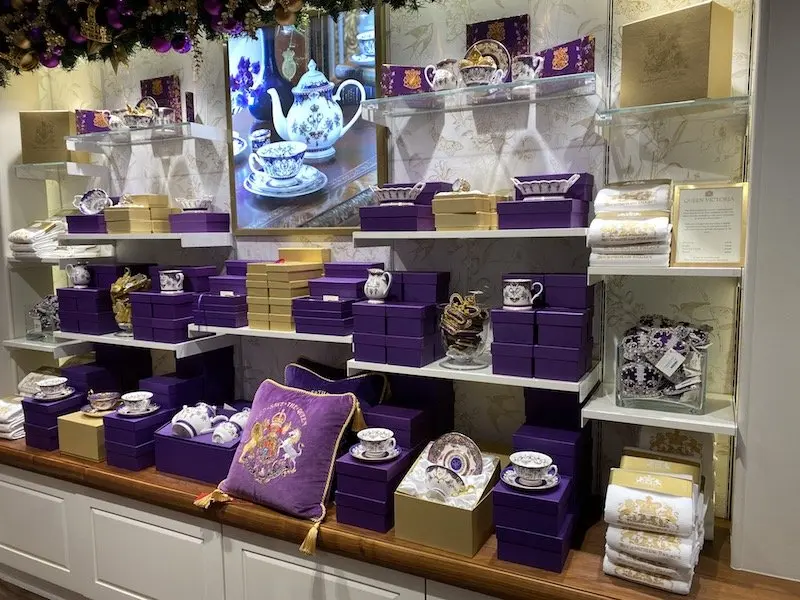 No.5: Buckingham Palace Tea Set
But my favourite of all is the elegant range in royal purple and gold, all packaged up beautifully in signature gift boxes.
Prices from the signage in the Buckingham Palace store:
Tea and biscuits start from £9.95
Tankard £35.00
Teacup and saucer £55.00
Teapot £135.00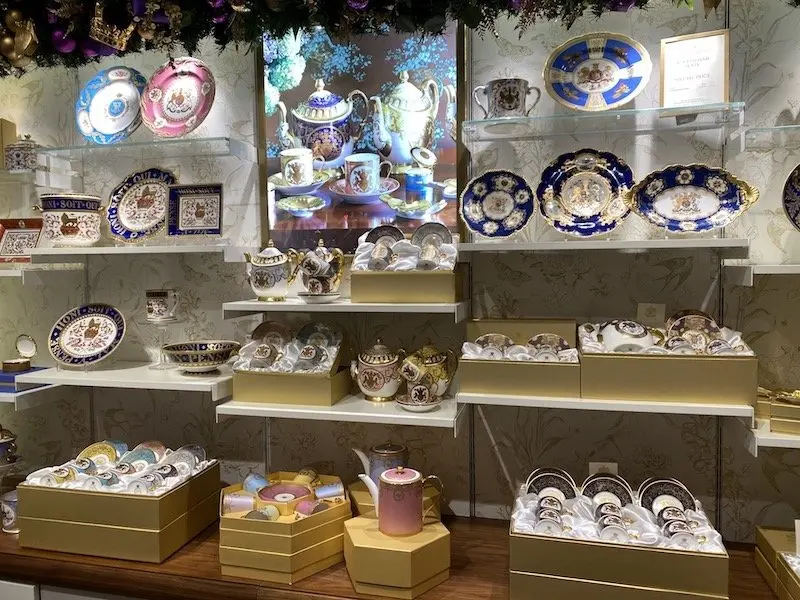 No.6: Limited Edition Rockingham Cake Plate
This range is for those who love Disney Princesses!
I imagine Walt Disney took at least a sprinkle of inspiration from this pastel hued range.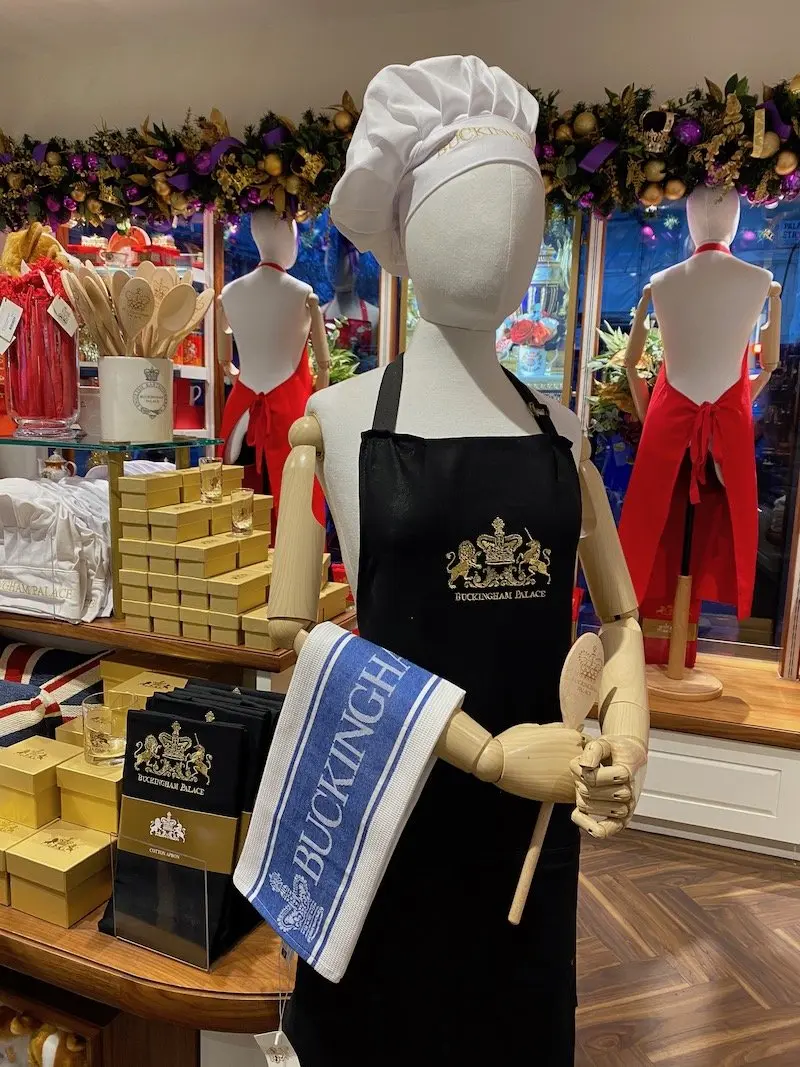 No.7: Royal collection clothing
The only clothing item on display was the official Buckingham Palace Black Apron, or the Red apron.
Priced at £19.95, it's a lovely gift for Royal loving friends and foodies.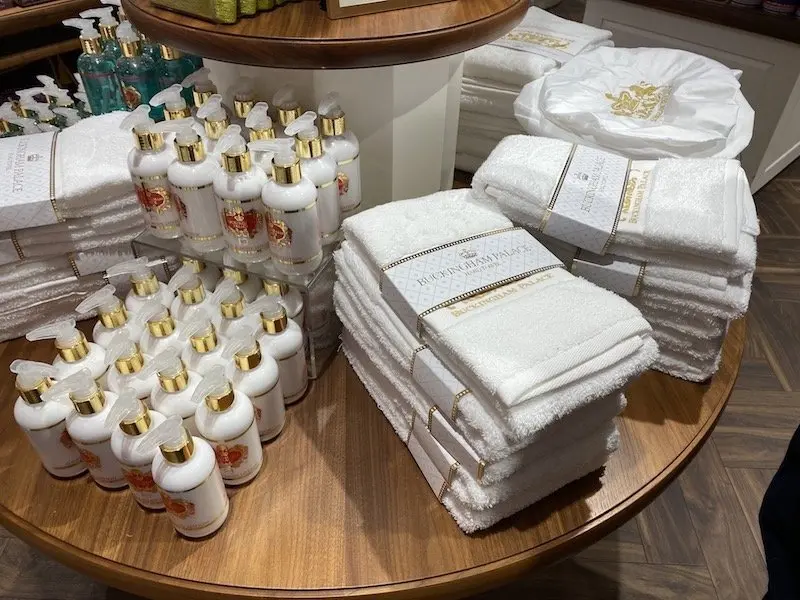 POPULAR ROYAL MEMORABILIA AT THE BUCKINGHAM PALACE SHOP LONDON
No.1: Buckingham Palace Fountain Pen
This gold plated gift is one for the stationery lover.
There's a story behind the design too.
The wavy inscriptions are a rendition of the wall mouldings found on the pillars inside the Buckingham Palace music room.
£45 each.
No.2: Corgi Sock collection
Who wouldn't fall in love with a pair of corgi socks?
There's corgi socks for everyone in the family:
mum/mom
dad
grandma
grandpa, and
the kids.
Find them in navy, burgundy, red, black, blue and pink too.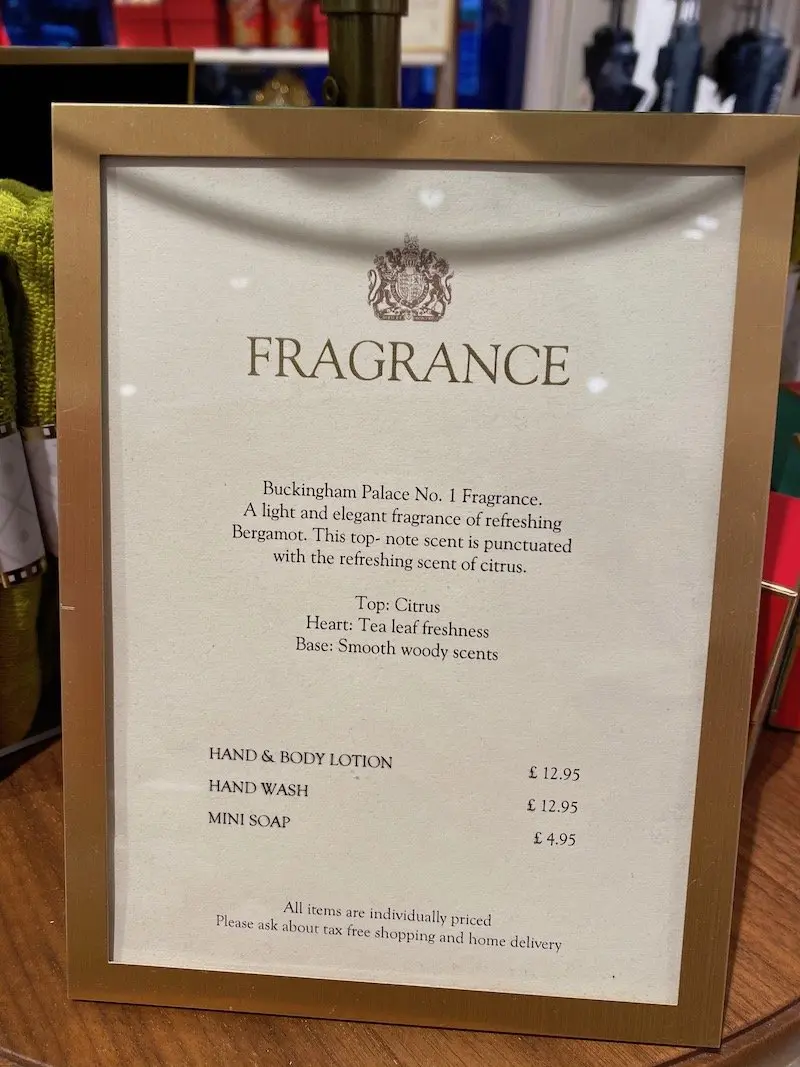 No.3: Royal Household products
Buckingham Palace Fragrance
Buckingham Palace No.1 Fragrance combines:
Bergamot
refreshing citrus, and
smooth woody scents.
Buy hand and body lotion for £12.95 and a bottle of hand wash for £12.95 too.
Buckingham Palace soap
Pick up a budget Buckingham Palace shop souvenir for £4.95.
They'll help to keep your luggage smelling delightful too!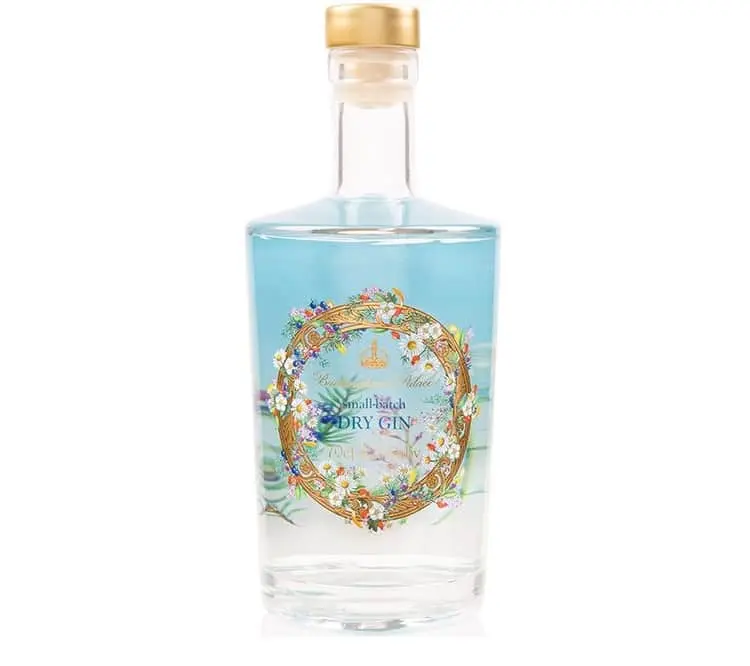 No.4: Buckingham Palace Souvenir Shop Gin!
Buckingham Palace gin is the prettiest gift you can buy is a bottle of small batch Buckingham Palace gin, made from botanicals harvested from the actual palace gardens!
The flower insignia bottle is a keepsake too!
At £40.00, it's not out of reach.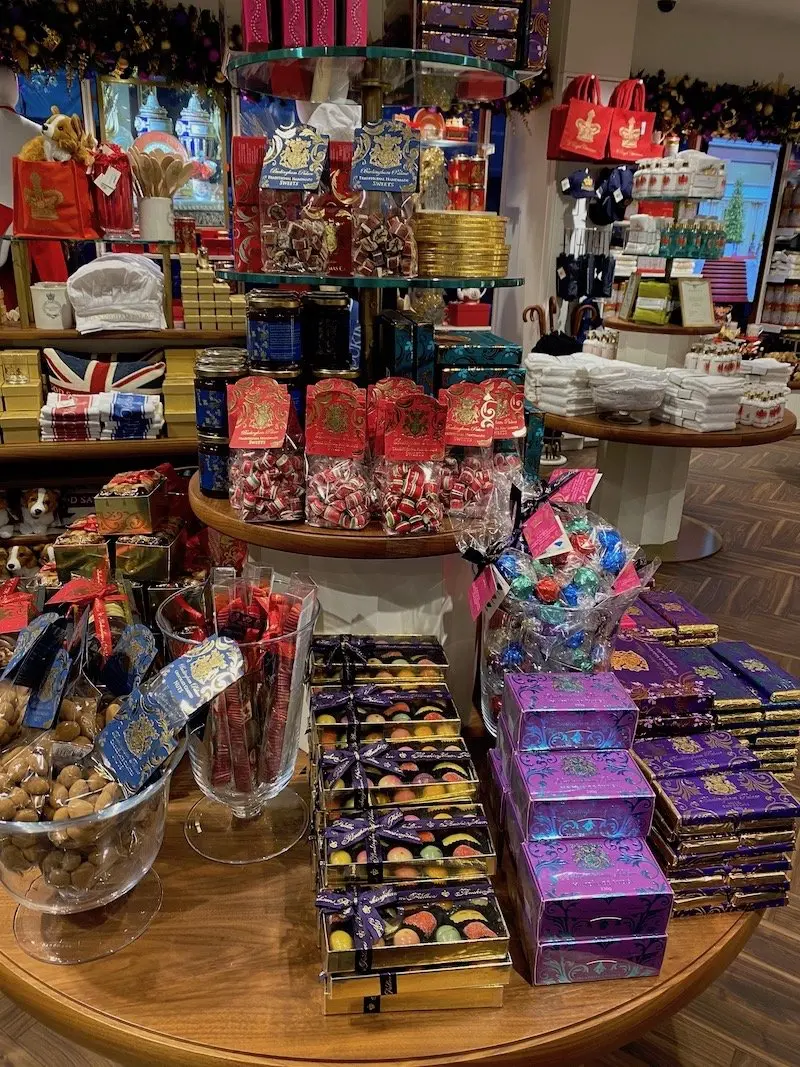 BUCKINGHAM PALACE FOOD SOUVENIRS
No.1: Buckingham Palace English Rose and Violet Creams boxed chocolates
Don't leave the shop without a box to try.
£14.95, all wrapped up in a royal purple and gold gift box.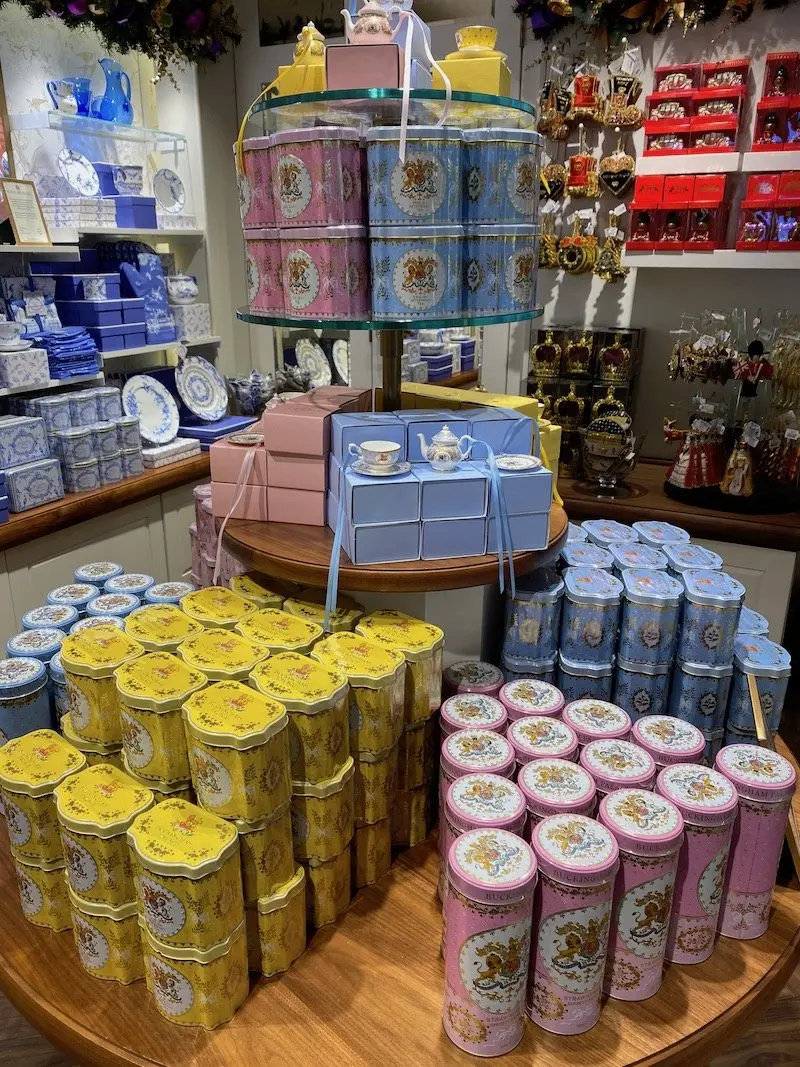 No.2: Buckingham Palace shortbread
Try the Strawberry Shortcake shortbread.
Thoughtfully packaged in a tin so this delicious gift won't get crushed in your luggage.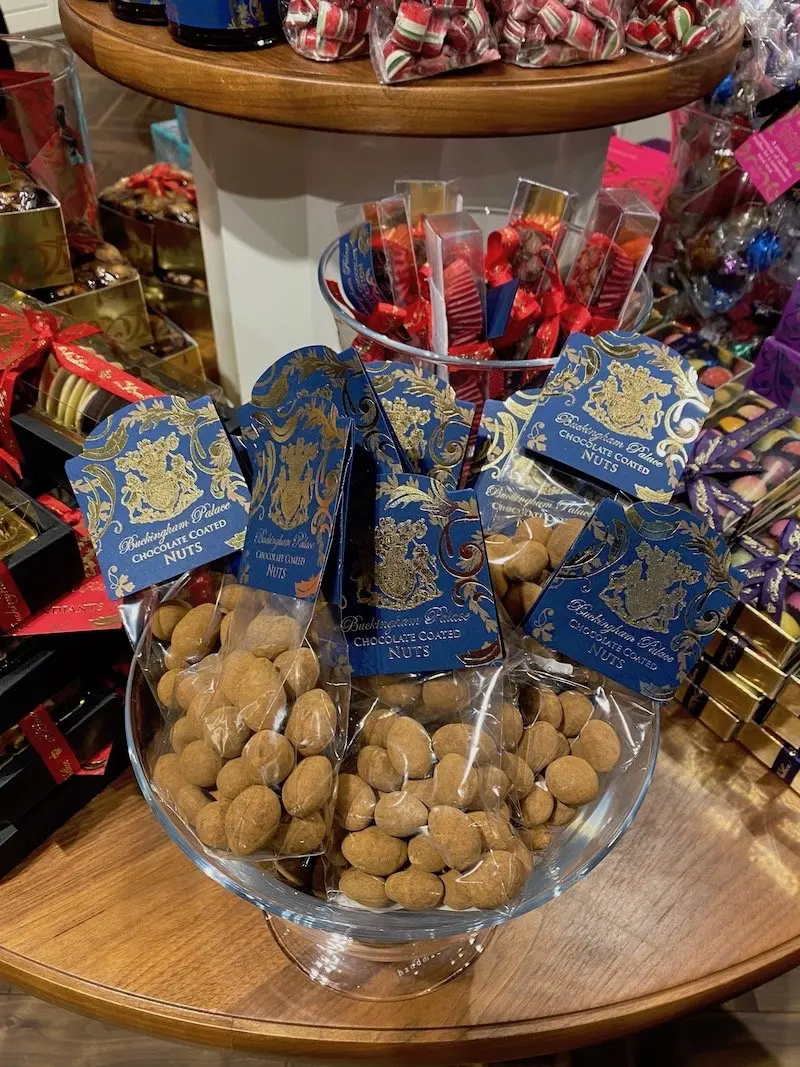 No.3: Buckingham Palace Chocolate covered nuts
Or try these.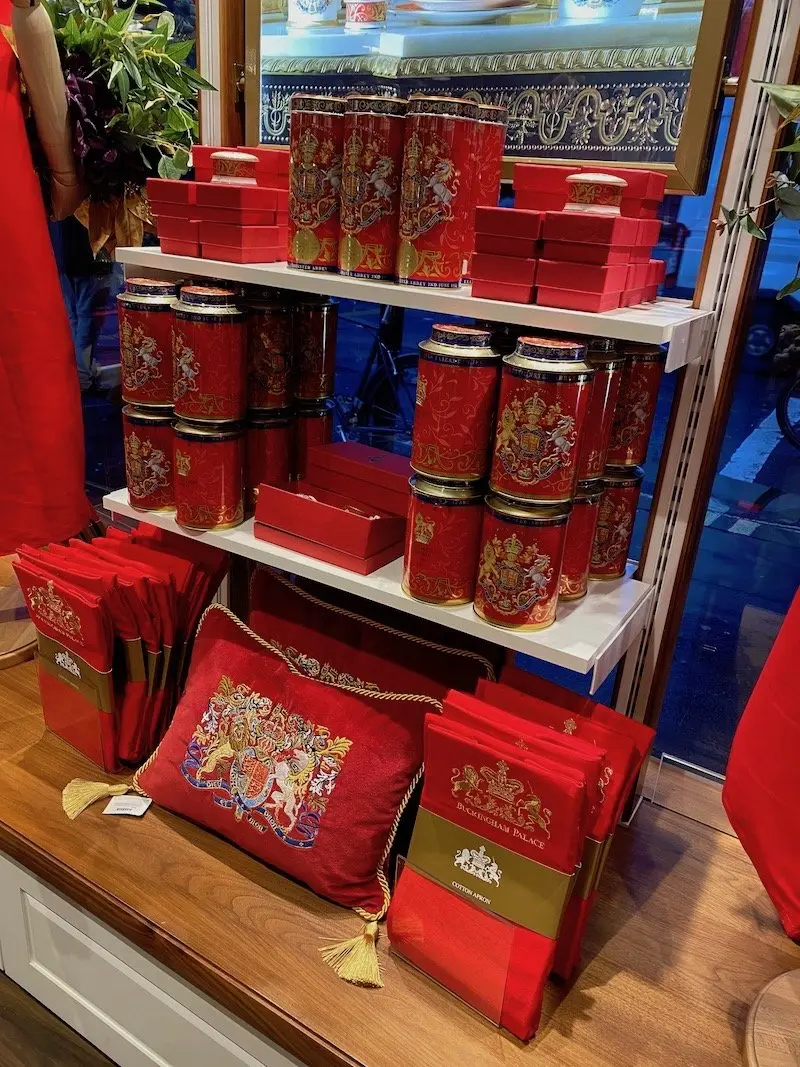 No.4: Buckingham Palace tea blend
A tea blend won't go astray.
Especially when it comes in such an elegant canister.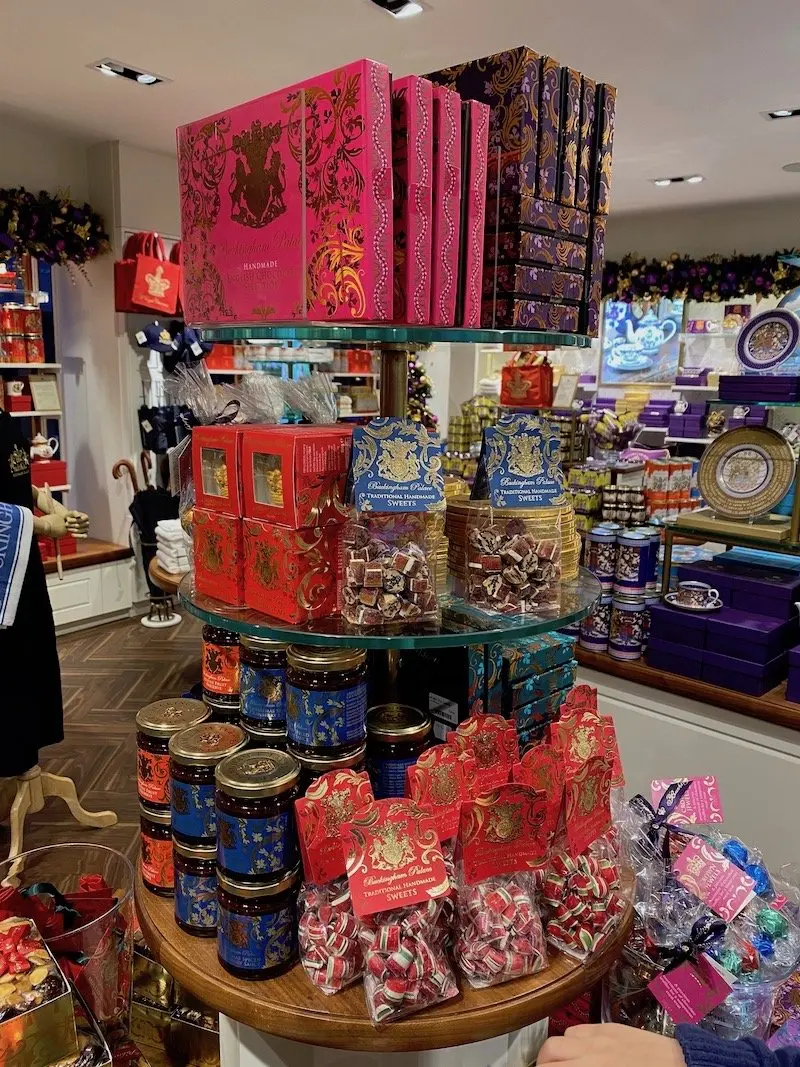 No.5: Buckingham Palace sweets
Pick up a bag or two of delicious toffee, fudge or boiled lollies.
There's also giant sized golden coins!
And jam.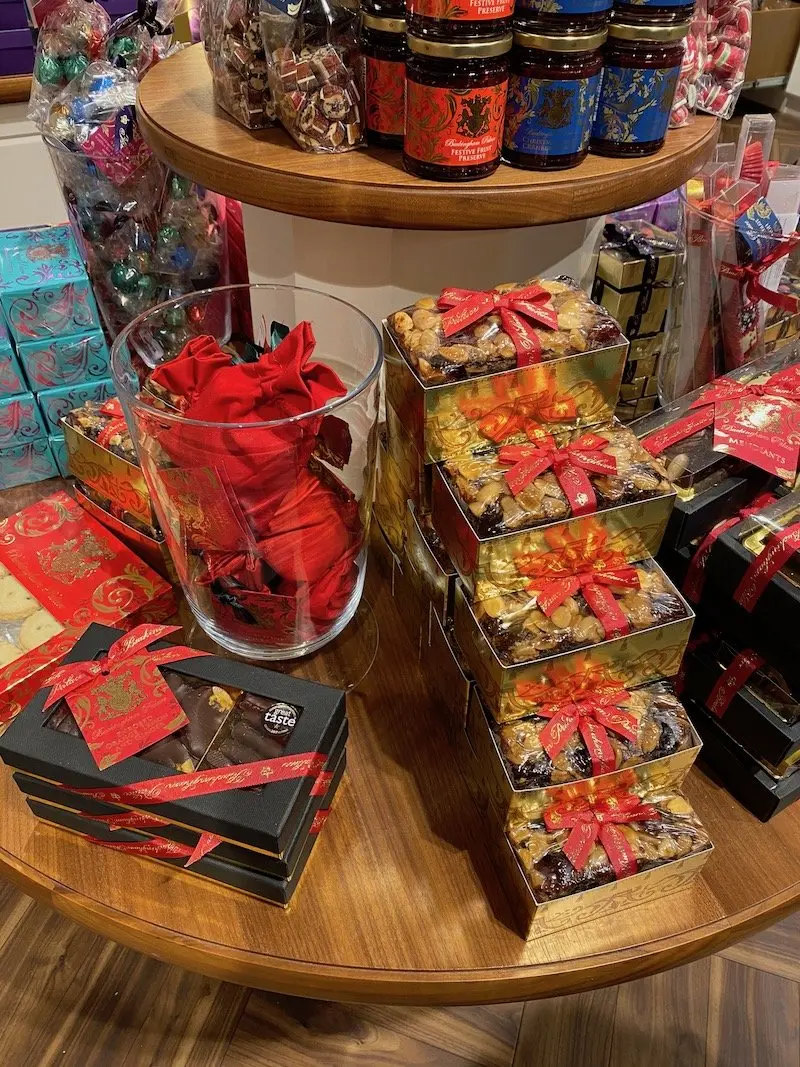 Buckingham Palace Shop Christmas Gifts
No.1: Buckingham Palace cake
Pick up a Buckingham Palace Christmas cake full of fruit.
It's decadent!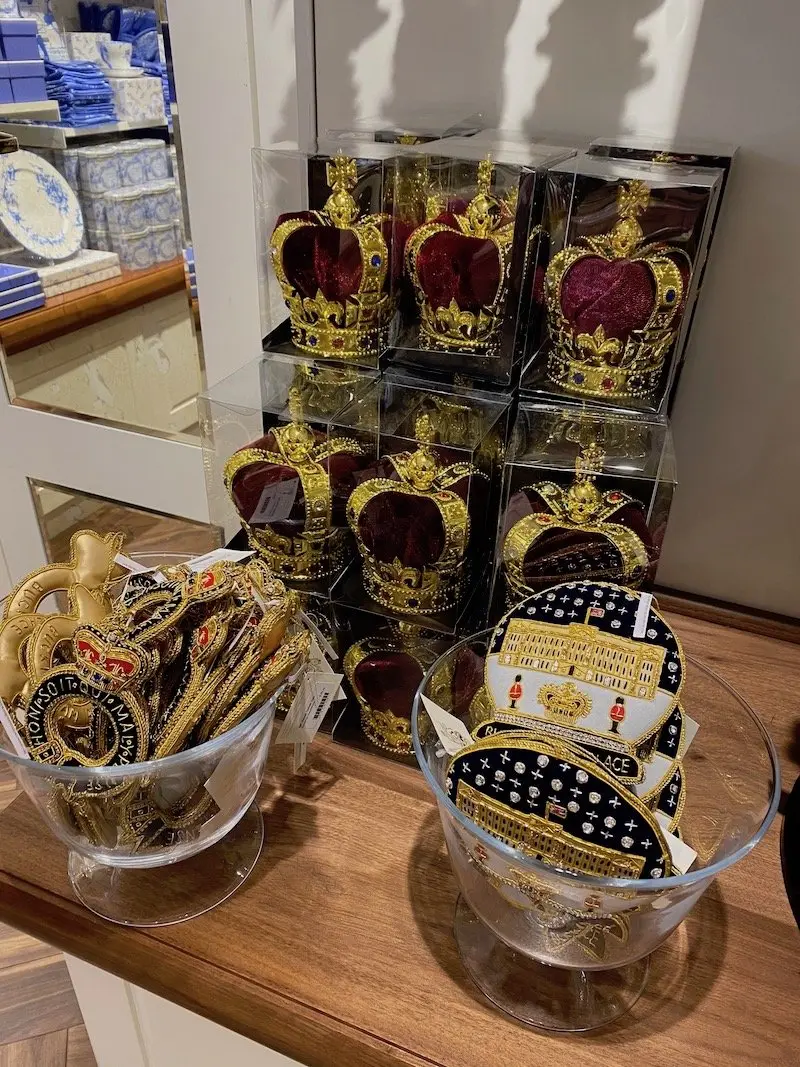 No.2: Buckingham Palace Christmas decorations
Everyone needs a British Royal Crown Christmas ornament for the tree!
Don't they?

No.3: The Royal Collections Christmas Decorations
Add an official Buckingham Palace ornament to your tree this year, so you'll always have a memory of your London trip.
These gilded fabric ornaments are priced at £14.95 each
No.4: Buckingham Palace Christmas cards
Look for the boxed sets of Christmas cards too.
No.5: MORE Christmas Buckingham Palace merchandise
Shop for:
BP glass baubles
BP candles in jars
spiced tea bags
Christmas spiced fudge
A Royal Christmas book
pocket diaries, and
Buckingham Palace hampers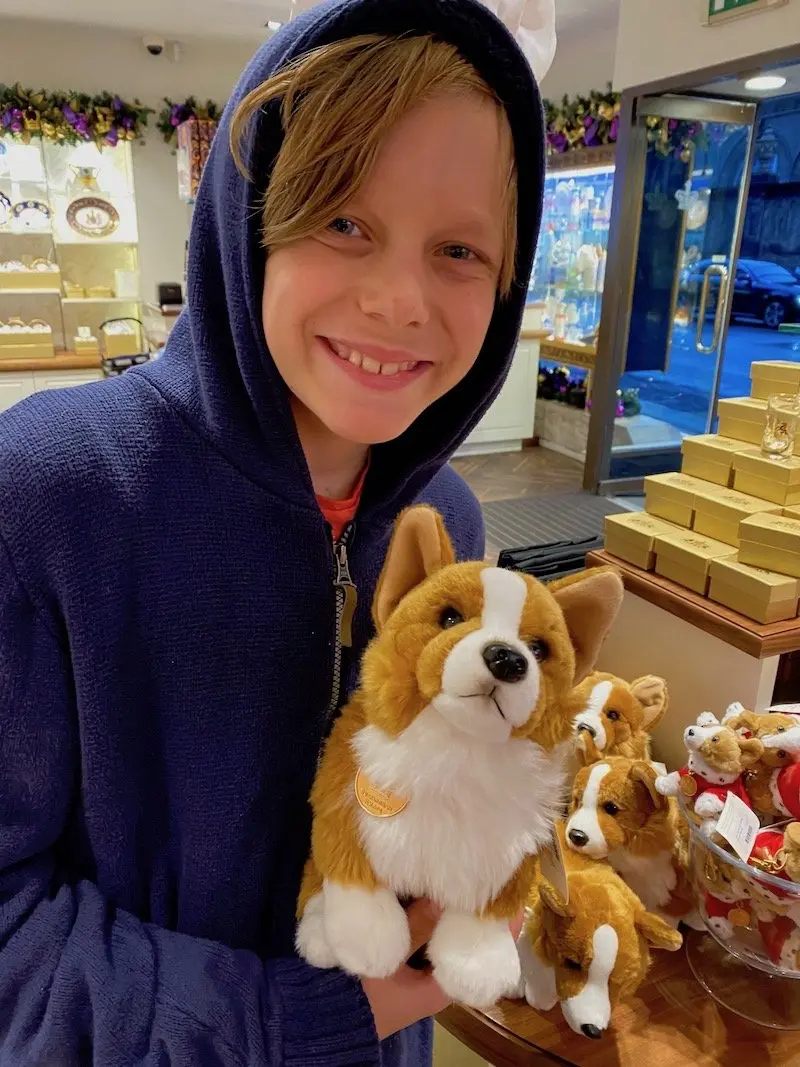 Best Buckingham Palace gifts for kids
Yes!
You can find Royal gifts for kids here too.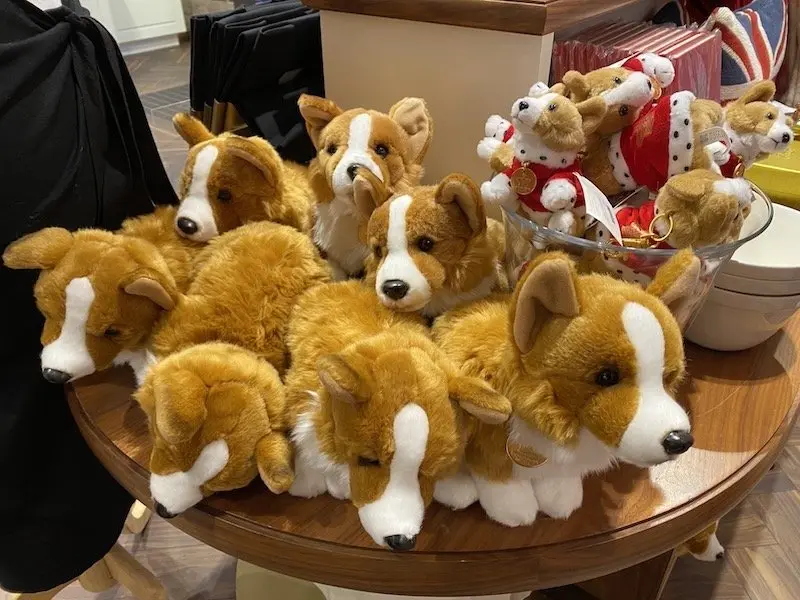 No.1: Buckingham Palace Dog Corgi toy
What breed of dogs does the Queen have?
Corgi's!
These fabulous replica Corgi toys with Buckingham Palace medallion come in at a semi-reasonable £19.95.
No.2: Buckingham Palace LEGO
Unfortunately, there's no LEGO in store the Buckingham Palace souvenir shop, but you will find it at Hamleys toy shop in London.
RELATED: Pocket Book Guide to London with kids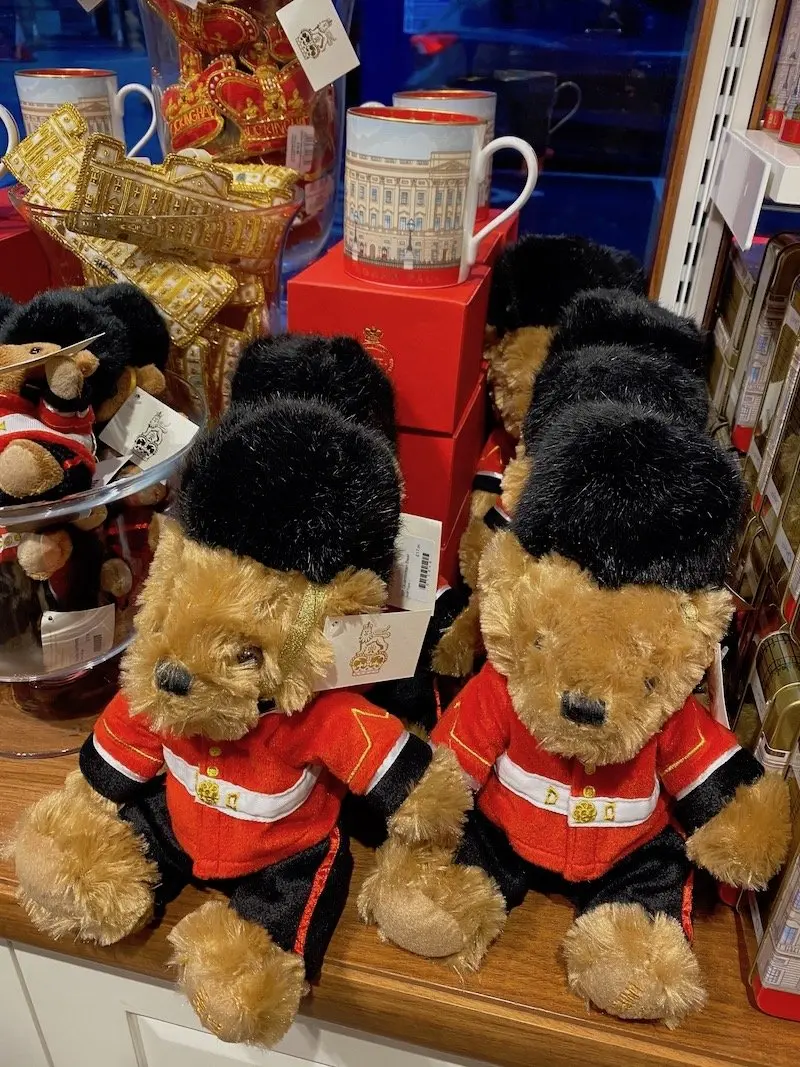 No.3: London Guards Teddy Bears
How cute are these London Guards, wearing bearskin hats!
Simply adorable.
RELATED: Guide to Buckingham Palace Changing of the Guard ceremony with kids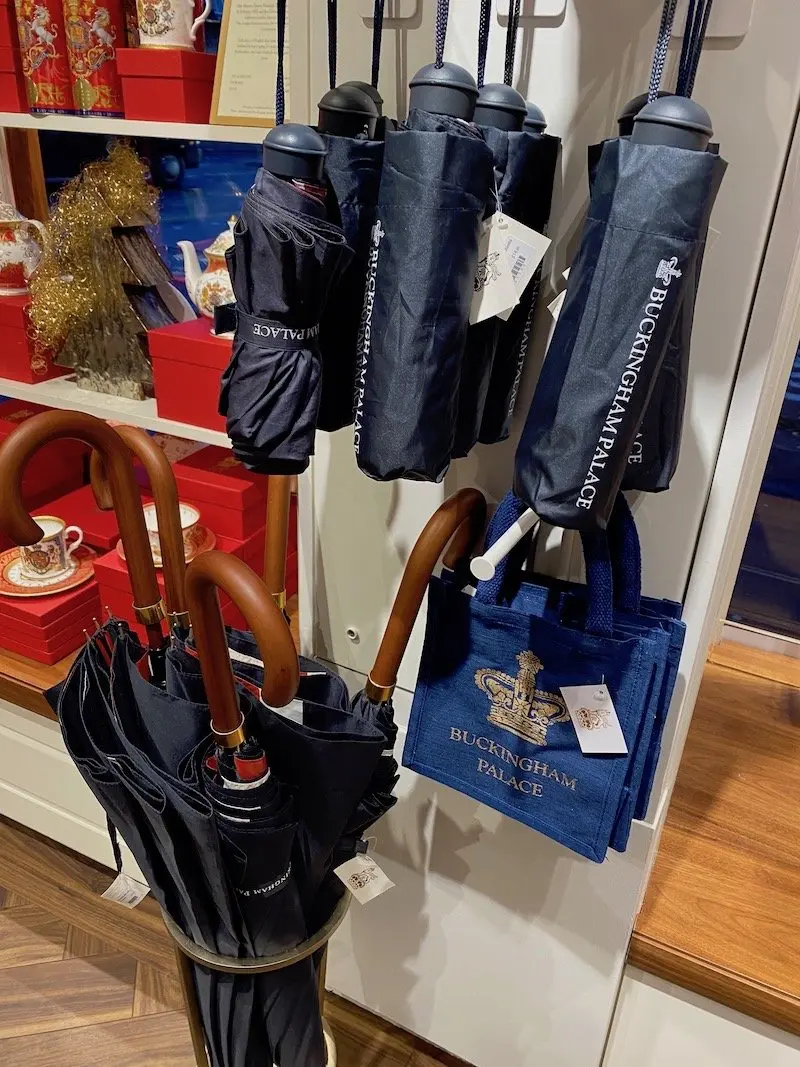 Best Buckingham Palace Souvenirs on a budget
No.1: Buckingham Palace umbrellas
There's always room for another umbrella, but never more so than one with historic Royal Palaces such as Buckingham Palace insignia on it.
Classy!
No.2: Buckingham Palace shower cap
Yes, there's shower caps, and chefs hats at this Royal shop too.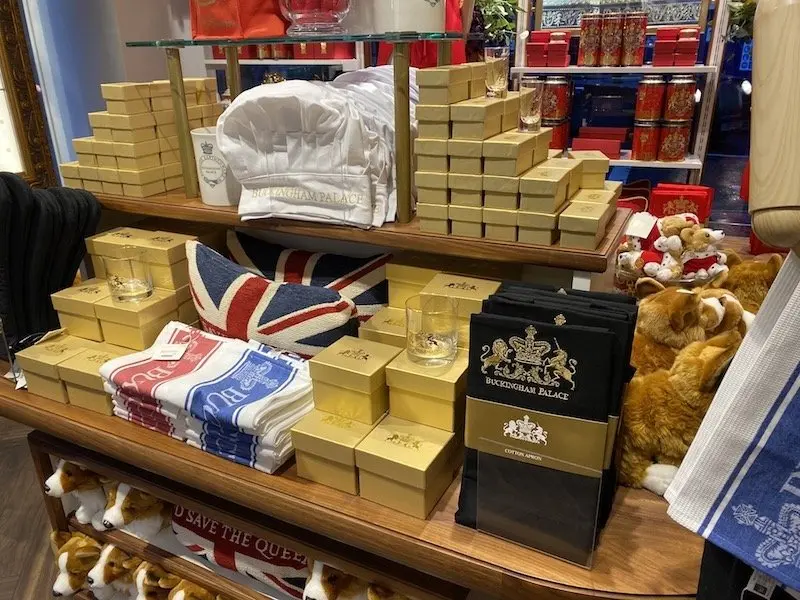 MORE treasures at the Buckingham Palace Gift Shop London
The Royals shop also sells Royal gifts including Queen Elizabeth merchandise and commemorative souvenirs.
History buffs will love the special edition Buckingham Palace book showcasing the history of the Monarch.
At the gift shop Buckingham palace, you'll also find:
Buckingham Palace glasses
Buckingham Palace crafts
Buckingham Palace shop jewellery
Buckingham Palace clocks
Buckingham Palace ashtray
exclusive collectors items not on the website
Royal collectors will be in raptures!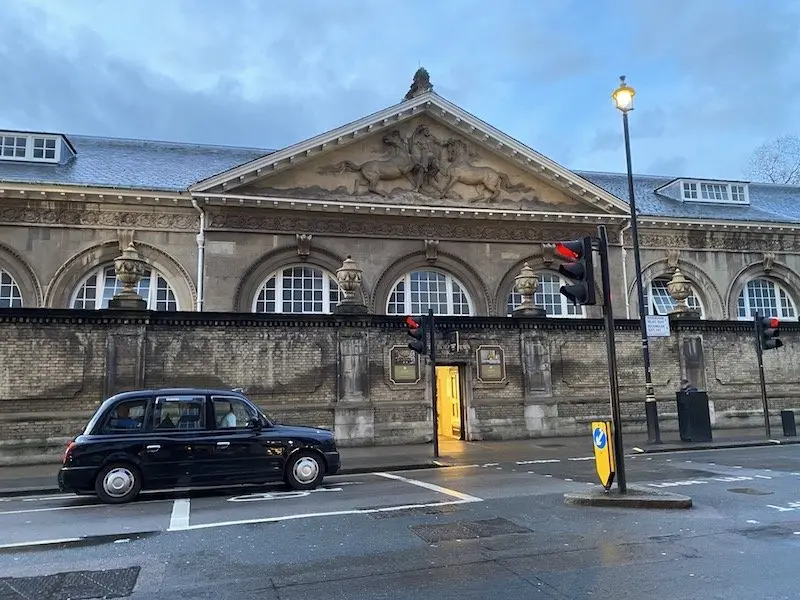 THE INSIDE SCOOP: Buckingham Palace Royal Collection Shop
Correct at time of publication on Roam the Gnome. Please check with venue for updates. We apologise in advance if there have been any changes we are unaware of. All prices in British pounds, unless otherwise stated
Buckingham Palace Gift Shop website: Click here
Buckingham Palace shop opening times
The Buckingham Palace gift shop hours are from 9.30am to 5pm. (subject to change)
Hot tip: The Royal Mews shop (pictured above) is on the opposite side of the road. Pop in for more of the best London souvenirs.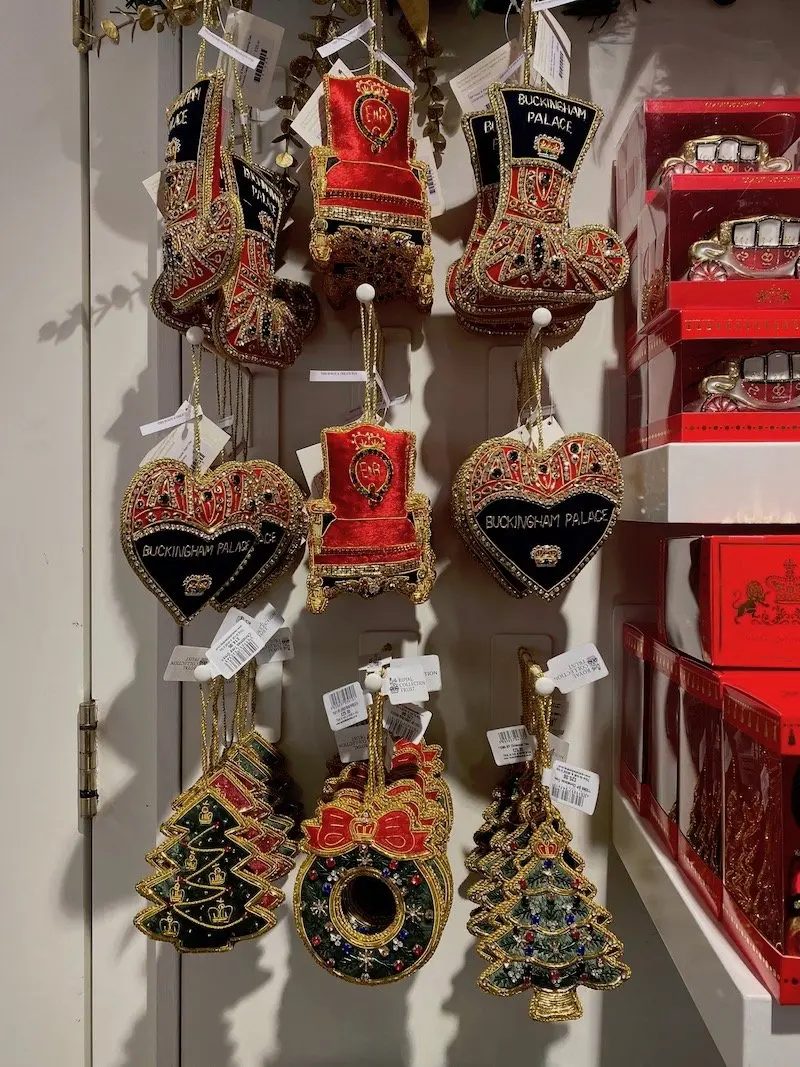 How to get to Buckingham Palace Royal Gifts shop
Where is the Buckingham Palace gift shop?
The Buckingham Palace road shop for boutique souvenir gifts is located at 7 Buckingham Palace Rd, Westminster, London SW1W 0PP, United Kingdom.
Buckingham Palace tube stop: St James Park tube station
Buckingham Palace train station: Victoria Station
Buckingham Palace parking
Our tip is to take public transport when travelling in London. Parking is expensive, and you'll also be paying the London City congestion charge to travel in the area.
Give the car the miss.
Buckingham Palace shop map
Toadstool Rating: The Buckingham Palace shop

Looking for MORE places to shop in London?
Click the blue links below for more London tips