INSIDE: Roam the Gnome's Guide to the ONLY dedicated Paddington Bear Shop in London.
If you love Paddington Bear as much as we do, and want to know where to buy Paddington Bear in London, you are in for a treat.
Head to Paddington train station to find the original Paddington Bear shop in London.
It's FULL to the brim of licensed Paddington souvenirs and gifts.
What an adorable shop.
Take a look inside at the full range of Paddington merchandise below!
Disclosure: This article contains affiliate links. If you make a purchase after clicking on one of these links, we may receive a small commission at NO extra cost to you.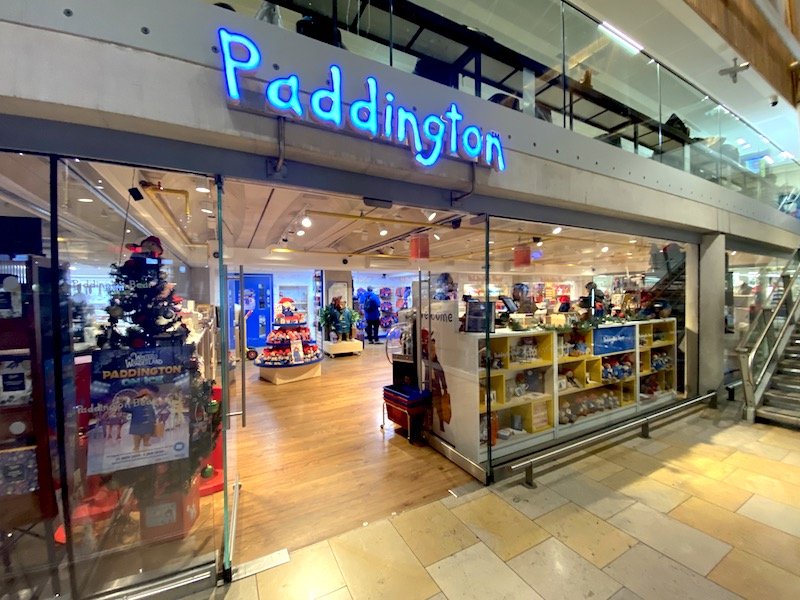 The Official Paddington Bear Shop in London
The Paddington Bear London Shop is at Paddington Station, inside the food court area behind the main concourse.
(If you are coming from the tube, head up the escalators, take a left, and do an about turn.)
Look for the bright blue neon sign, saying 'Paddington'.
You can't miss it.
Roam the Gnome came with us, dressed in his very own Paddington outfit!
Did you spot him in the crowd of PB teddies above?
---
RELATED: The ULTIMATE List of Things to Do in LONDON with Kids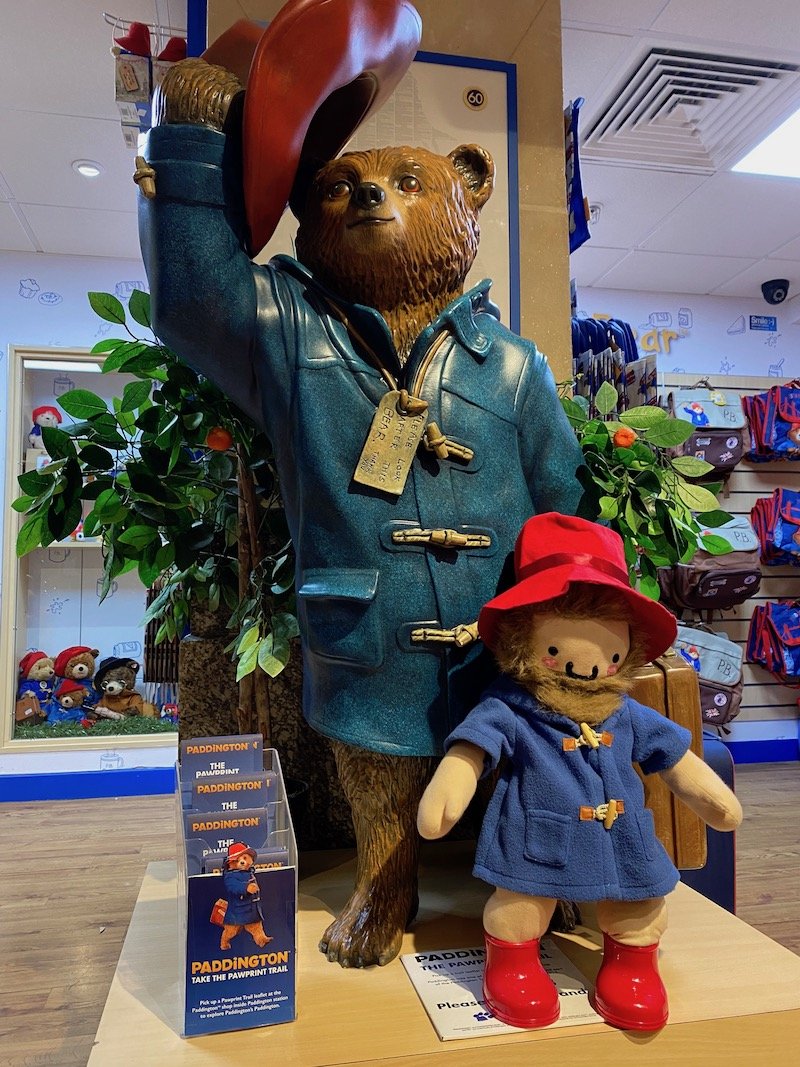 Sneak Peek inside Paddington Bear Shop London
Just inside the door of the shop is one of the best loved statues from the Paddington Trail art exhibition.
This was one, arguably the most well-known, of 50 small statues of Paddington placed around London during the lead up to the Paddington movie release in December 2014.
Each statue was decorated by famous artists and well known celebrities from the UK and beyond.
(Hot tip: Want details on the official PB statue in Paddington station? He's not far away – directions below)

DIY Paddington Bear Trail
Next to Paddington, you'll see a container holding a special brochure.
Pick up a Paddington "The Pawprint Trail" brochure in-store for FREE, and walk the streets of the area following the map to see all the best Paddington sights around London.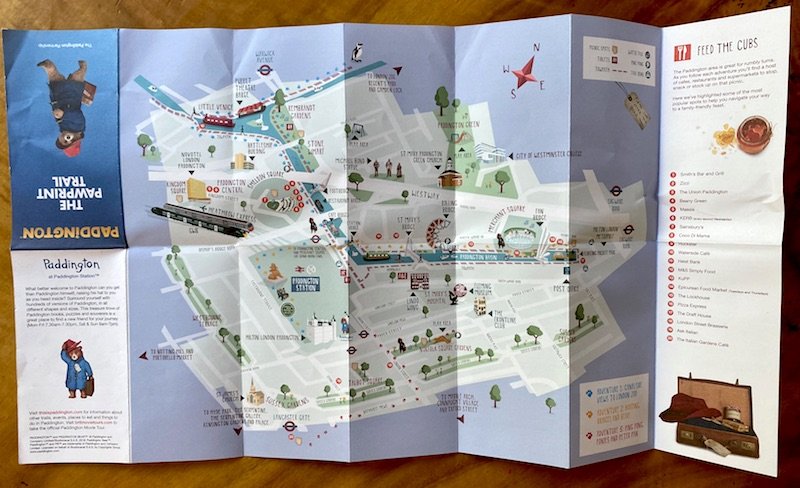 Hot tip: Paddington Bear Tour London
Did you know you can book a Paddington Bear Walking Tour in London too?
You can.
The tour above is a 2.5 hour walking adventure, spotting London landmarks and film locations from the Paddington Bear movie, and the books by Michael Bond.
You'll:
Explore the streets of London, following in the paw prints of Paddington Bear™
Look at Mr. Gruber's antiques store
Get off the beaten path and discover some of London's hidden sites
See the Paddington Bear™ statue
The tour starts out front of the Paddington store London.
The benefit of joining a tour is that you have a guide who knows all the in's and out's of Paddington locations, plus hot tips and fun facts about the Paddington movie making adventure.

Official Paddington Bear Shop Paddington Station
But back to the shop.
The Paddington Bear collection of toys and gifts is THE most comprehensive you'll find anywhere in the world.
If you are a true fan of Paddington, and want to buy Paddington Bear merchandise, clothes and toys, 60th Anniversary 50p coins, and DVD's, head on in.
Here's a round up of some of the Paddington Bear products in store.
No.1: Paddington Bear Toys
If you are looking for a Paddington Bear plush toy, this is the place.
There are all different kinds, including more than one Paddington Bear soft toy with hat, boots and case, and Paddington Bear in yellow raincoat.
Buy Paddington bear in all sizes – large, small, and miniature!
Yes, you can even find the Original Paddington Bear doll.
A vintage Paddington Bear has more of a traditional Paddington Bear look than the more recent "cute" versions.
A bear is the ultimate Paddington merch.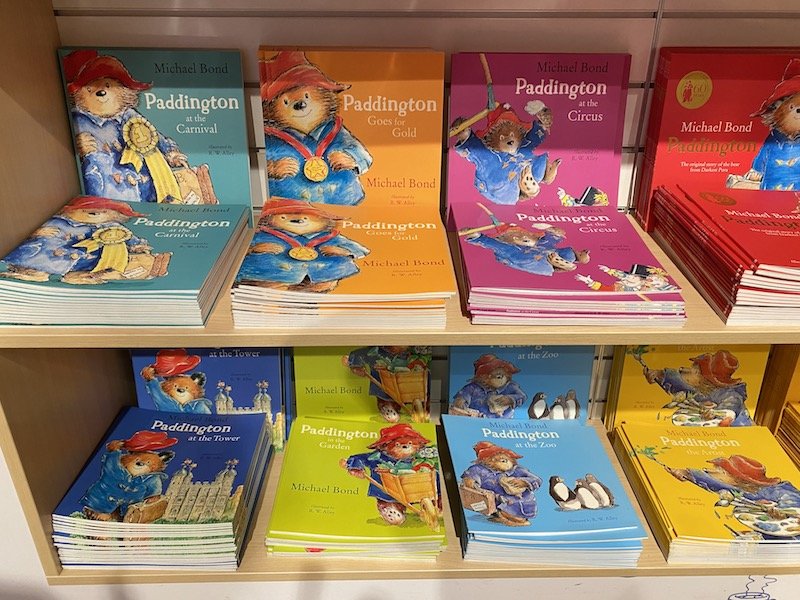 No.2: Paddington Bear Books
Pick up a copy of the original Paddington Bear book here, or a vintage-style copy if you prefer.
Or you can pick up a Paddington Bear book set of his adventures to the zoo, the garden, the circus and the carnival.

No.3: Paddington Bear bookends
Or a pair of bookends!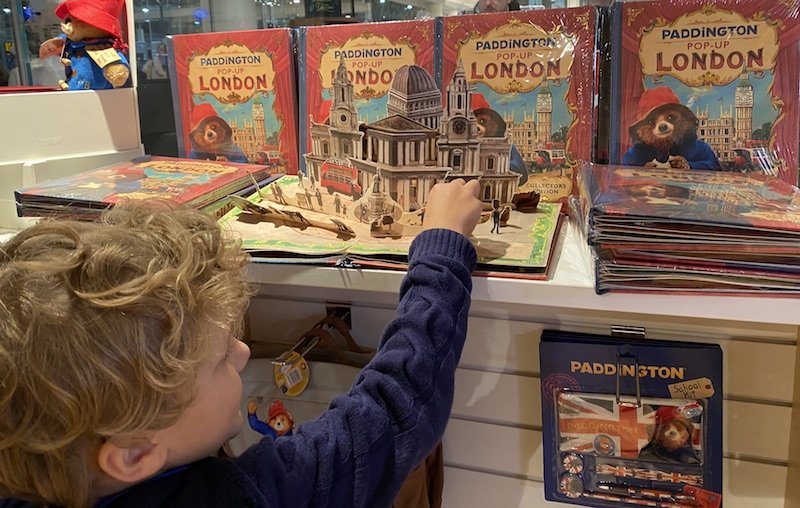 No.4: Paddington Pop Up London book (from Paddington 2 Movie)
If you, or someone you know, loves the second Paddington film, this pop up Paddington book is the perfect gift.

No.5: Paddington Bear Baby Gifts
Find a Paddington Bear cuddly toy, and comfort blankets for young babies too.
There's also bibs, and a range of Melamine plates, egg cups, cups, cutlery set, and dishes.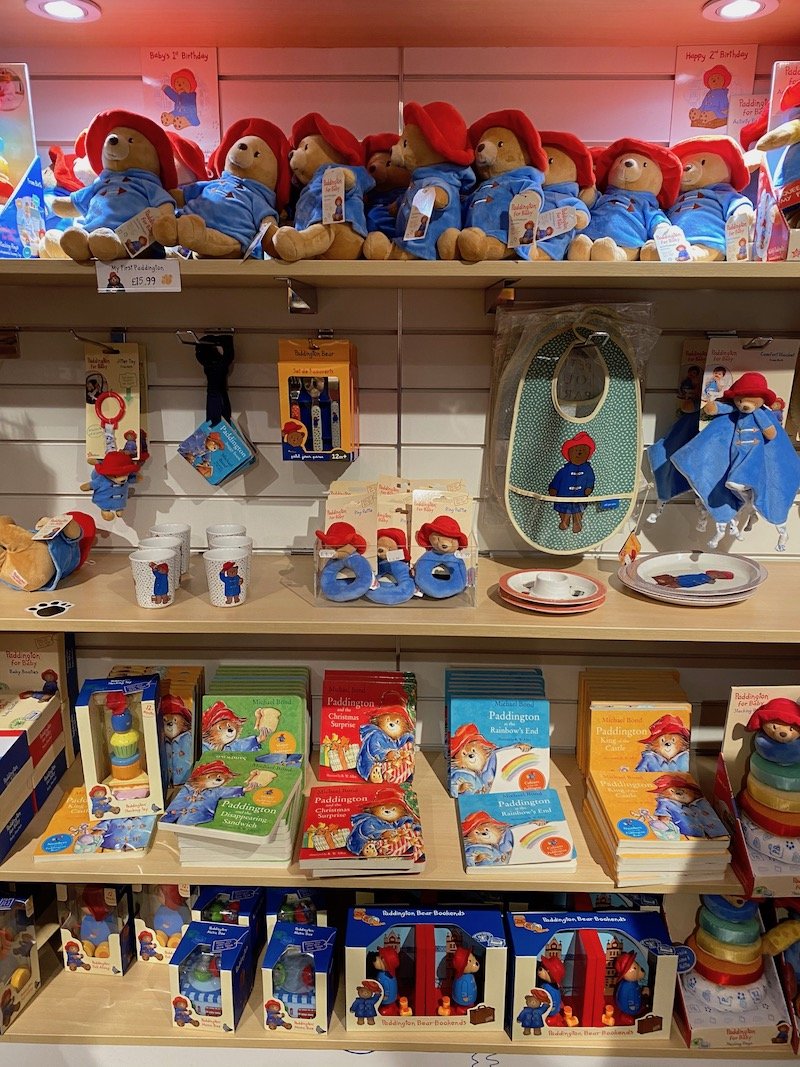 No.6: Gifts for New Parents
They stock the My First Paddington Bear, a Paddington Bear soft toy for babies & toddlers. It currently retails for £15.99.
Plus:
hard cover baby books
baby pull along toys, and
baby stackers
pram toys
The ideal gifts for a new mother!
There may be some Paddington Bear baby clothes too, but they were not on display when we visited.

MORE Paddington Bear Merchandise
There's MORE Paddington Bear Gifts & Paddington toy souvenir items than you could ever hope to carry home in your shopping bag.
No.1: Paddington Bear Cushion
There's some Paddington Bear home decor items, including Paddington Bear cushions and a Paddington Bear lightbox.
No.2: Paddington Bear Name Keyrings
If you have a fairly common name, you'll likely find it here.
Jack did.
Ned didn't.
But he was satisfied with "The Boss" instead.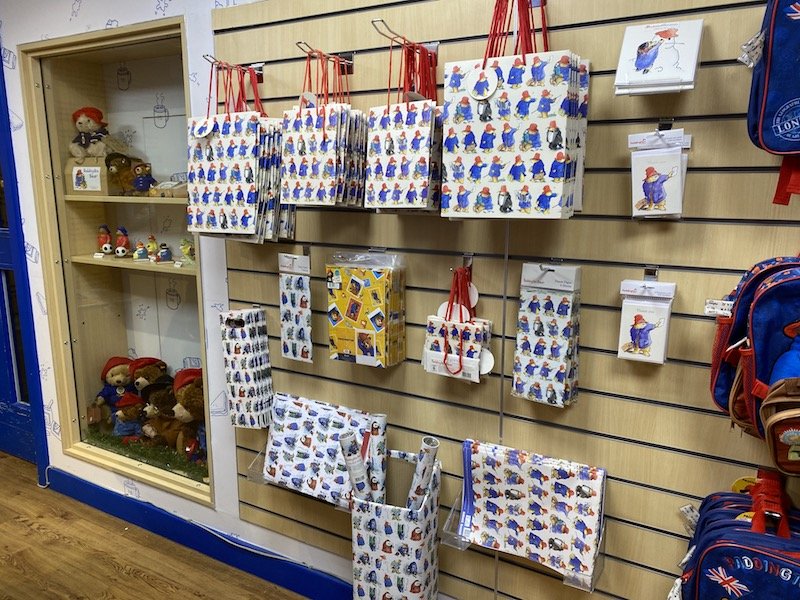 No.3: Paddington Bear stationery & gift wrapping
Find thank you cards, birthday cards, gift wrap, gift bags, and stickers for presents too.
Plus, personalised name labels for £3.49.

No.4: Paddington Bear T Shirt Range & Footwear
Yes, there's Paddington t shirts and jumpers/sweaters for both kids AND adults!
If you are lucky, there may be a deal going, such as 2 adult t shirts for £40, or 2 kids ones for £30.
There's also other clothing and footwear including:
Paddington Bear raincoat
Paddington Bear wellies (gumboots)
Paddington Bear slippers for toddlers and young kids
Paddington bear socks (seriously, the cutest item in the shop!)

No.5: Paddington Bear sandwich making supplies & craft kids!
These make excellent London souvenirs to take home.
Make and Bake Cookie Mix
Paddington Mason Jar
Paddington Orange Chocolate Chip cookies
There's probably a jar or two of Paddington Bear's favorite marmalade somewhere.

Luggage & Bags at Paddington Shop London
No.1: Paddington Bear Tote Bags & Shopping Bags
The cotton shopper exclusive to the shop retails for £4.99.
The "I'm a Very Rare Bear" oilcloth shoppers (in navy blue, and in white) are a very reasonable £7.95.

No.2: School Bags & Backpacks
There's also backpacks, school satchels, lunch bags, and library bags.
You can take him anywhere AND everywhere.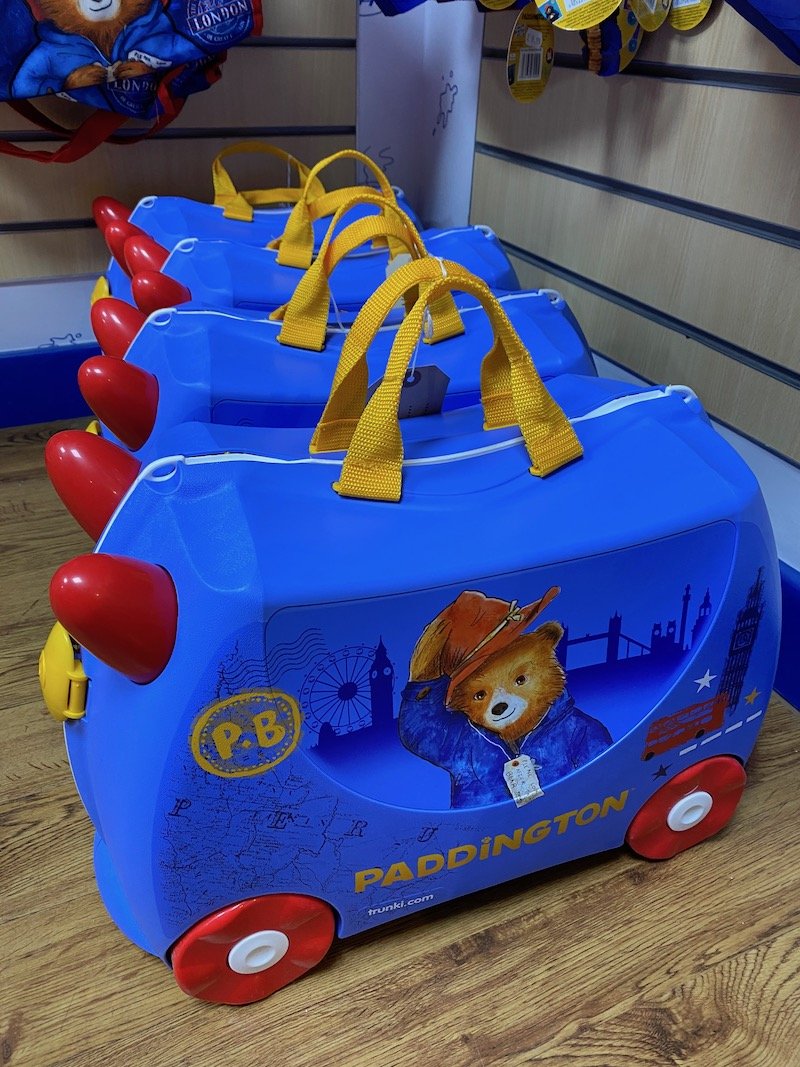 No.3: Paddington Trunki suitcases
Who wants to go traveling to deepest darkest Peru with Paddington?
You can, with a ride-on Paddington Trunki case.
If Peru is too far, Paris is just a hop, skip and jump away.

Paddington Bear Gifts for Adults
How about an Anniversary Paddington Bear in collector box, like this one?
His fluffy fur is too cute.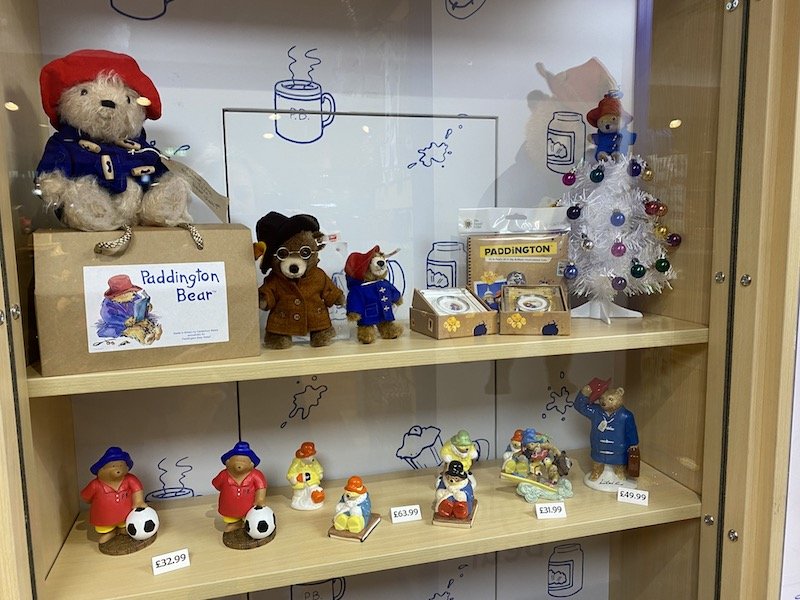 No.1: Collector's Ornaments
Or, how about a Paddington Bear ornament for the Christmas mantlepiece, or a Paddington Bear figurine for your special collector cabinet?
Sadly, I did not see a talking Paddington Bear at all, nor any Paddington Bear PJs, or Paddington Bear curtains, although I'm sure they'd be lovely on your windows!

No.2: Paddington Bear Prints & Posters
This Paddington Bear illustration is my favorite thing in the shop!
The entire Paddington book script designed in the shape of PB himself!
No.3: Paddington Bear Christmas Gifts
If you visit at the right time, look out for:
Paddington Christmas crackers
Paddington's Christmas book, and
Paddington Christmas baubles for the tree too.

Paddington Bear Price Guide
Find everything from pocket money gifts like bookmarks or door hangers starting at £2.99 , lanyards and keyrings for £3.99, right up to expensive prints and limited edition ornaments.
There's something for everyone, of all budgets.

THINGS TO DO IN THE PADDINGTON BEAR SHOP
No.1: Watch the Paddington film
There's a video screen showing the Paddington movie
No.2: Paddington Doll display
Check out some special Paddington dolls on display.

No.3: Open the Secret Compartment!
Tell the kids to look for the secret compartment.
When they find it, they might just see a cute display of some of Paddington's favorite things.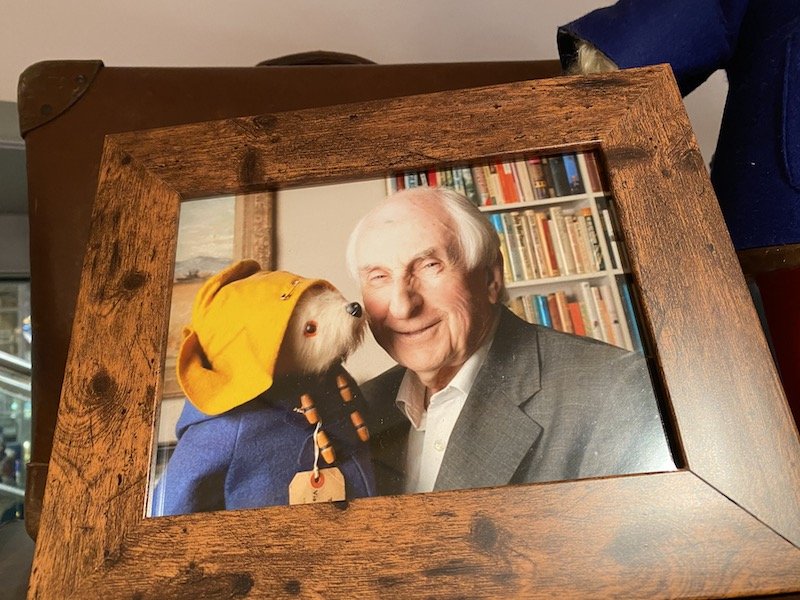 History of Paddington Bear
If you are a fan of this friendly bear, you'll love seeing all the pictures of Paddington Bear on show.
My favourites are the ones of him with Michael Bond, the author of the stories.

Paddington Bear Pressed Pennies Machine
For those who collect pressed pennies, there's a machine in store.
Choose one of three Paddington designs.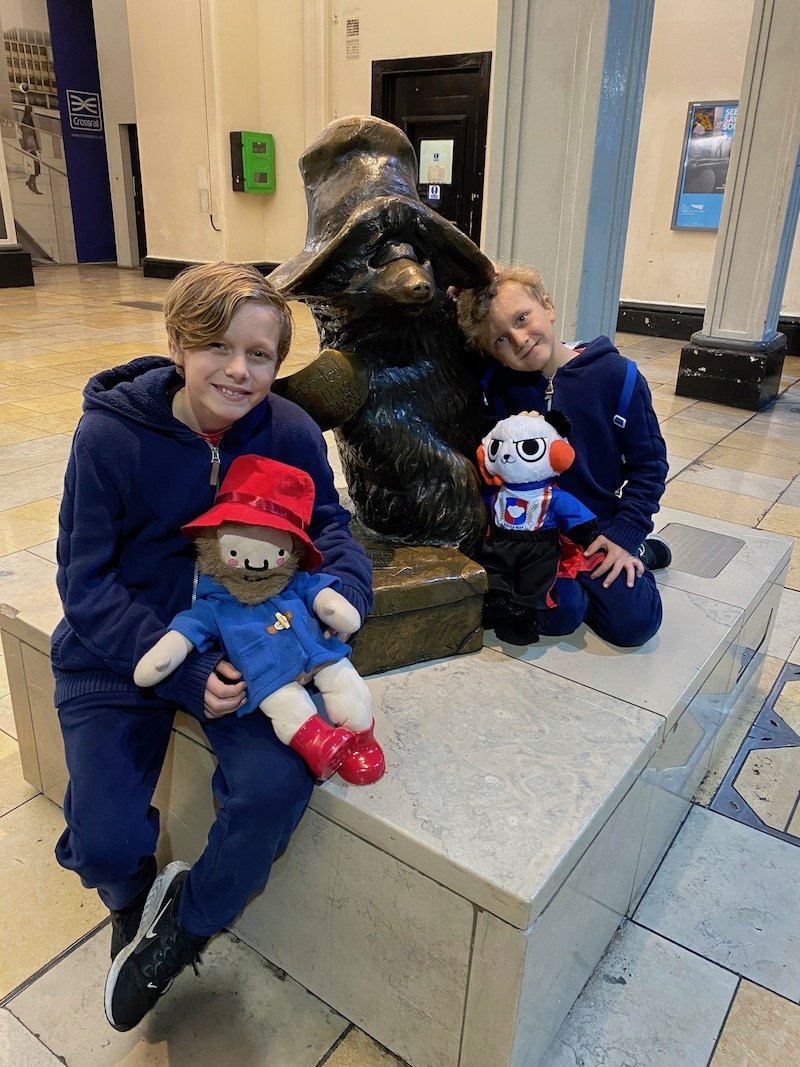 Hot tip: See the OTHER Paddington Bear Statue London
When you've finished paying for your purchases, head out to see the famous statue of Paddington Bear™ in the main concourse of the station.
Here's details and directions on how to find it.

THE INSIDE SCOOP – PADDINGTON BEAR STORE IN LONDON
Correct at time of publication on Roam the Gnome. Please check with venue for updates. We apologise in advance if there have been any changes we are unaware of. All prices in pounds, unless otherwise stated
Address: Food Court area, Paddington Station (PAD) W2 1HB London, United Kingdom
Website: Click here
Telephone: +44 20 7402 5209
Paddington Bear Shop Opening Hours:
Monday to Friday: 8am to 9pm
Saturday: 9am to 9pm
Sunday & Bank Holidays: 9am to 7pm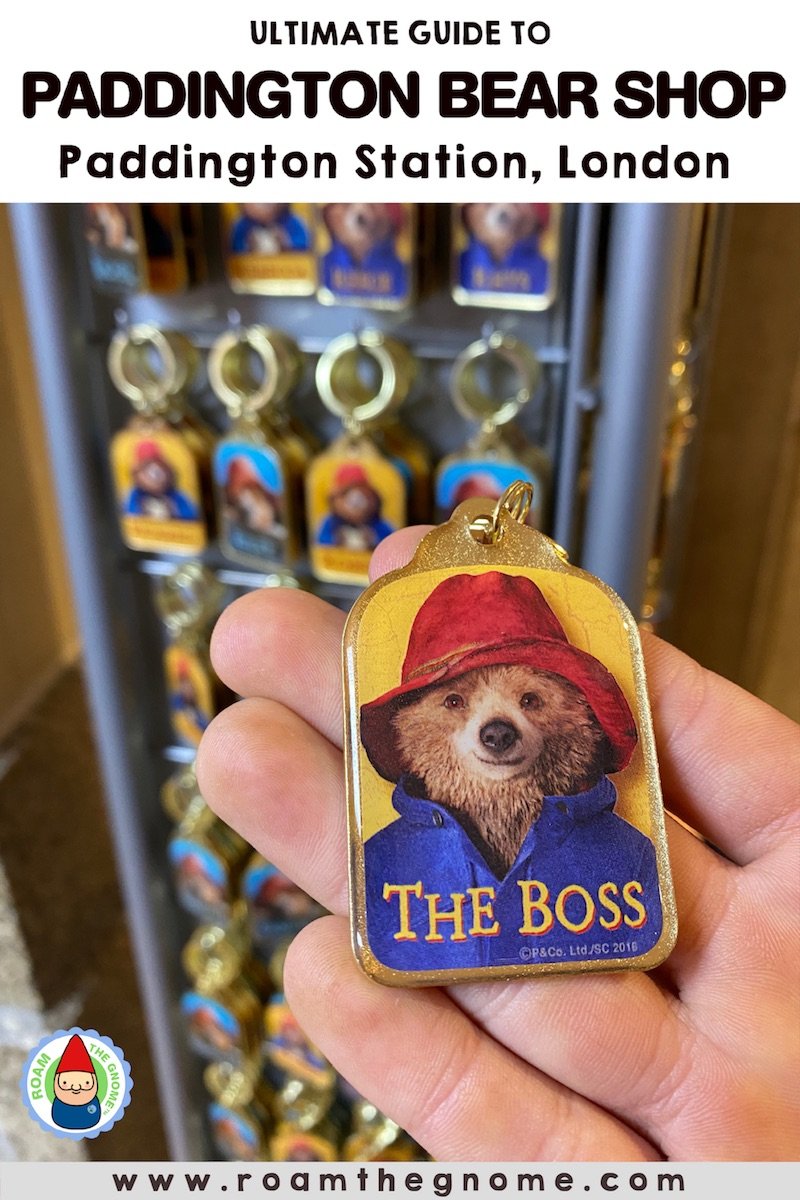 How to get to Paddington Station
How to get to Paddington Station by Heathrow Express
From Heathrow, the quickest way is to catch the Heathrow Express train.
It brings you straight here to Platform 7 between 5am and 9pm (until early 2021 at least, then the platform may change).
Hot tip: Purchase your tickets online or through the Heathrow Express at least 90 days in advance and pay only £5.50 for a one-way ticket.
That's a MASSIVE saving of almost 75%!
Also. Children aged 15 years and under travel free in Express Class when accompanied by a paying adult
How to get to Paddington Station in London by underground
Otherwise, Paddington Underground Station is on the:
Hammersmith and City Line
the Bakerloo line, and
the District and Circle lines.
You can also arrive directly at Paddington Station from South Wales and South-west England, from towns including Cardiff, Bristol, Exeter, Plymouth and Swansea.
The entrances from the London Underground, Bakerloo, Circle and District lines is up the escalator.
By Car, or on Foot: Enter Paddington Station by walking down the access road from Praed Street.
By Bike: Bicycle racks are on platforms 8, 9, 10 and 11
Parking at Paddington Station in London
There is a car park on Bishop's Bridge road.
Click here for details of pricing and availability.
There is the odd street park available too, but you need to be lucky, plus it's cheaper to park in the parking station.
Toadstool Rating: Paddington Bear London Shop
Definitely the BEST of the Paddington Station shops!

WHERE TO BUY PADDINGTON BEAR IN LONDON?
If you can't make it to Paddington Station in London, there's a few other London shops that stock the old bear.
Try one of these places to find Paddington Bear for sale.

No.1: Harrods Paddington Bear
Yes, you can also buy a variety of Paddington Bear toys in Harrods too.
Take a look at our Guide to Harrods with kids to find out more.

No.2: Hamleys Paddington Bear
You can also head to the biggest toy shop in London, Hamleys, to find MORE Paddington Bear dolls in store.
In fact, Hamley's keeps one lot of their Paddington Toys near the entrance door, so you don't miss this iconic London souvenir!
It's a London gift you can give to just about anyone!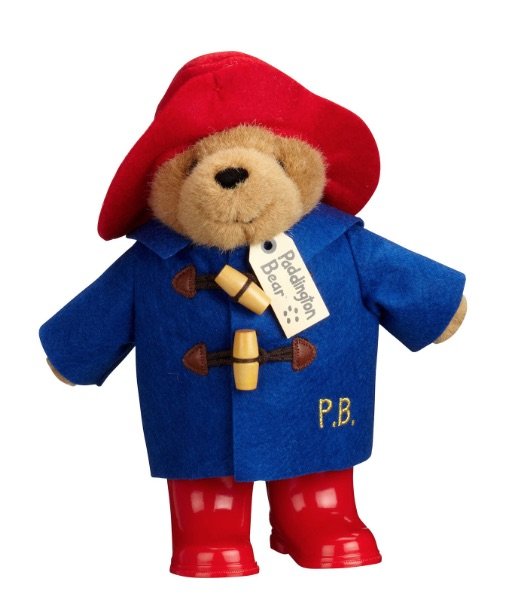 No.3: Paddington Bear John Lewis
John Lewis & Partners is another British shop you can visit to find a range of Paddington gifts and toys including:
Plush toys
Spot the Difference Games and Puzzles
Musical bedtime toys
Pushalong toys and Stacking toys
London Skittles set by Orange Tree (Exclusive to John Lewis & Partners)

No.4: Paddington Bear Shop Heathrow
There's no official Paddington Shop at Heathrow but you can find Paddington dolls at Hamleys at Heathrow, in:
Terminal 2 on Level 5, or
in Terminal 4, Level 2 near gate 21.
Hamleys Heathrow is open from 5am until 10pm at Terminal 2, and from 5.30am at the Terminal 4 shop.
Secure your last minute Paddington toy gifts through Reserve & Collect via Heathrow Boutique.
Submit a request, receive the confirmation of price and availability, and turn up at the store upon arrival at the terminal to collect and pay for your shopping.
Simple!

No.5: Paddington Bear Clothes from Build a Bear!
Did you know you can buy a Paddington Bear outfit for your own 18″ (45cm) doll or teddy from Build a Bear in London?
You can.
Take a look here.
The Build a Bear Paddington outfit is sold separately.
Individual pieces to buy include:
Paddington bear duffel coat & Red Paddington Hat set
Red Wellies (red rubber boots) for £5.50
A Paddington Bear suitcase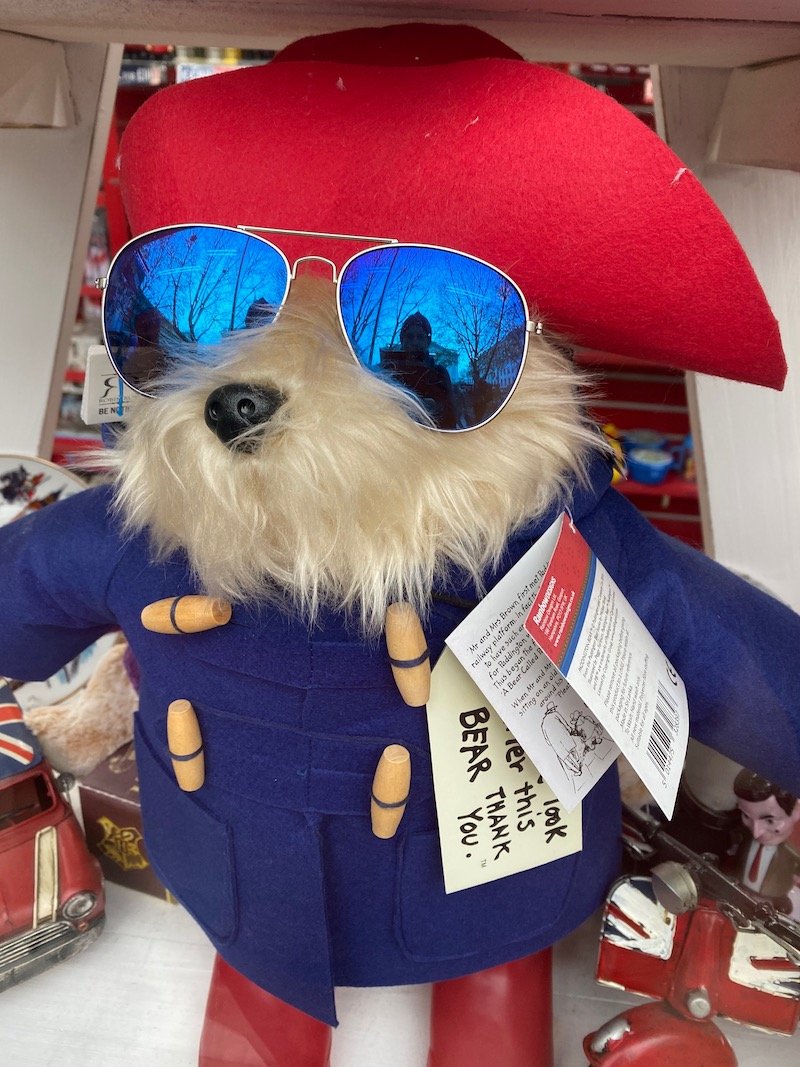 No.6: Souvenir Shops in London for Paddington Bear Merchandise
You can also find Paddington Bear dolls and souvenirs in most London souvenir shops, especially near Paddington station and Buckingham Palace.
Facts about Paddington Bear Clothing
Fun Fact #1:
When PB arrived in London from darkest Peru, his only possession was a 'rather dirty colored hat'.
It was Mr Brown who bought the blue duffel coat for him.
The hat he wore in the first televised series was black, but now he prefers red, with red wellington boots to match.
Fun Fact #2:
Sometimes you see pictures of Paddington in a yellow coat.
This is because the first lot of bears made in America by Eden Toys were sold with a yellow coat, but the red/blue combo is the most popular with PB fans.

THE TOP 12 PADDINGTON BEAR FACTS
No.1: Who is Paddington Bear?
He's a friendly bear, a fictional character in children's literature who wears an old red hat, a dark navy duffel coat with toggles and identity tag, and wellies.
He's adored by people all around the world.
No.2: Who wrote Paddington Bear?
The Paddington Bear author is Michael Bond.
No.3: Who created Paddington Bear?
Michael Bond's creation is the star of more than 20 books, two live animation films, and countless cartoons.
Stories have been published in more than 30 languages.

No.4: When was Paddington Bear created?
The first Paddington Bear story was published in 1956.
To date, they've sold in excess of 30 million copies!
And there's over 20 million Paddington bear dolls in homes too.
No.5: Where is Paddington Bear from?
It is said that he is from Darkest Peru.
No.6: What kind of bear is Paddington?
A spectacled bear.
These bears are also called Andean bear, Andean short-faced bears, or mountain bears.
Although it must be said, Paddington does not look much like the real one.
No.7: Is Paddington bear a boy or girl?
He's male.
No.8: How old is Paddington Bear?
In 2020, PB turns 62.
Ancient.
He has two birthdays each year, just like the Queen! One on Christmas Day, the other on June 25th.
No.9: Where does Paddington live in Windsor?
The Brown's family home address is 32 Windsor Gardens in Notting Hill. There's little point trying to find it in London's Notting Hill though as there's no such house.
But you can head to Chalcot Crescent in London's Primrose Hill, as this is where the streetscape scenes were filmed.
No.10: What is Paddington Bear favourite food?
Marmalade, straight from the jar, or in a sandwich.

No.11: Who was the voice of Paddington in the Paddington film?
A British actor, Ben Whishaw.
He's best known as Michael Banks in the 2018 version of Mary Poppins with Emily Blunt.
N0.12: Who was in the Paddington Bear cast?
The stars of the first Paddington Bear film include:
Hugh Bonneville as Henry Brown
Sally Hawkins as Mrs Mary Brown
Julie Walters as Mrs Bird
Jim Broadbent as Mr Gruber
Peter Capaldi as Mr Curry
Nicole Kidman as Millicent Clyde.
Imelda Staunton as Aunt Lucy
Hugh Grant joined the cast in Paddington 2 as the sneaky Phoenix Buchanan, as did Brendan Gleeson as "Knuckles".
So there you go.

Looking for More Things to Do with Kids in LONDON?
Click the links in blue below for MORE London fun.