INSIDE: The Ultimate Guide to Harrods Kids departments, shopping, toys & activities
Visiting Harrods may be one of the Top London Tourist Activities for adults visiting London, but Harrods did not feature in my "Top Ten Things to do in London WITH KIDS" list.
All that money, prestige, hushed quiet, ladies who lunch, Christian Louboutin Shoes, Prada handbags, BREAKABLE glass, vintage crystal, bone china…
OH MY.
My heart palpitates thinking about the accidental destruction two active, boisterous boys (along with a cheeky Gnome) could do in there!
BUT, somewhat surprisingly, Harrods DOES cater for kids AND adults!
Take a look inside for details below for all the fun Harrods kids stuff, shopping tips, & plenty MORE!
Disclosure: This article contains affiliate links. If you make a purchase after clicking on one of these links, we may receive a small commission at NO extra cost to you.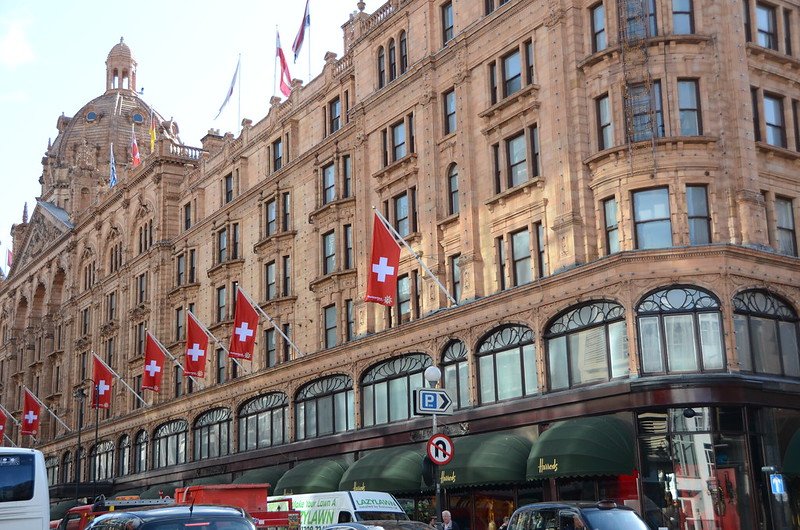 Image Credit: KevinofSydney via Flickr CC By 2.0
VISITING HARRODS WITH KIDS?
The stuff at Harrods for Kids is found on the Fourth Floor.
But it's not just for kids!
The GIANT sized soft toys and the hand painted rocking horses are a sight to see for everyone, young and old.
Visit Harrods with kids for an amazing insight into how the other half live.
---
BOOK NOW! Take your kids on this best selling Harry Potter Guided Walking Tour & walk in Harry's footsteps!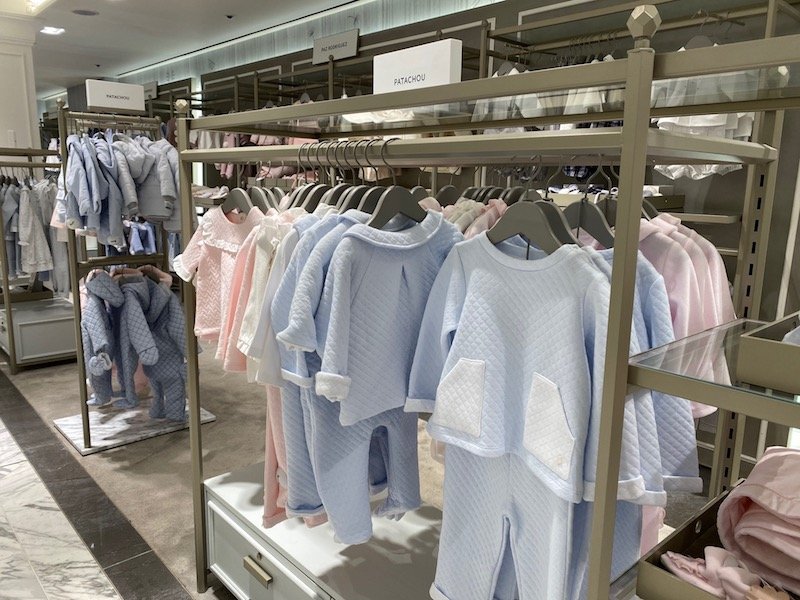 FAQ: Visit Harrods Store London UK
No.1: What is Harrods?
Harrods is a high end luxury department store in London.
No.2: Who owns Harrods?
The Harrods owner is now the state of Qatar via its sovereign wealth fund.
Previously, it was owned by the wealthy Mohamed Al-Fayed until 2010, famous for being the father of Dodi Al-Fayed, the man who was with Princess Diana the night she died.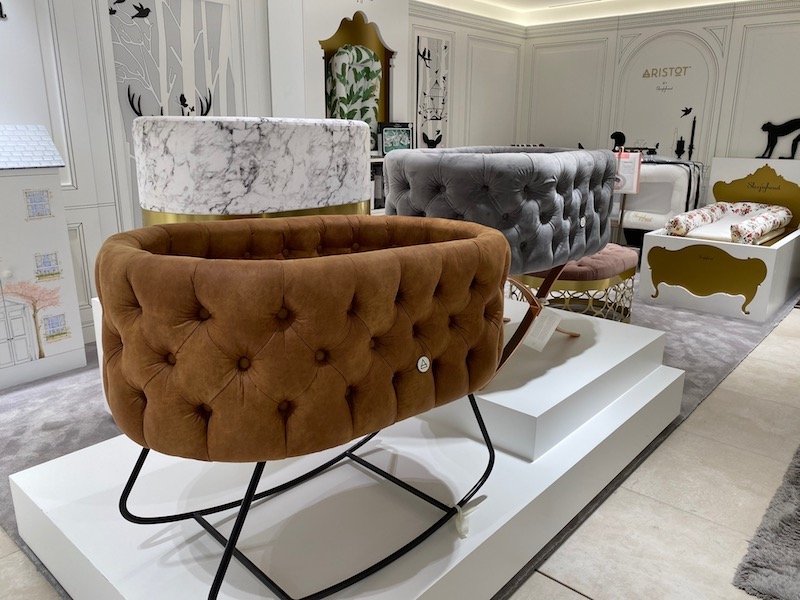 8 Floors of Harrods Shopping!
Harrods London has 330 departments over 8 floors showcasing the best of luxury merchandise.
Here's a quick overview, and what you should NOT miss, highlighted in bold.
Lower Ground: Harrods Gift Shop
Home to this elegant London Gift Shop & the Harrods Book Shop
Bespoke English stationery
Travel Goods & luggage
Luxury Accessories
Fine Watches
Beauty Services
Fine wines & spirits
If you love Tiffany jewelry, book a spot for brunch (or breakfast or a Tiffany high tea) at the Tiffany Blue Box cafe!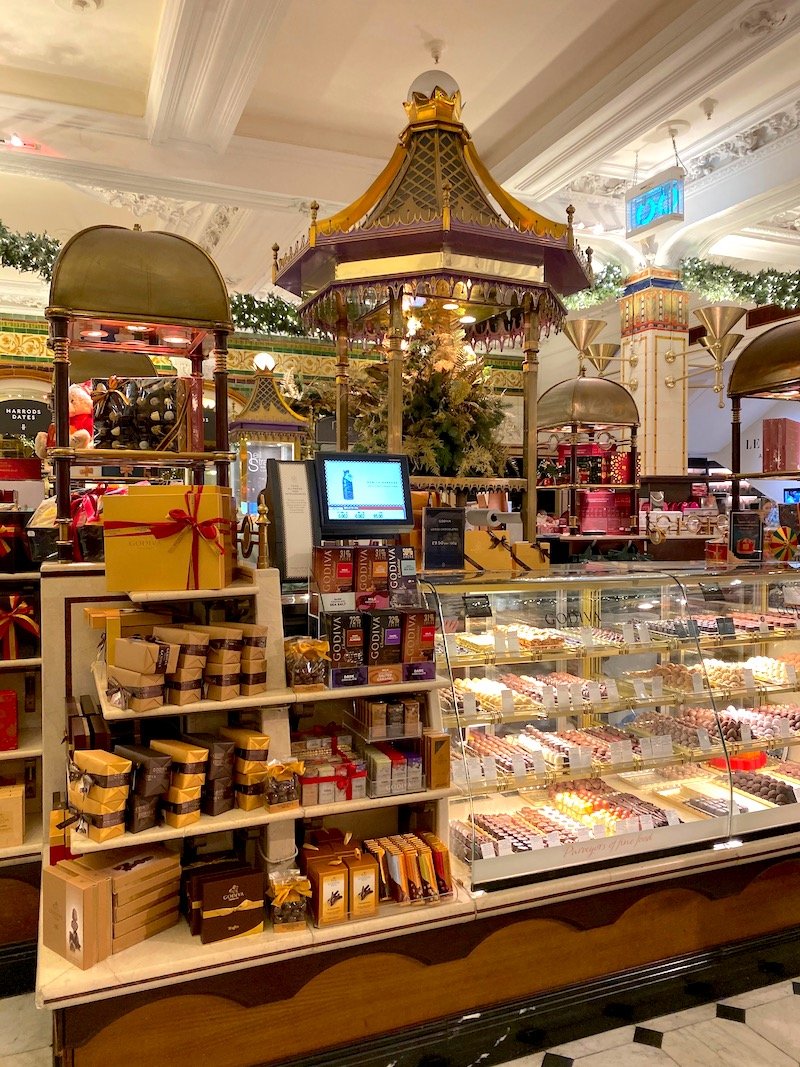 Ground floor: Harrods Food Hall
Home to Harrods Food Halls & the Dining Hall Restaurants
The Beauty Halls of cosmetics and beauty goods
Luxury Accessories by Prada, Louis Vuitton, Dior, Chanel and Gucci
Stop by to see the handmade Harrods food in the Harrods food hall.
First Floor: Harrods Fashion
High-end fashion, swimwear, lingerie, eveningwear, shoes, and accessories for women including:
Victoria Beckham & Stella McCartney
Gucci
Prada
Fendi
Dior
Valentino
Chanel
Louis Vuitton
Saint Laurent
Celine
Miu Miu
Balmain
There's international designers like Versace and Alexander Wang too.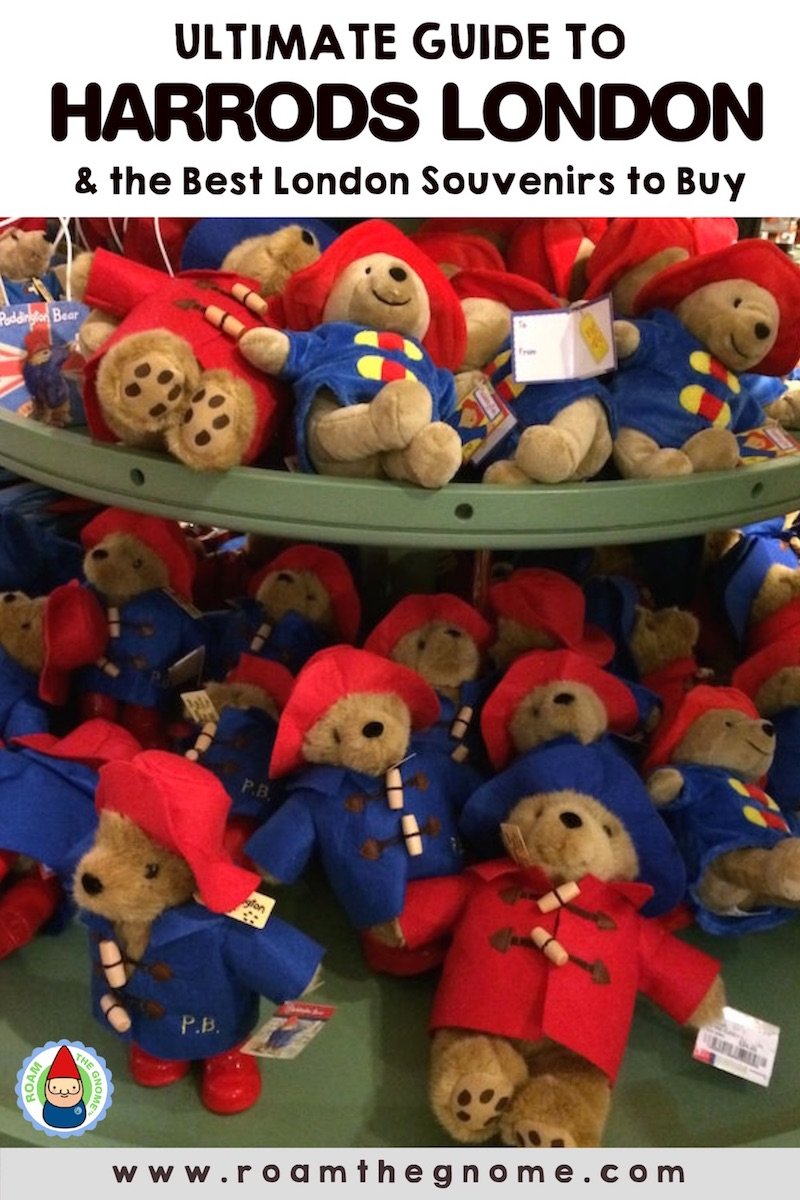 Second Floor: Mens Wear
Home to mens fashion and designer collections, outdoor sports ranges, shoes and accessories, and gifts for men too.
Third Floor:
stylish homewares
luxury linens
bed and bath – luxury linens and Harrods bedding
exclusive kitchenware
kitchen appliances and household goods
home furniture, fragrance, and tableware (it's the place to buy Wedgwood dishes!)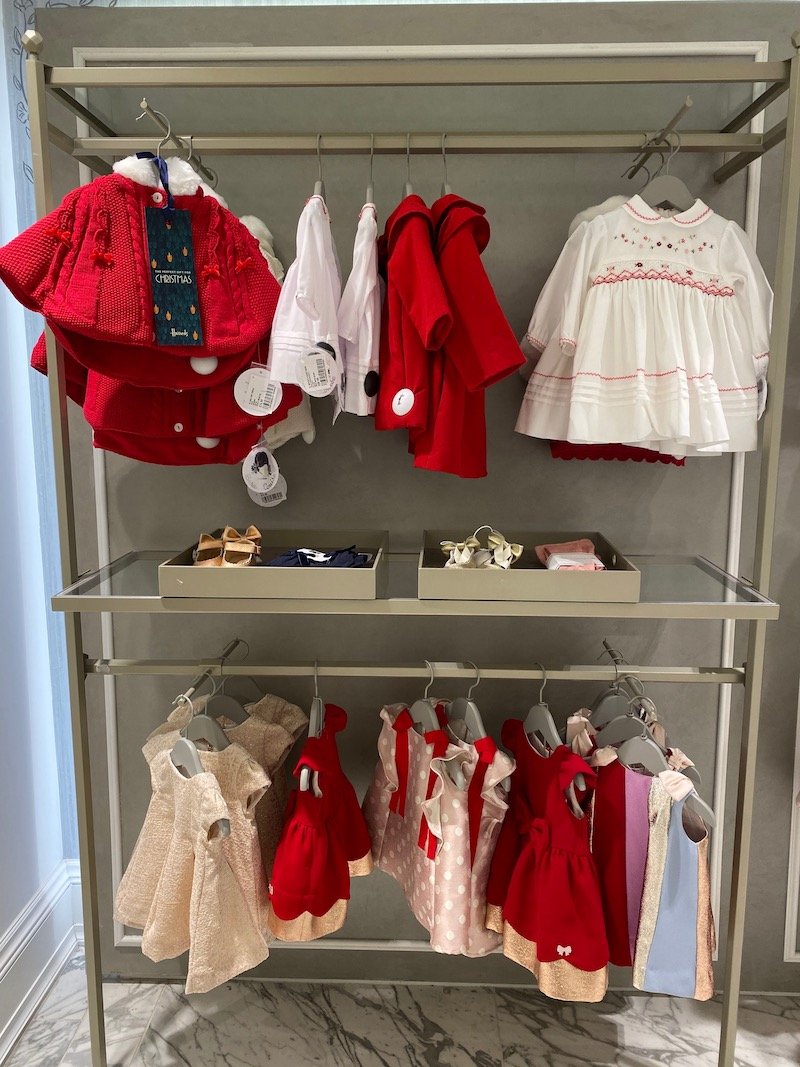 Fourth Floor: Harrods Children's Department
This is the most important floor if you are travelling with kids in London.
Home to the Harrods children TOY HALLS
Harrods baby department for clothes & toddler outfits
Fashion designer brands for children including Hugo Boss, Paul Smith, Dior, Fendi, Chloe, and Versace
Nursery goods for new born babies & baby gifts
Wizarding World of Harry Potter and Fantastical Beasts!
---
RELATED: The ULTIMATE List of Things to Do in LONDON with Kids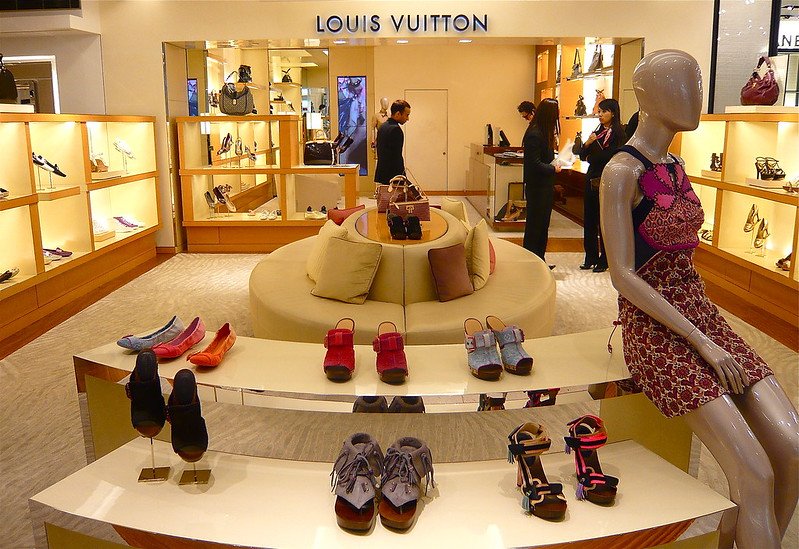 Image credit: Herry Lawford via Flickr CC BY-2.0
Fifth Floor: Tech
The latest technology for gaming, mobile phones, smart home, tv, music, film and camera
Harrods hair and beauty salon and treatment rooms
Harrods shoe heaven (if only to browse!)
Sixth Floor: Harrods Perfumery
Home to the Salon de Parfums, a secluded hall of fragrance experts ready to provide with you with a one-off scent.
Don't even think about sneaking in here with kids in tow, unless you want to die of embarrassment!
Save it for the next trip.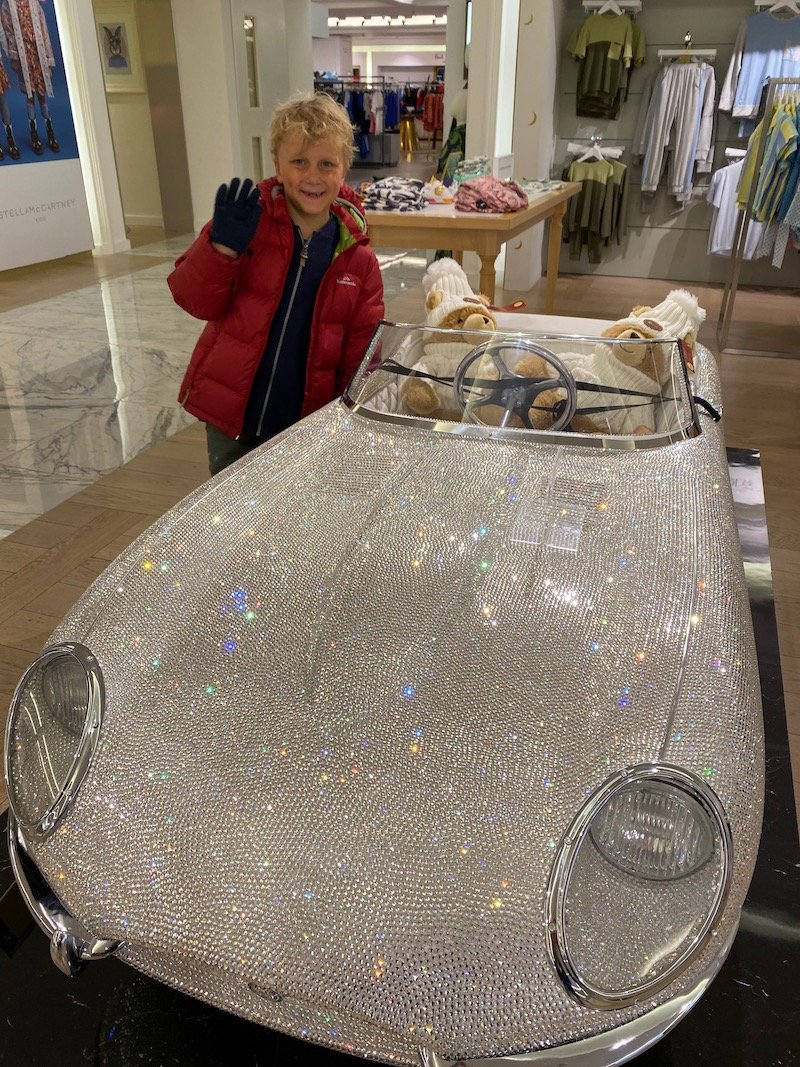 Hot tip: See the Crystal Embellished Car
You may even see a crystal embellished pedal toy car, featuring over 100,000 Swarovski xirius cut crystals, all lovingly applied by hand over 1000 hours!
It has external working lights, solid brass chrome work, polished solid alloy steering wheel, and bespoke hand stitched leather interior features including white tufted carpet and diamond stitch panels.
Just what Jack has always wanted.
At £39,000 pounds (equivalent to $51,000 USD or $82,000 AUD), it's a steal!
(Don't you think?)
---
BOOK NOW: Book discounted fast-track tickets to St Paul's Cathedral – the place where Prince Charles & Diana were married.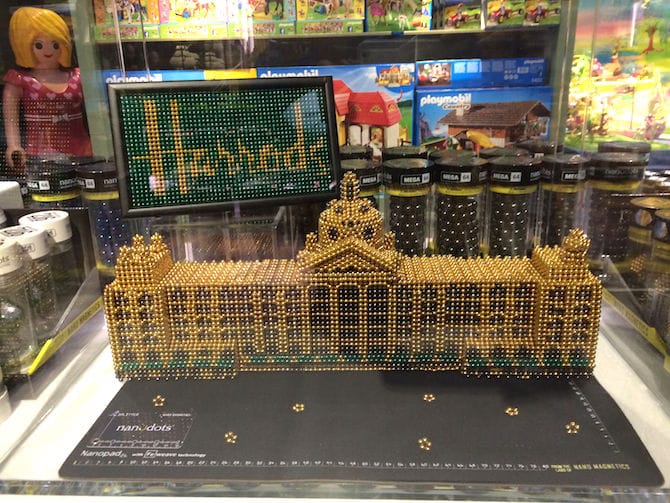 BEST THINGS TO SEE IN HARRODS WITH KIDS
Wondering what to do in Harrods?
There are SO many things to do in Harrods with kids, you can easily spend half a day.
Head straight to HARRODS CHILDREN'S DEPARTMENT LEVEL 4
Warning: You will never get your kids out of here.
Harrods Department Store has thousands of toys, of every description, from budget to high-end.
Take a look.
---
BOOK NOW: Book your Merlin's Magical London Pass to visit 5 of Londons' best kids attractions!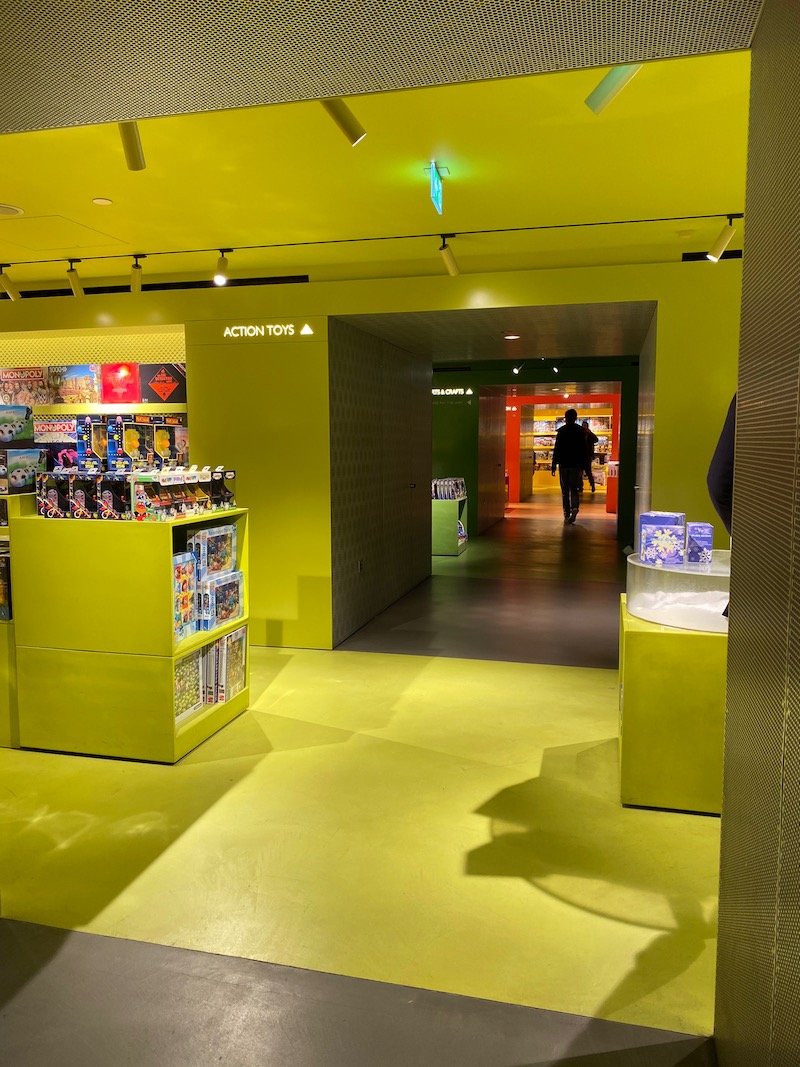 No.1: Harrods Toy Store
The Harrods toy department is on Level 4, on the Knightsbridge underground side of the building.
There are brightly (grotesquely?) colored halls, each with their own theme.
You'll find a hall for:
Construction toys
Arts and crafts
Outdoor & games
Preschool
Soft Toys
Giant stuffed plushies

No.2: Harrods Toy Concierge
There's also a Toy Concierge service to help you pick and choose gifts if you need it.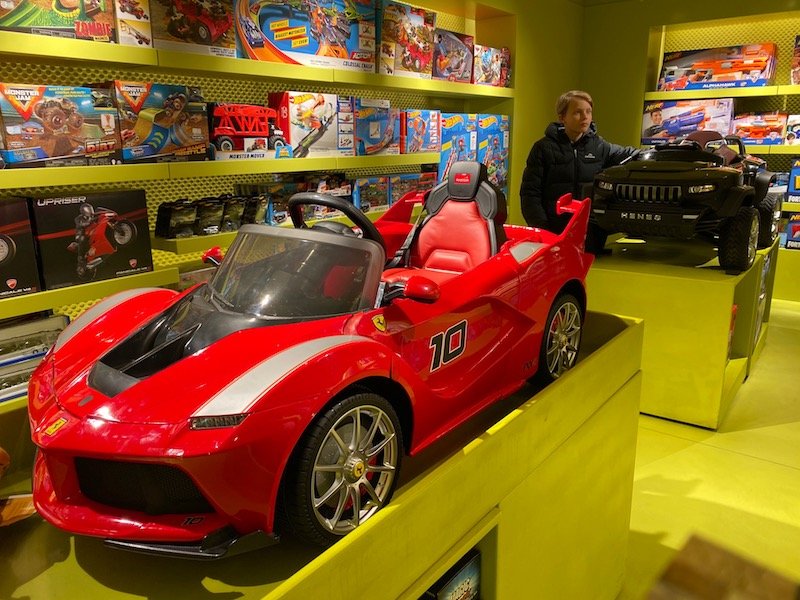 No.3: Harrods Kids Toys Demonstrations
Look out for the Harrods demonstrations of toys.
The kids may be lucky enough to drive a remote control car, or play with a doll, or try out one of the construction toys.
Warning: you may spark 'envy' in your kids when they see ride-on cars like these.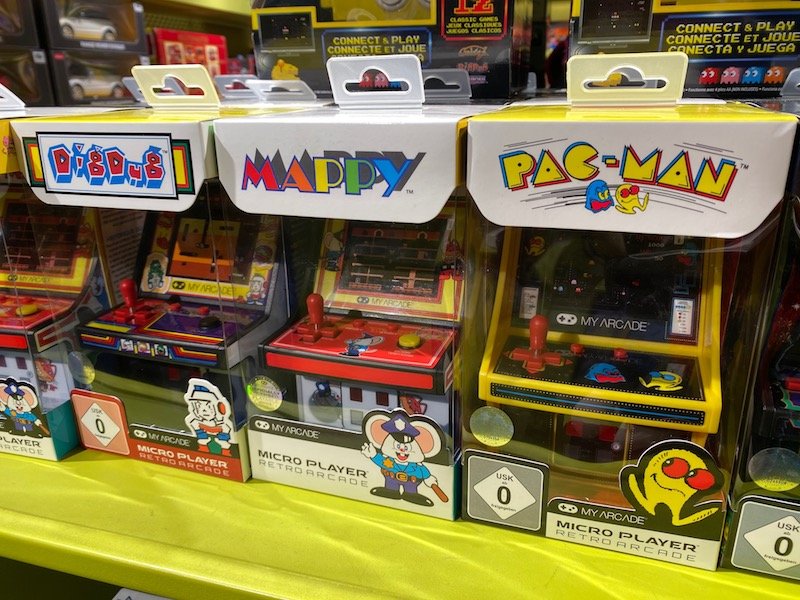 No.4: Write your Harrods Toys Christmas Wish List
You could spend a few hours in these walls alone. The range of toys is good for a limited area. (Head to Hamley's Toy Store on Regent Street for the best toy selection in London.)
You'll find:
Nanodots (those magnetic balls that suction together so you can make stuff, such as the Harrods display above)
A huge collection of LEGO sets, including exclusive Harrods Lego sets.
Hot Wheels toys
NERF guns
Monster Jam toys
Mariokart figurines
a WALL of Peppa Pig toys
Gotz Happy Kidz dolls
imaginative play toys
and more!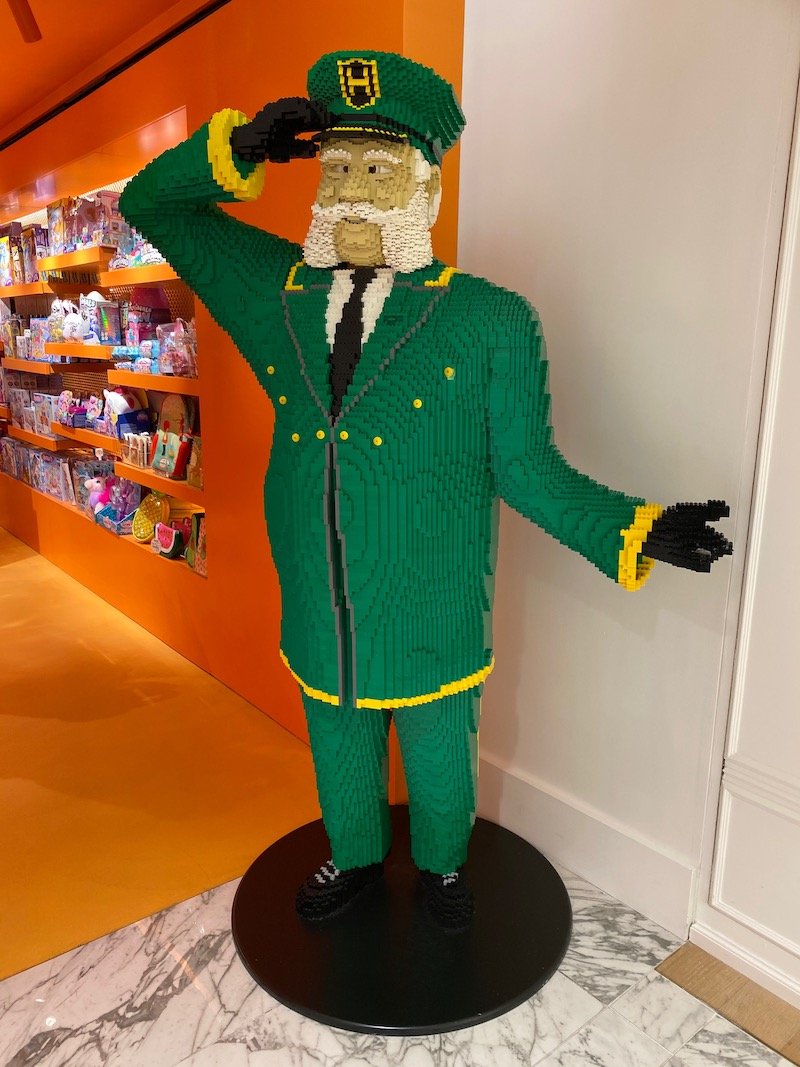 No.5: Take a Selfie with the Harrods LEGO Man
Don't leave this level without taking a selfie with the life-size Harrods London Door Man made from LEGO!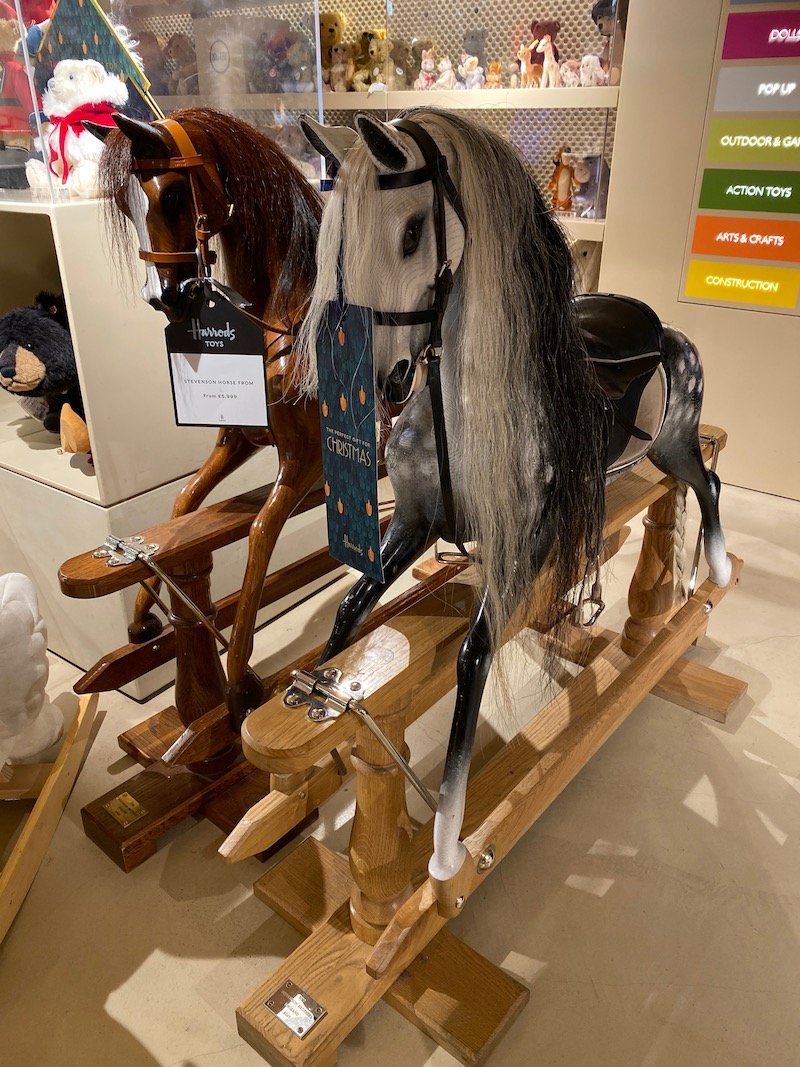 No.6: Harrods Rocking Horses
Take a close look at the Harrods Rocking Horses
These handmade and handcrafted rocking horses don't come cheap, but they are an heirloom you'd keep forever if you were lucky enough to take one home.
But the price will make your eyes water!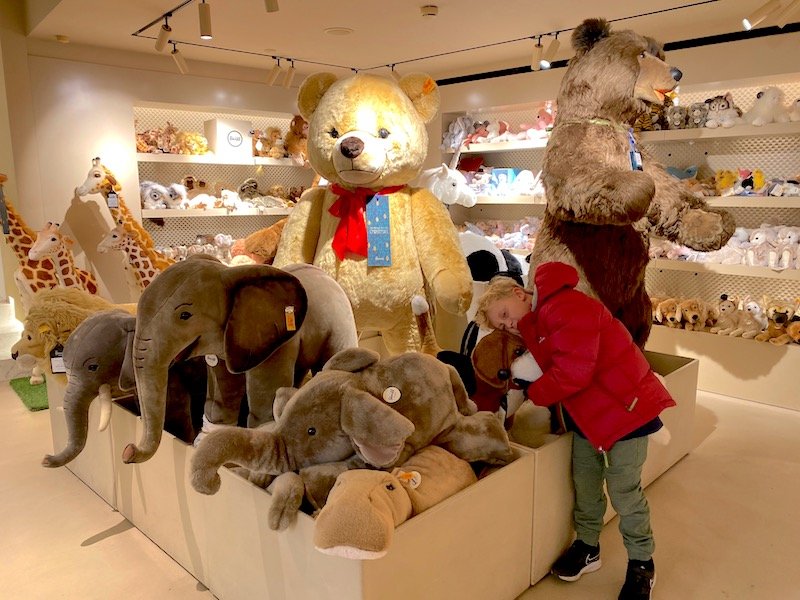 No.7: Harrods Toy Animals
Measure up against the life-size animals!
Harrods is home to Jumbo stuffed animals of every breed, from every location known to man around the world (must be seen to be believed!)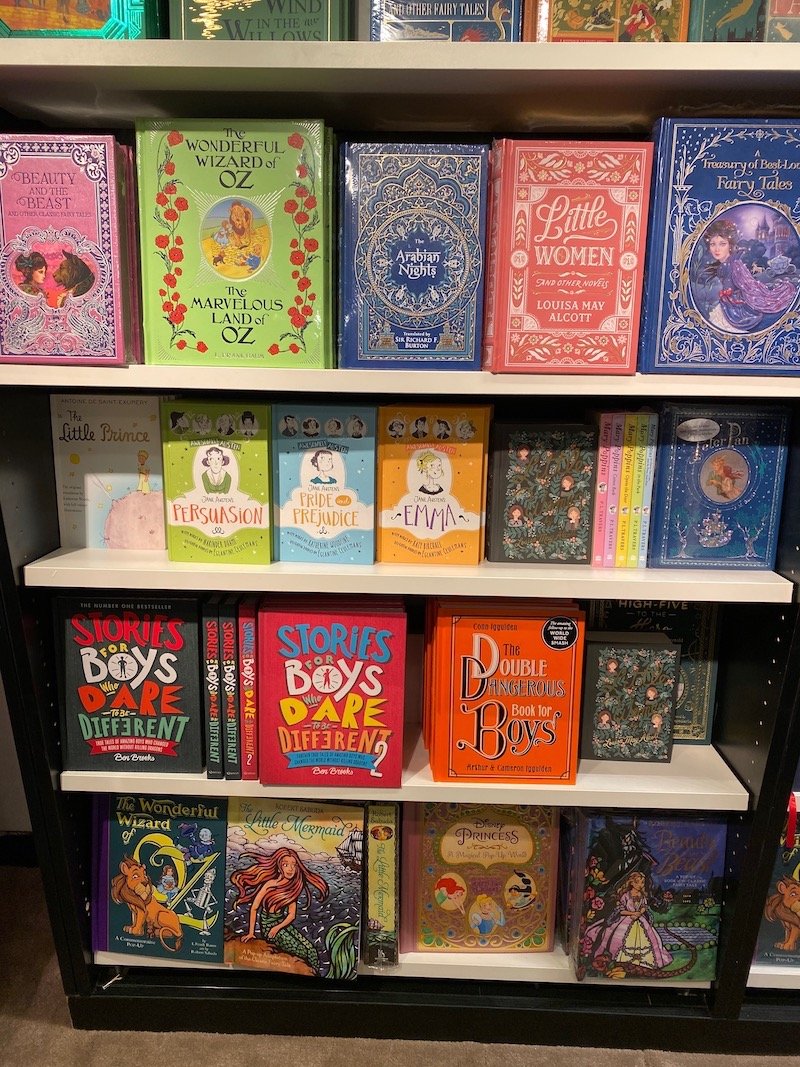 No.8: Harrods book shop
Find a good book!
The choice of books at Harrods Knightsbridge makes it one of London's best kid's bookstores.
There's lots of kids books about visiting London, and plenty of kids books about Royal London life. These books are the ultimate London souvenir for kids.
We bought a few to remind us of our trip.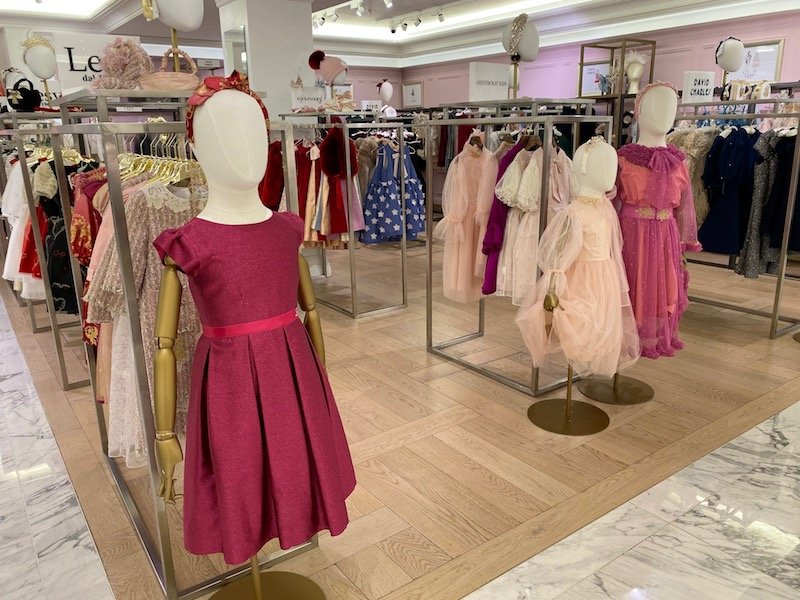 No.9: Level 4 Children's Boutiques
If your kids adore dressing up as Princesses, be sure to visit children's wear section if only for a peek.
The girl's formal dresses are simply spectacular.

Harrods Department Store Children's Wear
Check out the Harrods kids clothes section for designer wear, party wear, holiday and swimwear, and Harrods kids shoes.
All the top brands can be found at Harrods, including Harrods baby clothes.
Harrods Children's Play area?
We are often asked, is there a Harrods children's play area?
Unfortunately, they didn't have one when we visited.
But the Harrods Toys area was enough for my boys with so much to look at and browse.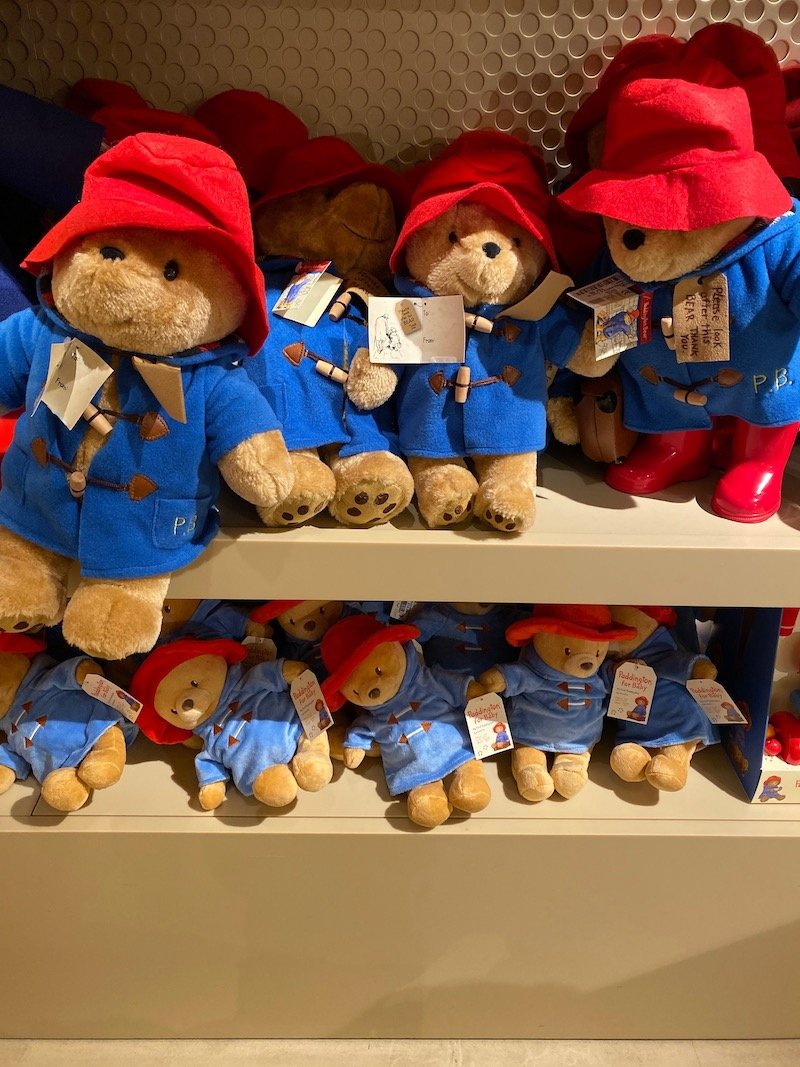 HARRODS GIFT SHOP – LOWER GROUND
Best Things to Buy at Harrods Gift Shop for family & friends?
No.1: Harrods Paddington Bear!
The Harrods Gift Shop is on Lower Ground, and it's another spot you should put on your list to show the kids.
The perennial London favorite souvenir of choice though is to take home one of the Harrod's Paddington Bear soft toys.
It's the perfect London souvenir for all ages!
No.2: Best Harrods London souvenirs
This is THE place to pick up your:
Royal souvenirs
London tea towels
Harrods tea boxes
Harrods London bus cushions
London underground pillows, and
Harrods premium biscuits
Harrods kids apron
If you have cash to spare, why not look to their handpicked edit of the ultimate luxury gifts?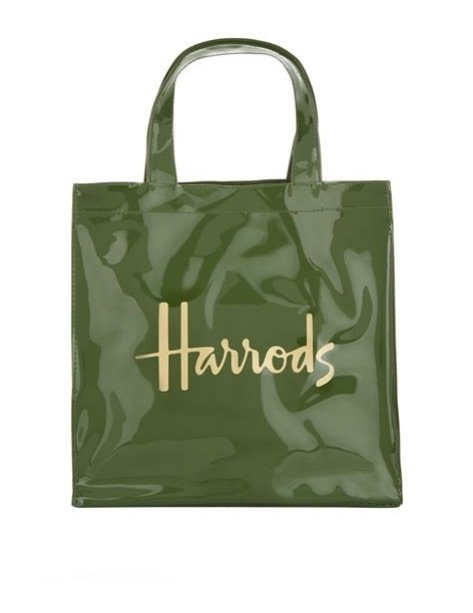 No.3: Ultimate Harrods Shopping Bag Souvenir!
The ONE thing you definitely can't leave Harrods without is your own personal Harrods Logo shopper bag.
Instantly recognisable and elegant in style, the Harrods shopper bag is a small green patent shopper from their Signature collection, boasting a glossy exterior and gold-tone Harrods stores lettering to finish.
A Harrods Shopping Bag is a must-have souvenir from our Knightsbridge store to remember your time spent in London.
Carry your loot home in that Harrods shopping bag you bought!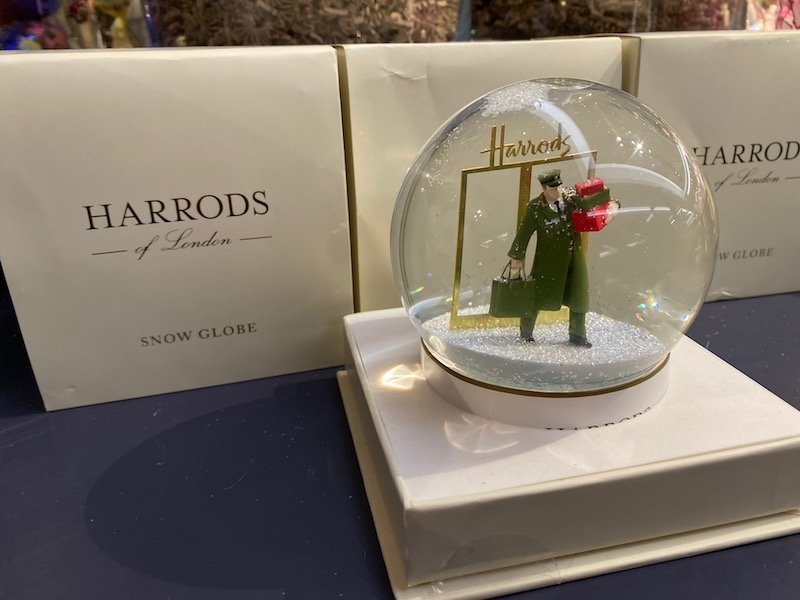 TOP 9 MUST BUY HARRODS SOUVENIRS
These are out Top 9 Souvenirs to buy visiting Harrods UK.
No. 1: Harrods snowglobe
If there was one thing I covet, it's a Harrods snowglobe like this Christmas one.
It's so sweet and adorable, I dare say I wouldn't get much work done for all the loving gazes it would receive from me.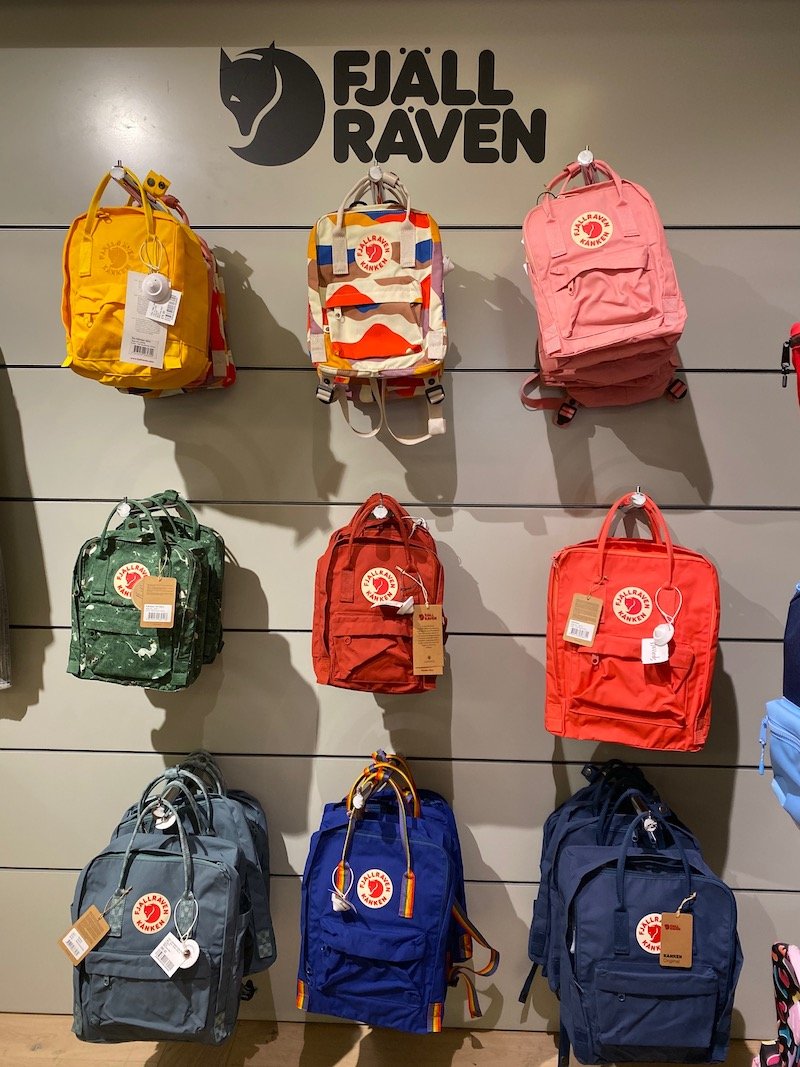 No.2: Harrods Luggage
A Harrods London Bus backpack serves two purposes – it's a souvenir, but it can also become the kid's hand luggage to carry the rest of the kid's UK souvenirs home.
Pick up the matching Harrods lunch bag, Harrods lunch box, or drink bottle too.
You can buy check-in luggage, carry on luggage, luggage for business travel, vacation luggage and more.
Check out the Mulberry luggage bags, and the marvellous Ted Baker luggage at Harrods.
Harrods luggage section in store has all the best brands including:
Brics
Globe-Trotter
Fabbrica Pelletterie Milano spinners, and
Tumi luggage.
Fjällräven Kanken backpacks
But our favorite bag for kids from Harrods is the well-made and durable Fjäll räven Kanken backpacks from Sweden, available in a rainbow of colors!
Designed in Popular amongst family travelers, as they are sturdy but light enough for most kids over 3 to carry for day trips, Nordic forest walks, & world travel.
How do you even choose one of these trending backpacks for kids?
(Buy two, or more. These backpacks are just as cool for adults!)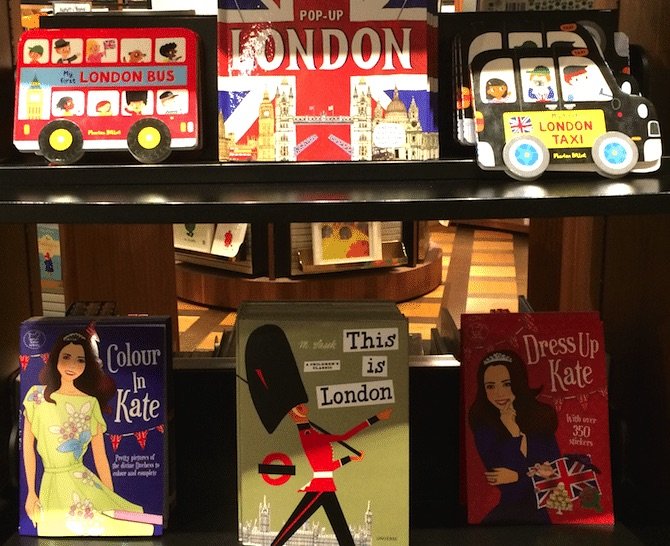 No.3: Harrods Children's books
We LOVED the Dress Up Kate book!
There probably was a Meghan one at some stage, but perhaps it's gone from the shelves now.
Roam the Gnome, and I giggled out loud at the "Colour in Kate" colouring books.
Such quirky fun!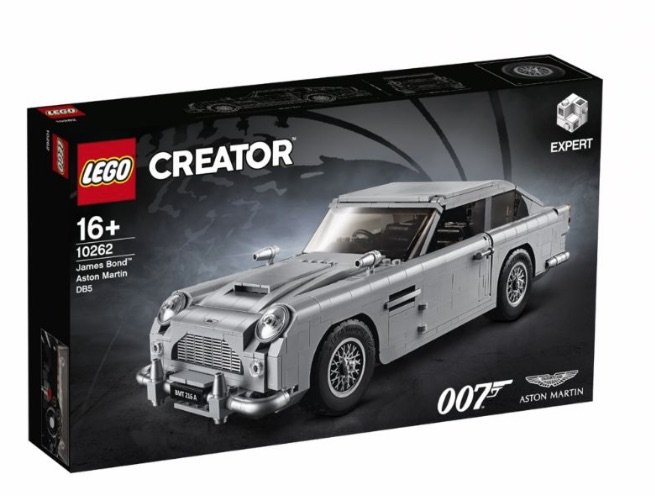 No.4: Harrods LEGO
Pick up a bunch of unique LEGO packs, some of which are exclusive to Harrods.
You can buy a London Bus creator set, LEGO architecture London, LEGO Harry Potter Knight Bus and for Bond movie buffs, a James Bond Aston Martin car!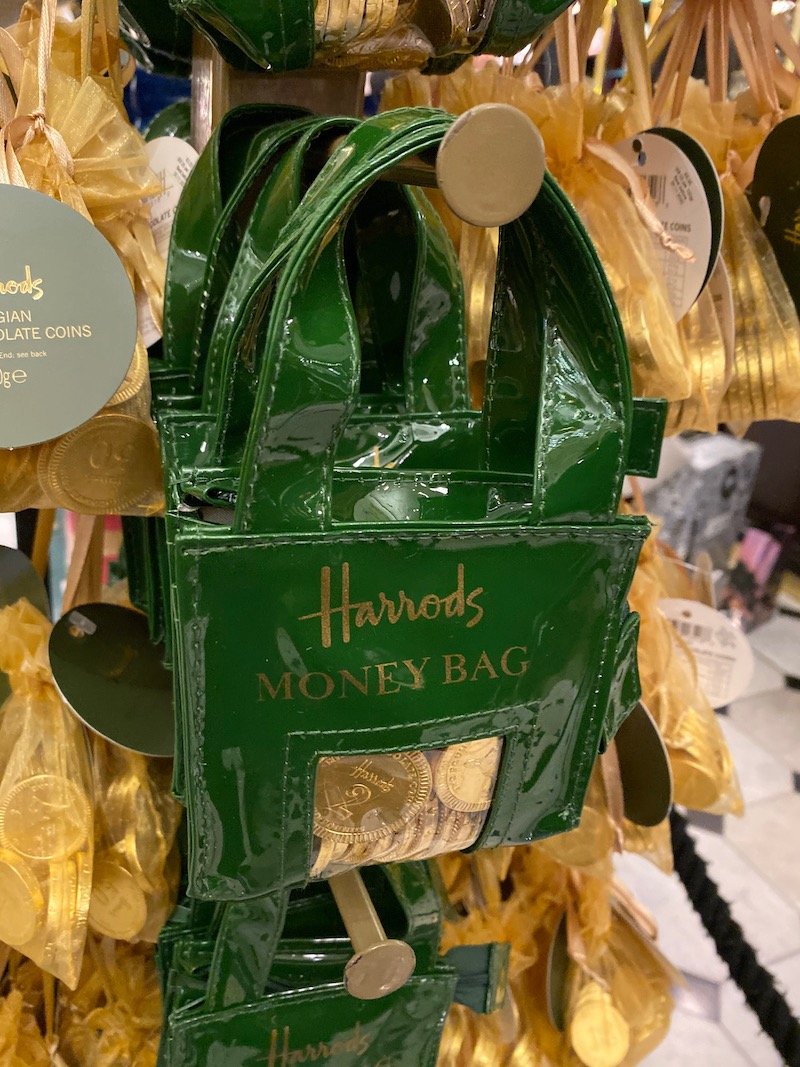 No.5: Sweets from the Harrods Candy Store in the Food Hall
Who doesn't love a good English toffy?
The Harrods UK Candy Store is filled with:
typical English treats
English lollies and candy
Harrods dark chocolate
Harrods almond brittle
Jelly Belly jellybeans in all kinds of flavours
boxed treats (these make perfect London souvenirs)
soft toys
gift-wrapped chocolate
Harrods Money Bag gold coins, and more.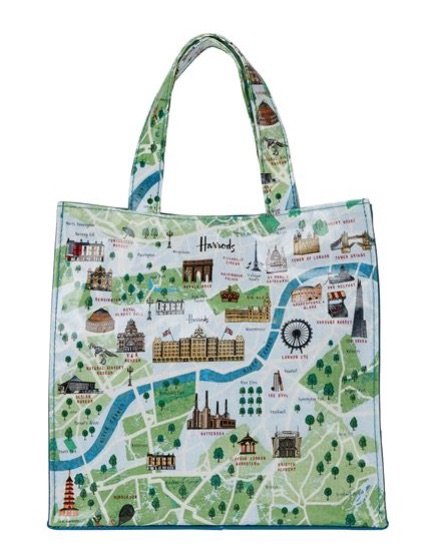 Image credit: Harrods gift shop
No.6: London Maps
An illustrated Map of London, or one of the London Tube Stations is a gorgeous souvenir for friends and family who love good design.
You can also buy a Harrods London Shopper bag, coin purse, cup, pencil case, apron and mug with a London Map design!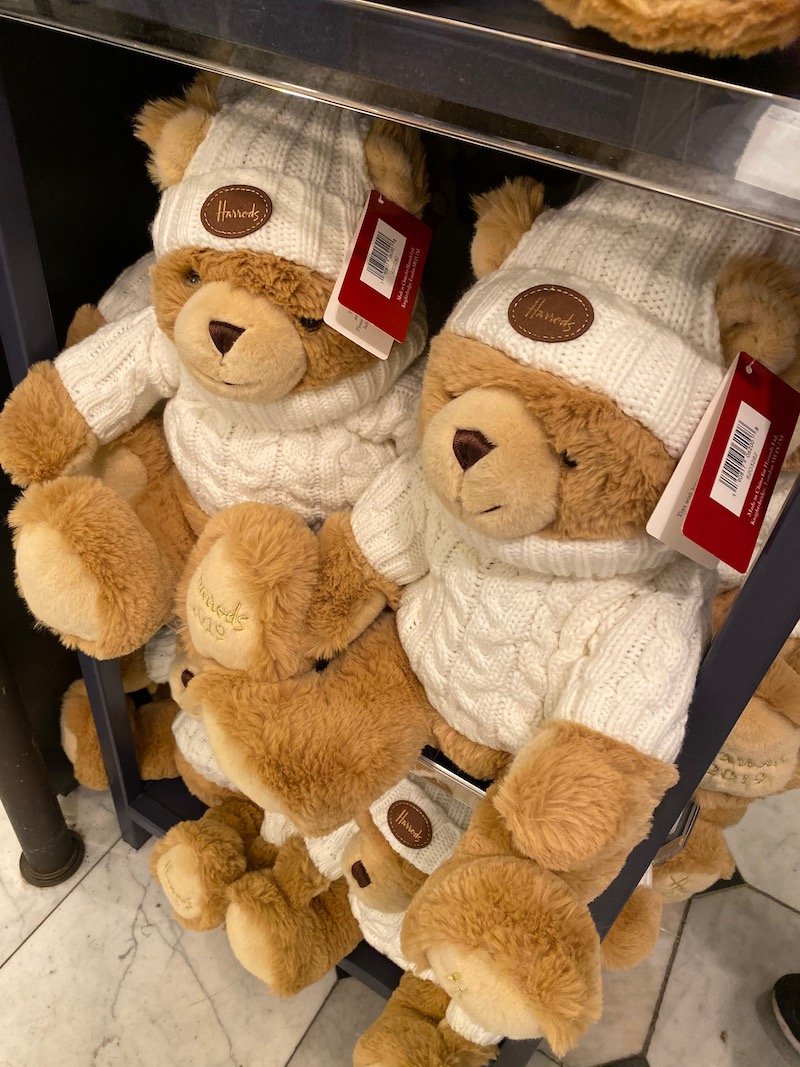 No.7: Harrods Annual Bear
Keep a look out for the Harrods Annual Bear.
These bears are keepsakes, an exclusive limited edition Harrods souvenir.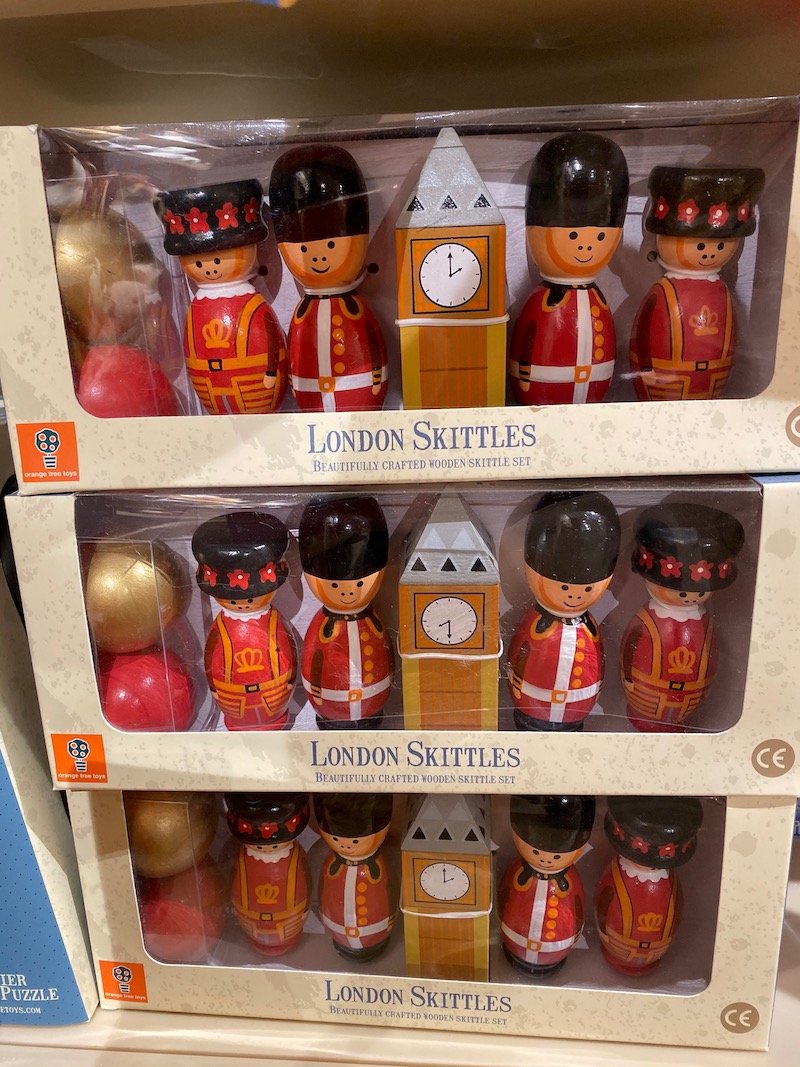 No.8: Harrods London toy souvenirs
No space in the luggage?
Pick up a Harrods keyring or two.
Or head to the souvenir section in the Harrods toy aisle to buy Harrods Beefeater design skittles toys, London bus cushions, & other "London" icon toy products.

No.9: Harrods Gold Bar
A Harrods Gold Bar, shown above.
It's chocolate with almond nougat throughout, but we can dream it's real gold, can't we?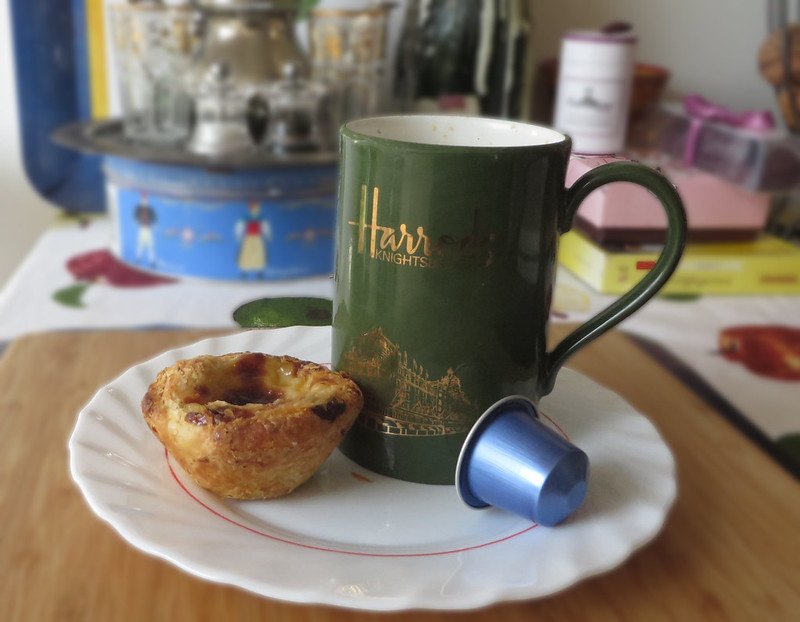 Image credit: Isidro Lopez-Arco via Flickr CC BY-ND 2.0
WHERE TO EAT AT HARRODS
These are your pick of kid-friendly spaces when visiting Harrods.
Expect a bigger than normal bill of course.
It is Harrods.

Image credit: Edsel Little via Flickr CC BY-SA 2.0
Eating at Harrods with Kids
No.1: Harrods Roast & Bake – Ground floor
The go-to spot for coffee, daily soups and stews, and yummy sandwiches and wraps. Good for a quick bite.
No.2: Harrods Creperie – Level 2.
Awesome family-friendly eatery with fancy savory crepes, and decadent sweet crepes with a golden touch!
Kids can create their own crepe concoction too.
No.3: Harrods Pizzeria – Level 2.
London's original wood-fired pizza restaurant featuring all your favourites.
No.4: Harrods Cafe- Level 3
All the good stuff from the Food Halls are here, including:
the divine Croque-Monsieur melted ham and cheese toastie, and
"Braffles", a brioche waffle with either decadent sweet or savory fillings to die for.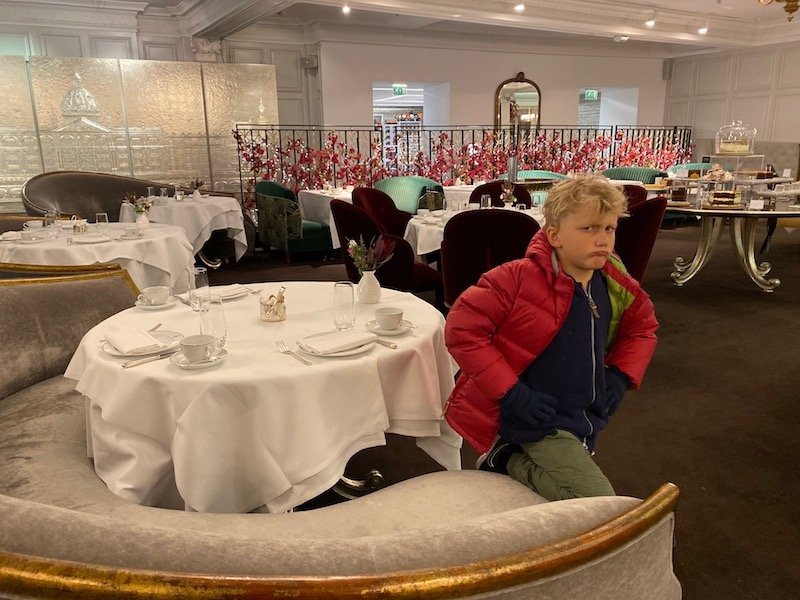 Elegant Dining at Harrods Restaurants
For that extra special grown-up treat, you must visit one of the best Harrods restaurants, on Level 4.
Formerly known as The Georgian Restaurant, The Harrods Tea Rooms offers an all-day dining menu created by our expert team of in-house chefs.
Pictured above, these elegant table settings feature:
classic scalloped seating
flower posies on draped tables
white tableware and silver cutlery
Sample a taste of quintessential British elegance at the stylish Harrods afternoon tea, complete with finger sandwiches, freshly baked scones and seasonally changing fancies.
Hot Tip: Harrods of London dining is best suited to children 8 years plus. NOT toddlers!

What to buy at Harrods Food Hall?
The Harrods food hall is on the Ground floor.
Stop by for a look at how the other half live, and enjoy an affordable snack in one of the World's most exclusive department stores.
Image Credit: Ambernectar13 via Flickr CC BY ND-2.0</small>
What to eat at London Harrods Food Hall?
The Harrods London Department Store food hall includes:
Charcuterie, Fromagerie, and Traiteur Hall
Fruits and Vegetables Hall
Gourmet Chocolate, Confectionary, and Seasonal Food Hall
Including the famous Harrods Gold Bar (pictured above)
Ladurée macarons
Roastery & Bake Hall
Bakery
Tea and Coffee bar
Patisserie
Gourmet Grocery
Hampers and Food orders
Meat, Fish and Poultry Hall
Fish and Chips
Rotisserie
Seafood, Oyster and Caviar Bar
Take a look at our Insider's guide to the Harrods Food Hall London.
It includes a guide to Harrods food hall prices and showcases the best Harrods Christmas food too.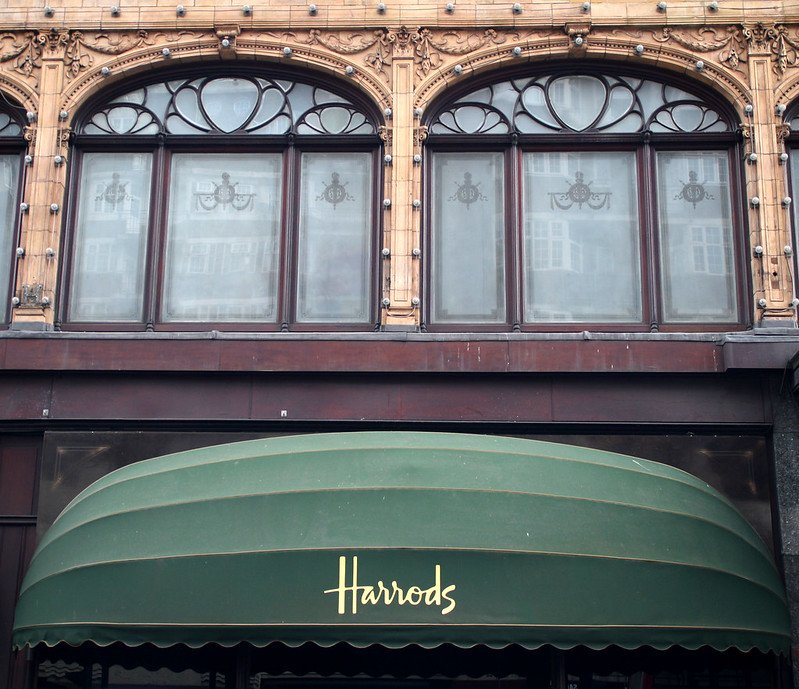 Image credit: ChrisinPhilly5448 via Flickr CC By-SA 2.0
THE ULTIMATE GUIDE TO HARRODS – INSIDER SECRETS
Harrods Dress Code
If you are asking yourself, what should I wear to go shopping in Harrods?, we have the answer.
Harrods are very proud of their beautiful store and to ensure it is maintained for all of their customers to enjoy without offence whilst shopping, there are some sensible restrictions on dress code when entering the store.
These include:
asking customers to refrain from wearing crash helmets
to generally ensure they are not wearing anything that could offend another customer or cause damage to our store or merchandise.
Other than that, neat and tidy dress is required, and you must wear shoes.
Leave the thongs and singlets at home.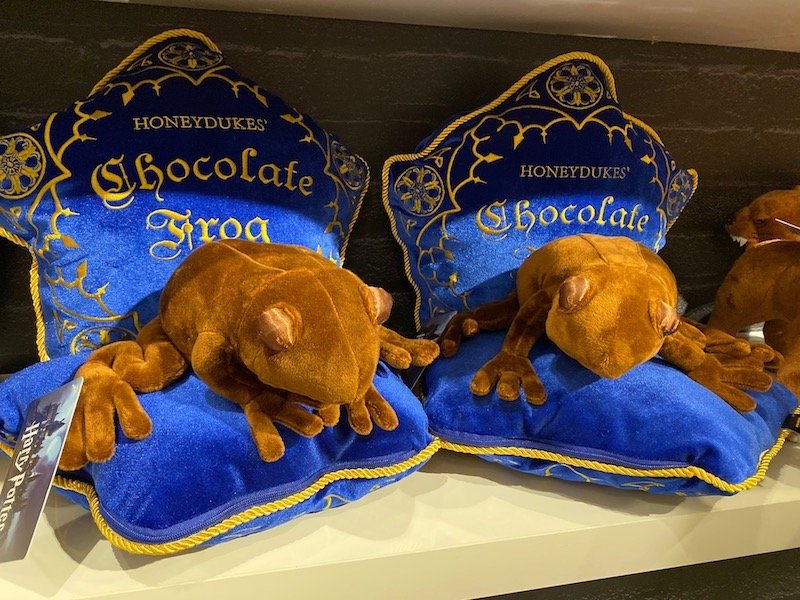 THINGS TO DO AT HARRODS STORE
No.1: Harrods Events & Special Exhibitions
Harrods has regular shopping events in-store.
No.2: Harry Potter Shop London Harrods
Right now, there's a Harrods Harry Potter pop up shop inside.
Walk through the Harry Potter toy exhibition, situated between the Wellness Clinic and Nursery Furniture on Level 4.
Find exclusive Harry Potter toys like these Chocolate Frog pillow toys, and more.
It's THE spot in Harrods for HP fans!


No.3: Mini Harrods Kids Club
Sign up for this at Harrods shopping centre!
Be sure to take a look here at the Events page before visiting Harrods of London, especially if there's a new children's movie release with a toy tie-in.
There's likely to be a special kids event!
You can also look into joining Mini Harrods, the special club for the store's smallest visitors, invites everyone to join in the fun in-store with action-packed activities all year round.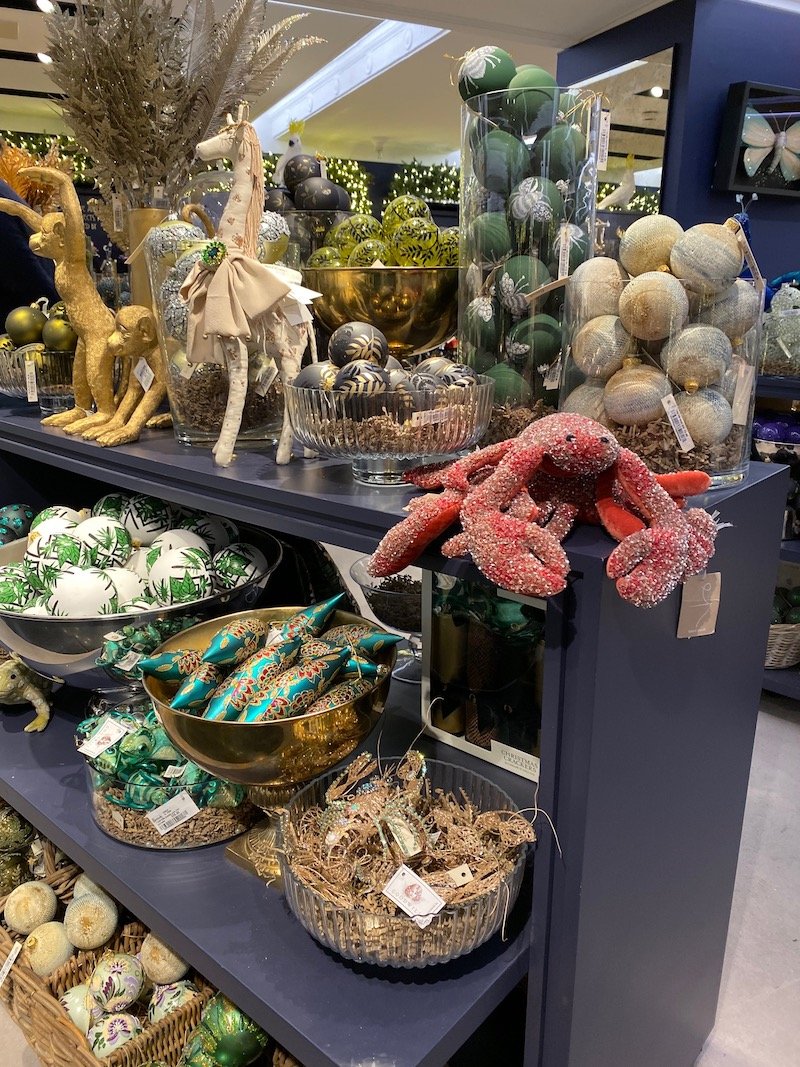 No.4: Harrods Christmas Grotto and Harrods Father Christmas
A surprise visit to the Harrods Christmas Grotto is a memory that your little ones will cherish forever.
To be eligible to book for the Grotto experience, please sign up at Harrods Rewards and await 2020 Grotto communications.
Do NOT think you can turn up without a reservation.
(We learned the hard way, hoping for a spot becoming miraculously vacant by a no-show, but no luck).
They won't let you in without it, and there's no space reserved for walk-ins.
Look out for the Harrods Annual Bear too!
It's a cute souvenir if you happen to be visiting Harrods at Christmas time.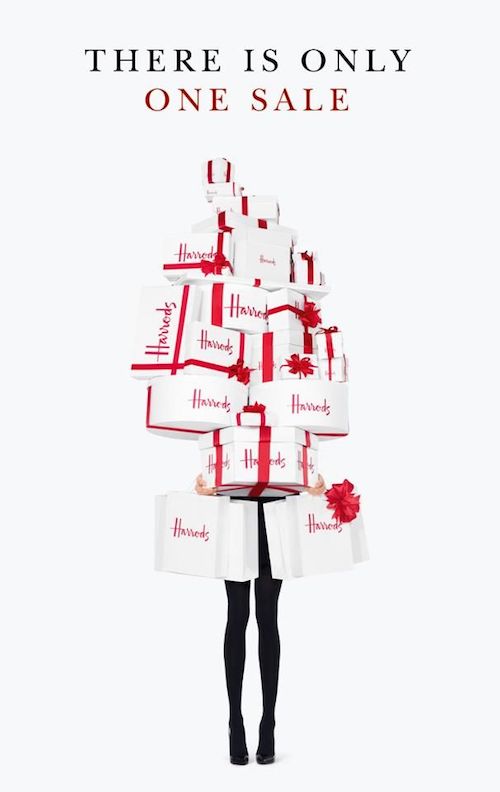 No.5: THE Harrods Sale
The dates for the next Harrods sale or the famous Harrods Christmas sale are yet to be announced.
Keep checking back at Harrods home page (link below) for news about upcoming Sale dates.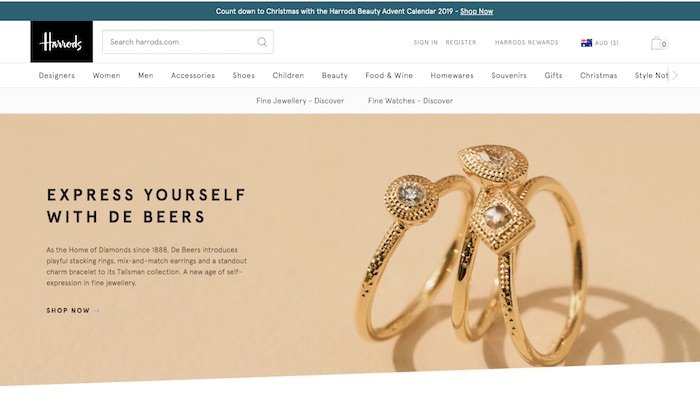 No.6: Harrods Online Shopping
Did you know it's now possible to shop Harrods products online?
It's true.
So if the kids are turning it on, and it's time to leave the store without seeing everything you wanted to see, you can scour the website in peace and quiet when they are in bed!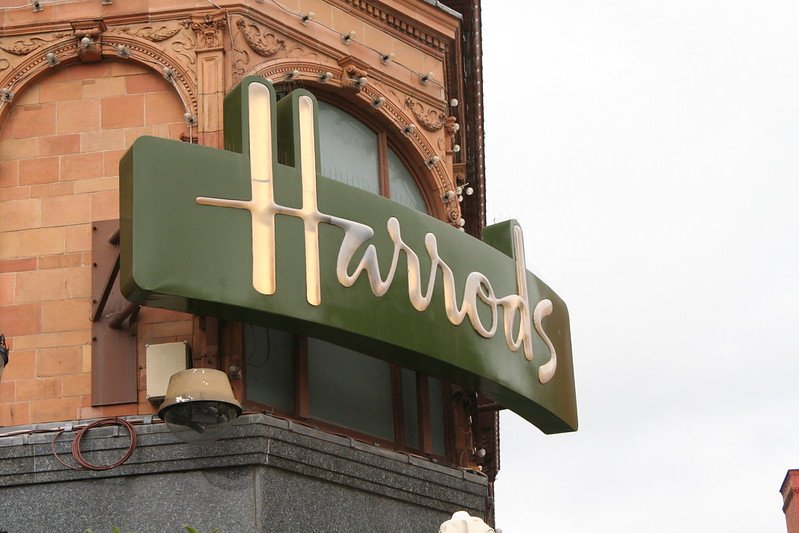 Image credit: Mario Sanchez Prada via Flickr CC By-SA 2.0
THE INSIDE SCOOP: Directions to Harrods London UK & more.
Correct at time of publication on Roam the Gnome. Please check with venue for updates. We apologise in advance if there have been any changes we are unaware of. All prices in pounds, unless otherwise stated
Where is Harrods in London?: The Harrods location is 87-135 Brompton Road, Knightsbridge, London, SW1X 7XL, United Kingdom
What street is Harrods on?: Harrods main entrance is located on Brompton Road, near the Knightsbridge London Underground station. Follow the directions to Harrods below.
Phone: For General Store Enquiries +44 20 7730 1234. Monday to Saturday – 9:45am to 9pm and on Sunday – 11:30am to 6pm
Website: Click here
Entry fees: Harrods is free to enter.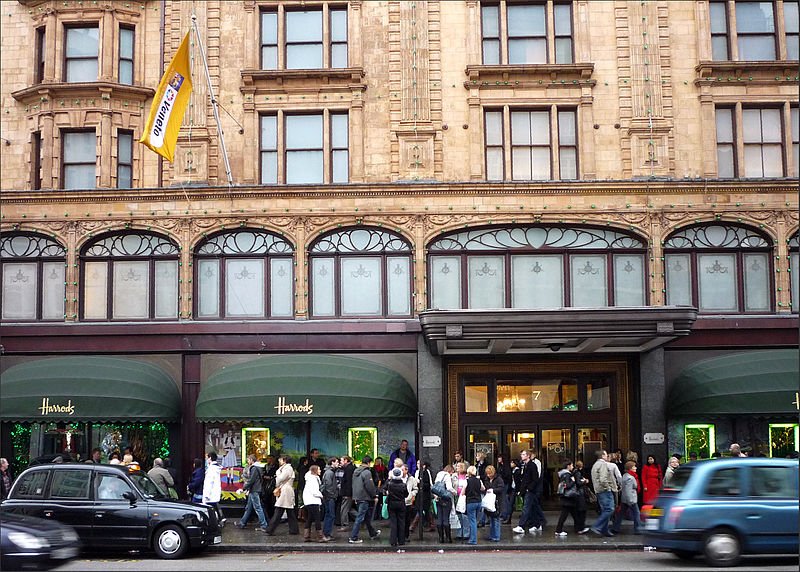 Image credit: Oxfordian Kissuth via Creative Commons V.3.0
Harrods Opening Hours
The Harrods London hours are:
10am to 9pm, Monday to Saturday
11.30am to 6pm, Sunday
Harrods Closing Time
9pm Monday to Saturday
6pm Sunday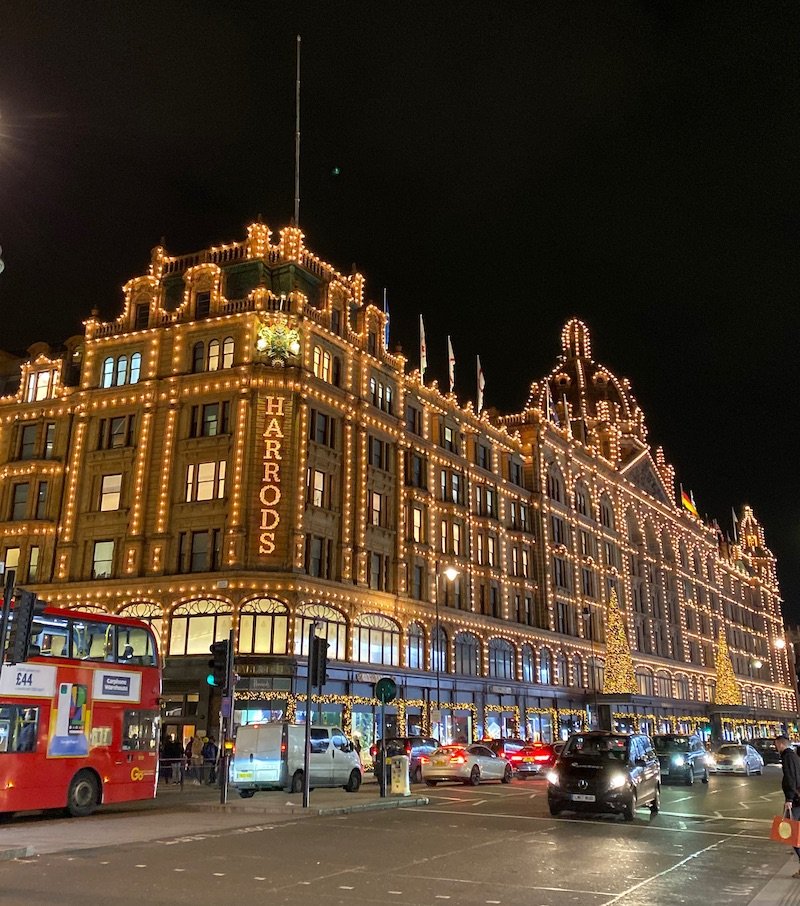 HARRODS DIRECTIONS
Directions to Harrods by Tube
The nearest tube station to Harrods is Knightsbridge station on the Piccadilly line. Use the Brompton Road exit to get from Knightsbridge station to Harrods. It's 3 min walk along Brompton Road.
South Kensington train station, on the Piccadilly, District and Circle lines, and Sloane Square, on the District and Circle lines, are just a few min walk from the store.
Please check the Transport for London website for the latest travel
Directions to Harrods By Bus
How to get to Harrods by bus? Take the following London bus routes: 9, 10, 14, 19, 22, 52, 74, 137, 414, 452, C1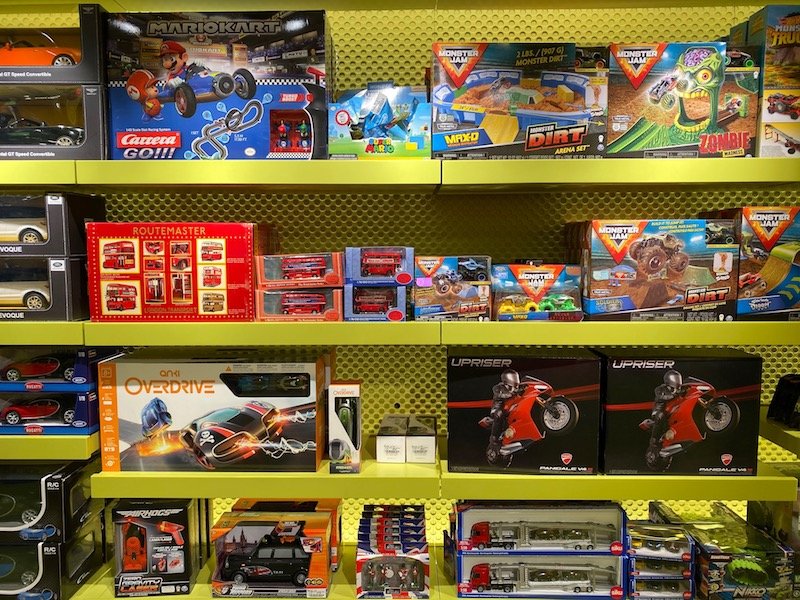 Directions to Harrods By Car
Directions to Harrods Parking
Valet car parking is located at Brompton Place, a short walk from the store.
The Harrods car park opens at 7:30am Monday to Saturday and 10:30am on Sunday, and closes 30 minutes after Harrods closes.
Parking Charges at Harrods England
0-2 hours £25
2-4 hours £37.50
4-6 hours £47.50
6-9 hours £60
Harrods does not fall into the London Congestion Charge zone.
If you wish to use your Sat-Nav to find us, please enter postal code SW3 1BB as this will take you directly to the store.
Map of Directions to Harrods Department Store London
Harrods Store Guide
Click the link in blue for a guide to Harrods Layout: Colour-coded Harrods Store Guide
Toadstool Rating: Harrods United Kingdom
Are you posh if you shop at Harrods? You sure are! It's one way to pretend you are Royal for the day!

Looking for More Things to Do with Kids in LONDON?
Click the links in blue below for MORE London fun.