INSIDE: Roam the Gnome's Guide – Visit London with Kids.
Hello, and welcome to Roam the Gnome Family Travel Website's London Travel Blog.
Roam the Gnome™ is the one-stop shop for SUPER DOOPER FUN ideas & activities for family travel when you visit London with Kids.
Together with Roam the Gnome, our charming travel companion, we explore all the best family-friendly adventures for kids in London and share our finds with you.
If you are looking for things to do in London with kids, you have come to the right place.
Check out our BIG list of London attractions below.
Click the blue links to read more, then add your favourite ideas to your London itinerary of the top things to do in London.
Disclosure: This article contains affiliate links. If you make a purchase after clicking on one of these links, we may receive a small commission at NO extra cost to you.

Visit London with Kids, the historic capital city of England
Correct at time of publication on Roam the Gnome. Please check with venue for updates. We apologise in advance if there have been any changes we are unaware of. All prices in AUD dollars, unless otherwise stated
London is the capital of England and the United Kingdom. London is also in our Top Five of Fun Family Cities around the world to visit at least once.
This modern city is built around historical architecture and events that go right back to the days of Roman rule.
The Thames River snakes its' way throughout the capital, and is bordered by amazing iconic destinations such as the iconic 'Big Ben' clock tower, the London Eye, and the Southbank Cultural and Entertainment Complex.
Nearby, you'll find:
Buckingham Palace
Famous London Museums
Harrods London Department Store
Portobello Markets in Notting Hill (the setting for the Julia Roberts & Hugh Grant film, Notting Hill)
Brick Lane
Princess Diana Playground in Hyde Park
Regents Park
Covent Garden
Trafalgar Square
Regent Street, and Bond Street Shopping Precinct.
READ MORE: The Ultimate Guide to the BEST London Playgrounds for Kids (NEW)

Places to Visit in London – Suggestions for your London Trip
On our London Travel Blog, we share:
places to go in London with kids
ideas for London tours
free things to do in London with kids
where to go in London for kid-friendly meals
the MUST DO things to see in London
all the SUPER FUN things to do in London with kids, (including the Discover Story Centre in Stratford for kids, pictured above)
London travel directions, so you can find these places quickly and easily.
We've said it before, and we'll say it again.
London with kids is a must-do holiday, and you CAN plan a London itinerary with kids on a budget if you choose. Visiting London with tweens before they turn into cynical teenage disagreeables is highly recommended.
The best thing is there's so many FREE THINGS TO DO with kids in London, so you can save your pennies and pounds for delicious food, souvenirs, and special bucket list adventures.
Here's a few more ideas to start you planning.

Destination: London with Kids
These is a list of our best things to do in London with kids.
Visit the BIGGEST TOY STORE in London, Hamleys Toy Store London. Hamleys London is on one of London's most picturesque streets too.
Hamley's is also very close to a few fabulous playgrounds in Regents Park, but to get there, you have to walk past iconic London fashion stores and famous London Department stores. Sounds like the perfect place for a win-win! Shop longer by promising the kids a big play at the park afterwards.
There's a GLASS WALKWAY at the Tower Bridge Exhibition and the kids love the view of the River Thames. Roam the Gnome, and I did too. (Plus, there's a sticker book adventure to keep the children engaged) Read our review of the Tower Bridge for kids.
Did you know you can book a VIP experience with early access to the Tower of London where you can watch the official opening ceremony, AND see the Crown Jewels before the crowds arrive, AND visit the Tower Bridge to walk the glass floor? I know! How cool is that.
Harrods with Kids is an awesome day out! (Hot tip: Join the Kids Club before you visit and join in special themed events with the locals – read how in our full review of Harrods for kids) The Harrods London Food hall is a must-see too.
There's tonnes of family friendly museums with hands-on activities to help kids learn about London. Our favourite of the bunch is a toss up between the Museum of Childhood in Bethnal Green (otherwise known as the Toy Museum London), or the Discover Story Centre in Stratford. If you have time, visit both!
We also highly recommend you visit Kidzania London, the mini-city for kids with REAL LIFE experiences. (Kidzania is our NUMBER ONE thing to do with kids after Disney theme parks.)
If you plan to visit London with kids, Roam the Gnome Family Travel Blog will help save you time, stress & money when planning to BOOK YOUR NEXT TRIP!

LONDON HOTELS FOR KIDS
On our most recent trip, we stayed at the Grand Plaza Apartments in Bayswater. It's in the best area to stay in London with family. Check latest prices. Read full review.
Notting Hill, Hyde Park, Kensington Gardens and the Princess Diana Memorial Playground are on your doorstep, and the Science Museum and the Natural History Museum of London (pictured above) are just a 15 minute stroll away.
If you are wondering where to stay in London with family, you will NOT find any better location in the city for a family stay. This bonus is, this posh-looking Victorian townhouse style hotel makes you feel like near-royalty.

More Family Hotels in London
London family hotels range in price from budget to blow out. Here's two more places to stay in London to add to your research list.

LONDON SHOPPING WITH KIDS
Do not miss London'S BIGGEST TOY STORE or visit London to see the iconic HARRODS Department Store and pretend to be posh for the day!
Visit Benjamin Pollocks toyshop in Covent Garden and pick up a timeless classic toy from Victorian days
Old Spitalfields Markets is a great rainy day adventure for shoppers
Or you can go Souvenir Shopping for chocolate treats and more at M and M World London

EATING OUT IN LONDON
Wondering where to eat in London with Kids?
Do not leave London without trying at crepe at the Portobello Market – the market was also the famous setting for the romantic comedy Notting Hill, featuring Hollywood stars Julia Roberts and Hugh Grant!
Try all kinds of world cuisine at these affordable Sunday food markets – you'll roll out!
Need a quick budget breakfast before a big day of London sightseeing? We love the bakery chain, Pret a Manger – it's a quick and healthy breakfast stop that won't break the bank. We recommend trying their soups for lunch too.
Try delicious bubble tea at the Candy Cafe in London
This quirky cafe sells breakfast cereal all day long! Enjoying breakfast cereal for afternoon tea is one of the coolest things to do in London with children.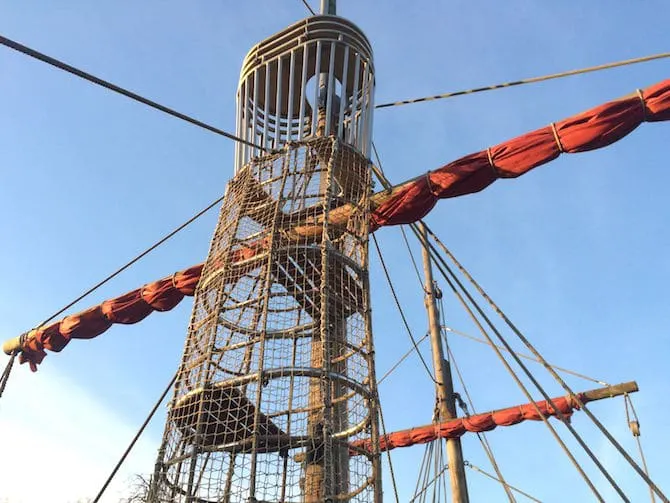 LONDON PLAYGROUNDS FOR KIDS
READ MORE: The Complete Guide to ALL the BEST London Playgrounds for Kids

ART GALLERIES & MUSEUMS IN LONDON FOR KIDS
Here's our list of our favourite London museums for kids and families from our personal experience.
READ MORE: The Complete Guide to ALL the Best London Museums for Kids

MORE FUN THINGS TO DO IN LONDON WITH KIDS
Need more ideas for fun things to do in London for kids? Read on…
Take a family cruise on the Thames and see so many of London's big sights!
See those same LONDON sights from the SKY! Jump the queue by booking a 'tour' on the LONDON EYE , and hear lots of interesting stories and legends about the iconic London buildings you see.
Southbank is an entertainment centre opposite Big Ben, and next to the London Eye. There's lots to see and do including street entertainment, and this three-storey games arcade, Namco Funscape London. It's the first place we've ever ridden the Typhoon "rollercoaster" slot car ride. Awesome fun!
If you do go to Southbank on the Thames, don't miss DreamWorks Shrek's Adventure Tour. It's touristy, yes, but lots of fun for kids, young and old.
If you happen to be in London in May, take the kids back in time to enjoy the enchanting Punch and Judy Festival in Covent Garden.

BEST ZOO IN LONDON
Check out all the fun you can have at London Zoo in Regents Park London.

MORE London with Kids ideas
We hope our tips help you to compile your London Vacation Bucket List with kids quickly and easily. We are thinking about creating a 2 day London itinerary or what to do in London for 3 days section.
Let us know in the comments if this would be useful to you, or email us direct at [email protected]
QUESTIONS ABOUT LONDON
What are some of the fun things to do in London with kids?
Kidzania London should be top of the list.
The London Transport Museum should be second.
A trip to the Harry Potter Studio Tour is a must for every HP fan.
What are good places to go with kids in London when it is wet and cold?
Shrek's Adventure Tour is a fun activity for a rainy day
The London Science Museum, or the Natural History Museum is our pick. Both museums are FREE, and right next door to one another.
What are the best activities to do with children when visiting London?
We suggest going on a London playground hunt. Regents Park in London is full of them, and it's lovely to wander this historical park surrounded by iconic London homes and buildings
Do not miss a visit to the best toy store in London either. Hamleys London is the biggest toy shop in London with loads of interactive games and activities for the kids on all floors. Their team members are friendly, and inclusive, and laugh a minute fun. Give the kids a budget to spend before you go, to avoid arguments at the checkout.

Where are the best places to go in London on a weekend for free?
In the warmer months, take a picnic to visit any of the Royal Parks.
This amazing network of green parks around the city are an untapped resource for travellers to London, and we've whiled many an hour or day here, feeding the ducks, wandering the pathways, playing on the nature playgrounds, and watching flowers bloom.
You can also visit the free museums in London, including:
the British Museum
National Gallery
National Army Museum
Museum of London Docklands
V & A museum (Victoria and Albert Museum)
Imperial War Museum
the National Portrait Gallery
our favourite London Museum, the Museum of Childhood!
If you are hunting for things to do in London on a rainy day, look no further than the list of museums in London above.
What month is the best to visit London?
If you are wondering when is a good time to visit London, you need to think about your goals.
Want to know what is the best winter month to visit London?
December is perfect if you are after a traditional Christmas experience with pretty street lights, fireworks displays, vintage Christmas trees, and royalty. But it's cold.
April is our favourite month to visit.
It's warming up, but many locals are still thawing out so there's not so many people about.
April is the BEST time to visit all the popular London tourist spots such as Buckingham Palace, Tower Bridge, Westminster Abbey or Tower of London.
Is March a good time to visit London?
Yes, we visited London in March on our last trip. It was still very fresh in the mornings, and the sun was gone by 4pm, but with a good scarf, coat, and thermal underwear, you can head out and about easily.
Should I visit London or Paris for my first visit to Europe?
We vote London.
It feels safer, and you don't have to worry so much about pickpockets or scammers trying to trick you.
It's a fabulous introduction into Roman culture and history, and there's ROYALTY, and a palace in the centre of the city!

THE INSIDE SCOOP – VISIT LONDON with Kids
LONDON WEATHER
What is the weather in London today? Click here to find up-to-date London Weather reports.
What is the best time to visit London with Kids?
March to May, or September to October to miss the major London summer rush and overcrowding. The weather is mild too – not boiling hot, but not cold either.
GETTING AROUND LONDON
Click here for the Visit London Official Visitor Website for all the details of getting around London on foot, by bus, by tube, by taxi, by rail, and by ferry.
VISIT LONDON ON A BUDGET
Looking to visit London on a Budget?
You can save LOADS of money with London Pass for the family.
A London Pass (like a New York pass) gives you access to 80 attractions and a 1-day hop-on-hop-off bus tour. You can buy access for 1, 2, or 3 days, or a week, then visit as many places as you can in that time.
Or, click here for a bunch of London discount coupons.
LONDON EVENTS (scheduled for your London Trip)
There are so many events happening in London, I can't keep up.
Firstly, check for the major events in London on the London Tourists and Visitors schedule here.
The problem is there's no ONE place to go to find ALL the best London events.
Pick a Theme
My tip is to pick your theme/topic/niche/hobby (for example, arts and craft, embroidery and Japanese boro stitching, painting, running, handmade markets, Sunday markets, plant dyeing fabrics, weaving, fishing competitions, train enthusiasts, plane spotters, school fetes, amateur theatre etc) and find the leading website in that field in the city.
They'll be the ones who are in the know for all the smaller, more local events that are on during your visit.
These are my kinds of events. I'm not keen on the major events on the Tourism Calendar, unless it's Wimbledon. These kinds of events are packed with people, expensive, and impersonal.
I much prefer turning up to something community-minded, where the food is handmade by the friendly community volunteers or parent helpers, and is priced for my traveller's budget.
This is where the magic of travel happens too – meeting the locals, and digging deeper into the way of life.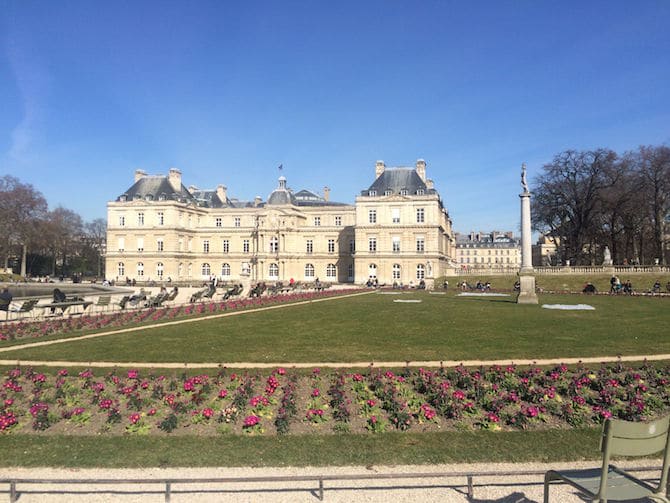 Weekend Trips
If you are visiting London, you might take a side trip to London's close proximity to two of the world's greatest cities – Paris and Rome.
Take a peek at our favourite kid-friendly places to visit in Paris and Rome at the links above, and below.
LOOKING FOR MORE FUN CITIES TO VISIT WITH KIDS?
We'd love to help. Click the links in blue below for our Ultimate Destination Guides.
Disclosure:
This website contains references to products and services from our favourite brands. Some of these are affiliate links. If you make a purchase or booking after clicking on one of these links on Roam the Gnome™, we may receive a small affiliate commission at NO COST to you. For our Disclosure and Disclaimer statements, and an explanation of our Advertising policy please click here
Roam the Gnome™ is a participant in the Amazon Services LLC Associates Program, an affiliate advertising program designed to provide a means for sites to earn advertising fees by advertising and linking to amazon.com, amazon.co.uk, amazon.ca. Amazon and the Amazon logo are trademarks of Amazon.com, Inc. or its affiliates.
Thank you in advance for your support in helping us to grow Roam the Gnome Family Travel™ Website Directory. Bookmark this page to keep us safe and sound.