INSIDE: The Ultimate Guide to travelling in Australia with kids can be found at this Australia Travel Blog, Roam the Gnome™.
Thank you for visiting ROAM THE GNOME Family Travel Website.
Roam the Gnome's AUSTRALIA TRAVEL BLOG is a one-stop shop for SUPER DOOPER FUN ideas & activities for family travel in Australia with Kids.
We try to answer all your questions about planning an Australia trip including:
When is the best time to go to Australia?
When is the best time to visit Australia?
Why should I visit Australia?
What are the main attractions in Australia?
Whats the best way to travel in Australia?
What are some interesting things to do and see in Australia?
Is Australia a good travel destination?
What travel insurance do I need in Australia?
What travel accessories are a must in Australia?
The one question we can't help you with is: how to travel Australia with NO money?
Even when you take advantage of the free camping in Australia (and there's LOTS), you need some savings, for food and petrol, and car repairs. The roads in the Australian outback are not kind to vehicles!
Take a look at our collection of ideas for family travel in Australia with kids below.
Disclosure: This article may contain affiliate links. If you book a product or service after clicking on one of these links, we may receive a small commission at NO extra cost to you.

Roam the Gnome's Australia Travel Blog Tips
Correct at time of publication. Please check with venue for updates. We apologise in advance if there have been any changes we are unaware of. All prices as per the currency of the country.
We're gathering the best of Australian places to visit with kids, and travel tips. This country is giant-sized, so we're continually adding to the list of places to visit in Australia too, including the Great Barrier Reef, and more off the beaten track and adventure travel too.
Pop back regularly to see what's new.
We've also published lots of useful tips to help plan your family vacation itinerary in Australia, including information on Australian visas for tourists, the best healthy road trip snacks to take with you on Australian road trips, and the best travel products you need to cope with the harsh Australian climate.
Plus the COMPLETE GUIDE TO AUSTRALIAN SOUVENIRS! (Unique, cool ideas including fashion, footwear, art, design, handmade goods, and more. Not the junk.)
Click on the links below in our Australian travel guide to find all the information you need to know before you visit these main hubs and cities in Australia, plus how to book the best Australian holidays for families.
We guarantee that Roam the Gnome Family Travel Blog will help save you time, stress & money when planning to BOOK YOUR NEXT TRIP! We invite you to read our stories and watch our videos.
PS: Did you know we feature cities across the world? Search the menu, city by city, and start planning your travel with kids around the world too.
READ MORE: Our top tips for planning family travel – start here
Things to do in Australia on a Budget
Travelling Australia on a budget?
At Roam the Gnome, we feature tips to help you travel Australia on a budget, and how to save money travelling Australia, but we also share ideas for 5-star splurges too.
Aussie travellers quickly learn that when you travel anywhere in the Australian bush, there are times you need to step away from the flies, the red dirt, and the dust to keep your sanity.
We ADORE exceptional experiences, amazing one-of-a-kind adventures and the odd VIP stay, and share ideas on how you can book these things too.
FEATURED CITIES – AUSTRALIA WITH KIDS
Australia Attractions you must not miss!
Take a look at our list of the best Australia tourist attractions to visit with kids.
SYDNEY TRAVEL BLOG
Best Things to do in Sydney with Kids
Sydney is a BIG city, so planning your day out with kids in Sydney is vital. It's one city where a google map search may lead you up the proverbial garden path.
Things LOOK close together, but they are not.
Or the attractions in Sydney you want to visit are one or two kilometres apart, BUT the traffic congestion to get from one place to another doubles or triples your estimated travel time.
Which is why we are in the process of writing up a bunch of our favourite Sydney itineraries to help. (Check back soon!)
In the meantime, we definitely suggest:
a day in the CBD, starting at the Powerhouse Museum, walking through Chinatown, and up to Darling Harbour (check out the playground there) and taking in the view of the Opera House anywhere you can
A day trip around the Watsons Bay area to visit all the Sydney Harbour beaches and swimming spots
Take the scooters in the car when you go to Luna Park (Coney Island wooden slides are a must do). When you are finished with the rides and funfair fun of Luna Park, grab the scooters from the boot and ride your way around to Wendy Whitley's Secret Garden, then over the Sydney Harbour Bridge to Barangaroo sandstone shoreline.
Hot tip: catch a cab back to the car. The kids will be exhausted!
Click here for the Ultimate Guide of THINGS TO DO IN SYDNEY WITH KIDS
---

BRISBANE TRAVEL BLOG
Best Things to do in Sydney with kids
Brisbane is our top city in Australia to visit with kids, and lots of you think so too!
We think it's because of the combination of a few things. The glorious warm weather and bright blue sunny skies, coupled with the exceptionally family-friendly CBD zone with world-class shopping on one side of the river, and Southbank entertainment zone, with the popular Streets Beach swimming pools and Southbank adventure playgrounds on the other.
People are friendly, there's a laid-back feel, and the traffic is non-existent when compared to other big Australian cities. You can actually get from place to place in the time it should take!
We love it, and visit OFTEN as it's just "up the road" (1 hour, 45 from Byron Bay shire where we live.)
Brisbane, you're the best.
Click here for the Ultimate Guide of FUN THINGS TO DO IN BRISBANE WITH KIDS
---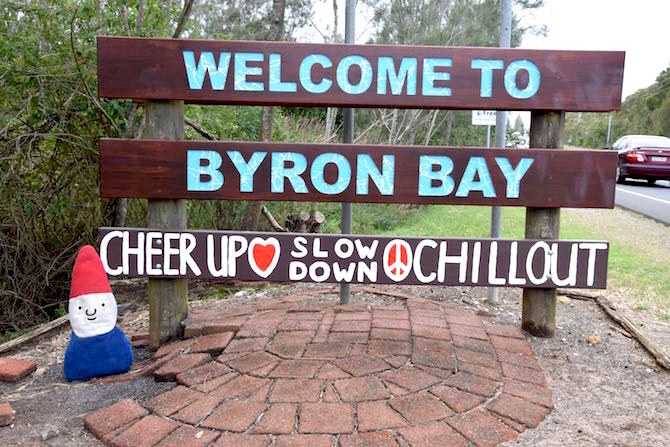 BYRON BAY TRAVEL BLOG
Things to do in Byron Bay with kids
Byron Bay is the epicentre of hippie happiness (although the traffic IS starting to grate on everyone's nerves).
The first thing you notice is the GLOW.
No joke.
We've lived here for 7 years now, in a town just up the road, and everyone we meet shines a light.
It's the yoga, and healthy eating, and the sunshine, and the ocean swimming, and bliss balls, and farmer's markets every day of the week. No wonder half the world wants to move here.
Byron Bay is not known for its' kid friendliness, but if you dig just below the surface, you'll find HEAPS of things to do in Byron Bay with kids.
CIRCUS ARTS in Byron Bay is but one fun adventure place. Start there.
Click here for the Ultimate Guide of FUN THINGS TO DO IN BYRON BAY WITH KIDS
---
GOLD COAST TRAVEL BLOG
Things to do on the Gold Coast with kids
The Gold Coast is where I grew up. It's now transformed from a medium-sized still-sleepy-in-some-parts beach town, into a cosmopolitan city to rival Sydney, Melbourne and Brisbane – with better weather AND arguably, the best beaches in Australia.
I love the Gold Coast with all my heart, and visit weekly as it's just 45 minutes from my house to Robina Town Centre shops.
We also pop up regularly to visit Grandma and Grandpa who still live there, along with the rest of our immediate family too.
The Gold Coast stretches from Coolangatta at the southern tip, right up to Paradise Point in the north, and west to Oxenford and Coomera, the home of Dreamworld, Movie World, and Wet 'n' Wild theme parks.
Surfers Paradise is the unofficial 'capital' of town, at the midpoint of the long stretch of Gold Coast beach.
Just south of there, you can soak up the atmosphere of the beachside suburbs of:
Broadbeach
Nobbys Beach
Burleigh Heads
Tallebudgera Creek
Palm Beach
Currumbin
and Tugun.
Then there's the Hinterland behind – you can take a day trip to visit the mountain magic and quaint shopping streets of Tamborine Mountain, drink in the views from Springbrook Mountain, and hike around Binna Burra at the top of Beechmont.
You'll never be bored on the Gold Coast with kids!
Click here for the Ultimate Guide of FUN KIDS ACTIVITIES GOLD COAST style!
---
MELBOURNE TRAVEL BLOG
Things to do in Melbourne with kids
Melbourne is FULL of epic adventures for kids including street art, themed high teas, epic playgrounds, trampoline parks, kid-friendly science museums and art galleries.
Melbourne is FULL of heaps of cool things for parents to do too.
Shopping for one.
Eating for another.
Eating in Melbourne is about non-stop flavour and choices.
Hot tip: Stop by the Lygon street Italian restaurants at least once.
Click here for the Ultimate Guide of the BEST THINGS TO DO IN MELBOURNE WITH KIDS
---

CANBERRA TRAVEL BLOG
Things to do in Canberra with kids
The most surprising of all the states and territories in Australia, Canberra should be one of your top three cities in Australia to visit with kids.
I know it sounds strange, but it's TRUE.
This place has it all for kids!
Take a look below.
Click here for the Ultimate Guide of the BEST THINGS TO DO IN CANBERRA WITH KIDS
---
SUNSHINE COAST TRAVEL BLOG
Things to do on the Sunshine Coast with kids
The Sunshine Coast is home to Australia Zoo.
Need we say more?
No. But yes.
The Sunshine Coast has bright shiny-clean beaches, boutique shopping, mangrove boardwalks, cycle paths, camping and more.
Mooloolaba, Alexandra Headland, and Caloundra are relaxed and family-friendly beach towns. Noosa and Coolum are more upmarket, but equally as fun.
Head inland to visit the cute town of Eumundi, (and the weekly Eumundi markets), and into mountain country to see Montville, Maleny and Mapleton. (Check out our guide below to find the best playgrounds in Eumundi.)
The "Sunny coast" is a great place for a family holiday in Australia, the Gold Coast's less flashy cousin, just 1 hour and 20 minutes north of Brisbane via the M1.
Click here for the Ultimate Guide of FUN KIDS ACTIVITIES SUNSHINE COAST style!
---

PERTH TRAVEL BLOG
Things to do in Perth with kids
Perth is the most underrated city in Australia, probably because most people never get there in their lifetime. It seems SOOOO far from the east coast of Australia, and it's expensive to get there when you can fly to Bali for half the price.
But Perth and Freemantle (Freo to those in the know) has so much going for it.
Art and music, culture, mountain air, cafes, coffee and a fabulous food scene.
It's clean, the weather is divine, there's blue sky and turquoise oceans to swim in. Plus, Rottnest Island has QUOKKAS.
Put Perth on your bucket list of Australian adventures to take. It's the starting point for a trip north to the Kimberleys, Broome and Coral Bay or south to giant tree forest of Denmark, the wine country of Margaret River, and the whale haven of Esperance.
Or you can hop on the Indian Pacific for a journey east across the Nullarbor – one of our favourite train trips in the world.
Click here for the Ultimate Guide of the BEST THINGS TO DO IN PERTH WITH KIDS
---

HOBART TRAVEL BLOG
Things to do in Hobart with kids
Hobart is one of the most beautiful destinations in Australia, and with the opening of MONA, (The Museum of Old and New Art) in 2011, people are finally catching on.
Don't wait too long.
Book a trip now.
Spirit of Tasmania
Years ago, I did the overnight crossing on the Spirit of Tasmania while on a year-long trip around Australia.
I love boat crossings, and sleeping in cabins on giant ships.
Take my word for it.
This overnight journey is epic fun for kids.
Click here for the Ultimate Guide of the BEST THINGS TO DO IN HOBART WITH KIDS
---

FREQUENTLY ASKED QUESTIONS
When is the best time to go to Australia?
As locals, we'd suggest visiting the northern parts of Australia from the Northern Rivers, Byron Bay, Gold Coast, Queensland, Darwin, Broome and Kakadu in the late winter months, around mid-late August and early spring, or late Autumn in May.
This is when the temperatures are a comfortable 18-25 °C degrees celsius (66 – 75 °F) during the day, with cooler temperatures in the late afternoon and evening.
For most locals, this is the best part of the year, with crystal clear waters still warmish enough to swim in on a glorious day, and with magnificent blue skies for days on end.
Locals wear shorts and t-shirts, and keep a cardigan or light sweater in the car, just in case.
Do NOT visit northern Australia during the "build-up" to the rainy season (October, November) unless you want to sweat your entire day's fluid intake out from your pores. It's gross.
For the southern states of Australia, flip this around, and visit in the warmer months.
September to November, or March and April are good times of the year to visit Tasmania, Melbourne, Sydney, Adelaide, Canberra and Perth, Western Australia.
It's not too cold, but you skip most of the iciest part of the year. Some days in late January, and February are STINKING HOT in Melbourne and extremely unpleasant unless you are in air conditioning but it's hard to pick exactly when the hot blast will happen. Best to avoid.
Where should I travel in Australia if I have two weeks?
If you have limited time, do the East Coast.
Fly into Sydney, spend a few days checking out the Sydney attractions (see the Ultimate Guide to Sydney attractions above), then hire a car and do an East Coast road trip up via the coastal towns of NSW.
There's also plenty of day trips you can take from Sydney – the Blue Mountains, the Hunter Valley, Newcastle, and Kiama Blowhole, Berry & Kangaroo Valley.
Finish your road trip with a couple of days in the fabulous Byron Bay, and on the family friendly Gold Coast.
End your adventure with a quick flight to Cairns and explore the Great Barrier Reef.
Or if you prefer an outback experience, fly to Darwin and do a quick tour to Kakadu and Litchfield National Park!
The distances in Australia from city to city are huge. Don't waste too much time driving. Fly internally as much as you can.
What kind of visa do I need for Australia.
Find out all the information so you can organise the correct one here: Australian visas for tourists.
What do I gift someone travelling to Australia?
If they are going to Uluru and Alice Springs, a fly mesh hat is a necessity. You ditch the fashion sensibility pretty quickly when hundreds of flies start getting up your nose! This is our best Australia travel guide tip bar none.
This is the most important of ALL the Australia travel tips!
What travel insurance do I need in Australia?
Never travel without travel insurance. Our motto is 'if you can't afford travel insurance, you can't afford to travel'.
It's not worth the risk, especially when you travel with kids in Australia.
Take a look at our Travel Insurance cost comparison to work out the best travel insurance for Australia for your family trip.
Note that if you plan to drive in Australia, or do any of the action sports in Australia such as scuba diving, jumping out of an airplane over Byron Bay, swimming with sharks, riding dune buggies on Fraser Island or hiring a 4WD to tackle the beach highways on Moreton Island, you'll need to check your policy and add on the extras as needed.
What travel products do I need in Australia?
Here's a few things we never leave home without.
broad brimmed hats
sunglasses
fly mesh hat covers
beach towels – you will swim, a LOT!
sunscreen
light long-sleeved shirts and long pants for bushwalking adventures
travel packing cubes (we don't go anywhere without these vital travel accessories)
stingose gel or spray for ant bites, and beestings
a homeopathic first aid kit
powerboard
Australian travel adapter
How do I organise Australia Wifi Rental?
The best value 4G Wifi rental in Australia that we know and trust is through Wilh-ma, based out of Melbourne.
They ship your modem device anywhere in Australia for you to collect, and you post it back at the end of your rental in the prepaid post pack provided. It's hassle free!

LOOKING FOR MORE FUN CITIES TO VISIT WITH KIDS?
We'd love to help. Click the links in blue below for our Ultimate Destination Guides.
Disclosure:
This website contains references to products and services from our favourite brands. Some of these are affiliate links. If you make a purchase or booking after clicking on one of these links on Roam the Gnome™, we may receive a small affiliate commission at NO COST to you. For our Disclosure and Disclaimer statements, and an explanation of our Advertising policy please click here
Roam the Gnome™ is a participant in the Amazon Services LLC Associates Program, an affiliate advertising program designed to provide a means for sites to earn advertising fees by advertising and linking to amazon.com, amazon.co.uk, amazon.ca. Amazon and the Amazon logo are trademarks of Amazon.com, Inc. or its affiliates.
Thank you in advance for your support in helping us to grow Roam the Gnome Family Travel™ Website Directory. Bookmark this page to keep us safe and sound.