INSIDE: The Best Places to Visit in Hong Kong on a Family Vacation.
Heading to Hong Kong with kids in tow? Then you'll love this checklist of the Ultimate List of Things to Do with Kids in Hong Kong.
Hello, and welcome to our Hong Kong Travel Blog page, where we share:
the best places to go in Hong Kong
where to go in Hong Kong for kid-friendly food
our top MUST DO things to see in Hong Kong and
all the SUPER FUN things to do in Hong Kong with kids
As well as tips for getting around Hong Kong travel, so you can FIND these places quickly and easily.
Together with our little friend, Roam the Gnome, we love to explore all the best things to do with kids in Hong Kong and share our finds with you.
Hong Kong is a former British colony, now self-governing, located in southeastern China.
It's a spirited and heavily densely populated urban centre known for high fashion, fabulous food, and fast-paced lifestyle.
Take a look.
Disclosure: This article contains affiliate links. If you make a purchase after clicking on one of these links, we may receive a small commission at NO extra cost to you.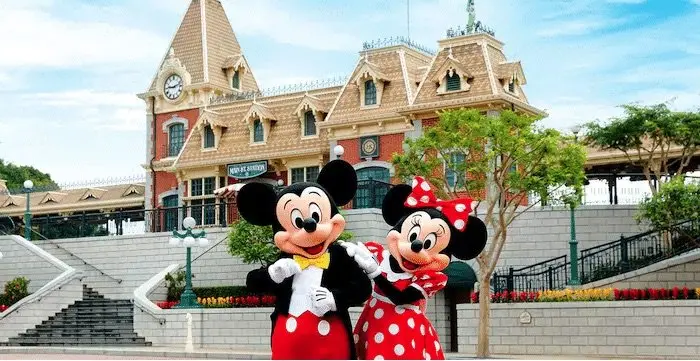 THE ULTIMATE HONG KONG TRAVEL BLOG
Correct at time of publication on Roam the Gnome. Please check with venue for updates. We apologise in advance if there have been any changes we are unaware of. All prices in HK dollars, unless otherwise stated
Best Hong Kong Attractions for Kids in the Four Regions
Places to Visit in Hong Kong? Our Suggestions for your Hong Kong Trip
If you are looking for fun things to do in Hong Kong with kids, you have come to the right place.
Check out our list of Hong Kong attractions below, then click the links to add these ideas to your bucket list of top things to do in Hong Kong on your next visit.
We've listed the Hong Kong attractions by district to make it easier to plan your itinerary.
Kowloon
Hong Kong Island
The New Territories
Lantau Island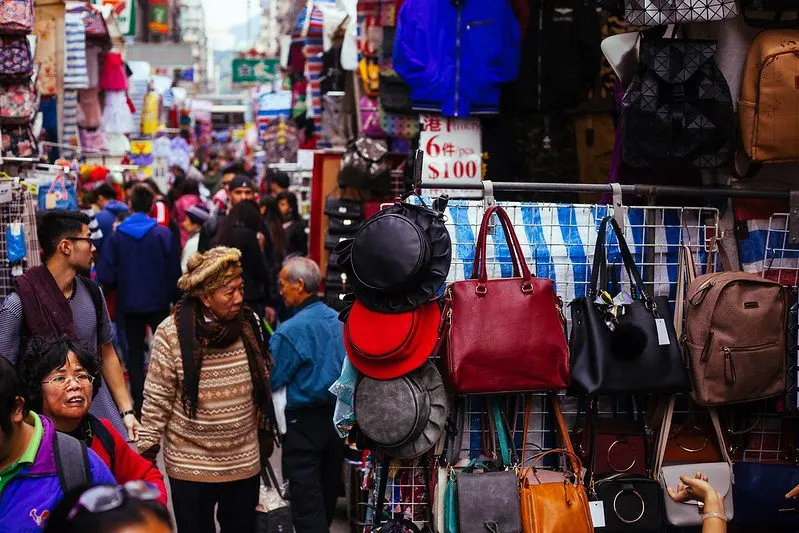 Image credit: Wwikgren via Flickr CC BY-2.0
The Best Places to Visit in Hong Kong
Hong Kong is an interesting place to visit with kids, even though it's rarely on the radar for most family travellers.
Hong Kong is a major shopping destination, and is a major port and global financial hub. The skyline is punctuated with skyscrapers around a busy harbour that combines modern day shipping marvels with ancient junk boats.
It's a haven of kid-friendly places to visit but don't expect to find many playgrounds.
They are almost non-existent.
But there are so many things to see in Hong Kong, including Hong Kong's very own "Happiest Place on Earth":
Hot tip: Hong Kong DISNEYLAND!
We've collected the best tips and tricks for Hong Kong sightseeing, so you'll know the must dos in Hong Kong, AND what to skip so you don't waste your precious holiday time.
PS: Get your 4G pocket wifi device at the airport, so you don't waste a minute getting lost.

HONG KONG ACCOMMODATION WITH KIDS
Readers often send us emails asking about the best family-friendly areas to stay in the Hong Kong provinces.
Hong Kong is busy wherever you go, so my pick is to be central on either Hong Kong Island, or in Kowloon, so that you don't have to walk too far to:
public transport
shopping
restaurants and eating areas, and
attractions.
Best Tip on Where to Stay in Hong Kong with Kids
Spoil the kids with a stay at Hong Kong Disneyland Hotel.
Children can join in DISNEY BEDTIME STORIES with Mickey Mouse.
Go on, you know you want to!
Check latest prices. Read full review.
---
RELATED: 8 of the Best Family Hotels in Hong Kong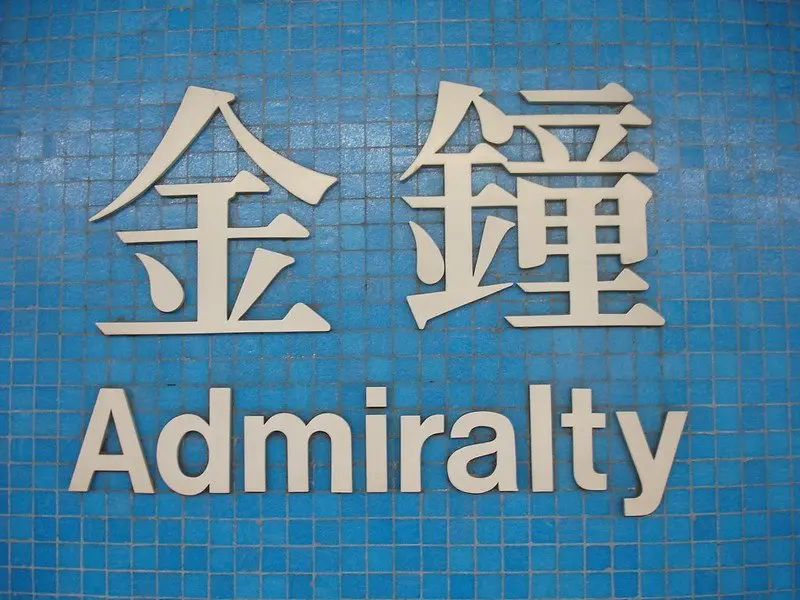 Image credit: Andrew Kippen via Flickr CC BY-2.0
WHAT AREA TO STAY IN HONG KONG?
The best districts for families to stay in Hong Kong.
Best areas to stay on Hong Kong Island
No.1: Central:
Love bright lights, big city vibes, bustling pathways, and being in the heart of it all?
Central is in the thick of it.
Upmarket hotels include the Four Seasons, and the Mandarins.
More budget friendly options include Ibis Hong Kong Central, and the Island Pacific Hotel.
No.2: Admiralty:
Want views over Victoria Harbour, and a feeling of space?
Admiralty, on Hong Kong Island, is the spot. It's the eastern part of the CBD near the water and close to Central.
Try the Shangri-La, or the Conrad.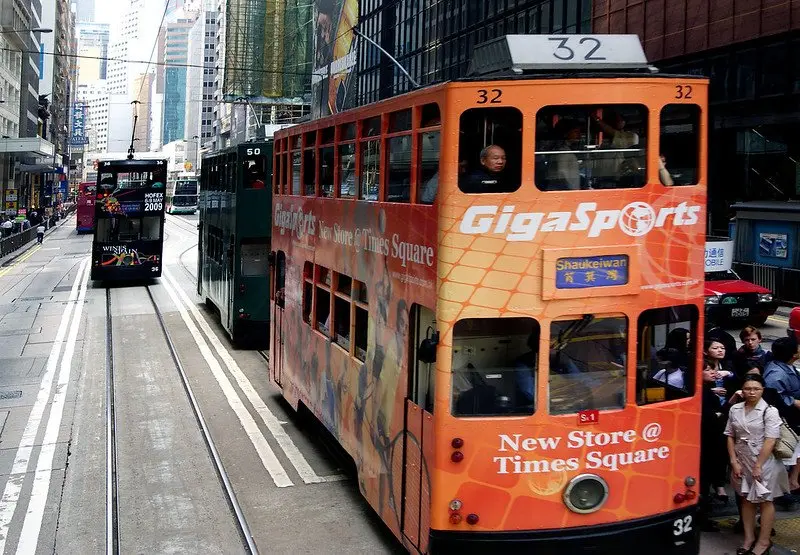 Image credit: Bernard Spragg NZ via Flickr CC BY-1.0
No.3: Wan Chai/Happy Valley:
Wan Chai and Happy Valley is just far enough out of the main hub so you can catch your breath.
Wan Chai is a busy commercial area filled with office workers and shoppers.
Specialty spots include Tai Yuen Street for toy stores, Queen's Road East for antiques and Wan Chai Computer Centre for tech.
No.4: Causeway Bay:
If you are in Hong Kong to shop till you drop, then Causeway Bay is your destination.
Fashion and style lovers, along with foodies, should book Causeway Bay. There's plenty of luxury malls, department stores and boutiques pack on the west side.
Causeway Bay hotels include Holiday Inn Express, Metro Park hotel, the Empire Hotel Causeway Bay, and the Grand Hyatt.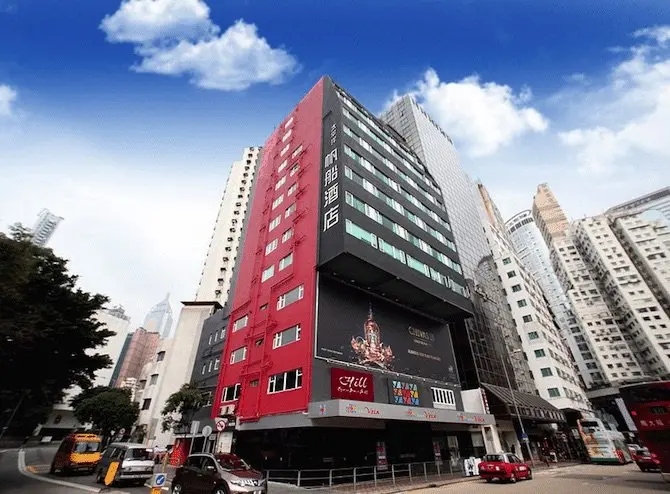 Family Hotels on Hong Kong Island
No.1: Vela Hotel Causeway Bay
Try one of the hotels near the Racecourse – we stayed in the VELA Causeway Bay.
My friend Tania, a Hong Kong expat for the past 14 years, couldn't believe the size of the room!
Check latest prices – Read full review.
No.2: The Dorsett Wanchai hotel
The Dorsett Wanchai (formerly the Cosmopolitan Hotel) on Queen's Road East is another incredibly good value hotel that is well loved by regular Hong Kong visitors.
Check latest prices.
No.3: Cosmo Hotel Causeway Bay
Tania also recommends the Cosmo Hotel to her friends and family.
It's the budget sister to the Dorsett.
Check latest prices.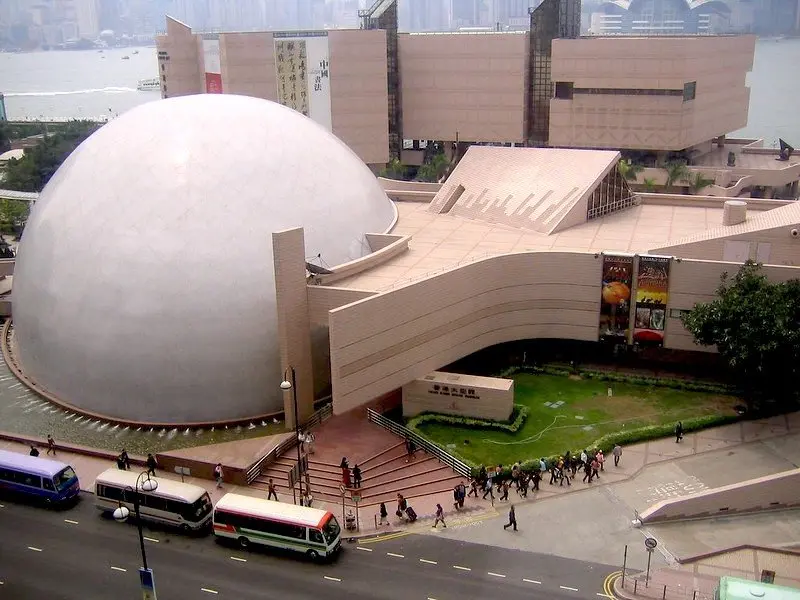 Image credit: Marcus Meissner via Flickr CC BY-2.0
Best areas to stay in Kowloon
No.1: Tsim Sha Tsui
This is a main shopping district in Kowloon, close to the harbour, and within walking distance to the Museum zone.
Hong Kong Space Museum (as pictured above)
Science Museum
Museum of History
Hong Kong Cultural Centre, and
3D Magical World.
No.2: Jordan
Jordan is very close to the Temple Street Night Market, and Kowloon Park, and the Kings Park playground.
No.3: Mongkok
Close to Yuen Po Bird Garden, Flower Market, Goldfish Market, Ladies Market, and Fa Yuen Street Market.
It's just a few stops on the train from here to the Snoopy World and the Hong Kong Heritage Museum at Sha Tin.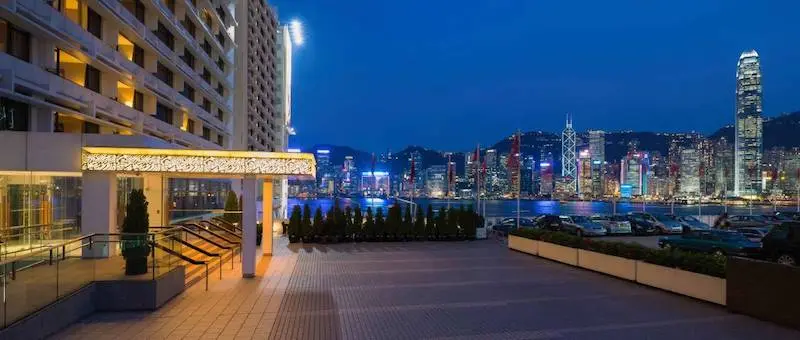 Family Hotels in Kowloon
No.1: Family Hotels in Tsim Sha Tsui
Check latest prices on any of these Tsim Sha Tsui hotels for families:
Marco Polo hotel (as pictured above)
Hyatt Regency
The Salisbury YMCA Hotel, or
the Langham.
These Kowloon hotels have pools:
The New World Millennium
the Royal Garden
the Kowloon Shangri-La and
the Hotel Icon
No.2: Family hotels in Jordan
Try the Novotel on Nathan Road
Or, the BP International Hotel, or the Mira, Hong Kong.
No.3: Family hotels in Mongkok
Try the Royal Plaza – book in advance for special deals as it is pricey.
Langham Place is another hotel to try.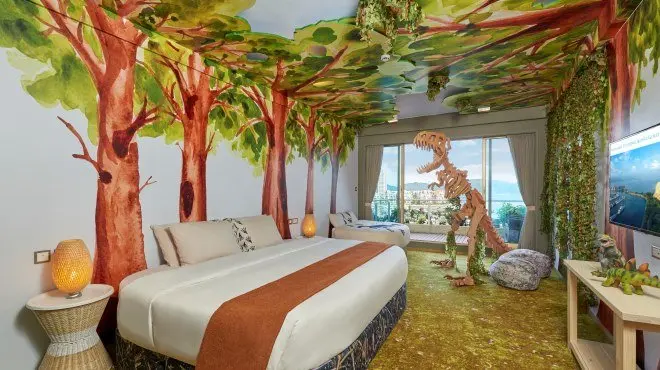 Family Hotels in the New Territories
Hong Kong is not the place for a beach holiday, but if you do like to stay close to water, try the Hong Kong Gold Coast Hotel in Tuen Mun, about an hour from Central.
They have 9 THEMED ROOMS FOR FAMILIES!
Check latest prices – Read full review.
The Best Kids Clubs In Hong Kong?
Details coming soon.

Image credit: Cattan2011 via Flickr CC BY-2.0
SHOPPING IN HONG KONG
What to Buy in Hong Kong? Best Hong Kong Souvenirs & Gifts
Authentic Hong Kong souvenirs
Traditional wares such as:
local arts and crafts
traditional silk clothing
porcelain tea sets
kitchen goods, and
antiques.
Try the galleries, antiques shops and street markets on Cat Street and Hollywood Road.
No.1: Fun Chinese Toys for Kids
Fun kitsch toys for all ages can be found at Stanley market. Catch a bus OR a boat.
Flash back to your childhood at Toy Street Market, the most fun market in Hong Kong for children

Image credit: ThisParticularGreg via Flickr CC BY-SA 2.0
No.2: Jewelry & Watches
Jewelry and watches are a good bet.
There's more jewellery stores in Hong Kong than anywhere else in the world.
Narrow your search by sticking to Tsim Sha Tsui, Mong Kok, Central, and Causeway Bay department stores or independent shops in the same area.
No.3: Fashion & Beauty
You'll be spoilt for choice for fashion and beauty products.
Head to Central or Causeway Bay for a stroll amongst it all.
Shop till you drop at Temple Street Night Market in Kowloon
No.4: Hong Kong food souvenirs
Visit Food Halls in Department Store basements for prettily packaged foods to take home for friends and family.
Pick up:
local spices
bottled sauces
dried noodles
packet seasonings,
herbs in sealed packages
along with a selection of kids' candy and snack foods.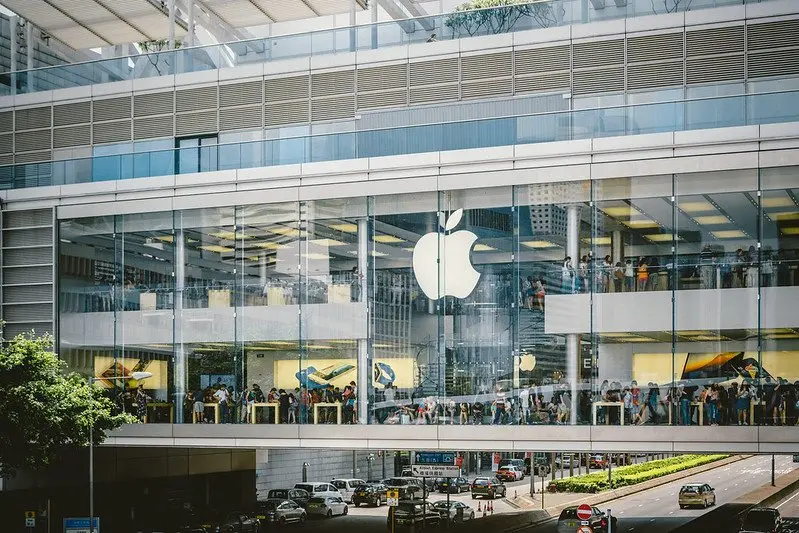 IFC Mall Apple Store – Image credit: Hans-Johnson via Flickr CC BY-ND 2.0
Shopping Malls in Hong Kong
Coming soon.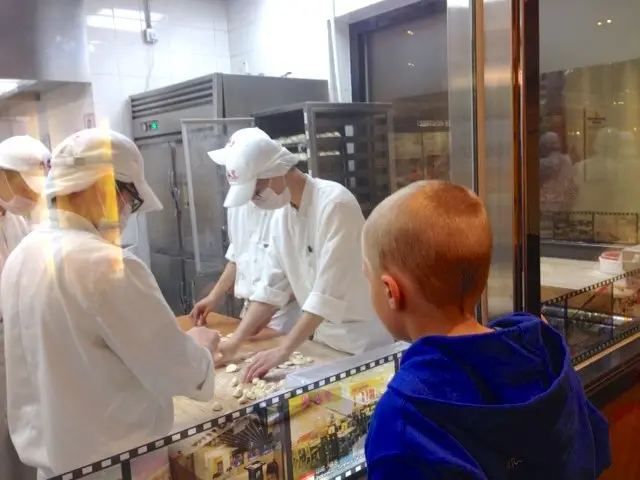 WHERE TO EAT IN HONG KONG
Start with Roam the Gnome's Guide to Fun Foods to Try in Hong Kong with Kids
Eating in Hong Kong with Kids
Eat at this budget-priced dumpling restaurant in Hong Kong – it has a Michelin star rating!
There's super cute cakes at the Hello Kitty Cafe in Hong Kong
Sadly, the Charlie Brown cafe is no longer open. But you can take a look back here.
Restaurants in Hong Kong
Fussy eaters will love Pizza Express in Hong Kong
Coming soon – Hong Kong Restaurants Guide

BEST THINGS TO DO IN HONG KONG WITH KIDS
Take a look at our comprehensive guide to Hong Kong attractions for families and kids below.
5 Best Attractions in Hong Kong
No.1: Hong Kong Pink Dolphins cruise
See the Pink Dolphins in Hong Kong Book a PINK DOLPHINS CRUISE for your chance to get up close and personal
No.2: Things to do at Victoria Peak
There's tonnes of fun things to do at the top of Victoria Peak (Ride the Peak tram to get there)
No.3: Goldfish Market Hong Kong
Visit Hong Kong Goldfish Market to see fish, lizards and reptiles
No.4: Yuen Po Bird Gardens
Hear the Songbirds at Yuen Po Bird Market in Hong Kong
No.5: Hong Kong Escalator Street
Ride the World's Longest Escalator Street in Hong Kong!
Fun Playgrounds in Hong Kong
Visit one of Hong Kong's Best PLAYGROUNDs for kids.
Middle Road playground in Tsim Sha Tsui is lots of fun.
Hong Kong Zoo and Botanic Gardens has a fun playground too!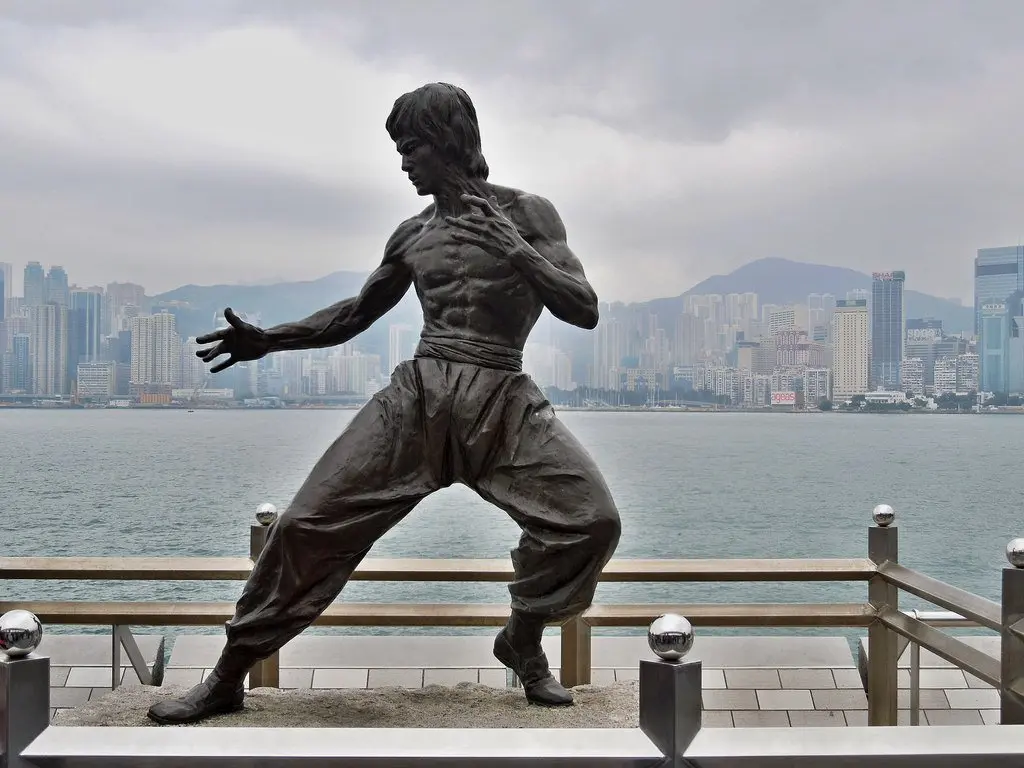 Museums in Hong Kong for children
These top Hong Kong Tourist Spots are perfect for elementary school kids.
No.1: Hong Kong Heritage Museum
The Children's Gallery at the Hong Kong Heritage Museum in the New Territories is EPIC
No.2: Hong Kong Avenue of stars
Check out the Hong Kong Avenue of Stars on the Tsim Sha Tsui promenade by the Victoria Harbour waterfront.
No.3: Science Museum Hong Kong
The Hong Kong Science Museum in Kowloon is full of hands-on activities for kids
It has a dedicated Children's Gallery too
---
RELATED: The Top 16 Things to Do in Hong Kong with Kids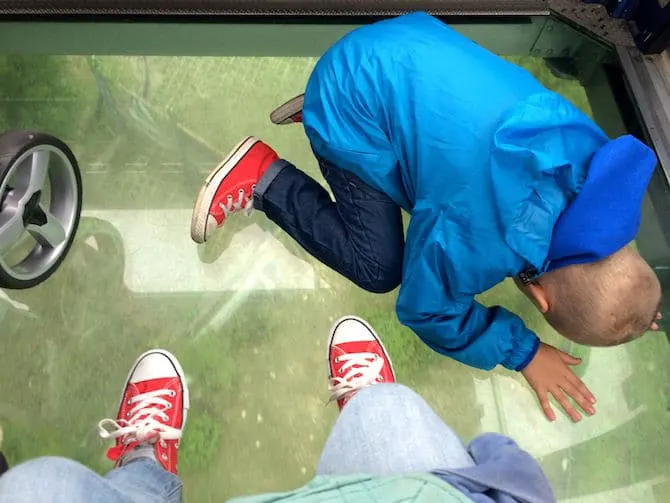 Best Theme Parks in Hong Kong
No.1: Ngong Ping Hong Kong
Ride a Crystal-Bottomed Cable Car to NGONG PING 360 with Kids to see the GIANT BUDDHA
No.2: Snoopy World Hong Kong
Take the kids to this FREE SNOOPY THEME PARK in Sha Tin.
No.3: Ocean Park for toddlers
Here's a list of the best things to do at Ocean Park Hong Kong with toddlers and kids
No.4: Disneyland Hong Kong
Best of all, don't miss HONG KONG DISNEYLAND.
HK Disney is the place of dreams, AND yummy Disney snack foods!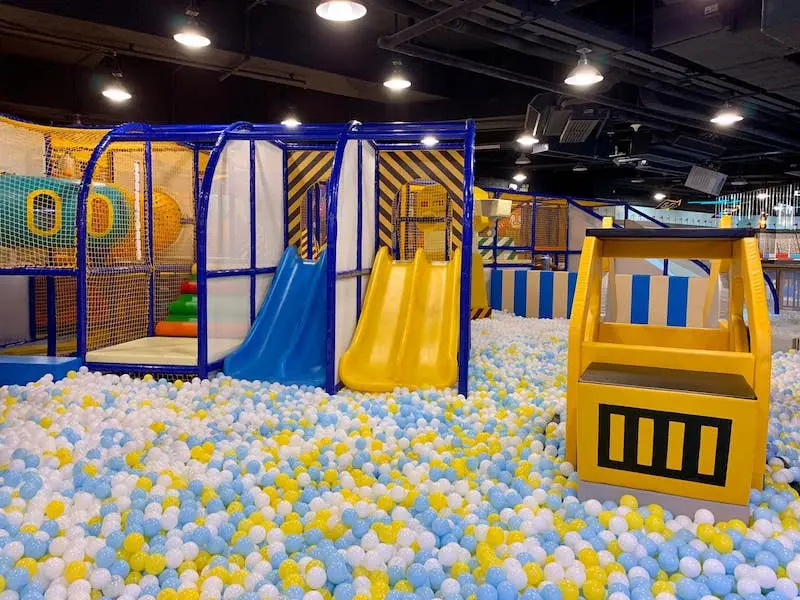 What to do on a rainy day in Hong Kong
Looking for things to do in Hong Kong on a rainy day?
Visit one of Hong Kong's favorite Jumping Gym indoor playgrounds.
These games arcade/workshop/indoor play space facilities are popular all year round.
The Best Beaches in Hong Kong for Families
Coming soon

MORE things to do in Hong Kong for Kids
Read this guide to the Top 5 Hong Kong attractions for kids who love animals!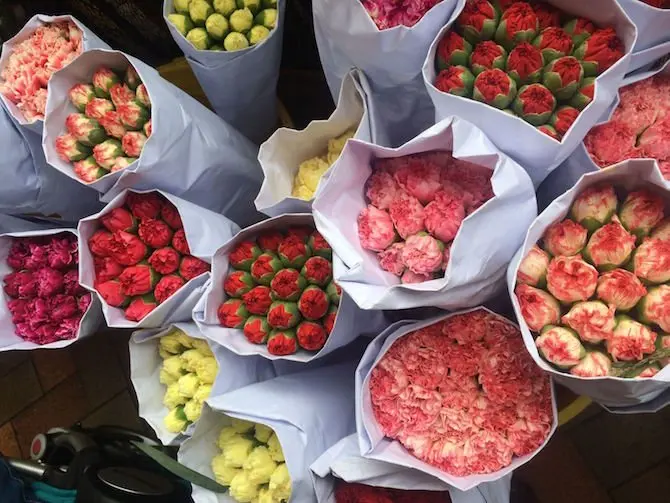 MORE THINGS TO DO IN KOWLOON
Explore Hong Kong tourist spots like the Flower Market road.
MORE THINGS TO DO IN NEW TERRITORIES HONG KONG
Coming soon
MORE THINGS TO DO IN LANTAU ISLAND
Coming soon

HONG KONG TOURISM – FAQ
Frequently Asked Questions about Hong Kong
No.1: Is it safe to travel to Hong Kong?
Yes, Hong Kong is clean, safe and a great place for families to travel. (Did we mention Disneyland yet?)
Check Smart Traveller for latest travel warnings.
Exercise normal safety precautions in Hong Kong. Use common sense.
Make sure your passport is valid for at least six months after the date you intend to return to Australia.
No.2: Best time to travel to Hong Kong
Peak season for tourism is October-December.
You'll also want to book well in advance of Lunar New Year (late January or early February)
Shoulder season (March to May, or September) is a good bet all round.
Avoid Typhoon season – May to October/Early November.
Businesses and transport services close during severe typhoons.
Monitor weather forecasts and local media. Plan accordingly and follow the instructions of local emergency officials.
No.3: Weather in Hong Kong
What is the weather in Hong Kong today?
Click here to find up-to-date Hong Kong Weather reports.
September to November (Autumn) is the most popular time to travel to Hong Kong as there are cool breezes, it's full of sunshine, and temperatures are a mild 19oC to 28 oC
March to May (Springtime) is considered the other best time to travel to Hong Kong for good weather. It's warmish all day long (average temperature 17oC – 26 oC) but not overly humid. Evenings can be cool. Take a jumper.
Awesome months for pool time and beachside vacations are June to August when Hong Kong is hot, humid and sunny, with occasional showers and thunderstorms.
The temperature can exceed 31°C but high humidity levels can make it feel even hotter.
Average temperature is 26oC – 31 oC

Image credit: Ian Barbour via Flickr CC BY-SA 2.0
No.4: Currency in Hong Kong
The Hong Kong dollar (HKD), is the legal currency of Hong Kong.
No.5: What's the exchange rate in Hong Kong today?
Click here for current exchange rates for Australia
Click here for current exchange rates for United States
Click here for current exchange rates for EURO
Click here for current exchange rates for GB Pound
No.6: How do I change my money in Hong Kong
Exchange your currency for Hong Kong dollars at any authorised money exchanger.
For extra peace of mind, look for a money exchanger that is accredited by the Quality Tourism Services (QTS) Scheme.
Currency exchange counters are open from early morning until late at night at Hong Kong International Airport.
You'll also find a number of Currency Exchange counters in the city stay open late for the tourist trade.
It's super easy to find an ATM – they can be found throughout the city, and operate 24 hours.
Exchange rates fluctuate daily depending on currency markets.
(Click above to see today's rate on XE for a guide)

No.7: Should I take a stroller to Hong Kong?
Yes, Hong Kong is stroller friendly, with well-made pathways and walkways in most urban areas.
(The Britax B-Clever stroller is a great choice for family travel.)
There's TONNES of concrete paths in this city, and lots of walking.
BYO stroller, pram, or our favourite baby toddler carrier, the Ergo.

No.8: Is there a kids playground at Hong Kong Airport?
Yes.
Hooray!
There's more than one playground in the departure lounge at Hong Kong airport, plus children's TV lounges.

TRANSPORT IN HONG KONG
Getting around Hong Kong
Click here for all the details of getting around Hong Kong on foot, by bus, by MTR, by taxi, by tram, by ferry, and by train.
Here's a challenge:
How many different types of transport in Hong Kong can you catch in one day?
Take a look at our guide to Hong Kong Public Transport vehicles to ride
(The photo above is the boys on the Star Ferry with our Hong Kong based friend Tania back in 2015.)
Remember, to catch the iconic and historic Star Ferry across Victoria Harbour and ride on the Aqua Luna Chinese Junk boat too.
Best Hong Kong Tours
Coming soon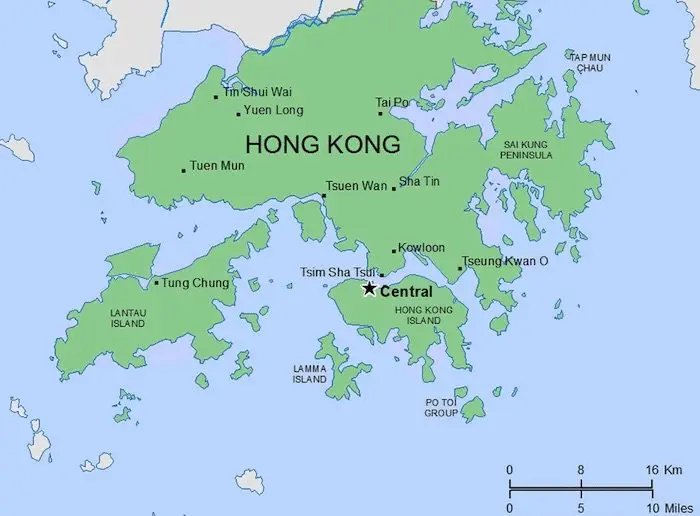 Best Hong Kong Day Trips – Our Hong Kong Travel Blog Suggestions
Our Best Hong Kong 1 Day itinerary options
Coming soon
Our Suggested 2 Day Hong Kong itinerary
Coming soon
Our Suggested 3 Day Hong Kong itinerary
Coming soon
Hong Kong Tourist Map
Plan your Itinerary with this Hong Kong Map here.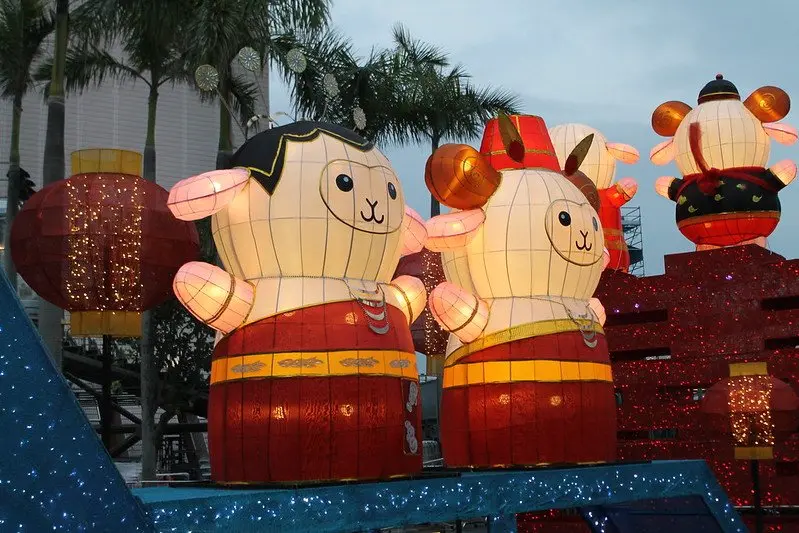 Image credit: Ian Glen via Flickr CC BY-2.0
PLANNING YOUR HONG KONG ITINERARY
Hong Kong Events – Things to do in Hong Kong During your Visit
Click here for all up and coming Hong Kong events.
There's a search function – search by category:
dance shows
opera and concerts
markets
arts events (Hong Kong arts month)
sports events (Dragon Boat festival)
foodie events (Hong Kong Great November Feast, and the Hong Kong Wine & Dine festival)
current museum exhibitions, and
stage productions
Find the rest of our stories on Hong Kong with kids here
Hong Kong on a Budget
Click here for tips on how to visit Hong Kong on the cheap

Image credit: KawaiiKiri via Flickr CC BY-SA 2.0
STAYING HEALTHY IN HONG KONG
(With thanks to Smart Traveller.)
Before you leave Australia, check if your medication is legal in Hong Kong and each destination you're travelling to and find out if any quantity restrictions or certification requirements apply.
Consult your doctor about alternatives well in advance of travel.
In Hong Kong, it is illegal to possess sleeping tablets or certain medications used in treating conditions such as anxiety without a prescription.
Take legal prescription medicine with you so you remain in good health.
Always carry a copy of your prescription or a letter from your doctor stating what the medicine is, how much you take and that it's for personal use only.
The levels of air pollution in Hong Kong may aggravate bronchial, sinus or asthma conditions.
If you have an existing heart or respiratory illness, reduce physical exertion and outdoor activities on days when very high pollution levels are recorded.
The Hong Kong Environmental Protection Department provides up-to-date air quality reports and advice on its website.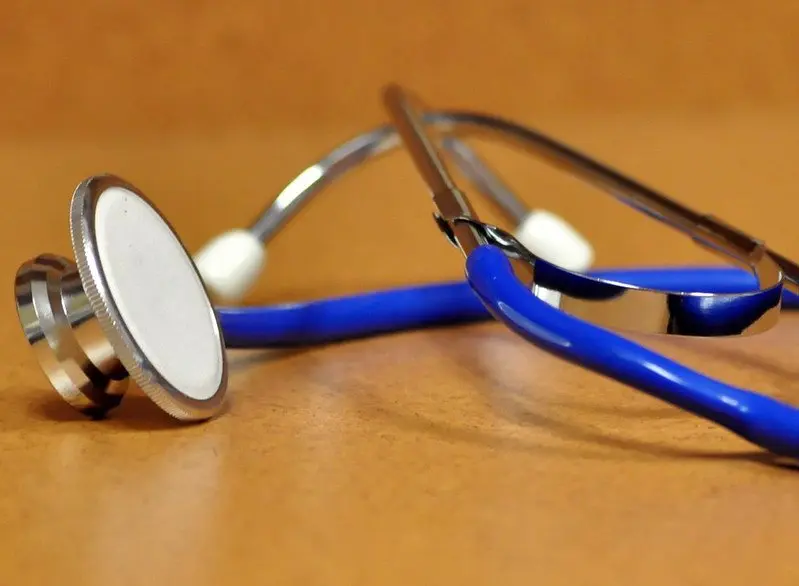 Image credit: Jasleen Kaur via Flickr CC BY-SA 2.0
Medical Help in Hong Kong
Hong Kong has a wide range of medical services and facilities that are of a high standard.
Costs can be considerably more expensive than in Australia.
Private hospitals may require confirmation of insurance cover, guarantee of payment or an upfront deposit before admitting patients.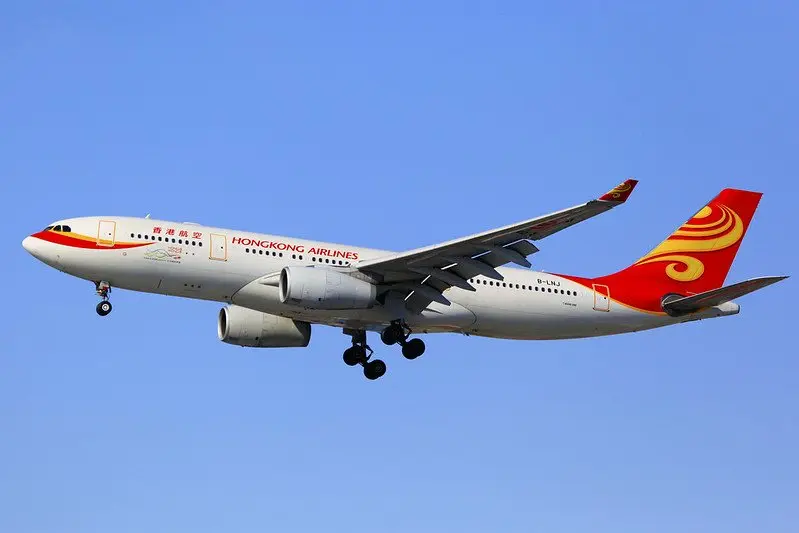 Image credit: Byeangel via Flickr CC BY-SA 2.0
Travel Insurance for Hong Kong travel
Hot tip: DO NOT LEAVE HOME without purchasing adequate Travel Insurance for your entire family including the kids.
We always use this travel insurance company and have NEVER had a problem claiming benefits or receiving a refund after a doctor or hospital visit.
Our last experience of illness was Jack's eye blowing up with conjunctivitis.
One short doctor visit cost $140 for a five minute examination.
The same price as I'd paid for travel insurance to cover three of us for a whole month's travel.

PACKING FOR HONG KONG
The Essential List of What to Take to Hong Kong for Kids
Coming soon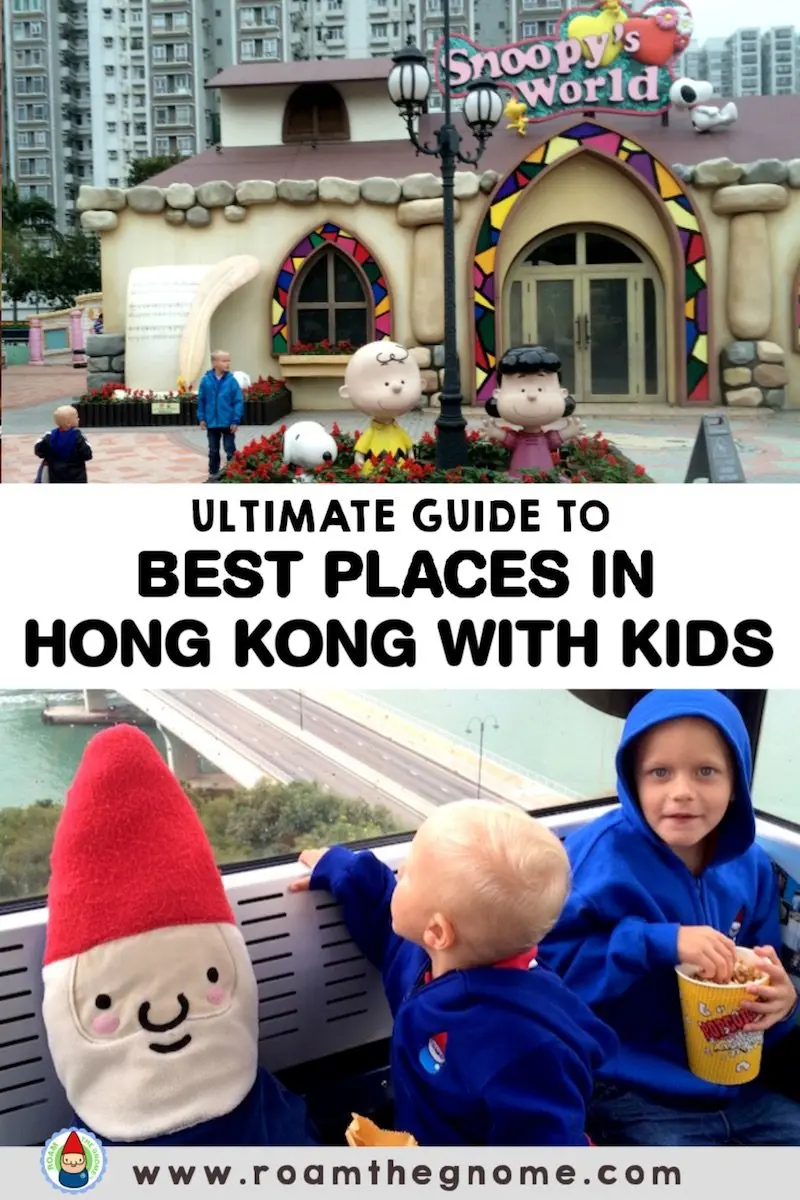 Roam the Gnome's Hong Kong Packing List
Coming soon