INSIDE: The Ultimate Pocket Guide to Bali with Kids.
Heading to Bali with kids in tow?
Then you'll love Roam the Gnome's checklist of the ULTIMATE LIST OF THINGS TO DO IN BALI WITH KIDS.
We've gathered the:
best places to visit in Bali with toddlers & young kids
our favourite family-friendly hotels in Kuta & Seminyak with kids, and other Bali family accommodation
tips for Bali on a Budget with kids
Bali points of interest, and answers to lots of frequently Asked Questions
all the SUPER DOOPER fun attractions in Bali that get our Roam the Gnome Stamp of Approval.
Bali family holidays are in our TOP FIVE family-friendly holidays around the world you can enjoy on a budget too.
There's plenty of free and cheap stuff to do in Bali with a toddler or baby, as well as school aged kids and teens.
It's the ultimate family trip.
Take a look below for details.
Disclosure: This article contains affiliate links. If you make a purchase after clicking on one of these links, we may receive a small commission at NO extra cost to you.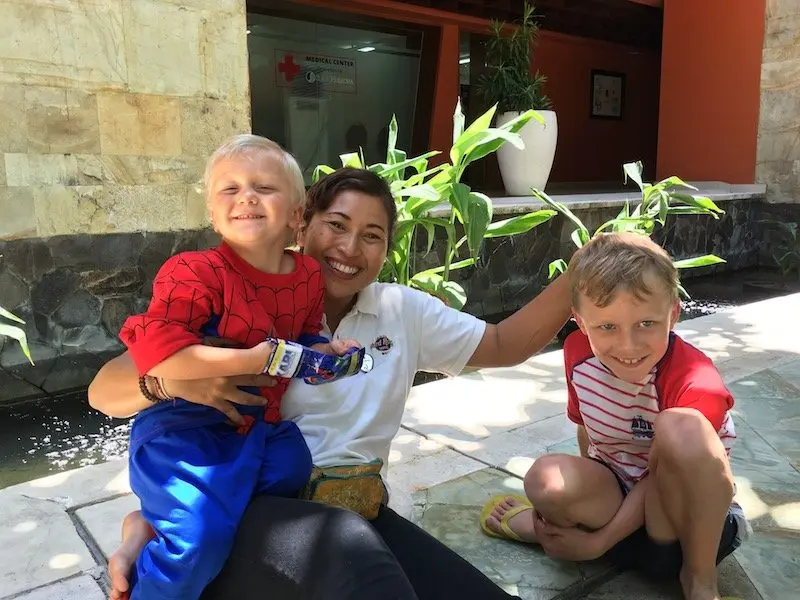 THE INSIDE SCOOP: WHAT TO DO IN BALI WITH KIDS
Correct at time of publication on Roam the Gnome. Please check with venue for updates. We apologise in advance if there have been any changes we are unaware of. All prices in AUD dollars, unless otherwise stated
Bali is a fabulous place for kids – they can learn about Balinese culture, Balinese food, and Balinese life, but they can also have super dooper fun!
There's SO many things to see in Bali, you definitely can't do it all in one trip.
Hopefully with our tips and tricks, you'll know what to do, AND what to skip this time.
READ MORE: Bali Bound? Plan Family Travel with our helpful tips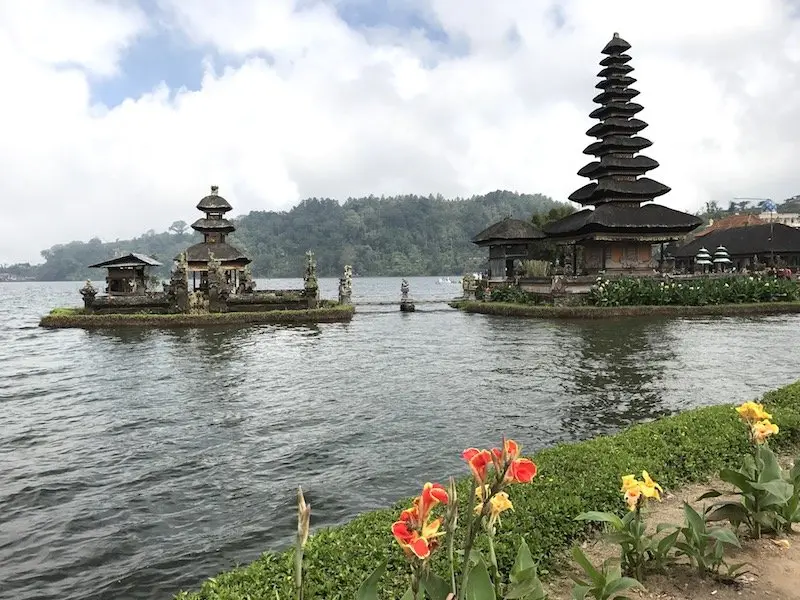 Planning your Bali Itinerary
Head to Bali in Indonesia for a budget family-friendly holiday with good food, excellent shopping, beaches and fun places to swim, warm weather and happy locals.
Hot tip: Start planning your Bali itinerary because Bali with kids is one of the easiest family trips you can do, anywhere in the world.
(Planning what to do in Bali is the best part!)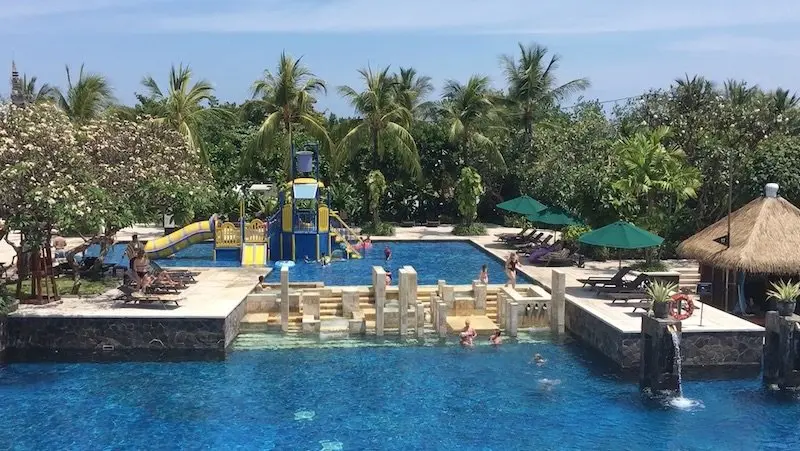 WHERE TO STAY IN BALI WITH KIDS – A Quick Overview
The Best Family Friendly Areas to Stay in Bali
No.1: Seminyak
A super fun, hip, built-up area of Bali with:
all the cool coffee shops
top restaurants and cafes
ice-cream shops
Bali homewares shops
street markets, and
the glam Seminyak Village/Square shopping mall.
More upmarket than Kuta, without the bogan element. P
Pedestrian sidewalks are plentiful, so it's one of the better areas for strollers.
Walk everywhere.
Visiting Bali with teens? Stay here so they can be a little independent but safe.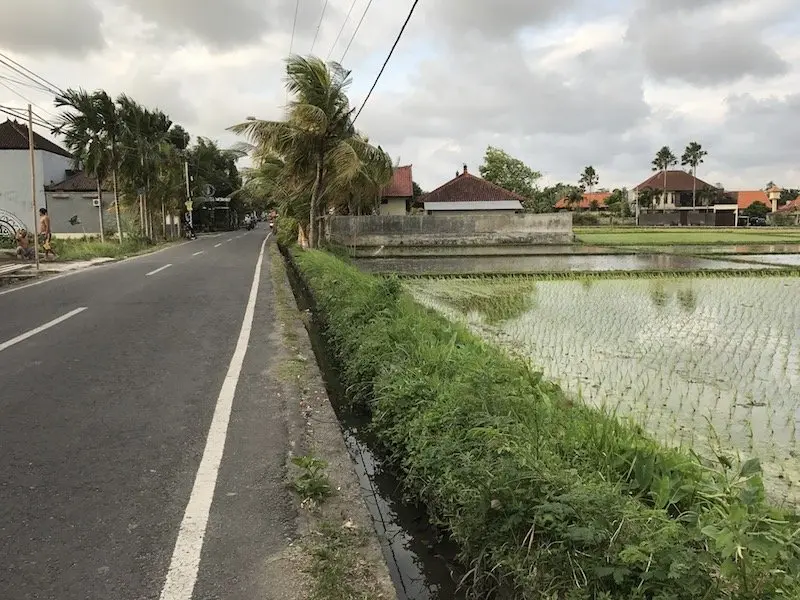 No.2: Canggu
Book a villa here for an authentic stay in Bali surrounded by rice fields and flying kites, but just 10 minutes taxi ride to Seminyak restaurants.
Definitely one of the best places in Bali for those who love good design, art and culture.
We LOVE Canggu for families.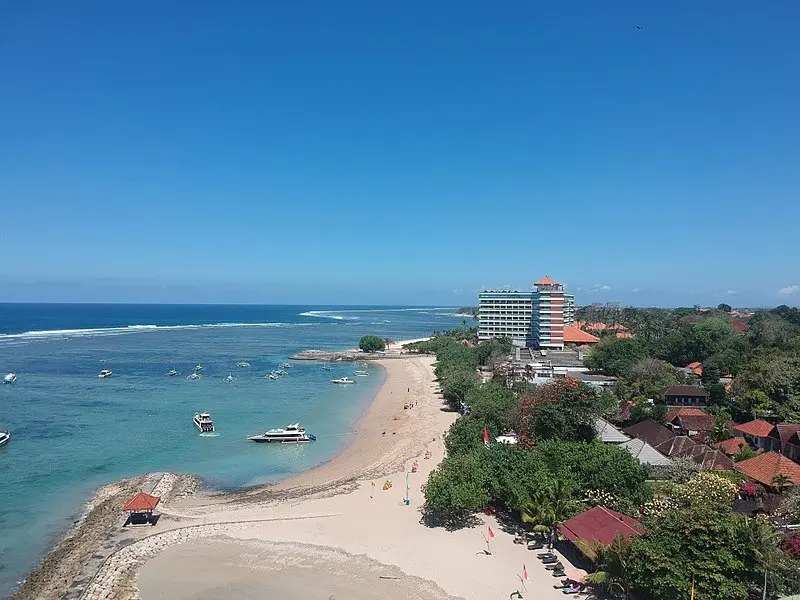 Image credit: Magul via Wikipedia CC BY SA-4.0
No.3: Sanur
Quieter side of the island, but still plenty to do for kids and families.
Water sports is a key element here so if you are visiting Bali with family members who are water babies, book a hotel.
Snorkeling, scuba diving, and boat trips are the main attractions.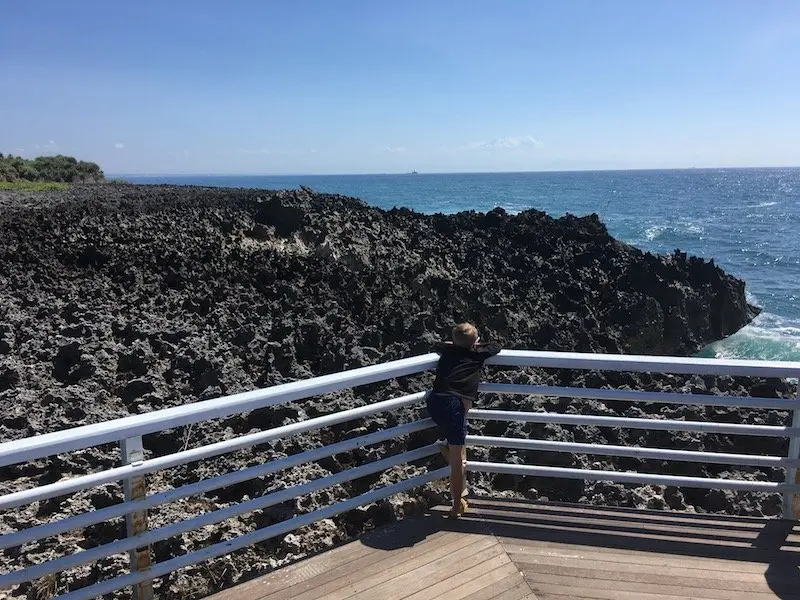 No.4: Nusa Dua
The ideal location for those wanting an exclusive five-star hotel holiday where kids can:
enrol in kids club
join in fun Balinese arts, crafts and activities, and
swim all day long.
Plenty of opportunity to indulge in spa treatments, drink delicious cocktails and eat hotel restaurant fare.
Don't miss brunch at Prego.
This is the best area to stay in Bali with family IF all you want to do is hang by the pool, and eat decadent meals.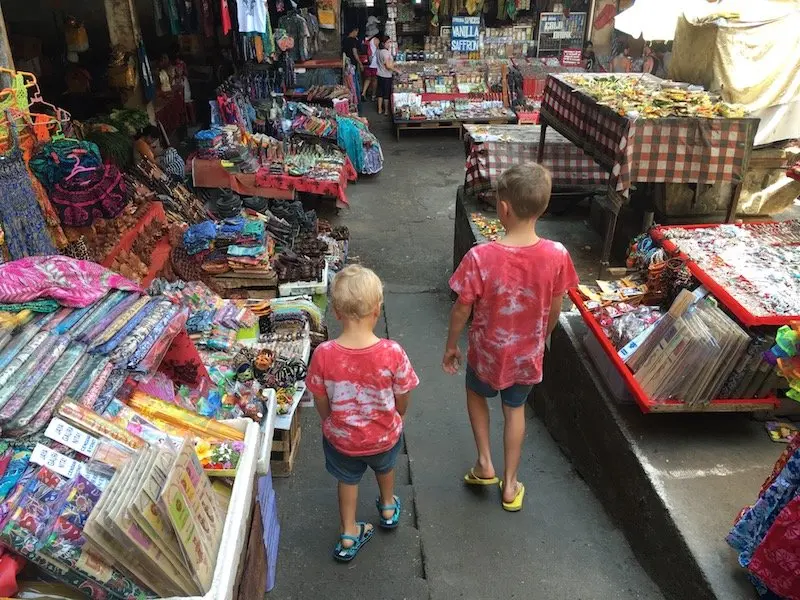 No.5: Ubud
Stay here if you love mountains, a cooler climate, and a more relaxed Bali hills vibe.
Ideal for the health nuts who want to participate in yoga retreats, eat Acai smoothie bowls for breakfast and Buddha salad bowls for lunch, and chill.
Great shopping at the Art Market in Ubud.
Main road traffic is nuts, so look out!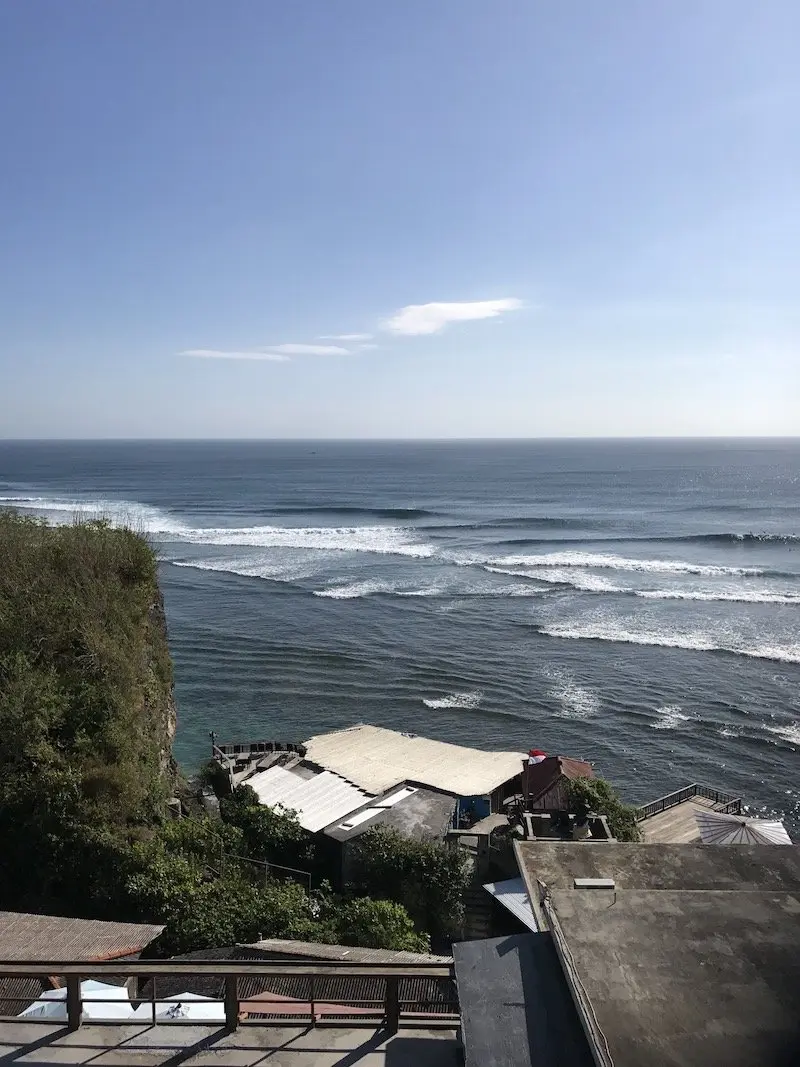 No.6: Uluwatu
For the surfers in the family.
Laid back, old school Bali vibe.
Cool cave walks, and delicious food.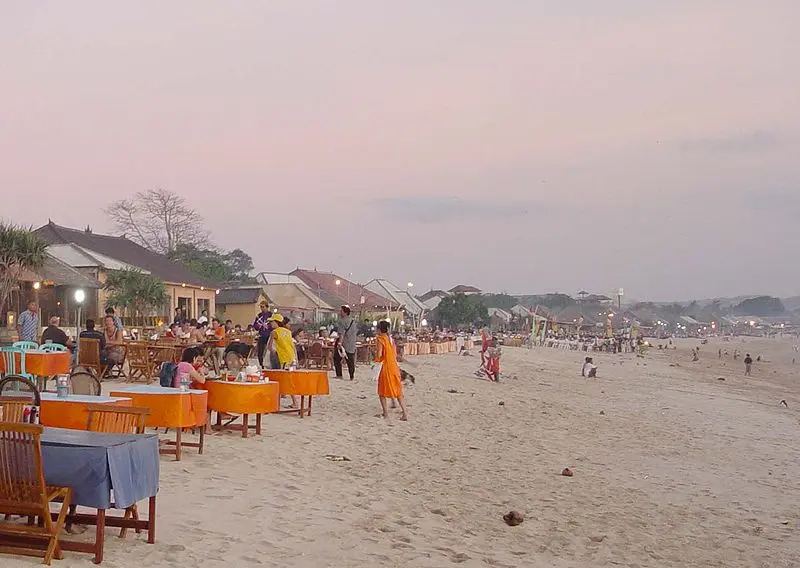 Image credit: っ CC BY SA -3.0
No.7: Jimbaran Bay
Awesome spot for families, with:
beachfront restaurants
cheap eats
market shopping, and
only 25 minutes from Kuta and the airport.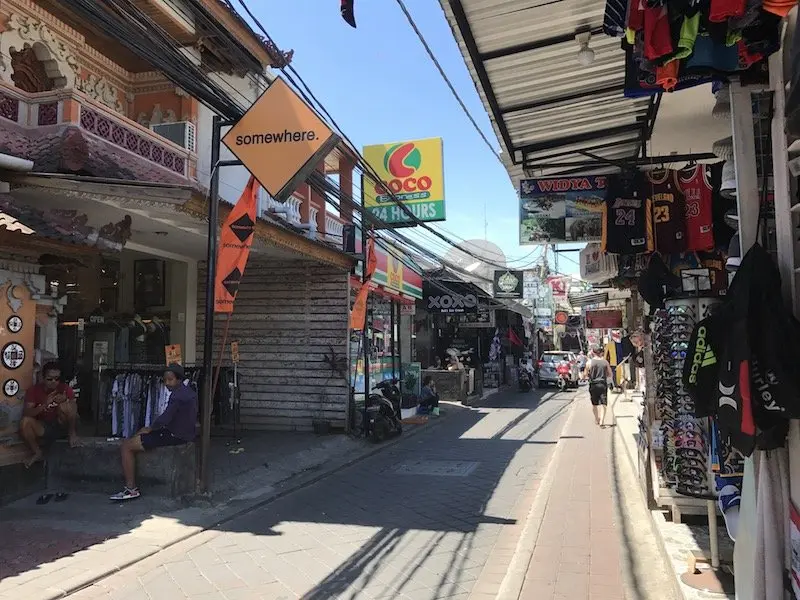 No.8: Kuta & Legian
The home of some of the biggest family resorts in Bali, and the usual destination for first time travellers to Bali.
Kuta is hectic, with street markets, sidewalk vendors who heckle, beeping scooters, touts pulling you this way and that, and hundreds and hundreds of tourists.
It's fun for a short while, but we wouldn't stay in this location for more than 3 or 4 nights.
The Hard Rock Hotel Bali tops our list.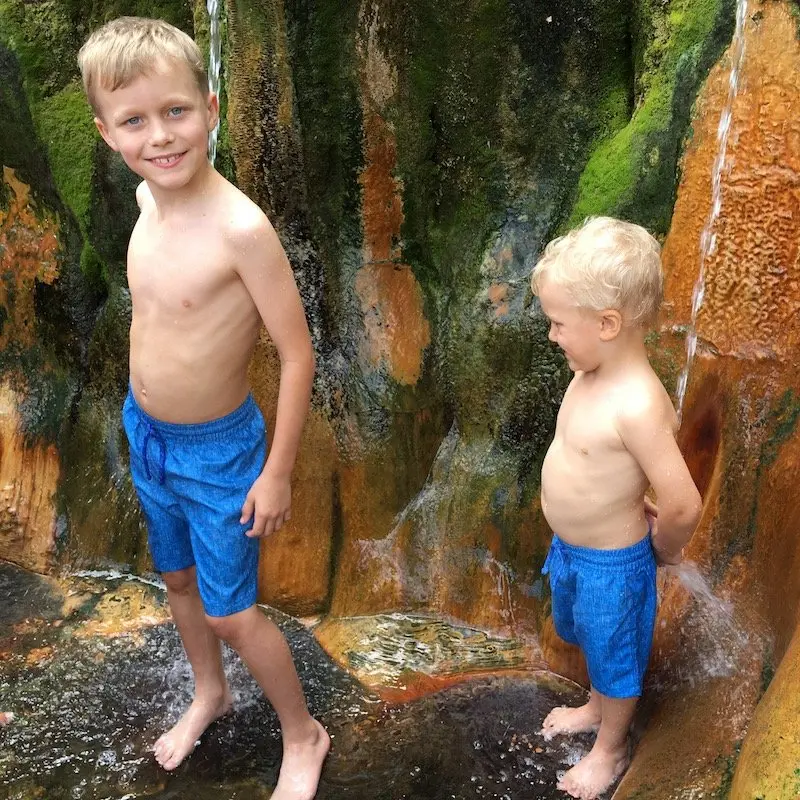 Our Top Tips for Choosing What Area to Stay in Bali
Bright lights, big city, bustling pathways?
Book Kuta.
Fashion and style lover, or a foodie?
Book Seminyak or Canggu.
Wanting a chilled, relaxed vibe?
Book beachy Sanur or Jimbaran
In love with nature & yoga?
Nature lovers should head for the hills and book Ubud.
Or join the surfing crowd in Uluwatu and Bingin beach areas.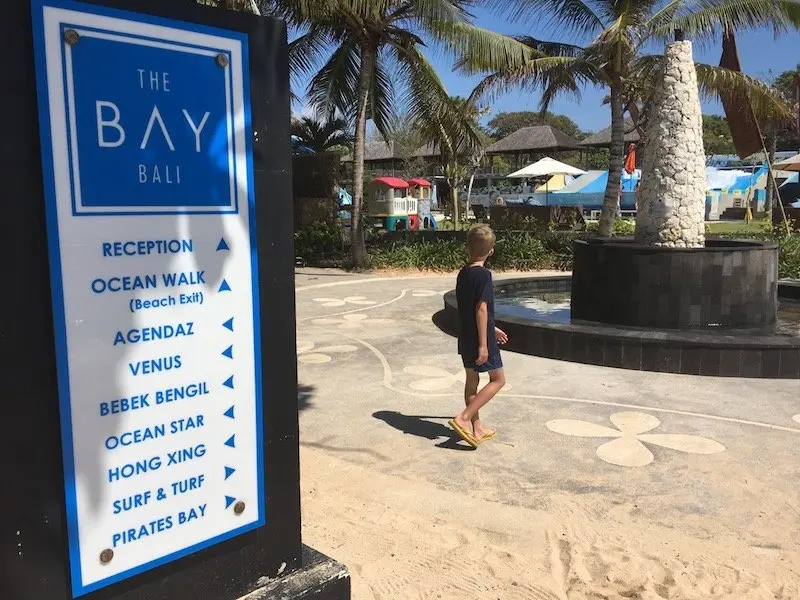 5 Star escape?
Those wanting a Bali resort holiday to get away from it all?
Book Nusa Dua.
The Best Area in Bali for families?
Our favourite area is a tie between Seminyak or Canggu, and that's where we spend most of our time.
Swap it up & move around
The good thing about Bali is that you can move between locations easily.
We often spend 4 nights in one place, and 4 nights in another.
It's a great way to try out new hotels and experiences too, and saves you from having to spend hours and hours in a car on a day tour, as you can plan your itinerary around your base.
Simply book a private driver or Bluebird Taxi to move you from hotel to hotel. (see FAQ below for details)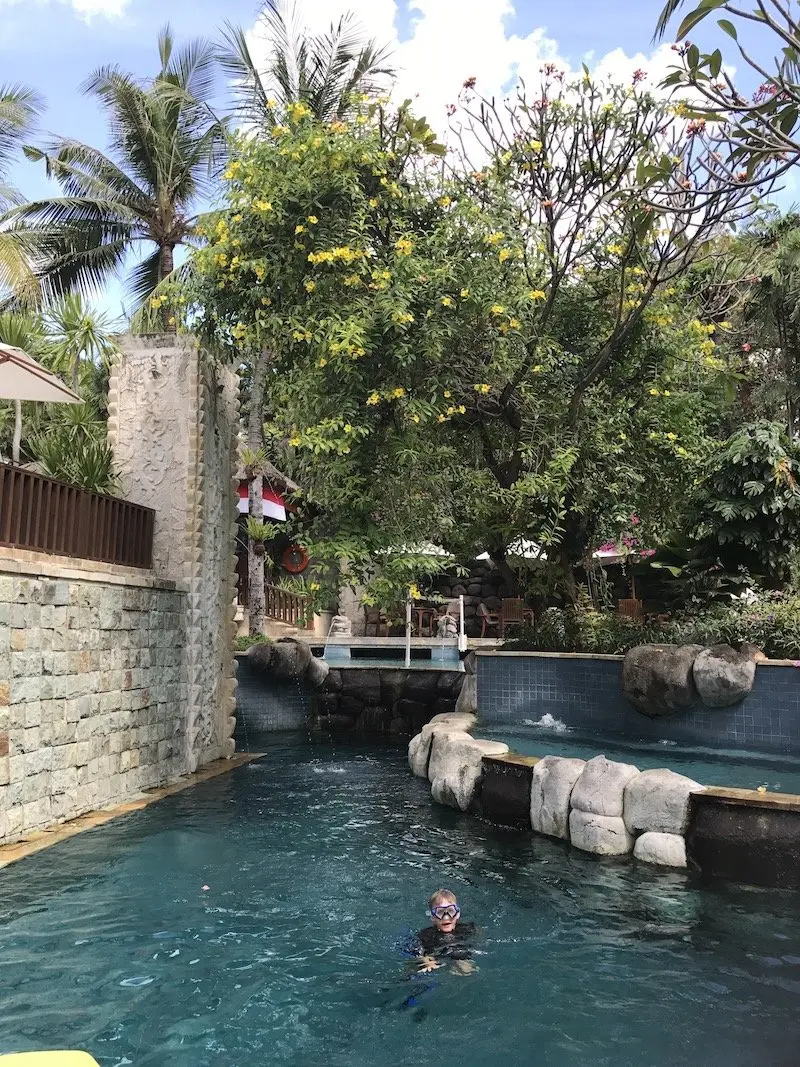 FAMILY RESORTS BALI
Looking for Bali hotels for kids?
There are SO many amazing hotels and family resorts in Bali to choose from.
In Kuta, we LOVE Hard Rock Hotel (Oreo freakshakes by the pool anyone?).
Watch our video and read our story here.
We are working our way through a big list, trying and testing out as many Bali hotels as we can each trip, so we can give you proper advice, insider videos, and feedback.
Check out our Hotels in Bali page for all the details. (Update Coming soon)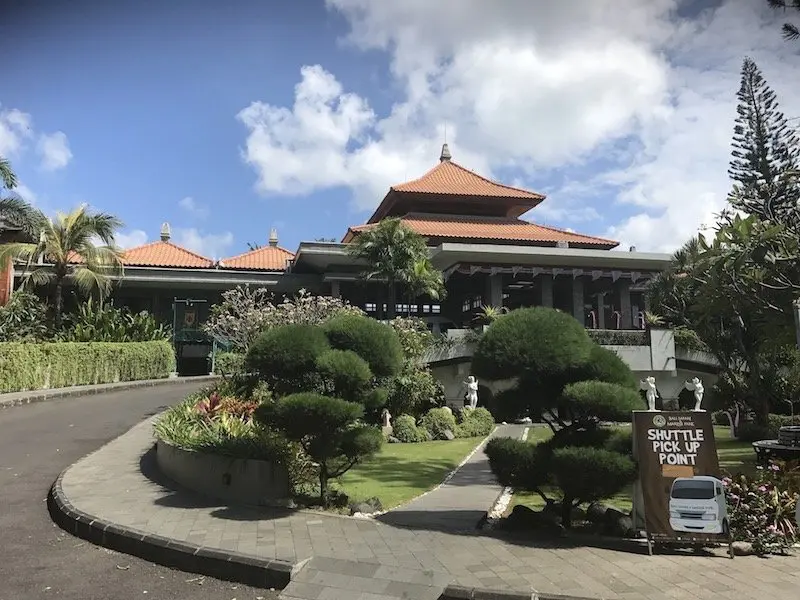 More Hotels in Bali for Families
Bali Dynasty Hotel is another mid-range favourite of ours.
The kids club, the kids club activities, and the kids pool make this an easy choice.
And it's smack bang in the middle of Kuta, BUT you wouldn't even know it.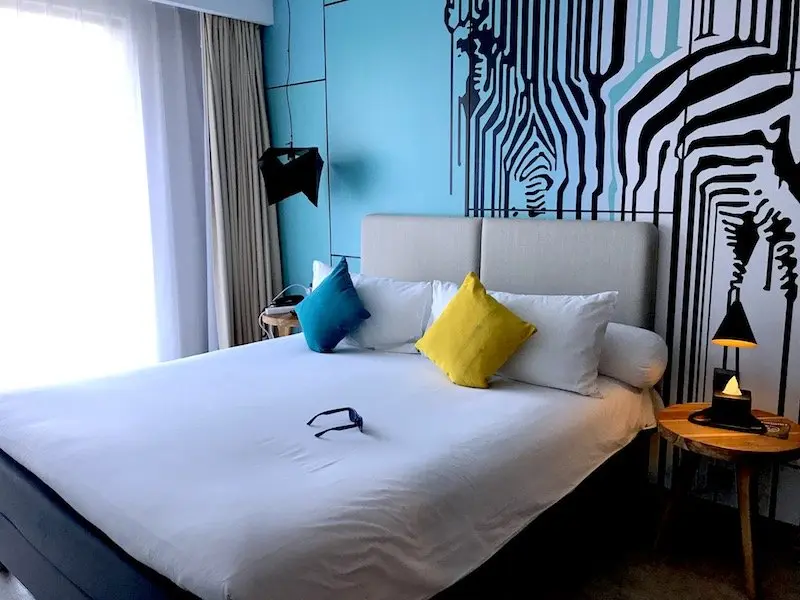 Budget Family Hotels in Bali
The Ibis Styles in Seminyak is a bargain hotel with all the goods, including buffet breakfast AND a cool pool.
The Ibis Styles hotel on JL Petitenget is a budget option within walking distance to restaurants, shops, Seminyak village, and good coffee.
Best Bali Family Villas
Our comprehensive guide to the best family villas in Bali is coming soon.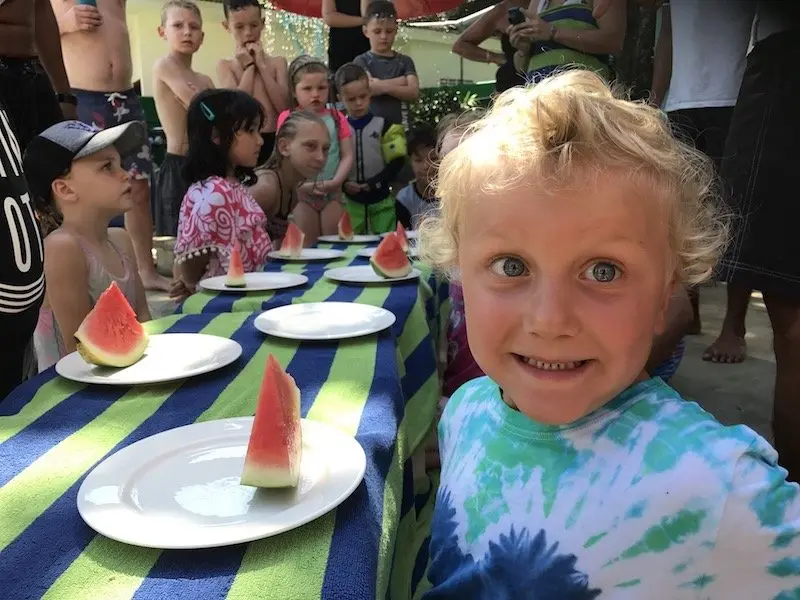 Best Kids Club Bali?
The hotels on the island do a magnificent job of catering for kids, so there a few hotels vying for the much-coveted title of "Best Kids Club in Bali".
We haven't tried them all, but our big list of all the hotels in Bali with kids club is coming soon.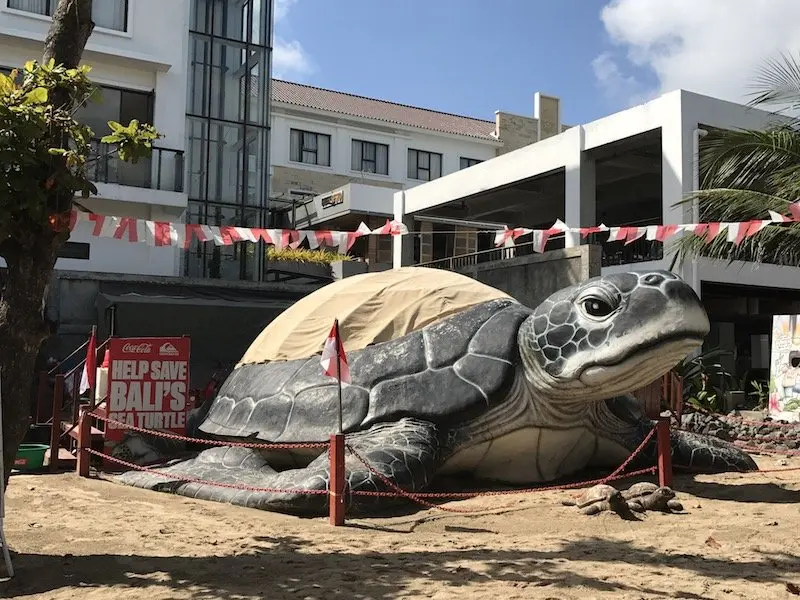 BEST FUN THINGS TO DO IN BALI FOR KIDS
Please bear with us as we work hard to fill this section as quickly as possible. Check back regularly as we add MORE stuff to the lists.
Best Things to Do in Kuta
No.1: Febris Spa Bali
Take the whole family for a fabulous massage experience.
There's affordable kids massage treatments here, specially designed for them!
Book a massage package for you AND the kids at Febris Spa in Kuta – the best value 'real' spa treatment in Kuta
No.2: Amazone Bali
Amazone indoor playground is one of the best things to do on a rainy day in Bali.
No.3: Kuta Beach Gate
Check out these imposing gates leading down to the beach from near Kuta Square.
No.4: Waterbom water park
Book tickets to Bali's best waterpark today.
No.5: Bali Sea Turtle Society
Visit to learn all about Bali's quest to care for these endangered sea creatures.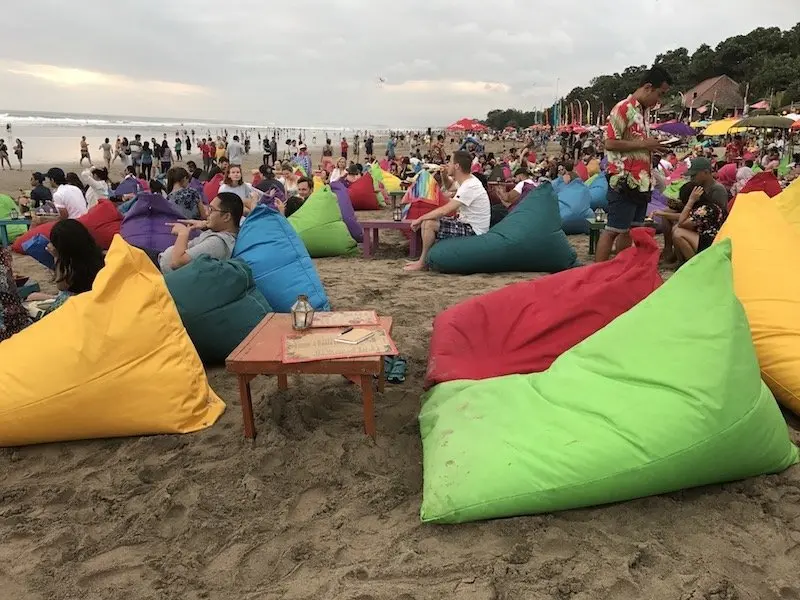 Best Things to Do in Seminyak
No.1: La Plancha restaurant
Pull up a beanbag under a Bali umbrella at La Plancha beach club restaurant.
It's THE spot to eat delicious tapas and watch the sunset, or haggle with the beach vendors over a bag of fairy floss.
No.2: Indigo Kids
Go shopping at Indigo kids clothing store to pick up gorgeous shoes and outfits for little people.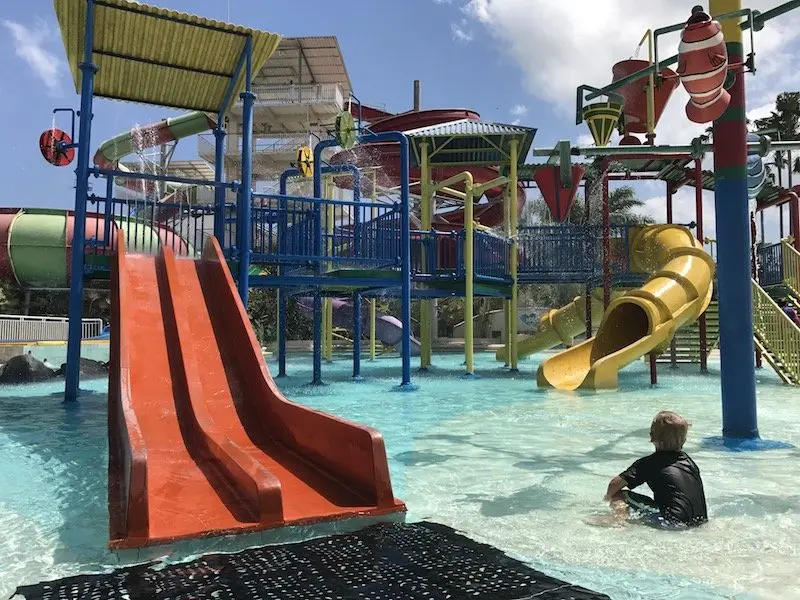 Best Things to Do in Canguu
No.1: Splash Water Park
Head to Splash Waterpark.
Enjoy:
slides for big kids, and little kids
a water playground for toddlers in Bali
pools to swim in
plus a children's playground &
cafe on site.
No.2: Finns Recreation Park
Home of Strike Bowling, and the giant sized Bounce trampoline park in Bali.
Awesome for a rainy day in Bali.
No.3: Spellbound Toy Shop
This is a lovely toy shop in Canggu, with all the best brands including LEGO, & locally made toys too.
Find it at no, Jl. Raya Semat No.99x next to Hudson Cafe, and La Casita restaurant.
Best Things to Do in Nusa Dua
No.1: Nusa Dua Blow Hole
Check out Bali's only Water Blow.
Warning – you might get wet!
No.2: Pirate's Bay Bali playground
Take the kids to this instagram-friendly cafe and restaurant.
There's a playground with swings, plus tall bamboo castle forts you can sit in to eat your meal!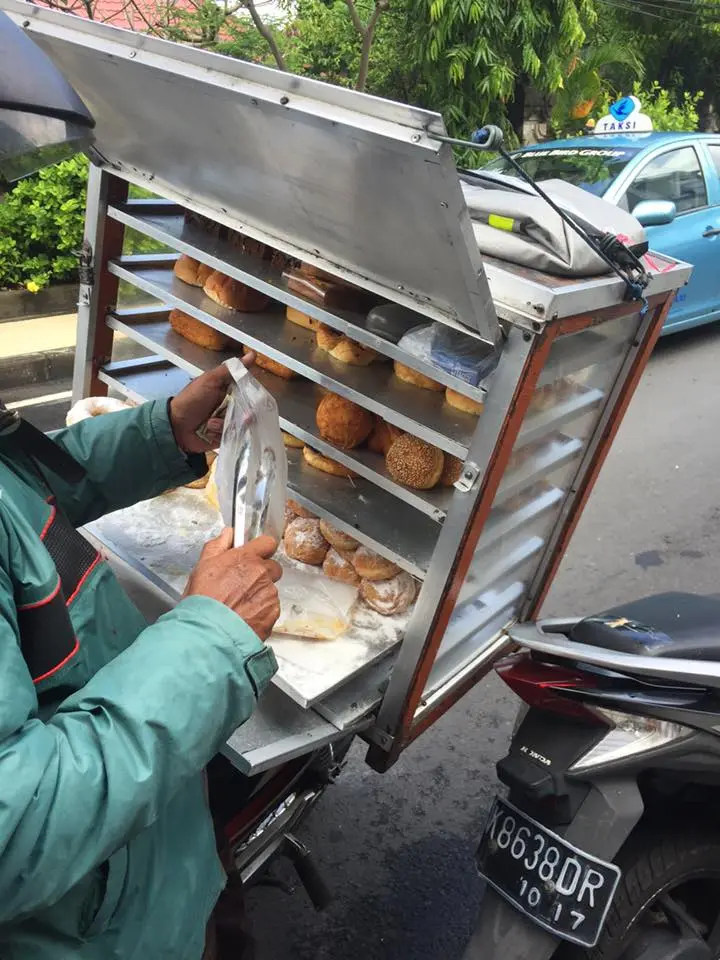 Image credit: Bali Bargains
Best Things to Do in Legian Bali
No.1: Visit Krisna Souvenir Shop
One of the biggest and the best, on Sunset Road.
No.2: Donut Man Bali
Look out for the famous doughnut man on the streets of Legian and Kuta, around Jalan Padma Utara near Melasti Beach resort.
The round jam donuts are to die for!
Ask in the local shops around the area for details of where to find him if you aren't yet successful. They'll know.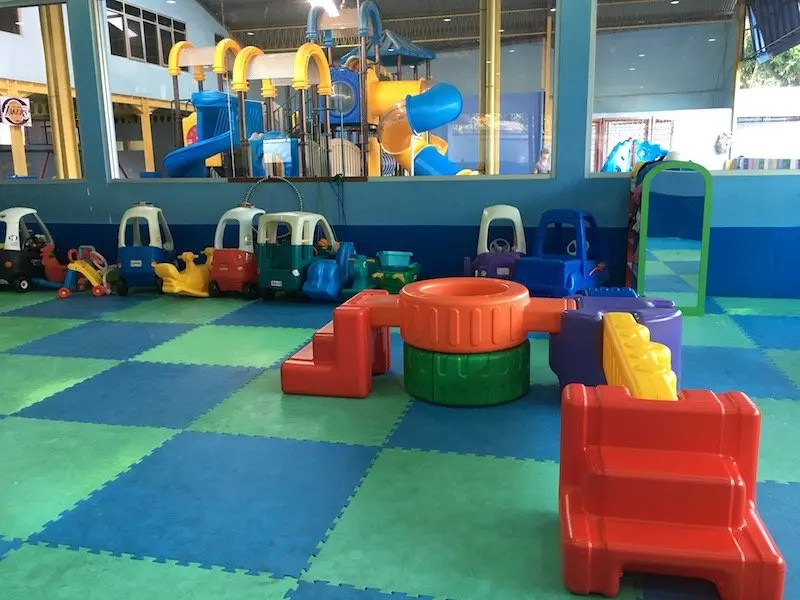 Best Things to Do in Sanur
No.1: Sanur Beach markets
Wander around these Bali beach markets.
You may find the stall holders a little pushy so hold your ground.
No.2: Peekaboo indoor playground
THIS is the best indoor playground in Bali.
It also has an outdoor fenced area with a giant fort, and a cafe.
Expect to spend hours here.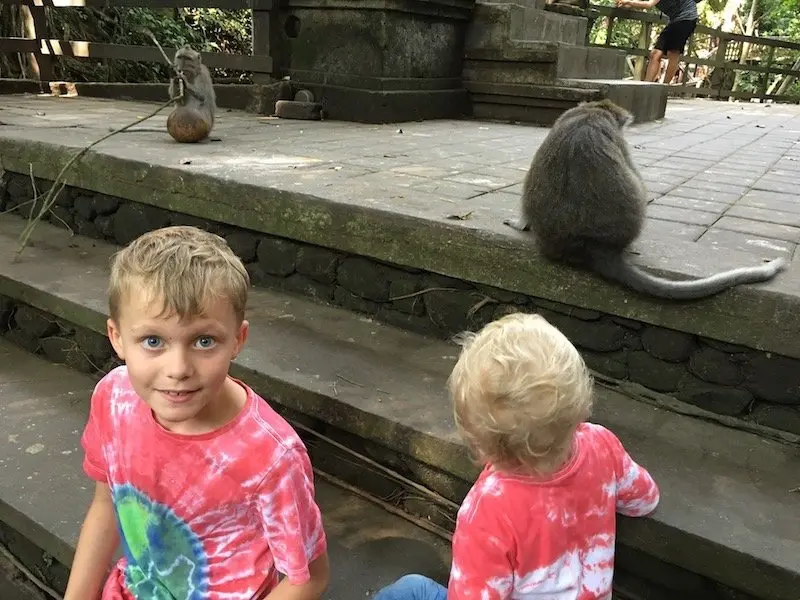 Best Things to do in Ubud with Kids
No.1: Sacred Monkey Forest Sanctuary
Take the kids to visit the monkeys in the Ubud Monkey Forest temple complex.
Do not carry any kind of food, or drink into the park as these monkeys are little buggers and will steal your stuff.
As these are wild animals, remind the kids to keep their distance and not to make any sudden moves.
No.2: Pondok Pekak Library and learning centre
Pop in here to see what's on offer for the kids.
There's craft workshops, readings, and a library to choose from.
You'll likely bump into a whole bunch of home schoolers, expats who live in Bali.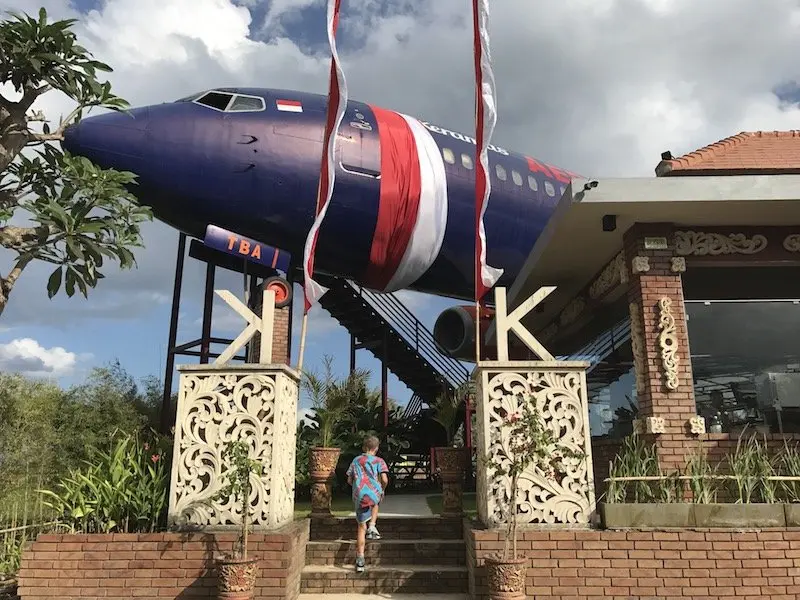 MORE of the BEST Things to Do in Bali with Kids (not listed above)
No.1: Keramas Aero Park Gianyar
Looking for new things in Bali off the beaten track?
Check out the Keramas Aero Park restaurant.
It's a place you can eat lunch inside a GIANT AEROPLANE.
So cool!
No.2: Bali Zoo
Say hi to the orangutans & elephants at this zoo in Bali.
This elephant safari park is one of the best days out in Bali for families.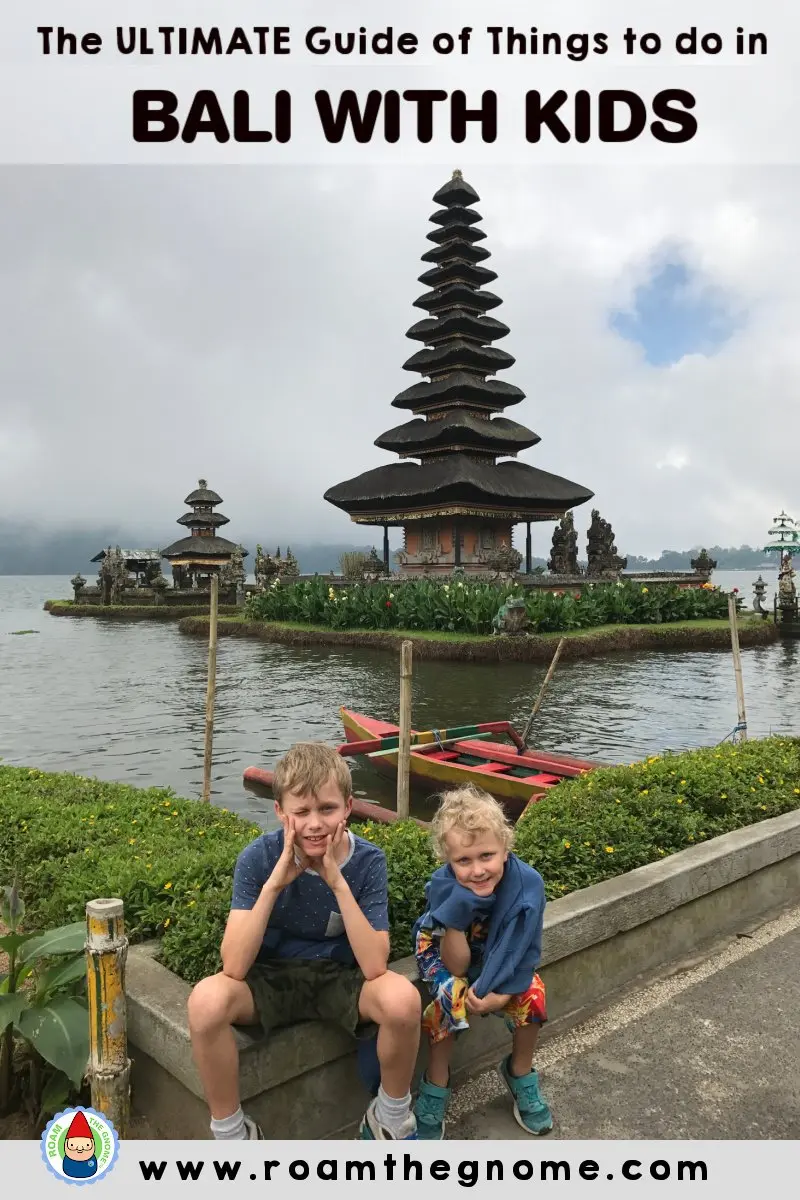 No.3: Lake Bratan (Ulun Danu Bratan Temple) & Bedugul
One of our favourite Bali day tours was heading up to Lake Bratan.
It's a spectacular Bali destination.
AND there's a vintage playground for kids!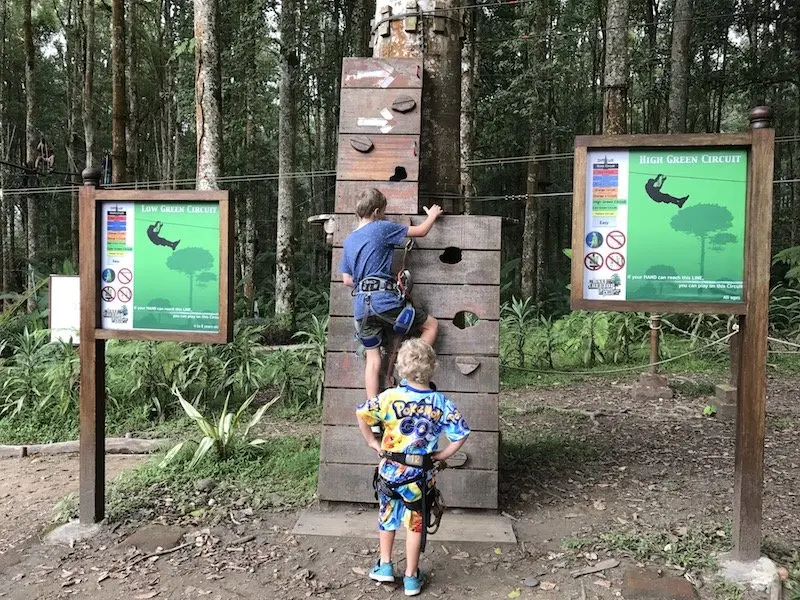 No.4: Treetops Adventure Park
While you are up in the hills, stop at the Treetop Adventure playground.
It's an adrenalin rush for kids, and adults, of all ages.
No.5: Bali Safari and Marine Park
Another awesome day for families in Bali.
This is a world class attraction, with 60 species from 4 continents.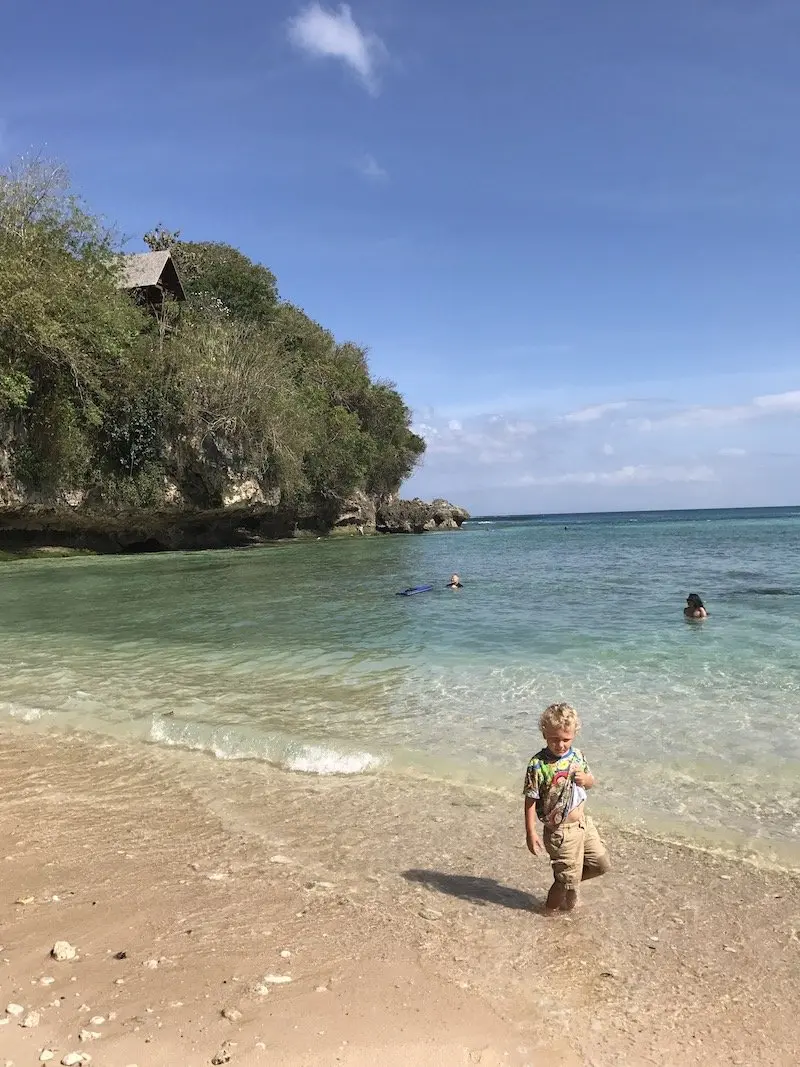 The Best Family Friendly Beaches in Bali?
This deserves more than a quick overview.
Read our complete guide to the best beaches in Bali for families here.
You'll be glad you did!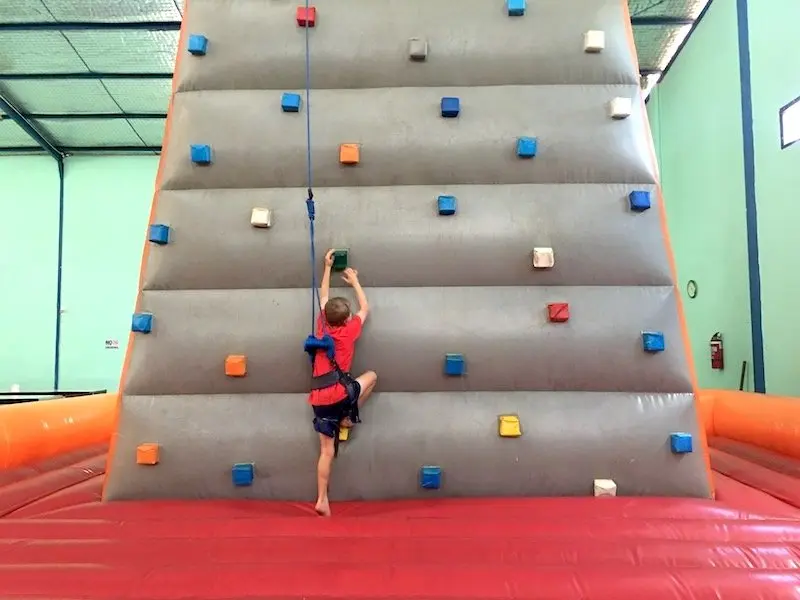 What to Do in Bali on Rainy Days
No.1: Bali Fun World
Bali Fun World indoor playground is another ideal rainy day activity in Bali.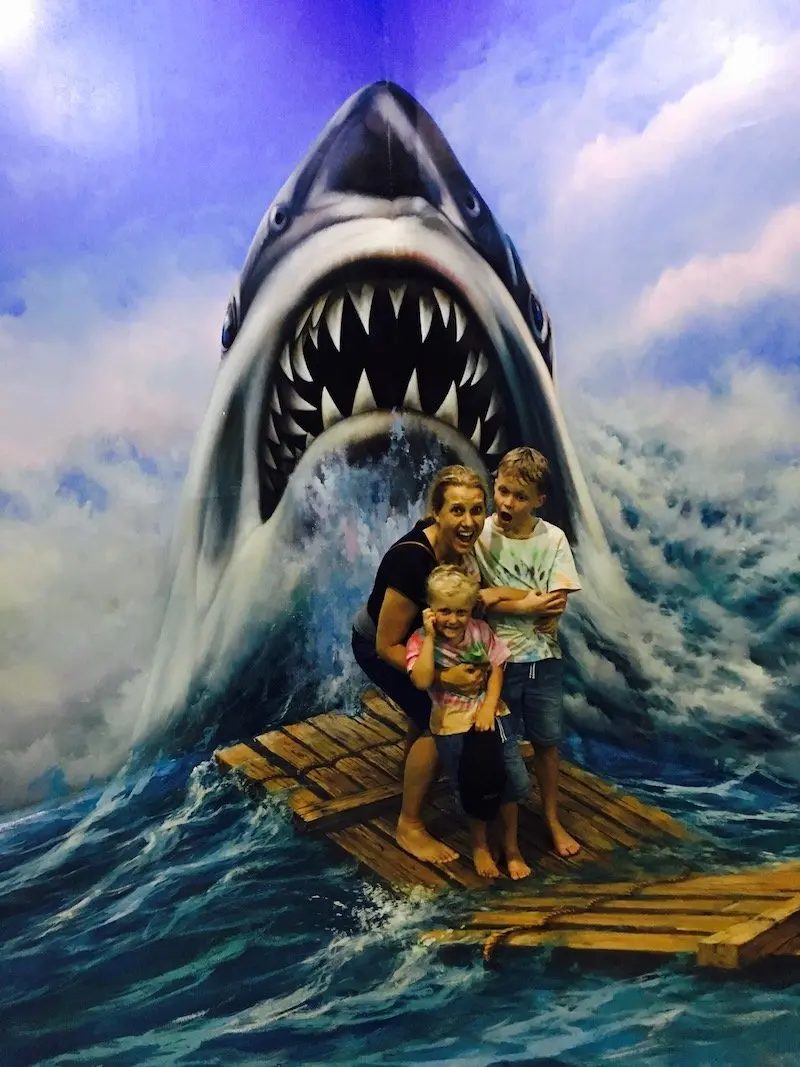 No.2: DMZ Trick Art Museum
Check out the Dream Museum Zone trick art gallery.
There's a whole range 3D art works where visitors can take "trick" photos & selfies to show the illusion you are there!
No.3: Motion Skatepark
Take the kids to this indoor skatepark in Bali, and enjoy a cuppa while you wait at their cafe.
Find it on Jl. Sunset Road No.420, Kuta.
No.4: Escape Room Bali
Another fun activity for teens in Bali
Find it at Jl. Sunset Road No.88, Seminyak
Best Bali Events
This is a list of the best up-to-date and local Bali magazines and newspapers with all the details of local fun, so you don't miss any fun events such as:
pop up markets in Bali
Bali festivals
Balinese celebrations
school holiday activities in the shopping malls
local fairs
food truck events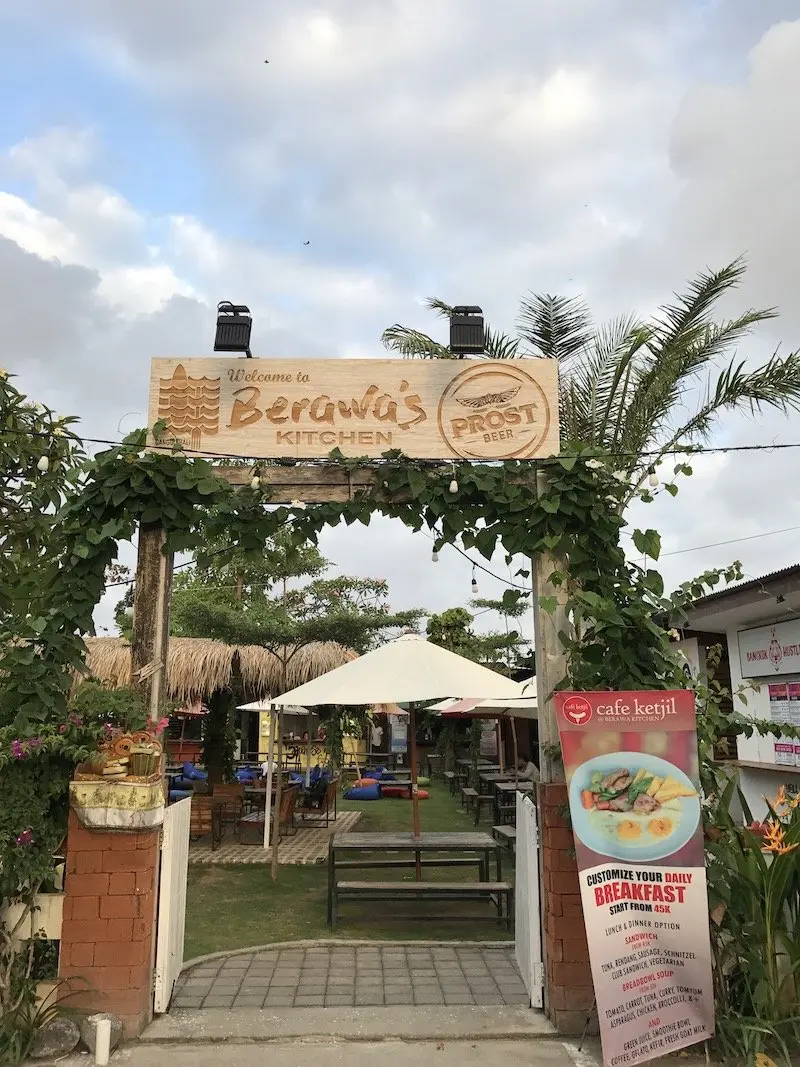 WHERE TO EAT IN BALI
Eating in Bali with kids is easy.
Take a look at these family restaurants and cafes in Bali's main tourist hubs.
Best Canggu Restaurants for families
No.1: Berawa's Kitchen Food Trucks
Head to Berawa Kitchens Canggu in the late afternoon for an early dinner. The choice of what to eat in Bali here is huge!
There's a playground for kids!
No.2: Cinta Cafe Canggu
This is another top spot to eat in Bali with kids.
Cinta Cafe has beautiful views of Canggu rice fields, and there's a play area for kids here too.
No.3: Old Mans Bali
Take the kids for an icy cold milkshake at Old Man's Bali
Or fish and chips.
Check out the instagram backdrops while you are here!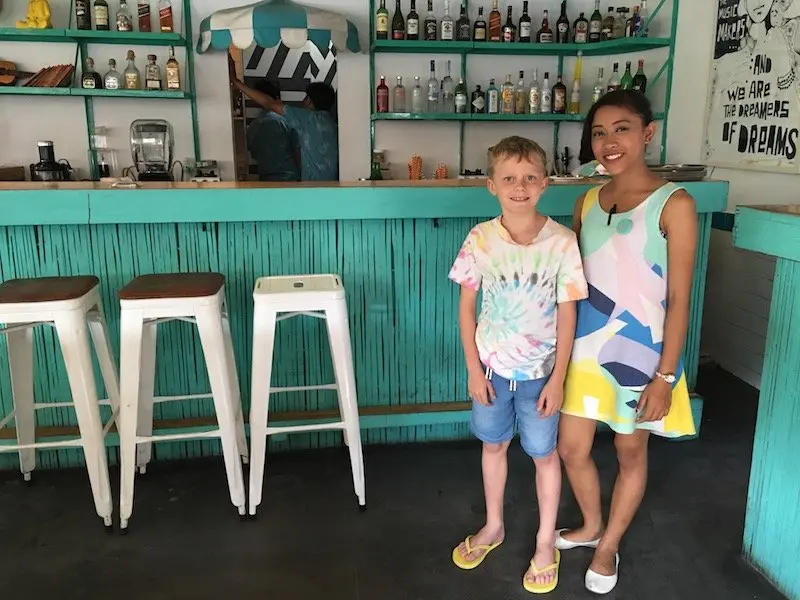 Best Seminyak Restaurants for families
No.1: Biku Bali
Take the kids to try traditional high tea or Indonesian high tea at Biku Cafe
No. 2: Taco Casa Mexican Seminyak
Eat tacos and enchiladas galore at this family friendly Mexican restaurant in Seminyak
No.3: SeaCircus Bali
Start your day right with the best breakfast in Seminyak
No.4: Monsieur Spoon Petitenget
The best bakery in Bali for fresh bread and mouthwatering cakes is Monsieur Spoon on Jl. Petitenget
No.5: Dough Darlings Seminyak
Dough Darlings is the place to get your artisanal donuts.
One word – yum.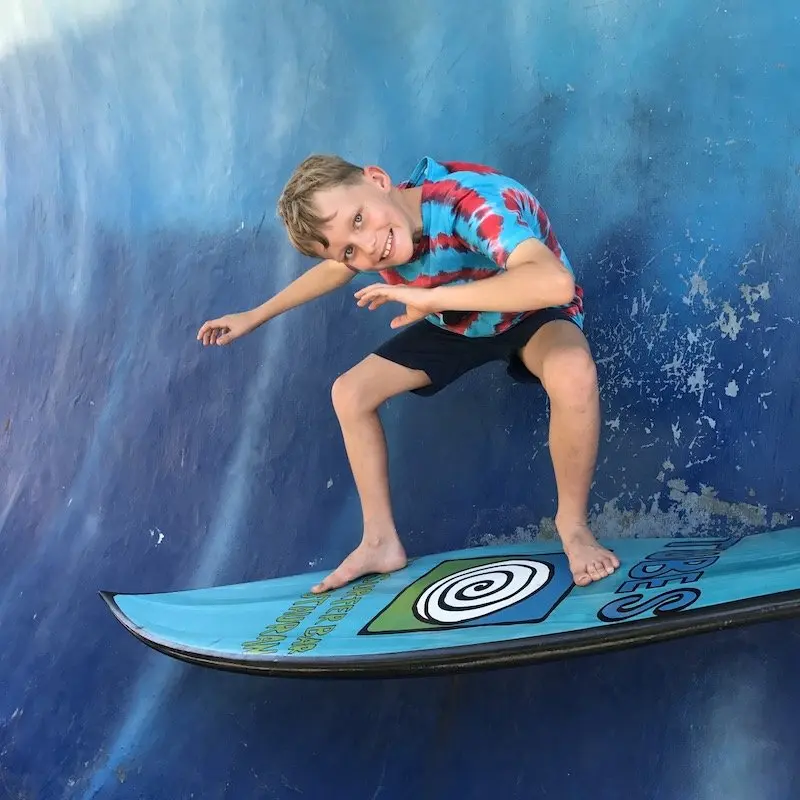 Best Kuta Restaurants for families
No.1: Tubes Bali
Eat at this old-school Bali institution, and grab a selfie on the GIANT WAVE!
No.2: Pizza Hut Bali
Pizza Hut in Kuta is the BEST place for Fussy Eaters
No.3: Chatime Bali
Try Bubble Tea at Chatime Bali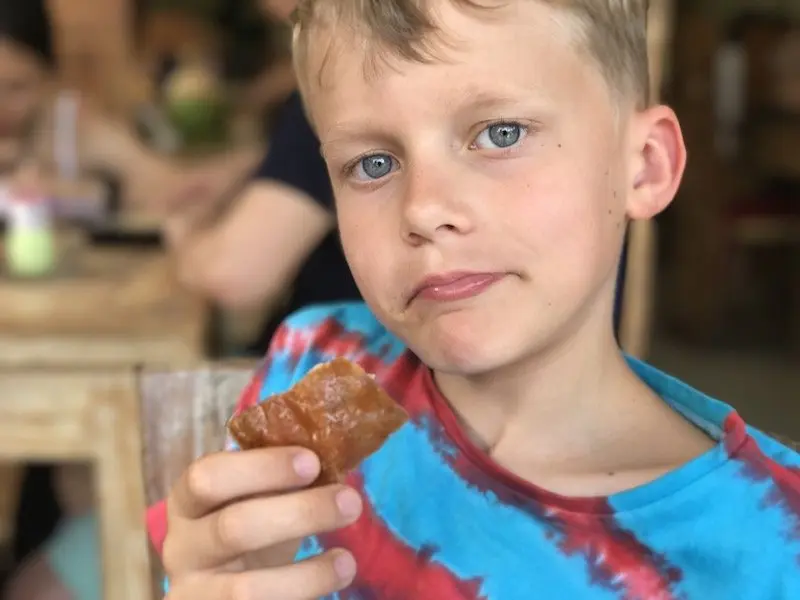 Ubud Restaurants
No.1: Warung Babi Guling Ibu Oka Ubud
THIS is the spot to try the famous Babi Guling Balinese roast pork.
This spit-roasted suckling pork with crackle must not be missed!
No.2: Taco Casa Mexican
This Mexican restaurant has another outlet in Ubud.
Great, safe familiar food for the kids.
MORE of the Best Restaurants in Bali
Coming soon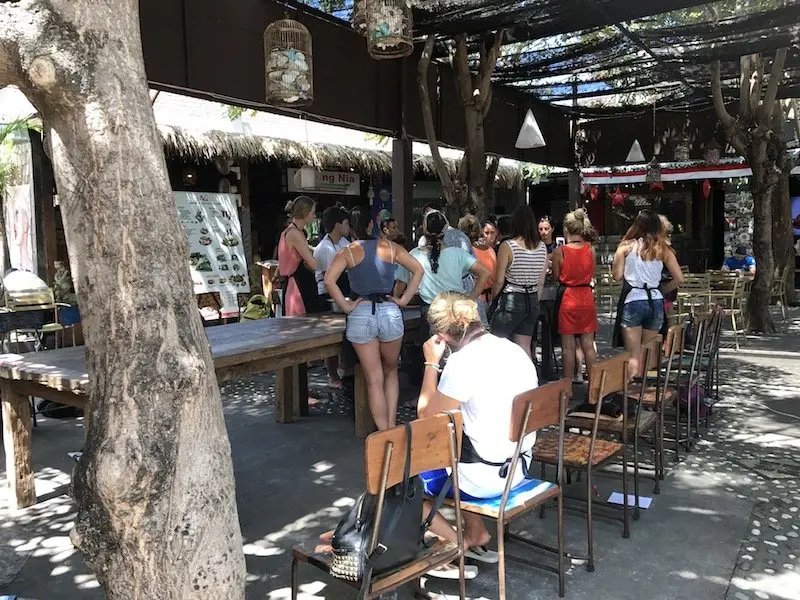 COOKING CLASSES IN BALI
No.1: Warung Nia Cooking School
Foodies should head to Warung Nia restaurant in Seminyak for a hands-on cooking class.
The menu of Indonesian dishes to cook and sample is seriously something!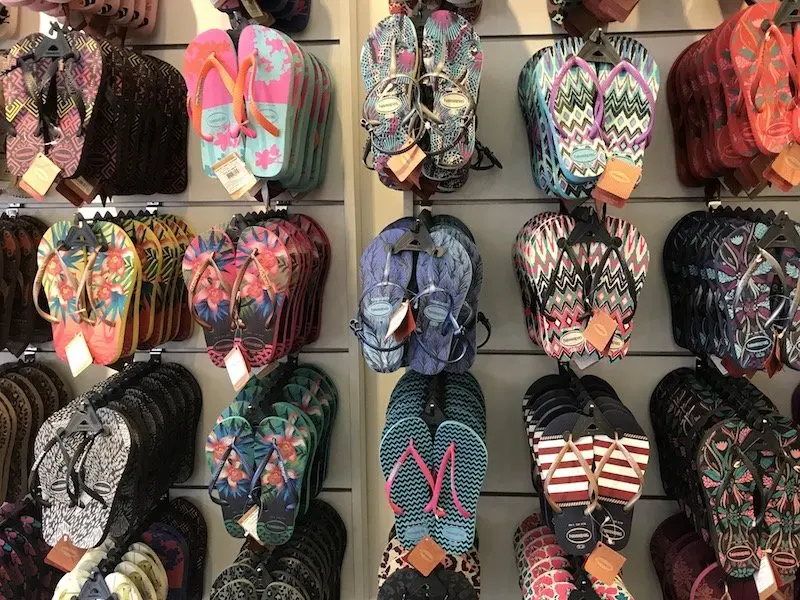 SHOPPING IN BALI
Best Tips for shopping in Bali?
Firstly, Want to know what you should pay for things when shopping in Bali?
Check this Bali Shopping Prices comparison guide before you begin.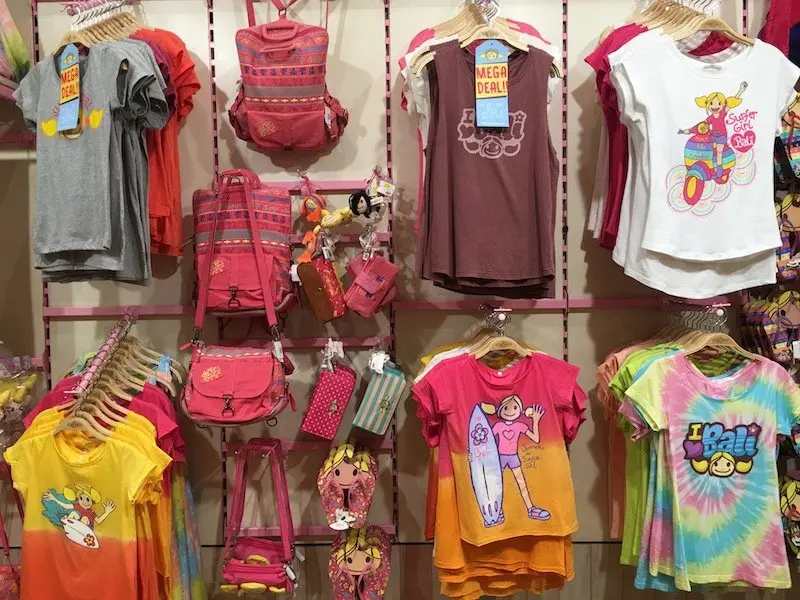 KUTA SHOPPING
No.1: Surfer Girl Bali
The best fashion store for girls in Bali is Surfer girl Bali
Check out all the accessories featuring this cool Surfer girl brand too.
The Best Shopping Malls in Kuta
No.1: Matahari Department Store
Compare Kuta shopping prices at Matahari Department Store
No.2: Centro Bali
Shop in the cool at Centro Bali department store
No.3: Discovery Mall
Discovery Mall is the best central shopping spot in Kuta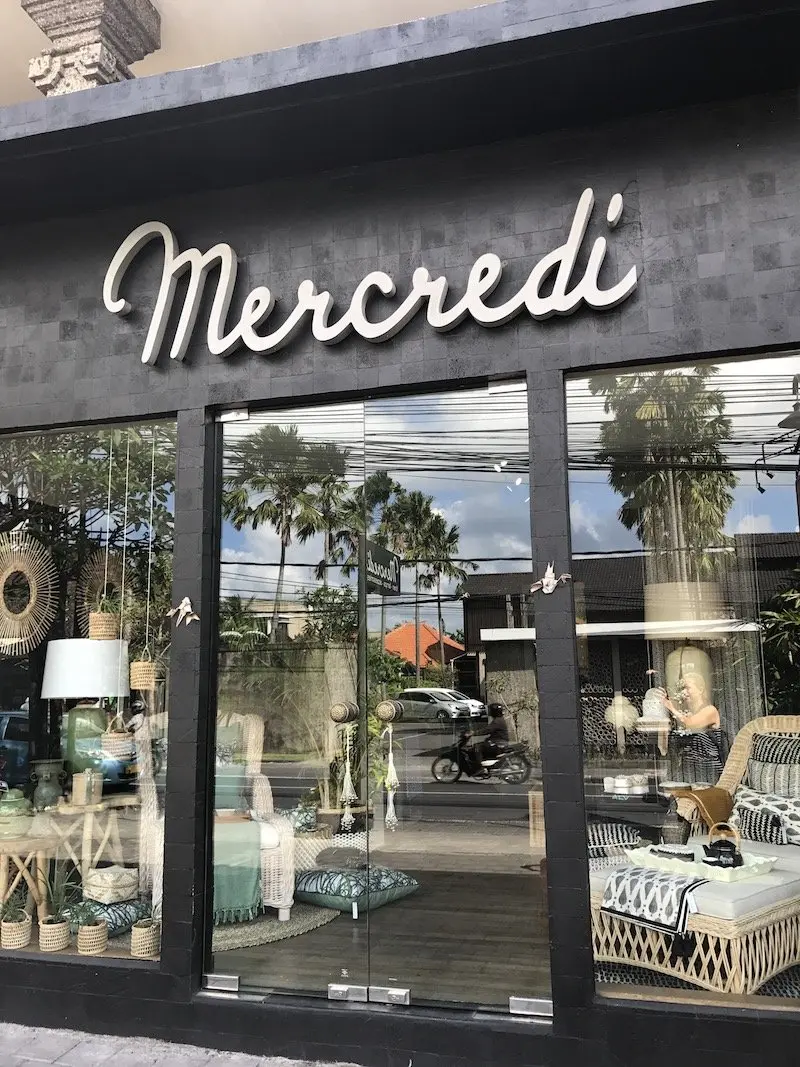 SEMINYAK SHOPPING
Bali Homewares stores
No.1: Mercredi Bali
Looking for homewares in Bali?
MERCREDI Bali is the BEST Shop for Fashionable Bedding and linens in Bali
No.2: Carga Bali
If you love homewares, don't miss CARGA Homewares Bali.
Carga is our favourite homewares shop in Seminyak
No.3: Biku Bali Gift shop
Next to Carga, pop into the joglo of Biku to see their range of giftware and souvenirs in Bali.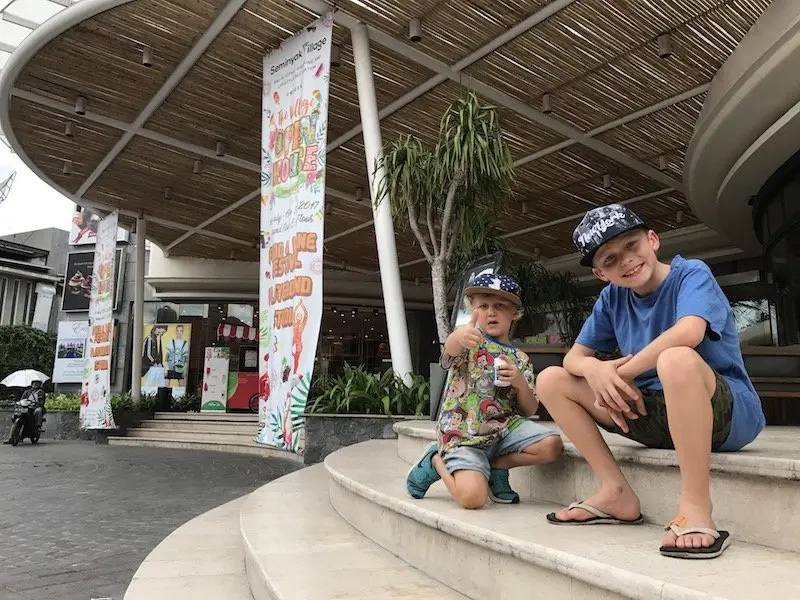 The Best Shopping Malls in Seminyak & Supermarkets
No.1: Seminyak Village
Wondering what to do in Seminyak?
Shop at Seminyak Village.
No.2: Seminyak Square
Seminyak Square Shopping centre has a cute outdoor market, as well as a Monster souvenirs & gift shop.
Find it right next to Seminyak village.
No.3: Bintang Supermarket
The cheapest and biggest supermarket in Seminyak for all your snacks, drinks, gifts, and souvenirs is Bintang.
Pick up all your essentials for half the price of what you pay in convenience stores & other shops.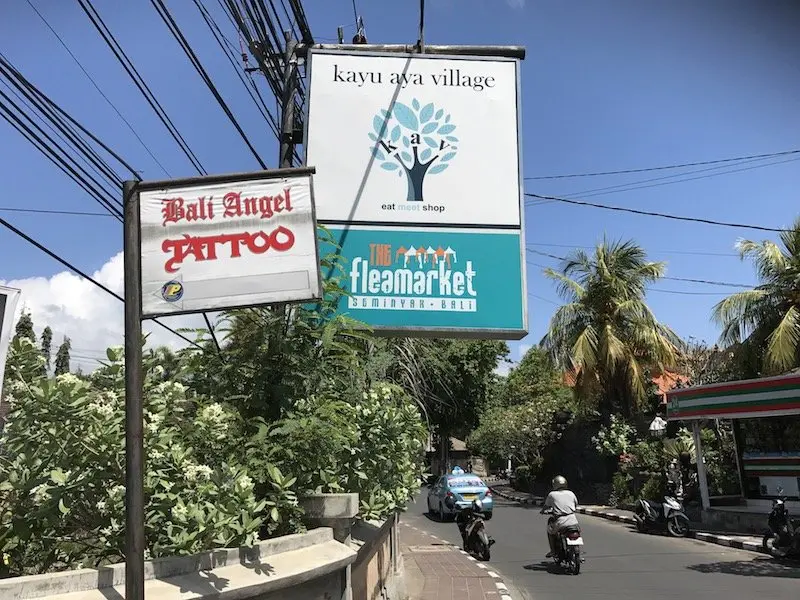 Markets in Seminyak
The best leather purses are at Seminyak Flea Market
This is our fave of the Bali markets.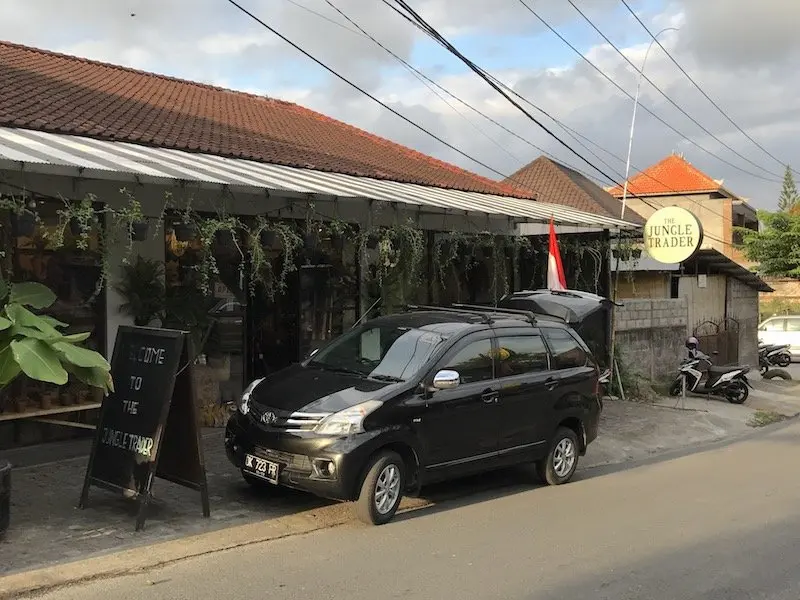 CANGGU SHOPPING
No.1: Jungle Trader
Stop by Jungle trader homewares to pick up exotic gifts and homewares from around the world.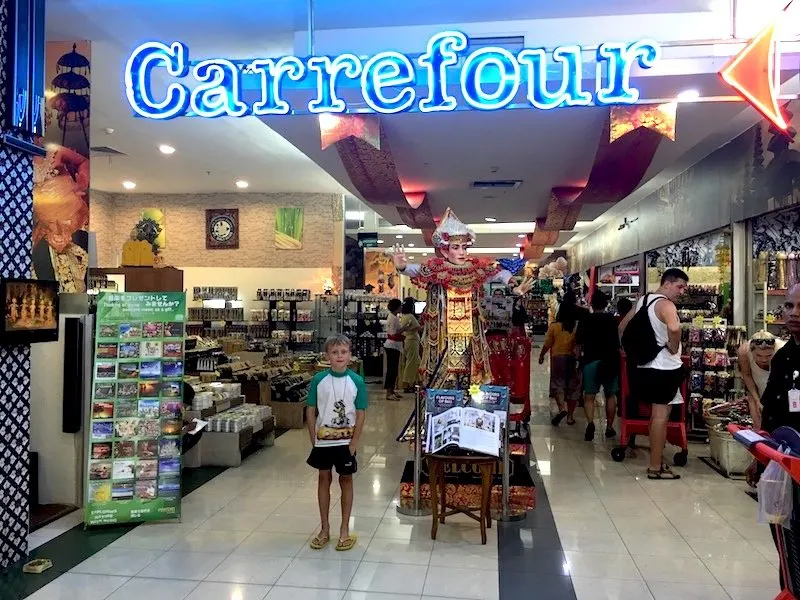 DENPASAR & SUNSET ROAD SHOPPING
No.1: Carrefour Supermarket
The best supermarket in Kuta is Carrefour Bali.
Here's 7 reasons to shop at Bali's best shopping centre mall, Carrefour Bali
No.2: Jalan Sunset Road Shops Bali
Book a driver for the day to take you to ALL the shops along Sunset road!
Check out these shops & stores:
The Harvest Cakes for delicious handmade cakes & desserts for later
Sari Rajut Indah fabric store
Rip Curl Sunset Road store for surf wear clothing
Donkey Skateboard shop
Agung Bali Oleh-Oleh souvenir shop
Jenggala Factory outlet for discounted ceramic tableware
Marzi Kreasi linen store
Krisna souvenir shop
Bali Brasco mall
Starbucks Coffee at Sunset Star Bali
Havianas outlet store
Body & Soul Factory Outlet store
Amori Wood Art gallery Kuta
Polos Rattan furniture – they sell the Bali umbrellas!
Sunset Point shopping mall. Find Ace Hardware, Food Store, Breadtalk, Jco & all the fast food outlets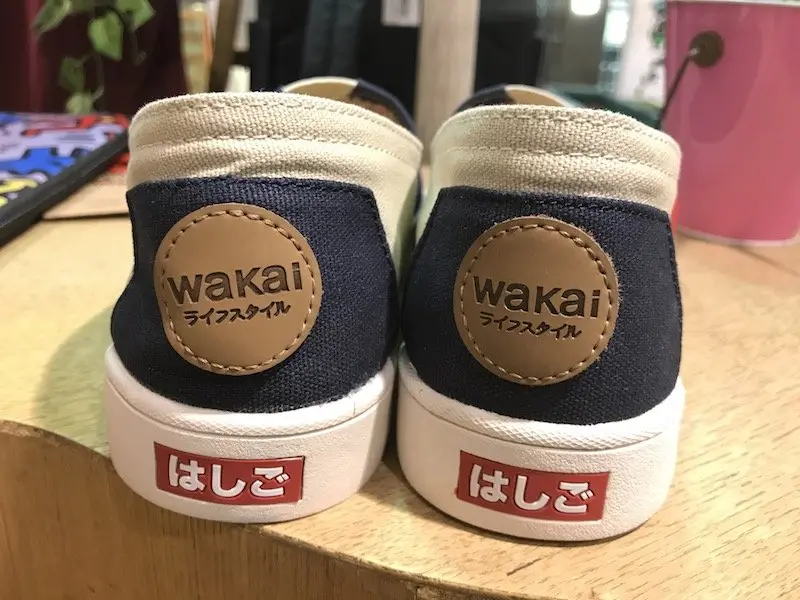 MORE Shopping Malls in Bali
No.1: Bali Mall Galeria
Grab yourself a pair of these super comfy travel footwear called Wakai shoes.
Take our word for it.
You can't buy them at home.
Plus, there's all the big brand names at Bali Mall Galeria, and activities for kids too.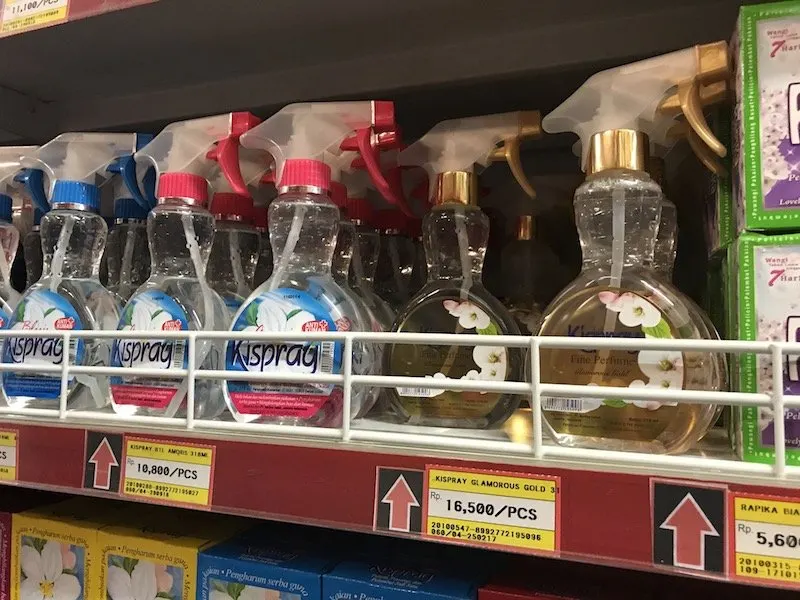 What to Buy in Bali? Bali Souvenirs to Take Home
No.1: Bali Laundry products
Buy these popular laundry products in Bali to make your laundry smell as good as it does when it comes back from a Bali laundry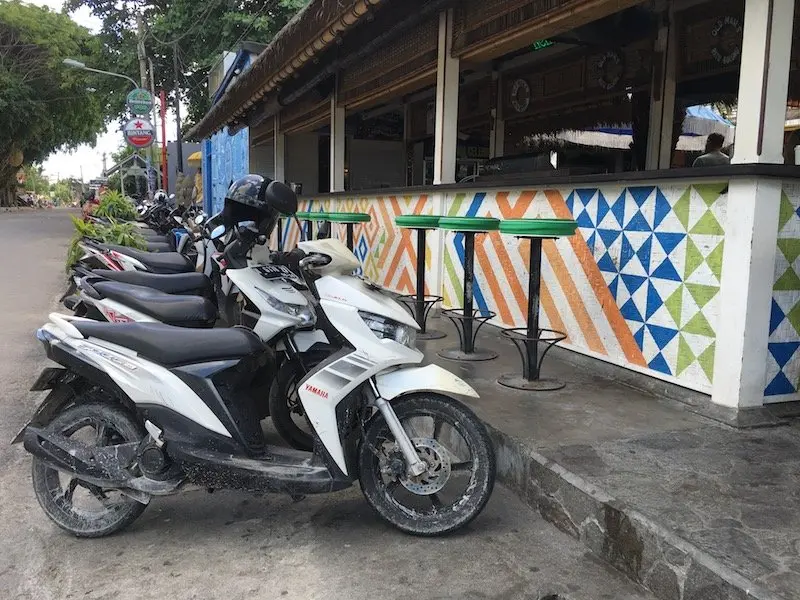 BALI TOURISM – FAQ
Frequently Asked Questions about Bali
No.1: Is it safe to travel to Bali?
Check Smart Traveller for latest travel warnings. Bali is a beautiful country to explore but sadly has a history of terrorism.
In general, keep your wits about you. Avoid political demonstrations. Be mindful in big crowds of any potential threats
Take extra care near wild animals. (Monkeys do bite!). Keep little ones especially close.
Safety precautions on attractions may not be as strict as at home and accidents do happen.
Use only Bluebird Taxis or in a private car with a trusted and recommended driver
AVOID scooter travel with kids
Change money only at reputable money exchanges in your hotel or shopping centre. Be mindful of swift fingers, and always count your money before you leave.
When walking busy streets, keep your handbags and shoulder bags close to you to avoid pickpocketing, and bag snatching. Zip them up at all times.
Wear a money belt so you can separate your money sources into a few different places (locked suitcase, handbag, money belt, sock)
Do not go to Bali without Travel insurance. If you can afford to travel, you can afford travel insurance.
No.2: Best time to travel to Bali
High season is July and August, Easter and Christmas/New Year
Shoulder season (April, May, June, September) is less busy
If you are planning to surf, the dry season (May to October) is the ultimate time to visit for waves in Uluwatu and along the peninsula.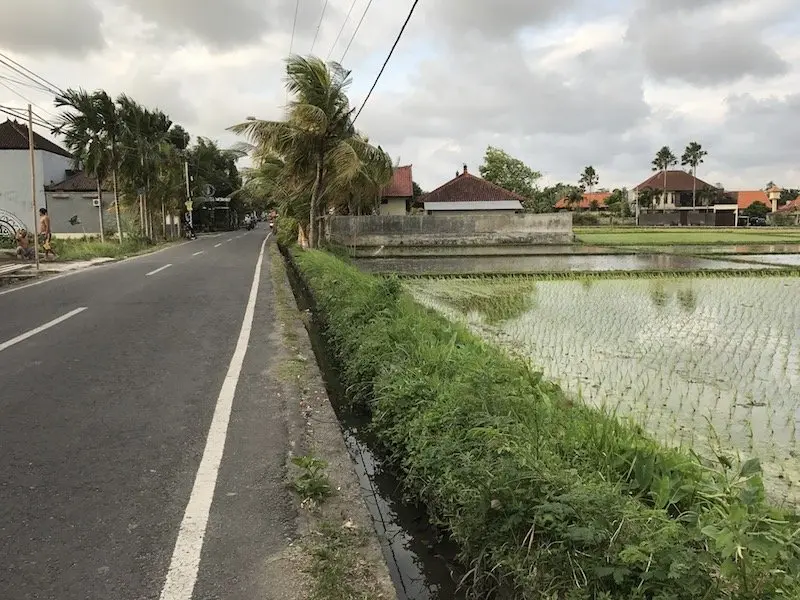 No.3: Weather in Bali
May, June and July are generally considered to be the best time to travel to Bali for good weather.
It's warm all day long, but not overly humid.
Awesome months for pool time and beachside vacations.
No.4: Currency in Bali
The Indonesian Rupiah is the currency of Indonesia.
No.5: What's the exchange rate in Bali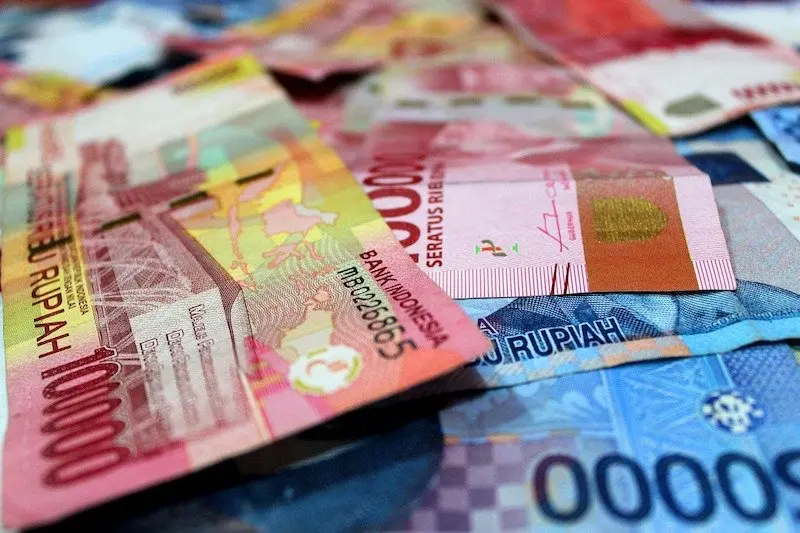 Image credit: Mohamad Trilaksono from Pixabay CC BY 1.0
No.6: How do I change my money in Bali
Click here for a list of reputable money changers
No.7: Should I take a stroller to Bali?
Yes or no?
No.8: Is there a Bali Airport Playground?
Is there a kids playground at Ngurah Rai Airport?
Sadly, there's currently no Bali airport lounge playground, but we're keeping our eye on the situation and will let you know when it's back.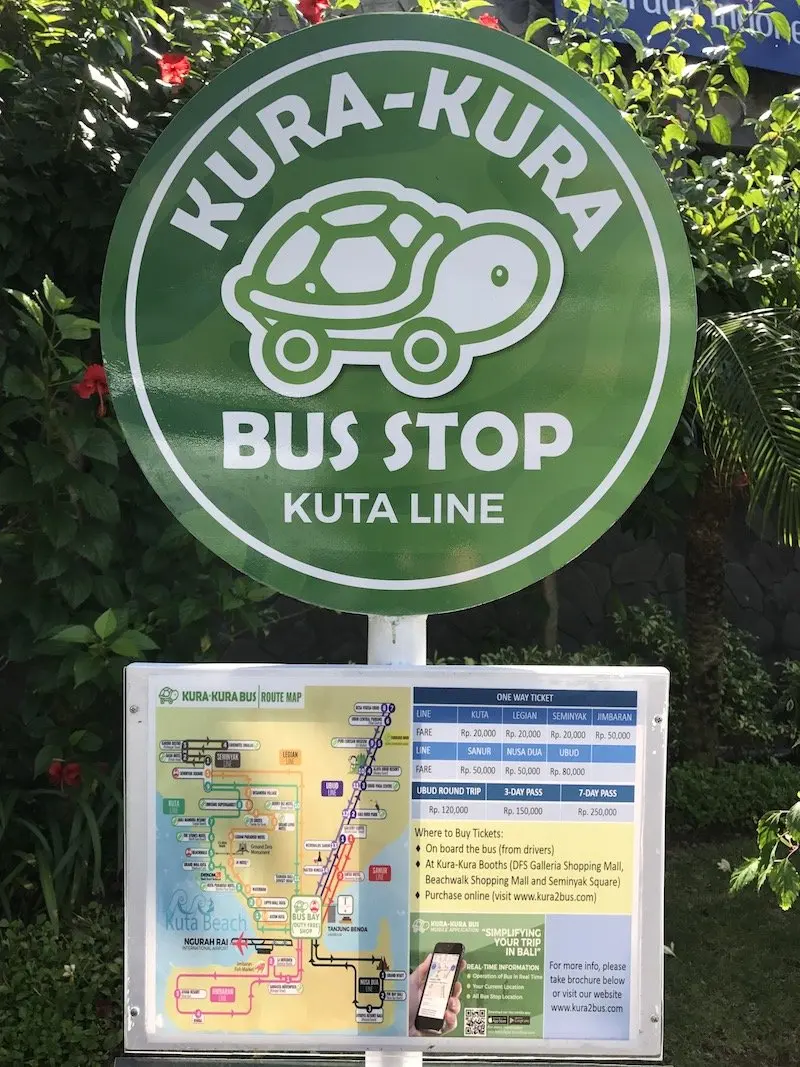 Getting around Bali – the best transport in Bali
Best Way to get Around in Bali?
We suggest booking:
a Bluebird taxi for short trips
a Private Driver for airport pickups, and
to book a Bali driver for a day for your explorations and adventures.
See below for details.
Avoid scooters or motorbikes unless you are a seasoned professional!
The roads are hectic.
No.1: Kura Kura buses
There's also the Kura Kura tourist buses with fixed fares for short trips around most tourist areas in Bali.
Bus stops can be found:
in main tourist zones (for example, Kuta Square), and
outside the most popular hotels such as Bali Dynasty.
Take the Kura Kura bus around Bali for next to nothing
There's no need to take general public buses in Bali – it's far more economical both in cash and time to jump in a taxi, or organise a driver for most trips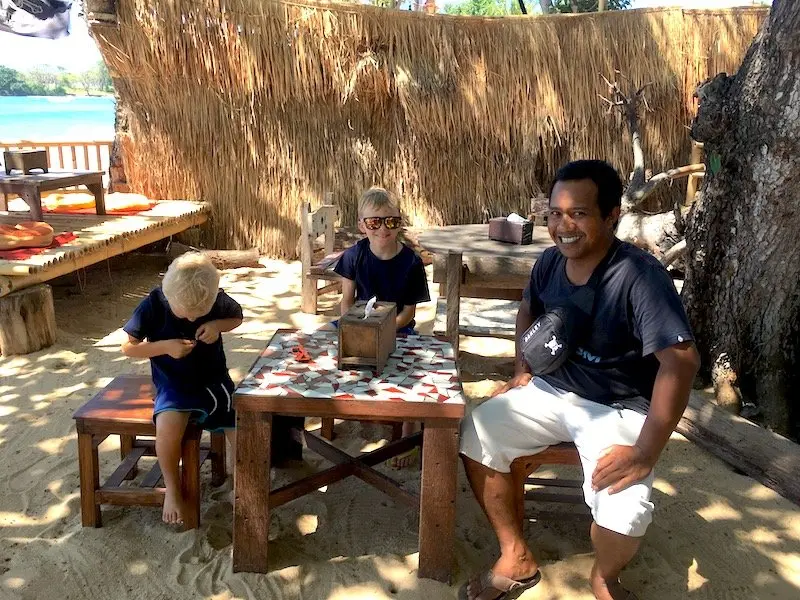 No.2: Hiring a Driver in Bali
Want to know who we use and trust? Click here for details of our favourite Bali drivers
No.3: Hire a Taxi in Bali (Blue bird Taxi)
3 reasons you should never book anything but an authentic Bluebird Taxi in Bali
No.4: Best Bali Tours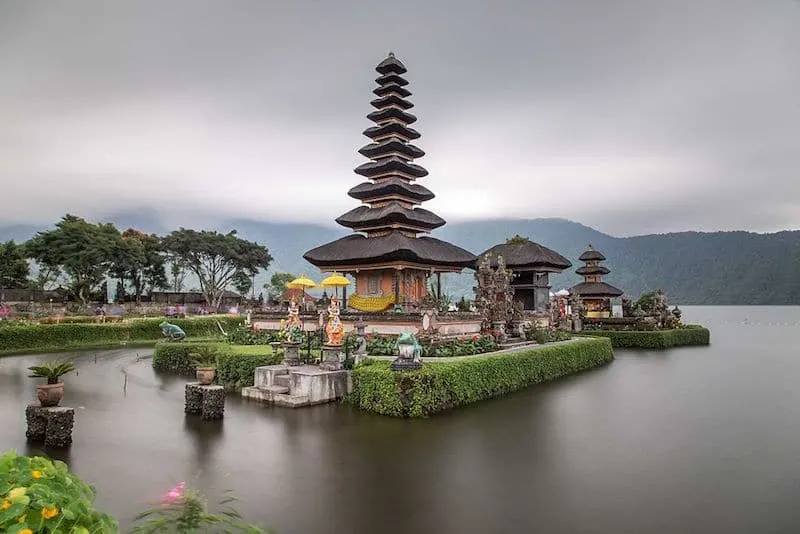 Best Bali Day Trips in a Private Hire Car
Our Best Bali 1 Day itinerary options
Coming soon
Our Suggested 2 Day Bali itinerary
Coming soon
Our Suggested 3 Day Bali itinerary
Coming soon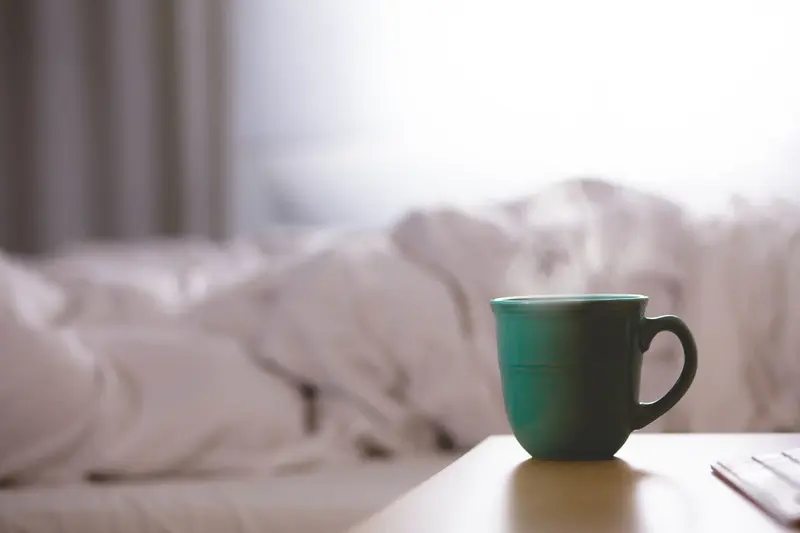 Staying Healthy in Bali when visiting Bali with Kids
How to Avoid Bali Belly
Our essential guide to avoiding Bali Belly, including the best Bali Belly Treatments that works for kids and adults if you are unlucky enough to be struck down
Bali First Aid Kit
Stay healthy in Bali with these first aid bag essentials.
Pick and choose from the list to make sure you have everything you need to stay safe
How to Avoid Mosquitos in Bali
Read Roam the Gnome's Ultimate Guide on how to avoid mosquitoes in Bali
The Best Mosquito Repellent Checklist for Bali
Find a Chemist in Bali
Hospitals in Bali
Bookmark this list – Safe hospitals in Bali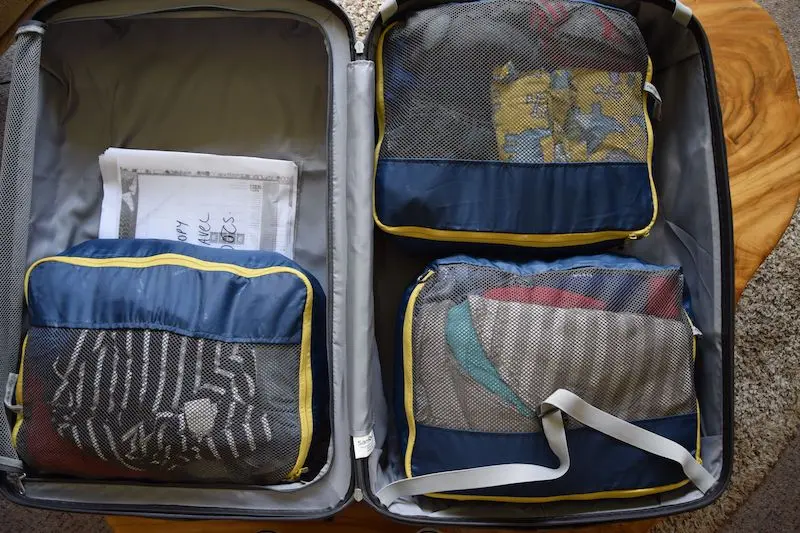 Packing for Bali
The Essential List of What to Take to Bali for Kids
Here's our guide on what to take to Bali for kids, toddlers and babies
Also, includes what NOT to take to Bali for kids (Hint: Use Bali Baby Hire)
Roam the Gnome's Ultimate Bali Packing List
Click here for the complete guide of clothes, accessories and more to take to Bali in South East Asia, including what first aid to pack, just in case.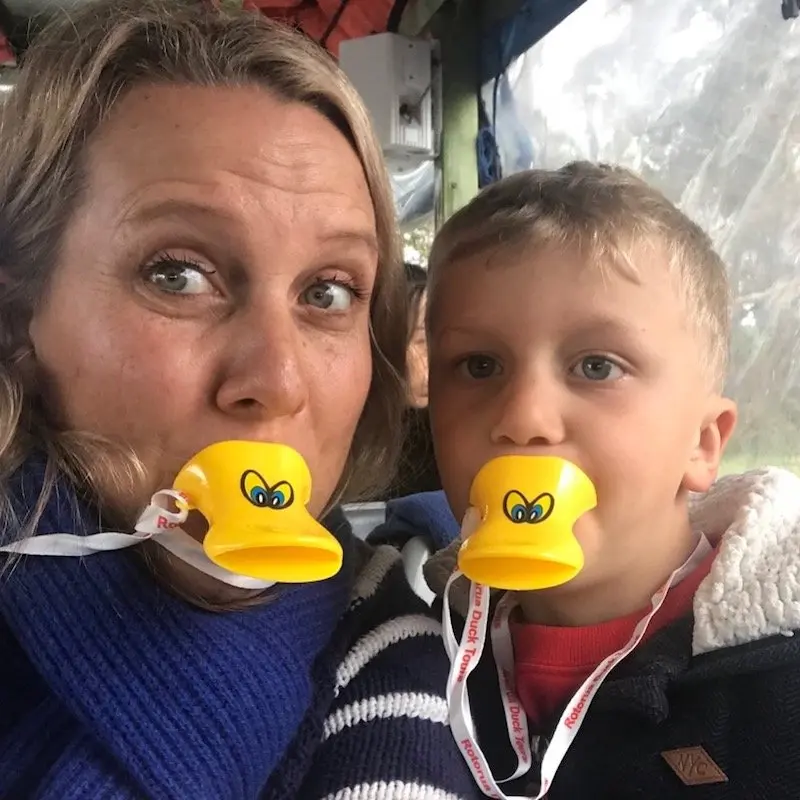 Looking for more fun holidays for kids?
Click the links in blue below.