INSIDE: Roam the Gnome's Guide to Attractions for Kids in Paris
Welcome to the ULTIMATE Roam the Gnome City Guide featuring Things to Do in Paris with Kids and Family.
If you are looking for things to do in Paris France with kids, you have come to the right place.
We love Paris, and head back again soon.
I'm super excited to be in this romantic city again, with the boys and Roam the Gnome in tow.
This time, we will be a little more stylish than our last trip, but still no where near stylish enough.
This fashion capital is the only place in the world where my lack of a fashion sensibility is obvious. The poor Parisians will just have to roll their eyes!
Thankfully, visiting Paris with kids gives me a slight advantage as we tend to head away from the CBD and into the outer areas (arrondissements) to find kid friendly attractions where the city slickers do not venture.
I can't wait to get back. This time, Paris Disneyland is on our itinerary too.
Take a look at some of our favourite Paris attractions for kids below.
Disclosure: This article contains affiliate links. If you make a purchase after clicking on one of these links, we may receive a small commission at NO extra cost to you.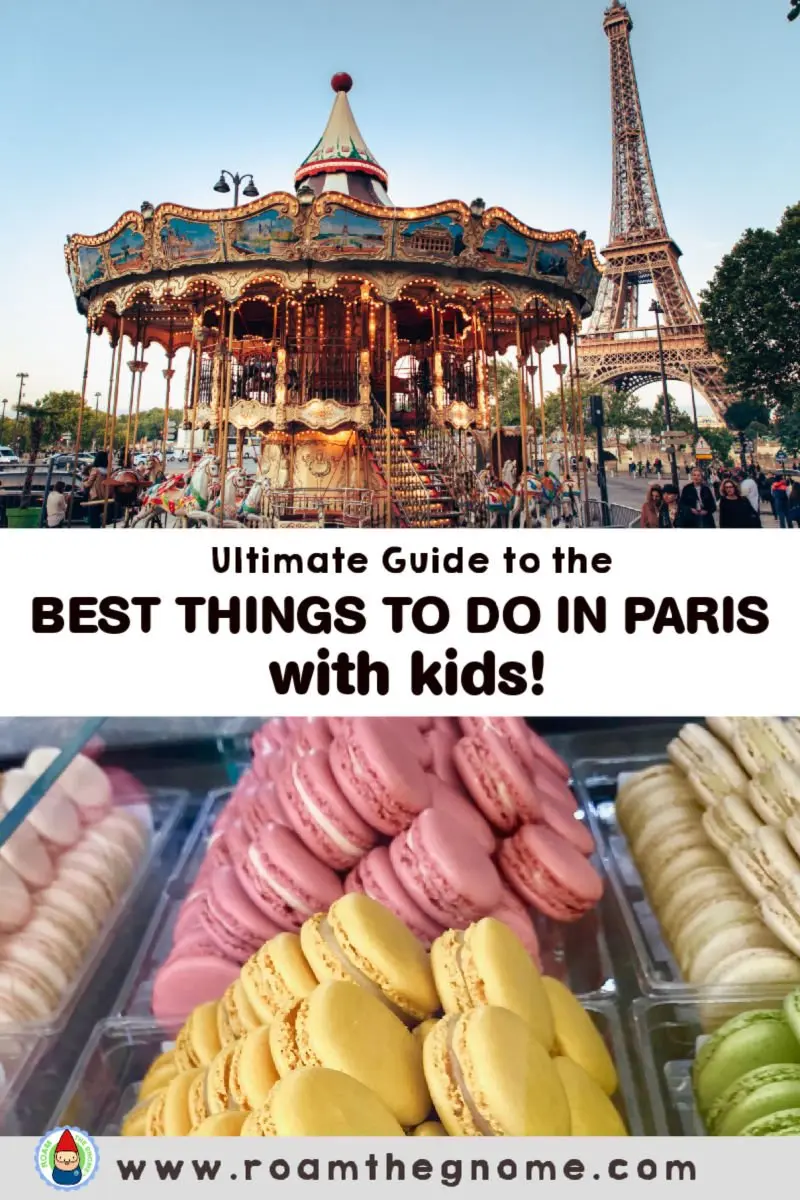 THE BIG LIST OF BEST THINGS TO DO WITH KIDS IN PARIS!
Correct at time of publication on Roam the Gnome. Please check with venue for updates. We apologise in advance if there have been any changes we are unaware of. All prices in EURO, unless otherwise stated
Check out our list of Paris point of interest attractions below and click the links to add these ideas to your list of top things to do in Paris.
Paris, France's capital, is a major European city.
This global centre is prized for its' art history, fashion, foodie heaven, and culture.
Paris's 19th-century cityscape is crisscrossed by wide boulevards and the River Seine, and iconic attractions pop up all around.
Famous landmarks in Paris
The Most Famous Places in Paris include:
the Eiffel Tower (also called the Paris Tower when people can't remember it's real name!)
the 12th-century, Gothic Notre-Dame cathedral
Montmartre, and
the Louvre
glorious Parisian gardens and parks.
Be sure to take a moment to soak in the sights while sipping on a coffee and nibbling a macaron at one of the hundred of sidewalk cafes!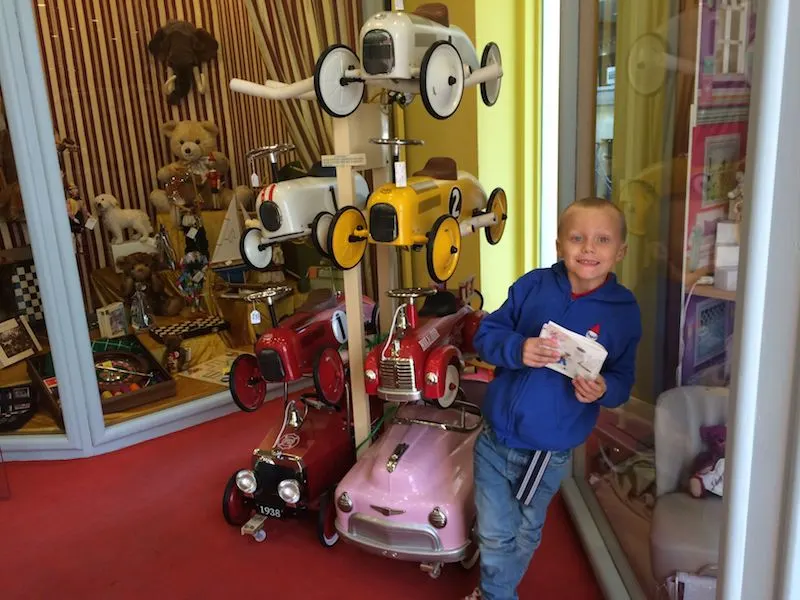 THINGS TO DO IN PARIS FOR KIDS
We share Paris points of interest, the MUST DO places to see in Paris, all the SUPER FUN things to do with kids in Paris and all about Paris travel so you can find these places quickly and easily. Plus, click here to find CHEAP FLIGHTS from London to Paris.
We hope our tips help you to compile your Paris Sightseeing Bucket List with kids quickly and easily.
We are thinking about creating a 2 day Paris itinerary or what to do in Paris in a day.
Let us know in the comments if this would be useful to you! (Or email us direct at [email protected])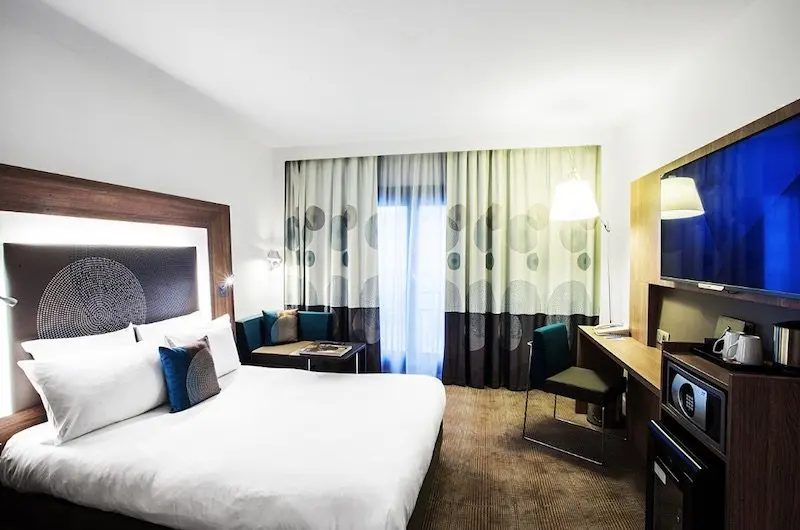 Image credit: Novotel Paris
WHERE TO STAY IN PARIS WITH KIDS
Paris Accommodation for Families
Looking for family hotels in Paris? We LOVE and recommend the Novotel Paris les Halles hotel because of its' perfect location.
It's our favourite 4-Star Family Accommodation in Central Paris.
It's less than 10 minutes walking distance to the Seine and the Louvre, and the incomparable Terrain d'aventures Paris playground is about 200 metres walk from the front door.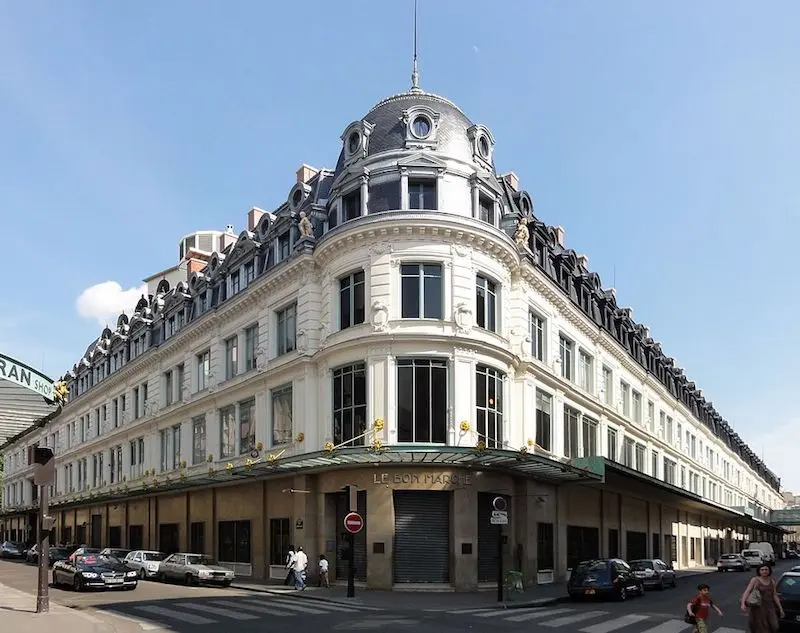 Image credit: Guillaume Speurt via Wikimedia CC BY-SA 2.0
PLACES TO TAKE THE KIDS IN PARIS SHOPPING
Paris Department Stores
Do not miss wandering through one of Paris' most elegant stores, the Le Bon Marche Department Store.
Printemps, opened in 1865 is one of the world's leading department stores for fashion and luxury.
Galeries Lafayette Paris department store is worth a visit just to look at the beautiful ceiling!
Head to the Children's Gallery for the best French Toy brands all in one place!
Tips for Shopping in Paris
Hot tip: Search for the Official Paris App to keep an eye on specials at the Department Stores and lots more!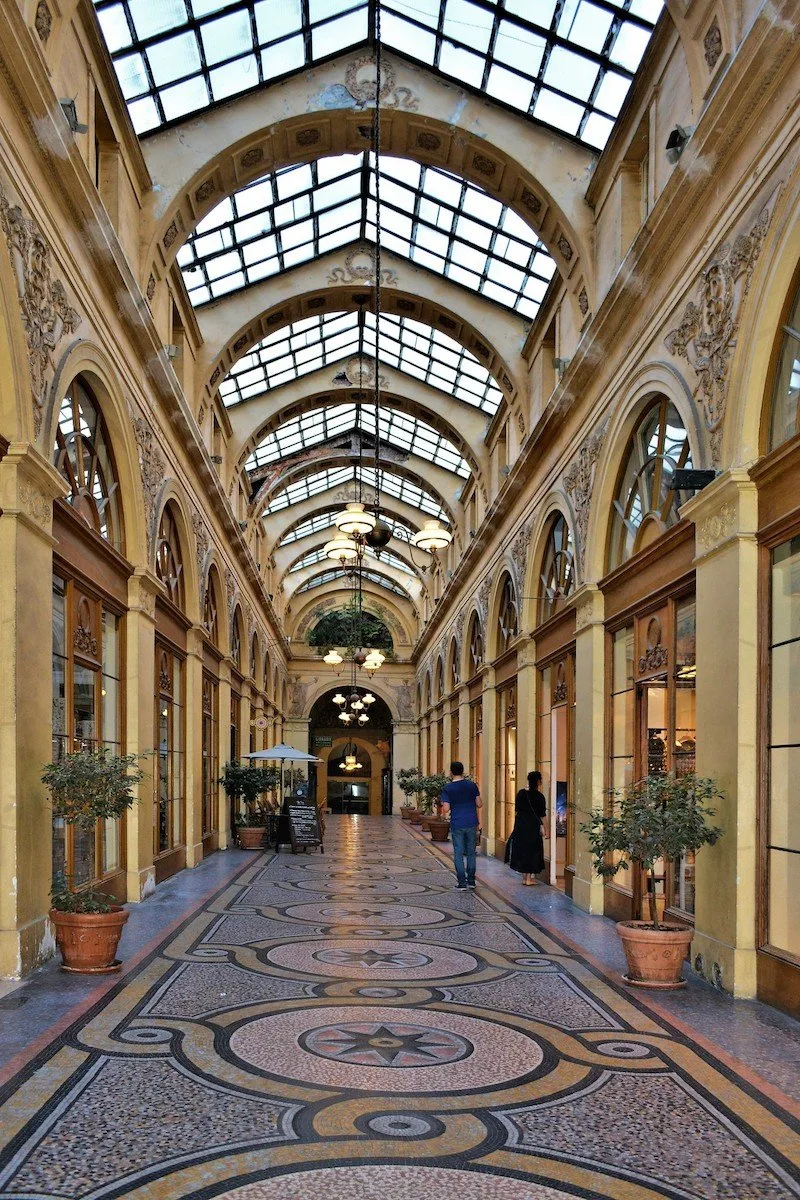 Image credit: Carl Campbell via Flickr CC BY-SA 2.0
The Best Paris Shops for Style Lovers
This part of the guide is directed to the adults in the family, but kids will find some of them a blast too.
Take a look at the Galerie Vivienne arcade, one of the covered passages of Paris.
You can also visit:
Le Monde en Seine, a curated collection of products chosen for their elegant design
Storie boutique for unique Parisian gifts and homewares
Visit the Passage Jouffroy shopping arcade for unique shops selling antiques, books, paper goods and stationery
The famous Shakespeare and Company bookstore across from the Notre Dame is a book lovers dream
Bijoux Blues is the place to buy beautiful hand-crafted jewellery.
Visit the quirky Huygens store for natural organic skincare
Mokuba Paris is an entire shop dedicated to beautiful fringe for crafters
The best yarn shop in Paris? Les Tricoteurs Volants at 22, rue de la Fidélité 75010
Looking for gifts? Try the Hemingbird shop at 7 galerie Montmartre.
Find stunning Parisian ceramics, metal craft, and gifts at Empreintes at 5 rue de Picardie75003
Deyrolle is the famous taxidermy shop in Paris. Take the kids, but remind them to don't touch!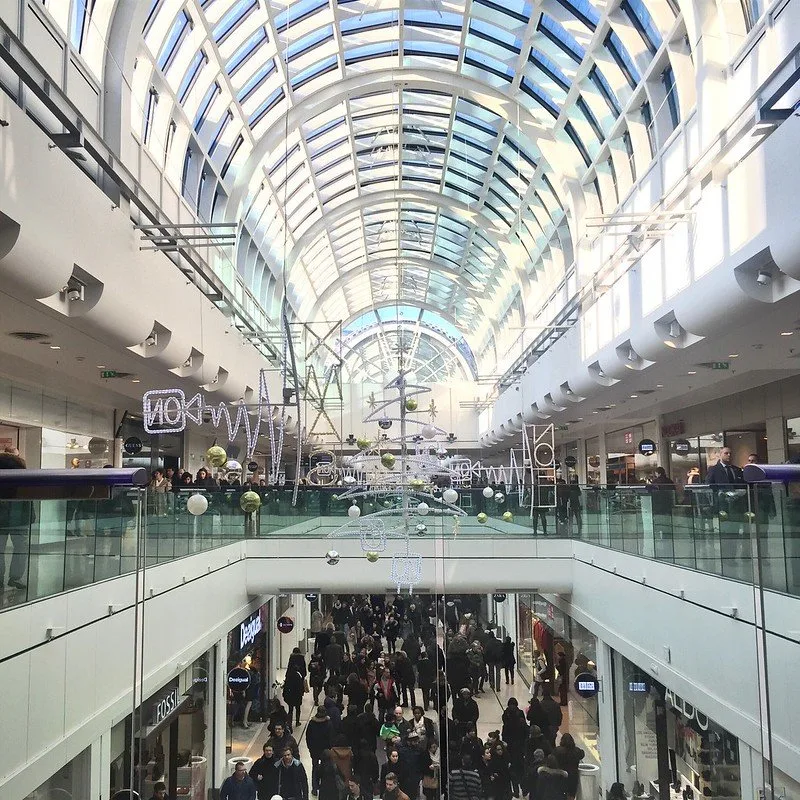 Image credit: Pierre Lannes via Flickr CC BY-SA 2.0
Best Paris Shopping Centers
Les 4 Temps is France's largest shopping mall, and they have a kids play area to entertain the kids too. Head here for a relaxed shopping experience.
Forum des Halles is another Paris shopping centre to put on your list.
La Vallee Village is an outlet mall with more than 115 luxury boutique outlets.
You can find famous French brands at discount prices, including Bonpoint.
Plus these exclusive clothing brands:
Gucci
Prada
Armani
Tod's, and
Burberry.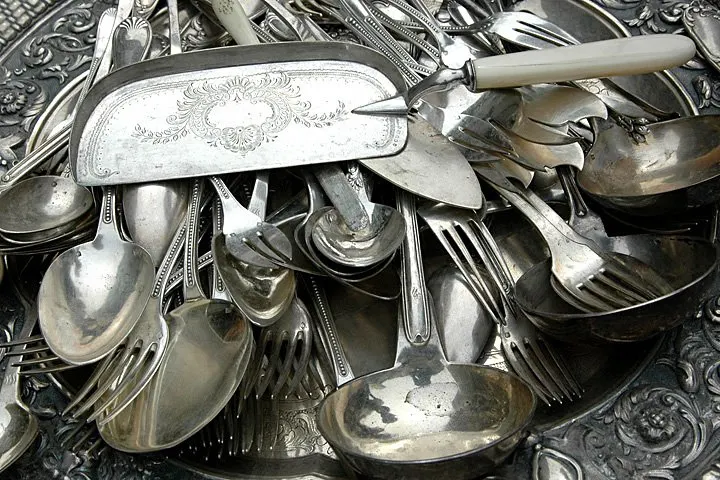 Image credit: Eileeninca via Flickr CC BY-ND 2.0
Fun Places to Take the Kids in Paris? Paris Markets
Marche aux Puces de la Porte de Vanves is the only Paris flea market in the centre of town, with more than 400 vendors and food stalls.
There's another one, the Marche aux Puces de Saint-Ouen slightly north of the 18th Arrondissement.
If you are a foodie, don't miss La Grande Epicerie de Paris Rive Gauche to see the 30,000 odd gourmet offerings including:
bottled goods
everyday groceries
fresh produce
wine, and
food made by local producers.
Best Toy Stores in Paris
Once Upon a Time toy store in Paris is full of souvenir and gift possibilities. It's super cute, and budget friendly too.
Click here for more of the best kids shops and the best toy shops in Paris.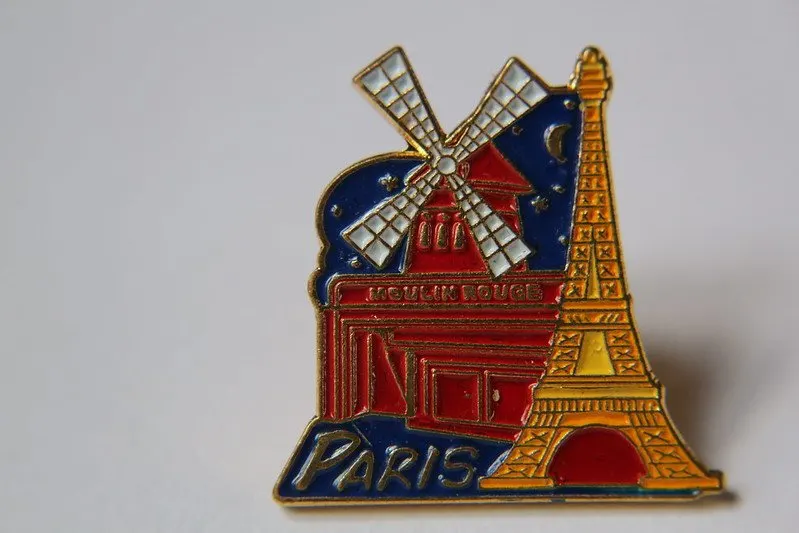 Image credit: Sarah-Rose via Flickr CC BY-ND 2.0
What to buy in Paris? The Best Paris Souvenirs to Take Home
The Complete Guide to Paris Souvenirs, coming very soon!
In the meantime, do visit ALL the museum shops in Paris.
Our experience tells us these are the best souvenir shops in Paris for a unique treasure or handmade gift.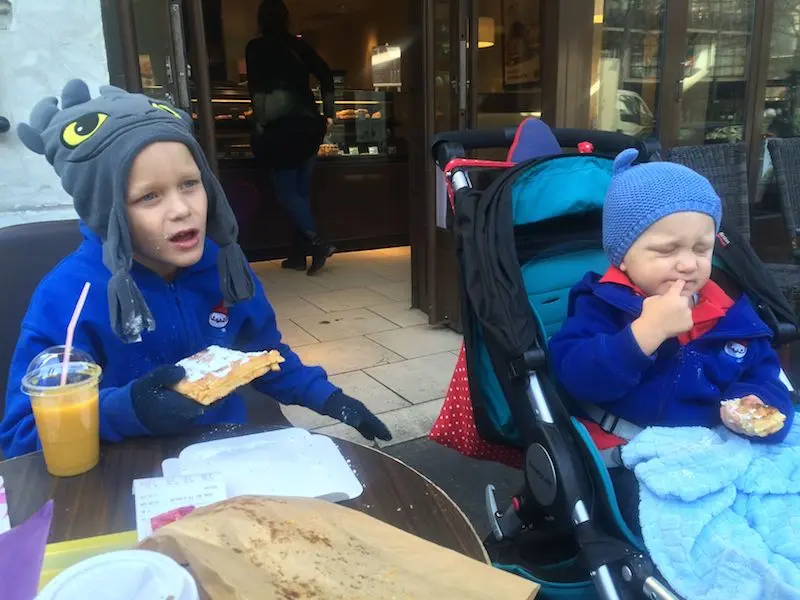 BEST PLACES TO EAT IN PARIS
Where to eat in Paris with Kids
Try these family friendly restaurants:
Le Super Café
This is one for families with toddlers and young children. Wholesome food, and space to play. We love it!
Place Mélina Mercouri, 75020 Paris.
Click here for the website.
Breakfast in America
Pancakes, bacon, eggs, burgers and more. Great for kids.
17 rue des Ecoles 5e Paris.
Le Cafézoïde
Finally, a cafe made for families in Paris. Good healthy food, plus space to move, and it's a winner.
92 bis quai de la Loire, 75019 Paris
les 400 Coups
There's a play area here for kids, plus a children's menu and normal food kids will actually eat.
51 Rue de Bercy, 75012 Paris.
Click here for the website.
Aloha cafe
Cute little coffee shop with the motto, "Nice coffee & food for nice people"!
Tasty homemade pastries all day long, plus delicious salads, veggie bowls, sandwiches, soups and quiches!
Click here for the website.
Chat Mallows cafe
Take the kids to this Cat Cafe in Paris!
It's a relaxed coffee shop with a family friendly menu including sweet and savory snacks. But definitely on the pricey side!
Click here for website.
Café Suédois inside the Swedish Institute (Institut Suédois)
This is a family restaurant cafe with style, and high chairs. Kids love the ice cream.
Try yummy Swedish food for lunch or dinner.
Has an Ikea feel, so we love it.
9 Rue Payenne, 75003 Paris.
Click here for the website.
Restaurant Astier
For a real Parisian feel, visit Astier at 44 rue Jean-Pierre Timbaud, 75011 Paris.
Click here for website.
Bus Burger
For a really fun dinner with a difference, why not try the Bus Burger mobile restaurant?
The kids get burgers, there's soft drink included, and you take in all the Paris sights as you journey around while eating!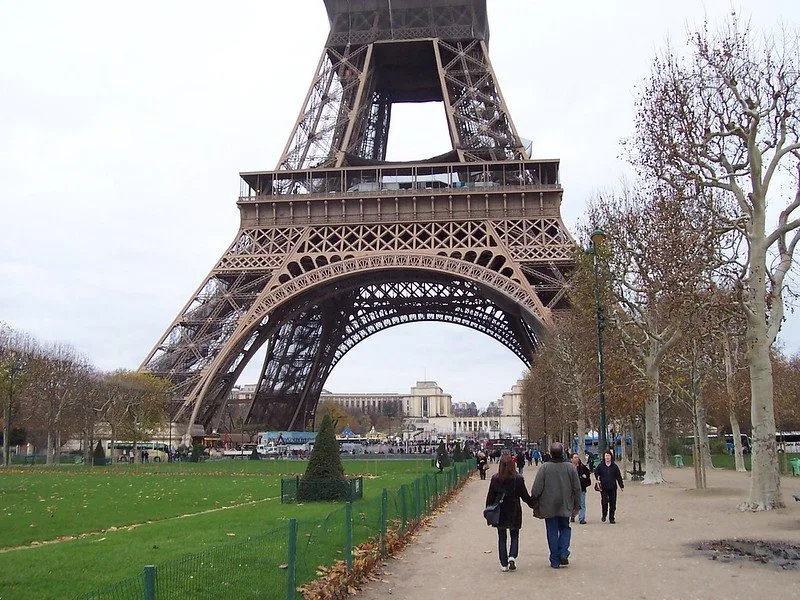 Image credit: Neil Willsey via Flickr CC BY-SA 2.0
THE ULTIMATE CHECKLIST OF THE BEST PARIS POINTS OF INTEREST FOR KIDS
The Eiffel Tower is a must-do with kids.
But before you go, learn a little.
Knowing the history and a few fun facts about a landmark makes the journey so much more engaging for curious children. Check out these fabulous Eiffel Tower Facts for kids. It's quite a collection.
Now you are ready to head on up the Eiffel Tower, we've got a bunch of tips to help make your journey hassle-free, so you don't end up with a kid who is so tired he's falling asleep at the top!
(Or as hassle free as it can be, considering this is one of Paris' most loved and most visited sites)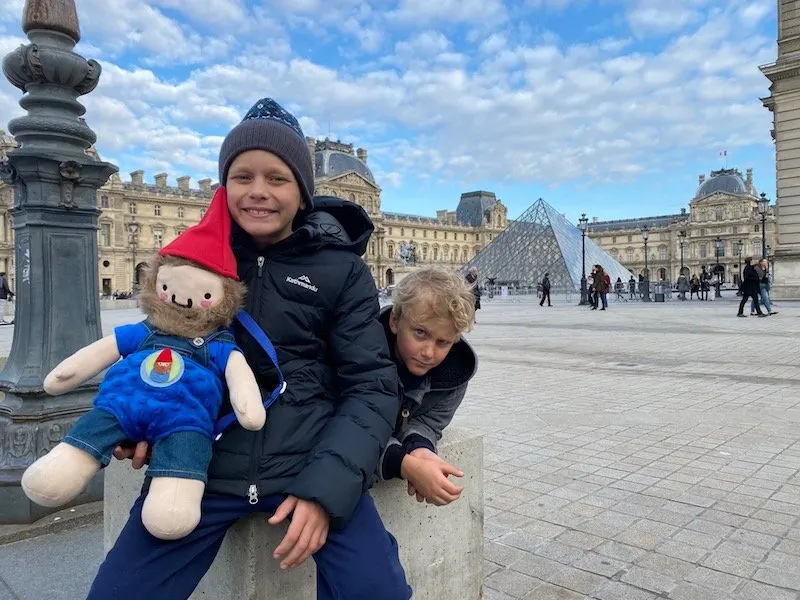 BEST THINGS TO DO IN PARIS WITH KIDS
The Louvre Museum for Kids
Our story for visiting the Louvre with kids in tow is full of tips to help you navigate this giant museum and skip to the good bits the kids (and you) will love. It also includes the best times to visit the Louvre with kids.
We highly recommend a visit to see the MONA LISA, and the Petite Galerie for kids too.
The Centquatre
Here's another place to get a local's look into Paris – The CENTQUATRE.
It's home to shops, a cafe, and a restaurant.
But the best thing is the workshops and activities for kids and families. Click here for the website.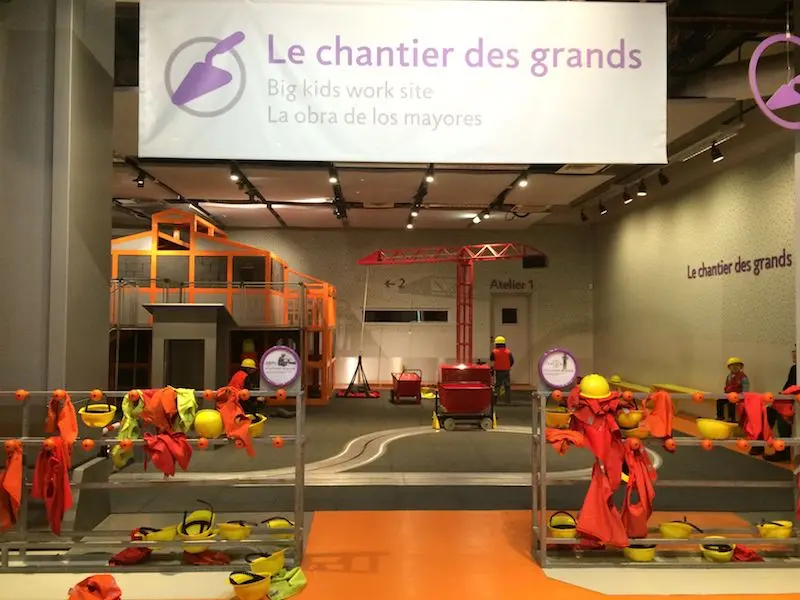 Best Museums for Kids in Paris
You don't need to look far for good museums and art galleries for kids in Paris.
Remember that wonderful children's museum we mentioned? Check out our full review of the Paris Science Museum Cite des Science for 7-12 year olds.
If you have younger children and want to head on out to the Cité Des Enfants Museum in Paris too, here is the full review of the Paris Science Museum for 2-7 year olds.
The Building Site at the Paris Science Museum is the best fun for preschoolers. (Take a look at all the pics too!)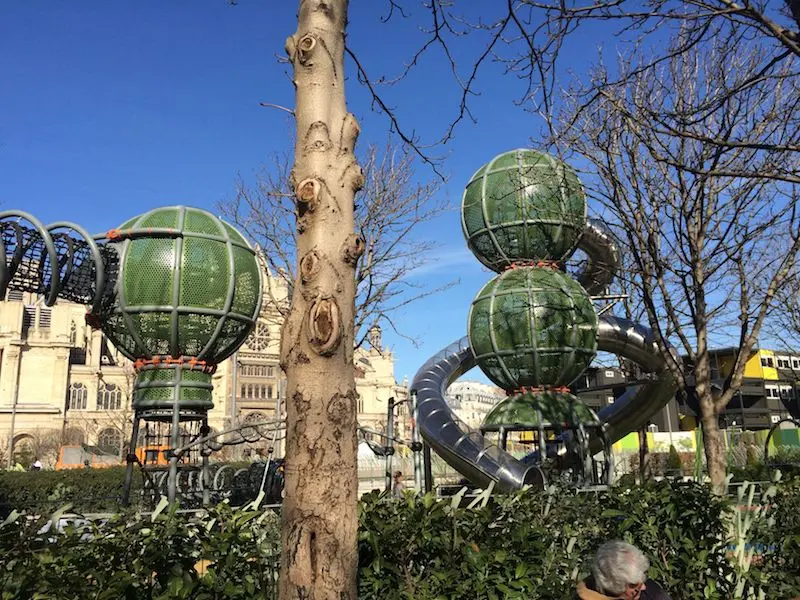 CHEAP THINGS TO DO WITH KIDS IN PARIS
Best Paris Playgrounds
Want to know where to play in Paris with Kids? Check out these playgrounds in Paris.
The Jardin du Luxembourg playground is a fabulous morning out for kids. Bonus – the whole giant playground at the Jardin de Luxembourg park is gated! Entry fee applies.
The space-age designed playground, Terrain d'aventures should not be missed. For lovers of design, this playground is right in the middle of traditional Parisian townhouses too. Worth a look.
Check out the quirky roly-poly undulating hill playground at Parc de la Villette. Being outside the touristy areas of Paris, it's one where you can really truly feel like a local.
There's another cool Paris playground at the Jardin des Tuileries garden near the Louvre too.
---
RELATED: The Big List of the BEST Playgrounds in Paris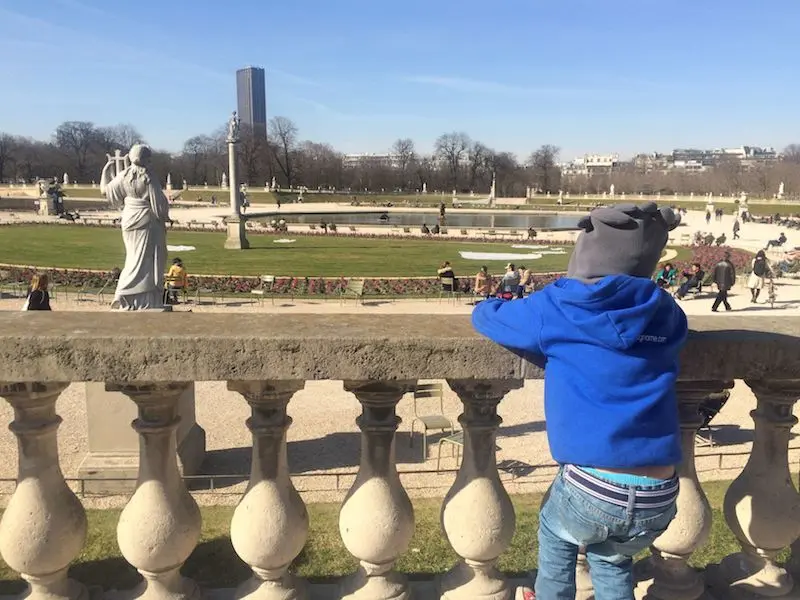 Best Parks in Paris & Nature
In Paris, we found the tightly squeezed cafes, the throngs of people, the stares and raised eyebrows, and the busy city life made us all crave a bit of green space and nature even more.
Sometimes, all you want (and need) is a big wide-open space for the kids to run around without annoying or bugging other people.
That's when you need a list of public parks in Paris quick smart.
Our favourite Paris park is definitely the Jardin du Luxembourg gardens. It's a rare treat for an Aussie to wander through a park filled with centuries-old statues and hand-carved busts of royalty.
This is our favourite park in Paris, with wide open spaces, a pond for sailing boats, places to run and hide, and kids playgrounds.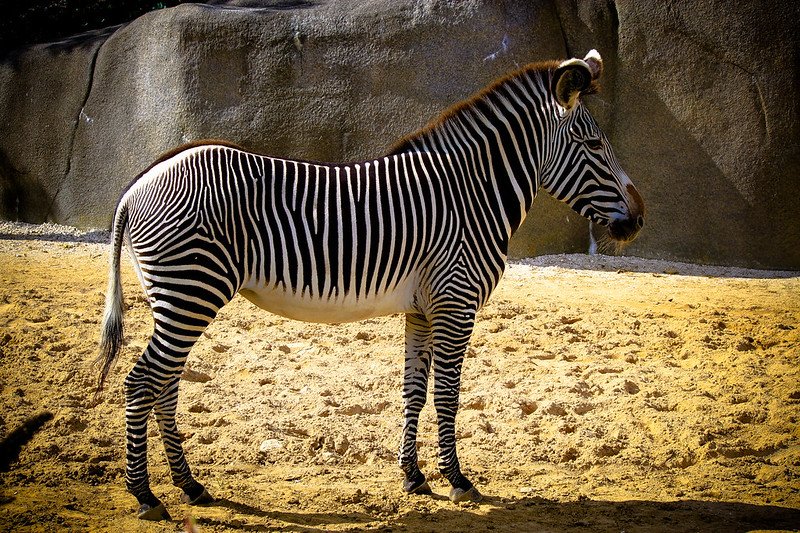 Image credit: Andy Hay via Flickr CC BY 2.0
Best Animal Experiences and Zoos in Paris
See these Paris tourist attractions.
See sealions, giraffes, zebra and lemurs at the Parc Zoologique de Paris (Paris Zoo)
Feed the sharks at the Aquarium de Paris. Say hi to the pet koi carp too!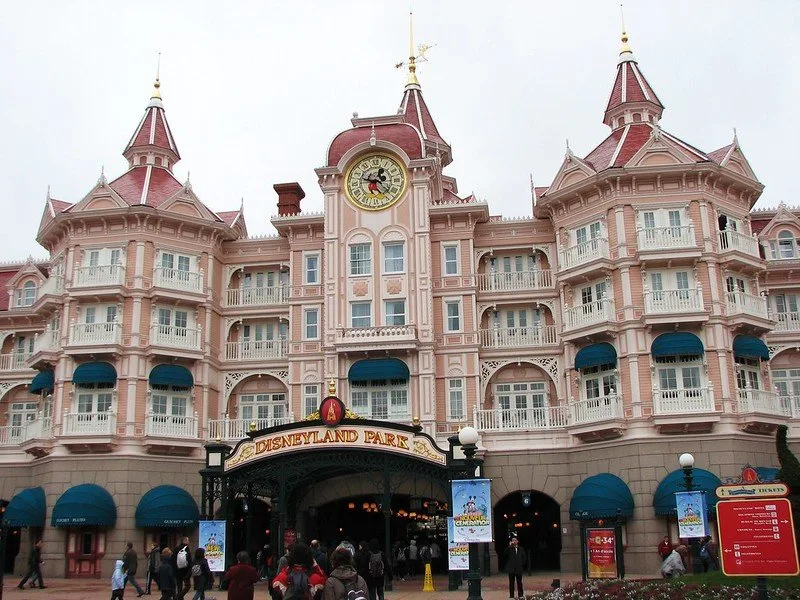 Image credit: Jeremy Thompson via Flickr CC BY 2.0
FUN PLACES TO GO WITH KIDS IN PARIS
Paris Disneyland
Disneyland Paris is on our radar, and we head there in just a few months time.
We are on a quest to visit ALL the Disney Parks around the world, so we are all very excited to see this one, and stay at the Disney Cars hotel too.
Check back soon for our review!
Paris Disneyland is free for kids under 3.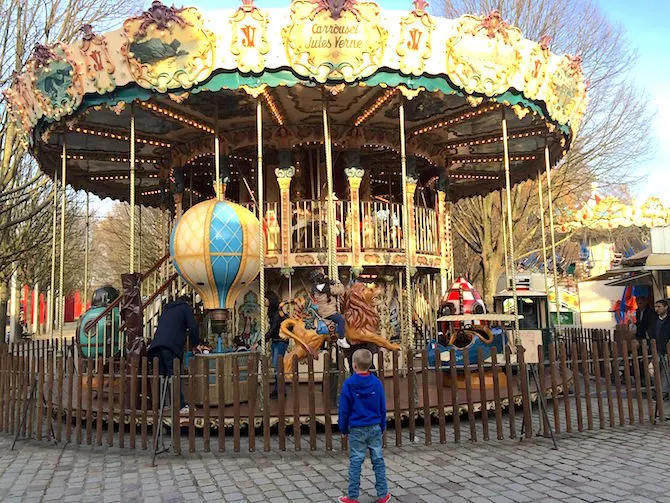 More of the Best Theme Parks in Paris
Check out these fabulous Paris theme parks.
Parc Asterix – get your Parc Asterix tickets here.
Sherwood Parc – reduced tickets for kids under 12. Ride the 260-metre-long zip wire!
Mer de Sable
France Miniature – free for kids under 4
Playmobil Funpark – free admission for kids under 3
Aquaboulevard indoor aquatic recreational water park – there's a giant life size whale in there!
Jardin d'Acclimatation children's amusement park is one of the best places for kids in Paris. There's:
an archery range
a house of mirrors
carousel & puppet theatre
min golf course
radio controlled boats
boat rides on the enchanted river
a train
farm animals and pony rides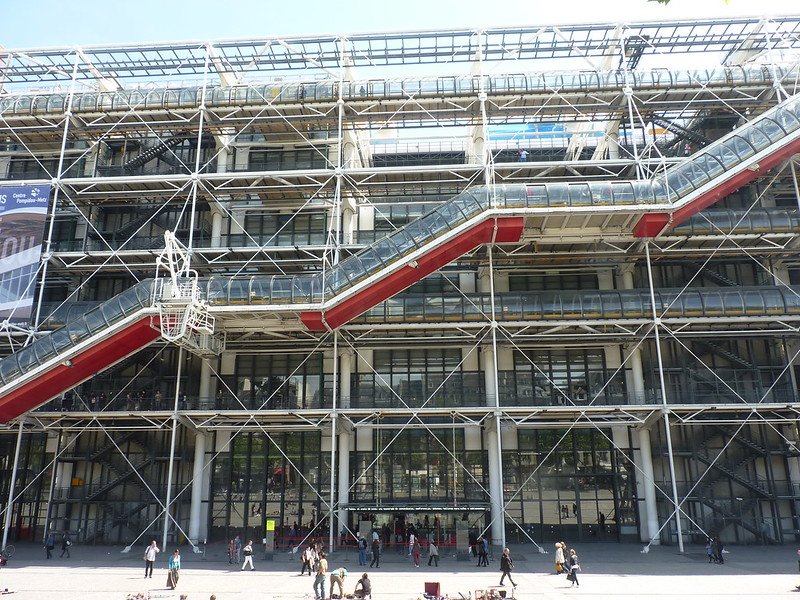 Image credit: Luke McKernan via Flickr CC BY-SA 2.0
More Places to visit in Paris with kids
Put these on your Family Travel itinerary for Paris with toddlers & kids.
Choco Story Paris, the chocolate museum
Montemarte and the Sacre Coeur
The Catacombes
Pompidou Centre with skip-the-line tickets (pictured above)
Musee national de la Marine
Musee Rodin
The Paris Story experience
Musée de l'Air et de l'Espace aeronautics museum – see the two Concorde planes inside, plus 150 odd more!
The Musée Picasso-Paris Museum – more than 5000 works by Picasso
See the light and sound show at the Invalides
Book the kids into the Les Petits Cordon Bleus cooking school for 8 to 12 years old, for a class at this iconic institute.
Or you can learn how to cook pizza at Casa Luca.
Things to do in Paris with a Baby
You can go almost anywhere in Paris with a baby as long as you have an ergo baby carrier, and time it right.
The key is avoiding anywhere with stairs if you have a stroller in tow, but take baby in an ergo and Paris is yours!
One of the best things to do is WANDER Paris at your own leisure, stopping off at the beautiful parks as you go, and picking up delicious Parisian food for an impromptu picnic.
Don't miss the Eiffel Tower Carousel too.
What are the best things to do with kids in Paris when its raining
Indoor museums are the winners here.
Check out the grand animal procession of lifesize animal statues at the famous Grande Galerie de l'évolution (Grand Gallery of Evolution) at the National Museum of Natural History) in Paris.
Or you could:
go on a Paris Passageways adventure, finding all the undercover passages in the city
visit the Catacombs
stop by the Musee de la Magic (museum of Magic) to see optical illusions, magic tricks, magic hats, wands, wind up toys, and everything a budding magician like Harry Potter would be thrilled to see
drink a hot chocolate at the famous Angelina restaurants
visit Cap Pirate indoor play centre in the Aubergenville Family Village
check out the doll collection at Musée de la Poupée (even the name is fantastic!)
head to Chez He restaurant in Paris, and let the kids head down to the play centre in the ground level
visit Palais de la Découverte (Palace of Discovery) science museum in the Grand Palais
take a walk around the Musee Grevin wax museum, one of the oldest in Europe – there's a fun house of mirrors too!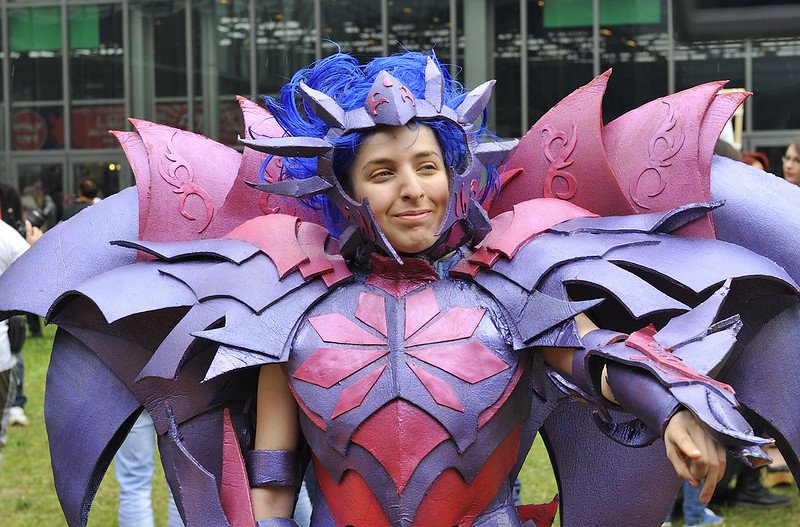 Image credit: Rog01 via Flickr CC BY-SA 2.0
PARIS EVENTS
Check out the official guide to Paris events here.
But we always believe the best way to find family friendly events in Paris is to check out the local family magazines in Paris.
The best place to find one is at a children's museum, science museums, family cafes, indoor play centres, and tourist information offices.
These Paris events return year after year:
Paris Manga and Sci Fi Show
Japan Expo
Comic-Con
Paris Games Week

THE INSIDE SCOOP- VISIT PARIS TRAVEL BLOG
PARIS TRANSPORT
Heading to Paris from London?
(Check the link at top of page for tips on how to get a cheap flight from London to Paris.)
Wondering how to get from the airport into Paris CBD?
Do yourself a favour and book family friendly airport transfers in Paris. Pre-booking a transfer to take us from an unfamiliar airport to our hotel is a no-brainer now. It's worth every cent, and more.
If you are lucky and book with Holiday Taxi's, you might even meet our driver Dinko. Read all about our most recent voyage with Dinko at the helm by clicking the blue link above.
You can't visit Paris without taking the tube in Paris at least once. If only to take a look at the Metro's Art Deco era signage. It's a beautiful sight in Paris with children.
Getting around Paris
Need more information about getting around in Paris?
Click here for the Paris Convention and Tourism Bureau to find all the details of getting around Paris on foot, by bus, by Paris metro, and by RER train.
The RATP transport network has discounted fares for children and families, which means you can enjoy unlimited travel on all the metro, tram and bus lines in Île-de-France, the RER express trains in Paris and the Montmartre funicular railway either free of cost or at reduced prices.
Children under 4 years of age can travel free of charge on all public transport as long as they do not occupy a seat.
Children under 10 years of age get a 50% discount on the purchase of a single train ticket or carnet (book) of 10 tickets.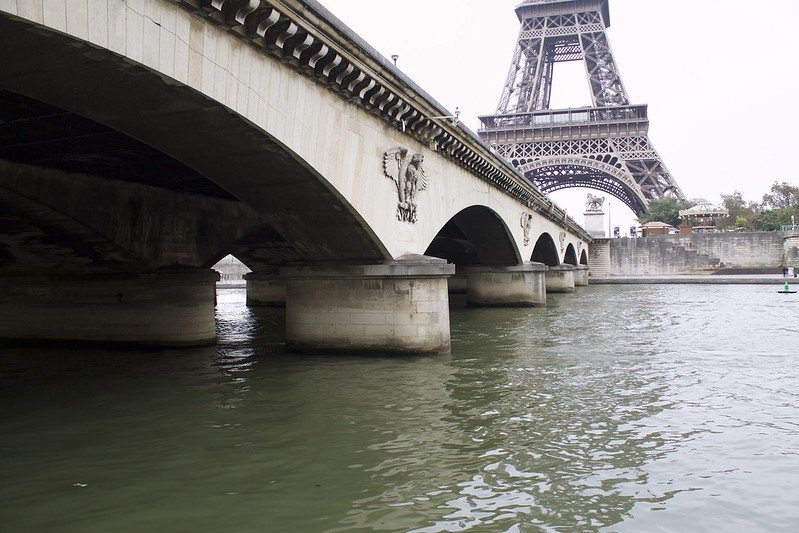 Image credit: Patrick Nouhailler via Flickr CC BY-SA 2.0
PARIS TOURISM – FREQUENTLY ASKED QUESTIONS
Weather in Paris
What is the weather in Paris today?
Click here to find up-to-date Paris Weather reports.
Download Paris Points of Interest Map
Downloadable Paris Maps
Download and print Paris Maps here.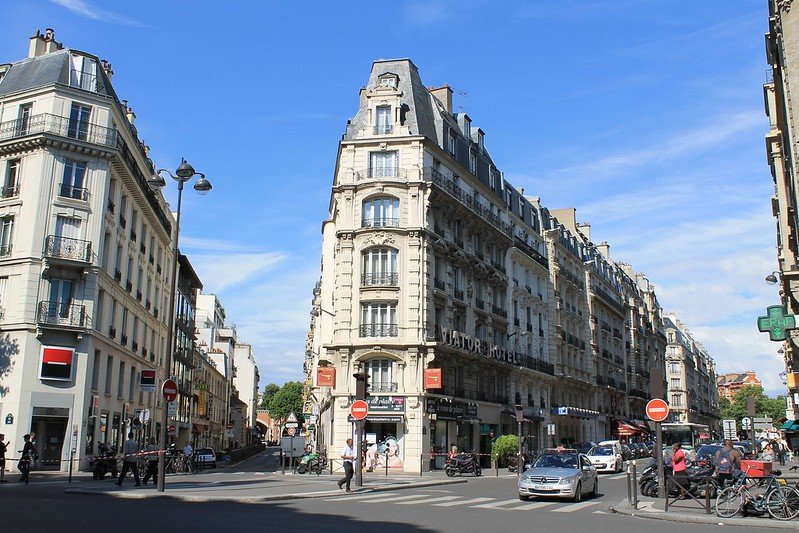 Image credit: Patrick Nouhailler via Flickr CC BY-SA 2.0
PARIS ON A BUDGET
Looking to visit Paris with kids on a Budget?
Click here for a bunch of free or cheap things to do in Paris.
Click here for more cheaps ways to see Paris.
PARIS DISCOUNTS
Admission to the Eiffel Tower is free for children under 4.
Children aged 4 to 11 receive 75% off the admission price, while 12-to-24-year-olds get 50% off.

LOOKING FOR MORE FUN CITIES TO VISIT WITH KIDS?
We'd love to help. Click the links in blue below for our Ultimate Destination Guides.