INSIDE: The Ultimate Guide to Madame Tussauds NYC
Never pay full price entry into the famous Madame Tussauds wax museum in Times Square with these Madame Tussauds New York coupons and discount tickets!
What is Madame Tussauds? It's a museum of wax figures!
The Madame Tussauds museum of wax figures is a fun day out for kids in New York, giving kids the chance to get up close and personal with A List famous people from films, music, sport, television, science, and culture.
You can also:
meet World Leaders
be inspired by Broadway stars, and
say hi to the Queen and younger members of the Royal Family including Meghan Markle, Prince Harry, Prince William and Kate Middleton.
The Madame Tussauds Wax Museum in New York opened in 2000.
Take a sneak peek inside below!
Disclosure: This article contains affiliate links. If you make a purchase after clicking on one of these links, we may receive a small commission at NO extra cost to you.
Buy Madame Tussauds Discount Tickets with Klook
Click here for Madame Tussauds New York discount tickets.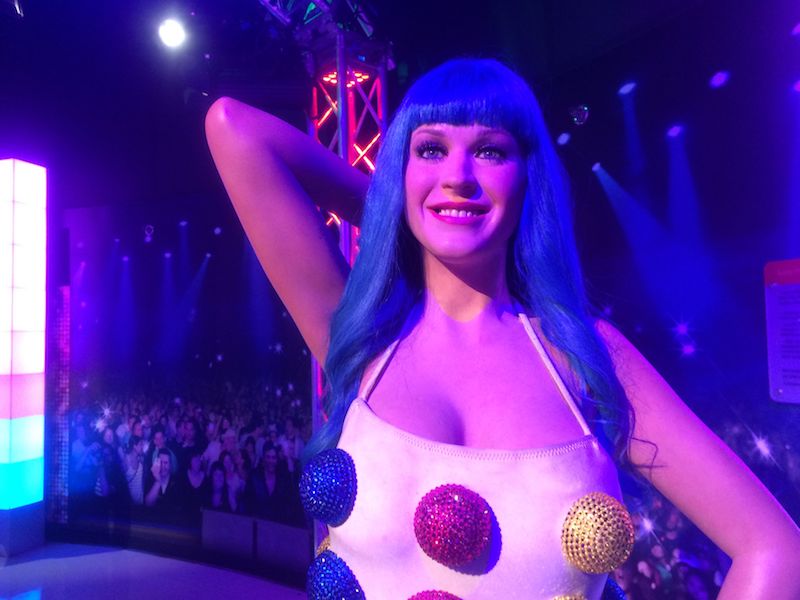 Best Madame Tussauds New York Coupons or Entry with New York Pass
No.1: Madame Tussauds with New York Pass
You can also get Madame Tussauds coupons for discount entry when you have a New York pass.
Click here for our New York Pass comparison guide, and why it's our FAVOURITE New York sightseeing pass.
No.2: Madame Tussauds Buy One Get One Free offer
From time to time, you can also find discount tickets & Madame Tussaud coupons on their social channels:
Look out for the promo code.
No.3: Madame Tussauds Times Square Touts
Keep an eye out for the Madame Tussauds street team near the entrance or in Times Square in New York.
They always have a special coupon too.
---
RELATED: Big List of Best Things to do in NYC with Kids
Visiting Madame Tussauds New York City with Kids
I wasn't sure if a visit to MadameTussauds New York was particularly necessary, but it turned out to be one of the most fun, interactive experiences we had in the city.
Yes, it is touristy.
Very touristy.
85,000 square feet of touristy.
But, it's laugh-a-minute fun!
Wondering is Madame Tussauds worth visiting?
We think so, especially when you have discounted entry.
Everyone should visit at least once in life.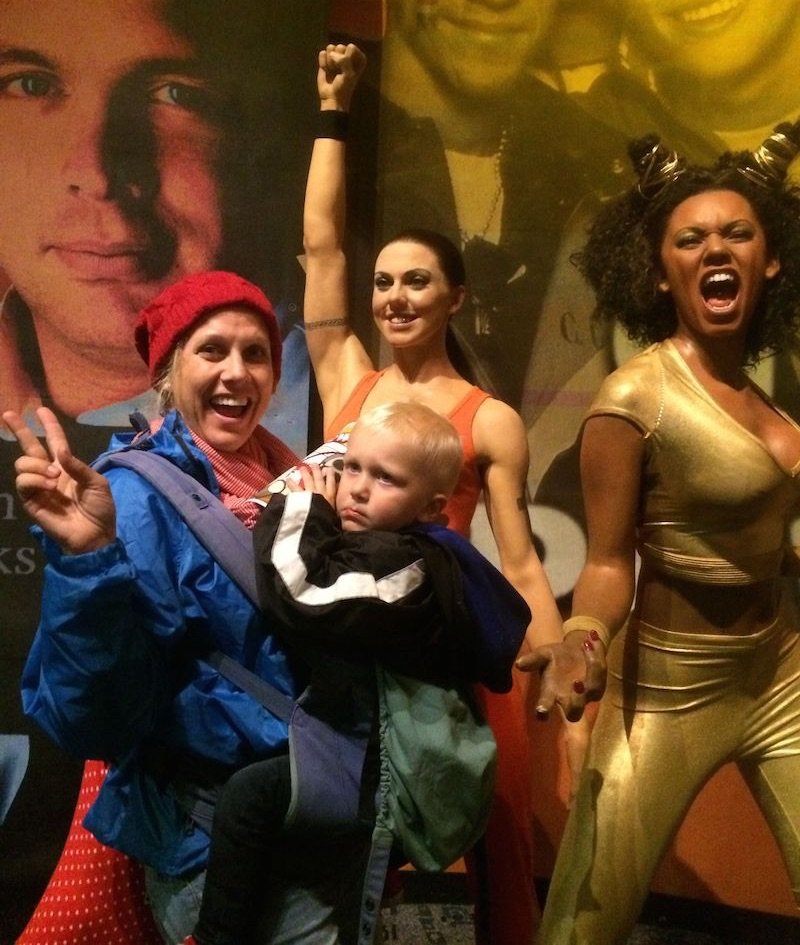 Nostalgia at Madame Tussauds Times Square
The nostalgia factor was high too.
I loved introducing the kids to:
the incomparable Whitney Houston
Judy Garland as Dorothy
iconic Madonna and
my favourite girl band, the Spice Girls.
Madame Tussauds New York what's inside
A tear came to my eye when we spied E.T.
Ned jumped on the bike, with a dress up satchel thrown over his shoulder, and I took the pic I've wanted my whole life (but didn't know it)

Icons at Madame Tussauds NYC
The HOT spot these days is to pose is snuggled in between Prince Harry and Meghan Markle, but the queue can be frightening.
If you do succeed in getting to the front of line, find a helpful friend to snap your pic!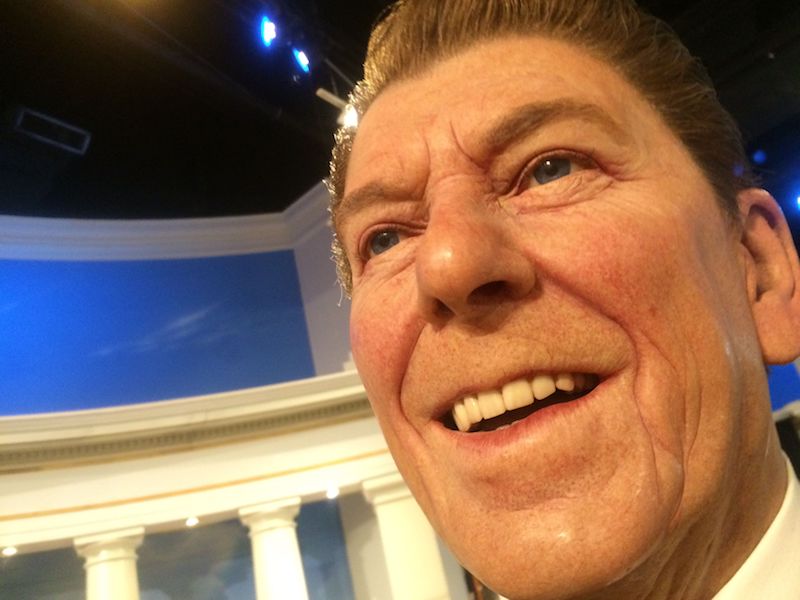 American Presidents
They could care less about the room full of American presidents and First Ladies, especially with Trump now in the Oval Office.
Kids are most interested in the sports stars (Jackie Chan, Muhammad Ali, random basketball players..) the pop stars (Katy Perry, Taylor Swift, Michael Jackson) and the movie stars.
Fun Fact: Jen, Brad and Angelina all stand separately now!
Take your camera and snap away.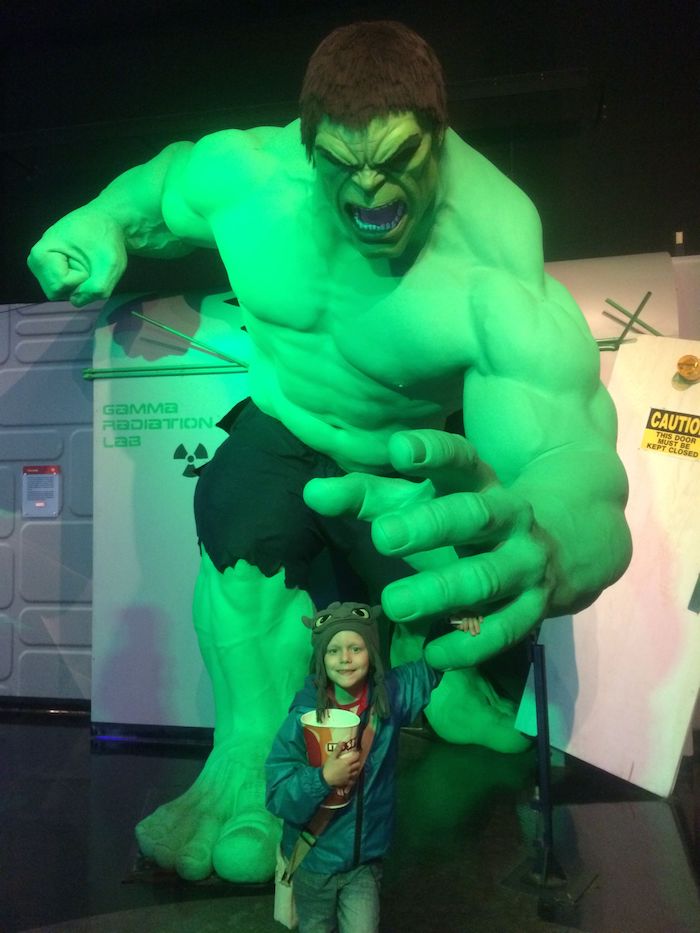 Marvel Super Hero 4D Experience at Madame Tussauds 4D Cinema
This is one for the Marvel fans.
There's a Marvel Super Hero 4D Experience at Madame Tussauds New York.
This Madame Tussauds Marvel 4D adventure puts you in the action.
This experience combines 3D film vision with thrilling special events – wind, water, and scents – to bring the experience to life!
You'll meet, fly and fight alongside the Hulk, The Hulkbuster, Captain America, Thor, Nick Fury, Iron Man and use your spidey senses with Spider-man to save the day.
Don't leave without posing with a life-size HULK!
More Interactive Exhibitions at Madame Tussauds Wax Museum NYC
No.1: Madame Tussauds Mission Undead 7D experience
The place where YOU join a zombie adventure to play against your friends in a unique 7D multi-sensory interactive gaming experience with the thrill of a roller coaster.
No.2: New York fashion workshop
The stunning Heidi Klum invites you in to interact within the fashion world.
There's:
digital touch screen sketchbooks to work like a real designer
you can take photos to end up on the cover of Marie Claire magazine, and
there's a chance to walk the runway as a model too!
Admission is included in the price of entry.
No.3: Broadway Magic
This is a chance to hop and dance on a life-size giant piano keyboard, similar to the one from the FAO Schwartz Toy Shop in New York that featured in the Tom Hanks movie BIG.
You can also dress up and try on some of your favourite costumes and wigs from Broadway New York musicals by Andres Lloyd Webber's such as:
Cats, or
the Phantom of the Opera.
Try on the Joseph and the Amazing Technicolor Dreamcoat!

Shop at the Madame Tussauds Gift Shop
Buy a custom made wax version of your hand with the kids' hands!
It's the ultimate New York souvenir. Starting from $14!
You can also buy Madame Tussauds pressed pennies to add to your collection.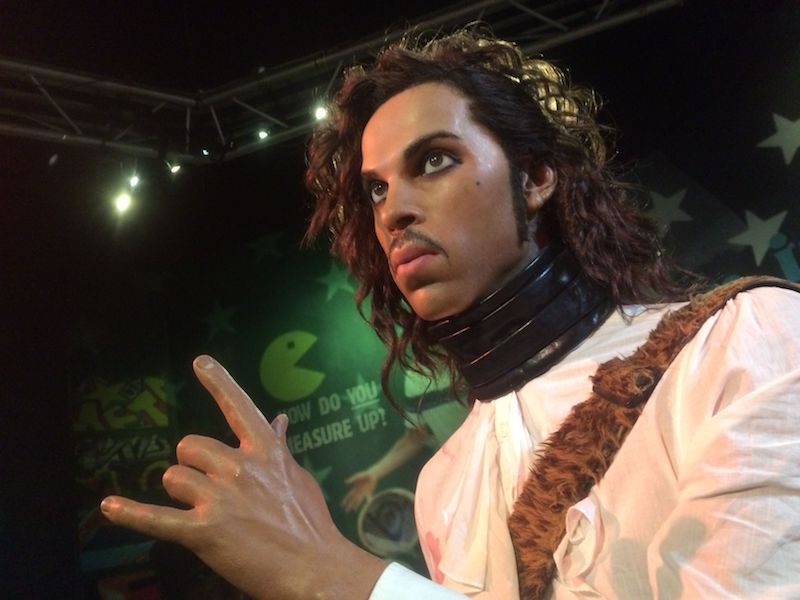 History of Madame Tussauds
The idea for the Madame Tussauds wax museum was conceived more than 200 years ago, by a woman named Marie Grosholtz when she inherited Dr Phillipe Curtius's wax exhibition, and decided to set up a permanent base with it in London.
The second Madame Tussauds was opened in 1972 in Amsterdam.
27 years later, the Madame Tussauds brand took off, and started expanding all over the world!
Read more of the story here

Madame Tussauds Locations
There's now 12 Madame Tussauds attractions all over the world, including:
Hong Kong
Sydney
Las Vegas
Washington DC
Shanghai
Tokyo, and
Vienna.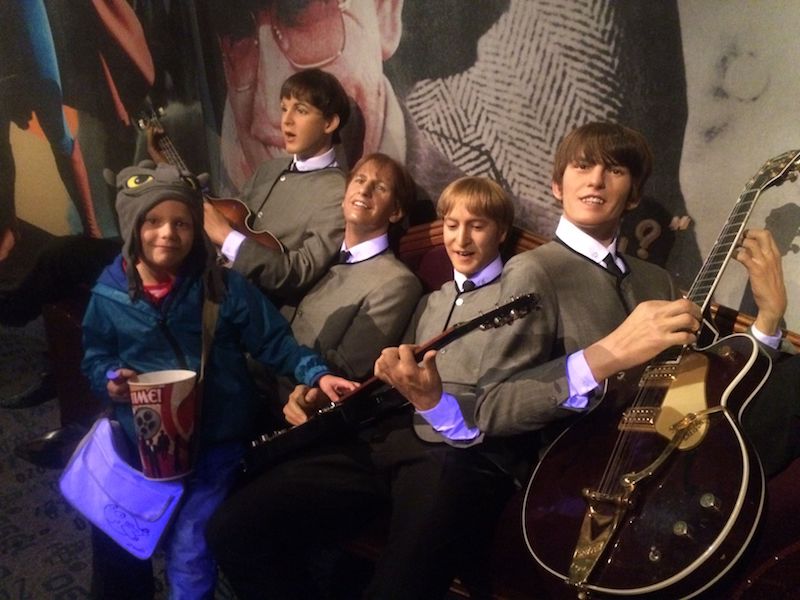 FAQ about Madame Tussauds NYC
No.1: How long does a visit to Madame Tussauds last?
It takes approximately an hour and half to complete a visit of Madame Tussauds, including Cinema 4D.
Closest playgrounds to Madame Tussauds New York
When you are done, and the kids need a run, check out these New York playgrounds for kids.
THE INSIDE SCOOP: New York Madame Tussauds
Correct at time of publication on Roam the Gnome. Please check with venue for updates. We apologise in advance if there have been any changes we are unaware of. All prices in US dollars, unless otherwise stated
Address: 234 West 42nd Street (between 7th/ 8th Avenues), New York, NY 10036
Email: [email protected]
Website: Click here
Madame Tussauds New York Hours
The Madame Tussauds hours are:
9am to 10pm Sunday to Thursday
9am to 12pm midnight on Saturday and Sunday.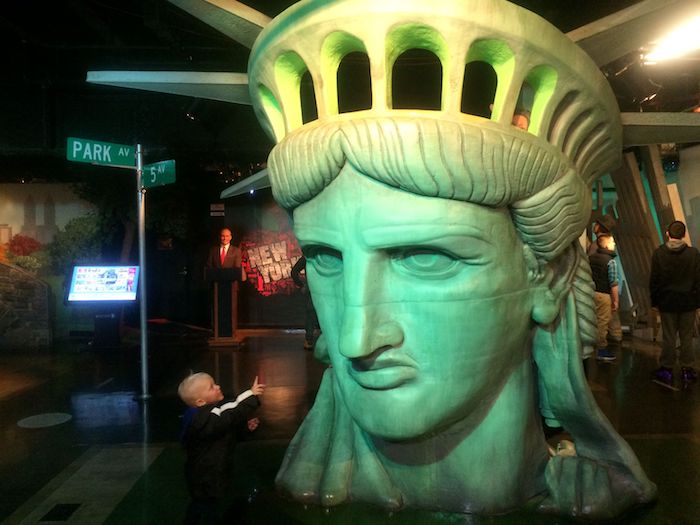 Madame Tussauds New York Tickets
Wanting to buy a Madame Tussaud ticket? The Madame Tussauds New York price is:
The gate price is $36.95 adults and $34 children.
Save up to $7 by buying tickets online before you go.
Tickets are valid for 90 days after purchase online.
There are no family discounts.
Kids under 2 FREE!
We visited on our New York Pass, saving BIG bucks on all our adventures.
All tickets include access to all the wax figures, endless interactive entertainment and entry to the Marvel Super Heroes 4D Film Experience
Package Combo Deals
There are more combo tickets with entry to Madame Tussauds and the Big Bus Tour, or Madame Tussauds and Ripley's Believe it or not.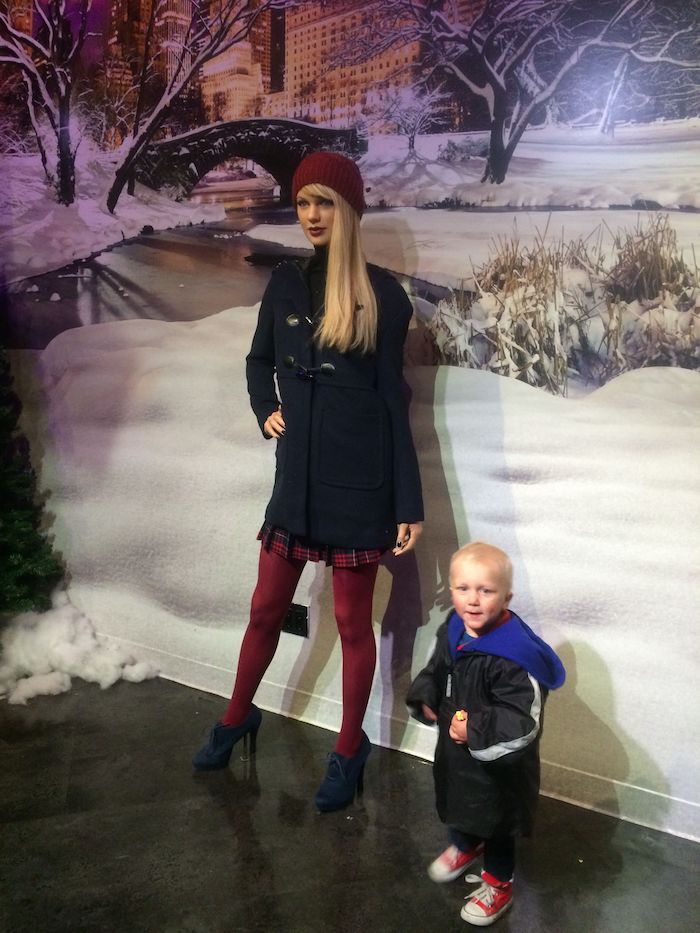 How to get to Madame Tussauds Wax Museum in New York
By Subway: 42nd Street (Port Authority) / Times Square 42nd Street / 42nd Street Bryant Park
1, 2, 3, 7, N, Q, R, S (at 42nd Street-Times Square)
A, C, E (at 42nd Street & 8th Avenue)
B, D, F, M (at 42nd Street & 6th Avenue)
By Big Bus hop on hop off tour stops: Stop 1 on Downtown route and Stop 20 on Uptown route
Click here for details on how to get to Madame Tussauds NYC by bus and car.
Map of Madame Tussauds Wax Museum New York
Where to eat near Madame Tussauds
Need a sweet treat?
There's an outpost of Dylan's Candy Bar inside Madame Tussauds.
These nostalgic American candies make a fabulous New York souvenirs.
There's also lots of food options at cafes and restaurants in Times Square.

Facilities at Madame Tussauds NYC
Bathrooms: Yes, there's bathrooms inside Madame Tussauds, including a baby change table
Disability access: Yes, lifts available between floors. Free to hire wheelchairs are available on a first come, first served basis.
Can I take a baby stroller to Madame Tussauds? Yes.
Toadstool Rating – Wax Museum New York

Looking for MORE Super Fun Things to Do in NEW YORK CITY with Kids?
Click the blue links below for more New York city ideas