INSIDE: Everything you need to know about FAO Schwarz Rockefeller Center, including details of the FAO Schwarz Piano reopening!
Did you hear the fabulous news?
FAO Schwarz Toy Store NYC has reopened a brand new FAO Schwarz toy shop in Rockefeller Center!
And IT'S BETTER THAN EVER.
Read our guide to this amazing New York toy shop, and find out how to have your turn on the iconic FAO Schwarz Piano too!
Details below.
Disclosure: This article contains affiliate links. If you make a purchase after clicking on one of these links, we may receive a small commission at NO extra cost to you. Main image: Kiara Di Paola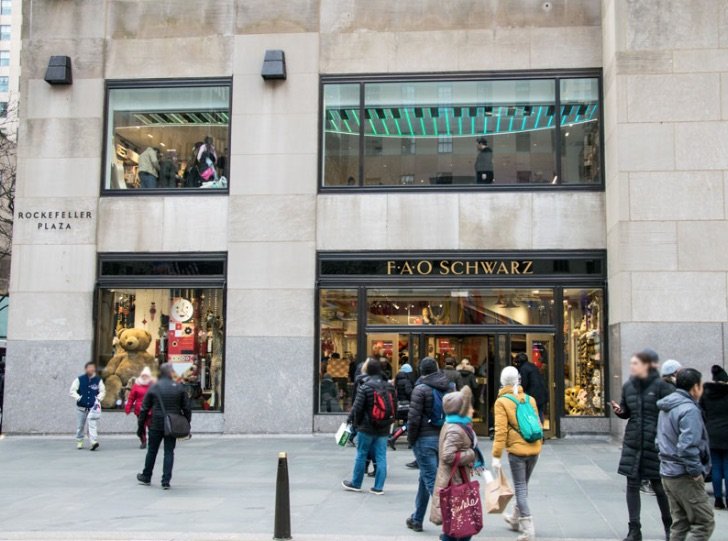 Image credit: John Hsieh
FAO Schwarz Rockefeller Plaza
When the doors to the iconic landmark 5th Avenue FAO Schwarz store in New York closed in July 2015, it was a very sad day.
High rent costs forced them out of this address after 30 years, with no chance to save it.
The closing was an absolute disappointment for fans of the movie BIG.
Why? Because the shop was home to the giant piano mat, featured in the movie.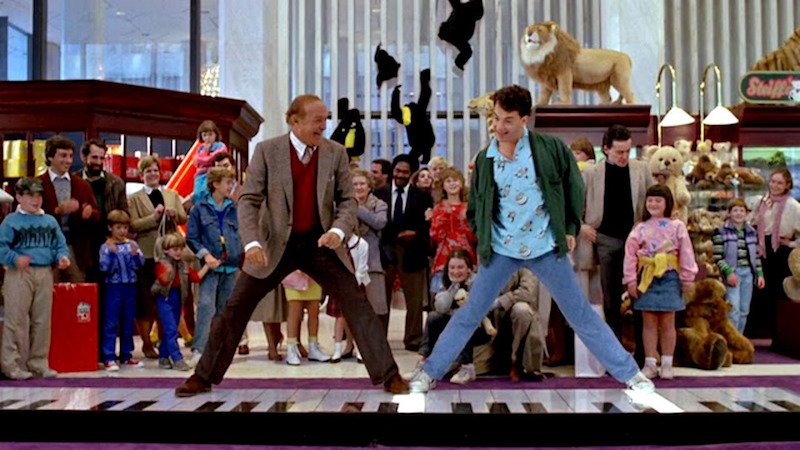 Image credit: BIG
FAO BIG Piano!
The closure of the toy store in the movie BIG meant fans lost access to the famous GIANT SIZED FAO Schwarz Piano mat that Tom Hanks and co danced upon in the much loved film.
(Wasn't that scene the best advertising for FAO Schwarz, bringing their New York toy store into worldwide prominence?)
Let's face it, the FAO Schwarz piano mat was THE REASON most people visited FAO Schwarz in New York. Without it, the average Joe may not ever have known about the best toy store in New York City.
When the original store closed, and there was no more giant floor piano at FAO Schwarz, one of New York's finest family-friendly experiences disappeared in a puff!
(The closure also disappointed the thousands of children who dreamed of roaming the giant toy shop sans parents, like Kevin in Home Alone 2)
For all those who've loved the original FAO Schwarz Toy Store NYC, and for those who had it on their bucket list to visit one day, you'll be thrilled to know the biggest toy store in New York is BACK.
With a new location, and a brand new GIANT PIANO to boot.
The FAO Schwarz BIG PIANO Dance Mat is back!
---
RELATED: Big List of Best Things to do in NYC with Kids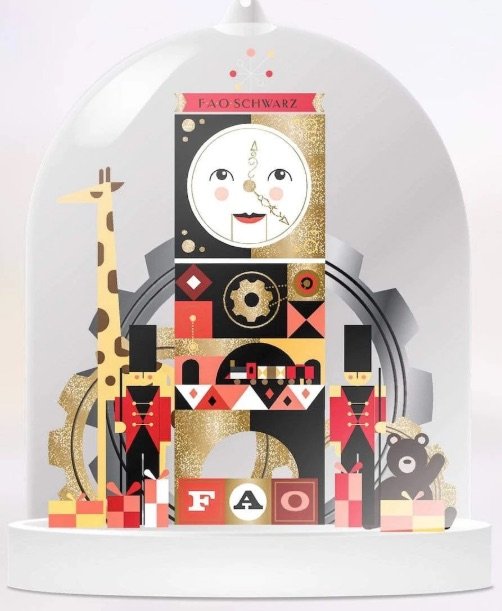 Image credit: FAO Schwarz store
FAO Schwarz Reopening: Say hello to the FAO Swartz Clock
It's such a thrill to see FAO Schwarz opening again!
The first thing you see when you enter the new 20,000 square foot shop is the musical clock tower, the same one that used to feature in the FAO Schwarz logo.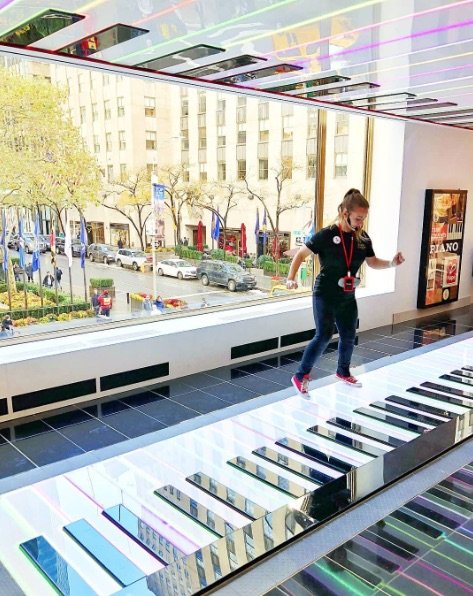 Image credit: Fomo Feed
FAO Schwarz Big Piano returns with a sparkle!
The FAO Schwarz floor piano has returned with a little extra pizazz!
This time, the FAO big piano is duplicated on the ceiling above the piano keyboard on the floor!
This means people standing in the Rockefeller plaza, or skating on the Rockefeller ice skating rink, can look up and watch the piano keys light up as you dance a favorite little tune!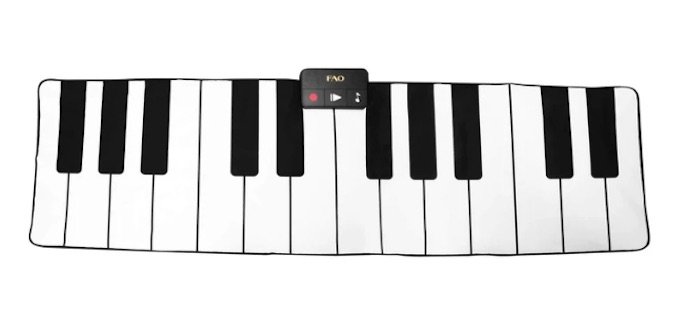 Buy the FAO Schwarz Piano Mat souvenir
You can still buy the signature FAO Schwarz piano mat for $80 too.
The large piano mat teaches you how to play five different songs by foot! Plus, it lets you record your own songs too.
There's a WHOLE WALL dedicated to the Fao Schwarz floor piano.
If you want to go shopping in New York City, the FAO Schwarz keyboard makes a fabulous New York souvenir to buy for family and friends!
Hot tip: The Big Piano Experience at Pilates on Fifth!
If you really want to relive the Tom Hanks scene from BIG, book the BIG PIANO experience at Pilates on Fifth!
This is a chance to learn a popular melody or two, on a life size piano floor mat, taught by professionals who will guide you the whole way.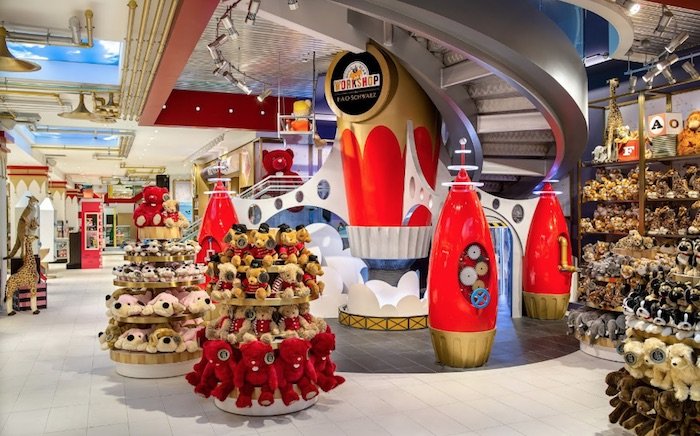 Image credit: 80's fan
Inside the new FAO Schwarz New York Toy Store
No.1: Build a Bear Workshop
Build-a-Bear workshop is in a rocket ship to the right of the Clock Tower.
Pick up a Teddy Bear astronaut, or one of the signature FAO Schwarz toy soldier bears for $45.
They are the CUTEST!
PS: Head up the stairs behind the rocket ship to find the giant floor piano, and it's mirrored twin on the ceiling.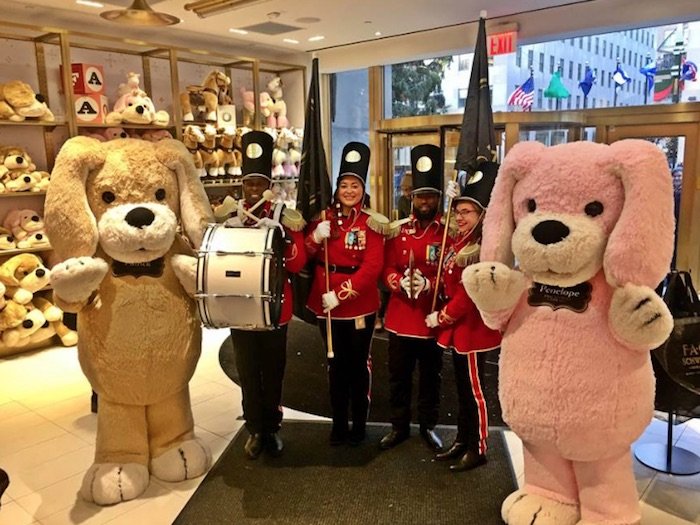 Image credit: FAO Schwarz
No.2: Toy Soldier Doormen
FAO Schwarz toy soldiers are back to welcome guests too.
Stationed outside of the shop's 49th street entrance, the Toy Soldiers at FAO Schwarz are dressed in brand new uniforms designed by supermodel Gigi Hadid!
With their smiling faces, faux bear skin caps, red coats, and magic tricks up their sleeves, it's like they never went away.
PS: You can buy the FAO Schwarz Magic Trick Kit or Marvin's Magic Hat in-store, and be a magic maker too.
No.3: Baby Doll Adoption Center for FAO Schwarz Dolls
It's impossible to buy FAO Schwarz Dolls without first being interviewed at the Baby Doll Adoption Center in store!
Their task is to make sure that kids adopting these baby dolls are fit for the task, and able to look after these baby dolls with bundles of love and care.
The 'doctors and nurses' there also have the task of doing a baby wellness "checkup" on the baby doll!

Image credit: Sinan erel
No.4: Hair and Nail Spa Station in the F.A.O. Schwarz store in Rockefeller Center
There's a place to sample and try fun bath, hair, nails, and skin products, as well as Alex Spa make up.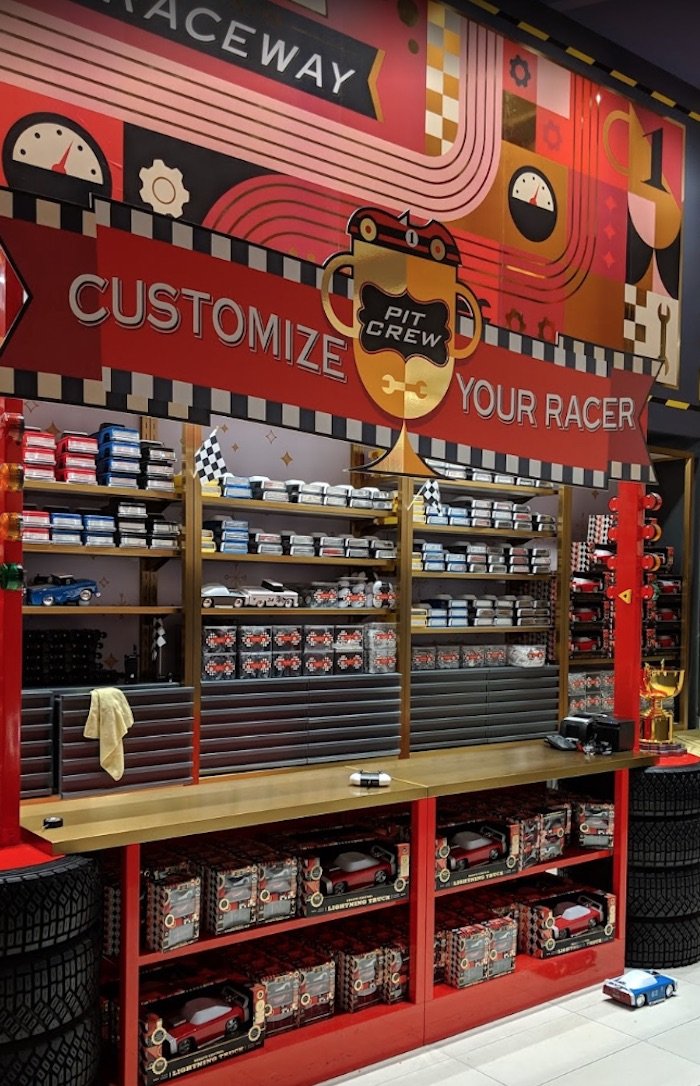 Image credit: Grace Kim
No.5: Design a remote-control car at the FAO Schwarz Car Station
Similar to the experience at the original FAO Schwarz store, kids can design their own remote-control cars with "trained mechanics" to lend a hand.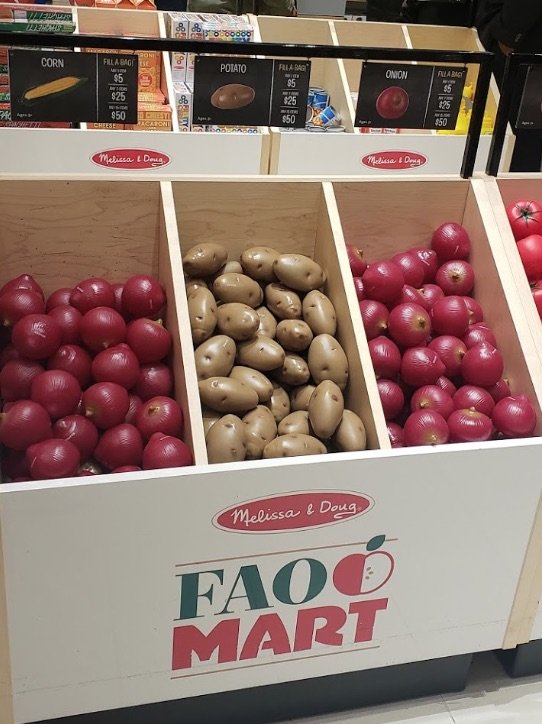 Image credit: Jill Marinakis
No.6: FAO Mart with Melissa and Doug
This Pretend Play Grocery Store in the FAO Toy shop invites you to "shop" for:
life-size fruits and vegetables
scrubbing brushes
cereal boxes
juice bottles
cleaning spray
cookie bags
cup of soups
waffles
milk cartons
egg cartons, and
sundries for your play stand at home.
Prices for each piece start at $5 for one, 7 for $25, and 15 for $50.
Find more boxed Melissa and Doug branded toys including the:
Examine and Treat Pet Vet Play set (pictured above)
Melissa & Doug puppet theater,
Let's Play House grocery basket with play food
Fill & Roll Grocery Basket play set, and
Fresh Mart Grocery Store companion selection.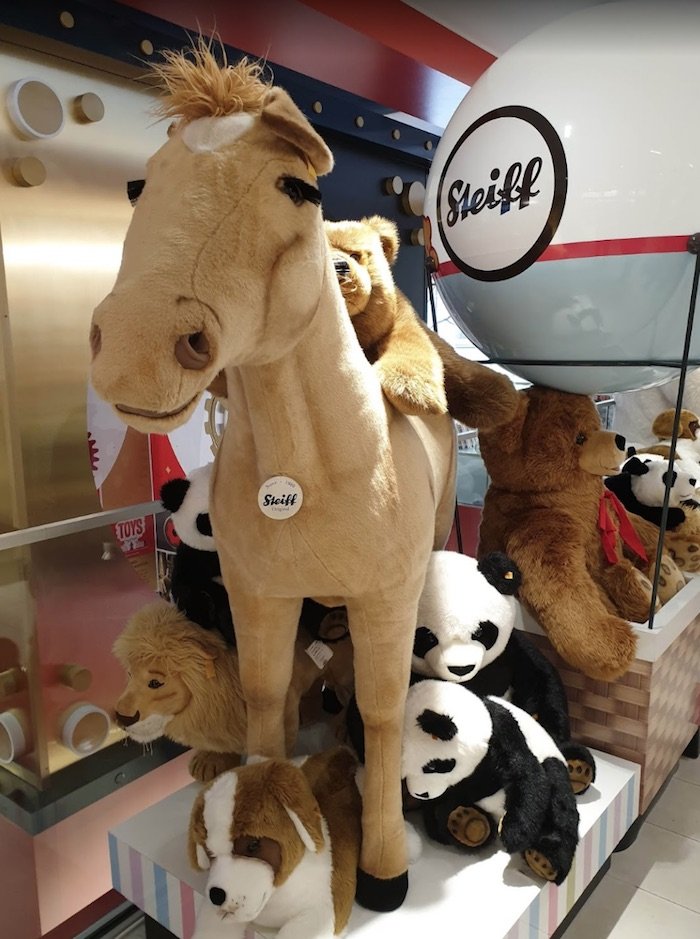 Image credit: Francesca Melandri
No.7: FAO Schwarz Giant Stuffed animals
Look out for giant stuffed animals by German toymaker, Steiff.
The giant giraffes, horses, bears, kangaroos, and gorillas occupy all the corners, steps on the staircase, the nooks and the crannies!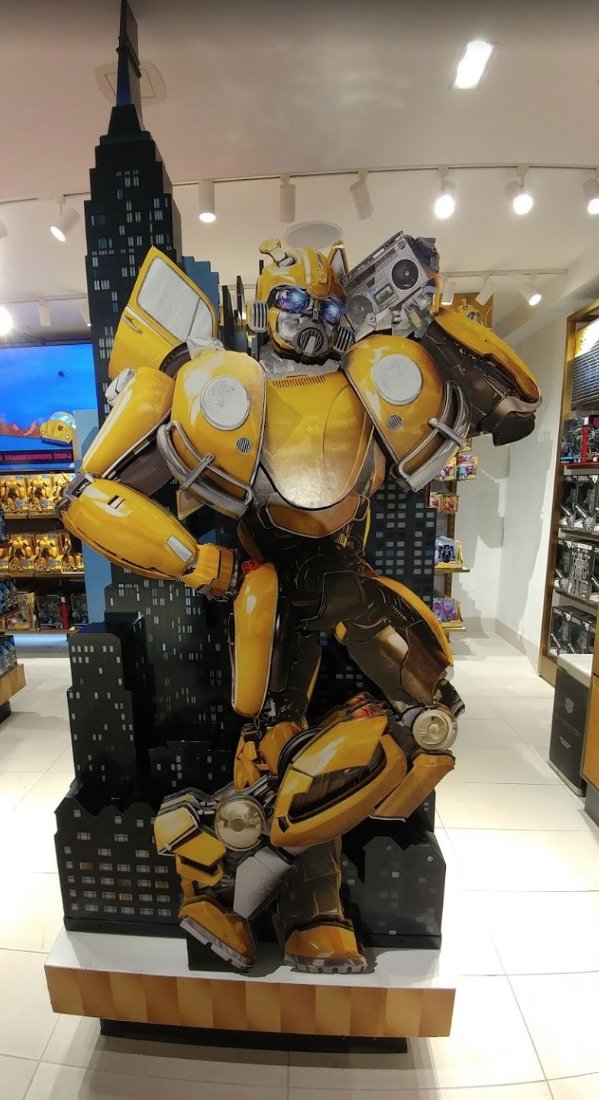 Image credit: Jovi salcedo
No.8: Transformers
Have a kid who LOVES Transformers?
Don't miss it.
There's a life size Optimus Prime and Bumblebee statues in store, plus aisles and aisles of toys.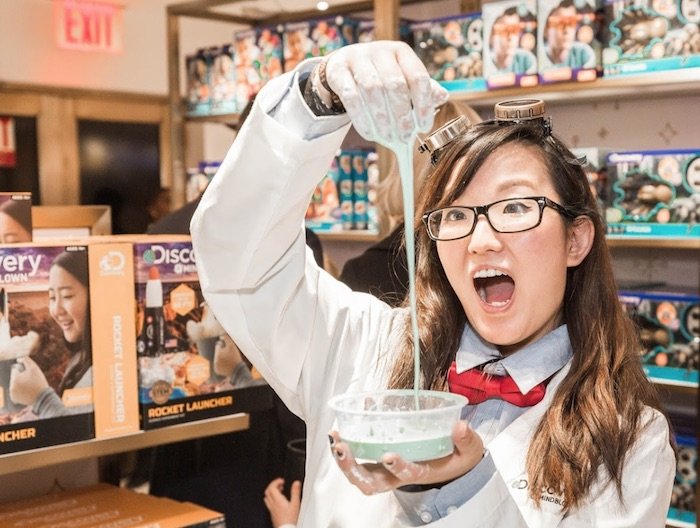 No.9: Discovery Mindblown stand
Join in the fun of watching the Science Team at FAO Schwarz explore with STEM experiments with your help.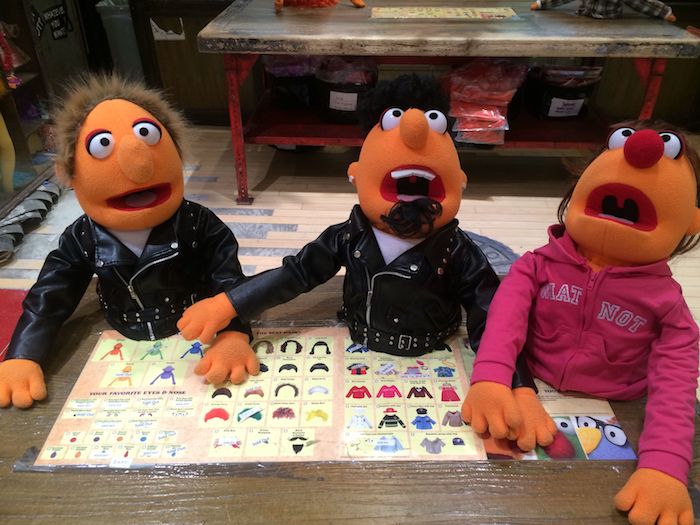 FAO Schwarz Muppets
They are back too!
Build your own version of a Muppet here.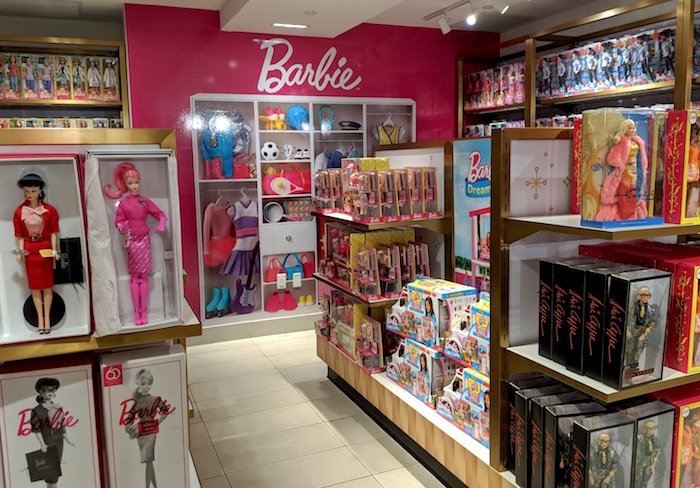 Image credit: Mamrak S
MORE Things to buy at the Biggest Toy Store In New York – Schwarz Toy Store NYC
Brio trains
Ravensgurger puzzles
Hasbro toys
Mattel toys and Barbie dolls
Pusheen stuffed toys
Paw Patrol
Hatchimals
Classic European brands including Steiff plush toys from Germany
Gadgets and gizmos
Exclusive toys that can't be found anywhere else!
Discovery MindBlown STEM toys and Science kits
DISNEY character toys and DISNEY plush toys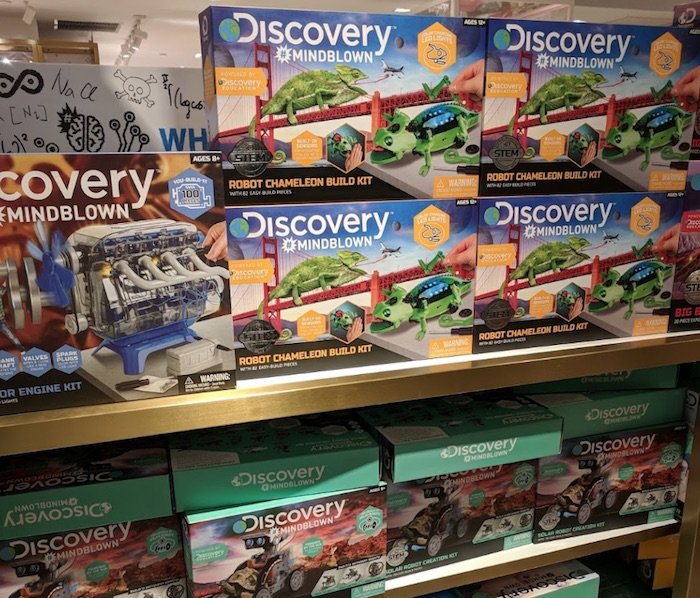 Image credit: KevinMZ
Save your pennies up!
Be warned: there is NO way you are getting out of this shop with your wallet intact.
Be prepared for the onslaught of requests and arm-twisters from pleading children who suddenly discover that they 'can't live without' a particular new toy or gadget.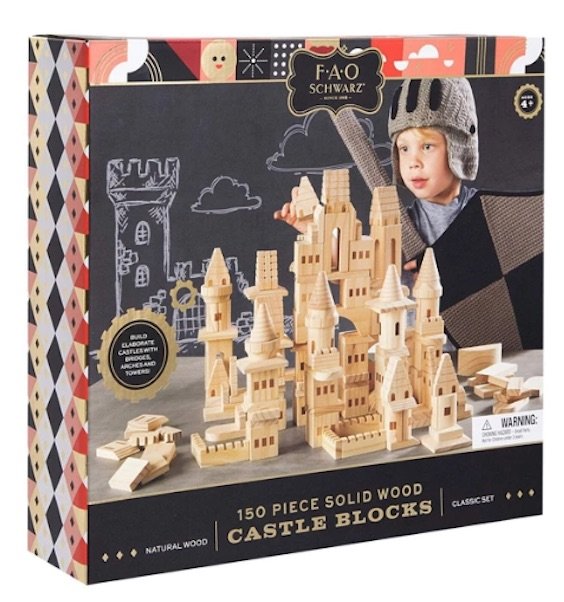 Best FAO Schwarz Toys
Around 200 of the toys in the shop are FAO Schwarz branded originals, including the FAO Schwarz piano mat, one of the best sellers in store.
The FAO Schwarz brand of toys includes everything from solid wood castle blocks, stuffed bears, toddler toys, magic kits and jewellery.
There's also:
FAO Schwarz stuffed animals
FAO Schwarz LARGE stuffed animals – these ones are as a big as a 12 year old!
FAO Schwarz Train
FAO Schwarz stuffed dog toys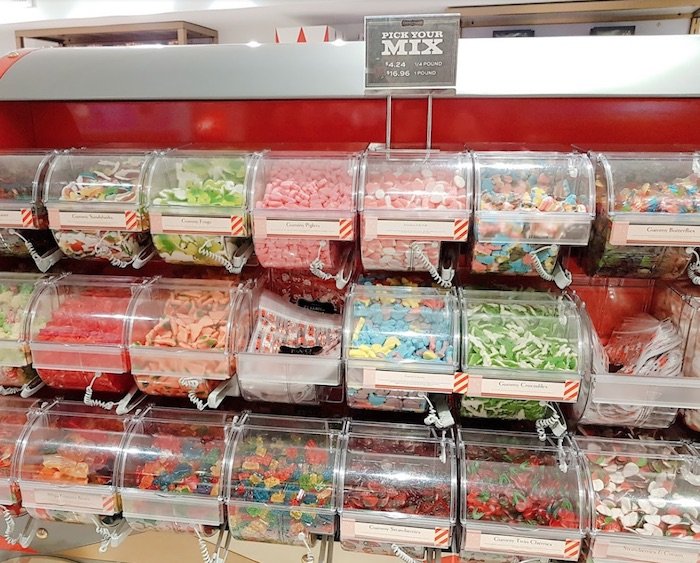 Image credit: Jill Liao
FAO Schwarz CANDY STORE!
FAO Schweetz is the same brightly colored cornucopia of candy and American chocolate treats found in the original New York store.
Try:
Gumballs
Chocolate rocks
Disney Pop up sweets
Harry Potter Bertie Botts beans, or
HP chocolate creatures
Reese's Pieces
Skittles
Jelly Belly beans
or M&M's.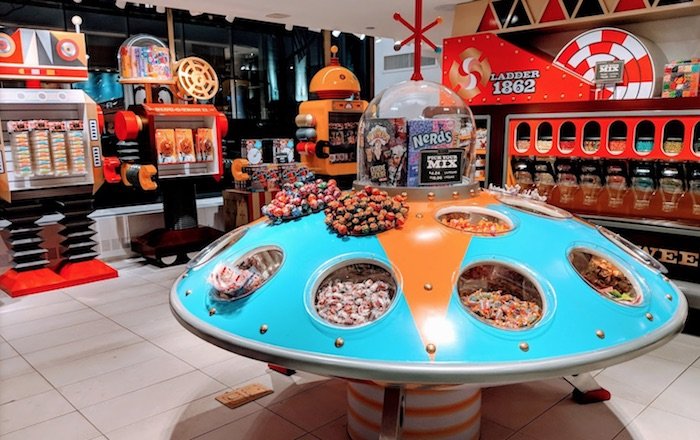 Image credit: G Aquino
Pick your Mix
You can select candy by the piece from candy buckets on round tables, or from the pick and mix containers on the wall, or scoop from the spaceship, or the train.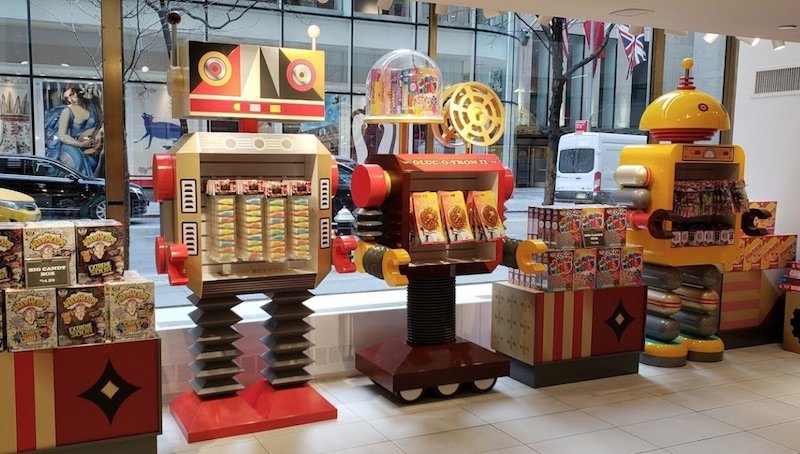 Image credit: Sinan erel
Candy on tap!
Pick up sherbet bottles, fun cereal boxes, and warheads candy from the 'robots' at the front of store.
Rainbow whirly pops, giant chocolate coins, or colored popcorn make good New York souvenirs.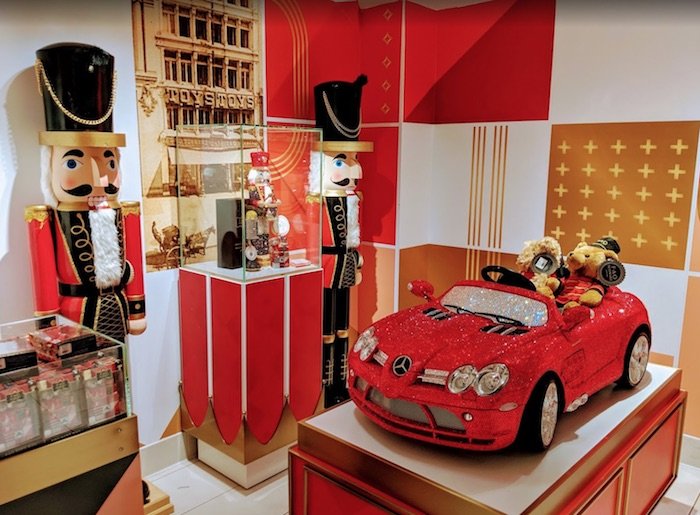 Image credit: G Aquino
FAO Schwarz Christmas Toys
Stock up big for Christmas at the best toy shop in New York.
Find:
Wooden heirloom nativity sets
Santa letter writing kits
Holiday cookie cutter sets
Santa milk and cookie set
FAO Schwarz Annual bears
Christmas tree ornaments
Advent calendars
Snow globes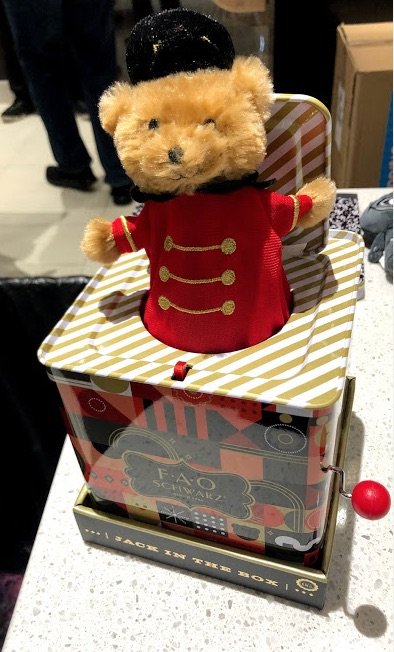 Image credit: Claire Kelly
The BEST New York Souvenirs at FAO Schwarz Toy Shop
Pick up a 12 inch musical wooden nutcracker prince, or one of the FAO Swartz Jack in the Box teddies.
Our pick is a FAO Toy Soldier teddy bear, but that's because we can't help ourselves and love adding to Jack's soft toys collection.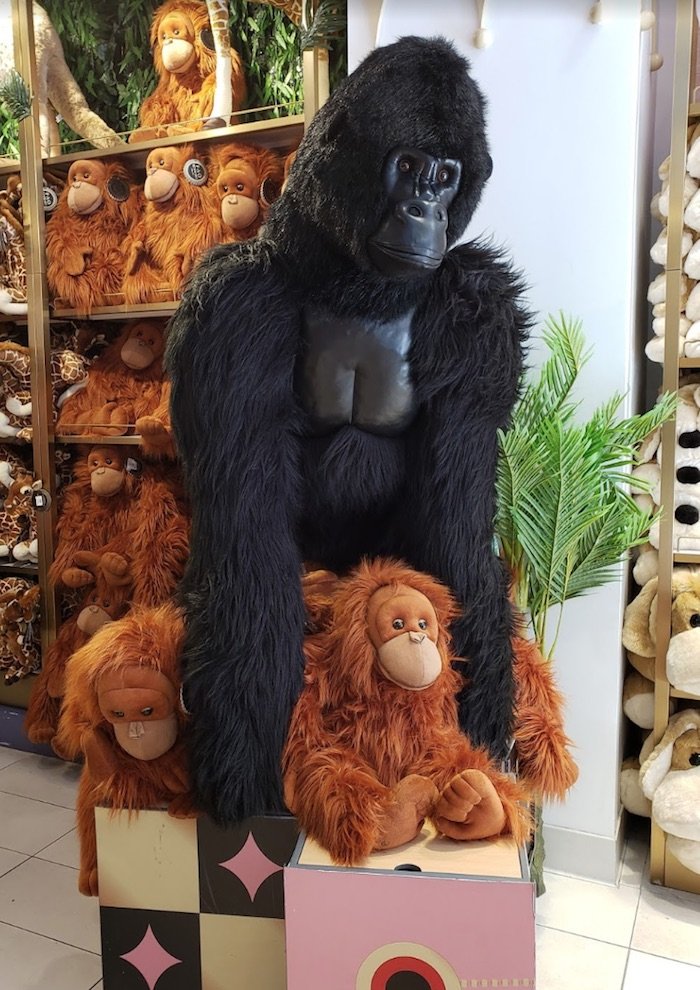 Image credit: Country Boy
Did you know? FAQ about the FAO Schwarz Toy Store
No.1: What toy store was in the movie BIG?
Yes, it was FAO Schwartz.
No.2: What is the name of the Home Alone Toy Store?
The original FAO shop in New York located near The Plaza on Fifth Avenue and 59th Street was also featured in the film Home Alone 2, as the interior of "Duncan's Toy Store"!
The Home Alone Toy Store is THIS famous toy store in NYC too!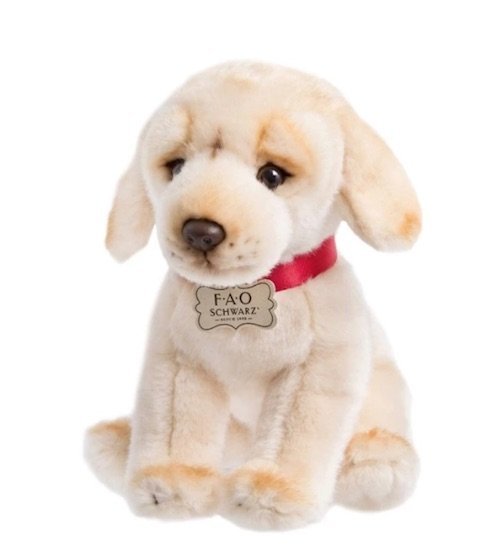 No.3: Why did the FAO Schwarz close?
Rising rent costs, and slowing sales equaled disaster for the biggest toy shop in New York.
No.4: Is FAO Schwarz still in business?
Yes, when the Fifth avenue store shut, the online store portal remained open, and has stayed open for the past 3 years.
No.5: Is FAO Schwarz still open in NYC?
It wasn't for 3 years, but now it is.
Hooray!
A look back at FAO Schwarz in New York 5th Avenue Store
Take a look at this very old video of ours, featuring the 5th Avenue FAO Schwartz Toy Store, and the original FAO Schwartz giant piano.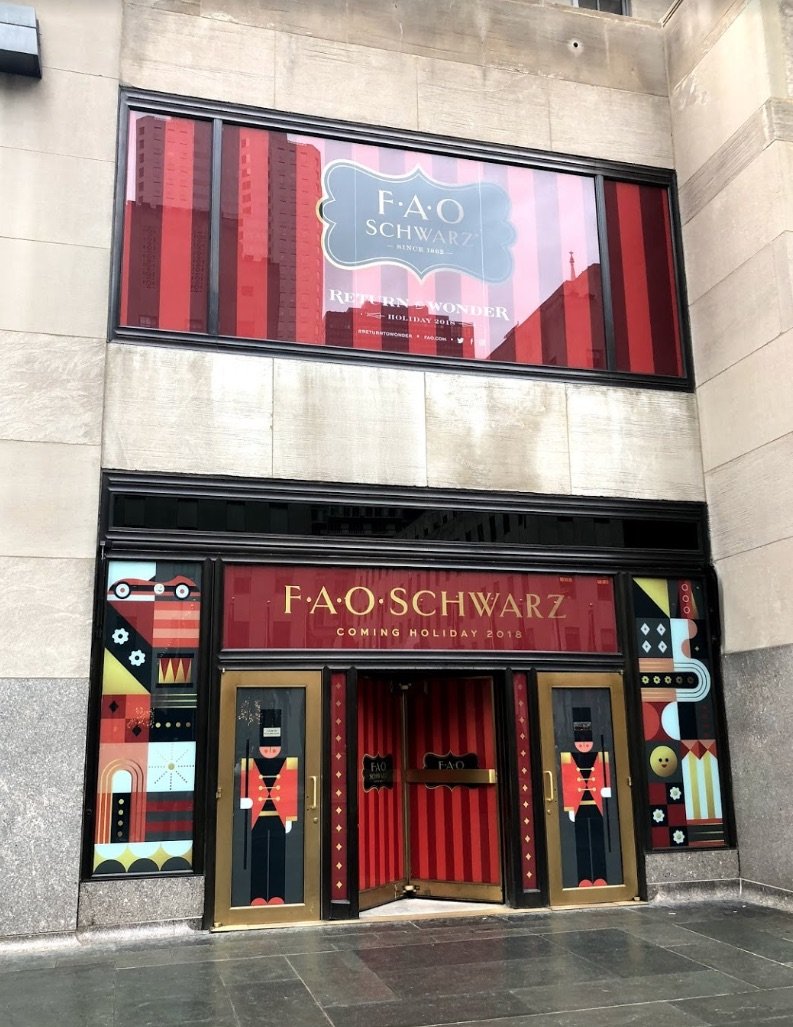 Image credit: Jose Arce
THE INSIDE SCOOP: FAO Schwarz reopening
Correct at time of publication on Roam the Gnome. Please check with venue for updates. We apologise in advance if there have been any changes we are unaware of. All prices in US dollars, unless otherwise stated
FAO Schwarz in New York reopened on November 16, 2018.
FAO Schwarz NYC Address: The FAO Schwarz NYC new location in Manhattan is 30 Rockefeller Plaza, New York, NY 10111, USA
Telephone: +1 800-326-8638
FAO Schwarz NYC Hours:
Monday to Thursday 10am – 9pm
Friday 9am to 9pm
Saturday 10am to 9pm
Sunday 10am to 8pm
Entry: FREE!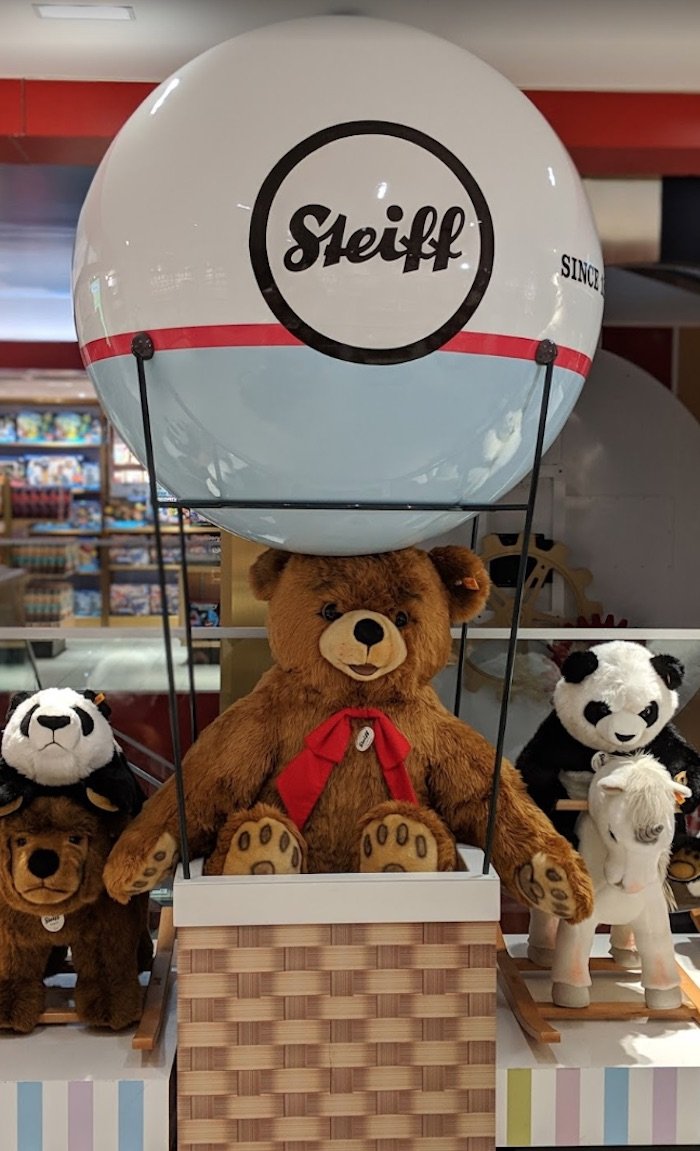 Image credit: Grace Kim
How to get to FAO Schwarz Rockefeller Center
Here's the directions to the FAO Shwartz toy store Rockefeller Plaza.
By Subway:
Take the B, D, F, or M train to the 47-50th Street Rockefeller Center stop.
Take the 1 train to the 50th Street stop and walk East on 50th Street to Rockefeller Center between Fifth and Sixth Avenues.
Take the 6 train to the 51st Street stop and walk West on 50th Street to Rockefeller Center between Fifth and Sixth Avenues.
Take the N, Q, or R train to the 49th Street stop and walk East on 49th Street to Rockefeller Center between Fifth and Sixth Avenues.
By Bus:
Fifth Avenue (Going south) or Madison Avenue (Going north):
Take the M1, M2, M3, M4 or M5 bus to 50th Street. Buses run north and south.
From Broadway:
Take the M7 bus. Exit at 50th Street and walk east to Rockefeller Center. Buses run north and south.
From 49th Street:
Take the M50 bus. Exit anywhere between Fifth Avenue and Sixth Avenue. Buses run east and west.
Click here to get directions to FAO Schwarz Rockefeller Plaza in Manhattan.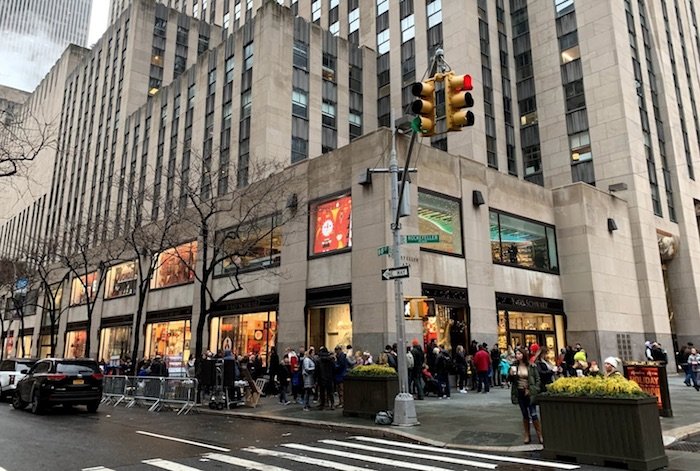 Image credit: Stefano Perlusz
Toadstool Rating Guide – FAO Swartz Toy Store Manhattan
We are SO glad it has reopened, with a good scoop of the charm from the original store.

Looking for MORE Things to Do in NEW YORK CITY with Kids?
Click the blue links below for more New York city ideas