INSIDE: The Ultimate Guide to Brooklyn Bridge for Kids.
Walking across the Brooklyn Bridge is one of New York City's must-do experiences with epic views of the Manhattan skyline, but what about the Brooklyn Bridge for kids?
Should you do the Brooklyn Bridge walk with kids, or is it too much, or too boring?
And exactly how long does it take to WALK the Brooklyn Bridge?
Let's take a look.
Disclosure: This article contains affiliate links. If you make a purchase after clicking on one of these links, we may receive a small commission at NO extra cost to you.

THE BROOKLYN BRIDGE WALK FROM BROOKLYN TO MANHATTAN
Q: How long does it take to walk the Brooklyn Bridge with kids?
How long is a piece of string?
It's one of THOSE questions, totally dependent on WHO you walk with, and why.
Here's a general guide to the Manhattan bridge walk in New York.
The Brooklyn Bridge Walk takes less than an hour tops!
Allow an hour and half if you are walking with headstrong toddlers who want to investigate every leaf along the way, or inquisitive kids who need to know EVERYTHING including all the facts about Brooklyn Bridge.
If you are a New York commuter trying to get to work, you can cross it in about 30 minutes if you hustle. Same goes if you are on a mission to get somewhere, or need to meet someone on a deadline!
Brooklyn Bridge Walking Tour
If you want to do a Brooklyn Bridge walking tour, allow 2-3 hours with plenty of time for selfies!
(We recommend this Brooklyn Bridge walking tour.)
It's a shortish hike, with plenty to see and do, and although you'll be joining an estimated 28,000-odd people if you walk on a weekend, both tourists and locals, it's still possible to bump into people you've met before!
---
RELATED: ULTIMATE guide of unique things to do in New York with kids
7 FUN THINGS TO DO AT BROOKLYN BRIDGE for Kids
Here are 7 reasons why we think you should do the Brooklyn Bridge Walk on a family vacation to New York City with kids.
No.1: Take a pic at the best Brooklyn Bridge Photo Spot
Take a selfie of the Brooklyn Bridge arches from the Brooklyn side.
Get up close so you have the steel support wires in shot, then bob down to put the arches behind you.
It's not easy to get a pic without people in it, unless you are prepared to wait a while. (That's not a problem if you are photoshop savvy)
You can also take a pic in front of one of the Brooklyn Bridge walkway or bikeway signs that point you in the right direction.
Hot tip: The Best Brooklyn Bridge photo spot if you want to capture the whole bridge and the Manhattan skyline in the picture is from Pebble beach below the bridge.
No.2: Brooklyn Bridge Sightseeing – See all the Famous Buildings
Wander from Brooklyn to Manhattan for the best views of New York City.
Make it a game to spot these famous NYC buildings
Empire State Building
Chrysler Building
One World Trade building
The divine Statue of Liberty
As you wander, there will be times you want to stop and gaze.
Pick those spots carefully to avoid being run down by local cyclists.
Try looking from the Main Archways – there's more room here, as the path widens.
On our Brooklyn Bridge walk, we crossed paths with a couple we'd swapped photographer duties with the previous day at Madame Tussauds!
Can you imagine the LOOK OF SURPRISE when we locked eyes on one another, and then laughed out loud!
My brain went into overdrive:
'NOOOOO wayyyyyyy! This can't be happening. How in the world????'
The world is way smaller than we think, and when you are tapped into your intuition, there are serious magic forces at play all the time.
You never know if you'll have a magic moment on the Brooklyn Bridge walk too!
Failing that, there's plenty of characters to see.
It's New York after all, so along with all the regular joes, there's always someone intriguing with a story to show and tell.

No.3: Pick the best time to walk the Brooklyn Bridge New York
Go early-ish in the morning after the peak workday rush hour finishes if you want to avoid the trample.
The Brooklyn Bridge for kids is best around 10am to lunchtime.
We walked at sunset, having spent the earlier part of a cold frosty day pretending to be Brooklyn locals, wandering through Prospect Park through local neighbourhoods to the Brooklyn Children's Museum.
We caught the A train back to High Street, Brooklyn Bridge station, and began our walk from there.
Stroller in tow.
The Brooklyn Bridge sunset was magnificent.
The Brooklyn Bridge views were incredible.
It was a tick off our Roam the Gnome Family Bucket List.
And mama was a happy lady!
FAQ: Is it safe to walk the Brooklyn Bridge?
PS: Yes, it's safe to walk the Brooklyn Bridge at night to around 9 or 10pm, as there are lots of people and tourists about.
Keep your wits about you.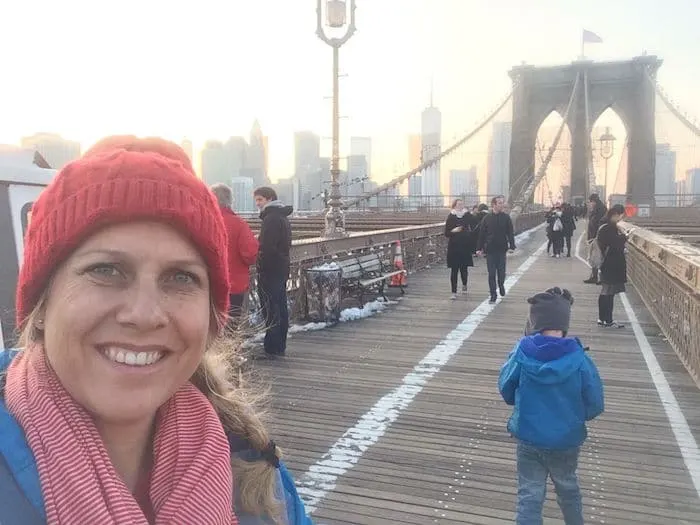 No.4: What to wear on the Brooklyn Bridge Pedestrian Walkway?
It was COLD up on the bridge in March (very cold!) with icy winds buffeting us as we crossed, but on the bright side, you can see this as a chance to pop on a beanie, a scarf, and a warm jacket.
Jack was snuggled up in the pram with an extra blanket, content to be pushed along while he took the chance to nibble a snack.
There is something refreshing though, about being out and about in the fresh air when you are land-locked in a city.
All three of us found this day of walking explorations to be just the thing we needed after days of museum visits, art galleries, city diner meals, and indoor events.
The slow-and-steady walk back home across the Brooklyn Bridge was an epic ending to a fun-filled day of surprises around every corner.
No.5: Brooklyn Bridge History and Sights
The Brooklyn Bridge walk has plenty of things to see, and New York history to discover.
Check out the Historic and Iconic New York Sights along the way.
The best information we've come across for insights into this history when you are walking Brooklyn Bridge by foot can be found here.
Be sure to read this post before you cross, so you know what to look out for, as we did.
No. 6: See the Brooklyn Bridge Locks!
There's a collection of love locks near the Manhattan Tower of the bridge.
Love locks are mostly locked on to the bridge by lovers who want to demonstrate their commitment to each other.
People also leave locks for loved ones who've passed, and many tourists pledge their commitment to return to New York by leaving a lock.
Brooklyn Bridge locks
Is it legal to leave a love lock on the Brooklyn Bridge New York?
Sadly, it's now ILLEGAL to leave a lock and you'll be fined if the authorities catch you.
The love lock collections here do disappear from time to time, thanks to the powers that be.
But it doesn't stop them reappearing after a time!
Love rules. It always does.

BEST Brooklyn Bridge Facts for Kids
Talk to your kids about these fun Brooklyn Bridge facts for kids. It makes the journey a whole lot more interesting.
People often us why was the Brooklyn Bridge built and why is it so popular?
Or what is so magical about the Brooklyn Bridge?
Let's see if we can find answers to the most asked questions.
No.1: How LONG is the Brooklyn Bridge walk?
How many miles is the Brooklyn Bridge?
The Brooklyn Bridge has a main span of 1,595.5 feet (486.3 m or 0.3 miles)
The Brooklyn Bridge length is a total of 6,016 feet (1,834 m) long if you include the approaches.
That's 1.14 miles.
(It's also 85 feet or 26 meters wide)
No.2: What is the Brooklyn Bridge height?
133 ft or 40.5 m, above the high tide mark.
No.3: What year was the Brooklyn Bridge built?
Construction of the Brooklyn Bridge started on the 2nd January 1870.
MORE Facts about Brooklyn Bridge
No.4: When was the Brooklyn Bridge built?
Want to know how long did it take to build the Brooklyn bridge?
Building the Brooklyn Bridge started in 1870.
Almost 14 years later, in 1883, it was all done!
No.5: How old is the Brooklyn Bridge?
This year, the Brooklyn bridge is 136 years old!
No.6: When is the best time to walk across Brooklyn Bridge NYC?
It depends on your goal!
Sunset is popular for lovers and tourists.
Families love the early morning, and so do NYC commuters, before the hoards of tourists arrive.
No.7: How did the Brooklyn Bridge construction happen?
The world's first steel-wire suspension bridge was the first fixed crossing across the East River, and was originally designed to carry horse-drawn vehicles and elevated railway lines.
Now it's a bridge for cars, bikes and people.
No.8: Where is the Brooklyn Bridge?
It spans the boroughs of Brooklyn and New York, over the East River.
No.9: Who designed the Brooklyn Bridge in New York?
The original Brooklyn Bridge designer was German immigrant John Augustus Roebling.
A redesign of the bridge was designed by David B. Steinman in 1948.
No.10: Can you drive on the Brooklyn Bridge?
Yes, these days you can.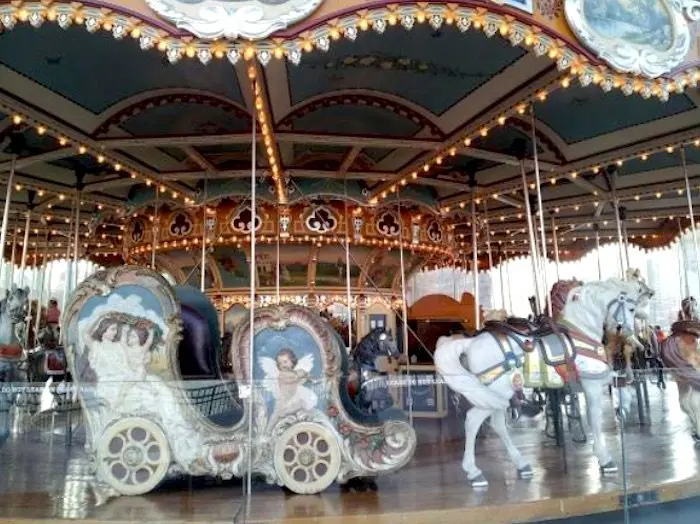 BONUS: Don't miss the BROOKLYN BRIDGE PARK!
Under the Brooklyn Bridge, on the Brooklyn side of the East River, the Brooklyn Bridge Park has fun stuff for kids and families to do.
If you are looking for things to do near Brooklyn Bridge, pop it on your itinerary.
You could spend a WHOLE DAY walking from Pier 6 back around to Pier 1 (on the left hand side of the bridge), then under the bridge around to the Empire Fulton Ferry Park, to Jane's Carousel (the Brooklyn Bridge Park carousel), and the Mainstreet Park playground too.
There's also the famous Brooklyn Bridge park movies.
It's FREE family fun for everyone. (See the link below for details)
If you are looking for things to do in Brooklyn with kids, or things to do near Brooklyn Bridge in particular, make the Brooklyn Bridge Park your first stop.
It's SO good, and there's so much to do, we wrote a giant story about it.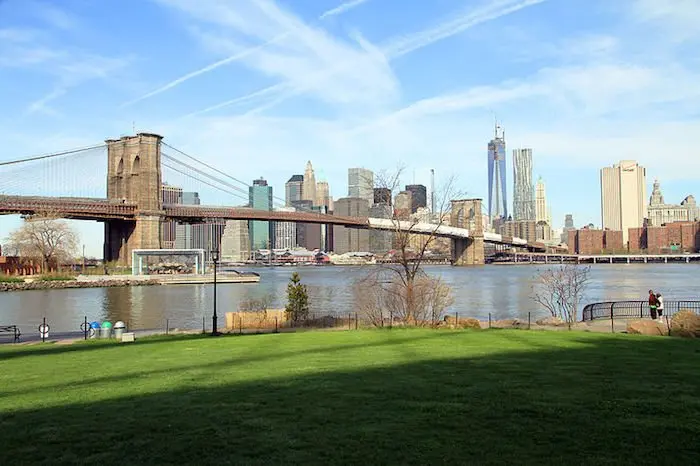 THE INSIDE SCOOP: Visit Brooklyn Bridge from the Brooklyn Side
Correct at time of publication on Roam the Gnome. Please check with venue for updates. We apologise in advance if there have been any changes we are unaware of. All prices in US dollars, unless otherwise stated
Address: The Brooklyn heights address using GPS is Brooklyn Bridge, New York, NY 10038, USA
Brooklyn Bridge Opening Hours
Brooklyn Bridge Walk is free and open to visitors 365 days a year.
Brooklyn Bridge cost
Free entry
How to get to Brooklyn Bridge entrance on the Brooklyn side
Wondering how to walk the Brooklyn Bridge?
The official Brooklyn Bridge Pedestrian Walkway begins at Tillary Street and Adams Street.
This is also the main entry to the bicycle lane too.
The entrance is smack bang in the middle of an intersection, making it a hazardous entry with kids!
There's an alternative short cut which is safer (see 'Shortcut' below)
Need directions to Brooklyn Bridge?
By subway: If you do decide to start here, take the subway to Borough Hall Station, (2,3 or the 4,5 train) or the N or R train to Court Street Station. Then walk a few minutes to the starting point.
By car: Get Brooklyn Bridge directions by car here
Brooklyn Bridge Parking
Find the best Brooklyn Bridge parking here.
Limited metered parking is available on Furman Street near Pier 2.
SHORTCUT – Brooklyn Bridge Directions
Find the Pedestrian Walkway entrance via the shortcut at Cadman Plaza Park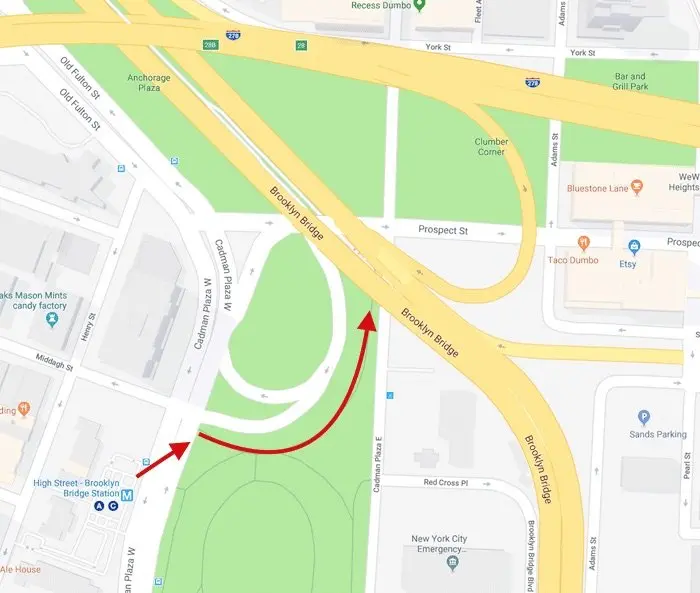 How to find the Brooklyn Bridge pedestrian entrance
We reached the bridge via a shortcut entrance to the Brooklyn Bridge walkway from the park opposite the High Street Station.
To go the same way as we did, catch the A or C train to High Street station, and take the High Street exit to the east.
As you exit the station, you'll see a green park across the road (Cadman Plaza Park)
Cross the street to enter the park, then follow the curved concrete pathway around to the left. There's a steady stream of people walking it in both directions. You can't go wrong.
Keep walking until you reach the underpass. Look to the left to find a set of stairs on Washington Street that lead up to the bridge.
Stick to your left to join the walking lane.
Always look out for cyclists on the bridge. They are in a hurry, and can be impatient with tourists, especially ones that get in their way.
This is our preferred entrance to Brooklyn Bridge for kids.
Brooklyn Bridge Map – Main Pedestrian Walkway Entrance
Where to eat at Brooklyn Bridge?
Bluestone Lane DUMBO coffee shop is at 55 Prospect St, Brooklyn. It's the closest cafe to the entrance of Brooklyn Bridge.
There's lots of food and drink options in and around Brooklyn Bridge Park also.
Bathrooms near Brooklyn Bridge?
The closest bathroom to Brooklyn Bridge can be found in Cadman Plaza Park, which is located next to the Brooklyn Bridge.
The toilets/restrooms are next to the War Memorial.
The bathrooms are open all year round.
You can also find rest rooms on the Brooklyn side at Brooklyn Bridge Park at the end of Old Fulton Street, or on Pier 1 or 2.
More Brooklyn Bridge Information
Disability access: Yes. Although, only stair access on the shortcut.
Closest playground: Brooklyn Bridge Park
Shade: No. Bring hats on sunny days.
Enclosed: Yes, but keep children close.
Ground cover: Timber slats on bridge.
Scooters and Bikes: Yes. BYO.
Dogs: On leash only.
Toadstool Rating – Brooklyn Bridge Activities for Kids
I think we've answered the question, can you walk across the Brooklyn Bridge?
If you have kids in tow, combine a trip across the Brooklyn Bridge walkway with a visit to the Brooklyn Bridge Park.
So much to do, so little time!

Looking for MORE Super Fun Things to Do with Kids in Brooklyn & NEW YORK CITY with Kids?
Click the blue links below for more New York travel tips