INSIDE: All you need to know about the NEW American Girl Cafe NYC in Rockefeller Center.
In New York City, you can take your American Girl doll out for lunch.
Or morning tea.
Or afternoon tea.
Or whenever you can secure that elusive reservation.
Our hot tip: Book early, and take what you can get.
It's a very popular experience for families!
The boys and I couldn't resist taking Roam the Gnome to meet his first American Girl doll friend at the American Girl Cafe in New York.
Visiting the American Girl Café is one of those momentous unique things to do in NYC with girls and boys, AND Gnomes.
Take a look at our American Girl cafe review below.
Disclosure: This article contains affiliate links. If you make a purchase after clicking on one of these links, we may receive a small commission at NO extra cost to you.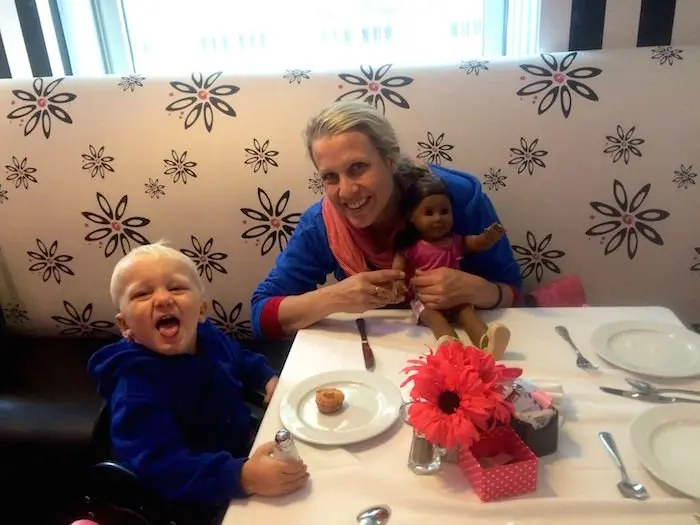 Guide to the American Girl Store NYC cafe
My boys were outnumbered by girls 100 to 1, (it is the American GIRL cafe) but two-year-old Jack was super into it, even if his older brother was a little more reserved.
(There was one other boy present, a brother to a sister and daughter celebrating a birthday)
On arrival, the kids were asked to choose an American girl doll friend to join them, as we hadn't brought our own.
When Jack was seated next to his chosen American doll girl, he put his hand on hers, and rarely let go throughout our entire stay.
It was a heart melting moment.
---
Related: The Ultimate Guide of Best Things to do in New York with kids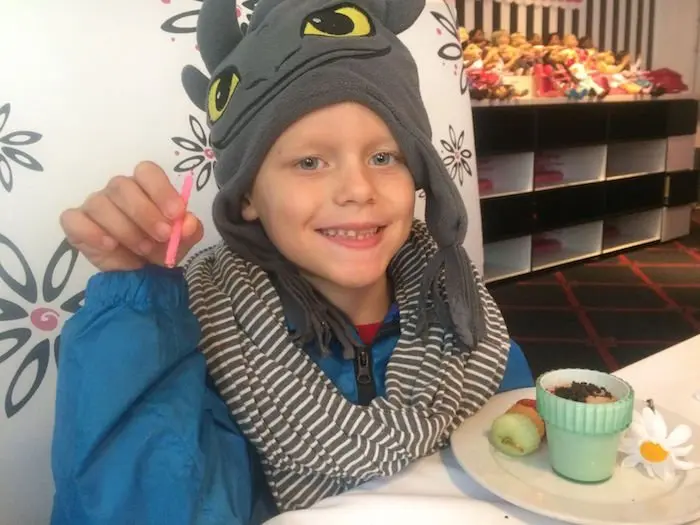 Guide to American Girl Cafe Prices
Brunch was $21 plus tax per person, which is a hefty sum for a teeny-tiny-weeny meal BUT you pay for the experience, not the food.
Generously, they didn't charge for the two-year-old but still gave him his own brunch meal to eat.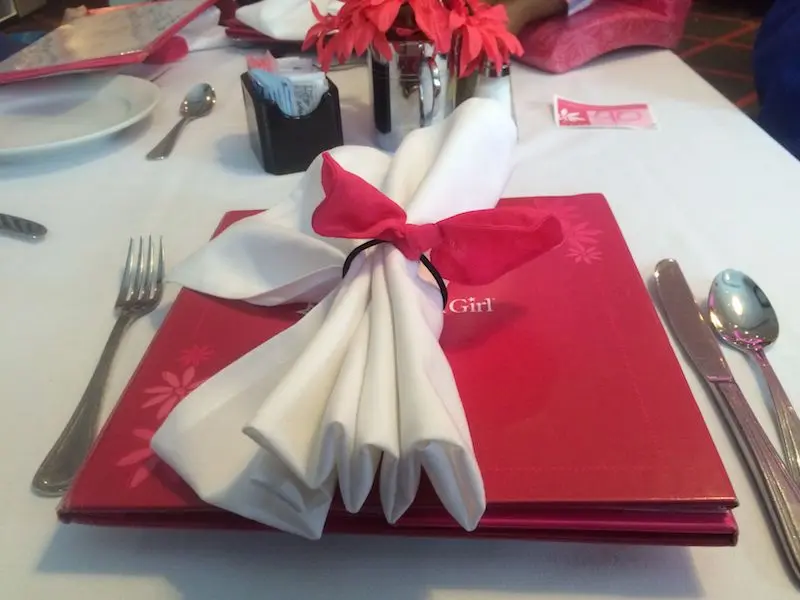 American Girl Cafe New York aesthetic
The cost of brunch included a miniature pink plastic saucer and matching white mug with a flower decoration placed in front of the doll.
This was a take-home keepsake for the kids, and one they were pretty happy with.
Jack did eventually have to say goodbye to his new American Girl doll friend who'd joined us for brunch.
He wasn't so happy about that!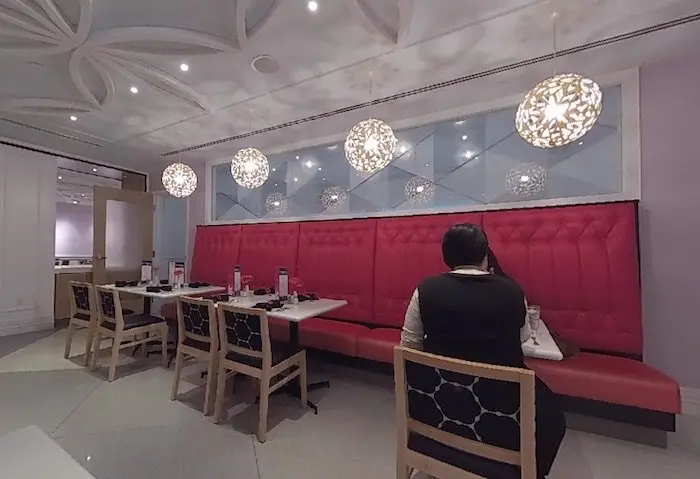 The American Girl Brunch inclusions
First up on the American Girl Cafe Brunch menu, a Warm Welcome of a miniature Cinnamon Bun drizzled with sugar syrup.
Cinnamon rolls are an American Girl tradition.
(Hot tip: Search their website for the American Girl Cinnamon Rolls recipe)
Brunch at the American Girl Store New York also includes a beverage of choice from this list of drinks:
hot tea
herbal tea
hot cocoa
milk
chocolate milk
apple or orange juice
pink lemonade, or
a soft drink.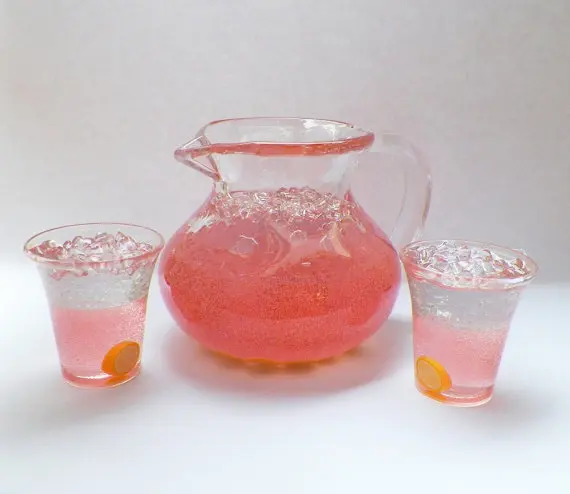 Drinks at the American Girl NYC Cafe
The boys chose pink lemonade.
Of course.
Alcoholic beverages could be purchased separately.
Indulge in:
Mimosas
Bellinis
Red or White Wine, or
Beer
There's also a range of non-alcoholic drinks on the American Girl cafe menu including:
a Strawberry Smoothie, and
a Shirley Temple.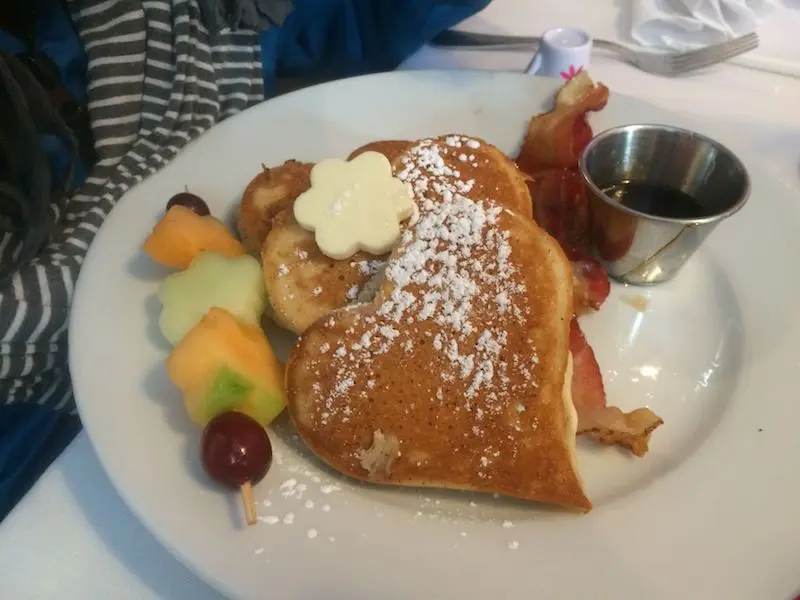 American Girl Cafe menu food
The American Girl Brunch main dish was a choice of one item from this list:
French toast with maple syrup and bacon
A fresh fruit plate with fruit and greek yoghurt parfait, crunchy granola and a mini blueberry muffin
Vegetable quiche, served with fresh fruit
Focaccia egg sandwich with applewood bacon, served with fresh fruit
Eggs benedict on an english muffin, topped with hollandaise sauce, served with home-style breakfast potatoes
Perfect pancakes – deli
Breakfast skillet of scrambled eggs, chicken, grilled cubed potatoes, and topped with melted cheddar cheese and served with salsa and sour cream
Ned chose Perfect Pancakes, delightful heart-shaped pancakes topped with powered sugar, and served with maple syrup, and bacon or sausage, and a fruit kabob.
I had the Eggs Benedict, which was tasty though on the smallish side.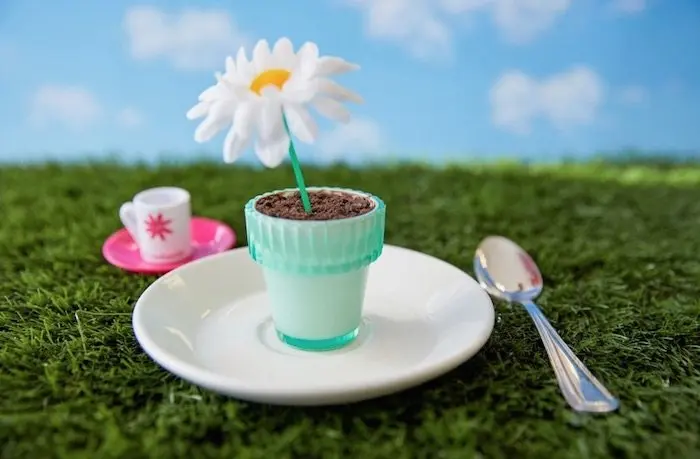 Signature Chocolate Mousse Flowerpot at American Girl Store Cafe NYC
Dessert was the highlight.
Specifically, their signature Chocolate Mousse Flowerpot, strange as it was to eat out of a tiny plastic plant pot. The mousse came with a miniature fruit kebab stick (kabob!) too.
There was a pink box on the table filled with 'conversation starters'.
They included questions such as:
'If you owned a horse, what would you name it?, and
'What's the biggest surprise you've ever had?'
This was a bit of fun to pass the time while we waited for the food to arrive. You buy your own Table Talkers souvenir for $12 in the shop.
In the newly opened American Girl Store in the Rockefeller Center, the American Girl cafe is on the Ground Floor, unlike the one on 5th Ave which was on the 3rd floor with views of the posh street, and natural light.
But, it has FLOWER MOTIFS on the ceiling and shiny pink satin padded seating!
We've heard mixed reviews, but I don't think a lack of light is going to stop people booking this iconic Mother-Daughter date at American Girl cafe in New York.
I'm glad I took the boys.
It's important for boys to champion a place where girls take centre stage, but more than that, American Girl Place is the home of creativity, purpose, and play, and that's something I want all boys to see.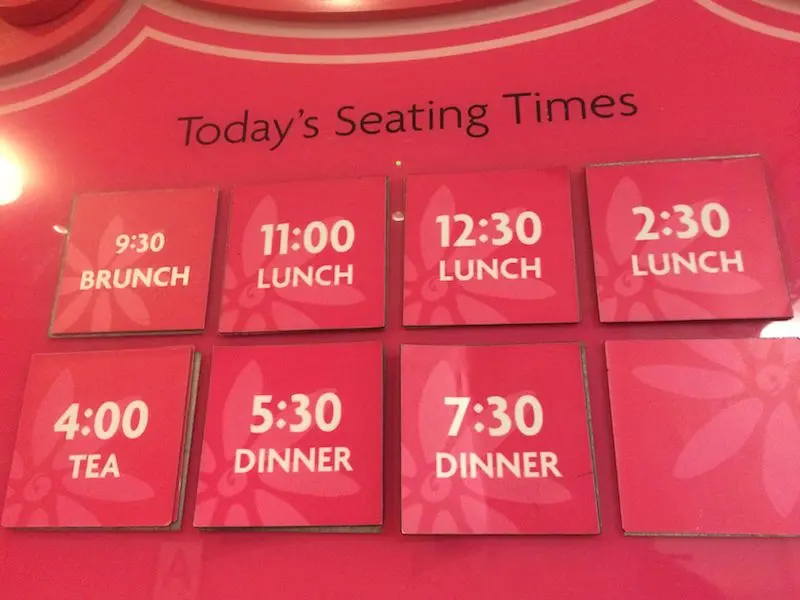 How to make American Girl Cafe Reservations
Click the blue link to make your American Girl Doll Cafe NYC reservations for:
Brunch
Afternoon Tea, or
Dinner.
Book as soon as you can to secure your ideal time, and date.
The American Girl store cafe bookings sell out quickly.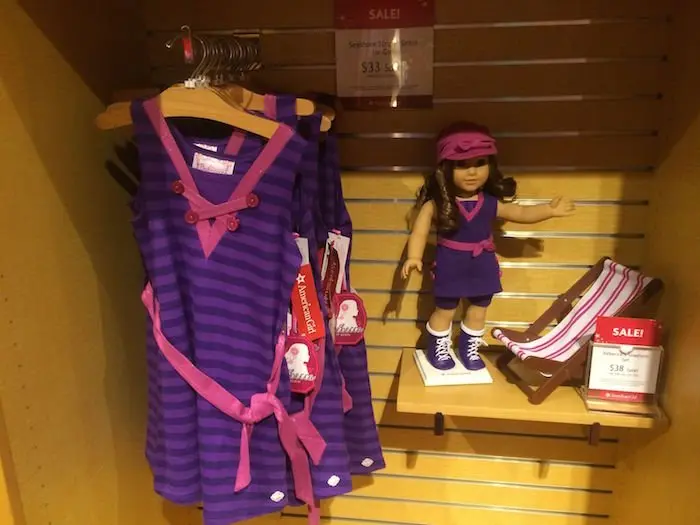 American Girl Birthday Party
As well as the open plan cafe seating in the American Girl Restaurant NYC, the American Girl Place Cafe in New York has two American Girl birthday party rooms.
These private party rooms are fitted with flat screen tv's and boardroom style tables to seat larger groups hosting an American Girl doll birthday party.
Imagine being a birthday girl at an American Girl cafe birthday celebration!
Book your American Girl party today.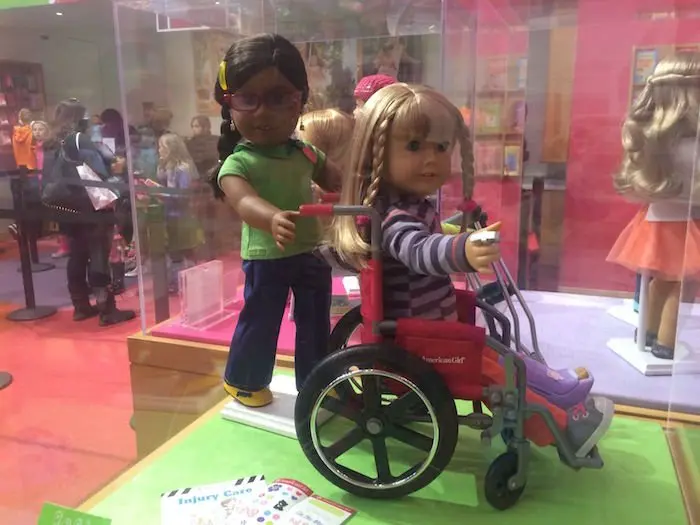 The New American Girl Place New York
The American Girl Store in Manhattan moved from 5th Avenue to the Rockefeller Center, and is now a two-level shop accessible by escalator and elevator.
It's a glittering, glamorous retail hub with raindrop chandeliers, glossy design, and dazzling displays.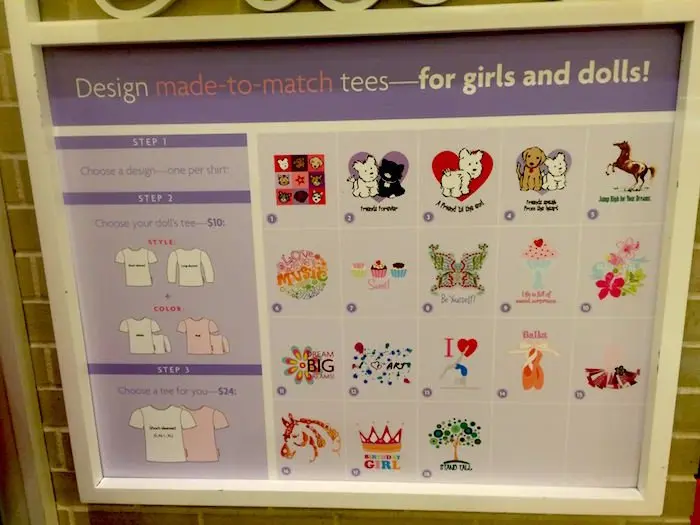 First Floor (Street Level) at American Girl Manhattan
A department-store style layout with pretty displays of your favourite American Girl Dolls including:
Wellie Wishers dolls
BeForever dolls
American Girl Doll of the Year display – the 2018 Girl of the Year™ is Luciana, a budding astronaut
American Girl doll food
American Girl doll clothes
American Girl doll accessories
A fabulous touchscreen personalisation station! Kids can design their own One of a Kind American Girl doll here.
the elegant and decadent American Girl Doll Salon- the centrepiece of the store. A must-see! (more details below)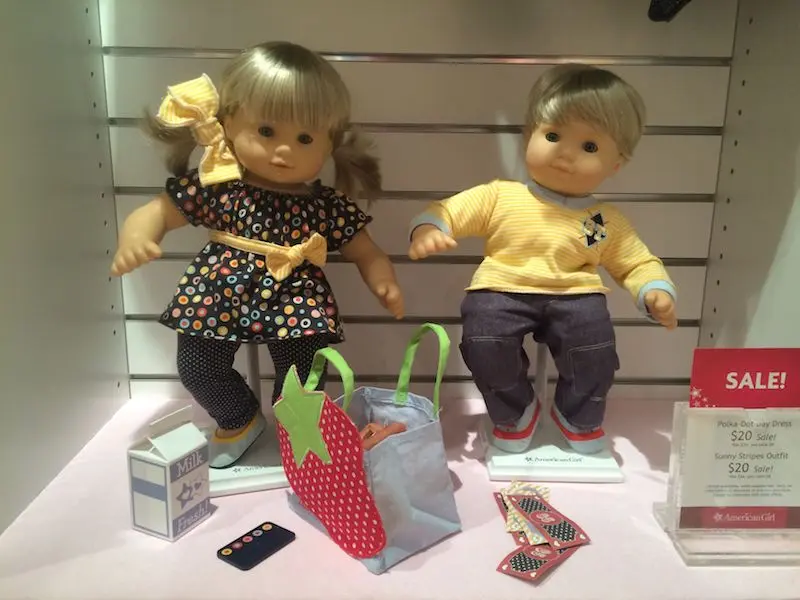 Ground Floor at American Girl NYC
What you'll find:
American Girl books and DVDS
American Girl Bitty Baby displays
American Girl Cafe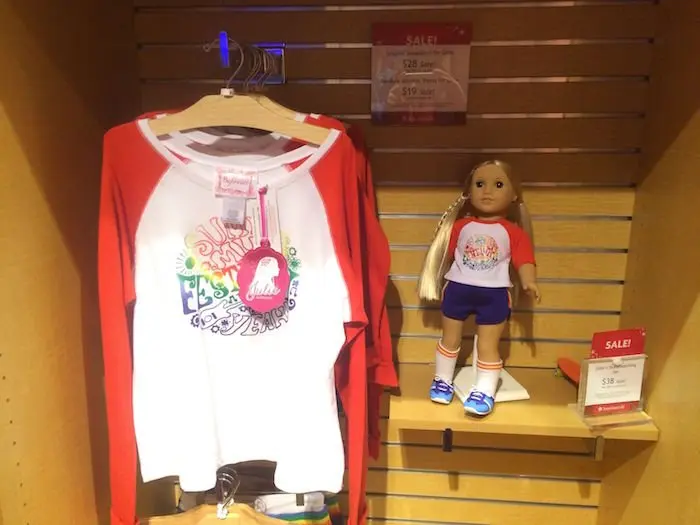 American Girl Doll Collections
Find all your favourite BeForever American Girl Dolls in store.
Choose from Samantha, Kit, Kaya, Addy, Felicity, Josefina, Nanea, Maryellen, Melody, Rebecca, and the ever popular, Julie Albright.
There are so many American Girl doll names, styles, looks and hair colours to choose from, it's almost impossible to stop at one.
Click here to request the current American Girl doll catalog.
No.1: American Girl Bitty Baby Dolls
American Girl Doll Bitty Baby dolls inspire precious first steps into learning, loving play, and imagination as girls care for these little people.
Priced from US$60.
No.2: American Girl Wellie Wishers
Priced from US $60, WellieWishers are a "sweet and silly group of girls who each have the same big, bright wish: to be a good friend."
Cute.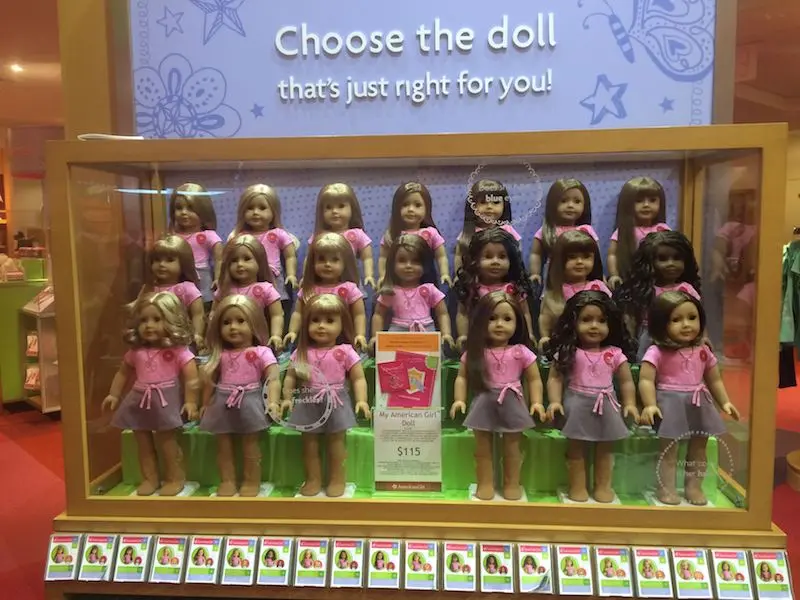 No.3: Create your Own One of a Kind American Girl Doll
Design your own doll from head to toe, with over 1 million options – hair style, hair length, skin tone, accessories, clothing, and look.
Dolls can even be fitted with hearing aids if needed.
Kids can also design their own clothes for their doll, and order matching outfits for them too!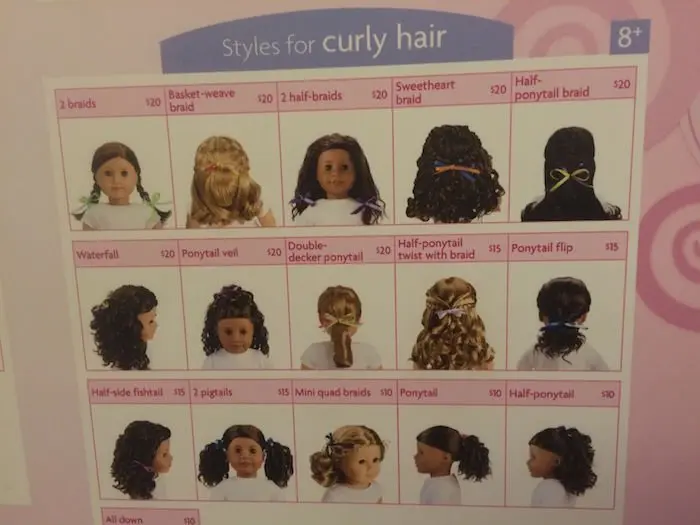 American Doll Hair Salon
At the all-new American Girl Salon at the American Girl store, girls and their dolls can enjoy a bit of pampering!
The American Doll hair salon is where girls and dolls can choose matching hairstyles, mini manicures, and have their ears pierced (yes, the dolls too!).
Dolls can even enjoy a trip to the 'Day Spa' with a signature treatment, all while wrapped in a pink terry robe!
All these doll-and-child beauty makeovers happens in a purpose-built American Girl Store Hair Salon room with mirrors, hair salon chairs, and iconic floor-to-ceiling glass windows with views of 52nd street.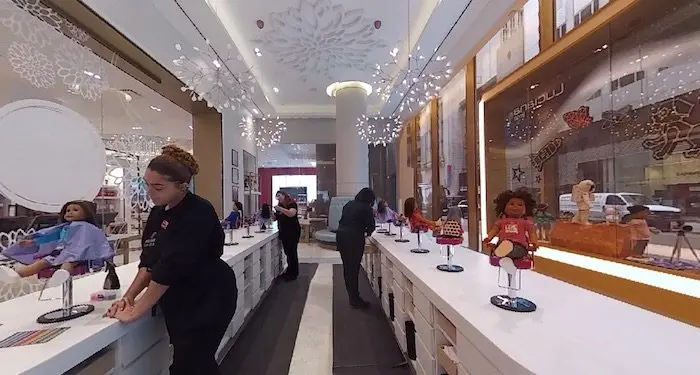 American Girl Doll salon
The American Doll salon also features shiny white laminated benchtops, fancy lighting, and Tiffany-blue padded seating where the kids (and moms) can sit while the Beauty Salon staff bring portable nail bars to you.
It's a girls dream come true. (A Moms dream salon too! It's spick and span.)
Hot tip: WellieWishers dolls can now have their ears pierced too. (Dolls with ear piercing!)
American Girl salon reservations may be made in store if you are lucky, but book online to avoid disappointment.
Allow at least an hour before your American Girl cafe reservation to ensure your girls (both real and mini) are ready in time!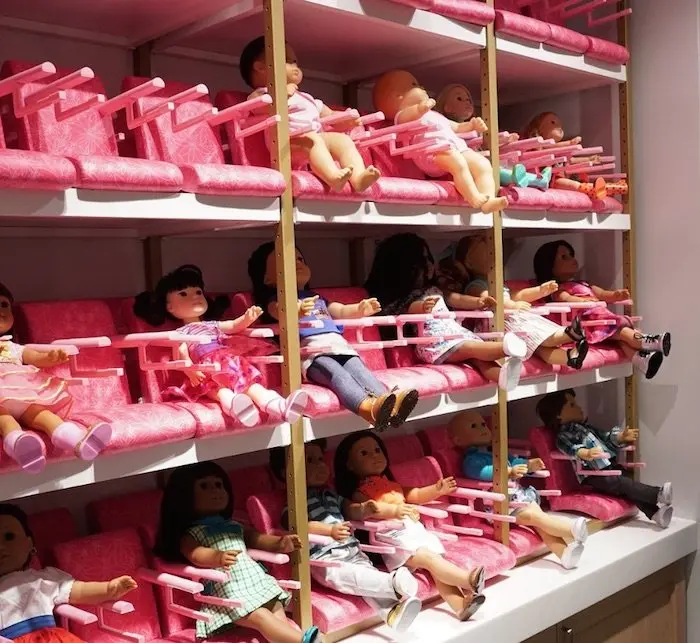 MORE American Girl Cafe Locations
There are other American Girl cafes throughout America. If you are wondering which American girl stores have cafes, take a look below.
No.1: American Girl Cafe Los Angeles
Click here for American Girl Los Angeles.
Serves Afternoon Tea, Lunch and Dinner.
No.2: American Girl Restaurant Chicago
Click here for American Girl Chicago.
Serves Brunch, Afternoon Tea, Lunch and Dinner.
No.3: American Girl Bistro Nashville.
Click here for American Girl Nashville. Or check in-store for details.
No.4: American Girl Atlanta Bistro
Click here for American Girl Atlanta.
Serves Brunch, Afternoon Tea, Lunch and Dinner.
No.5 American Girl Dallas
Click here for American Girl Bistro Dallas.
Serves Brunch, Afternoon Tea, Lunch and Dinner.
Boston, Houston and Miami also have American Girl Bistros at the American Girl Place.
Hot tip: Make your American Girl Bistro reservations well in advance.

American Girl Bistro menu
Download the American Girl Bistro menu here.
American Girl Events in NYC
There's also a bunch of fun American Girl events held at most American Girl Store locations.
Events in New York include:
a Sightseeing Tour of New York on the Circle Line, with dinner in the cafe afterwards.
a trip to the Theatre to see Wicked
painting workshops, and
Science workshops too.
Check the website for details.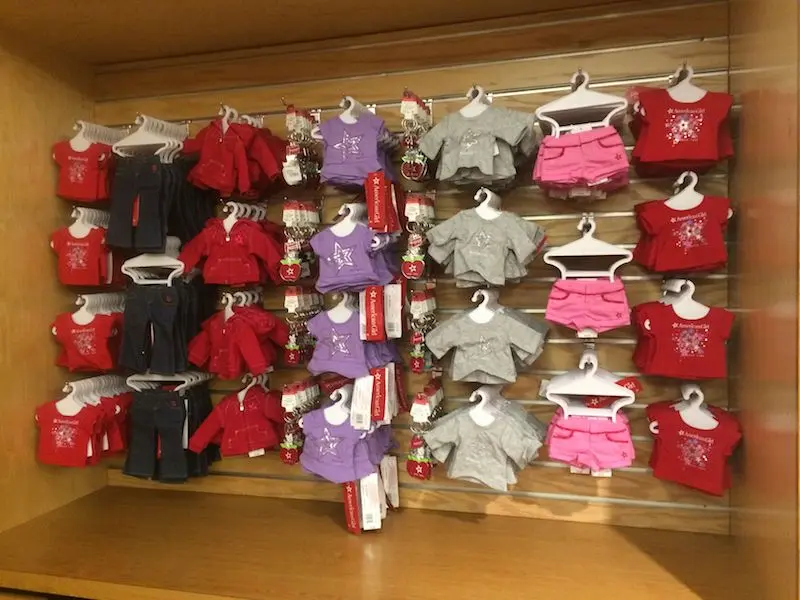 Can't make it to American Girl Place in NYC?
There's tonnes of American Girl stuff to play, do, and learn if you can't make it in person.
Create your own American Girl doll to match your little girl's features here. Add freckles, your choice of hair colour and style, and the perfect outfit.
There's a bunch of super fun American Girl doll games on the American Girl website.
If your girls love coloring in, find American Girl coloring pages here.
You can learn how to care for American girl doll hair here.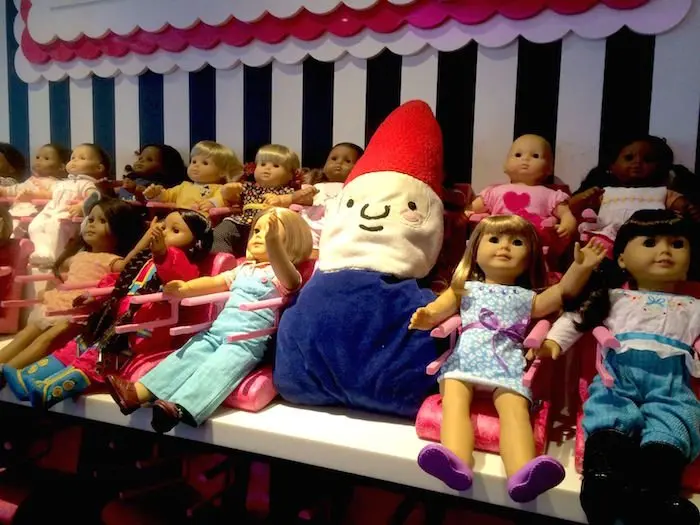 Our Top Tips for American Girl Store Bargains
Are there American Girl Coupons?
You can find American Girl coupons from time to time, but a better bet is to head straight to the American Girl doll promotional sales page.
You can also find bargain priced dolls at the American Girl clearance here.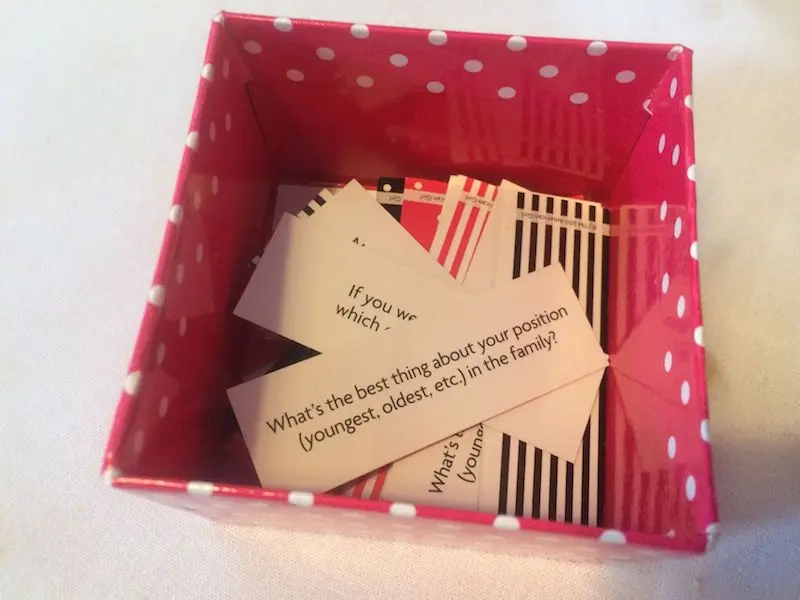 THE INSIDE SCOOP: American Girl Doll Store NYC
Correct at time of publication on Roam the Gnome. Please check with venue for updates. We apologise in advance if there have been any changes we are unaware of. All prices in US dollars, unless otherwise stated
Where is the American girl cafe in New York?
Address: The American Girl Store Cafe in Manhattan is now located at 75 Rockefeller Plaza, New York, NY 10019
Telephone: +1 877-247-5223
Website: Click here
American Girl Store NYC Hours
Monday to Thursday 10am – 7pm
Friday 10:00 a.m. — 8:00 p.m.
Saturday 9:00 a.m. — 9:00 p.m.
Sunday 9:00 a.m. — 7:00 p.m.
American Girl Cafe Opening Hours NYC
Monday 11:00 a.m. — 1:30 p.m.
Tuesday 11:00 a.m. — 1:30 p.m.
Wednesday 11:00 a.m. — 1:30 p.m.
Thursday 11:00 a.m. — 1:30 p.m.
Friday 11:00 a.m. — 5:30 p.m.
Saturday 9:30 a.m. — 7:00 p.m.
Sunday 9:30 a.m. — 5:00 p.m.
Note: Extended hours during vacation times.
American Girl New York entry fees
Free entry.
American Girl cafe prices
American Girl bistro menu prices start at $15.50 US plus tax for an starter and main.
Cafe bookings for Brunch start from $21.
Ala carte menus available for lunch and dinner.

How to book American Girl Doll Cafe
Click this link and scroll down to the section called DELICIOUS DINING to find the buttons to make an American Girl Cafe reservation for brunch, afternoon tea, lunch or dinner.
Look for the RED buttons on the page.
Bookings open three months in advance.
A deposit is required for parties of 6 or more.
Dress Code for American Girl Doll Restaurant
The dress code for American Girl doll cafe is smart casual.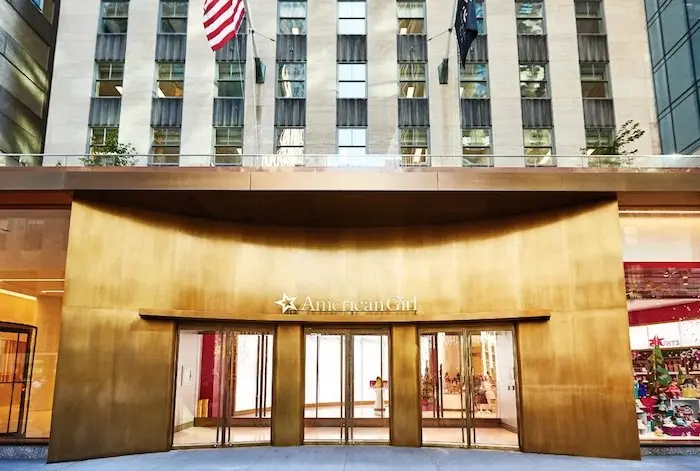 How to get to the American Girl Cafe from the Empire State Building
By Bus: Catch the M5 (red) or M7 (blue) bus from theAv of the Americas/w 34 St along 6th Avenue to Av of the Americas/w 51 St
By Subway Train: Take the D or F train (orange line) from 34 Street-Herald Sq Station to 47-50 Streets – Rockefeller Center
On Foot: 20 minutes walk north along 5th Avenue to Rockefeller Center
By Car/Taxi/Uber: Disembark at West 52nd St and 5th Avenue.
Parking at American Girl Place in New York?
Many parking garages are available nearby.
American Girl Doll Store NYC Map
Facilities at American Girl Place Rockefeller Plaza
Toilets: Yes, including baby change table
Disability access: Yes
Closest ATM:
Closest playground: The space age Heckscher Playground is a 15 minute walk north in Central Park south.
Water Bubblers/fountains: No
Scooters and Bikes: No
Dogs: No
Toadstool Rating- American Doll Store Cafe
Is eating at the American Girl Cafe worth the money?
The question should be: how much do your children love dolls?
If they adore their American girl dolls with all their heart, then visiting the American Girl Place Cafe is a must do.
For those who could give or take their dolls, a visit to the store might suffice.
The store itself is magnificent. But save your brunch money and eat elsewhere.

Looking for BEST Things to Do in NEW YORK CITY with Kids?
Click the blue links below for more New York activities.