INSIDE: Feed your Sweet Tooth at this nostalgic candy store, DYLAN'S CANDY STORE New York!
Pucker Powder Stand? Tick.
Penny candy to pick and mix? Tick.
Jumbo Gummy KILLER WHALES?
YES, these things…
AND SO MUCH MORE!
There's OVER 5000 nostalgic and modern day candies and lollies to choose from the best candy store in NYC, Dylan's Candy Store in New York.
PLUS this nostalgic candy store has a dine-in Candy Cafe with RAINBOW COLOURED CUPCAKE BOOTHS!
Take a sneak peek inside Dylan's Candy Store below.
Disclosure: This article contains affiliate links. If you make a purchase after clicking on one of these links, we may receive a small commission at NO extra cost to you.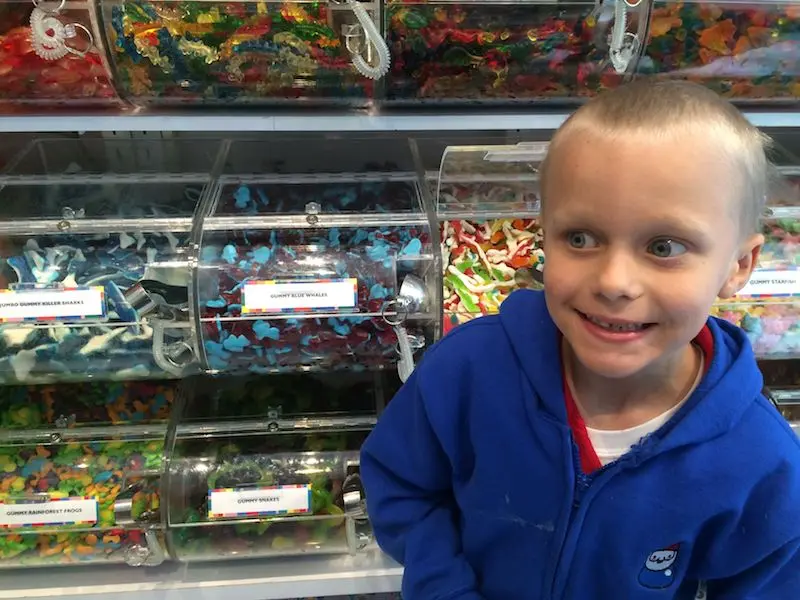 GUIDE TO DYLAN'S CANDY STORE NEW YORK NY
At Dylan's Candy Bar NYC, the first thing you see when you walk in is rows and rows of candy in clear plastic pick-n-mix containers.
This is a blast from the past, with lots of candy from your childhood that you haven't seen in years.
Be prepared to spend a while searching the pick and mix stands at this nostalgic candy store.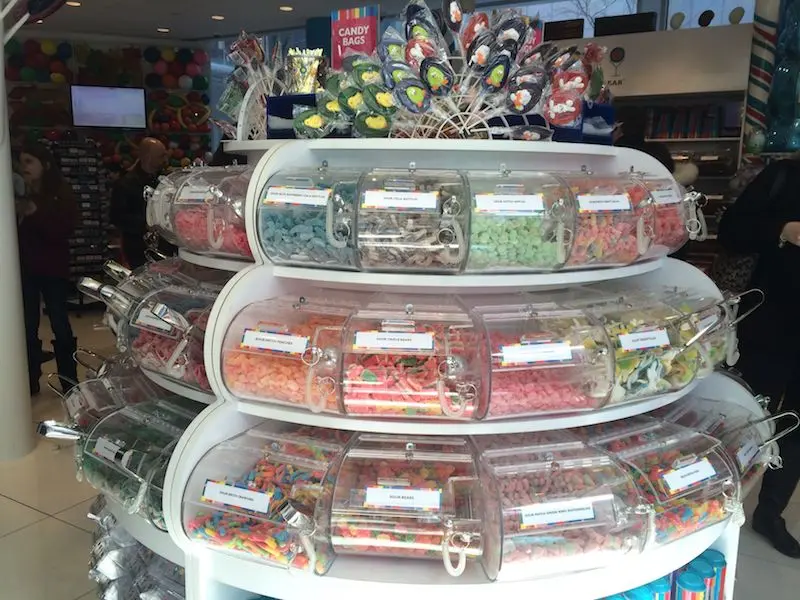 Dylan's Candy Bar containers
Pick up one of the Dylan's Candy Store containers, and begin to fill it up.
You pay for the weight of candy and assorted confections you choose, so don't go too overboard at this candy buffet just yet.
There's LOTS more to see!
NYC Candy galore!
But let's face it.
You are NEVER going to leave here without a tonne of candy in tow.
The kids will not let you walk out of this place without a purchase, so fill your wallet and have that credit card handy.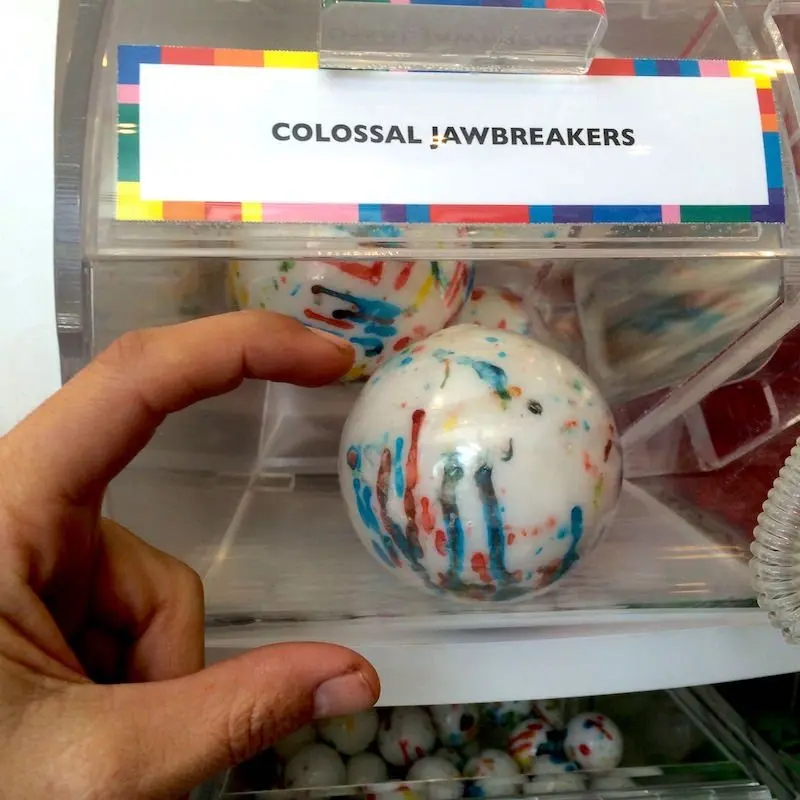 Pick and Mix Bar at Dylan's Candy Bar New York
You have to try something when there's so many unusual and unique gummy lollies, candies and sweets to taste.
dizzy bears
gummy ice cream cones
gummy fried eggs
gummy rings
gummy blobs and other gummy candy
tootsie rolls
blow pops
sugar free candy
old fashioned candy
chocolate candy bars
sour lollies – green rind watermelon, sour patch apples, sour patch fruit salad, sour cola bottles
Even sour tarantulas!
But my favourite is the Colossal Jawbreaker.
That thing is a real-life Willy Wonka's Everlasting Gobstopper!
READ MORE: Need a healthy food cafe and deli in New York after all this sugar? Visit SPEEDY'S NYC!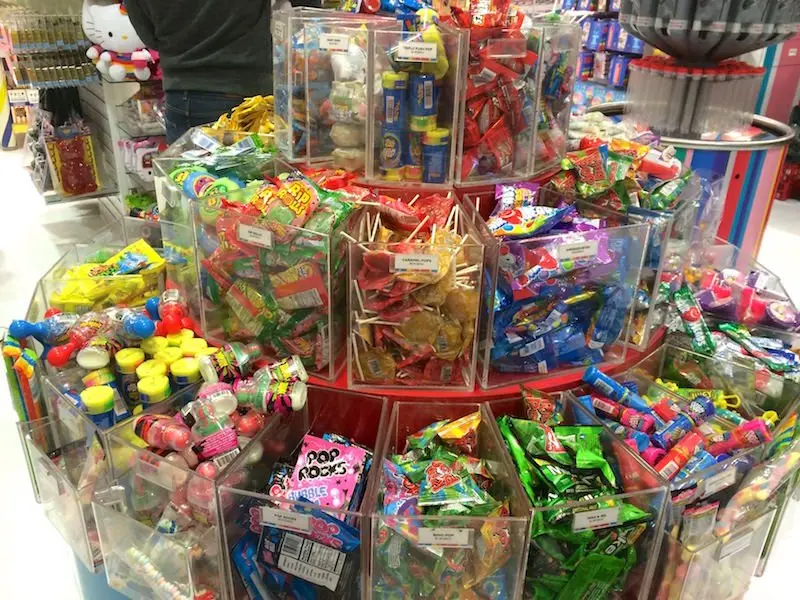 Look around at Dylan's Candy Shop New York
There is something new in every corner.
THREE floors of colorful candy fun!
Pop rocks!
Caramel pops
War heads
Push pops
Ring pops
Bubble gum
Cotton candy
Ribbon candy
Candy bouquets
Rock candy
Candy pops
I didn't see Harry Potter candy, or Willy Wonka candy but it may be there.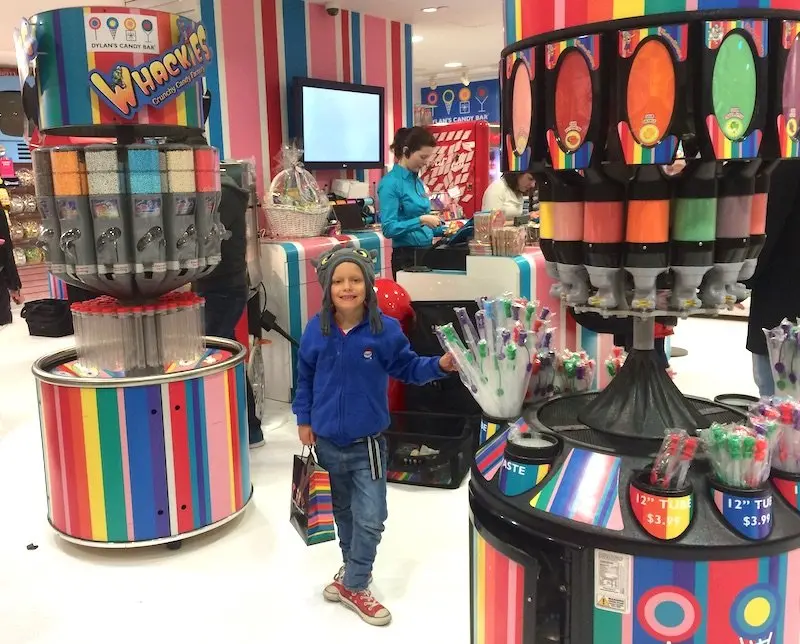 Pucker Powder
Downstairs, there's a Crunchy Candy Bar AND an old time Pucker Powder stand full of fizzy sherbet!
This was Ned's favourite.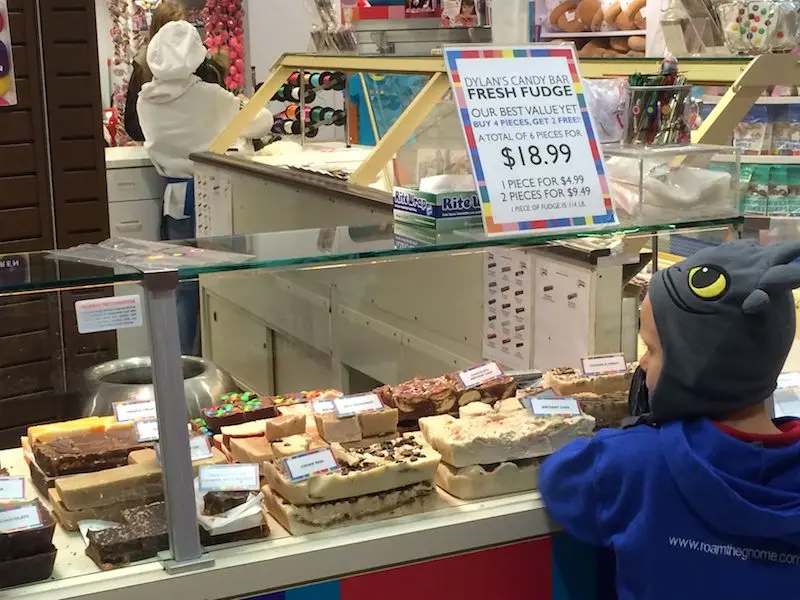 Fresh Fudge Bar
Fudge lovers will adore the standalone Fresh Fudge bar.
The fudge is stacked in huge chunks behind the counter window – just wait for your mouth to start watering in anticipation!
There's a counter for Chewy Licorice ropes and retro taffy too.
Dana's Bakery
The newest addition to Dylan's in New York is Dana's Bakery.
It's now open on the lower level for:
cookies and
French macarons in fun, classic American flavors.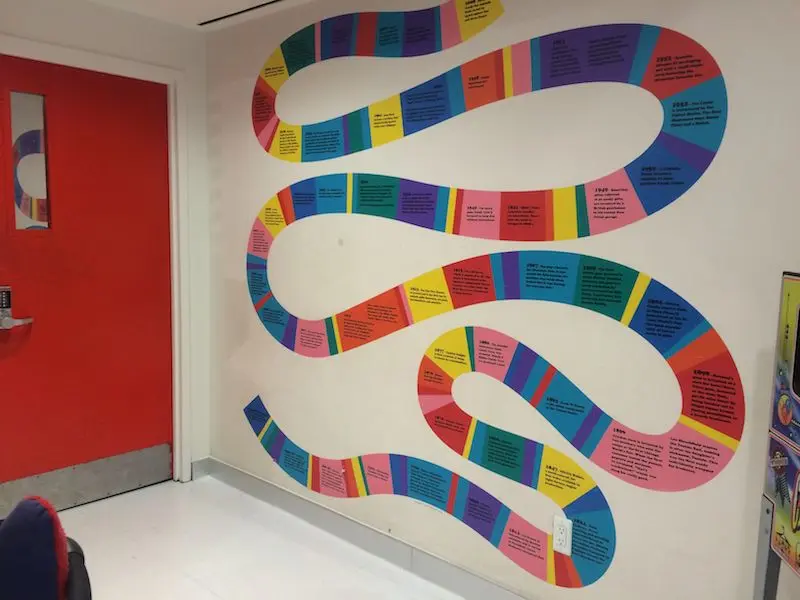 Memorabilia at Dylans Candy Bar New York
On one wall, there's a timeline showcasing the evolution of candy.
Did you know that Hershey's invented the Chocolate Kiss in 1907?
It was named the Kiss because the machine that made them looked like it was kissing the conveyor belt they were made on!
Or that the Life Saver (named after it's ring shape) was first introduced in it's signature peppermint flavour.
22 years later, the fruit flavours were on the shelves for the first time.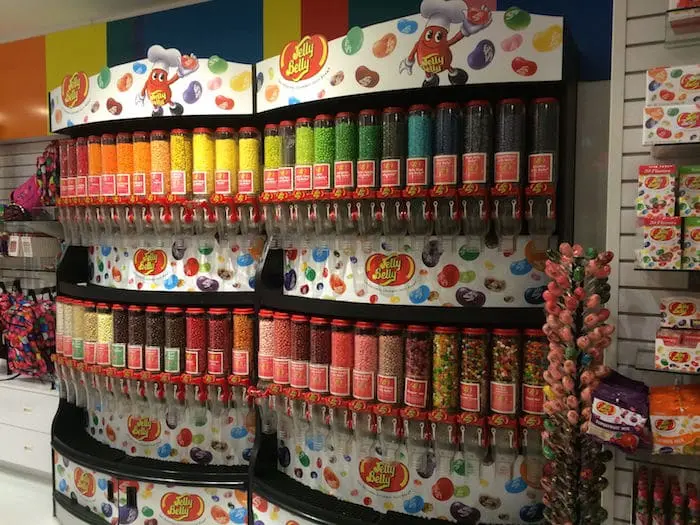 Jelly Belly Gourmet Jelly Beans at Dylans Candy Store New York
There's a WALL full of different flavoured Jelly Belly jelly beans too.
I've never seen so many jelly beans in my life.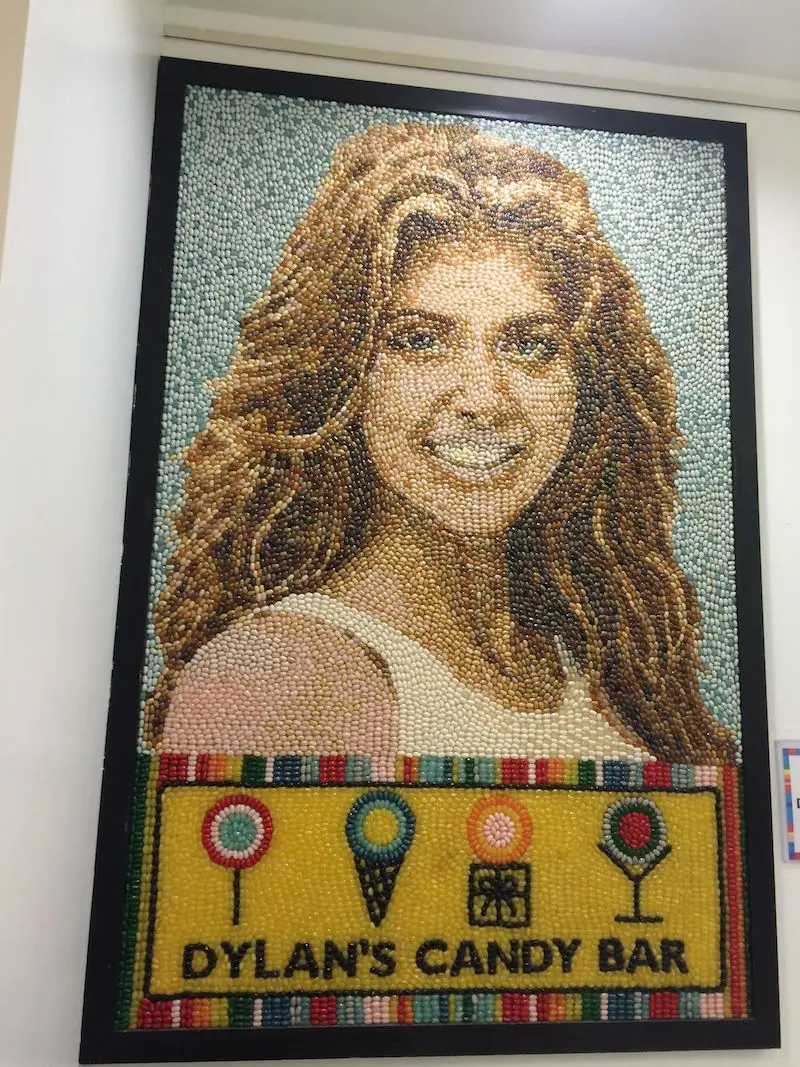 Jelly Bean Portrait
Plus a GIANT self-portrait of the Dylan's candy bar owner Dylan herself.
This artwork is made entirely from jelly beans.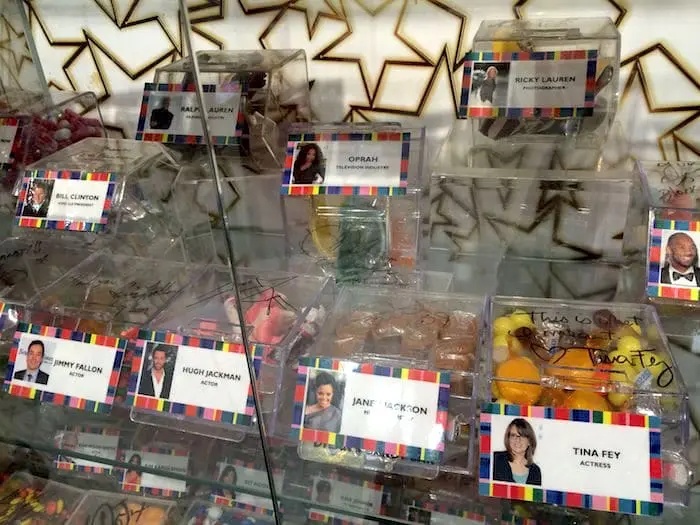 Celebrities love Dylan's Candy Bar in NYC too!
The Spot the Celebrity Bar is where celebrities have signed a container of their most favourite pick-n-mix choices.
Look out for:
Comedian Tina Fey
Actor Hugh Jackman
Singer Janet Jackson
The Tonight Show host Jimmy Fallon, and
Oprah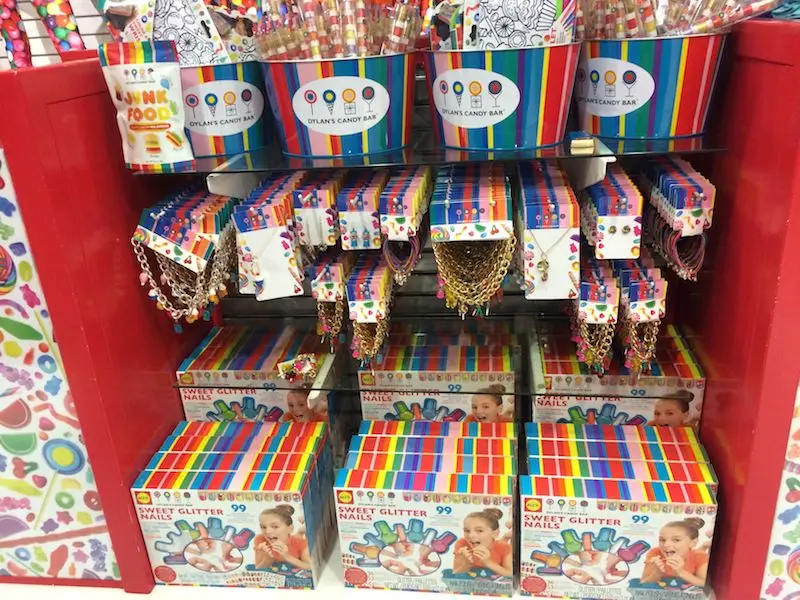 DYLANS CANDY BAR GIFT SHOP
There's:
candy-themed nail polish
children's jewellery
rainbow coloured lipstick
socks, and
headbands.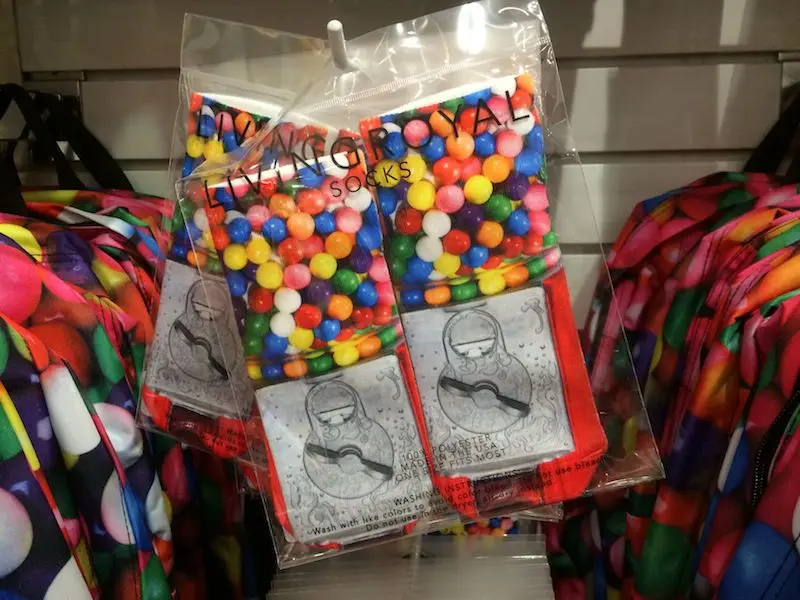 Most of the items feature the Dylan's Candy Bar Logo, making these things great gifts from New York.
RELATED: Epic List of the Best Unique Souvenirs from New York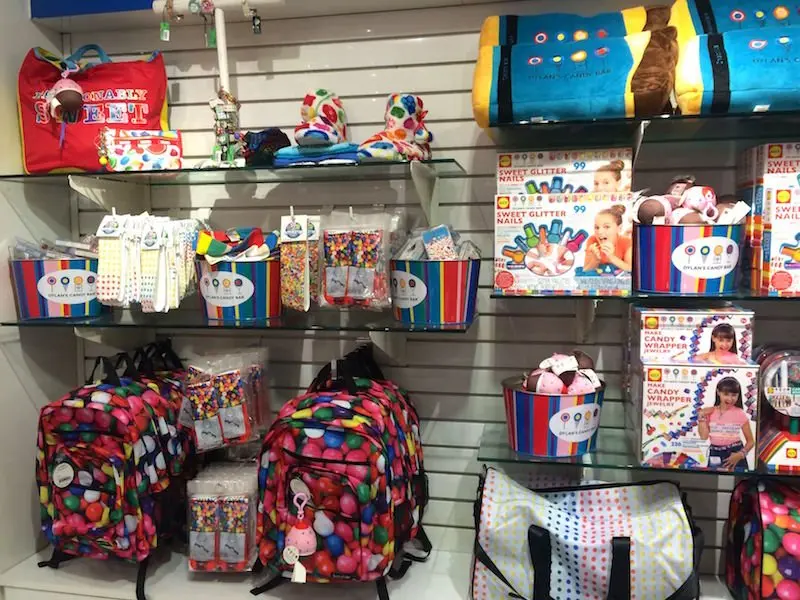 Dylans Candy Bar Logo
Dylan's Candy New York shop has:
candy themed dressing gowns
jelly bean back packs
candy t-shirts and
candy themed pillows.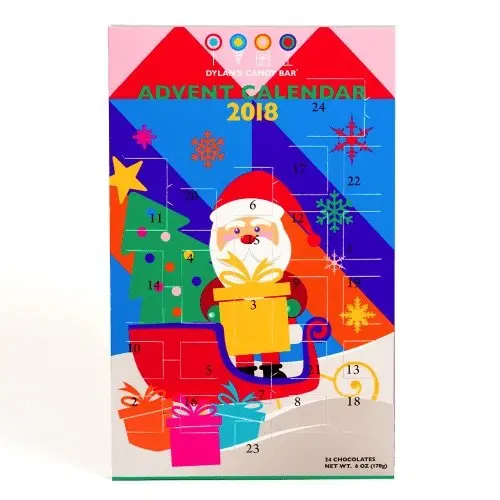 Dylan's Candy Bar Advent Calendar
Keep an eye out for the annual Dylan's Candy Bar Advent Calendar!
It's full of Christmas candy.
It appears in store from around late September.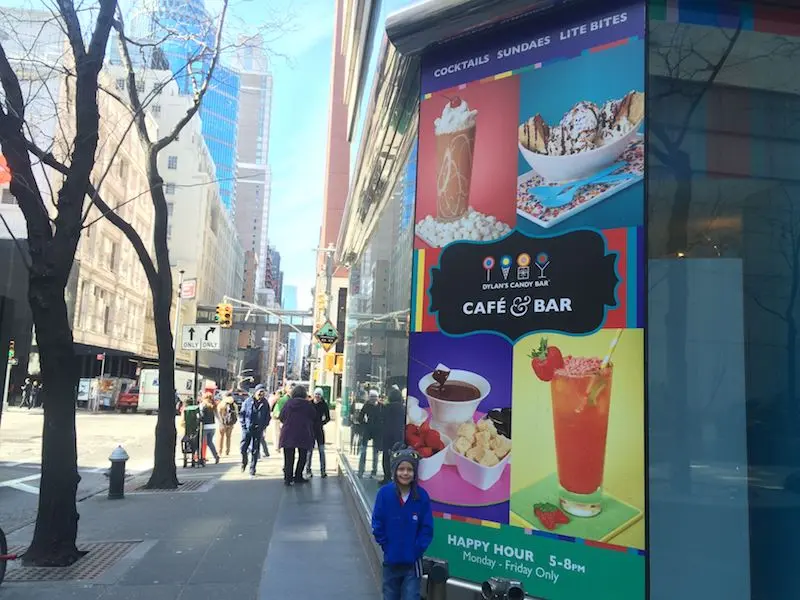 DYLAN'S CANDY BAR RESTAURANT IN NEW YORK
Dylan's Candy Bar Cafe is upstairs in the New York Flagship Store.
Book your Dylan's Candy Bar reservations ahead of time if you want to make sure you get a seat. It can be busy.
The Dylan's Candy Bar Menu of Savory Food
The cafe has all kind of savoury yummies including:
A jumbo soft NY pretzel
Mac 'n cheese
chicken tenders
mozzarella sticks
onion rings
classic sandwiches and burgers
The menu is really reasonable with prices from $7 – $15 for mains.
But we know everyone's really here for dessert!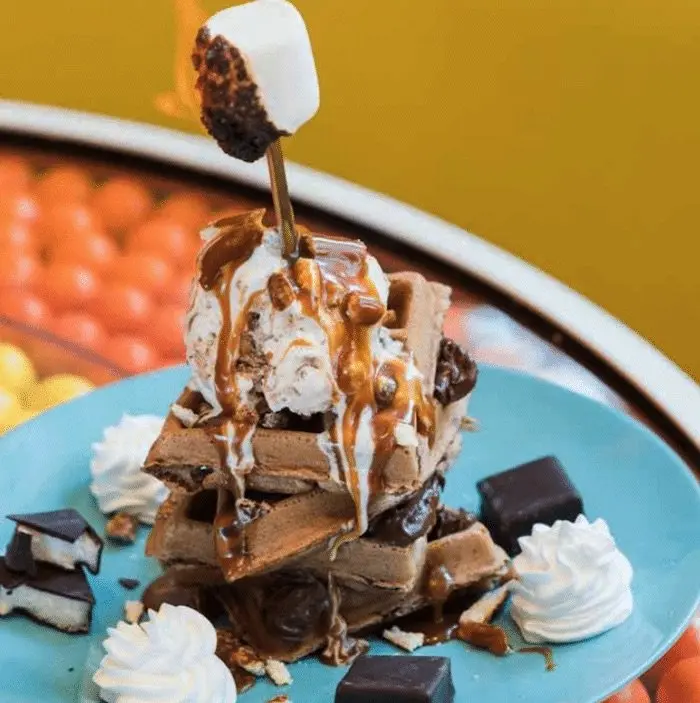 Image Credit – Dylan's Candy Bar
The Signature Dishes at Dylans Candy Bar Restaurant
Try the signature dish, "The Breakfast of Champions":
Hot-off-the-griddle chocolate chip waffle, marshmallow cream, & Nutella® with Caramel Sea Salt ice cream & chocolate covered marshmallows.
Or, one of these.
S'mores PIZZA
Ice cream tacos
Chocolate chip waffles
Ice cream sundaes
Dylan's Candy Bar drinks include:
Shakes and Milkshakes (including freak shakes)
Mocktails
Speciality coffees
Hot teas
Dylan's Candy Bar hot chocolate
Shareable Goblets!
Image credit: Dylan's Candy Bar
The Family Challenge dish?
The "I Bet You Can't Sundae" with TEN scoops of ice cream and TEN toppings!
At $45, it's one for the whole family, and then some.
Click here for the Dylan's Candy Bar menu.
Dylans Candy Bar Cafe Opening Hours
Sun – Thurs 11am – 9pm
Fri – Sat 11am – 11pm
Telephone: 646 735 0078

Dylan's Candy Bar Reservations
Pro-tip: when you make a reservation, be sure to inquire about the famous cupcake booths.
Dylan's Candy Bar Birthday Parties
Yes, you can book a birthday party at Dylan's Candy Bar too.
There's also:
Bridal Showers
Baby Showers, and more.
Click here for more details, including the Dylan's Candy Bar Birthday Party cost.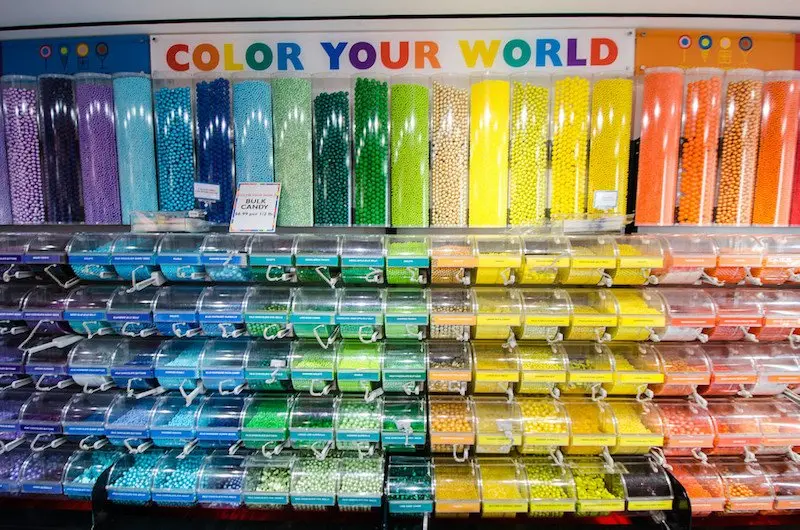 More Dylan's Candy Bar Locations
Dylan's Candy Store Locations can be found across America.
There are five Dylan's Candy Bar shops in total.
Sadly, there is no Dylan's Candy Bar Houston.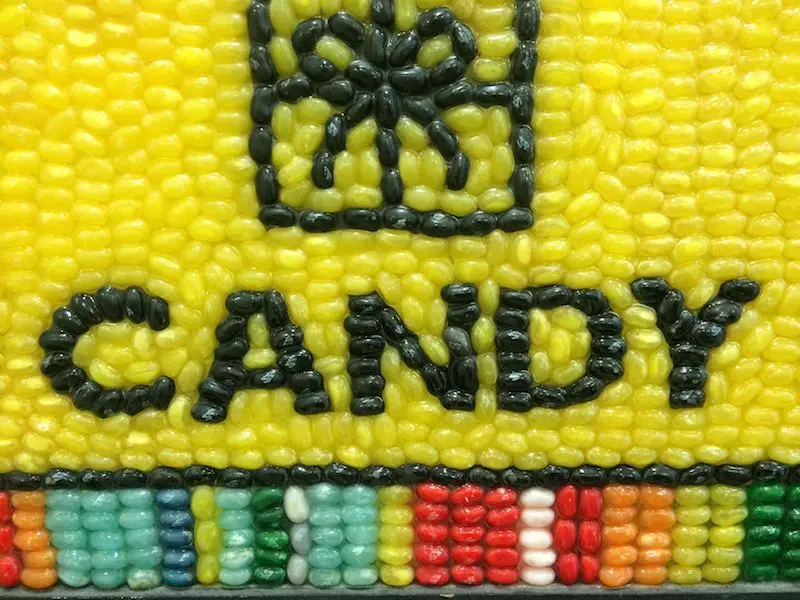 Photos of Dylans Candy Bar Manhattan
Entrance Level
Look for candy from the 70s, candy from the 60s, candy from the 50s, and 80's candy too.

THE INSIDE SCOOP: Dylan's Candy Bar Store New York
Correct at time of publication on Roam the Gnome. Please check with venue for updates. We apologise in advance if there have been any changes we are unaware of. All prices in US dollars, unless otherwise stated
Address: Dylan's Candy Store New York is located at 1011 3rd Ave (at 60th St.) New York, NY 10065
Telephone: (646) 735-0078
Email: [email protected]
Website: Click here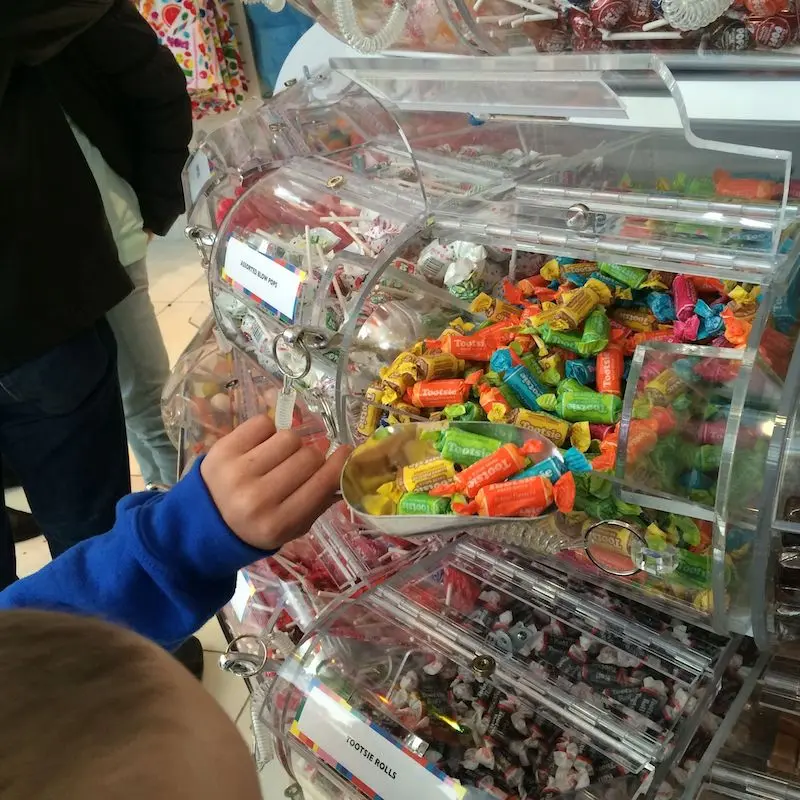 Dylan's Candy Opening Hours
Mon-Thur: 10am – 9pm
Fri & Sat: 10am – 11pm
Sunday: 10am – 9pm
Note: Check website for updates before you go, as they change opening hours during special events

Dylan's Candy Bar prices
The pick-n-mix starts at $12 US for soda cans, and $17 for paint tins (the container Ned has in the photos)

How to get to Dylan's Candy Store New York:
By Subway: N, Q, R, 4, 5, 6
Dylans Candy New York parking
Plenty of car parking garages nearby.
Dylans Candy Bar Map
Facilities at Dylans Candy Shop
Where to eat at Dylans Candy Bar? The cafe is upstairs on site.
Toilets: Yes.
Disability access: Yes, lifts available to different floors.
Closest ATM: Capital 1 ATM is one block south at 991 3rd Ave, New York, NY 10022, USA
Closest playground: Heckscher's Playground in Central Park South
Toadstool Rating – Kid in a Candy Store!
Dylan's Candy Store New York IS expensive, BUT a once-in-a-lifetime chance for kids to gorge on unique candy?
Go!
It's fun.

Looking for MORE Super Fun Things to Do in NEW YORK CITY with Kids?
Click the blue links below for more New York tips