INSIDE: The Complete Guide to the Heckscher Playground Central Park with stone forts and tunnels for kids.
The friendly policemen pointed us in the right direction to Heckscher Playground, the oldest playground in Central Park in New York.
But before we headed off, we took that iconic photo with a New York City policeman selfie.
Because you have to, right?
(It made our day!)
Then the kids RACED across the grass to this well known New York playground for kids, Heckscher Playground.
Take a sneak peek below.
Disclosure: This article contains affiliate links. If you make a purchase after clicking on one of these links, we may receive a small commission at NO extra cost to you.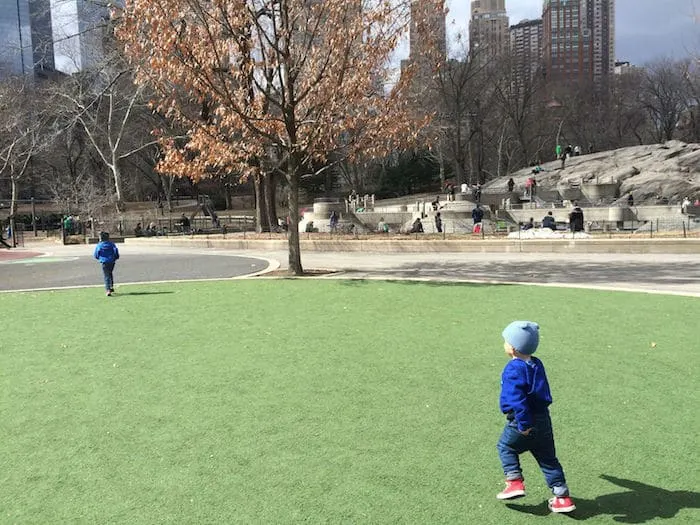 Guide to Heckscher Playground Central Park
Heckscher Park Playground, the oldest playground in Central Park, was originally built back in 1926!

New York Heckscher Playground equipment
This childrens playground is a fort-and-tunnel style with:
bridge walks
turrets
multiple slides
---
RELATED: ULTIMATE guide of unique things to do in New York with kids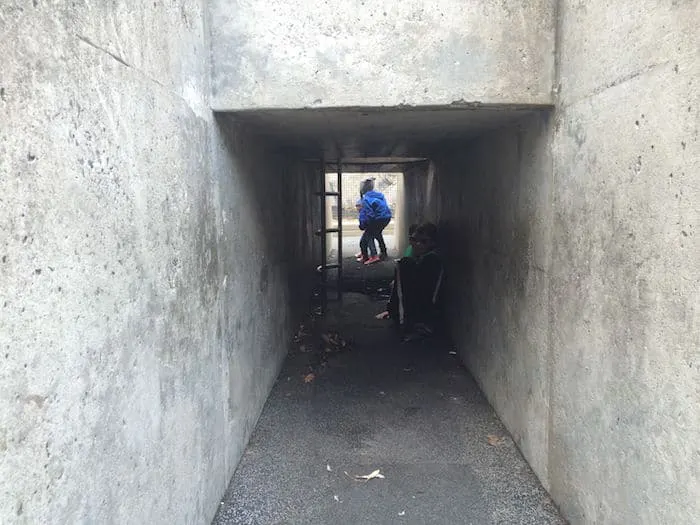 Hide and Seek
Underground tunnels cut their way through stone domes.
Multiple slides take the children back down from up high on the forts.
The playground backs onto giant-sized boulder rock formations – a parkour lover's dream.
These rocks are just as good as the playground equipment – kids are all over them!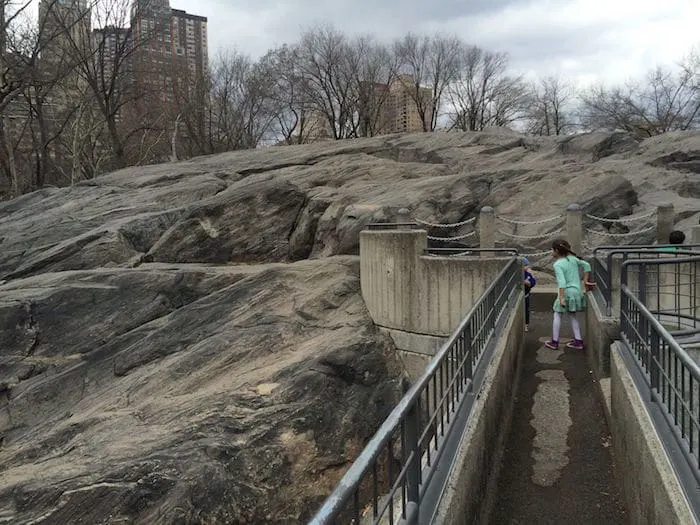 Unique Central Park Playground
I can't quite put my finger on what this part of the playground reminds me of.
One minute, I'm thinking ancient Egyptian pyramids.
The next, future space stations on Mars.
One thing is for sure, this playground was before its' time, and it continues to capture the imaginations of kids from around the world.

Equipment at Central Park Heckscher Playground for Kids
At Heckscher Park playground in Manhattan, there's also :
a water playground inside three adjoining paved circles (kind of like mystery crop circles…. the space theme continues!)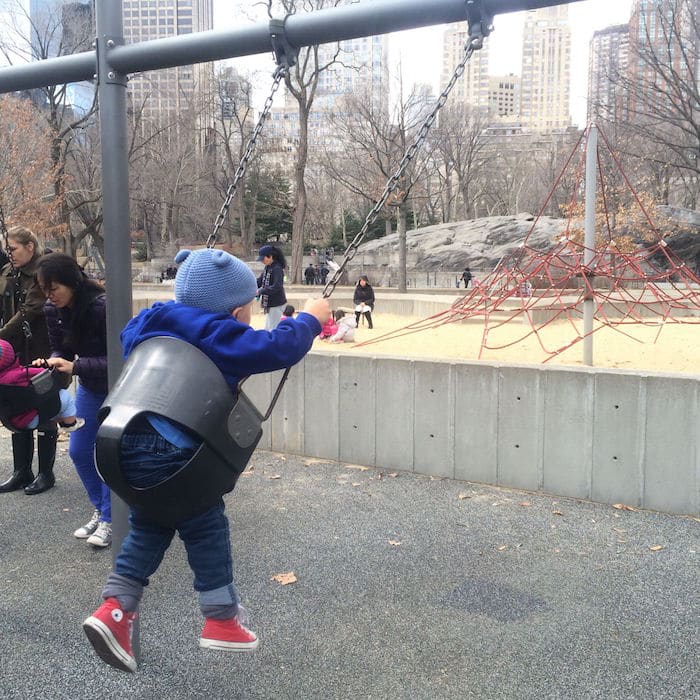 Swings & slides
a separate swing zone, with multiple swings
two giant-sized slippery dips on either side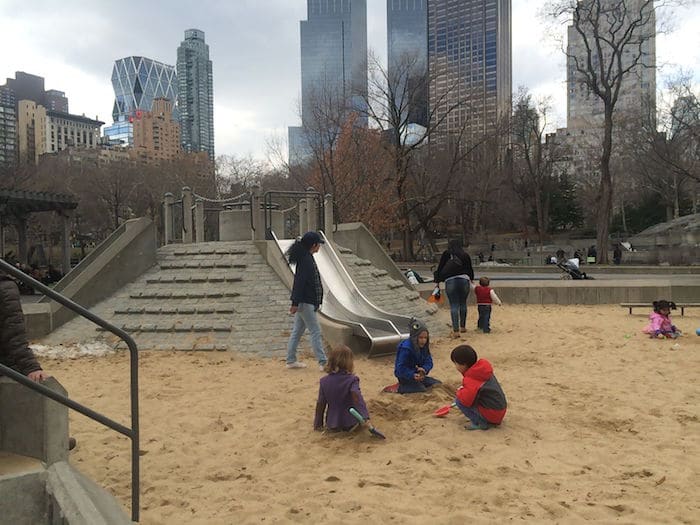 Heckscher Central Park Playground Giant Sandbox
Centre stage, there's a giant sandpit zone, with a climbing net.
In the centre of the sandpit sits a twin-carriage toddler-sized slide set on a smaller pyramid structure.
The Heckscher playground at Central Park was reconstructed in 2005, and is fully fenced.
It's definitely one of the best Manhattan playgrounds, and up there on our list of the best playgrounds in New York City for kids from toddlers to elementary school.
Heckscher Fields Central Park Ballgames
The Heckscher Ballfields consist of six baseball and softball fields.
Find them located at 63rd Street, west of the Carousel.
Baseball and softball leagues from all over the city play on these six fields every year.
You'll be most likely to find a game in play during May to July, and there's plenty of seating for you to stop and enjoy this New York family tradition.

New York Heckscher Park Events
There's lots of FREE and low-cost Central Park events and attractions, including storytelling, guided walks, kids adventure tours and more.
Click the blue link for current Central Park events.
Visiting Central Park should be on your list if you are looking for interesting things to do in New York City with kids.
We spent three WHOLE days on our last trip wandering the park, visiting all the Central Park playgrounds and visiting the museums that border Central Park.
We barely scratched the surface!

Exploring New York playgrounds
Hand on heart, my favourite thing about travelling with kids is exploring local playgrounds.
It's hands-down the best way to find and meet locals, if only for a few minutes chat. Manhattan locals are happy to share their top tips on the best places to visit with kids in New York.
We have been given so many golden nuggets of insider travel from awesome mums (moms) and dads we've met while pushing a swing, catching a child at the bottom of a slide, or sharing a smile as our offspring played alongside one another, as brand new 'best friends'.
Heckscher Playground was no different.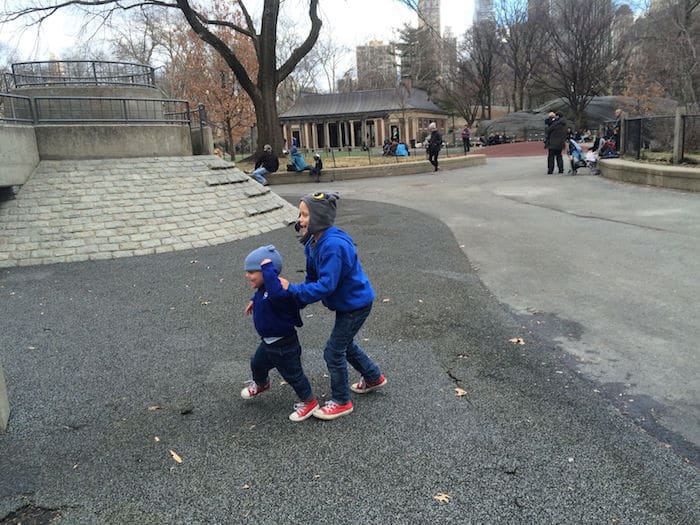 Local New York mom travel tips
I chatted to a few Manhattan moms who gave us tips on:
where to eat with kids in New York City
other Central Park Children's playgrounds we must visit
where to find more Central Park swings, and
fun interesting things to do in New York City with children in tow.
The places THEY go when they head out with the kids.
NOT the tourist stuff.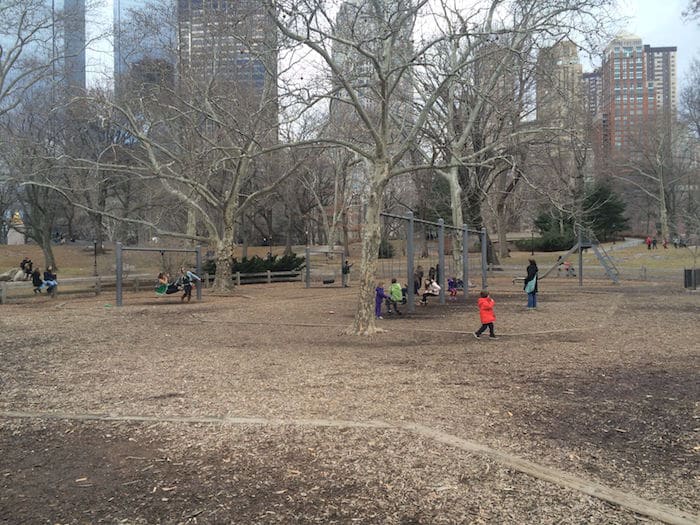 Heckscher Park Central Park, a favourite with NY locals
Turns out the Heckscher Playground is a popular haunt with locals, and visiting families with kids, because it's the closest playground to the W59th st entrance to Central Park.
This is the road across from The Plaza, where the horse-and-carriage rides wait.
It's also within walking distance from:
Don't be put off by the dry landscape if you are visiting after winter like we did.
Kids don't care about a bit of dirt.
Where to eat at Central Park
Look out for the Snack carts on site near the Heckscher playground.
Ballfields Cafe is the closest cafe for coffee and light meals.

THE INSIDE SCOOP: Heckscher Playground New York NY
Correct at time of publication on Roam the Gnome. Please check with venue for updates. We apologise in advance if there have been any changes we are unaware of. All prices in US dollars, unless otherwise stated
Address: Heckscher Playground NYC is located at 7th Avenue and Central Park South, mid-park from 61st to 63rd Streets.
Telephone: 212-310-6600 (Information available Monday – Friday, 9:00 am – 5:00 pm)
Website: Click here (Managed by Central Park Conservancy)
Heckscher Playground in Central Park opening hours
7:30am until dusk
Entry Fees
Free entry
How to get to Heckscher Playground in Central Park
By Bus: From the Empire State Building, catch the M5 (Red line) or M7 (Blue line bus) up 6th Avenue. Disembark at Central PK S/6 Av
By Subway train: Catch the N or R train to 5 Ave Subway Station
On Foot: Entrance to Central Park South is opposite the Plaza Hotel on W 59th St Central Park S
By Taxi/Uber/Car: Drop off point is W 59th St Central Park South
Heckscher Playground Central Park parking
There is no parking in Central Park.
Many parking garages are available nearby.

Heckscher Playground Map
Facilities at Central Park
Toilets: Restrooms onsite, including baby change table
Disability access: Limited
Closest ATM: There's a Wells Fargo ATM two blocks south at 1755 Broadway, New York, NY 10019, USA
Shade: Trees for shade. BYO Hats and sunscreen.
Enclosed: Yes.
Ground cover: Rubber soft fall, concrete pathways, grassy field, synthetic turf
Picnic tables: Yes, and bench seating
Electric BBQs: No
Water Bubblers/fountains: Yes
Scooters and Bikes: Yes
Dogs: On leash only.
Toadstool Rating – The Best Playground in Central Park
Heckscher Playground is best for children ages 6 to 12.

Looking for MORE Super Fun Things to Do in NEW YORK CITY with Kids?
Click the blue links below for more New York travel tips