INSIDE: Everything you need to know about Billy Johnson Playground in Central Park after the recent renovation.
Where in New York City can you find a playground with a super-dooper fun GRANITE SLIDE SLIPPERY DIP?
This Billy Johnson playground granite slide is double the fun when you ride down on a piece of cardboard.
BYO, or borrow a piece from a fellow family, and you are all set.
Billy Johnson playground in Central Park is the place, and it's recently reopened after a big renovation and refurbishment.
This Central Park playground is one for your list if you are visiting NYC with a toddler.
Disclosure: This article contains affiliate links. If you make a purchase after clicking on one of these links, we may receive a small commission at NO extra cost to you.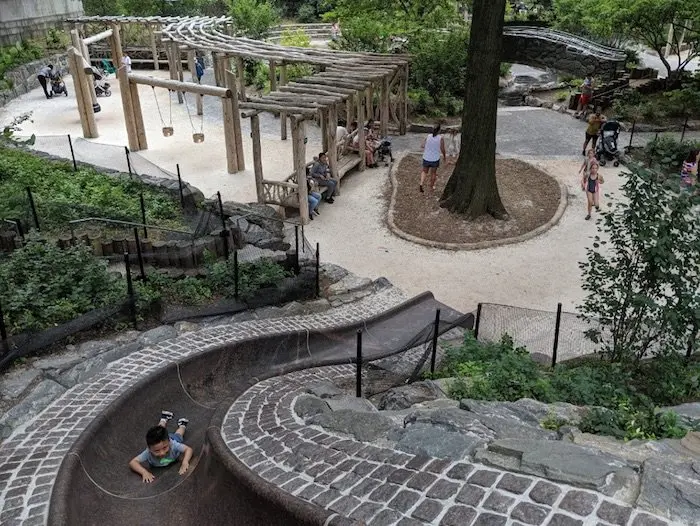 Image credit:Brian Corsi
The Awesome Billy Johnson Playground Slide
The Billy Johnson 14 foot playground slide made from granite is by far the most popular feature at this park.
THIS is the famous big slide in Central park New York.
It's still there.
Thank goodness.
My boys spent over an hour racing up through the log maze and back down the slide.
---
RELATED: Big List of Best Things to do in NYC with Kids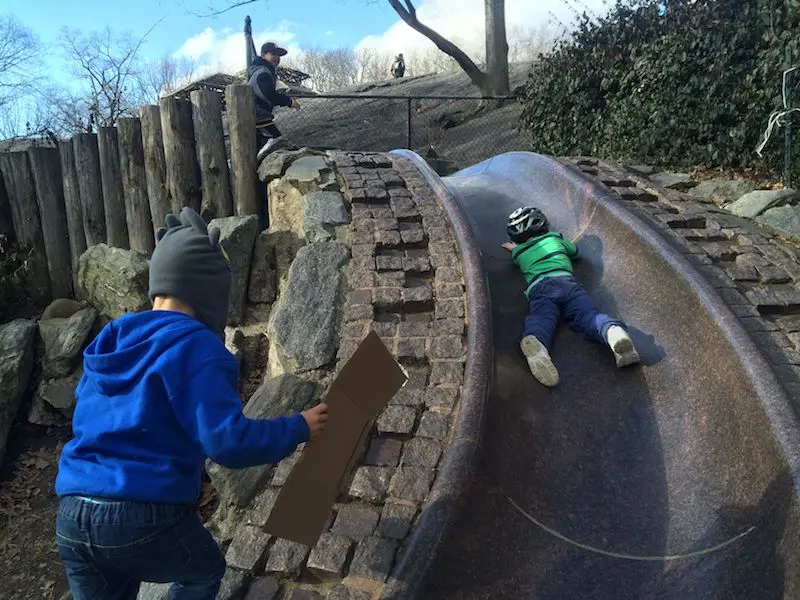 New York City Granite slide
Things only got better when a new friend gifted Ned his old piece of cardboard.
Then it was time to whizz down the slide even faster!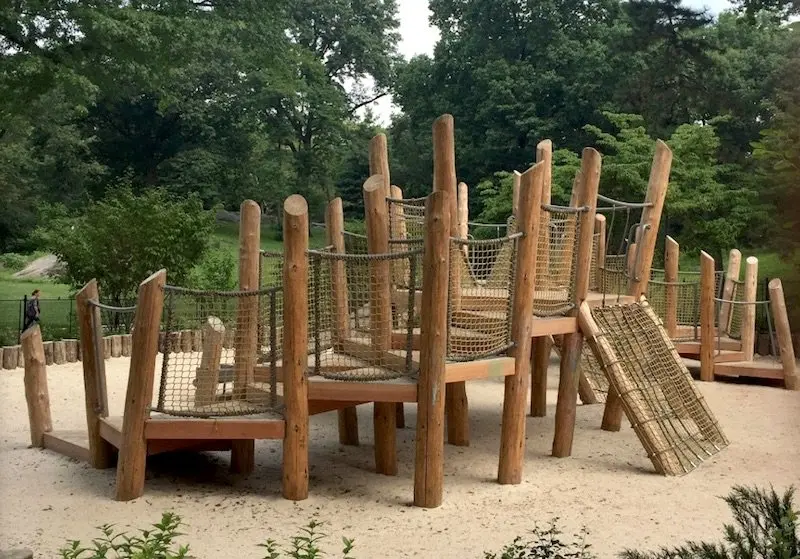 Image credit: Jesse Spector
The New Billy Johnson Playground New York
The Billy Johnson Playground, located in the park near East 67th Street, has recently undergone a restoration to add several new features, including more new water jets.
Plus, there's a giant climbing net and fort with multiple platforms on different levels.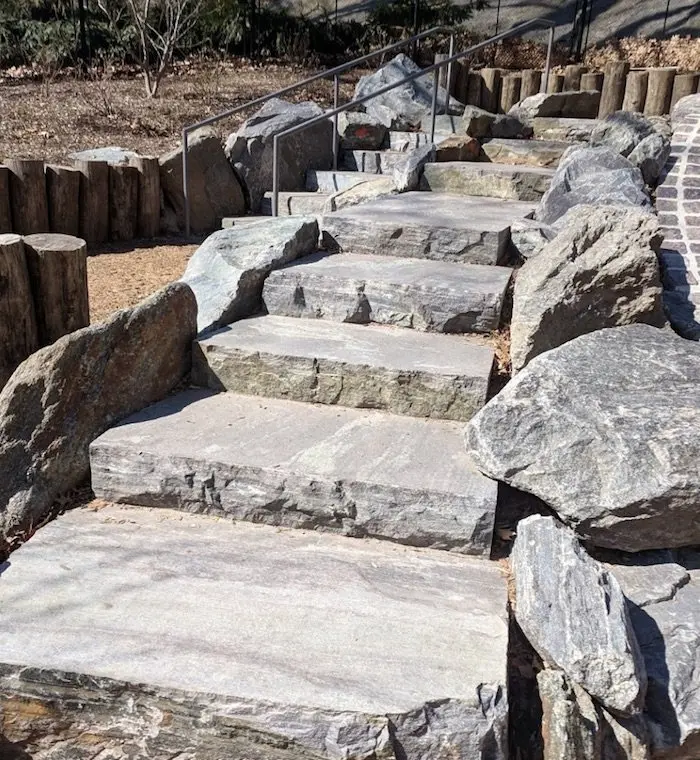 Image credit: Emily Anderson
(The new stairs next to the granite slide for toddlers)
NEW! A Granite Slide for Toddlers in New York
There's a second matching granite slide on the left of the original one – a smaller version for toddlers in New York City.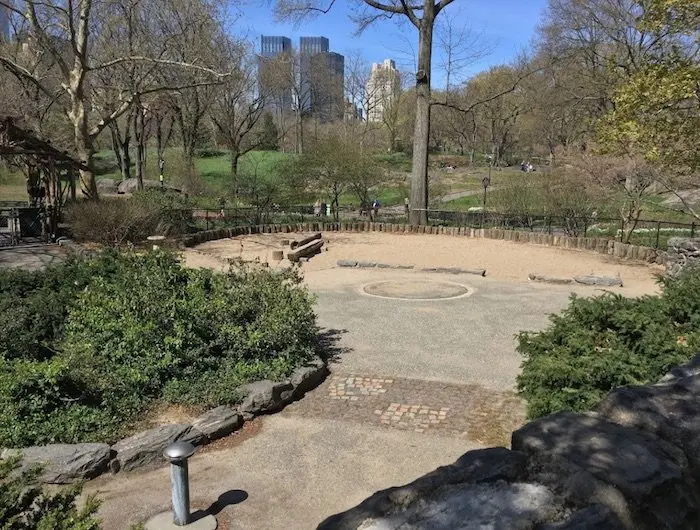 Image credit: Matt Binetti
Sandbox play at the Billy Johnson Playground NYC
The sandpit with 'walk the plank' benches for running along, or sitting upon remains intact.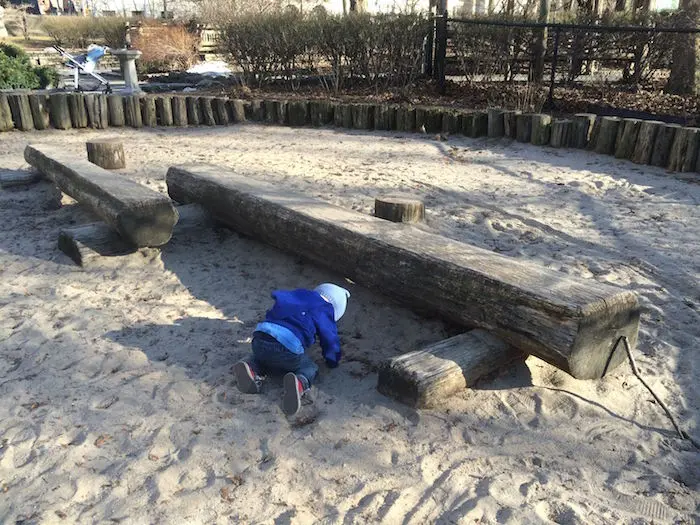 BYO sandpit toys for the sandbox.
How about some of these:
A bucket and spade
ice cream scoops
cereal scoops
an old school whisk
cookie cutters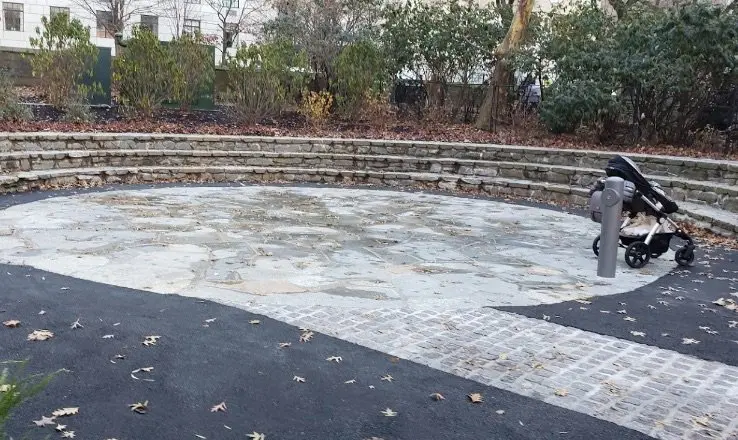 Water Playground at Billy Johnson park
The water playground inside Billy Johnson park is a flat mosaic space surround by amphitheater seating. There's hidden water sprays in the ground.
Kids need to press the interactive button to start the flow of water at this water feature, then can jump and jive over the spraying fountains!
There's a few more scattered around the place too, including under the bridge.
Great fun on a hot day.
When it's cold and dry, this is a fab space for kids to act out their stories to a captured audience.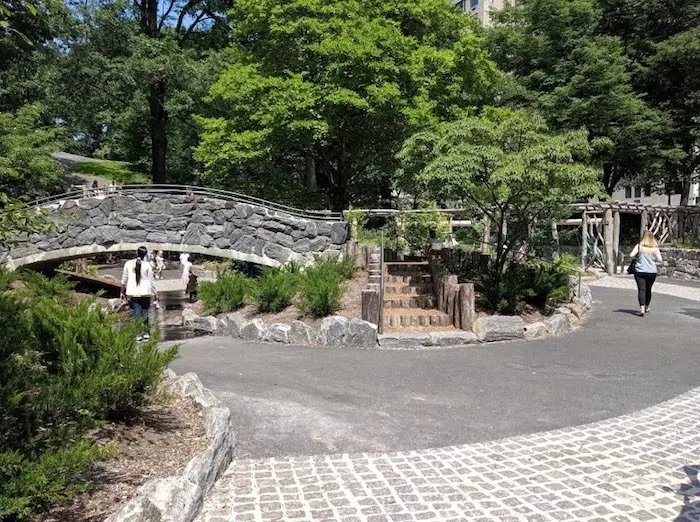 Image credit: Pam Cheung
Nature Play in this Central Park Children's Playground NYC
There's all kinds of opportunities for imaginative play at Billy Johnson Playground.
Nature play is just one of them.
You'll also find:
a stone bridge (the playground bridge is ideal Troll Bridge for fun storytelling games)
hide-and-seek pockets of fun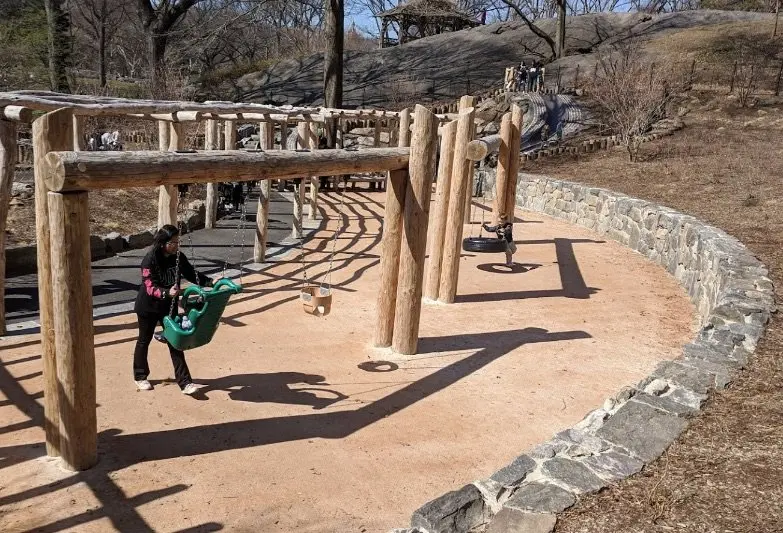 Image credit: Emily Anderson
Central Park Swings for toddlers
There's a row with:
three new bucket swings
an all abilities swing
a tire swing too
All surrounded by the familiar natural rock formations you find throughout Central Park.
This revamped play area uses timber log framing, making it eye catching and enhancing the nature playground vibe too.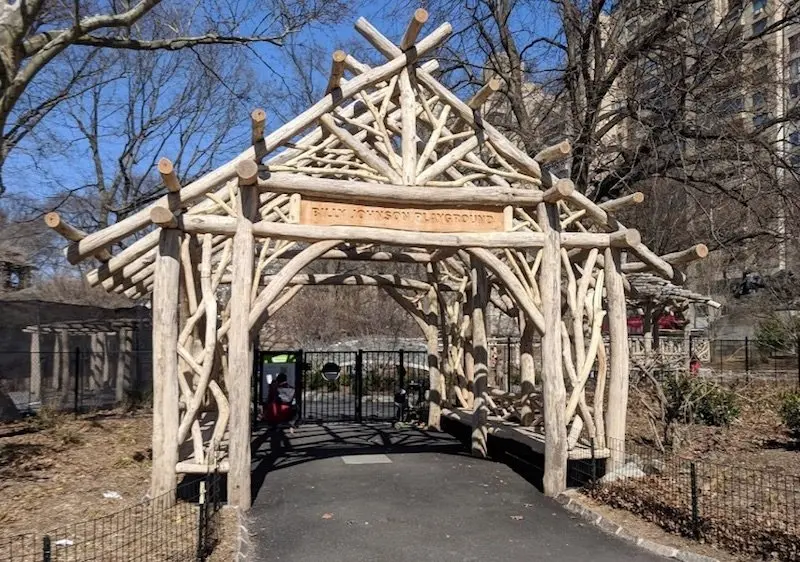 Image credit: Emily Anderson
Rustic Playground Design in NYC
The renovation has enhanced the playground's current rustic and natural design by architect M. Paul Friedberg in the 1980s.
We love the mosaic circle with picnic bench, and stone circle seating, as well as the low hedge planting in and around the playground to break up the space.
There's quite of bit of seating around the playground under the rustic entrance area, and near the swings too.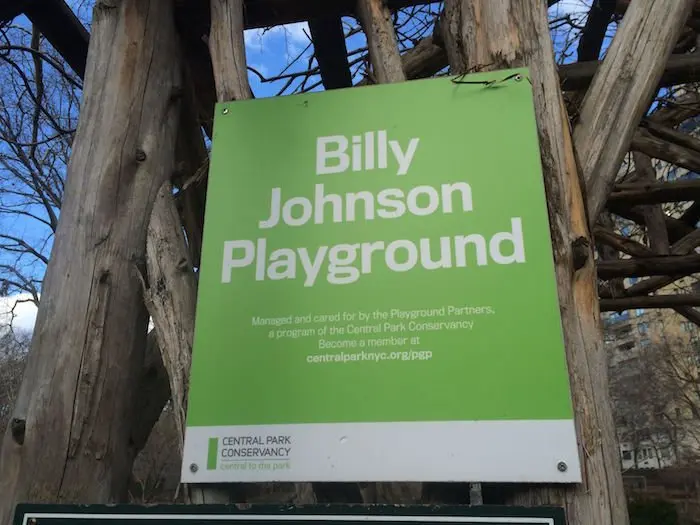 Best Playground in Central Park Manhattan?
It's definitely one of the best, because of that epic slide!
No other Central Park playground has a slide like it.
This is definitely a place to visit if you are in NYC with toddlers and preschoolers, and looking for a Central Park Adventure Playground.
The best thing is it is gated, and you can see the kids from almost anywhere in the park, unless they are hiding of course!
Where to eat in Central Park near Billy Johnson Playground
The nearest takeaway coffee and food is at the Dancing Crane Cafe
The menu features wide variety of meals, snacks, and beverages for both Park and Zoo visitors.
Plus, there's indoor and outdoor seating.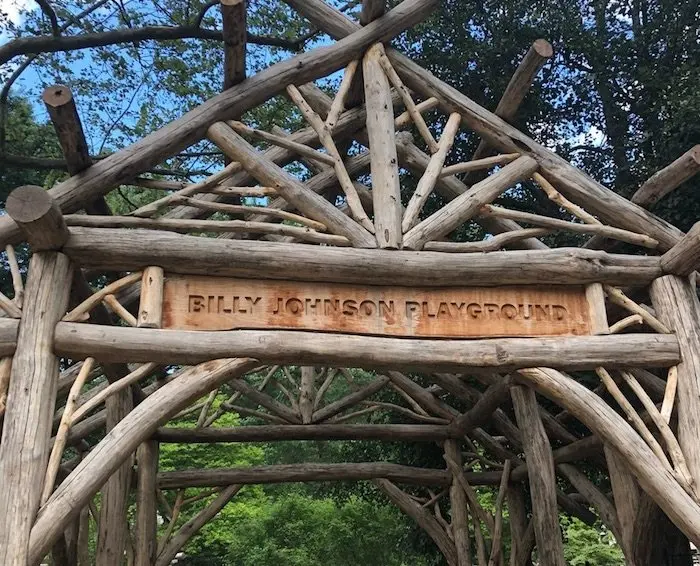 Image credit: Source unknown
FAQ about the Billy Johnson Playground Central Park
No.1: What is the Billy Johnson playground history?
It was built in the mid-1980's, the result of a design competition to revamp the old tired playground that stood there. M. Paul Friedberg was the winner, and the outcome was the first adventure playground of its' kind in New York City.
No.2: Who is the Billy Johnson playground named after?
Research tells me it was name after journalist and onetime editor of the now-defunct New York Tribune, but I cannot find any sources to back this up, so perhaps the mystery is not yet solved?
No.3: Is the Billy Johnson playground closed?
No! It's now open again after its' recent refurbishment. Hallelujah!
THE INSIDE SCOOP: Billy Johnson Playground Renovation
Correct at time of publication on Roam the Gnome. Please check with venue for updates. We apologise in advance if there have been any changes we are unaware of. All prices in US dollars, unless otherwise stated
Address: Billy Johnson playground is at East Side at East 67th Street and Fifth avenue.
Telephone: 212-310-6600 – Monday – Friday, 9:00 am – 5:00 pm (Central park conservancy)
Website: Click here
Billy Johnson Playground Opening Hours
Central Park is free and open to visitors 365 days a year. Central Park opens at 6:00 am and closes at 1:00 am. Billy Johnson playground hours are from 8am to dusk.
Entry Fees
Free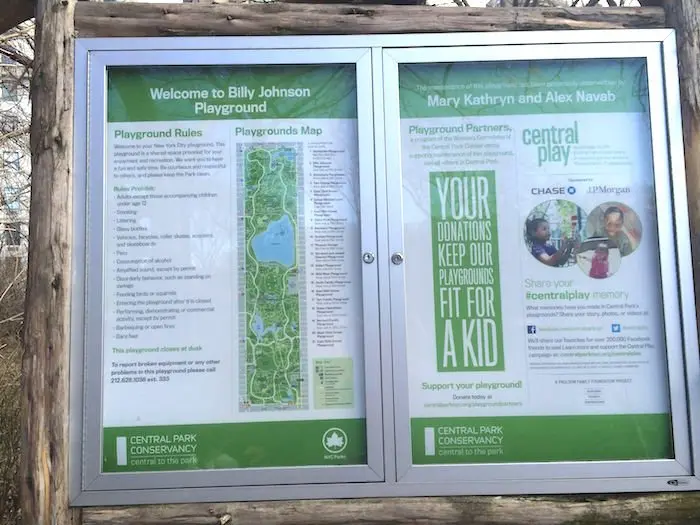 How to get to Central Park by Subway or other transport
By Subway Train: Q train (Yellow line)Stop at Lexington Av – 63 St Subway Station
By Subway Train: 4,5,6 Train (Green line) 68 Street Station
On Foot: Enter at the 65th street
By Taxi/Uber: Exit at 65th and 5th Ave
Central Park Parking
There is no parking in Central Park.
Many parking garages are available nearby.
Facilities at Billy Johnson Central Park playground
Toilets: No. Closest toilets are at the Dancing Crane Cafe, or at Conservatory Water.
Disability access: Limited. It's a bumpy, lumpy playground. There are no wheelchairs or scooters available for rent inside the Park.
Shade: No shade sail. Trees only.
Enclosed: Yes
Ground cover: Concrete pathways, sand, rubber flooring under swings
Picnic tables: No.
Electric BBQs: No
Water Bubblers/fountains: Yes
Scooters and Bikes: Yes, BYO. Plenty of bike and scooter pathways in Central Park.
Dogs: No
Toadstool Rating: Central Park Playground Billy Johnson
This is a classic NYC playground in Central Park.
Make a beeline – it's one of the best Central Park attractions for kids.

Looking for MORE Super Fun Things to Do in NEW YORK CITY with Kids?
Click the blue links below for more New York city ideas