INSIDE: Everything you need to know about the Fazer Shop Finland
Looking for a gift in Santa Claus Village that no-one can resist?
Pop into the Fazer Shop (also called the Santa Claus Chocolate and Candy Shop) to to buy Karl Fazer Chocolate and Finnish food gifts.
It's upstairs in the log house, above the Balmuir Store.
Read on for a sneak peek inside the Santa Claus Chocolate & Candy Shop in Santa Village.
Disclosure: This article contains affiliate links. If you make a purchase after clicking on one of these links, we may receive a small commission at NO extra cost to you.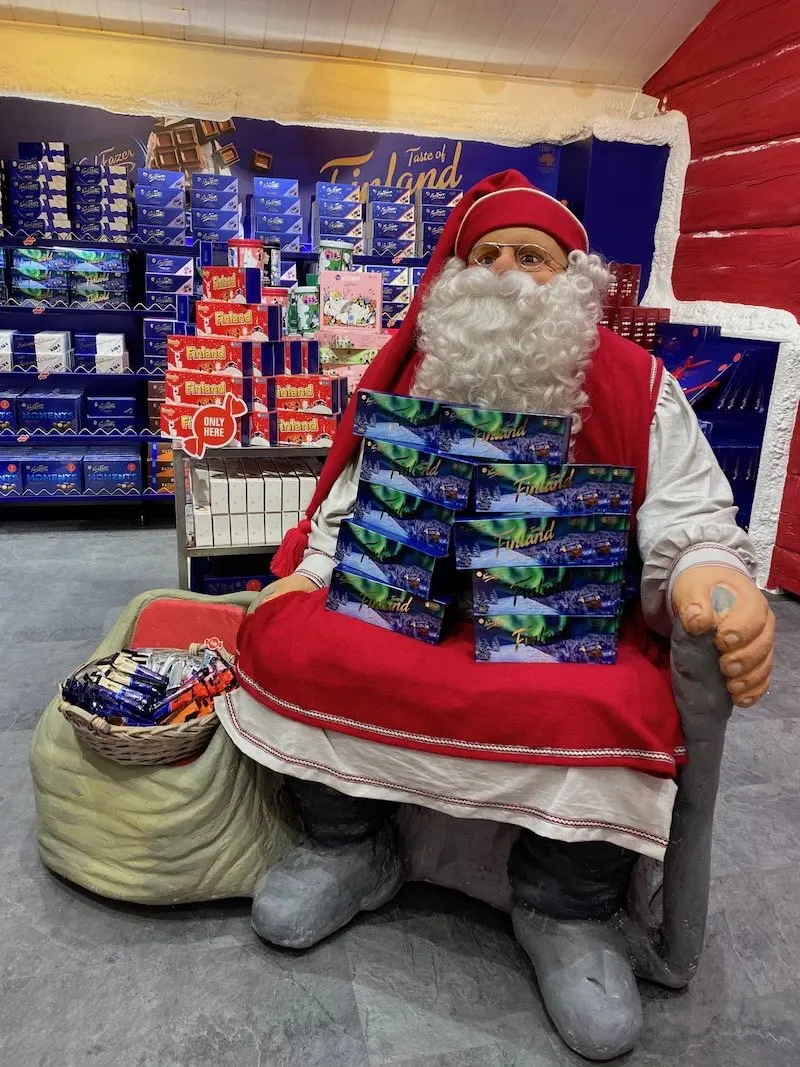 Guide to the Fazer Shop at Santa Claus Village
Find the shop by walking north from the Arctic Circle crossing line, towards the Marimekko store and playground.
Pass the Santa Village playground on your right, and the Santa Claus Gift House and Arctic Circle Information Centre on your left.
The next building is home to the Karl Fazer Chocolate shop in the Santa Village.
It's called Santa's Chocolate and Candy Shop Arctic Circle.
(Note: There's quite a large gap between the buildings.)
Head up the stairs, and you'll be in fine chocolate heaven.
---
RELATED: Everything you need to know about SANTA CLAUS HOLIDAY VILLAGE Activities, Attractions, Shopping & Dining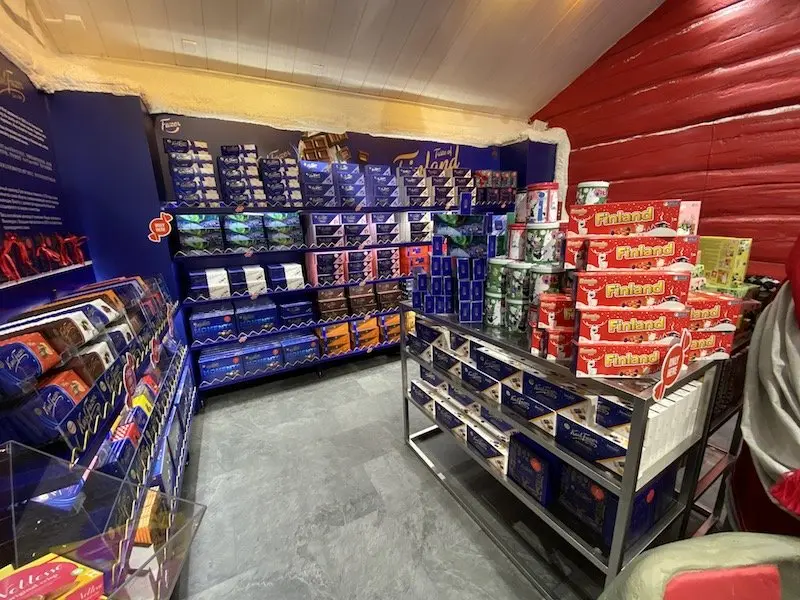 Inside the Fazershop
The hardest thing is to choose what to buy in Lapland for your friends and family.
Any one of the Karl Fazer chocolate will go down a treat, I guarantee it.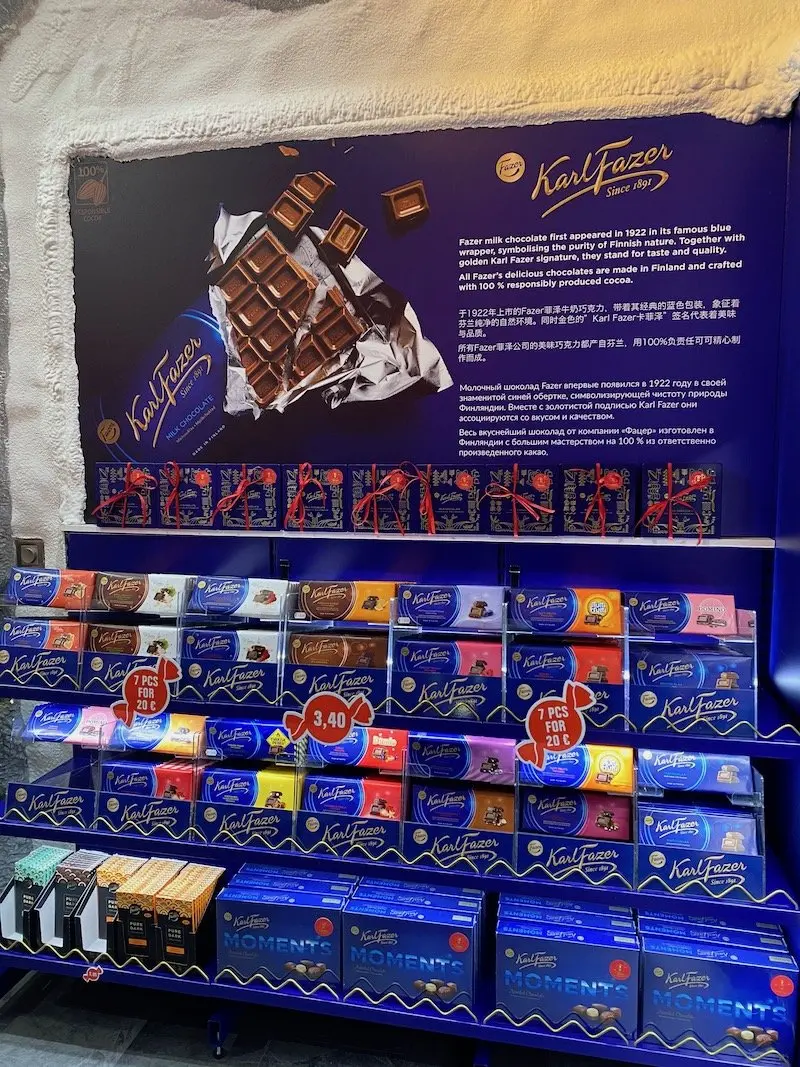 BEST FAZOR STORE FAVOURITES
No.1: Karl Fazer Blue Chocolate since 1891
Our hot tip would be to go for the classic Karl Fazer Blue signature wrapped chocolates.
Fazer milk chocolate has been in business since 1922 in this famous blue wrapper, designed to symbolise the purity of Finnish nature.
You can't miss the blue, with gold lettering of the Fazer design.
Fazer's chocolate is made in Finland and their cocoa is 100% responsibly sourced.
Karl Fazer Chocolate is one of Finland's most valued brands.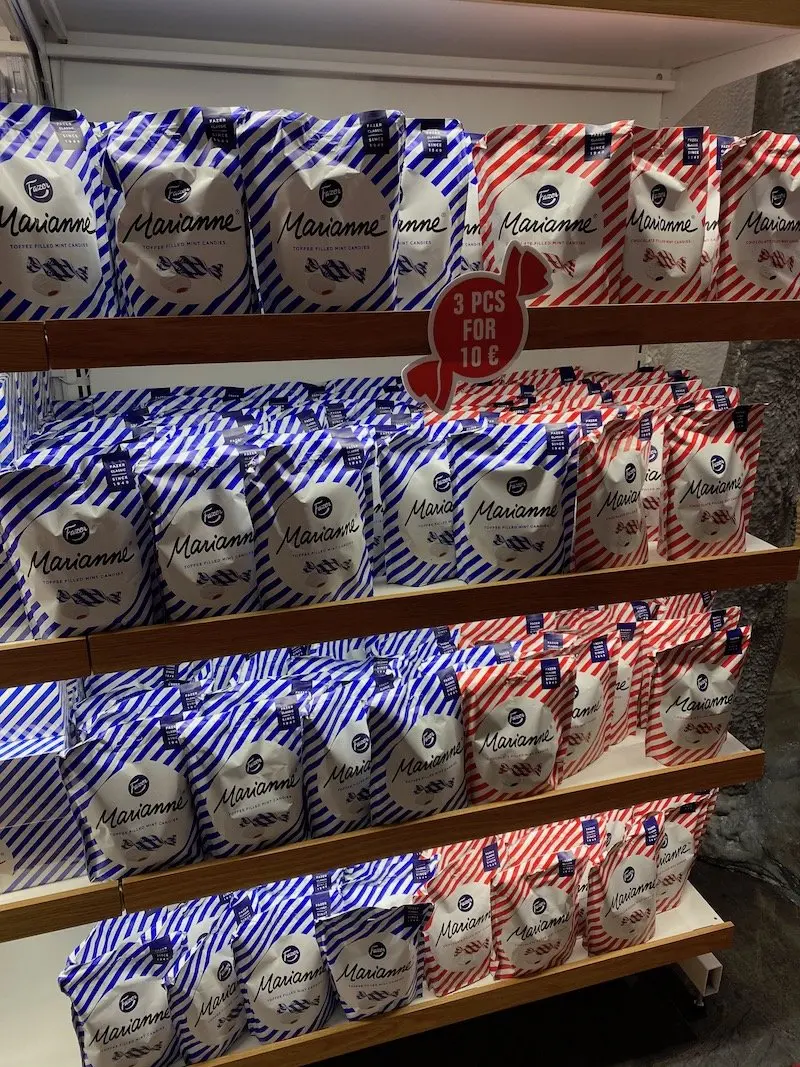 No.2: Fazer Chocolate and Toffee Filled Mint Candies
Marianne is unique combination of fresh peppermint crust and delicious dark chocolate filling. It's consistently one of the best sellers.
Red are the peppermint candies.
Blue are the peppermint toffee candies.
You can also buy a Marianne mix of the two.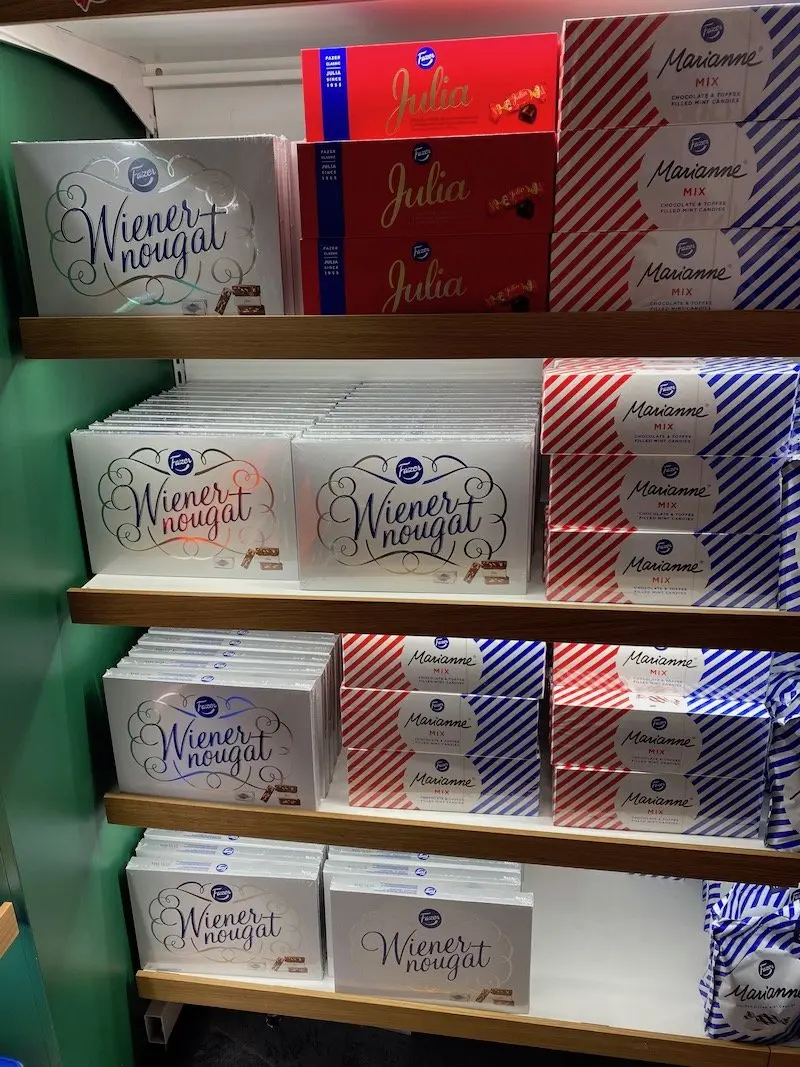 No.3: Fazer Wiener Nougat
Fine almond nougat made according to a traditional Viennese recipe.
Fazer started producing this in 1904 and it's still going strong.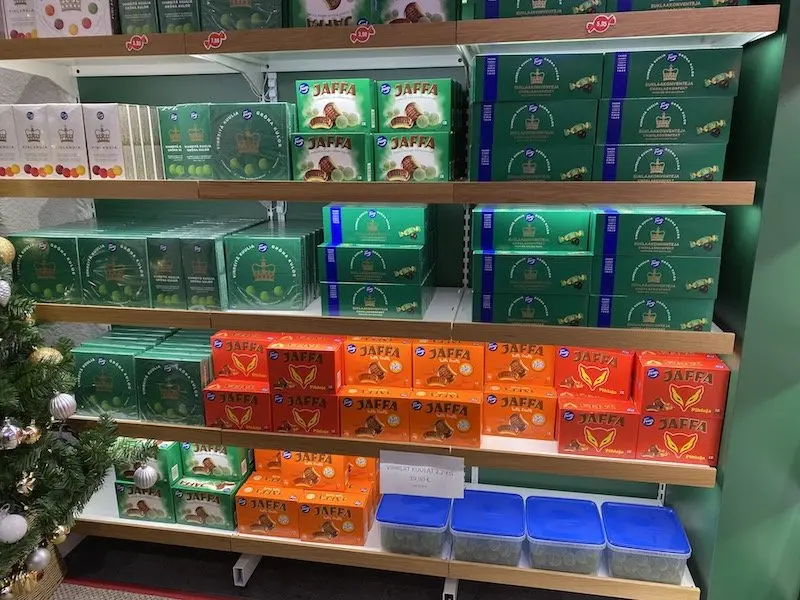 No.4: Fazer Jaffa Biscuits
Available in flavours including:
Jaffa Orange
Jaffa Green jellies
Jaffa Tutti Frutti
Jaffa Raspberry
The box with the Red Fox on it is a special edition called Jaffa Pihlaja cakes, where two classics come together – a Pihlaja candy-flavoured jelly filling and tasty Jaffa cake.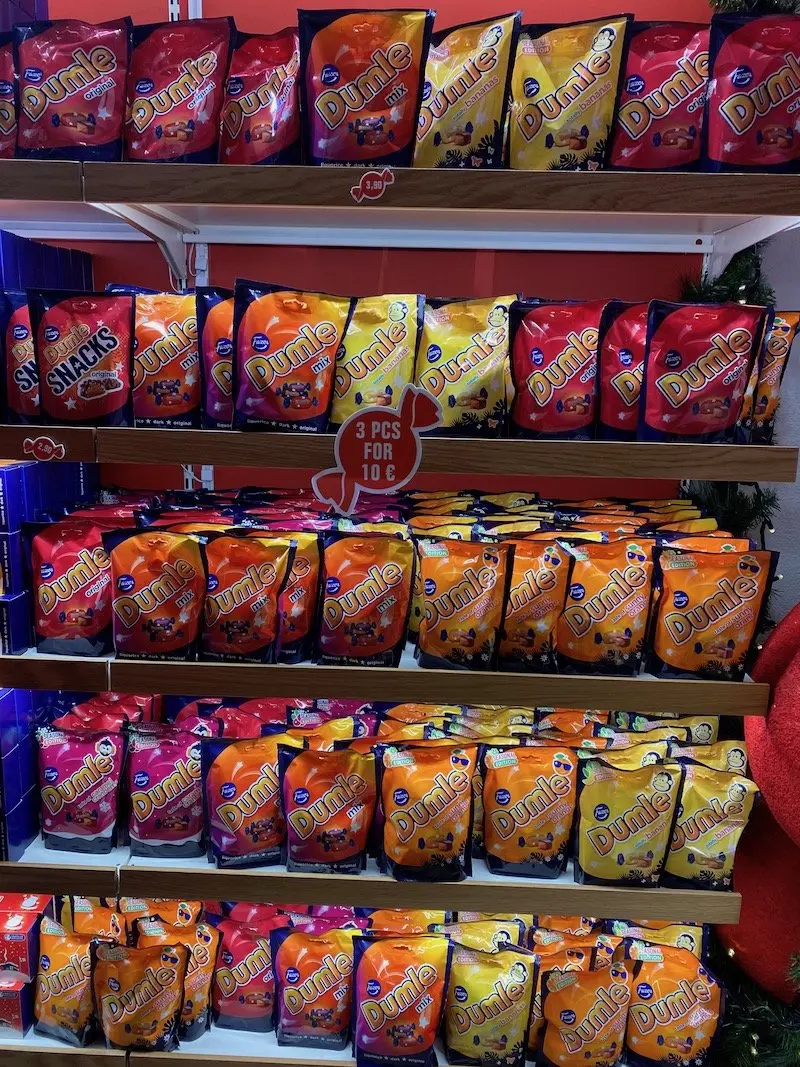 No.5: Fazer Dumle Chewy Toffee Candy
Dumle is a firm favourite, a combination of soft chewy toffee and smooth Fazer Chocolate on top.
You can buy mixed bags, or
Original Chewy Toffee Caramel
Liquorice Chewy Toffee Caramel
Sunny Orange Flavour
Banana Summer Edition flavour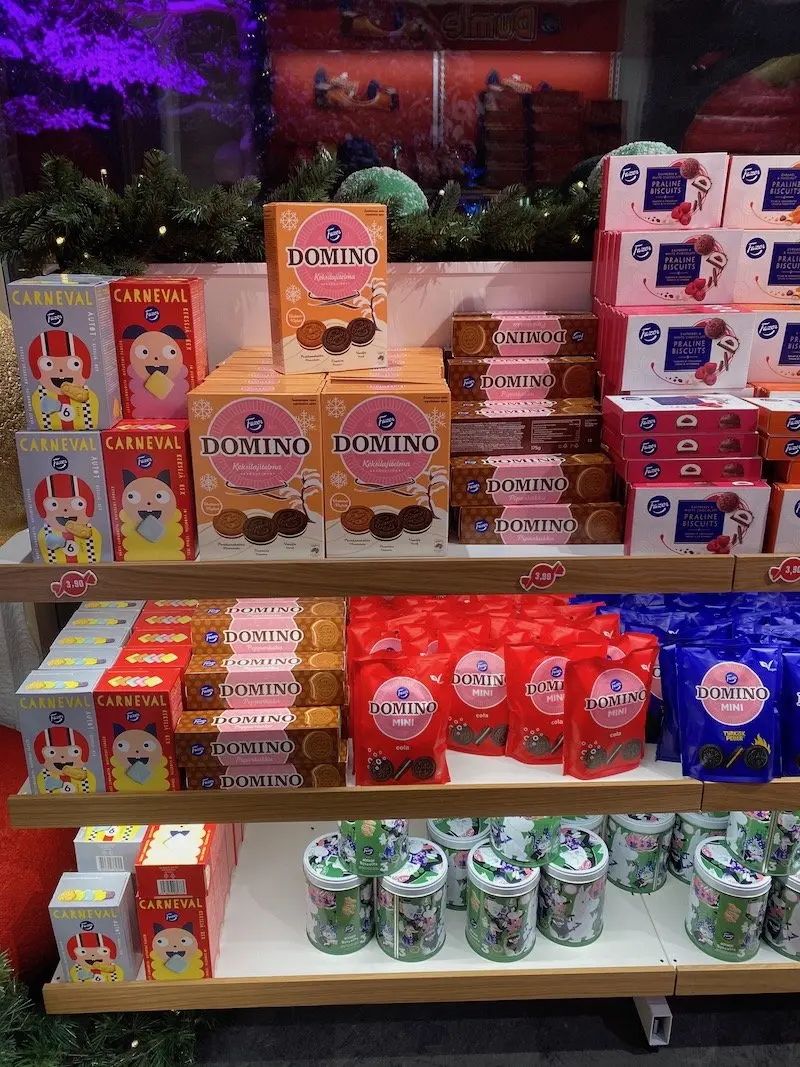 No.6: Fazer Carneval – Famous Finnish Biscuits for kids
The Carneval cookies are delicious for kids, and a party classic in Finland.
They have been in production since the 1920's and are still one of the best sellers.
Plus, how can anyone resist this updated branding?
It's so cute!
No.7: Karl Fazer Domino Biscuits
Domino biscuits are a little like Oreos, so kids love these too.
In fact, Domino biscuits have the honour of being Finland's best loved biscuit since they launched in 1953.
Domino biscuits come in two sizes (regular and mini) in flavours including:
Marianne (peppermint)
Cardamom
Gingerbread
Hot Tyrkisk Peber salty liquorice
Cola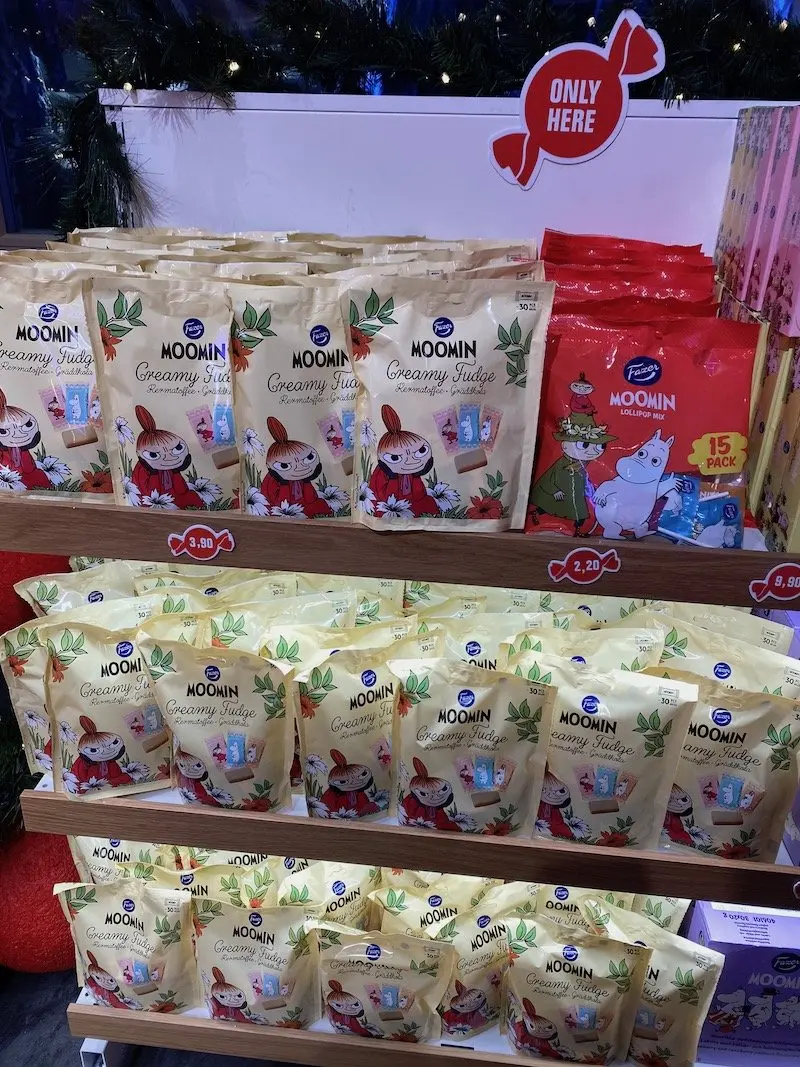 No.8: Fazer Moomin Fudge and Moomin Lollipops
We stocked up on Moomin Fudge by Fazer, and brought bags of Moomin lollipops to share with the neighbours.
Moomin fudge is divine.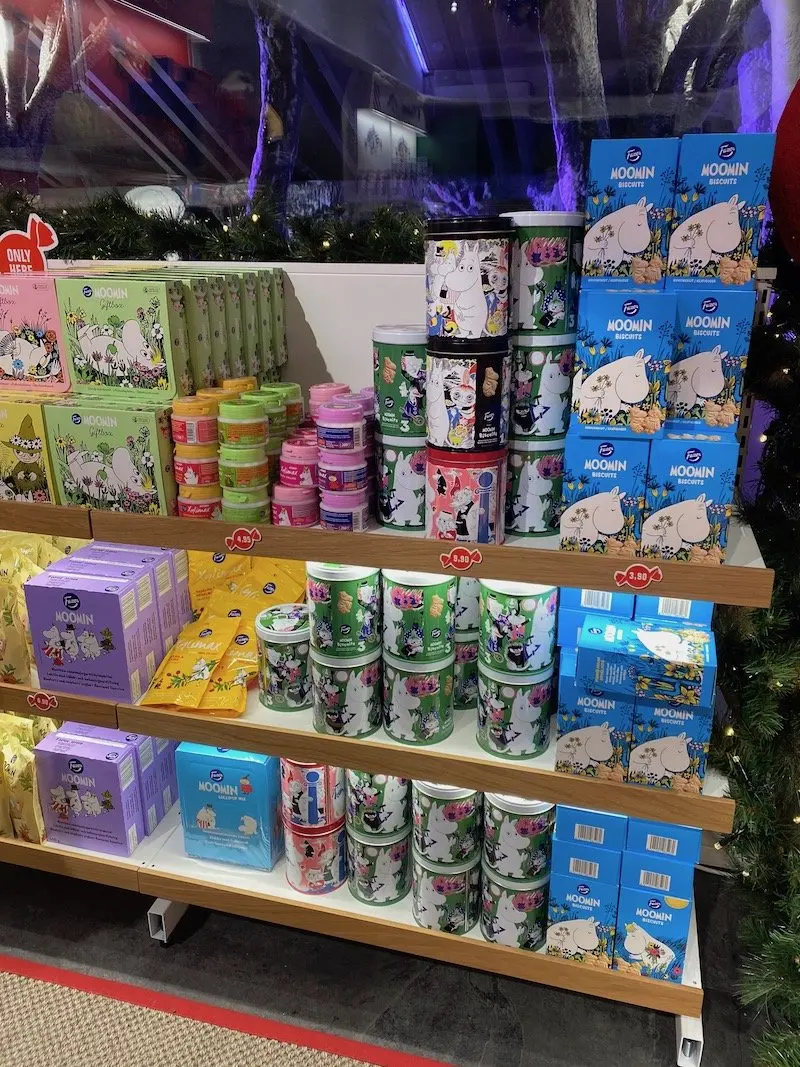 No.9: Fazer Moomin Biscuits
There's also Moomin biscuits in a tin.
The perfect gift for teachers, and the person minding the cat.
Or if you have sturdy luggage that won't crush them, the Moomin biscuits in the blue box, or the Moomin gift boxes are an affordable souvenir for the kid's cousins, and anyone else you'd like to buy something small for.
No.10: Fazer Finnish Licorice
The soft Fazer licorice stick is a popular treat since 1928.
Made from an original recipe, the Fazer Lakritsi comes in different flavours including:
Original
Mint
Raspberry
Smooth
Chocolate and Licorice
Lemon
Soft Caramel
Smooth Salmiak (covered in salty licorice powder) – THIS is the ultimate and most coveted treat of all in Finland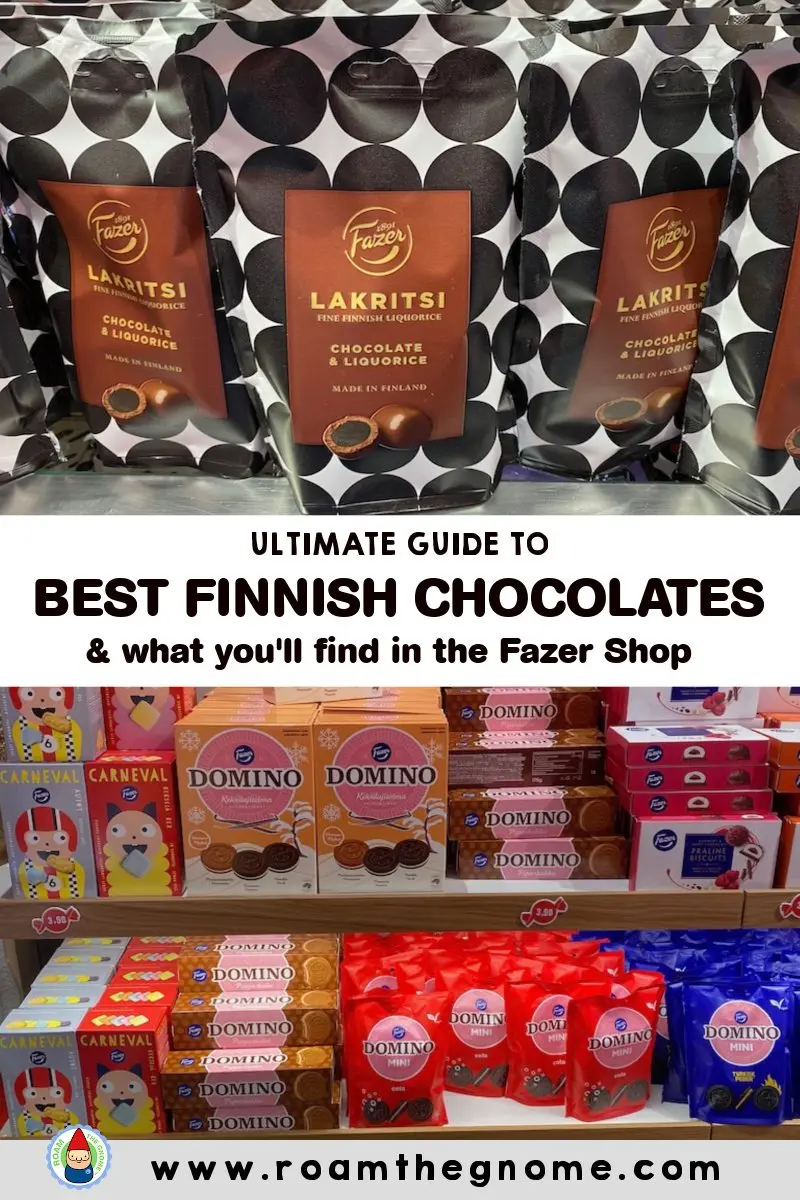 Lakritsi Chocolate & Licorice bags
You can also buy packets of delicious Lakritsi chocolate covered licorice in short bite sized pieces.
These are a popular gift to take when you visit a friend, or to snack on at home on a movie night.
(See main picture)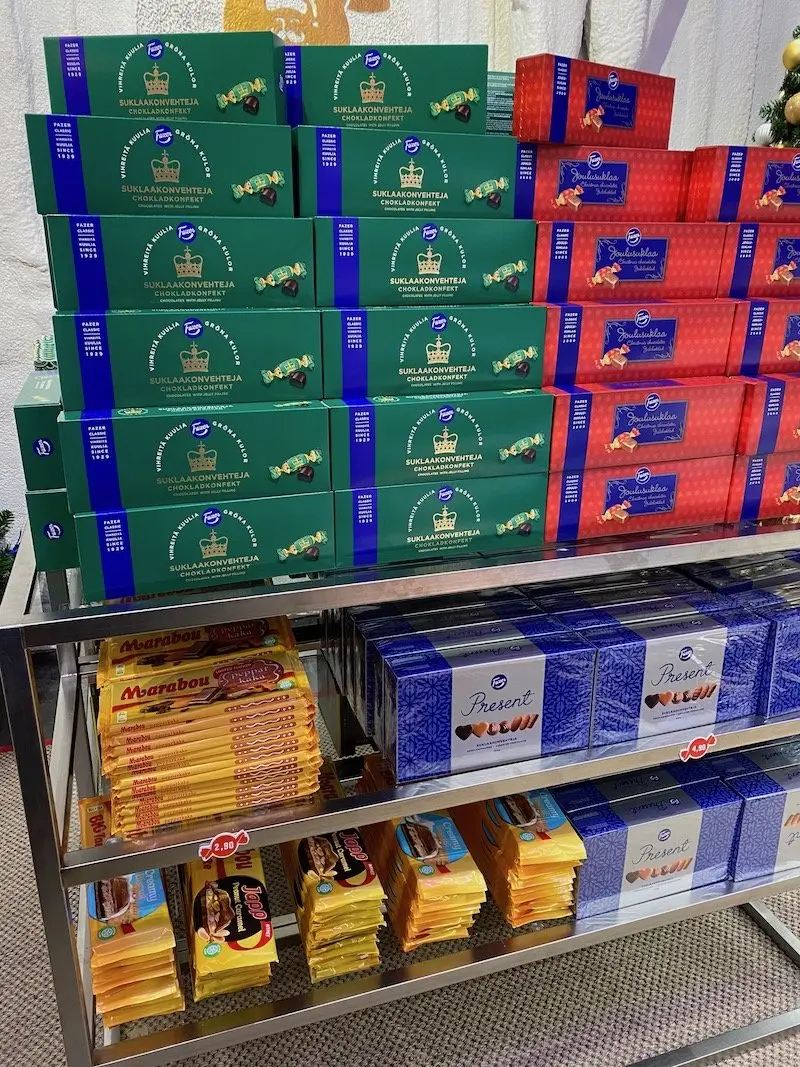 No.11: Marabou Chocolate
You'll also find Marabou chocolate in the shop too, along with a few other quality Nordic brands.
We can vouch for the Japp chocolate personally.
The gingerbread version is also a unique Finnish souvenir.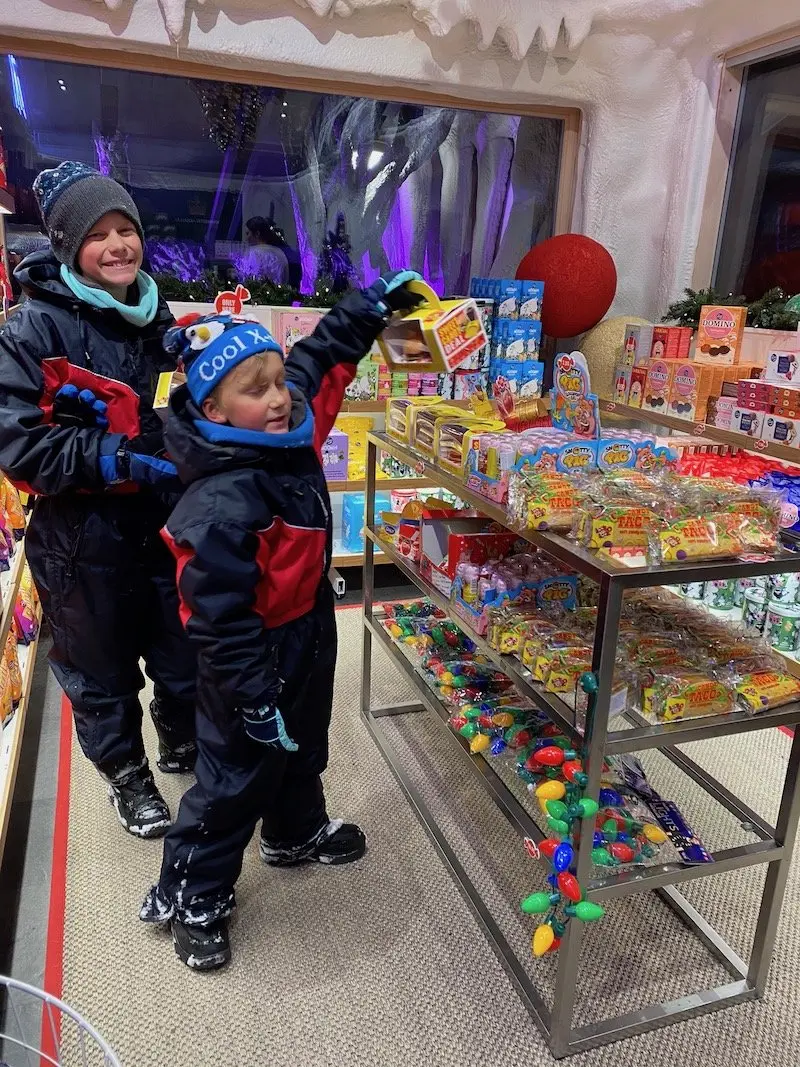 No.12: Fazer Candy Store
You will find candy options too.
In the centre of the shop, there's a whole section dedicated to lollies.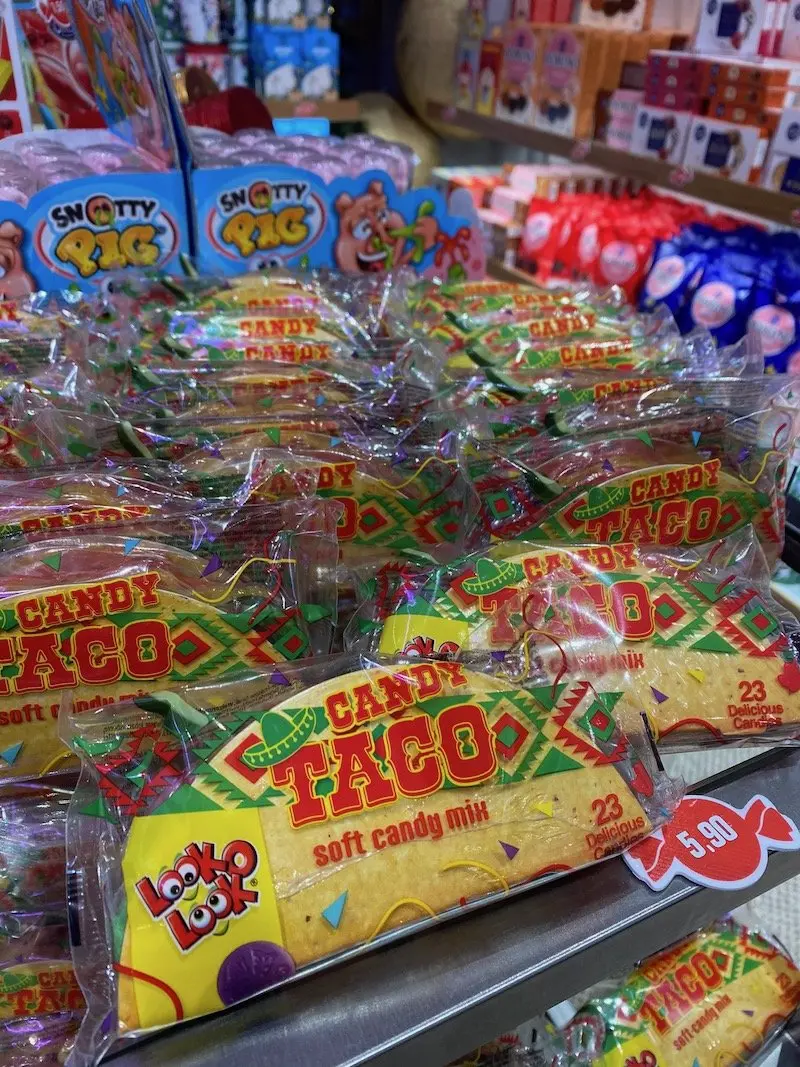 Check the shelf for:
Candy Tacos and
Candy pizza.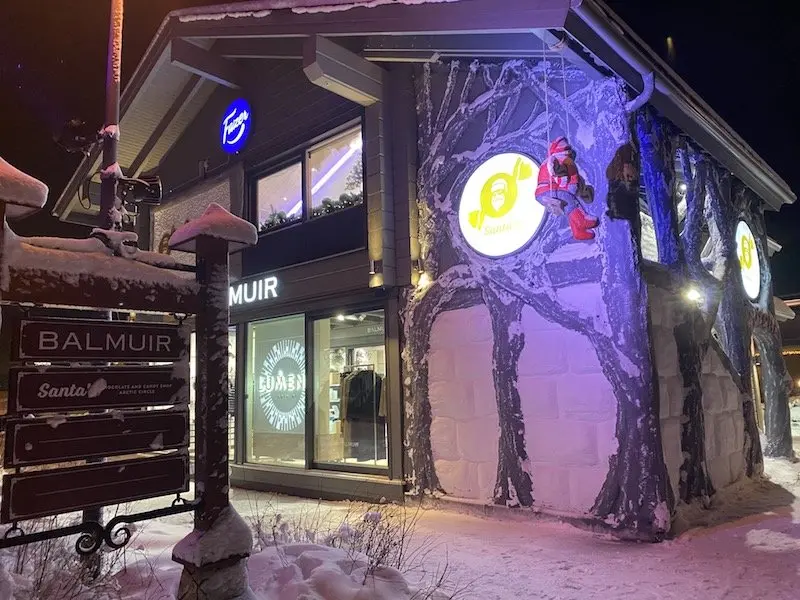 THE INSIDE SCOOP: Santa's Chocolate and Candy Shop Arctic Circle
Correct at time of publication on Roam the Gnome. Please check with venue for updates. We apologise in advance if there have been any changes we are unaware of. All prices in EURO, unless otherwise stated
Address: Joulumaantie 2 B, Log house in the Northern end of Santa Claus Village
Telephone: +358 40 1207900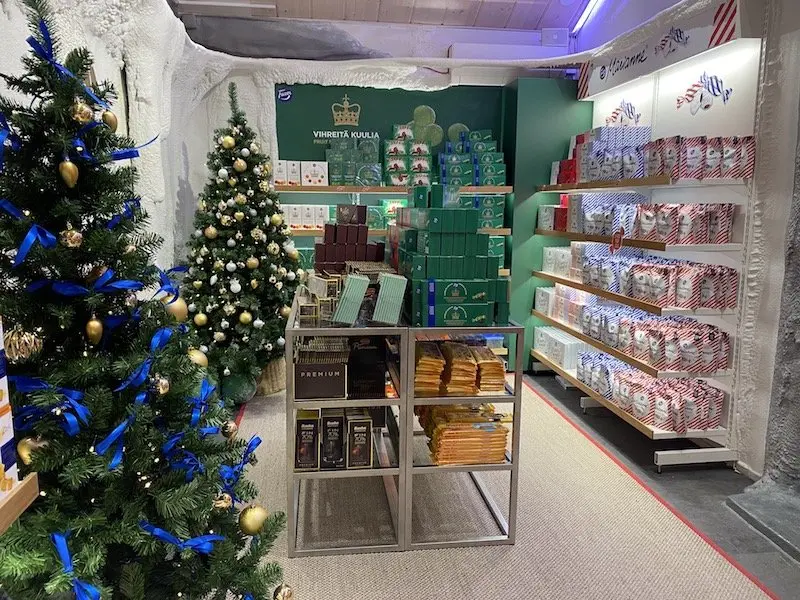 Proof of Visit to Santa's home town with a Santa Village Stamp!
All gifts bought at the shop shall receive Santa's unique stamp to certify that they were purchased on the Arctic Circle in Finland.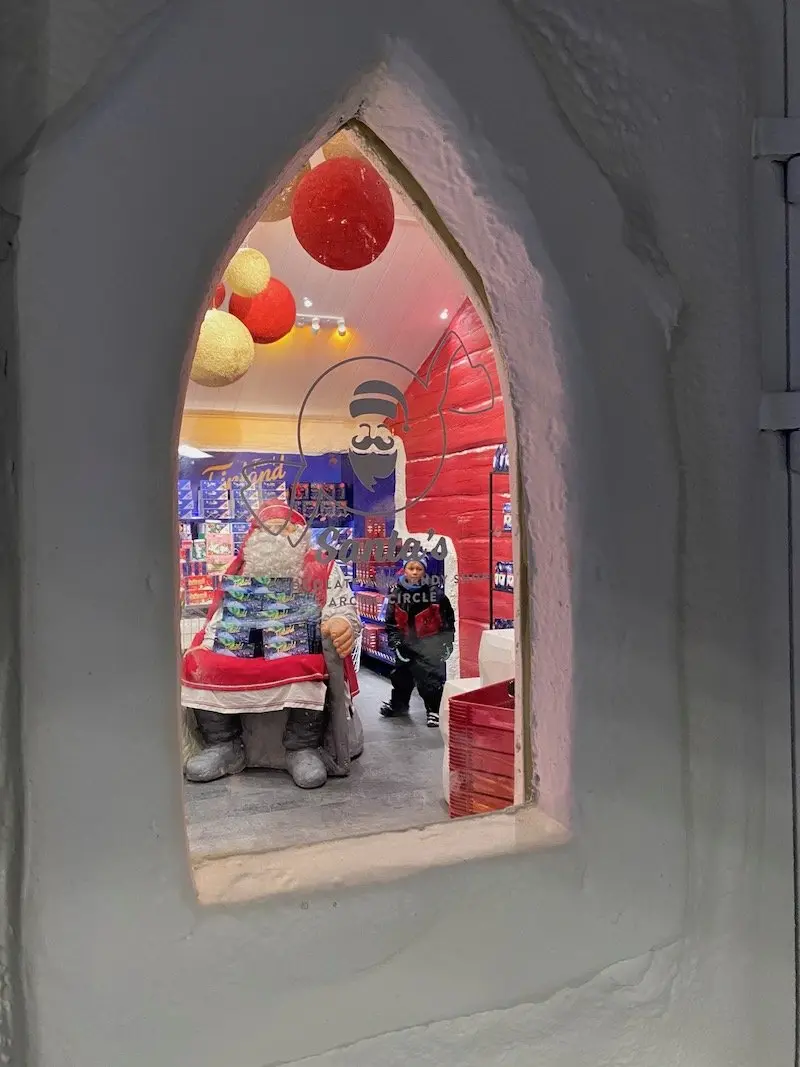 How to get to Santa Claus Village from Rovaniemi
Click here for details of how to get from Rovaniemi to Santa Claus Village.
Also includes details of how to get from Helsinki to Rovaniemi on the Santa Claus Express train, and by plane.
Fazer Shop Map
Toadstool Rating: Santa Claus Chocolate and Candy Shop in the Santa Claus Village
The place to shop if you want to find Finnish food gifts in one place.


Looking for MORE THINGS TO DO IN ROVANIEMI Lapland with kids?
Click the links in blue for more Lapland tips below.