INSIDE: Roam the Gnome's Tokyo Treat Review 2021.
If you love Japanese snacks, Japanese chocolate, and Japanese candies as much as we do, you might have thought about ordering a Japanese snack subscription box.
The kind of subscription box that arrives on your door step each month.
We have.
A few weeks ago, Jack was watching YouTube and said to me, "Mum, can we order a Japanese snack box subscription?" and it started the cogs turning in my brain.
A few days later, we were invited to review a Tokyo Treats box!
(How is that for synchronicity.)
So, without further ado, here's our Tokyo Treats review, plus tips including where to find a Tokyo Treats discount code, how to find out about the current Tokyo Treat promo, and info on the Tokyo Treats shipping cost.
Check out all this, and our Tokyo Treat unboxing below.
Disclosure: This article contains affiliate links. If you make a purchase after clicking on one of these links, we may receive a small commission at NO extra cost to you.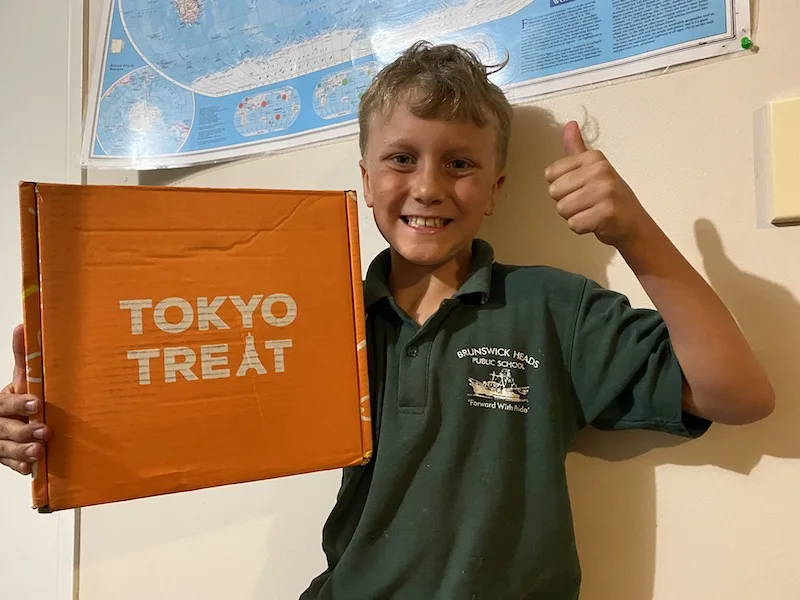 THE INSIDE SCOOP: HONEST TOKYO TREAT BOX REVIEW
Correct at time of publication on Roam the Gnome. We apologise in advance if there have been any changes we are unaware of. All prices in US dollars, unless otherwise stated
Is Tokyo Treat good?
The answer to that question can be found in Jack's smile above.
Receiving a Tokyo Treat subscription box via the post is awesome.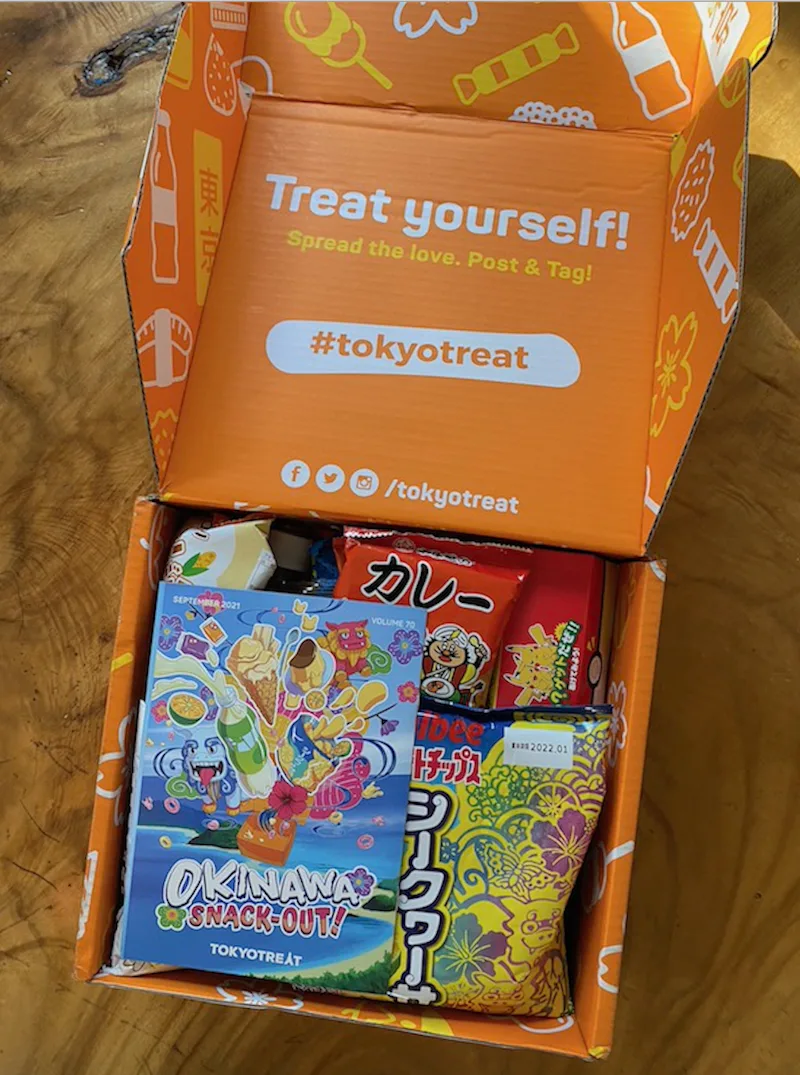 Tokyo Treat September Box
Jack will tell you it was one of the best surprises he's had in yonks, especially when we haven't been able to get out and about, or back to Japan in two years.
We LOVE Japanese snacks in our household, so receiving a BOX full of Japanese food and Japanese drinks ranks up there as one of his better parcel deliveries.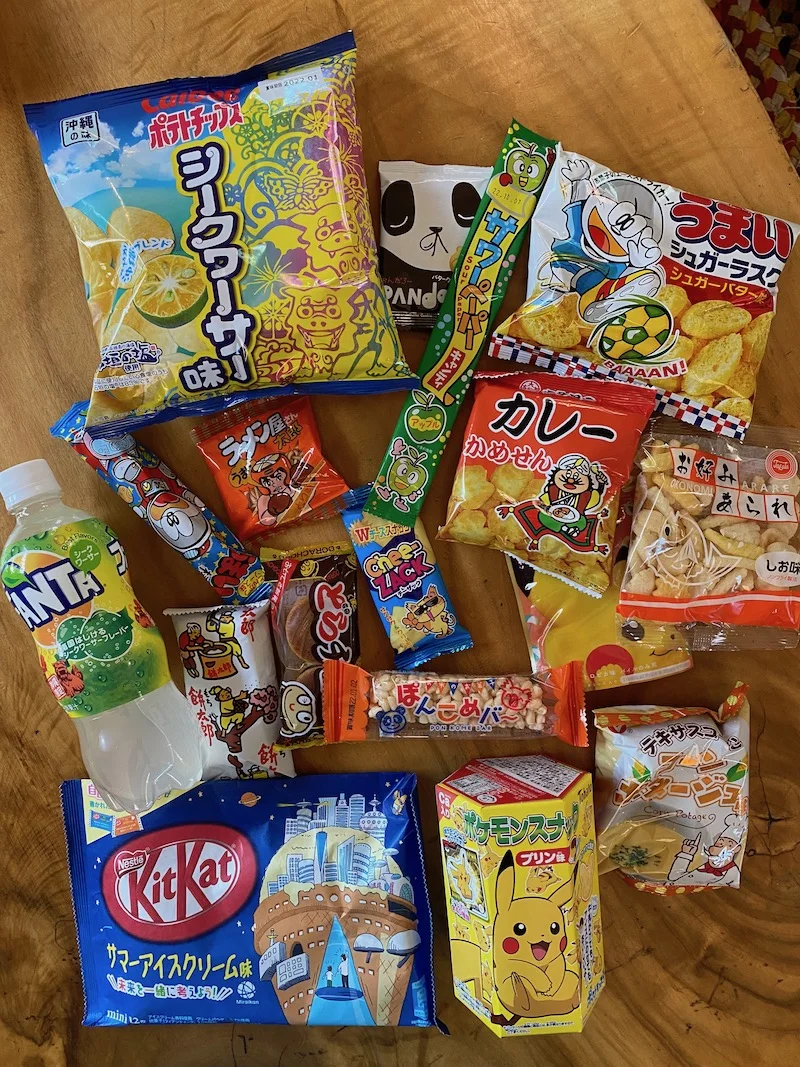 What's inside a Japanese Snacks Subscription Box?
What is Tokyo Treat?
It's a Japanese subscription box company curating Japanese snacks, candy and soda for lovers of Japanese treats.
Each box is themed, so you receive a fun surprise each month.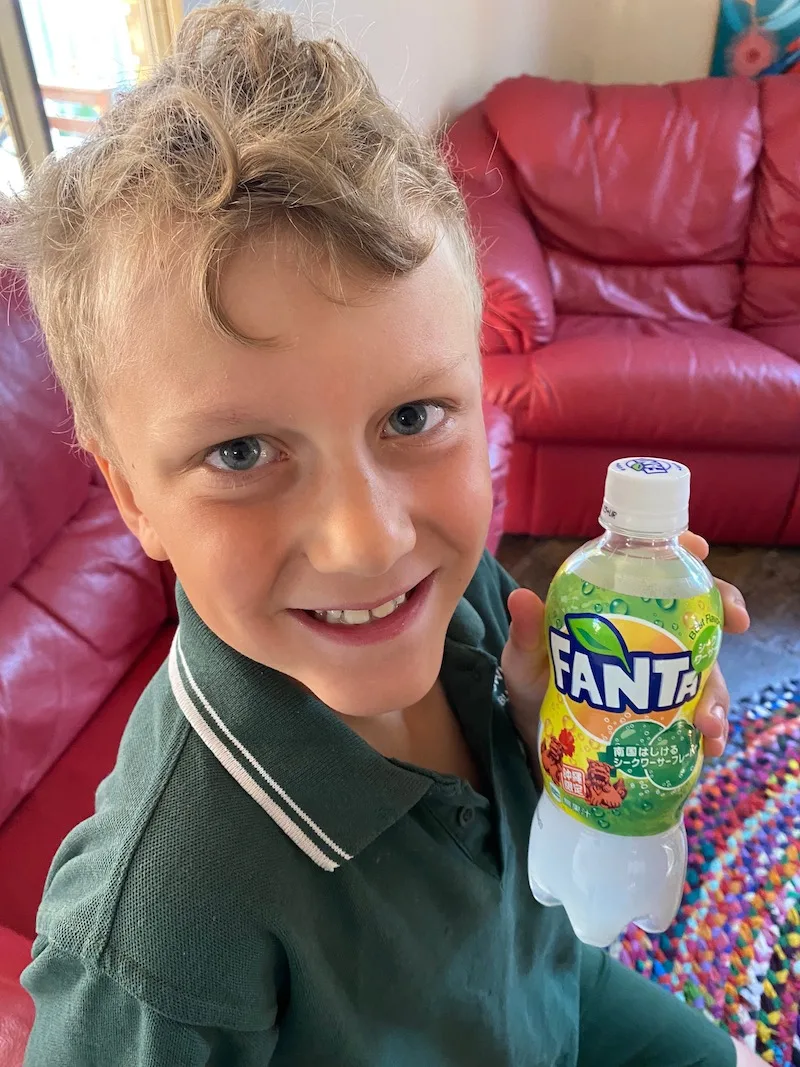 Inside a Tokyo Treat Premium Box
Our Tokyo Treat Premium Box – Okinawa Snack Out box – included:
one drink
a bag of kitkats
a packet of Pure Gummy candy
a number of packets of crackers, umaibo, anime snacks, and dagashi Japanese snacks
Jack's first pick was to go straight for the Japanese Fanta of course.
He's a sugar monster from birth.
The fact there was only one bottle of Japanese soda inside was one downside to the box, especially if you have more than one child at home and have one like Jack who wasn't eager to share.
If you have one child who prefers savoury snacks and one who prefers sweet, you'll have no problem.
But if they all like sweet, or all like savoury snacks, it's more of a problem as the box only has ONE thing of each type.
Luckily for Jack, Ned wasn't bothered this time.
Have a look below to see more of what was inside.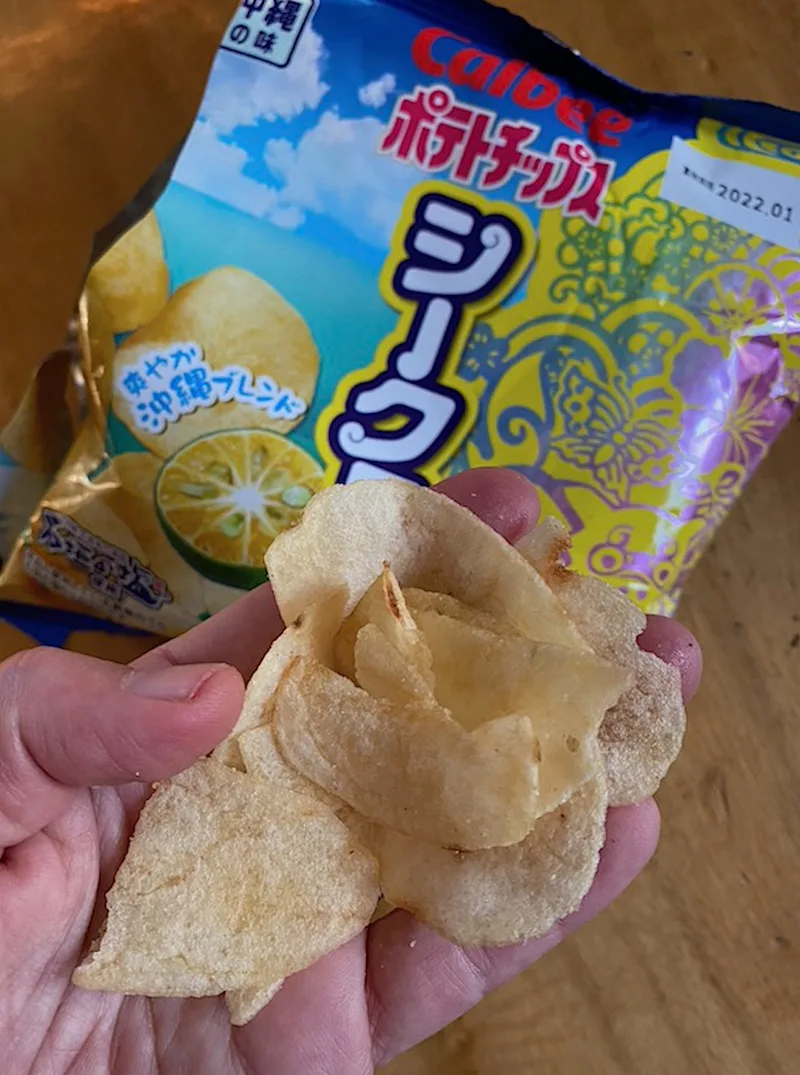 No.1: Calbee Okinawa Shikuwasa Potato chips
These chips were flavoured with Japanese Shikuwasa citrus – a native plant to Okinawa, a mix between lime and lemon.
So kind of tangy.
Unusual but surprisingly good.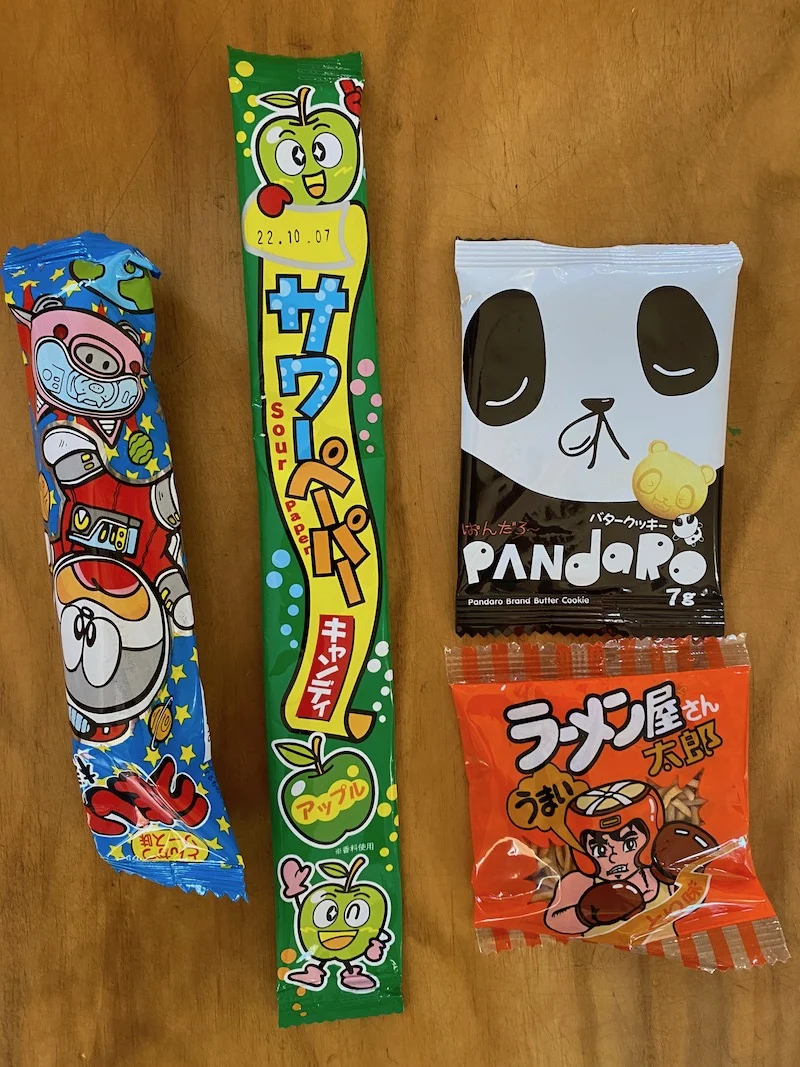 No.2: Umaibo, Sour Paper Candy Apple Flavor, Pandaro butter cookie, Ramen shop Taro
Jack loves Japanese candy, so the sour strap was top of hit list.
The butter cookie wasn't far behind.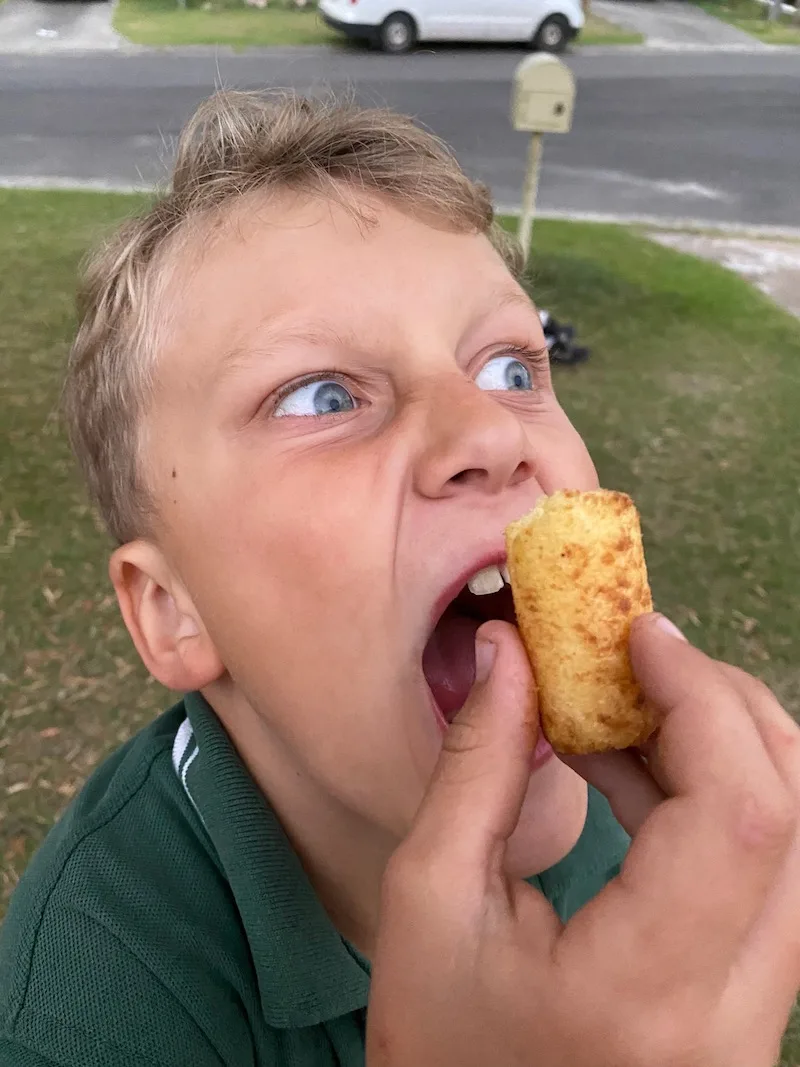 Jack's favourite thing in the box was the Umaibo Tonkatsu sauce flavoured dagashi snack.
This light and airy corn based snack was gobbled up in seconds!
He left the Ramen snacks in the box for our neighbours.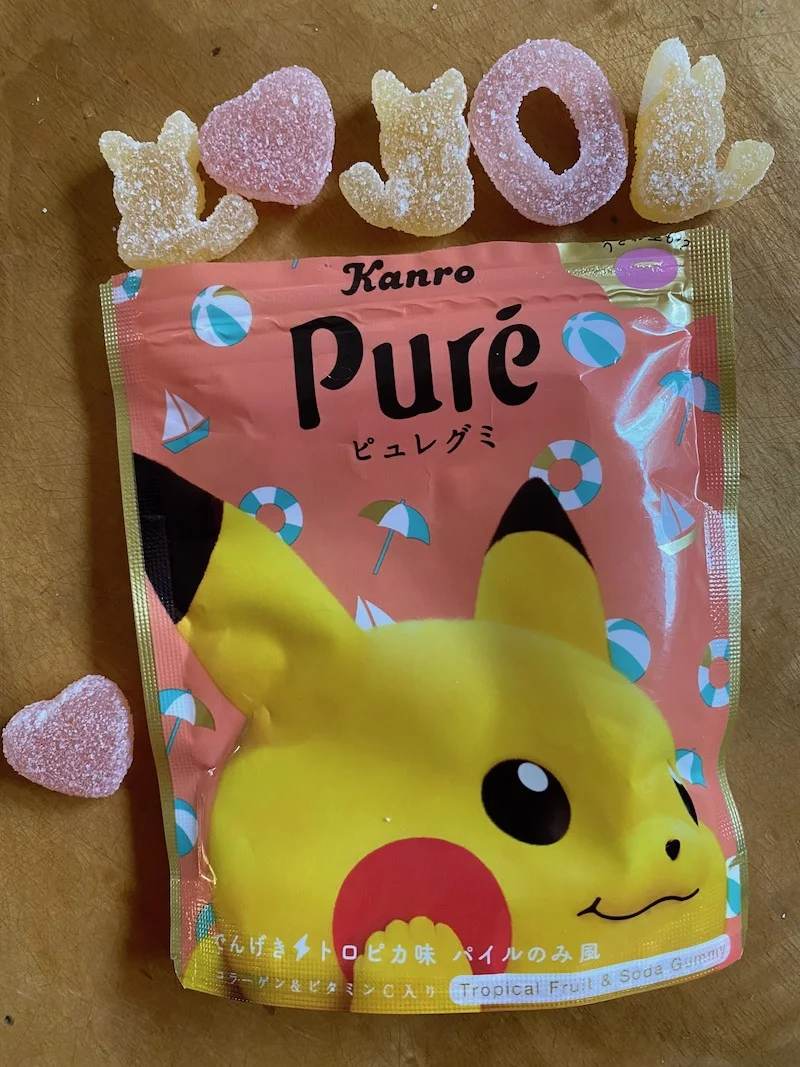 No.3: Kanro Japanese Pure Candy
Japan is known for it's cute snacks.
And this was the perfect example.
Pokemon shaped gummy candy in tropical fruit and soda gummy flavour.
Who could resist?
Not the boys!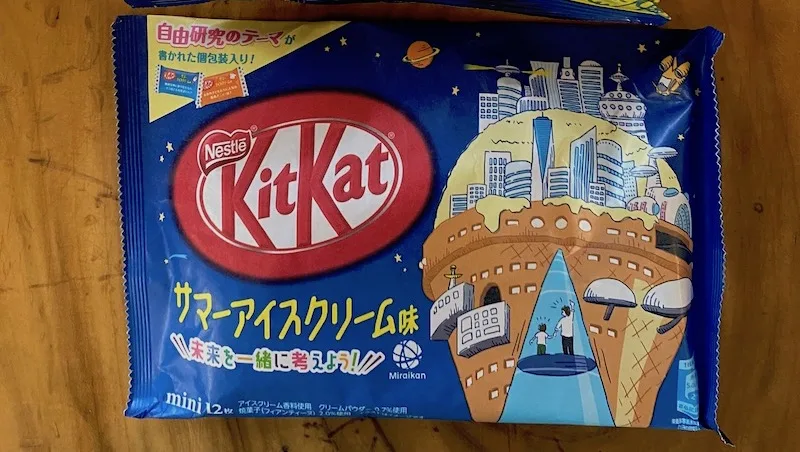 No.4: Japanese Kitkats
Omg.
This was the WINNER in this box.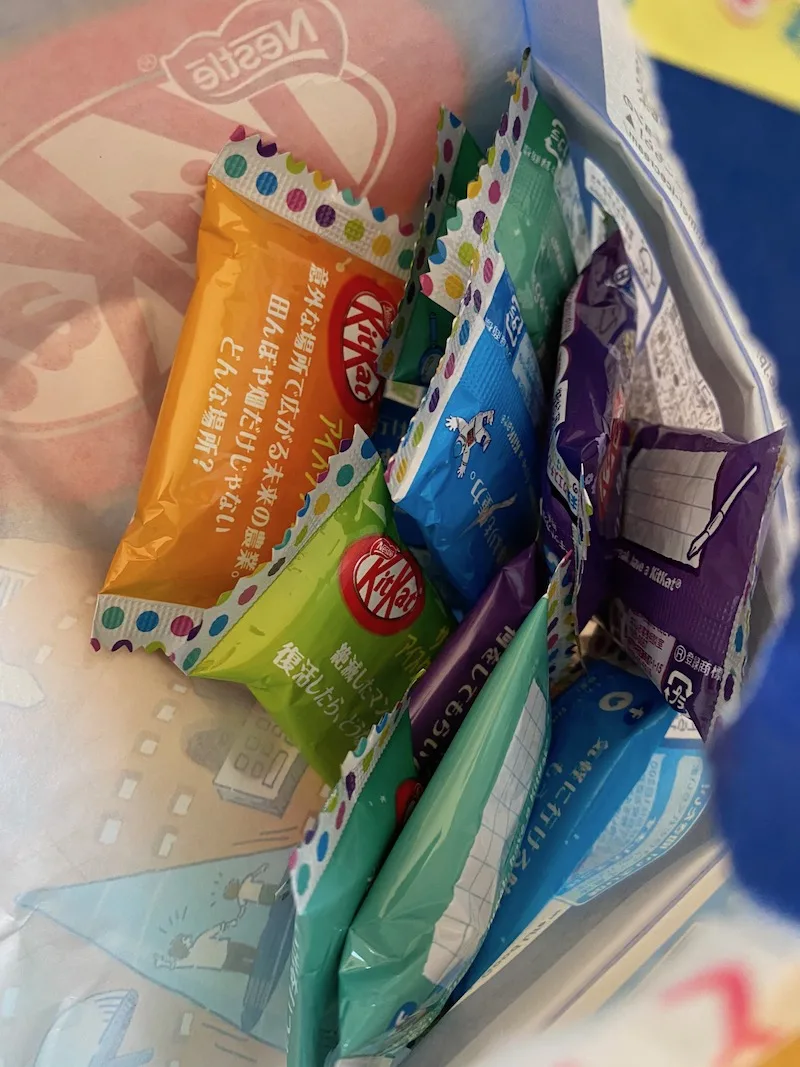 Thankfully, it was a BAG of small kit kat snacks, so there was enough to share between Ned, Jack and I.
These white chocolate covered Kit Kat snacks were delicious!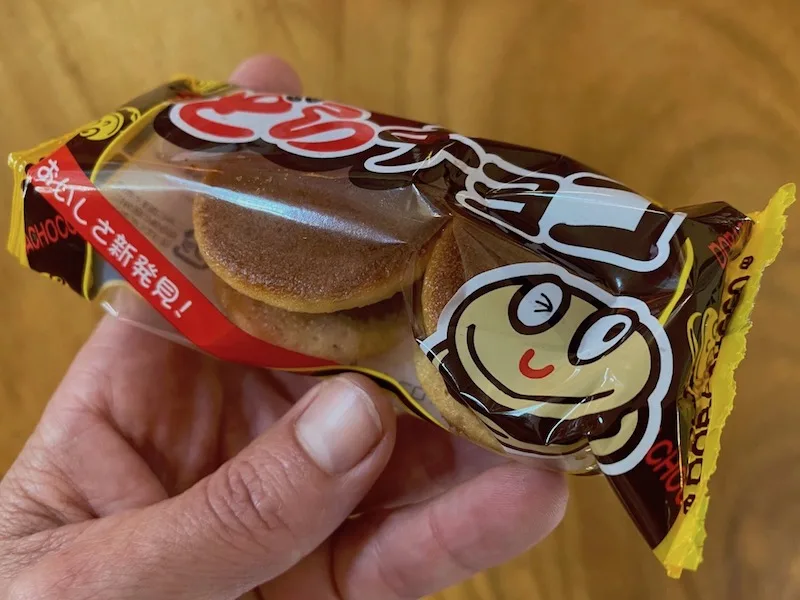 No.5: DoraChoco snack
Happily, there were two pieces in this pack.
Because Jack wasn't getting his hands on my share.
The little pancake snack was filled with a dob of chocolate.
Delish!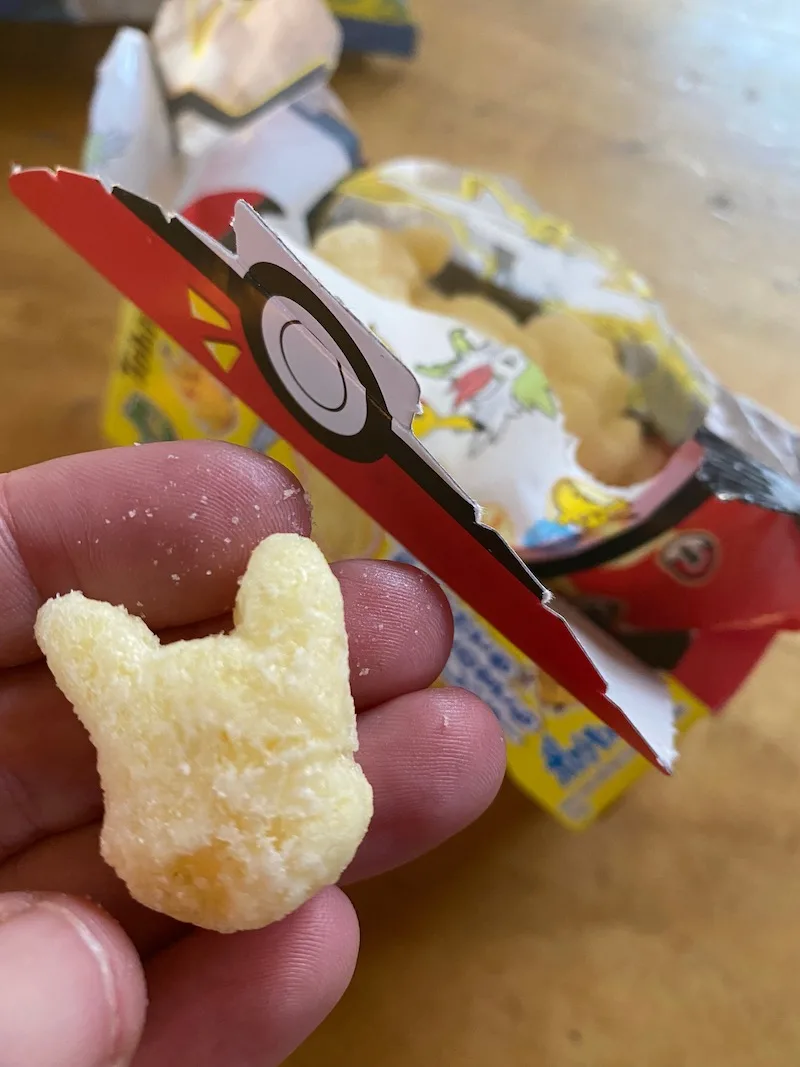 No.6: Pokemon Snacks Pikachu Pudding Flavor
We adore a Pokemon snack and this one was the cutest we've ever seen.
Pokemon SHAPED snacks!
Yes, they exist.
These crunchy corn Japanese snacks were filled with a pudding flavoured centre.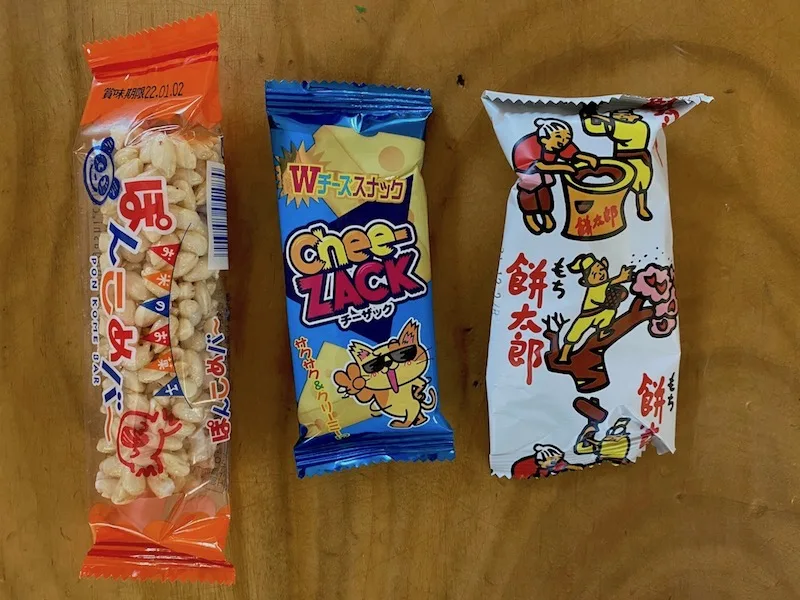 No.7: Ponkome Rice Bar, Yaokin CheeZack, Mochi Taro
The crunchy Pon Rice Bar was not what we expected.
Rather it was a sweet and savoury flavoured rice bar, with a soy sauce tang.
NOT the usual kind of sticky puffed rice bar.
(That one hit the bin quick smart!)
The Chee-zack cheese snack was similar to the Umaibo dagashi snack – this one hit the pile for the neighbours to rate.
So did the Mochi Taro.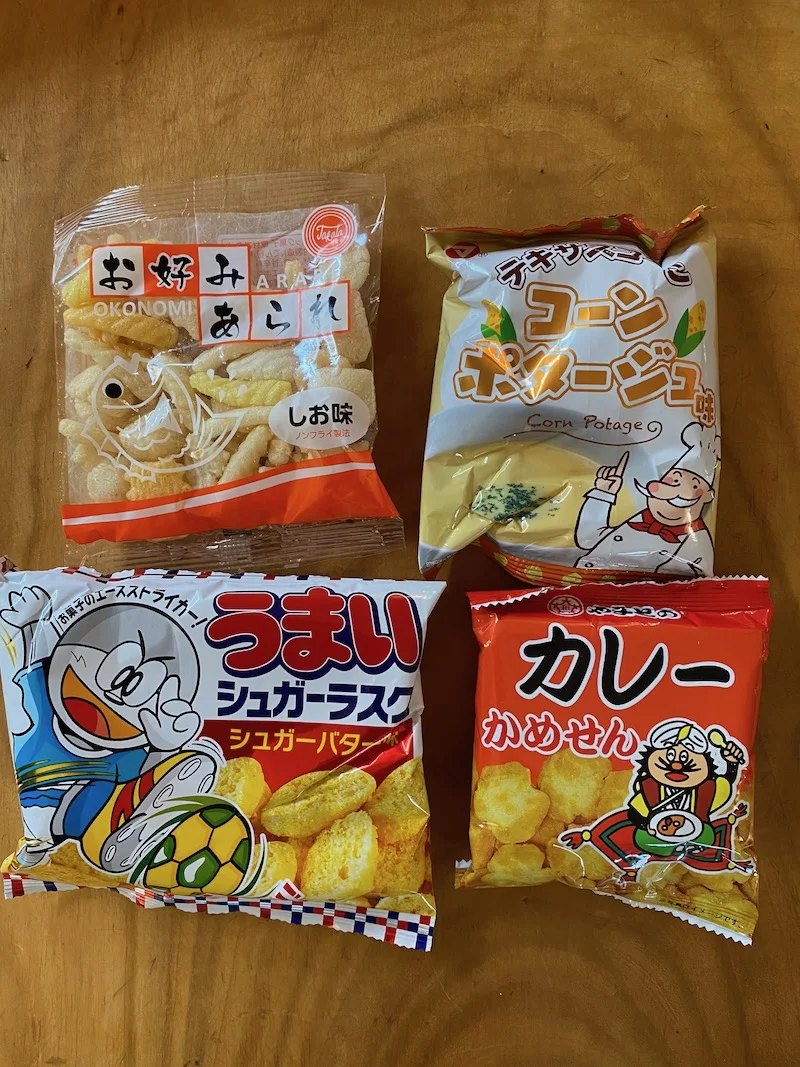 No.8: Okonomi Arare, Texas Corn Corn Potage Flavor, Umaiwa Sugar Rusk, Curry Turtle Crackers
Our biggest challenge being honest with this Tokyotreat review was that because the snacks were mostly savoury bread-like treats, my boys weren't interested in trying some of them.
Luckily, our neighbours are also big Japan snacks fans, so were happy to share with us.
That made the box worth it.
Not only did my boys have a treat, we were able to share the love around!
(See below for their ratings)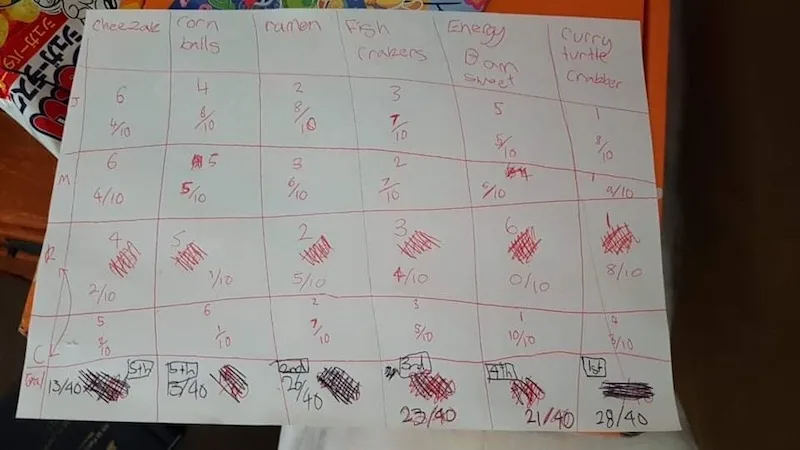 Our Neighbours Rated the Tokyo Treat Delivery!
They sure did, and were happy to.
As you can see from above, the kids ranked the Curry Turtle crackers in first place.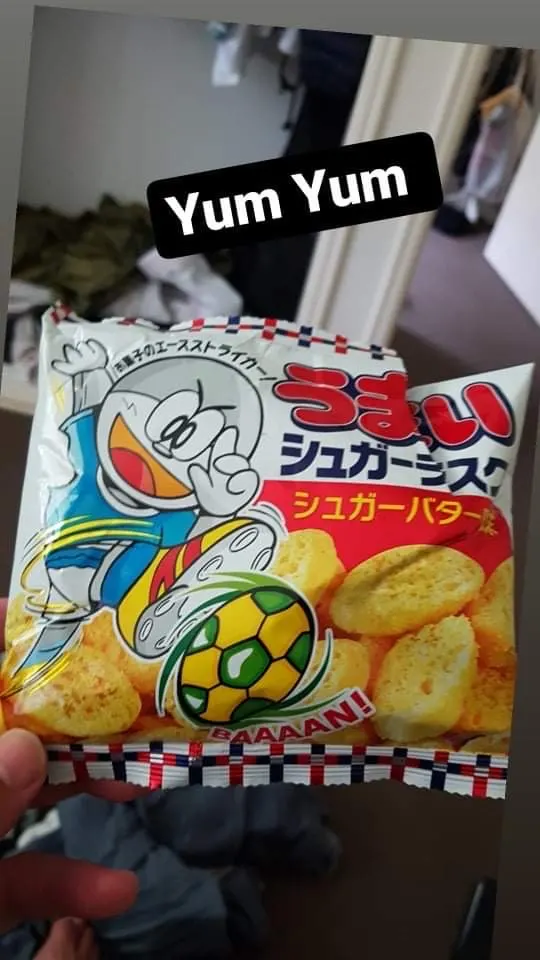 But Dad Rob, with his sweet tooth, loved the Umaiwa Sugar Rusk snacks best.
Think Jack missed out on that one!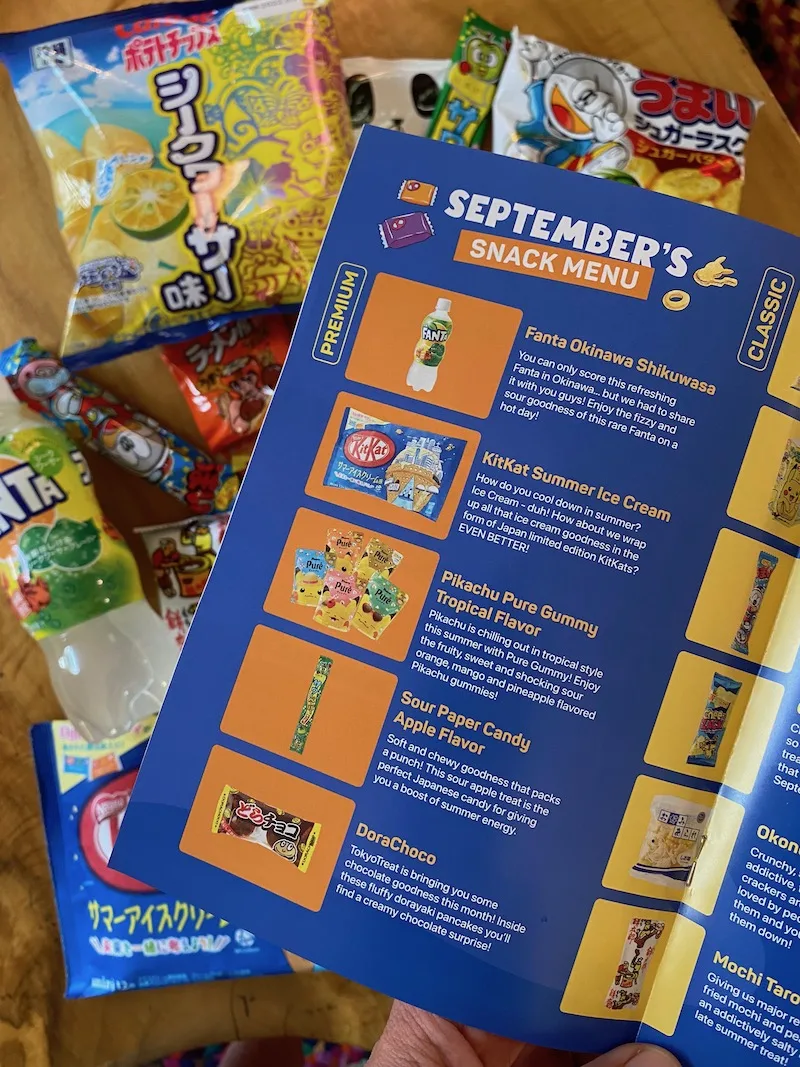 Tokyo Treat Box Menu
One of the best things about our Tokyo Treat box delivery was the Tokyo Treat menu guide inside.
This full colour brochure is not only helpful – it's VITAL, so you know what's what.
It's a great learning tool as the kids can match the product to the description in the guide, and learn about the snack before they gobble it up.
Kids can learn:
Japanese snack names
Japanese snack flavours
Japanese candy flavours
Japanese chocolate types
Japanese soda drinks flavors
Without this information sheet, we would have had NO IDEA what we were tasting!
We noted down our favourites, so that we know to look out for them next Japan trip.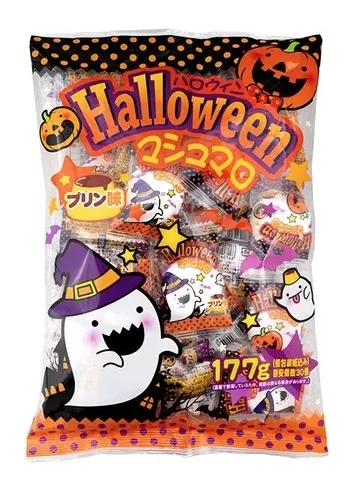 Tokyo Treat Halloween Box 2021
Love Halloween?
Then you should sign up for the Tokyo Treat October Box!
You might just find yourself with some special Halloween goodies in your box too.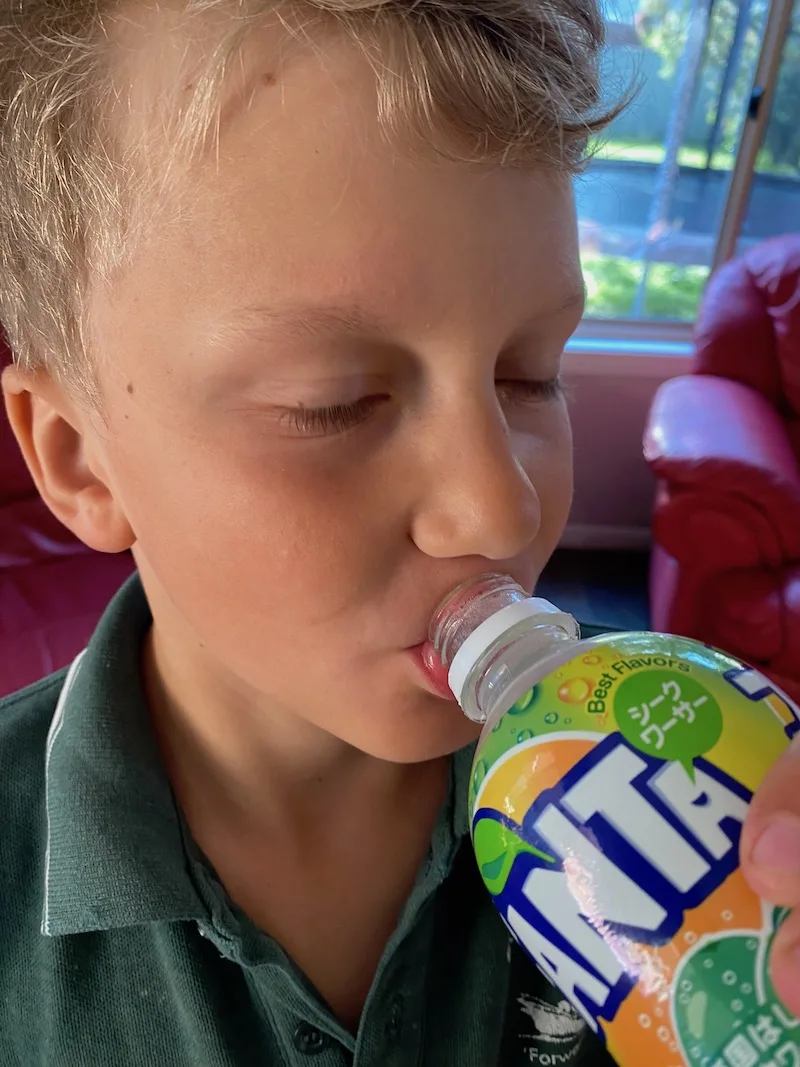 Tokyo Treat Price?
The Tokyo Treat Box price starts at $31.50 USD if you subscribe for 12 months.
Signing up for a 12 month plan also gives you Member Reward points called Streaks, plus a special surprise in your box.
But if you don't want to sign up for the long term, it's only $35 USD to sign up month by month.
Billed monthly. Cancel anytime.
Does Tokyotreat automatically renew?
Yes, but you can cancel anytime before the next renewal date to stop the payment coming out.
Hot tip: Tokyo Treat Past Boxes
A good way to see whether a Tokyo Treat subscription is for you is to check out their past boxes to see the inclusions and compare.
This gives you a good idea of whether or not the Tokyo Treat boxes are right for you and your family.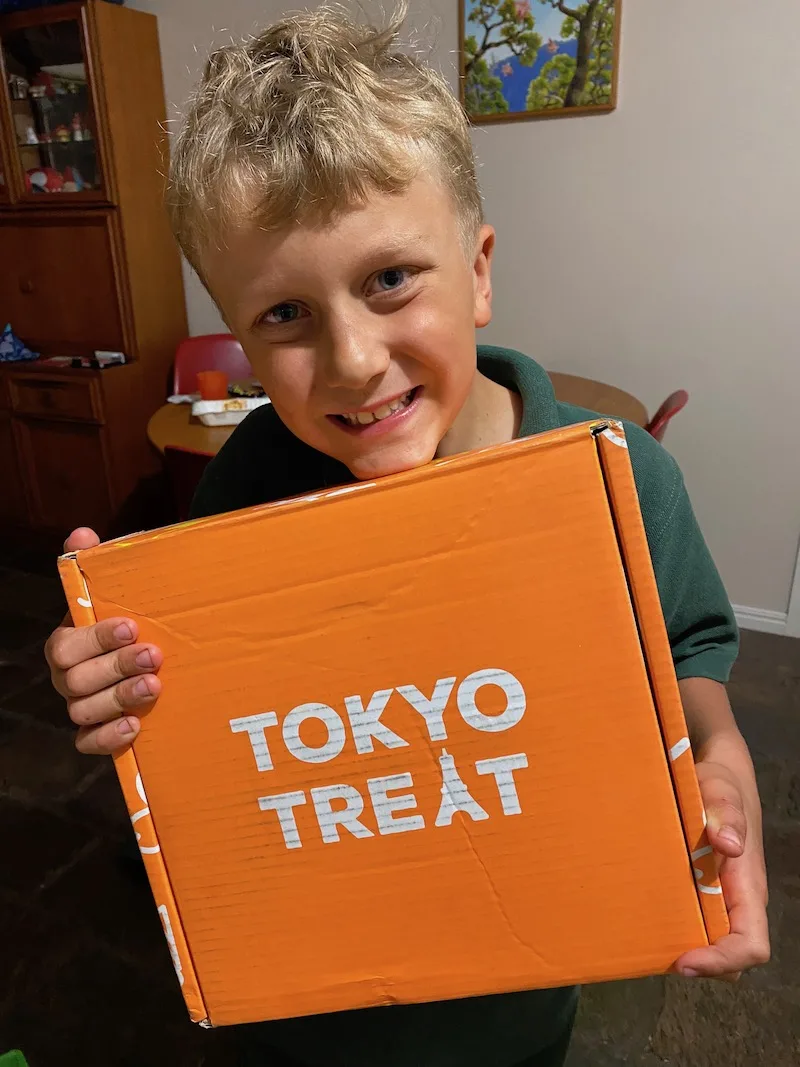 DOES TOKYO TREAT SHIP WORLDWIDE?
They sure do.
No.1: Tokyo Treat Australia
Our box arrived in Australia about a week after it was ordered, by courier.
Heads up – the courier would not leave the box unattended, as most other couriers do.
Thankfully, our neighbours were home and heard someone pounding on our front door and were able to sign for us, so that the box didn't head back to the depot for another week.
I'm not sure if there's a way to authorise the courier to leave the box in a safe place if you aren't home, but worth looking into when you subscribe.
No.2: Tokyo Treat Canada
Yes, you can order Tokyo Treat boxes and have them delivered to Canada via express shipping. The boxes should arrive 2-5 business days after shipping.
No.3: Tokyo Treat USA
Does Tokyotreat ship to USA? They do.
Like Canada, boxes should arrive 2-5 business days after shipping.
No.4: Tokyo Treat UK
Does Tokyo treat deliver to UK?
Yes.
Tokyo Treats UK deliveries should also arrive 2-5 days after shipping.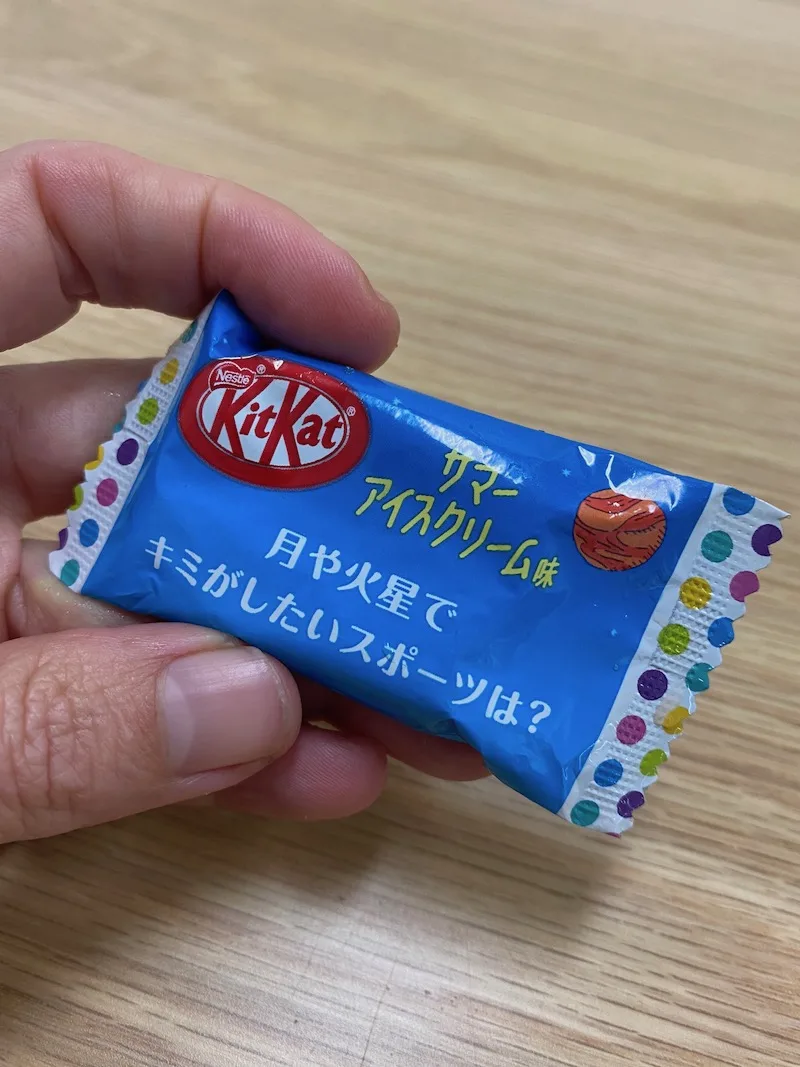 No.5: Tokyo Treat India
Estimated delivery time for Tokyo Treat boxes to India is approximately 2-5 days after shipping.
No.6: Tokyo Treat Brasil
Deliveries are via Japan Post Priority Shipping + Tracking.
No.7: Tokyo Treat Greece
Expect the Japanese subscription snack boxes 2-5 days after shipping.
No.8: Tokyo Treat Argentina
Boxes arrive here 14-28 days after shipping.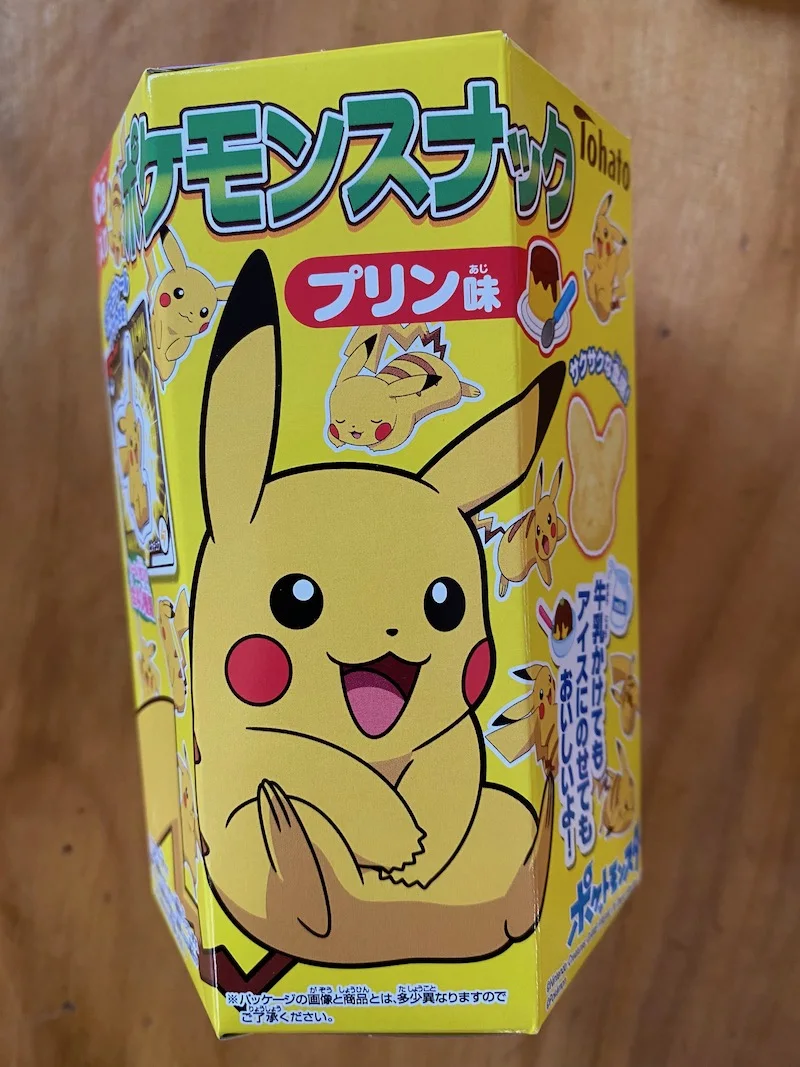 Tokyo Treat Customer Service
What happens when your Tokyo Treat box never arrived?
Hopefully, you selected tracking in the order process so that if the box goes missing, they can issue you a replacement.
Unfortunately, if you didn't, there's not a lot that can be done.
So be sure to choose tracking!
With the worldwide uncertainty, the post can take longer than usual so be patient but if the box hasn't arrived within two weeks, get in contact with Tokyo Treats customer service for help.
Tokyo Treat free box
The only way to get a free Tokyo Treats box is to be lucky enough to have a friend or family member GIFT you one!
It can, and does happen.
Be sure to drop enough hints!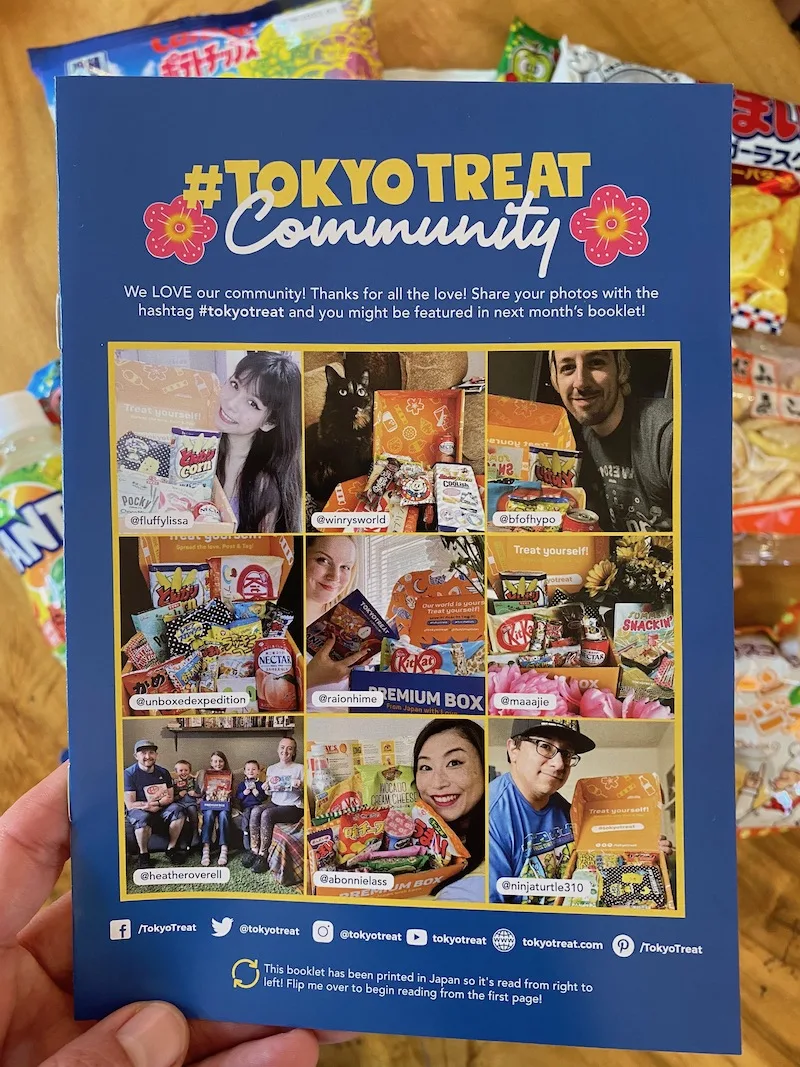 BEST JAPANESE SUBSCRIPTION BOX COMPARISON GUIDE
A Tokyo treat subscription box is one of many on our Japanese subscription box list.
But if you are looking for Tokyo Treat alternatives, read our comparison guides below.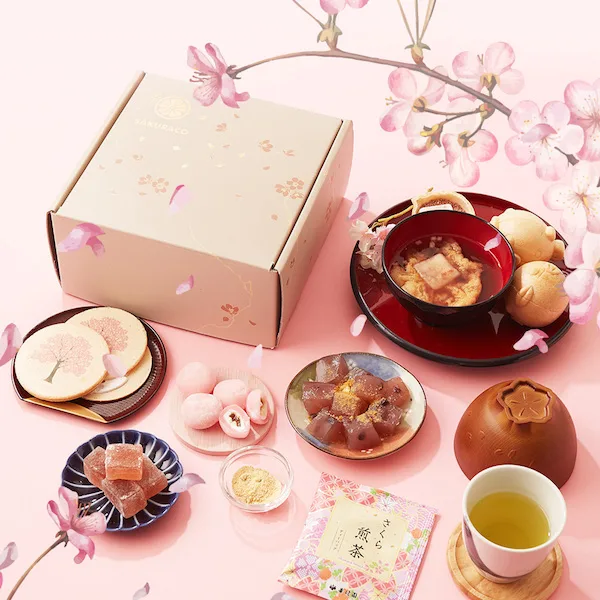 No.1: Japanese Sakura Subscription Box
Did you know the Tokyo Treat company also owns SakuraCo, Japan's best Japanese candy subscription box full of:
authentic Japanese snacks
Japanese tea
Japanese candy of the month
senbei crackers
konpeito candy
mochi, manju and yokan traditional Japanese sweets
Japanese cakes such as Castella and Taiyaki and
seasonal Japanese snacks such as sakura flavoured snacks
Japanese home goods and accessories featuring traditional Japanese designs or upmarket Japanese design
Sakura Co snacks can only be found in Japan and are from local makers in the regions.
A Tokyo Treat Sakura Box is next on our list of Japanese subscription boxes to try, as it leans more towards Japanese sweet snacks, and would be a better fit for our family.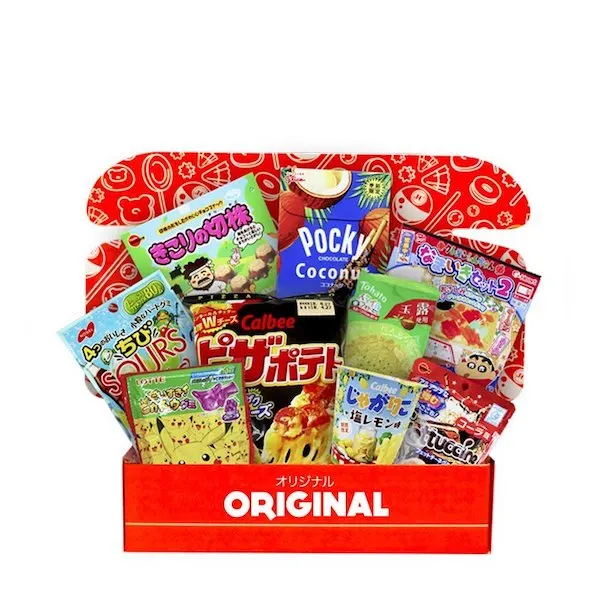 No.2: Tokyo Treat vs Japan Crate
Wondering about the differences between Japan Crate vs Tokyo Treat?
Which is better Tokyo Treat or Japan Crate?
The biggest plus on buying the Tokyo Treat subscription service is joining the Community Talk hub – an online portal where you can:
chat to fellow subscribers around the world to compare your favourite Japanese treats,
earn achievement badges, and
swap treats from your Japanese monthly box that you might not be so keen on.
It's the place to meet kindred spirits – fellow Japanophiles.
Tokyo Treat boxes have limited edition, Japan exclusive flavours that you can't buy outside of Japan – up to 17 products in a box.
Plus, streaks reward points that add up the longer you stay subscribed, that you can exchange for extra snacks, plushies or other fun Japanese goods.
Plus, this Tokyo box has bigger packets (family size in some cases).
Prices are similar if you buy the Japan Crate original size with 10 items including a DIY kit, and includes free shipping
The Japan Crate premium box costs $49.95 a month, but has 18 – 20 items including one drink, and a DIY kit, plus a limited edition bonus item.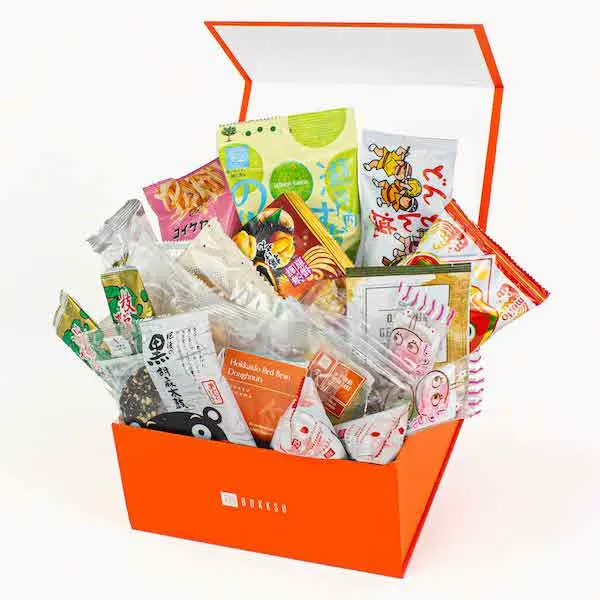 No.3: Bokksu vs Tokyo Treat
The biggest difference between a box Tokyo Treat vs Bokksu is that Tokyo Treat is geared more towards kids and young teens, with lots of anime and manga snacks.
Bokksu focuses on a different audience:
Adults and those who adore the culture of Japan, and
who want to "taste authentic Japanese snacks, candies, and teas sourced directly from centuries-old small family businesses."
Bokksu's focus is on "supporting small family run businesses to help keep traditions alive".
Bokksu is more expensive, with the month subscription fee at $49.95 USD a month but it gets cheaper if you commit to a longer plan.
Hot tip: Bokksu has a $5 off voucher the first box if you subscribe to their email list.
No.4: MORE Japanese Subscription Boxes to try
No.1: Nomakenolife
Monthly Beauty Box of Korean and Japanese Cosmetics and Skincare
No.2: YumeTwins kawaii subscription box
A box of 5-7 fully licenced merchandise from popular brands like Sanrio – plushies, stationery, and more.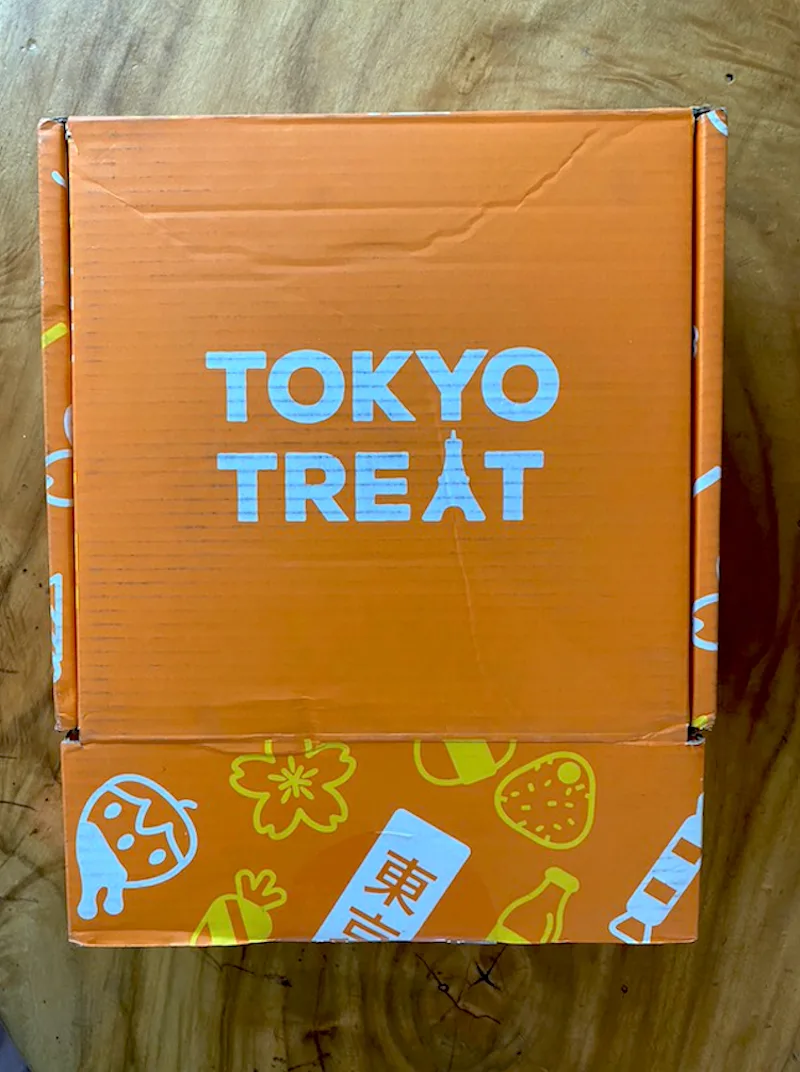 FREQUENTLY ASKED QUESTIONS ABOUT TOKYO TREATS BOXES
No.1: Is TokyoTreat legit?
Absolutely yes. No worries about scams here.
No.2: Is TokyoTreat safe?
Yes, they use a secure website (see the lock next to the URL bar) which means your payments are protected.
Are the Japanese snacks safe to eat?
Yes, but as always, read the labels before consuming if you have any food allergies.
No.3: Is Tokyo treat vegetarian?
People often ask is Tokyo treat vegan? Or is TokyoTreat halal?
Sadly, due to the nature of the boxes and the variety of Japanese snacks inside, they don't have a halal or vegetarian exclusive option.
As yet.
But send feedback and you never know your luck!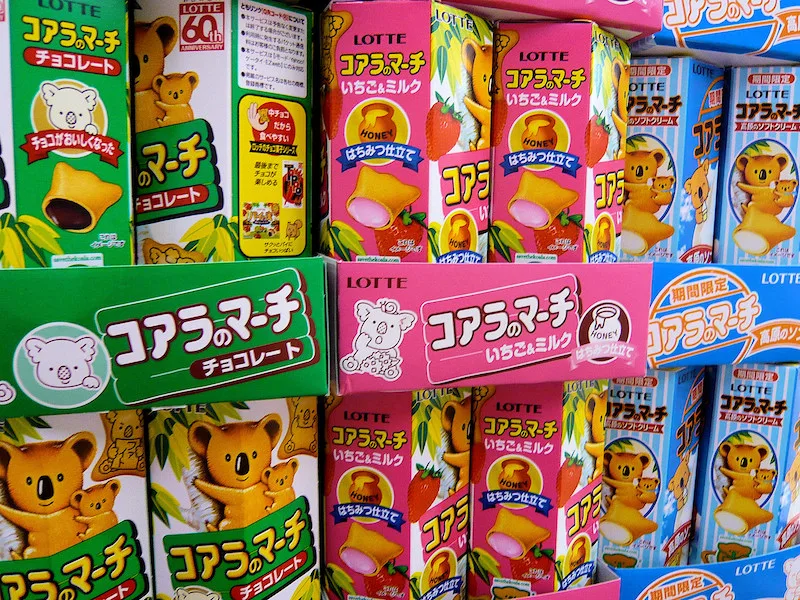 No.4: Where does Tokyo Treat come from?
Japan.
The Japanese snacks and Japanese candies are delivered to the factory, and the subscription boxes are packed to order before being shipped from Japan.
No.5: Who owns Tokyo treat?
Ayumi Chikamoto was the founder of Tokyo Treat back in 2015,
No.6: Tokyo Treat Coupon Code
Looking for a Tokyo Treats promo code and wondering where can you find a Tokyo Treats coupon?
From our research, it doesn't seem possible to find a Tokyo Treat discount code.
Unfortunately, a Tastemade Tokyo Treat box coupon seems non-existent but you could try Honey Coupons as your best bet.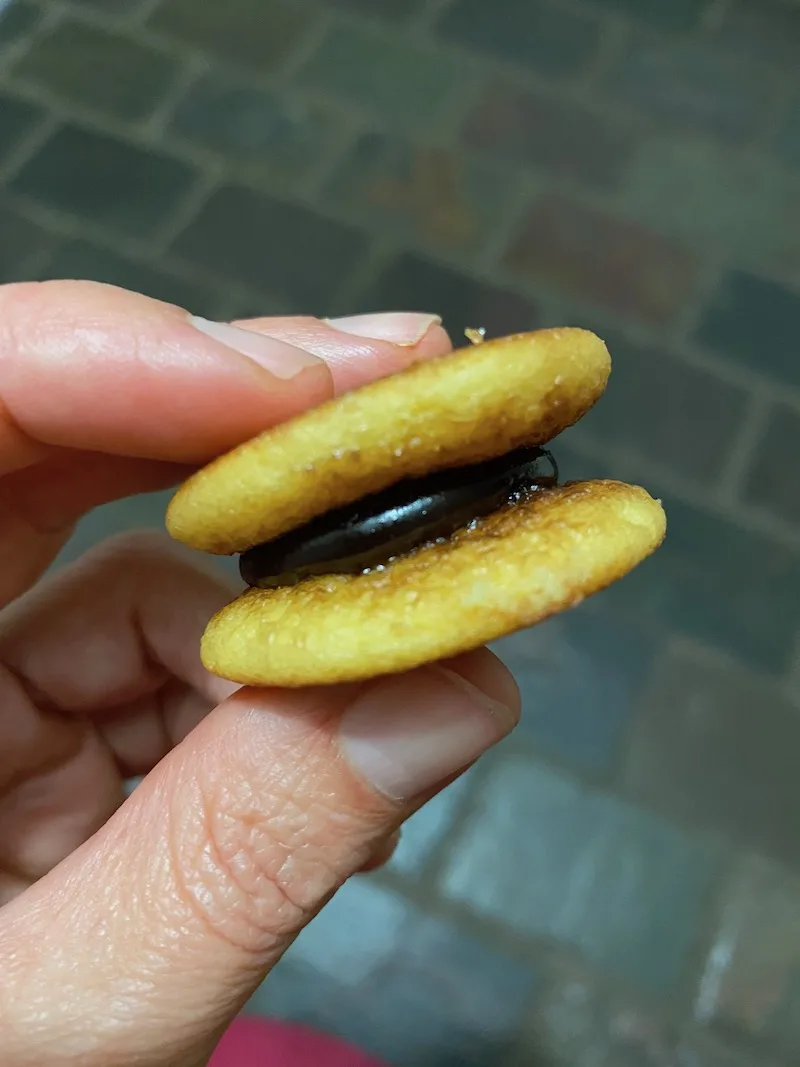 No.7: Tokyo Treat Free Shipping
Does Tokyo treat have free shipping?
Sadly no.
The Tokyo Treat shipping cost varies depending on the "group" of countries you live in.
Tokyo Treats shipping fees start from $10.50 USD and includes tracking so you know roughly when it will arrive.
For those in countries where express shipping is not an option, they use Japan Post priority shipping and tracking instead.
No.8: How long does Tokyo treat take to ship?
Orders are packed within three days of your order, and may be at your home in as many as 2-5 days.
For most countries, it's surprisingly SUPER QUICK!
So a Tokyo Treat snack box good last-minute gift for a friend or family member who loves Japan too.
No.9: Tokyo Treats shop
Did you know you can also buy your favourite Japanese snacks direct from the Tokyo Treat shop called Japan Haul?
You can!
Shop for Japanese drinks, Japanese kit kats, Japanese DIY candy kits, Japanese noodles, Japanese candy, Japanese pocky, Japanese chocolate snacks and more.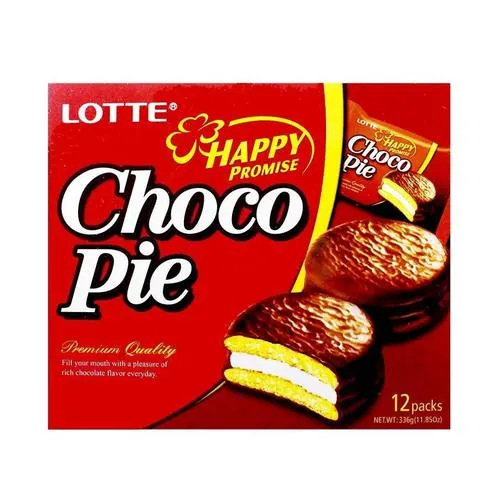 Bookmark these stories for later
Click the links in blue below for more Tokyo food shopping ideas.