INSIDE: The most helpful & comprehensive of the Shrek Adventure London Reviews.
Shrek's Adventure in London at Southbank was WAY MORE than we could have hoped for.
This laugh-out-loud interactive experience with Shrek and friends as you step into the kingdom of Far Far Away is UNEXPECTEDLY AWESOME, and if you are in London with kids, you should DEFINITELY book tickets.
My kids, and Roam the Gnome, rated it as one of their Top 5 Adventures of our last London & Europe trip.
Take a look and see why Shrek 3D London is so good below!
Disclosure: This article contains affiliate links. If you make a purchase after clicking on one of these links, we may receive a small commission at NO extra cost to you. Note: Merlins Entertainment kindly gifted us this experience but all opinions are our own. We LOVED it.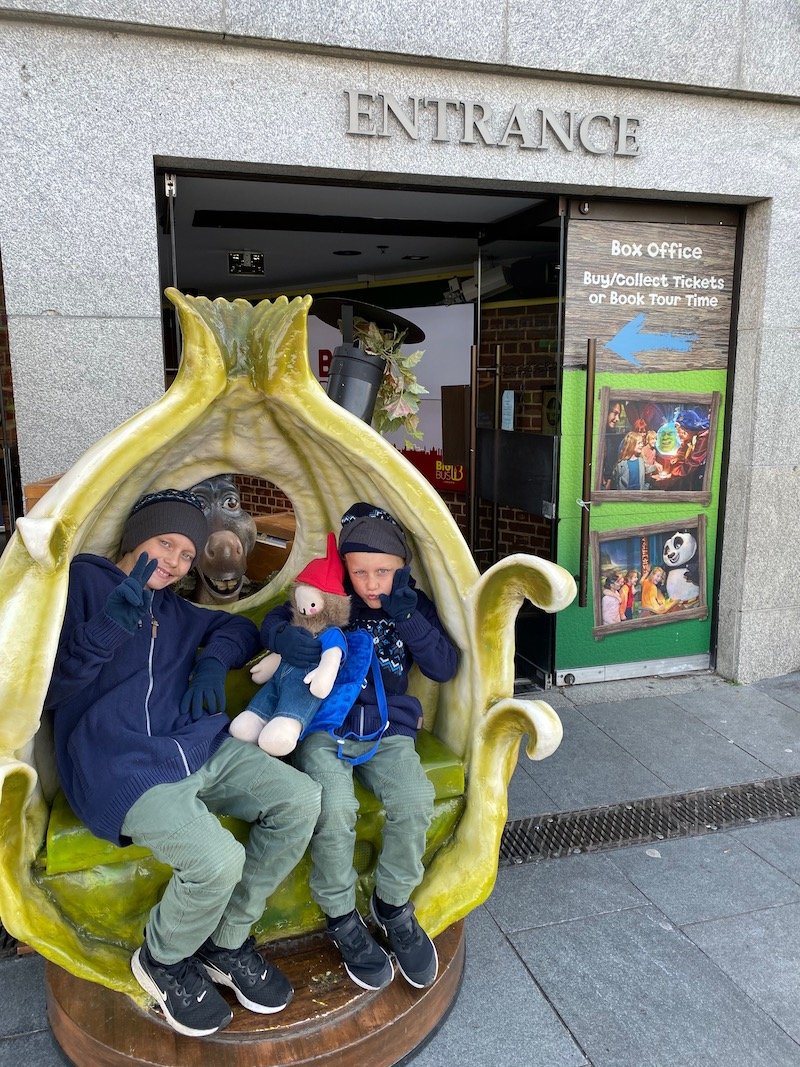 Visiting Shrek Adventure London
Roam the Gnome, and our gang of travellers, joined in the fun of Shrek's Adventure in London thanks to our friends at Merlin Entertainment who sponsored our visit.
But all the opinions we share are sincerely our own, and given in good faith.
Book Now via Get your Guide: London Dreamworks Shrek's Adventure Tour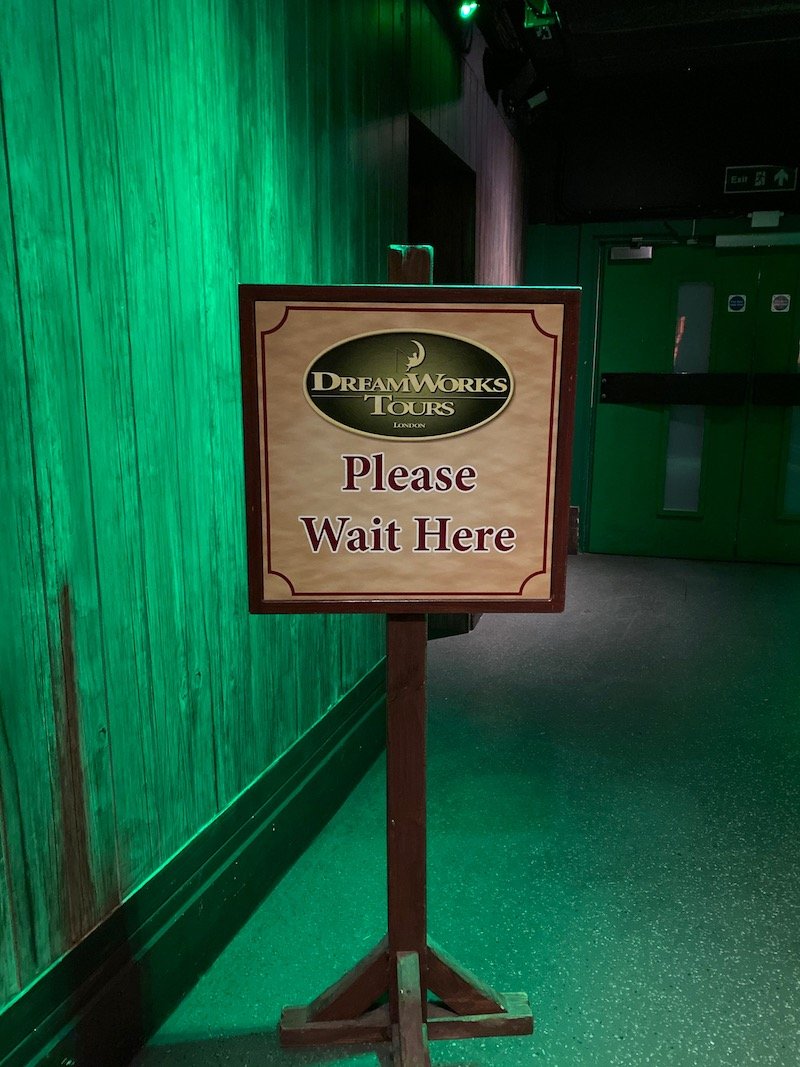 What is Shrek's Adventure London?
Shreks Adventure London, near the London Eye at Southbank, is a live-action drama-filled walk-through storytelling experience, based upon the Oscar winning film of the same name.
Meet a bunch of characters from the film IN THE FLESH, as you wander from room to room, house to house, along the road to Shrek himself.
Just like the film, the live drama Shrek experience in London features adult-oriented humor that tickles the funny bones of both mum, dad and the kids.
But as you'd expect, there's also double entendre (or double meaning), so the kids laugh at the obvious thing, while adults giggle out loud at a more risqué interpretation!
Shrek London is truly a laugh-a-minute experience for the whole family, especially if you love Dad jokes, audience banter, and witty gags.
---
RELATED: The ULTIMATE List of Things to Do in LONDON with Kids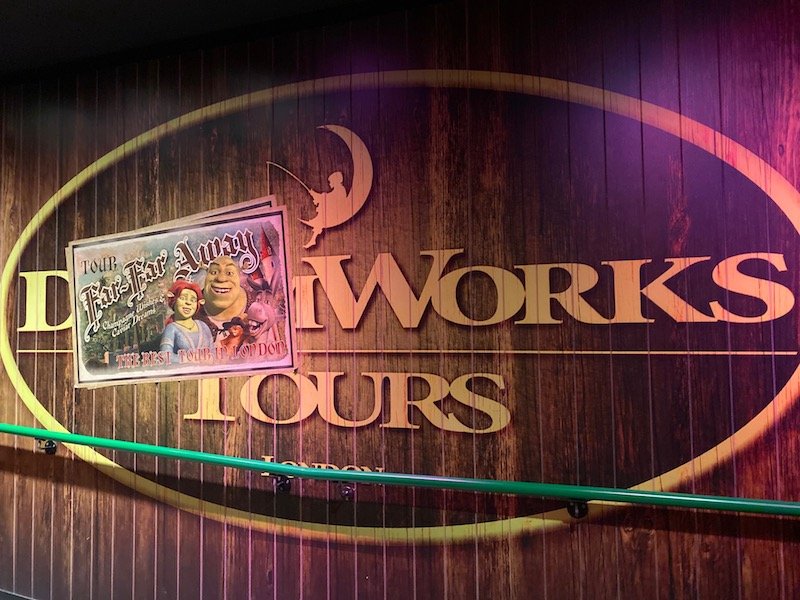 A Sneak Peek inside the Shrek London Adventure
The first stop on your way to Shrek Land is the magical Tour Bus, with the hilarious Donkey as your tour guide once you've boarded.
Be sure to empty your pockets of these prohibited items before you board:
red apples
magic wands
croaking frogs
swords
spell books
ruby red slippers
Be prepared for wind, water, and fog during the 4D movie.
It's wild, and a little rough on the tummies for those who get car sick. (Hot tip: If this is you, remove the glasses and look away early.)
Next up on the Shrek Tour is a busy, fun filled walk through 10 live-action fairy tale themed mini shows.

Fairytale Worlds at Shrek World London
The best Shreks kids entertainment inside is meeting all the different fairy tale characters from the film.
Hands down, this part of the Shrek tour is the highlight, and it surprised us all.
In a nutshell, these 10 mini shows each feature one actor in costume, who plays their part in the unfolding story.
One by one, they add detail and intrigue, to round out the tale as you move along through the swamp.
Be warned.
Each fairytale character (including Cinderella, the Fortune Teller with her crystal ball, Esmerelda, the barmaid Doris, and the Muffin Man) does tend to target one unsuspecting audience member to join in their banter.
It may be you!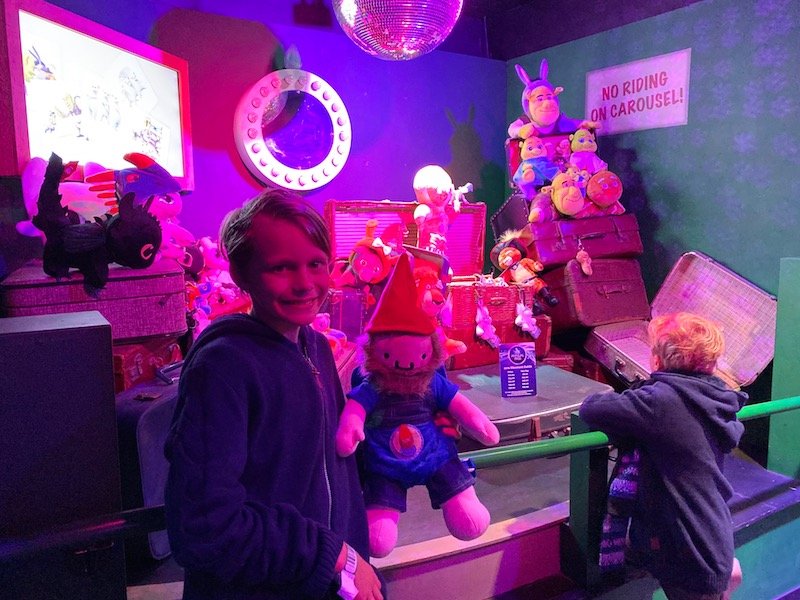 Shrek London Reviews SPOILER ALERT
SPOILER ALERT AHEAD – skip this section if you don't want to know!
---
My boys loved the interactive elements, where they were chosen to carry a prop from one room to the next, as part of the unfolding narrative.
Perhaps you'll be the lucky one to add to the magic spell that the Muffin Man is cooking up.
I loved the detailed sets, especially the prison with the Wicked Witch.
I did not expect to feel RATS moving under me!
This may be one of those times when you need to keep your little ones close, so they aren't scared, but for the most part, even the most timid of kids will be fine.
There's a big surprise as you turn the corner towards the end of the adventure.
I wonder if you can guess who you might meet?

Dreamworks Tours How to Train your Dragon Display
At the end of the adventure, spend time:
playing digital games, such as Kung Fu with Po, and
get up close to the display from How to Train your Dragon.

The AWESOME Shrek Adventure Shop
Wondering where to buy Shrek merchandise?
The Shrek's Adventure shop is chockablock FULL of Dreamworks merchandise.
Take a look at our complete guide to the Shrek Adventure Shop.
There's tonnes of pics of what you can buy there in the Dreamworks store in London, including all the Shrek toys for sale and other Shrek merchandise & confectionery you can find.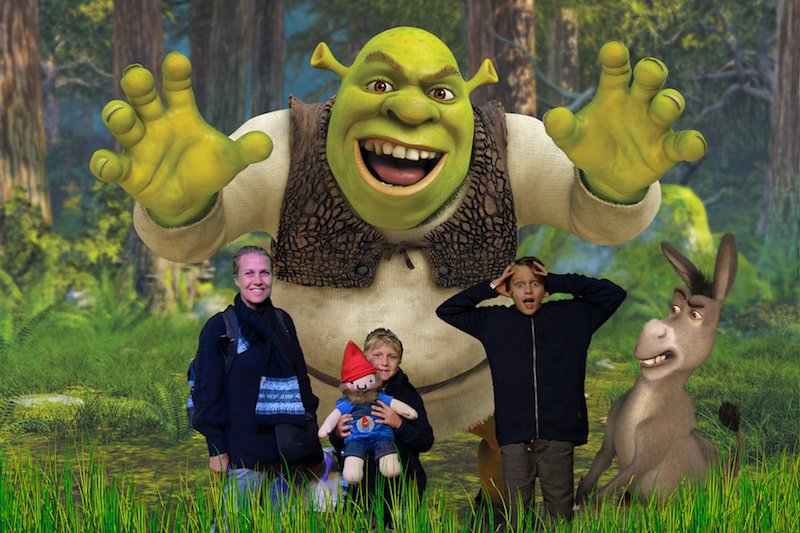 Shrek Family Pictures
Yes, you can buy souvenir pics of your Shrek World of Adventure experience.
The kids will beg and plead for these, so plan for it in your budget.
Expect BILL SHOCK!
These souvenir photos at Shrek are not cheap.

THE INSIDE SCOOP: Shrek Experience London
Correct at time of publication on Roam the Gnome. Please check with venue for updates. We apologise in advance if there have been any changes we are unaware of. All prices in British pounds, unless otherwise stated
This is the best of the Shrek Adventure London reviews because we tell it like it is.
Shrek Adventure address: Riverside building, County Hall, Westminster Bridge Road, London SE17PB.
Telephone: The direct Shrek Adventure contact number is +44 333 321 2001
Website: Click here

Shrek Adventure Opening Times
Shrek Adventure opens at 10am.
Be there on time to avoid crowds. Early is best, as you'll miss the school groups and the sleepy tourists who don't get up till late.
Shrek Adventure stays open until 3pm to 5pm during school terms.
Please check the website for details of current closing hours.
During school holidays, Shrek is open from 10am to 5pm. (Subject to change.)

Shrek Adventure Tickets
Book your tickets here. (This is where you book time slot for Shrek adventure)
Shrek Adventure London Prices
Shrek Adventure Prices start from £29 for adults, and £23 for kids 3-15 years if you book online. This is a saving of 30% off the door rice.
Under 3's go FREE!
You can book a family ticket online for 2 adults and 2 kids for £94.00 (subject to change)
Shrek Adventure Offers
If you are travelling with a big group, it's worth doing a google search for these terms to see if there's any current Shrek Adventure deals available.
Shrek Adventure 50% off
Shreks Adventure discount
Your best bet to find Shrek Adventure 2 for 1 deals is through a Kelloggs promotion, National Rail with Days Out Guide, or a Cadbury's promotion.
But do check the full terms and conditions to make sure the voucher is still valid with the Shrek London tour and there aren't any exclusion dates.

Hot tip: Shrek Adventure Merlin Pass
The best and cheapest way to book tickets for Shrek's Adventure is through a Merlin's Pass.
A Merlin's Magical London pass includes one-time entry into these 5 popular London attractions.
Madame Tussauds London
SEA LIFE London
The London Dungeon
Shrek's Adventure! London, and
the Coca Cola London Eye
Buy this London combo pass and each entry is just £12 per attraction.
Cheap!
Book Now on Get your Guide: Merlin's Magical Pass for the Top 5 London Attractions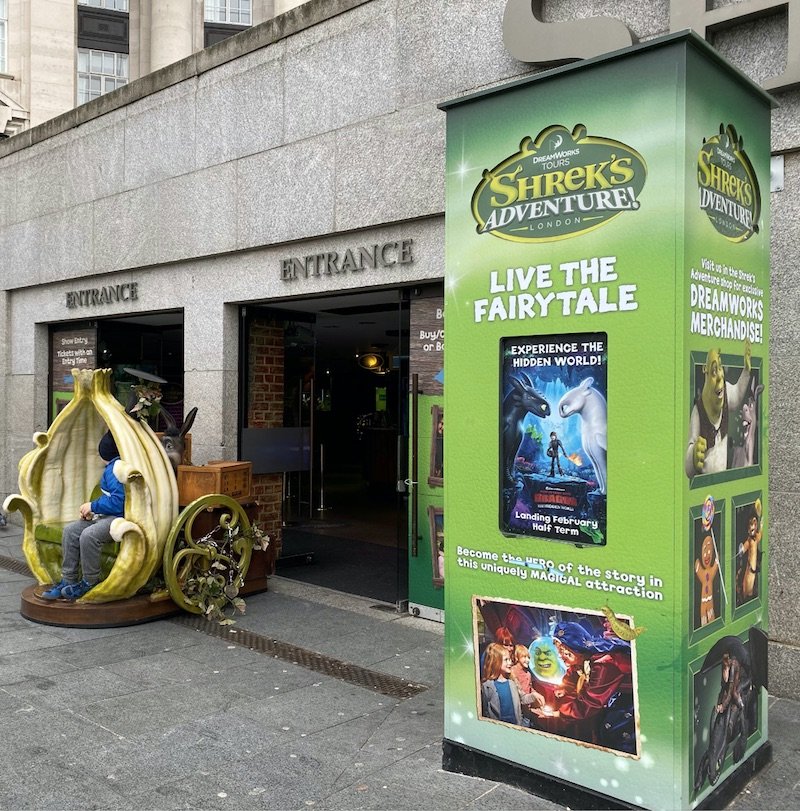 How to get to Shrek Adventure Tour
Where is Shrek Adventure ?
The Shrek London experience is located at Southbank on the River Thames, next to the London Eye, and about 100 metres from one of the best nature playgrounds in London, Jubilee Gardens.
Look out for the big Shreks Adventure sign on the building, plus two green advertising towers (pictured above) on the ground on either side of the entrance.
You can't miss it.
By Tube: Nearest tube station to Shrek Adventure is either Waterloo or Westminster. It's a 5 minute walk from both these stations.
By Train: The closest overground rail stations are Waterloo and Charing Cross. From Waterloo station, take exit six and follow the signposts to the London Eye.
By Bus: Any one of these buses will get you there – 211, 77 and 381. For latest bus updates please visit the TFL website here.
By Taxi: Get out at Belvedere road by Waterloo Station. All taxi drivers will know where to go.
By Car: We recommend arriving by public transport as driving in the city is hard work. If you do drive, you will need to pay the Congestion Charge. Park in one of the three car parks near Southbank.

FAQ about Shrek in London
No.1: Can I store my bags and coats at Shrek Adventure London?
Yes, for a fee. There is a free pram & stroller parking area.
No.2: How long does the Shrek Adventure take?
Allow 75 minutes, plus more to browse in the shop. 90 minutes will be plenty of time.
No.3: Where to eat near Shrek Adventure?
Try these places to eat in London with kids.
Pizza Express, Belvedere Road
Great British Fish and Chips, County Hall, Westminster Bridge Road
Giraffe cafe, behind the Royal Festival Hall
Nando's, 108 Stamford St, London
Wahaca in the Southbank centre
No.4: Is Shrek Disney?
Shrek is a 2001 American computer animated comedy film, adapted for the screen from the 1990 fairytale picture book by William Steig.
It's NOT a Disney film, although it was produced by Dreamworks Studio, which is partly owned by Jeffrey Katzenberg, the former chairmen of Walt Disney Studios from 1984 to 1994, along with Steven Spielberg and David Geffen.
Dreamworks did enter into an agreement with Walt Disney Studios Motion Pictures from 2009 to 2016 for Disney to distribute Dreamworks films.

Toadstool Rating: The Best of the Dreamworks Tours Shrek Adventure London Reviews
The outcome of these Shrek Adventure London reviews?
5 toadstools.
If you're travelling with kids from 5 -14, book now.
Even the teens will find it funny. Ignore their eye-rolls at being dragged along, and watch as they grab hold of their childhood again.

Looking for MORE FUN THINGS TO DO in London with Kids?
Click the blue links below for more London travel ideas: