INSIDE: Everything you need to know about where to buy chocolates in Japan.
Wondering where to buy Japanese chocolate, or more specifically, where to buy Japanese chocolates in Tokyo?
Here's your answer.
Japanese supermarkets should be your first port of call because that's the cheapest place to buy Japanese chocolate.
It's where you'll get Meiji chocolate bars, Ghana milk chocolate, and limited edition Royce baton cookies at the best prices.
(Here's a list of TOKYO supermarkets with addresses so you don't have to travel far to find the closest supermarket to your hotel or accommodation)
But there's so many other places to buy all the best Japan chocolate money can buy.
START HERE (BELOW).
Disclosure: This article contains affiliate links. If you make a purchase after clicking on one of these links, we may receive a small commission at NO extra cost to you. Main image: Bodo via Flickr CC BY-2.0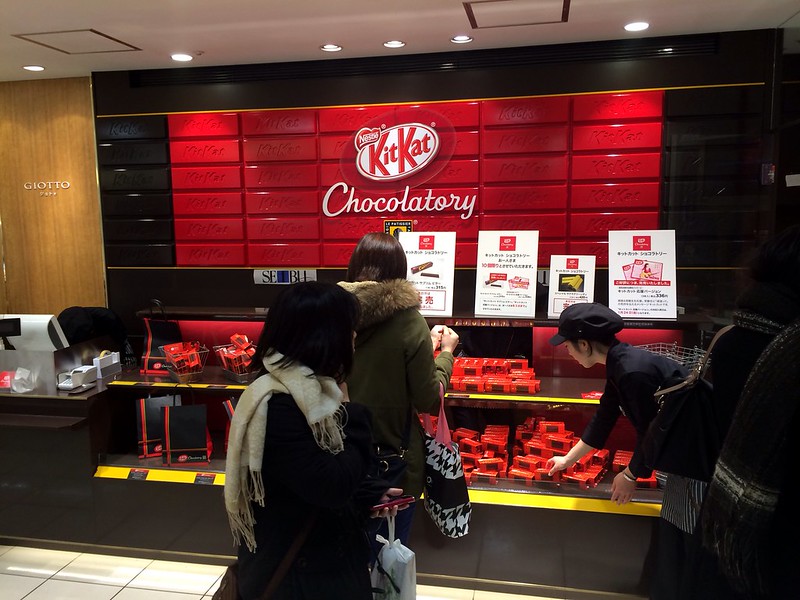 Image credit: Karl Baron via Flickr CC BY 2.0
THE INSIDE SCOOP: WHERE TO BUY CHOCOLATES IN JAPAN
Correct at time of publication on Roam the Gnome. Please check with venue for updates. We apologise in advance if there have been any changes we are unaware of. All prices in US dollars, unless otherwise stated
No.1: Kit Kat Chocolatory and Café
No visit to Japan would be complete without first stopping at the Kit Kat cafe in Tokyo.
Don't miss the main flagship store, the Ginza Kit Kat Chocolatory and Café.
Not only can you buy all the Japanese Kit Kats you can carry, you can order a personalised Kit Kat imprinted with your own message AND cute motifs. Plus, it's packaged and wrapped up beautifully as only the Japanese can do.
(This service is only available at the Ginza Kit Kat cafe)
The first floor is the shop, the second floor is the cafe.
Head upstairs and you can try the amazing I Love Fruits Parfait, the Petit Gateau cake or the Sublime Matcha Parfait.
(There's savory snacks too, but who really cares?)
The Ginza Main store location is 3-7-2 Ginza, Chuo-ku, Tokyo Oak Ginza Building 1st and 2nd floor.
Just in case you are not in the Ginza area, there are other Kit Kat stores around Tokyo too.
Find all the Kit Kat stores in Tokyo here.
RELATED: Fun Guide of What to Buy in a Japanese Grocery Store!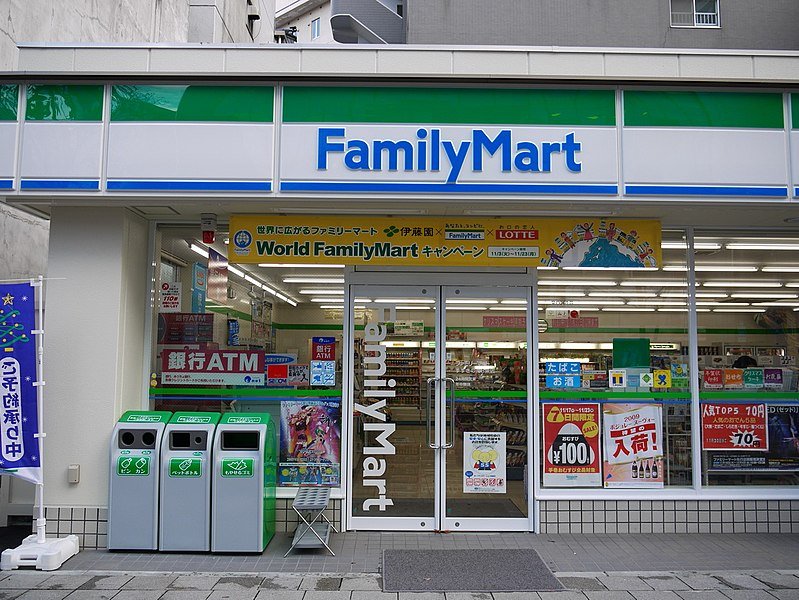 Image credit: Rafiq Mirza via Wikimedia Commons CC BY 2.0
No.2: Best Japanese Convenience Stores
A Japanese konbini mart in Japan is a one-stop shop for popular Japanese chocolate at affordable prices.
Don't miss them.
No.1: Family Mart Japan
Family Mart Japanese convenience store is our favorite.
For Japanese chocolate products, but also for the best Japanese treats including mochi!
Look out for all the best chocolate brands in Japan including:
Apollo Strawberry Chocolate
Meiji Almond chocolate
Japanese chocolate candy
Green tea kit kat
Kinoko No Yama chocolate biscuits
Takenoko No Sato Chocolate Snacks
LOTTE crunky chocolate (our no. 1)
DON'T MISS IT.
Take a sneak peek into Family Mart here and see what's on the menu each day!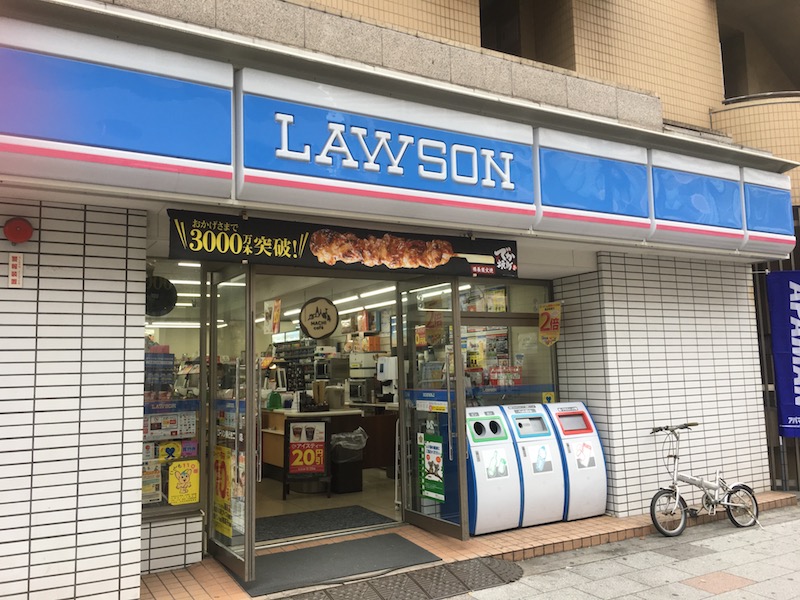 No.2: Lawson Konbini store
Lawson is another konbini store in Tokyo.
Similar to Family Mart, but with a slightly different range of Japanese chocolate snacks to buy so worth a look.
There's a Lawson convenience store at Narita Airport just before you head through customs, so spend the rest of your yen and stock up on delicious Japanese snacks and treats for family and friends.
No.3: 7-Eleven convenience store
A familiar brand, but not like you know it.
7-11 in Japan is way cooler than anywhere else. Pop in to shop.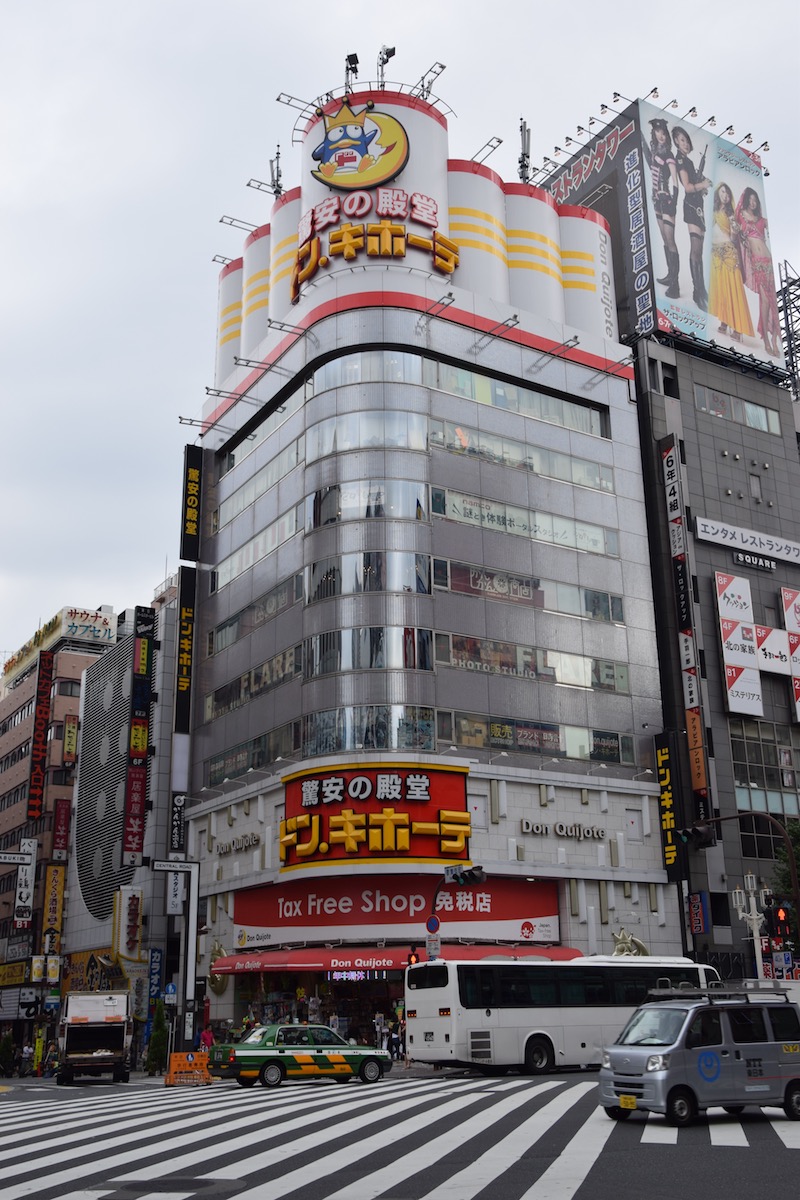 MORE OF THE BEST PLACES TO BUY JAPANESE CHOCOLATE IN TOKYO
No.1: Don Quijote
Don Quijote tax free shop (or Donki as it's also known) is a chain of discount variety stores in Tokyo with an excellent food section.
You'll find Japanese chocolate brands & snacks at bargain prices here.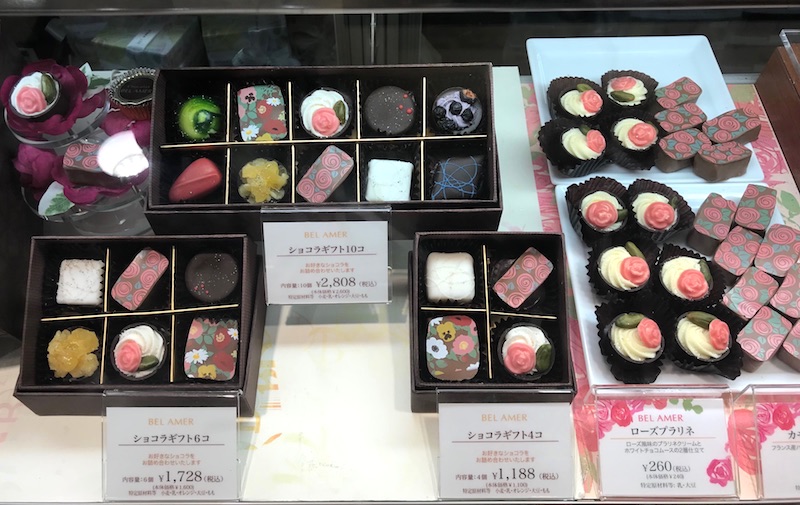 No.2: Depachika Tokyo
Depachika Department Store Food Halls can be found on the basement level of all good Japanese department stores.
One of the best sellers are their Depachika Japanese chocolate box souvenirs from Japan, an elegant gift for someone who is a little hard to buy for.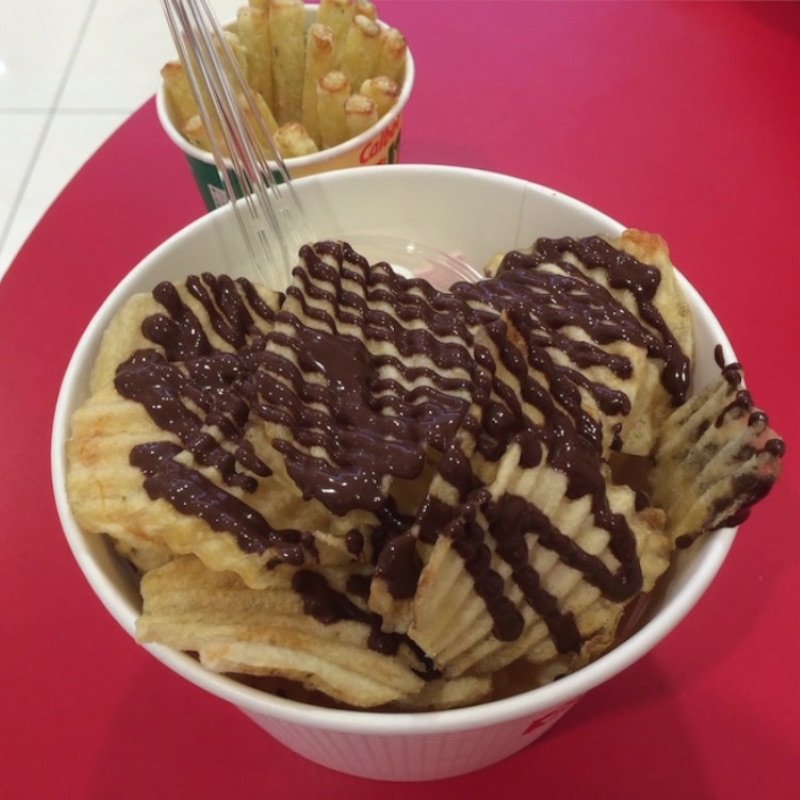 No.3: Tokyo Station Okashi Land
This is the famous Tokyo Station snacks shop where you can try all the Calbee treats, including this magnificent crisp, chocolate sauce and ice cream treat!
Plus pick up all the best character chocolates for gifts and souvenirs.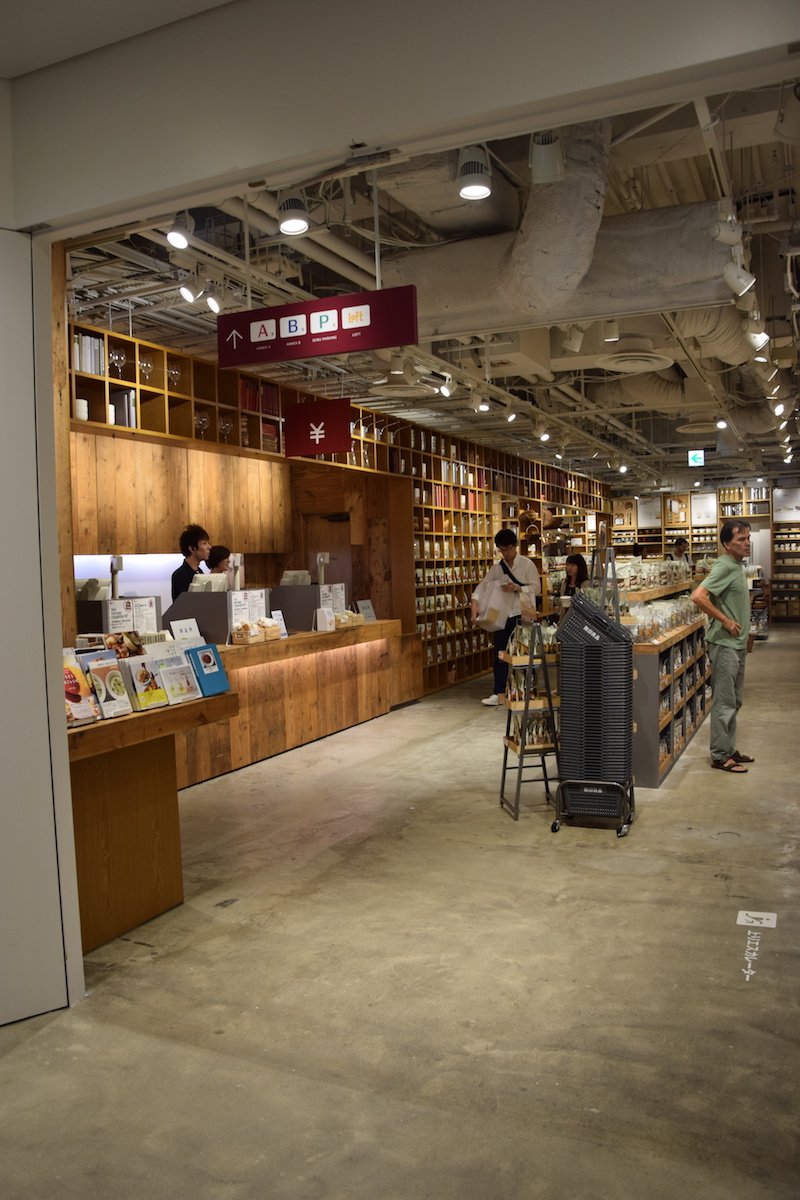 No.4: MUJI Chocolate & Grocery Store
Head to the MUJI Tokyo Shibuya grocery deli on the basement floor to find a selection of MUJI candy, chocolates and snacks.
Look out for the:
MUJI Milk Chocolate squares
the MUJI corn snack chocolate
the MUJI peanuts chocolate
the MUJI chocolate rice cracker
MUJI chocolate coated orange peel, and
the MUJI chocolate coated wheat puff.
Hot tip: Try the MUJI Strawberry Chocolate (it's a MUJI chocolate coated strawberry) or the MUJI White Chocolate covered strawberries 50g pack!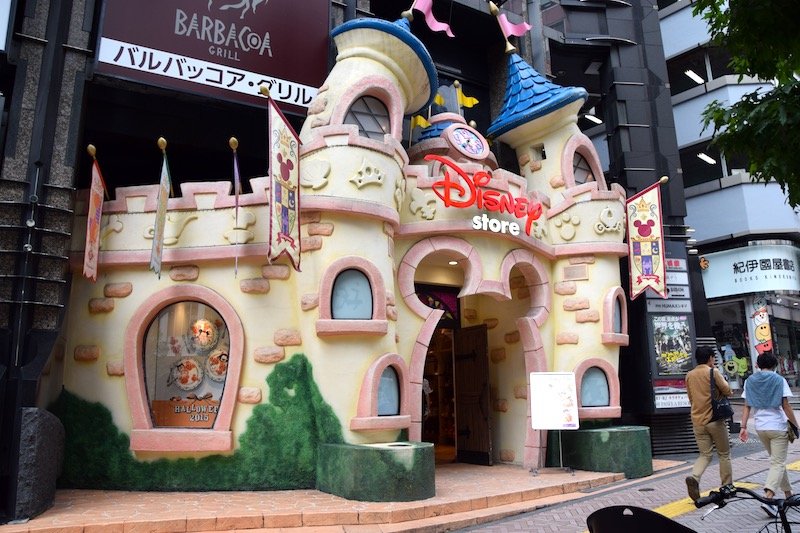 No.5: Disney Store in Shibuya
Yes!
You can even buy Disney Japanese snacks & famous Japanese chocolate in the Shibuya Disney Store.
Head to Humax Pavilion Shibuya Koen Dori, 20-15 Udagawa-cho, Shibuya-ku, Tokyo, 150-0042 – you'll spot it well before you reach it.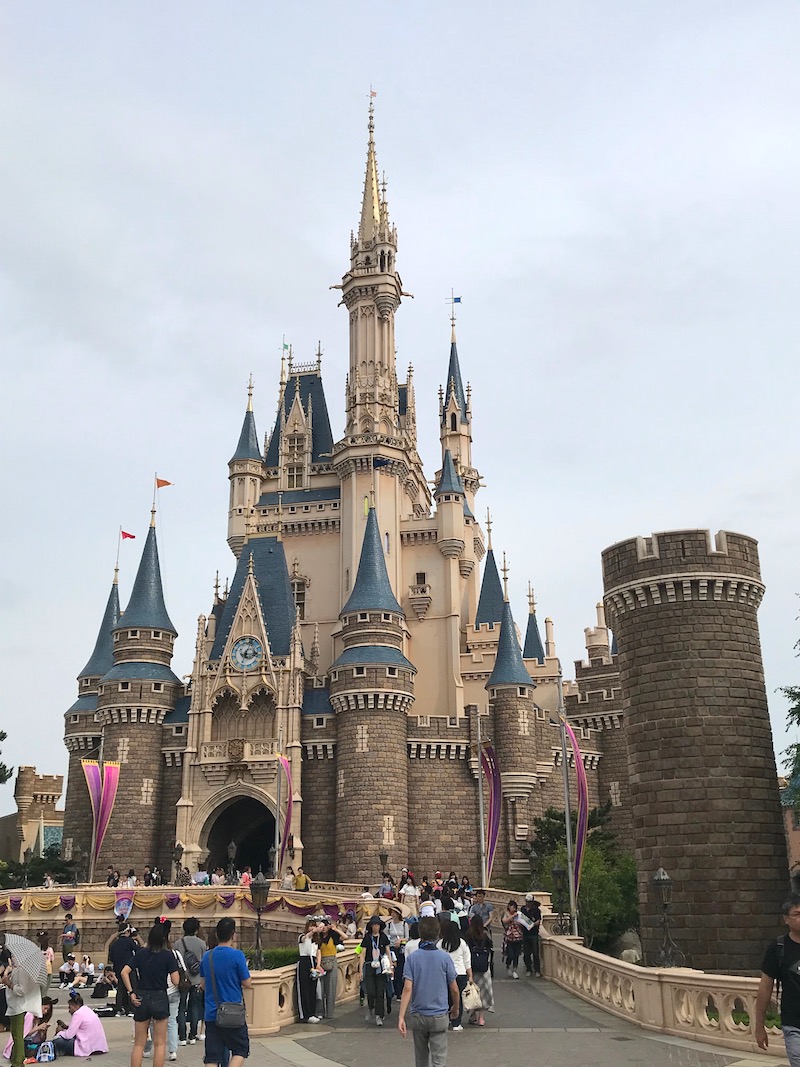 No.6: Tokyo Disneyland Chocolate & Tokyo Disney Sea Chocolate snacks
And don't forget to check out the Tokyo Disneyland Resort chocolate and snacks.
There's:
Duffy & Friends assorted chocolate sets
a Mickey Mouse & Friends assorted chocolate paper box set
Big Hero 6 chocolate
a box of Duffy & Friends baked chocolate crunch cookies (and other versions)
a Beauty and the Beast chocolate gift box in a book-shaped chocolate tin
chocolate cereal bars, and
a Sweet Disney Love Tokyo Disney Resort chocolate box too.
Look out for the Mickey Mouse waffle cookies, and the "I Played at Tokyo Disney Resort" chocolate collection!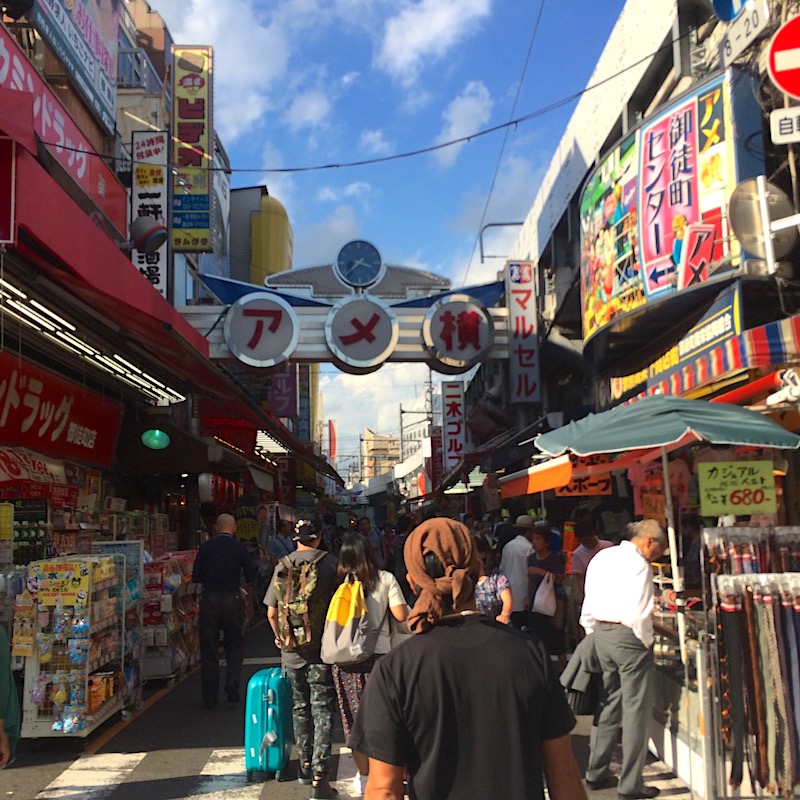 No.7: Ameya-Yokochō market in Ueno
Look for bargain priced chocolate gifts here.
You can also try some typical Japanese street foods such as:
kakigori ice
dorayaki pancakes
okonomiyaki savory pancakes
yakitori skewer sticks, and more.
Hot tip: Coco Japanese chocolate shop, Kyoto
Coco chocolate shop in the Marui building 1F in Kyoto sells handmade vegan chocolate bars.
The Coco Japan chocolate store also stocks:
raw chocolates and healthy bliss balls
Japanese dark chocolate covered nuts and fruits, plus
delicious hot chocolate powder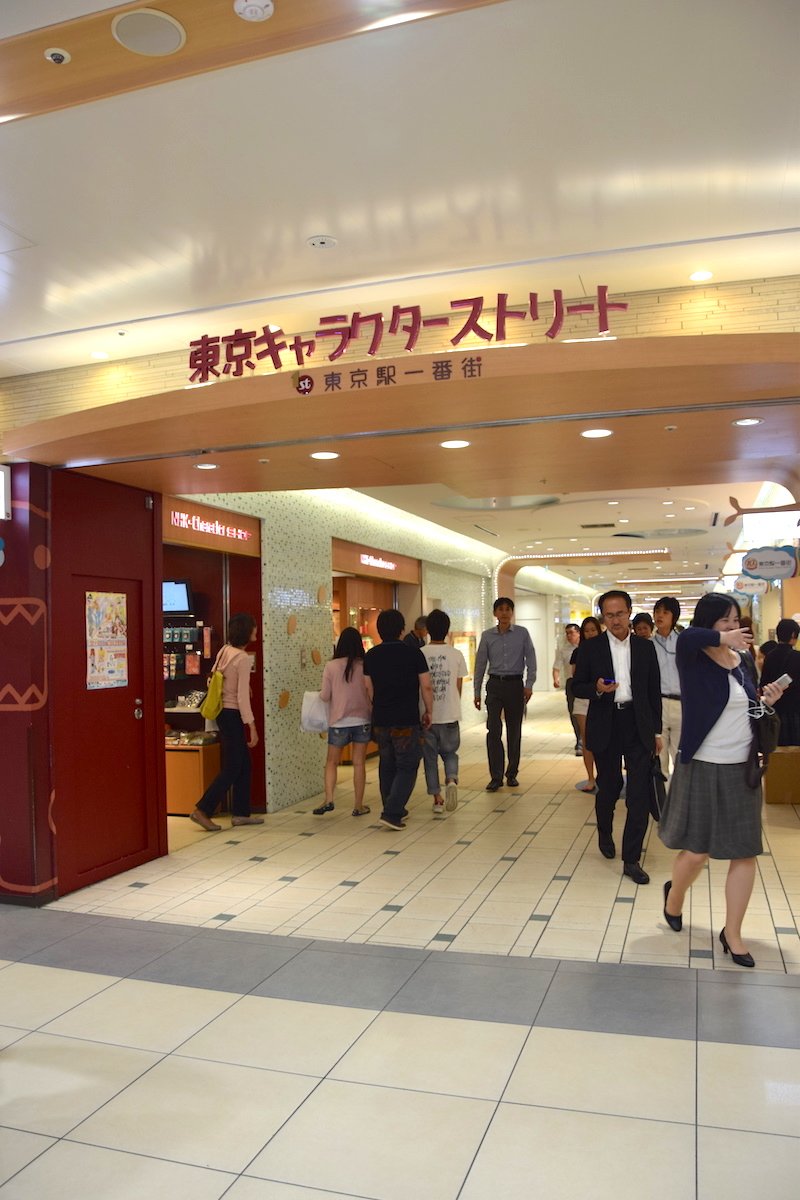 No.8: Japanese train stations
All the major Japanese train stations such as Tokyo Station, Shibuya Station and Shinjuku station have shops that sell all the well known Japanese chocolates brand treats.
Tokyo Station Character Street is one spot you shouldn't miss for:
"kawaii" cute sweet treats
Japanese biscuits with adorable character packaging
chocolates from Japan with cute Japanese chocolate packaging.
(This area is close to Okashi Land in Tokyo Station)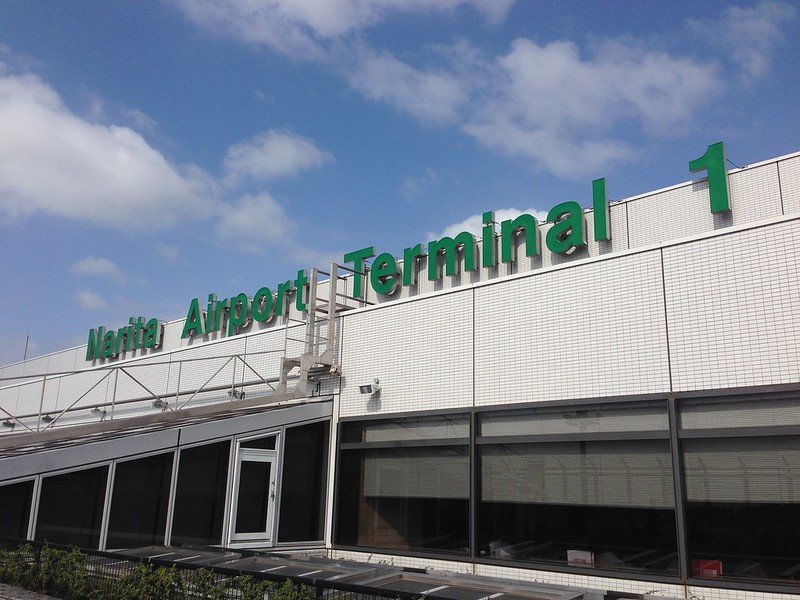 Image credit: Keyaki via Flickr CC BY SA 2.0
No.9: Tokyo Airports
Narita Airport and Haneda Airport duty free shops are another good option for:
Japanese kit kats (the famous chocolate in Japan)
Japanese Matcha chocolate
Royce chocolate bars & Royce Nama chocolate, and
more of the popular or famous Japanese chocolate brands.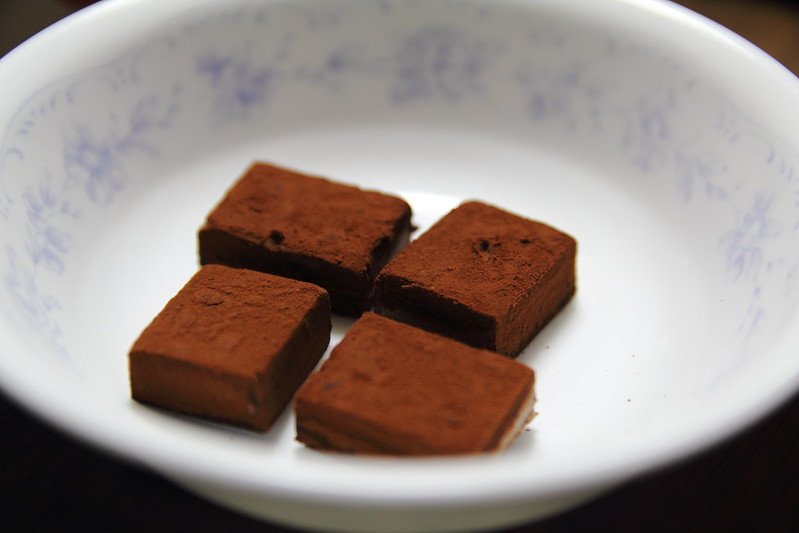 Image credit: T-Mizo via Flickr CC BY-2.0
It's where you'll find the expensive chocolate in Japan at duty-free prices!
(NB: It's not easy to find Royce chocolate in Japan so the airport is a good bet)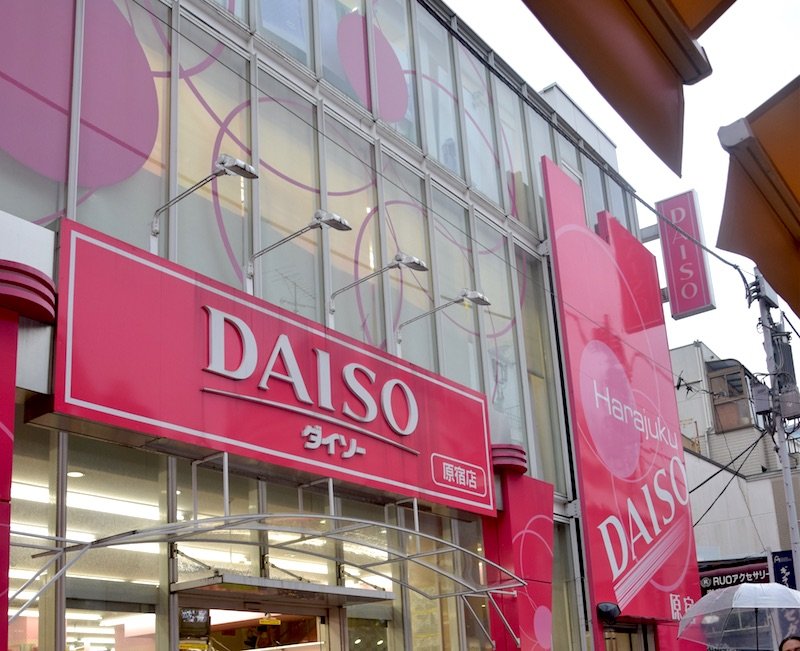 WHERE TO BUY CHEAP CHOCOLATES IN JAPAN?
Try a 100 yen store in Japan.
Not all 100 yen stores sell food, but even if they don't, enjoy the riches (and treasures!) you'll find in these havens of Japanese goods.
No.10: 100 Yen Stores in Tokyo (see the links below).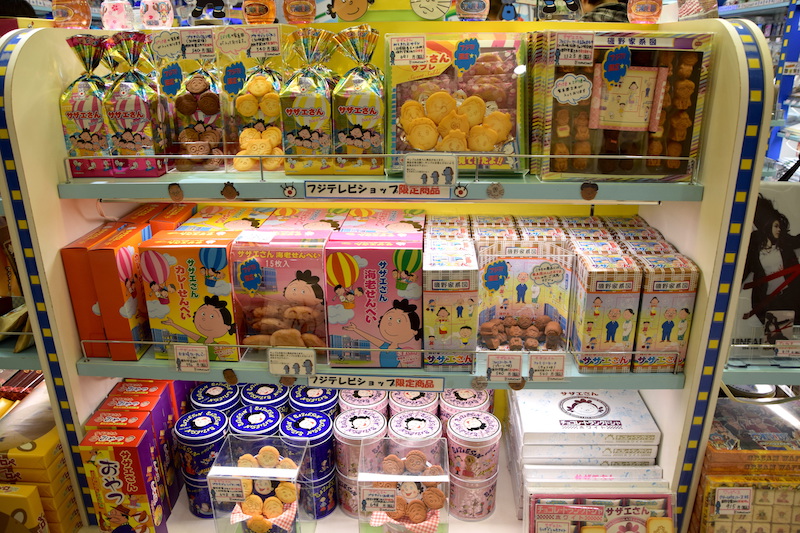 More Japanese Food ideas for you!
Click the links in blue below for more Tokyo shopping ideas.