INSIDE: Everything you need to know about finding the best playgrounds in Sydney
Looking for the best Sydney playgrounds for kids?
Sydney's best playgrounds are innovative, and challenging for the kids.
Some of them have award winning designs, and are bright and colourful pieces of art as much as they are a play space for children.
Check out Top 10 Sydney Playgrounds in our guide below, including a couple of Sydney water playgrounds.
Disclosure: This article contains affiliate links. If you make a purchase after clicking on one of these links, we may receive a small commission at NO extra cost to you.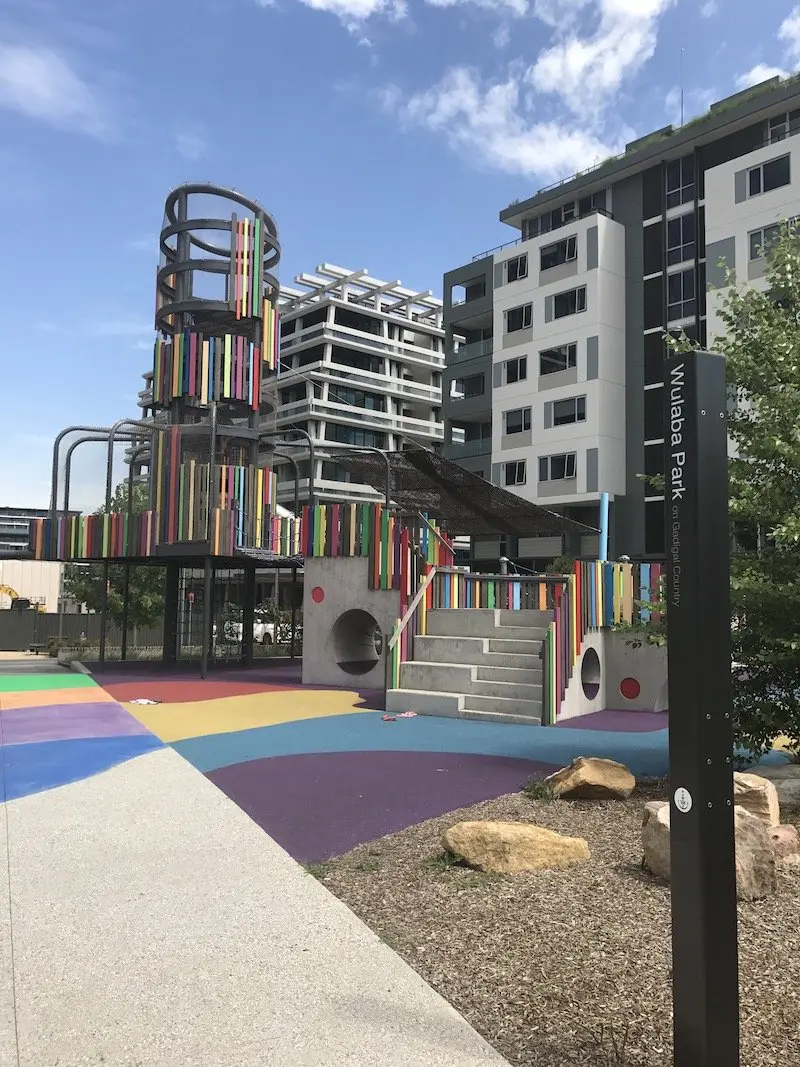 THE INSIDE SCOOP: TOP 10 PLAYGROUNDS IN SYDNEY (AND MORE!)
Correct at time of publication on Roam the Gnome. Please check with venue for updates. We apologise in advance if there have been any changes we are unaware of. All prices in AUD dollars, unless otherwise stated
Here are the top 10 Sydney playgrounds, in no particular order.
Visit as many as you can! Kids love them.
No.1: Wulaba Playground Waterloo
First on our list of fun Sydney playgrounds is Wulaba Park playground in Waterloo Sydney
This is a hidden gem, tucked away in the centre of a new-ish housing development.
Brightly coloured, and with ALL the facilities you need close by, including:
toilets
picnic tables and
bbqs
This Sydney park has something for everyone.
It's location means it does get hot, as there's few cooling breezes.
Read our guide here for more photos and all the details, including how to get there.
Hot tip: BYO hats, sunscreen and lots of cold water.
---
RELATED: Ultimate Family Guide of Best Things to do in Sydney with Kids
No.2: Prince Alfred Park playground
Prince Alfred playground has ADORABLE play equipment for toddlers including an elephant and a hot air balloon.
There's a compelling and quite unbelievable story behind the design, about an event that happened at the turn of the century – read all about it here.
As well as the Prince Alfred toddler playground, around the corner, find HEAPS MORE playground equipment and sports courts for kids of all ages, including this epic slippery dip.
Find details of how to get to these parks for kids in Sydney, address etc in the link above.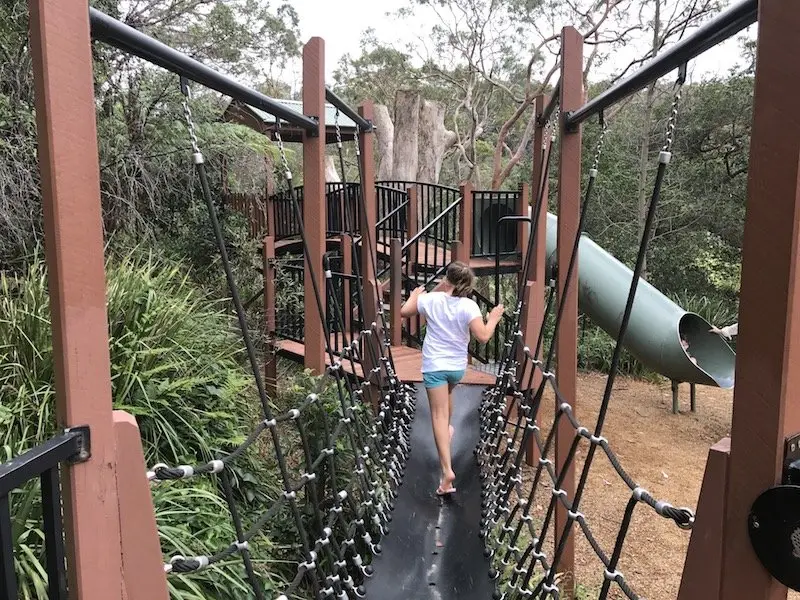 No.3: Tunks Park playground
Tunks Park playground is another hidden secret in Sydney
If you and your family like to go bushwalking with kids in Sydney, this is a must do.
There's two popular bushwalking tracks suitable for kids nearby.
It's hard to believe that this playground surrounded by bushland is so close to the city.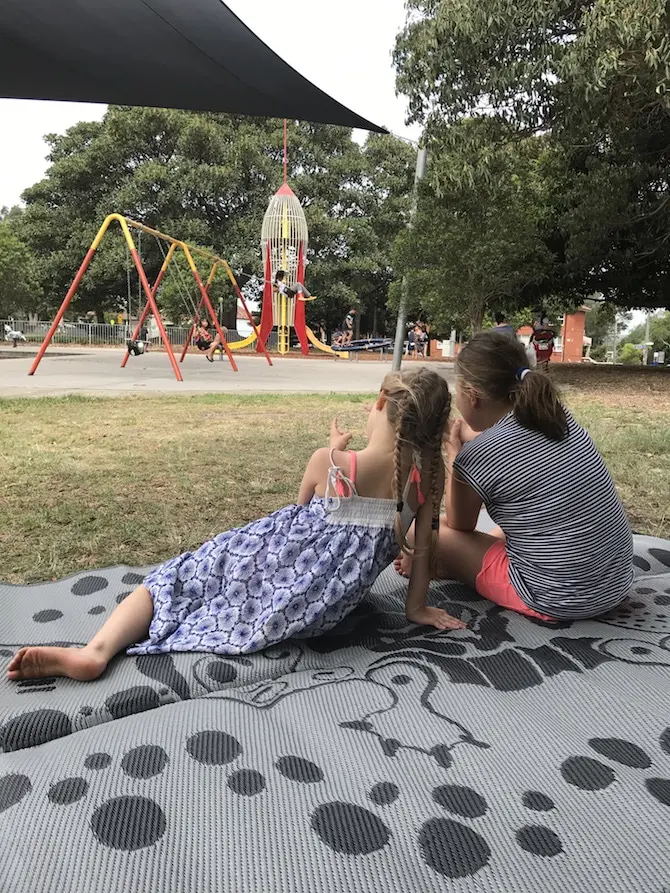 No.4: Enmore Park Sydney
Enmore Park Marrickville is THE playground in Sydney for wannabe astronauts!
There's not many of these retro style rocket ship playgrounds left anywhere in Australia, so jump on it.
Bring swimmers and towels for a dip in the Annette Kellerman pool next door too.
(There's a cute toddler water playground)
Find all the details here – address, how to get there, parking and more.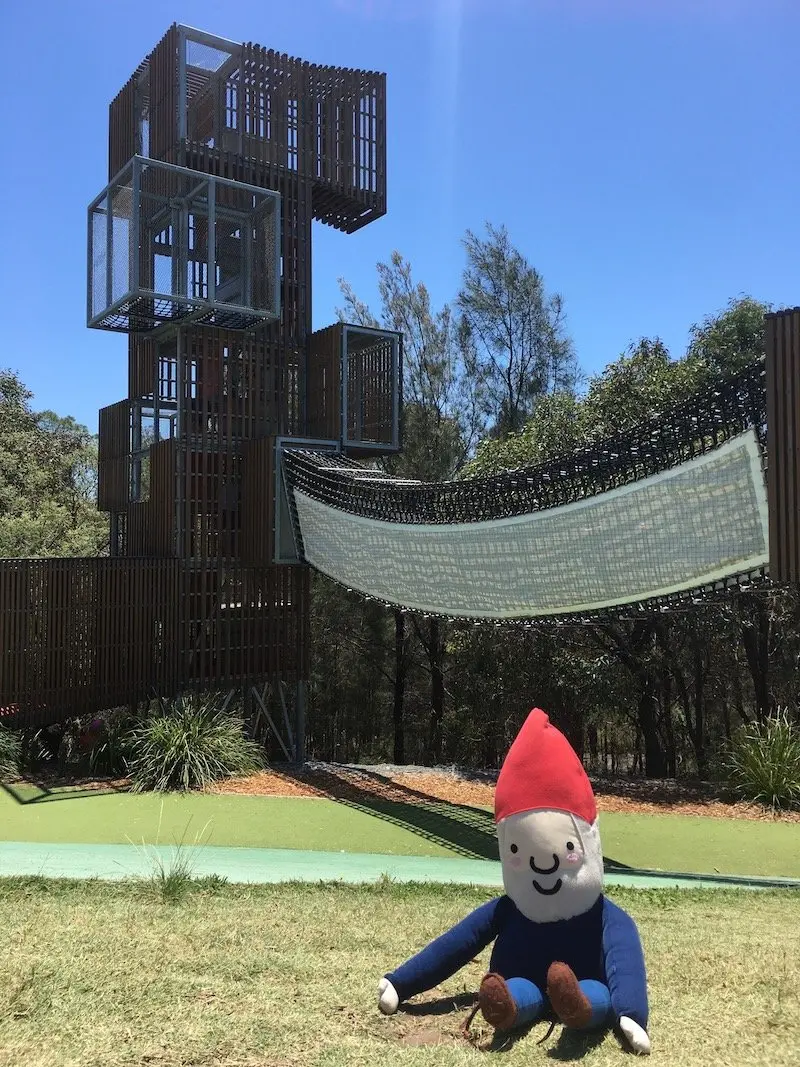 No.5: Blaxland Riverside Park Sydney NSW
Do not miss this outrageously good Sydney park, but do not go in the heat of the day.
Visit morning or mid afternoon to avoid the heat of the blazing sun, as there's little shade here and the slides sizzle!
And the kids will get hot from all the climbing of:
the timber fort
the giant nets
the boulder walls
the parkour swings and climbing frames
Hot tip: Bring swimmers, towels and a change of clothes so kids can enjoy the giant sized water playground here too.
Find all the details on our review here (including LOTS of photos so you can see the fun for yourself!)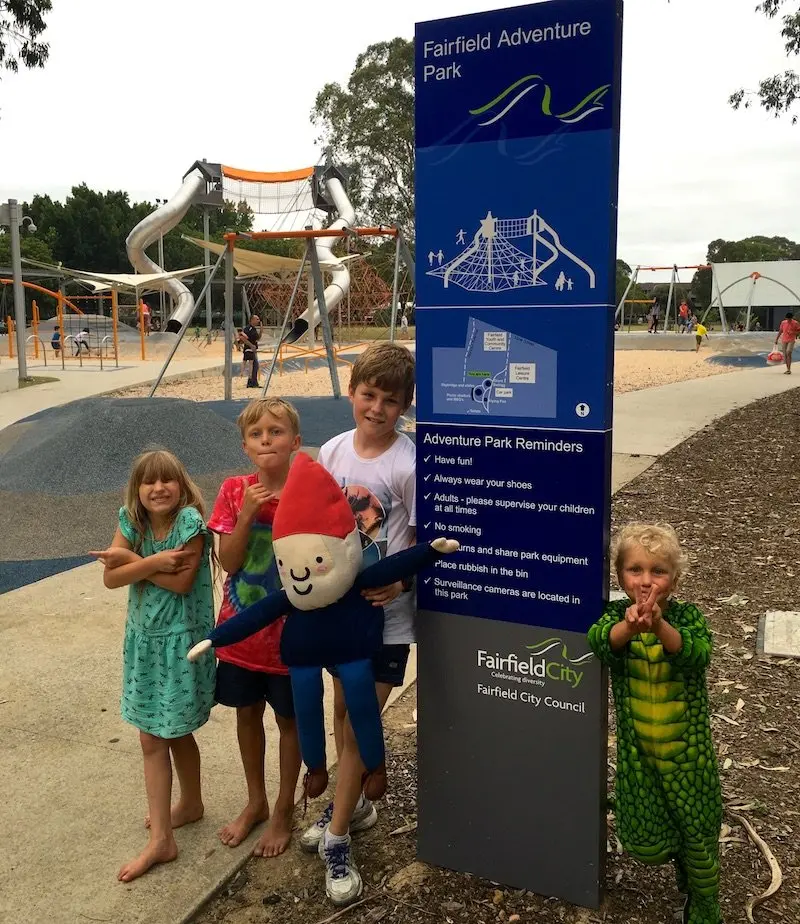 No.6: Fairfield Adventure Park
The GIANT slide structure at the centre of this Sydney playground is the drawcard but there's plenty more stuff to do too.
Including:
slippery slides
sand diggers
climbing mounds
Hot tip: The Fairfield Park Obstacle Course is at the same location. Don't miss it.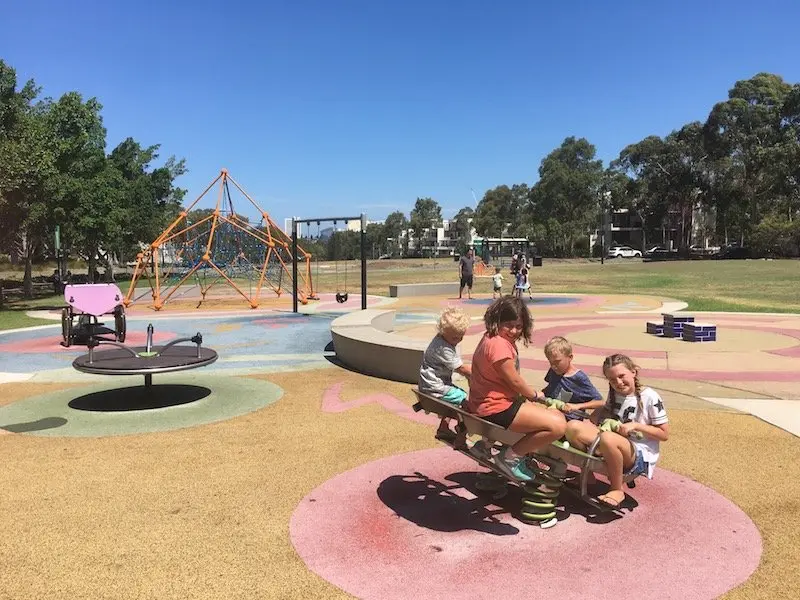 No.7: Pierre de Coubertin Park
This cute little playground is a surprise find, but worth your time if you are in the vicinity.
Especially as it's one of the less crowded parks in Sydney.
Check it out.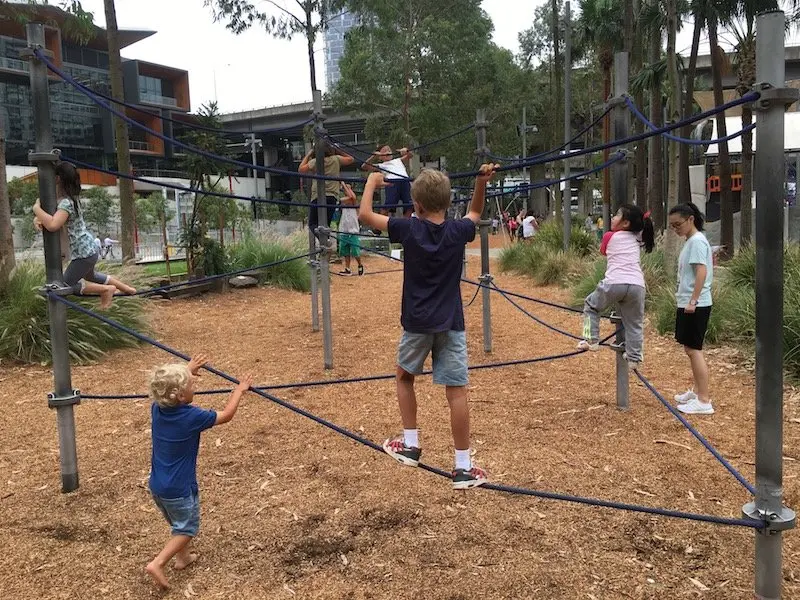 No.8: Darling Harbour Playground Sydney CBD
Darling Harbour children's playground in Darling Quarter near Chinatown is the best Sydney CBD playground for kids!
Be warned that this central Sydney playground gets very, very, very busy from around 10am until around 2.30pm, and it's not fenced so it can be a stressful playground for parents to visit with wild toddlers who go in random directions.
Plan your visit to Tumbalong Park playground for early morning, or from mid afternoon to miss the bulk of the crowds.
There's also a cool looking concrete water park here, which is great fun for the kids.
Don't think you can visit this city playground, and keep them dry for activities later in the day.
It is IMPOSSIBLE.
Hot tip: Bring a change of clothes and a large towel so kids can play in the water playground.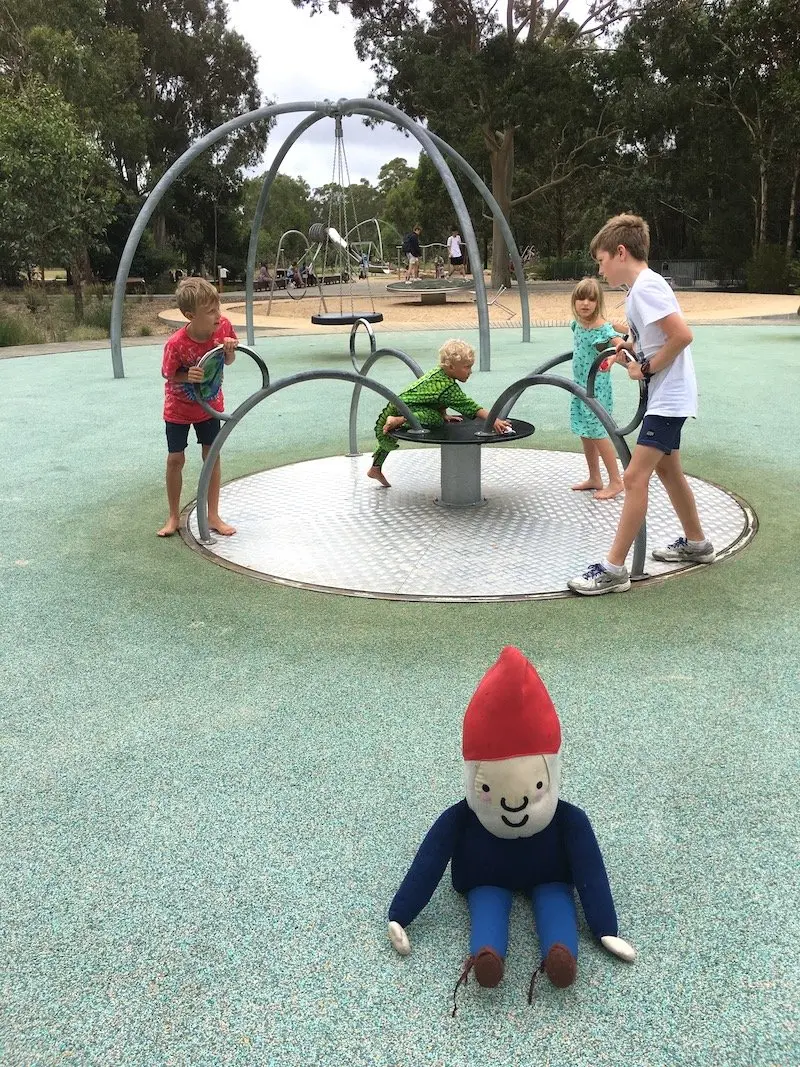 No.9: Domain Creek Playground Parramatta
A delightful find on the outskirts of Sydney, Domain Creek playground in Westmead is set over a huge area in Parramatta Park, the biggest of the parks in Parramatta.
There's bike paths, play areas, an outdoor theatre, a flying fox, and huge slides all set within gorgeous Sydney bushland.
Find it at Park Ave & Park Parade, Westmead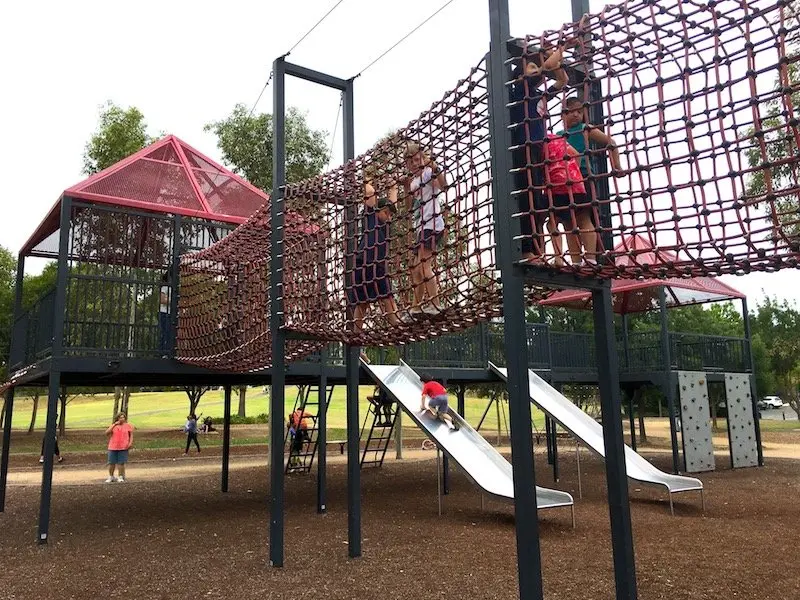 No.10: Holroyd Gardens Merrylands
This popular Merrylands park for weddings and gatherings has a giant size fort with slides.
Holroyd playground in Merrylands is suitable for both big and little kids, as there's a separate toddler playground too.
Find it at Pitt St &, Walpole St, Merrylands.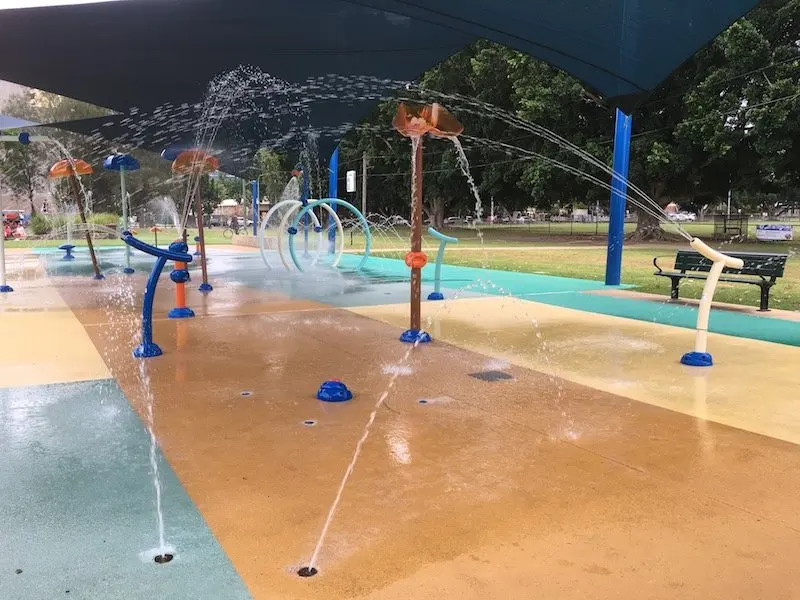 BEST SYDNEY WATER PLAYGROUNDS
No.1: James Ruse Reserve Water Playground
One of the best water activities Sydney has to offer for kids young and old.
This Sydney water playground is very popular in the summer months, so go early.
Find a cool kids playground area next to the water zone too.
There's limited parking nearby.
Go early.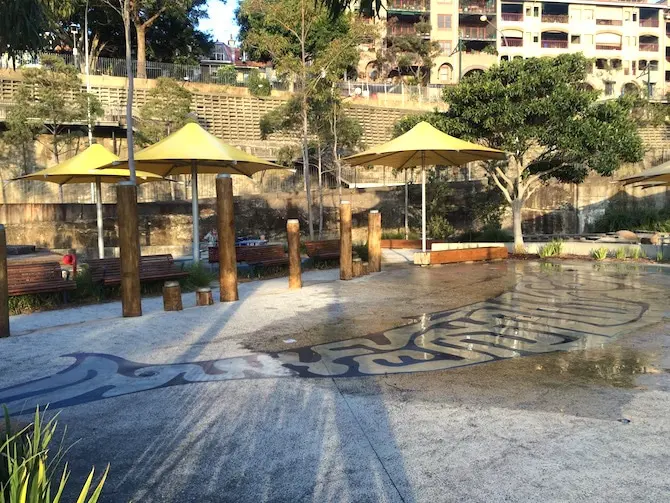 No.2: Pirrama Park playground
Pirrama Park playground has some of Sydney's best views of the water, so if you can't quite afford property around the area, at least you can pretend you are a resident for a while.
This Sydney playground is just up the road from the Star Casino.
A hidden treasure, not far from the CBD, it has a GIANT sand pit water course.
BYO sand pit toys – buckets, spades, etc.
Bring your towels, swimmers and a change of clothes – one of Sydney's best FREE splash pads can be found here too.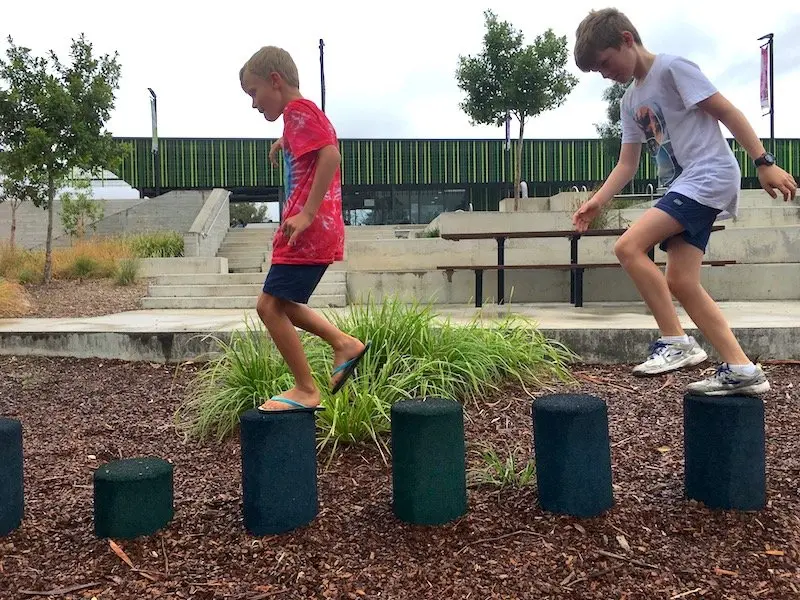 No.3: Francis Park Blacktown
Francis Park is one of the best playgrounds in Western Sydney, next to the Groundskeeper Cafe.
Check out the cleverly designed water play area, where kids can spend hours moving water from place to place via an elaborate system of troughs, trays, and concrete mandalas.
On hot days, this is the spot for kids to run through and around the water sprinklers until they are soaking wet.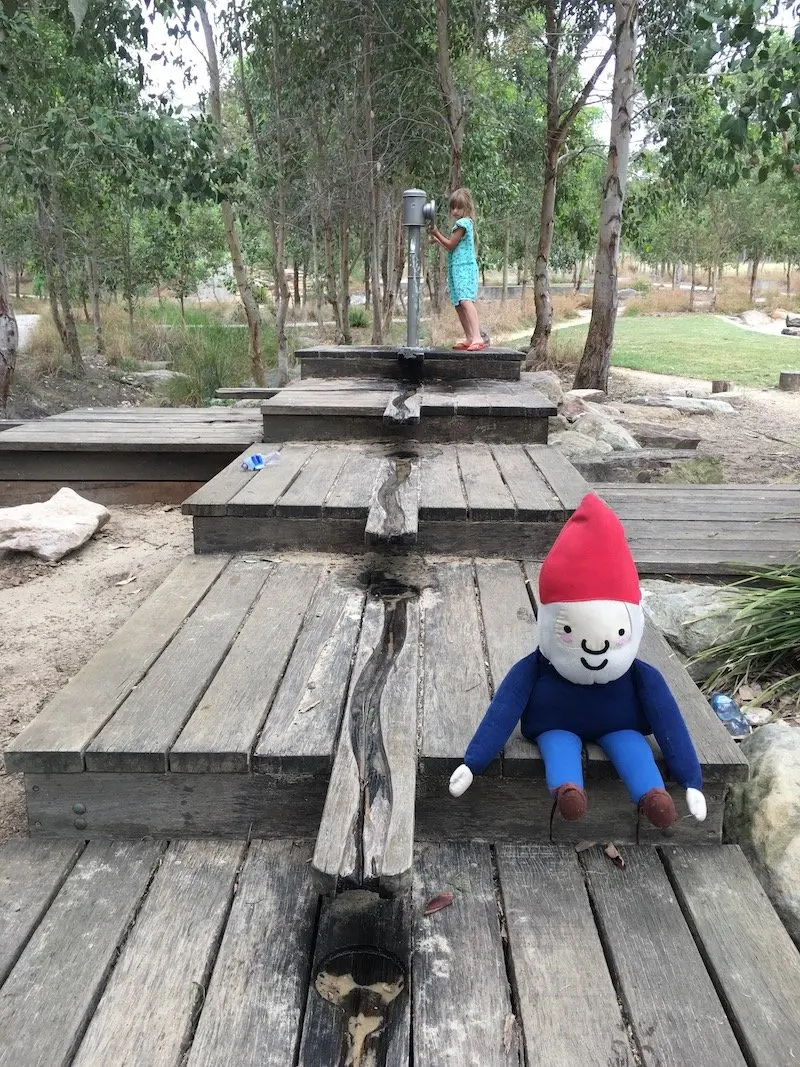 BEST PARKS IN SYDNEY FOR KIDS WHO LOVE NATURE PLAY
No.1: Lizard Log playground at Lizard Log park
Looking for nature playgrounds in Sydney?
Lizard Log nature playground in Sydney is the answer.
It's definitely a playground with a difference, so worth the visit if you are bored with the norm.
Think timber logs for climbing, fallen tree trunks, a GIANT sandpit play space, and lots of green space, perfect for imaginative play.
Plus picnic areas, and off street parking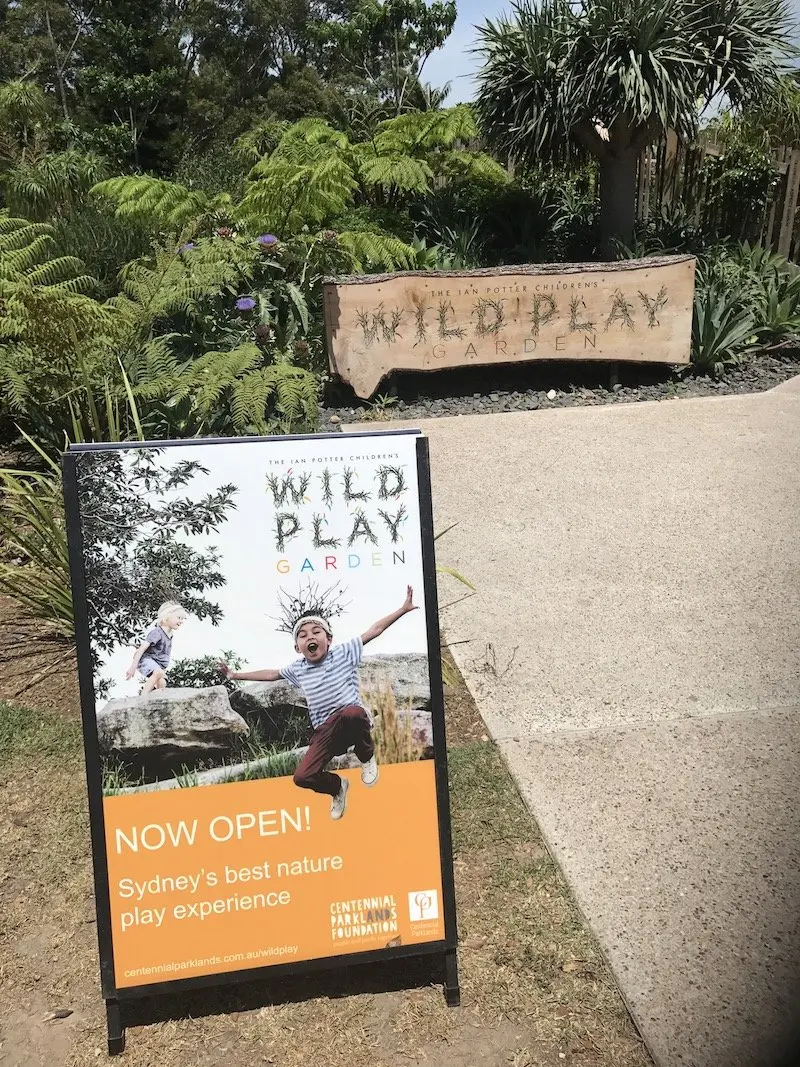 No.2: Wild Play Centennial Park
This award winning design of this playground makes it a MUST DO.
The fact that the teepees, cubby houses, and knotted rope bridge walkways are intertwined within a nature play bushland is icing on the cake.
Bring swimmers and towels, as it has a top water play area too!
Hot tip: There's another Ian Potter Children's Garden in Melbourne central!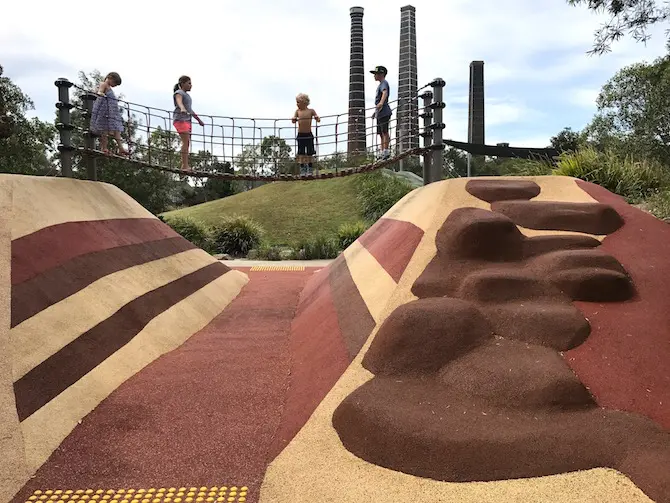 No.3: Sydney Park playground
Enjoy a day out at Sydney Park playground near the heritage chimney stacks.
It's a nature scape where the playground is surrounded by natural landscapes, and designed with the colours of the history of this place in mind.
It's one of our favourites, and one we have on our repeat visit list.
(Plus, there's a bike track for kids too – read all about it below)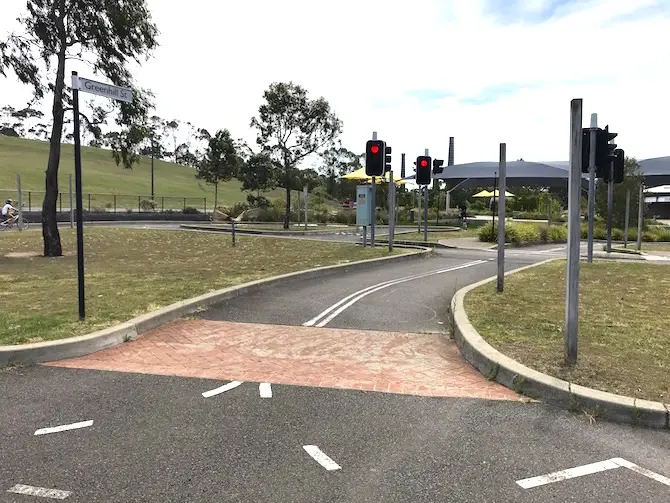 BEST PLAYGROUNDS IN SYDNEY WITH BIKE TRACKS
No.1: Sydney Park Bike Track for kids
Sydney Park bicycle track is next door to Sydney Park playground.
Kids can ride around the purpose built riding track, learning how to brake at lights and stop signs, and navigate 'traffic' too.
BYO bikes and helmets.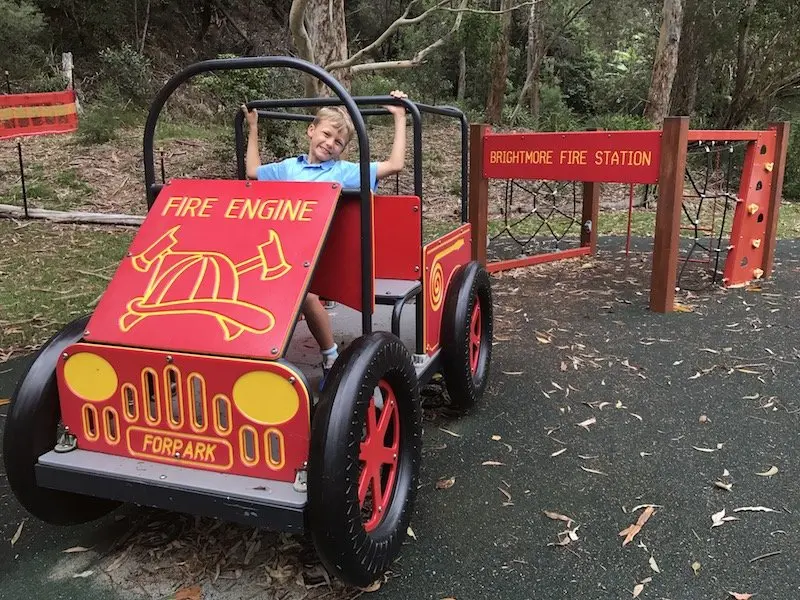 No.2: Brightmore Reserve Bike Track for kids
Brightmore Reserve bicycle track is another top Sydney find.
Not only is it a bike track, there's plenty of scope for imaginative play too.
AND giant trees to climb when they've had enough bike riding!
Not far from Tunks Park playground, so combine the two for an adventurous day out.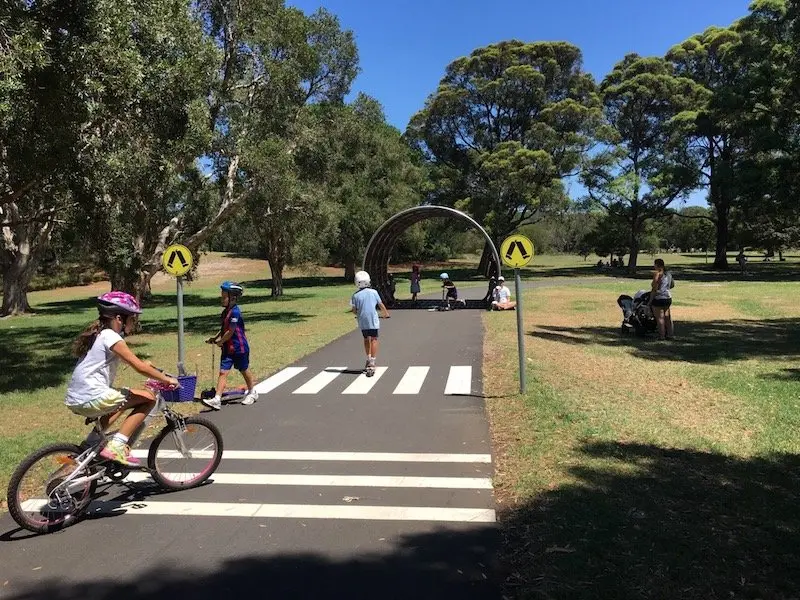 No.3: Centennial Park Playground
If your kids love to ride AND play, this is the spot.
Natural bushland surrounds, a popular bike track, AND shaded playgrounds in the heart of the city make this a great day out.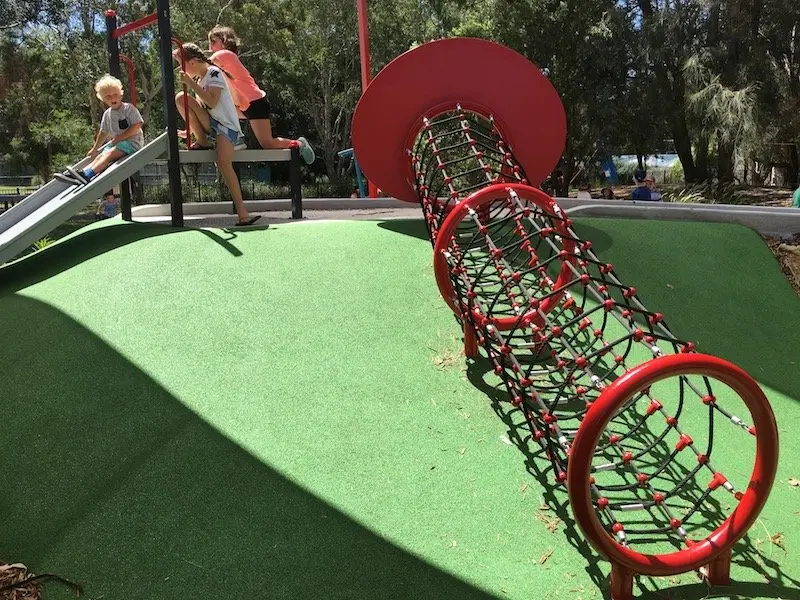 MORE OF THE BEST SYDNEY PLAYGROUNDS FOR ALL ABILITIES
No.1: Livvi's Place Playground
This all-abilities playground is fully fenced, with lots of different play spaces within the grounds, over an undulating area so it's visually appealing too.
Flat concrete pathways meander, so it's accessible for all.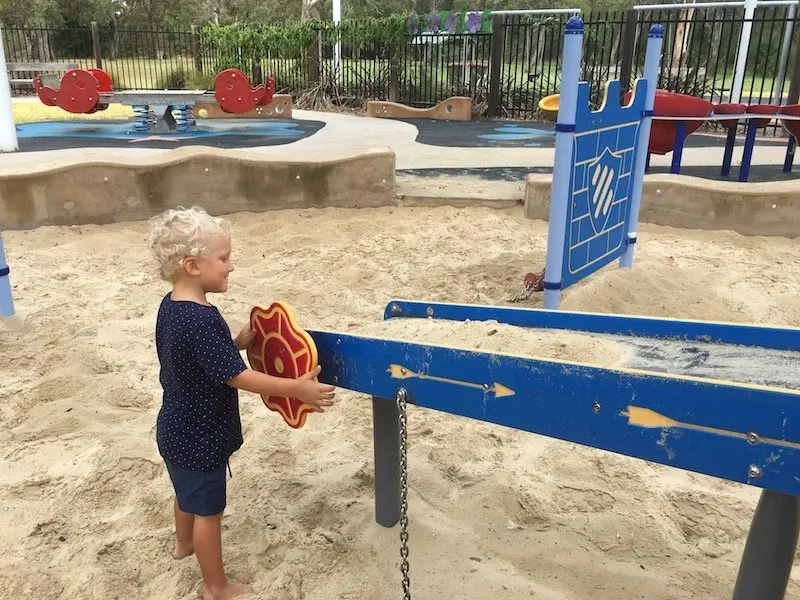 No.2: Saltwater Creek Reserve and Liberty Playground
A lovely shaded Liberty playground for all abilities with:
sandpit games
a seesaw
a small fort with slide
musical instruments, and more.
Big kids love the giant dome climbing structure, and the pump track next to it too.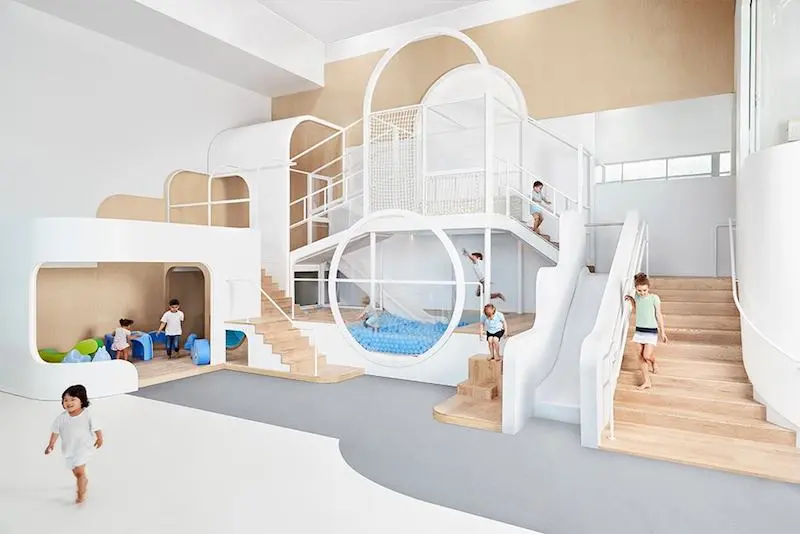 Image credit: Nubo Sydney facebook
BEST INDOOR PLAYGROUND SYDNEY?
It's a tie between these two.
No.1: Nubo Indoor Playground Sydney
Nubo in Alexandria is perfect for modern mums who love a natural timber and white aesthetic!
And believe in letting children lead their own play.
It's a place after my heart.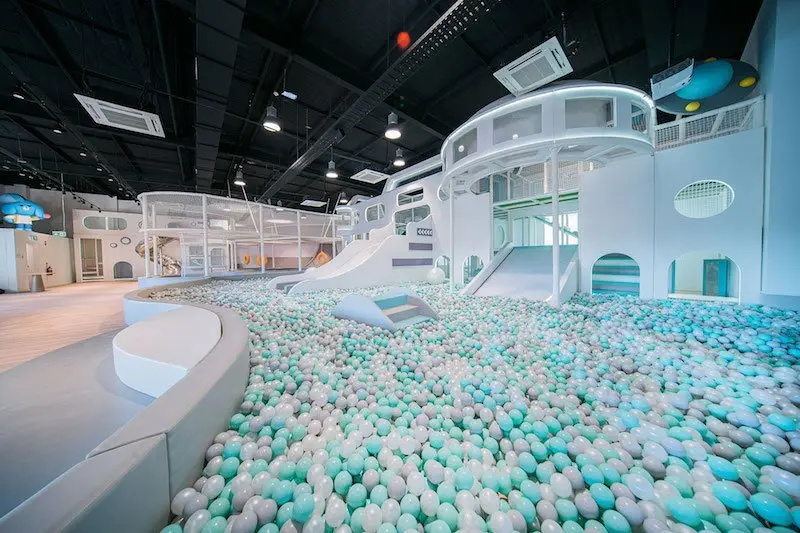 Image credit: Planet Mino Sydney facebook
No.2: Planet Mino Kids Club
But the most instagrammable of all is PLANET MINO KIDS CLUB at 10 Smith Street Chatswood.
Seriously.
Check out this adventure playground here.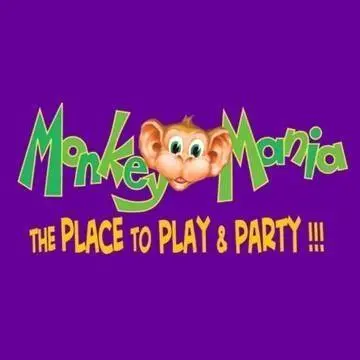 MORE OF THE BEST INDOOR PLAYGROUNDS SYDNEY ?
Here's a few more good indoor playgrounds in Sydney to try too.
Monkey Mania Moore Park
Little Dynamo's Alexandria
Inflatable World Castle Hill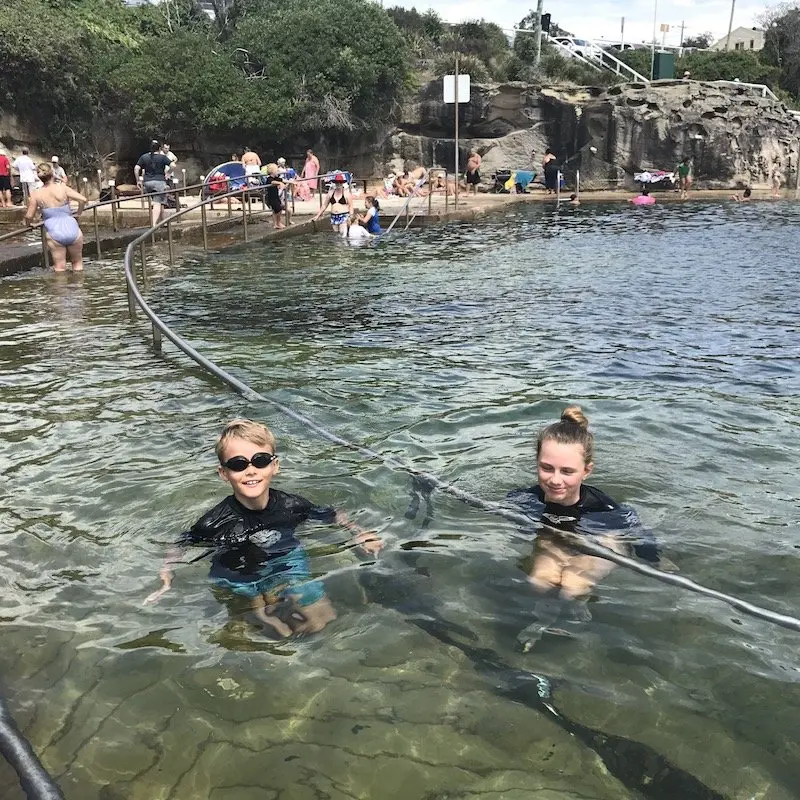 MORE of the Best Things to do in Sydney with kids (Family friendly)
Click the blue links below for Sydney tips