INSIDE: Everything you need to know about Blaxland Riverside Park playground Sydney.
Blaxland Riverside Park Playground near Sydney Olympic Park is one of Sydney's BEST playgrounds for kids.
There's SO much to do, and the playground is spread over such a huge area (three hectares!) that it never feels busy or overwhelmed by crowds.
Find out more and check out all the pics of this cool Sydney playground below.
Disclosure: This article contains affiliate links. If you make a purchase after clicking on one of these links, we may receive a small commission at NO extra cost to you.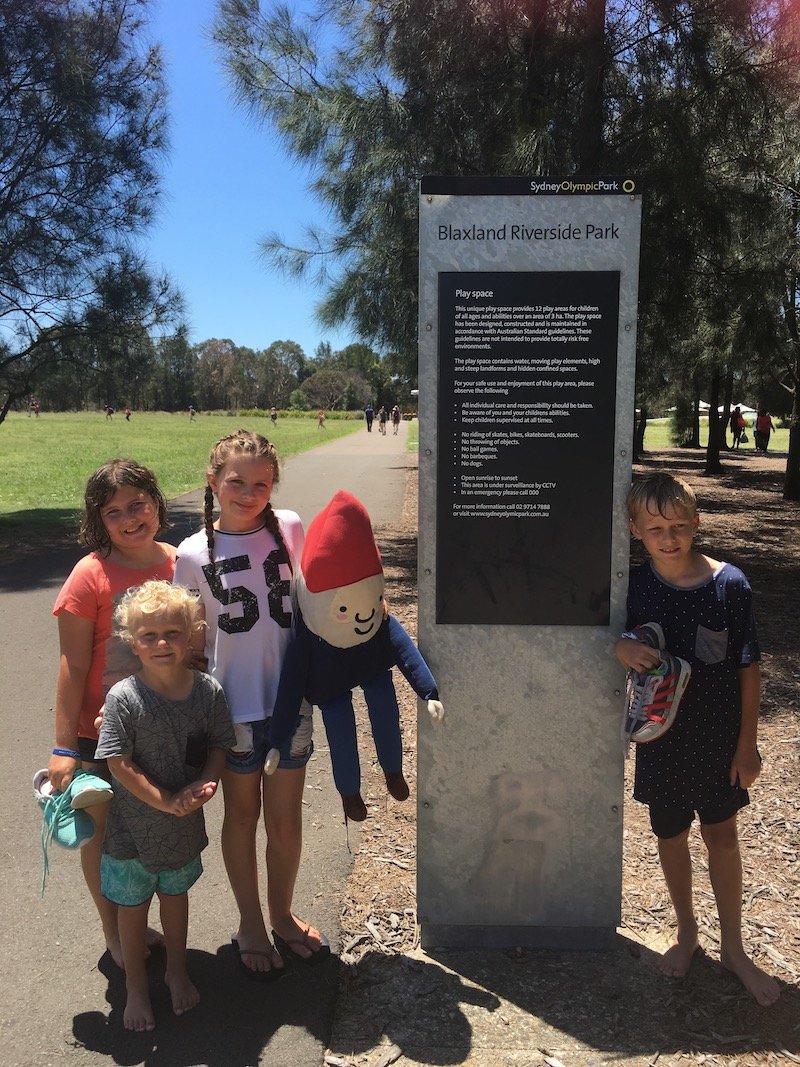 Guide to Blaxland Riverside Park Playground
Upon arriving and finding a park, you'll see this sign.
Follow the pathway towards the park.
It's a bit of a hike, so it's wise to bring a stroller or one of those wheeled wagons to carry the younger kids and any excess baggage!
The Blaxland Riverside playground is spread wide apart, with different sections.
RELATED: The BIG Guide to the Best Sydney Playgrounds Round Up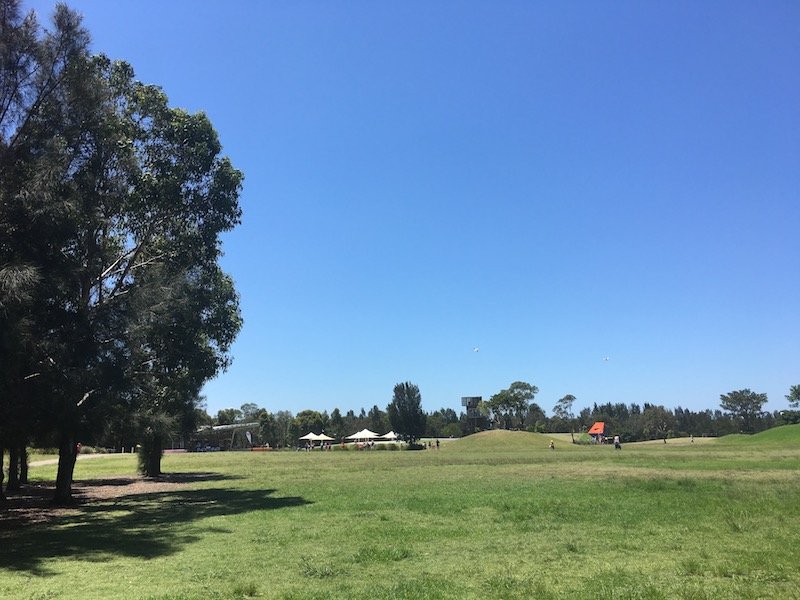 View from the carpark
To the left, as you wander in, you'll see a big grassy mound.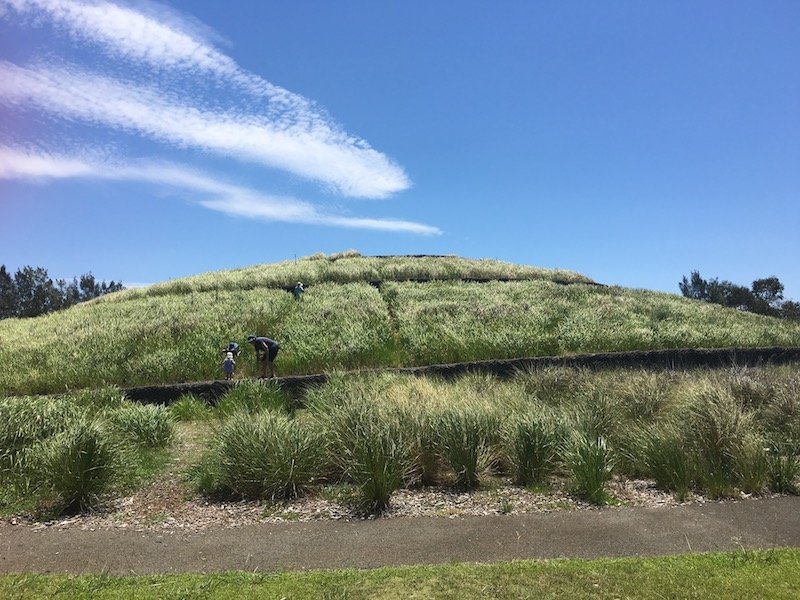 No.1: Sydney Olympic Park mandala spiral
The kids loved running up this spiral mandala to the top, and back down again.
---
RELATED: Big List of Fun Things to do in Sydney with kids
No.2: Climbing Treehouse Fort
Next up, you'll spy this giant climbing net under shade sails.
The sails are necessary.
The heat blazes down.
Do bring sun-safe shirts, wide brimmed hats, and lots of sunscreen.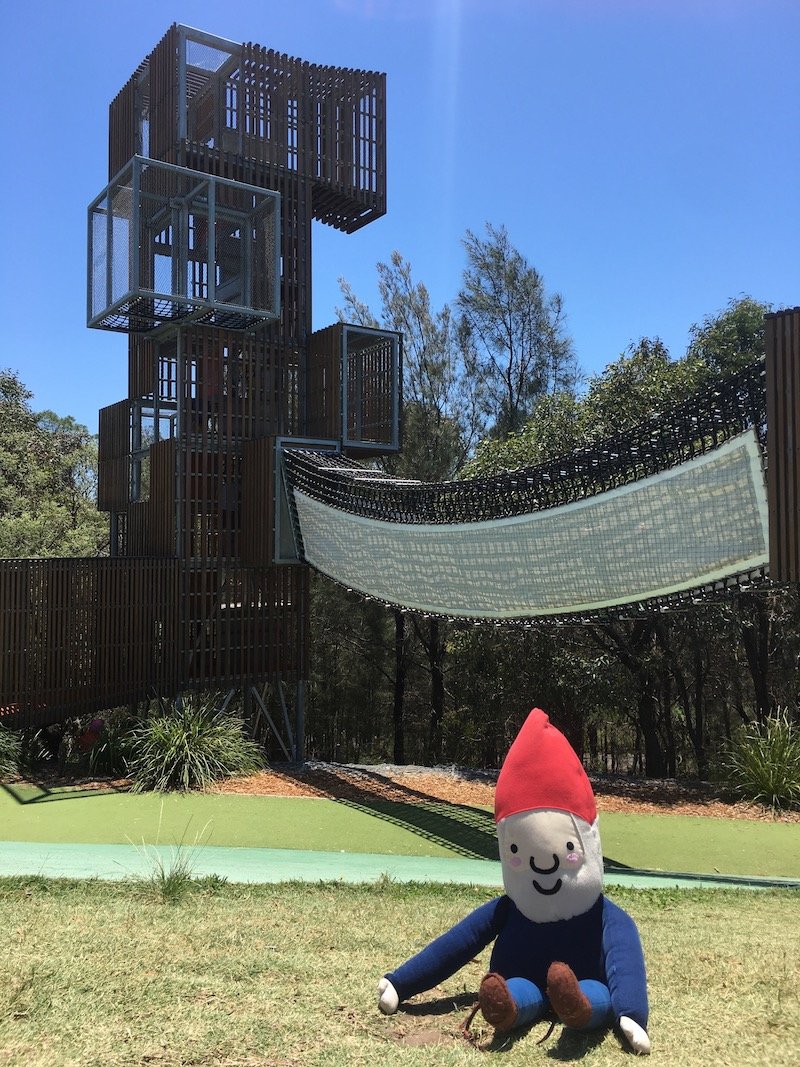 Inside the Blaxland Riverside Playground Treehouse
No.3: Giant Treehouse Fort
There's no stopping the kids once they spy this 5-storey fortress.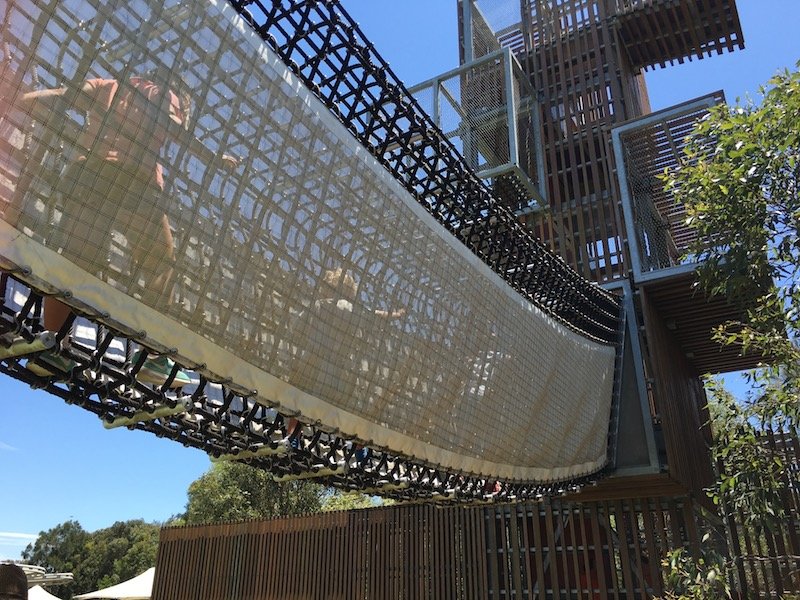 The net bridge is one way in.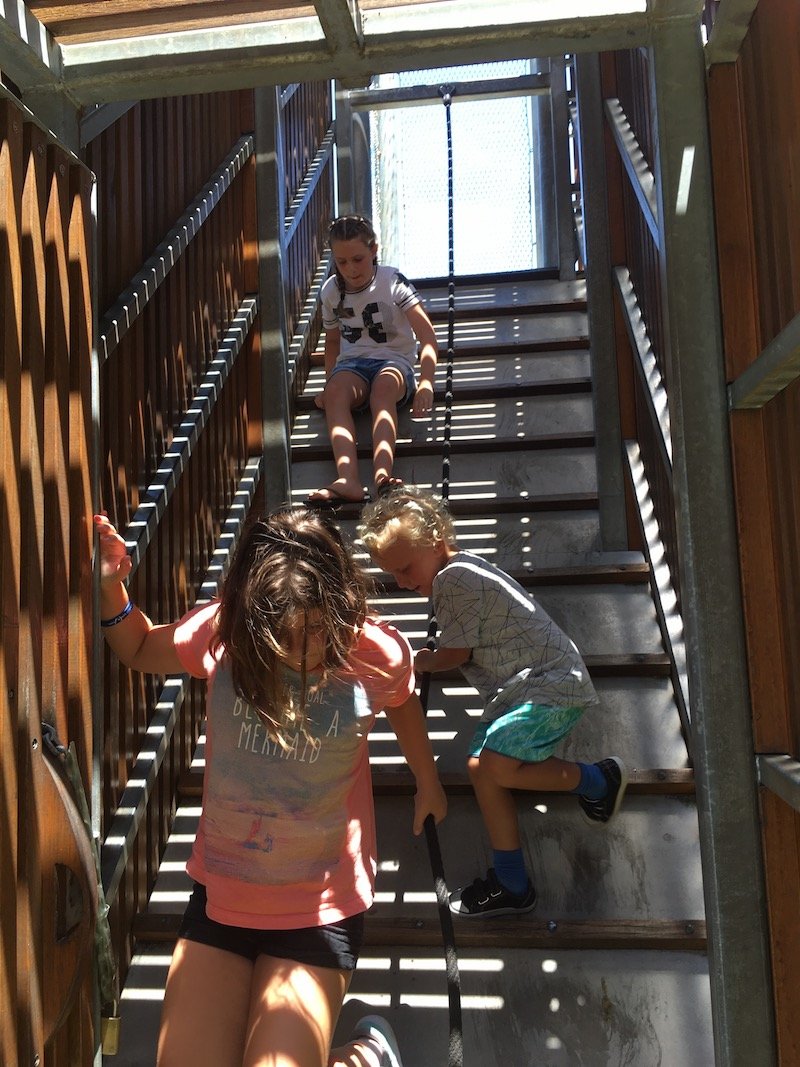 There's rope staircases to climb…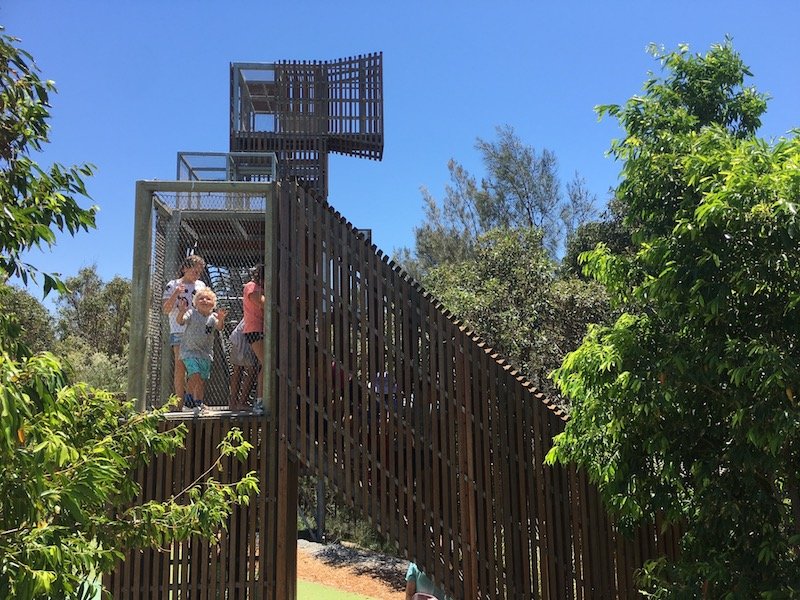 And platforms to look out from!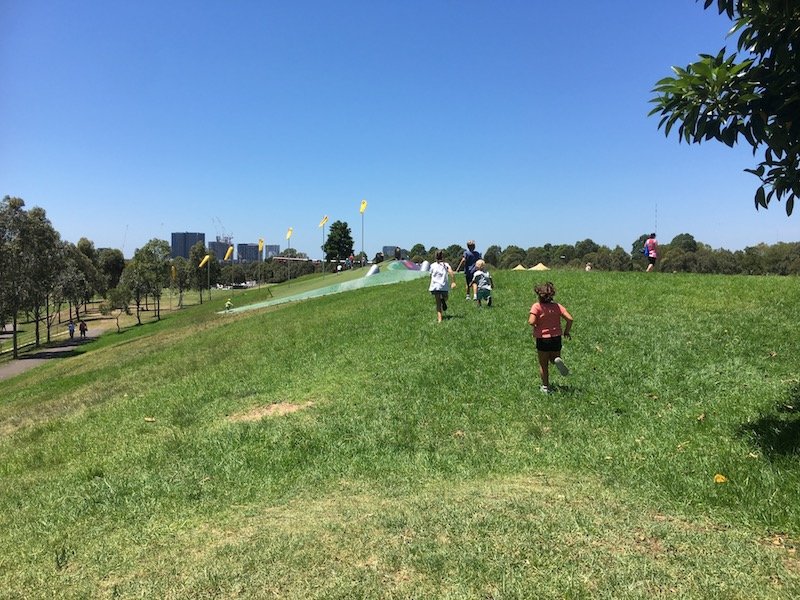 Kids will spy the giant yellow flags.
Head that direction.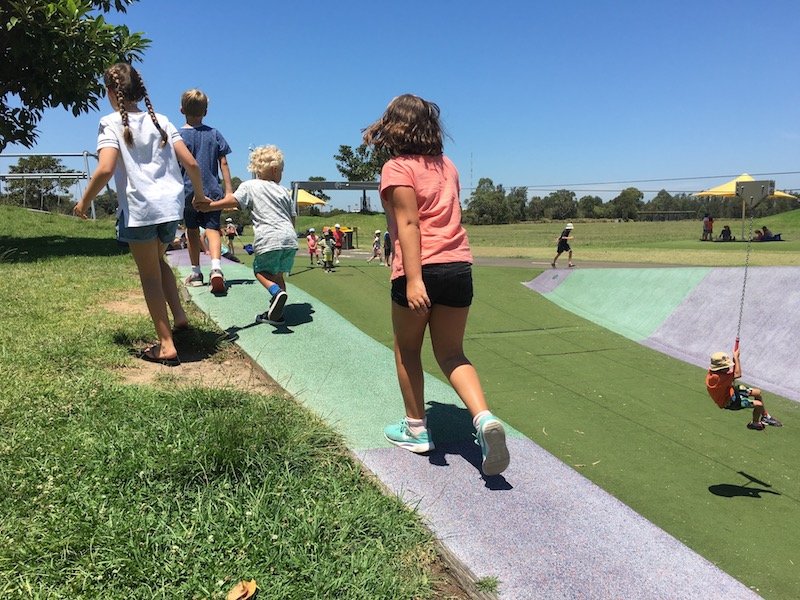 No. 4: More Play Equipment
Walk past the water park area (we'll come back to that) to find a whole other world of play equipment
No.5: Double Zipline Flying Fox
Try the giant zip line.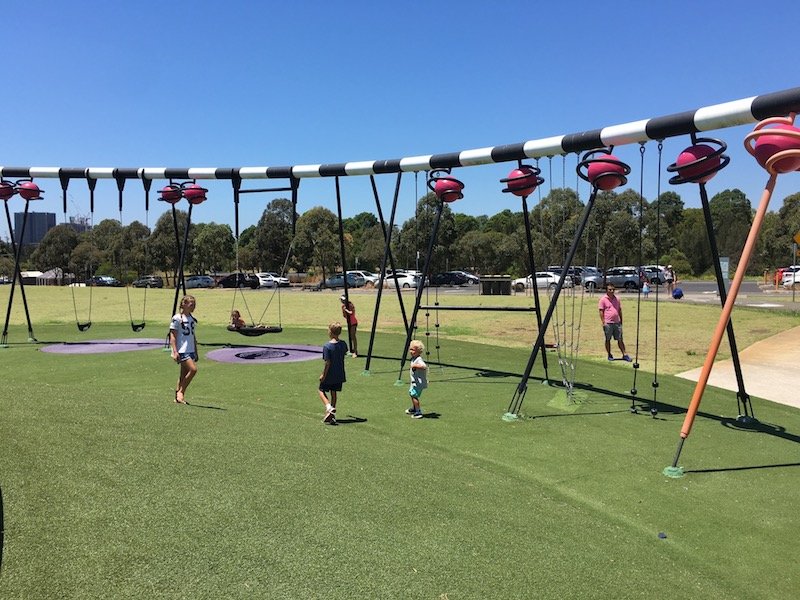 No.6: Swings
Take turns on the different swings and parkour equipment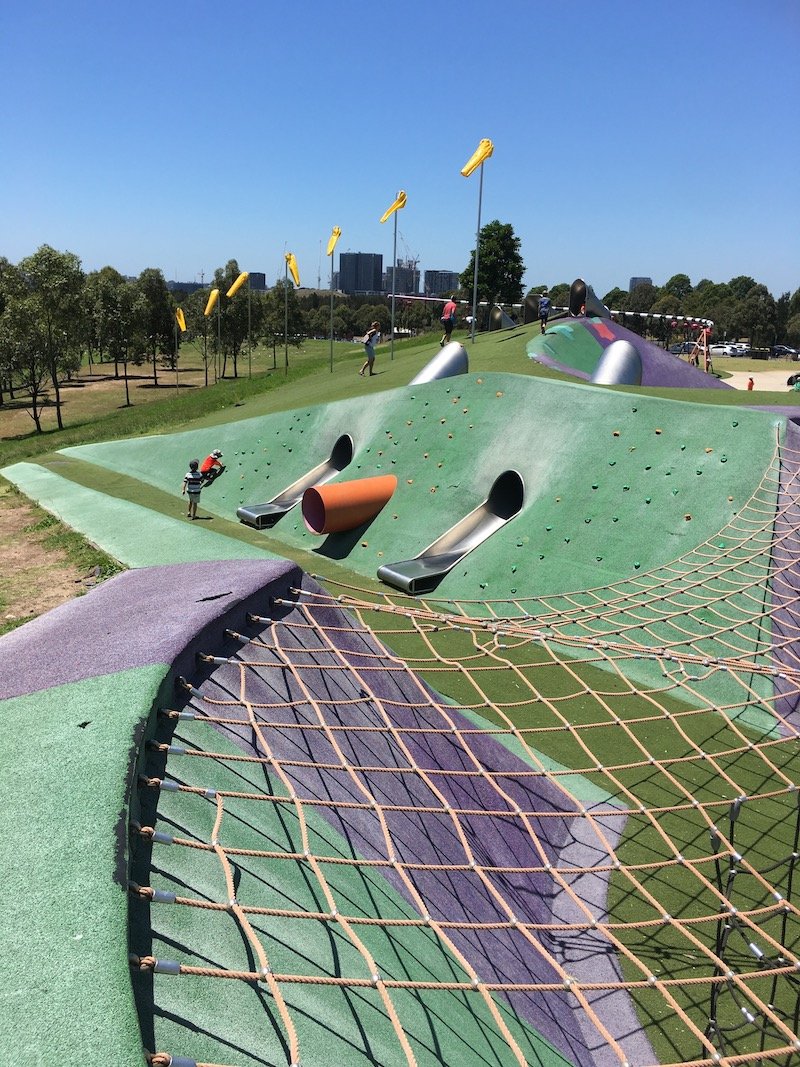 No.7: Giant Tunnel Slides
Hidden deep inside both sides of the moulded mountains are a few silver slides.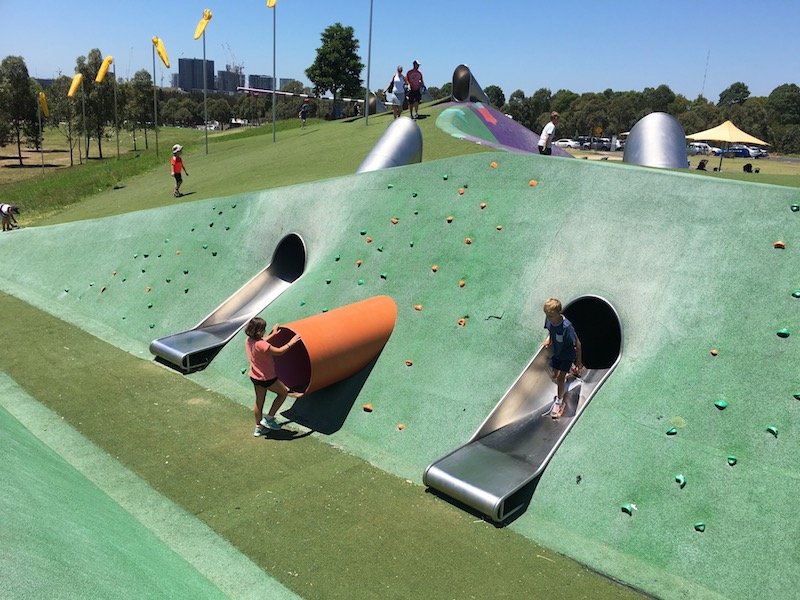 Watch out!
On a sunny day, they are likely to be HOT!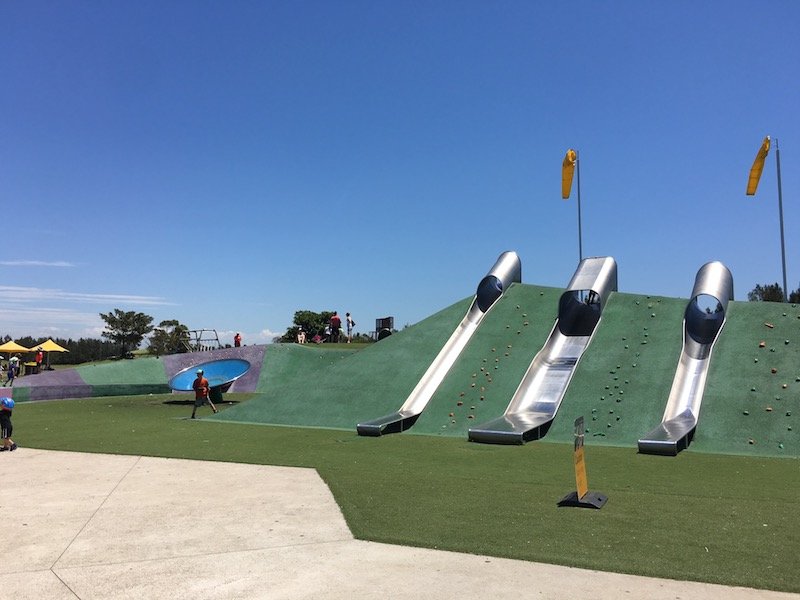 The Race is on.
Double and triple races coming your way.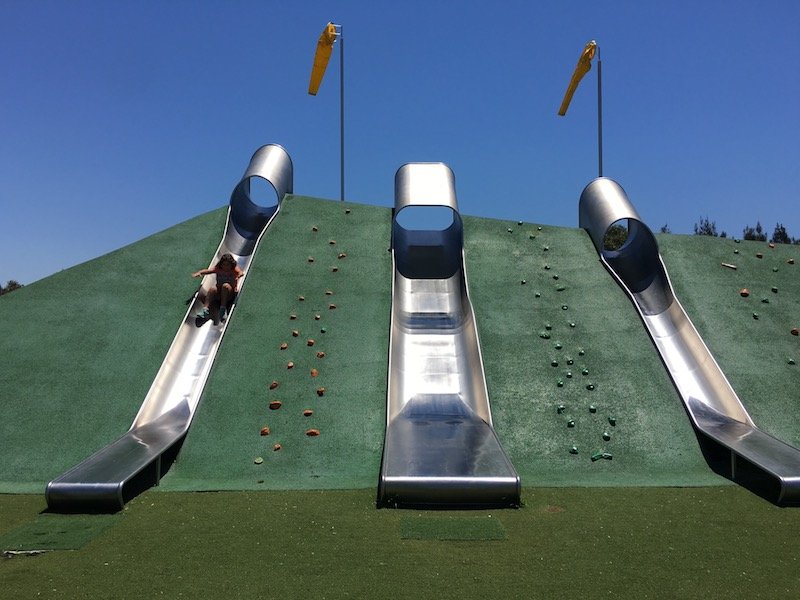 No.8: Boulder Walls
The best bit is that the way up to the top of the slides is via rock wall climb.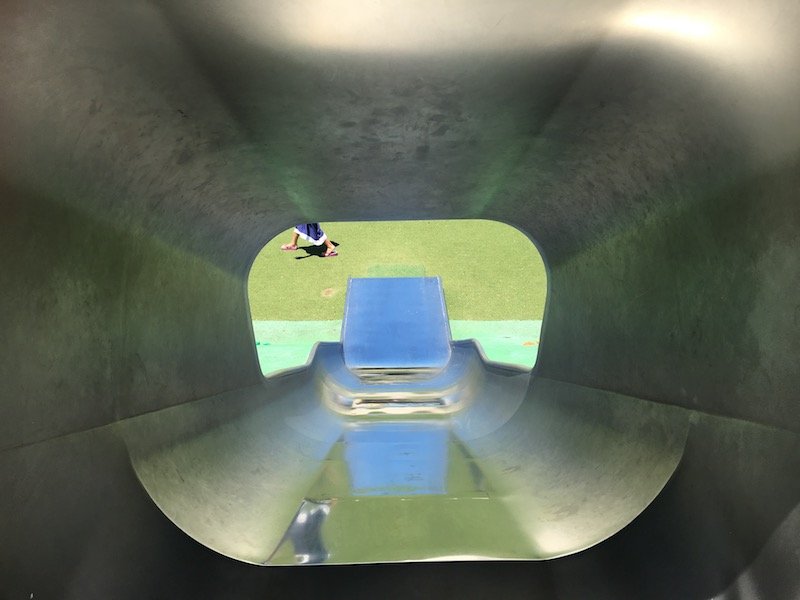 A few go's, and the kids (and adults) are knackered!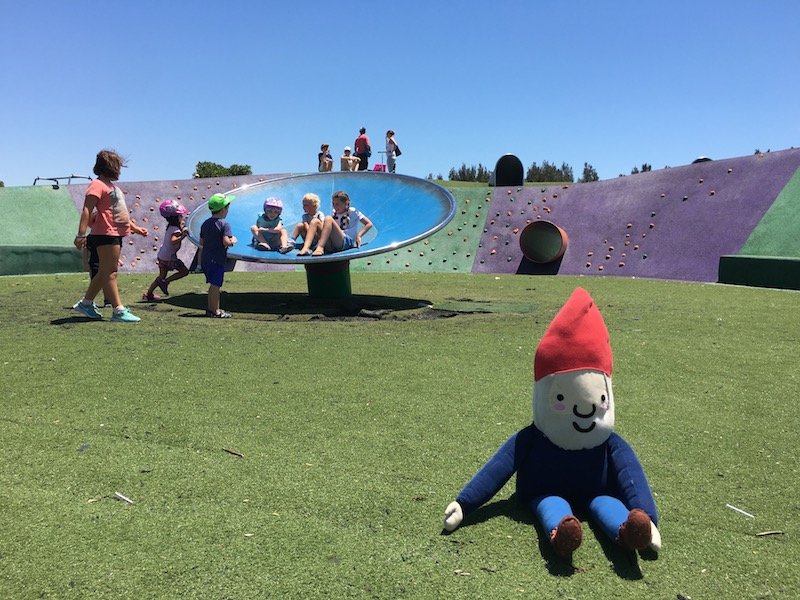 No.9: Spinning disk
Kids love this giant spinning disk too.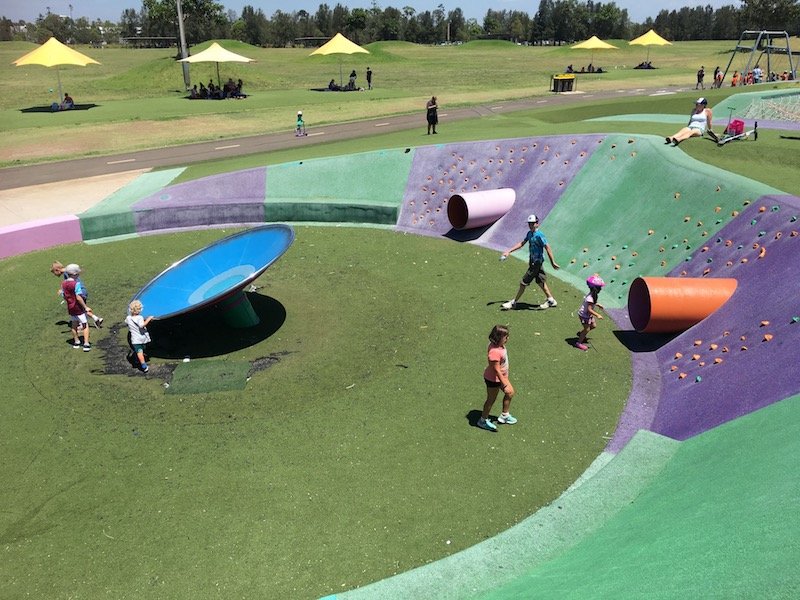 Hot tip: Grab yourself a spot under one of the shaded umbrellas early in the morning, so the kids have a home base to return to.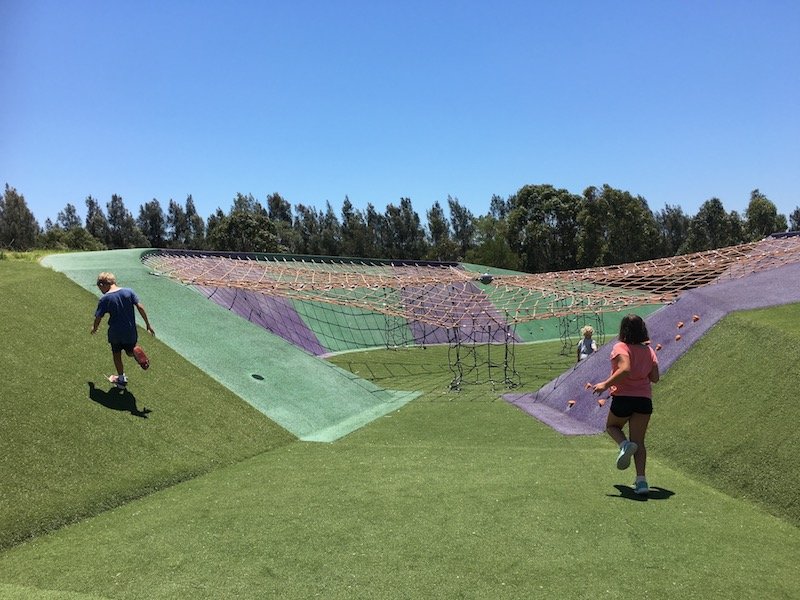 No.10: Net Scramble
After the slides, kids head straight to the net maze.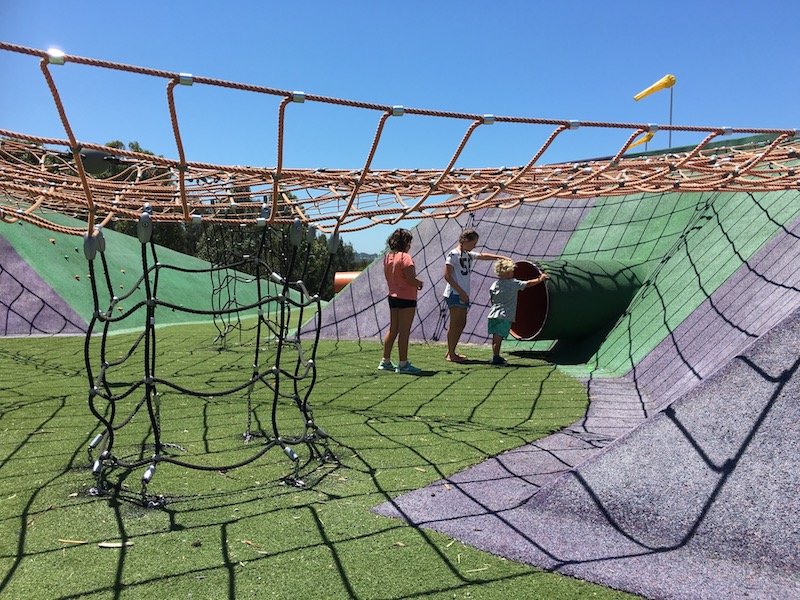 Hooray for this cool Sydney park, arguably the biggest playground in Sydney.
This place is FULL of physical challenges for all ages!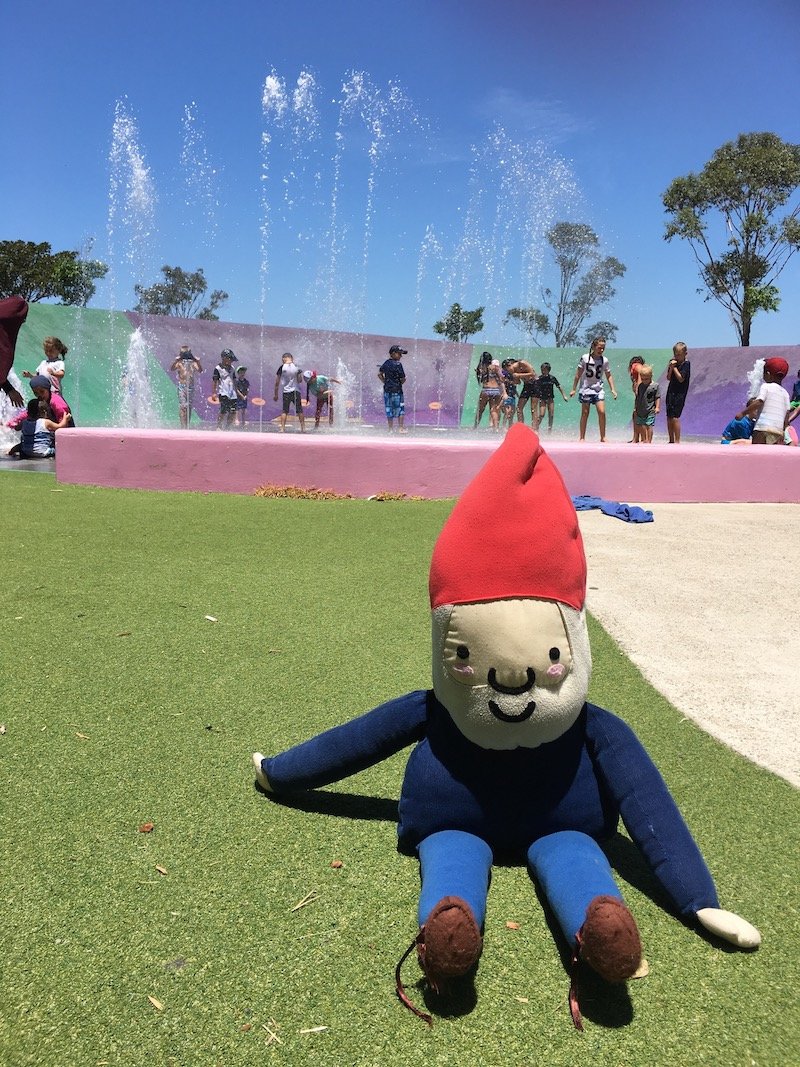 Hot tip: Blaxland Riverside Park water play
The Sydney water playground is a big hit with kids.
And VERY popular with locals.
It's Sydney's largest water park so visitors come from all over the city to play.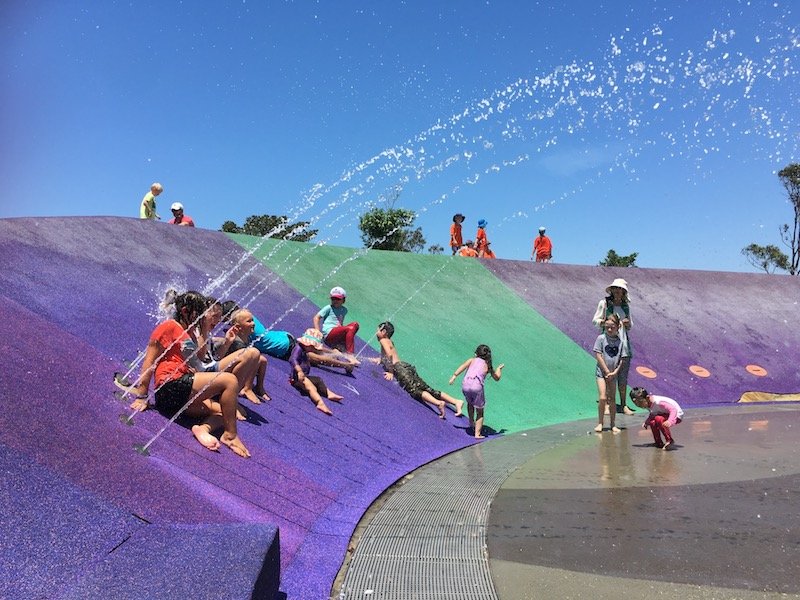 Blaxland Riverside Park water playground opening hours
The Blaxland Park water playground opening hours are from 10am to 4pm.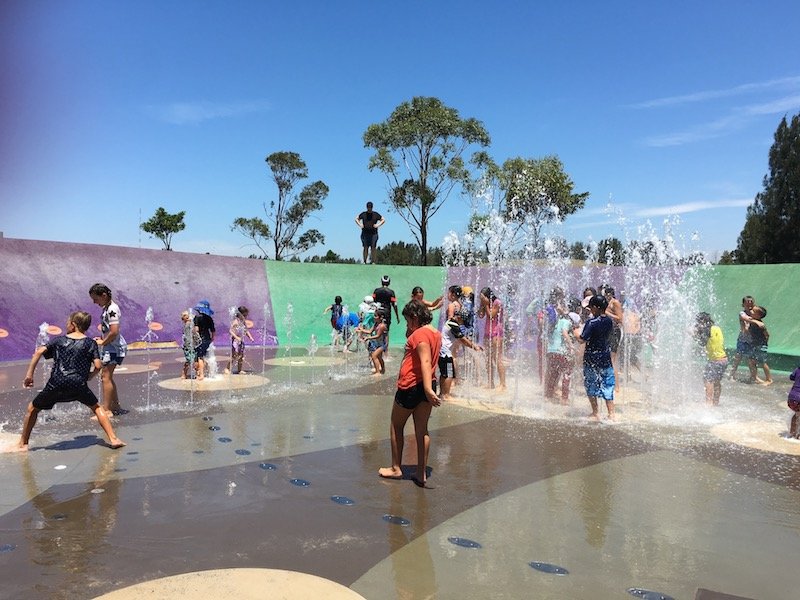 Expect it to be busy on a hot day.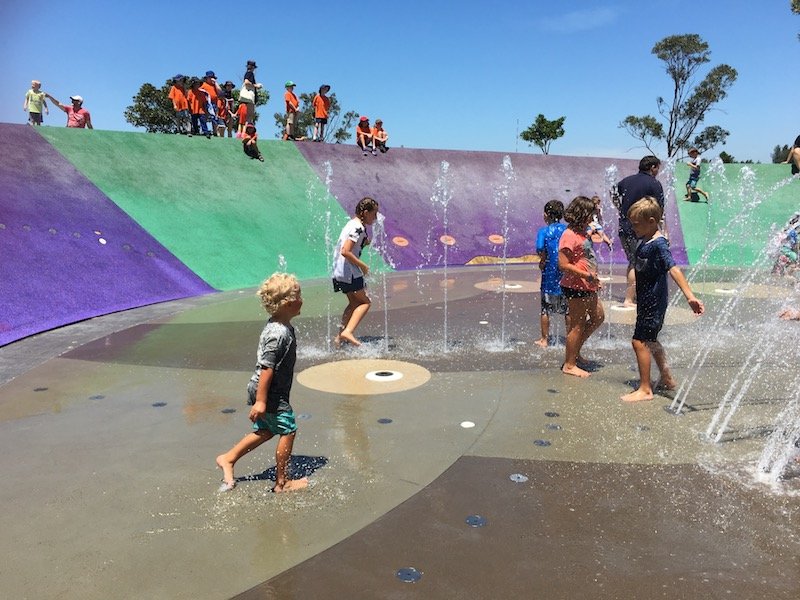 But never too busy that you can't join in the fun too.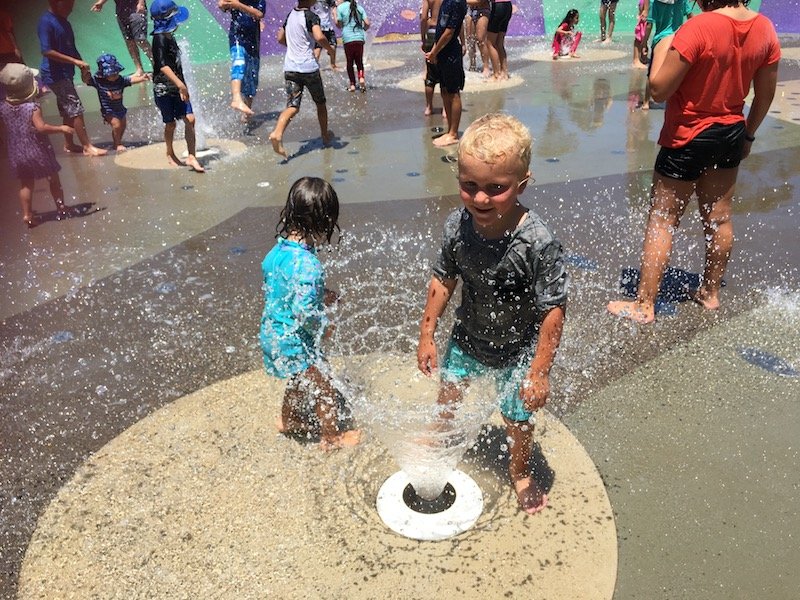 The Jamieson water park is tops!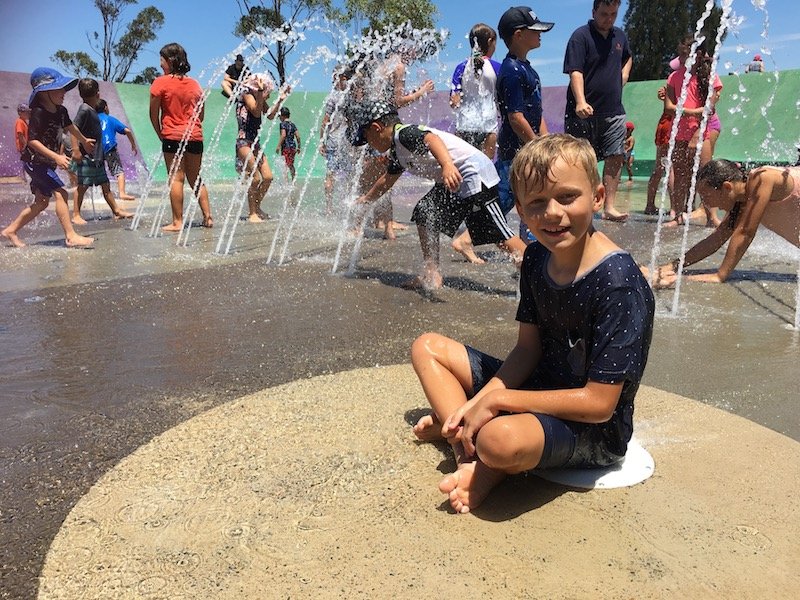 Take a seat in the water play area, like Ned.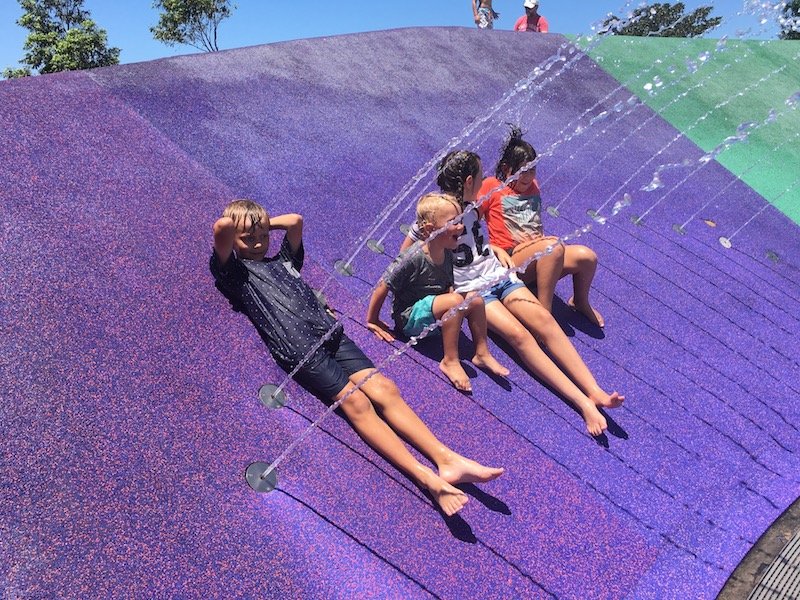 Fun Tip: Spouts!
One of the best things to do is to sit on the water park walls and WAIT for the spouts to recommence after a rest.
It's rib-tickling hilarity!
Once the water starts again, you and the kids won't be going anywhere fast.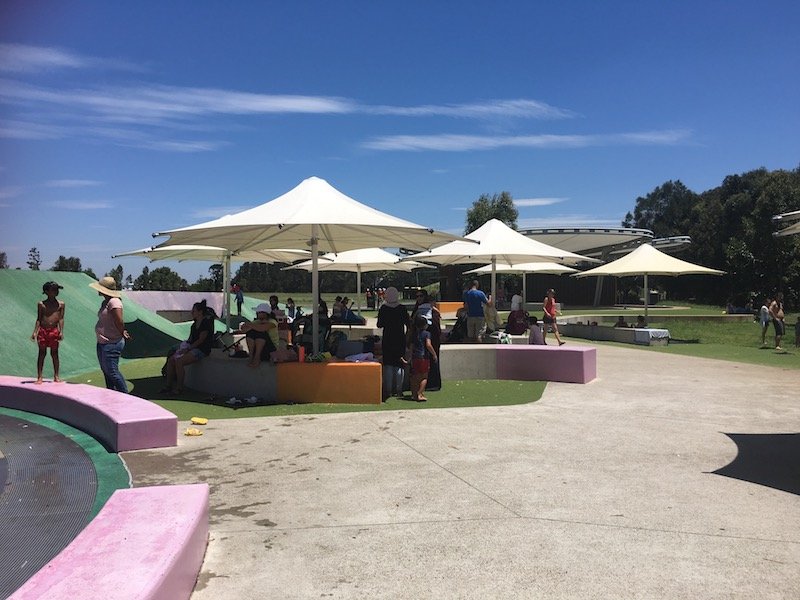 Blaxland Riverside Park BBQ
There's lots of spots to pull up a seat and relax within view of the kids.
Look out for FREE gas and electric bbq's on your travels.
Blaxland Riverside Park cafe
The Blaxland Riverside reserve has a Blaxland Riverside Park kiosk on site.
Pick up a takeaway coffee or chai on the go.
Order hot food including pies, sausage rolls, and hot chips.
Sandwiches and cold drinks too.
There's some undercover seating to eat your goodies.
When the kids are done, grab an ice cream for the drive home from Blaxland Park Homebush.
There's also the Newington Armory Wharf Cafe not far away.
Blaxland Riverside Park Bike Hire
Hire a bike from the historic Gate House in the Armory and you and the family can explore the riverside walking trail that runs alongside the Parramatta River.
Book ahead in the school holidays to be on the safe side.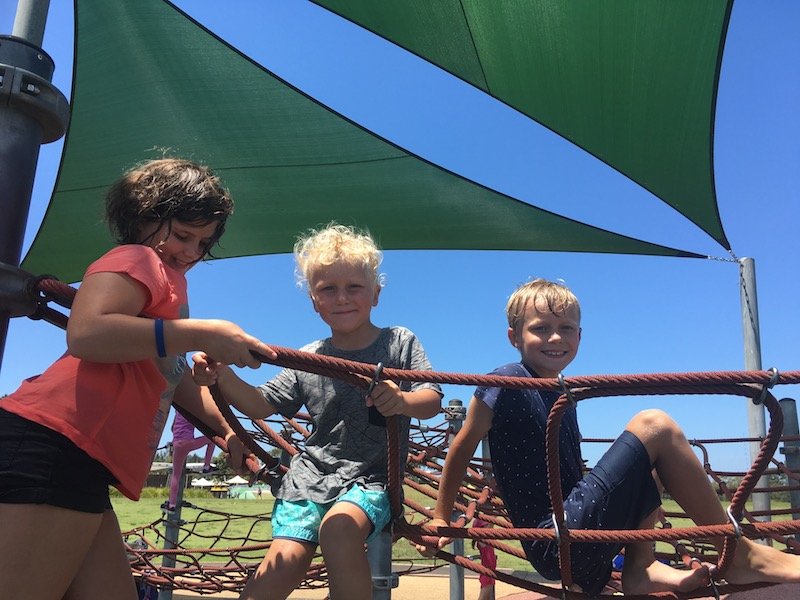 THE INSIDE SCOOP: Blaxland Park Silverwater
Correct at time of publication on Roam the Gnome. Please check with venue for updates. We apologise in advance if there have been any changes we are unaware of. All prices in AUD dollars, unless otherwise stated
Where is Blaxland Riverside park address?
Jamieson St, Sydney Olympic Park NSW 2127
Website: Click here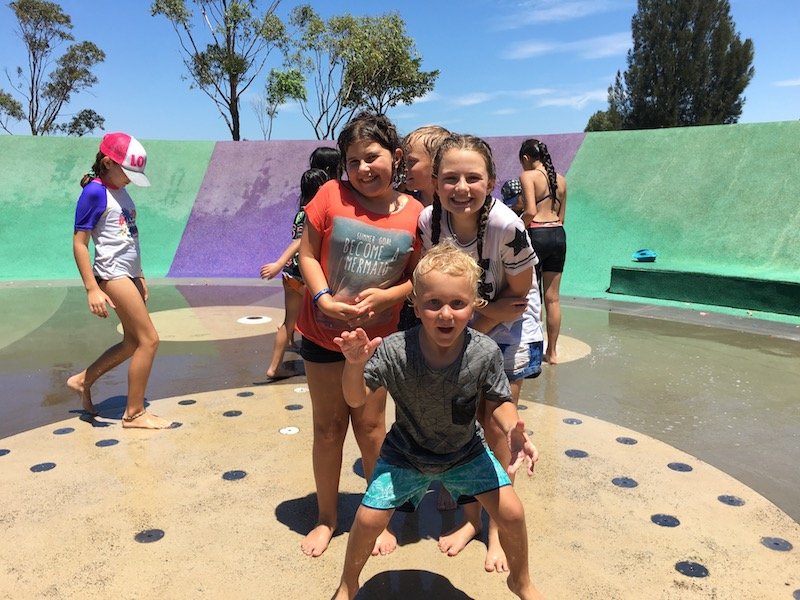 Blaxland Riverside Park opening hours
What time does Blaxland Riverside Park close?
Blaxland Riverside Park closing time is 5pm
Blaxland River Park entry fees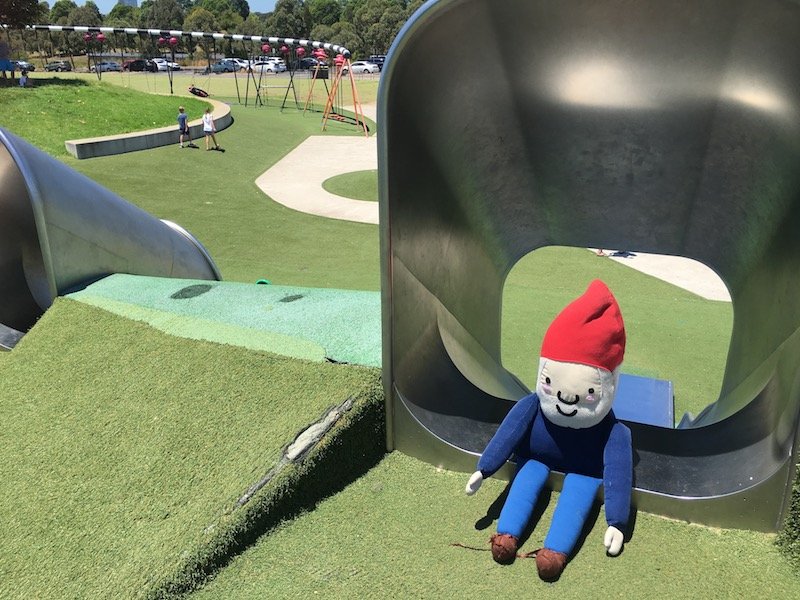 How to get to Blaxland Riverside Park Homebush
By Car: Click here for directions to this Sydney Olympic Park location.
NB: Taking a car is the most convenient way to this Sydney playground.,
By Bus:
Catch the M52 or 520 bus from Town Hall House, Druitt St, Stand L
Arrives at Betty Cuthbert Ave Shops, Victoria Rd.
Catch a taxi for the final 3km to the park.
Services depart every 10 minutes, and operate every day.
Allow 45 minutes to an hour for the journey
By ferry:
Catch the direct ferry departing from Barangaroo, Wharf 1, Side B.
Arrives at Sydney Olympic Park Wharf, Side A.
Services depart every 30 minutes, and operate every day.
Allow 45 minutes to an hour for the journey
Blaxland Riverside Park parking
Limited parking – arrive early
3 hour parking restrictions apply
Blaxland Riverside Park map
Toadstool Rating: Silverwater Park

MORE of the Best Things to do in Sydney with kids (Family friendly)
Click the blue links below for Sydney tips