If your kids are SPACE fanatics, rate Elon Musk as their hero, and have words such as Space X, Falcon Heavy, and Falcon 9 in their vocabulary, it's time to visit the Rocket Ship imaginary playground at Enmore Park, Marrickville.
Who knows where their imaginations will take them?
Blast Off at Enmore Park!
Enmore Park in Marrickville is a small but sweet playground, perfect for toddlers and young kids.
Enmore Park Playground has:
the very cool retro red and yellow rocket ship- kids can safely climb ladders all the way to the top! There's two slides opposite each other on the bottom level.
a set of swings
monkey bars
a flying fox
a see saw
climbing nets
a circular spinner
It's one of the best picnic spots in Sydney inner west.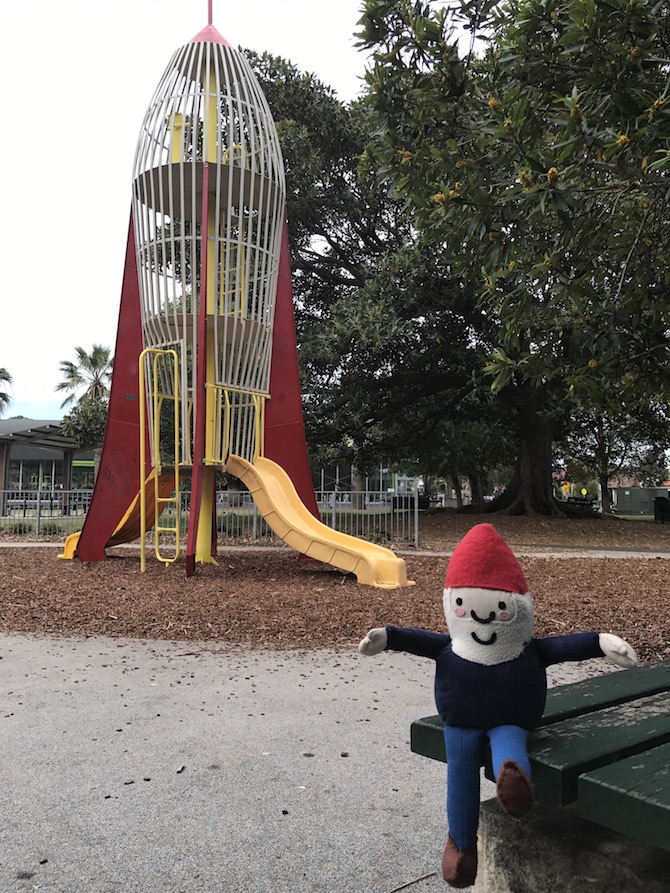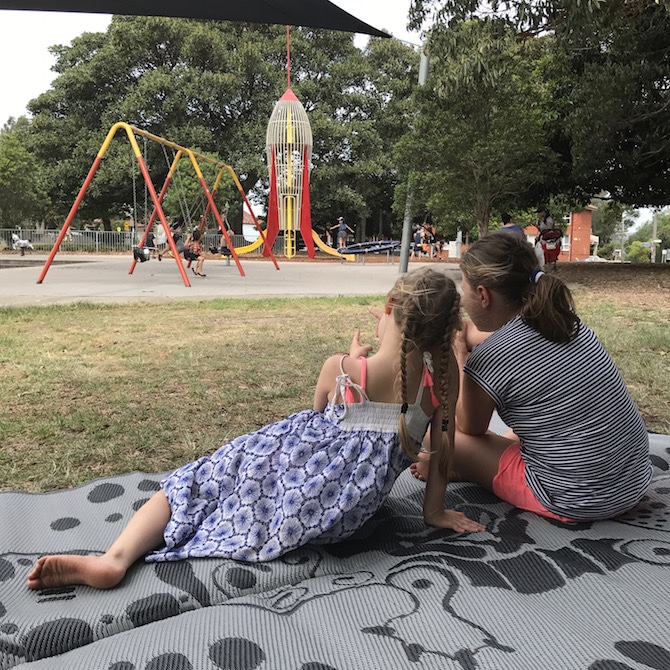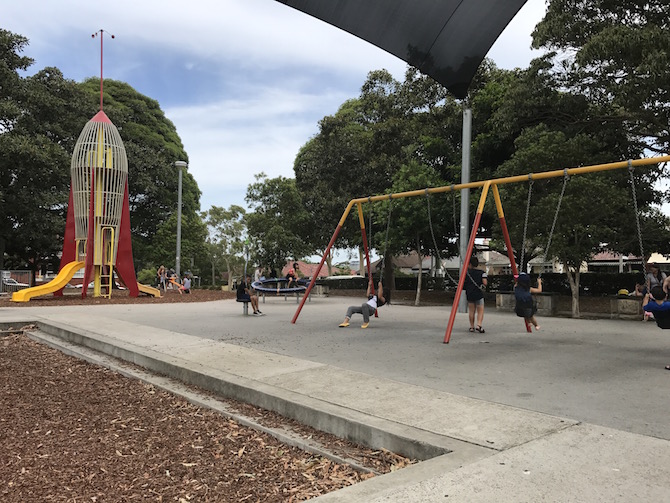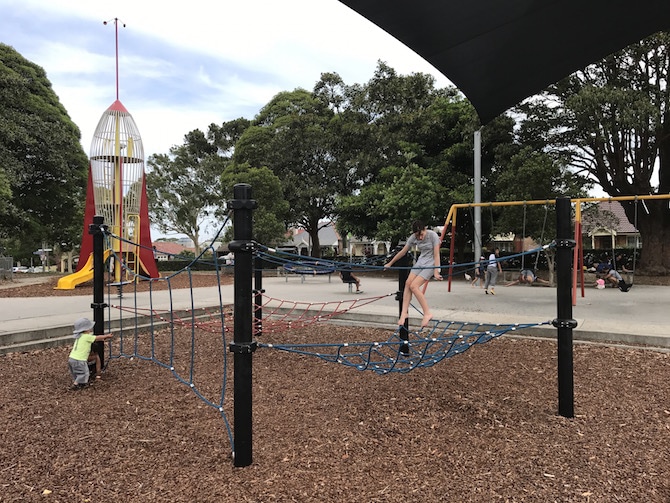 Annette Kellerman Aquatic Centre – just 100 metres walk away!
Right next to the Enmore Park playground, you'll find the Annette Kellerman Aquatic Centre. The Annette Kellerman pool has a cute toddler splash pool with fountains for the smaller kids, plus there's a lap pool, a program pool, a fully equipped gym onsite, a creche (helpful for mums who want to get back into shape), and a kid-friendly cafe next door.
The Inside Scoop – Enmore Park Sydney
Address: Enmore Park is located at Enmore Road and Black Street, Marrickville.
Phone:(02) 9335 2222
Opening Hours: 24 hours
Nearest takeaway coffee: Kellermans cafe, next to the pool. Kellermans Cafe has both indoor and outdoor seating to suit any day. Loads of healthy yummy foods for every appetite. Grab a loyalty card and get every 10th coffee FREE!
Parking: On street parking bays available along Victoria Road and Llewellyn street, or try the side streets. Weekends can be busy.
Public Transport Options:
By train: The closest railway station to Enmore Park Marrickville is St Peters Station, on the Bankstown Line, approximately 1km, or around 15 minutes walk from AKAC.
Two stations are located approximately 1.2km from Enmore Park and the Annette Kellerman Aquatic Centre – Sydenham Station, on the Bankstown and Illawarra lines and Newtown Station, on the Inner West line but these stations are not currently accessible.
By foot: Enmore Park playground is a 5 minute walk from Marrickville Metro shopping centre and is a 10-15 minute walk from Enmore Road and King Street shopping strips.
By bus: Click here for bus routes
Toilets: Yes, including baby change table near the Kellerman cafe during daylight hours.
Shade: Yes, shade structure and trees
Enclosed: No
Ground cover: Bark soft fall, concrete pathways, grassy fields. BYO Picnic Mats.
Food options: There is cafe at the aquatic centre.
Picnic tables: Yes
Electric BBQs: Yes
Water Bubblers: Yes
Scooters and Bikes: Yes
Dogs: Yes. Off-leash dog exercise area within designated areas
Notes:
This playground was last visited in December 2017.
Looking for more SUPER DOOPER FUN THINGS TO DO IN SYDNEY?
Click the blue links below.