INSIDE: Roam the Gnome's Guide to Prince Alfred Park Playground & its' ADORABLE Play Equipment
Oh to have lived in 1870!
This was the year that British Aeronaut Thomas Gale created a great spectacle for Sydneysiders, floating a HOT AIR BALLOON FLIGHT from Prince Alfred Park across to Redfern and Waterloo.
Dangerous stunts like this gas-filled balloon flight were all the rage – mishaps were part of the intrigue – and a successful flight led to notoriety and acclaim.
Which is the reason why the Prince Alfred Park Playground pays homage to this story with themed play equipment.
The story is incredible, outrageous, and LOTS of fun!
Take a look below for details on the equipment at this cute playground in Sydney, & how to get there.
Disclosure: This article contains affiliate links. If you make a purchase after clicking on one of these links, we may receive a small commission at NO extra cost to you.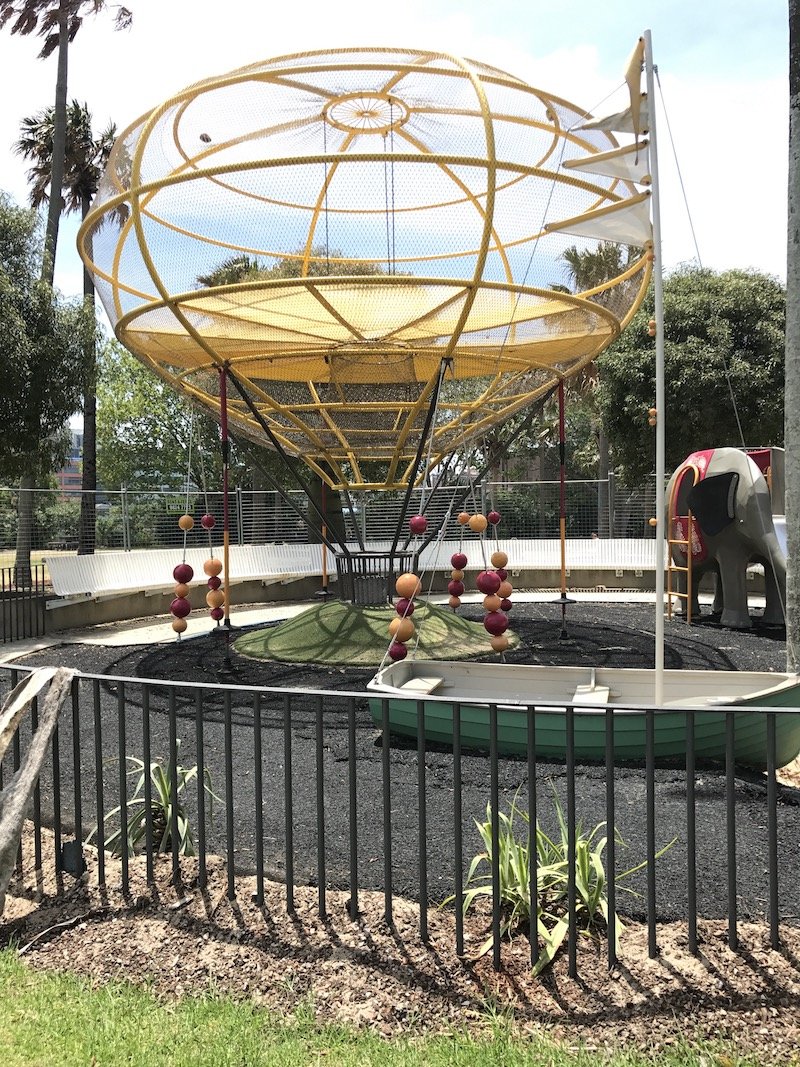 Guide to Prince Alfred Park Playground
The adorable Prince Alfred Park playground next to the Prince Alfred Park pool entrance features elegant hand-crafted play equipment including a bright yellow air balloon, centre stage.
Next to it, a model dinghy – the Galatea – floats on imaginary waters.
The Galatea was the boat that brought the park's namesake Prince Alfred to Australia in 1867.
---
RELATED: Ultimate List of the Best Things to do in Sydney with Kids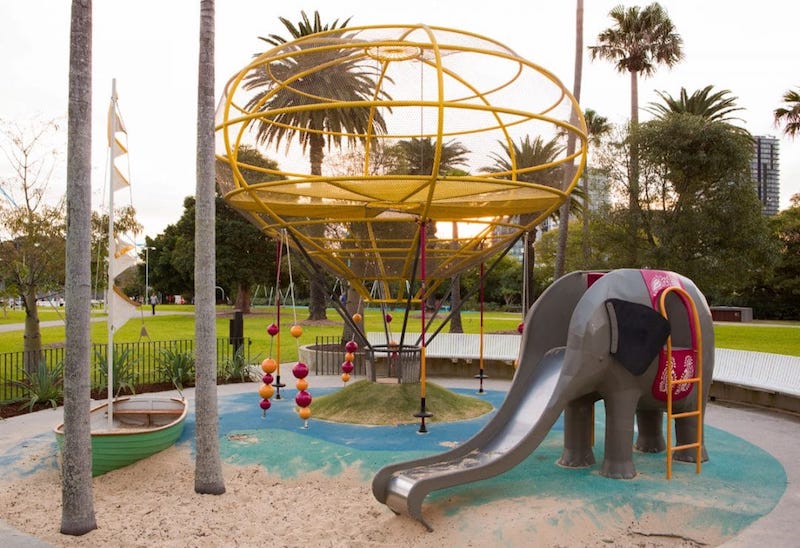 Image credit: Regal Innovations
MORE Prince Alfred Park History!
Prince Alfred Playground Slide
The sweetest elephant slide you've ever seen, complete with climbable yellow ladders, is to the left of the balloon.
How does the curious story of an elephant fit in the picture, you might ask? (as we did).
It seems ol' Prince Alfred could not live without his pet elephant, and brought his pet elephant to Australia on a later trip!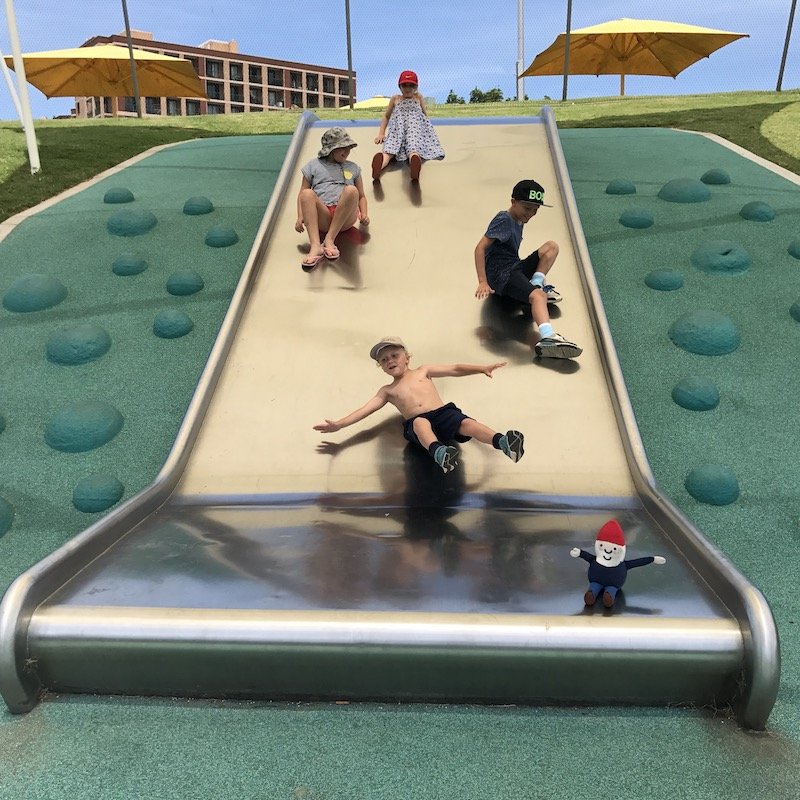 The Prince Alfred Park Sydney Redesign
The Prince Alfred Park, along with the Prince Alfred Park playground, underwent a gigantic award-winning redesign, the first in 50 years, back in 2011.
The seven-hectare park redesign created much-needed open space and recreational facilities for Surry Hills and Redfern.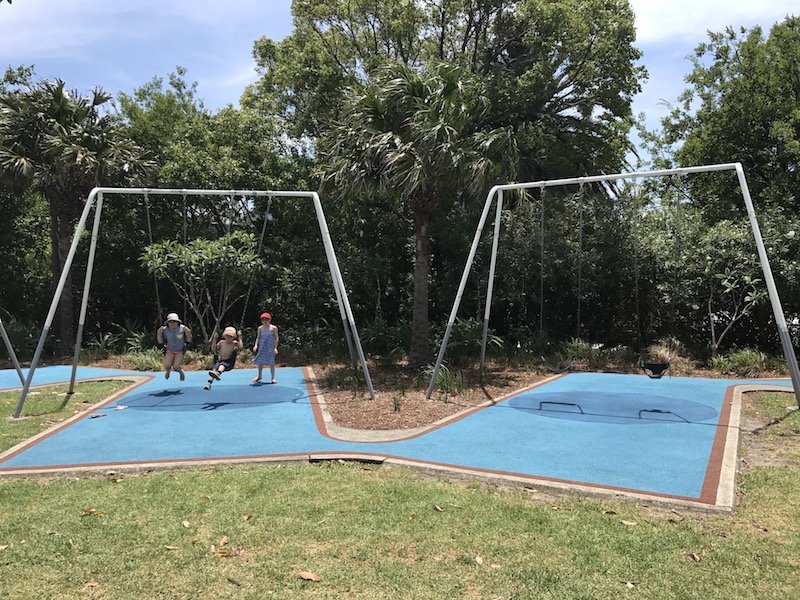 Play Equipment at Prince Alfred Park Surry Hills
The redesign now includes:
a giant slide, with recycled rubber soft fall surrounds and rubber 'stones' to help on the climb back up
four sets of swings (no more squabbling over who gets first turn!)
a wonderful bike-riding track for kids along this path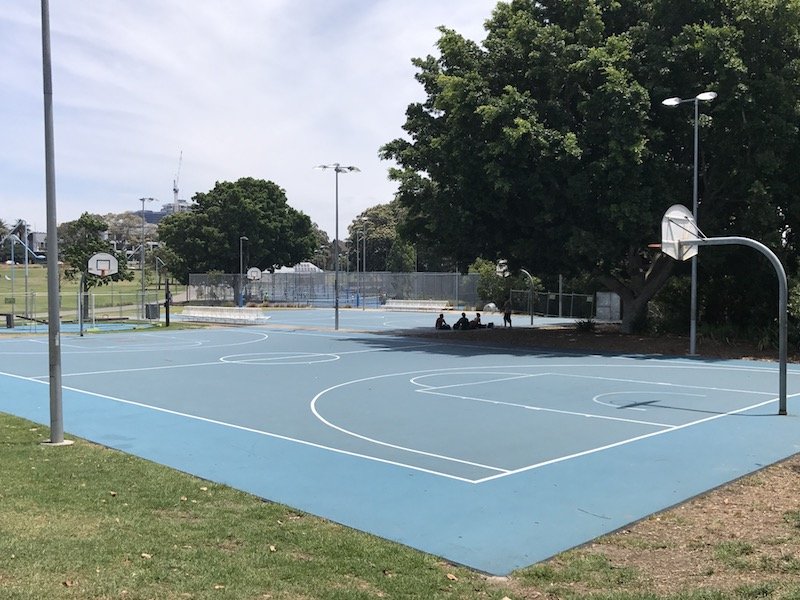 Picnics, Dogs & Exercising at Prince Alfred Park in Sydney
Bring your ball to play on the two Prince Alfred Park basketball courts.
There's new barbecue and picnic areas with custom-designed tables and seating, surrounded by hundreds of new rainforest species and succulent trees and plants
Keen movers and shakers will love the challenge of the 1km exercise circuit with three fitness stations along an accessible path for:
joggers
walkers
prams and
wheelchairs
Local Dog lovers also have access to an off-leash area for dogs.
Prince Alfred Park Tennis courts
The Prince Alfred Park tennis courts have FIVE tennis courts for the public to use, made of Plexicushion.
This is the same material used at Flinders Park, the home of the Australian Open.
The court upgrade means Prince Alfred Park Tennis courts can now host professional competitions and exhibitions.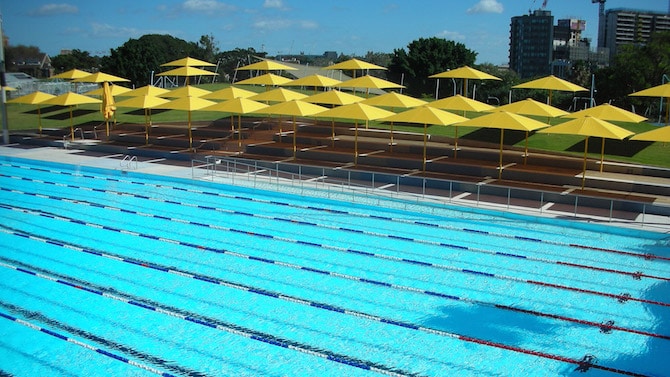 The Prince Alfred Park Pool is next door!
And when you tire of playing, stop by the Prince Alfred Park Swimming Pool complex next door.
Heads up – Prince Alfred Park public pool is heated.
Spot the giant yellow umbrellas, and you've found it!
There's the Whisk and Paddle Cafe at the pool to grab a takeaway coffee and snacks too.
Click here to read all the details about the Prince Alfred pool including:
Prince Alfred park pool opening hours
what to bring, & more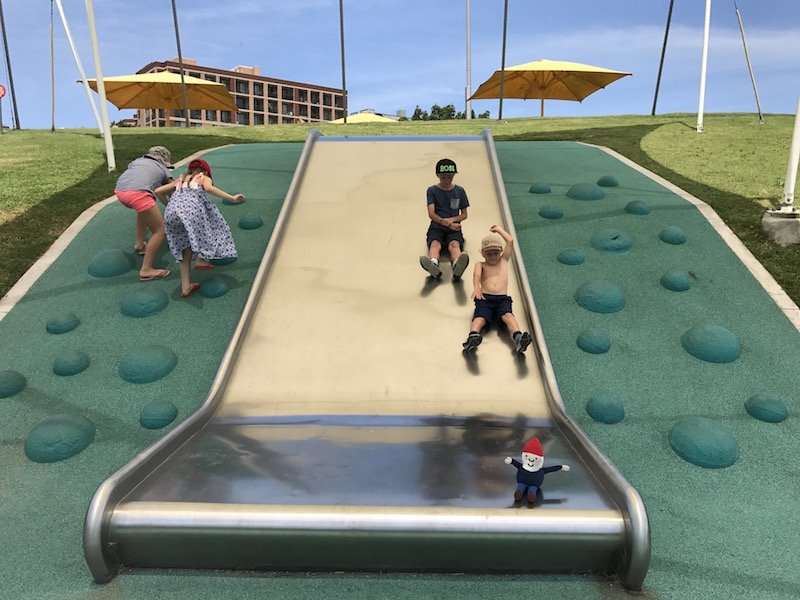 THE INSIDE SCOOP: City of Sydney Prince Alfred Park
Correct at time of publication on Roam the Gnome. Please check with venue for updates. We apologise in advance if there have been any changes we are unaware of. All prices in AUD dollars, unless otherwise stated
Address: Prince Alfred Park Sydney city playground is located at Chalmers St, Surry Hills NSW 2010 Surry Hills, NSW
Phone: 02 9265 9333
Website: Click here
Prince Alfred playground opening Hours: 24 hours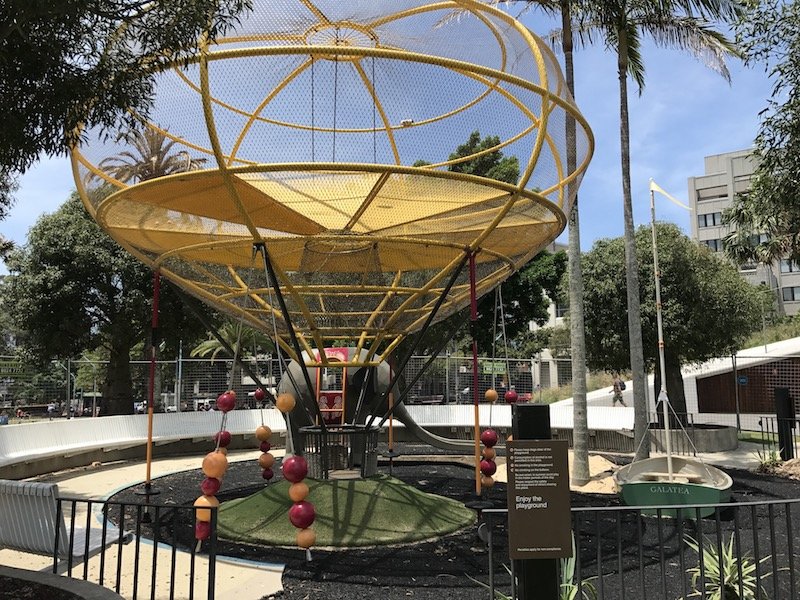 How to get to Prince Alfred Park in Surry Hills
By Bus:
There are several buses that stop next to or are in close distance from Prince Alfred Park Pool.
These include the M20, M50 and 353 routes that travel along Chalmers Street towards the CBD which stop within 50 metres of the entrance to the centre.
There are several buses that stop within 5 minutes from the centre on Elizabeth Street and within 10 minutes from Railway Square travelling both towards and away from the CBD.
By Train: The closest train stations is Central Station which is 350 metres away.
To plan your trip, visit Transport NSW or call 131 500.
By Car: Click here for google map directions
Prince Alfred Park Parking
There is no on-site dedicated parking at Prince Alfred Park.
There are paid parking areas along Chalmers Street when bus lanes are not in operation, please check signs for timings.
There is also a mix of 1 hour street parking and paid 2 hour stare parking within 5 minutes' walk of the centre on surrounding streets. This can be quite limited and time may be needed to find a suitable parking spot.
Facilities at Prince Alfred Park
Toilets: Yes, outside the pool.
Shade: Yes, over the slide. Lots of trees.
Enclosed: The air-balloon playground has a small fence.
Ground cover: Rubber soft fall, concrete pathways, grassy field
Food options: Cafe at the pool. BYO picnic or BBQ.
Picnic tables: Yes
Electric BBQs: Yes
Water Bubblers: Yes
Scooters and Bikes: Yes
Dogs: Not welcome in the playground, but are allowed in the park itself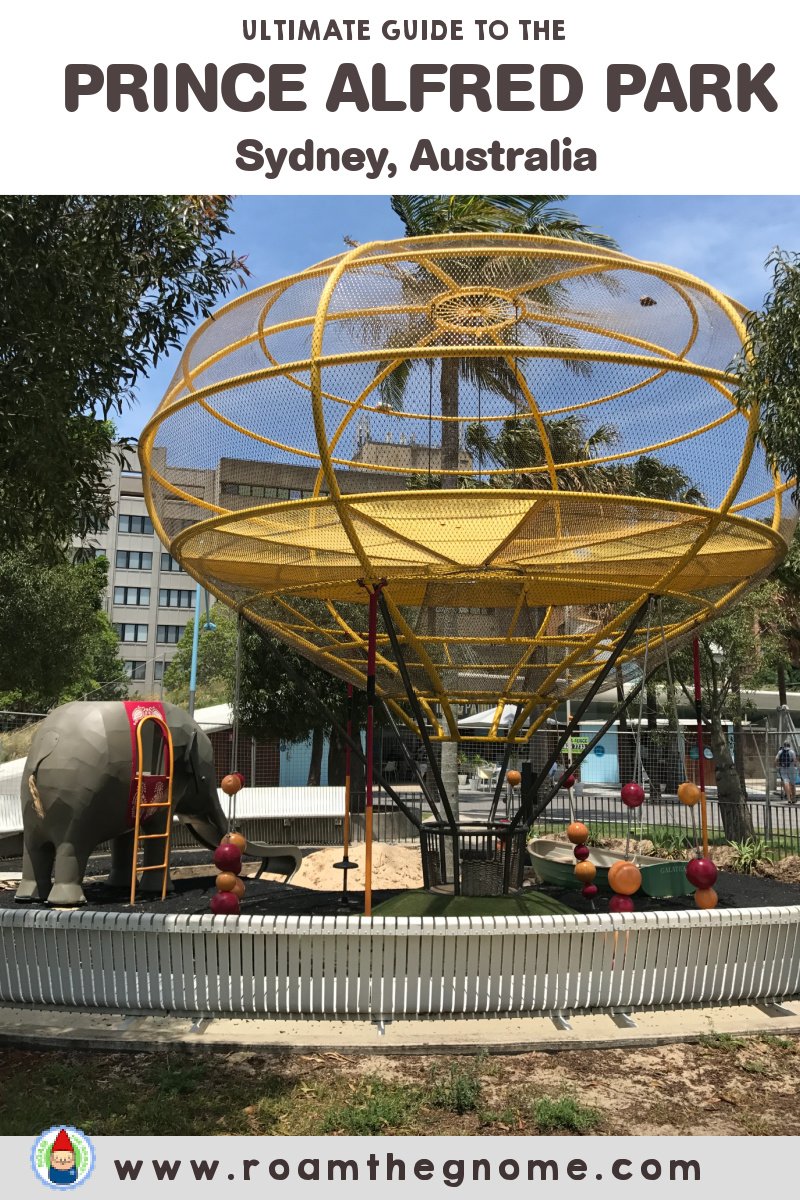 Toadstool Rating: Prince Alfred Playground in Sydney

Looking for more of the BEST Sydney Playgrounds for kids?
Click the blue links below for more Sydney travel tips