INSIDE: Everything you need to know about finding the best kid friendly beach Sydney style.
Looking for the best family friendly beaches Sydney has to offer?
You are in the right place.
But it's hard to pick the best kid friendly beach Sydney has to offer, because there are quite a few.
Check out our tried and trusted guide to the best Sydney beaches for toddlers and kids below to find out more.
Disclosure: This article contains affiliate links. If you make a purchase after clicking on one of these links, we may receive a small commission at NO extra cost to you.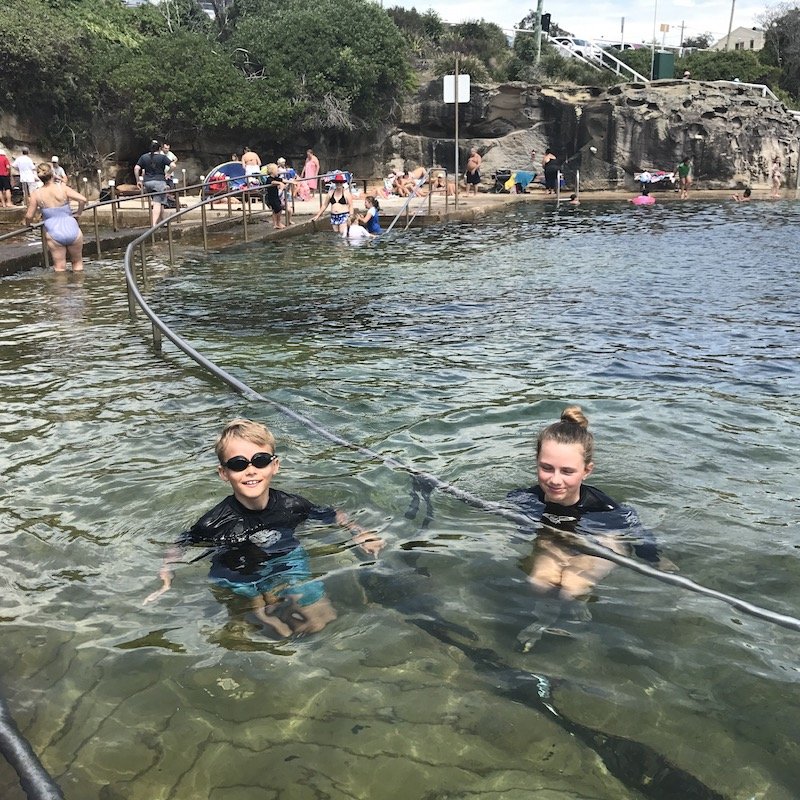 THE INSIDE SCOOP: BEST KID FRIENDLY BEACH SYDNEY?
Correct at time of publication on Roam the Gnome. Please check with venue for updates. We apologise in advance if there have been any changes we are unaware of. All prices in AUD dollars, unless otherwise stated
We've included the best Sydney rock pools in our list, as well as sheltered Sydney Harbour beaches, netted swimming area pools, and the odd pool too.
RELATED: Big List of the Best Things to do in Sydney with kids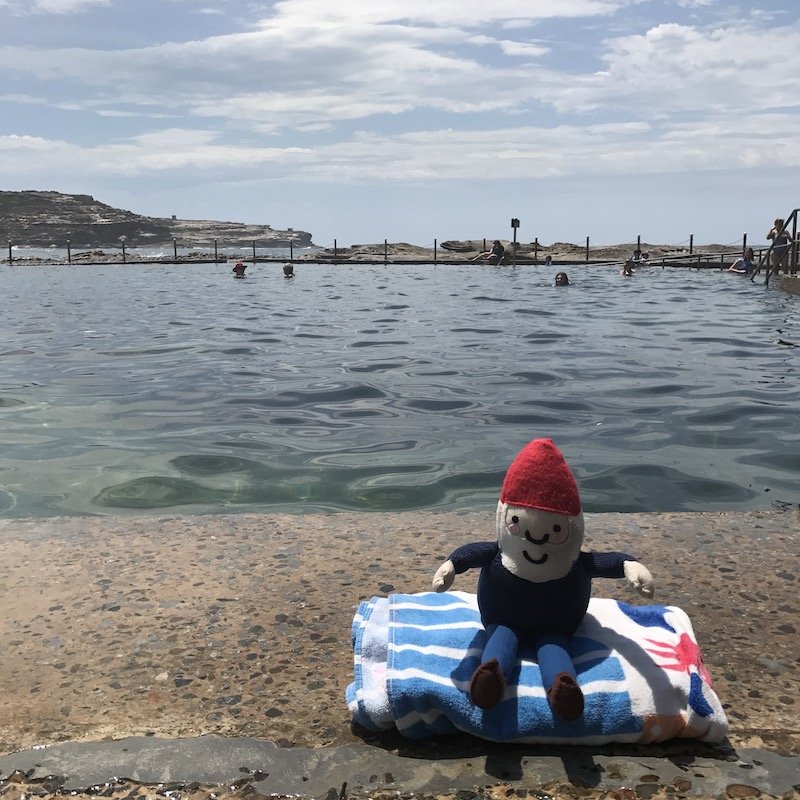 No.1: Malabar Rock Pool Sydney
Malabar rock pool is TOP of our list of the best places in Sydney to swim with kids.
Not far from the city, yet it's an undiscovered treasure by most Sydneysiders.
We love the enclosed swimming area.
Don't tell!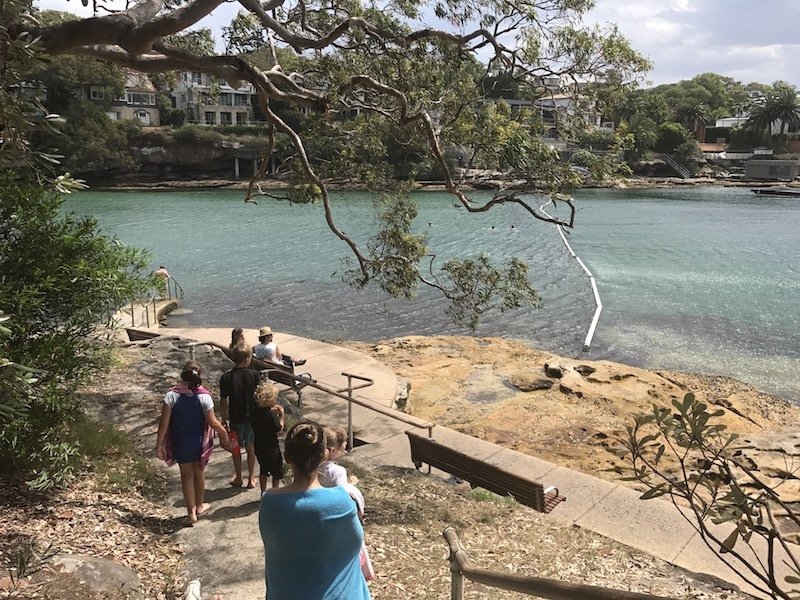 No.2: Parsley Bay Beach
Parsley Bay is another of our favourites.
This time, because of the spectacular nature landscape in which it is located.
Do yourself a favour and head there soon.
It's a delightful spot.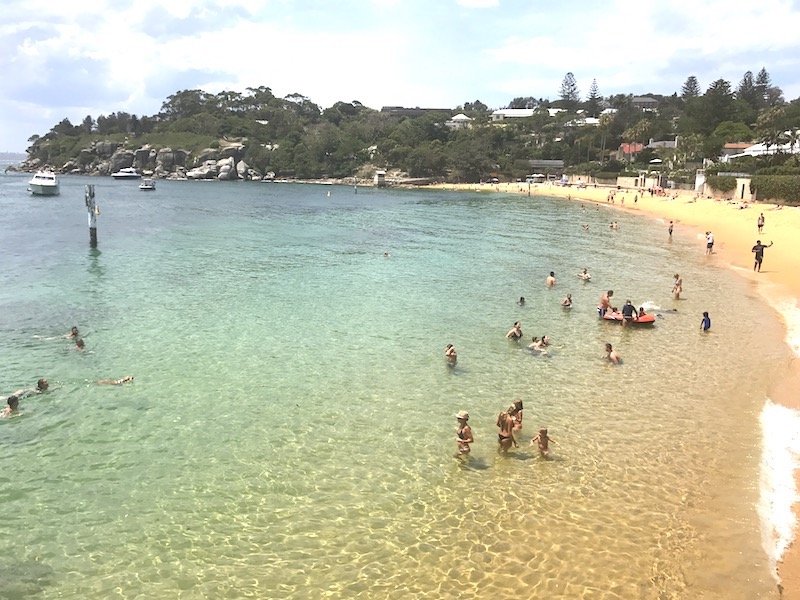 No.3: Camp Cove Beach
If you are looking to find a tropical island beach in Sydney, THIS is it.
Camp Cove Sydney Harbour Beach is truly a spectacular beach, with calm teal-coloured waters, and gorgeous sandstone landscape surrounds.
Plus, it's a little glamorous, with views of the harbour and boats to boot.
No.4: Round Up of Best Sydney Harbour Beaches
There's a tonne of great Sydney Harbour beaches for families.
So many, we gathered them all up in one big round up post.
Surprisingly, some of these beaches are now in our top 10 Sydney beaches for kids list.
Who would have thought a Sydney Harbour beach could rank so highly, but they do!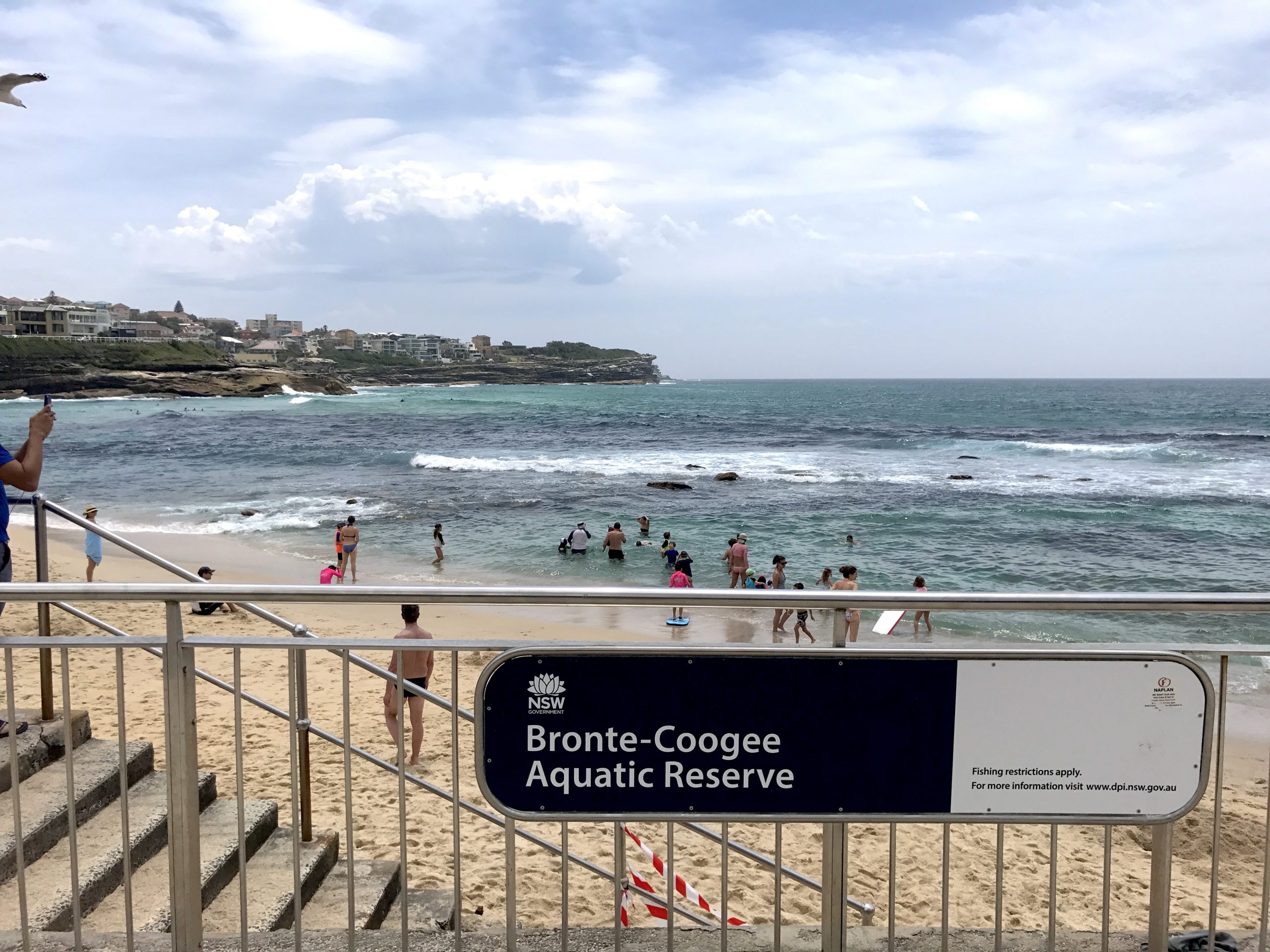 No.5: Bronte Coogee Aquatic Reserve & Bronte Baths
Bronte is a popular Sydney beach with flags and lifeguards, but while it's touted as being family friendly, you still need to pay attention to the waves and rips.
To the right of the beach, you'll find the Bronte baths too.
Bronte Baths ocean pool was built in the late 1800's.
These baths sit into the sandstone cliffs of the area, and there's a chain link fence that runs along the far wall, creating a visual boundary and demarcation line between the surf and the calmer waters of the pool.
The salt water of the ocean feeds into the pool, but it's a safer option for kids to swim than the open ocean beach, so this is our go-to option.
The Bronte baths are FREE to enter, so you can spend your money on Paddlepop icecreams after your swim instead.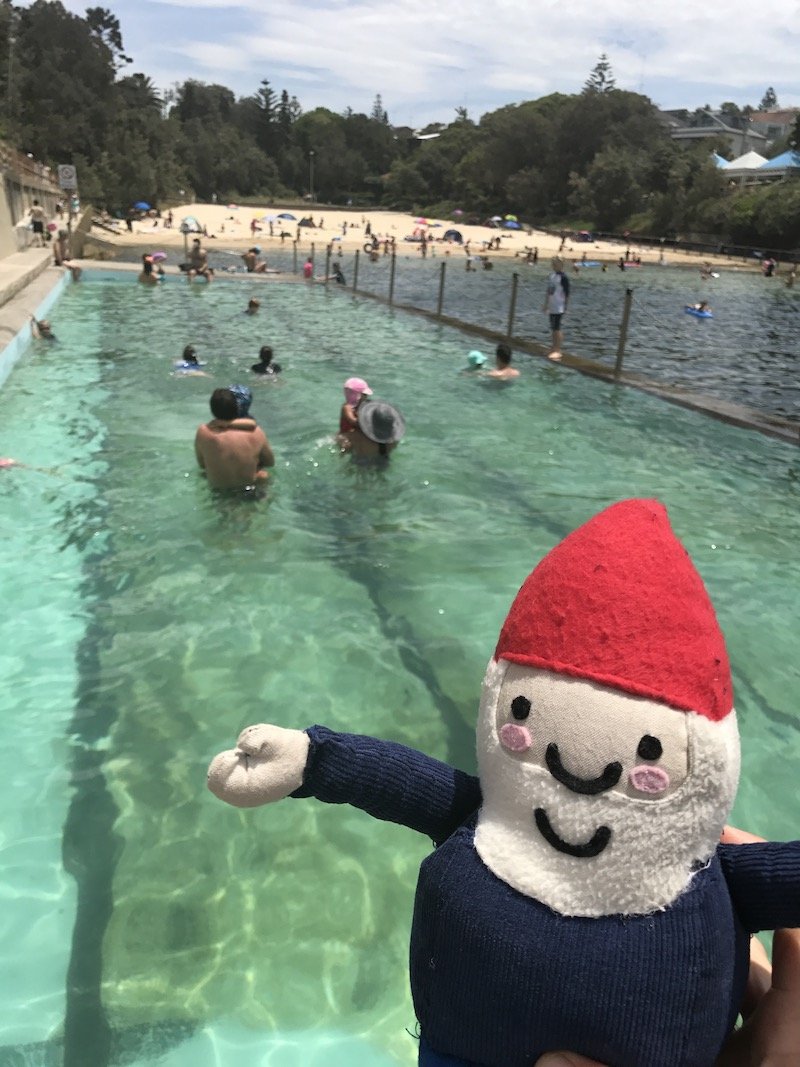 No.6: Clovelly Beach & Clovelly Rock Pool
As far as family family beaches go, Clovelly Beach is a winner for family swimming spots in Sydney.
There's:
deep water swimming for the adults
shallow beach entry for the toddlers, AND
the Clovelly Ocean Pool for everyone.
Clovelly Pool is fed by the ocean, but similar to Bronte Baths, it's separated from the ocean by a concrete wall and a chainlink fence runs the entire length of the pool to highlight the boundary.
The water is warmer than the ocean too, by a few degrees.
Pull up a spot on the stairs and do that time-honoured thing of laying on the hot concrete to warm up after a dip.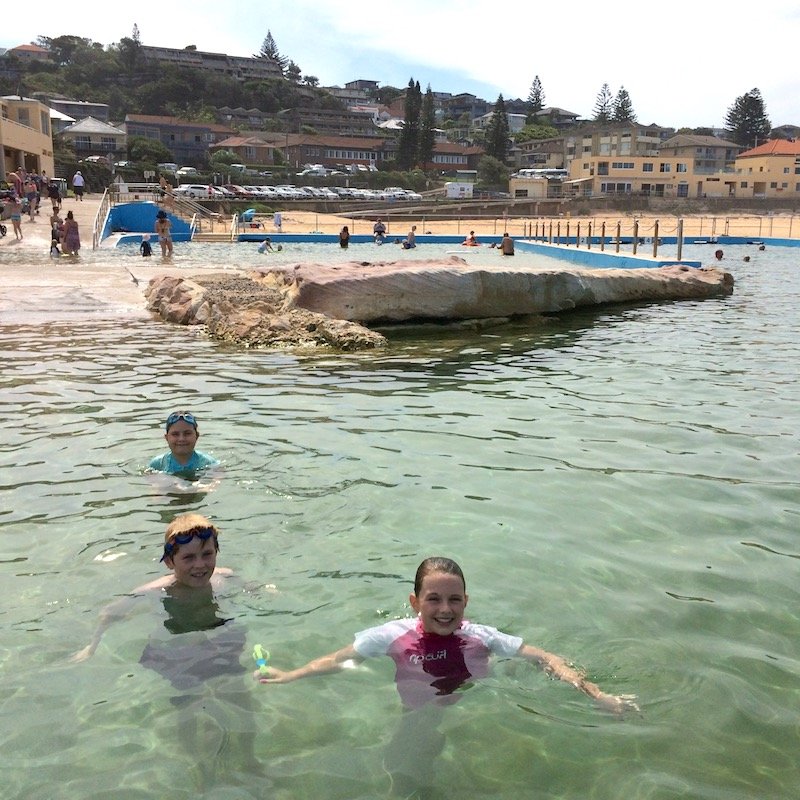 No.7: South Curl Curl Rockpools
On the Northern Beaches of Sydney, the South Curl Curl rock pools is the spot to go.
There's a shallow ocean pool for toddlers and young kids, attached to a larger and deeper ocean pool for teens and adults.
It's the perfect combo for a family swim.
Find it on Carrington Parade, just south of the South Curl Curl Lifesaving Club.
MORE of the Best Beaches for kids in Sydney?
Try these family beaches in Sydney.
Many of these are off the beaten track, or locals beaches so you'll leave the crowds behind.
Little Manly Cove baths, Manly Cove beach, Store Beach, or East Manly Cove Beach (on the
Manly Beach for wave lovers
Shelly beach
Balmoral Beach
Chinamans Beach
Greenwich Baths
Clontarf beach
Sandy bay
Castle Rock beach
Forty Baskets beach
Cobblers beach
Little Bay Beach (near Malabar)
These are all safe beaches for kids.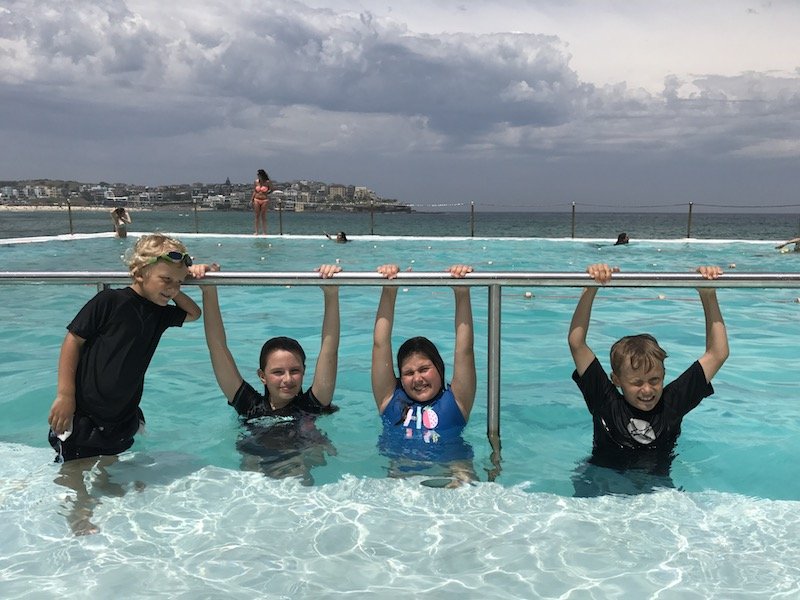 MORE OF THE BEST PLACES TO SWIM IN SYDNEY WITH FAMILY
No.1: Bondi Icebergs
Swimming at Bondi Icebergs is a bucket list adventure for many people, so join the fun.
This pool is over 100 years old
For kids, there's a separate pool to the left of the main lap pool.
Lifeguards are on duty at all times during opening hours, so that makes it even better for families.
Beware- the water is FREEZING!
Not just a little bit cold, but bone chilling cold.
There's a reason it's called the ICEBERGS.
Hot tip: Access to the sauna and hot showers are included in your entry fee.
Entry fees are (subject to change):
Adult: $9
Child (12 years & under): $6
Seniors Card Holders: $6
Family (2 Adults & up to 3 Children): $25
Locker Hire: $3
Towel Hire: $4
Learn to Swim Spectator: $5
Regular Summer hours are 6am – 7pm.
Address: 1 Notts Avenue Bondi Beach NSW.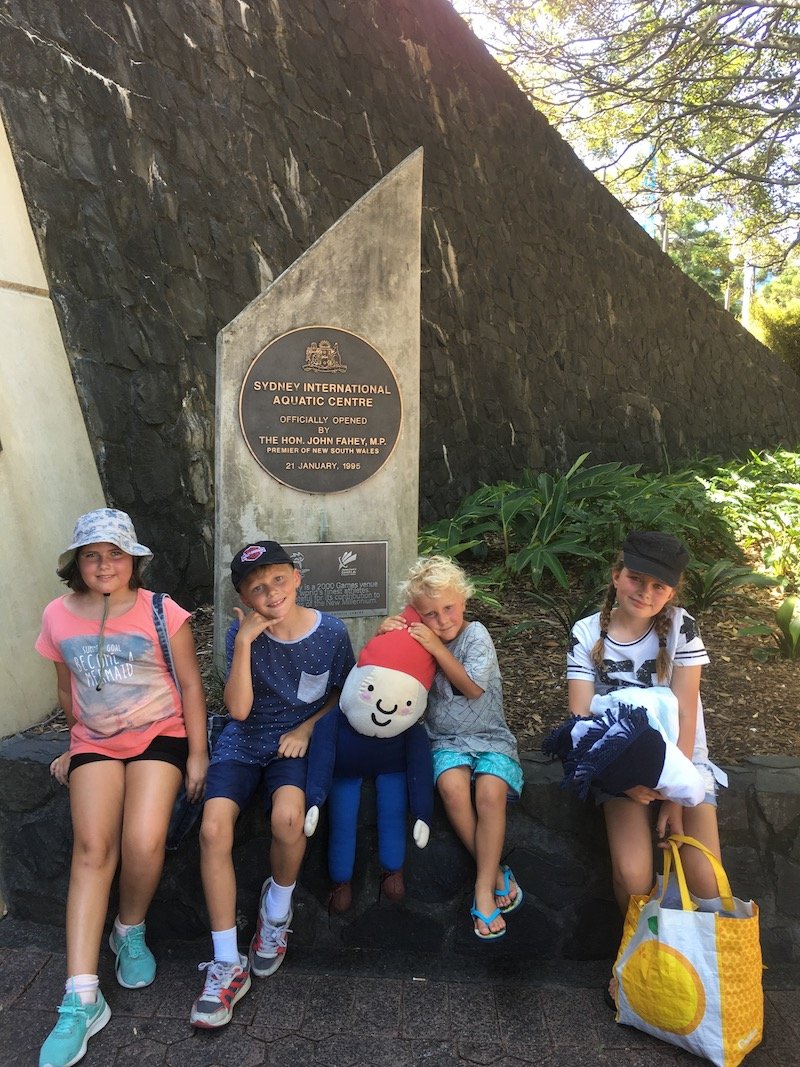 No.2: Sydney Olympic Park Aquatic Centre
Take the kids to this indoor pool in Sydney to play on the fabulous water playground inside "Splashers".
Do not miss this fun day out in Sydney for kids.
Splashers water playground is open from 10am to 7pm, 7 days a week.
There's also a 50 metre swimming pool, warm spas to soak in, a water slide, and a NOT-SO-lazy river that older kids LOVE!
Prices are:
$8.30 for an adult
$6.30 for kids (4-15 years)
$6.30 for concessions (student, pensioner, senior)
Children 3 years and under are FREE with paying adult
No.3: Prince Alfred Park Pool
Prince Alfred pool is right next to one of Sydney's best playgrounds for kids, Prince Alfred park playground so you can make a day of it.
Prince Alfred pool has a small water splash pad area for toddlers and kids.
It's clean, tidy, and a really nice place to have a dip on a hot day.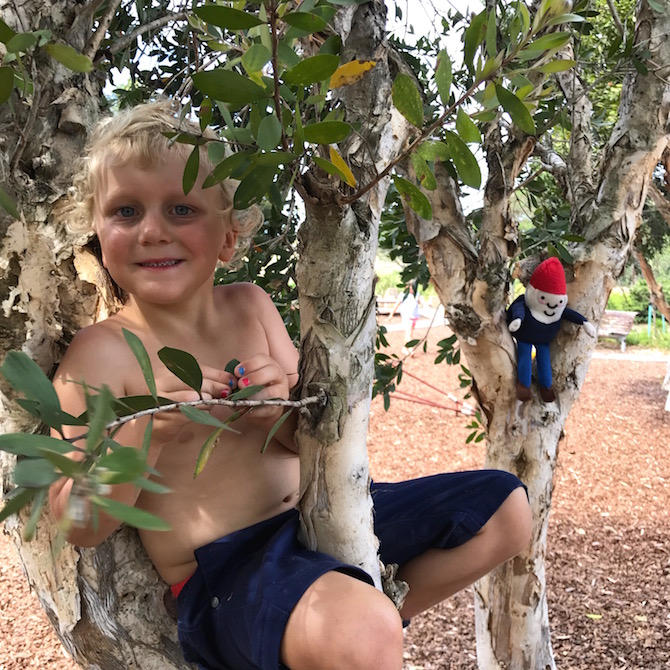 MORE Things to do in Sydney with Kids
Click the blue links below for Sydney tips